White Kitchen Cabinet Colors
This post may contain affiliate links. Please read our disclosure policy.
White kitchen cabinet colors have become a popular choice for homeowners who want a clean and timeless look for their kitchen.
Whether you're remodeling your kitchen or building a new one, kitchen cabinet colors can completely change the look of your space.
Not only do white cabinets match a variety of design styles, but they also make the room feel brighter and more spacious.
However, maintaining the pristine look of white cabinets can be a challenge, especially in a heavily-used kitchen.
With a few simple strategies, cleaning and maintenance of white cabinets doesn't have to be a hassle either.
And choosing the right hardware and decor can truly make a white kitchen shine.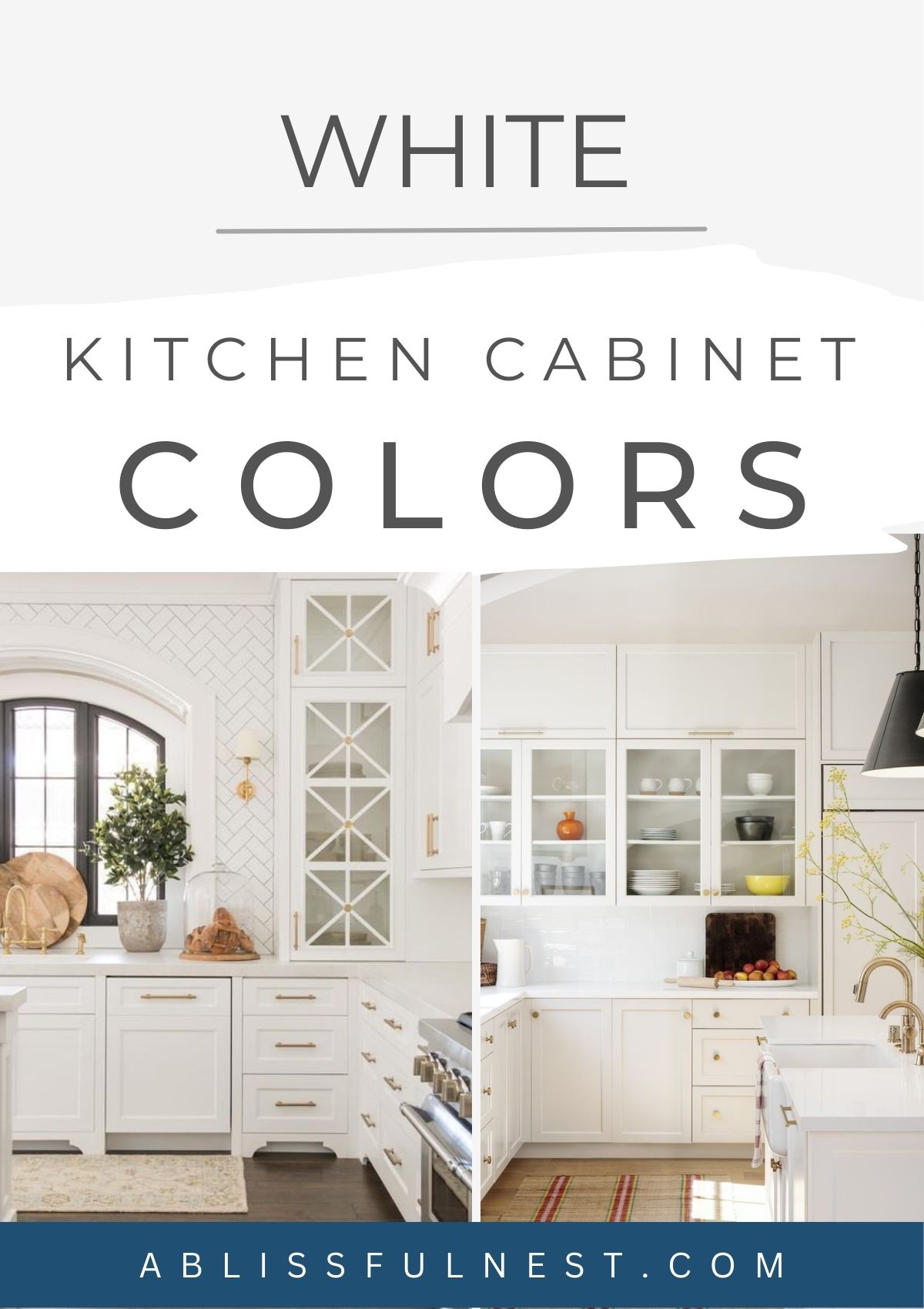 Get my tips and tricks for choosing the right hardware, decorating ideas, and different shades of white to consider for your kitchen cabinets.
While white may seem like a simple choice, there are many design decisions that come with it.
I'll share tips for making a white kitchen feel warm and inviting and dive into the most popular white kitchen cabinet colors to help you choose the perfect shade for your space.
What Design Styles Work With White Kitchen Cabinets
When it comes to choosing the perfect design style for your kitchen, pairing it with white cabinets can make it feel modern and sleek.
For a clean and modern look, you can't go wrong with a minimalist design for cabinetry that is painted white.
Add in sleek stainless steel appliances and simple hardware to really make those white cabinets pop.
Or, for a more country-inspired feel, consider incorporating natural wood elements like rustic barn wood flooring or wooden beams.
For a more transitional look, pair white kitchen cabinets with black accents like countertops.
Whatever design style suits your fancy, white cabinets are sure to bring a bright and airy vibe to your kitchen space.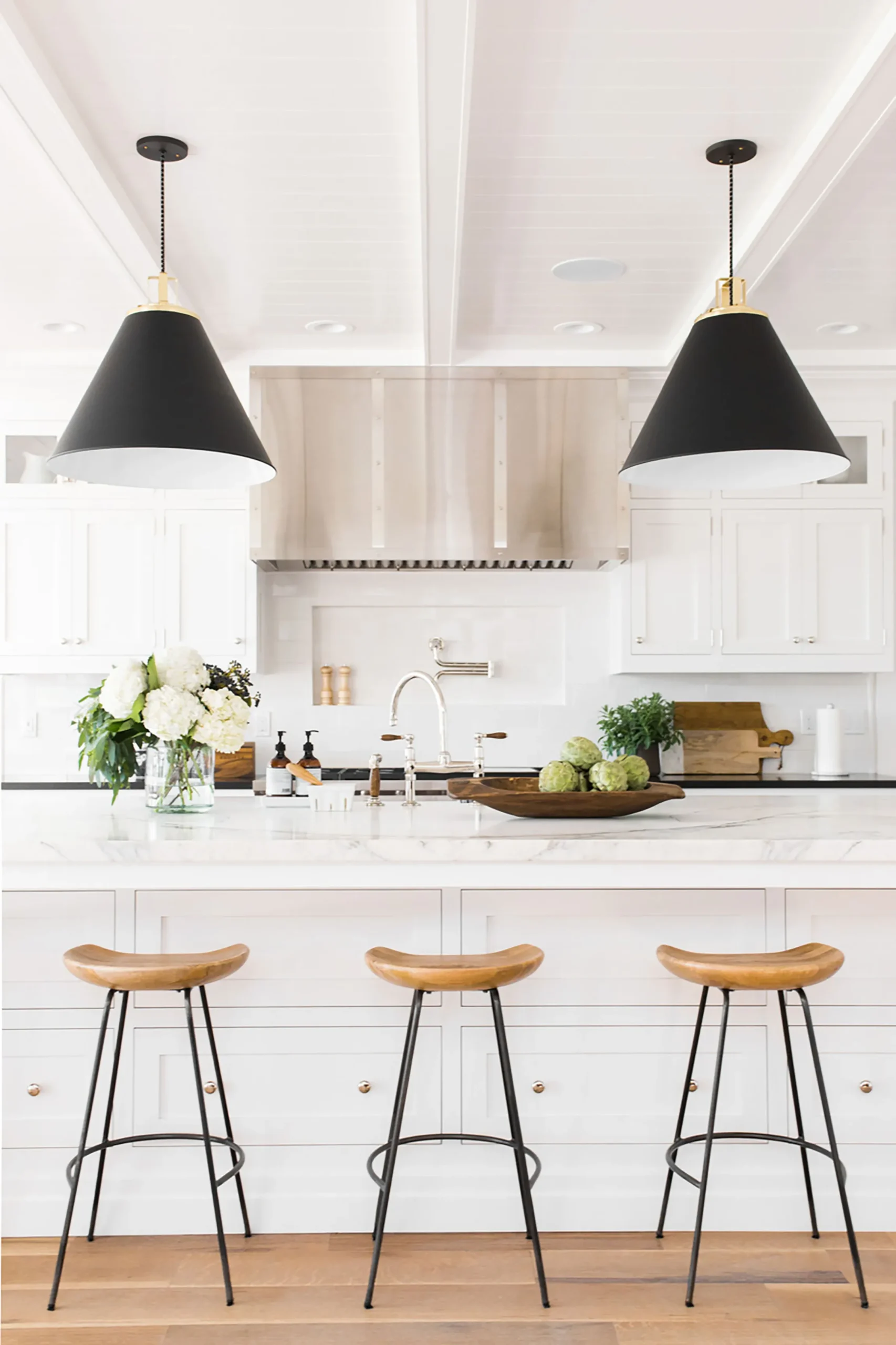 How To Keep White Kitchen Cabinets Clean
You can easily maintain white kitchen cabinets with a few simple steps.
Always try to clean up spills and messes as soon as they happen to prevent staining.
When it comes to regular cleaning, avoid harsh chemicals that can damage the finish of the cabinets and instead opt for a mixture of warm water and gentle soap.
Microfiber cloths are your best friend when it comes to wiping down the cabinets, as they won't leave any streaks or lint behind.
Lastly, don't forget to clean the handles and knobs regularly, as they tend to accumulate grime and grease over time.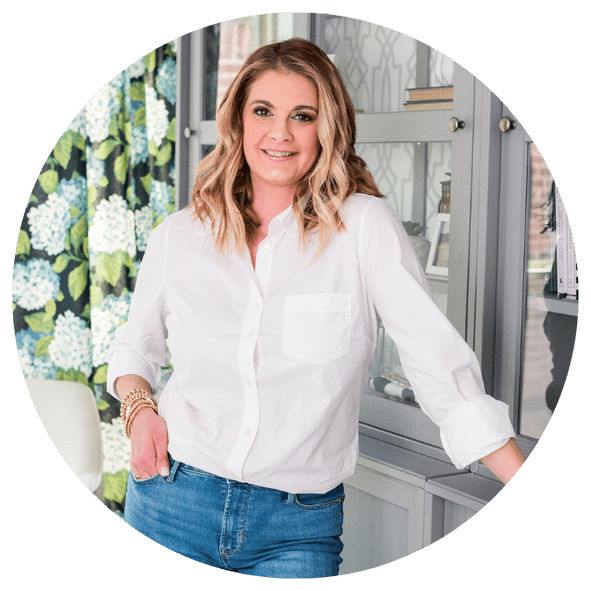 What Hardware To Use With White Cabinets
When it comes to hardware for white cabinets, there are a few options to consider. Here are some suggestions:
Chrome or Brushed Nickel – These finishes are popular and classic choices that work well with white cabinets. They offer a clean and polished look that complements the bright and fresh feel of white cabinets.
Black – Black hardware can create a bold contrast with white cabinets, giving them a modern and edgy look. Matte black is a popular option that can add a sleek touch to your kitchen.
Brass or Gold – These finishes can add warmth and sophistication to your white cabinets. They can also create a vintage or antique look depending on the style of the hardware.

Ultimately, the hardware you choose should depend on your personal style and the overall look you want to achieve in your kitchen.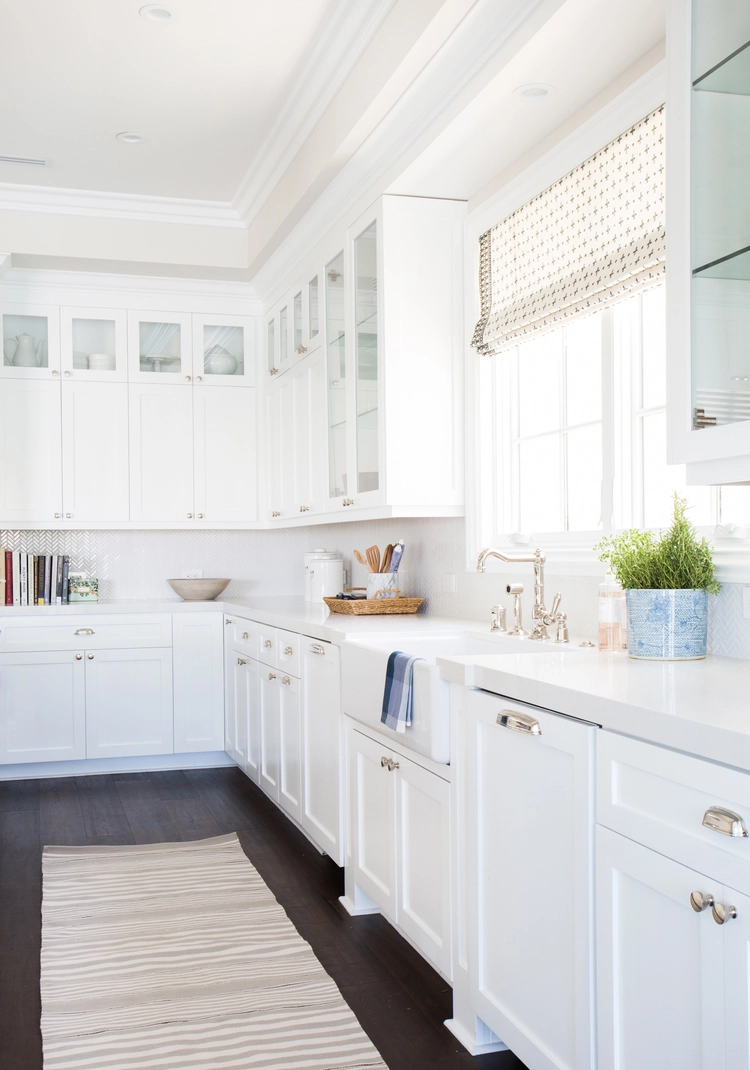 How To Decorate With White Kitchen Cabinets
Decorating with white cabinets can be a challenge as it requires careful consideration of colors, textures, and patterns to make it feel warm and inviting. Here is a simple decorating guide to follow.
Add a pop of color

– White cabinets provide a blank canvas for adding color. Consider incorporating colorful accessories such as rugs, curtains, or decorative items to add a pop of color and personality to your kitchen.

Mix textures

– Mixing textures can add depth and interest to a white kitchen. Consider incorporating natural materials like wood, stone, or metal to create a layered and cohesive look.

Use patterned accents

– Patterned accents like backsplash tiles or wallpaper can add visual interest and dimension to your kitchen. Choose patterns that complement the style of your cabinets and add personality to your space.

Play with lighting

– Lighting can make a big impact on the look and feel of a white kitchen. Consider adding pendant lights or under-cabinet lighting to create a warm and inviting ambiance.

Keep it simple

– Sometimes less is more. Consider a minimalist approach to decorating with white cabinets by keeping accessories to a minimum and focusing on clean lines and simplicity.
Here are some easy decor items to add to an all white kitchen to provide a beautiful and inviting space.
Tap Photos To Shop

How To Make A White Kitchen Feel Warm & Inviting
When it comes to home decor, a white kitchen can feel sleek and modern, but also a little sterile.
While keeping the color white as the dominant theme of your kitchen, there are ways to bring in warmth and make it feel inviting.
First, consider the lighting. Harsh overhead lighting can create a cold feeling, so add some softer sources like under-cabinet lights or a statement pendant.
Additionally, add personality with natural textures like wooden cutting boards, a wicker fruit basket, or a vase of fresh greenery.
Don't be afraid to mix in some pops of color with brightly colored dish towels, a patterned runner, or a set of eye-catching stools.
With a few simple tips, your white kitchen can feel both chic and cozy.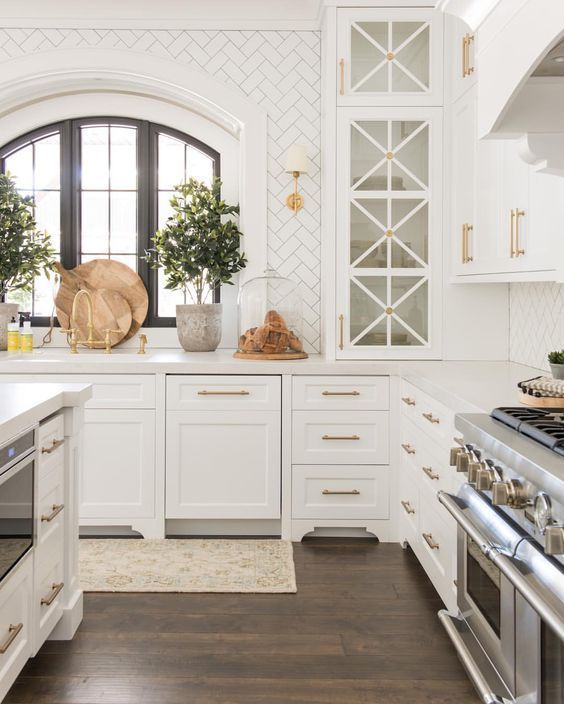 More Kitchen Design Ideas + Inspiration
The Most Popular White Kitchen Cabinet Colors
White Kitchen Cabinet Colors
White kitchen cabinets are a timeless and classic choice for any kitchen design.
They offer a clean and fresh look that can work with a variety of design styles. To keep them looking pristine, it's important to clean them regularly and use the appropriate hardware to enhance their beauty.
When it comes to decorating with white kitchen cabinets, there are endless possibilities, from adding pops of color to using wood accents for warmth.
And, use our guide on white paint colors to select the perfect shade for your kitchen cabinets!
No matter which shade you choose, white kitchen cabinet colors never go out of style and make your kitchen feel inviting and welcoming for years to come.