Popular Kitchen Cabinet Colors
This post may contain affiliate links. Please read our disclosure policy.
Have you wondered what the most popular kitchen cabinet colors are?
As one of the most prominent features in any kitchen, cabinets are a crucial aspect of the overall look and feel of the space.
Whether you're in the midst of a kitchen remodel or just looking to update your cabinets, picking the right paint color is essential.
That's why it's essential to choose kitchen cabinet colors that not only reflect your personal style but also enhance your kitchen's functionality and value.
From classic neutrals to bold statement hues, I've scoured the industry and compiled a list of the most popular kitchen cabinet colors that are sure to inspire your next renovation project.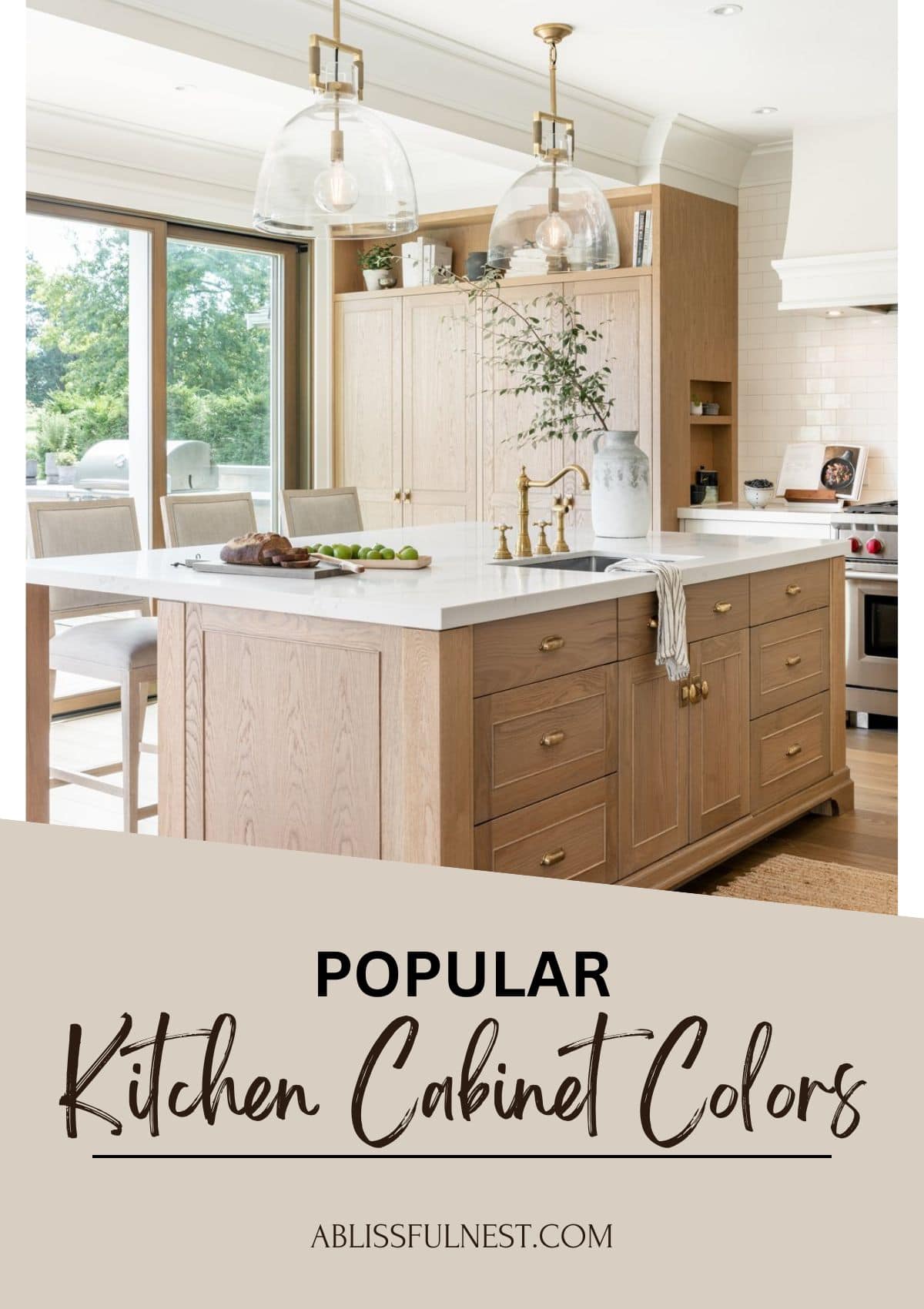 This is definitely going to be one of those posts you will want to bookmark and come back to so you can use this guide when you are ready for your kitchen update.
So let me give you a few things to think about first before I get into what the most popular kitchen cabinets currently are.
Helpful Tips For Choosing The Perfect Kitchen Cabinet Colors
There are a few things to keep in mind when choosing the perfect kitchen cabinet color.
Even though I'm going to go over the popular kitchen cabinet colors below, you will need to pick a shade from those that works for your space.
Here is how to easily select the right paint color shade.
Consider the overall style

: Determine the style or theme you want for your kitchen. Different cabinet colors can evoke different moods and aesthetics. For example, white or light-colored cabinets create a clean and airy look, while dark cabinets can add depth and drama.

Assess the kitchen's natural light

: Take into account the amount of natural light your kitchen receives. If your kitchen is well-lit, you have more flexibility in choosing both light and dark cabinet colors. However, in a darker kitchen, lighter cabinet colors can help brighten the space.

Coordinate with the countertop

: Consider the color and pattern of your countertop when selecting cabinet colors. Look for complementary or contrasting colors that will create a visually appealing combination. Bring samples of your countertop material when shopping for cabinet colors to compare and ensure they work well together.

Balance with the floor

: The color and material of your kitchen floor should also be taken into consideration. If you have a busy or patterned floor, it's generally best to choose simpler cabinet colors to avoid visual overload. For lighter floors, both light and dark cabinet colors can work well, while darker floors may benefit from lighter cabinets to create a contrast.

Create contrast or cohesion

: Decide whether you want your cabinets to blend in with the overall color scheme of your kitchen or stand out as a focal point. Creating contrast can add visual interest, while cohesion can create a harmonious and unified look. Consider the colors of your walls, backsplash, and other kitchen elements to achieve the desired effect.
Don't Forget To Order Paint Samples!
No matter what a photo looks like or description, every paint color will look different in your own space. It is so important to test a paint color before you commit to it.

That's why I love buying these peel & stick samples.
It makes it so easy & affordable to test colors!

Best Decor To Decorate A Kitchen With
I get asked a lot about how to decorate a kitchen so it looks timeless and not cluttered.
So I shopped some of my favorite neutral kitchen decor for you to easily incorporate into your own kitchen design.
Tap Photos To Shop

The Most Popular Kitchen Cabinet Colors
The most popular kitchen cabinet colors range from light to dark shades and really go with almost any design style depending on the decor you select to pair with them.
Lighting, cabinet hardware, barstools, etc can instantly elevate your overall aesthetic so keep that in mind when looking at these paint colors.
Wood Kitchen Cabinet Colors
Wood kitchen cabinet colors are on the rise. The last time we saw these being popular was back in the 1980's and that was more the deep rich mahogany tones and honey oak color.
Now white oak has become one of the most popular kitchen cabinet colors when it comes to a wood kitchen. Paired with white, it creates a modern and elevated look many love.
It can easily be matched with modern black or gold cabinet hardware and lighting.
White oak cabinets are beautiful in a modern farmhouse kitchen and also in a warm coastal-style kitchen.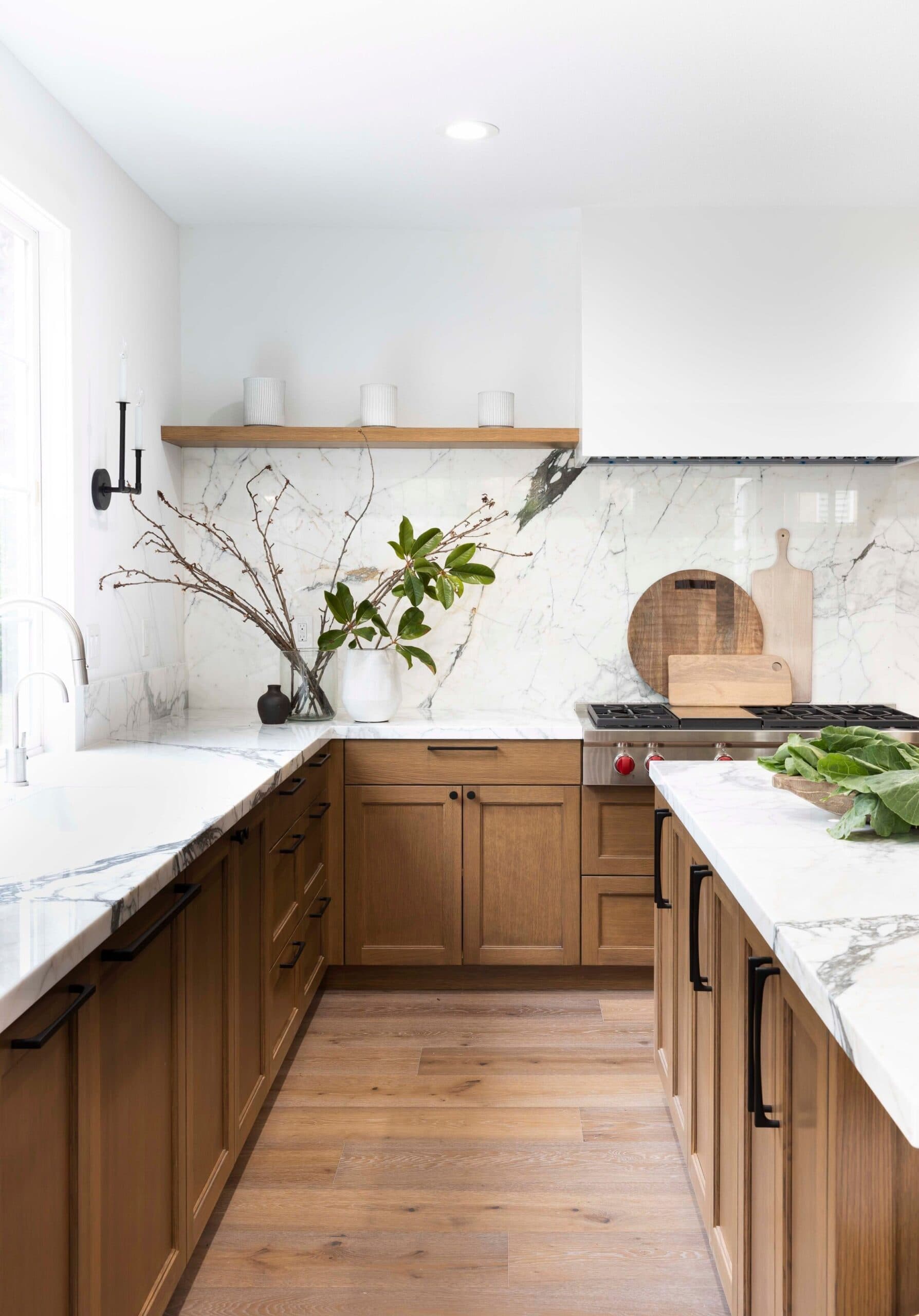 White Kitchen Cabinet Colors
White kitchen cabinet colors never go out of style and are considered a classic and timeless look. The way to refresh the look is through lighting, hardware, and accessories. Switching out these pieces will give it an instant makeover.
White kitchen cabinets also look great in just about any design style. From classic farmhouse to a more modern transitional style kitchen, you can't go wrong with this paint color.
Use my guide on how to select the right white paint color so you can easily pick the right shade for your project.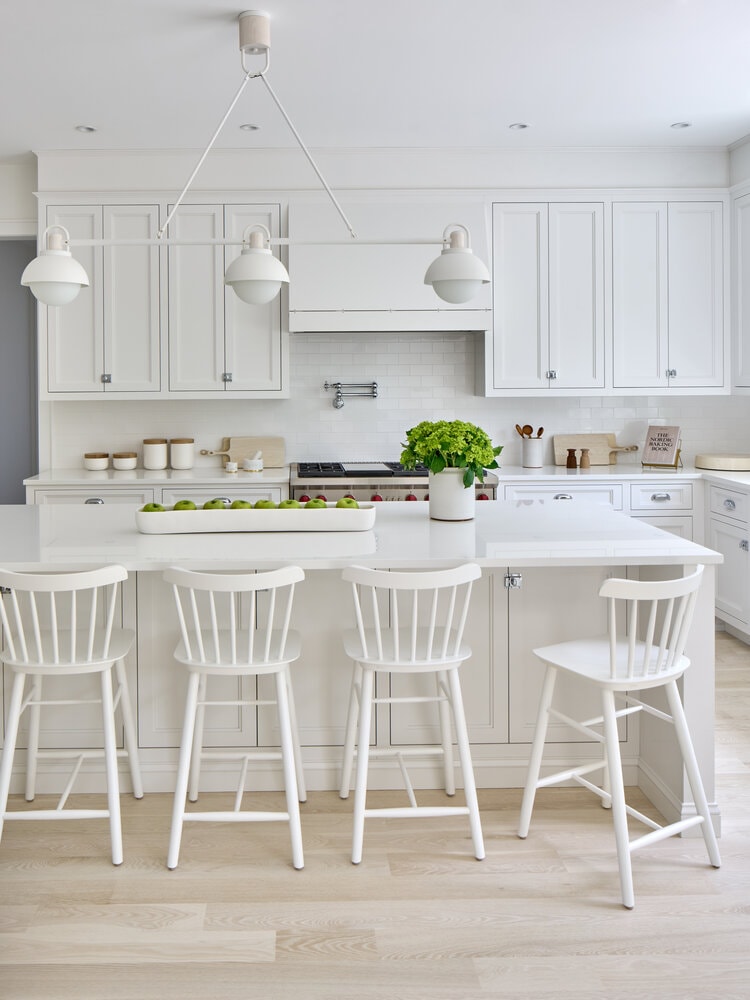 Gray Kitchen Cabinet Colors
Gray kitchen cabinet colors can either make a kitchen look modern and moody or light and bright depending on the shade.
This is also a great paint color shade that works with many design styles. Gray paint colors look beautiful in a sophisticated style like transitional paired with gold hardware or can look more rustic paired with black hardware for a farmhouse style.
Keeping the counters a light color will make the kitchen feel light and bigger. Especially if the gray color is a lighter shade.
Black Kitchen Cabinet Colors
If you are looking for a moody dramatic look then black kitchen cabinet colors are the perfect fit for you!
Not only are they for a modern transitional style but are popping up all over the farmhouse kitchen look.
Paired with gold cabinet hardware and lighting, it really has a sophisticated look to it. Also using white okay accents in flooring and even on the hood designs is an easy way to make it feel warmer.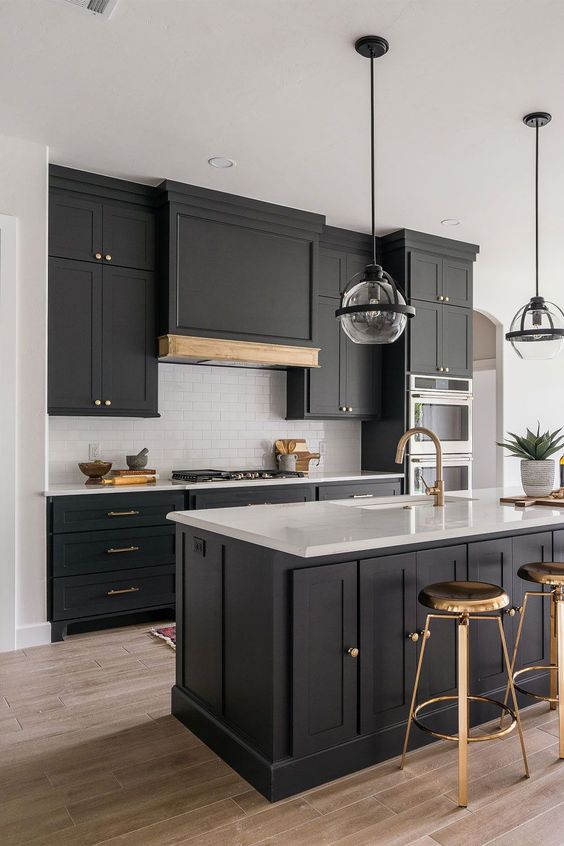 Navy Kitchen Cabinet Colors
Navy kitchen cabinet colors have gained a lot of popularity in the last couple of years with the rise of farmhouse and coastal kitchen cabinet colors.
Navy is a classic color that exudes elegance and sophistication, making it a popular choice for those seeking a timeless and upscale look in their kitchen.
Navy is a versatile color that works well with a variety of design styles. It can complement both traditional and modern aesthetics.
Navy cabinets make a bold statement and can serve as a focal point in the kitchen. They add depth and drama to the space, creating a sense of visual interest and contrast.
Overall, navy kitchen cabinet colors are not only a trendy color, but can easily work with many design styles.
Deciding on the perfect color for your kitchen cabinets can seem like an overwhelming task.
However, with the array of options available and a little research, you can select the perfect shade that suits your style and personality.
Whether you prefer classic neutrals like white and gray or bold pops of color such as blue, the key is to choose a color that complements your kitchen decor and brings a sense of cohesiveness to the space.
Ultimately, the choice of kitchen cabinet color is a personal decision and one that should take into account both your personal style and the overall look and feel of your home.
So, take your time to weigh the pros and cons of each shade, and don't be afraid to go bold or stick with a timeless classic.
Happy decorating!
More Kitchen Design Ideas + Inspiration