Best Gray Kitchen Cabinet Colors
This post may contain affiliate links. Please read our disclosure policy.
There are so many gray kitchen cabinet colors to choose from to transform your kitchen that it can be overwhelming to select one. But it doesn't have to be!
I love that kitchen cabinet colors are becoming less predictable and people are opting for other color variations other than just white.
Gray is a timeless and versatile color that has become increasingly popular in modern kitchen designs.
Its neutral and calming effect can create a cozy and inviting atmosphere in your home, which is why gray kitchen cabinets are a popular choice for homeowners.
However, with so many different shades of gray available, it can be overwhelming to decide which one is the best fit for your kitchen.
That's why I've put together a comprehensive guide to help you choose the perfect gray shade for your kitchen cabinets.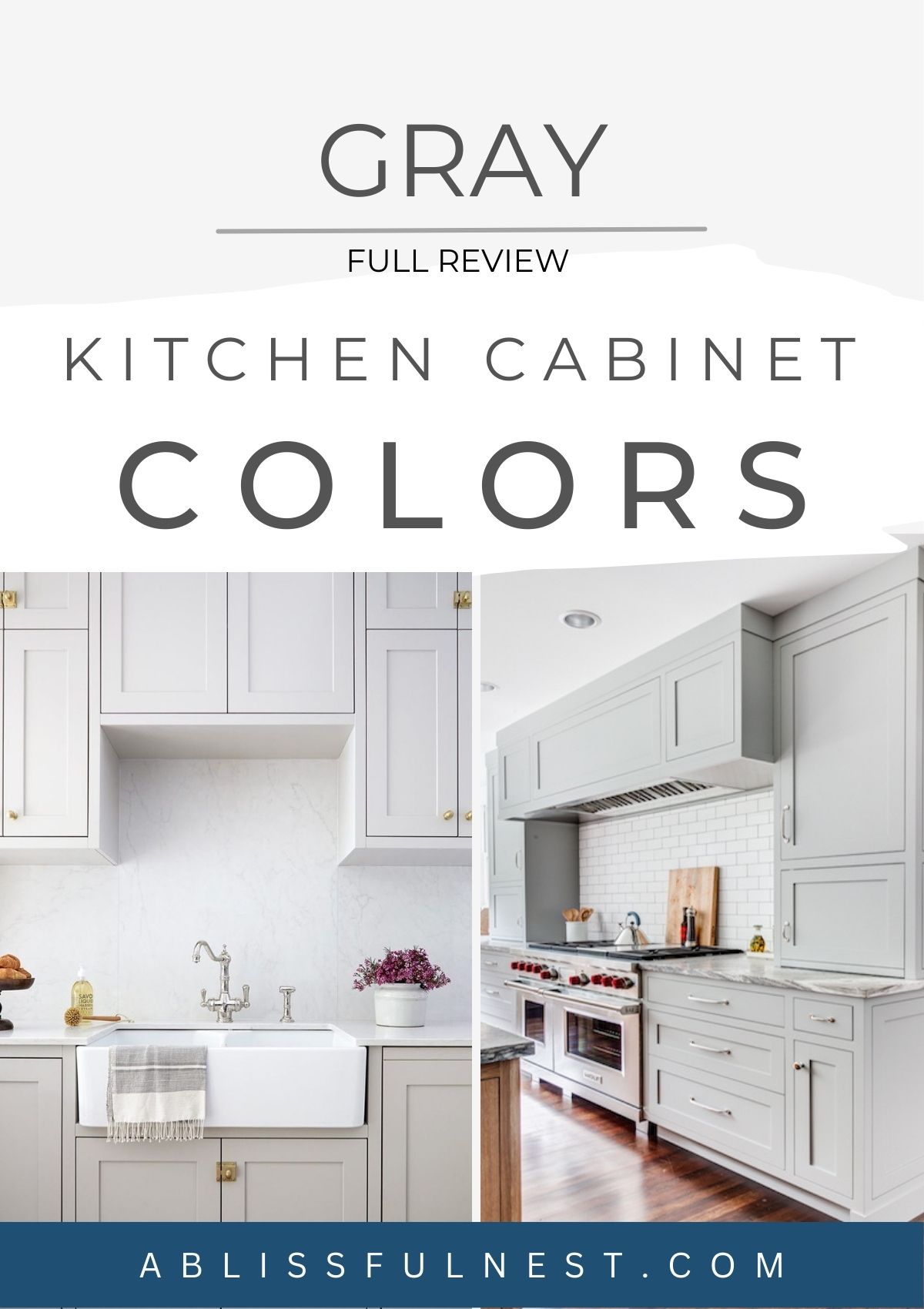 So let's go over the pros and cons of darker vs lighter gray paint colors, as well as how to maintain gray cabinets so you can select a shade of gray with confidence.
I will also highlight the best gray kitchen cabinet colors and provide tips on how to decorate and style your kitchen with gray cabinets so you can create a warm and inviting kitchen space.
Whether you prefer a cool, modern gray or a warm, traditional shade, this guide will help you make the best choice for your home. Let's dive in!
How To Pick The Best Gray Paint Color For Cabinets
If you're thinking of giving your kitchen cabinets a makeover, gray is a fantastic choice for a color that both looks modern and timeless.
But with so many shades of gray paint on the market, how do you pick the right one for your cabinets?
With a little bit of guidance, you can pick the perfect gray shade for your kitchen.
First things first, think about the style of your kitchen, whether it's traditional, modern, or somewhere in between.
Once you've refined your search, consider other features in the space like natural light, countertops, and flooring to help you pick the perfect gray shade.
The key is to consider the undertones of the gray and how it will complement your other design elements.
For example, a warm gray with yellow undertones may complement wood or brass accents, while a cooler gray with blue undertones may look great with stainless steel appliances.
Lighting is another big factor when selecting the right shade of gray paint. Its undertones can easily look dull and lifeless without proper lighting.
Natural lighting can greatly affect the way gray paint appears, and it's important to take this into consideration when selecting a shade.
Gray has the ability to look warm and inviting or cold and uninviting based on the lighting in the room.
Ultimately, it's all about finding the right balance and creating a space that feels cohesive and inviting.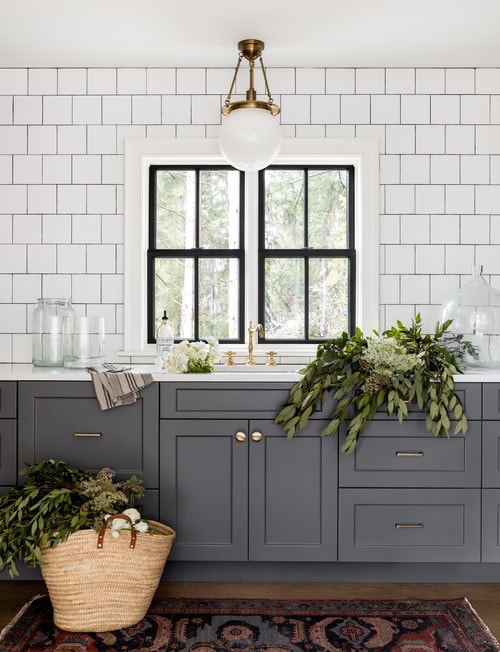 Pros and Cons of Darker Gray vs Lighter Gray Paint Colors
If you're trying to decide if you should go with a darker gray paint or a light gray shade, then here are a few things to consider. There are pros and cons to both options.
On one hand, a darker gray can add sophistication and depth to a room. It can also hide imperfections and make a space feel cozier.
On the other hand, a lighter gray can make a kitchen feel more open and airy. It can also reflect more light and make a space feel brighter.
Ultimately, the decision comes down to personal preference and the overall vibe you want to create in your home.
So, whether you're team dark gray or team light gray, both options have their own unique benefits.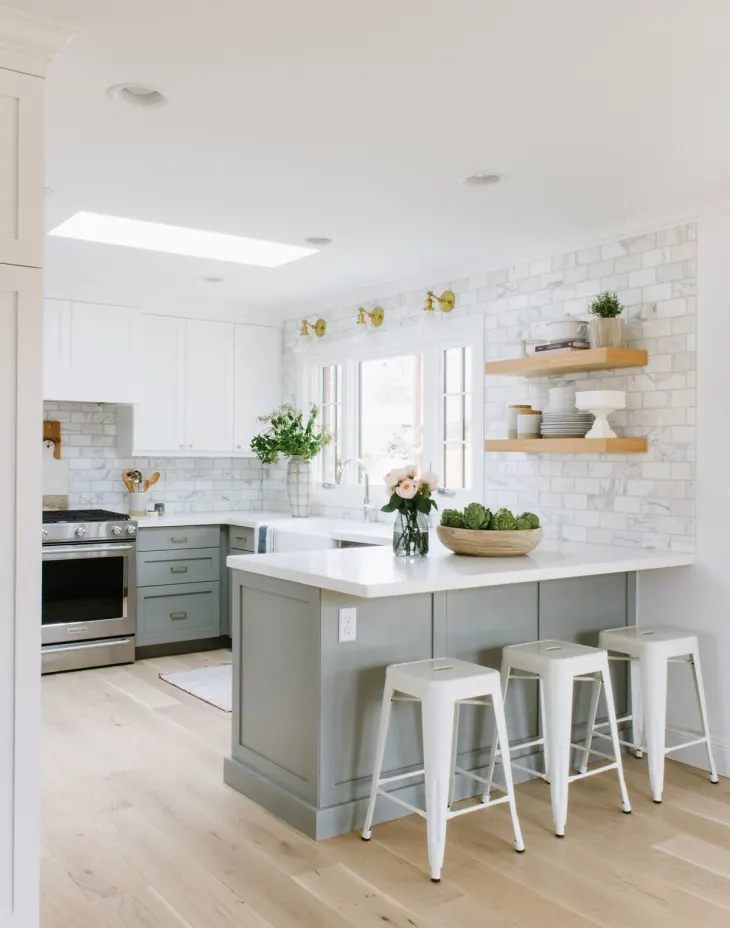 What Color Hardware To Use With Gray Cabinets
Choosing the right hardware for your gray cabinets can make or break the overall look of your kitchen.
One option is to go with a classic stainless steel or brushed nickel finish, which creates a sleek and modern feel.
If you're looking for something a little more unique, consider matte black or brass hardware, which adds a stylish and trendy touch.

Another option is to match the hardware to any existing metal accents in the kitchen, such as the faucet or light fixtures.
Lastly, gold hardware can add warmth and elegance to a gray kitchen.
The combination of gray and gold creates a sophisticated and modern aesthetic, as the gray provides a neutral backdrop that allows the gold to stand out as a striking accent.
Ultimately, the color of hardware you choose will depend on your personal style and the overall aesthetic you want to achieve. So don't be afraid to experiment and have fun with it!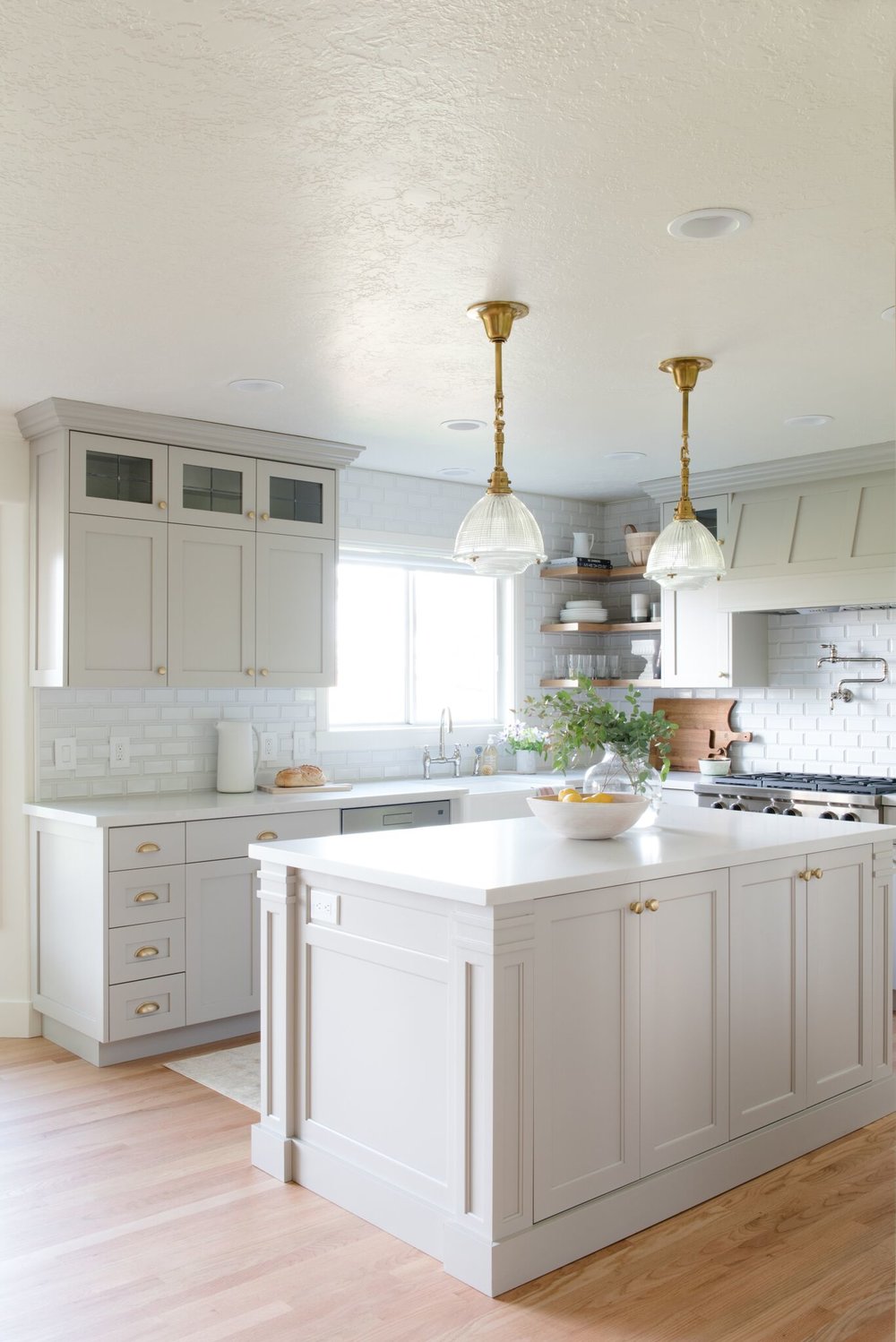 How To Maintain Gray Kitchen Cabinets
Just like any other cabinet, gray cabinets require regular maintenance to keep them looking their best.
First things first, make sure you clean your cabinets regularly with a soft cloth and mild soap. Avoid using abrasive materials or harsh chemicals as they can damage the finish.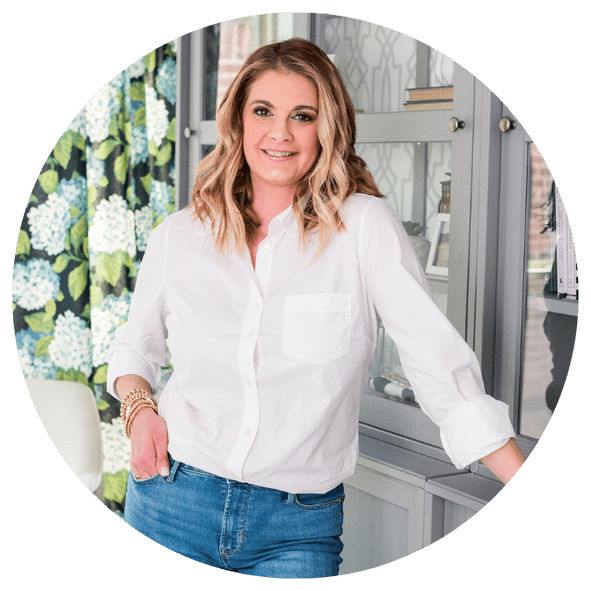 Next, check for any scratches, dents, or chips and make touch-ups as necessary.
Additionally, use cabinet liners to protect against spills and stains.
With these tips, your gray kitchen cabinets will stay in tip-top shape for years to come!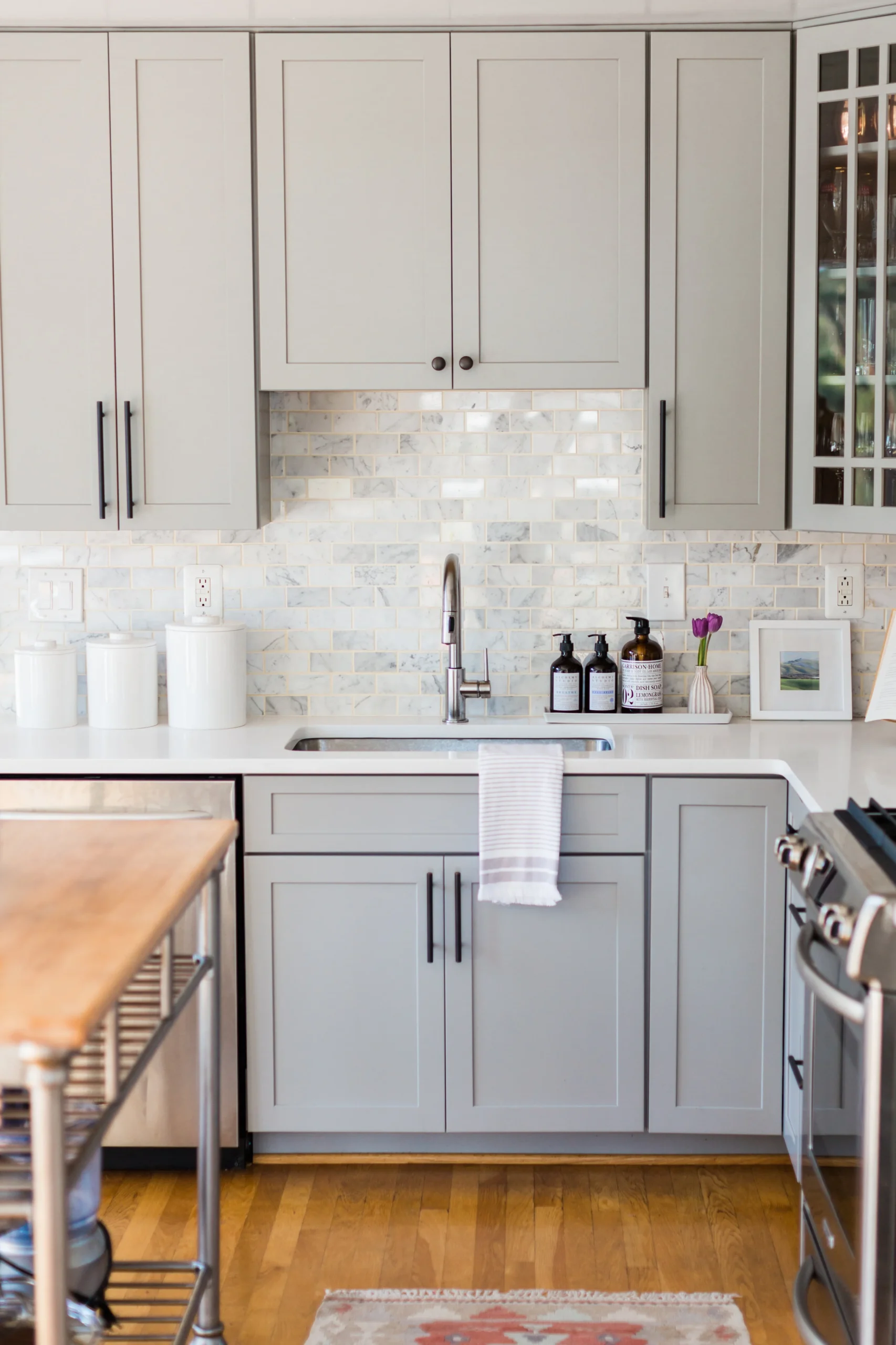 How To Decorate With Gray Kitchen Cabinets
Gray kitchen cabinets provide a versatile and neutral base for a kitchen's decor. Here are some tips on how to decorate a kitchen that has gray kitchen cabinets:
Add pops of color

: Gray pairs well with a wide range of colors, so consider adding colorful accents to the space. This can be done through decorative accessories, such as colorful artwork or vases, or through functional items, such as kitchen appliances or cookware in bold hues.

Use texture

: Gray cabinets can sometimes look flat or sterile, so incorporating texture is key to creating visual interest. Consider adding a textured backsplash or countertop, or layering different textures through textiles such as a woven rug or window treatments.

Incorporate natural elements

: Gray is a versatile color that can work well with natural materials, such as wood and stone. Consider adding wood or stone elements through a kitchen island or bar top, or through decorative elements such as a wood cutting board or stone vase.

Use lighting

: Lighting can make a big difference in the overall look and feel of a kitchen. Consider adding pendant lights over a kitchen island or under-cabinet lighting to showcase the cabinets and add warmth to the space.

Keep it simple

: Gray cabinets have a clean and modern look, so consider keeping the decor simple and streamlined. Too many decorative elements can make the space feel cluttered, so focus on a few key pieces that make a statement.
Overall, when decorating a kitchen with gray cabinets, it's important to balance the neutral tone with pops of color, texture, natural elements, and lighting to create a warm and inviting space.
More Kitchen Design Ideas + Inspiration
The Best Gray Kitchen Cabinet Colors
Gray Paint Colors For Kitchen Cabinets
Choosing the right gray for your kitchen cabinets can elevate the look and feel of your entire space.
Whether you opt for a darker or lighter shade of gray, it is important to consider the size of your kitchen, the lighting, and the overall aesthetic you want to achieve.
Keeping your gray cabinets clean and well-maintained is essential to prolong their lifespan and ensure they continue to look their best.
When it comes to accentuating your gray cabinets, choosing the right color hardware and decor can truly make them stand out.
With these tips in mind, you can create a beautiful and functional kitchen that is both stylish and timeless.