Blue and White Coastal Guest Bedroom Reveal
This post may contain affiliate links. Please read our disclosure policy.
If you remember back a couple weeks, I shared my design plans for our guest bedroom upstairs in our new house. You can check that out HERE. This is a semi custom home and for the most part we designed everything very neutral with all the walls white so we could take our time painting and adding our personal touch after we moved in. The brilliance in this is I did not have to commit to anything big on the front end of building this house and it helped us save some money. I personally feel it is best to put your dollars when building a home into the hard finishes like tile, counters and flooring. Those are things not easily changed. So here is what we started with when we moved into our home 4 months ago.
This post contains some affiliate links for your convenience. Click here to read my full disclosure policy.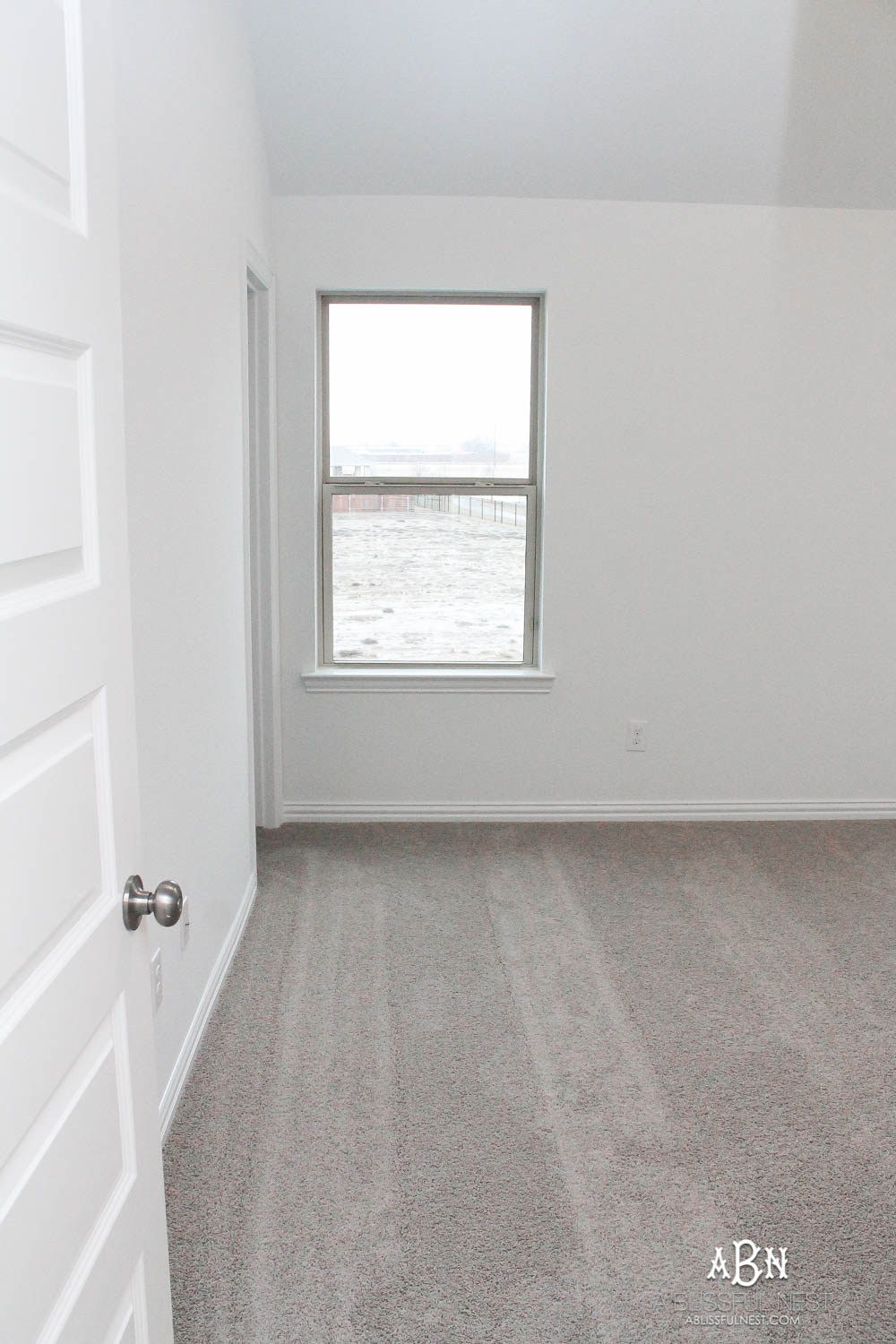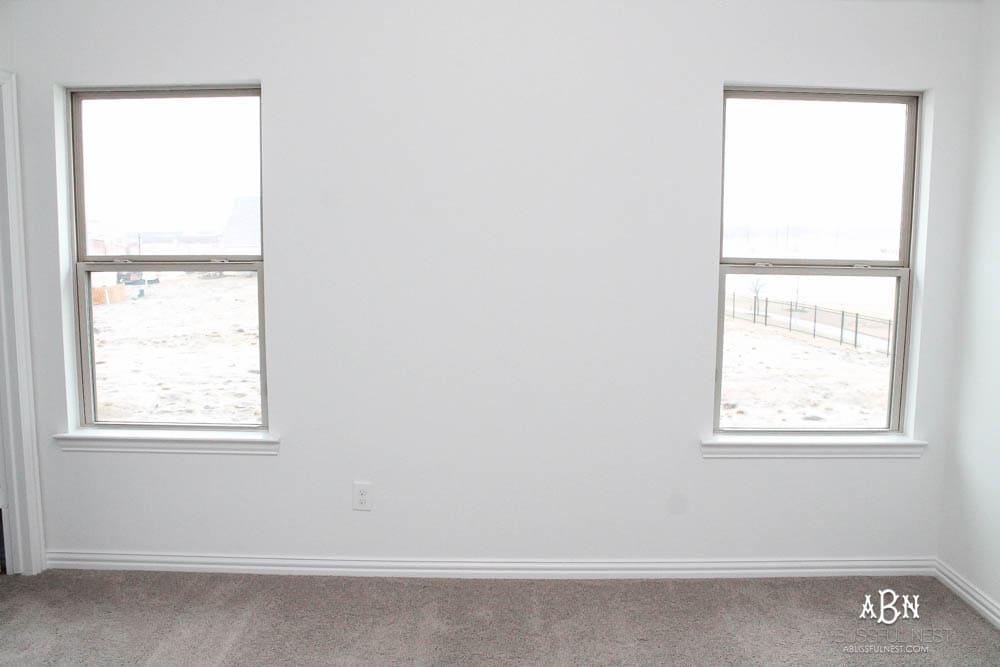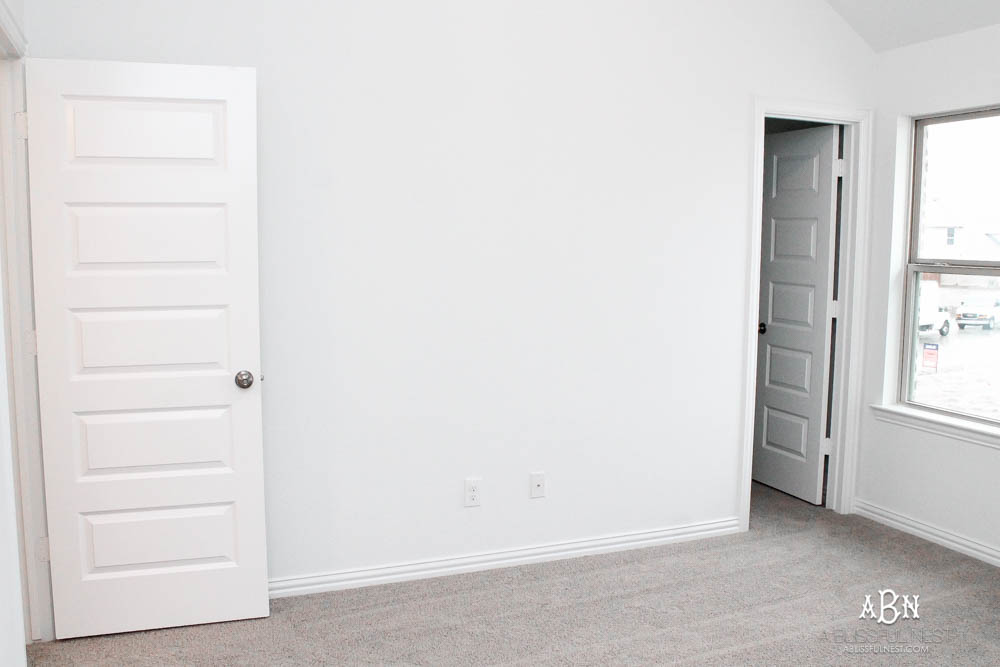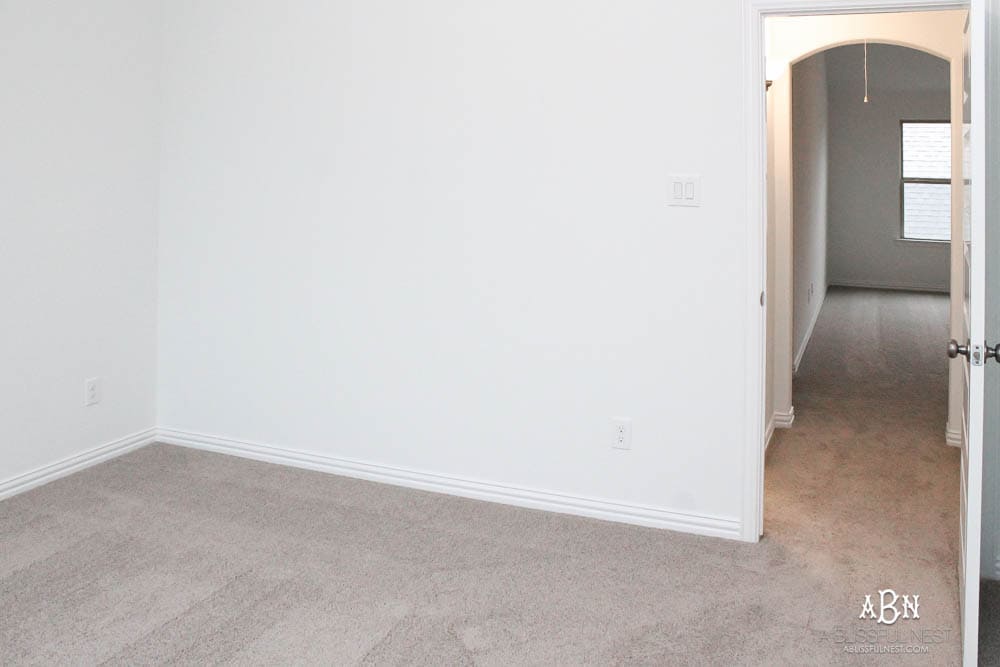 And here is a reminder of my design board. I pretty much stayed with everything on my board except the 2 mirrors because I ended up placing the bed between the 2 windows.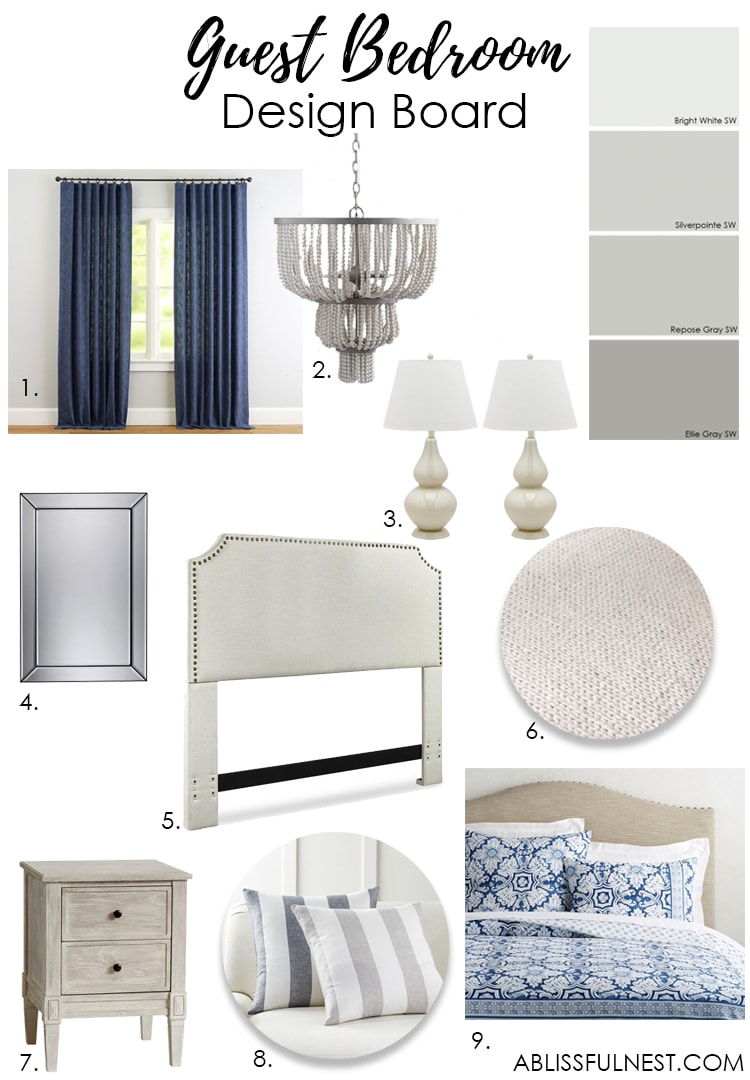 So here is our new coastal blue and white guest room now. . . . .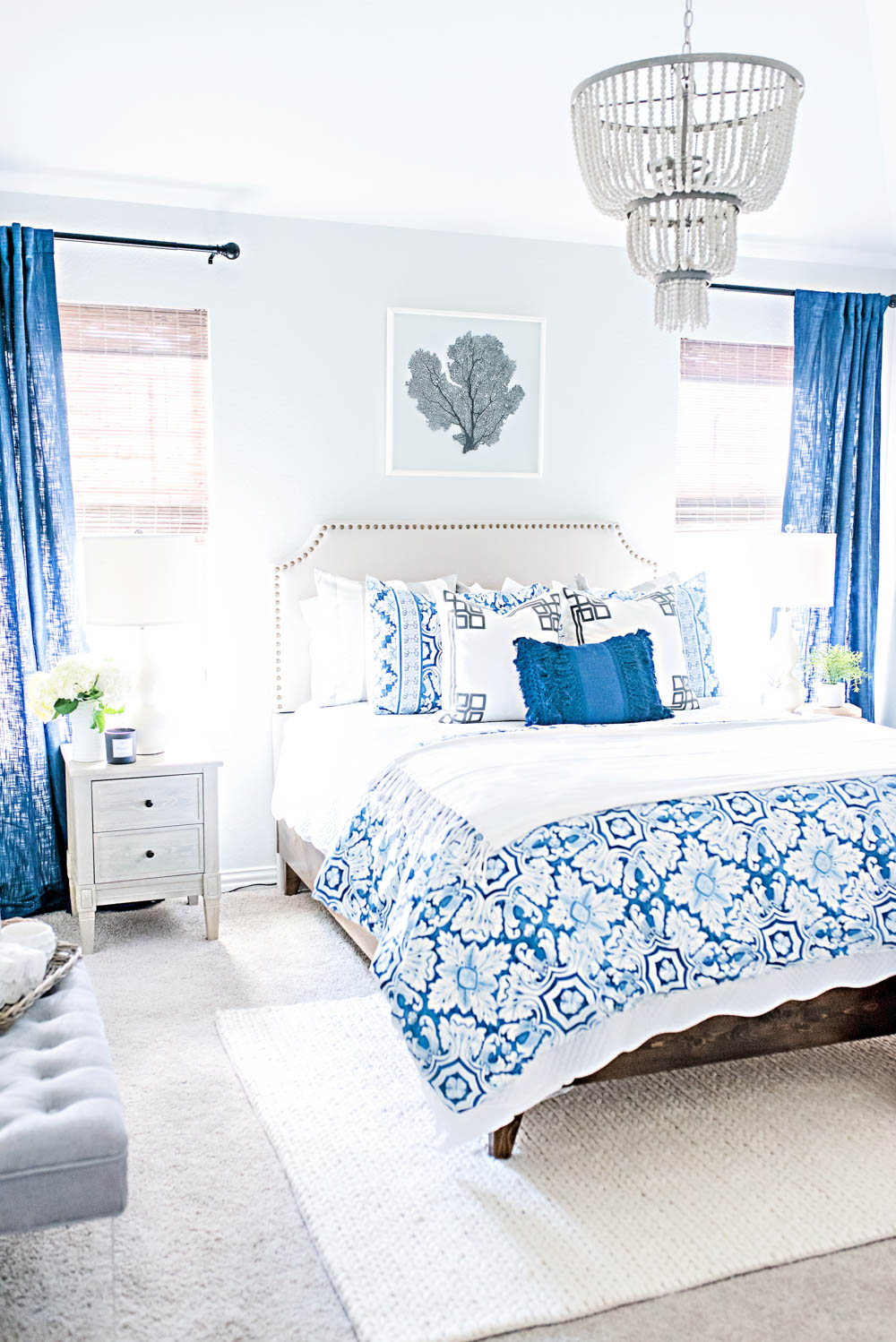 I wanted this space to feel cozy and peaceful yet not too girly. My father in law comes a lot to visit and this space needed to be a little more masculine.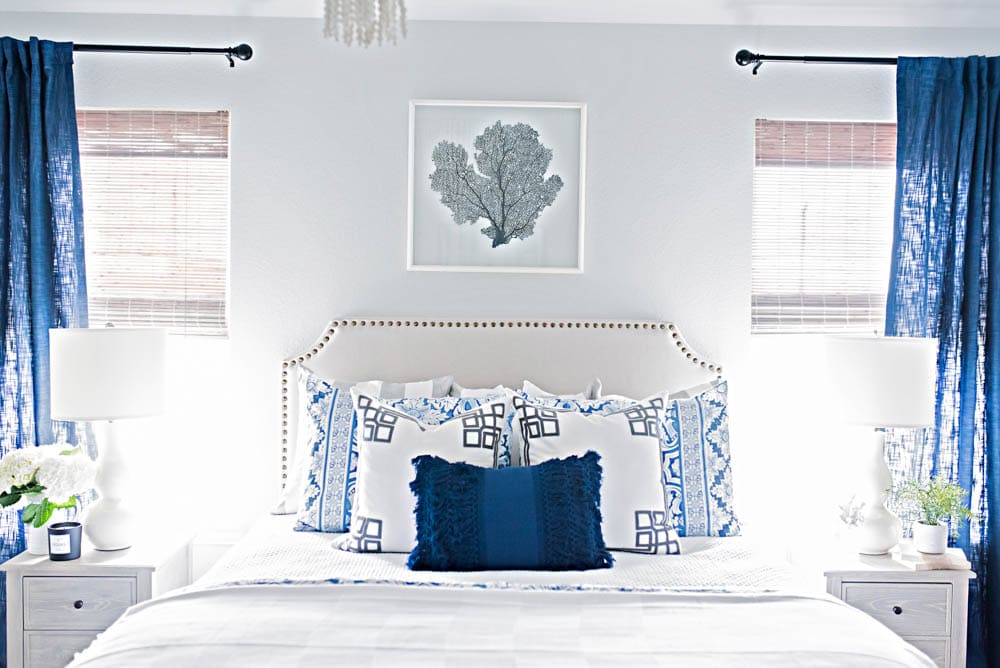 I decided to move the bed in between these two windows and it faces the door you walk in from. I originally had the bed on the side wall but it felt cramped there and I love that you walk into this gorgeous view now.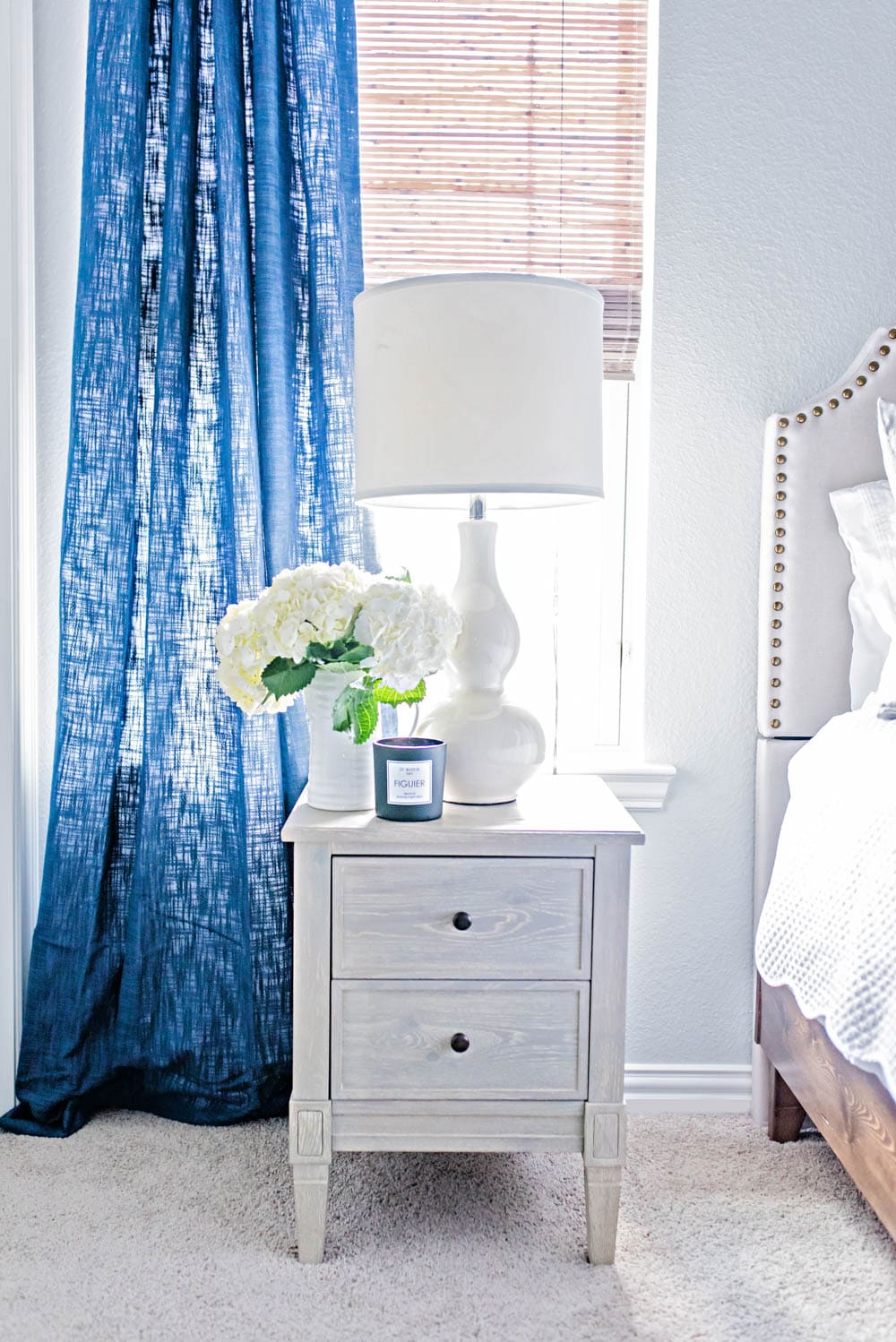 My favorite drapes are these linen ones and because I selected this blue and white bedding first, I wanted a bold color on the windows to make the bedding stand out. I have these drapes in our breakfast room too and the quality is amazing. They are a little long but I like my drapes to puddle on the floor and it gives them some fullness.
I had these lamps from our last house and they were in our guest room there too. I love the shape of gourd lamps. They have a modern flare to them and were the perfect size for these nightstands.
So that brings me to a shopping tip. These nightstands are actually from Pottery Barn Kids. I think sometimes the kids and teen sections are great for guest bedroom furniture and accent pieces. The scale (since a guest bedroom generally is a smaller room) is better and the price point is less. I know Pottery Barn is great quality so shopping the kids and teen site was perfect for this room. Oh and let me just tell you, these nightstands are HEAVY. I did not expect that but they are very substantial feeling.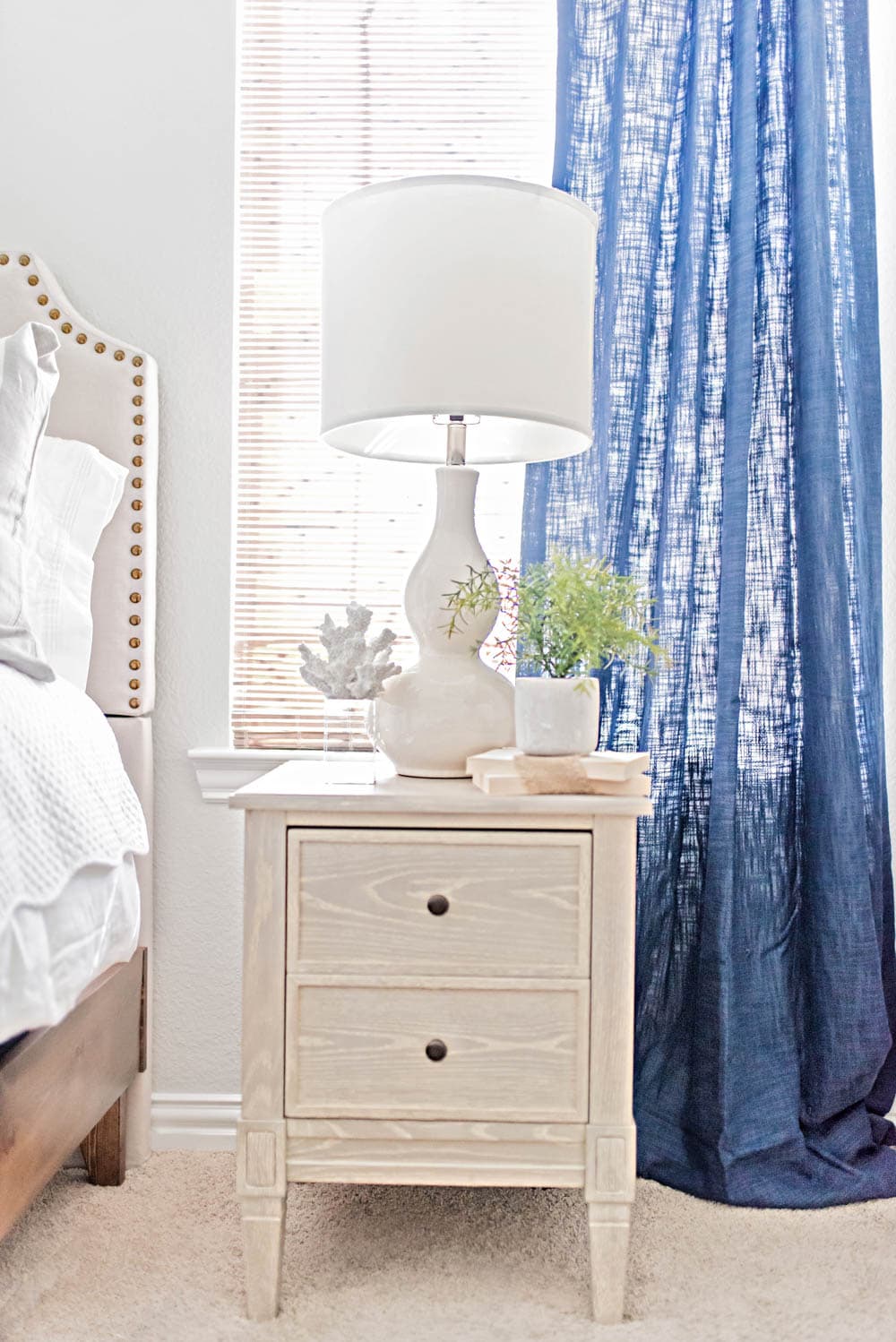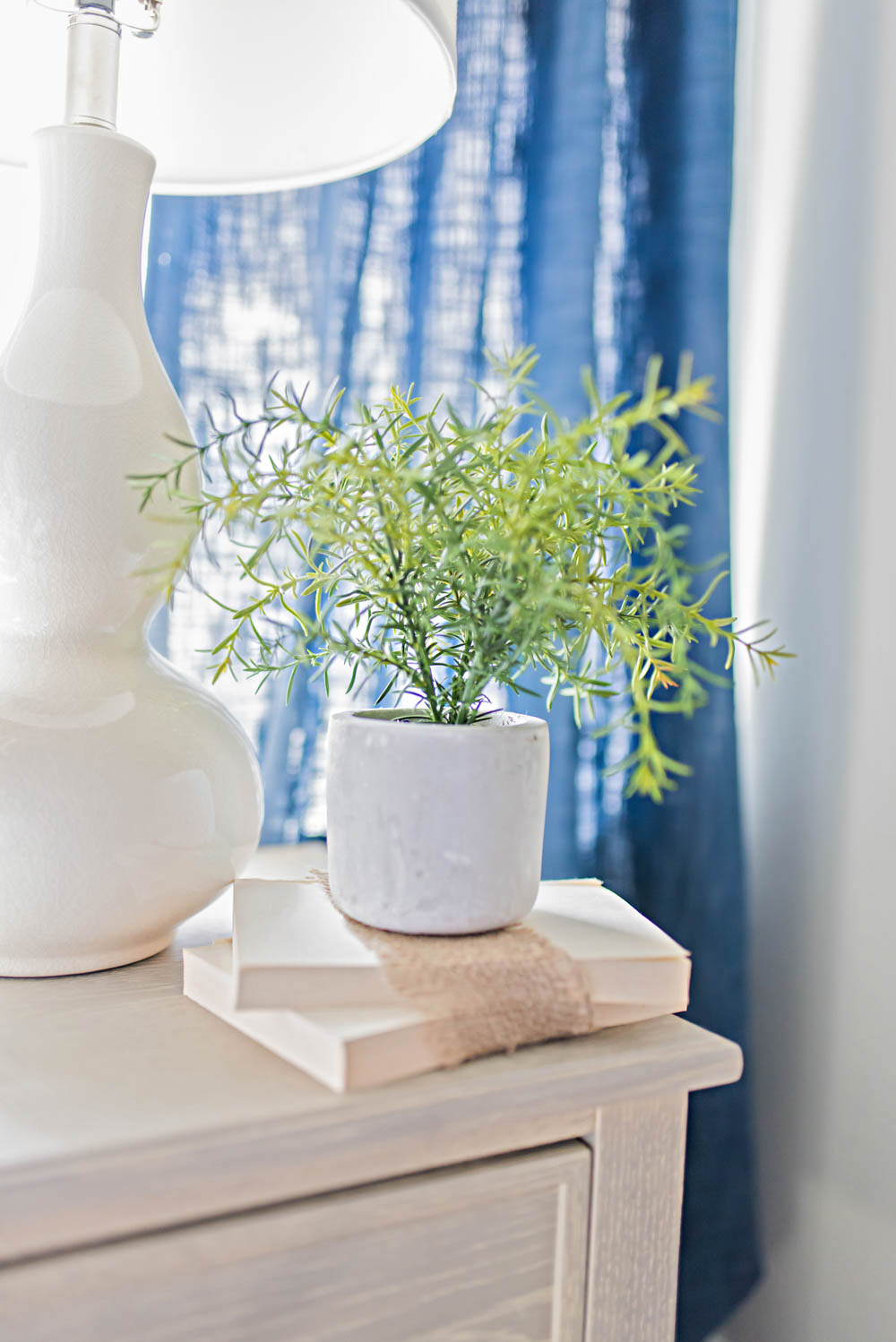 One of my favorite things I got for this room was this tiered wood bead chandelier. I hate to tell you too that literally right after I bought it they sold out and it doesn't look like they are restocking it BUT I shopped a few similar one for your HERE and HERE. It is a little touch of elegance with a beachy vibe. Now so far I personally don't think wood bead chandeliers give off much light so our table lamps really help at night in this space. We have one in our stairway too and it again doesn't give off much light. Then again I am using candelabra lights (because you can see them through the beads and they are pretty and they are lower voltage. So my best advise is to have some great table lamps for additional lighting in your space if you get one of these chandeliers.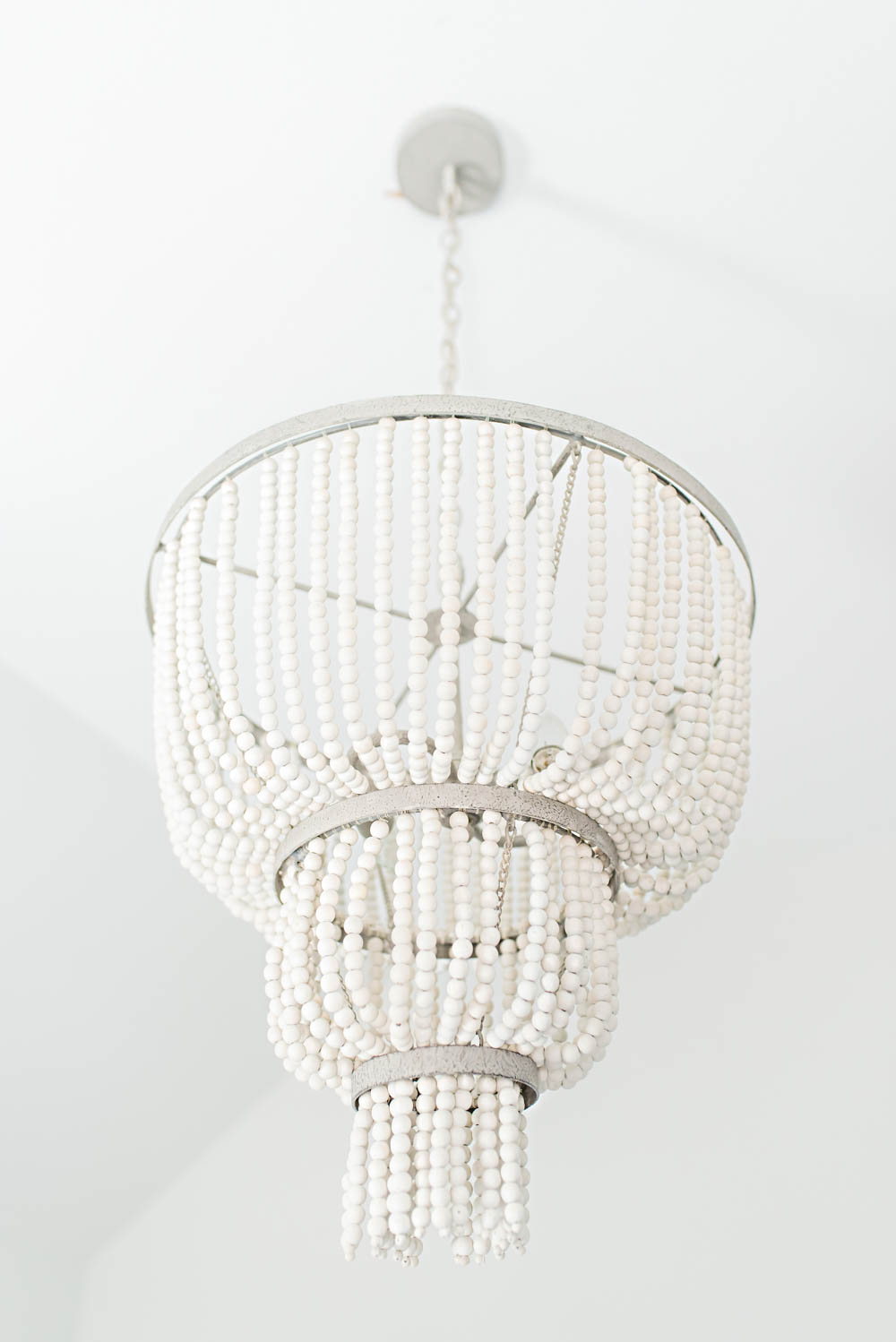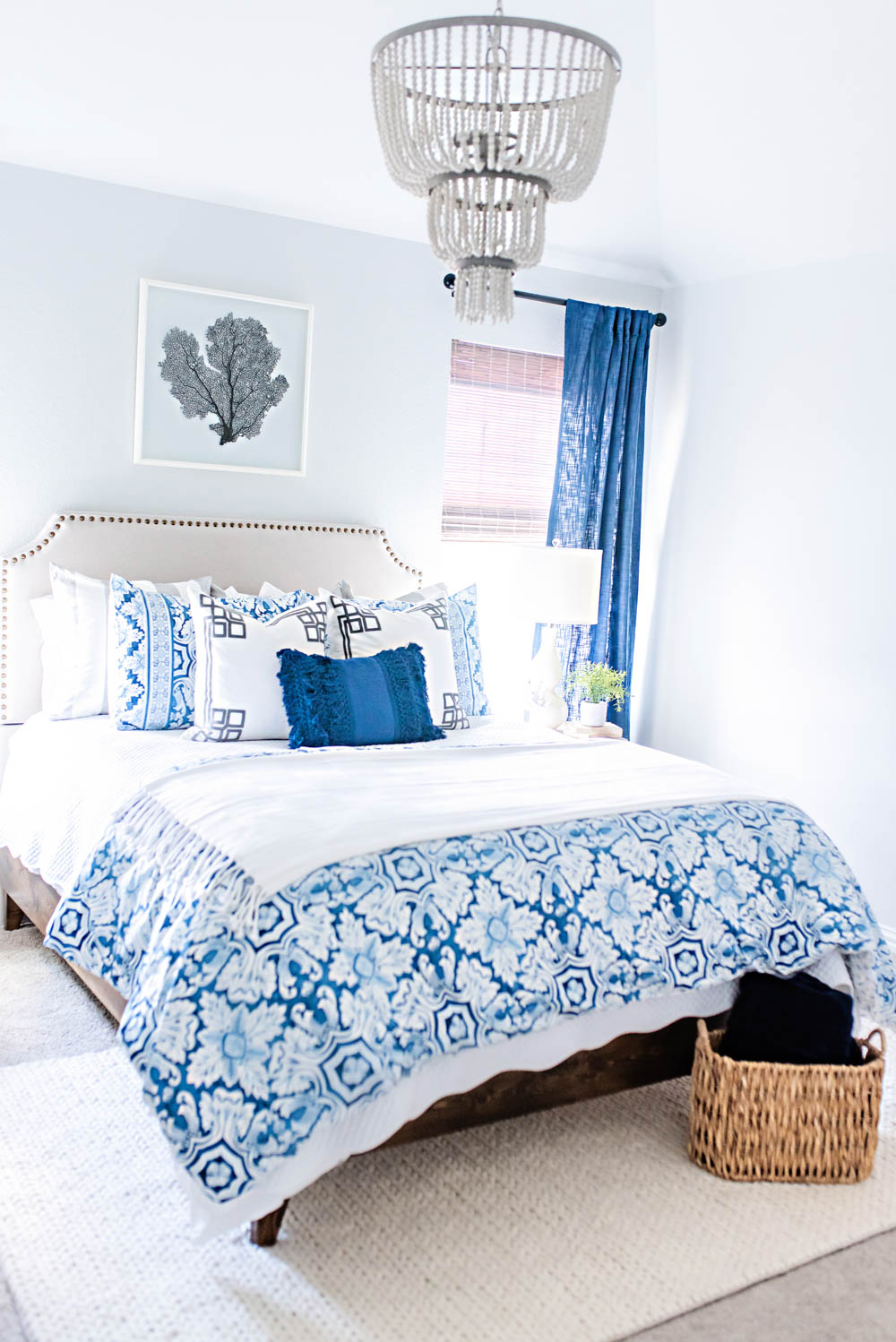 As I mentioned earlier, the bedding was the first thing I selected for this room. Typically when I design a bedroom I like to start with the bedding. You can pull pattern and color in this way and the rest of the room can accent it. I love the gorgeous watercolor feel of this bedding and damask pattern.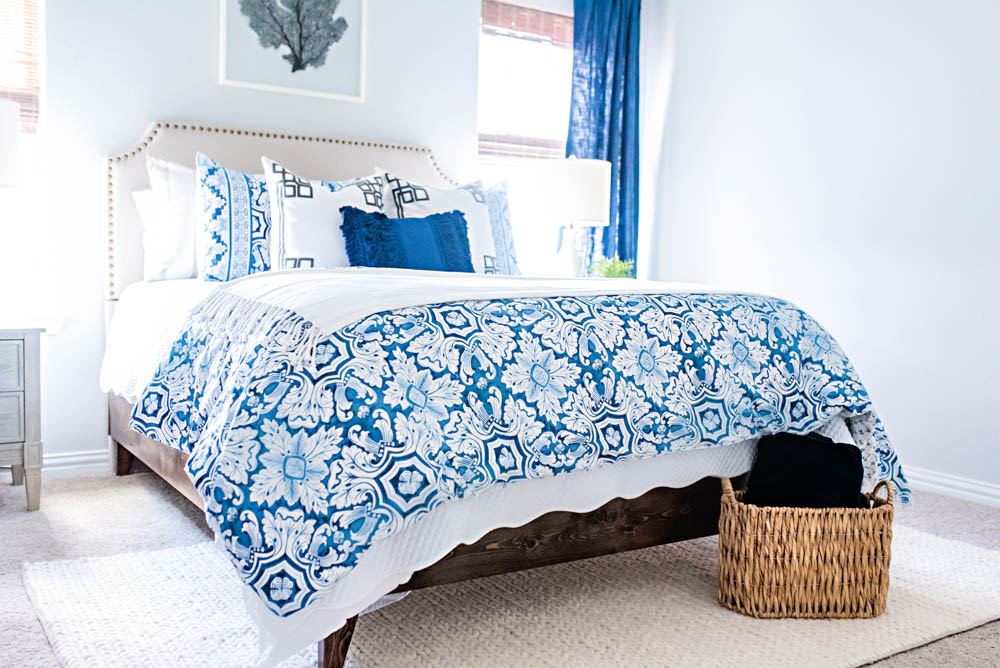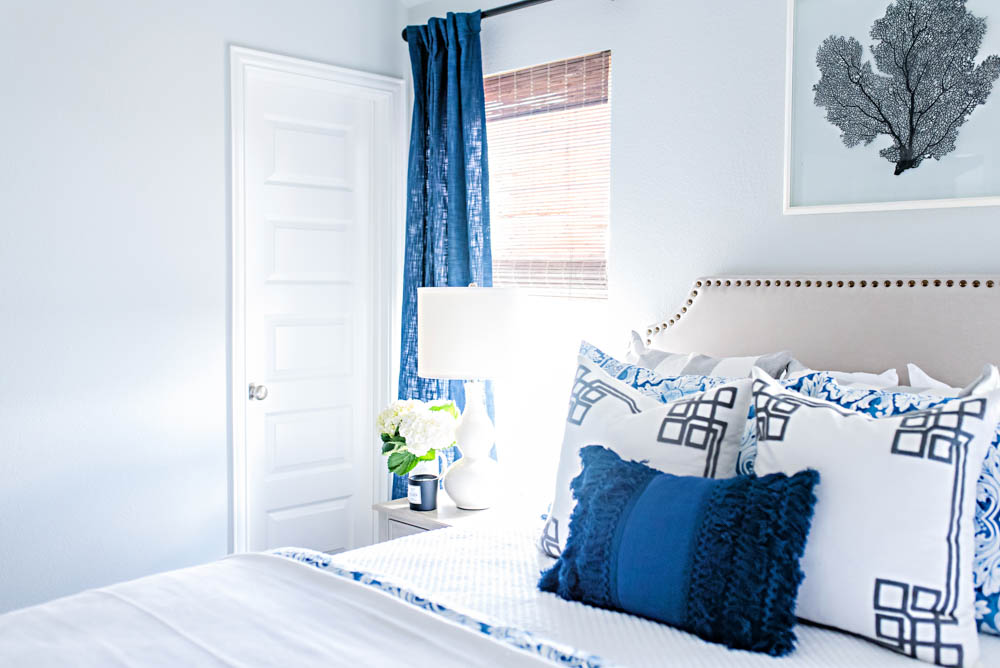 I added in these white pillows (similar one) with grey trim that I've had for a few years and then this navy blue fringe pillow I snagged from the Anniversary Sale. This little blue pillow is such a great price and I loved it so much I got it in grey too.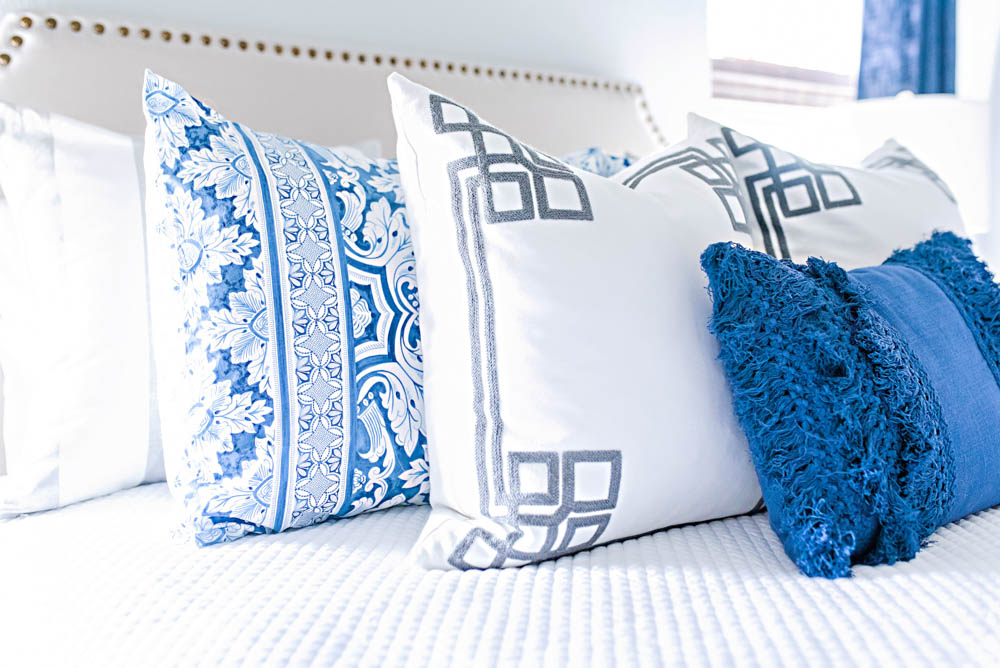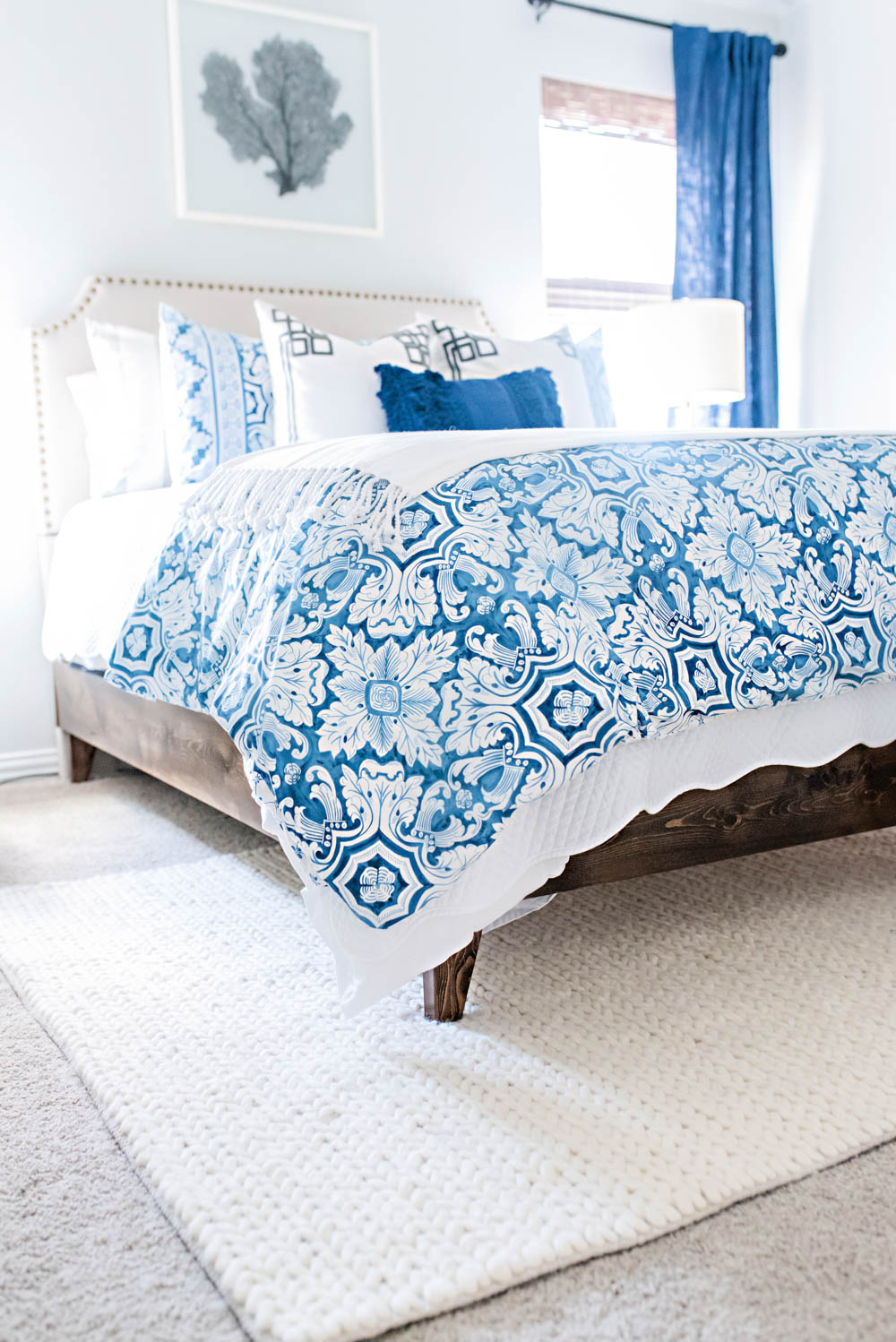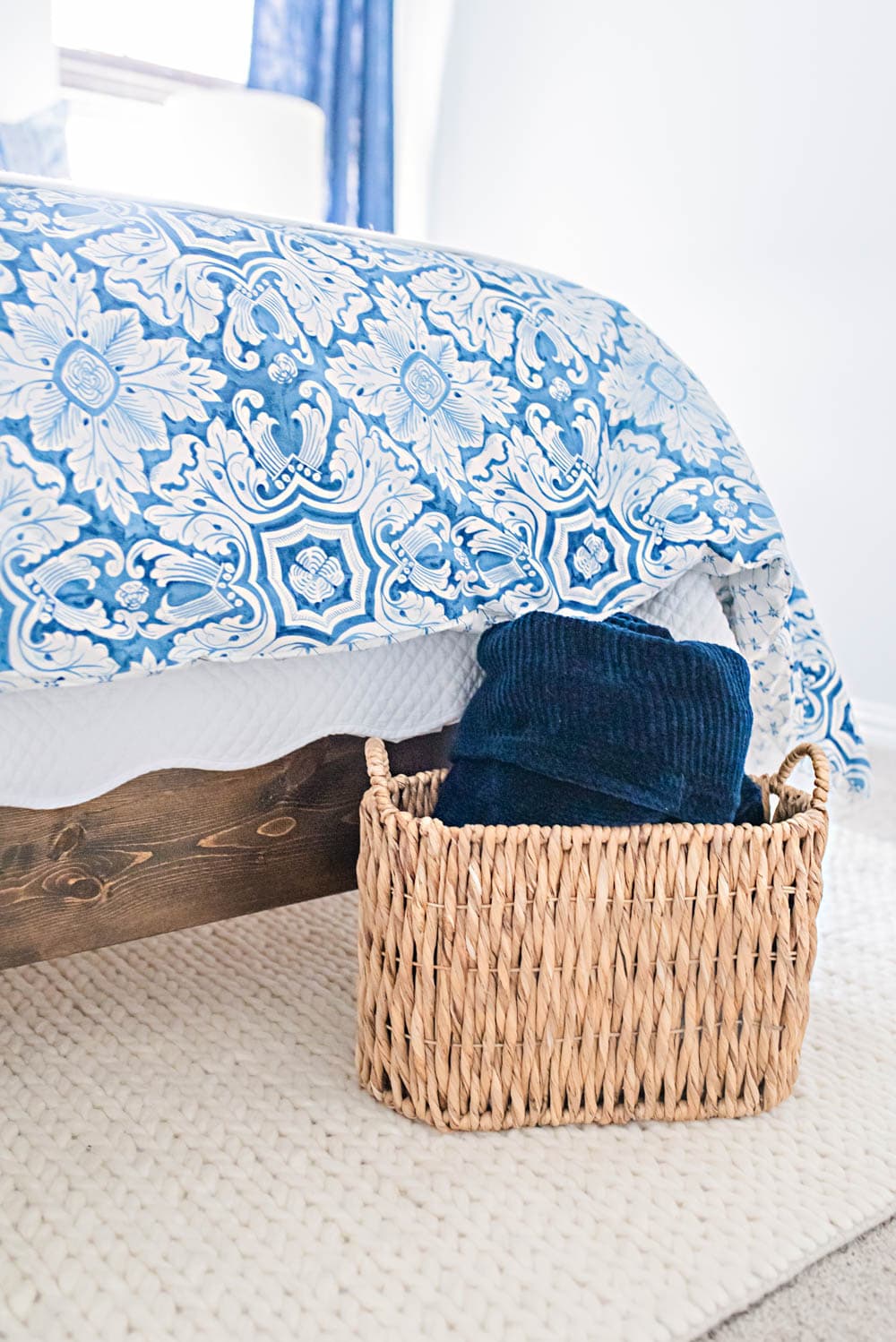 I always like to have extra blankets for guest so I pulled out this little basket I had in the closet and put a soft navy chenille one rolled up in it. This is one of my favorite blankets we have because it is SO soft. I got it years ago but HERE is one similar from the same place.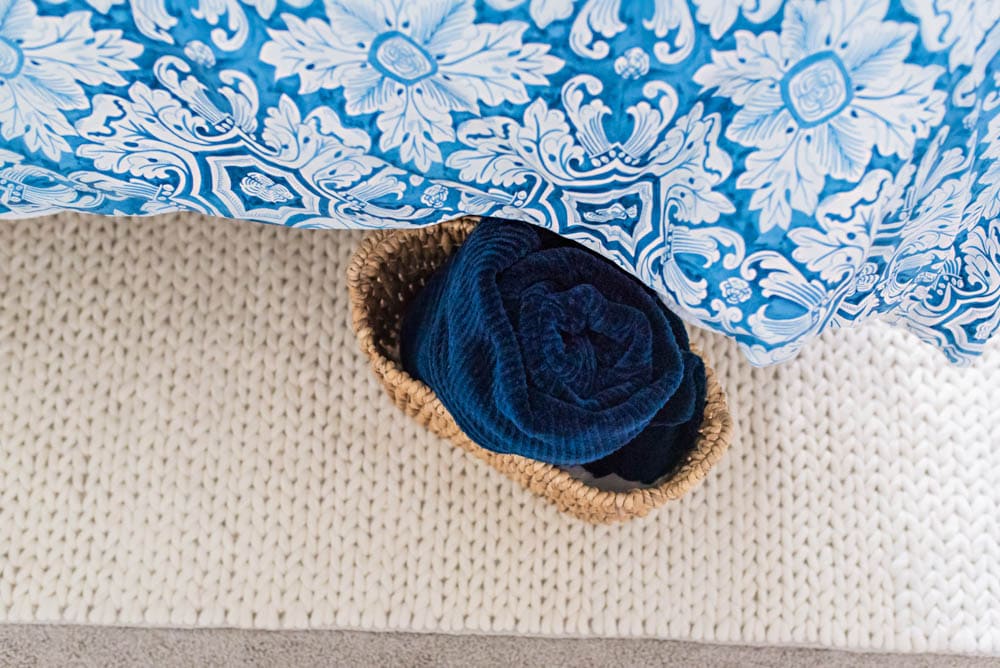 I always love to layer area rugs over a carpeted room. Not that it is needed but it grounds the bed and furniture and makes it feel cozier. I got this cable knit rug in ivory and love the soft pattern and texture it adds to the space.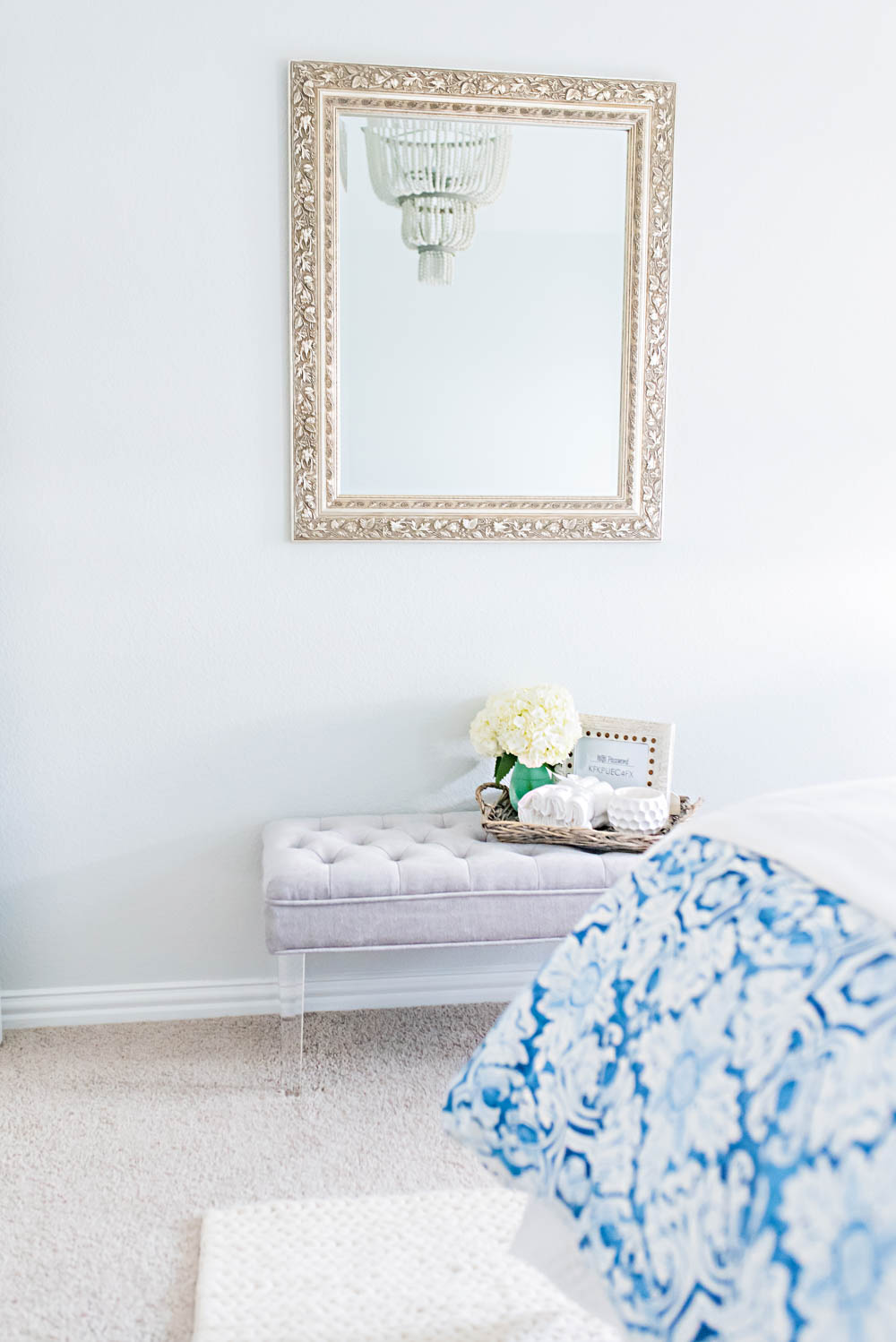 Another piece I've had for years is this mirror from Tuesday Morning. It has moved from room to room in our houses over the years and it's been such a great basic piece to have. I linked a similar one HERE.
I took this bench from our entry and moved it up here to add a little spot for someone to put their luggage on our change their shoes.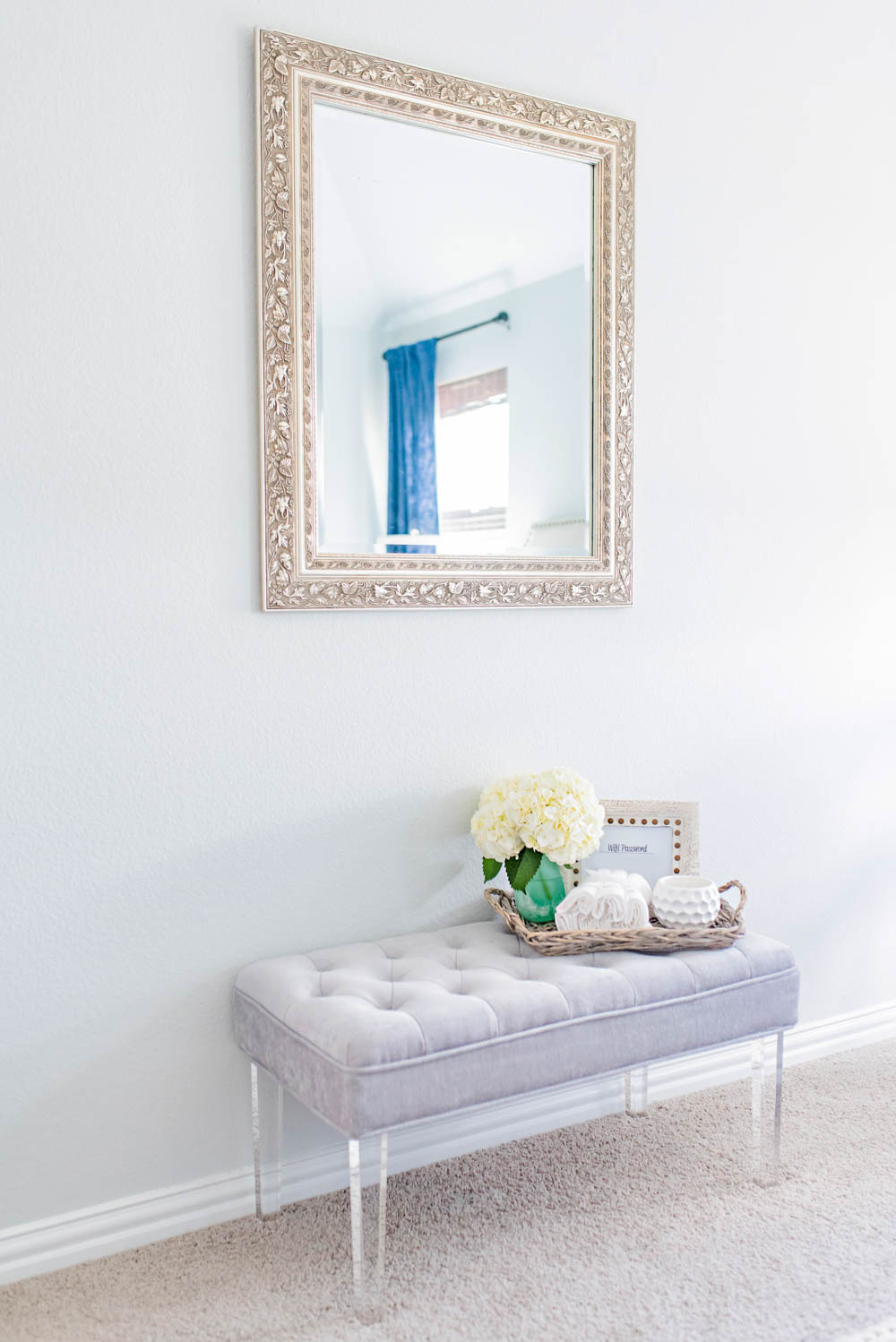 I always place fresh clean towels out before someone comes and get some flowers from the grocery store. I have our WIFI password in a frame so they can easily connect their devices and then a yummy candle they can burn. I have more ideas on how to get your guest room ready for when your guest come right HERE.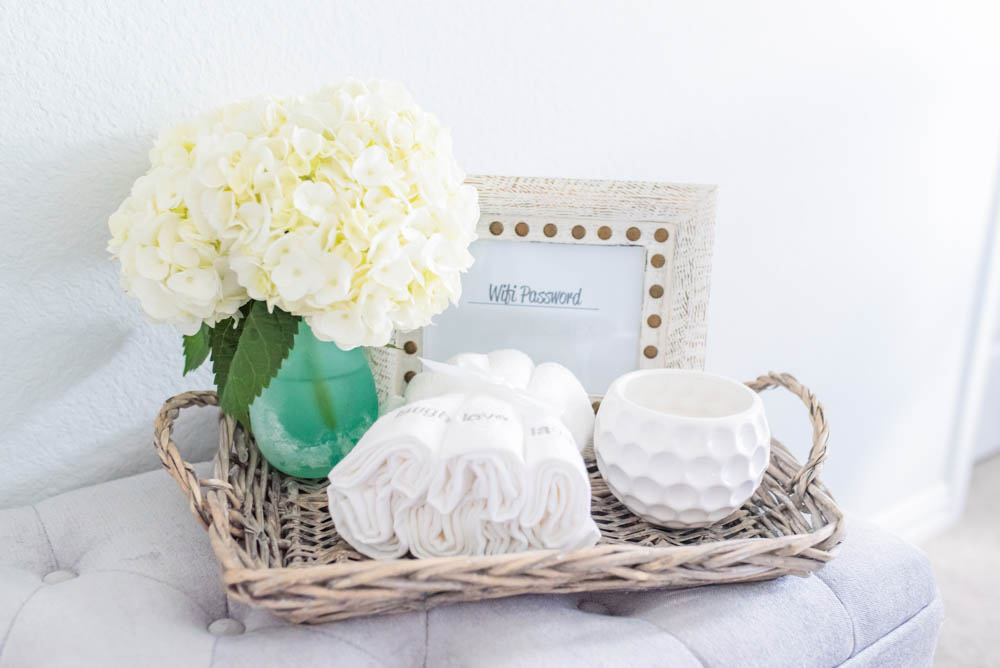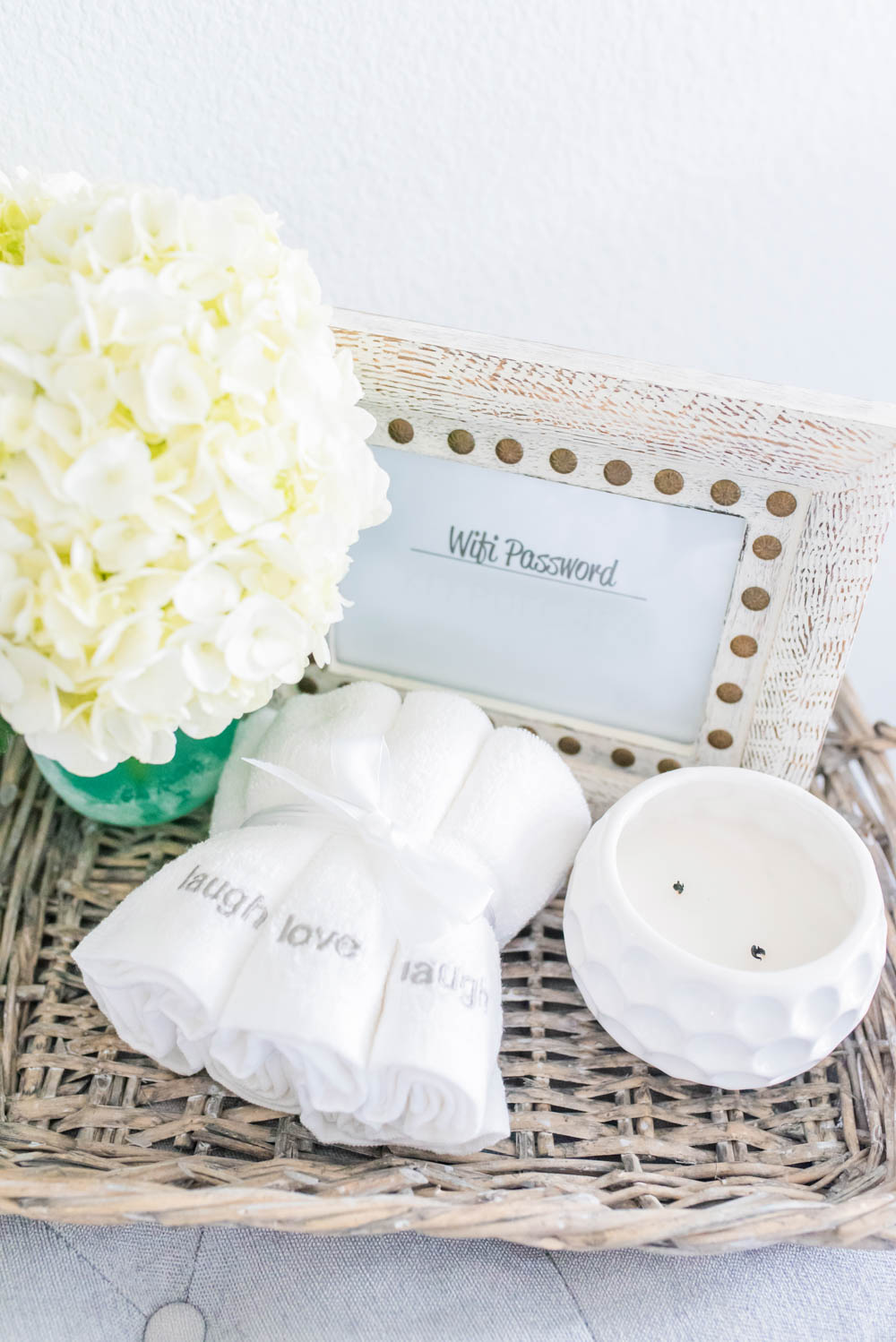 Opposite the bed, I have a comfy tufted upholstered chair with a reading lamp. I love little spots like this in a guest room for people to get away for a quiet moment and have a spot to read. This particular chair sits deep and is so comfortable.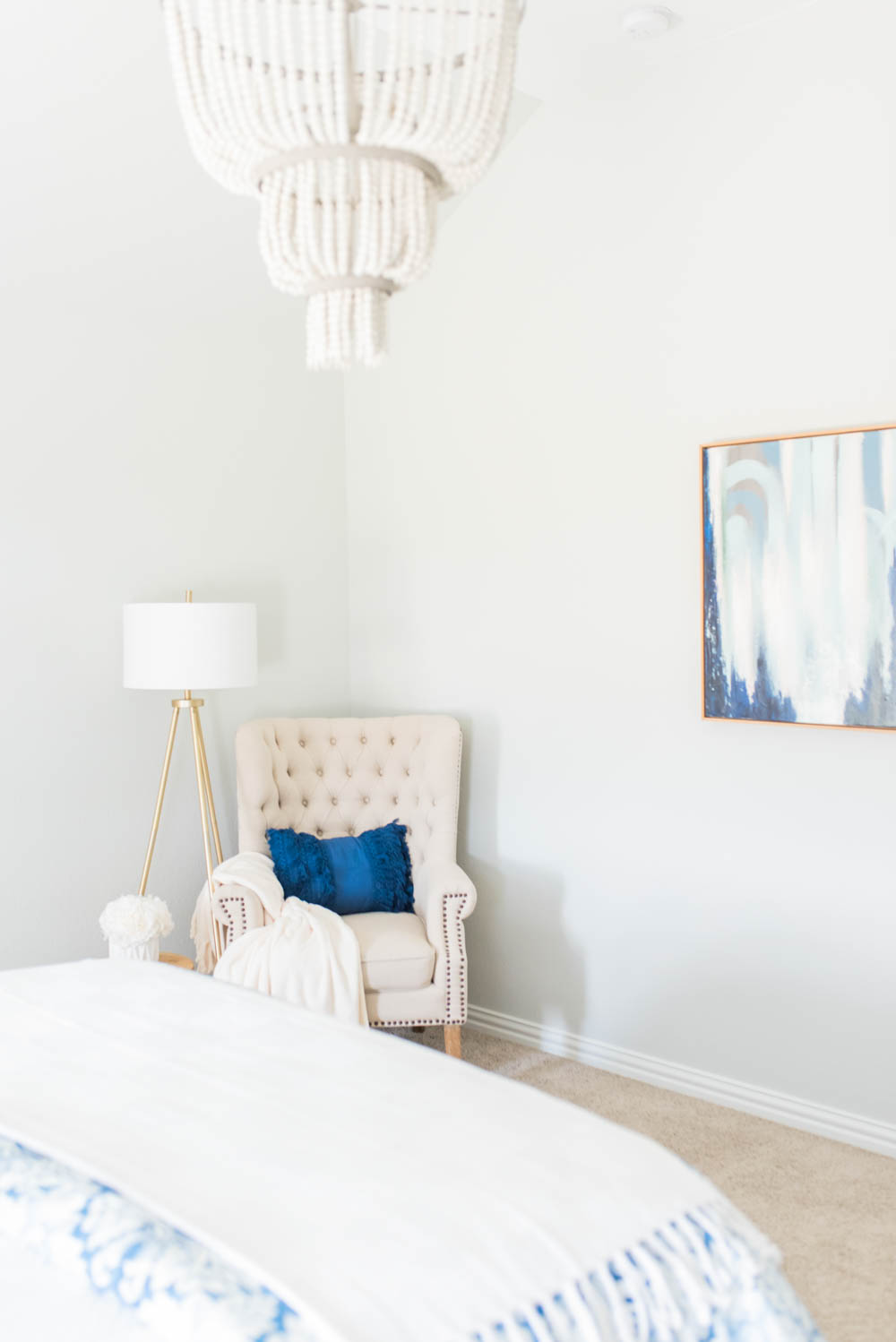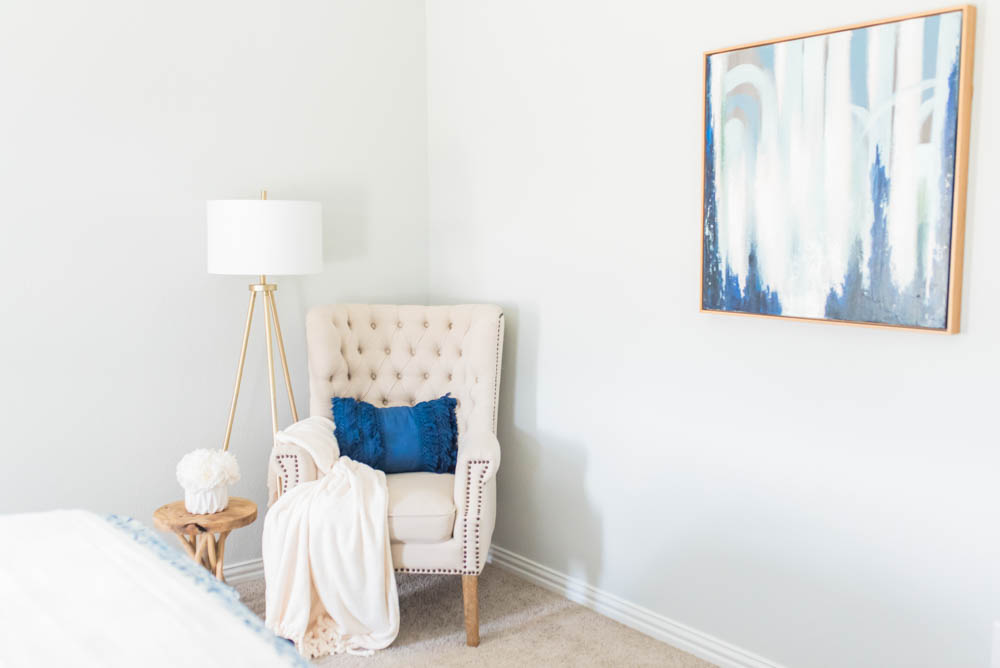 I just got this plush blanket from the Anniversary sale and it is one of my favorite blankets ever. I got the sky blue one last year and we always have it in our living room. This time I got this vanilla one and a grey one. They are only $40 and worth every penny!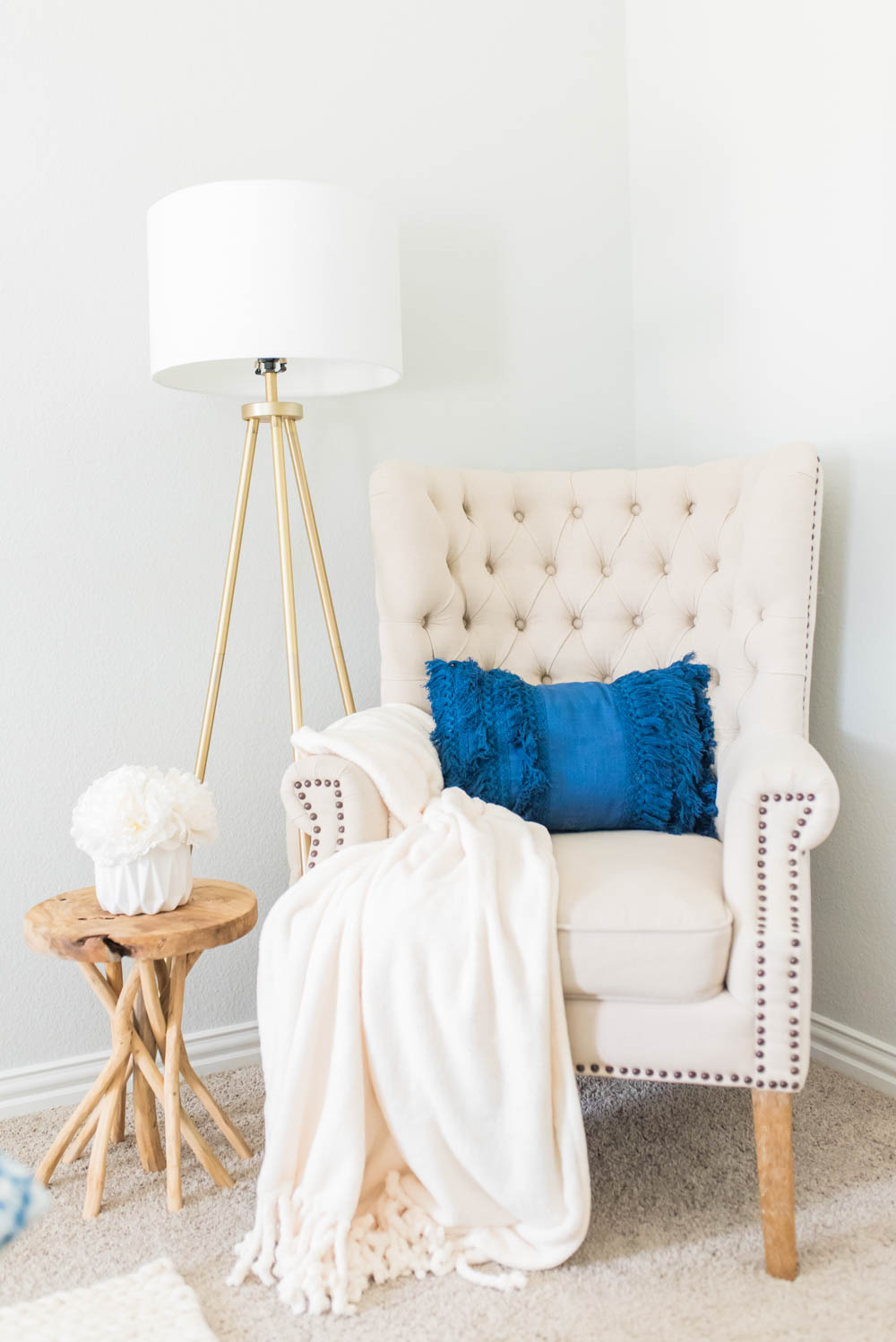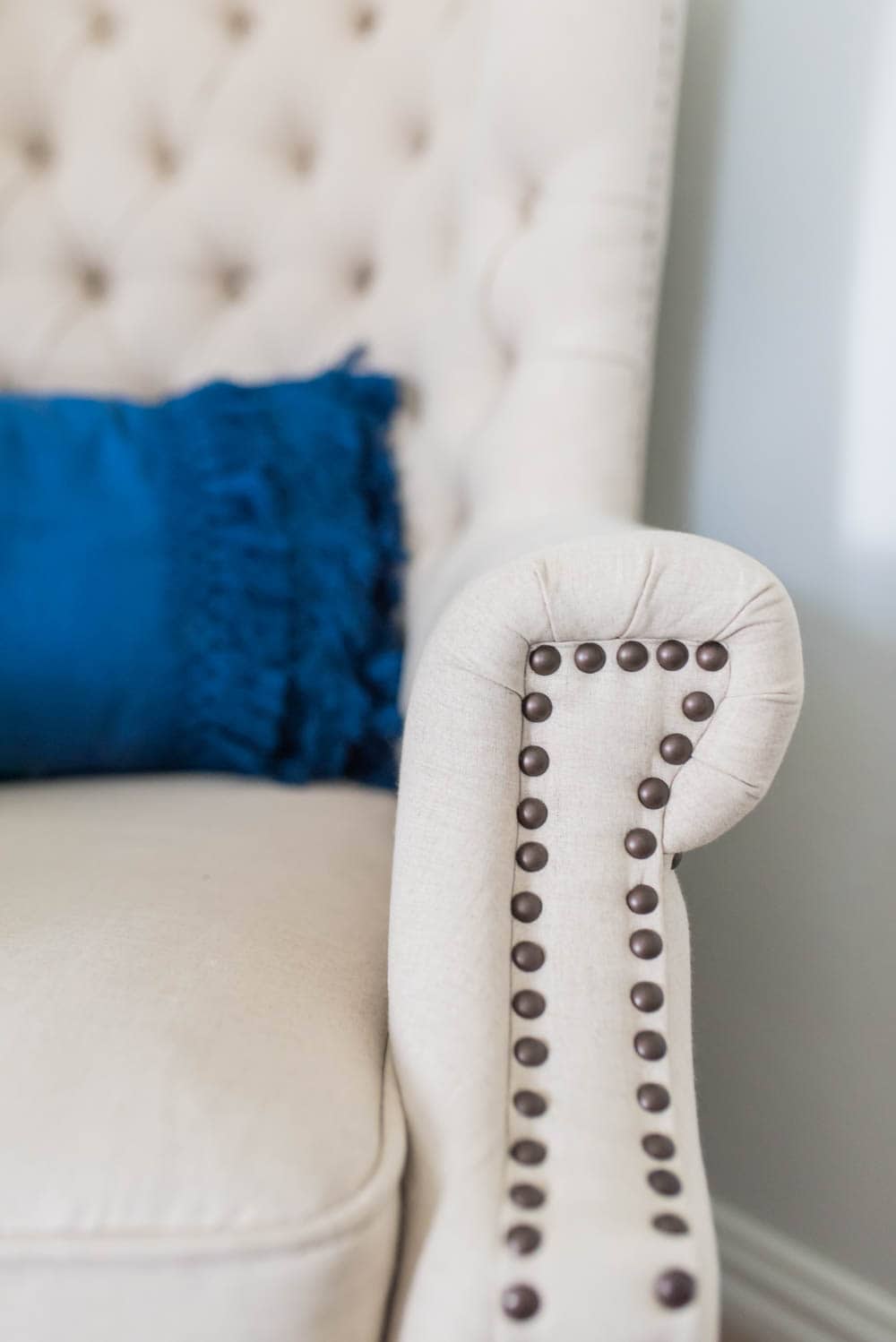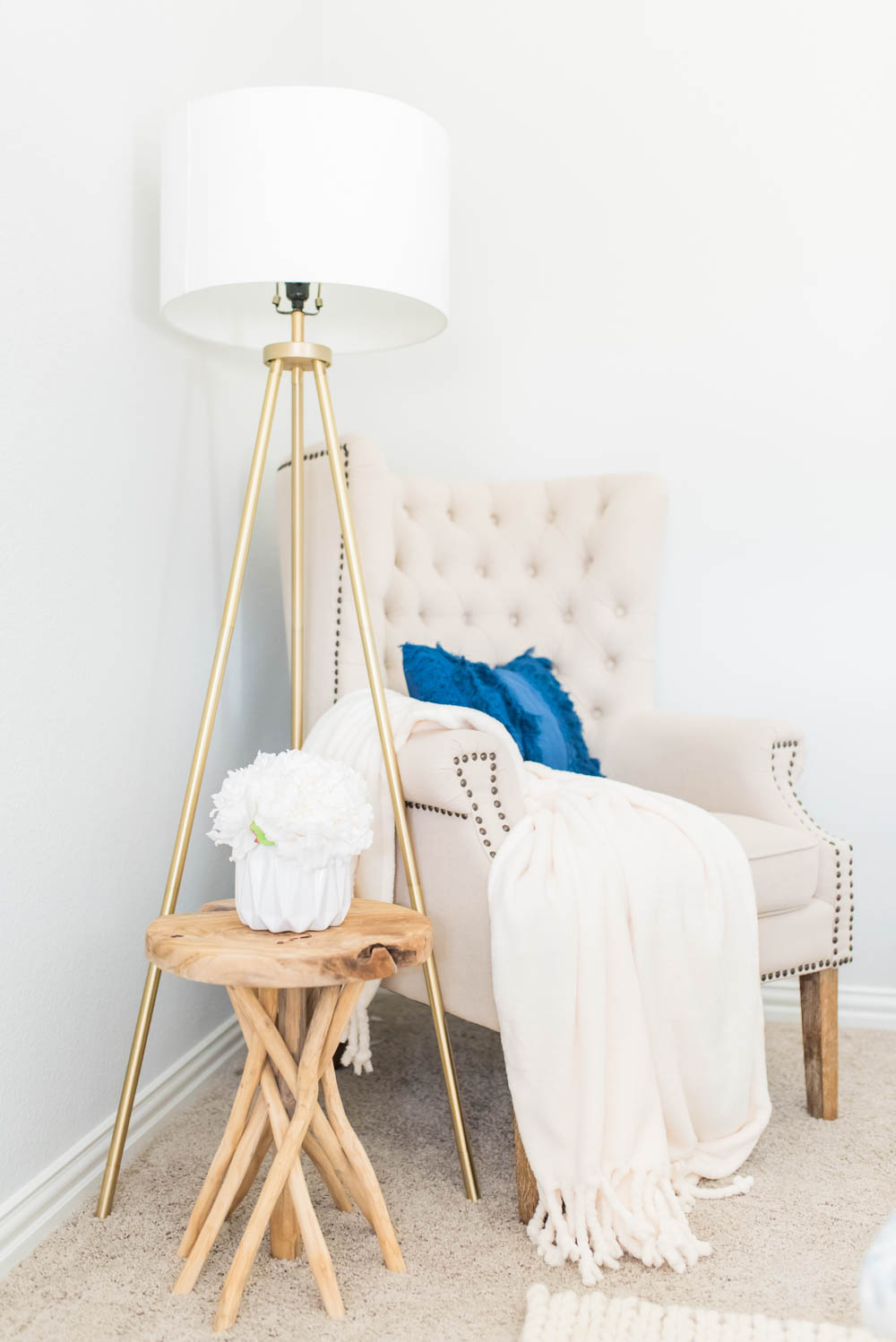 I recently picked this little wood table up at Homegoods and it is such a fun whimsical piece. I actually found the same one HERE for you. It kind of reminds me of driftwood. It's small enough to tuck right into this space.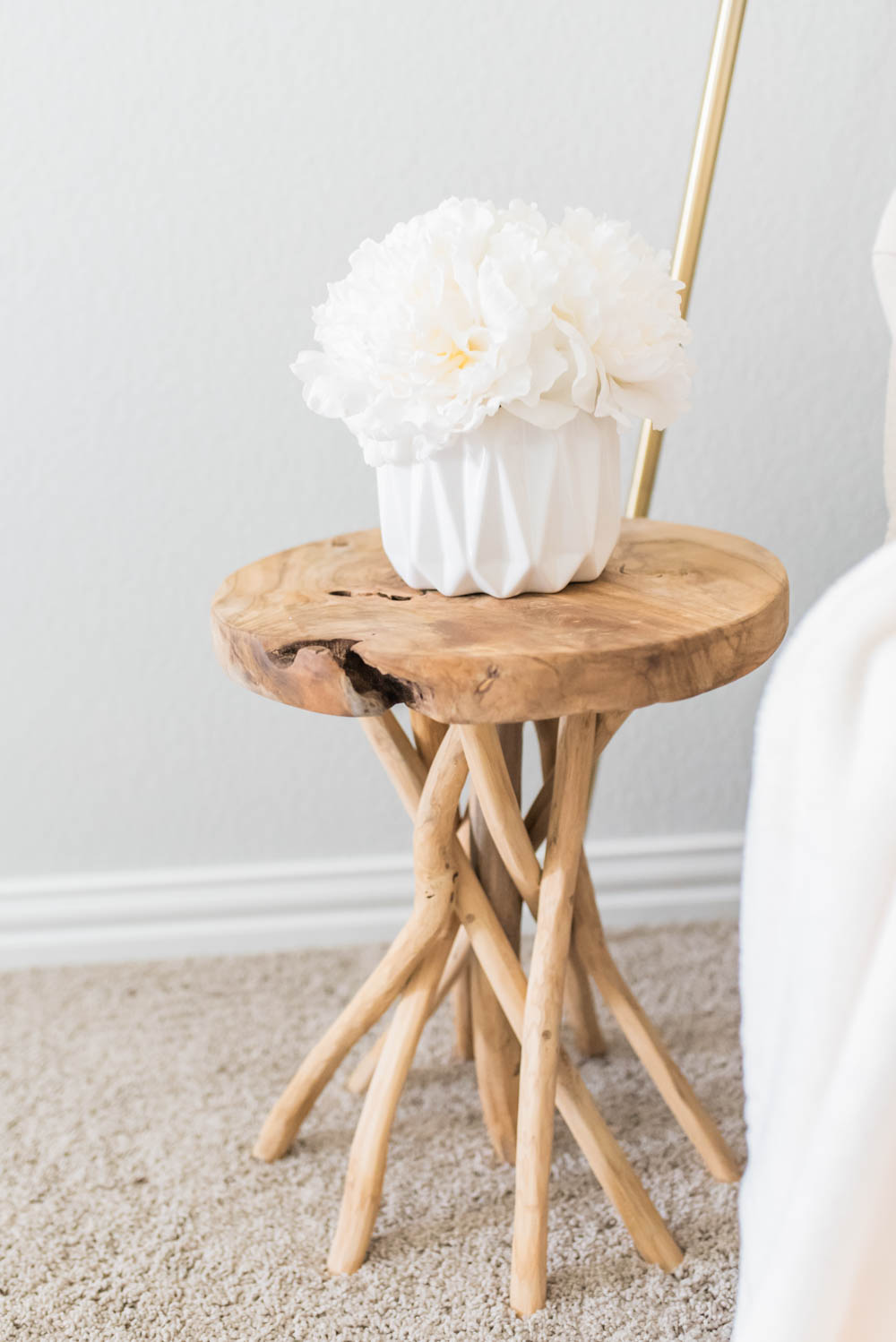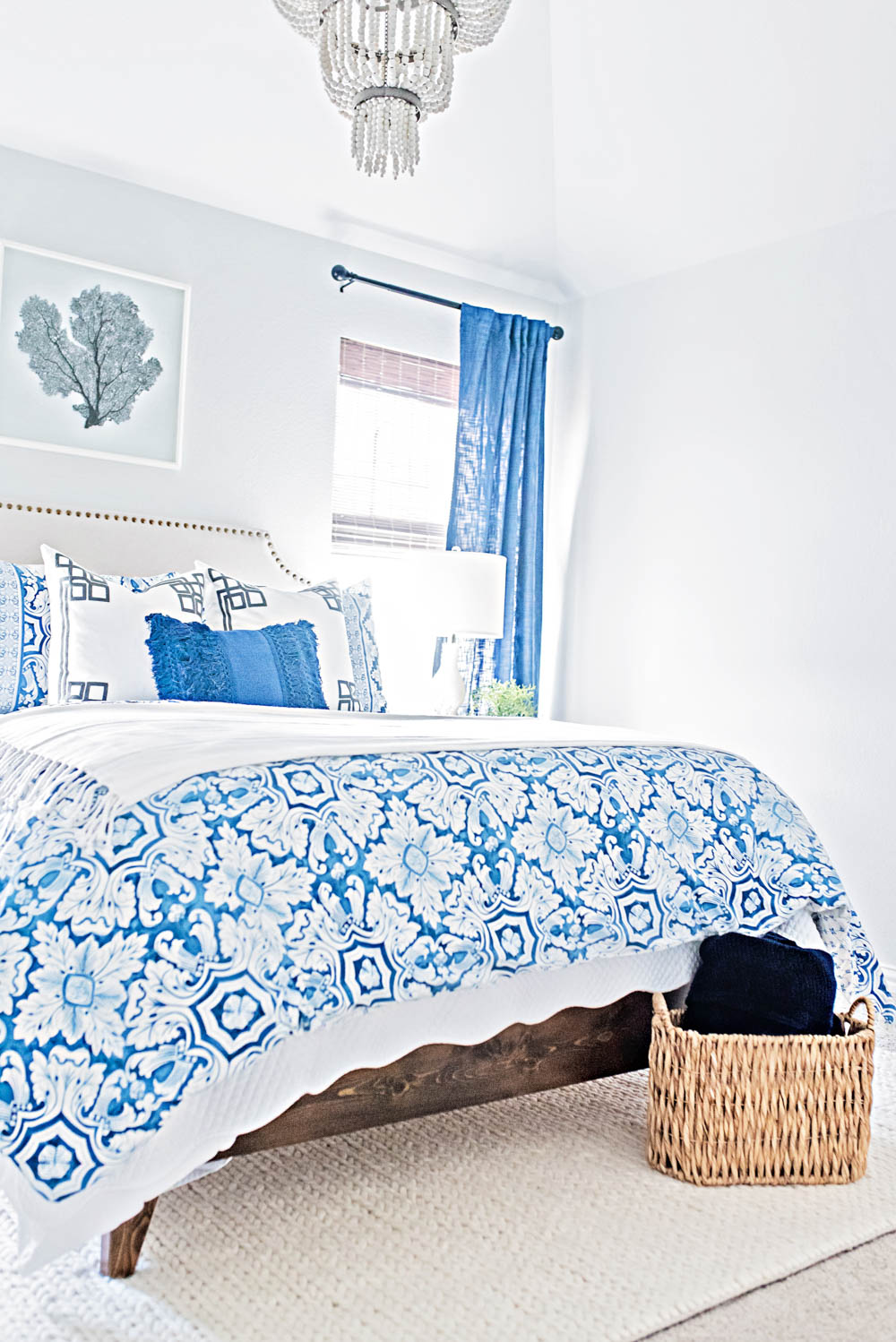 And there you have it! We actually have friends coming in town the next week, so I finished it in the nick of time. Now I just need to finish up our master bedroom! Hope you loved it and all sources are listed below.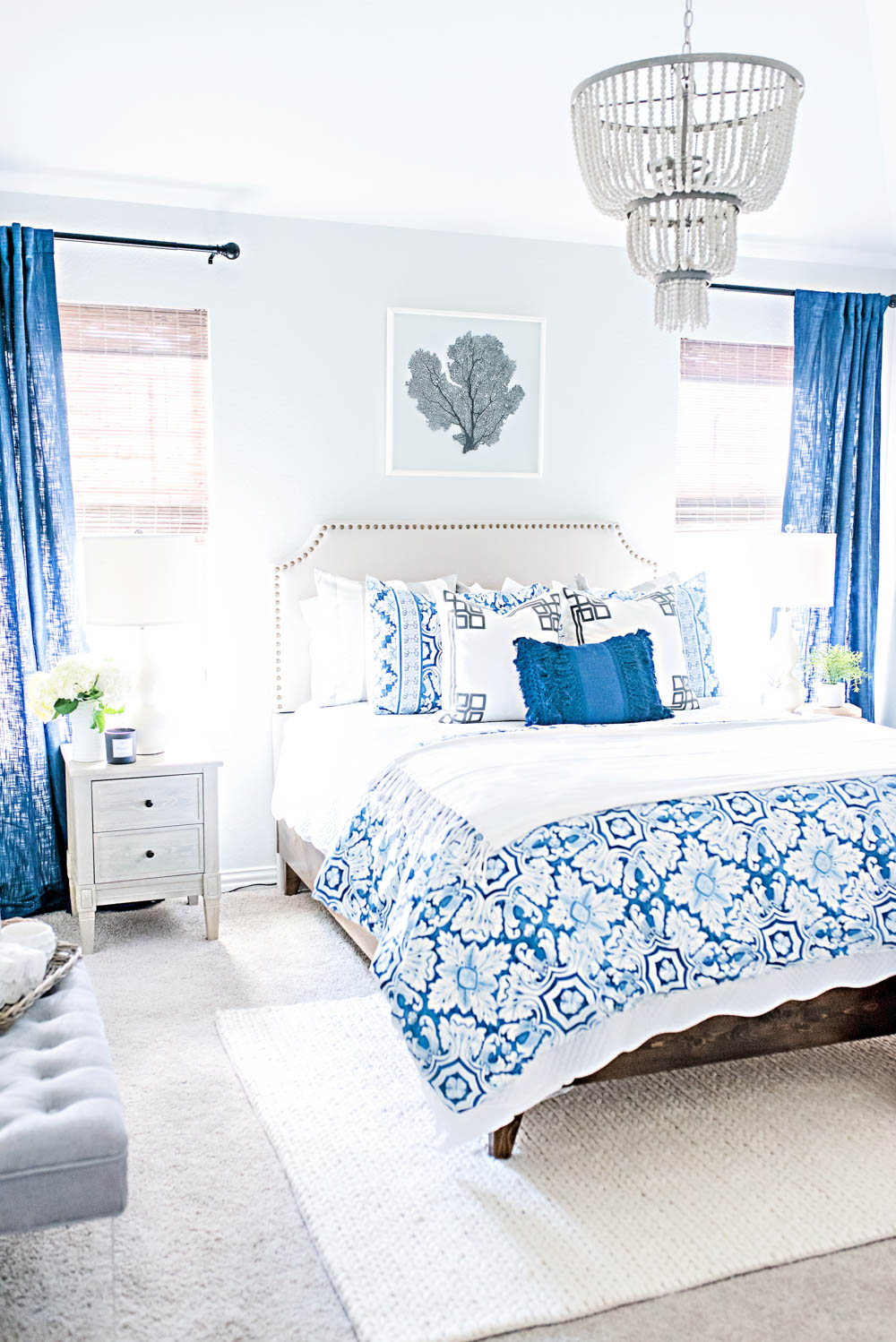 *Photography by Sweet Memory Photography