Our Backyard Makeover Before and After with Small Landscaping Ideas
This post may contain affiliate links. Please read our disclosure policy.
This post is sponsored by Husqvarna.
Welcome to another reveal! I have had so many for you lately and this one is SO good. A few weeks back, I told you about our plans to makeover our backyard. We had dreams of turning this into a little oasis with a lake view. We have dreamed since leaving California to be back near water. So for us this home has been a dream come true. But when you semi-custom build a home, landscaping is not something initially in your building price. We were left with a boring backyard with nothing but 1 tree. And let me mention we only got the tree since we have a lake view and an open iron fence to the lake beyond. You can check out our full plans right HERE.
So here is what we had 4 weeks ago. . . . .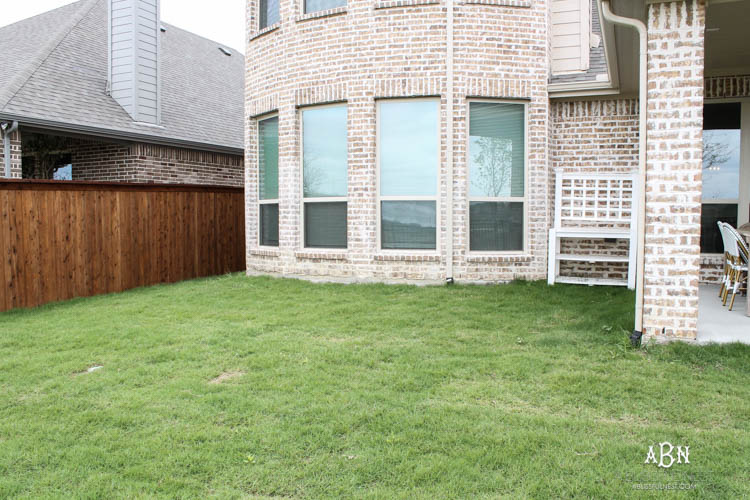 And this is what we have now. It is such a big difference!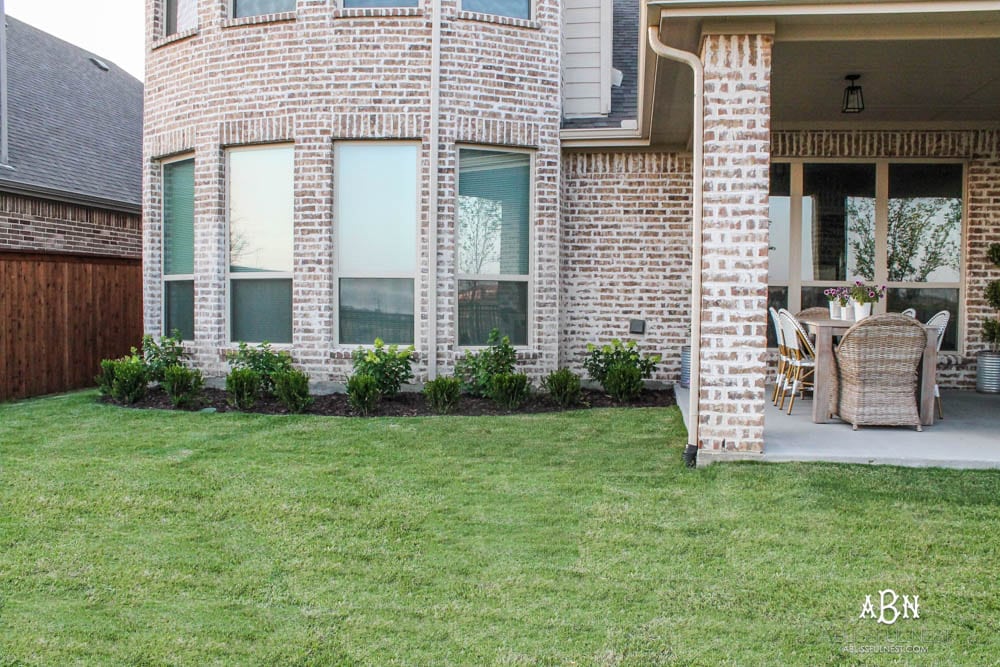 It has truly softened the sharp looking features around our master bedroom windows. The curve follows the window detail too wrapping around it.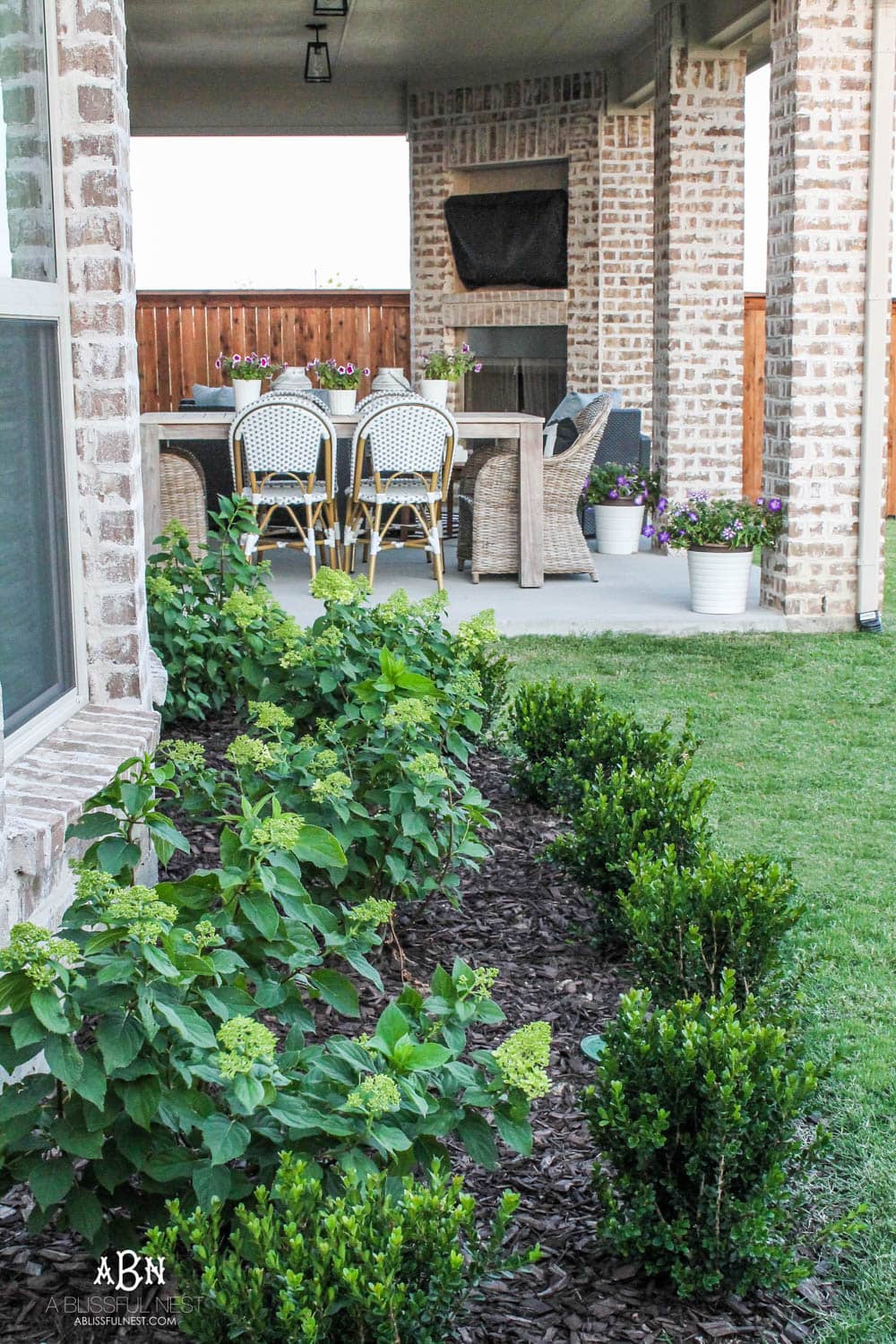 How to create a wraparound flower bed.
Step 1: spray paint or draw out the depth you need and your cut line
Step 2: dig out the area within the cut line
Step 3: place plants where you want to plant them
Step 4: plant plants and cover soil with mulch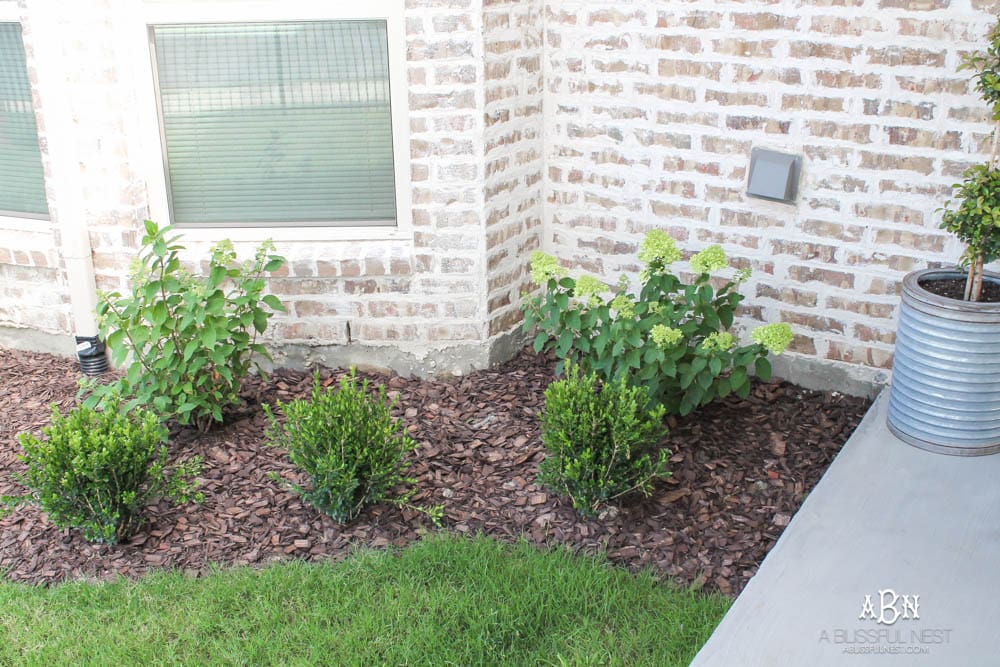 What plants we selected and why.
This area gets full day sun and here in Texas the summers are brutally hot. I had my mind set on blue hydrangeas because I love their big gorgeous blooms and I wanted a cutting garden. BUT, after consulting our local nursery, I found out the only hydrangeas that will survive that kind of heat are lime white hydrangeas. They are also beautiful and initially turn this gorgeous shade of lime green and then white.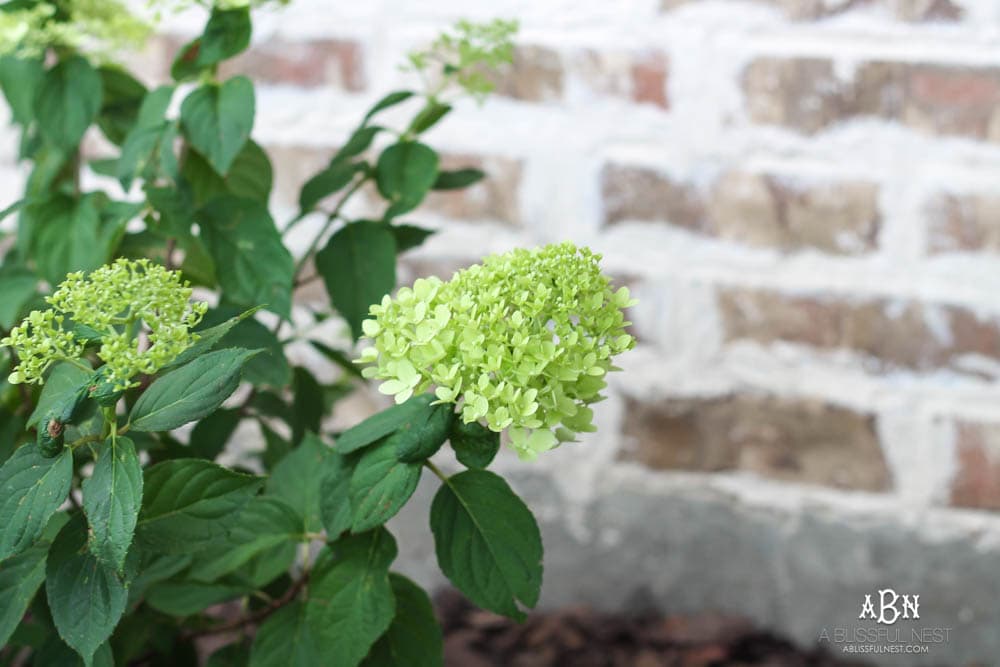 I also wanted a layered garden look with something that would turn into a border. We decided on these baby jim boxwoods. They also do well in the heat and will be fine when it gets our Texas cold weather. Eventually they will grow to where they will come together and form a border.
The mulch we added will help with keeping the dirt packed, weeds from growing and over all keep it clean looking. But grass just likes to find its way no matter what and our new line trimmer from Husqvarna is a dream! It is nice and long to help get into those hard to reach areas and is super-fast. We use it on the garden border and around the edges of our patio for a clean crisp look.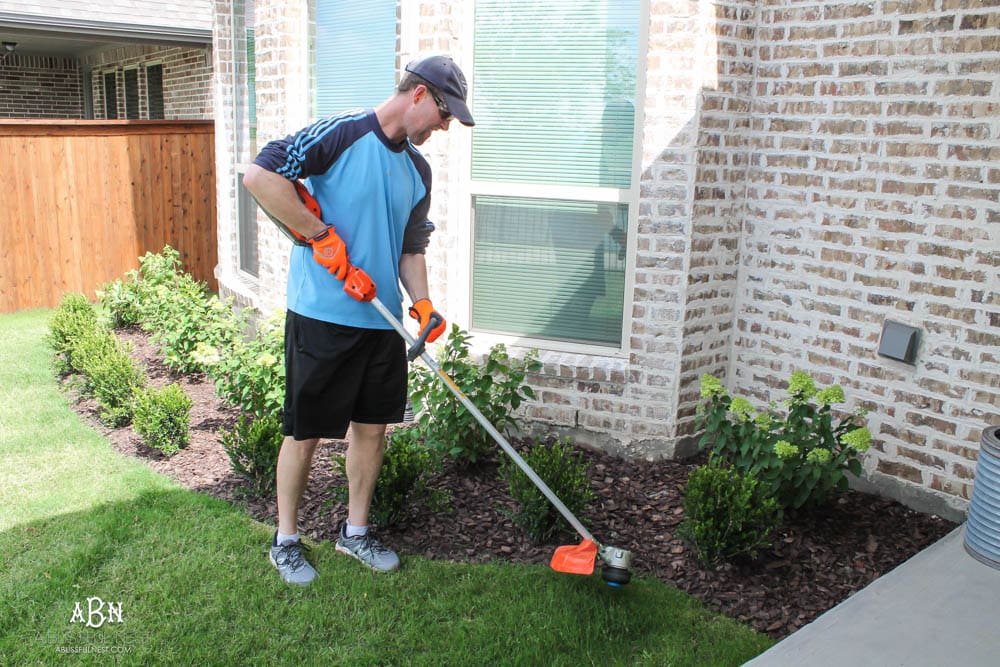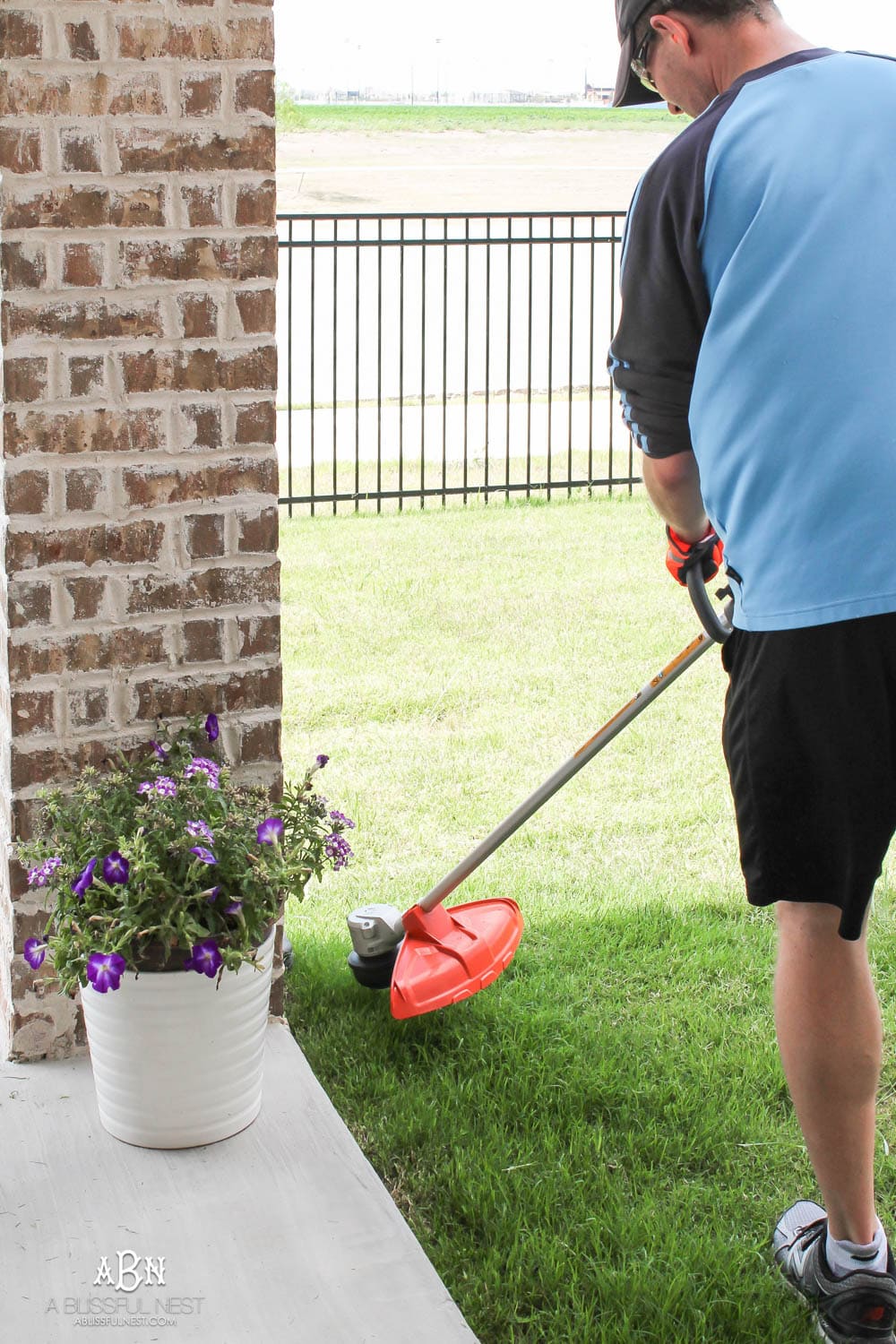 The batteries are so easy to pop in and my husband's favorite feature is they last way longer than anything we've had in the past. He loves this because in the past we always seem to run out of battery juice when we are doing our yard. It is so frustrating to have to stop and recharge to then go back later and finish.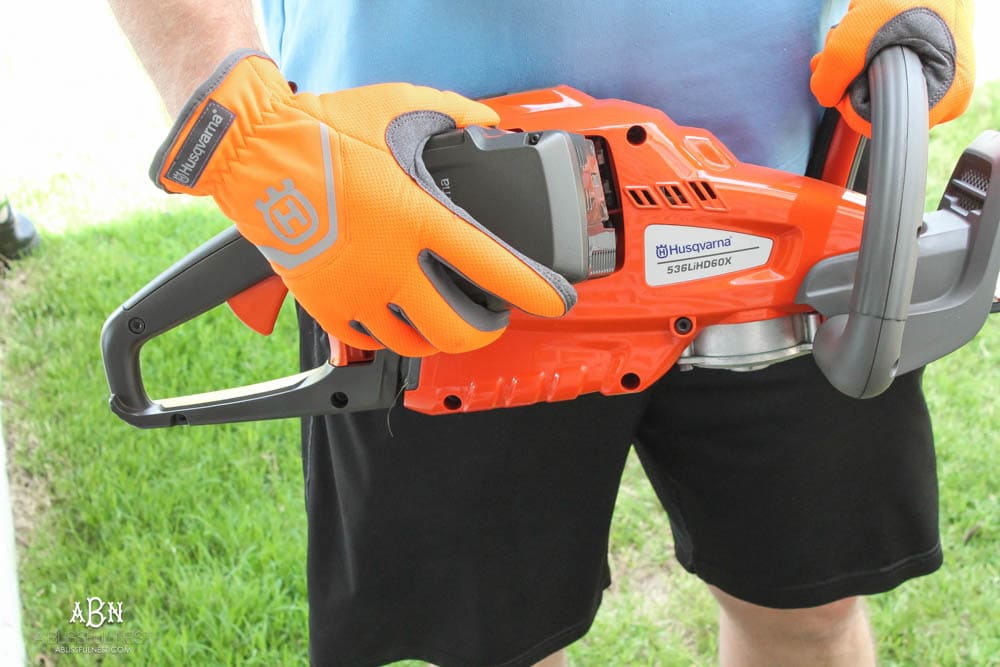 We are maintaining our new baby jim boxwoods with the hedge trimmer and this also helps to guide them as they grow. This trimmer is lightweight enough for me to do it but I think we won't tell my husband that!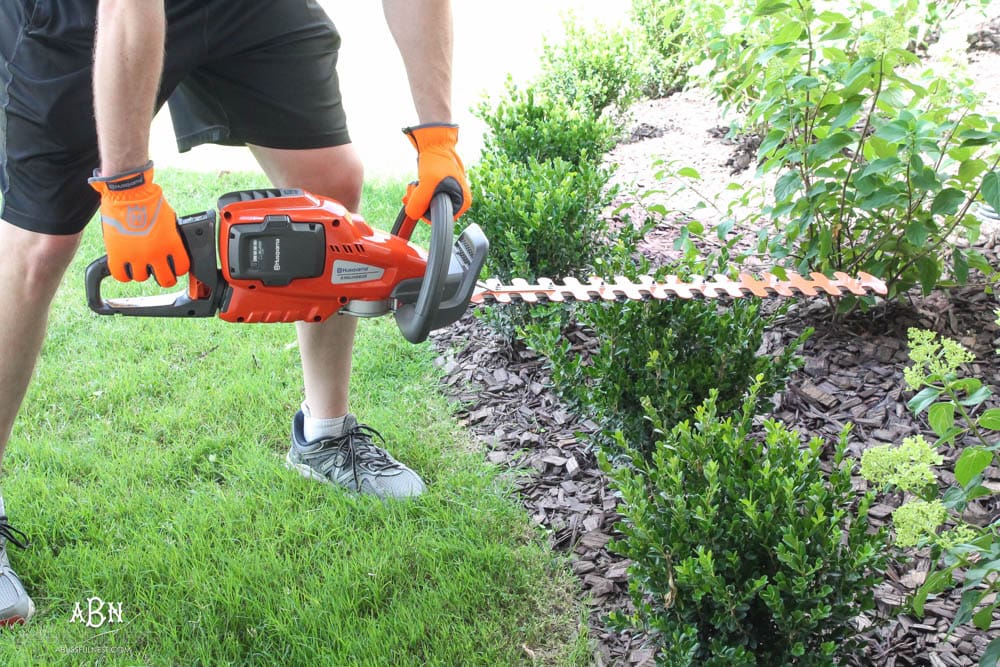 Besides planting around our windows we wanted to add landscaping to the other areas of our yard to create a balanced feeling. The biggest thing was to not cover up our view but with the return on the iron fence coming in couple feet, we wanted semi privacy from the other yards. We have a small dog and he also has figured out he can stick his head through this fence and 1 of our neighbors has small dogs too. Let's just say it is not the friendliest of interactions with mine generally putting his tail between his legs and skulking back across the yard.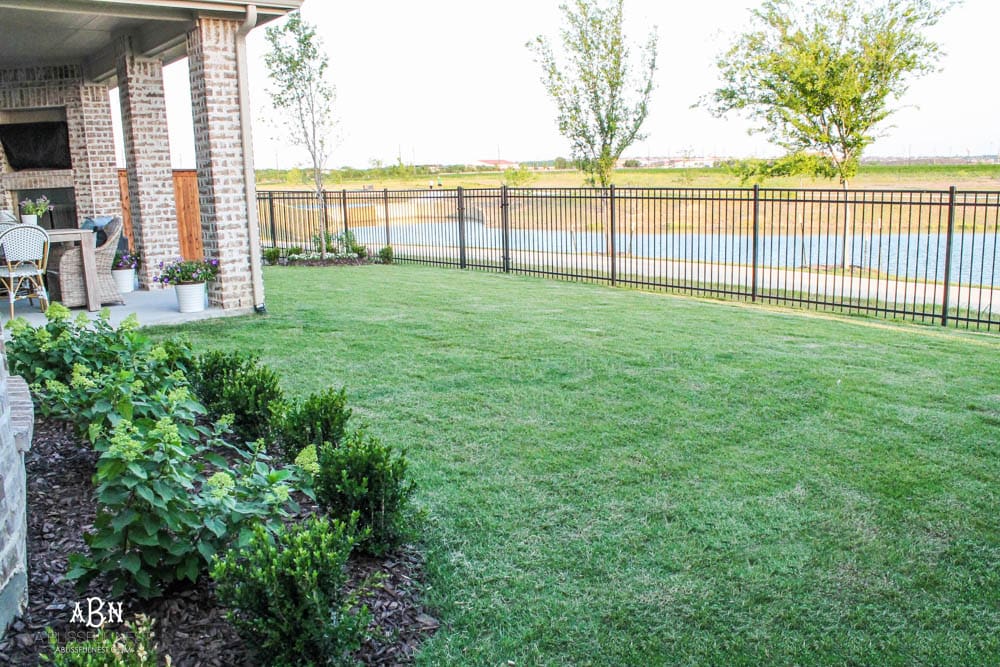 I wanted something a little different than what we planted close to the patio but gave us a cohesive look. I also wanted to soften the dirt area around the tree with some flowers.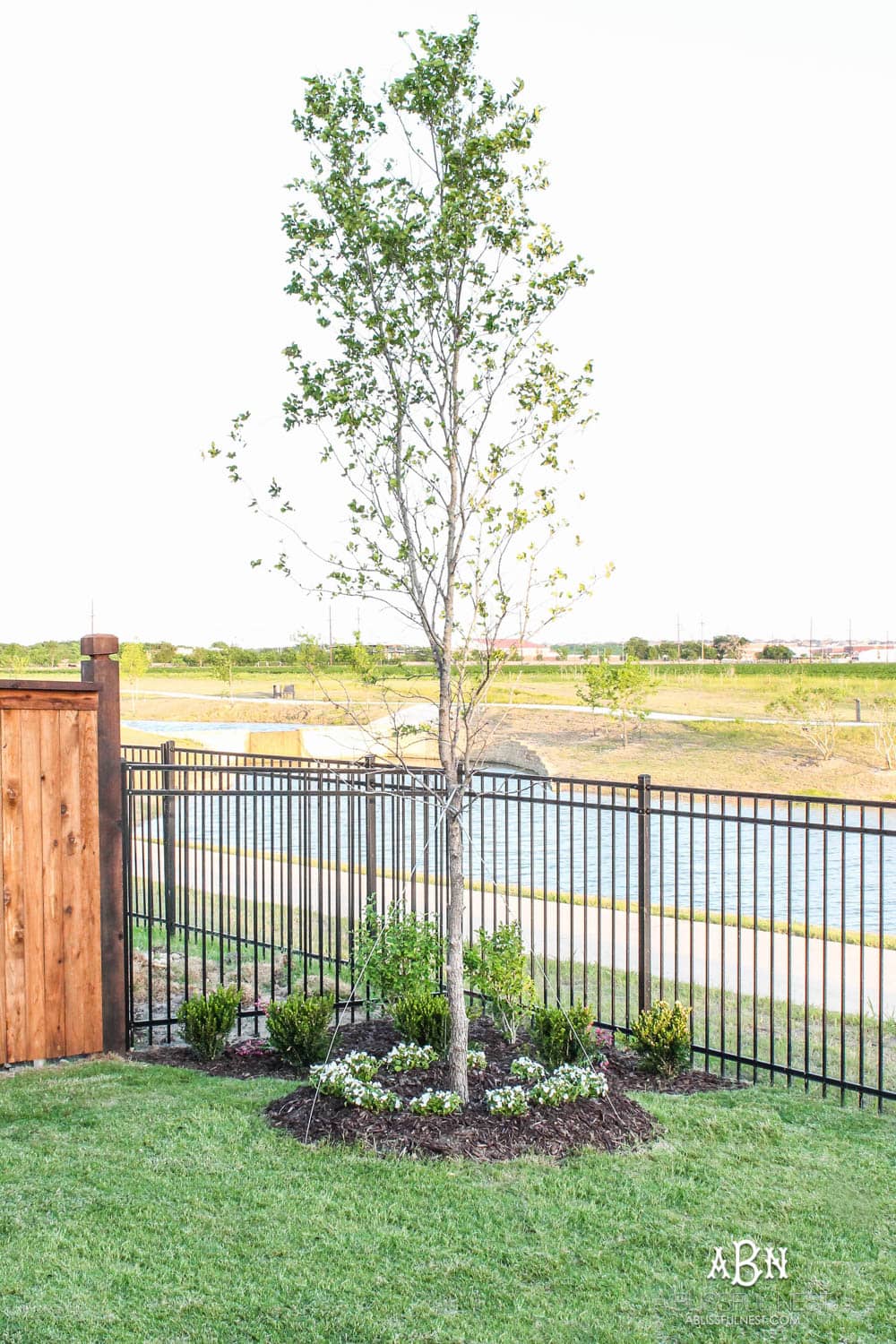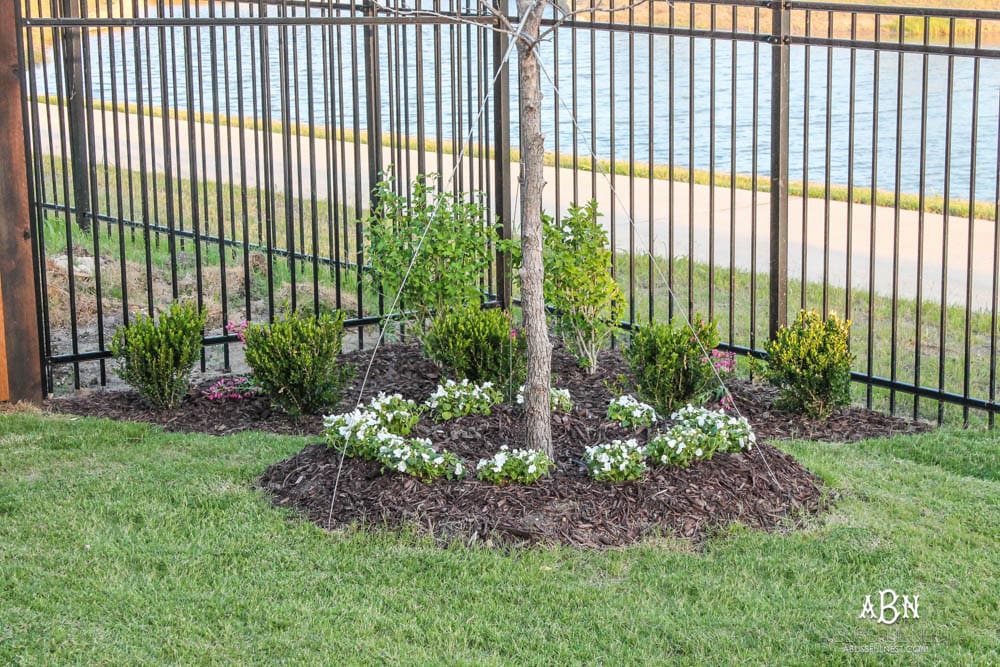 I mirrored it on the other side as well. I love looking out to the lake with this added to our yard. It softens it and when it grows in and has blooms it will be beautiful.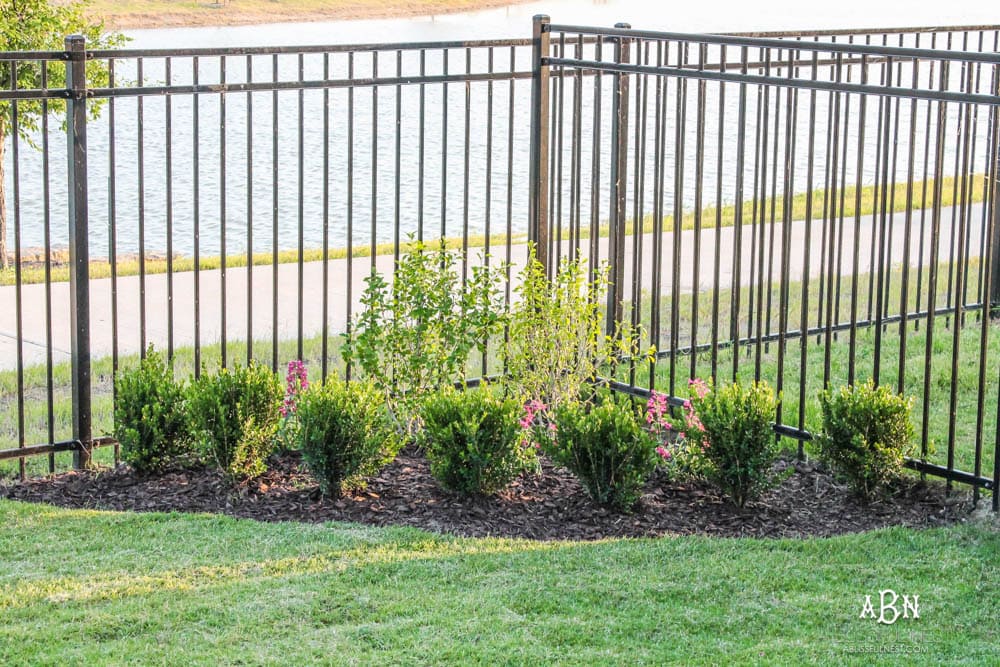 The back 2 bushes are double white althea. They have a beautiful white bloom and they will get full as they grow. This will give me that privacy from our neighbors with the animals.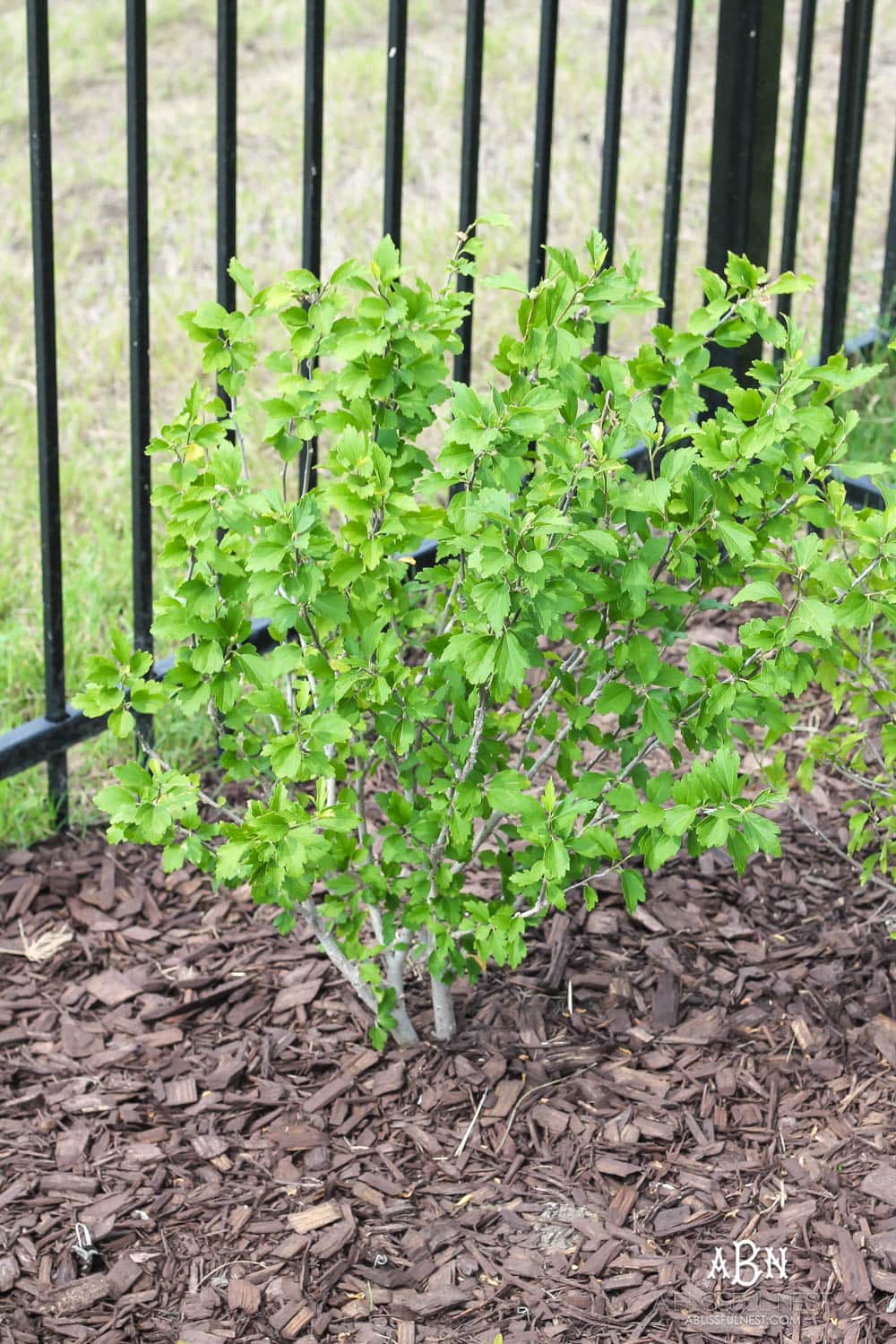 I also planted the baby jim boxwoods here for that continuous border. I am thinking later when we have the budget, doing something like this around the whole yard.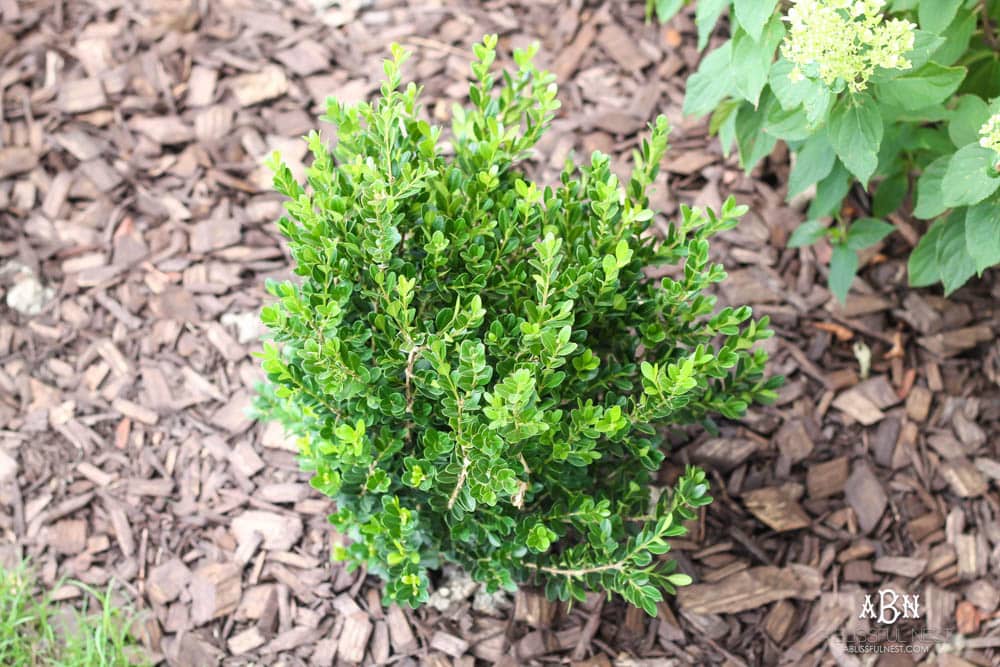 4 things you must do to maintain your yard.
edge all flower beds and fence lines using a line trimmer
use a hedge trimmer to tidy up bushes
mow your yard often depending on the season. (we mow every other week in the spring/summer and then once a month in fall/winter)
blow your yard of any debris
Maintain the yard with key quality Husqvarna tools so you keep a lush garden feel.
There are a few Husqvarna key tools we use to make sure this area keeps it's look and is manicured year round.
LE121P – Battery Walk Mower
536LiHD60X – Battery Hedge Trimmer
536LiLX – Battery Line Trimmer
436LiB – Battery Blower
With this collection of tools, you will be ready to keep your yard gorgeous after you have transformed it into your dream garden!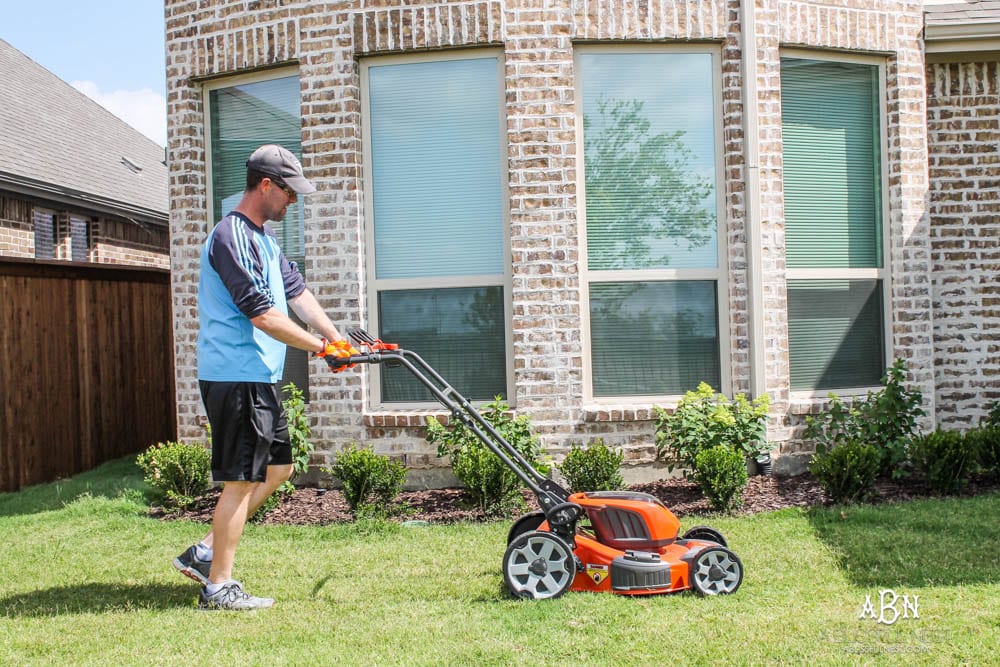 One of our favorite features of the Husqvarna tools is they are lightweight. The mower is easy to push and has a sturdy handle to grip. It is easy to turn since it is not super heavy and gets an even cut even with our uneven yard.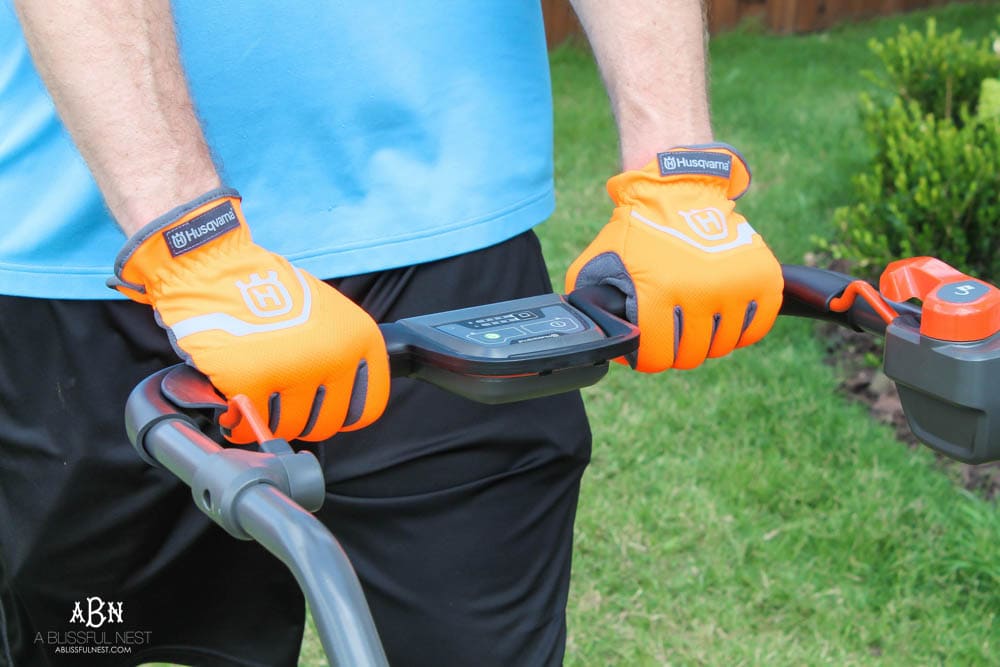 Okay and this one might just be my favorite. This blower has become my best friend. It is very powerful and easy for me to use. Since it is lightweight, I pull this out every couple of days and give our patio and front porch a good blow. We have crazy winds here in Texas and our yard gets all kinds of things blown into it.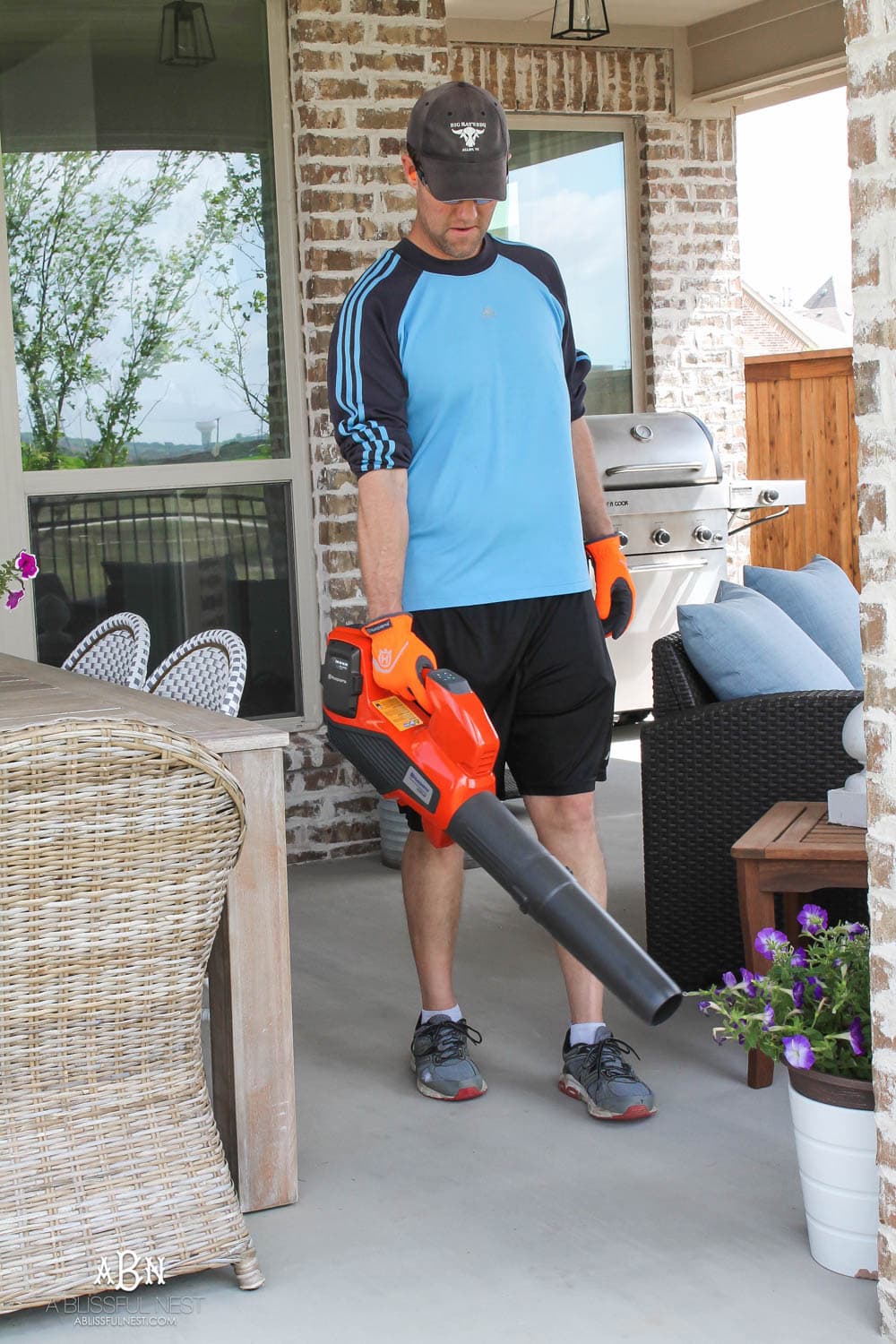 This view from our patio will never get old and we can't wait to start entertaining out here for the summer.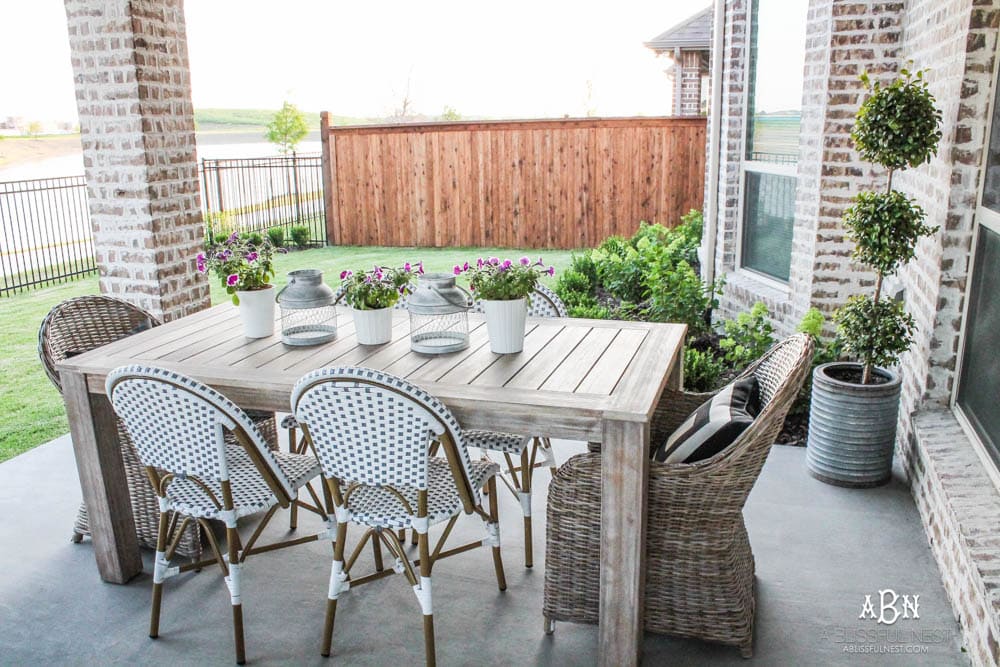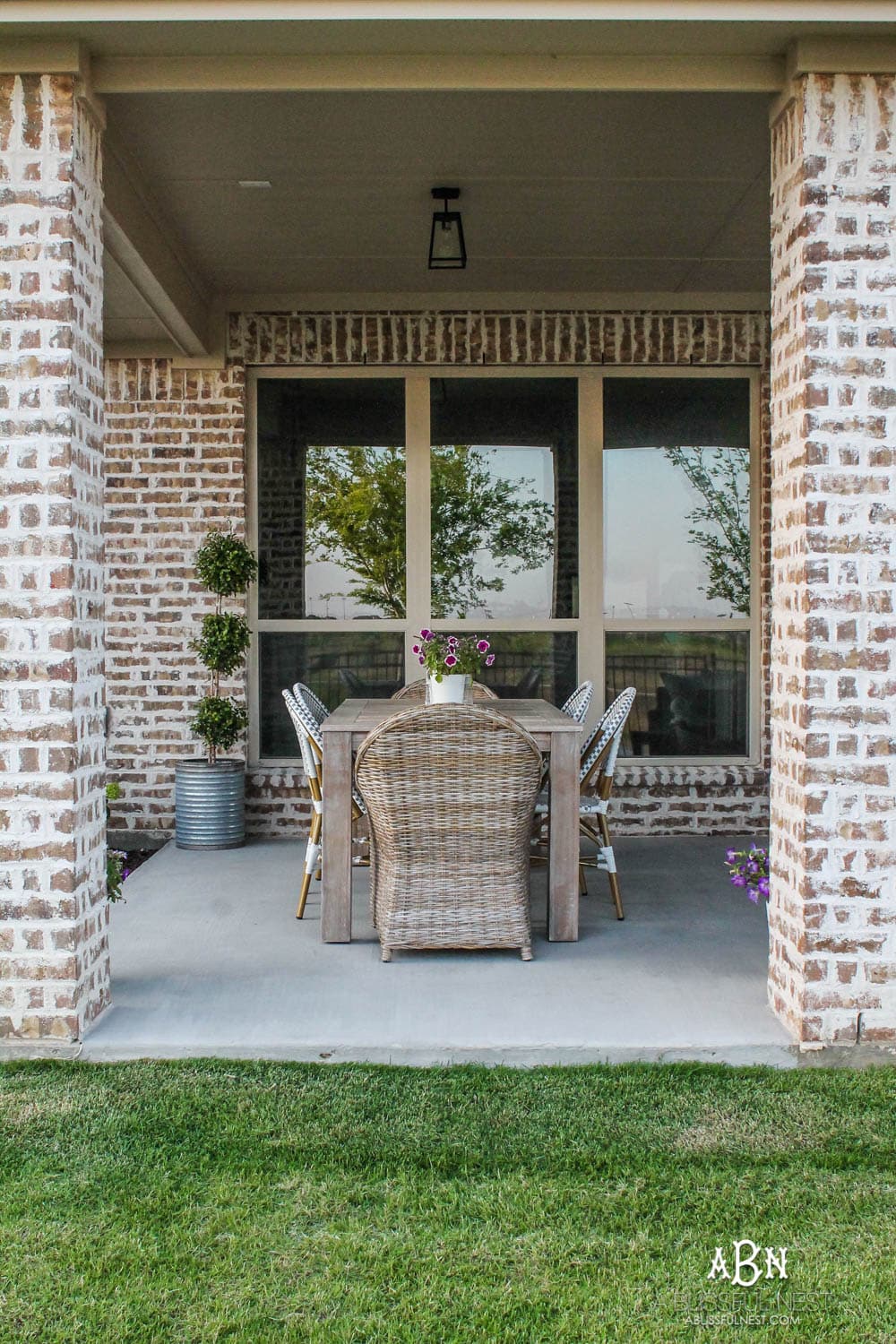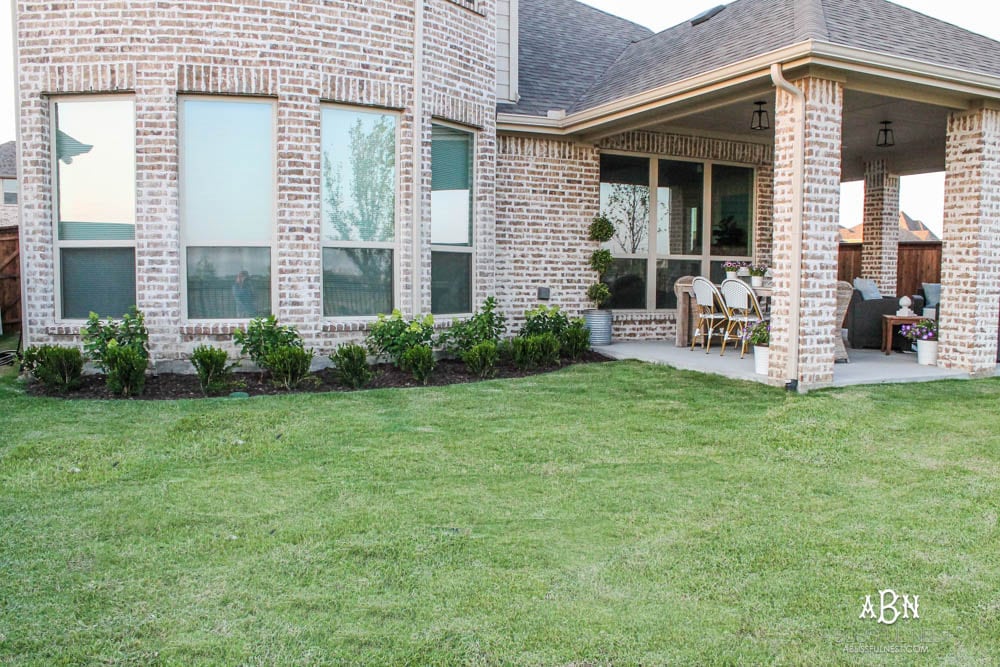 Make sure and vote for me!
Now I need your help. Please pop over HERE and vote for me in The Family Handyman and Husqvarna Yard Wars Ultimate Challenge! 3 influencers are competing for who has the best yard makeover and I would love your vote. Also you can enter for a chance to win a Husqvarna Automower 450X with an installation kit! See official rules for details.
I hope you loved my backyard makeover before and after and got some great inspiration to transform your yard using my favorite tools from Husqvarna!
THIS IS A SPONSORED POST. A BLISSFUL NEST HAS RECEIVED PAYMENT, TRADE, AND/OR PRODUCTS FROM HUSQVARNA IN EXCHANGE FOR PROMOTING. HOWEVER, ALL OPINIONS STATED ARE OUR OWN.
This is a sponsored conversation written by me on behalf of Husqvarna. The opinions and text are all mine.