5 Ways to Update Your Patio For Spring
This post may contain affiliate links. Please read our disclosure policy.
This post is sponsored by At Home, but all opinions are my own.
Let's talk about how to update your patio for spring and refresh your space!
When we built this home a year ago, I knew I wanted an outdoor space that had 3 main areas. You can read more about that and the building process of our patio area HERE.
The main focal point though is this outdoor fireplace with TV above it. Of course, this is a designated seating area but with how narrow it is from the corner of the house to the fireplace, it is not an easy spot to find furniture for and decorate.
Thankfully I have At Home to help me solve this! You have heard me talk about them before and I am an avid shopper there. Last spring, I decorated my newly moved in space with all At Home items and it turned out just gorgeous. You can take the tour HERE.
So here is what our patio looked like when we were building it . . .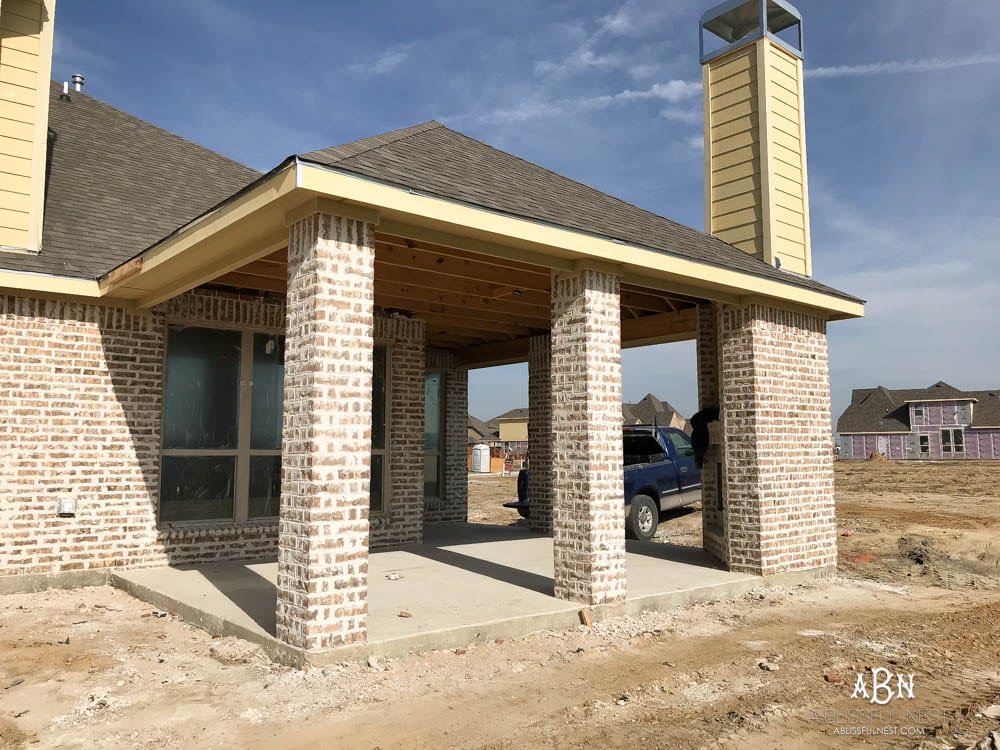 And this is what it looks like now!
Such a crazy difference and a dream to finally have it put together and functional!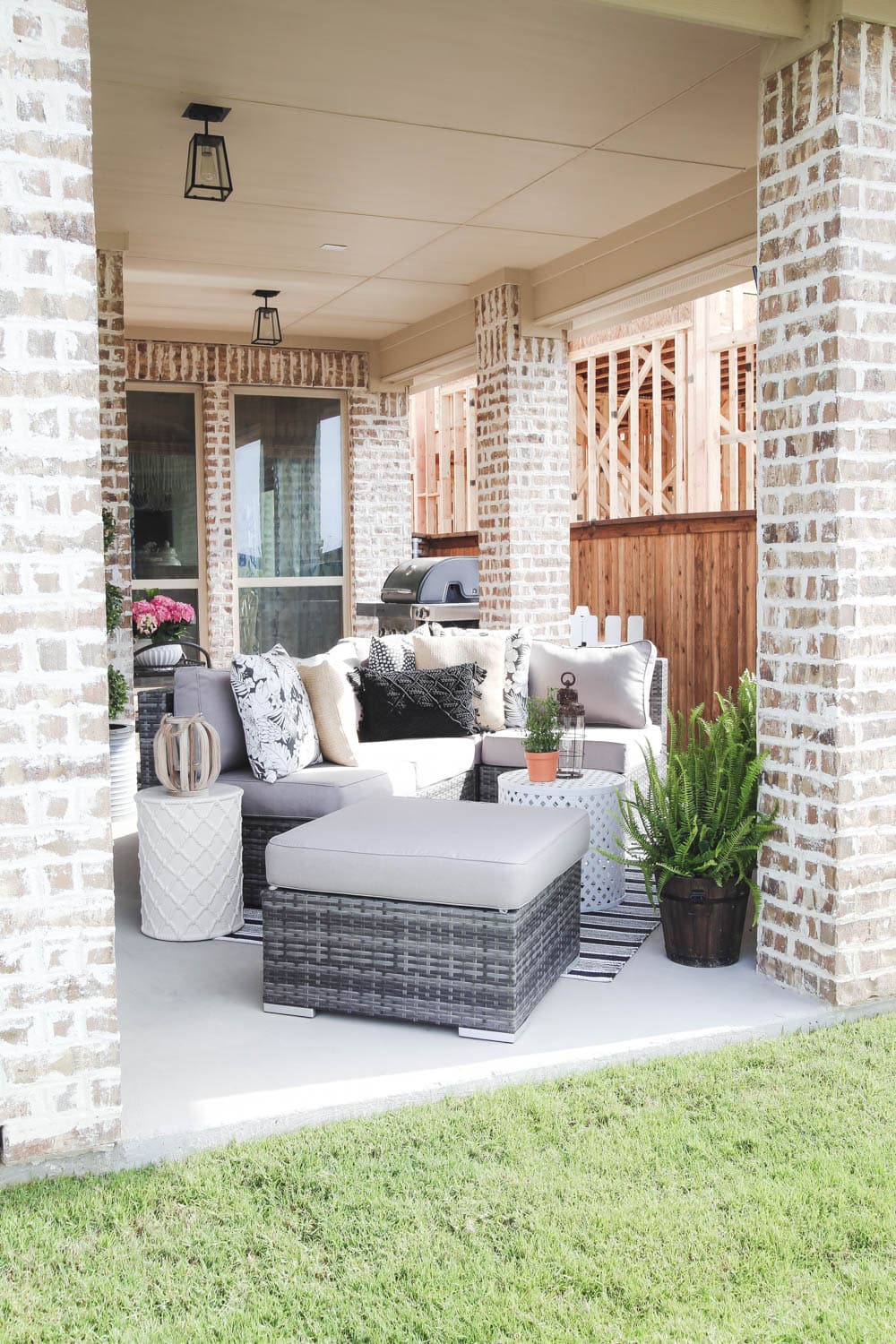 (Do you spy the house going up next door?! Finally, our street is almost finished.)
At Home has the largest selection of home decor to choose from for the interior of your home as well as for your outdoor spaces with affordable prices. You can walk into one of their stores and get inspired to create a look that is unique and full of personality just for you!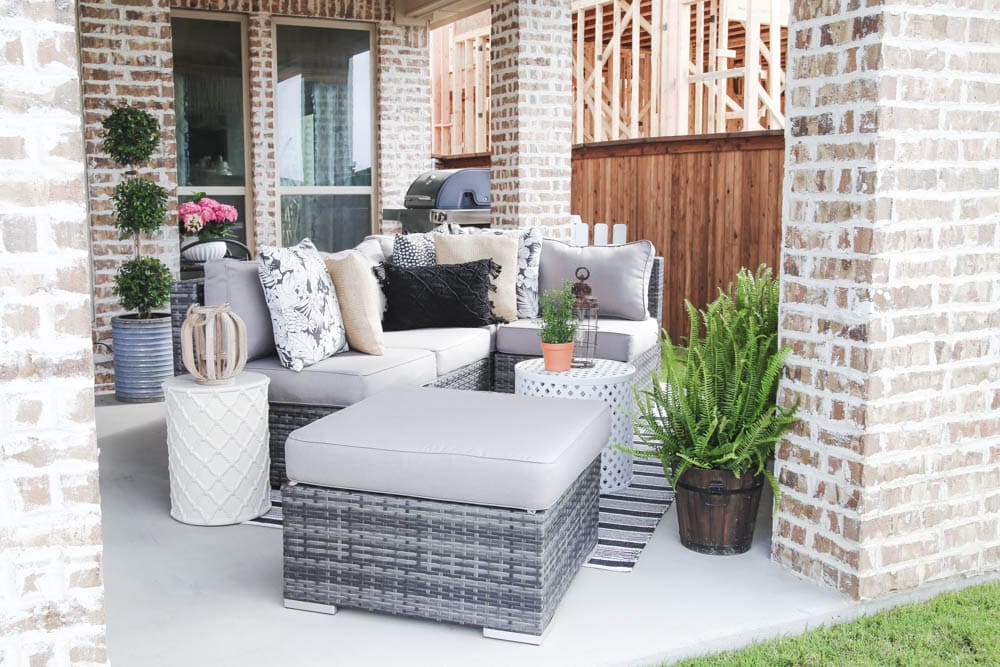 Our new space is so much more comfortable, fits more people and is full of spring flare!
So let's dive into this guide for you to update your patio for spring and take your shopping list to your nearest At Home!
5 Ways to Update Your Patio For Spring:

1. Update your seating area with new pieces that work in the space better
As I mentioned above, this is a narrow space to navigate around. You need to be able to access it from both ends and still be able to walk to the other side of the patio.
I had been thinking for a while now that a sectional would fit so much better here and I was right! I fell in love with the Weston II pieces from At Home when I was in the store. I love that they come in pieces and I can arrange them to best fit the space.
The ottoman maybe our favorite piece. My husband loves that he can shift it over and put his feet up when watching a game out here. But I love it because it gives a little extra seating when needed. So we both win!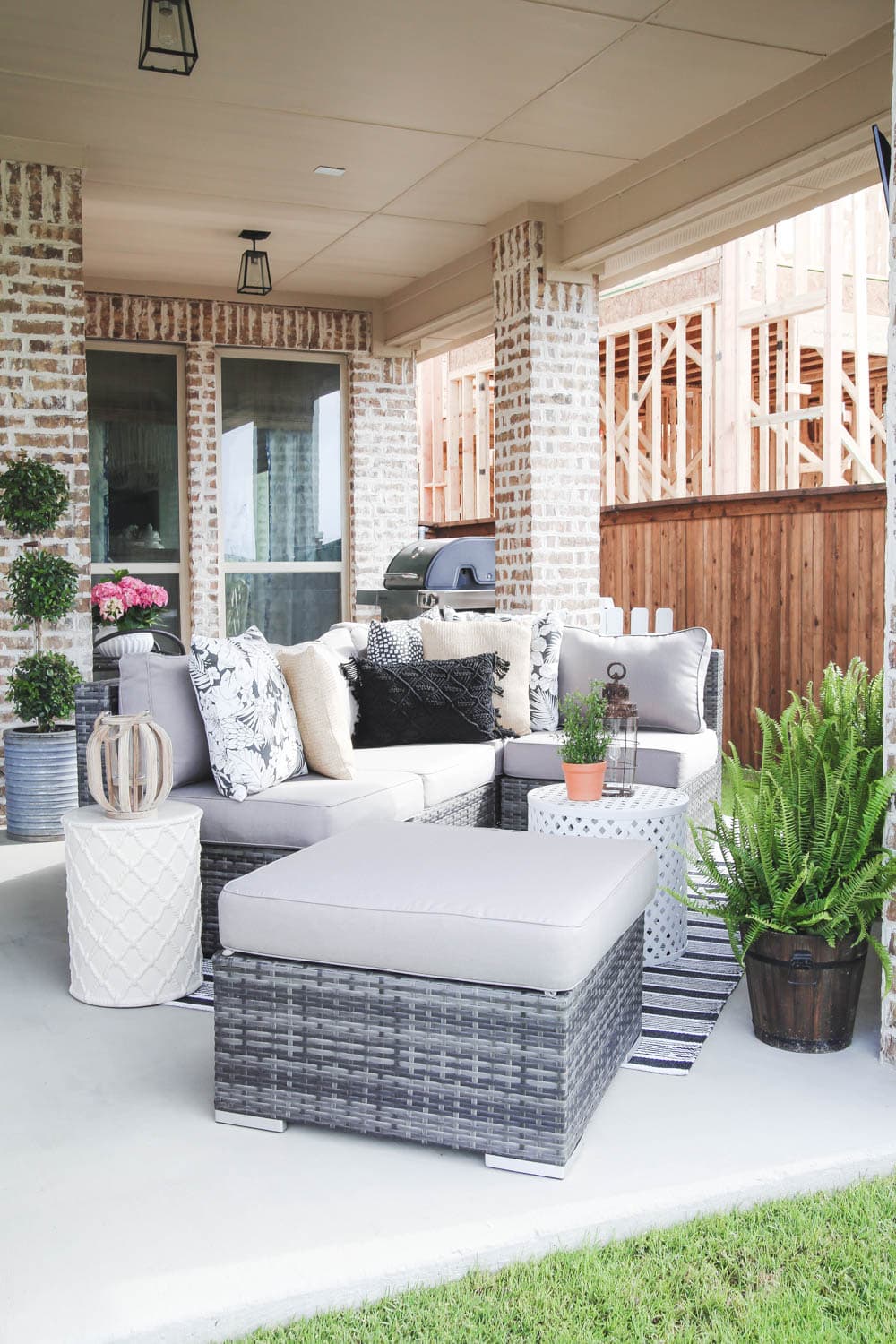 I also love the light grey fabric. It is so easy to keep clean and doesn't show the dust that inevitably is coming in our yard from the construction next door.
The Weston II pieces are super affordable too and you can get all of the pieces or configure your own set for what you need.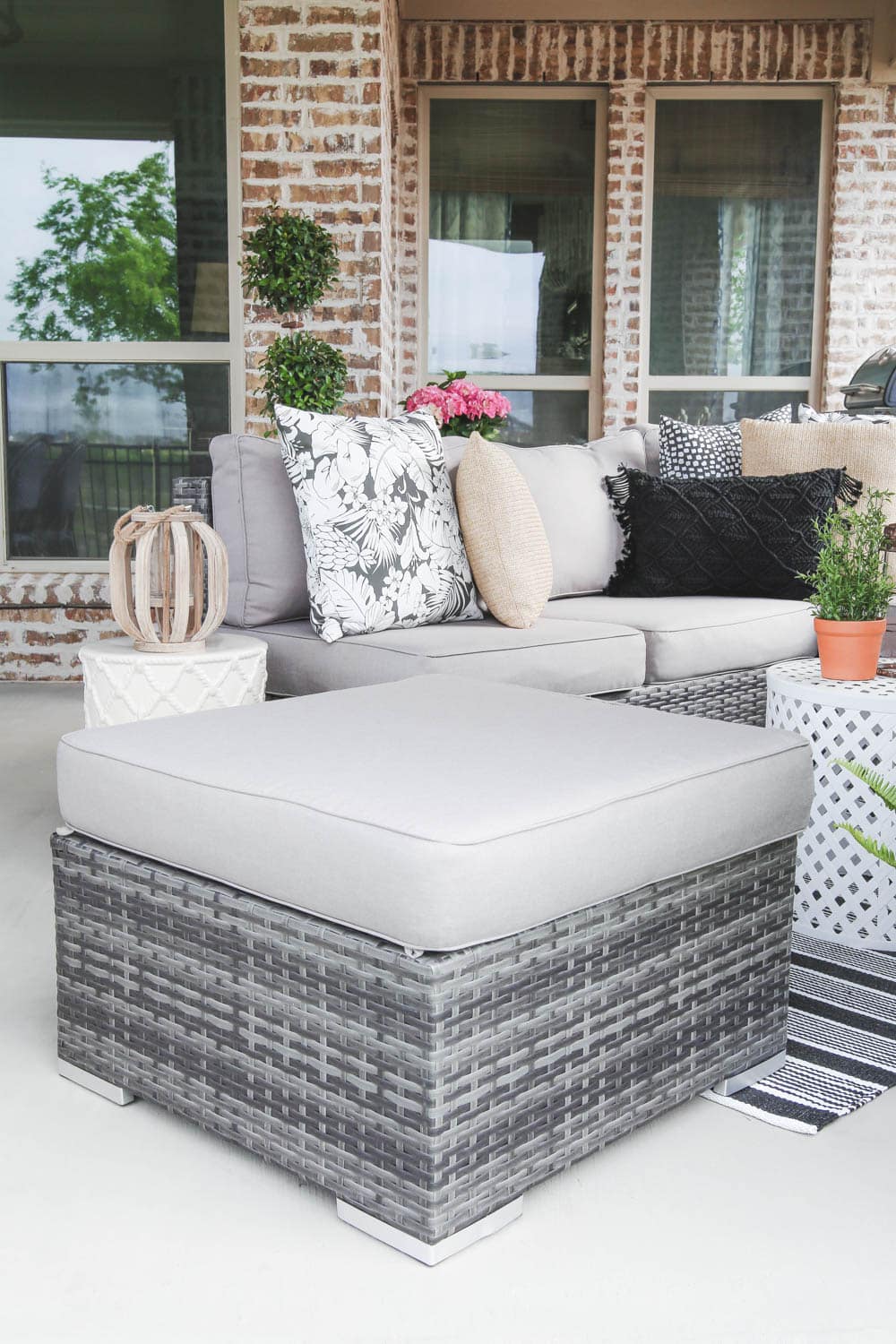 2. Select new color scheme + update your pillows
This just might be the easiest way to breath new life into a space. Changing up your colors from season to season is an absolute must in my book.
Fresh patterns and colors will add a seasonal flare.
I chose these black and white flower print and dot pillows as my neutral base. Then found these super cute straw pillows in a pale yellow and used a solid black to make the back to pillows pop. This look is definitely night and day from the blue color pallet I had out here last spring.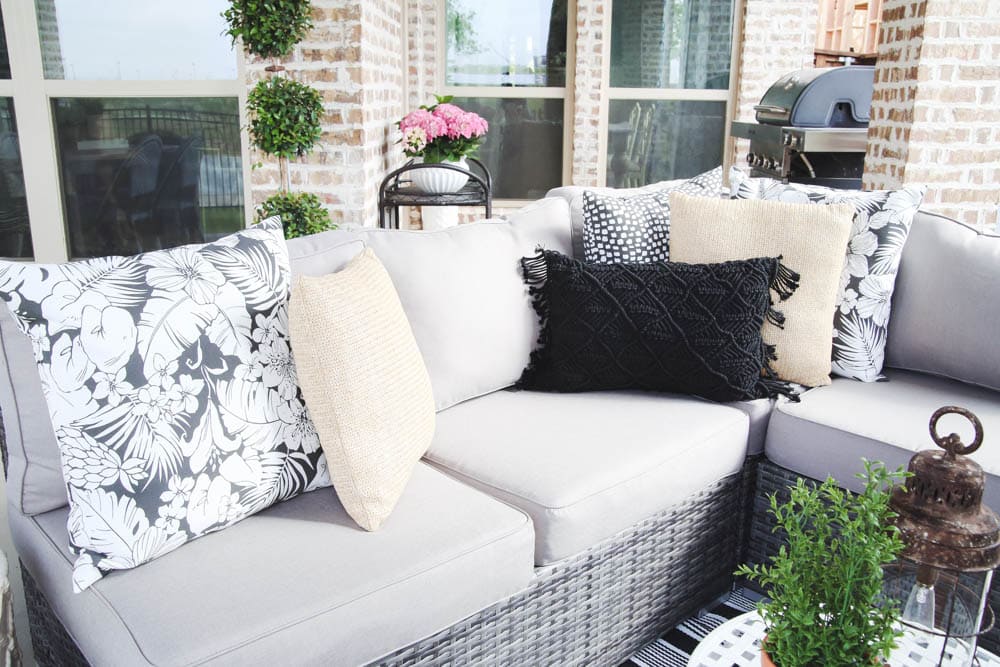 If you caught my Instagram Stories from my shopping trip then you saw the vast assortment of pillows At Home has for outdoor spaces. There is so much to choose from! I was in heaven walking up and down the isles looking at it all.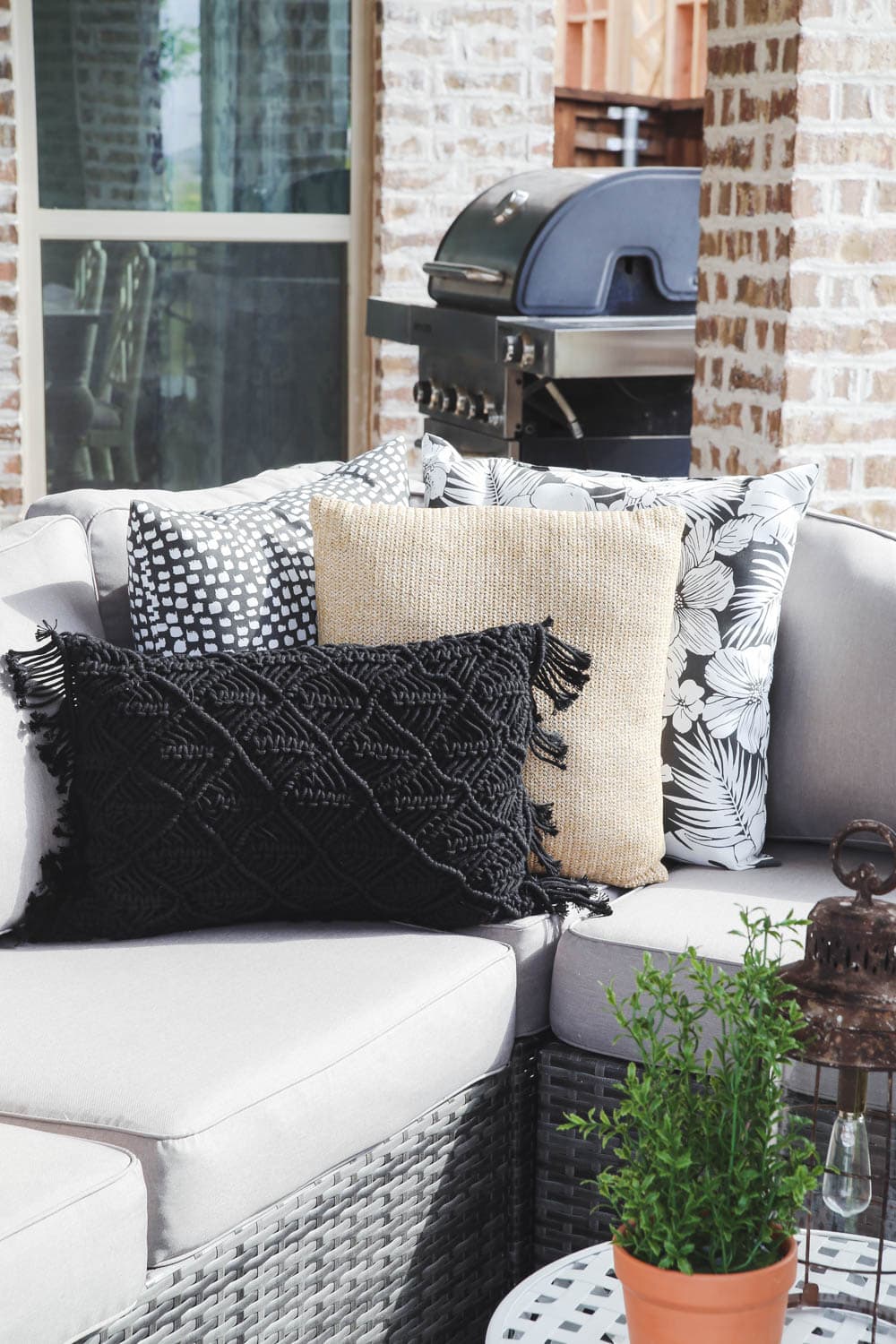 3. Add new pots and plant fresh flowers
One of the biggest additions to my patio every year is grabbing fresh plants and flowers to decorate with.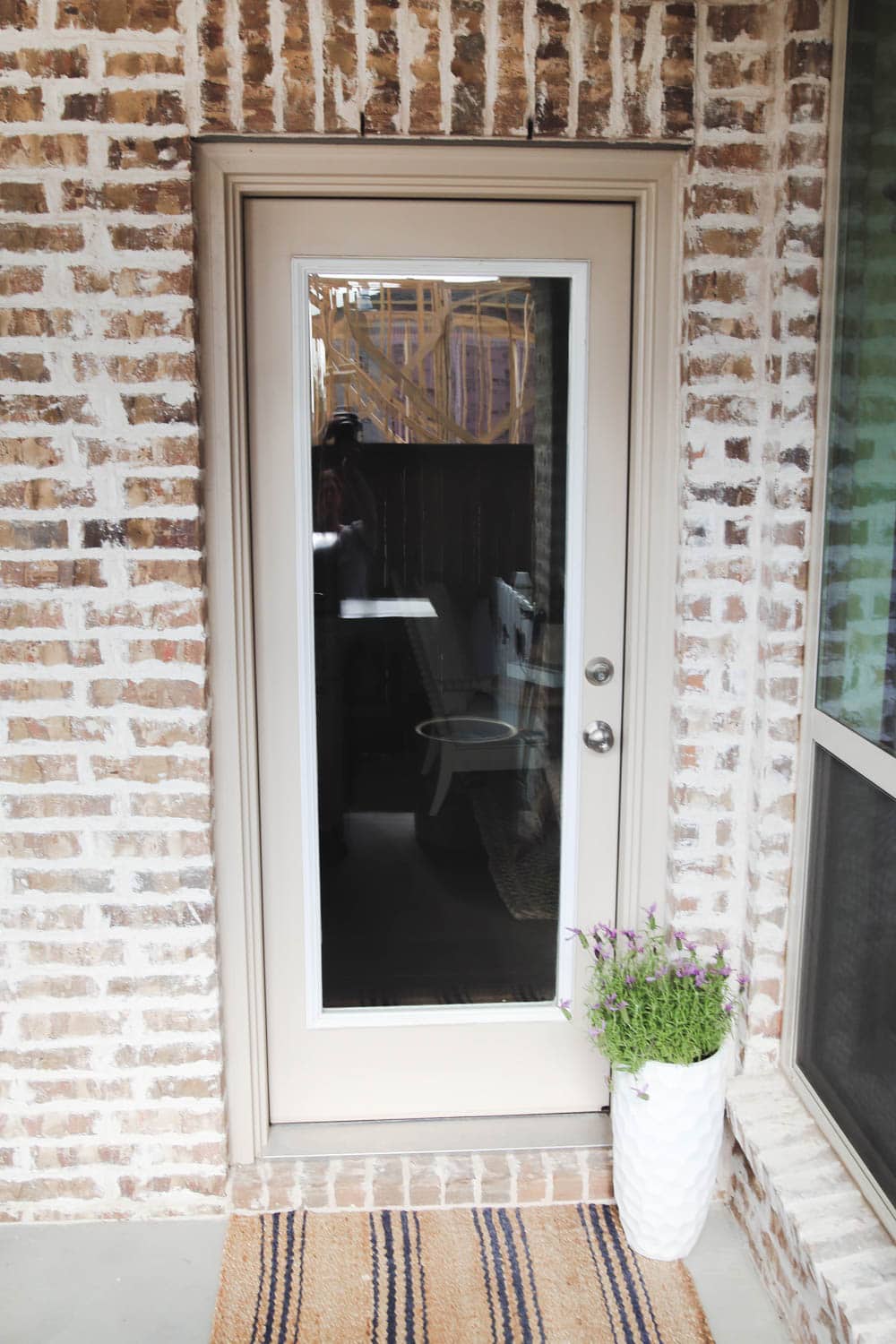 I love to choose my planters in different heights and create layers with them.
This year I added this Elena Fiberglass Planter which is a more modern white planter with some lavender by the back door. It smells incredible when you pass through this space.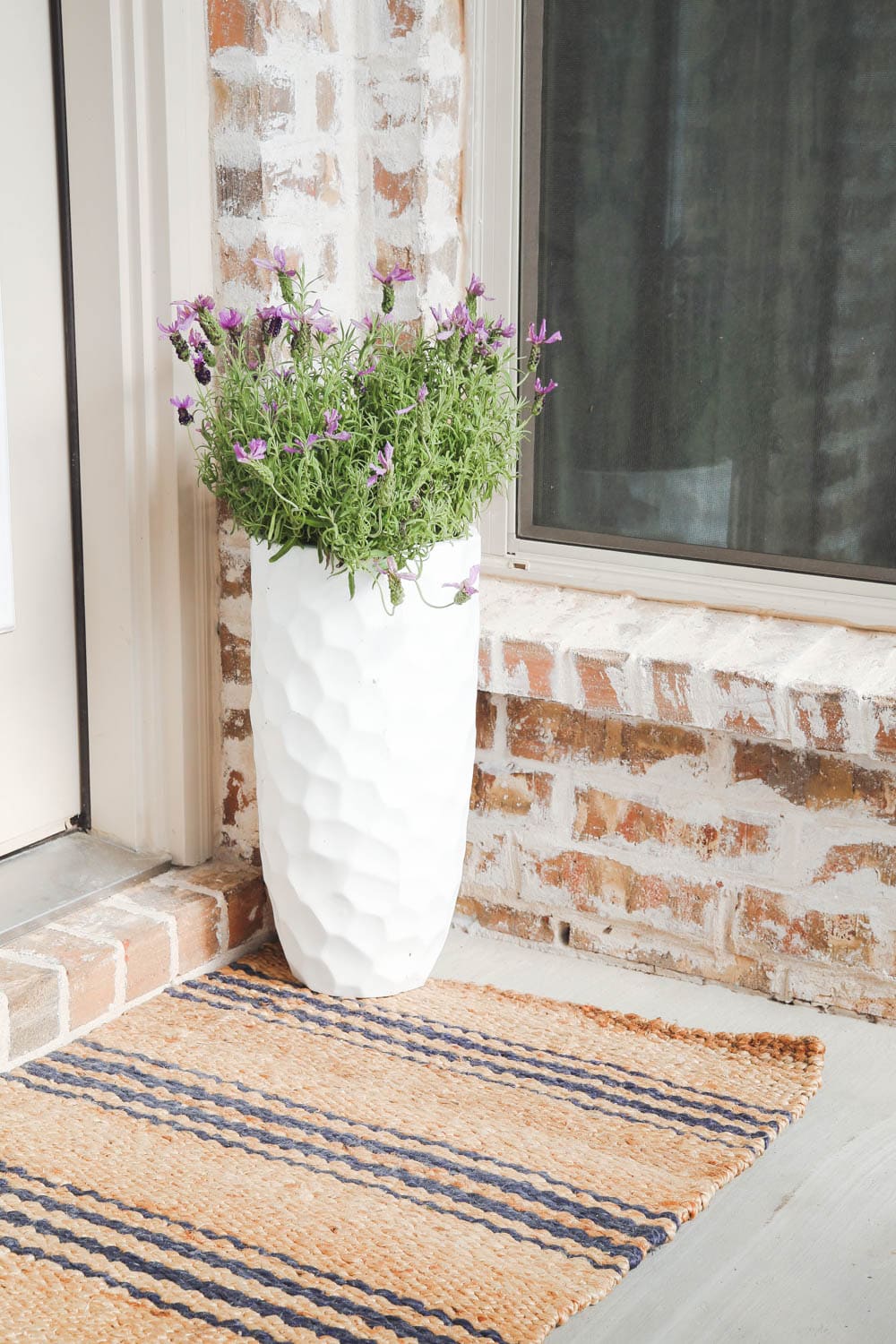 4. Create ambient lighting for the evening with lanterns
One of our favorite times of day to spend time out here is in the evenings. Rather than have the patio lights on, I like to light candles and use lanterns to light the space for a more ambient look.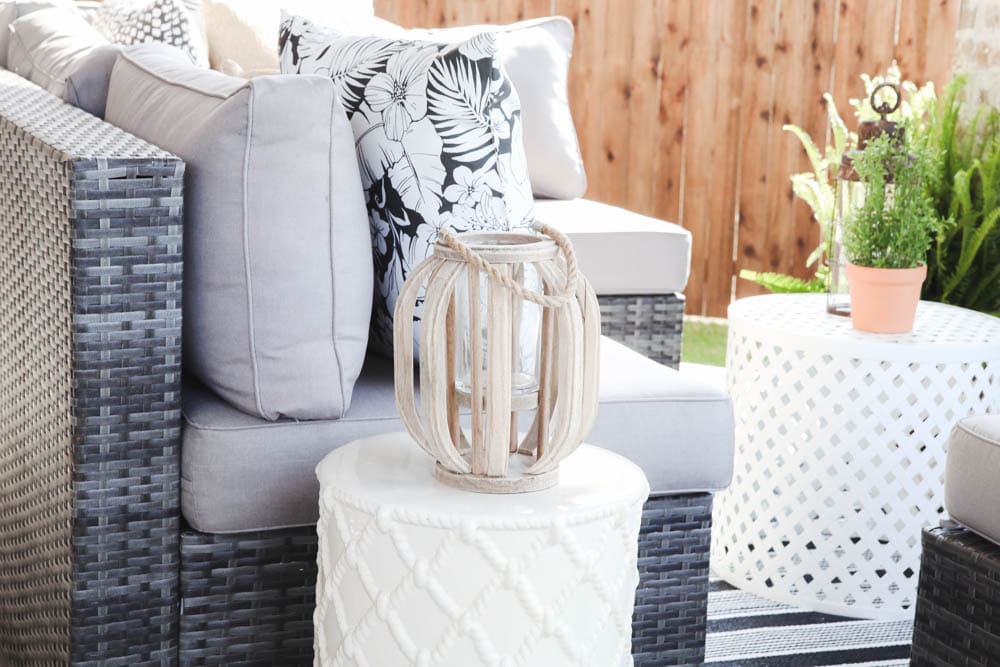 I feel in love with this little wood rope lantern and it is gorgeous lit at night.
I also found this more rustic metal lantern that uses a LED bulb. It gives the space a little whimsical touch.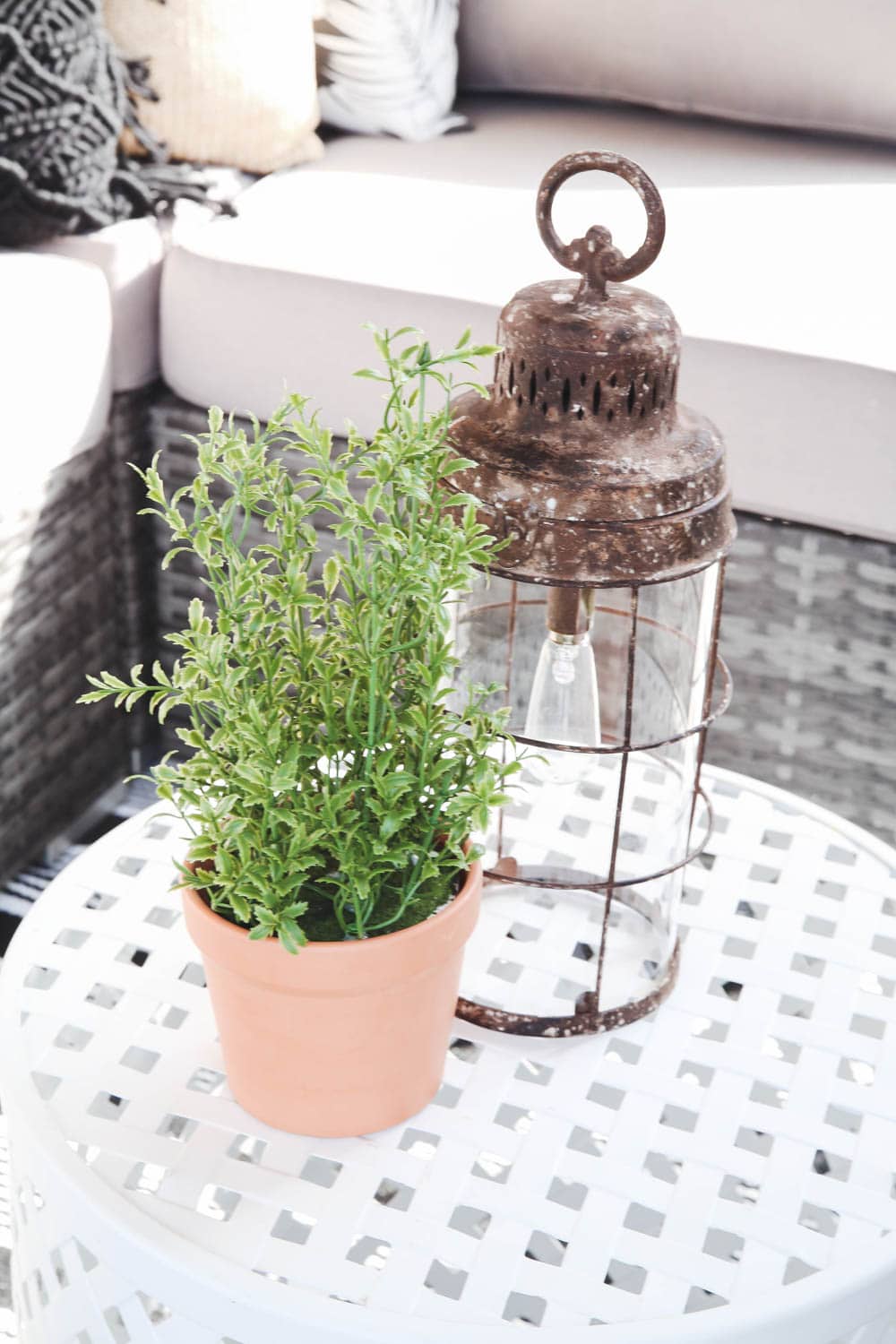 5. Get a new outdoor rug for a pop of pattern
The rug is always where it's at!
This is the best place to add color and pattern to a space in any room. The outdoor rugs at At Home are gorgeous!
I had such a hard time choosing one so I got the Amavi Black/White Striped Rug and then I had my friend Courtney go back with me a second time and she got the Meca Navy/White Diamond Rug.
I love how a rug can dramatically change a space.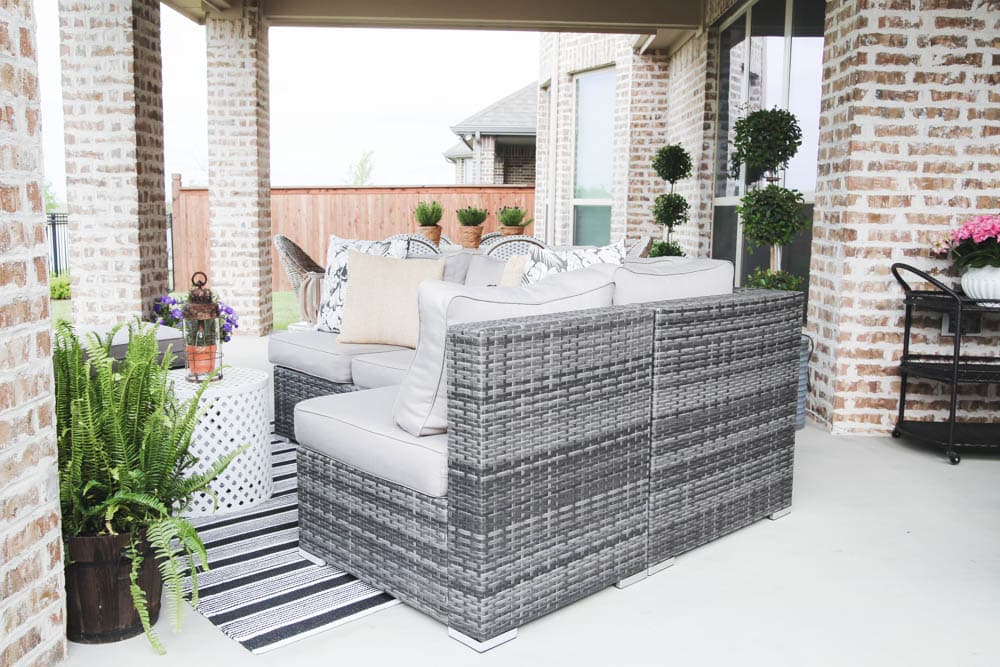 I hope this gave you lots of ideas on how to transform your space for spring and I can't wait for you to visit your local At Home for everything you need!
You will have to tell me in the comments what you come home with!
THIS IS A SPONSORED POST. A BLISSFUL NEST HAS RECEIVED PAYMENT, TRADE, AND/OR PRODUCTS FROM AT HOME IN EXCHANGE FOR PROMOTING. HOWEVER, ALL OPINIONS STATED ARE OUR OWN.