15 Imaginative Examples of Outdoor Bar Ideas
This post may contain affiliate links. Please read our disclosure policy.
These outdoor bar ideas will help you enjoy your beautiful outdoors from the comfort of your own backyard. Make the most out of those warm summer evenings by installing one in your space this year.
Ah, summer evenings. If lightning bugs and crickets are magical for kids, evening BBQs and relaxing outside in the warm summer air is magical for adults. Enjoy your backyard to the fullest by installing an outdoor patio bar so you'll be able to relax, prepare cocktails and enjoy life all in one space.
If you enjoy entertaining, then cookouts and summer evenings outside are a must. The laid-back feel of hosting guests makes everyone immediately comfortable and creates an environment for laughter, story-telling, and memories that will last a lifetime.
Minimalist Outdoor Bar Ideas
Minimalist outdoor bars can be perfect both for people who just want to dedicate a small space to an outdoor bar area as well as individuals who have a tighter budget and can't afford to create elaborate outdoor spaces.
Minimalist bars can be beautiful, functional and affordable. Here are 5 minimalist outdoor kitchen bar ideas you'll want for yourself.
1.

Potting Bench

|

Hayneedle
Using a potting bench is a clever wallet-friendly outdoor bar idea! Potting benches are super versatile, eye-catching, and have a ton of storage and workspace. For anyone short on space or short on funds, a potting bench is an excellent way to create an outdoor bar.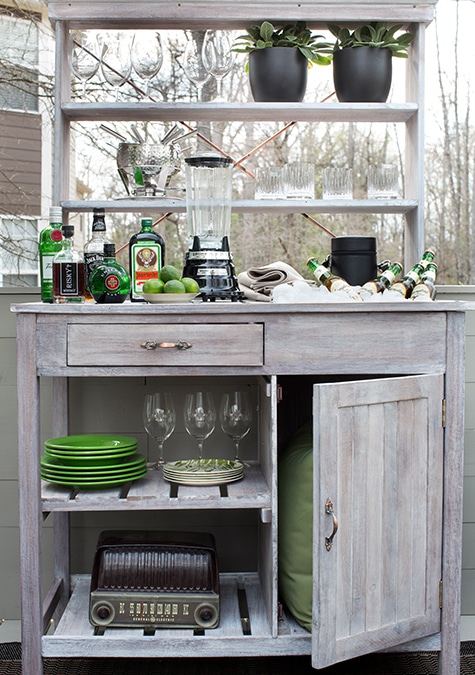 You really don't need some large sophisticated outdoor kitchen setup to enjoy entertaining in your backyard. All you really need to create a stylish and functional outdoor kitchen bar is a couple of stacked refrigerated doors to hold drinks and other refreshments…and a grill to make the magic happen.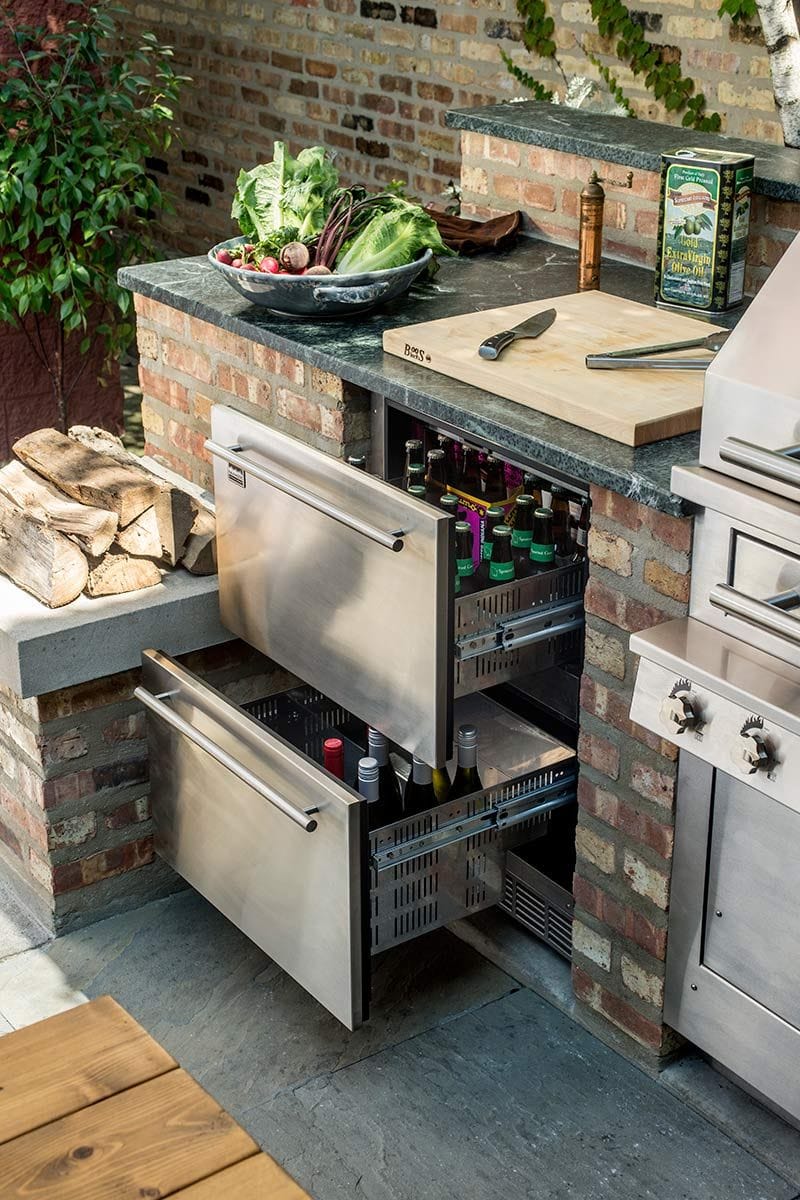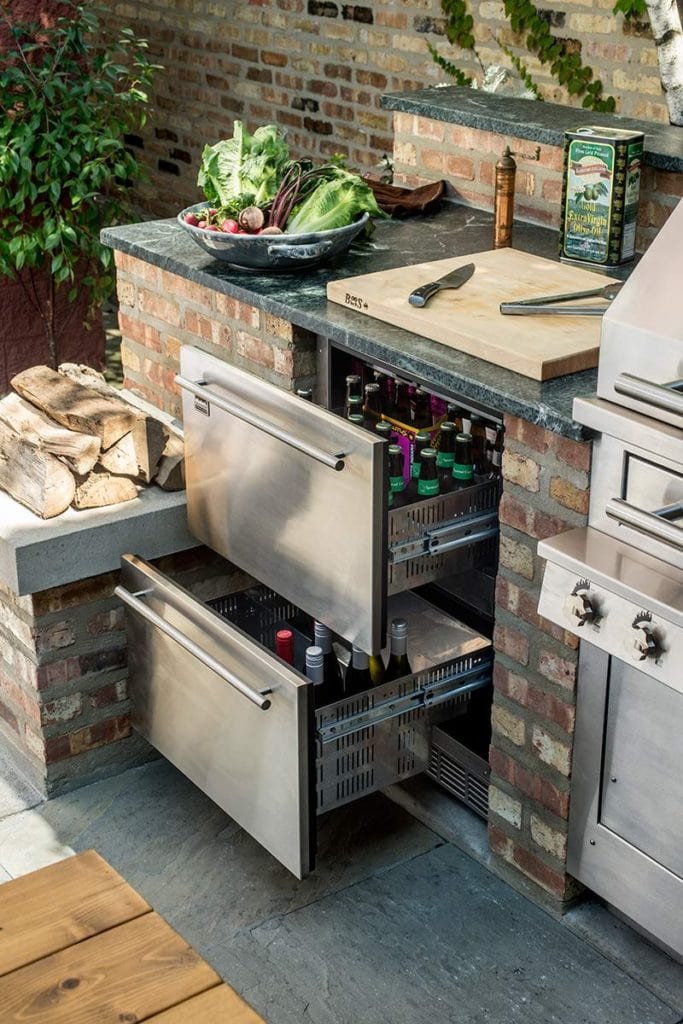 3. Under the Stairs |
Domino
Make use of that often-wasted space under the stairs by adding a table and chairs, a wood-burning oven and a couple of mini-refrigerators. Everything you could need in one area of the home that's often overlooked.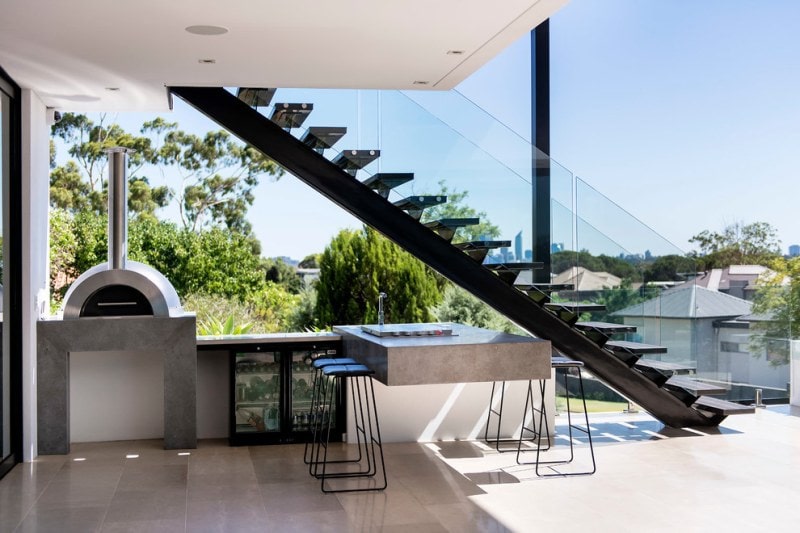 No one ever said that outdoor bars need to be permanent fixtures. Create a temporary outdoor kitchen bar when you have guests coming over by using rolling bar carts. Additional benefits of using carts include the ability to move to where they're needed, plus removable trays allow for having multiple small bars throughout a large group of people.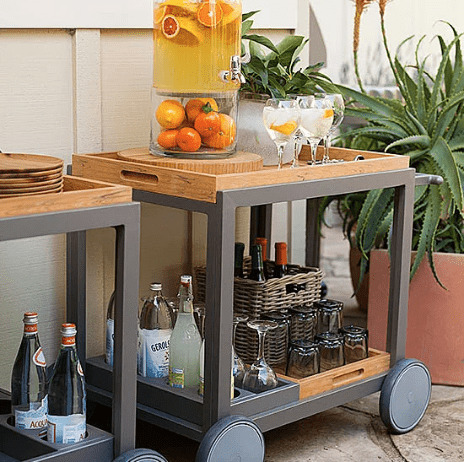 5. Repurpose a Dining Table |
Hay
needle
Short on space? Repurpose your dining table into an outdoor bar. It's easy to do! Just fill it up with food and drinks and use it as a combined buffet and bar.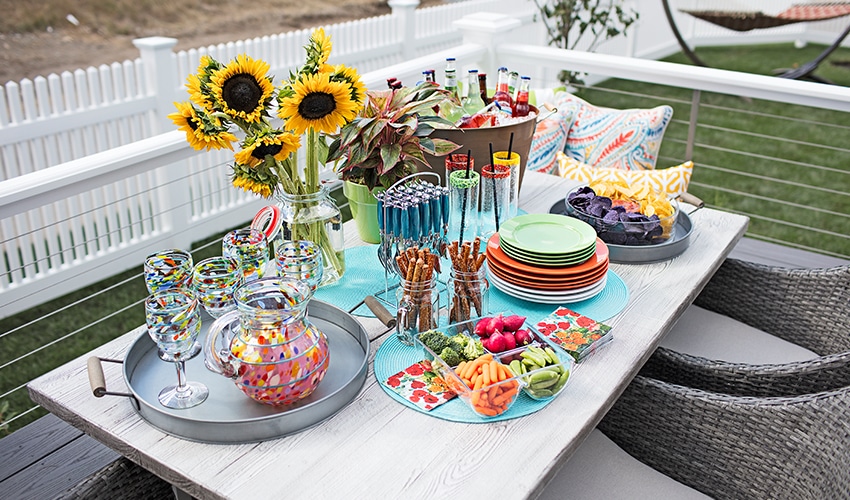 Adjoined Indoor/Outdoor Kitchen Bar Ideas
An indoor/outdoor set up may be a better fit for some houses. Whether it's space or finances or simply that you live in a climate that enables a blend of indoor/outdoor living, consider these outdoor bar ideas.
Extend the counter from the inside kitchen out through the window. Passing food outside will suddenly be so much faster.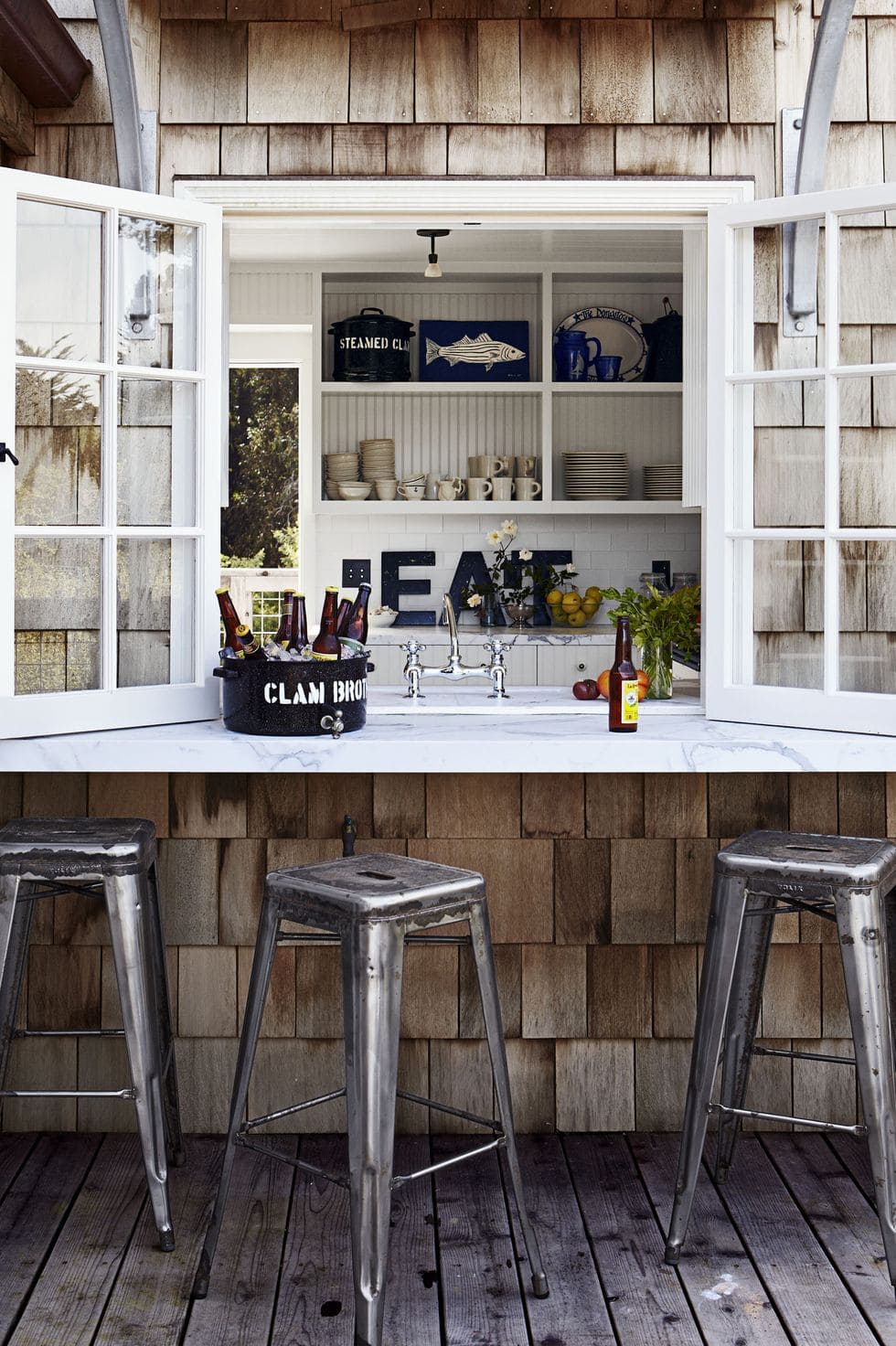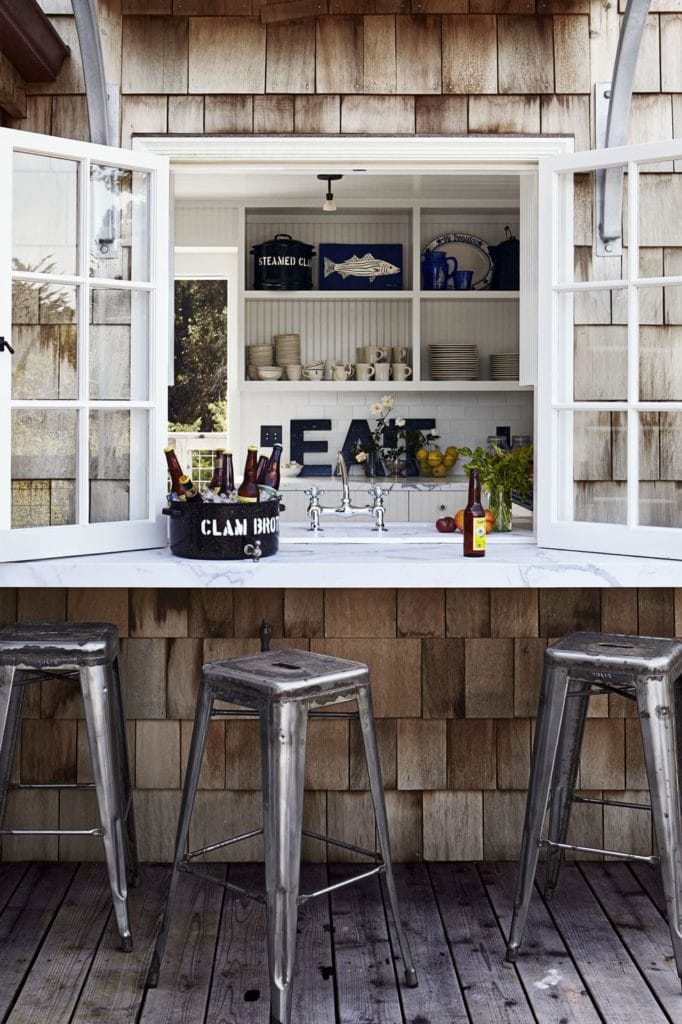 All it takes is a beautiful window that slides over to the side to create that open yet connected feel for an indoor/outdoor bar.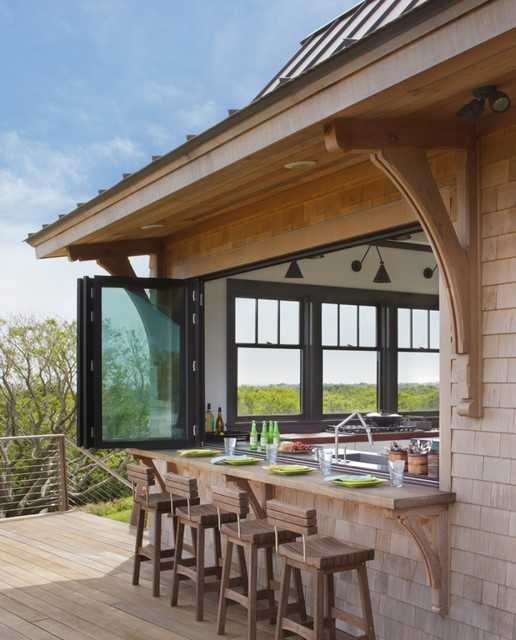 3. Rustic and Inviting |
Houzz
Simplistic and at the same time rustic and chic in its design. This indoor/outdoor kitchen bar has a window that pulls into the kitchen, opening up the beautiful countertops and making passing food to the outside very easy to do.
This is a perfect example of how even people who live in small spaces or have small outdoor spaces can still utilize a beautiful and functional outdoor bar.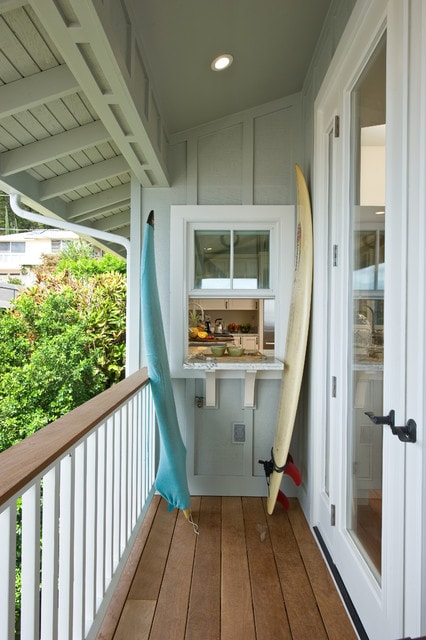 Full Service Outdoor Patio Bar Ideas
These are the outdoor kitchen bars that people drool over and dream about. These are the outdoor bars that maximize outdoor living. Even if you don't implement an entire setup, you can find elements that you can use to complete your own outdoor bar.
1. Classic Elegance |
The Spruce
Who says you can't enjoy outdoor living and elegance at the same time? This outdoor kitchen bar area, with 3 sets of large double doors is elegant in its simplicity and affords the opportunity to truly open up the rest of the house.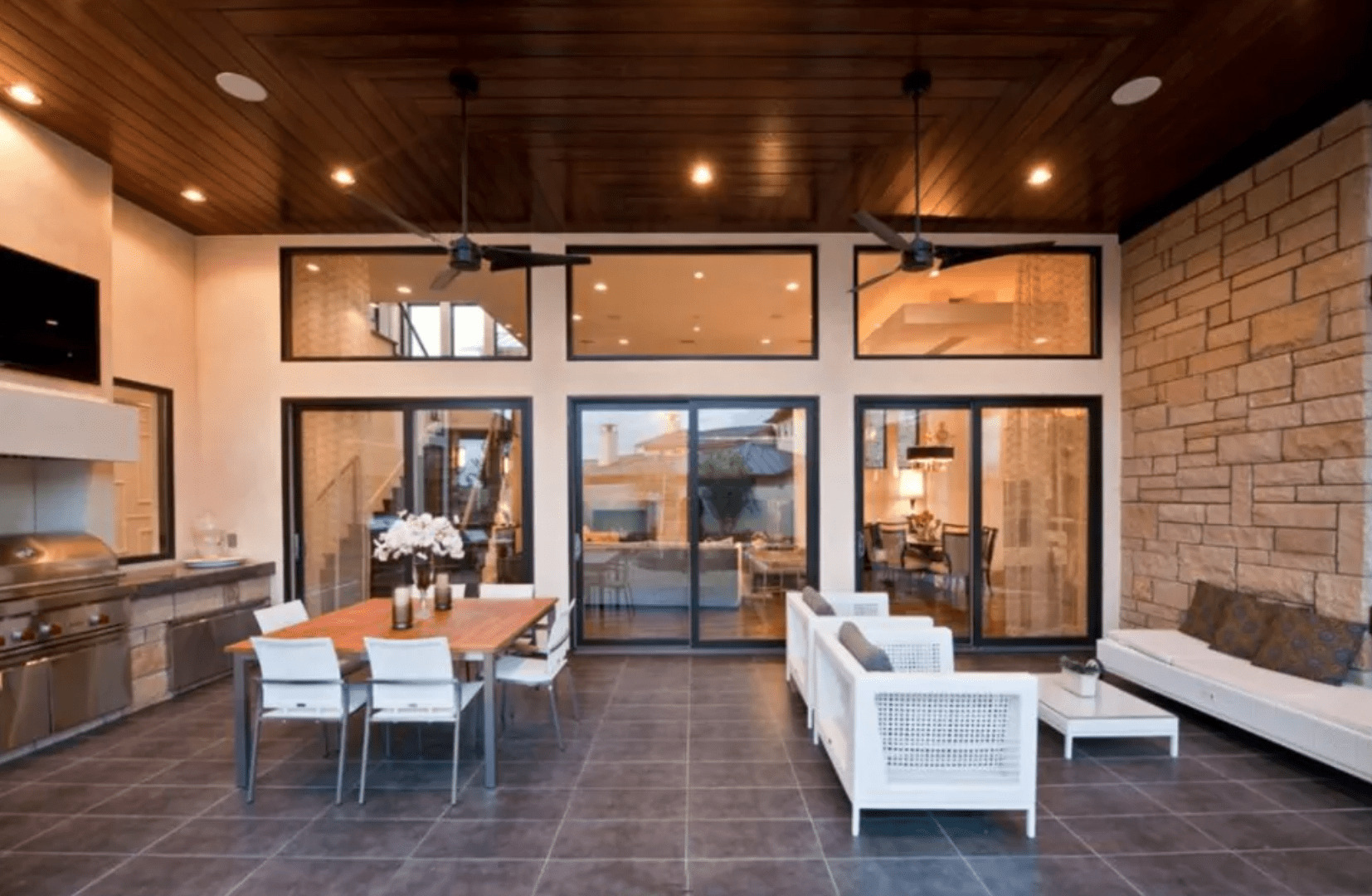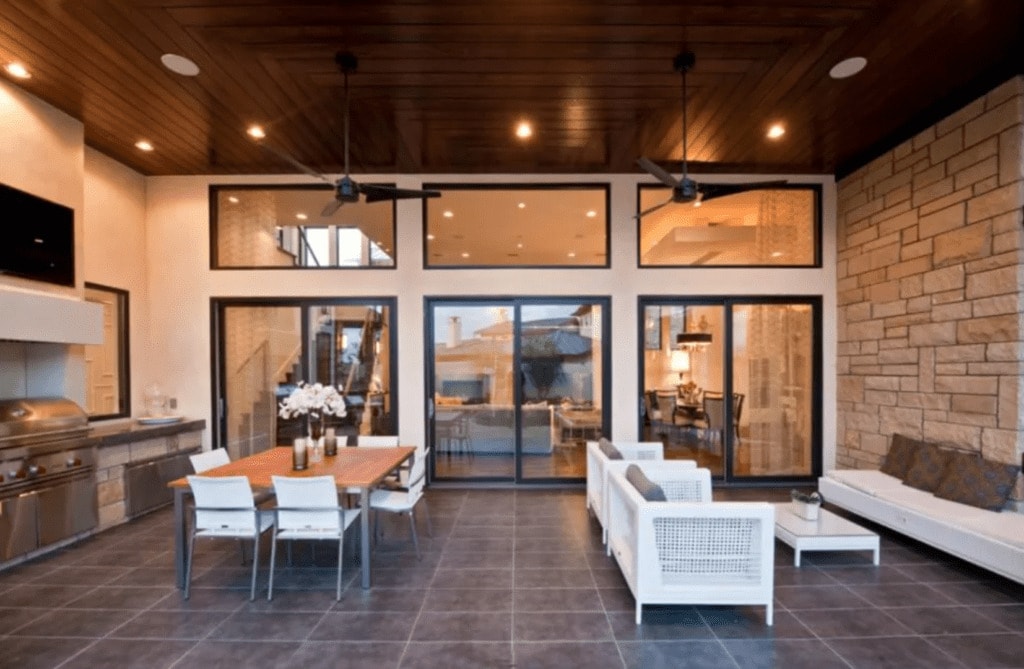 2. Enjoy the View |
Domino
With a backyard view like this one and a dream covered outdoor bar complete with everything, who wouldn't enjoy this peaceful atmosphere? I love the ample workspace and clean, uncluttered finishes.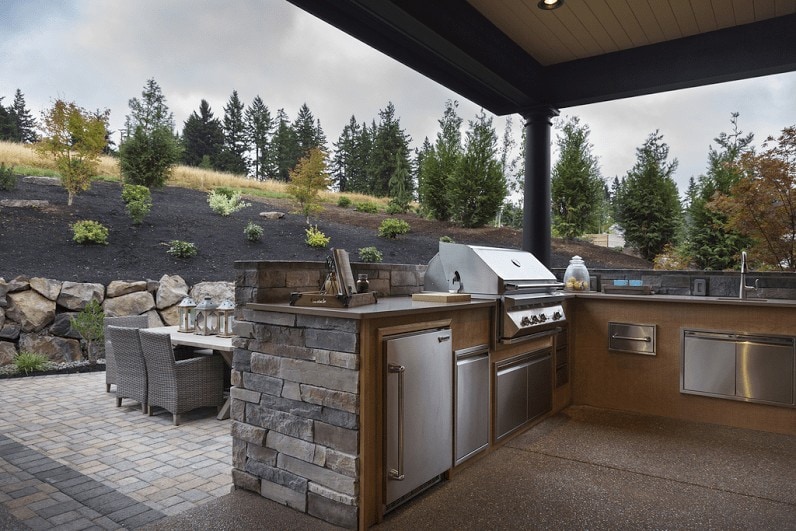 Stained oak, marble counters, an island, stainless steel appliances…who needs an indoor kitchen when you have a covered outdoor kitchen bar like this one? This is the ultimate entertaining outdoor area, perfect for climates that enable outdoor living.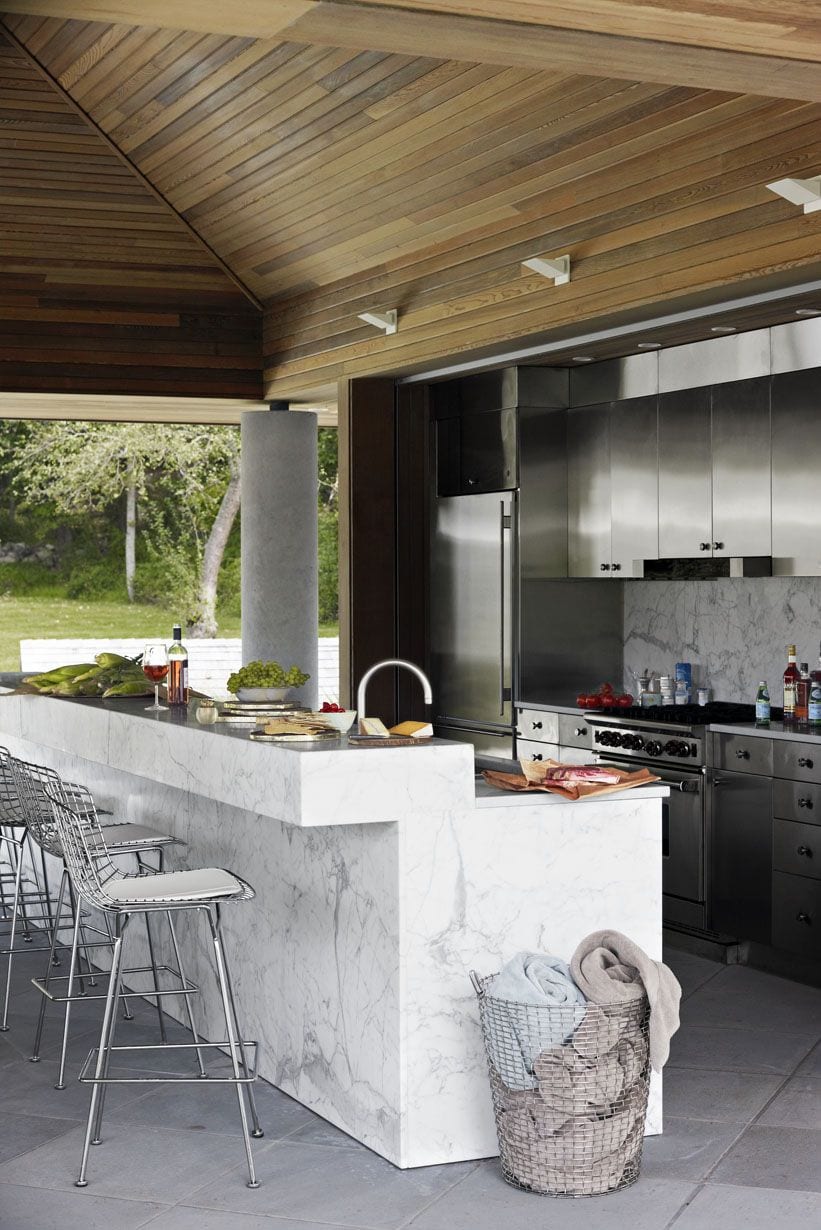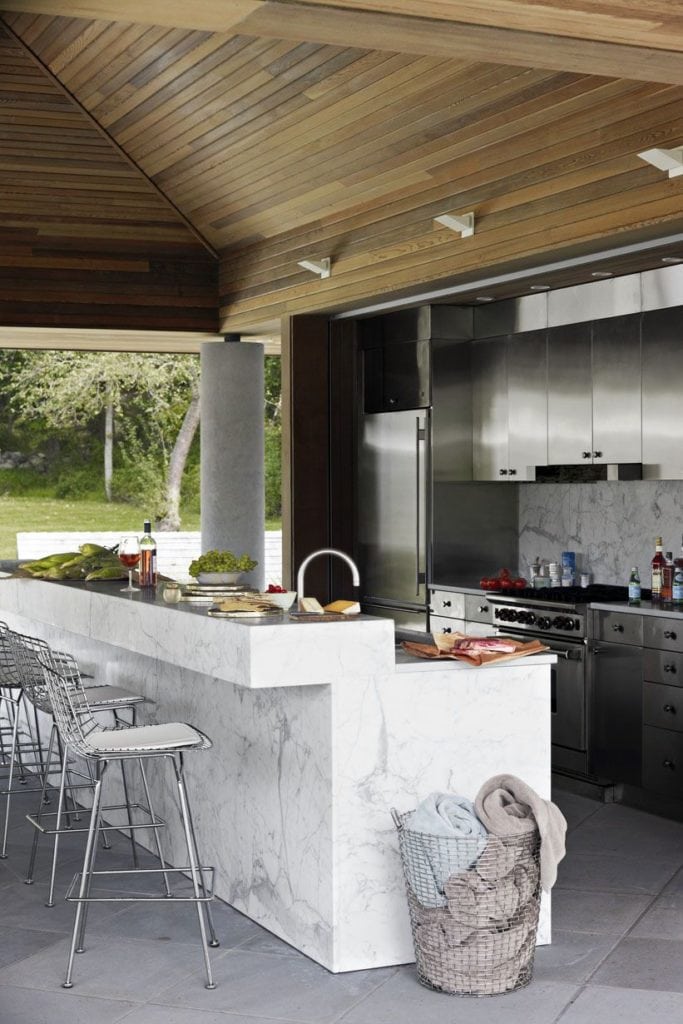 4. Cozy Comfort |
HGTV
This outdoor kitchen bar is meant for lounging. With comfortable chairs, a fireplace, a TV and plenty of cooking and entertaining space, invite friends over and enjoy an afternoon or relaxation.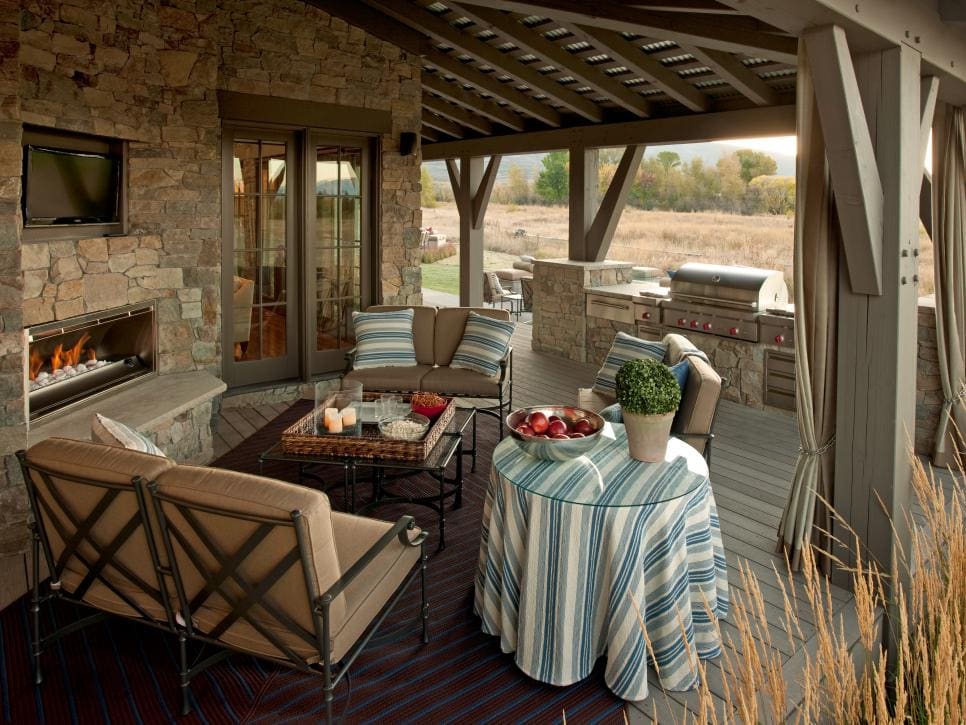 5. Rocky Mountain Entertaining |
The Spruce
This covered outdoor bar area is beautifully finished with shale stone walls, cedar ceiling and cabinets, and plenty of workspaces. The plush outdoor furniture, large fireplace, and sconces ensure the ability to enjoy the space all year long.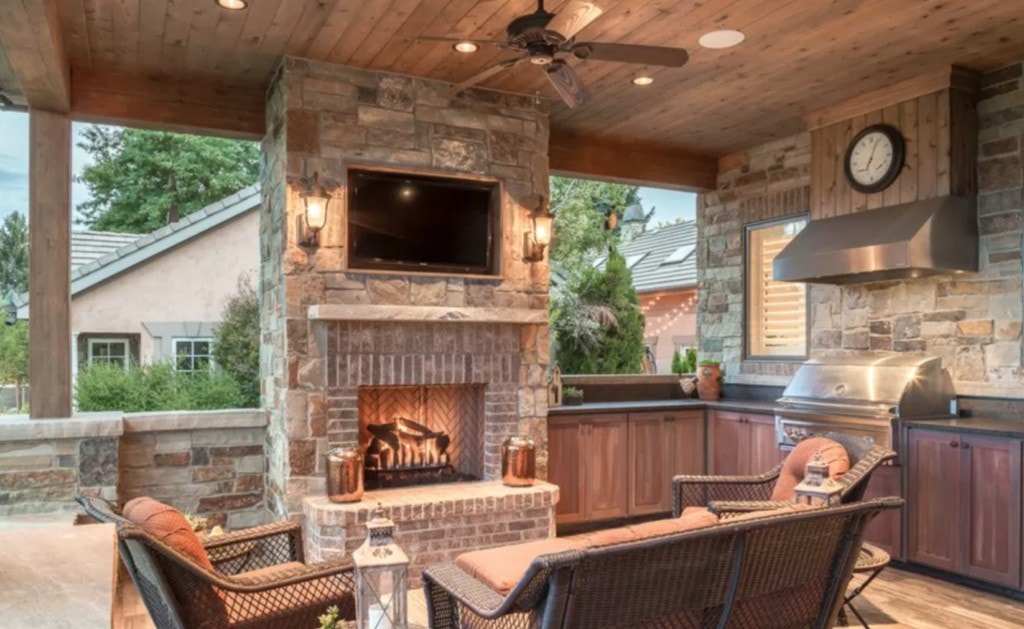 When you have a small space, it can help the traffic flow to keep the bar area separate from the cooking area like this example. This particular outdoor bar offers storage and counter workspace apart from the heavily trafficked cooking area.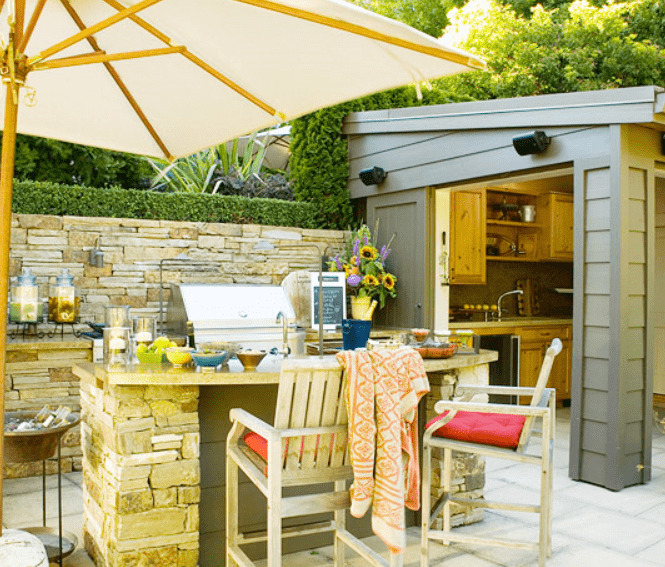 There you go! Fifteen different styles and outdoor bar ideas to give you an idea of what you can do with your own backyard space as you create the outdoor living space of your dreams. Now all you need is the perfect signature cocktail and you're set! 🙂
More From A Blissful Nest:
Get even more ideas on paint colors with these other posts. Just click on their titles to go right to the posts.
Pin our image below to save it for later!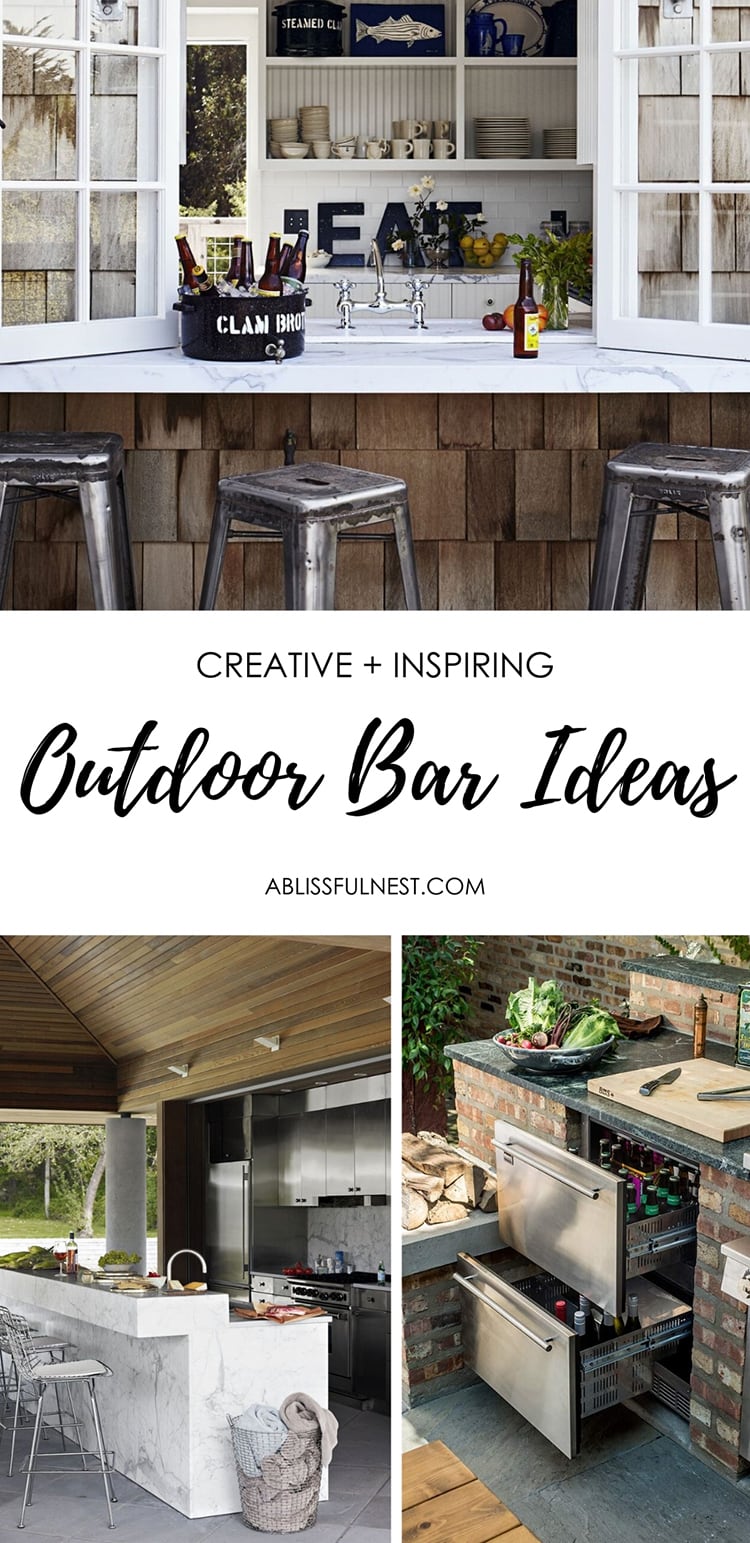 Follow along to get more of my tips on home decor, DIY and lifestyle on the following: