Guest Bedroom Ideas + Design Plans
Today I am sharing my guest bedroom ideas and design plans for our home. In the last couple of weeks, I shared some Stories on Instagram of Lauren and I picking paint colors for our guest bedroom and I thought I would share my design plans here in case you missed those. After moving into this house 3 months ago, I've been itching to get the paint brush out and start adding color to the walls in our home. I still love all the white but there needs to be some definition in some places with a little color. Because I love that coastal beachy style, I love muted colors and softer tones. I want this room to feel tranquil and restful to our guests that visit. I also have visions of lots of blue and white and texture.
As you can see it is a white box. There is not much in here at this point.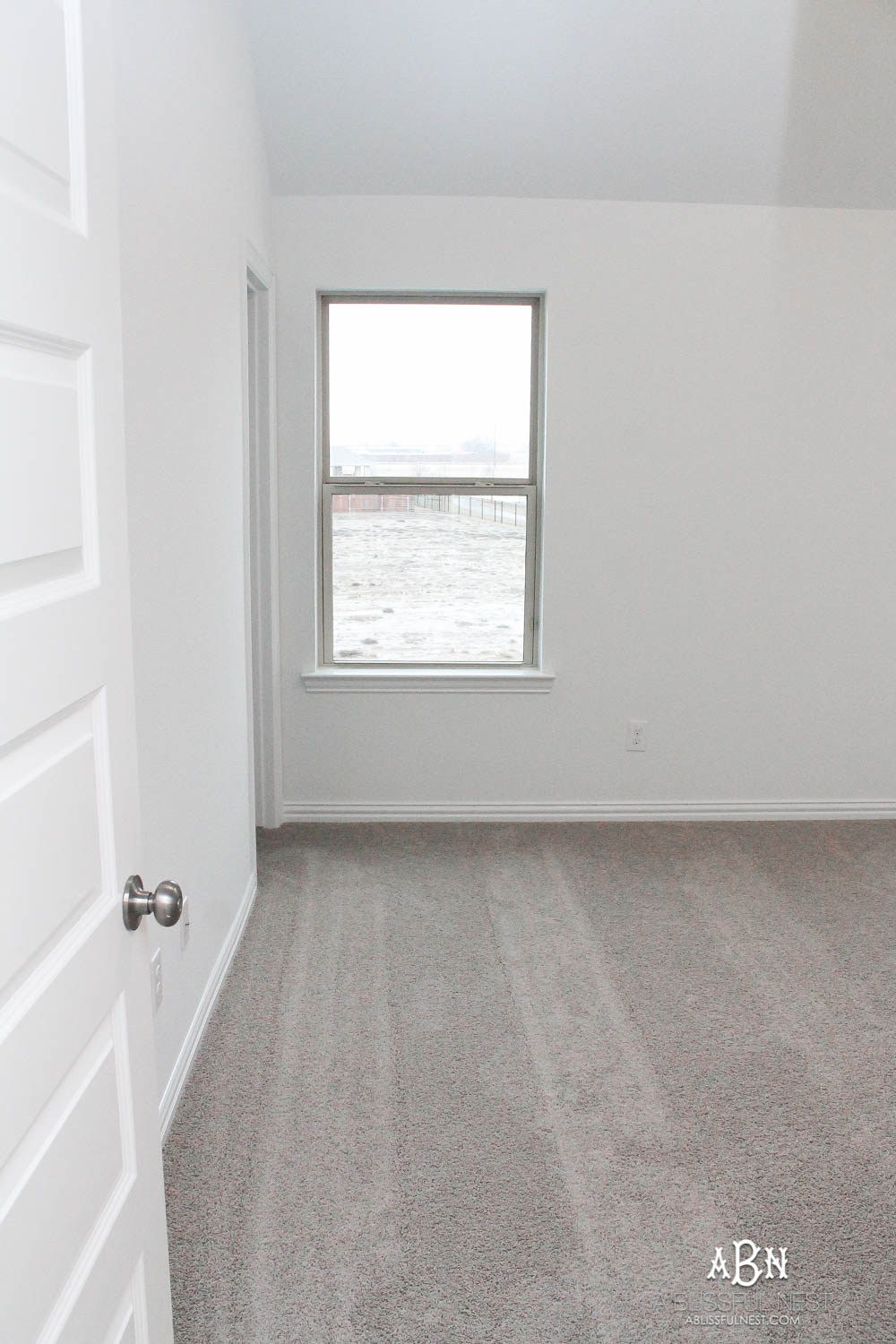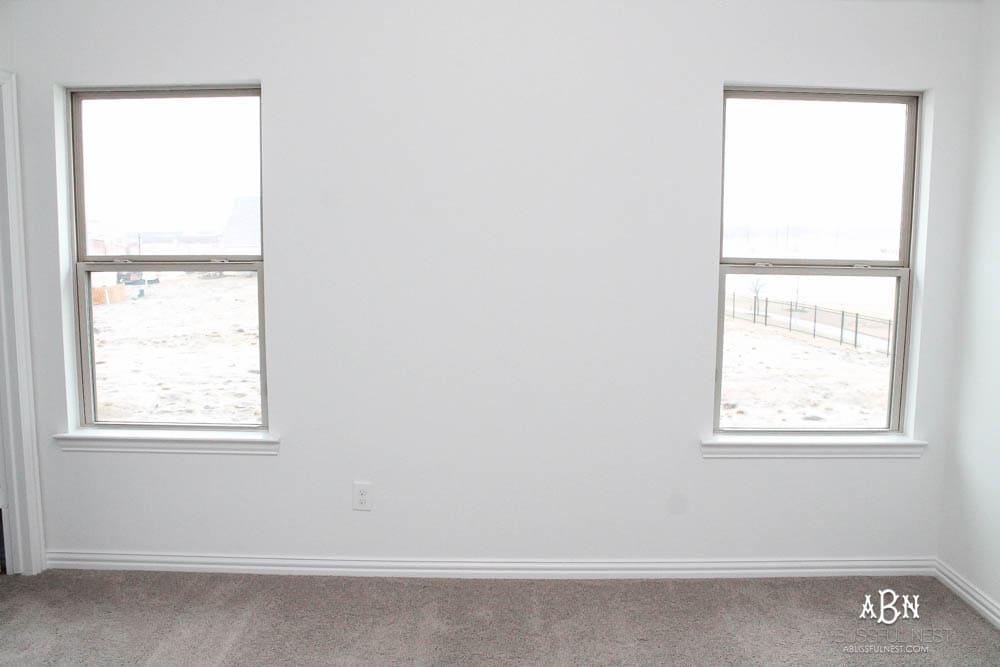 We have these 2 incredible windows that give lots of light and (for now until a house is built next door) has a view of the lake and waterfall. When you walk into the room the closet is located to the left and the 2 big windows are straight ahead on the facing wall. The great thing that makes this room feel bigger than it is, is a vaulted ceiling.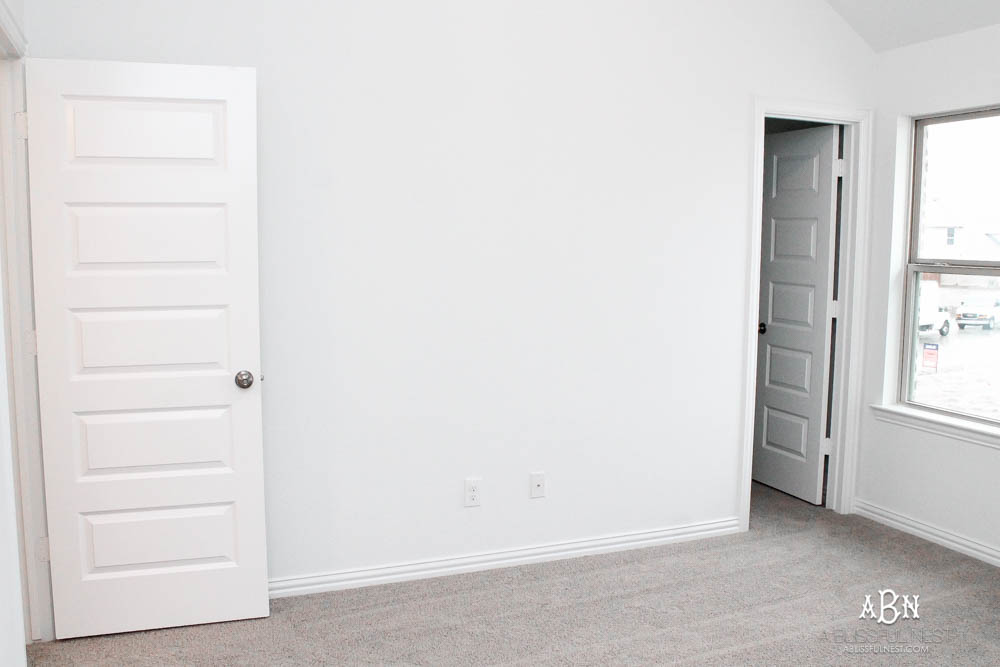 And this is the view from inside the room. There is an attached guest bathroom on the left there and straight ahead is the game room that is at the top of our staircase.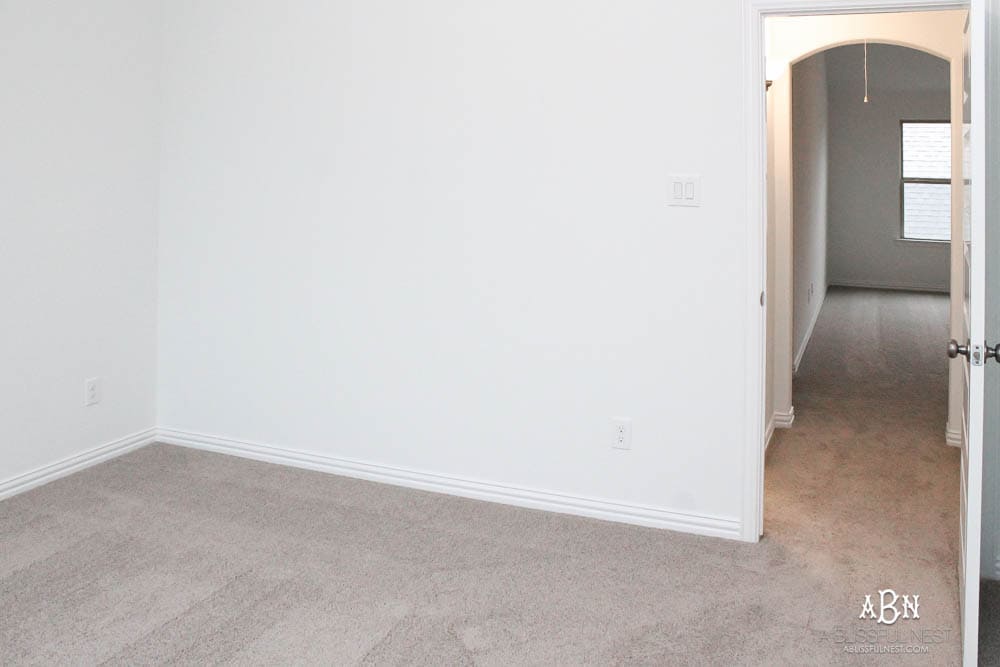 So here is a little inspiration and the direction I would like this room to go in.
This site contains affiliate links. Please read our disclosure policy. As an Amazon Associate, I earn from qualifying purchases.
Guest Bedroom Ideas:
Soft Grey Tones
I love the grey tones of this room and they used light and dark grey to accent each other and give some depth. I also really love the wood accents on the bench to the all neutral space. I see a color on the wall in this shade that doesn't have too much blue in it but is a cool color.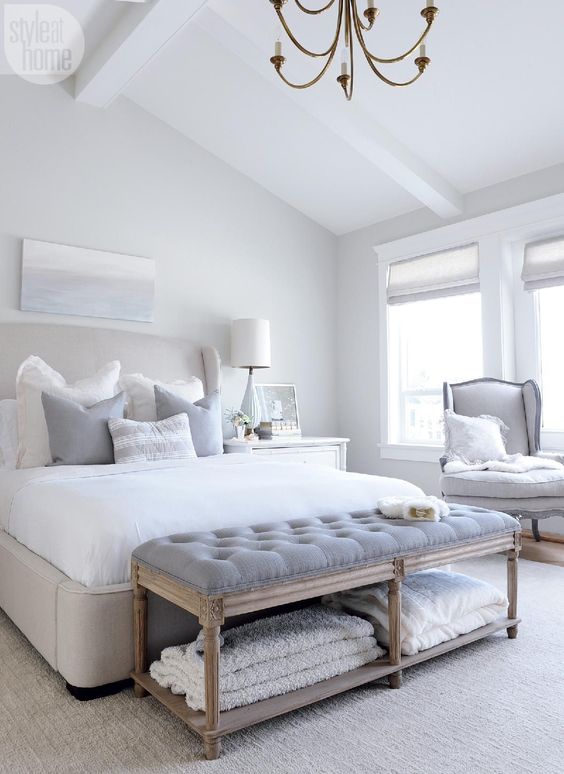 Blue and White Accents
This bedroom is beautiful with it's upholstered headboard and coastal art prints on the wall. I am not changing out our headboard in this room but this is the same color as ours. The blue accents are what I was thinking with a neutral design for the base.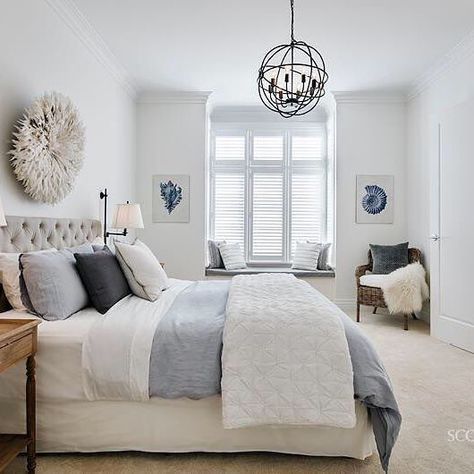 White Washed Wood Furniture
Isn't this so pretty from my friend Jen of Decor Gold?! This is what I am thinking of in terms of nightstands. I love the lime washed look of hers and need something smaller since it is a guest room but you get the picture. Again, she has those soft subtle grey tons which are so beautiful and serene looking.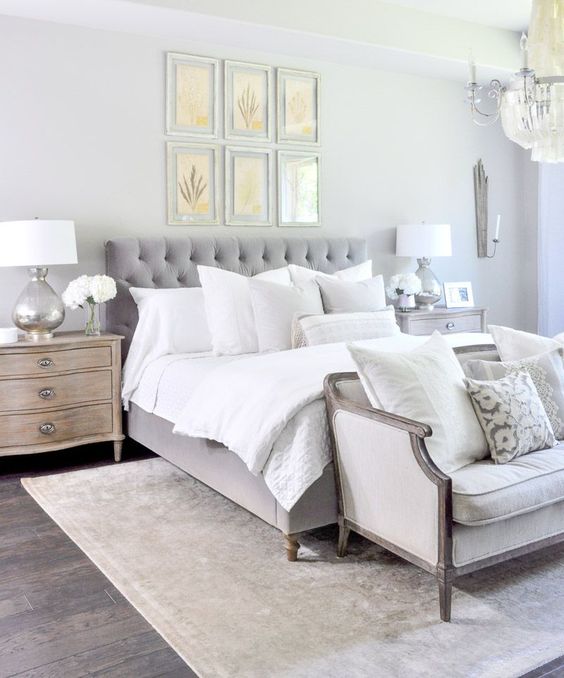 Solid Navy Pop
So as I said I am not changing the headboard but I love this bold pop of navy blue and wanted to get an idea of what it would look like in my grey neutral toned space. . . . . and I love it. I have decided that the drapes will be in this color and will pop the bedding I have chosen that is blue and white. But seriously. Isn't this bed amazing?!!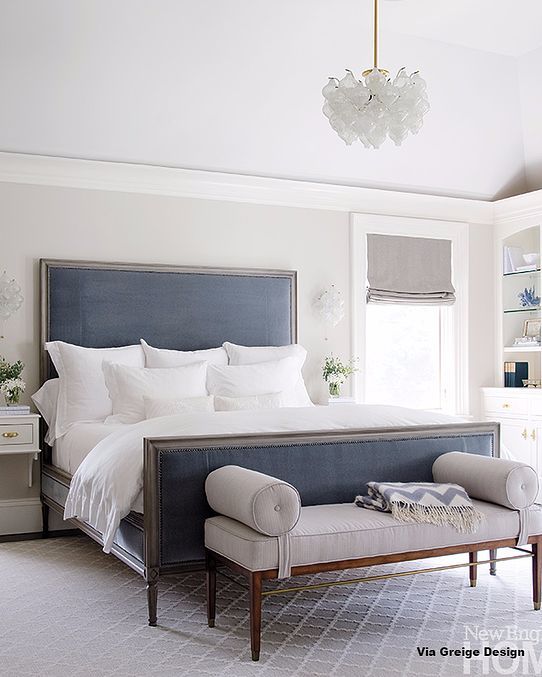 Okay and we can not leave out my friend Tam's bedroom in all it's gorgeous blue and white glory. Tam is the QUEEN of blue and white so if you are super fan of it like me then you will love her blog. She went a little darker with the grey then I am going but I love this bedding. She makes any bedroom dreamy!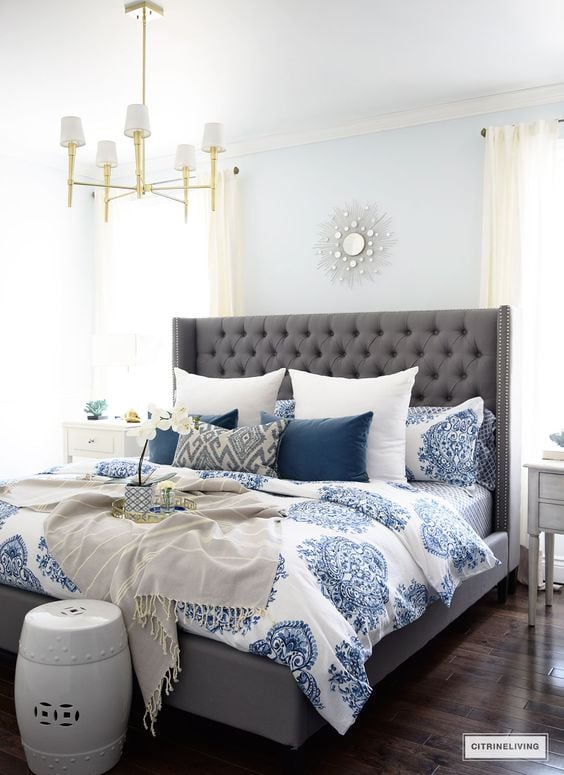 So here is my design board with the elements that I will be using. As you can see I will be pulling texture in through a woven rug and in the chandelier and nightstands. The nightstands will have that rustic beach vibe with the finish and will feel modern and fresh with the table lamps. I am keeping the headboard, table lamps and mirrors from our old guest room. You can see what it looked like HERE in our last house.
Guest Bedroom Design Plan: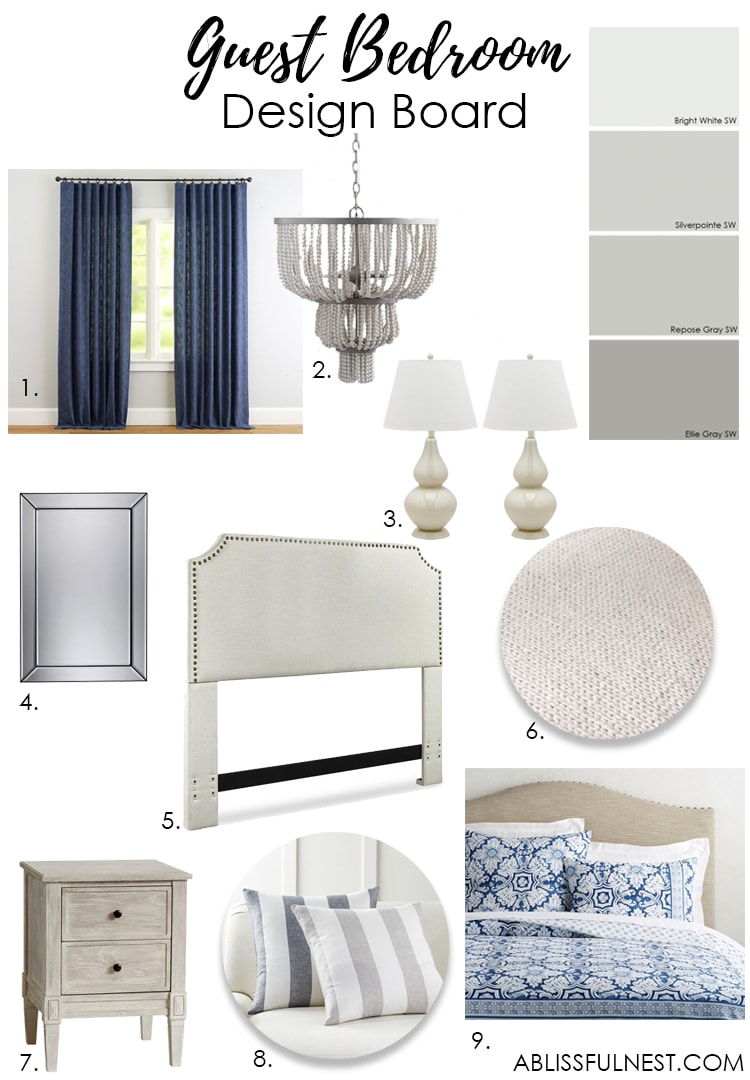 1 | 2 | 3 | 4 | 5 | 6 | 7 | 8 | 9
I decided to go with a bold navy blue for our drapes as you can see. I love this color and it will make the bedding pop. It is on the opposite wall of the doorway so you will see these right as you walk in. I have this drape in our breakfast room and it is a gorgeous heavy linen fabric.
I am super excited about the wood bead chandelier. It is amazing in person and I got it on major sale. We have such tall ceilings in this room so it will really pop.
All of our walls and trim are currently Bright White by Sherwin Williams. I did that intentionally when we built the house because I did not want to prime it when we decided to paint and I wanted a good white to start with. Bright White is a cool white and does not have any yellow in it. In the past I have always used Swiss Coffee but my new favorite is Bright White for sure.
So I am hoping to be done very soon and I will be sharing in the next couple of weeks. If you are looking for the perfect headboard for an up coming bedroom redo then you will love my selection of headboards I shopped for you HERE!