15 Affordable Upholstered Headboards
This post may contain affiliate links. Please read our disclosure policy.
Oh you guys are going to love this! We all love a steal of a deal and today we've rounded up 15 of the BEST headboards for you. I don't know about you, but I love a good headboard. After all, the bed is the focal point of a bedroom so the headboard better make an impact, right? But generally, the best headboards have a pricy ticket. It's hard to find a luxurious, quality headboard at an affordable price. Well, never fear! These affordable headboards below will give you plenty of style without breaking the bank. We even found quality, cheap upholstered headboards with a little splash of color for those of you who want a statement piece that really shines. Who's ready to fall in love?!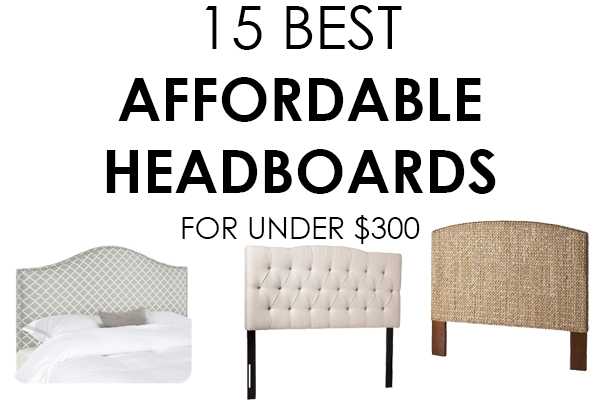 15 Affordable Headboards:
1. Mercer Connie Queen Upholstered Headboard White/Grey
This grey & white camelback stunner of a headboard features a diamond pattern that looks great with almost any décor or color. With the right accessories you could feature this in a bedroom with a neutral color pallet or pair it with fun brights. This is such a great, versatile piece!
This great little number comes in several different colors including sea mist and a beautiful shade of greige. I love this headboard in the off-white, though. While it's tough to find affordable headboards with tufting, this gorgeous, glamorous, quality piece delivers (at an amazing price too)!
3. Mudhut Andres Seagrass Headboard
I love this wicker headboard. It comes in the lighter honey you see here as well as espresso. It would look amazing in a boho designed bedroom or a breezy, beachy guest room. The texture still works like a neutral.
4. Parkside Button Tufted Headboard
This beautiful button tufted headboard with nailhead accents, is one of the best cheap upholstered headboards on our list. It comes in grey, cream or oatmeal fabric, and would look rich and elegant in any décor.
5. Safavieh Dahy Headboard
Check out this linen-polyester covered headboard with contrast piping! This great affordable headboard comes in several colors including a beautiful denim blue which would look perfect in a kids or teens room or a rustic country-style bedroom. I love love love the black on taupe contrast here, though—it's so striking and different–not qualities you think of even when you're looking for the best cheap upholstered headboards. This one's a steal!
6. Dorel Living Skylar Nailhead Linen Padded Headboard in Robin Egg's Blue
This beautiful padded headboard comes in a lovely shade of blue that would look fantastic with any room. It also comes in chocolate and grey. The nailheads add great contrast and this fits on any standard bed frame.
7. Upholstered Queen, Button Tufted, Arched Headboard Sky Grey
Can I just say how much I love the unique shape on this upholstered headboard? It comes in a variety of colors including a rich dark brown and a fun leafy green color, but the sky grey is my favorite. If you're looking for the best upholstered headboards, this one's a standout in terms of unique design and appeal.
8. Safavieh Headboard Collection Kerstin Headboard Light Grey
This cute little light grey upholstered headboard is so sweet. I would love this in a girl's room with matching twin beds. It's such a princess-worthy look! The shape really makes this headboard a focal piece without being overwhelming.
9. Safavieh Sacha Headboard
The nail bead pattern on this Remington headboard is what really sets it apart. The silver contrast against that sky blue would look great in almost any room—so light and pretty! It's an exceptionally modern look but could fit in well with many styles. This piece also comes in a beautiful shade of taupe which would be a great neutral.
10. Clara Upholstered Headboard
This camel-backed, Clara headboard comes in black, which is rare and could look gorgeous in the right room. It also comes in several other colors to fit any décor. This is such a classic piece, you would believe the quality for the price. It's such a great deal and would be the perfect finishing touch to any bedroom.
11. LexMod Sovereign Fabric Headboard Navy
The Modway upholstered headboards are available in several different shades. (Even black vinyl!) I love the navy version, though. It's so classic and beautiful. This headboard looks great with white linen but could look equally stunning with a patterned duvet or bright colored bedding.
This industrial piece stands apart from the headboard crowd. It's definitely a unique, sturdy piece that will go with your industrial or rustic design. This style has become such a trend because it looks great and timeless. Industrial pieces hold up to wear and tear and oftentimes it only adds to their patina and charm. For this price, this headboard is a great bargain that will be around for years.
13. Safavieh Hallmar Wheat/Pale Blue Arched Size Headboard
This camelback headboard made our best headboards list because of the fantastic pattern and height! This will make your bedroom feel regal and elegant. I love the fabric (it also comes in solid grey). It honestly, would go with other patterns seamlessly. It's subtle but has enough visual oomph to get noticed too.
14. Mercury Row Luna Nail Trim Upholstered Headboard
This headboard is amazingly priced and comes in four perfect neutral shades. The nail trim makes this look like a pricier designer piece, but at a fraction of the cost. This is a great standard headboard that will evolve with the design of any bedroom.
15. Better Homes and Gardens Grayson Linen Headboard with Nailheads
Better Homes and Gardens offer some fantastic pieces at low prices. The quality is high, and their designs often fit with many different styles. This Grayson linen headboard is no exception. This is a fantastic piece that will bring your entire bedroom together and help it feel polished.
Whether you are looking for modern, glam or even a touch of industrial chic, I think we have you covered here. I think these are great for guest rooms to kids rooms. You just can't go wrong! Hope you enjoyed all these gorgeous headboards and even found one for yourself! Want to see more Friday Favorites? Check them out HERE!
Need to bookmark this for later?
Pin Our Image: