How To Select A Beautiful Affordable Upholstered Bed
This post may contain affiliate links. Please read our disclosure policy.
Sharing the BEST affordable upholstered beds that can work for many different design styles as well as in master bedrooms, guest bedrooms, and even kid's rooms.
A bedroom should be tranquil and create a peaceful feeling.
There are a lot of different ways to do this with choosing a neutral paint color, creating layers with bedding, and even the decor added to the room.
But for me, it starts with the bed.
After all, the bed is the focal point of a bedroom so the headboard better makes an impact, right?
But generally, the best headboards have a pricy ticket.
It's hard to find a luxurious, quality headboard at an affordable price.
Well, never fear! These affordable headboards below will give you plenty of style without breaking the bank.
What Is An Upholstered Headboard?
An upholstered headboard is usually made from a wood frame that is covered in foam then wrapped in batting, and covered in fabric.
Is can be tufted with upholstery buttons and even nailheads can be added for more detailing.
Typically upholstered beds can be just a headboard or include an upholstered frame that goes around the mattress and box spring.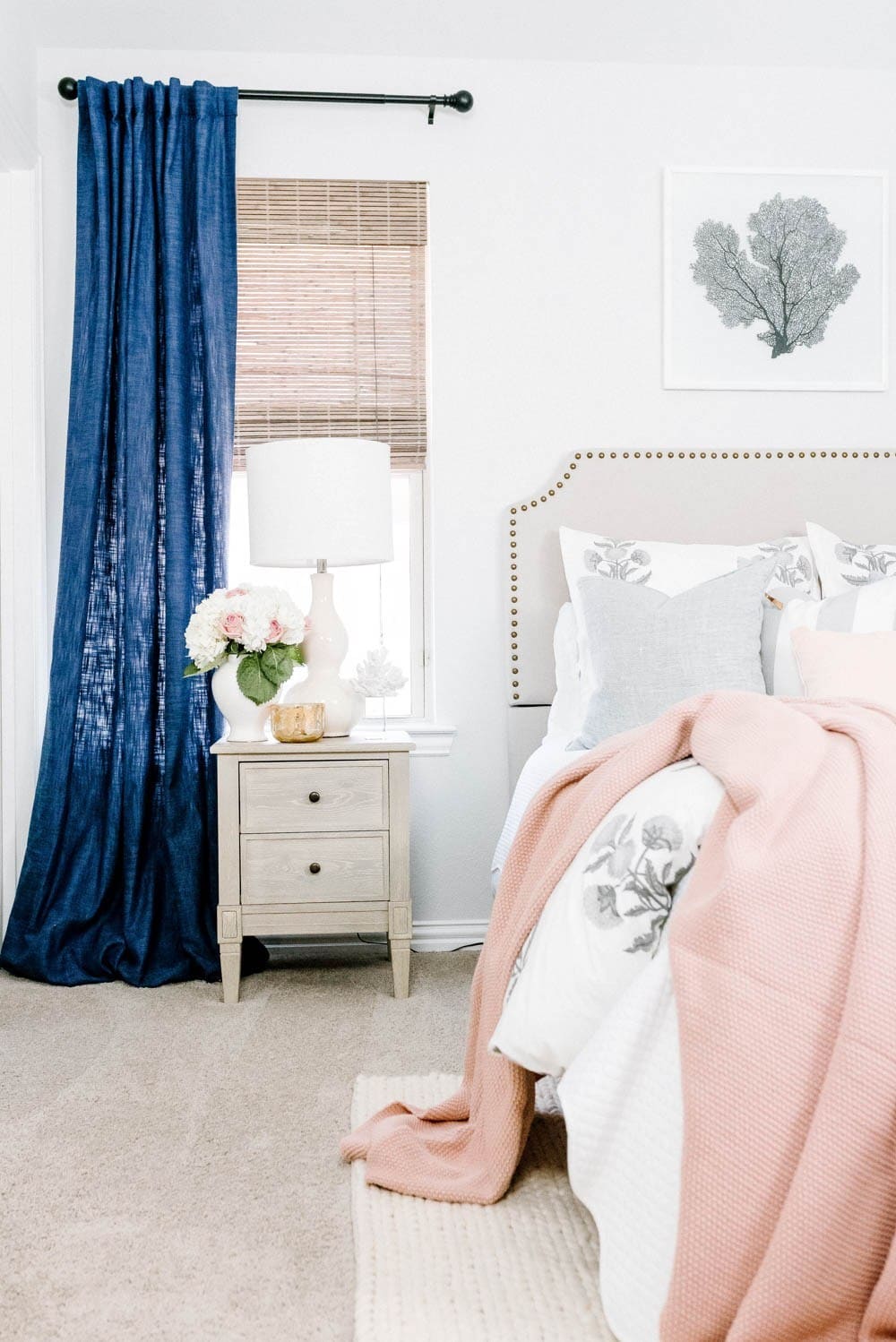 Is An Upholstered Bed A Good Idea?
I personally love a beautifully upholstered bed. It adds warmth and even a little texture to a bedroom.
It makes a room feel soft and sets the tone for a peaceful restful space.
I have used a tufted bed in many bedrooms in our home over the years. They never go out of style.
One of my favorites is this nailhead upholstered bed I used in our guest bedroom.
The nailheads add a modern touch and I love the contrast in the metal to the other hardware in the room.
Never be afraid to mix metals!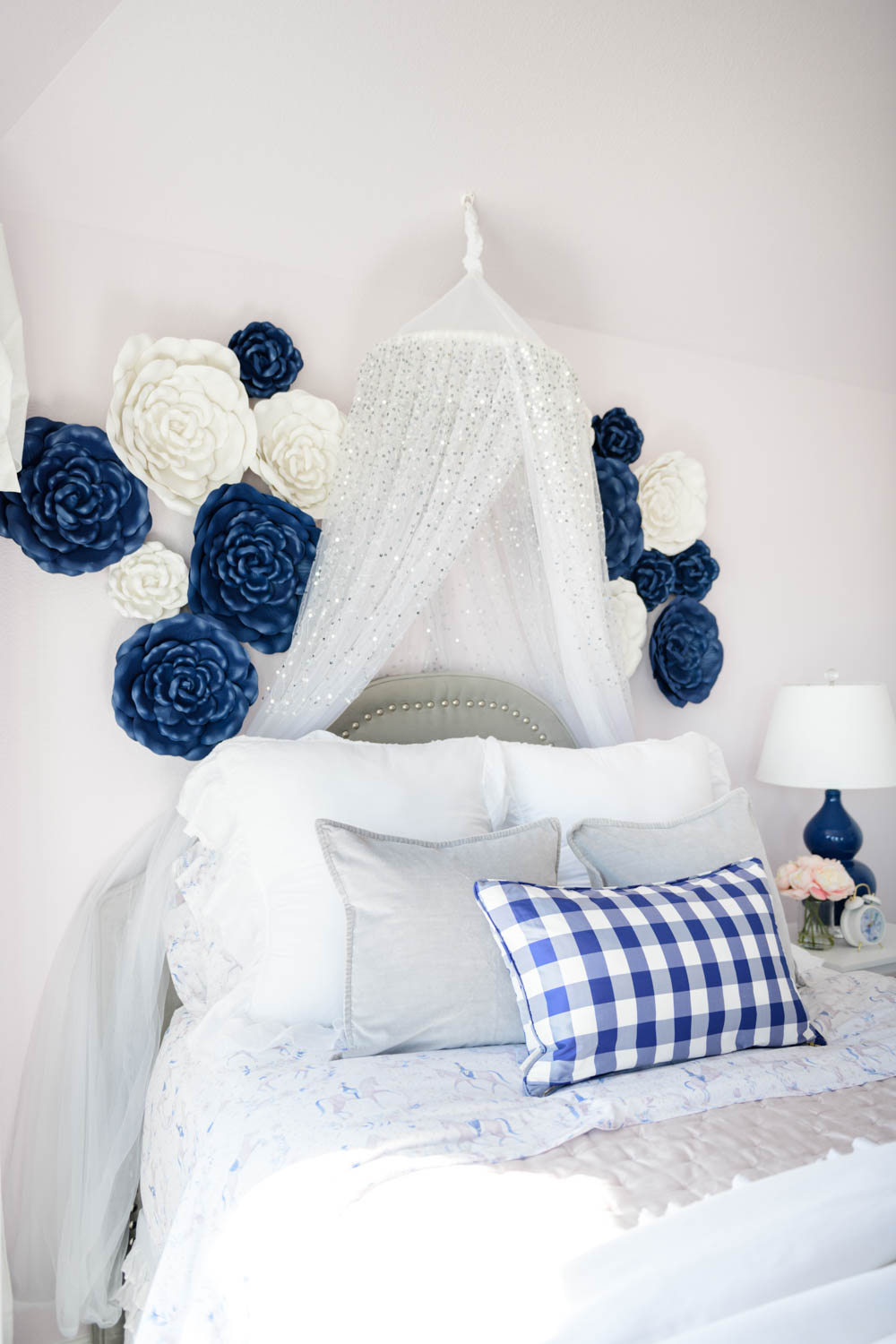 I also used an upholstered headboard with nailheads in my daughter's room.
I wanted a style headboard that could grow with her and be able to change the look with bedding and colors as she got older.
As of now, we have paired the soft velvet grey with a lilac purple and navy blue color combo that is stunning.
Why Are Upholstered Beds So Popular?
A tufted bed is so popular in bedroom designs because almost everyone can work with any design style.
Simply by changing decor, colors, and bedding, a tufted bed can transition with most design aesthetics.
Some tufted beds can be customized where patterns and colors can be selected and then the headboard is created to match exactly what you want.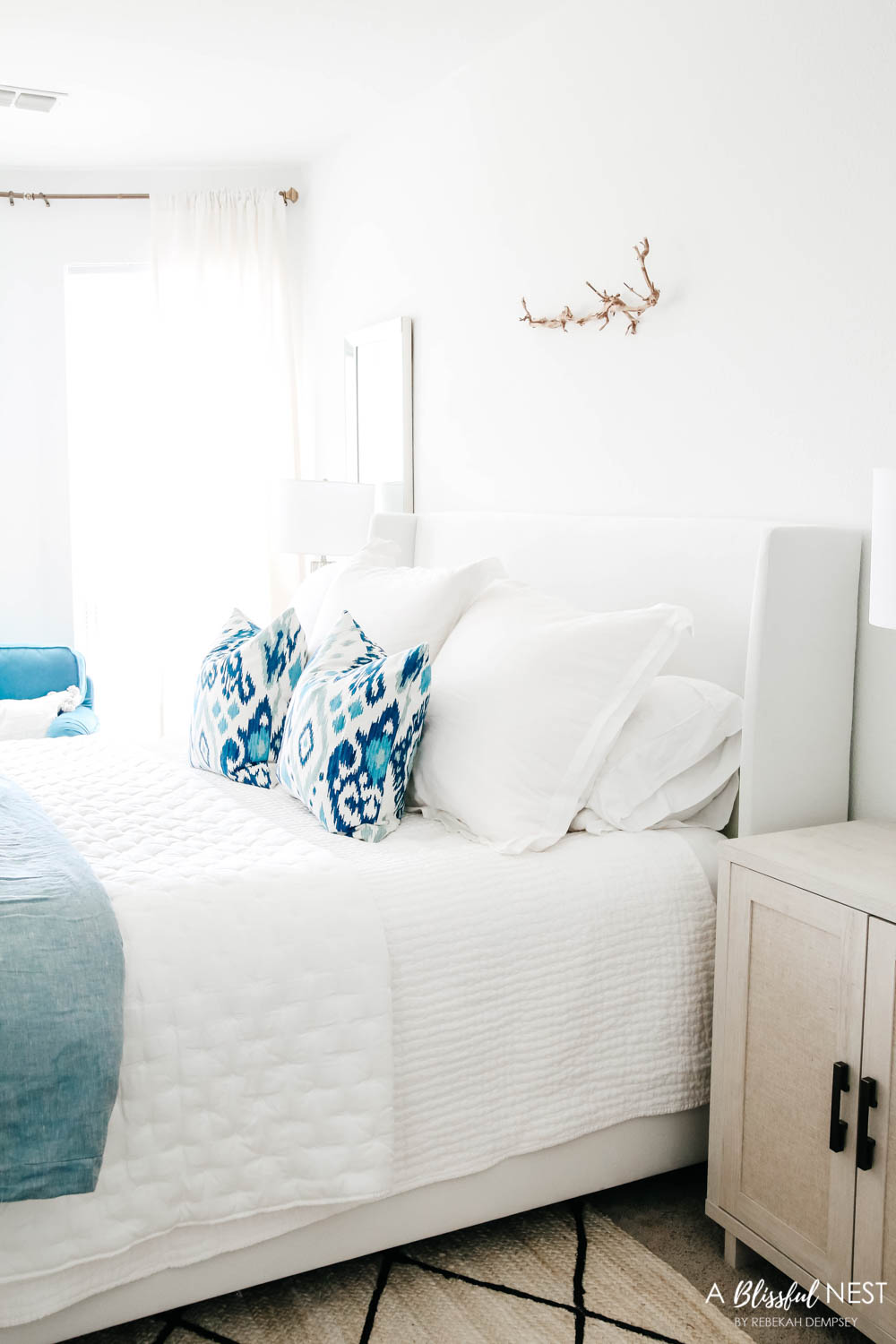 That is what we did in our coastal master bedroom with a neutral white headboard and footboard.
It was so easy to add in the beachy blue and white that I love and yet still have the option to change it in the future.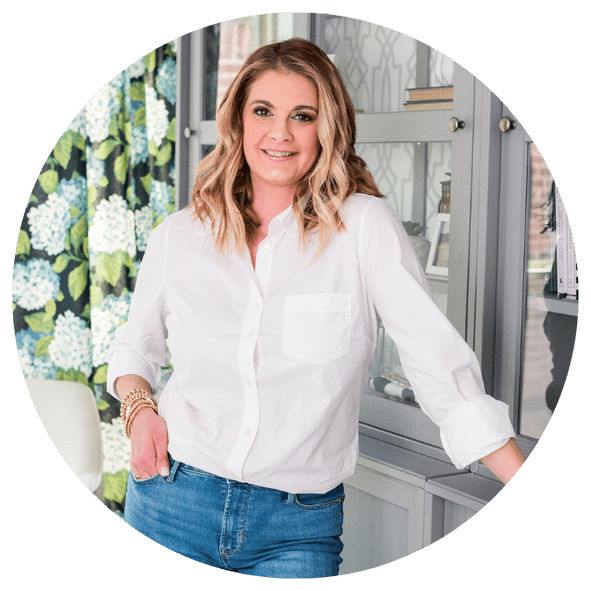 Upholstered Bed FAQ
• Do you need a box spring? Not all upholstered beds need a box spring. Some frames are a platform base and some even have a base that contains storage.
• What sizes do beds come in? You can select beds in a twin, full, queen, Cal-King, or Eastern King size.
• When should you replace your mattress? Generally speaking, a mattress should be replaced every 8 years.
How To Select The Right Tufted Bed
There are a couple of things to keep in mind when selecting the right headboard for your room.
What is the overall look you are going for? If you want a serene and soft look then you will want to select a bed in soft muted colors. If you want a more bold look then choose one in a deep rich color.
Select the right size bed for the space. This may sound simple but measure, measure, measure. Some of them with the frame may be bigger than what you have room for.
Do you want lots of color or the bed to be in a more subtle color? Lots of beds come in many color/fabric selections so know what you are looking for from the start.
Design Details Of Upholstered Beds
Upholstered beds have a few key design elements and slight variations to choose from.
Knowing these features will help you select the right one for you!
Tufted Bed
The tufted bed look will have upholstery buttons as mentioned earlier and will create a pattern on the front of the bed.
This can be a very elevated and more dressy look for a room.
Tufting can be spread apart or closer together, creating a smaller pattern.
Wingback Frame
A wingback frame to a bed is just like on a wingback chair.
It is curved sides that wrap inwards towards the front of the bed.
This creates a very warm and cozy vibe in a bedroom.
Platform Upholstered Bed
Some upholstered beds have an option of side and footrails covered in the same fabric as the headboard.
This eliminates the need for a dust ruffle and creates a clean look to the sides of the bed, helping cover the mattress.
I'm sharing a few of these below if you would like this option for your bedroom.
Nailhead Trim
Nailhead trim is small upholstery tacks with a decorative tip that can be used in a pattern generally along the edge of a headboard or footboard.
I love how this instantly glams up a bed and depending on the finish can even give a more industrial look to the room.
Don't be afraid to mix and match metals from the nailheads to the other hardware in the room like the drapery hardware or furniture knobs.
Fabric Options
There are a lot of fabric options for upholstered beds and really there is no general rule.
Most commonly they come in beautiful linens or elegant velvets, but also polyester, cotton, performance fabrics, and even faux leather.
How To Clean An Upholstered Bed
There are a few options for cleaning an upholstered bed.
I personally like to use Scotchguard right away to protect it and then reapply every one to two years.
This will also help protect the vibrance of the fabric if you have a color.
Then whenever I see it needs a little freshening up, I use a vacuum with a soft bristle attachment and/or a Swiffer cloth to clean off the dust.
You may also want to have it professionally cleaned once a year.
Where To Shop For An Upholstered Bed
There are so many retailers that sell amazing upholstered beds but I have collected my favorites that have the best selection of headboards and bed frames.
Use my guide and tips to help select the right upholstered bed for you from these retailers.
Favorite Affordable Upholstered Beds
Here is a collection of gorgeous upholstered bed frames I have already shopped for you that would work in any bedroom.
From modern to traditional, there are tufted beds here for everyone!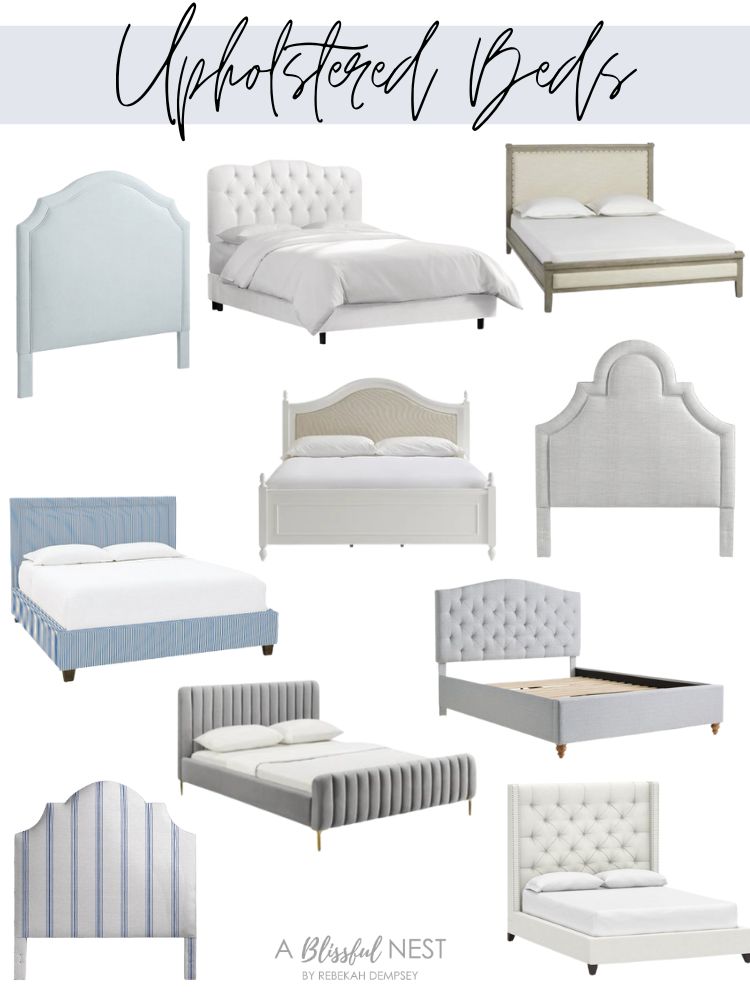 Just click any of the photos below to shop them!

Whether you are looking for modern, glam, or even a touch of industrial chic, I think we have you covered here.
These are great not only for master bedrooms but for guest rooms and kid's rooms. You just can't go wrong!
Hope you enjoyed all these gorgeous upholstered bed ideas and even found one for yourself!
More Bedroom Design Ideas + Inspiration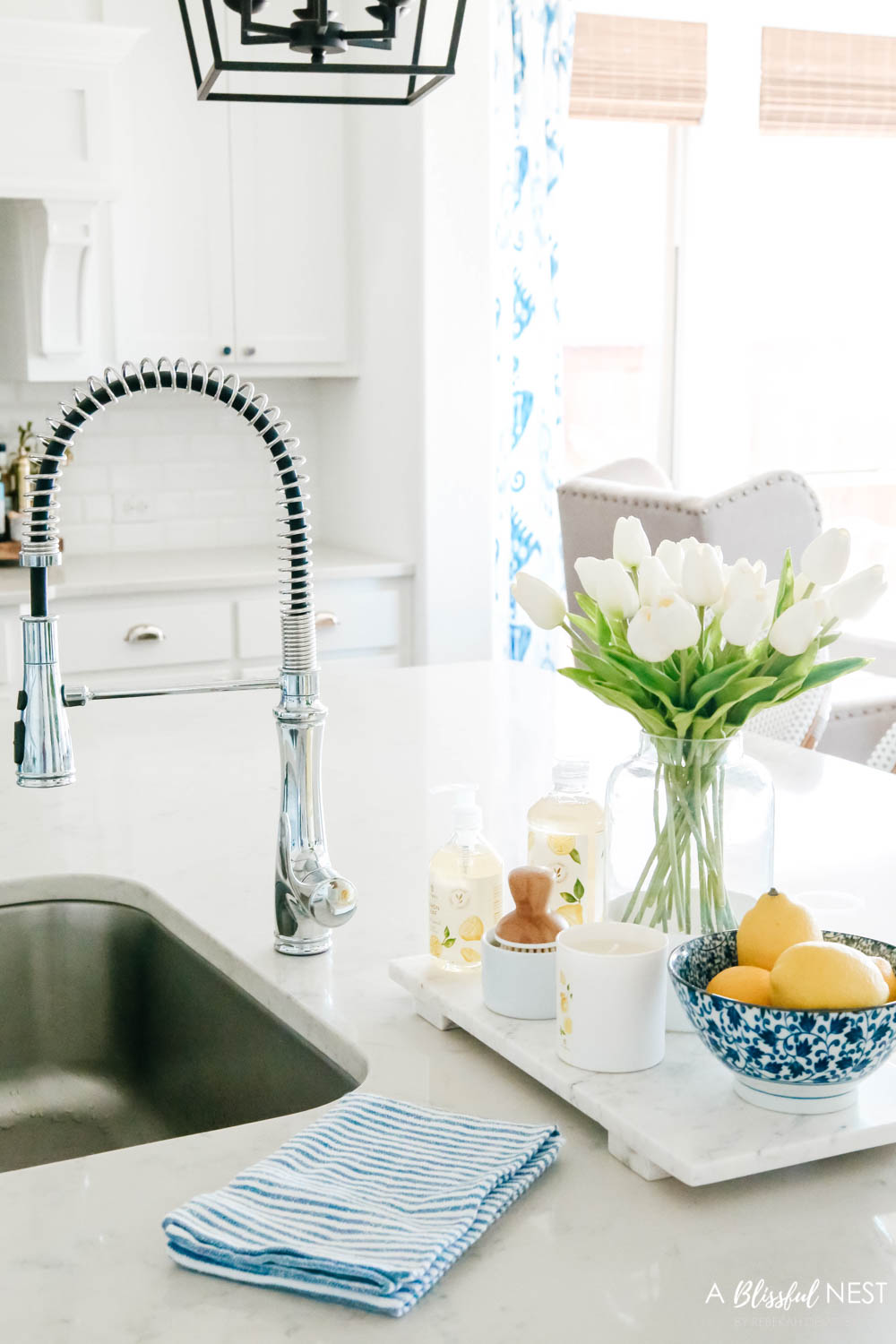 Shop My Amazon Finds
Shop my favorite products, finds for your home, and more only on Amazon.