Different Layers Of Bedding
This post may contain affiliate links. Please read our disclosure policy.
If you've ever been confused about the different layers of bedding or questioned why you need so many pillows, look no further.
Our beds are more than just a place to lay our heads at night – they are sanctuaries of comfort and relaxation.
Learning how to layer a bed serves a specific purpose, from providing a soft surface to sleep on to adding a pop of color and style to your room.
When it comes to getting a good night's sleep, having a comfortable bed can make all the difference.
From the mattress topper to the throw blanket, each layer plays an important role in making your bed cozy, functional, and stylish.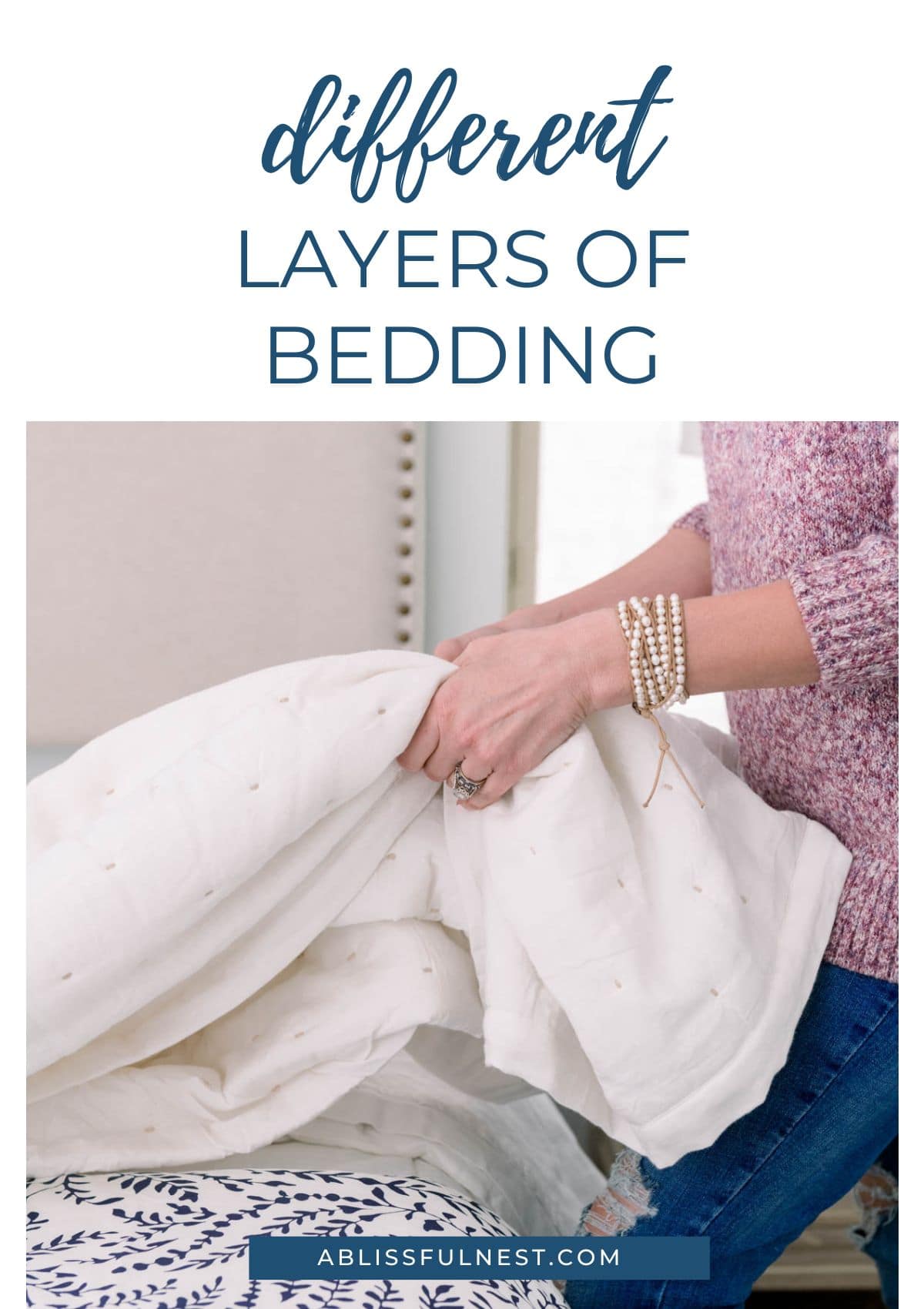 I will go over all the various layers of a bed in depth, discussing the benefits and functions of each piece, and whether certain layers are optional or must-haves.
Whether you're a seasoned bed layering pro or a newbie just starting out, this guide will help you create the ultimate bedroom oasis. Let's dive in!
How Many Different Layers Of Bedding Are There
There are many layers to bedding and it is hard to know which ones are essential and which ones are just decorative. It will depend on you and what you like to sleep under and what you want your bed to look like.
Essentially there are 6 standard layers which include the following: flat sheet, fitted sheet, duvet cover, duvet fill, bed pillows, and a bedskirt.
Favorite Places To Shop For Bedding
There are many great places to get bedding but here is where I shop personally for our family and my clients.
Tap Photos To Shop

Different Layers Of Bedding Guide
Use my guide below to help you understand all the different bedding layers there are, how to use them, and why to use them on your bed.
Mattress Pad/Topper
A mattress topper is an additional cushioning layer that sits on top of your mattress, adding extra comfort and support to your sleep experience.
They are made from a variety of materials, such as memory foam, latex, feathers or even wool.
So, whether you want a plush, pillow-like feel or prefer the contouring support of memory foam, there's a mattress topper out there to enhance your sleeping experience.
Give your old, worn-out mattress a new lease on life with a mattress topper and wake up feeling refreshed and ready for the day ahead. You will be shocked what a difference it makes!
Fitted Sheet
A fitted sheet is a type of bedsheet that has elastic edges to keep it snugly in place on your mattress.
It helps ensure that your sheets don't move around while you're sleeping and provides a clean and smooth surface to rest on.
Plus, with fitted sheets available in a variety of sizes and materials, you can find the perfect fit for your mattress and personal preference.
Flat Sheet
A flat sheet or top sheet is a type of bedding that is typically made of cotton or a cotton blend.
It is a rectangular piece of fabric that is placed on top of the fitted sheet and tucked in at the sides and the foot of the bed.
It serves two main purposes: to protect the comforter or duvet from dirt and oils from your skin, and to add an extra layer of warmth (or coolness, depending on the season) to your bedding.
Some people prefer to use a flat sheet as their only covering, while others use it in conjunction with a comforter or duvet.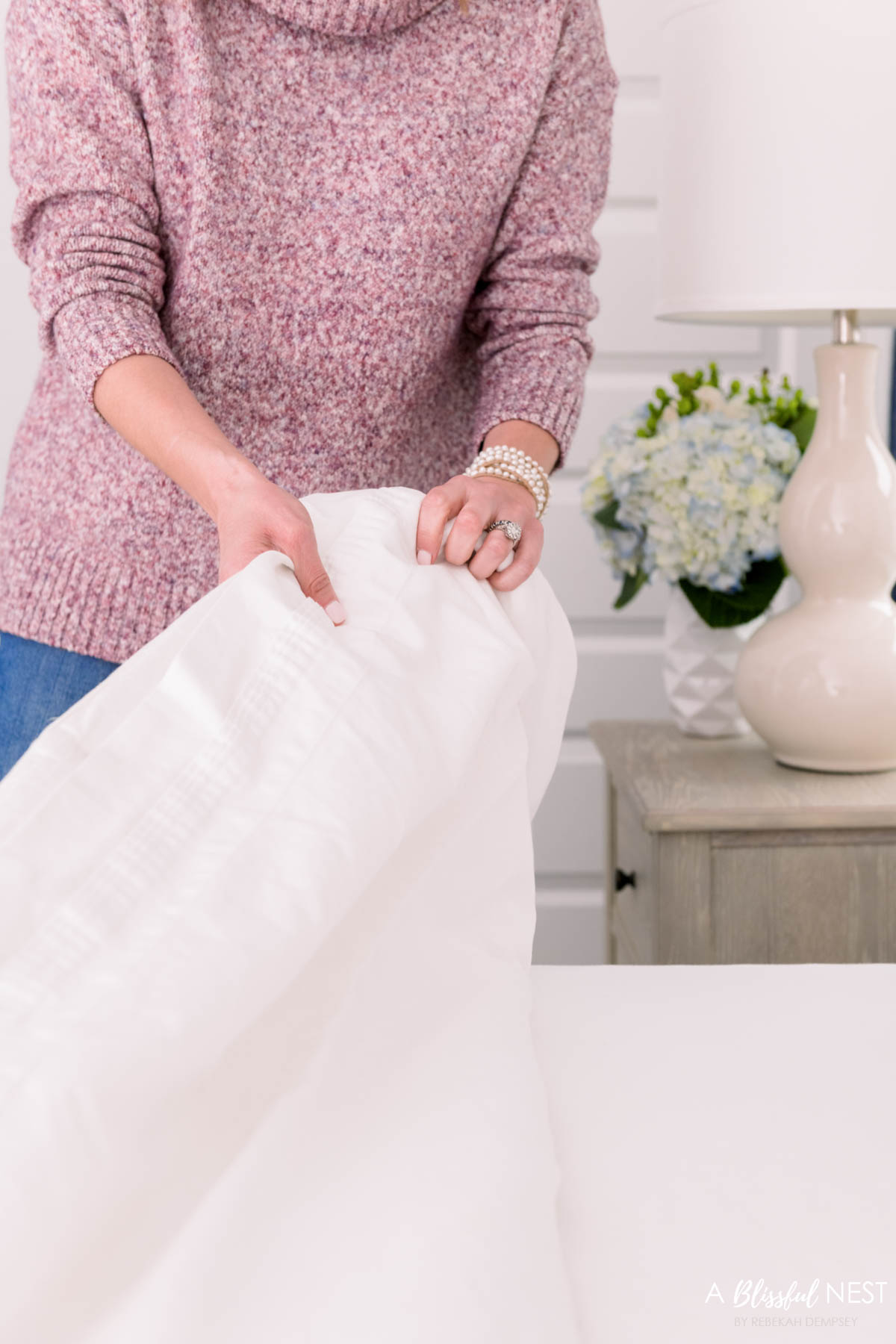 Duvet Fill
A duvet fill is a material that's stuffed inside a duvet cover to keep you warm and cozy at night.
It can be made from a variety of materials such as feathers, down, wool, or synthetic fibers.
The most common duvet fill, however, is down. Down is a fluffy layer of fine feathers that are found beneath the tougher exterior feathers of geese and ducks.
It's incredibly warm, lightweight, and breathable, making it the perfect choice for a duvet fill.
Duvet Cover
The purpose of the duvet cover is to keep your comforter clean and hygienic, while also allowing you to switch up the look of your bedding without replacing the entire comforter.
Not only can it protect your duvet insert from dirt and wear, but it can also be easily removed and washed.
Plus, with so many designs and patterns available, a duvet cover can be a simple and affordable way to update the look of your bedroom.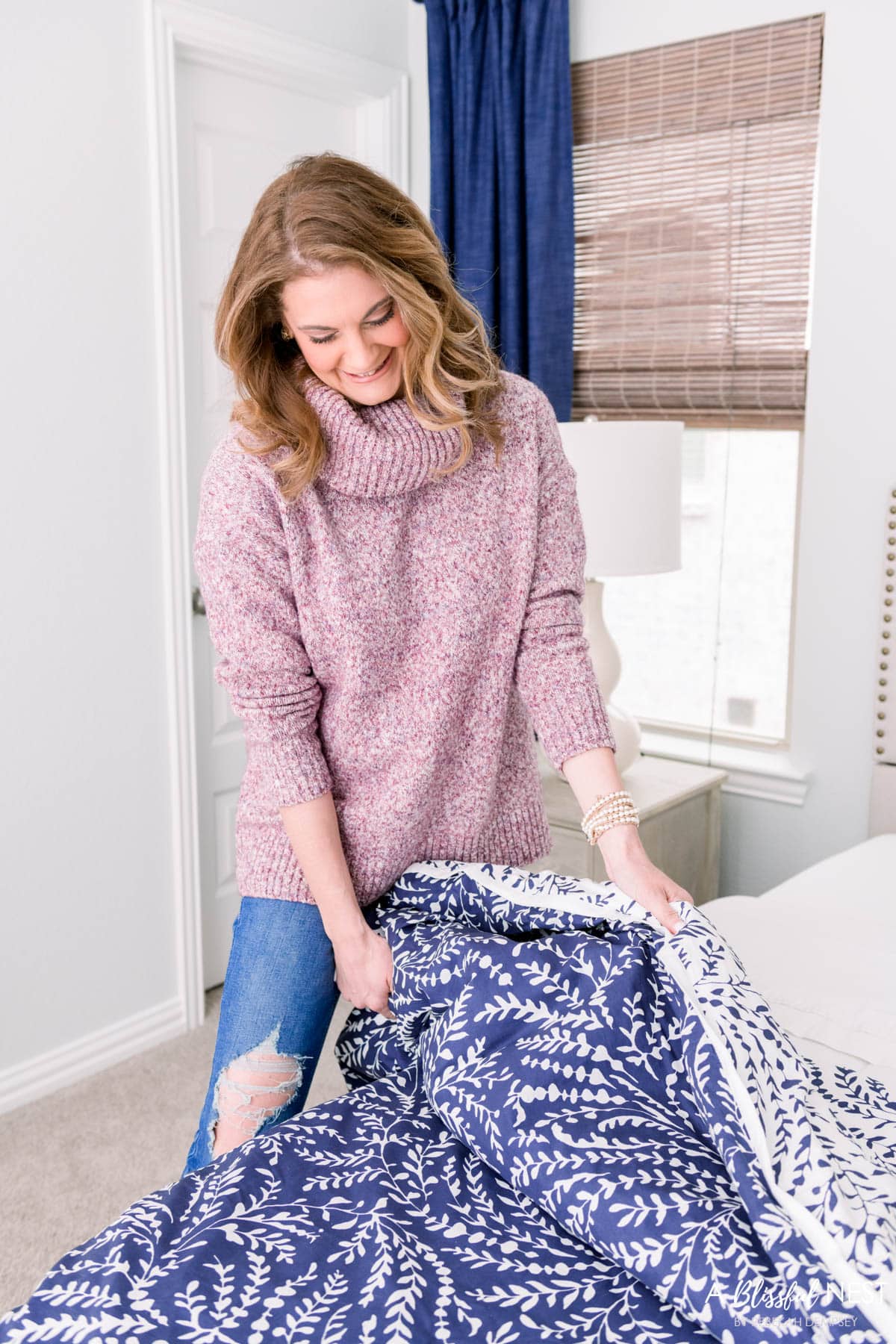 Comforter
A comforter is a type of bedding that is typically filled with down, feathers, or synthetic fibers to provide warmth and insulation while you sleep.
It comes in a variety of sizes, from twin to king, and can be found in many different colors and designs, so you can choose one that suits your personal preferences and keeps you cozy all night long.
Plus, they're super easy to care for – just toss them in the washing machine and dryer for a fresh, fluffy bed every time.
Coverlet
A coverlet is essentially a lightweight quilt that can be used as a decorative layer on top of your bedding.
It's perfect for those nights when you need a little extra warmth but don't want something heavy weighing you down.
Plus, a coverlet can add a pop of color or pattern to your bedroom, giving it a fresh new look.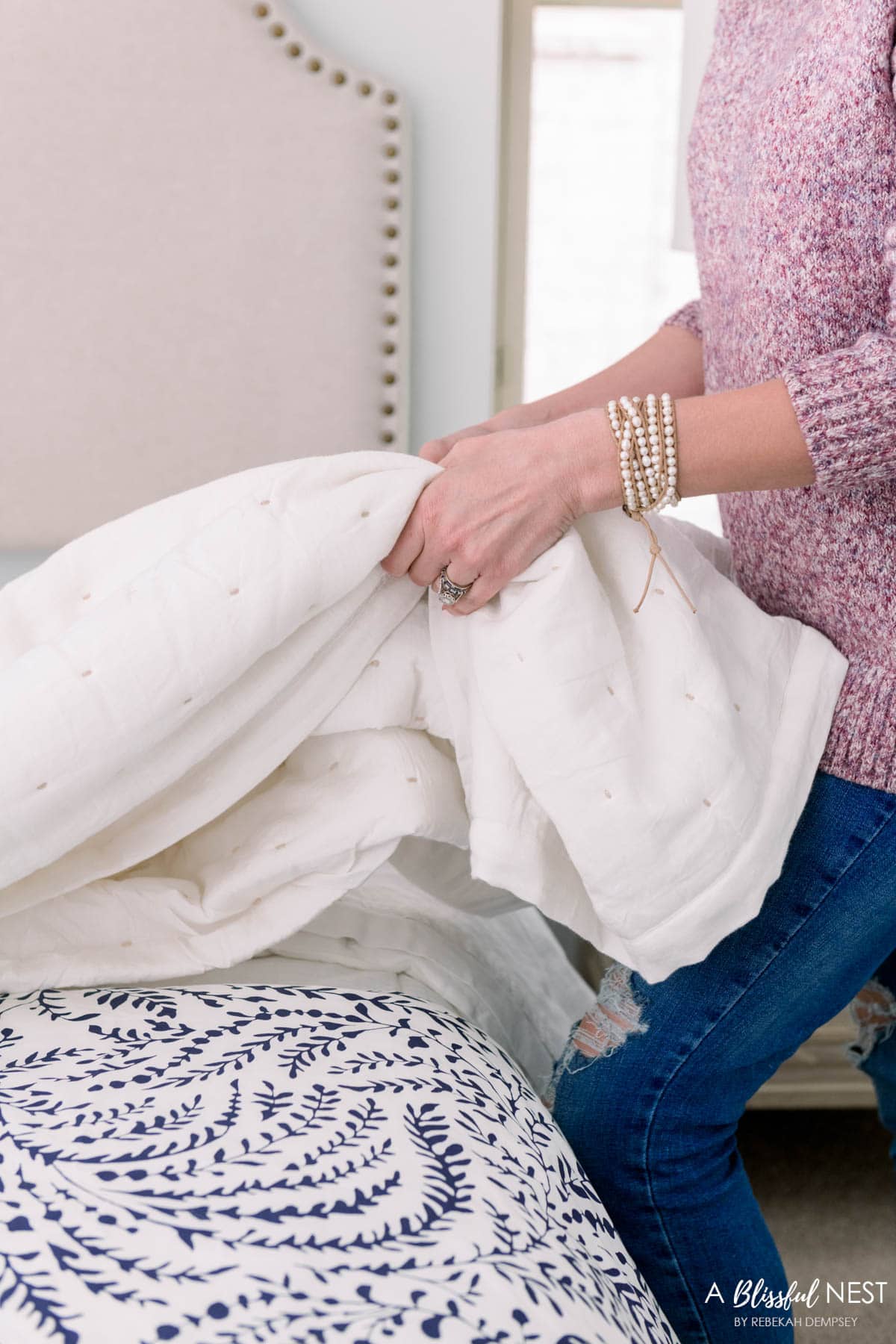 Quilt
A quilt is essentially a multi-layered textile that is used for warmth and as a decorative element on a bed.
The layers are typically made up of a top fabric, batting, and a backing fabric, all of which are stitched together.
Quilts are designed to keep you warm on chilly nights and cozy up your space.
They come in all shapes, sizes, and designs, from traditional patchwork to more modern and graphic patterns.
Euro Shams
Euro shams are decorative pillow covers that are usually square in shape, typically measuring 26 inches by 26 inches.
They're perfect for adding a touch of elegance and sophistication to your bedding, as they're often made with luxe fabrics, intricate patterns and textures.
Euro shams also serve a practical purpose, as they can be removed for easy cleaning, protecting your more expensive bedding underneath.
They're super versatile and can be mixed and matched with other pillow covers to create a unique and stylish look for your bedroom.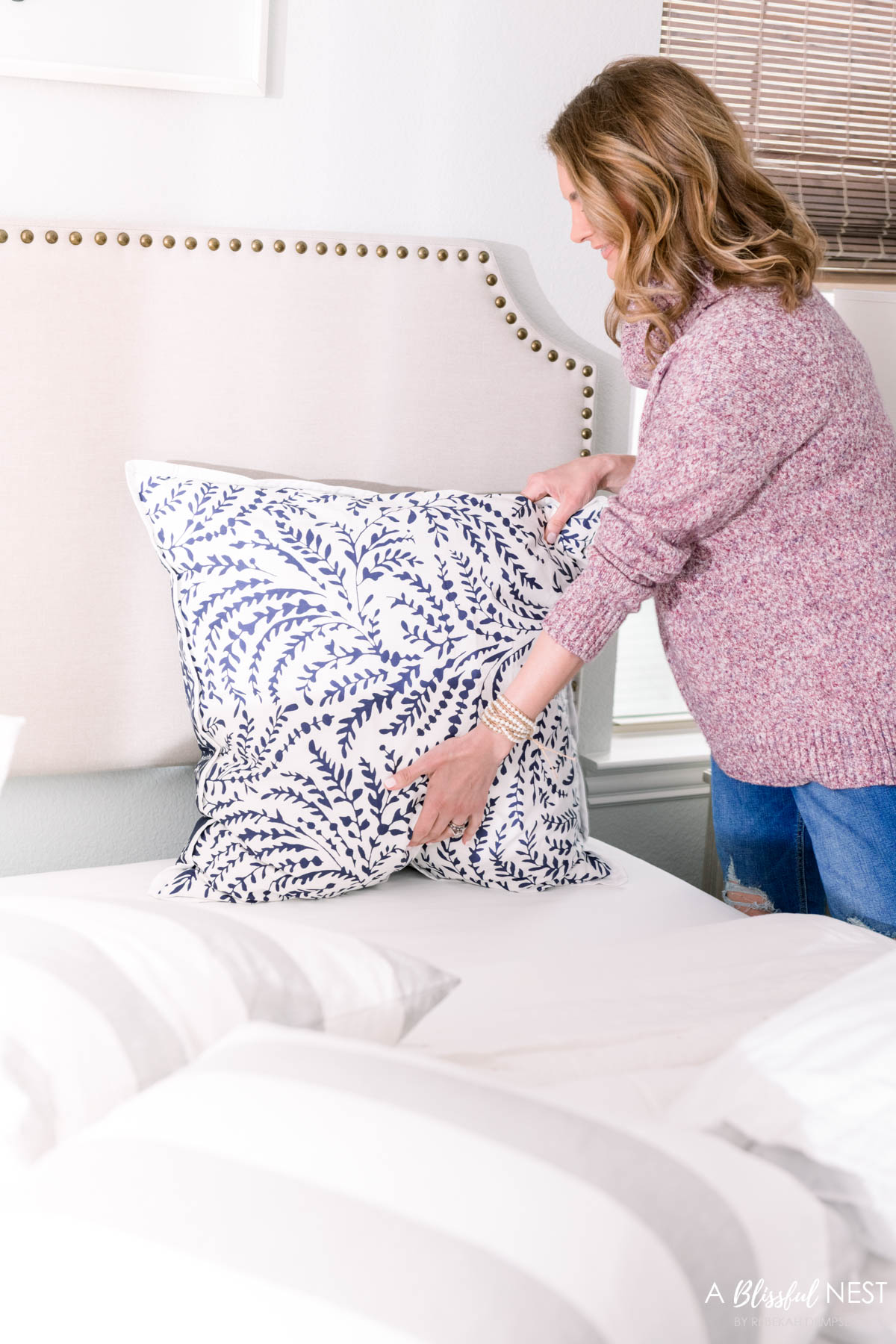 Standard Shams
These are pillow covers that typically measure 20″x26″ and are made to fit standard size bed pillows.
They're essentially decorative pillowcases that are meant to be placed in front of your sleeping pillows.
Not only do they add aesthetic value to your bedroom, but they also provide a layer of protection for your sleeping pillows.
Bed/Sleeping Pillows
A bed sleeping pillow is designed to support your head and neck while you sleep, helping you maintain good sleep posture throughout the night.
There are many different types of pillows available, from memory foam to down feathers, so you can find one that works best for your needs.
Some pillows even come with special features like cooling gel or adjustable loft, so you can customize your sleep experience.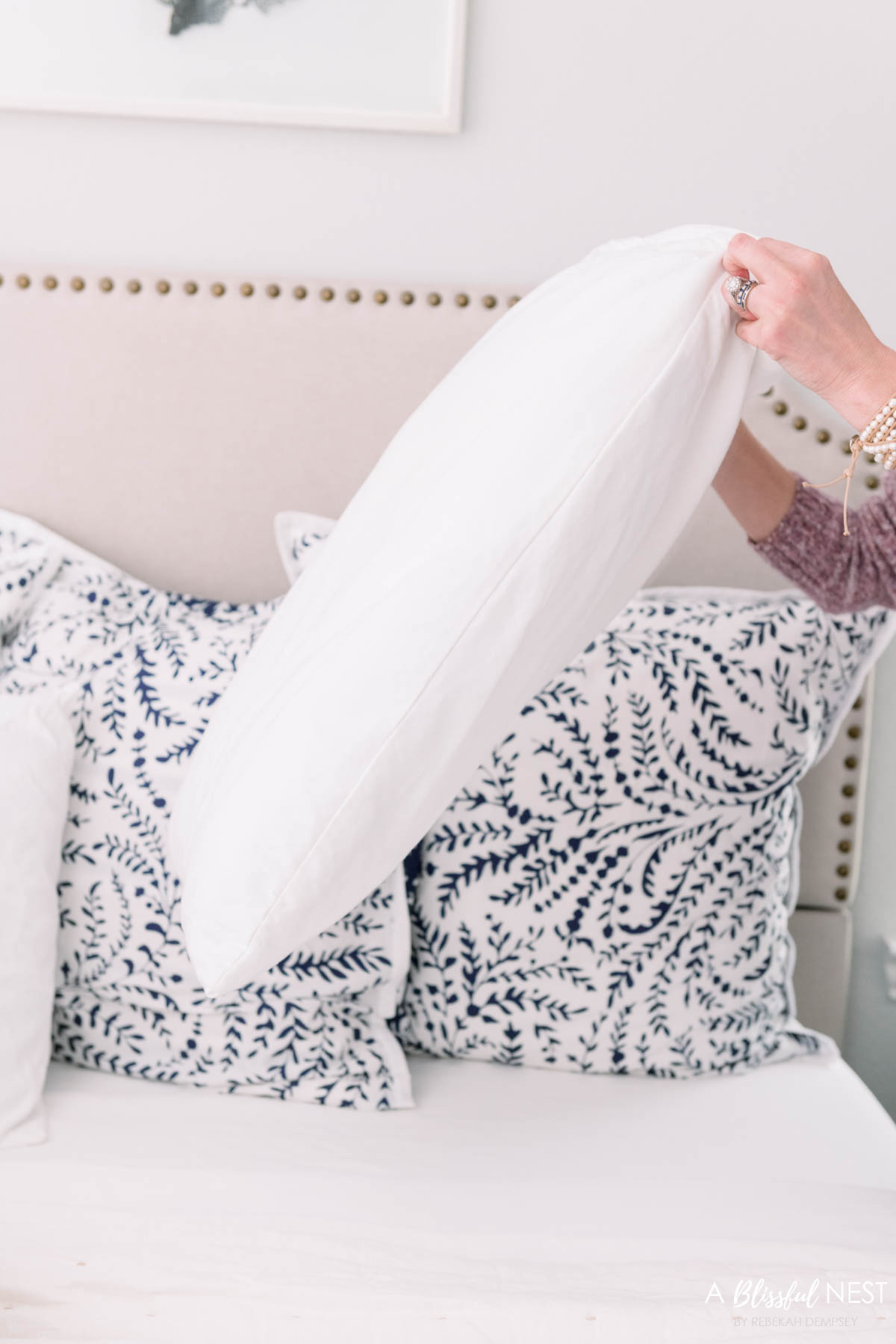 Throw Pillows
Throw pillows are decorative pillows used to add some extra "oomph" to your bed's overall look.
Typically smaller than standard pillows, they come in a variety of shapes, sizes, colors, and textures.
Throw pillows are an effortless way to add some personality to your bedroom.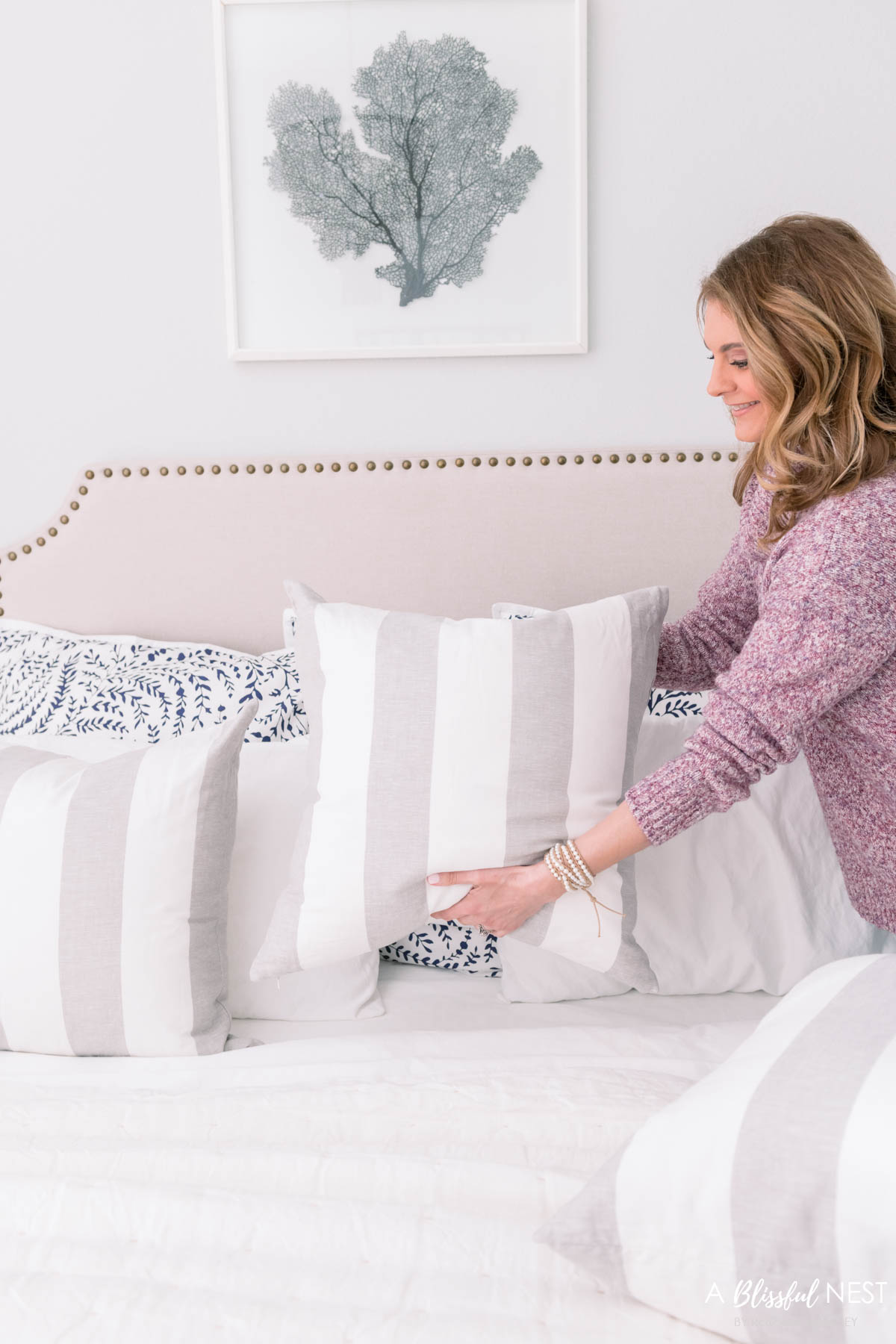 Throw Blanket
Throw blankets are a must-have when it comes to decorating your bed.
Not only do they add a cozy and inviting touch to the space, but they also serve a practical purpose.
Throw blankets can be used to keep you warm on chilly nights or to add an extra layer of comfort to your bedding.
They also allow you to switch up your bedroom decor effortlessly as they come in a variety of colors, patterns, and fabrics.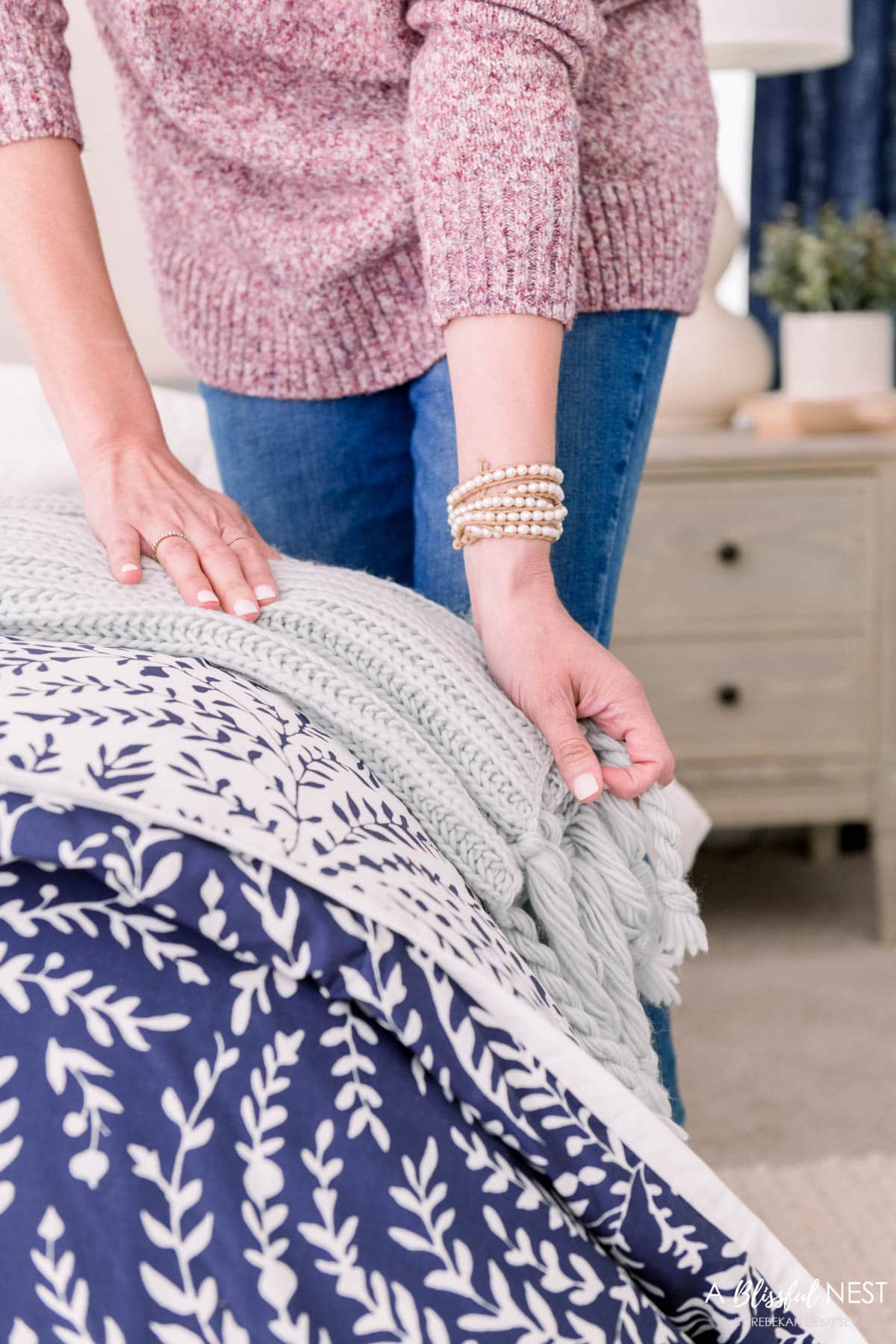 Bedskirt
A bedskirt is a piece of decorative material that is placed between the mattress and the bed frame.
It's also known as a dust ruffle and is used to cover the space between the bed frame and the floor.
Not only does it add style and flair to your bedroom decor, but it also helps to keep the space under your bed dust-free.
The different layers of bedding on a bed play a crucial role in providing comfort, warmth, and style to your sleeping space.
Each layer serves a unique purpose, from the fitted sheet that acts as a barrier between you and the mattress, to the decorative throw pillows that add a pop of color and texture.
By investing in high-quality bedding materials and layering them thoughtfully, you can create a cozy and inviting sanctuary that feels like a true escape from the world.
So, next time you crawl into bed, take a moment to appreciate all the different layers that work together to create the ultimate sleeping experience. Sweet dreams!
More Bedroom Design Ideas + Inspiration
*Photography by Audrie Dollins