Bed Layering Guide
This post may contain affiliate links. Please read our disclosure policy.
This is your ultimate source for the most comprehensive bed layering guide!
Getting a good night's sleep is essential for our physical and mental health, and one of the most important factors that can contribute to a restful night's sleep is comfortable bedding.
Learning how to layer a bed properly is not only a practical way to stay warm, but it also adds a touch of elegance and luxury to any bedroom.
However, with so many bedding options available, it can be overwhelming to know where to start.
That's why I have pulled all the information about different kinds of bedding, bedding fabrics, and tips and hints to get the coziest most comfortable bed ever!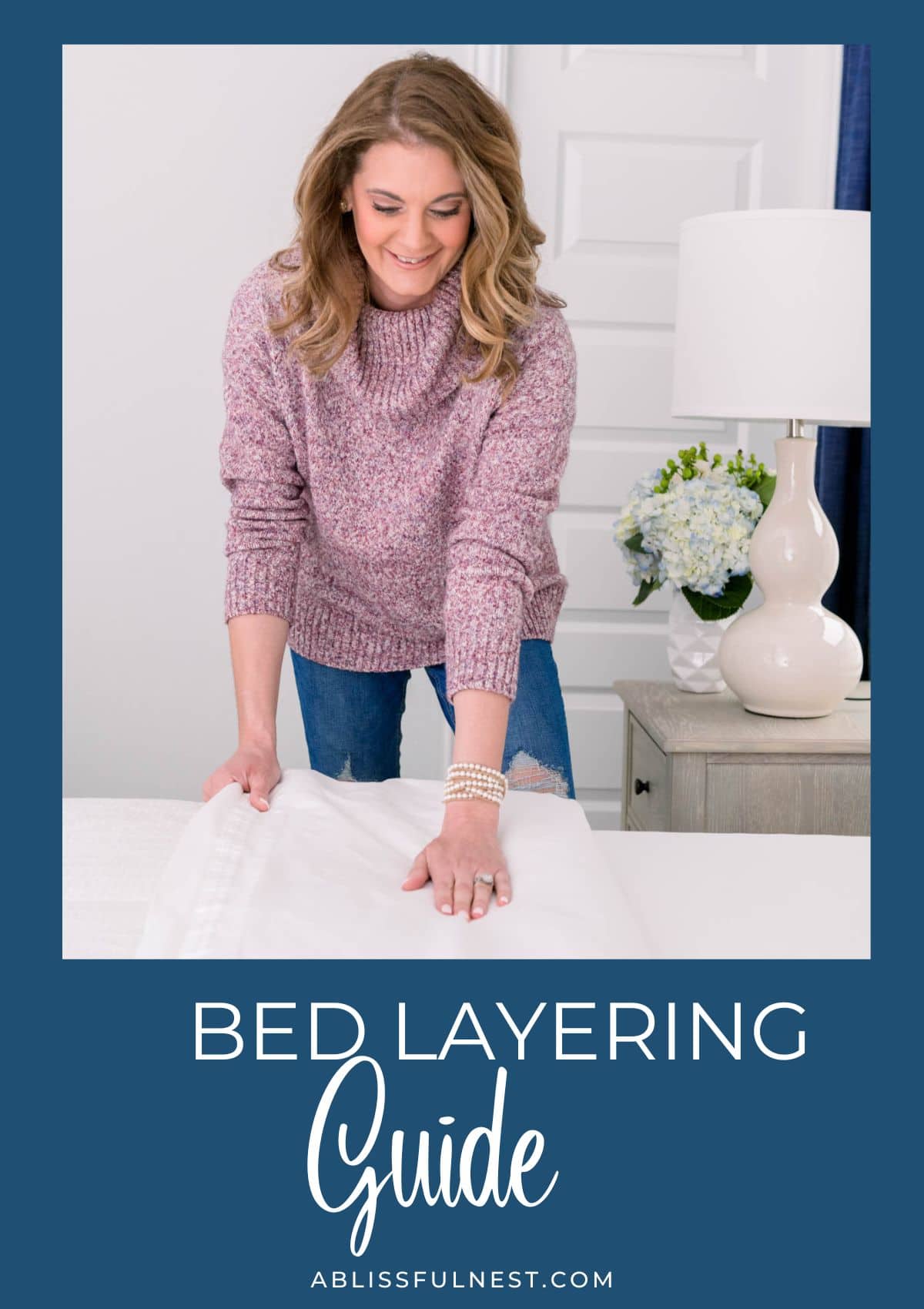 I'll provide a comprehensive guide to layering bedding, including the basic pieces needed to create a cozy and inviting sleeping environment.
From fitted sheets to comforters, blankets, and pillows, I will cover everything you need to know to create the perfect bedding ensemble that meets your comfort and style preferences.
Whether you're a minimalist or a maximalist, there's a bedding layering style that's perfect for you, and I'm here to help you find it.
Layered Bedding Basics
Layering basic pieces of bedding is a great way to create a cozy and comfortable sleeping space. The key to layering bedding is to first know all your options and what they are. Then depending on the season, you will know what to purchase.
Here is a general list of all the pieces you can use. For more details on what each of these are then check out these bedding layers explained.
Mattress Topper
Fitted Sheet
Flat Sheet
Quilt
Coverlet
Duvet Cover + Duvet
Bedskirt
Euro Shams
King Shams
Pillowcases
Throw Blanket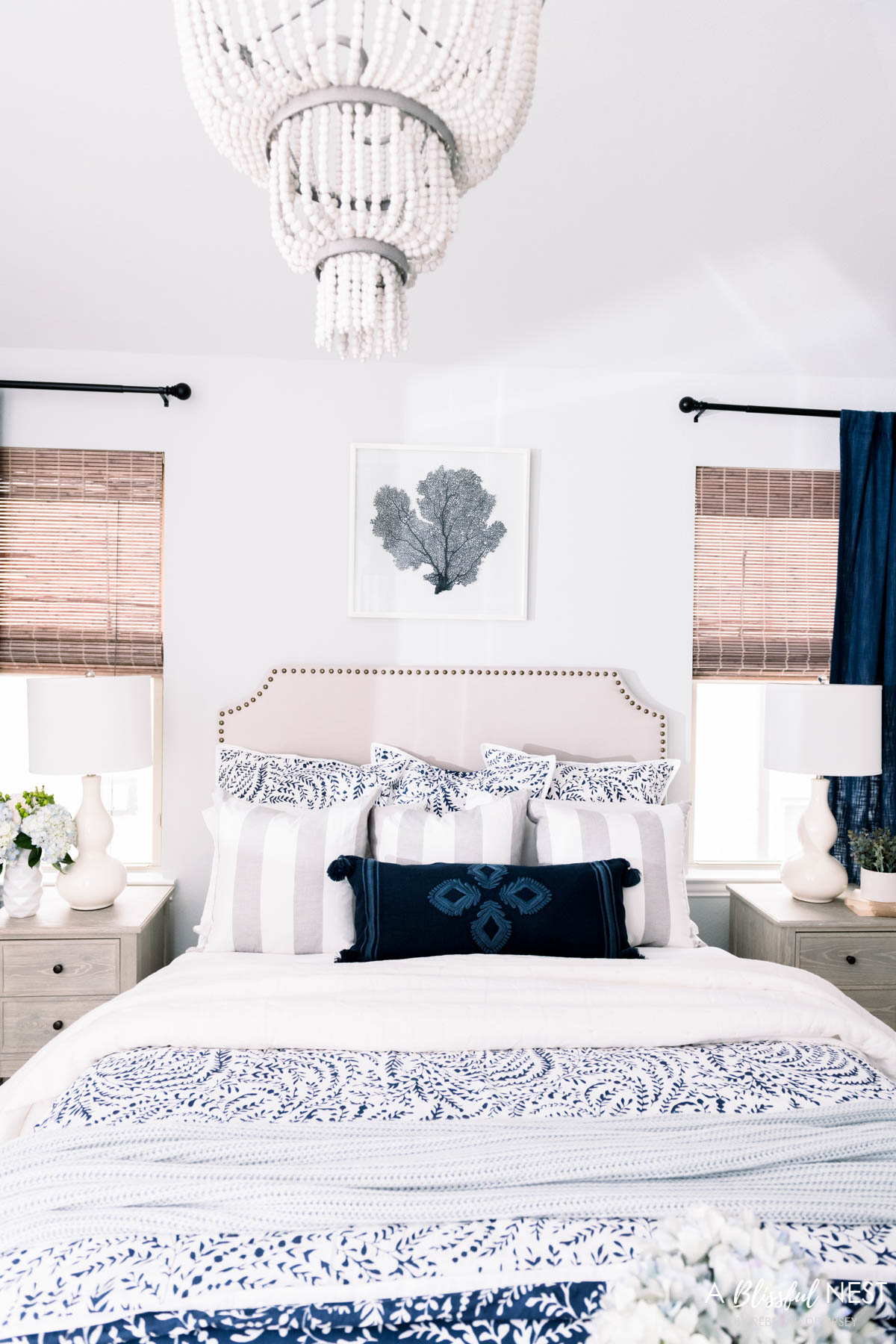 Best Places To Shop For Bedding
There are many great places to get bedding but here is where I shop personally for our family and my clients.
Tap Photos To Shop

Bedding Fabrics Explained
So let's go over all the different kinds of fabrics you can select when purchasing bedding.
I know there are a lot and it is essential to get the one that will give you the most comfort when you sleep.
Cotton

– Cotton fabric is a type of textile made from cotton fibers. It is soft, lightweight, and breathable, with a comfortable, natural feel. Cotton fabrics come in a variety of weights, weaves, and finishes, and can be used for a wide range of clothing and home textile products.

Egyptian Cotton

– Egyptian cotton has a high thread count, which refers to the number of threads woven into one square inch of fabric. The high thread count of Egyptian cotton sheets and other products creates a denser, smoother fabric with a luxurious feel.

Sateen

– Sateen fabric is a type of cotton fabric that is woven using a satin weave structure. This weaving technique results in a fabric with a smooth, shiny surface and a soft, luxurious feel. Unlike satin fabric, which is usually made with silk or synthetic fibers, sateen fabric is typically made with cotton.

Silk

– Silk bedding is highly sought after for its luxurious feel and many benefits. Silk is naturally hypoallergenic, making it a good choice for people with sensitive skin or allergies. It is also highly breathable, helping to regulate body temperature and keep sleepers cool and comfortable throughout the night.

Linen

– Linen bedding has many benefits, including its ability to regulate body temperature, absorb moisture, and become softer and more comfortable with each wash. Linen is highly breathable and wicks away moisture, making it a great choice for hot and humid climates. It is also durable and long-lasting and can be machine washed and dried.

Flannel

– Flannel is typically made from cotton, but can also be made from wool or synthetic fibers. Flannel bedding is popular during the colder months because it is warm and cozy. It is also known for its durability and ease of care.

Tencel®

– Tencel® bedding is known for its softness and luxurious feel, which is often compared to silk or cashmere. It is also highly durable and easy to care for and can be machine washed and dried. Tencel® is also naturally hypoallergenic and breathable, making it a great choice for people with sensitive skin or allergies.

Polyester

– Polyester fabric is a synthetic fabric that is known for its durability, affordability, and ease of care. Polyester bedding is machine washable and can be tumble-dried on low heat, making it easy to care for. However, it may not be as breathable or moisture-wicking as other materials. Polyester bedding can be a good choice for those who want affordable, low-maintenance bedding.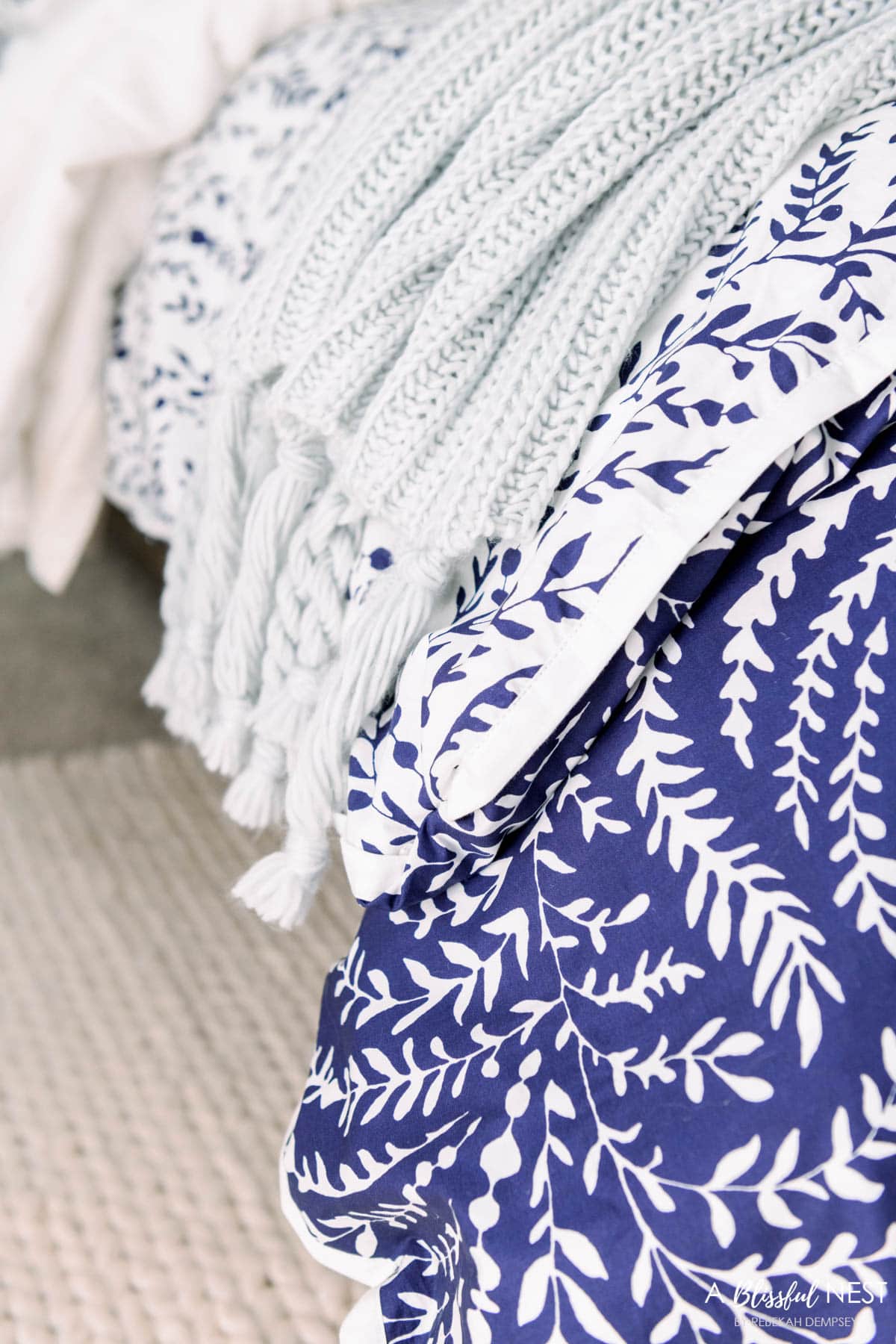 General Rules To Layer A Bed
There are no hard and fast rules when it comes to layering a bed, as everyone's comfort and style preferences are different.
However, here are some general guidelines that can help you create a cozy and inviting sleeping environment
Use Solid Bedding
Solid colored bedding can be paired with other bedding items, such as decorative pillows, throws, or blankets, to add texture and interest to the overall look. This allows you to change the look of your bedding easily without having to replace the entire set.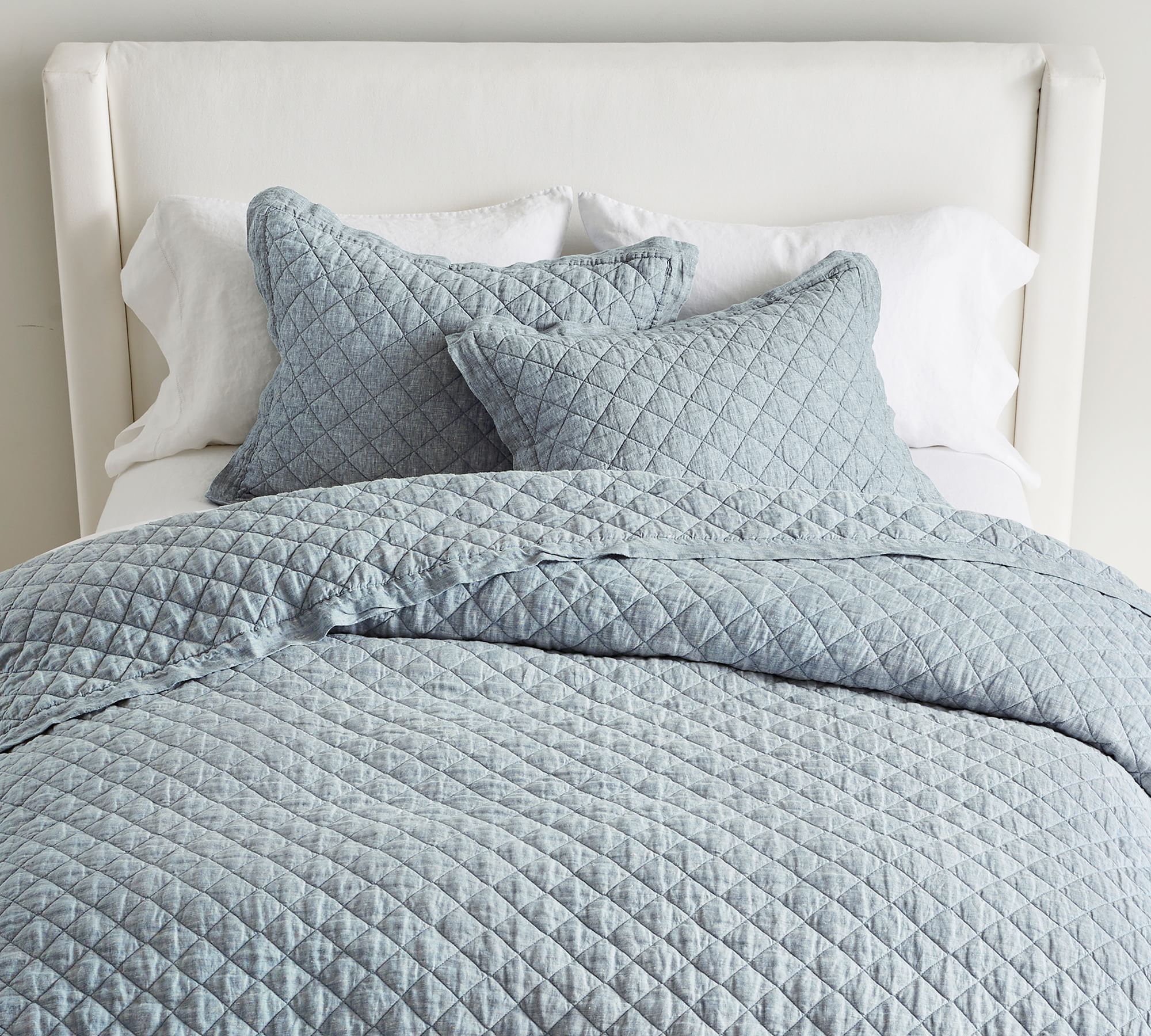 Match Your Layers
Matching and coordinating the layers of bedding in a bedroom can create a cohesive and polished look, which can elevate the overall appearance of the space.
It can also showcase your personal style and design aesthetic while still providing flexibility to update and refresh individual pieces as needed.
Add Multiple Layers
Layering different bedding materials, such as sheets, blankets, and comforters, can provide varying levels of warmth and softness, allowing you to customize the level of comfort to your preference.
Layering bedding can allow you to adapt to changing temperatures or personal preferences. If you tend to get hot at night, you can remove a layer to stay cooler, and if you get cold, you can add a layer for more warmth.
Add Decorative Throw Pillows
Decorative throw pillows can add a pop of color or pattern to your bedding, creating a more visually interesting and stylish look.
Decorative throw pillows can also be functional by providing additional support or comfort while sitting up in bed to read or watch TV.
Use A Throw Blanket
A throw blanket can provide an extra layer of warmth on colder nights, without the bulkiness of a heavier comforter or duvet.
Adding a throw blanket to your bed can add texture and dimension to your bedding. Whether it's a chunky knit, a soft fleece, or a silky smooth material, a throw blanket can add an extra layer of visual interest to your bed.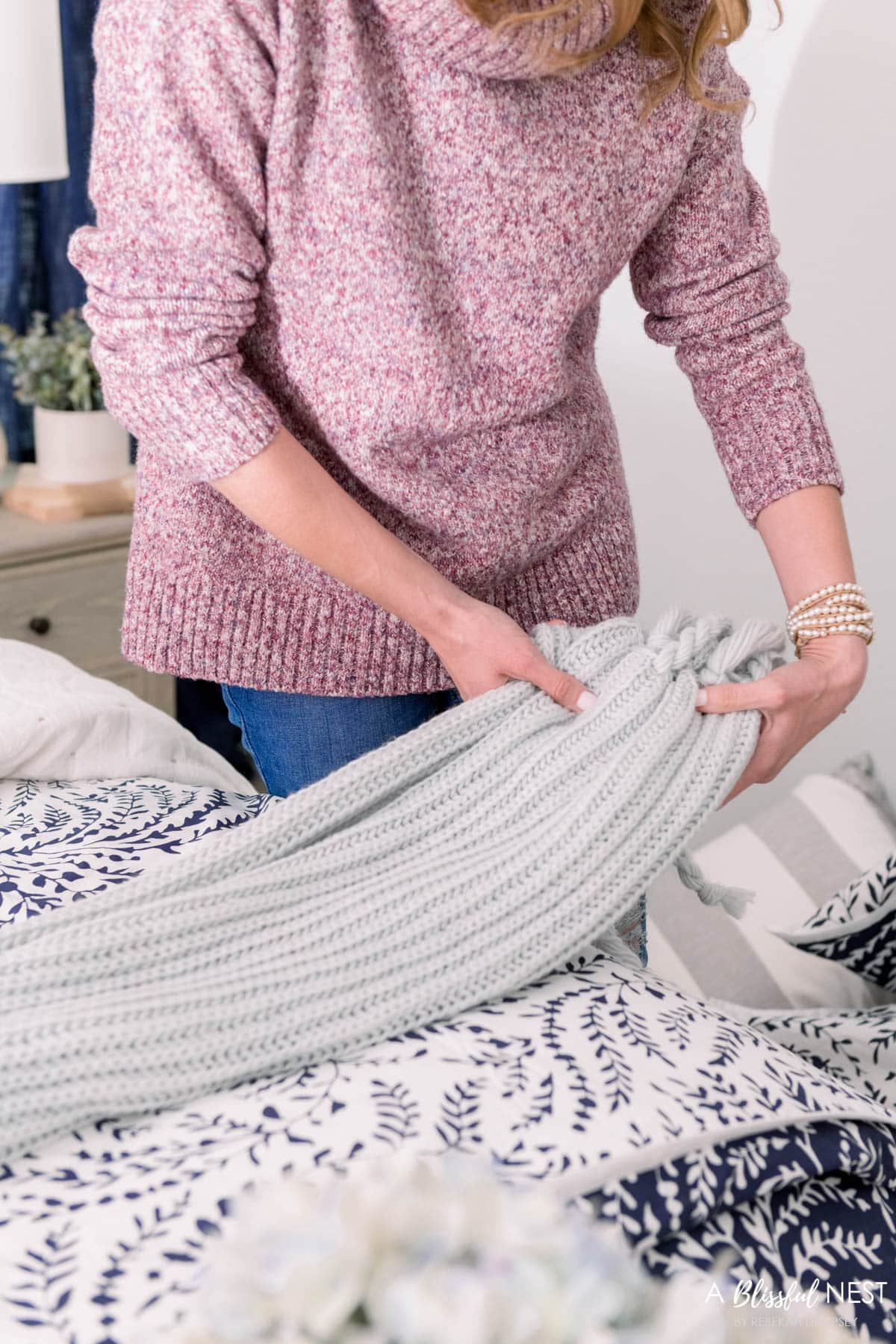 Tips To Layer A Bed
There are a few designer tips that will enhance the look and comfort of your bed. These ideas are how to get that designer look that you see in all the magazines.
Mattress Topper Is A Must
You will not believe how a mattress topper with change your bed.
A mattress topper can add an extra layer of comfort to your mattress, helping to soften a too-firm or uncomfortable sleeping surface. Depending on the material and thickness of the topper, it can provide additional cushioning and support, making it easier to get a good night's sleep.
A mattress topper can also provide additional support to your mattress, especially if it has started to sag or lose its shape over time.
Some mattress toppers are designed to help regulate temperature, which can be beneficial if you tend to sleep hot or cold. Materials like gel-infused memory foam or breathable latex can help to dissipate heat and keep you cool throughout the night.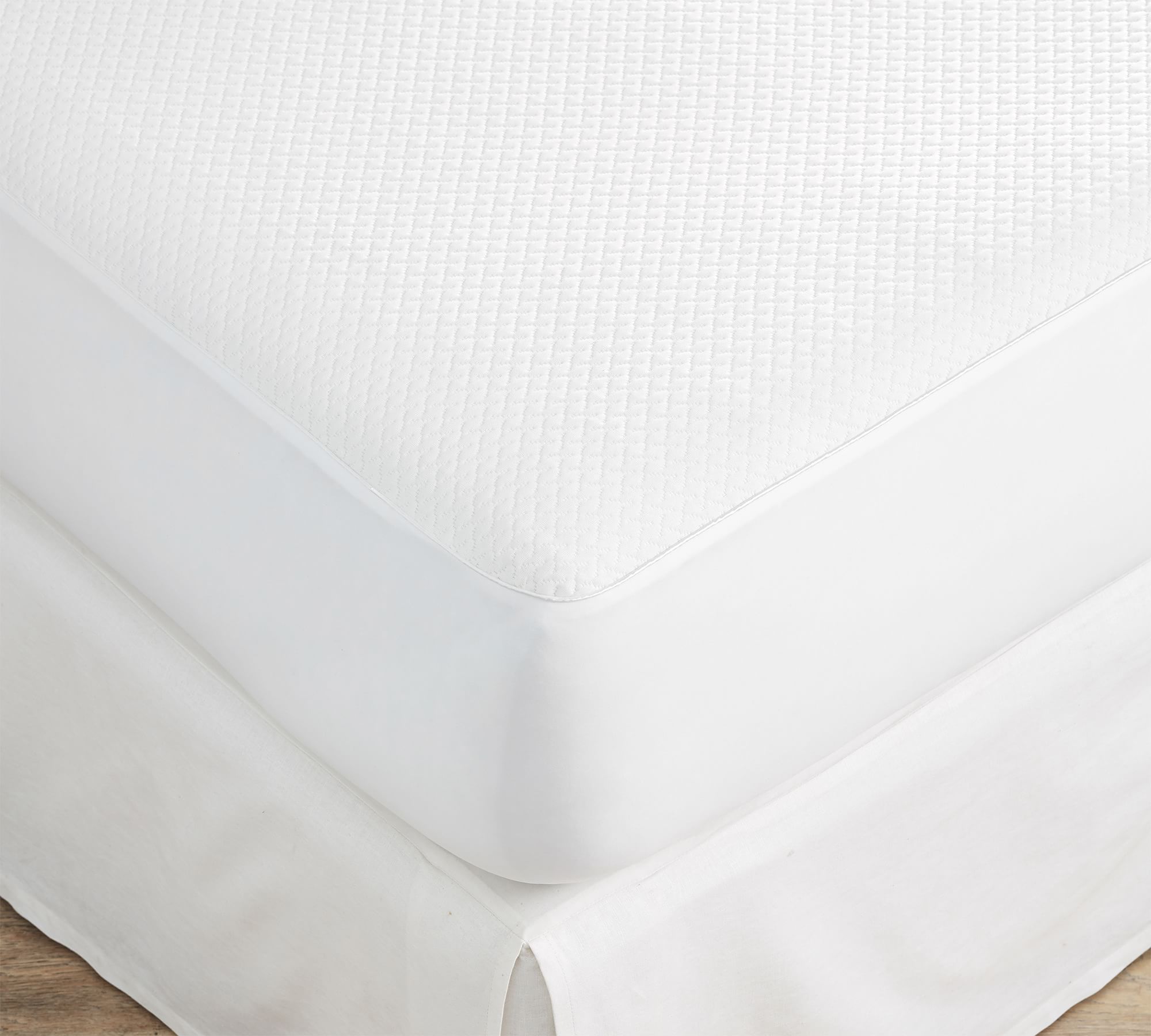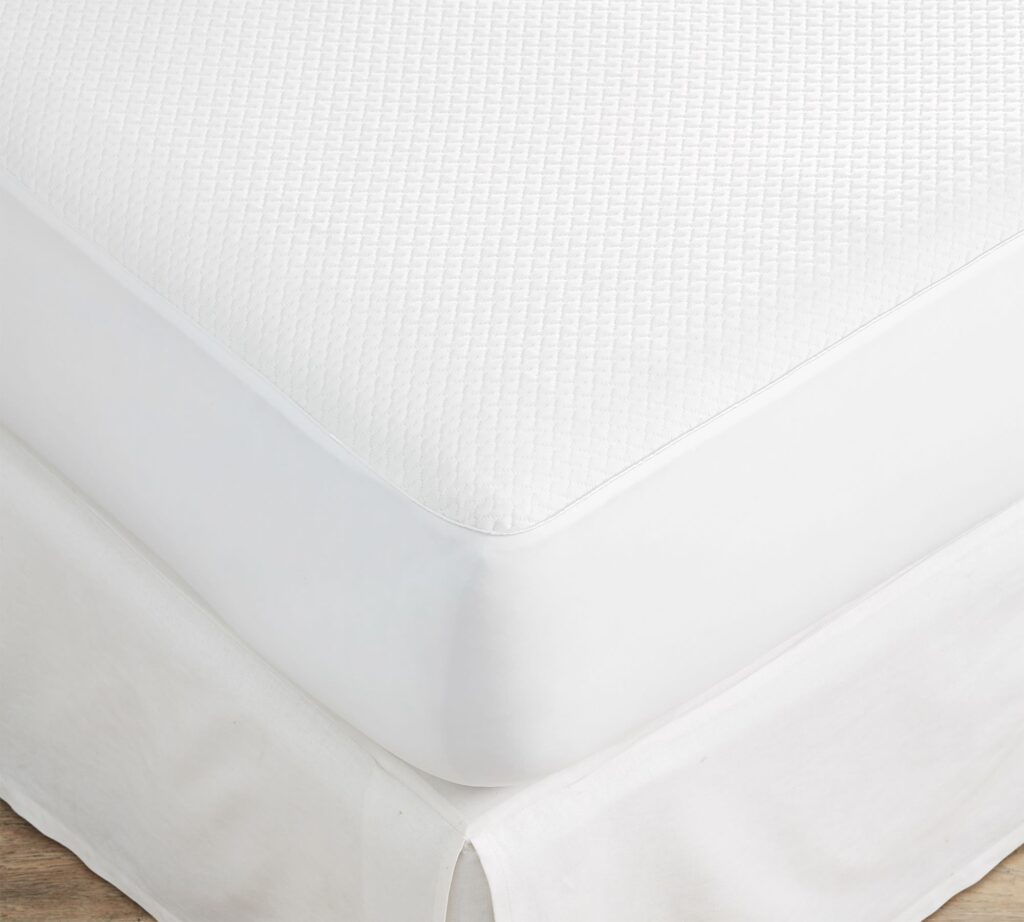 Use White Sheets
White is a versatile color that can complement a variety of decor styles, making it easy to coordinate with other bedding elements like duvet covers, throws, and decorative pillows.
White sheets are relatively easy to care for, as they can be washed in hot water with bleach to help remove stains and brighten the fabric.
White sheets have a classic, timeless look that can add an element of elegance to your bedroom.
Use A High Thread Count
A high thread count indicates that the sheets have a greater number of threads woven into each square inch of fabric, which creates a smoother, softer texture that can feel more luxurious and comfortable against your skin.
Higher thread count sheets are often made from finer yarns, which can result in a more durable and long-lasting fabric.
Higher thread count sheets made from cotton and linen are more breathable and can help to regulate your body temperature and prevent you from overheating during the night.
Coverlet & Duvet
Using a coverlet and a duvet can provide a variety of options for changing up your bedding throughout the year.
During the warmer months, you may prefer to use the lightweight coverlet on its own, while during the colder months, you can add the duvet for extra warmth and coziness.
Both coverlets and duvets come in a variety of colors, patterns, and textures, so using both can allow you to mix and match styles to create a unique and personalized look for your bedding.
Plus they add that fluffy cozy look that everyone loves
Layering your bedding is a great way to enhance the look and feel of your bedroom, as well as create a cozy and comfortable sleeping environment.
By following some general rules for layering, such as using solid colored bedding and coordinating the layers, you can create a polished and cohesive look for your bed.
With these tips and tricks for layering your bedding, you can create a stylish and comfortable retreat in your own bedroom.
More Bedroom Design Ideas + Inspiration