How To Layer A Bed Like A Hotel
This post may contain affiliate links. Please read our disclosure policy.
Create a dreamy bed oasis and learn how to layer a bed like a hotel in a few simple steps!
How to layer a bed is not hard when you know exactly what to do and hotels have the process down pat.
Have you ever walked into a luxurious hotel room and been amazed at how perfectly layered and cozy the bed looks?
It's no secret that hotels go the extra mile to create a sleeping experience that's both comfortable and visually appealing.
But did you know that with a few simple steps, you can achieve the same effect in your own bedroom?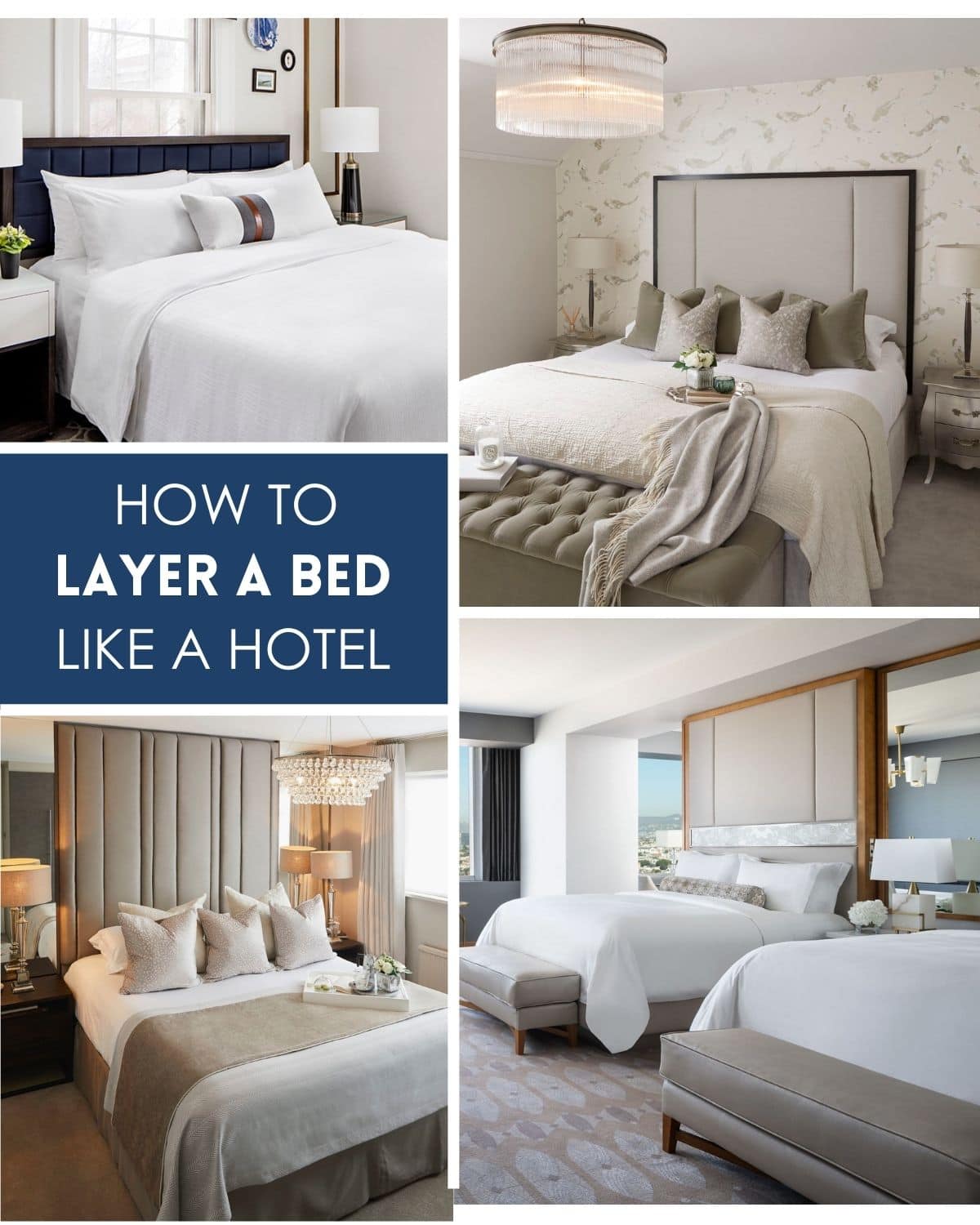 I will show you how to layer a bed like a hotel, from choosing the right mattress to selecting the perfect pillows.
So put on your pajamas and get ready to learn some tips and tricks for creating a bedding paradise in your own home!
Bedding Basics To Look Like A Hotel
Use these pre-select bedding essentials to help you make a bed like a hotel and have everything you need on hand.

Purchase A High-Quality Mattress
Have you ever woken up feeling more tired than when you went to bed? It's probably because of your mattress.
Investing in a high-quality mattress can make all the difference in your sleep quality and overall health.
Not only will it provide better support for your body, but it can also reduce pressure points and alleviate back pain.
Plus, a good mattress can last much longer than a cheaper one, saving you money in the long run. Most mattresses have a lifespan of 7-10 years. So it may be time to replace yours.
So, don't skimp on your sleep- treat yourself to a good night's rest by investing in a high-quality mattress. Your body (and mind) will thank you.
Use All White Bedding
There's just something about a hotel room that exudes luxury and relaxation and maybe you have noticed all the bedding is white.
There's a reason for that!
First of all, white bedding gives off a fresh, clean, and inviting vibe.
It's also easier to maintain than colored bedding, as you can easily bleach out any stains or discoloration.
Plus, it allows you to accessorize with colorful pillows and throws for a pop of personality.
And let's not forget the ultimate comfort factor – hotels know their bedding, and by mimicking their choices, you can enjoy the same high-quality linens that will make you feel like you're sleeping on a cloud.
Use High Thread Count Sheets and Pillows
I don't know about you, but for me, there's nothing quite like crawling into bed at the end of a long day, sinking into my pillow, and snuggling up beneath a soft, cozy cover.
But have you ever thought about what type of sheets and pillows you're using to make your bed feel like a dreamy haven?
As it turns out, the thread count matters – a lot.
Higher thread count sheets and pillows are more tightly woven, making them softer, smoother, and more resistant to wear and tear.
Plus, they'll help keep you cool and comfortable throughout the night.
So, if you want to upgrade your sleep game and make your bed feel like a hotel, invest in some high thread count sheets and pillows.
Say Goodbye To Fitted Sheets
Have you ever noticed that most hotels don't use fitted sheets on their beds?
It might seem strange, but there's actually a good reason for it.
Fitted sheets can easily become misaligned and wrinkled during a guest's sleep, leading to an uncomfortable night's rest.
Instead, hotels use a flat sheet that is tucked in tightly around the mattress to prevent any shifting.
This not only ensures a more comfortable stay for guests but also makes it easier for housekeeping staff to quickly and efficiently change the sheets between guests.
So if you want to make your bed like a hotel does then opt for a flat sheet instead of a fitted one.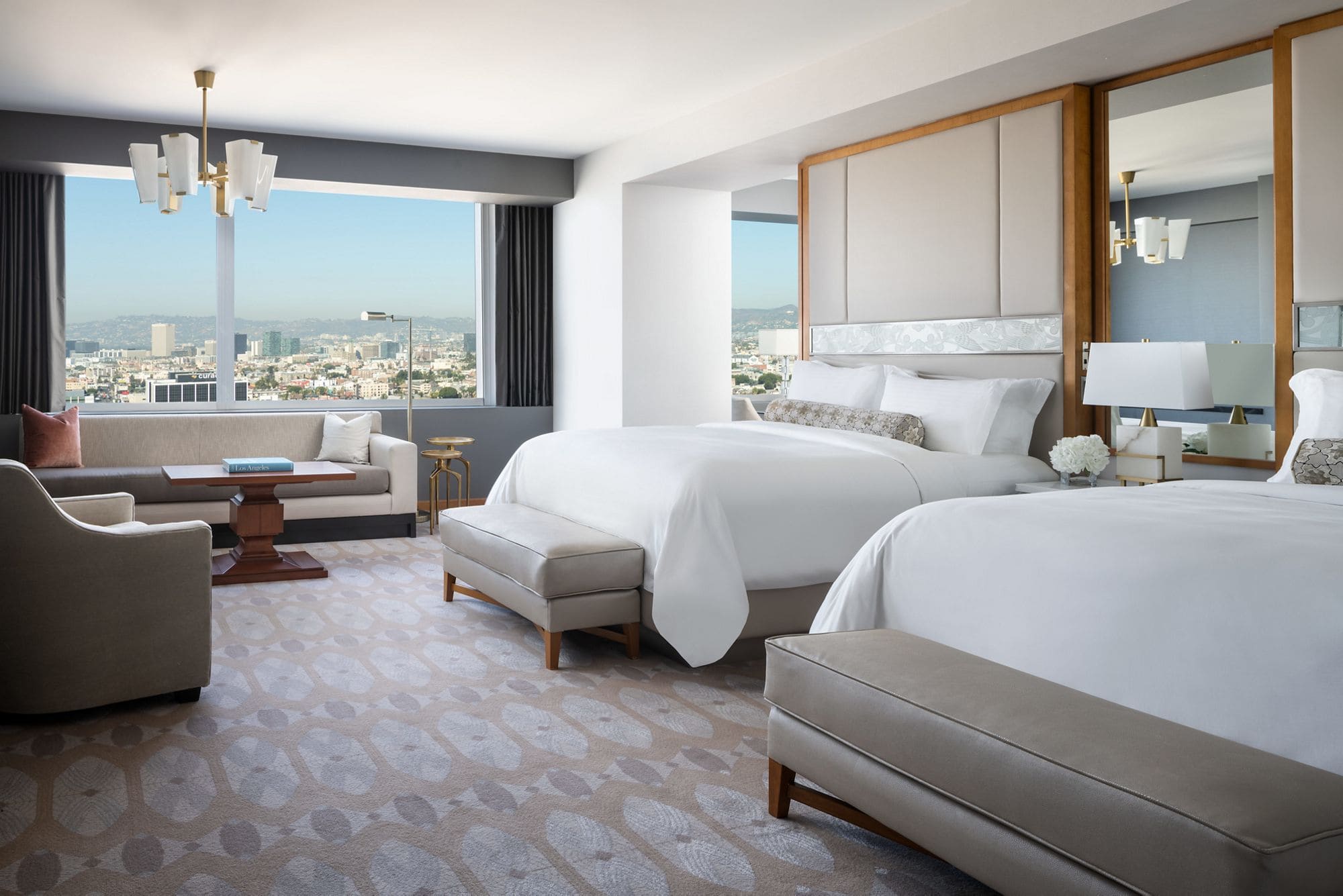 Layer Blankets + Comforters
Have you ever wondered how a hotel manages to make their beds look so fluffy and cozy?
The secret lies in the art of layering blankets and comforters.
First, start with your flat sheet (tucked around the mattress), then add another flat sheet, followed by a lightweight blanket.
The next step is to add a duvet cover filled with a fluffy down comforter. You can opt for a down alternative one and still achieve the same look.
Now to get that luxurious look, add a coverlet or a quilt on top of your duvet.
And finally, add a few decorative pillows for a little extra touch.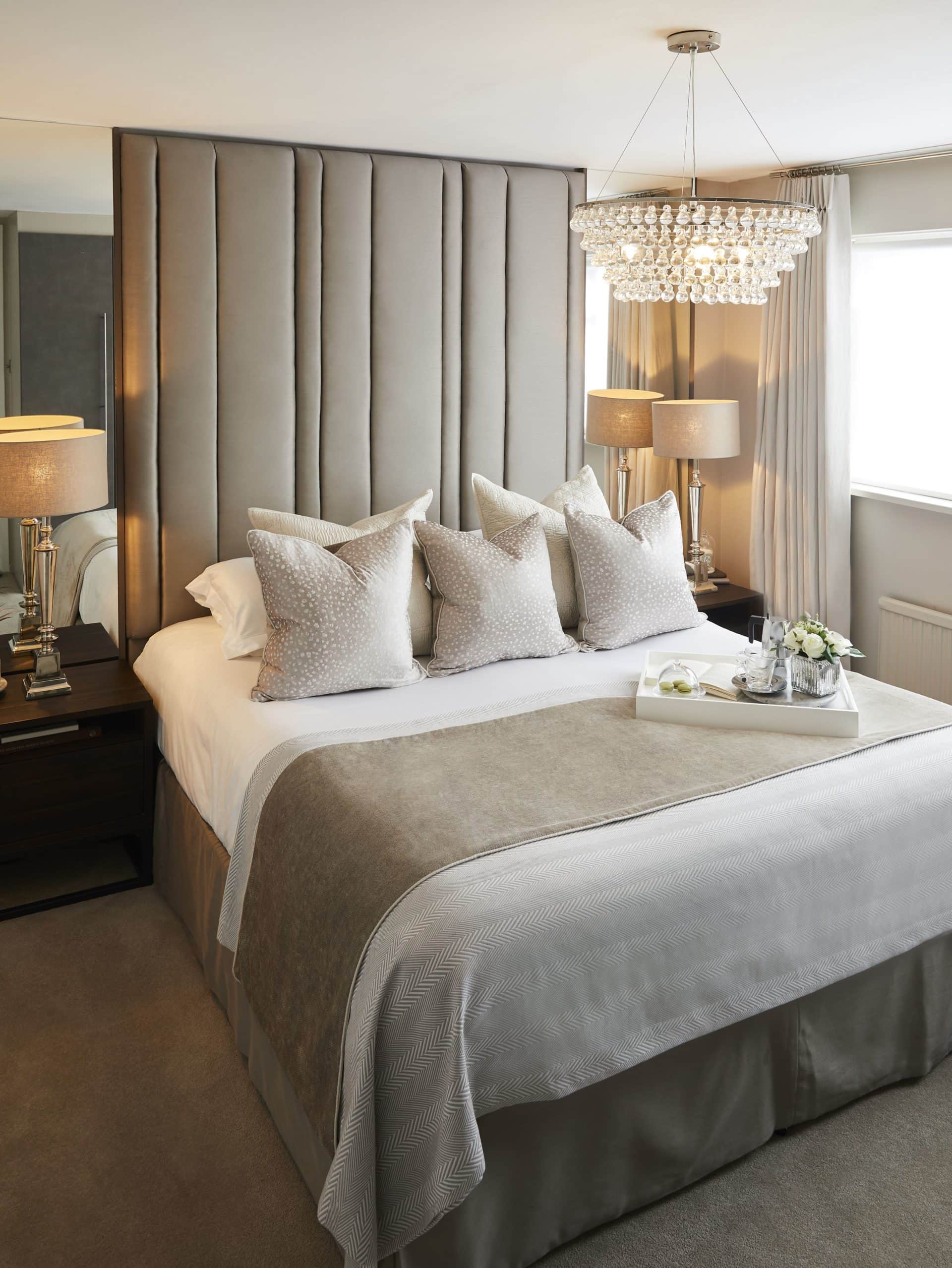 Use The Right Amount Of Pillows
Generally, hotels use two to four pillows per bed, depending on the bed size. This provides a comfortable and inviting appearance.
But, the number of pillows you use also depends on personal preference.
Some people prefer to sleep with only one pillow, while others use multiple pillows for support. Ultimately, the decision is up to you.
However, if you want to recreate that hotel-like feel, two to four pillows will do the trick.
Add some decorative throw pillows to add a little pop of color and pattern and you are all done!
Creating a hotel-worthy bed is not as overwhelming as it may seem.
By following these simple steps, you can enjoy a luxurious sleep experience in the comfort of your own home.
Investing in a high-quality mattress, using all white bedding, and choosing high thread count sheets and pillows are just a few ways to enhance the overall look and feel of your bed.
Layering blankets and comforters adds depth and dimension, while using the right amount of pillows can bring a sense of balance and symmetry to your bed.
So go ahead and transform your bedroom into a five-star retreat with these easy tips and tricks. Trust me, your future self will thank you for the added comfort and luxury.
More Bedroom Design Ideas + Inspiration