How To Style Your Nightstand
Transform your nightstand into a stylish and functional space with this guide on how to style your nightstand and create a dreamy and relaxing bedroom.
Create a balanced and clutter-free design, add pops of color, incorporate natural elements, and personalize your bedside table with decorative objects that will make your room not only stylish but functional.
Follow these steps to decorate your nightstand and create a beautiful and inviting atmosphere you will be in love with!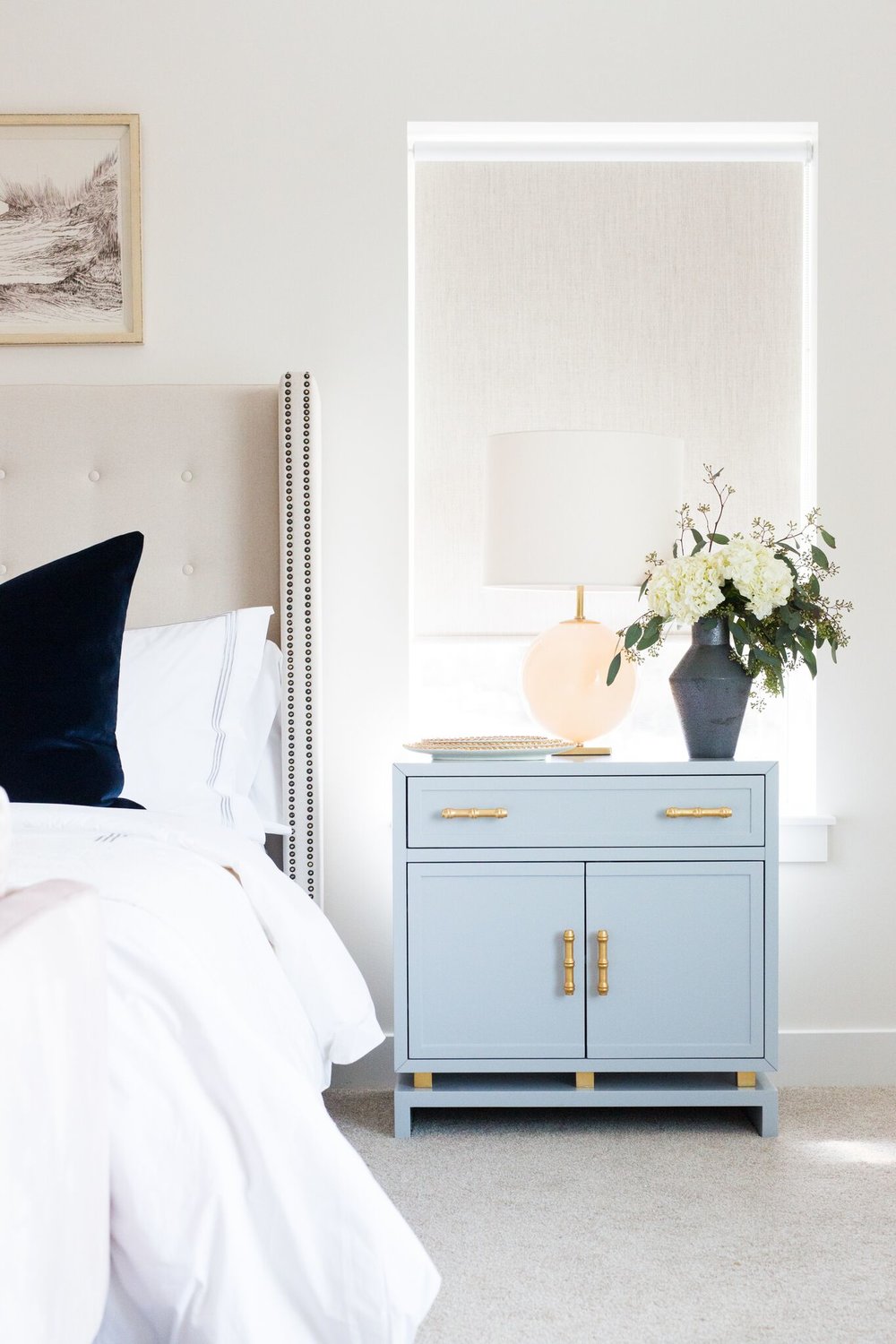 Decorating your nightstand is very similar to decorating a console table or even your dresser in your bedroom.
Though there are some common fundamentals that apply to the nightstand, they are similar in they have a smaller surface area to work with.
So I am giving you a couple of key elements that are necessary to make your bedside table become a stylish focal point in your room.
By adding these decor pieces your bedroom will not only look finished but feel complete.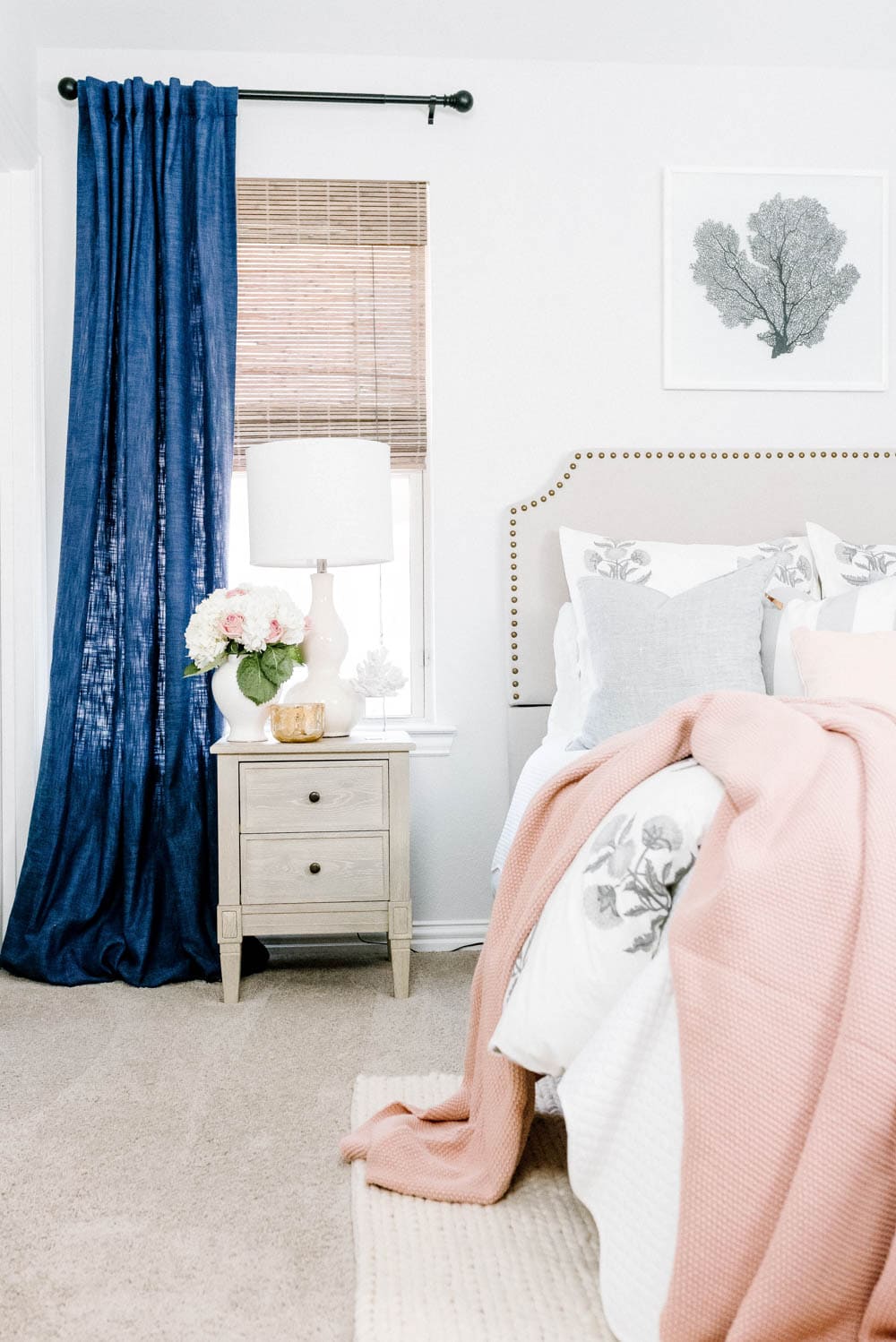 This site contains affiliate links. Please read our disclosure policy. As an Amazon Associate, I earn from qualifying purchases.
Should Your Nightstand Match Your Bed
It is not necessary for your nightstand to match your bed. In fact, mixing and matching furniture pieces can create an interesting and unique look in your bedroom.
However, it is important to consider the overall style and color scheme of your room when choosing a nightstand.
Your nightstand should complement your bed and other furniture pieces in your room.
For example, if your bed has a wooden headboard, you might choose a nightstand with a similar wood tone to create a cohesive look.
Ultimately, the decision to match or mix and match your nightstand with your bed comes down to personal preference and the overall design aesthetic you are trying to achieve.
How Tall Should A Nightstand Be
The height of a nightstand is important to decide for both functionality and aesthetics.
Generally, a nightstand should be at the same height or slightly lower than the top of your mattress. This ensures that it is easily accessible and can be used to place items such as a lamp, a book, or a glass of water within easy reach.
The standard height for a nightstand is around 24-28 inches, which is approximately the same height as most bed mattresses.
However, the ideal height for a nightstand can vary depending on the height of your bed and your personal preferences.
If your bed is particularly high or low, you may need to adjust the height of your nightstand accordingly.
A general rule of thumb is that your nightstand should be within a few inches of the height of your mattress to ensure maximum functionality and comfort.
Bedside Table Ideas
If you are looking for a new bedside table, we have pre-shopped a few for you!


Should You Have A Lamp On Each Nightstand
Having a table lamp on each side of your bed is not necessary, but it can be a practical and stylish choice.
It can provide balanced lighting for reading or other activities, and it can also create a symmetrical and cohesive look in your bedroom.
However, if you prefer a more minimalist or asymmetrical look, you can choose to have a lamp on just one side of the bed or use other types of lighting such as wall sconces or pendant lights.
It ultimately comes down to personal preference and the overall design aesthetic you are trying to achieve.
If you do choose to have a lamp on each side of the bed, make sure they are of a similar size and style to create a unified look.
You can also choose to mix and match lamp styles or colors to add interest and personality to your space.
Lamps For Nightstands
If you are looking for some new and fresh table lamps for your nightstand, we have pre-shopped a few for you!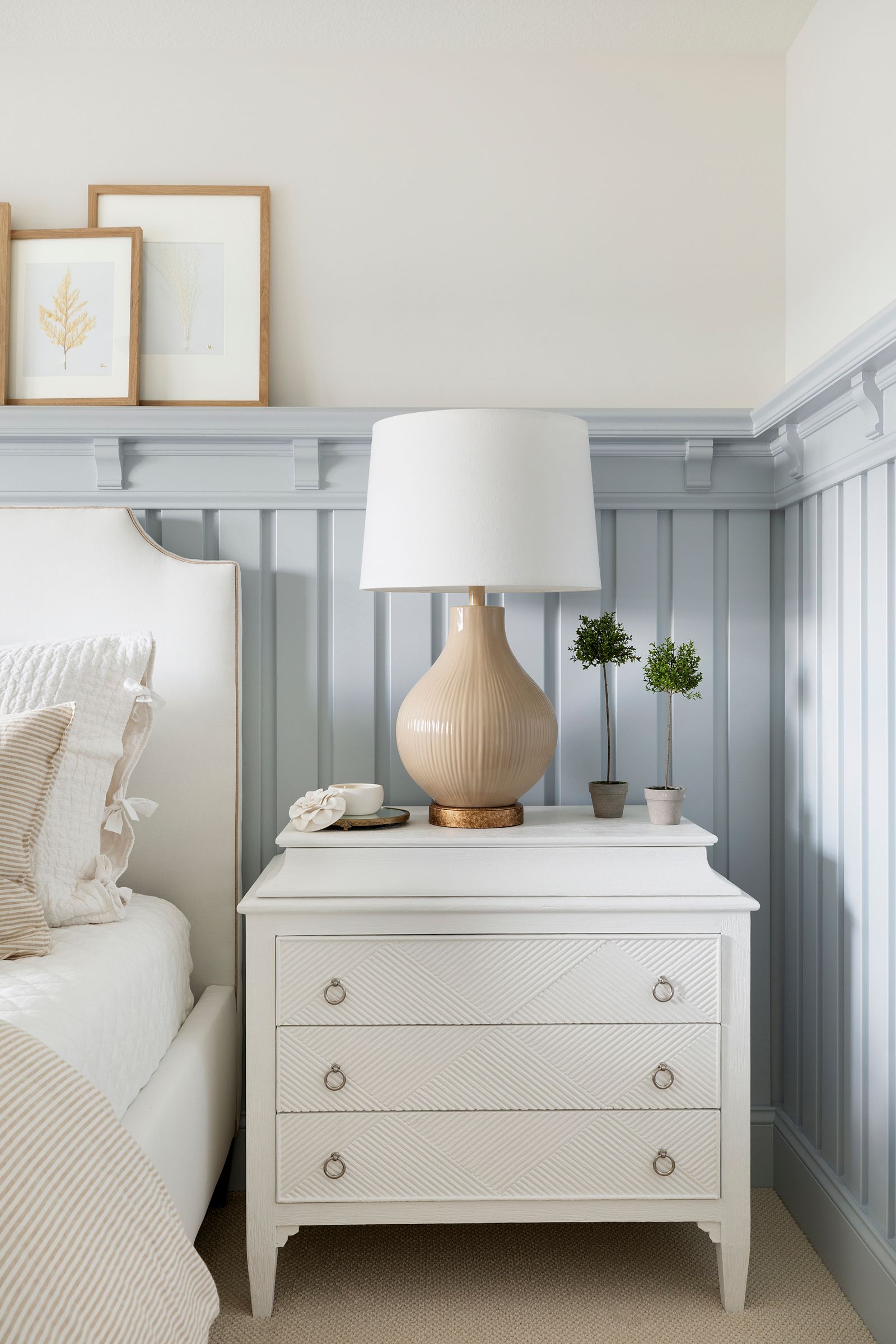 What To Put On Your Nightstand
Lamp

: A lamp is a practical and stylish addition to any nightstand, providing sufficient light for reading or other activities.

Books

: A few books or magazines can provide entertainment and relaxation before bedtime.

Jewelry dish

: A small dish can keep your jewelry organized and easily accessible, preventing it from getting lost or tangled.

Vase of flowers

: Adding a vase of flowers to your nightstand can be a simple and effective way to add a touch of nature and beauty to your bedroom.

Decorative storage box

: A storage box can help you keep small items organized and prevent clutter on your nightstand.

Picture frames

: Displaying photos of cherished memories can bring a sense of comfort and warmth to your bedroom.
Nightstand Decor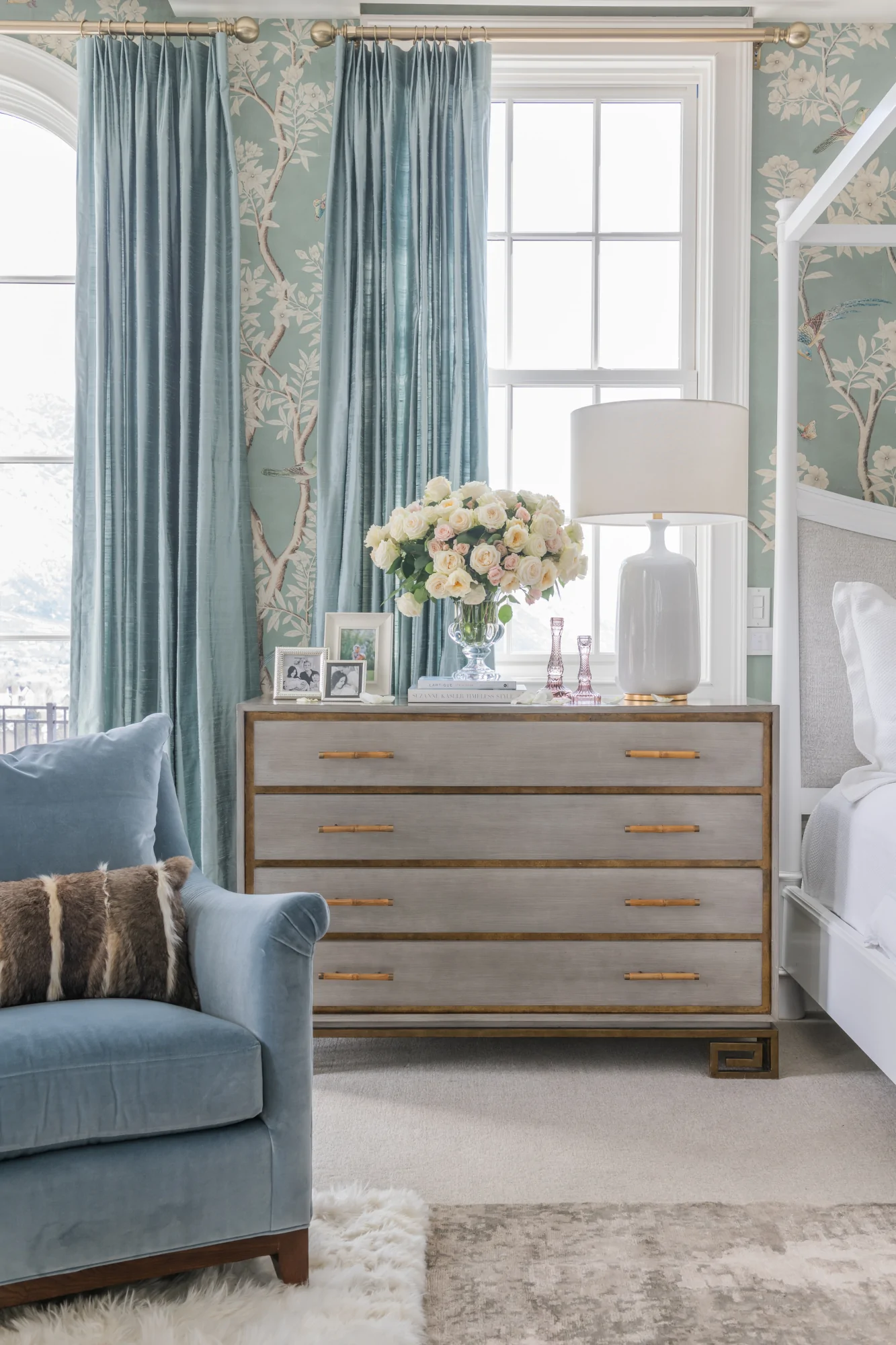 How To Style Your Nightstand
1. Clear The Clutter
The first step in decorating your nightstand is to clear any clutter.
Remove anything that doesn't belong on your nightstand, such as dishes, empty glasses, or books you've already read.
It's not easy to declutter so we have a whole guide to decluttering for you to follow to make it easier.
2. Select A Focal Point
Choose a focal point for your nightstand, such as a lamp, a piece of art, or a decorative object.
This will anchor the design and give your nightstand a sense of purpose.
Many of my clients are surprised when I add a piece of art on the small wall space above their nightstand rather than a piece of art above their bed.
However, I love how this creates substance in the small space next to the bed and it looks collected.
3. Add Layers
Add layers to your nightstand by placing objects of varying heights.
This will create visual interest and add depth to your design.
For example, you can place a tall lamp on one side of the nightstand and a stack of books on the other side.
4. Incorporate Decorative Objects
Add decorative objects that match your color scheme and personal style.
This can include objects such as vases, candle holders, picture frames, or a small sculpture.
These small items truly have a powerful impact on your styling.
They will transform your nightstand to feel finished.
Decorative trays can help keep your nightstand organized while also adding style.
Place items such as jewelry, perfume, or a small plant on the tray to create a cohesive look.
5. Add Greenery Or Faux Flowers
Adding a plant or flowers to your nightstand can add life and energy to the space.
If you don't have a green thumb, you can opt for a low-maintenance plant such as a succulent or a small vase of faux flowers.
Adding natural elements, such as fresh flowers or a potted plant, can create a calming and serene look.
You can also incorporate natural textures, such as a woven basket or wooden box, which can also add warmth and interest to your nightstand.
6. Create Balance
Make sure your nightstand design is balanced.
This means that objects are placed symmetrically or asymmetrically in a way that feels harmonious and cohesive.
7. Keep It Simple
Remember your nightstand should be a functional space that is clutter-free.
Keep only the essentials, such as a lamp, alarm clock, and a few decorative items.
Whenever a client tells me their bedroom feels unfinished, I always ask to see their nightstands.
Styling the nightstand with some height, accessories, and art will truly alter the focal wall in any bedroom.
Instead of the bed wall looking like a hotel room, with no accessorizing and personality, add a few of the essential elements, and your space will begin to feel complete.
Hope you got some great tips on how to style your nightstand!
More Bedroom Design Ideas + Inspiration