How To Style A Console Table Effortlessly
Learning how to style a console table in your home will elevate your decor and aesthetic to your space.
Console tables may seem like an unassuming piece of furniture, but in reality, they can significantly enhance the look and feel of a room.
They come in a range of sizes, styles, and materials, making them a great addition to any interior design scheme.
Console tables can serve a multitude of purposes, from holding decor to acting as a catch-all for daily essentials like keys and mail.
Whether you're looking to create a welcoming entryway, a cozy living room, or a functional workspace, a console table can help you achieve your desired aesthetic.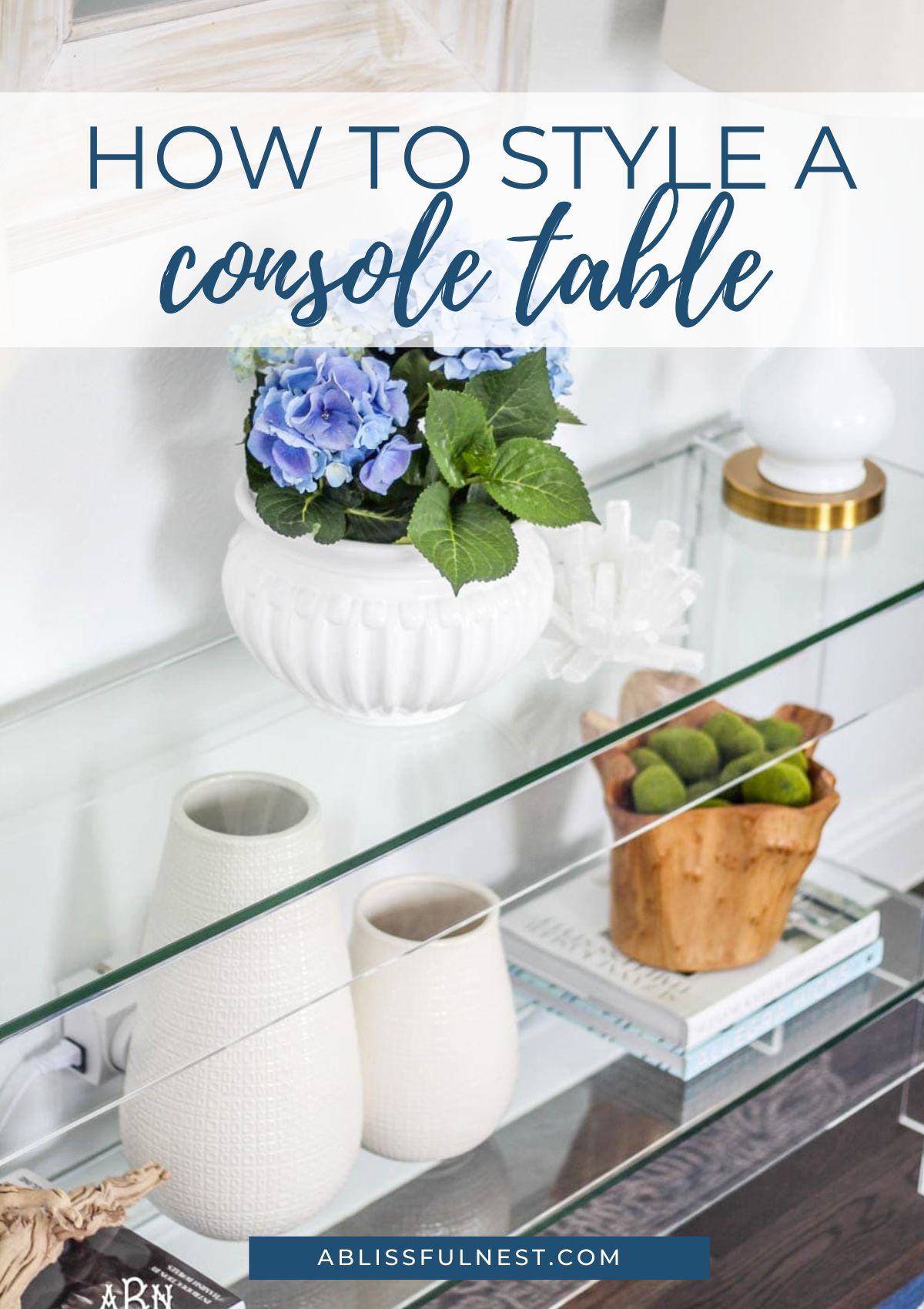 I'll share with you tips and tricks on everything from where to place your console table to different decor ideas and how to style it to perfection.
These basic steps will guide and give you confidence in your efforts to style your console table.
So, let's get started on elevating your home decor game with our comprehensive guide on how to style a console table.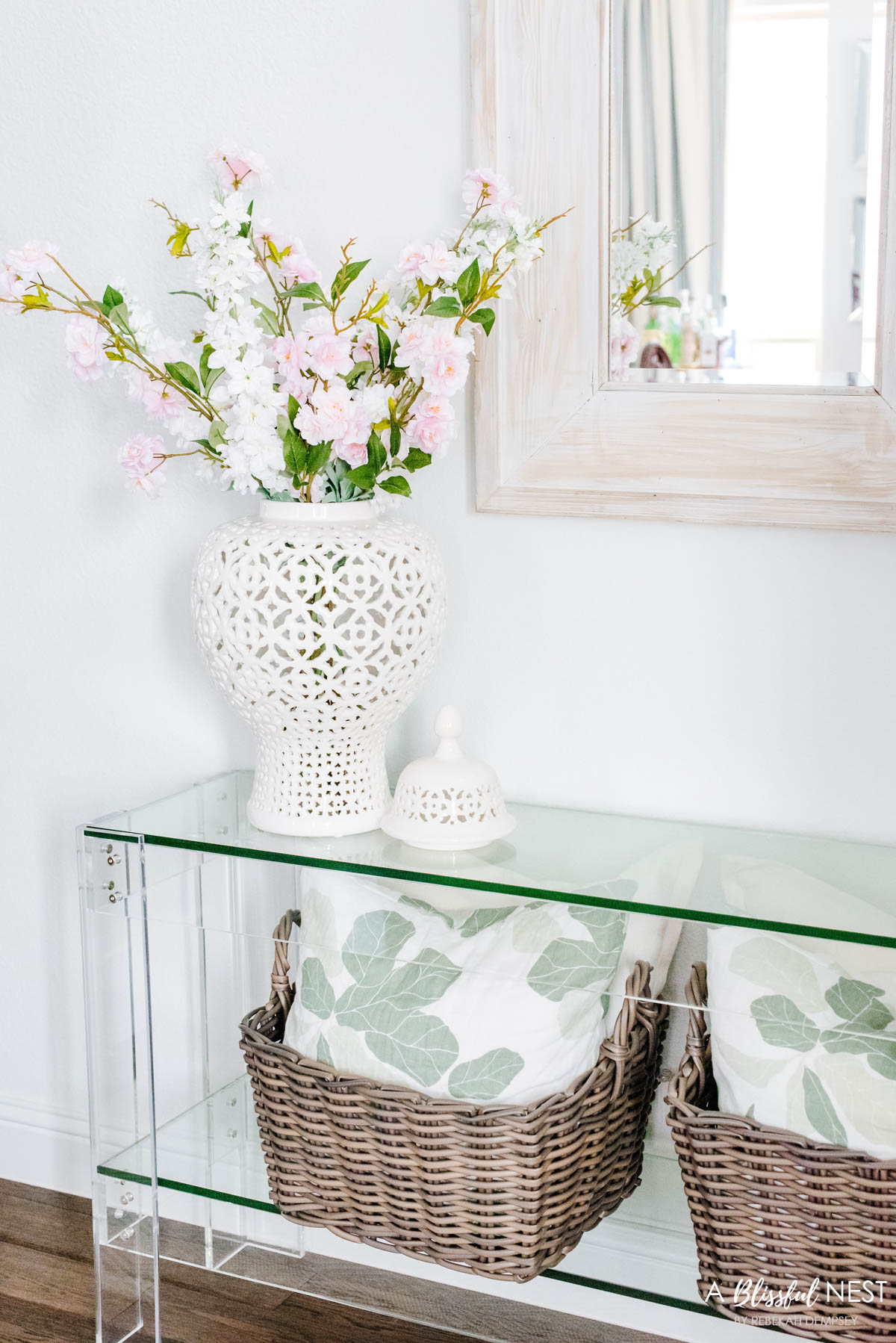 This site contains affiliate links. Please read our disclosure policy. As an Amazon Associate, I earn from qualifying purchases.
What Is A Console Table
A console table is one of those versatile pieces of furniture that can be used in so many different ways.
Typically it is a bit taller and narrower than a traditional coffee or end table and can fit seamlessly into a variety of spaces in your home.
This type of table is perfect for when you want to add a decorative touch to a room without taking up too much space.
And the good news is that they're not just for style – they can be functional too.
You can use a console table not only to hold a lamp and some pretty things but you can add storage solutions to make it functional too.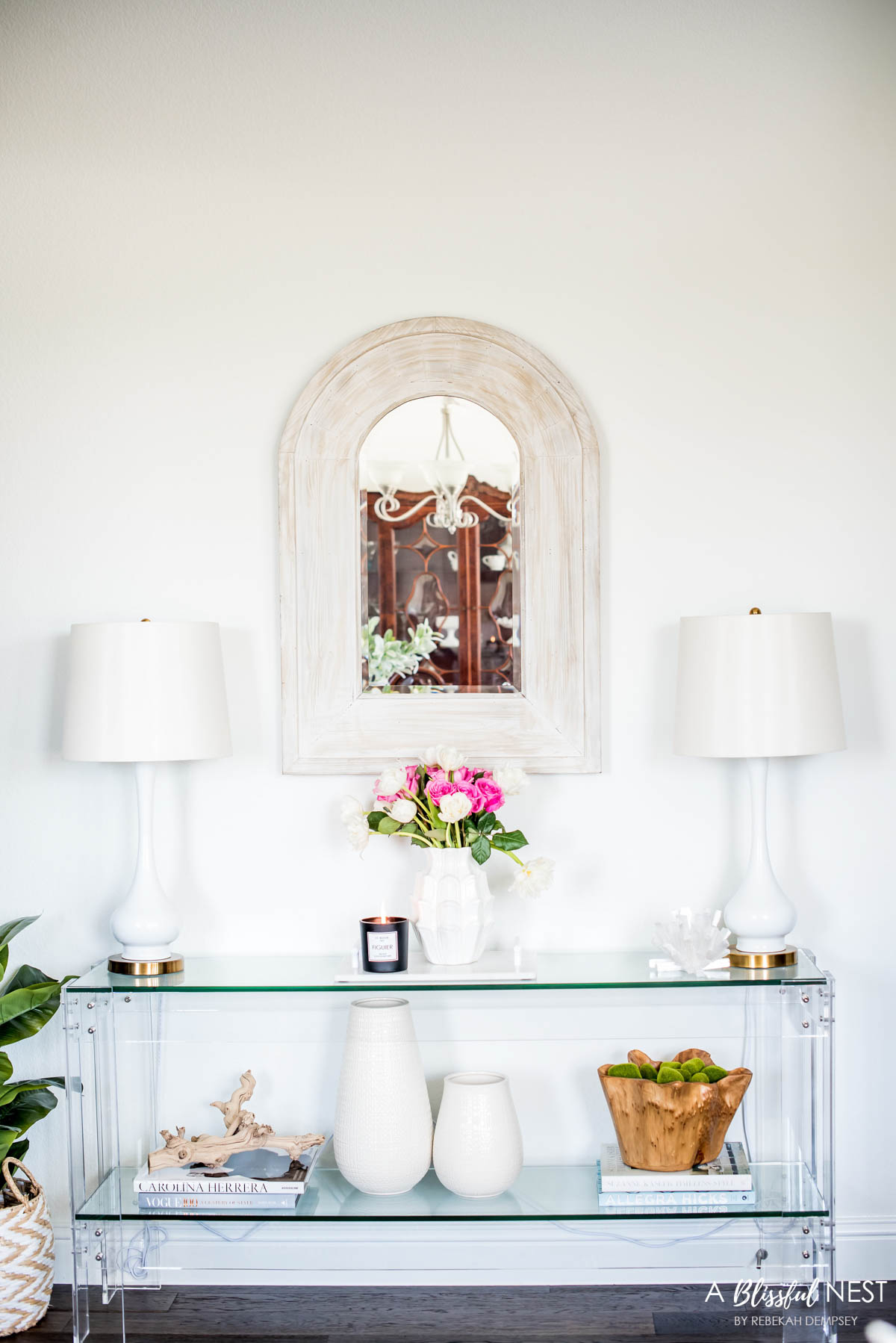 Where To Put A Console Table
There are many spots in your home where you can place a console table and here are a few of my favorites.
Entryway

: Placing a console table in the entryway or foyer is a popular choice. It provides a convenient surface to drop keys, wallets, and other items when entering or leaving the house. You can also use it to display decorative objects or provide a spot for a small mirror for last-minute touch-ups before leaving.

Living room

: Console tables can be placed against a wall in the living room or behind a sofa They can serve as a display area for decorative items or as a surface for table lamps, providing additional lighting to the room.

Hallway

: Console tables work well in hallways since they are narrow. They can add style to an otherwise plain hallway and provide a surface for displaying family photos, artwork, or decorative pieces.

Dining room

: In the dining room, a console table can be used as a serving area for parties or gatherings. You can set up a buffet-style arrangement with plates, cutlery, or food items. It can also be a place to showcase beautiful serving dishes or store extra table linens.

Home office

: Console tables can be practical additions to home office spaces. They can function as a desk for a laptop or a writing surface in smaller office setups. You can also use the table to display books, and decorative objects, or keep office supplies organized in drawers or on shelves.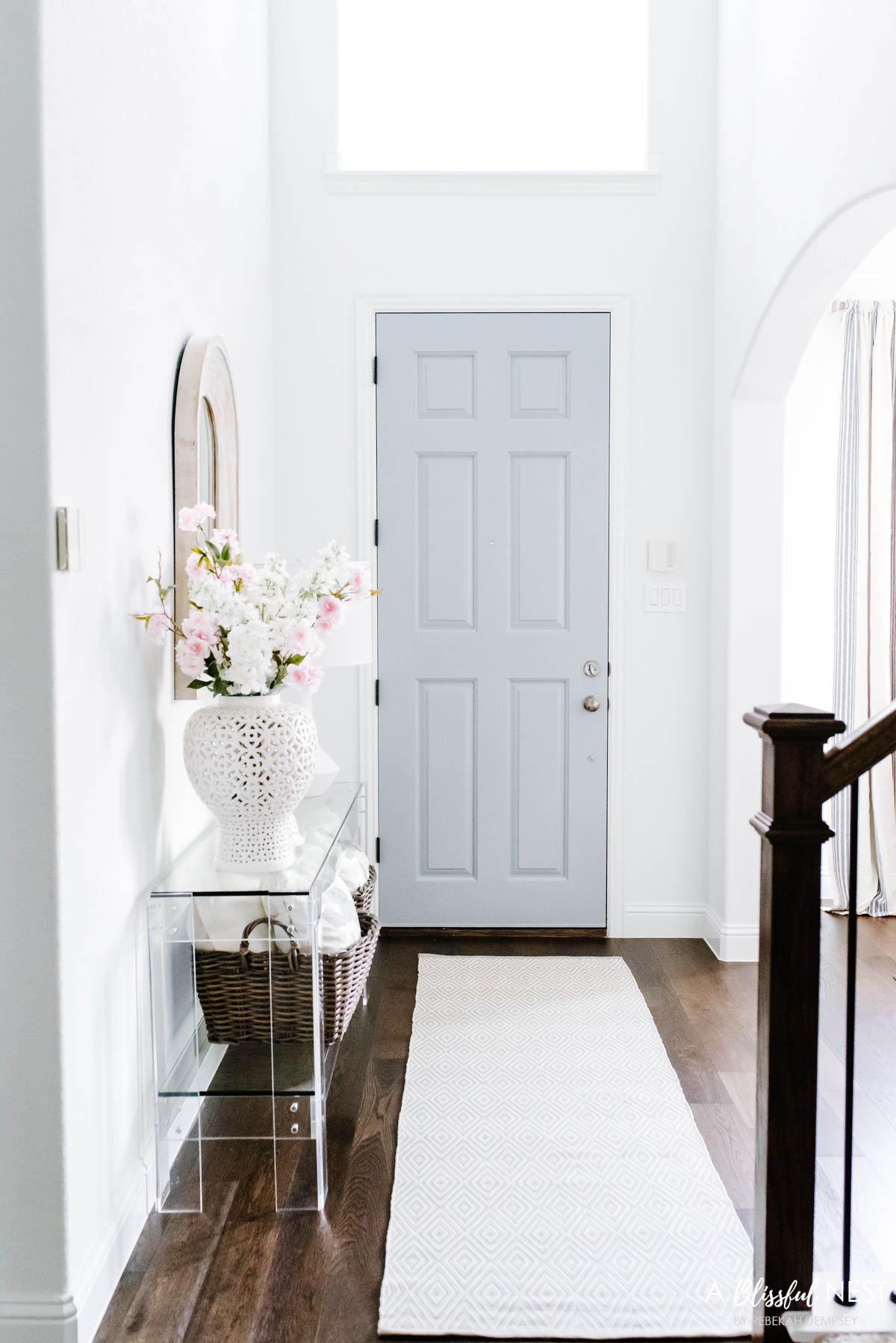 Console Table Decor Ideas
Here are a few home decor pieces that you can easily add to your console table that work for any design style.
Tap Photos To Shop

How To Style A Console Table
Create An Anchor
An anchor piece is a large focal point in the center of your console table. It can be a mirror, a piece of art, or even a couple of pieces of art/photos.
I call it an anchor because it is a "heavy object" that centers the console and essentially pulls the other decor together.
The anchor pieces will draw attention and set the tone for the rest of the arrangement.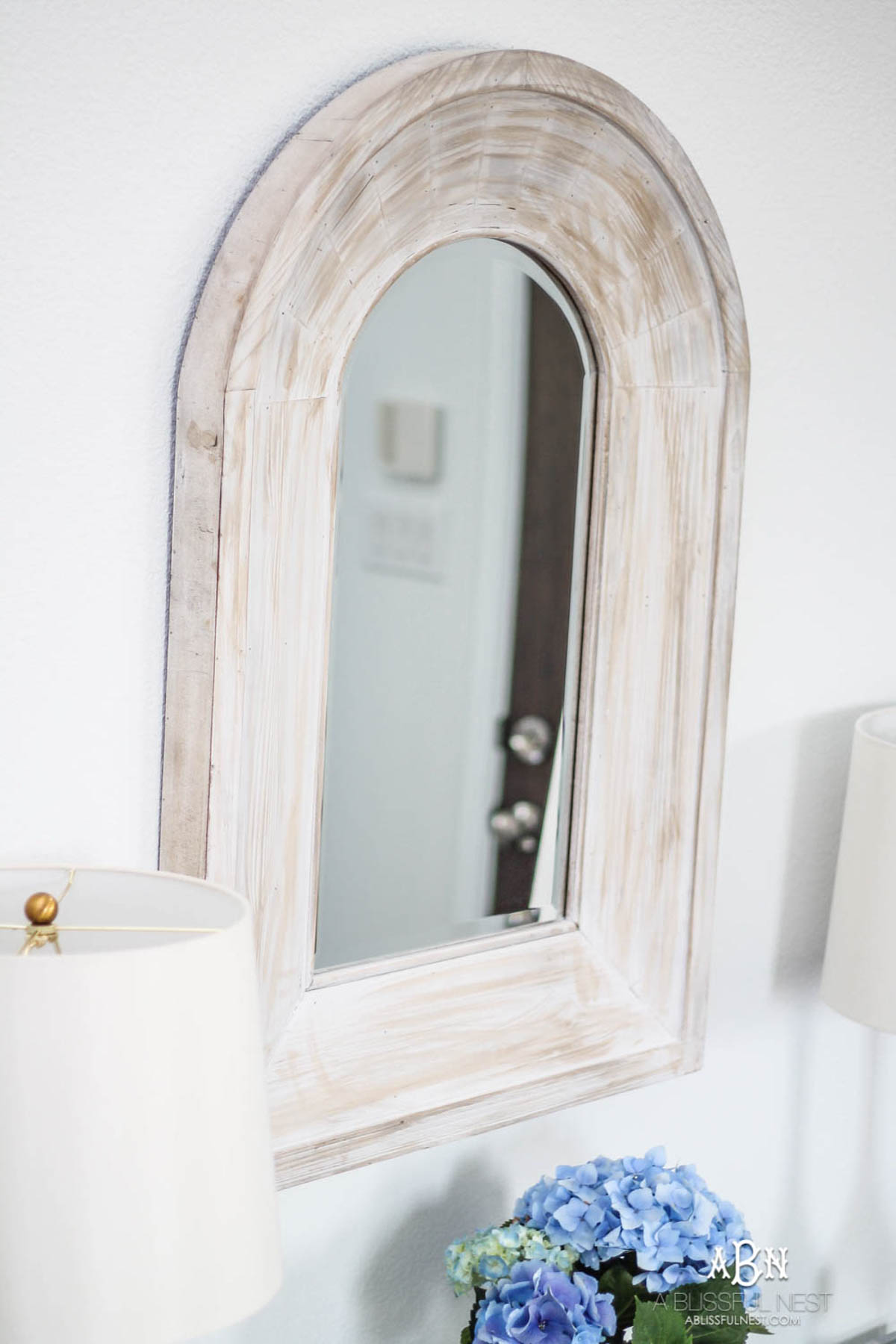 Add Height
Styling a table in three – high, medium, and low, is a known design rule.
But, I have noticed that people are scared to add height. They might add a vase, but they need to keep going.
Don't be scared to add tall sticks to that vase. Another trick to adding height is to add a table lamp. I am a huge fan of adding table lamps to console tables.
Not only do I love how it looks, but, you can turn them on in the evenings for a little moonlighting, rather than ceiling lights.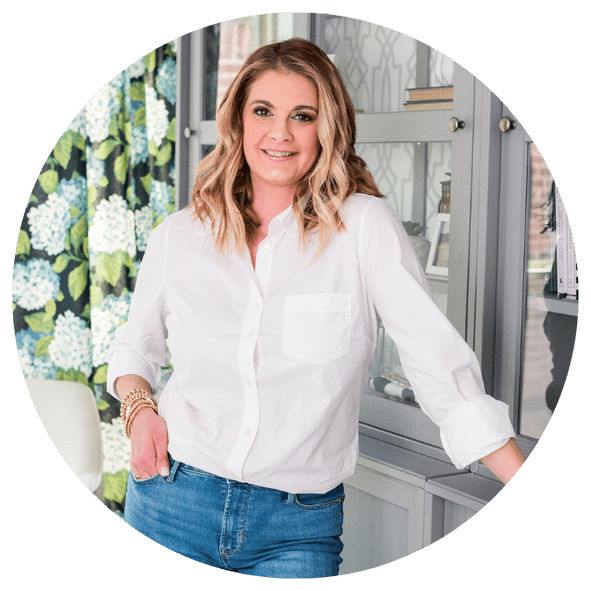 Design Tip
Vary the heights of the items you place on the console table to create visual interest.
Create Balance
Console tables are long or longer than end tables or side tables.
When styling your table, make sure not to place everything in the middle or to one side.
Create balance by adding objects to more than one side of the table and layer towards the center of the table.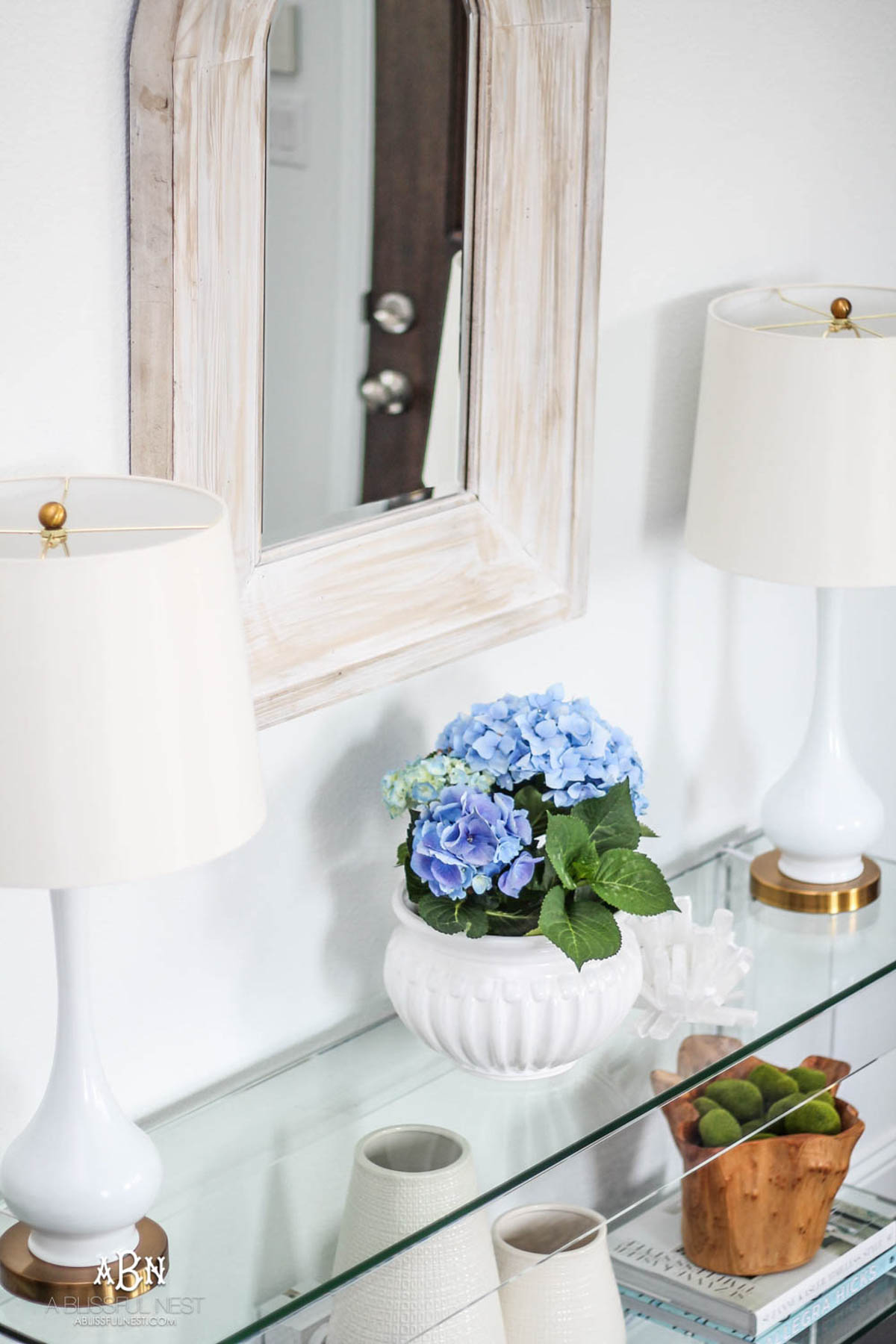 Add A Natural Or Organic Element
When layering a console table we tend to stick with objects, such as books, boxes, lamps, or vases.
But, to give it life and more visually appealing add natural/organic elements such as an orchid, flowers, or even a terrarium.
You can place these on top of books to add height and not clutter your table too.
They bring life and freshness to the space.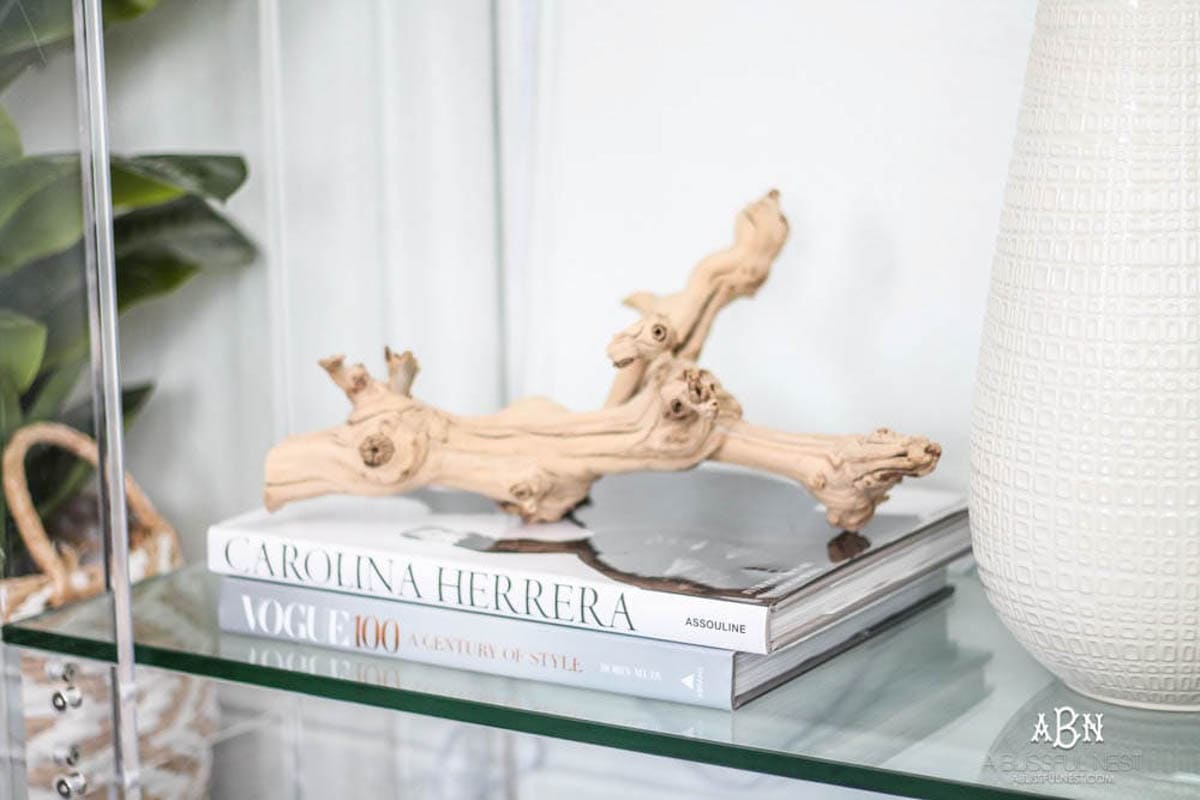 Add Personal Touches
Don't forget to incorporate personal items that reflect your style and interests.
It could be a family photo in a beautiful frame, a cherished memento, or a collection of objects that holds sentimental value.
These personal touches make your console table unique and meaningful.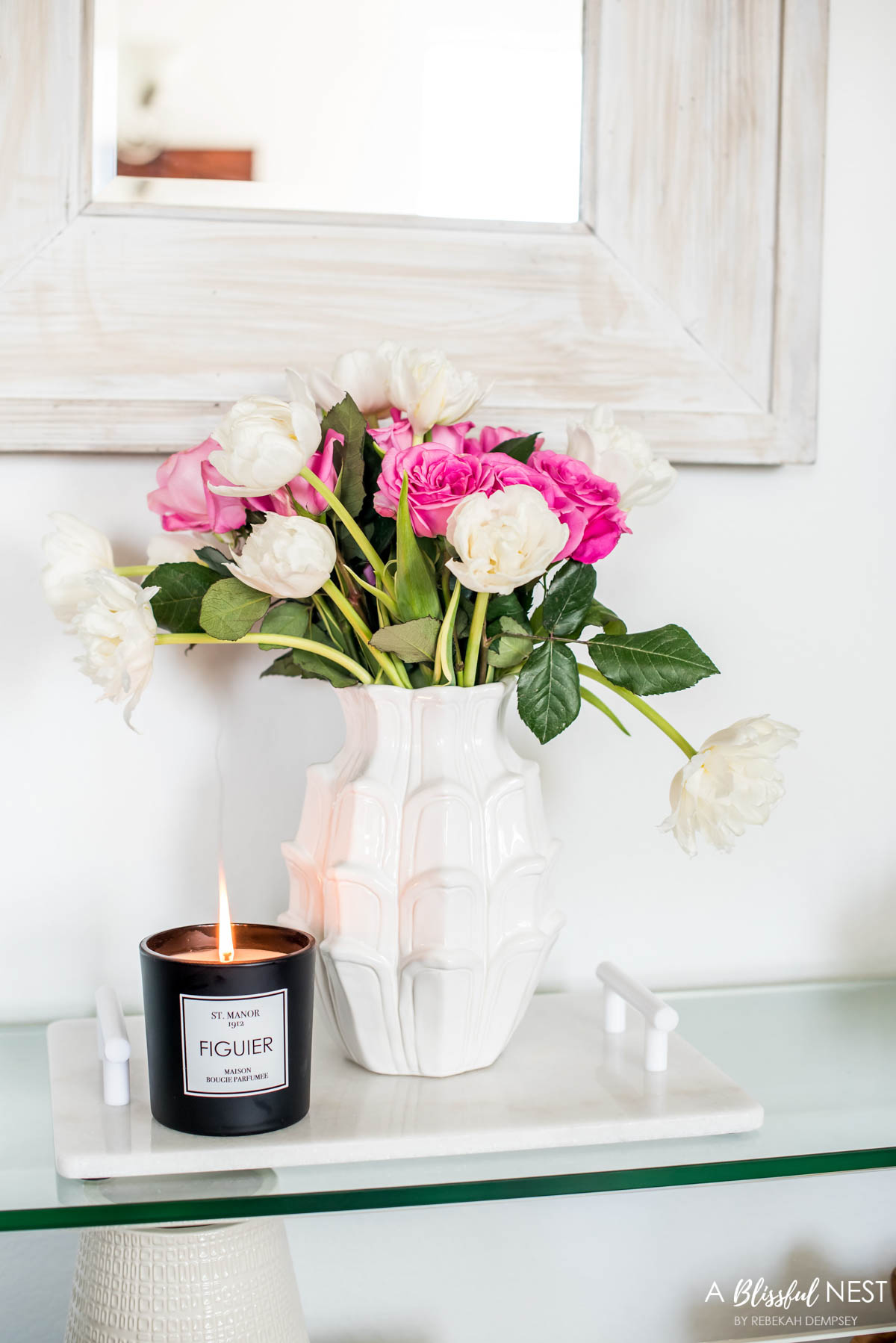 Styling a console table can be both fun and practical and a great way to infuse your personal style.
Whether you're looking for a statement piece to add to your entryway or need a functional surface to store items in your living room, there are endless possibilities when it comes to decorating your console table.
Remember to consider the size and style of your table, as well as the overall aesthetic of your room.
Use layers, height, and a mix of textures to create visual interest, and don't be afraid to incorporate personal touches that reflect your own style and personality.
With these tips and tricks, you'll be able to create a beautiful and functional console table that perfectly suits your home.
Enjoy decorating!
*Photography by Audrie Dollins