How to Select and Style Throw Pillows
Honestly, I haven't had a client who didn't ask me: What's the secret to making throw pillows look good? How do you mix throw pillow colors and patterns? How should you pick the right size throw pillow and what shape and size pillow works with the space?
AHH, selecting and styling decorative pillows seems so complicated, but, there's a secret to making your couch pillows (and bedroom throw pillows) look great. Actually, there are three secrets, and I've included them in the three throw pillow styling tips I'm going to give you below.
Once you've selected decorative pillows you love and used my three tips to decorate with throw pillows, remember the most important part: have fun! Don't be afraid to mix up your throw pillows and incorporate a little whimsy into your style.
Don't stress out about how to style your throw pillows. Don't overthink the pillow grouping and design. Remember: you can always change up the pillows and put them in different spots.
This flexibility is why decorative pillows are one of the easiest ways to change up the look of your room. Throw pillows are inexpensive, small and perfect for adding a pop of color or a fun pattern. There's no commitment with throw pillows. Here's how to style throw pillows for a look you'll absolutely love!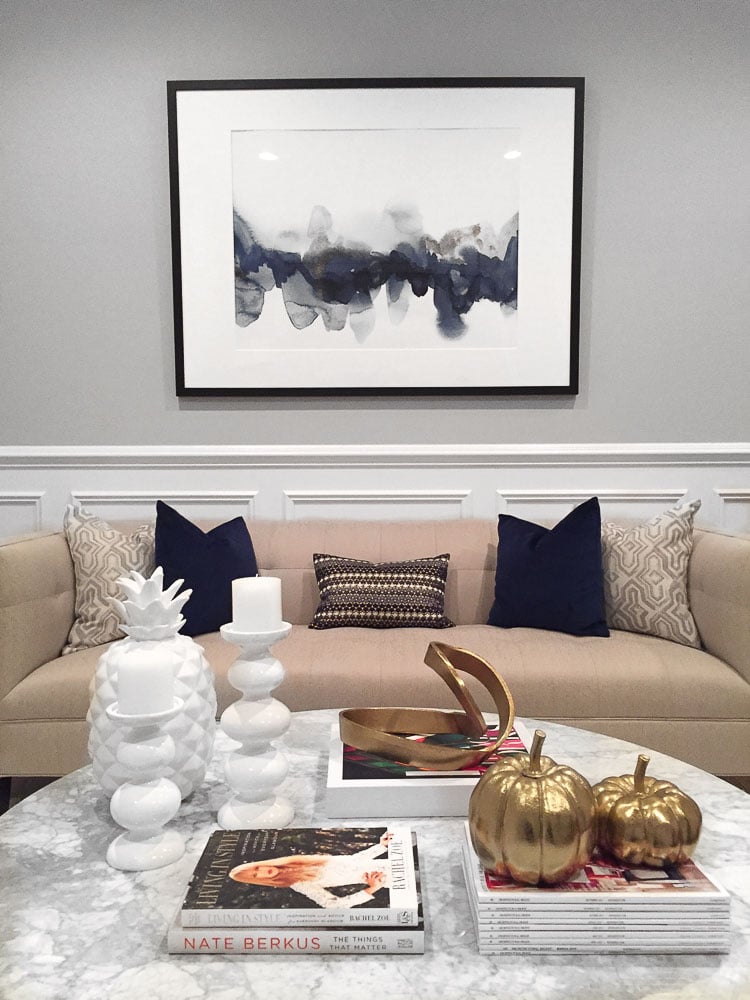 How to Style Throw Pillows:
As I mentioned, there are certain basic rules to follow, when decorating with throw pillows. In fact, I've seen websites that list (a minimum of) five ways to arrange pillows and each way has three or more tips for grouping the pillows together. Frankly, that's just too many pillow-arranging steps for anyone! So, I hope I'm able to break it down for you in these three tips for choosing and arranging throw pillows.
1. Remember: Pillow Size is Crucial
When selecting throw pillows, size is a big consideration. Pick a pillow too big and it will eat your sofa or chair. When selecting pillows, it's important to remember, the pillows are accents to the piece, not the piece itself.
Pick a throw pillow that's too small and the pillow will look like an afterthought; that too is a no-no in our world.
Now, we all have different height chairs or sofas, so what is a good size for a throw pillow? Start with what could be your largest pillow size and work your way down to the smallest.
On average, I start with a basic 22-inch (maybe, depending on the piece, 24 inch) pillow. Then, you also will need a 18" ×18" or 16" ×16" pillow, plus an accent lumbar pillow.
Remember too, there are always pillow covers. Find the right size pillow first, and then consider making or buying pillow covers to get the look you want.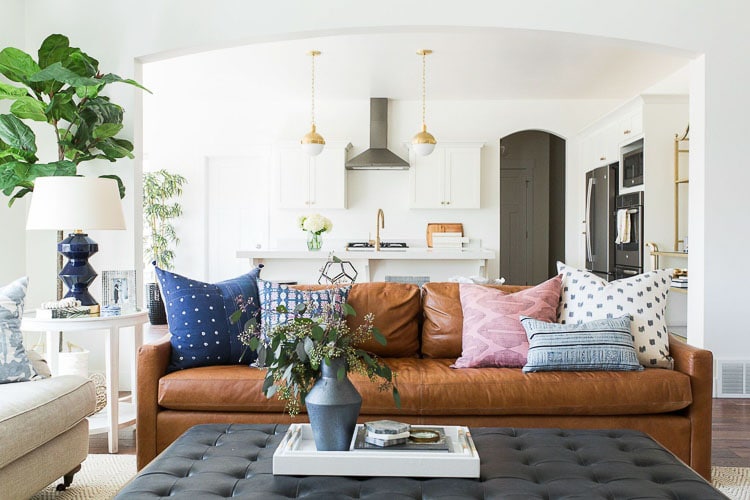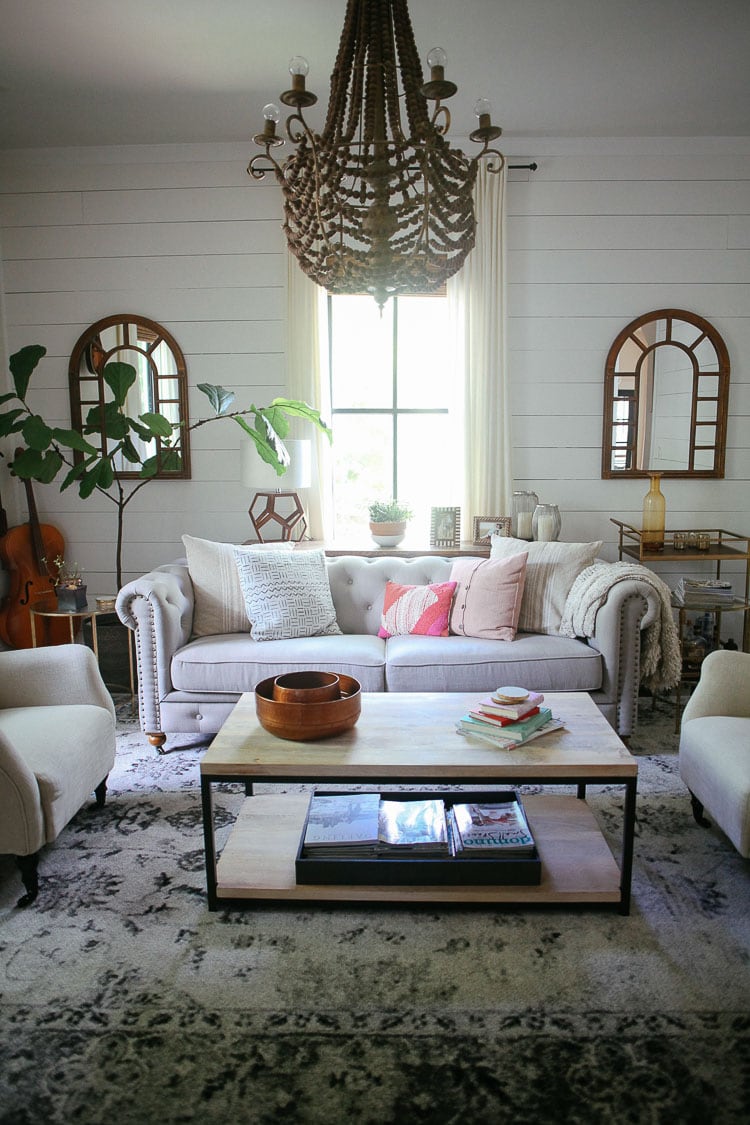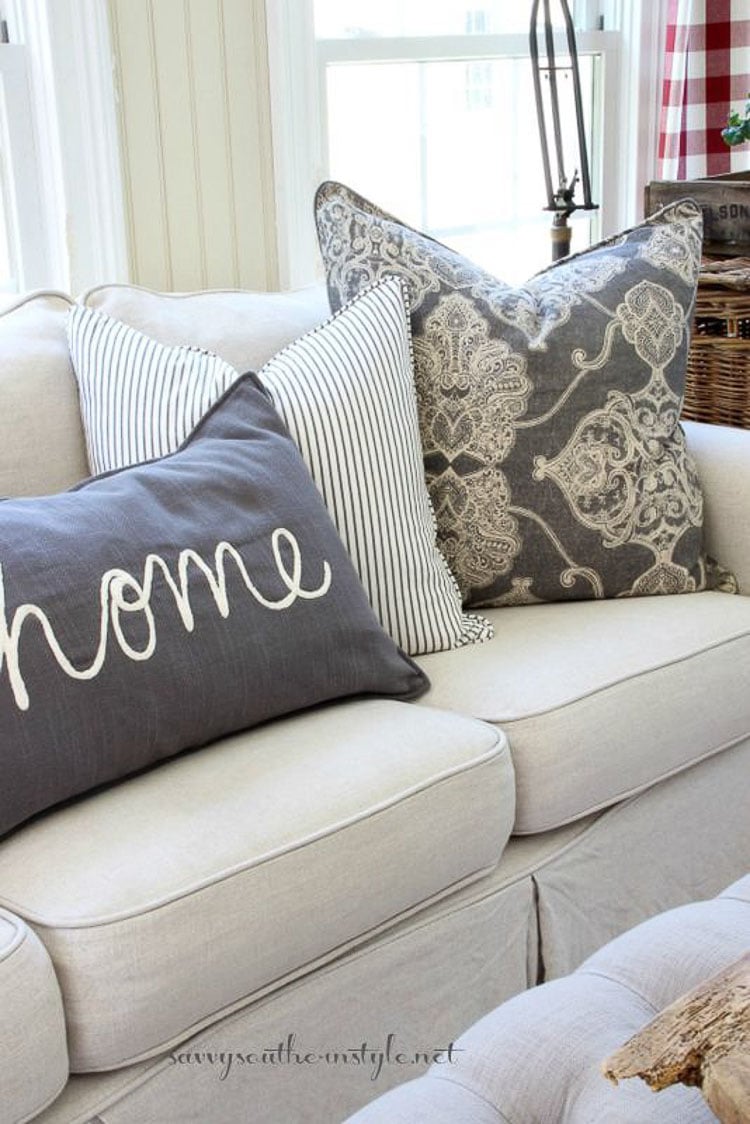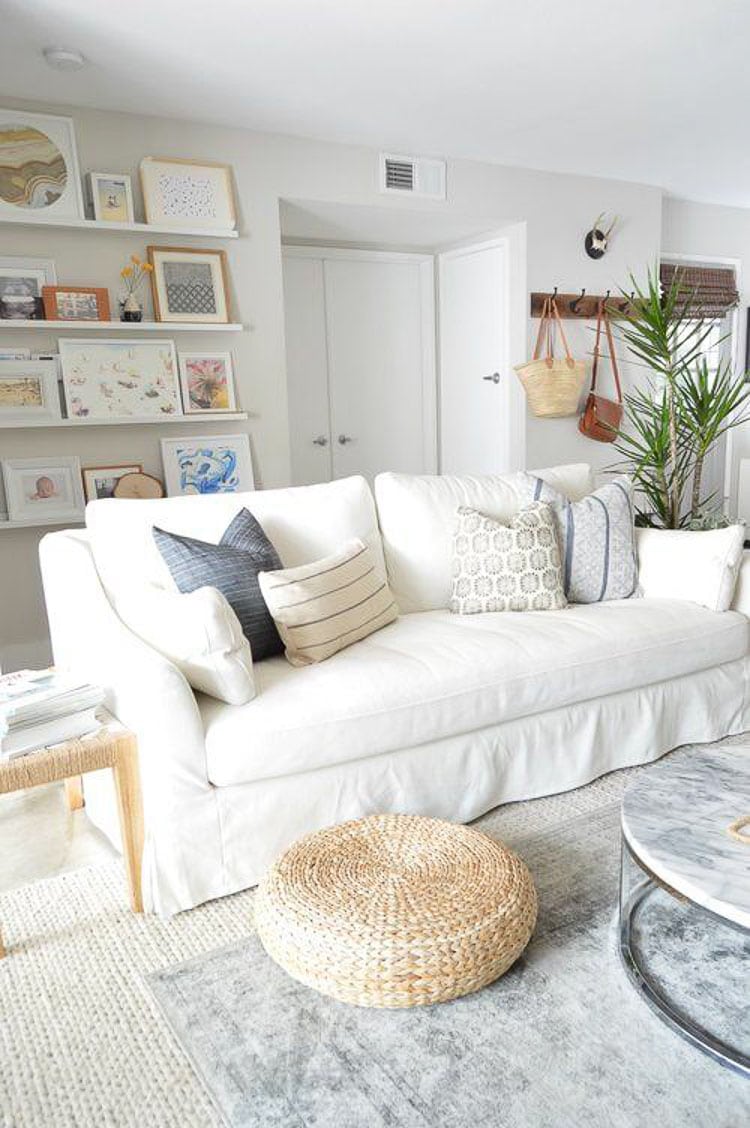 2. Determine How Many Pillows Are Needed
Many of you are familiar with the rule of always decorating with items in odd numbers like three or five.
This decorating rule goes for pillow styling too, especially if you want a more eclectic or modern look.
If you have a larger (longer than 6') sofa that you're styling, then this decorating rule can go out the window! Consider using an even number of pillows: six, with three throw pillows at each sofa end.
The exception to this odd/even pillow rule is if you have a large sectional sofa.
When styling a sectional, I suggest you go back to 5 or 7 pillows. Group the throw pillows with two or three at each end and a set in the middle. In other words, never just two throw pillows on a couch (no matter the size).
Work in odd groups if you want more modern or eclectic look to your throw pillow arrangement.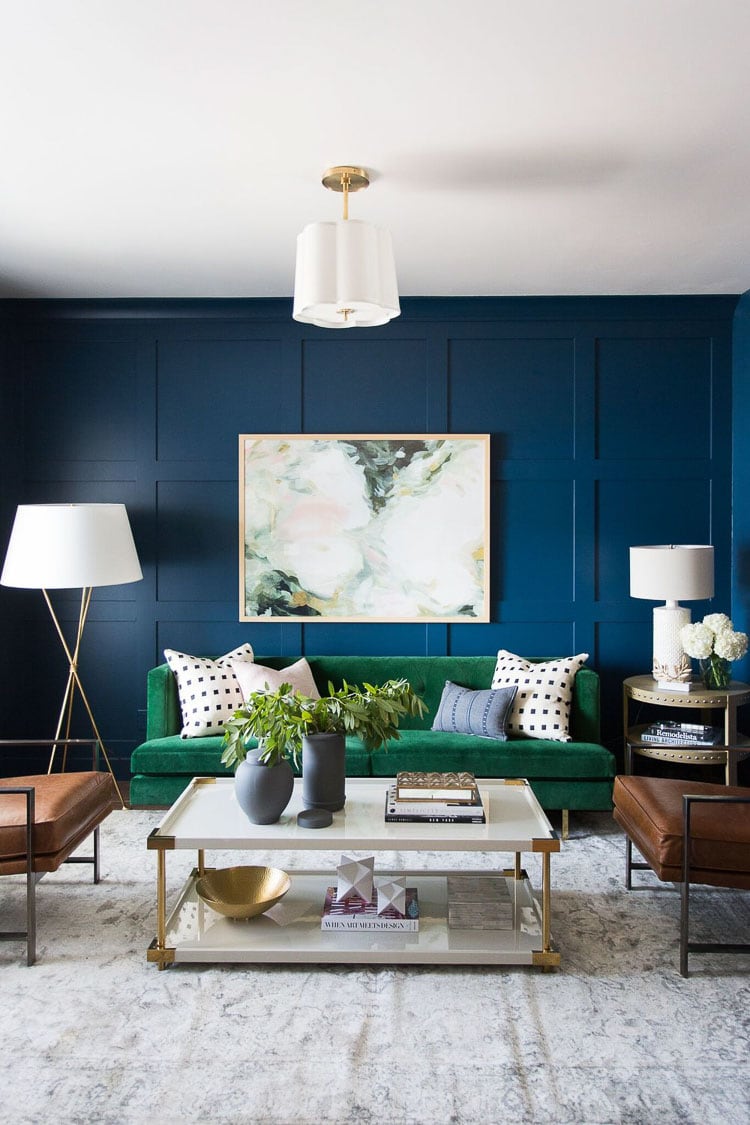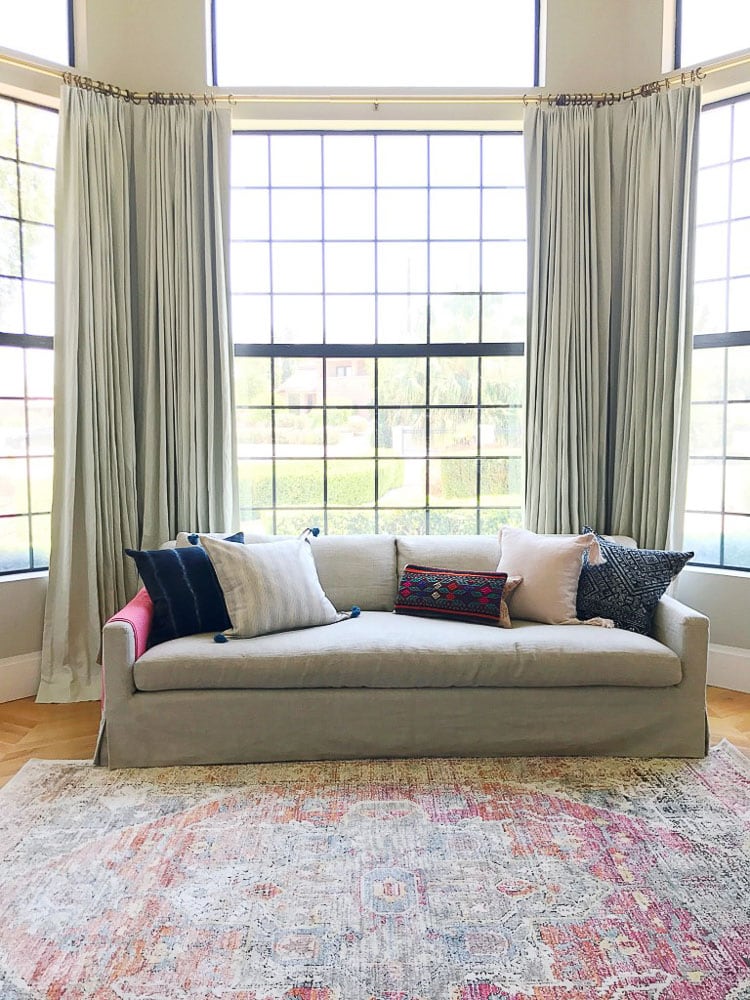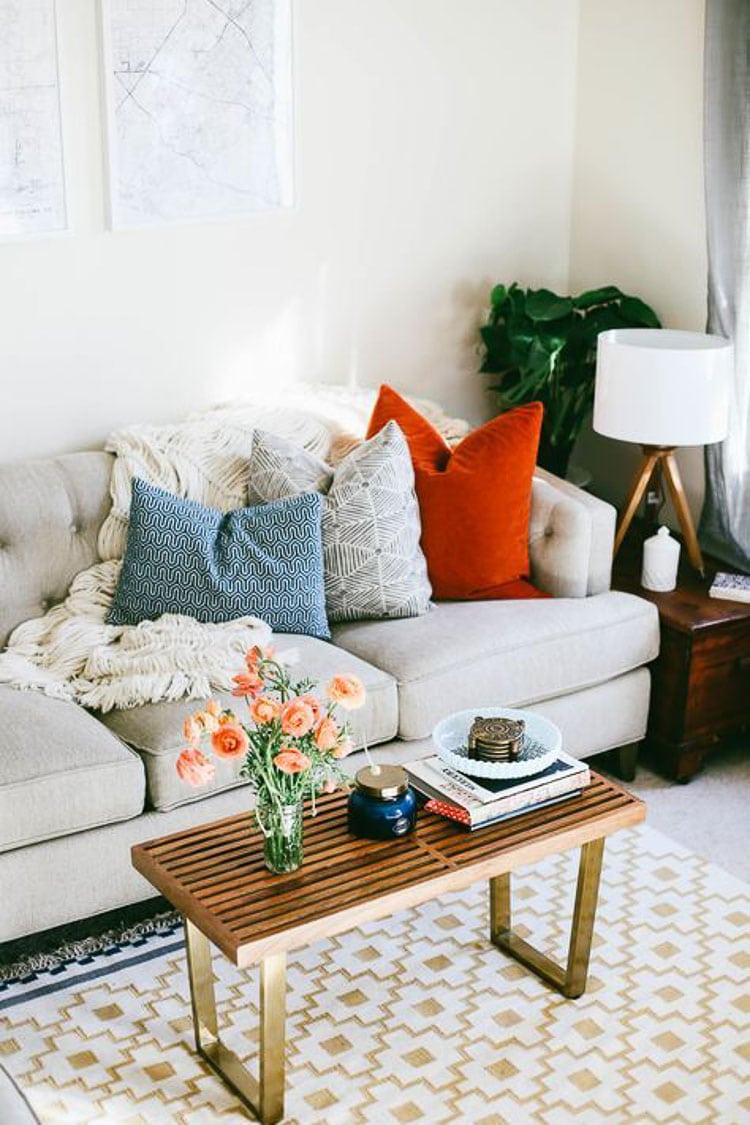 3. Mix Pillow Patterns and Textures
It is okay to mix patterns when you pick out throw pillows. Go ahead and go crazy! Put a dot ikat throw pillow against a damask design–I give you permission. But, also remember to mix up your throw pillow textures.
Your pillows don't need to have the same fabric texture; it's okay to have a shag-covered pillow mixed in or to add a leather pillow in the arrangement. Faux fur pillows look great against more traditional tweeds.
Mix and match fabrics, textures, and patterns you love.
Mixing patterns can be intimidating at first, so take a look online and find inspiration boards and examples of pattern mixing that you like. When you're ready to start mixing up your throw pillow patterns and textures my insider tip is to pick a solid color pillow first. All throw pillow groupings need a solid color (or that might be my own opinion).
Then, when picking out your patterned throw pillows to add to the mix, choose at least one or two of them that feature these same colors, even if it's a dot of the same shade.
When you get comfortable mixing patterns, then don't even worry about matching pillow colors, but for beginners, this is a safe route.
Now you have a set of solid color pillows, a set of mixed patterns with a hint of the color, and it's time to add your accent pillows. Your accent pillows are meant to make a statement too, so have fun with it.
The pillows don't need to be the same colors; they could feature a modern pattern with the more traditional pattern behind them. There isn't a hard rule, just have fun with it.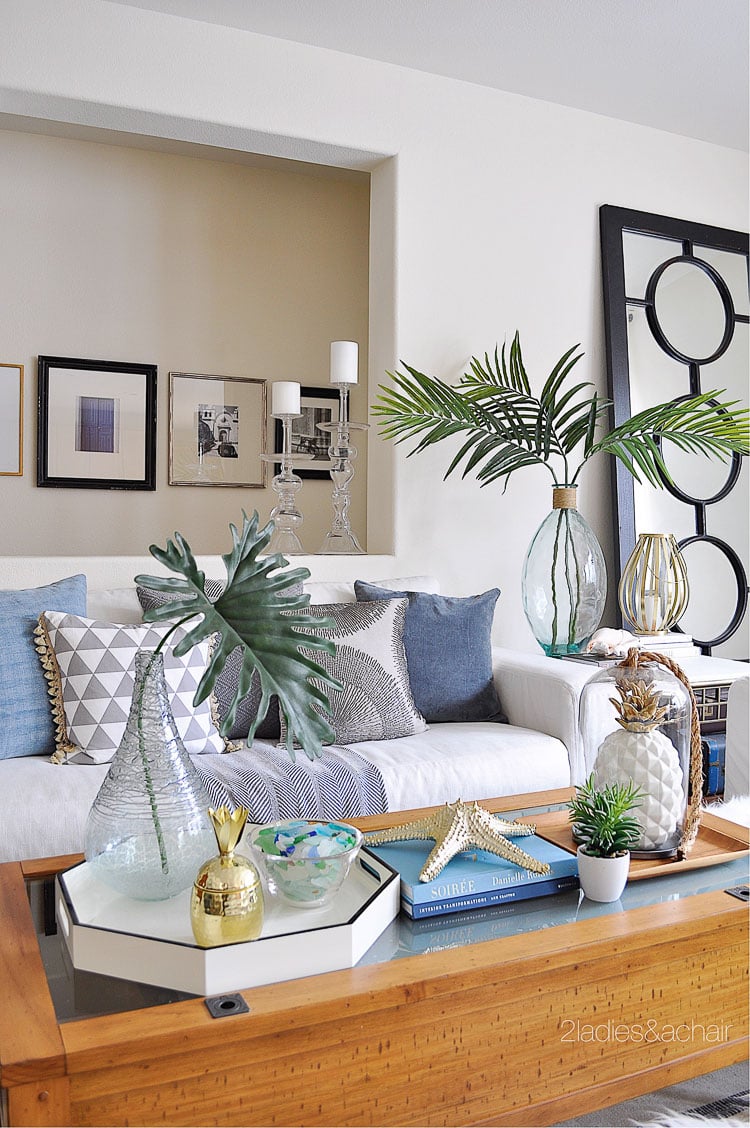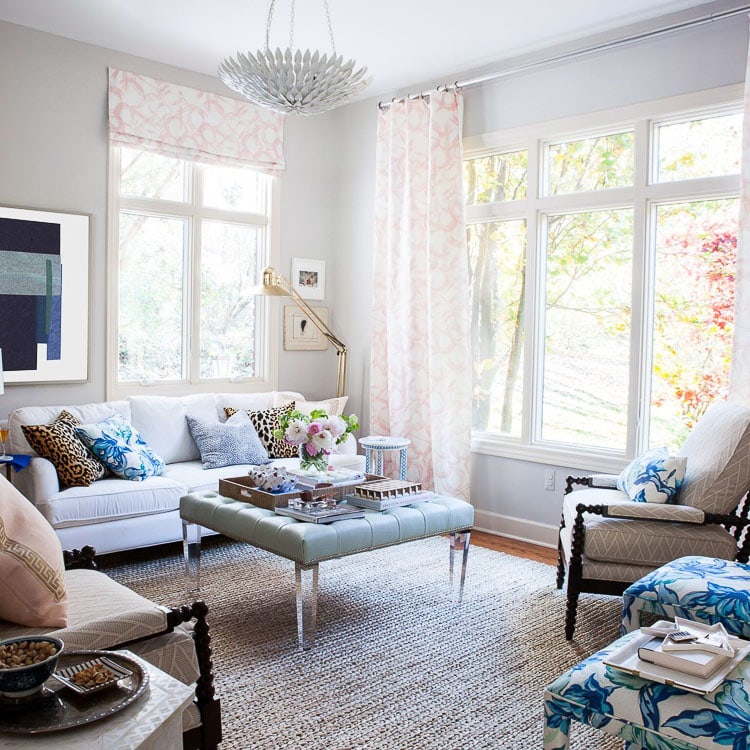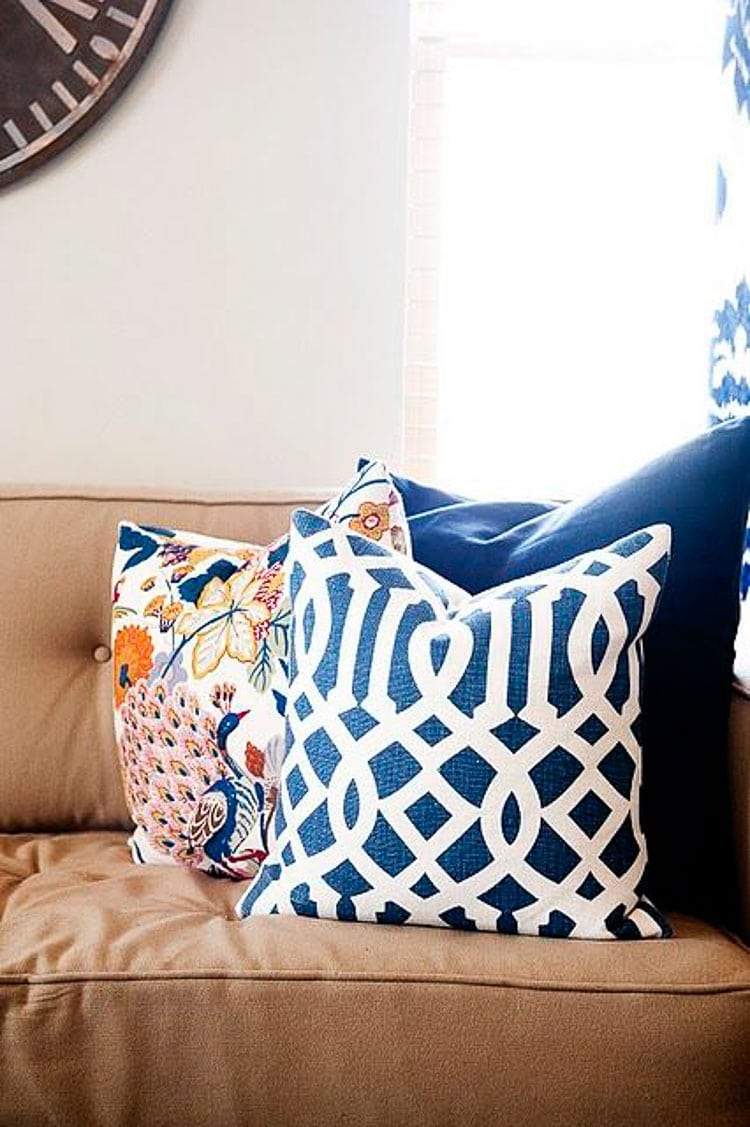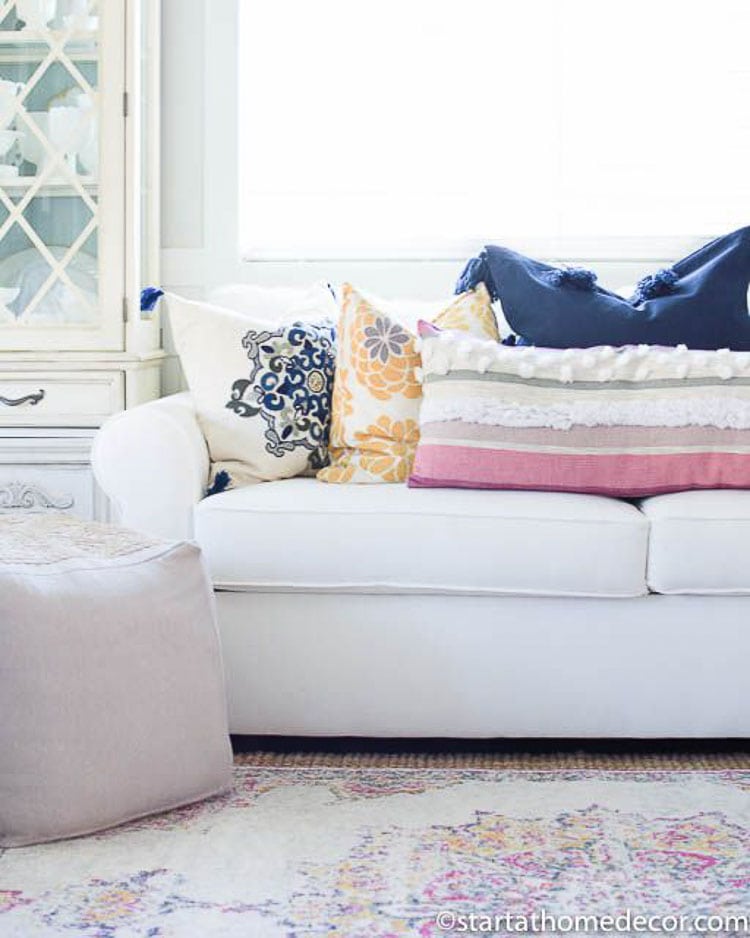 With all the tips out there on how to style throw pillows, it's easy to get a little overwhelmed. At the end of the day, remember decorating your house and styling your sofa should be fun!
Throw pillows are an easy, inexpensive way to transform the whole look of a room. You can change your throw pillows with the seasons.
Get creative and mix it up. Pillows aren't permanent and you can always change the look, so go ahead and play around. I truly hope that these three throw pillow styling tips will make the process easier and not as stressful.
As long as you get the right size, number, and mix of patterns and textures, it's almost impossible to go wrong.
NEED TO BOOKMARK THIS POST FOR LATER?
PIN OUR IMAGE: