How To Decorate A Mantel For All Seasons
This post may contain affiliate links. Please read our disclosure policy.
Learn how to decorate a mantel year-round and elevate your living room decor for a truly personal and designer look!
Is your fireplace mantel looking a bit dull and uninspiring?
Fireplace mantels can be one of the most eye-catching focal points in a room. But decorating them correctly can be tricky!
Do you know how to create an attractive, inviting space above your hearth without overwhelming it with too much stuff?
We've got some great tips and tricks for accessorizing your mantel that will make all the difference – from creating balance to adding cozy textures.
With just a few accessories, you'll instantly turn your drab, lonely mantel into something spectacularly unique and put together.
From layered artwork to wintery garlands, there are tons of ways to make sure this key part of home decor won't go unnoticed by guests or family members alike!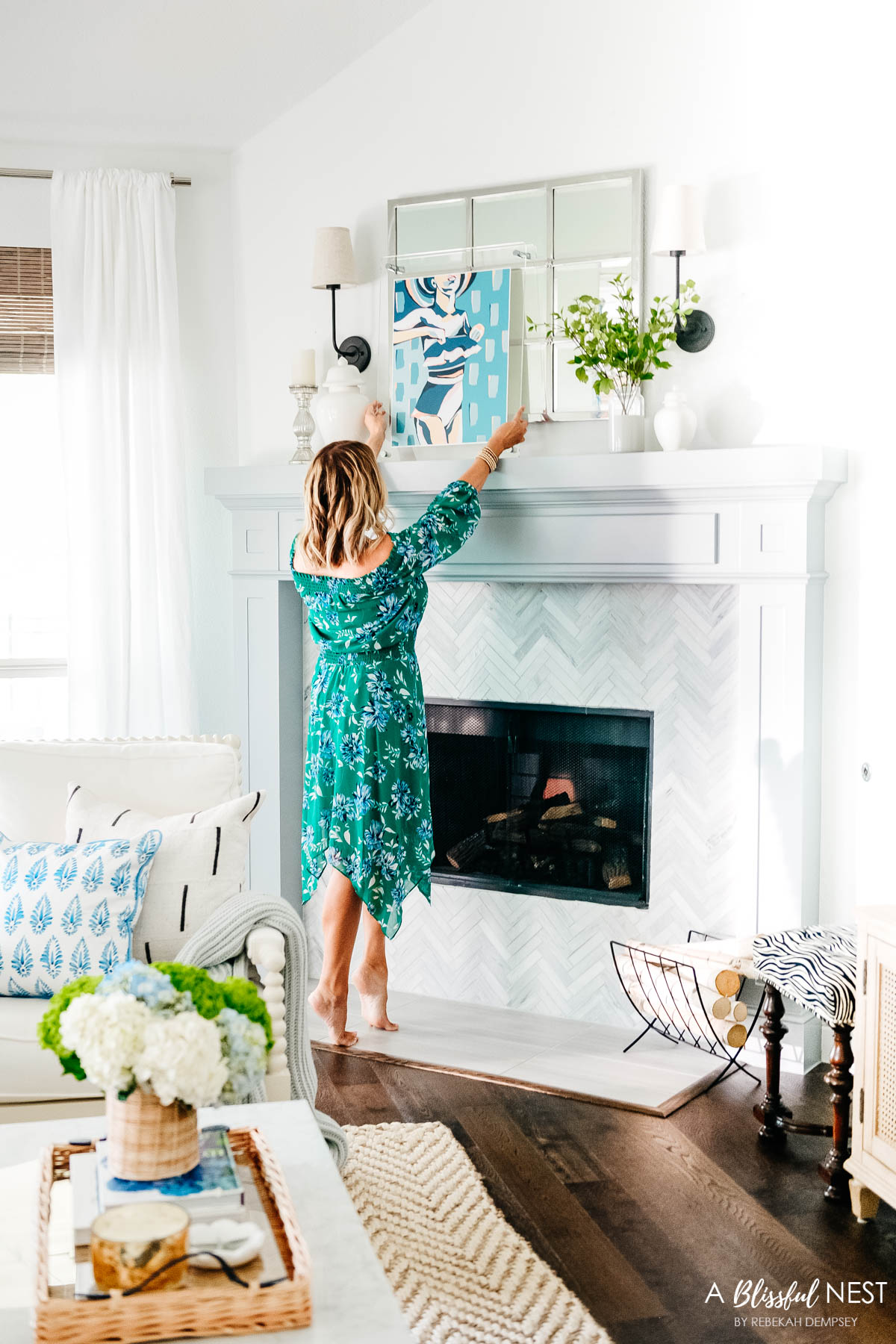 Check out my seven easy steps on how to transform any fireplace mantel and make decorating your living room super easy.
Decorating a fireplace mantel is not just about what accessories you choose, but also how you arrange them.
With these easy-to-follow tips and steps, transforming your empty mantel into an impressive display will be easier than ever before!
Whether it's the festive season or any other special occasion, your beautiful mantel setup will be sure to make anyone feel welcome in your home.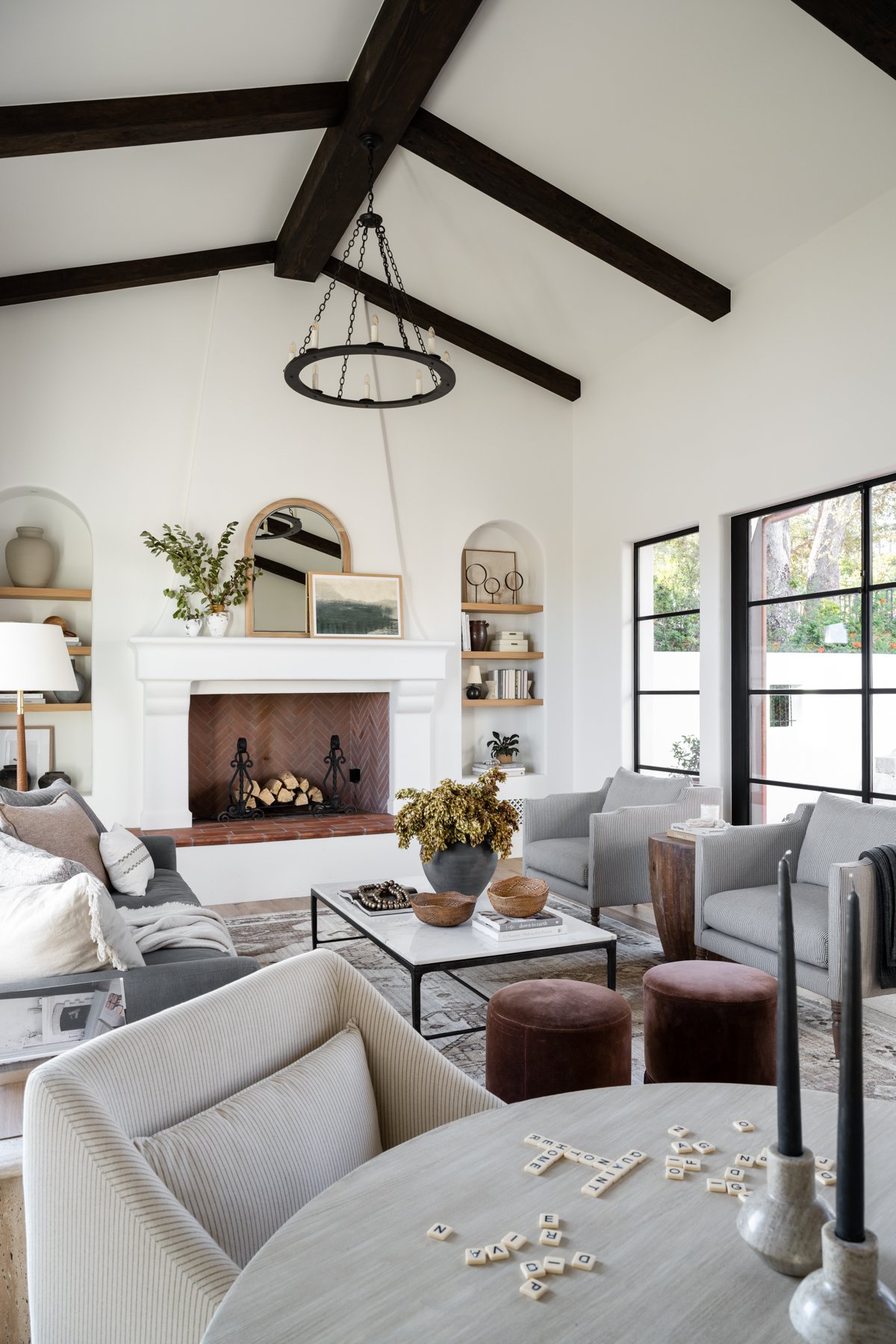 What To Use To Accessorize A Mantel
Accessorizing a mantel can truly elevate the overall aesthetic of a room, giving it a well-designed and cohesive look.
To achieve this, consider carefully selecting a variety of decorative elements that showcase your personal style and blend seamlessly with your overall design.
Use statement pieces, such as a large mirror or a bold piece of artwork, to serve as the focal point on your mantel.
Use smaller items, like decorative vases, framed pictures, and candles, to showcase a mix of textures and colors while maintaining balance and symmetry.
You might also want to incorporate seasonal elements or even sentimental items with personal significance to make the mantel truly reflective of your own unique identity.
How Many Items Should Be On A Mantel
Striking a balance between minimalism and maximalism when decorating one's mantel is an art form that can significantly impact the aesthetic appeal of a room.
While there is no one-size-fits-all approach, it is crucial to consider the size of the mantel, the style of the room, and personal preferences when determining the appropriate number of items to display.
Tip:
Interior design experts recommend using an odd number of items, typically three or five, to strike this balance effectively.
The aim is to create a visually pleasing composition by combining different shapes, textures, and heights that accentuate the homeowner's taste without making the space feel overcrowded.
However, it is essential to remember that these guidelines are not set in stone, and experimenting with different arrangements can lead to a unique mantel display that truly reflects one's personality and sense of style.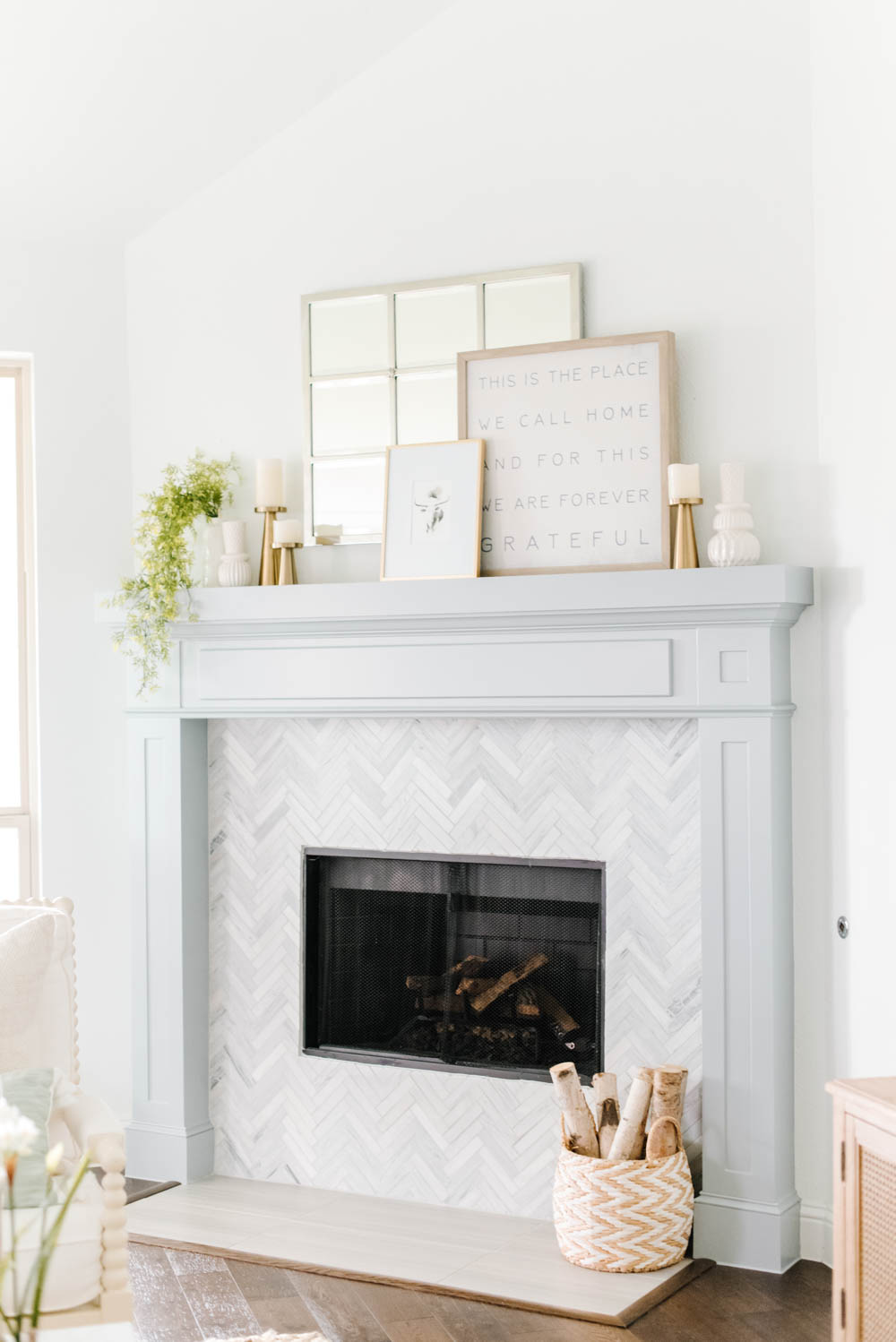 Fireplace Mantle Decor Favorite Items
Here are a few of my favorite mantel decor ideas to use in your design. These are great transitional pieces that would work with just about any design style.
Tap Photos To Shop

Tips On How To Decorate A Mantle With A TV
Decorating a mantel with a television can be both functional and aesthetically pleasing when approached with creativity and thoughtful design.
To achieve an enchanting display, consider the balance and scale of objects surrounding the TV.
By incorporating different heights and textures, the television will become an integrated part of the overall design rather than being an awkward focal point.
Mixing in elements such as candles, vases, framed artwork, or greenery can create visual interest while concealing unsightly cords and cables.
Additionally, layering these decorative pieces in front of your TV helps to soften and unify the overall look, making the mantel not only a beautiful addition to your space but also a personalized piece that reflects your unique taste and style.
To keep the mantel visually appealing, periodic updates with seasonal or fresh décor items can maintain the excitement and allure of your smartly-designed mantel with the perfect fusion of form and function.
How To Arrange Items On A Mantle
Decorating a fireplace mantel can be a fun and creative way to spruce up your home. Here are some simple tips on how to decorate your mantel:
1. Clear and access the space
Clear the mantel of any items or decorations that are currently on it so you have a blank slate.
Decide if you want it to have an overall theme or look, and what decor pieces you want to use so you can better plan the overall look.
This may evolve as you are decorating but generally having an overall idea of the look you are going for will keep you on track.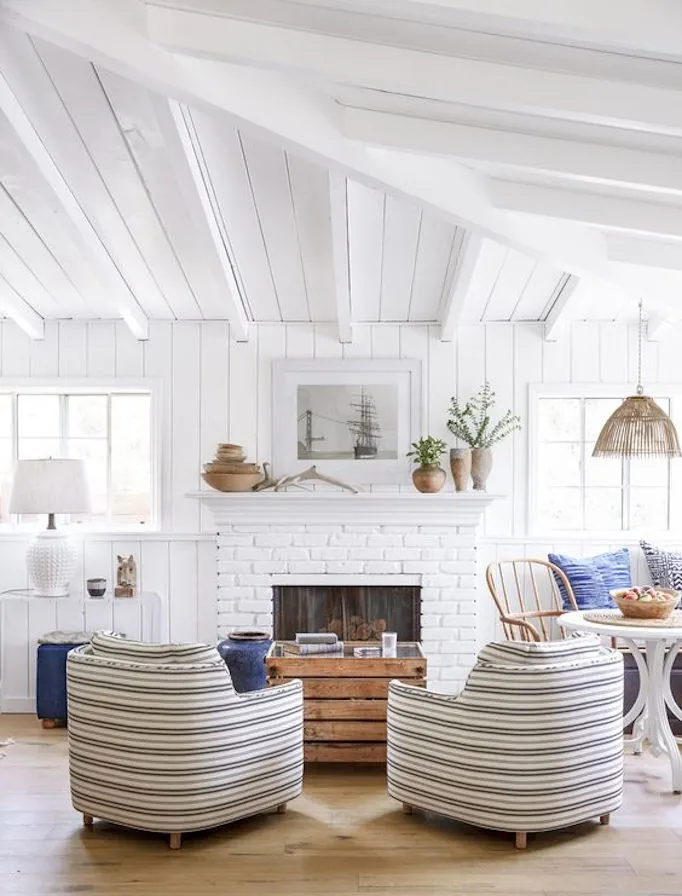 2. Choose a focal point
Decide on a centerpiece or focal point for your mantel. This could be a large piece of art, a mirror, or a sculpture.
It should be something that draws the eye and sets the tone for the rest of the decor.
3. Create balance
Arrange items in a balanced and symmetrical way on each side of the focal point.
This can be achieved by using items of similar size or weight on each side.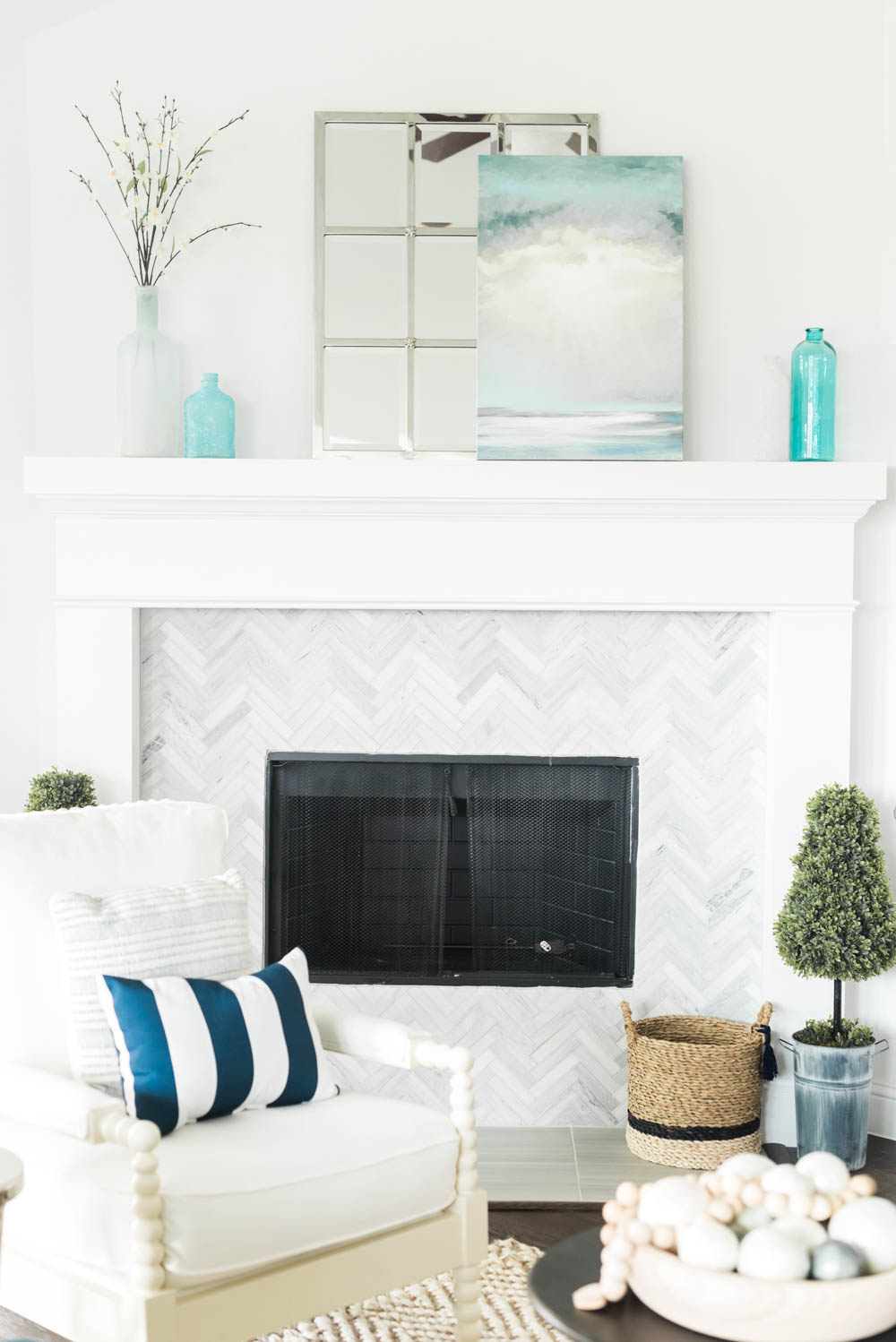 4. Add height
Vary the height of items on the mantel to create visual interest.
You can achieve this by using tall candlesticks, vases, or statues, or by stacking books or boxes to add height.
5. Add layers
Create depth and dimension by layering items in front of or behind each other.
This could be done by placing a small plant in front of a picture frame or placing a vase behind a stack of books.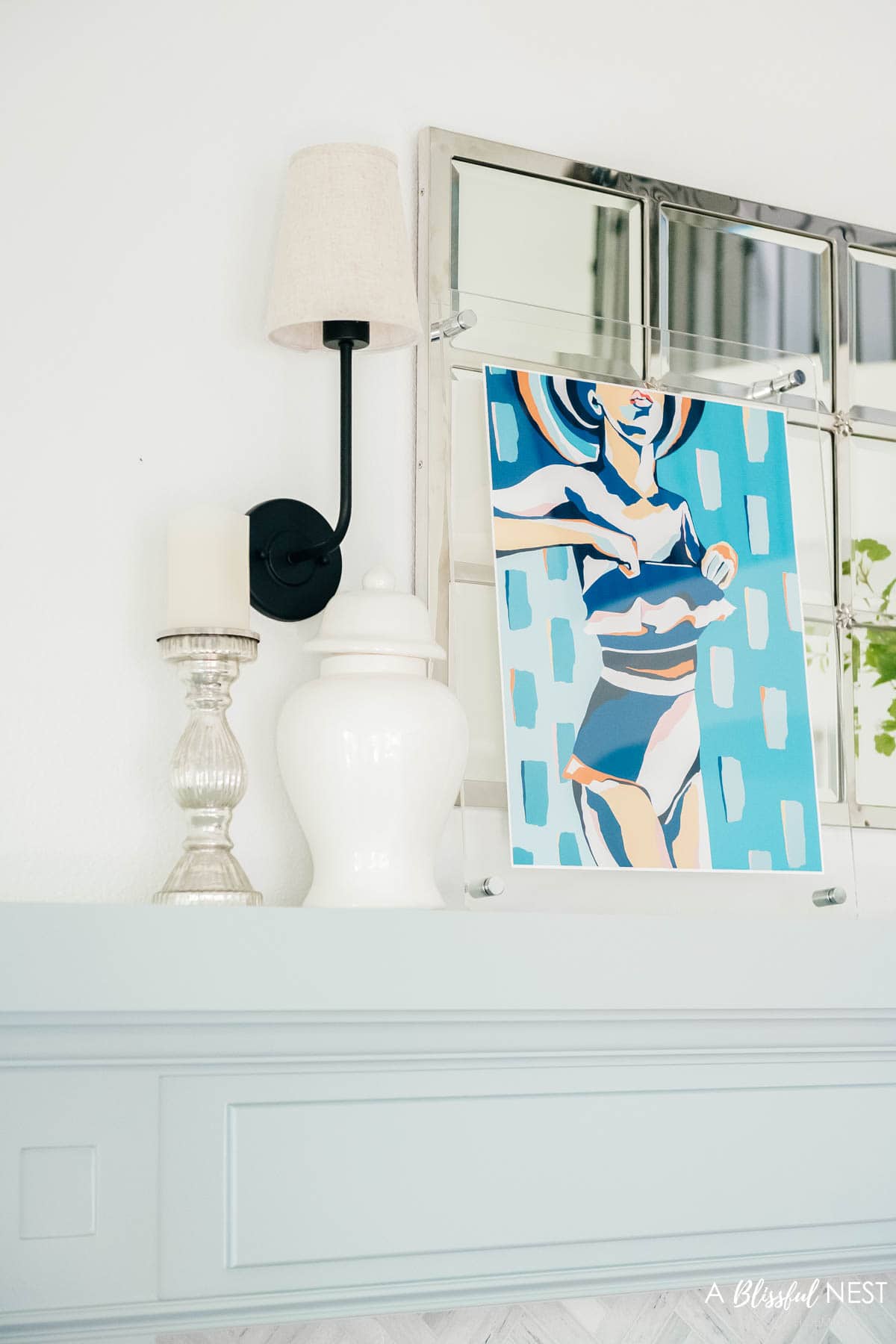 6. Mix textures and add color
Mix textures to add depth and interest.
For example, pair a smooth vase with a rough wooden sculpture or a soft throw blanket with a metal candle holder.
Use colors that complement your existing decor or create a new color scheme.
You can use pops of color in your focal point or in smaller items like candles or picture frames.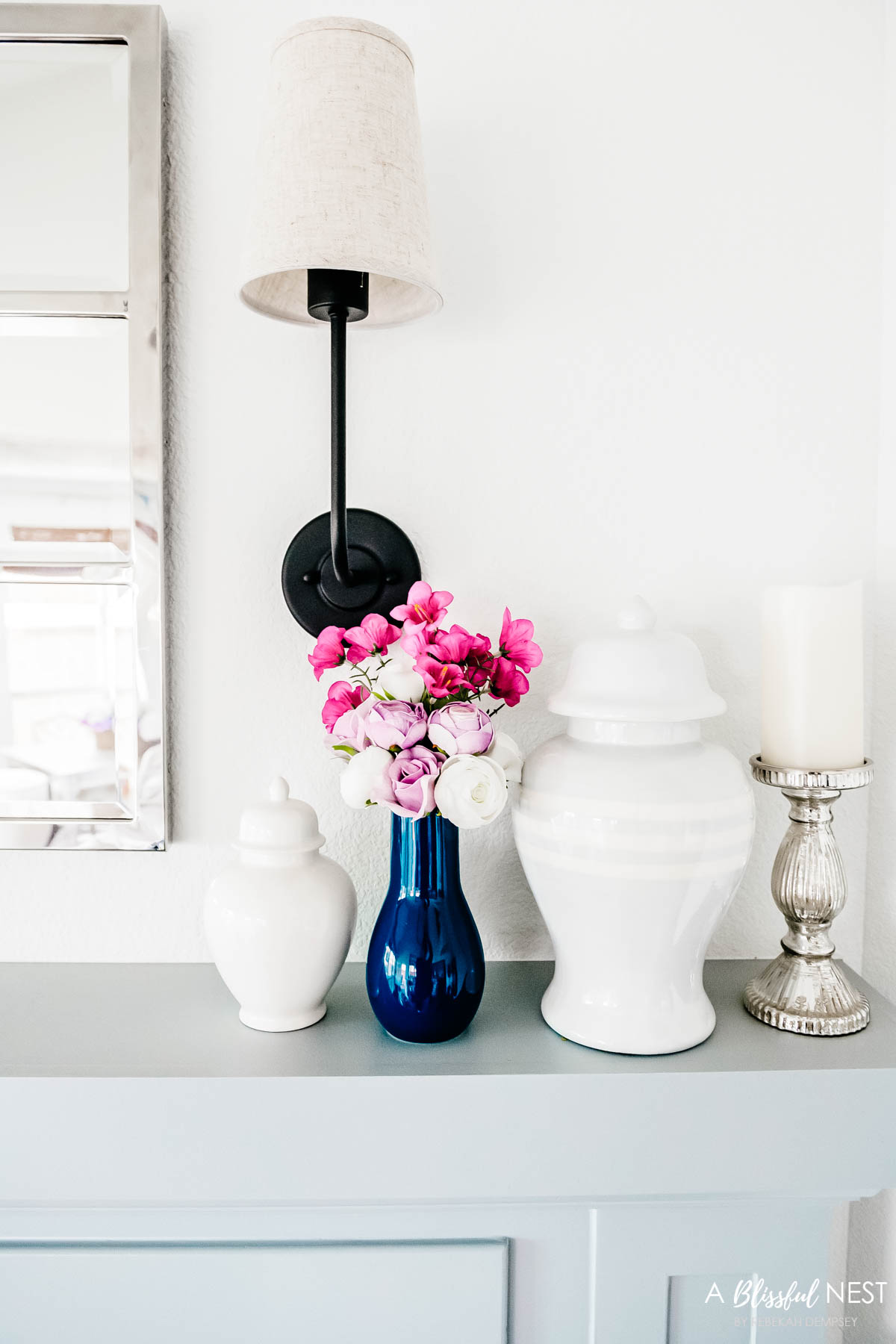 7. Edit your design
Once you've finished arranging your decor, step back and assess the overall look.
Remove any items that feel cluttered or unnecessary.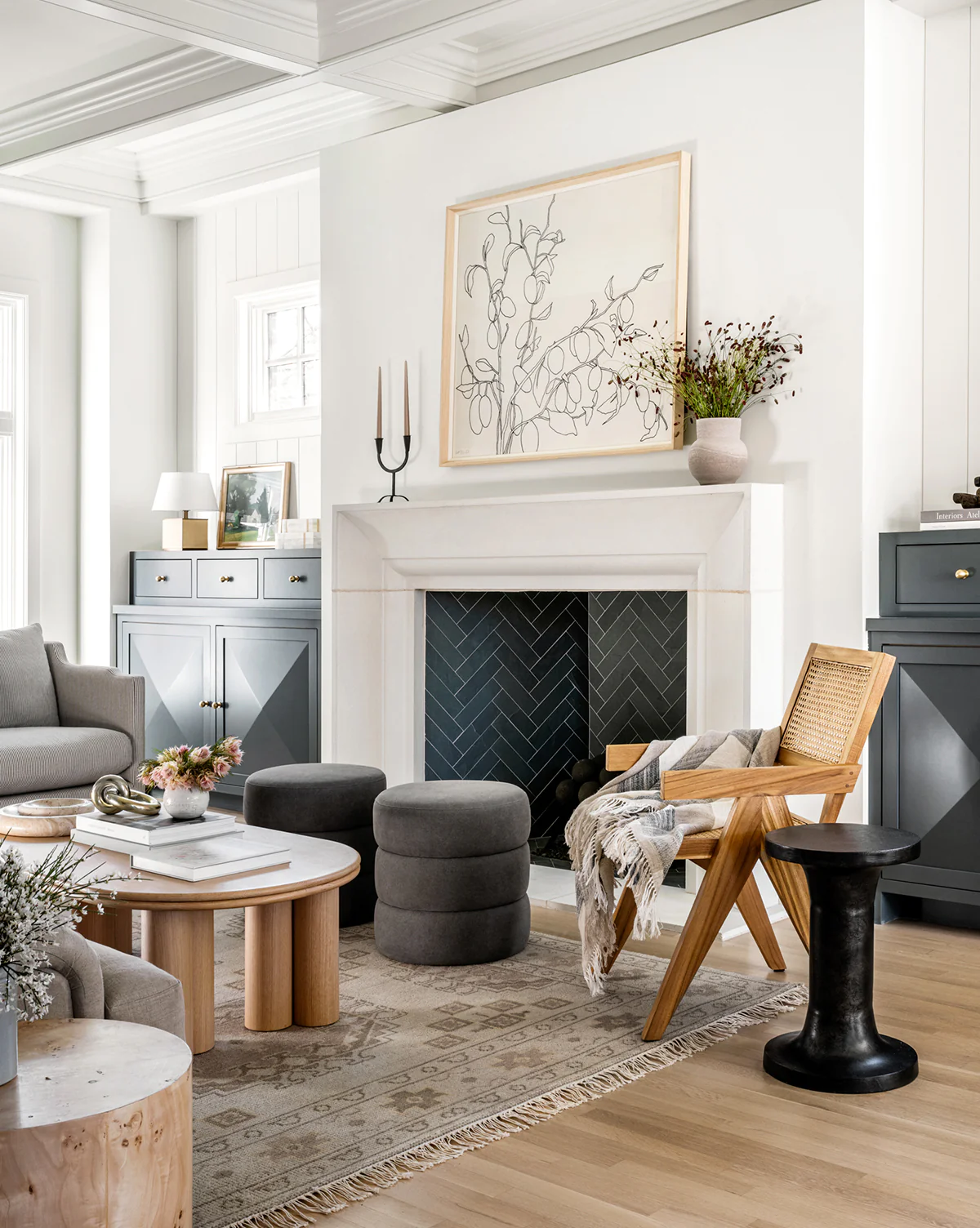 Decorating a mantel is one of the best ways to refresh your space, add a bit of personality and make your living room feel chic.
By following these simple steps, you can decorate and accessorize your fireplace mantel in no time!
Enjoy the process of decorating and finding the perfect decor items to complete your look.