How to Arrange Furniture + Plan a New Space in Your Home
This post may contain affiliate links. Please read our disclosure policy.
This is a sponsored post written by me on behalf of CORT. All opinions are 100% mine.
If you've just moved, in the process of or plan to soon then I am sure you are already planning the new space in your brain. It is important to be intentional with how you arrange furniture so you don't spend time and money you don't need to. I have come up with some tips and tricks to do just that for you that I can't wait to share with you!
Whenever I plan a new space or arrange furniture, I have a secret weapon in my pocket that is an amazing resource to help me. CORT Furniture Rental has always been a go-to furniture rental source for me when designing spaces for clients and myself, especially in transitional periods. This can be the toughest time because you want a big impact in your home but might not have it in your budget just yet.
So let's dive into how to arrange furniture in your new space and use this amazing source to make it affordable.
How to Arrange Furniture + Plan a New Space in Your Home:
1. Determine how your space will be used
First, decide what your room is going to be used for.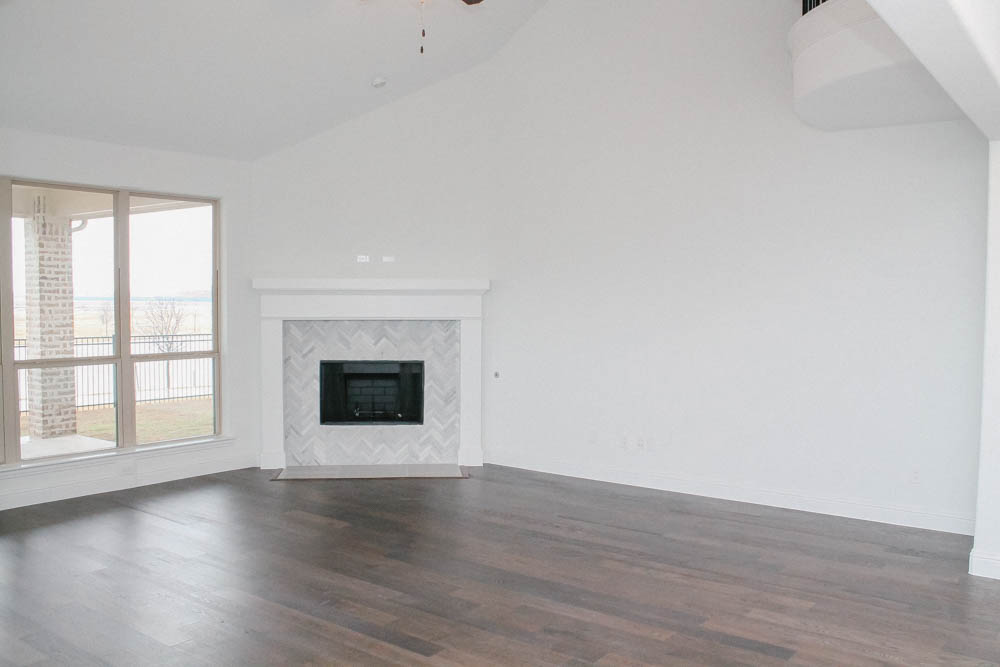 These days a lot of people are repurposing spaces rather than what they were originally for. Formal living rooms have become a thing of the past and are turning into libraries or lounges for entertaining. If you have both a breakfast room and a dining room, maybe you would rather use the dining room (that isn't used as often) as something else like a playroom for the kids.
Really thinking about your family's needs and what would be the ideal rooms you need, can determine how you use these spaces.
2. Create a focal point
Once you have decided how the space is going to be used the next step to planning a new space for your home is to create a focal point.
Deciding where you want your eye to be drawn to when you enter the room.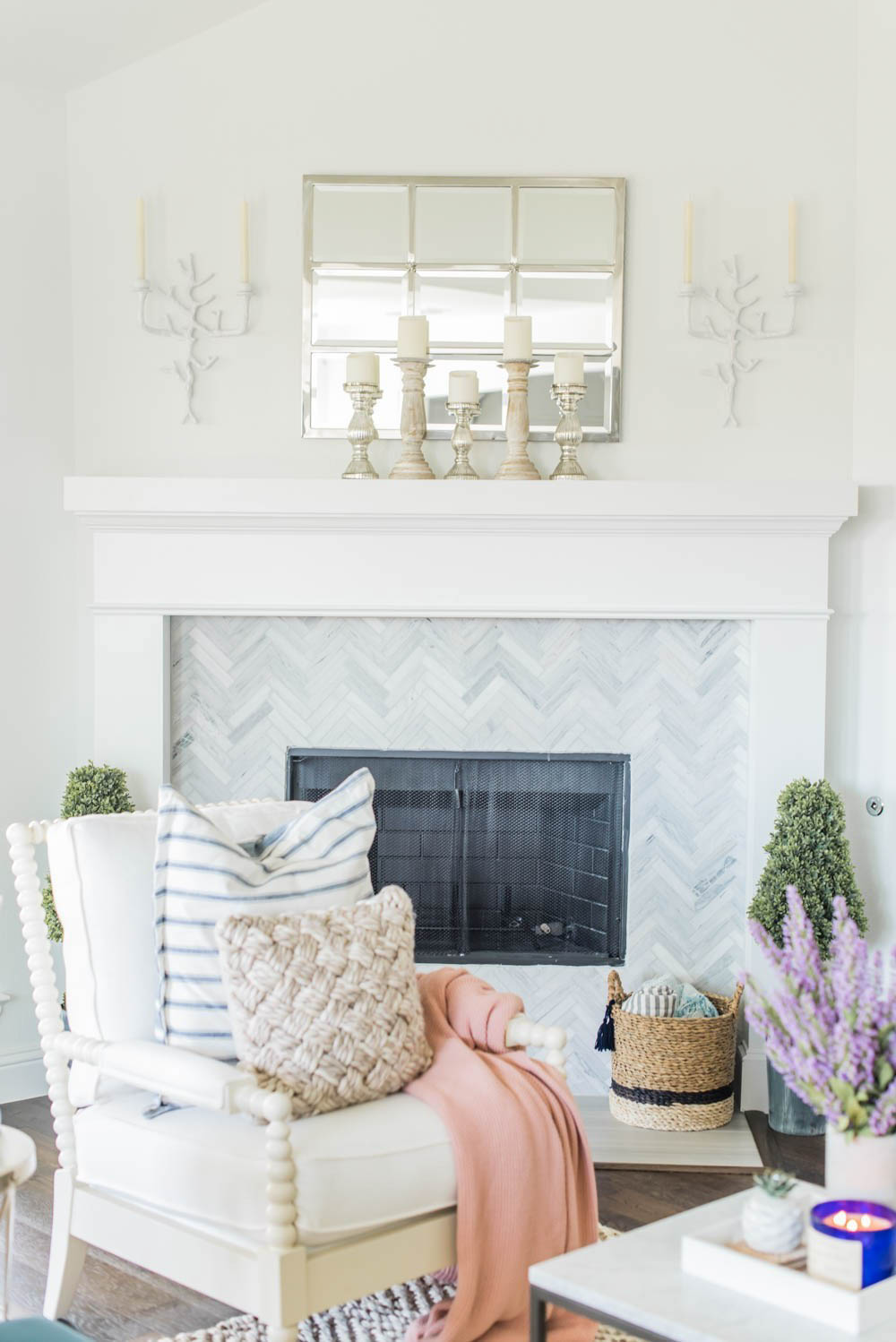 Is it above the fireplace, or to one side of the room?
How do you enter the room? Would it be straight ahead of you?
When you answer these pertinent questions, it will help you narrow down the flow of the room for furniture layout.
3. Select your anchor pieces to arrange furniture layout
Okay, you have the purpose and the focal point of your room nailed down. Now let's move onto the fun stuff . . . selecting the main pieces of furniture for your space.
This is when the scale and proportion really are key. The best way to tackle this is with solid measurements of the space. Then I suggest drawing it out. You don't have to be fabulous at this but you just need to see the basic sizes of what you will need. You can honestly just draw these as boxes to get the basic scale down.
This will help select the number of chairs, the size of your sofa, end tables, a coffee table, etc.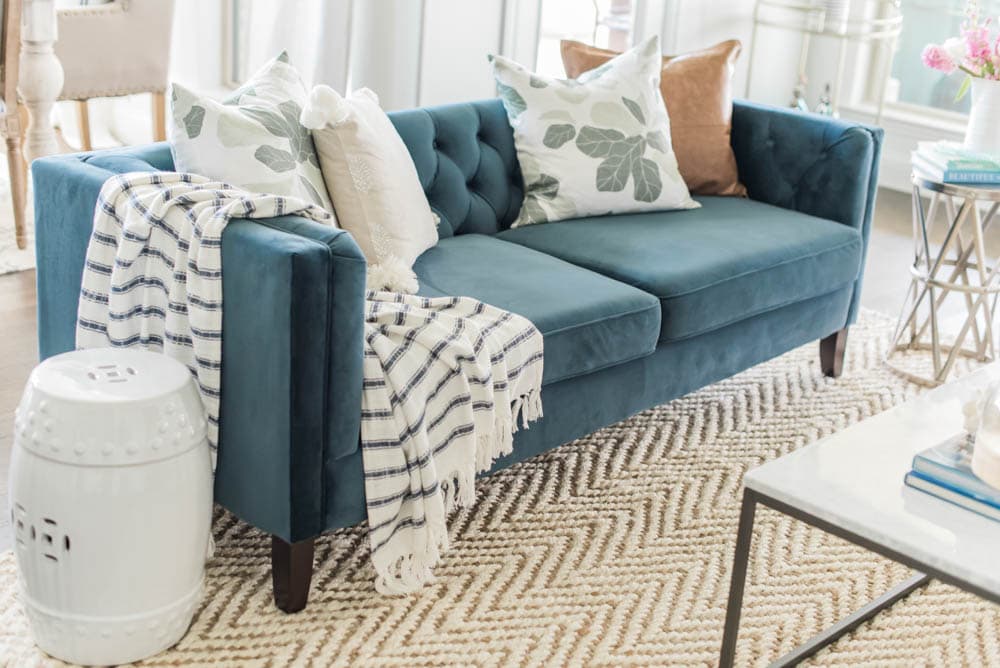 You can take your measurements to CORT to help narrow down the pieces you need. They are so extremely helpful and have such a wide selection to choose from.
I love that their pieces of furniture have on-trend designs to give you a modern updated look. I look for details like nailheads and piping on sofas and chairs. These details add sophistication to a piece.
4. Use area rugs to define your space
One of my favorite tricks is to use area rugs to define a space. Even if you have wall to wall carpet, an area rug will make all the difference in delineating what your conversation area is.
I do not like to have furniture smushed up against a wall unless in a bedroom. So an area rug can create the focal space where your furniture should sit.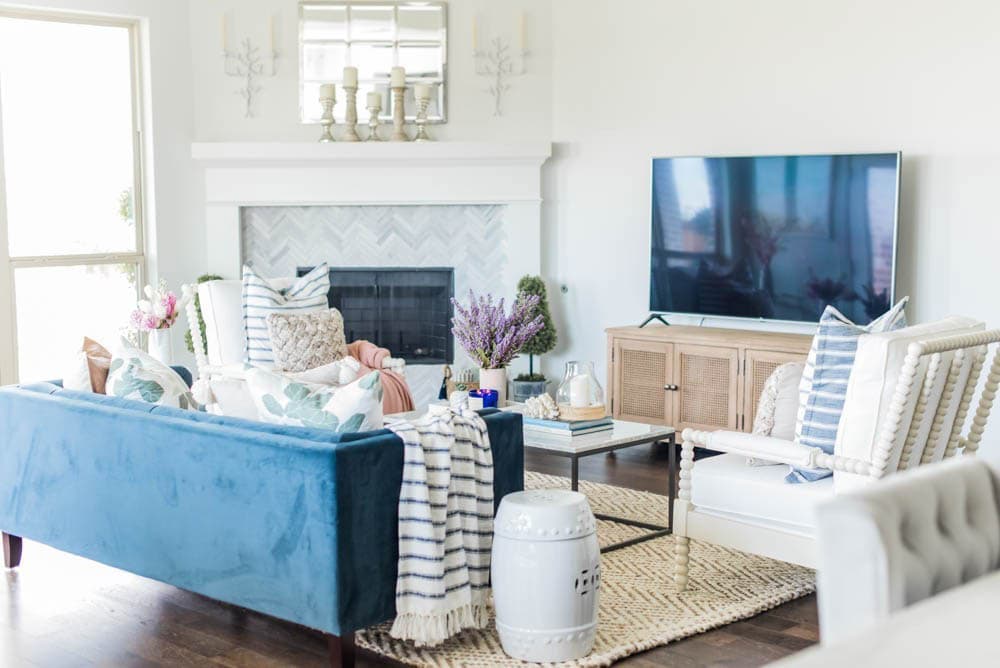 I even like to layer my rugs to create warmth. You can read more of my tips for layering rugs HERE.
When selecting rugs, CORT has such a variety in patterns like ikat and zebra print to more geometric prints for you to choose from. There are so many patterns that can fit any style from coastal to craftsman and instead of that you can change the whole look of your space 6 months down the line with renting pieces from CORT.
5. Add accessories to personalize the space
Adding accessories is the creme de la creme for me! It is one of my favorite things to do to a fresh space.
The first thing I do is make a list of the items I need. Making a list will again help with your budget so that items you don't need, stay out of your shopping cart.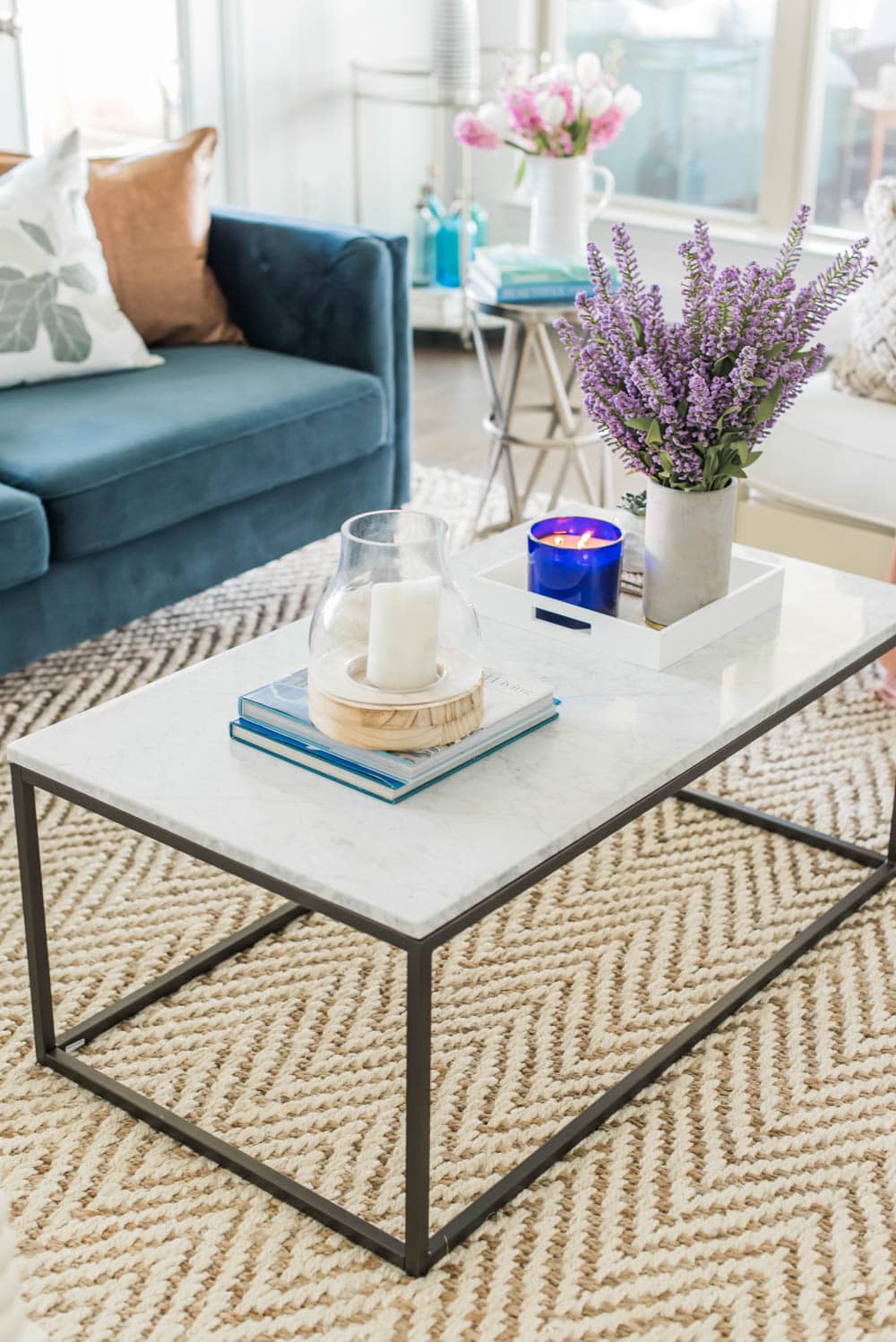 I tackle my focal area first. If this is a mantle or a bookcase, do you need a mirror or piece of art here? What other accessories like plants, vases or candlesticks might help complete this space. You can use my guide on how to decorate a mantle HERE to help make your list.
I love to walk the showroom at CORT because their accessories are all displayed in mock room displays. It makes it so much easier to visualize where to put them in your space and see the scale next to a piece of furniture. I also love to pre-shop pieces on CORT's website. From lamps, pillows, art pieces and mirrors, you can select pieces and find what locations they are at ahead of time.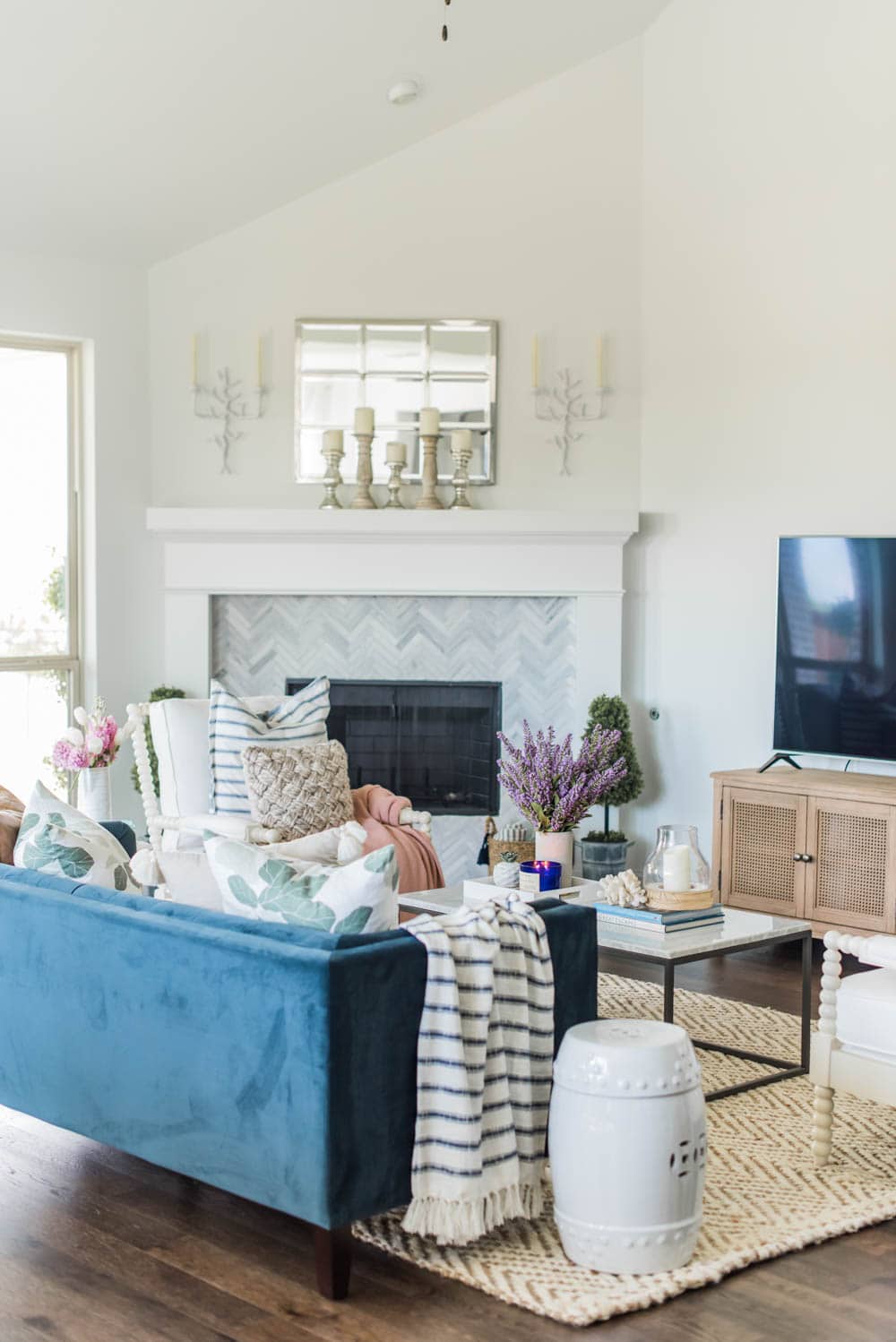 Planning a new space and arranging the furniture in it doesn't need to be such a challenge. It's as easy as breaking down the steps to be done and having the right resource like CORT to find the pieces you need. Also, check out the CORT blog for more inspiration and ideas! I know this will become a favorite resource for you too!
THIS IS A SPONSORED POST. A BLISSFUL NEST HAS RECEIVED PAYMENT, TRADE, AND/OR PRODUCTS FROM CORT IN EXCHANGE FOR PROMOTING. HOWEVER, ALL OPINIONS STATED ARE OUR OWN.