Best White Paint Colors For Interiors + How To Decorate With White
This post may contain affiliate links. Please read our disclosure policy.
Picking white paint for your home can feel no less than daunting thanks to all of the options out there. Plus, isn't white boring to use for decorating? Not anymore. With these decorating tips and my top picks for the best white paint colors, you'll love white all over again.
Have you ever sat down and tried to pick out white paint for a space in your home? There are SO many different shades of white that I think white just might be one of the hardest paint colors to choose unless you follow my tips for selecting the perfect shade!
Over the years I have had to train my eye to recognize the subtle differences between warm white paint colors and cool white paint colors. This can make all the difference in a space depending on lighting and furniture selection.
White paint, depending on the undertones, can feel crisp and clean, cool and sterile, or warm and comforting. So I've gathered my favorite white paint color shades, how to use them and the best tips for achieving the look you want.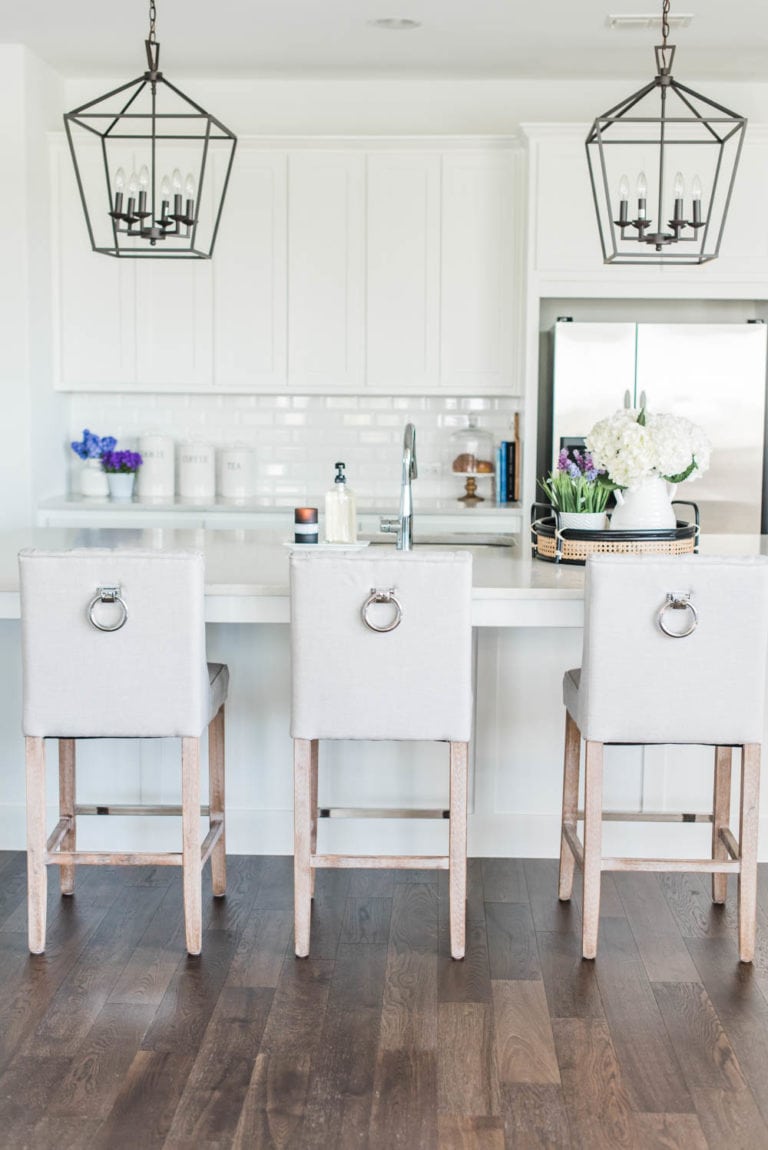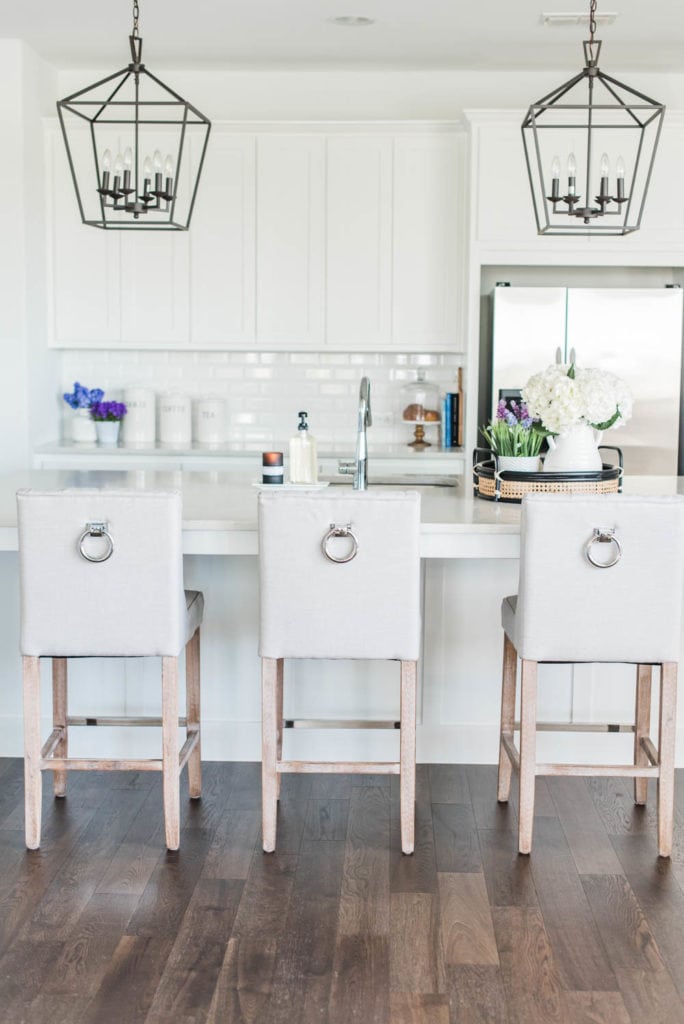 What's more, white paints look VERY different on walls than they do on paint swatches. A white paint swatch can look slightly blue, green, gray, or beige and yet every single one of them will look white when painted on a wall. No matter what undertones it has, though, white is a neutral color.
At the same time, choosing the wrong shade of white will give the room a very wrong feel, so picking the right one is key. But remember how I mentioned that there are so many to choose from? With literally dozens, maybe hundreds, of different shades of white to choose from, where do you start?
That's why I'm narrowing down the list of my favorite white paint colors to help start your search for that perfect white for your space.
Top 6 Best White Paint Colors
How do you choose a shade of white? Choosing the perfect white paint color from scratch may seem overwhelming, but these six no-fail white paint colors can basically do no wrong in my book! Here are my top 6 picks for the best white paint colors in any space to help you narrow it down.
Bright White by Sherwin Williams
This is definitely my favorite color on the list! In fact, I believe so strongly in this one, that I had our builders paint every single wall in our home Bright White. This is a photo from my master bathroom which you can see the walls and cabinets are painted with this shade. With some accessories and touches of gold, it gives it a modern look. You can see the rest of my home under Home Tour.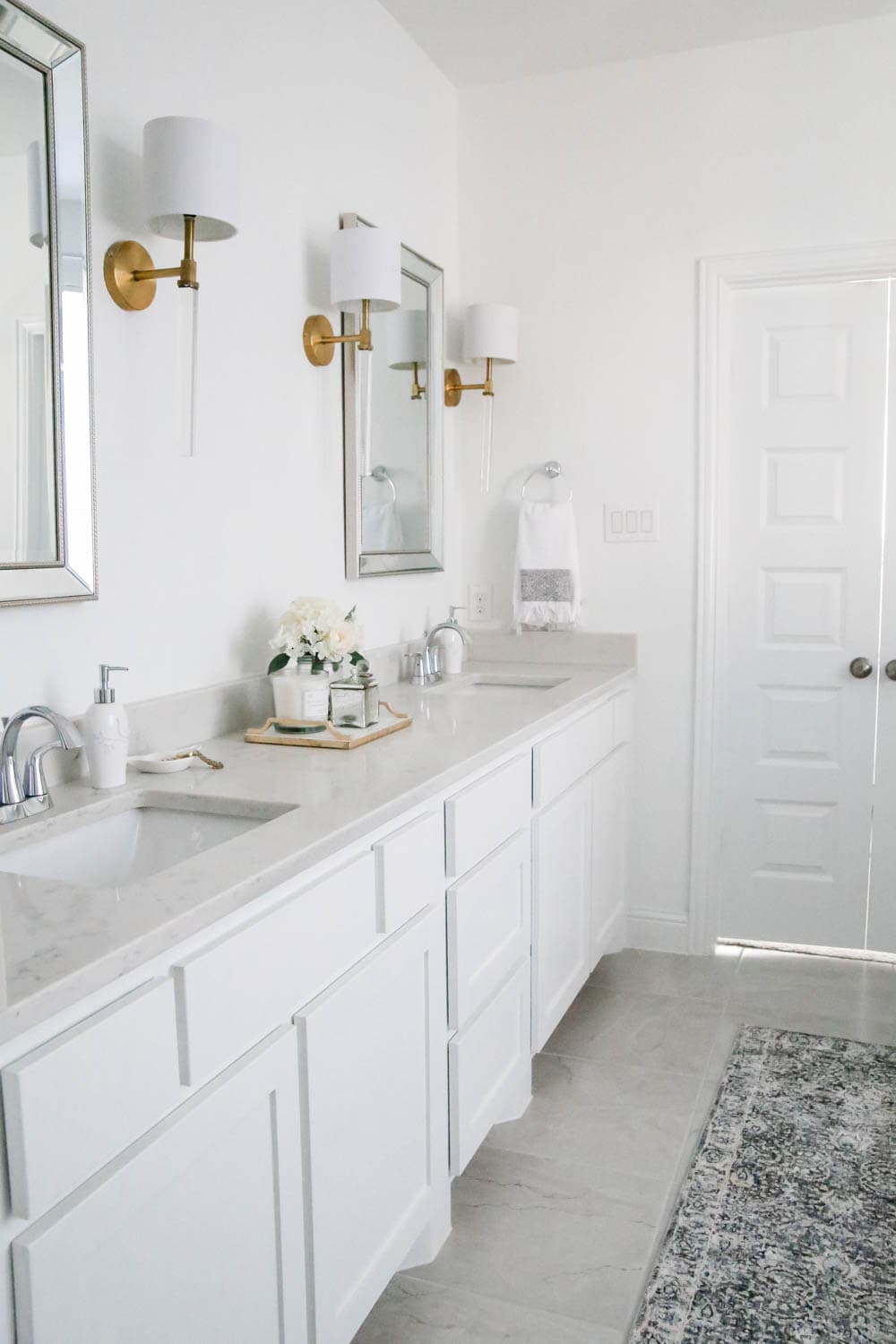 Sherwin Williams Dover White
This color just might be the best white paint for kitchen cabinets to give that crisp clean feeling without looking blue or creamy. Consequently, it's one of the best white paint colors due to its ability to feel warm and livable without looking yellow.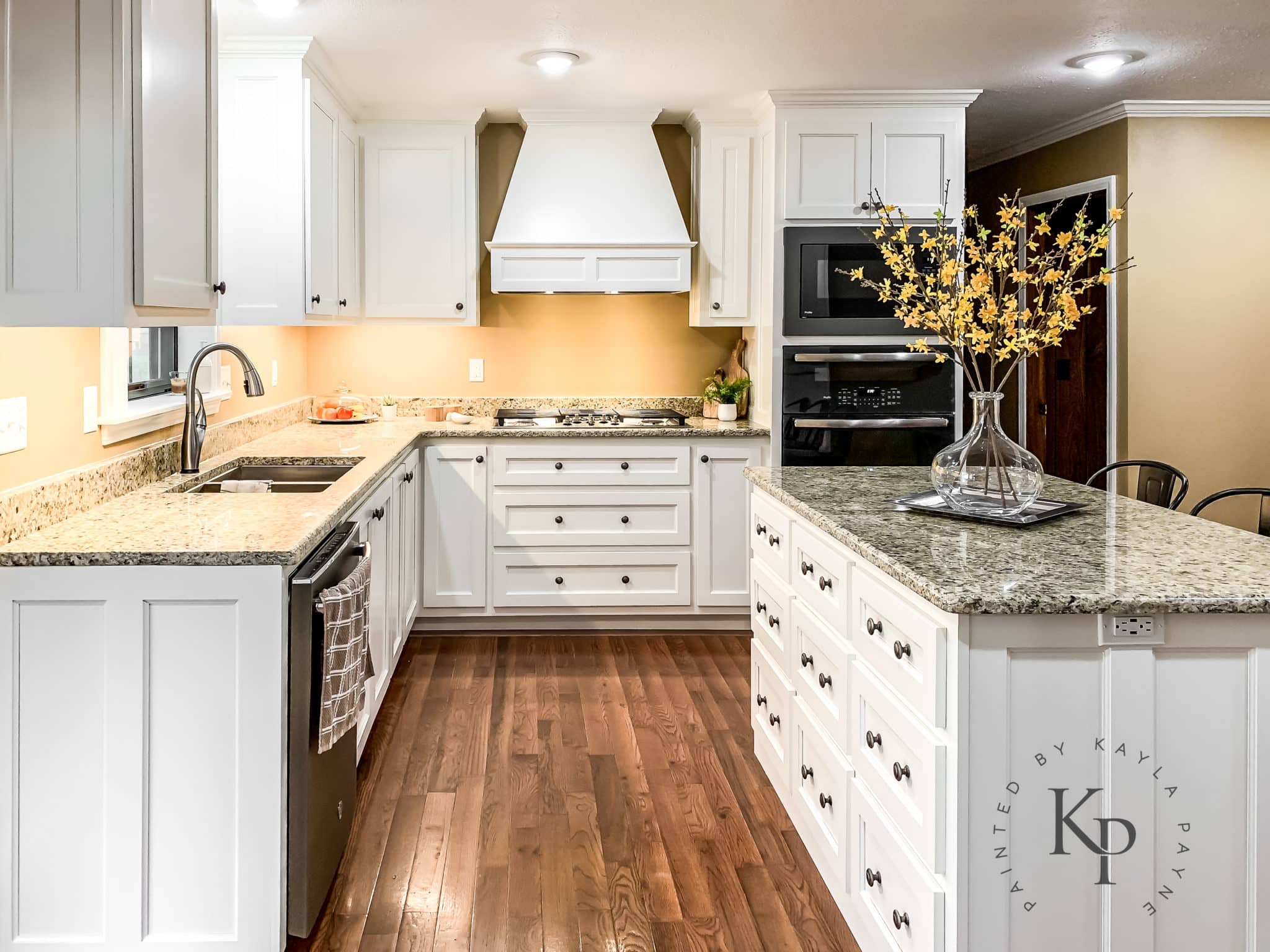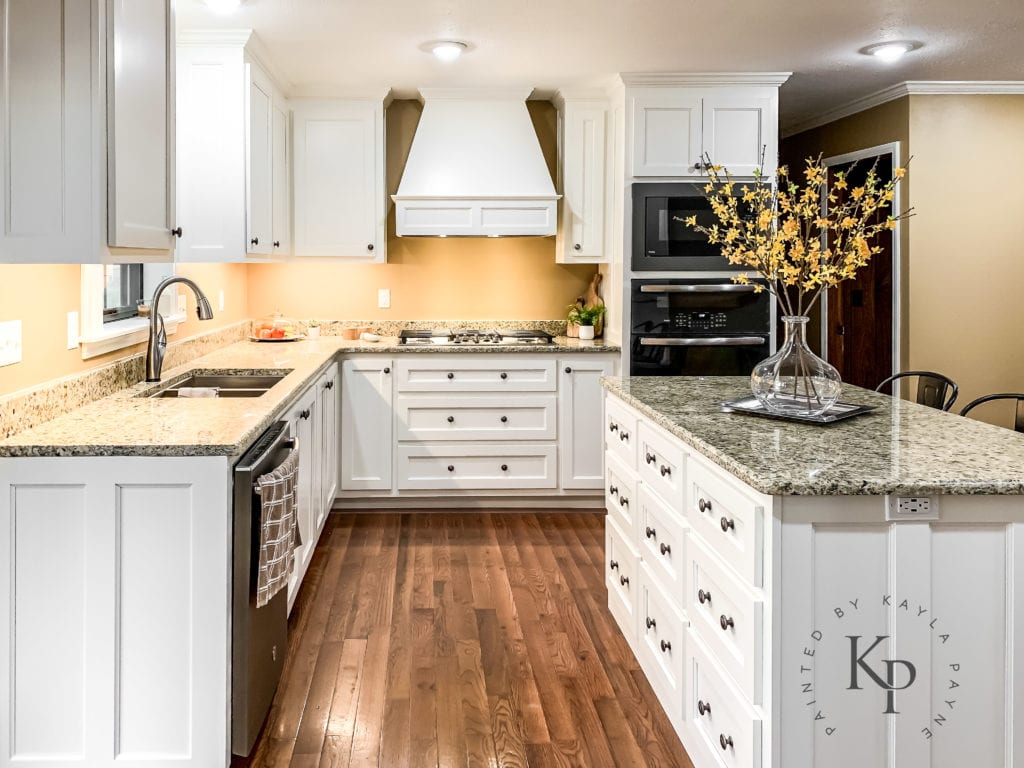 Sherwin Williams Spare White
Spare White is a cool white with slightly gray undertones. This color is beautifully bright without being blinding. In some lights, it looks like a true white, while in others the gray tone starts to show through more.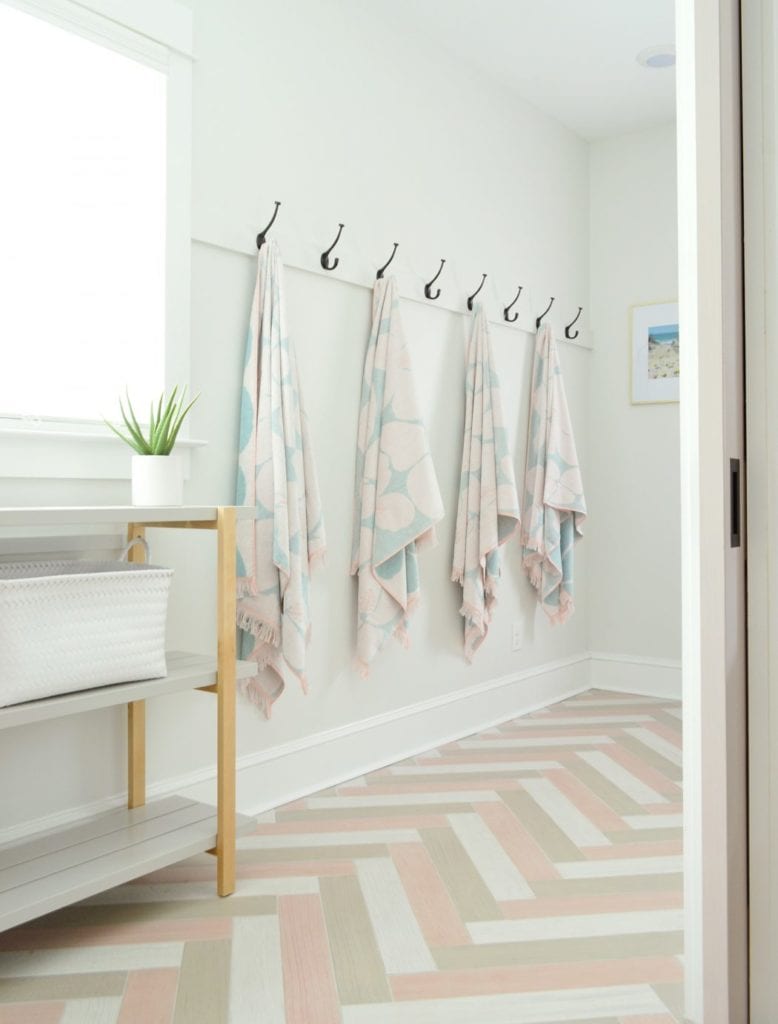 Benjamin Moore White Dove
White Dove by Benjamin Moore is incredibly versatile without being sterile. It has just enough yellow in it to soften the color while still looking pure white on the walls. This popular classic color is a favorite among designers and homeowners alike.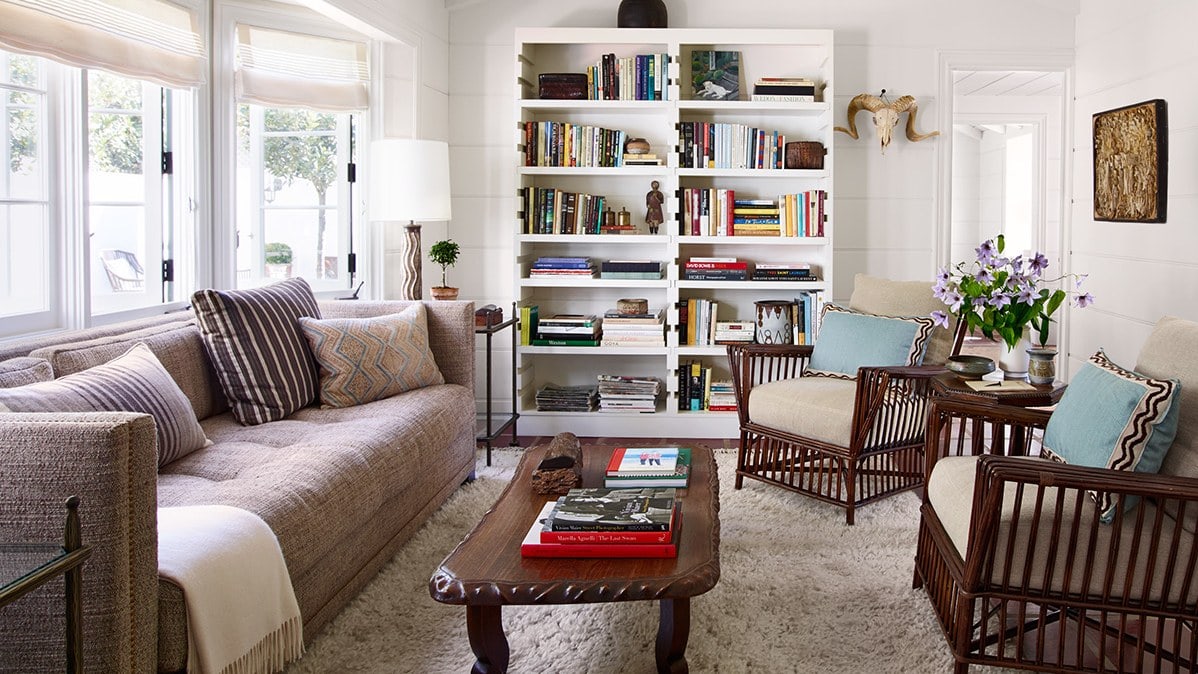 Behr Swiss Coffee
Swiss coffee is just creamy enough to be a very warm white. In my opinion, it's one of the best warm white paint colors for that all-around cozy feel. Pair it with brighter white trim to create a light, airy, homey feel for any room.
Benjamin Moore Simply White
Simply white reads warm with very subtle undertones. It's just yellow enough with warm gray undertones to look pure white on a wall without looking like a hospital. In my opinion, one of the best white paints for walls, it's perfect for kitchens, bathrooms, and any room.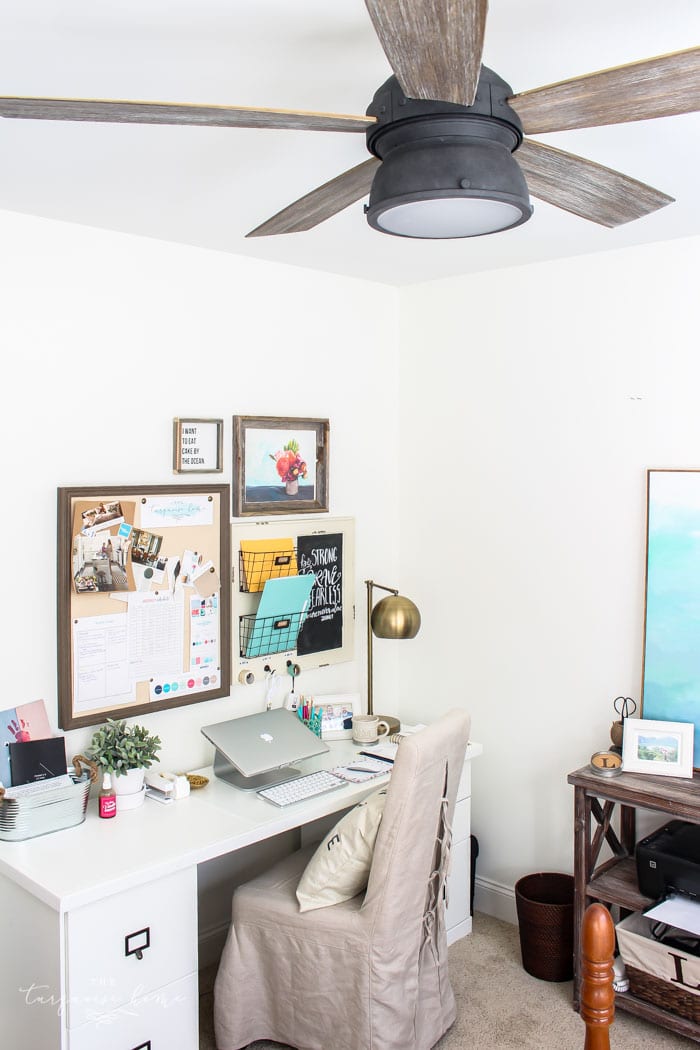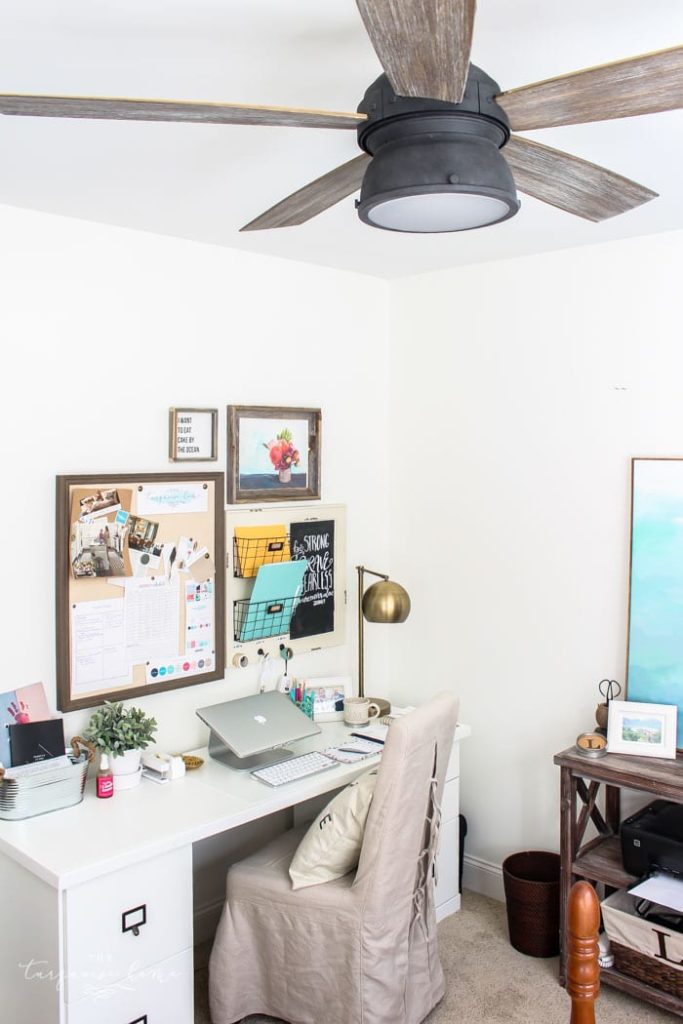 Don't let picking a white paint intimidate you anymore. With these options for the best white paint colors, you can play around with different tones to find just the right one (or two) for your lighting.
How to Decorate With White
Want to know how else you can decorate with white besides just on the walls? The options are endless! I think there is a common misconception that decorating with white is boring. Let me assure you that decorating with white is anything BUT boring!
One of the great things about white is that due to its complexity there's a simplicity that draws the eye. When you add in different shades of white and bring those undertones into play, you create great depth and visual interest – all within the scope of using a neutral white and keeping a light and bright color scheme.
To show you what I mean, here are some great examples of decorating with white.
Layer Tones
This bedroom, even though it's almost all white, feels quite intimate and comfortable. The super-plush bed with white sheets, paired with the creamy knit throw blanket do a lot to create that feeling.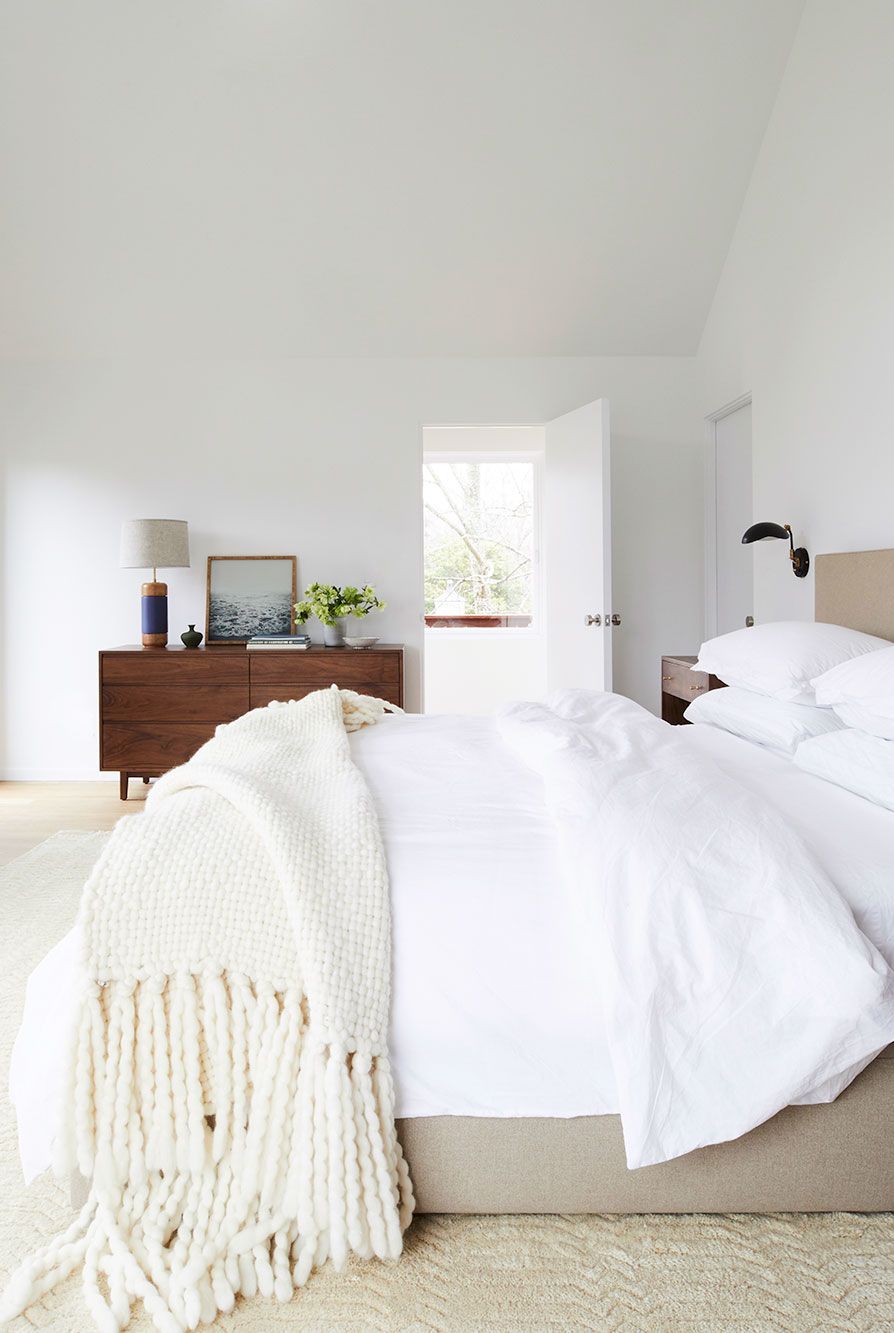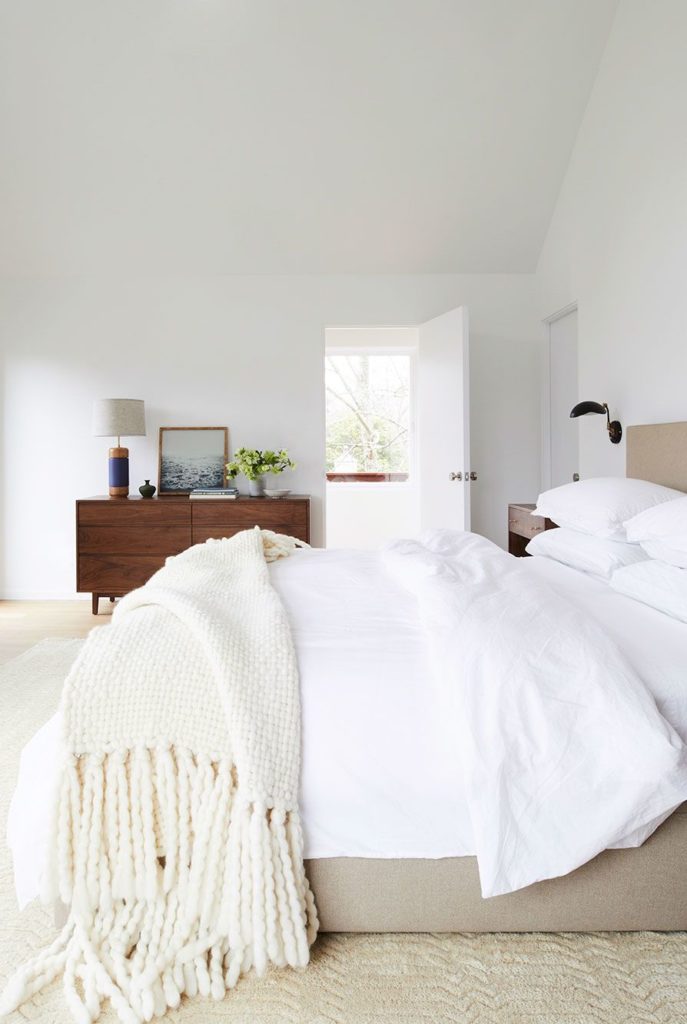 Here's another example of layering different tones of white to create a warm and cozy space. Pair warm whites with gray whites and even creams to create a lot of depth and visual interest. This picture shows a bedroom, but the same effect can be created in a living room – or any other space.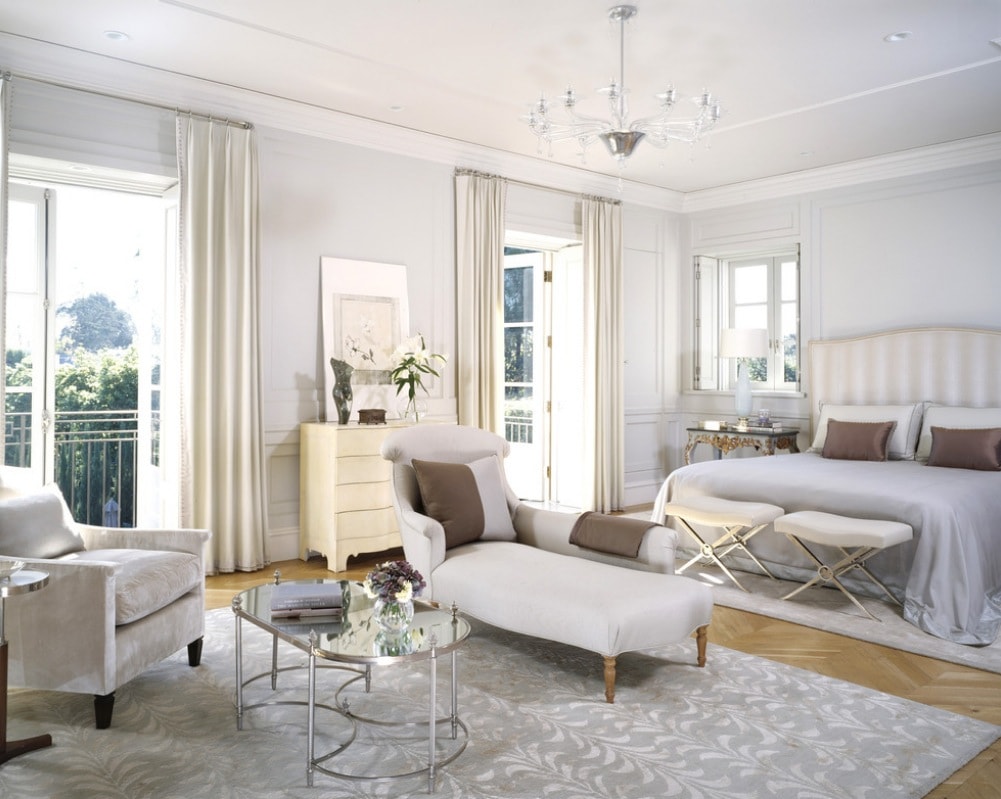 This bathroom uses multiple different tones of white to create a layered effect that is also bright, airy, and elegant, all at the same time. I love how that window just pops!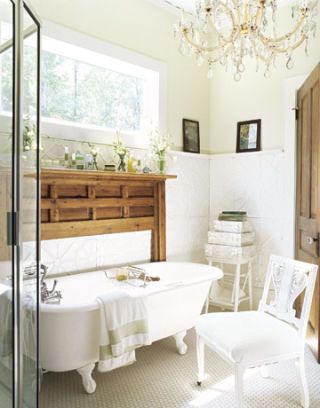 Use Texture
Nothing at all boring about this white palette! From the fur rug to the trim on the walls and the whitewashed wood trunks, so many textures come together in a very visually pleasing play.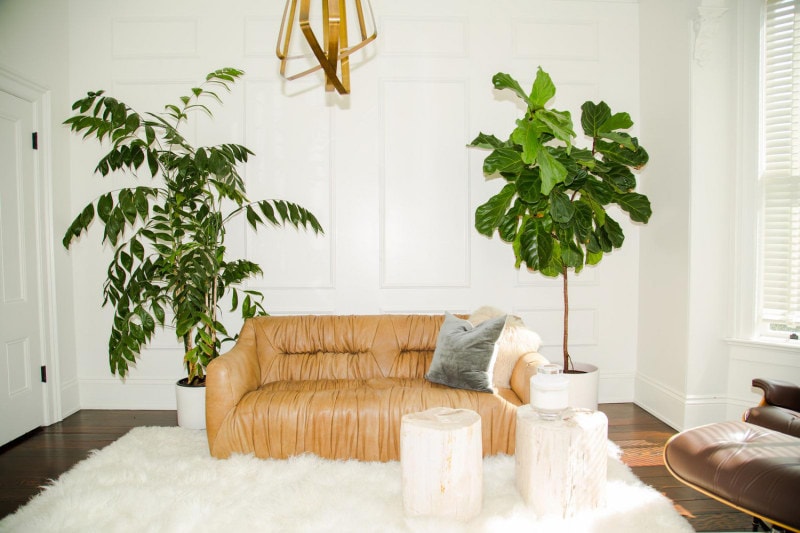 Of course, you can also use texture to give a white space more depth and interest. Due to its many tones and subtleties, white is an easy color to use when mixing textures or patterns. Using this technique creates a space that's warm and inviting – all while looking like a show home. This works especially well in a bed where you can mix and match textures and shades of white in an easy-to-change way.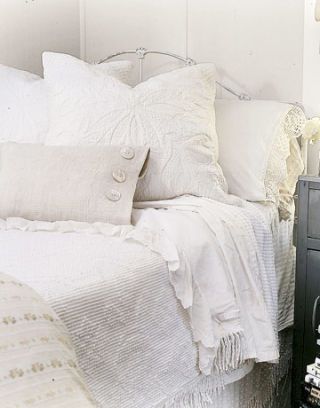 Using white on the boards of this room accentuates not only the texture of the boards (the horizontal lines) but also the pitched ceiling to create a look that is somehow equal parts bright, airy and dramatic.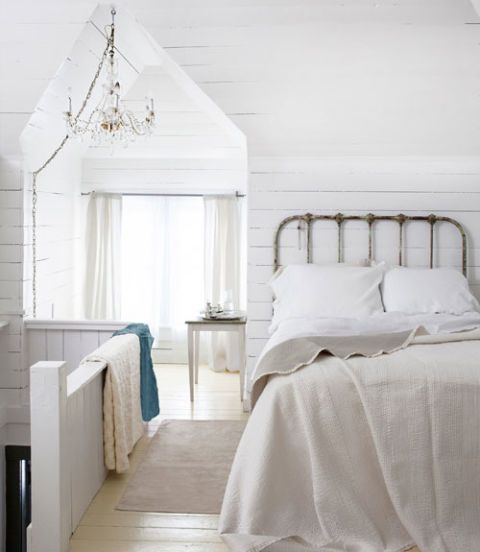 Use Accent Pieces
A white bookshelf can really stand out in a room. Turn a simple piece of furniture like this one into a focal point in any room. I think using white is especially fun because it makes any color you put on it pop!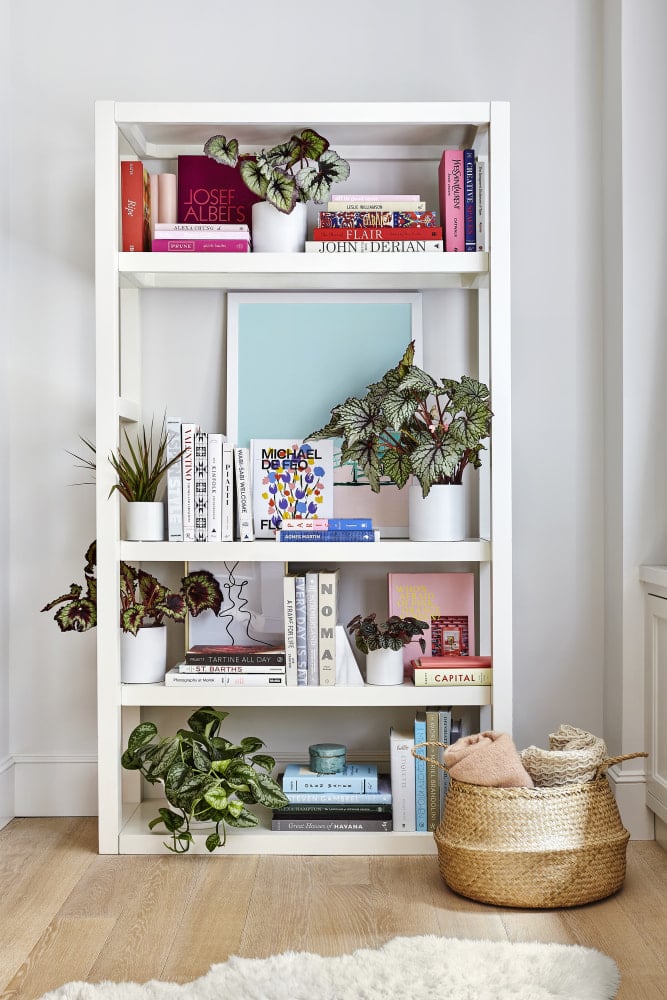 In an all-white kitchen like this one, you can clearly see that white is anything but basic! I love white cabinets against the white marble, and of course, the vent hood is amazing too! If you want a smaller change, lamps add a beautiful focal point to any décor that keeps your space bright and clean-looking Whether you are using hanging lights or table lamps, add white lamps to your space.
Pair with Other Materials
If white paint scares you and you want to dip your toe in without fully committing, try pairing a pretty white with some contrasting materials.
For example, here's another gorgeous white kitchen. As you can probably tell, white has a way of helping other materials to take center stage. Pair white walls, cabinets and backsplash with a wood island top and wood chairs for a chic, rustic look.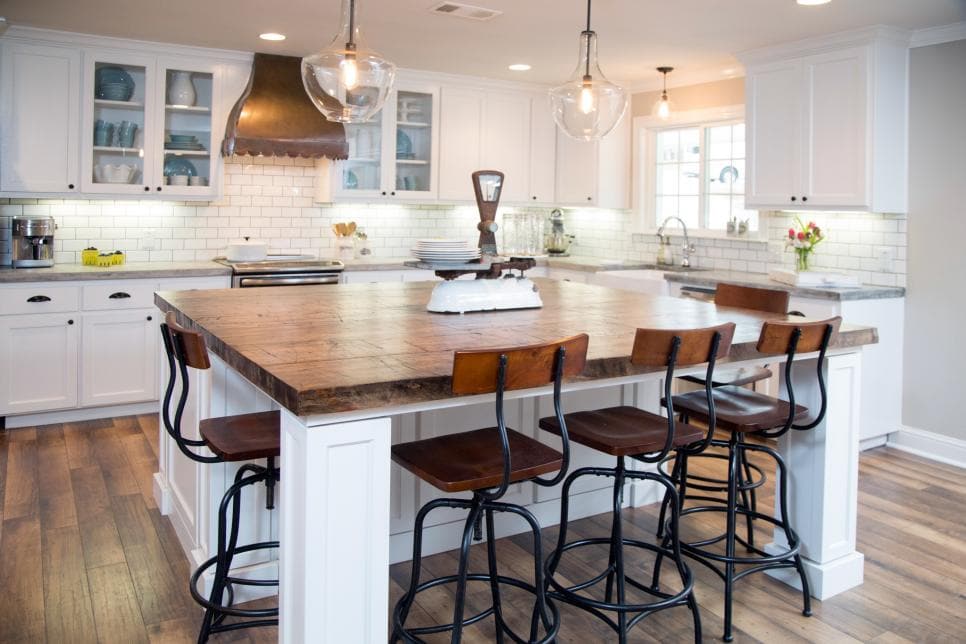 Decorating with white inspires feelings of coziness and relaxation, at the same time, making it a perfect color for any room in your home. Plus, it's also a really fun color to mix and match with different hues. Have fun!
Tips for Selecting the Perfect Shade of White
When selecting the perfect shade of white paint color for your space there are a few things you should take into account. The biggest thing to look at is your lighting. Do you have lots of windows and get a lot of direct natural light? Then you should select a warm white paint color. If you use more overhead lighting, then you should select a cool white paint color so it does not look yellow.
Next look at the furniture you have for the space. If you have rich dark-toned furniture then using a cool white paint color would be best so the roo doesn't feel muddy looking.
Once you have a few white paint colors narrowed down, out some samples up on the walls. I like to make my samples at least 2′ x 2′ so I can really see a good chunk. Make sure if you are putting it on top of a darker wall color to prime the wall before you put the sample up. I also like to do 2 coats of my sample to get the real depth of the color.
Here is a quick reference guide for you:
A shade will look different from one room to the next due to lighting
Always paint a 4×4 swatch on the wall to see if it will work
Always paint 2-3 coats at least for a realistic swatch on the wall
Pop the trim in a white for a dramatic effect
Use accessories in the same shade to give your wall color some depth
I hope you love these tips and you find the perfect shade for you!
More Paint Color Ideas + Inspiration
Get even more ideas on paint colors with these other posts. Just click on their titles to go right to the posts.
Pin our image below with our favorite white paint colors to save it for later!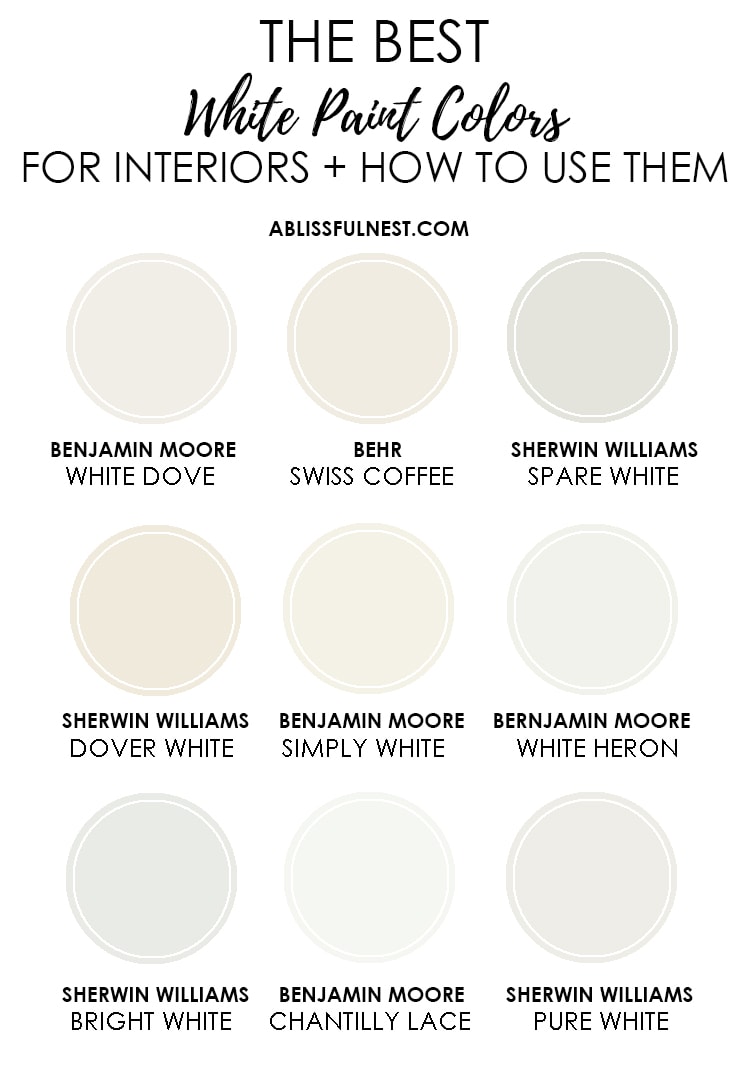 Follow along to get more of my tips on home decor, DIY and lifestyle on the following: