Best Front Door Paint Colors
This post may contain affiliate links. Please read our disclosure policy.
Your front door is not just an entryway to your home; it's the first impression visitors get of your home's style and personality.
It's also a small but important detail that can make a significant impact on your home's curb appeal.
To give your front entryway a bold and fresh look, one of the easiest and most affordable ways is by painting your front door.
But it's not just about picking any color; certain colors are perfect for creating a welcoming and stylish front entrance.
When it comes to choosing the perfect color, the options can seem overwhelming. Should you go bold with a bright hue or opt for a classic shade?
We've compiled a list of the best front door paint colors that are sure to make your entryway stand out.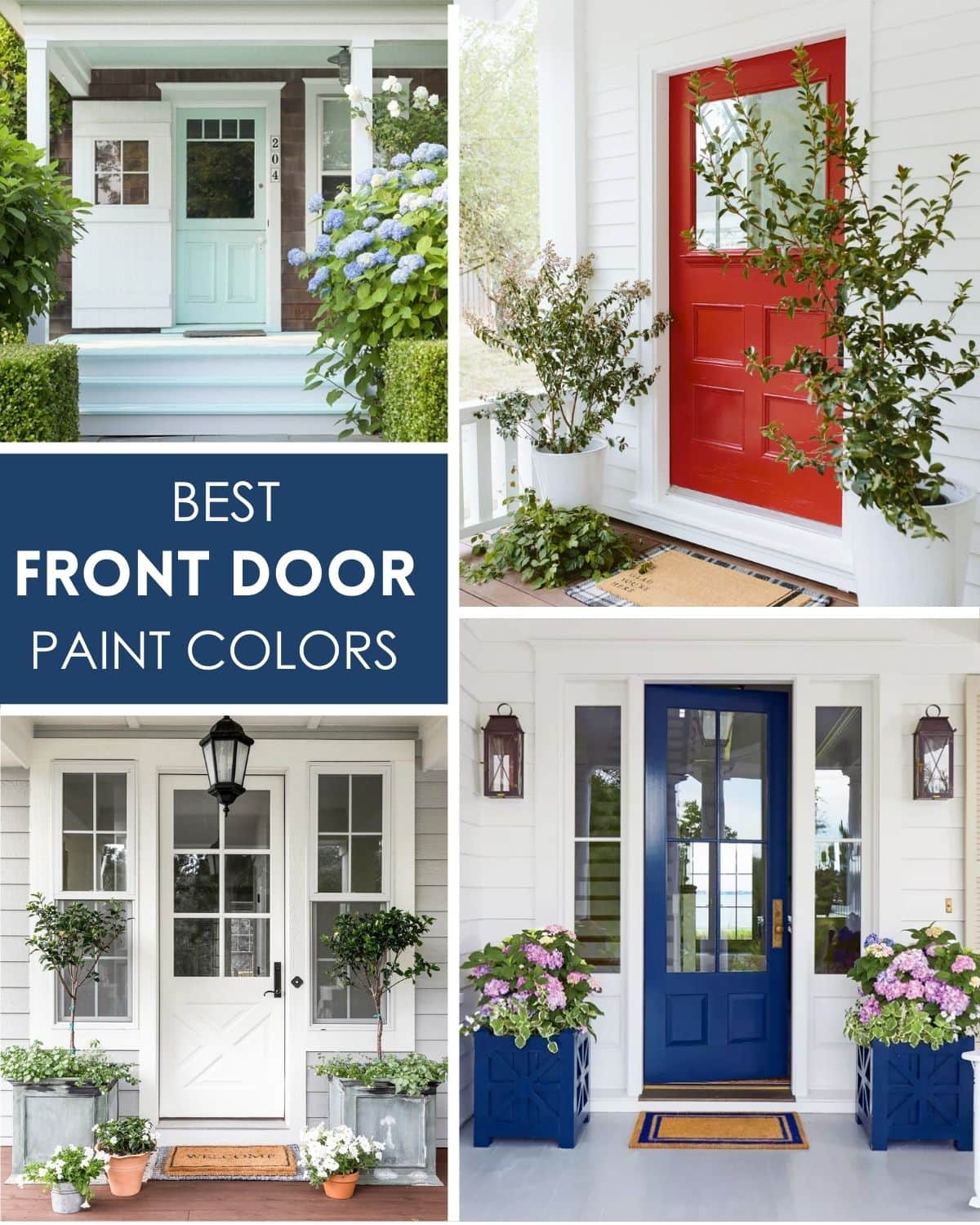 We will delve deeper into the latest paint color trends for front doors, and provide you with practical tips for picking the right color for you.
From bright and bold hues to classic and timeless shades, we'll help you find a color that will make your front door shine.
What Is The Most Popular Color To Paint A Front Door
There are a few front door colors that are popular that are currently trending.
A dark blue front door is one of the most popular choices. Typically people pick this color when they want their front door to still have a traditional classic look but with a modern twist.
A black front door is also very popular. It really holds an elegant look and goes with just about every home style.
Regardless of what seems to be trending, it is important to select a paint color you love!
What Color Front Door Is Best For Resale
A black front door is the most popular front door color adding value to a home for resale.
Black is a classic and timeless color that never goes out of style, and complements many home styles, from traditional to modern.
A black front door can create a dramatic and sophisticated look that adds contrast and depth to the exterior of a home.
Black hides dirt and scuffs better than lighter colors, so a front door will maintain its sleek appearance even with heavy use.
Black front doors create a strong contrast against lighter-colored walls or siding, which can draw attention to the front of the house and create a focal point.
This can enhance curb appeal and make a home stand out in a neighborhood.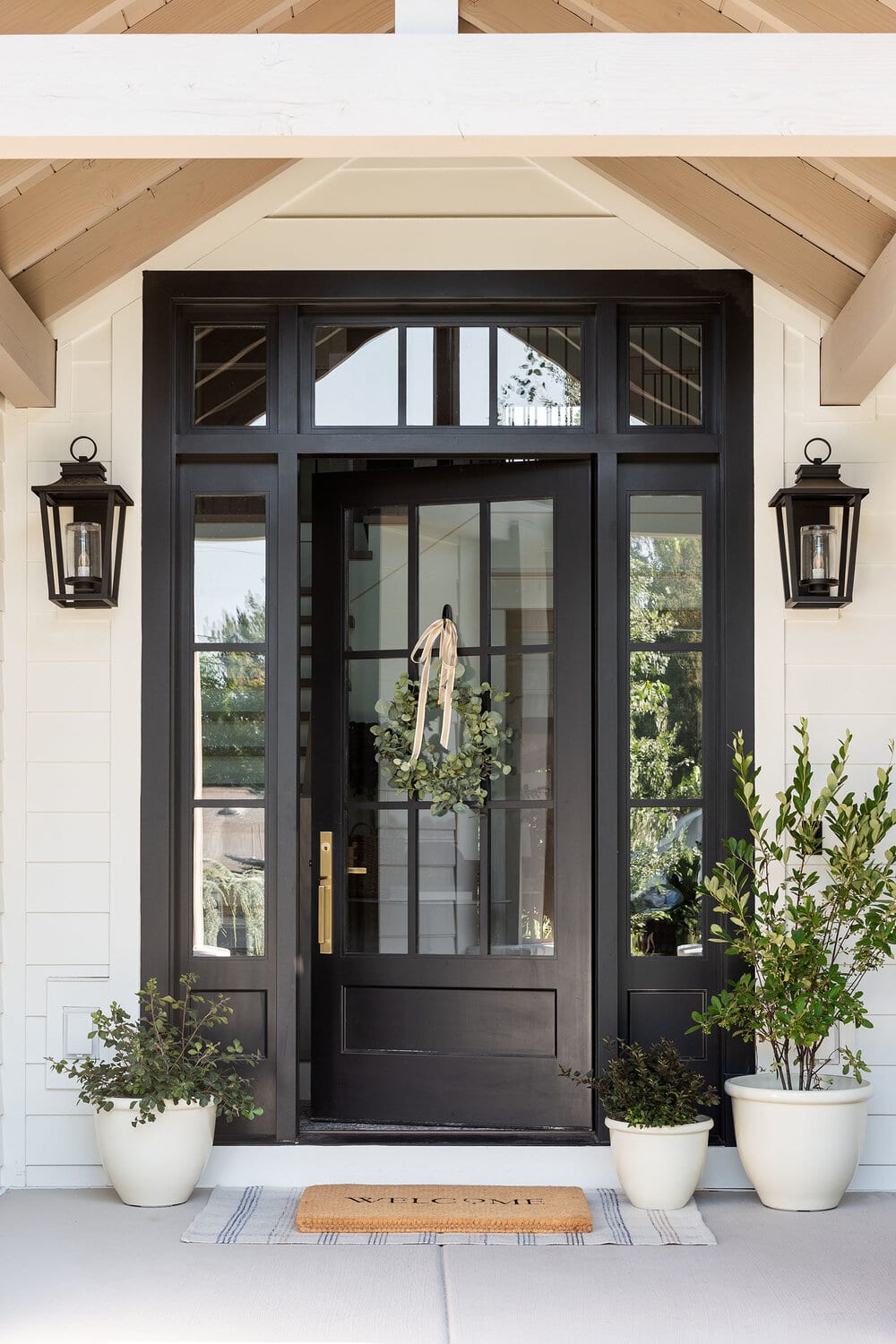 What Color Front Door Has The Most Curb Appeal
The color of a front door that has the most curb appeal can vary depending on the style and color scheme of the house.
However, buttery yellow and brick red add an unexpected pop to the curb appeal of a home.
Generally, these two paint colors catch your eye quickly and are complimentary colors to landscaping.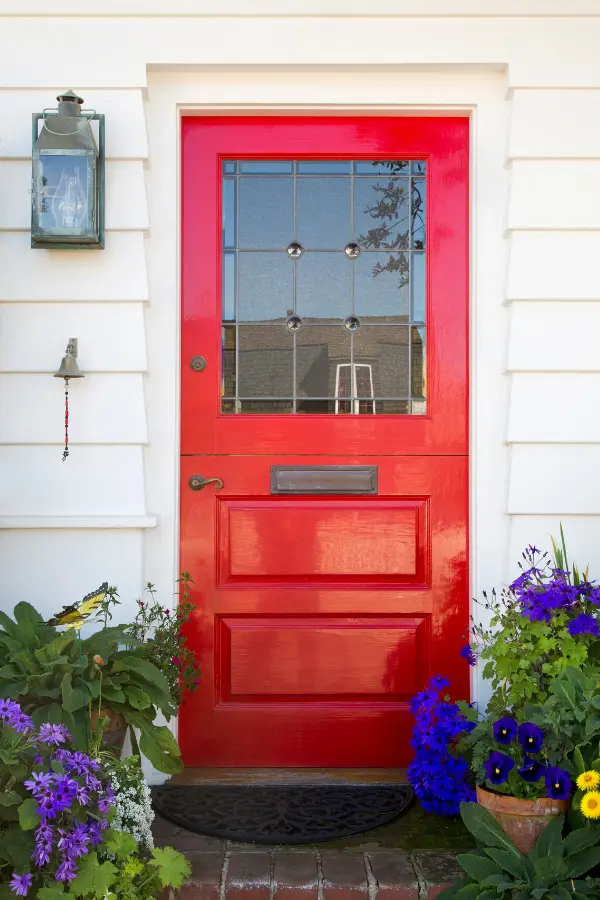 What To Decorate Your Front Porch With
Decorating your porch to match a gorgeous front door paint color doesn't have to be hard. With a few key pieces that can go with any color you choose, your porch will be a showstopper!
We've curated a few pieces to help you spruce up your front porch below!
Tap Photos To Shop

Best Front Door Paint Color Ideas
Choosing the right front door color can significantly enhance the overall aesthetics of your home.
Whether you prefer bold and vibrant or classic and timeless, there are plenty of front door paint colors to choose from that can make a striking statement, while also creating a welcoming entranceway.
Some of the most popular options include various shades of blue, green, and red, as well as neutral tones like gray and black.
Each color has its own unique symbolism and mood, so it's essential to choose a hue that resonates with your personal style and complements the home's overall architecture.
Ultimately, painting your front door can be a fun and rewarding endeavor that adds value to your property, enhances curb appeal, and reflects your individual taste and personality.
With this guide to the best front door paint colors to choose from, you're sure to find the perfect shade for your home's unique style.