How To Decorate With Green
This post may contain affiliate links. Please read our disclosure policy.
Learn how to decorate with green and what are the best turquoise paint colors to use.
Our paint color guides are a great resource for finding the right shades for your home and today we are going to dive into the color turquoise so you can feel confident using this vibrant color.
There are so many ways to use this striking color – as an accent, as a focal color, on the outside of your house, etc.
I want to stimulate your mind to think outside of the box on how to use this color in a way that makes your personality come out in your home.
Green really is such a fun color and you can use it to make a statement with either paint colors or home decor pieces.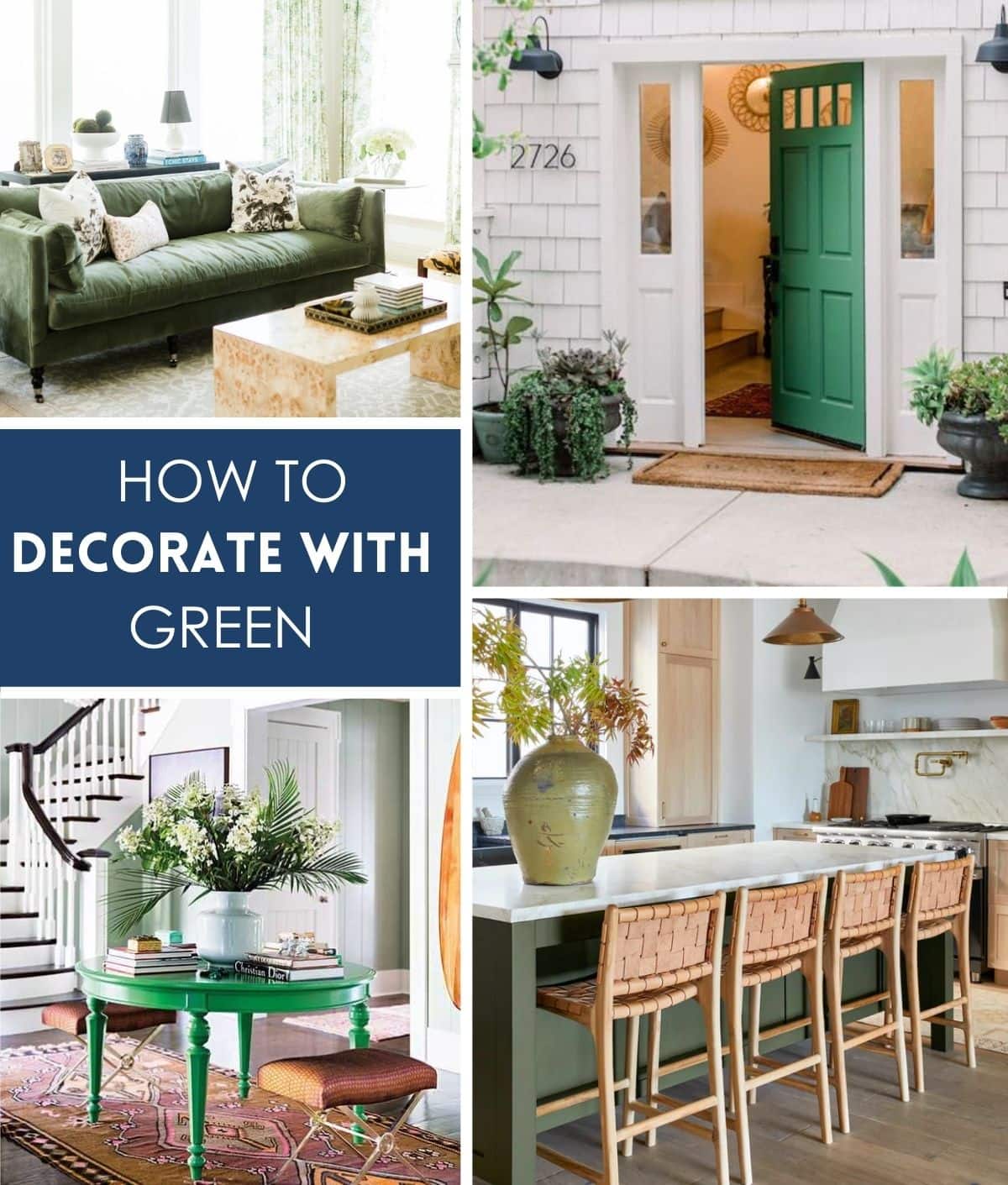 Using green is a very organic and nature-inspired color to use within a home.
There are some very bold ways to use as well as more subtly so let's dive in and see what you gravitate towards.
What Colors Go Well With Green
Green is a versatile color for home decor, and the colors that go well with it can depend on the specific shade of green you're using and the overall look you want to achieve.
Neutral Tones:

Crisp white can create a fresh, clean contrast with green. Beige or cream are warm neutrals that can complement various shades of green, creating a cozy and balanced look. And soft or light gray can provide a modern and sophisticated backdrop for green accents.

Earthy Tones:

Earthy browns, like chocolate or taupe, can create a harmonious and natural feel when paired with green. Terracotta is a warm, reddish-brown tone that complements many shades of green, creating a cozy and earthy atmosphere. And natural wood finishes, such as oak or walnut, can work well with green, especially in rustic or nature-inspired decor.

Blue and Teal:

These tones can create a serene and refreshing atmosphere when paired with green. These colors are often found in nature, such as the sea and sky.

Complementary Green Shades:

Using various shades of green together, such as mint with emerald or olive with lime, can create a monochromatic yet visually interesting look.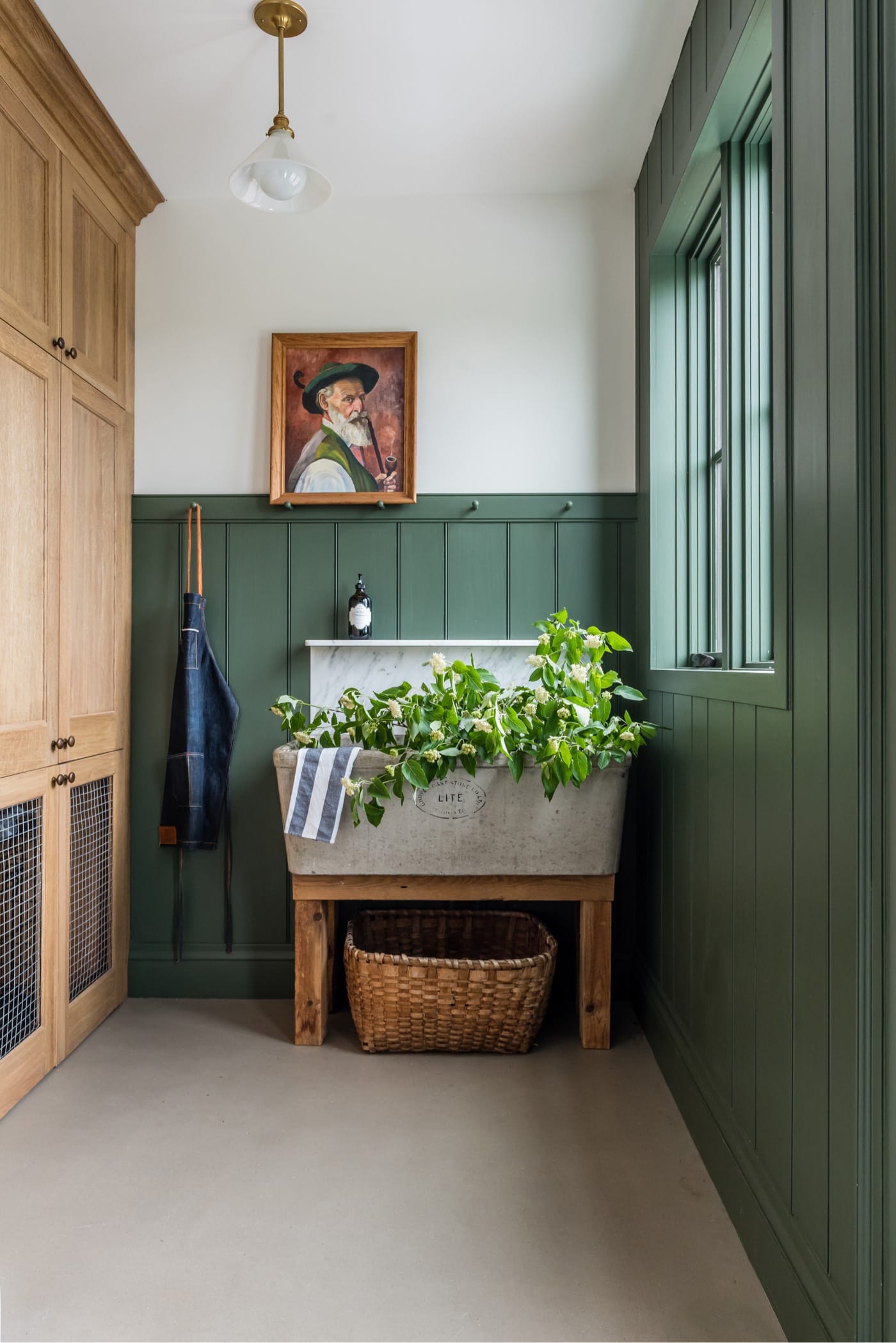 Green Home Decor
Here are a few green home decor ideas that you can easily add to your home for that gorgeous punch of color.

How To Select The Perfect Green Paint Color
A shade will look different from one room to the next due to the lighting
Always paint a 4×4 swatch on the wall to see if it will work
Always paint 2-3 coats at least for a realistic swatch on the wall
Pop the trim in white for a dramatic effect
Use accessories in the same shade to give your wall color some depth
Don't Forget To Order Paint Samples!
No matter what a photo looks like or description, every paint color will look different in your own space. It is so important to test a paint color before you commit to it.

That's why I love buying these peel & stick samples.
It makes it so easy & affordable to test colors!

How To Decorate With Green
Decorating with green can add color, personality, and style to your home decor.
It's a versatile and timeless color that can create a nature-inspired and serene atmosphere, as well as a touch of boldness if used in saturation.
So here are my top ways on how to decorate with green in your home and embrace this beautiful color!
Decorating With Green Guide
Painted Furniture
Using green as an accent color with painted furniture can add a refreshing and stylish touch to your home decor.
There are various shades of green to choose from, such as emerald, mint, olive, or sage.
Pick a shade that resonates with your overall color scheme and the mood you want to create in the room.
Lighter greens can make a space feel airy and fresh, while deeper greens add richness and sophistication.
Photo Credit: Photo by Brittany Ambridge via Domino
This bold green table makes this a showstopper in the entryway.
Paired with coffee table books and a large floral display makes it feel warm and welcoming.
Photo Credit: www.thelilypadcottage.com
This bright green console table is such a fun and fresh color to this room making it feel cheerful.
Upholstered Furniture
Using green upholstered pieces is a great choice for making a space pop with color for several reasons.
If the room primarily consists of neutral colors like white, beige, or gray, green upholstered chairs can create a striking contrast that immediately catches the eye.
Green upholstery can serve as a focal point in the room, drawing attention and becoming a conversation piece.
It can convey a sense of creativity, love for nature, or an appreciation for timeless elegance, depending on the specific shade and style of the chairs.
Photo Credit: Jen Langston Interiors
These gorgeous green wingback chairs are the main focus of this space and create a dramatic look.
Photo Credit: Ashley Higgins Interiors
Why not make a statement with a beautiful green sofa.
This incredible piece grounds the space and is subtle and serene feeling.
Use As An Accent Wall
Using green as an accent wall color can be a fantastic way to add visual interest and highlight architecture.
An accent wall in a vibrant shade of green immediately adds visual interest and personality to a room.
It can break up the monotony of a single-color room or provide contrast with surrounding walls.
If your room has unique architectural features, such as built-in shelving, a fireplace, or a nook, painting these areas green as accent walls can draw attention to them and enhance their visual appeal.
Photo Credit: Grace In My Space
This paneled green accent wall makes it the focal point of the room and adds color and dimension to the space.
Photo Credit: Shere Kitchens
The cabinets in this mudroom are painted a soft sage green color that compliments the brick floor beautifully.
Use As Accent Decor Pieces
Incorporating green decor pieces can bring a sense of freshness and vitality to your space, making it feel more inviting and vibrant.
Green works well with a variety of design styles, from traditional to contemporary.
Whether your room has a modern, rustic, or eclectic aesthetic, you can find green decor pieces that fit seamlessly into your design.
Green is a color that can work year-round.
It can bring a touch of spring and summer to your space or create a cozy and inviting atmosphere in the fall and winter when paired with seasonal accessories.
Photo Credit: Scout And Nimble
Using bold green pillows makes this neutral living room pop and accent the trees outside.
Photo Credit: Tori Rubinson Interiors
Adding multiple green decor pieces to a room makes it feel cohesive and pulled together.
Photo Credit: Bria Hammel Interiors
The subtle pop of the deep rich green in the upholstered benches compliments the moodiness of the artwork without making the space feel too dark.
Use For Cabinetry
Green cabinets can balance out other colors in the kitchen.
They work well with various color schemes, including neutral palettes like white, gray, or beige, as well as complementary colors like red, pink, or gold.
Green can provide a sense of harmony and cohesion to the overall design.
Photo Credit: Bradford Custom Homes & Remodeling Via Houzz
Using a rich deep green color for kitchen cabinet colors has a soothing effect and makes the lighter elements shine.
Photo Credit: Saffron and Poe
If you aren't sure about committing to all your kitchen cabinets being green, then opt for just the island to make a statement.
Use For The Front Door
A green front door can add instant curb appeal to your home. It stands out and draws attention, making your house more memorable and distinctive in the neighborhood.
Certain shades of green, such as forest green or deep sage, have a timeless quality that can endure changing design trends.
Choosing a classic green for your front door can ensure it remains stylish for years.
Photo Credit: Laurey W. Glenn via Southern Living
This beautiful bright green front door is the perfect accent to the white exterior and landscaping.
Photo Credit: Heather Balliet via Style Me Pretty
This deep green front door paint color is a gorgeous rich contrast to the soft gray shingles on the house.
Photo Credit: The Cottage Journal
Go with a medium green in a bright fresh shade that will be the showstopper of the house and welcoming to your guests!