Front Porch Ideas
This post may contain affiliate links. Please read our disclosure policy.
It can be so hard to design and decorate the front of your home which is why these front porch ideas are perfect to help you get started.
As an interior designer for over 20 years, I started A Blissful Nest to help you tackle the littlest to the largest design problems in your own home, so let me help you elevate your front porch no matter what season it is so you can have a stylish and welcoming front porch.
The front porch is the first place people see when they come to your home so it needs to be unique, welcoming, and full of personality.
From season to season or just need some general spacing ideas of how to decorate a porch, use these guides to help you jazz up your front porch.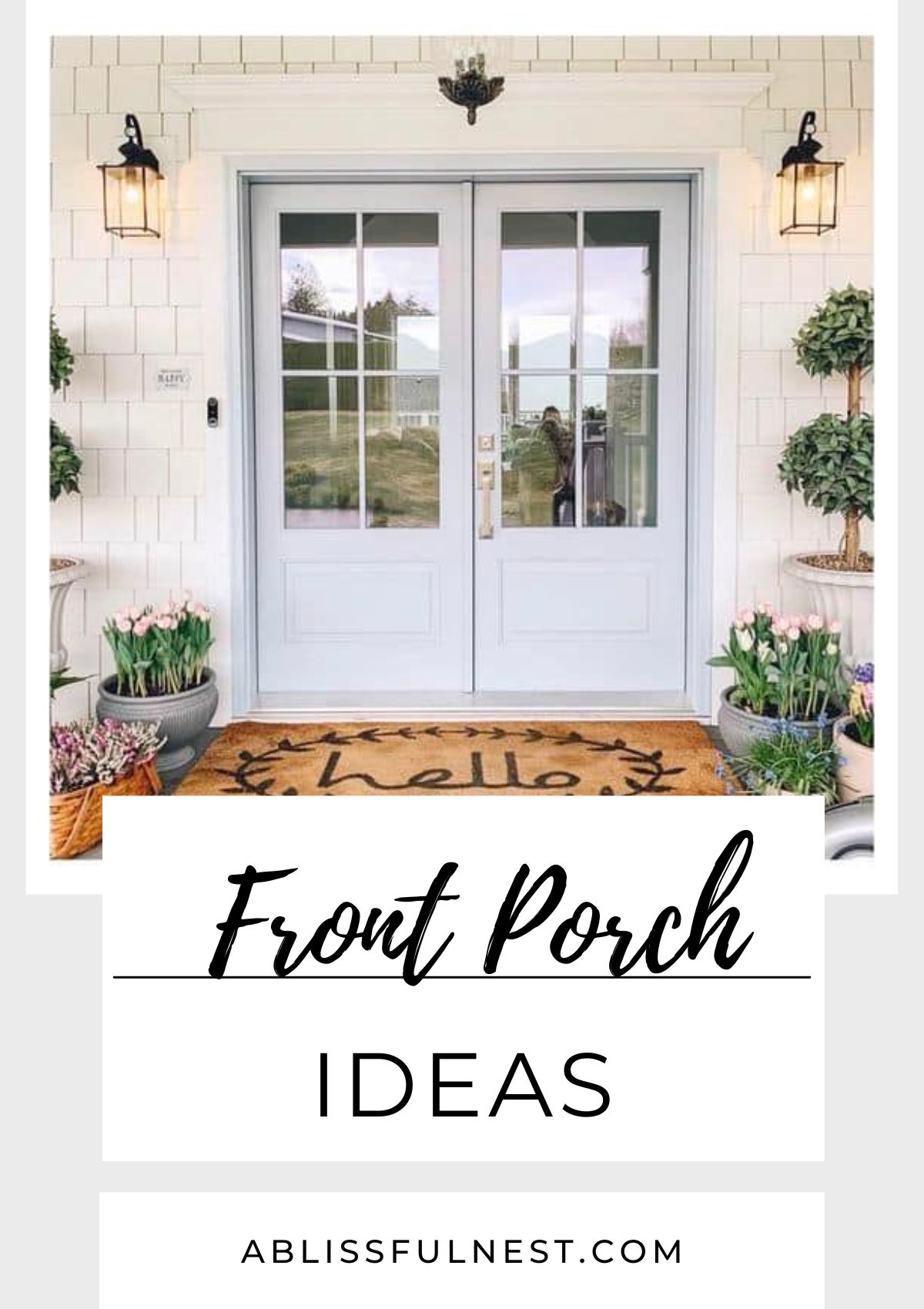 Decorating your porch can be one of the most challenging spaces to tackle in your home. From spacing issues to how to create a cohesive look, knowing how to create a porch design that works for your home is not easy.
My home is these front porch decor ideas will not only inspire you but give you the tools and sources to decorate your front porch with confidence.
Favorite Front Porch Decor
These front porch decor pieces are easy to work into existing decor you already own, transition into seasonal decor, and are classic and timeless pieces.
Tap Photos To Shop

Small Front Porch Ideas
Decorating a small front porch can add charm and personality to your home's exterior.
Use these small front porch ideas to help you decorate and design a small porch that can be a bit more challenging.
Hanging planters

: Install hanging planters or baskets filled with colorful flowers or lush greenery. They add a touch of beauty and bring life to your porch without taking up much space.

Welcome mat

: Choose a stylish welcome mat with a warm greeting or a unique design to set the tone for your front porch. Opt for a mat that fits the size of your porch and complements the overall decor.

Potted plants

: Use a variety of potted plants in different sizes and heights to create a layered and visually appealing display. Consider plants with vibrant flowers, interesting foliage, or aromatic herbs.

Window boxes

: Install window boxes beneath your front porch windows and fill them with cascading flowers or trailing vines. This adds a touch of natural beauty and character to your home's exterior.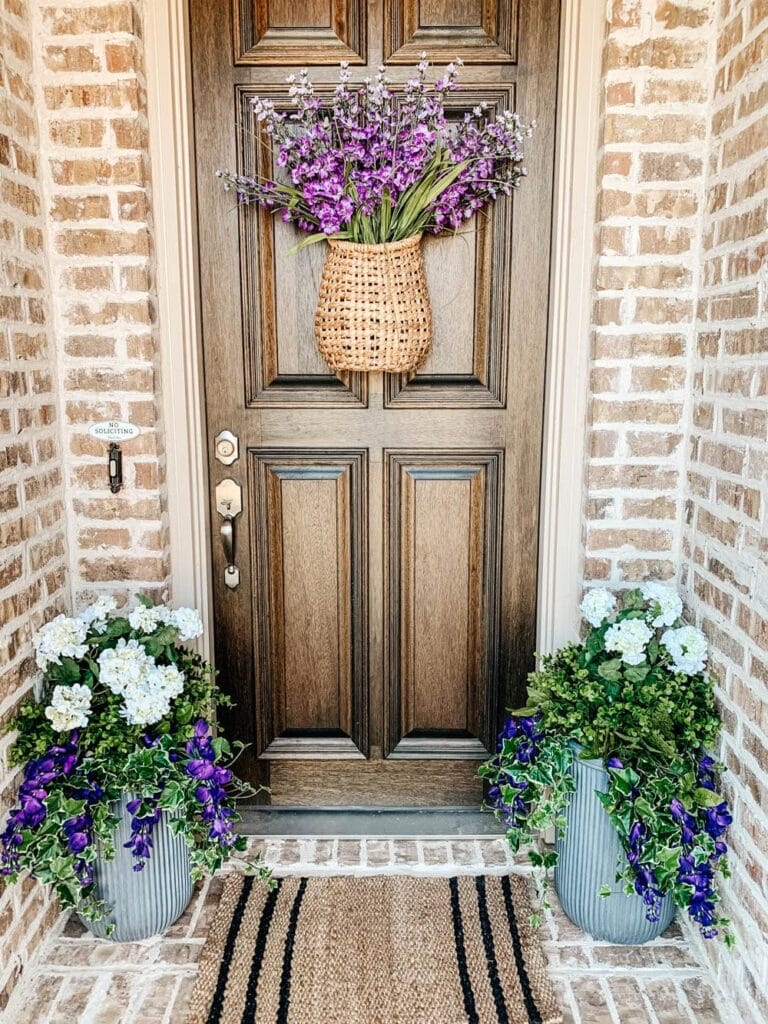 Planter Ideas For Front Porch
Planters are a fantastic way to add greenery and beauty to your front porch.
I love to use varying heights of planters on my porch. They add a lot of visual appeal and can be used for any season.
Use these planter ideas for your front porch to help you select the best planters for your outdoor space.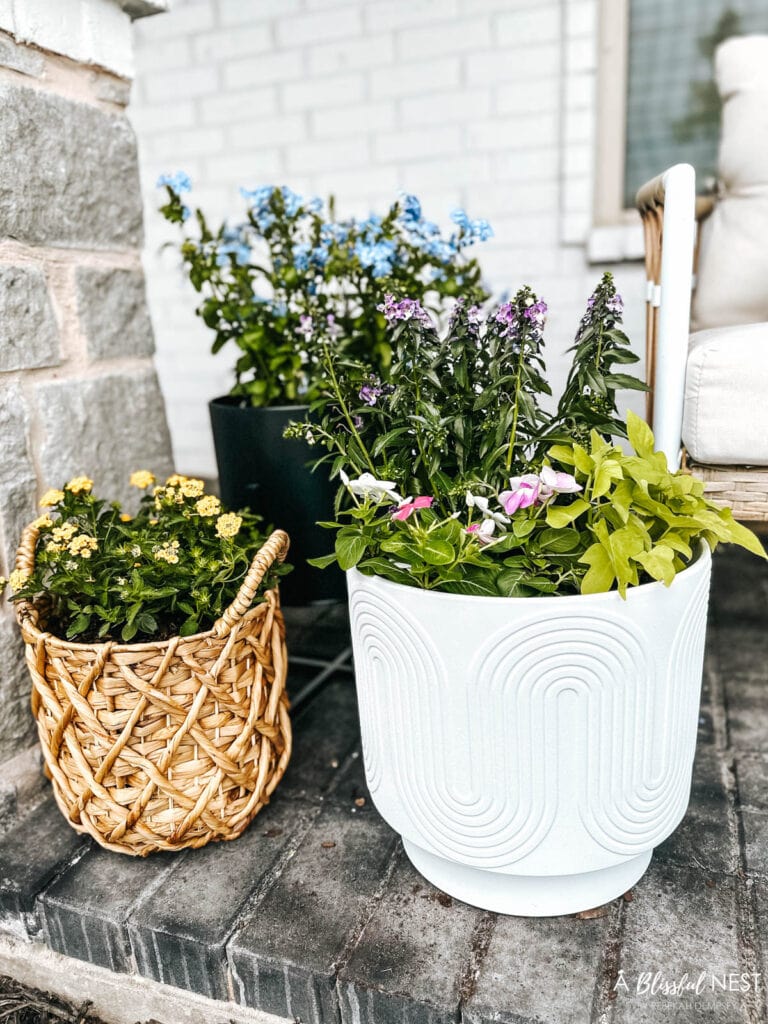 Budgeting Tip:
Many pieces can be reused from season to season so make sure to shop your own home!
Fall Front Porch Ideas
From cooler weather to falling leaves, it is time to transition your front porch for the fall season.
Fall is a wonderful season to decorate your front porch and embrace the cozy and festive atmosphere.
Use these fall front porch ideas to help you decorate and design your fall porch with some autumn flare!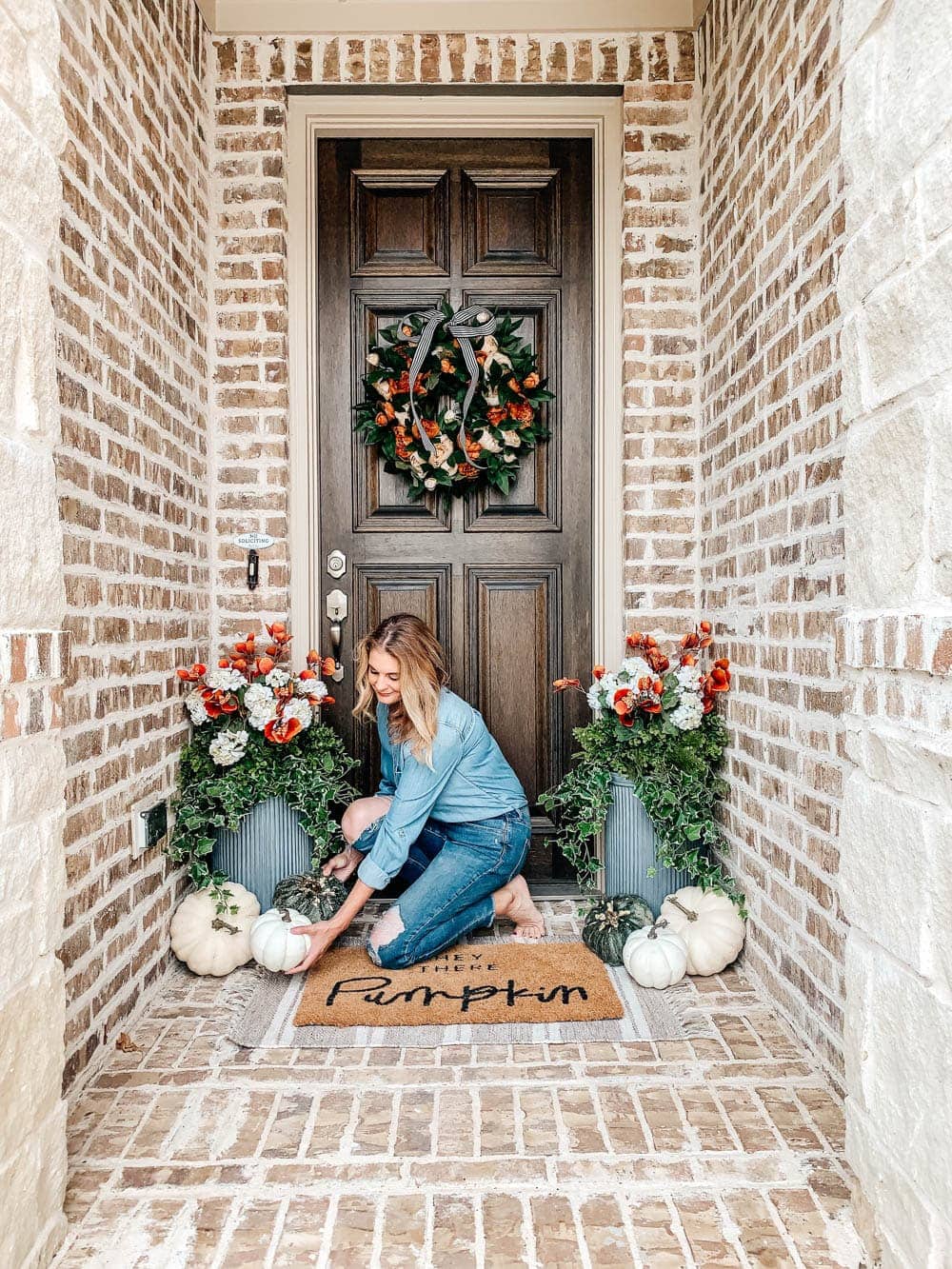 Front Porch Christmas Decorating Ideas
Decorating your front porch for Christmas is a wonderful way to spread holiday cheer and create a festive atmosphere.
From a winter wreath to beautiful holiday color schemes, your front porch needs to look its best.
Use these front porch Christmas decorating ideas to help you decorate and design your Christmas porch for a festive look for the holidays.
Spring Front Porch Decor
Spring is a beautiful season to refresh your front porch decor and embrace the beauty of blooming flowers and fresh colors.
From fresh new color pairings to soft pops of color with flowers, refreshing your porch after the winter months is a necessity.
Get inspired with these spring front porch decor ideas to help you refresh your front porch after the holidays with a fresh look for spring.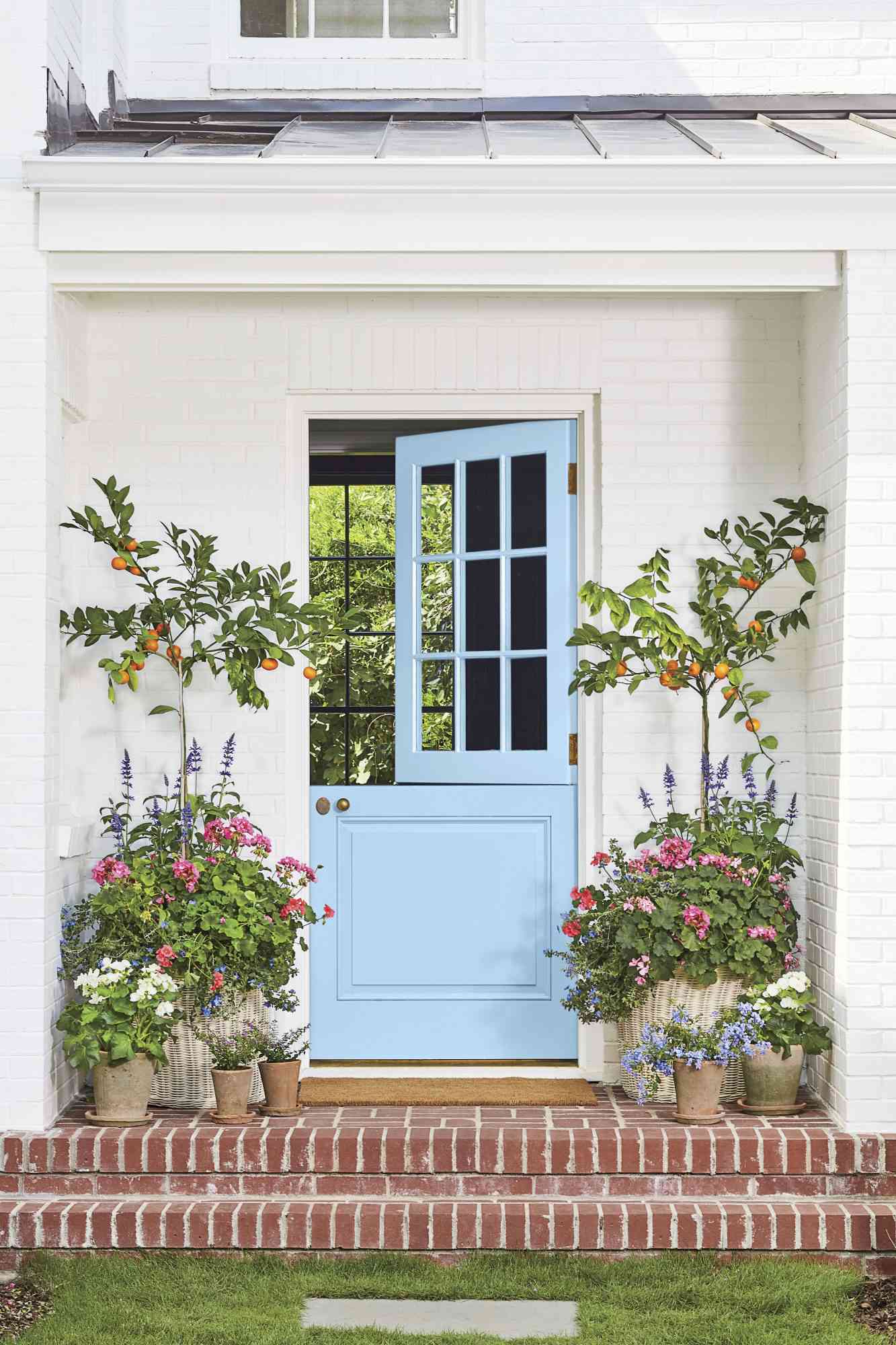 Summer Front Porch Ideas
Summer is the perfect time to create a bright and inviting front porch that embraces the warmth and beauty of the season.
Learn how to add vibrant colors to your porch with wreaths, flowers, and decor that screams your personality and the warm season.
Use these summer front porch ideas to help you elevate your porch decor for the summer season.
No matter what time of year it is, decorating your front porch needs to reflect your personal style and welcome your guests in a way only you can.
Using planters, wreaths, and seasonal decor, refreshing your front porch can be a simple task.
I hope these sources and guides give you the confidence to tackle one of the most important spaces in your home!