Front Porch Outdoor Planter Ideas You'll Love
Spruce up your front porch with these gorgeous outdoor planter ideas! If you are looking for a simple project to add curb appeal, this is the one.
You may have heard that the kitchen is the heart of the home.
While that is certainly true, think of your front porch as a handshake – a first impression welcoming visitors.
Your front porch also serves as a first (and sometimes only) experience of your home for neighbors and other people passing by.
How Can I Decorate My Front Porch?
Your front porch is the first thing that guests and passersby notice.
You can ignore that space, or you can really utilize it and make it an inviting, welcoming spot for anyone who comes to your house.
Since it's the first thing that people see, isn't it worth making a great first impression?
There are many ways you can choose to use and style your front porch space.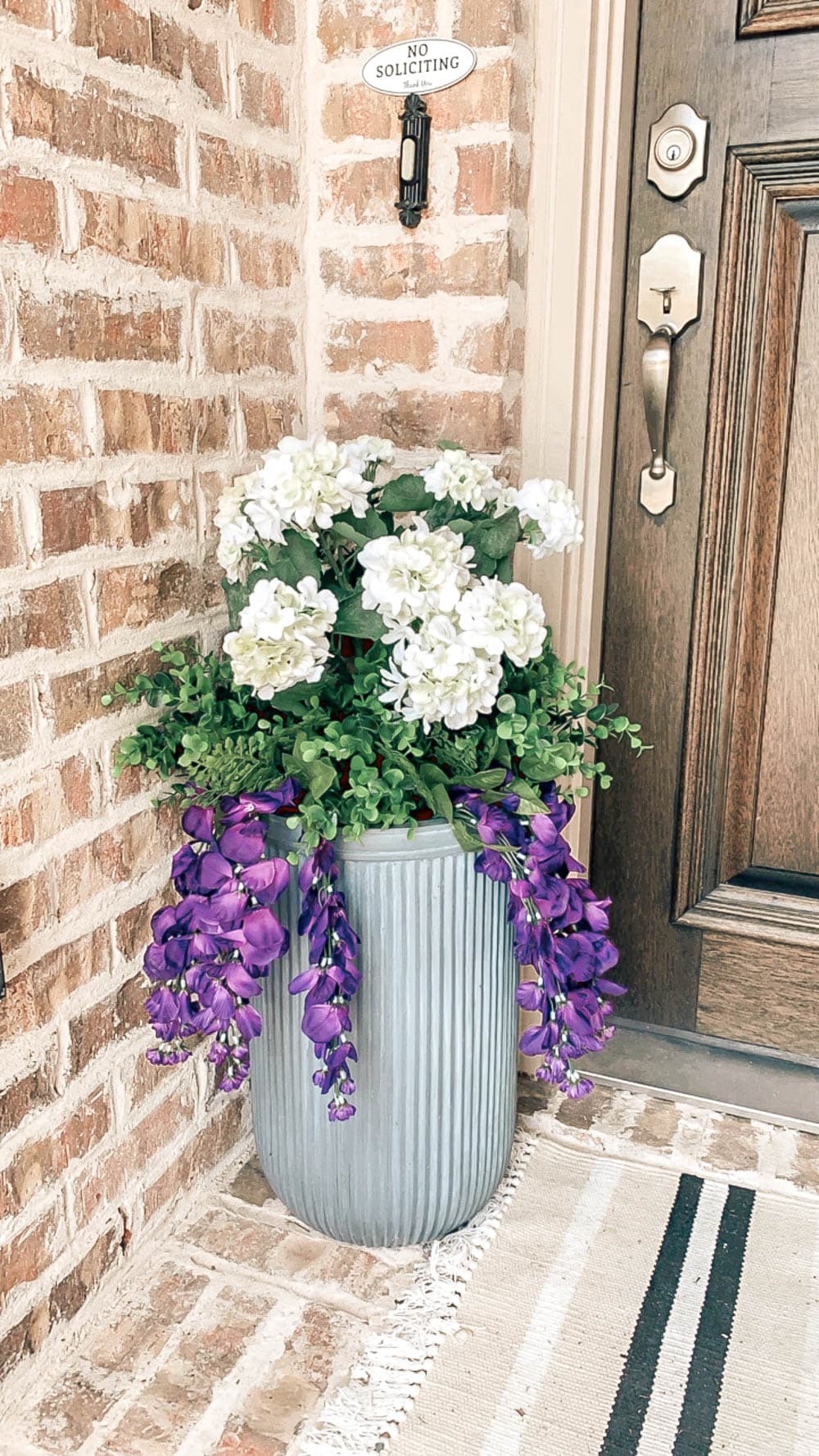 I've experimented with a lot of techniques over the years, but my newest favorite method is to make a statement with plants.
Adding planters is one common and effective way to style your front porch.
Plants breathe life into any space they occupy.
While you can simply put a welcome sign on your front porch and call it good, adding plants in planters on your front porch really makes your porch more than just an unloved appendage leading to your front door.
Front porch planters filled with plants can make your front porch a true extension of your home.
What Can I Plant In My Front Door Planter?
Ok, maybe as you think of having plants on your front porch you worry about keeping them alive. No worries!
The good news is that you can pick low maintenance plants that need only minimal attention.
Or if you really are convinced your lack of green thumb will make the effort not worth it, you can use artificial plants (yep, I said it).
If the thought of plastic greenery makes your eyes water, you may be interested to hear that the faux plants of today are far nicer than they have been in years past.
In fact, most people will have a hard time telling it apart from the real ones!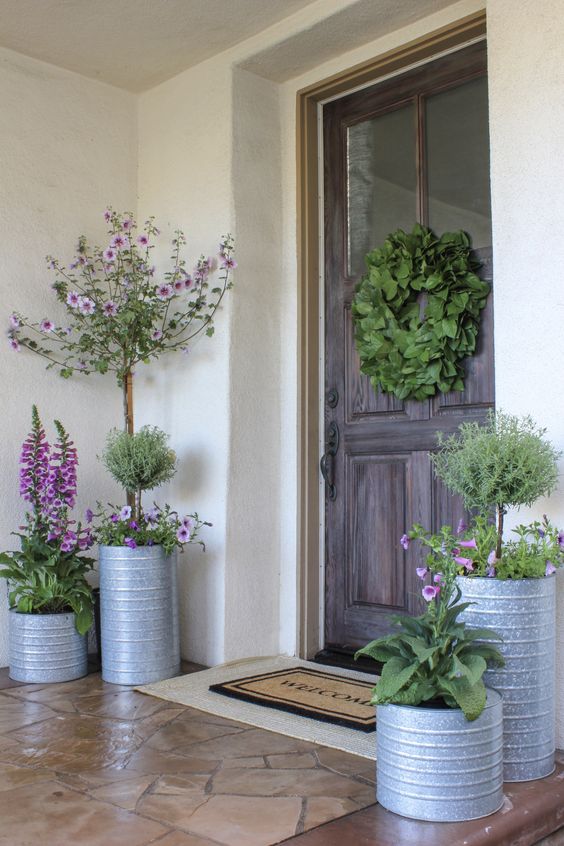 Plant Combination Ideas for Front Porch Container Gardens
Front porches are often shaded because they have some sort of roof over them.
Othertimes, porches are full sun.
If you're planning to use live plants, fill your porch garden with greenery that thrives in the type of light that your porch receives, whether that's shade-loving, sun-loving, or part-shade and part-sun.
Planters are at their peak when they have several height variations within them.
Try adding a tall plant in the back or possibly the middle of your pot, such as grasses.
Next, fill in the rest of the space around the tall plant with other plants.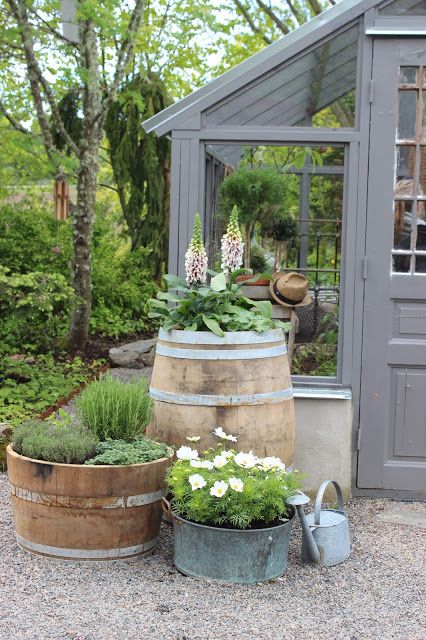 People often choose flowers, but you don't need to if you prefer just to use greenery.
One additional element you can include would be a plant such as Lobelia to trail down over the side of your planter.
Just remember to vary the heights, and you can beautifully style any porch garden, even the most shaded of porches.
Get Inspired With These Outdoor Planter Ideas
Here are some flower planter ideas to inspire you as you look to style (or improve) your front porch decor.
Add Bright Pops of Color
I absolutely love the bright, purple of these flowers and it really makes these planters pop.
Planters with happy colors like the one below will brighten any porch or patio, big or small, in one easy step.
Add even more color with radiant blooms from flowers like hyacinths, irises, pansies, petunias, and more.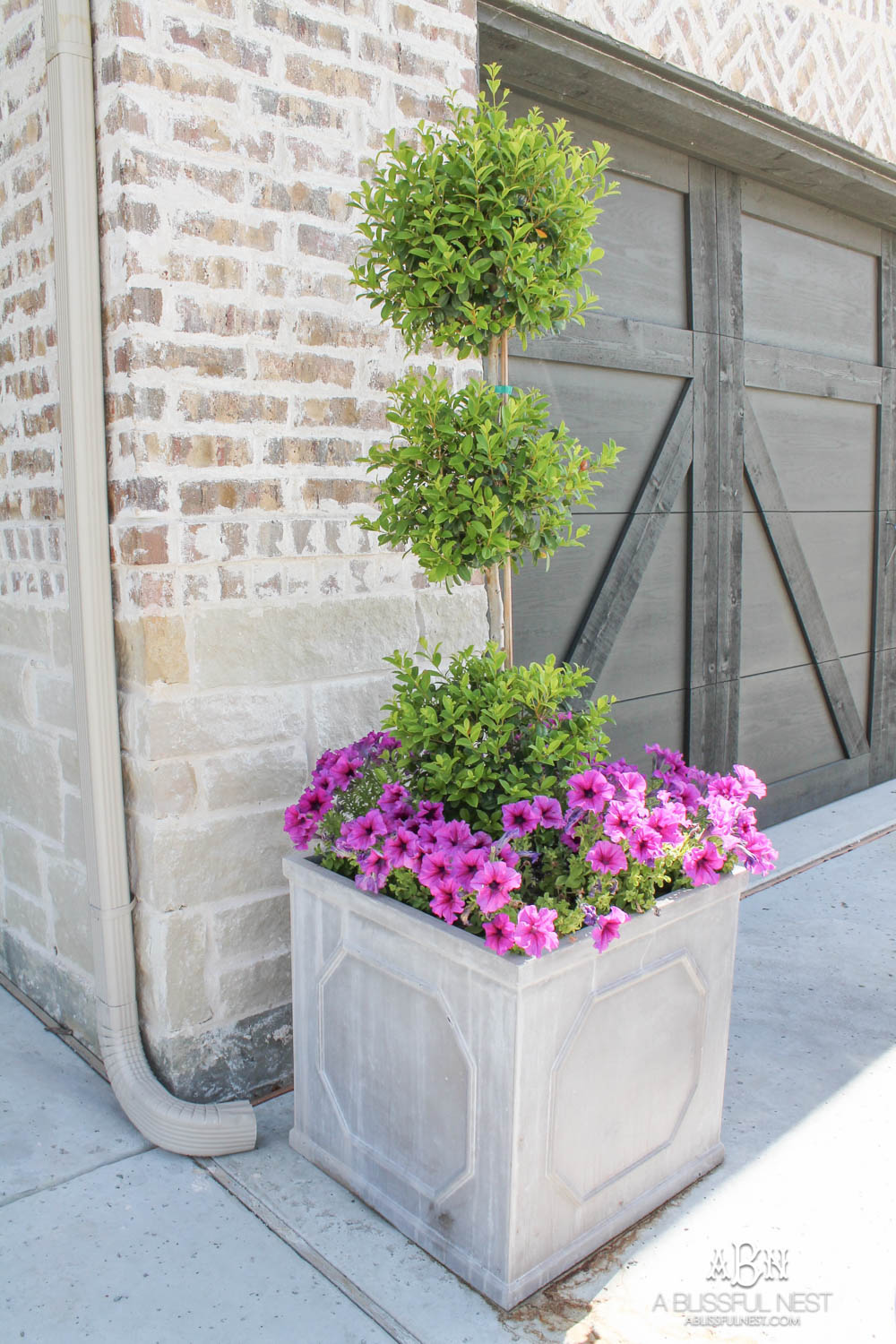 Use Urn-Shaped Planters
Nothing says elegance like a large urn planter on either side of your front door, leading you right to the entrance of your home.
This is one of my favorite outdoor planter ideas because it shows how porches can be a true extension of the home.
You truly get an idea of the style within this home before you ever set foot inside!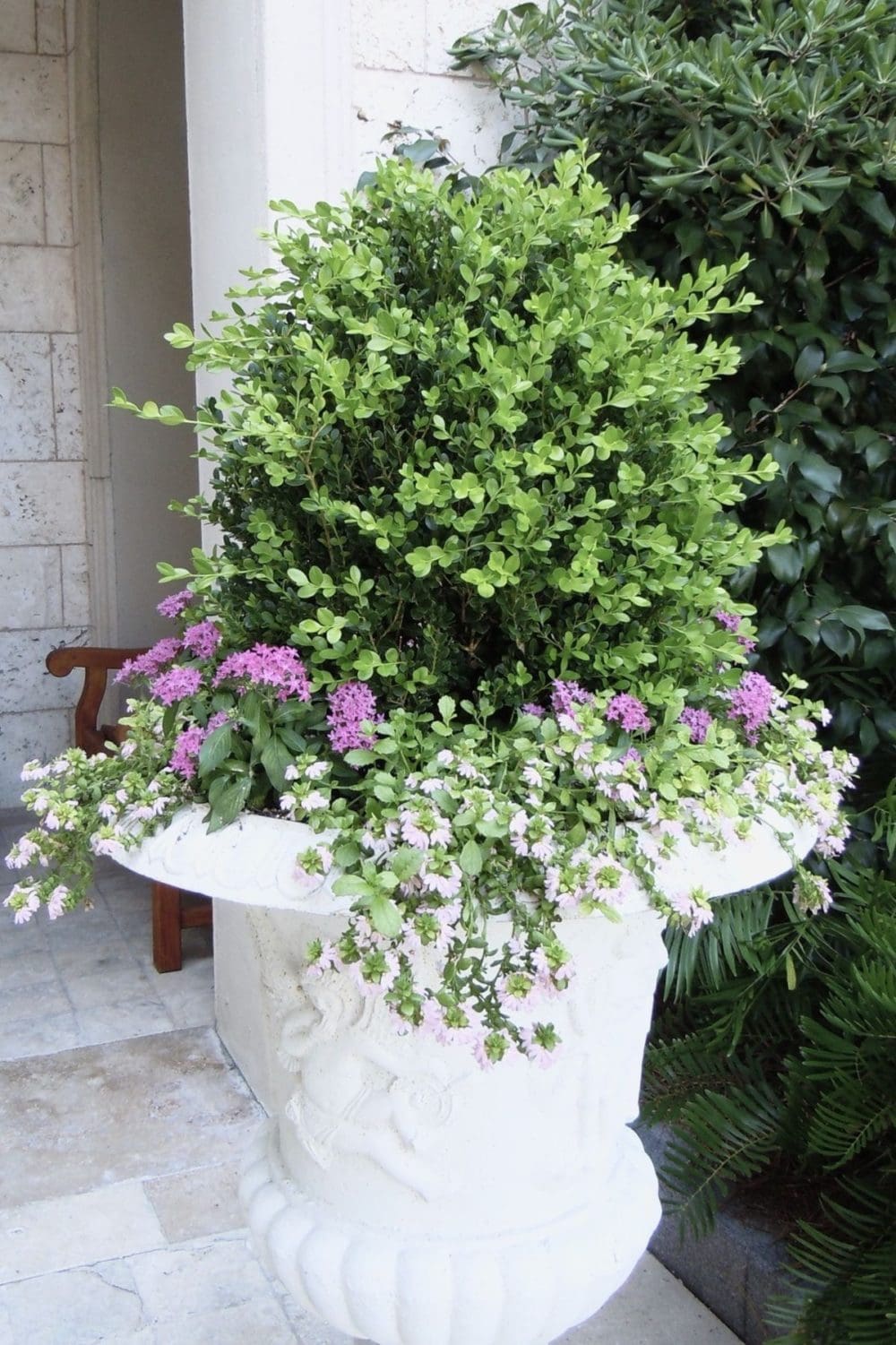 Stack Your Planters
Stacked flower pots add height and are perfect for small spaces or areas where you need some lift to get noticed.
Stick with uniform colors and shapes, or get really creative and use different shaped planters or colors in your stack.
The pots in the picture have a welcome message – you can add something similar or not.
The effect is lovely either way.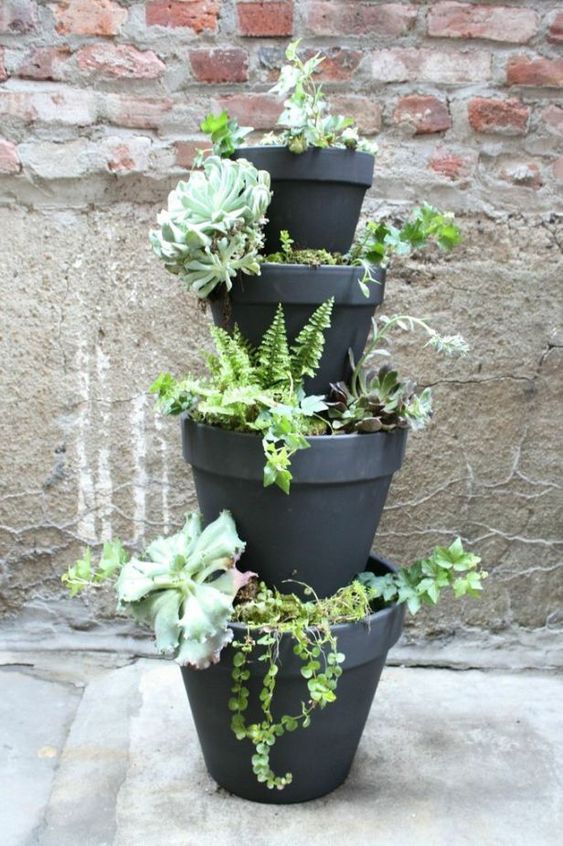 Tall Planters
Tall planters on either side of the door filled with lush greenery and flowers make even a small entrance feel grand and can make a huge impact in just a little space.
Just be sure to leave enough room to easily get in and out of the door without running into the planters!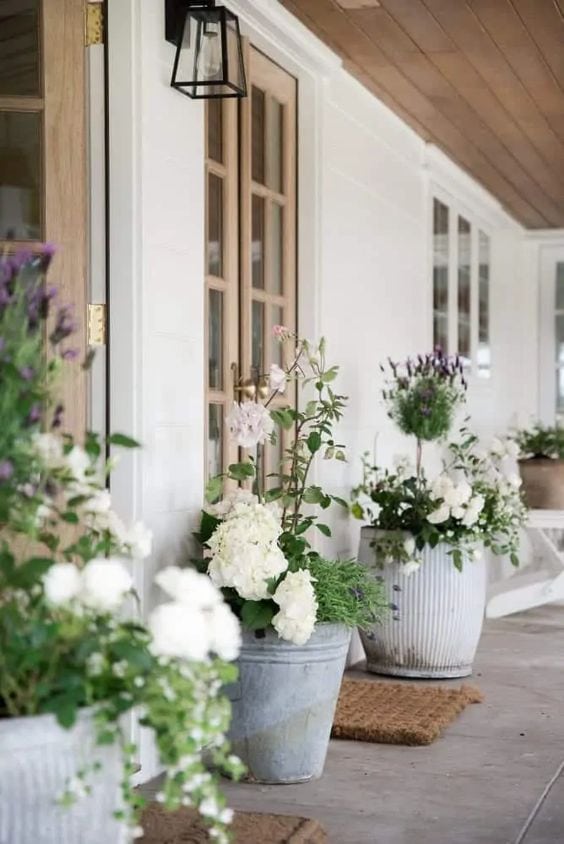 Use Upcycled Items
Instead of throwing away items like used tires, laundry baskets, or trash cans, convert them into stylish planters with some paint and a few additional basic hardware store items.
These colanders repurposed as planters look amazing and really add a unique, fun touch to any front porch or patio.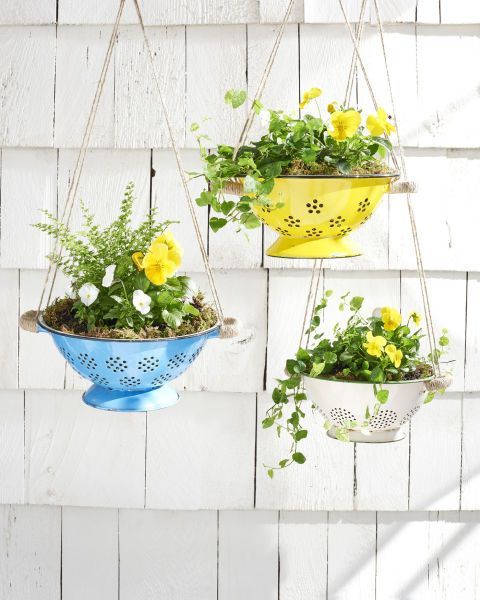 Add a Farmhouse Touch
This gorgeous tall planter box will add a farmhouse feel to any outdoor entryway.
Not only will the planter catch visitors' eyes, but it really shows off your ornamental grasses and flowers.
This look is elegant yet casual and beautiful all at the same time.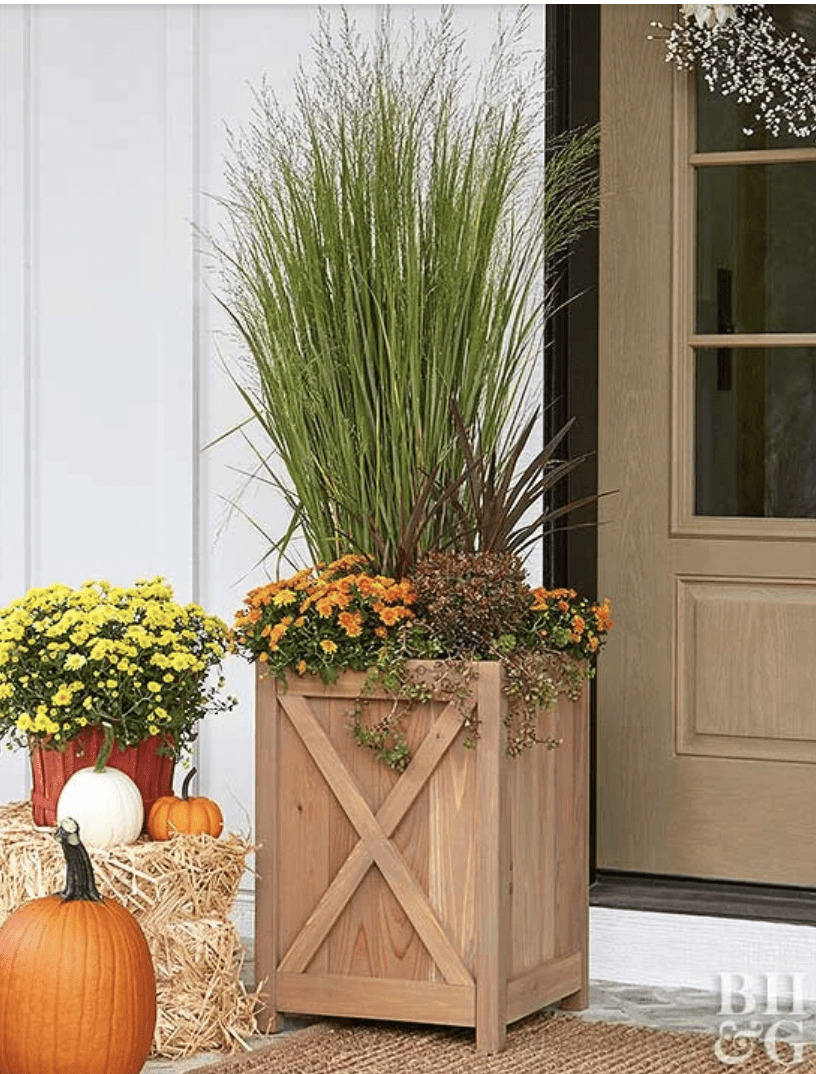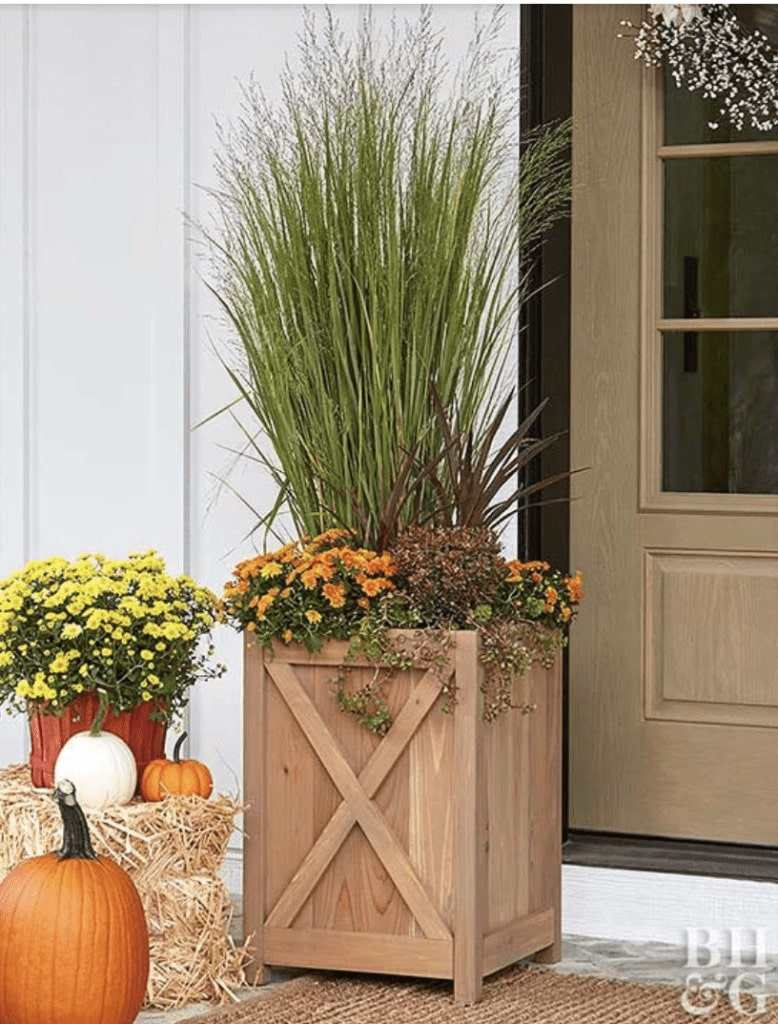 Line Your Walkway
How about a higher, more dramatic walkway?
Line it with stacked planters.
I love how they used multiple terracotta planters but in different shapes and sizes.
It really adds to the visual impact!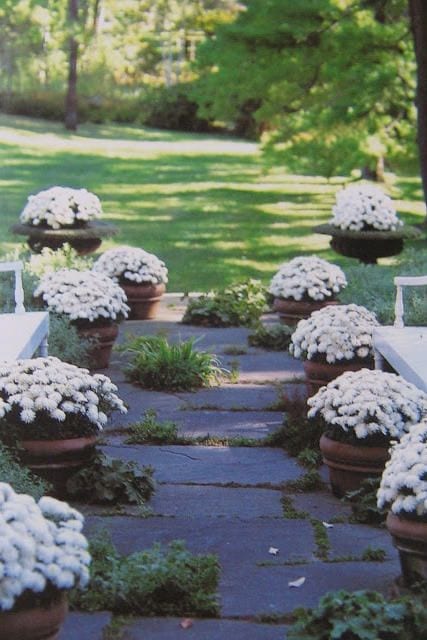 Go Big
These planters filled with large ferns give a simple, yet dramatic feel for any front porch.
They also help take up space if you have a large porch that feels difficult to style.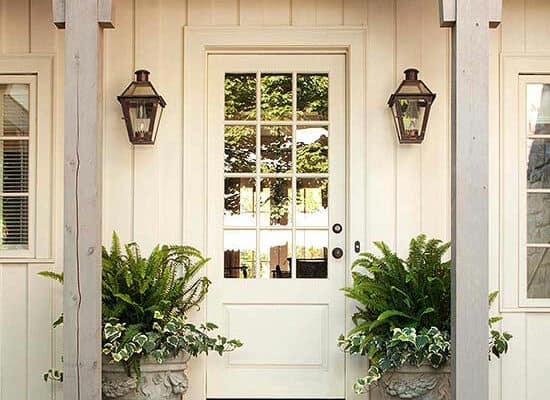 Hang it on the wall
Nothing says porch planters need to be sitting on the ground.
Bring yours up to eye level to make an even bigger impression on your visitors and hang a beautiful wall planter display.
This is perfect for small porches.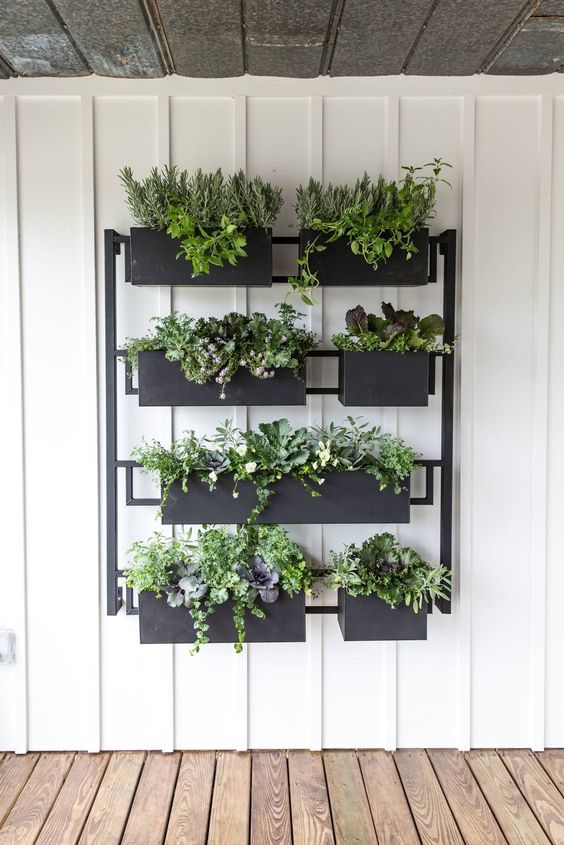 Add Classic Curb Appeal
Fill this classic painted wood planter with a plant or flowers.
Either way, it adds instant curb appeal to your front door.
While the picture shows a black planter, you could easily paint it a more vibrant hue for a nice pop of color to complement your flowers.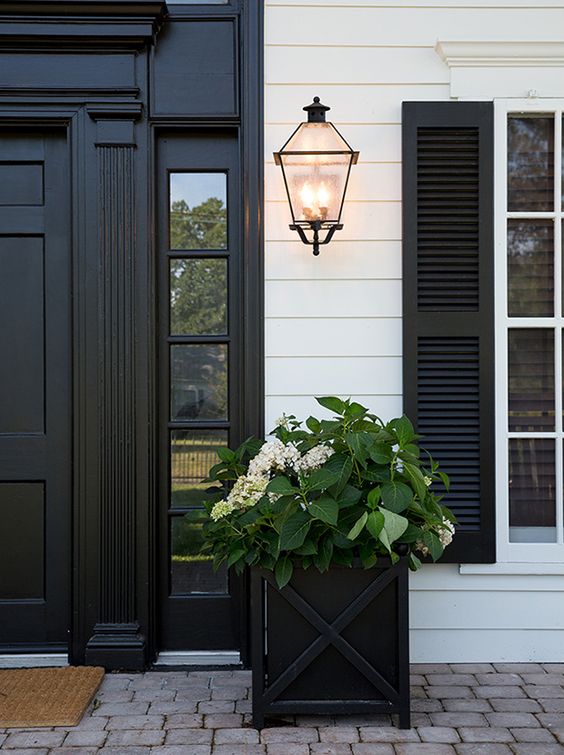 Monogram it
Have a large porch space and love plants?
Add a huge amount of visual interest (not to mention a topic of conversation) by adding a monogram planter to your front porch.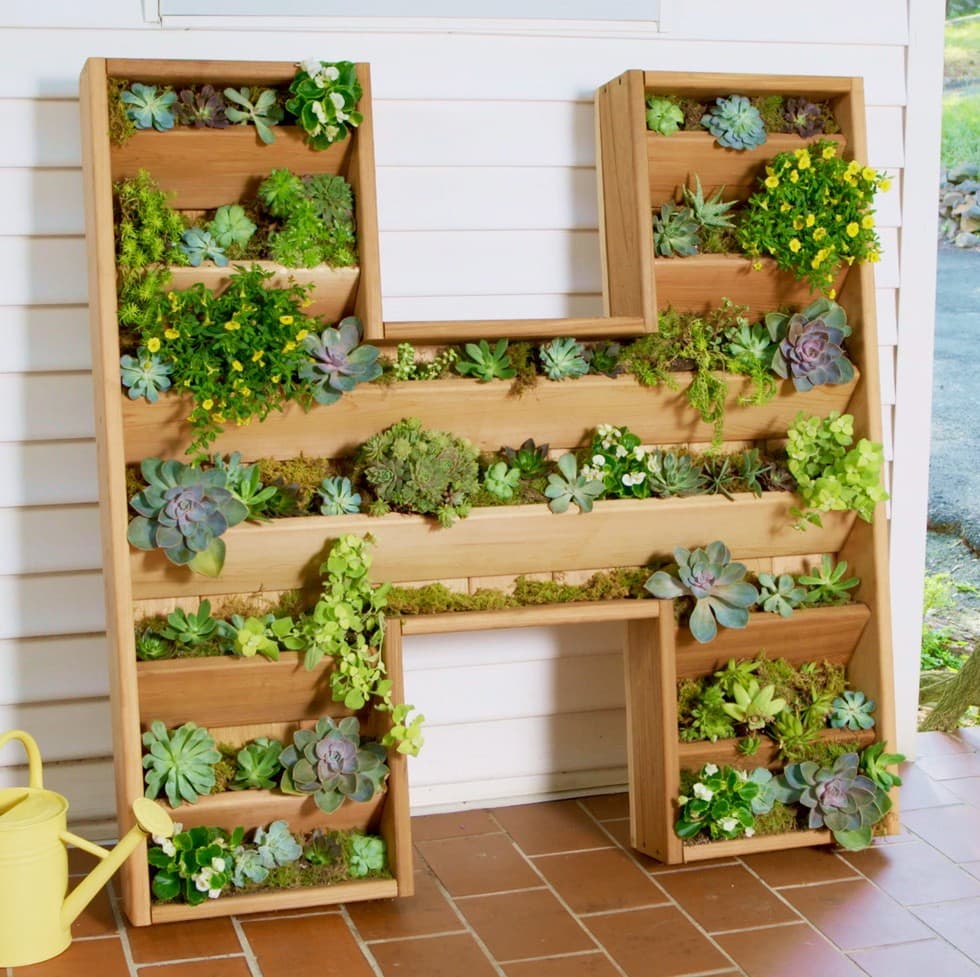 With these outdoor planter ideas, you can take any front porch and create an inviting, beautiful style that will greet guests.
More Outdoor Posts to Read:
Get even more ideas on creating outdoor spaces with these other posts. Just click on their titles to go right to the posts.
Need to bookmark this for later?
Pin Our Image: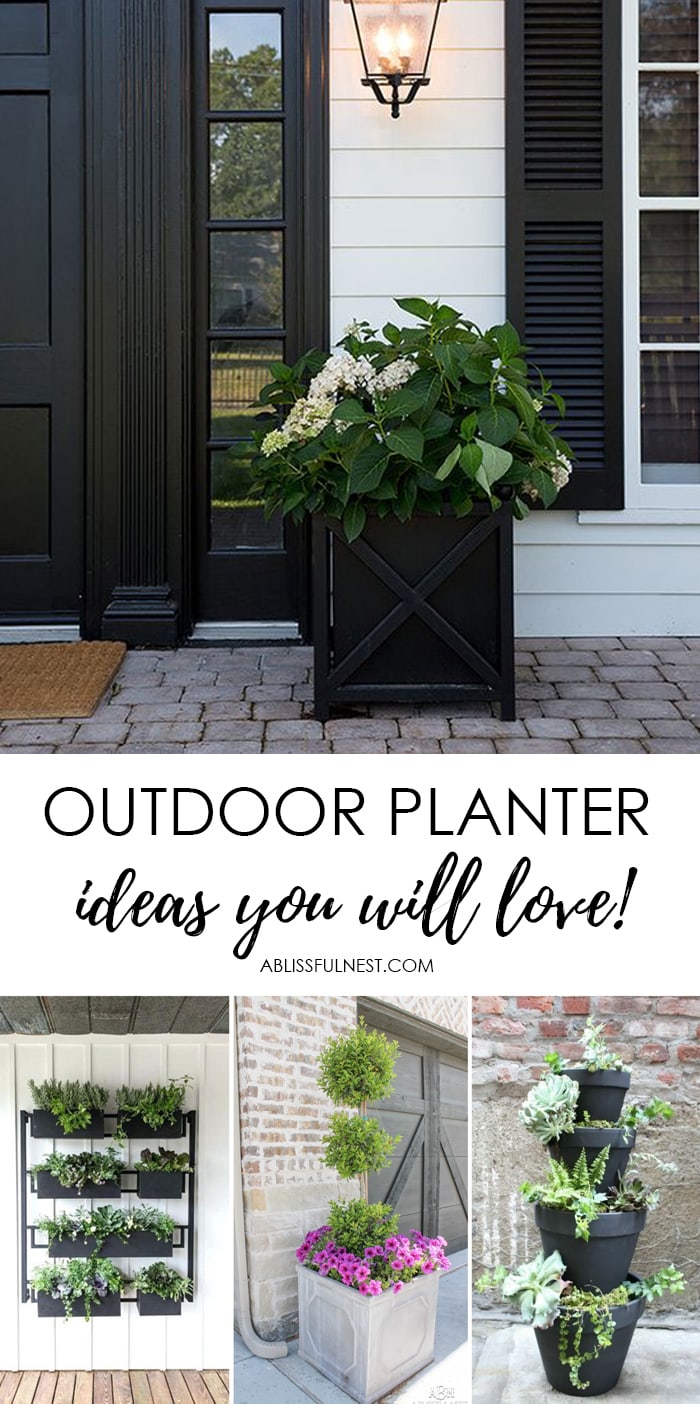 Follow along to get more of my tips on home decor, DIY and lifestyle on the following: