My Summer Front Porch + Entryway Reveal
This post may contain affiliate links. Please read our disclosure policy.
Today I thought it would be fun to show you my summer front porch and entryway. I also thought it would be fun to share a peek at the exterior of our new home after living here for 3 months. If you would like to catch up on our new home build, you can checkout this post HERE. We are still working on the front yard and met with our landscaper Leo over the weekend to go over a few plans in the next few months we would like to do. I would like to build up the flower bed in the front of the dining room window with stone to match our exterior. I think this would tie it all in together and also help prevent our grass from trying to take it over. Then I am thinking of doing a row of boxwoods and maybe some rose bushes. I'm still playing around with it all but that is the general direction we will be taking this little section.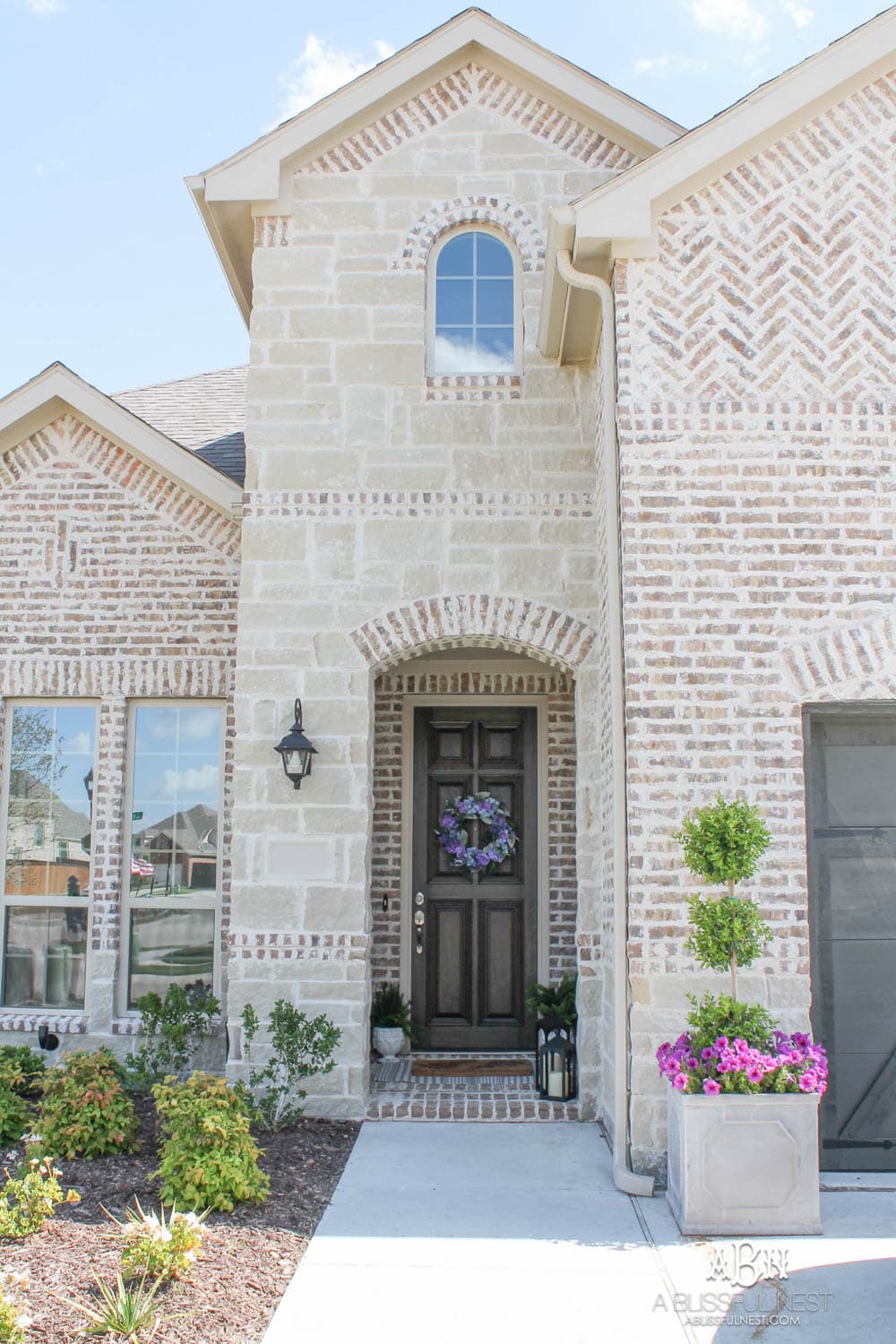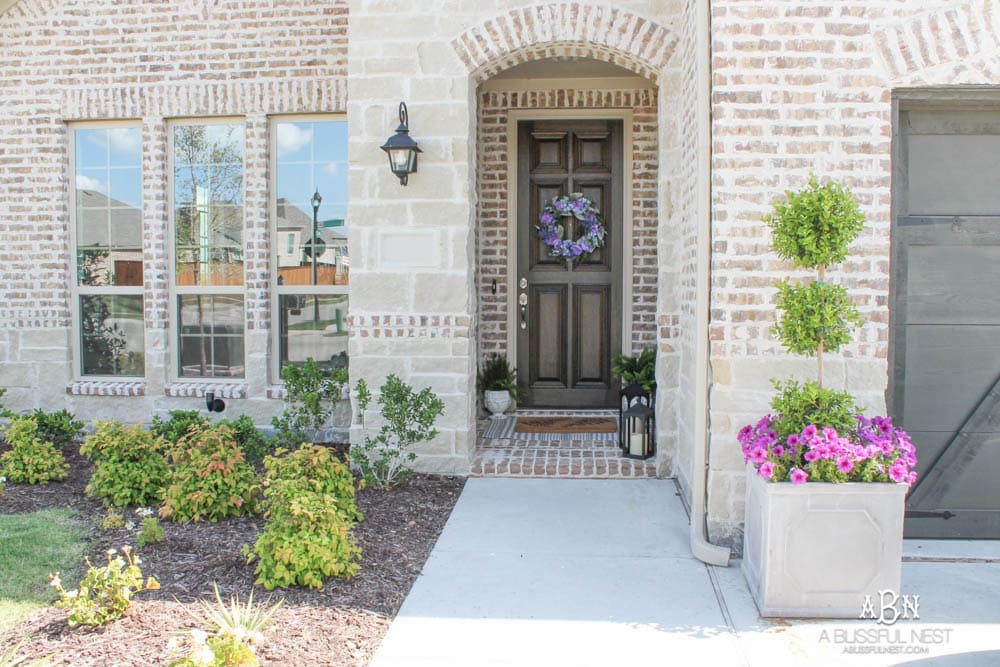 I am still in love with these amazing topiaries I found at Walmart for only $35 each. I bought four of them and have these two flanking the garage and then 2 more on the back patio. I seriously could line my fences with them, I love them so much but I am not sure how they are going to do in the Texas winter so we'll see if these guys last before I buy anymore. I added these flowers to the base of them for a pop of color and also to help the soil with the crazy wind we get up here. Since we are more in the country now and don't have a house on 1 side of us, the winds are stronger than where we lived before.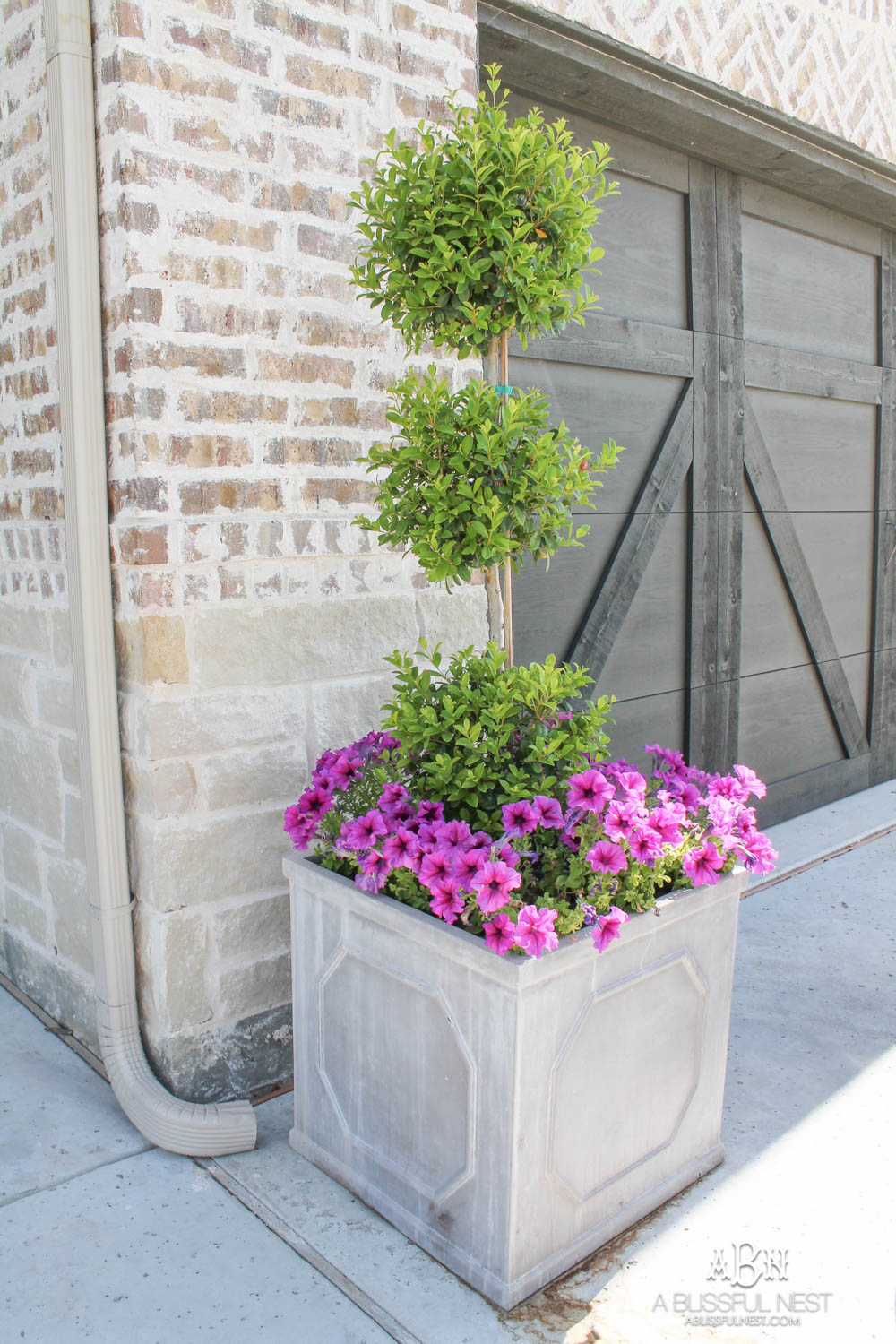 I originally found these planters at Tuesday Morning last year and in the last house used them upside down on my patio as side tables. You can check that out HERE. I love them here now and I found similar ones for you HERE.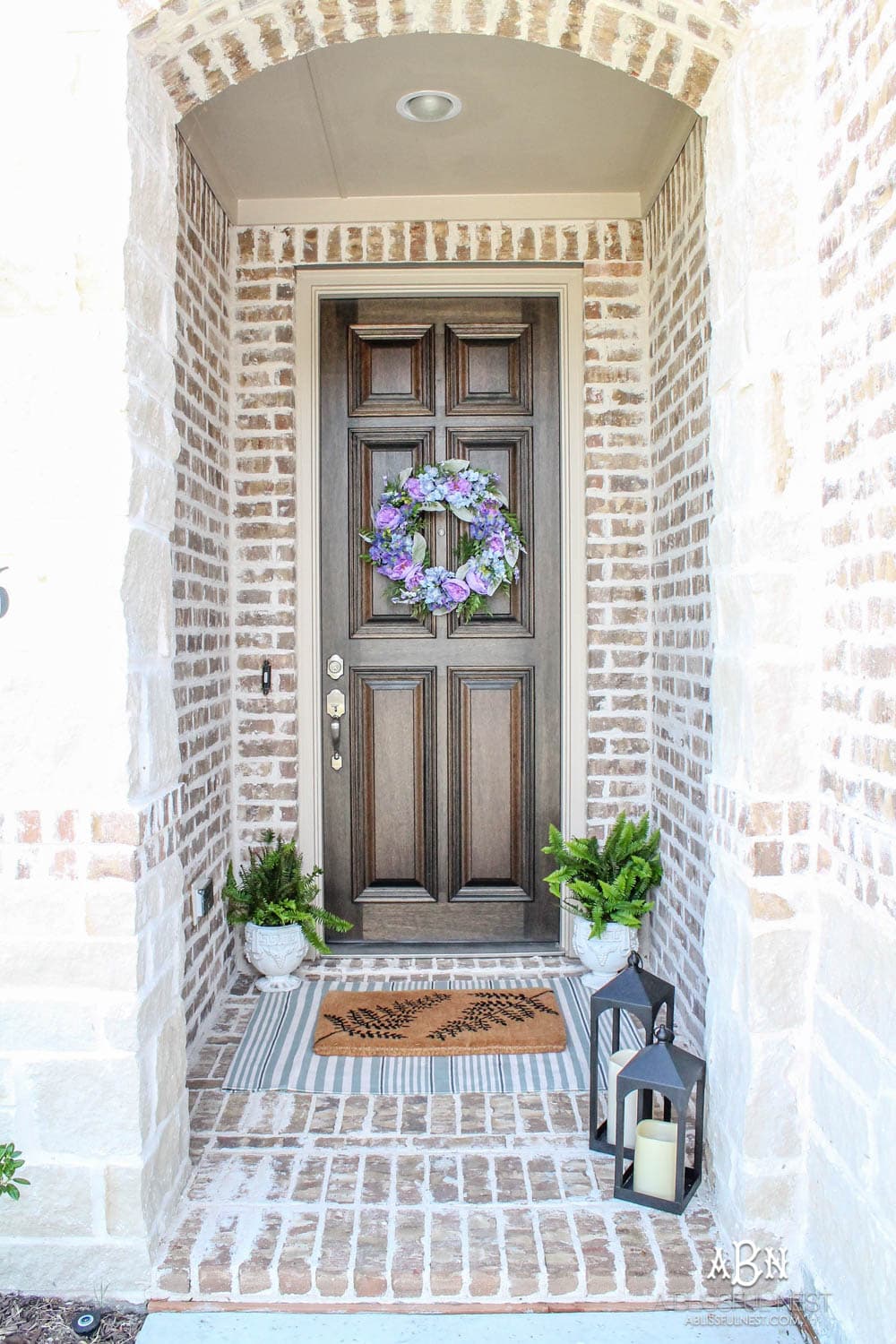 A few weeks ago I shared a beautiful blue and purple hydrangea wreath and I loved it when it came but unfortunatly because my door is just so tall it looked kind of wimpy. I played with the thought of adding more flowers and ribbon to make it appear larger but then I was at TJ Max and found this one for $25. It was such a steal and in the colors I wanted so I snagged it. I found another similar one HERE for you.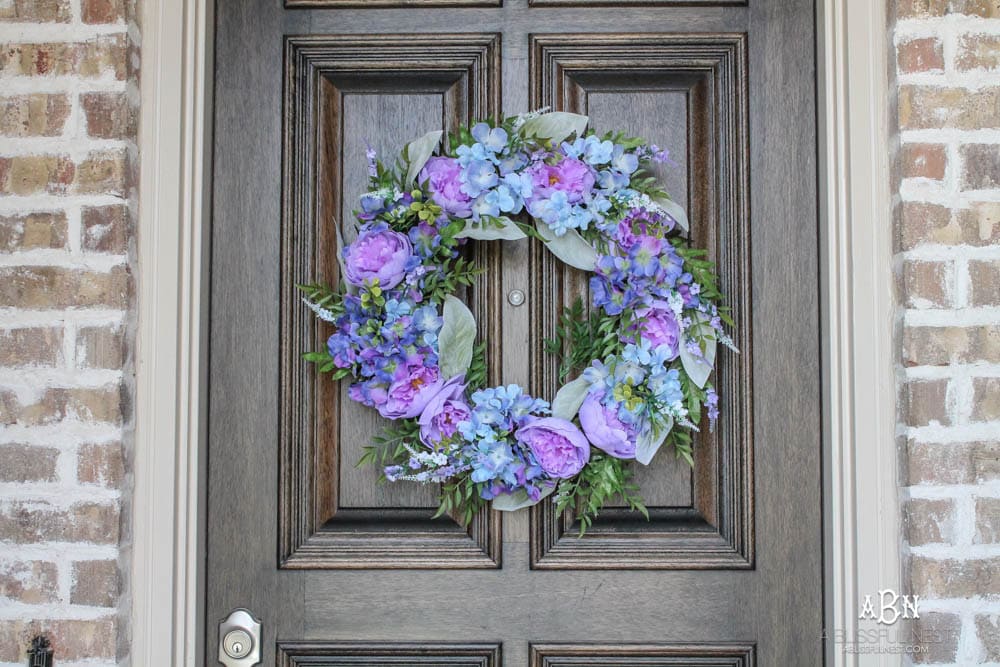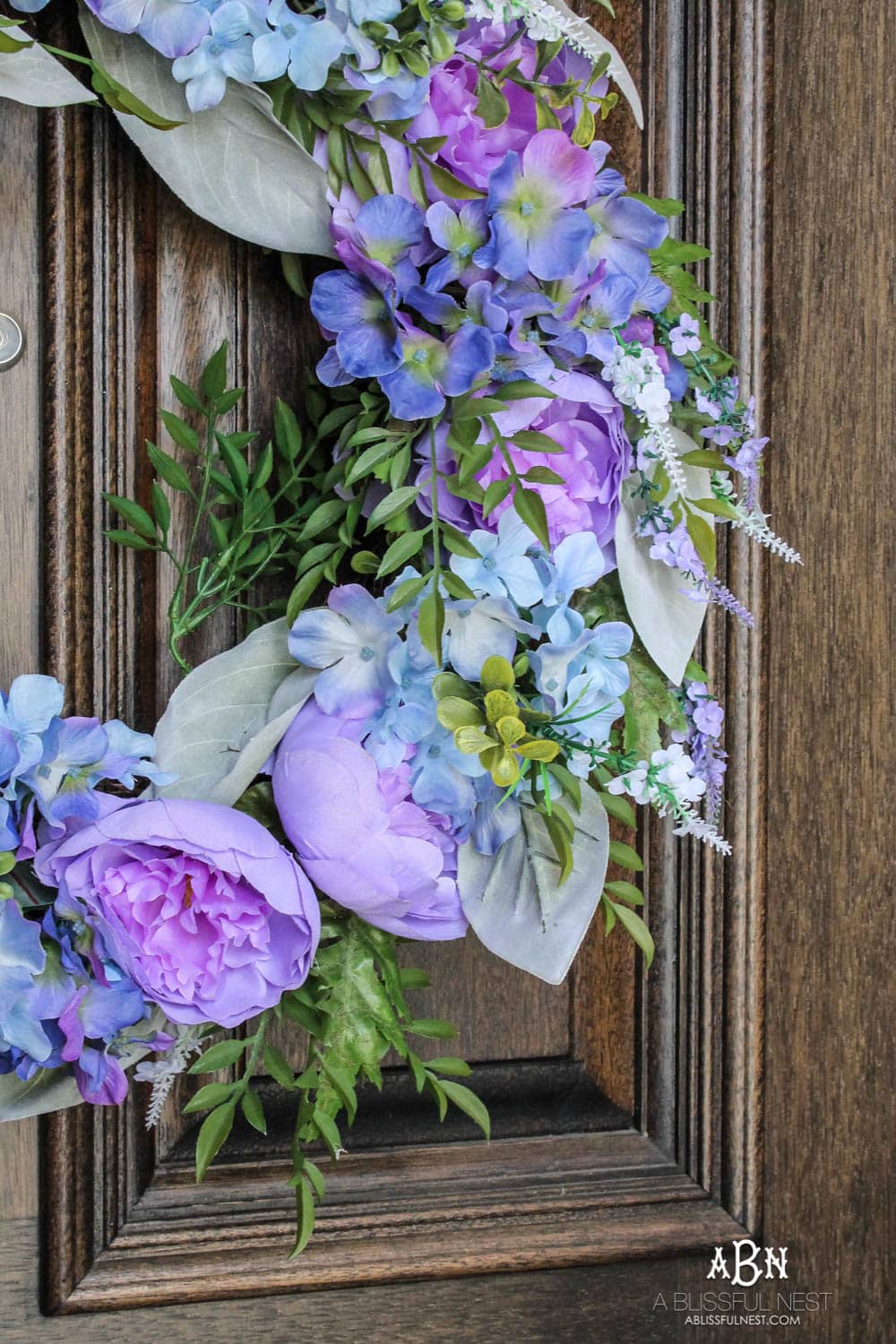 I was in LOVE with the new doormats from Studio McGee but honestly didn't want to pay the price so I shopped around and found this fern door mat that is so similar and only $25. I paired it with this Dash and Albert rug for a pattern pop. Now this rug is slightly bigger than what I need here so I tucked the ends under. This is such a hard space to find a rug for because it is an odd size so I tend to go bigger and then just tuck.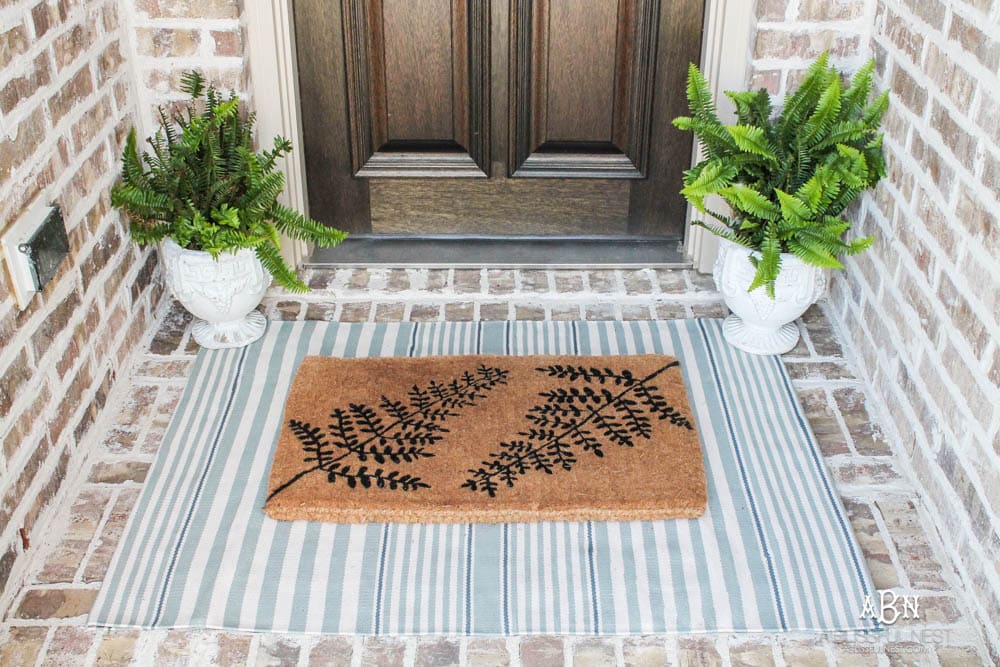 I grabbed a few small ferns from Walmart and put them in my vintage planters I got a few years ago. HERE is a beautiful similar option if you love these. I am still looking for some skinny but taller planters for her so I'll keep you posted when I find something.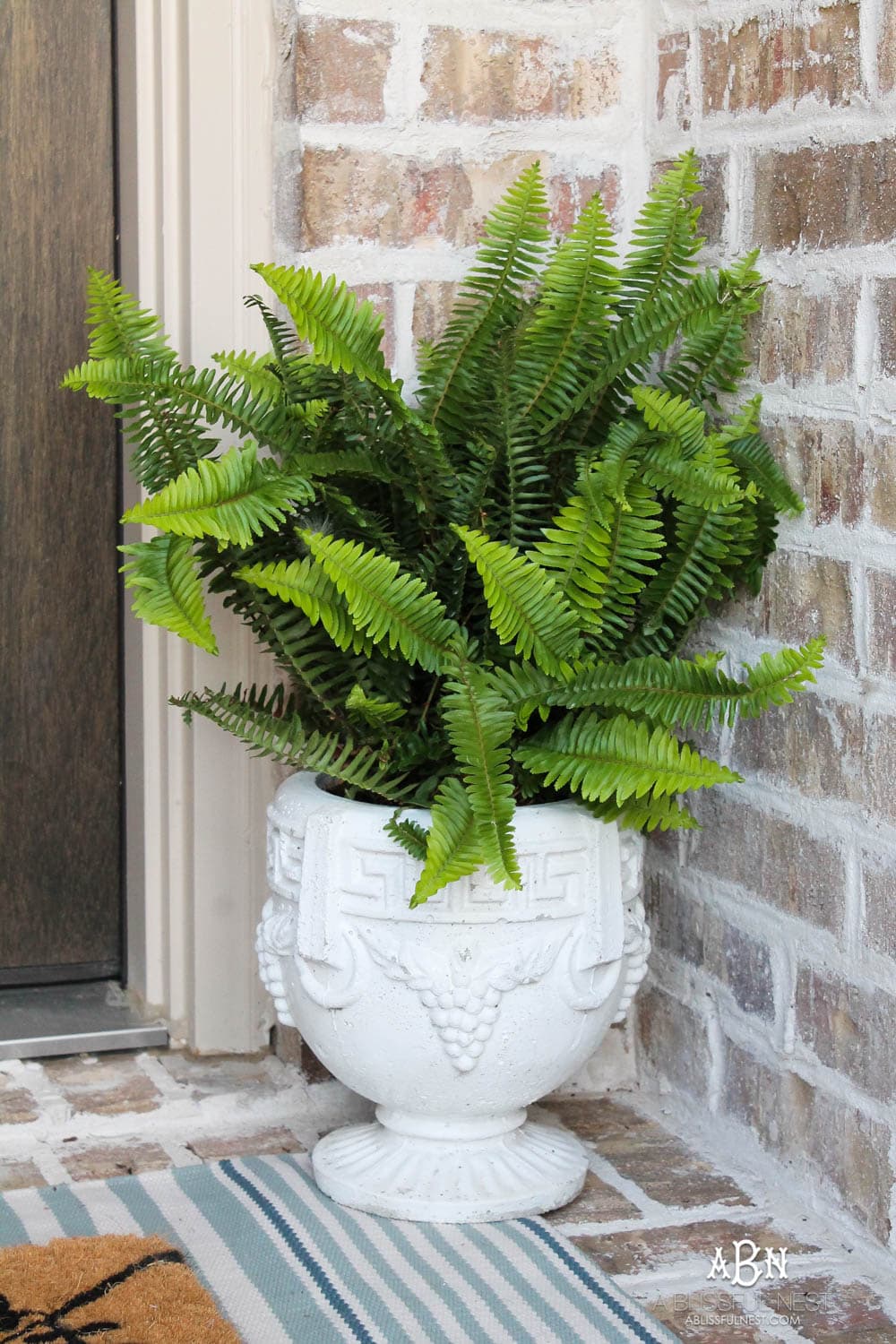 I put a couple of my black lanterns back on the porch too and have them lit when guests come over. They are so pretty lit up at night and I love the black metal to match my exterior lanterns.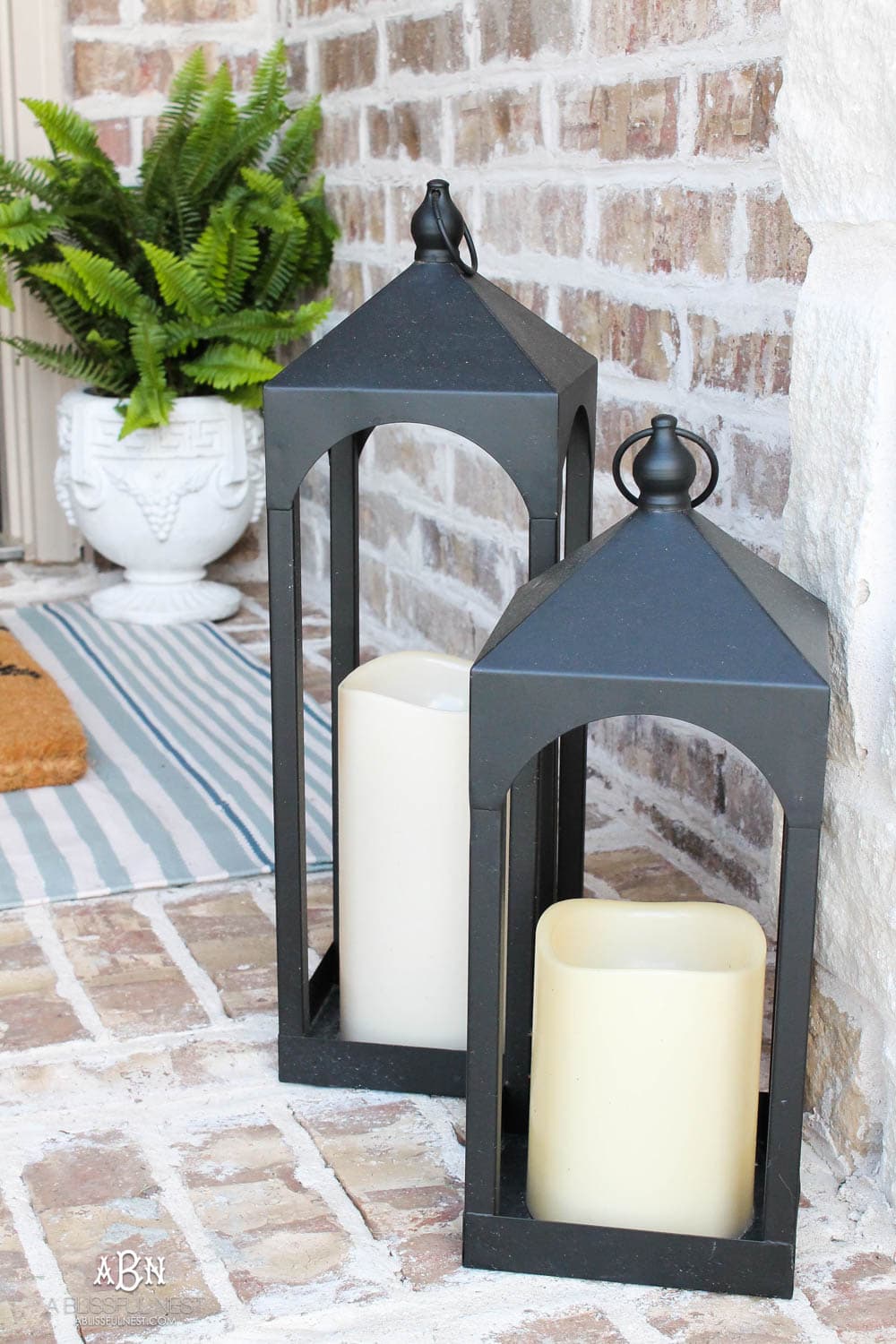 So now we come into the entry and if you remember I had it decked in blue for spring. You can check out my entry reveal post HERE.
I also shared my summer living room a few weeks back and I love that is light and fresh for the season. I love decorating for summer and having tons of fresh flowers in the house. I love to mix my faux florals that I tend to use more in the winter with them for a long lasting display too.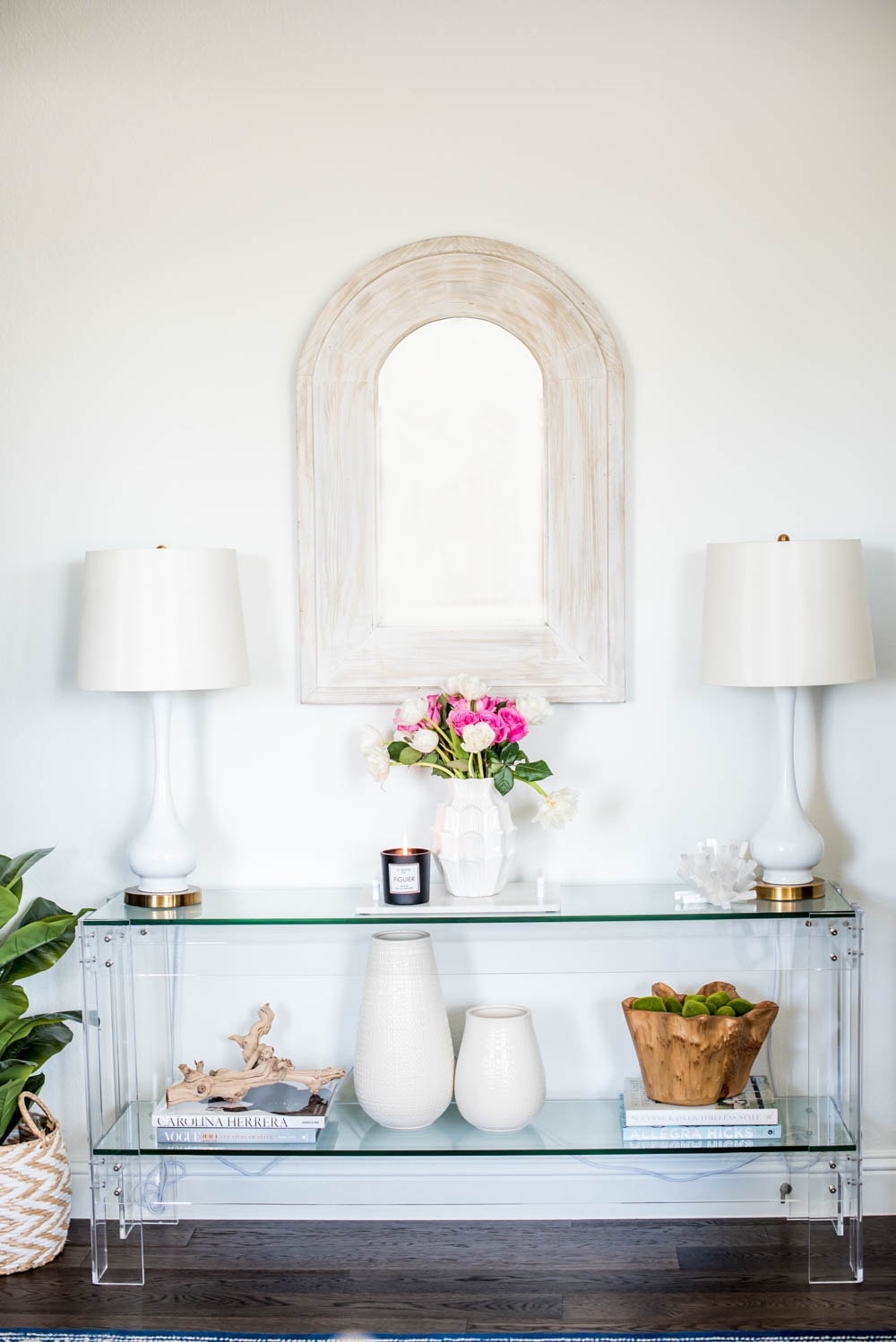 In our entry I swapped out the blue hydrangea for this gorgeous fresh mix of white tulips and pink roses. I put it in this white vase I got at Homegoods last year and a delicious smelling candle. I love lighting it when we have guests come over because you can smell it right when you open the door.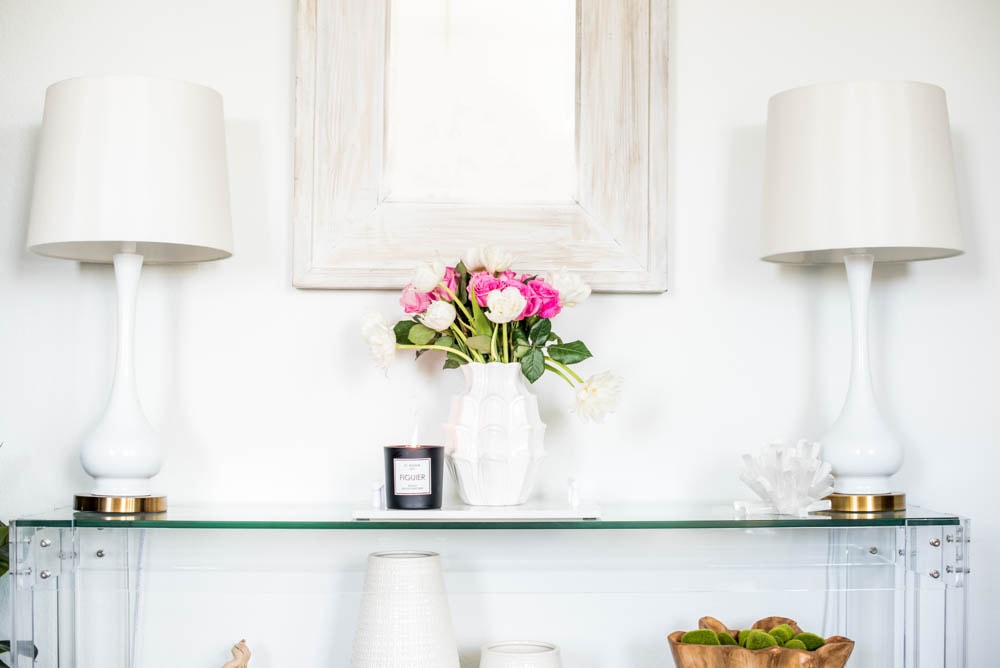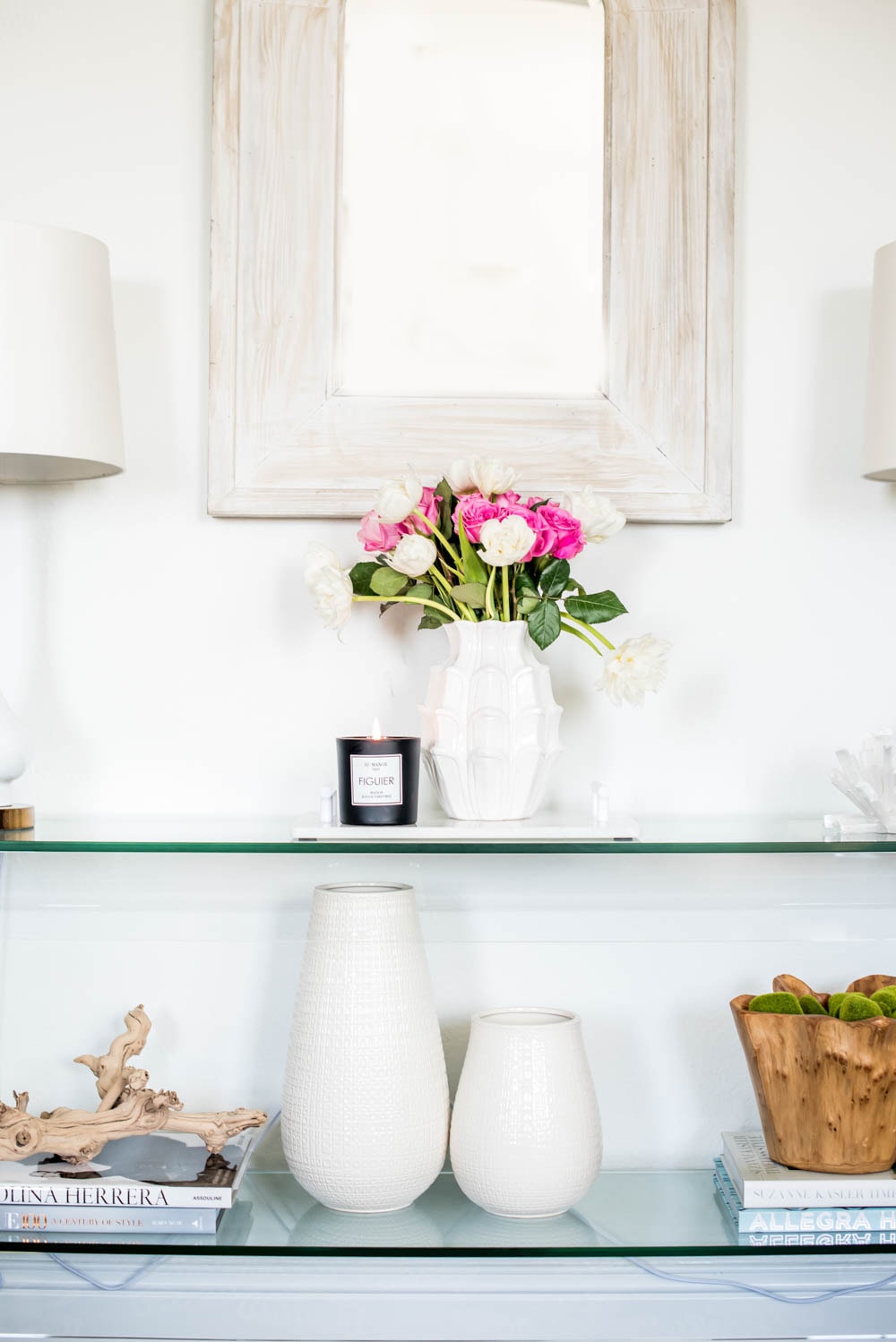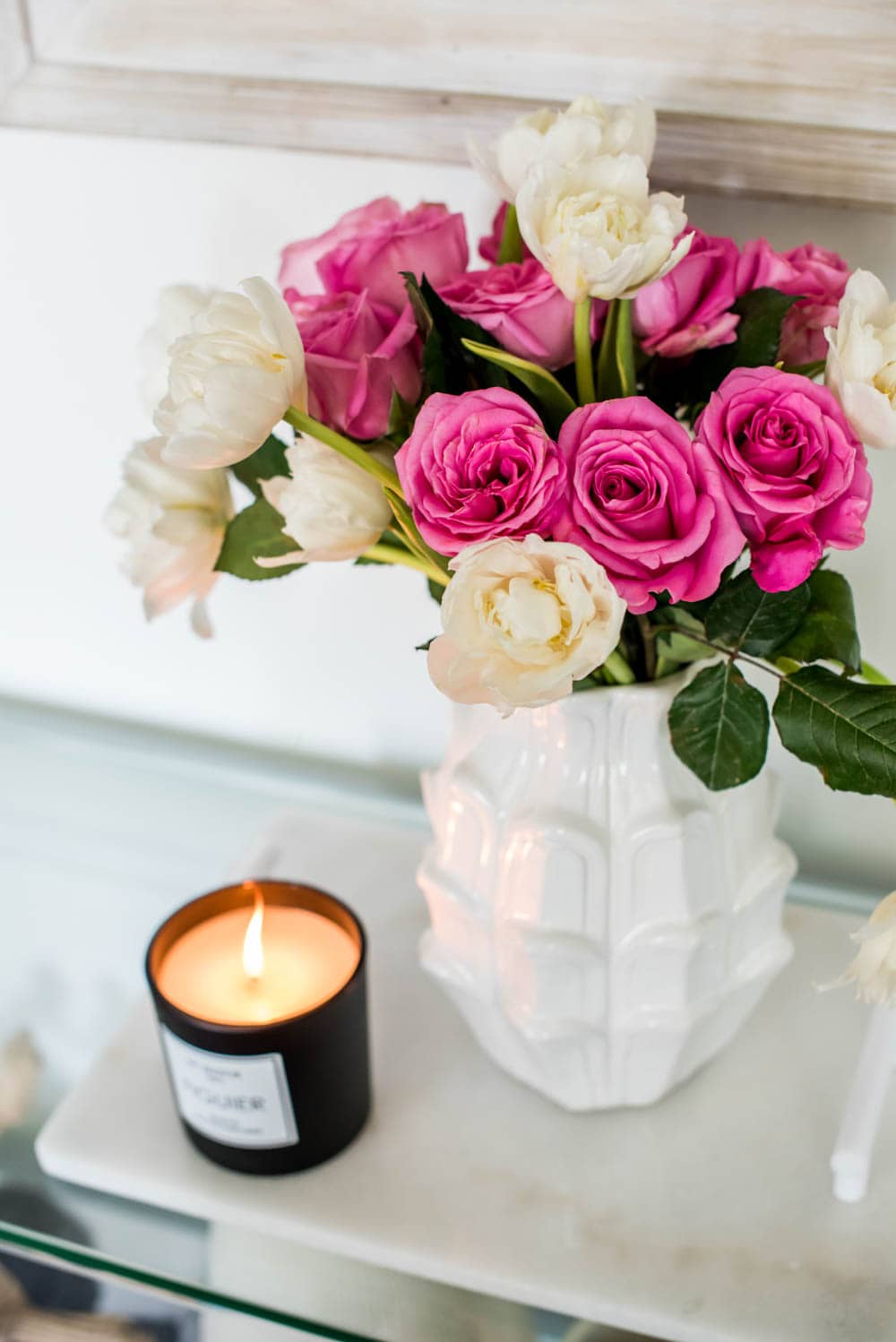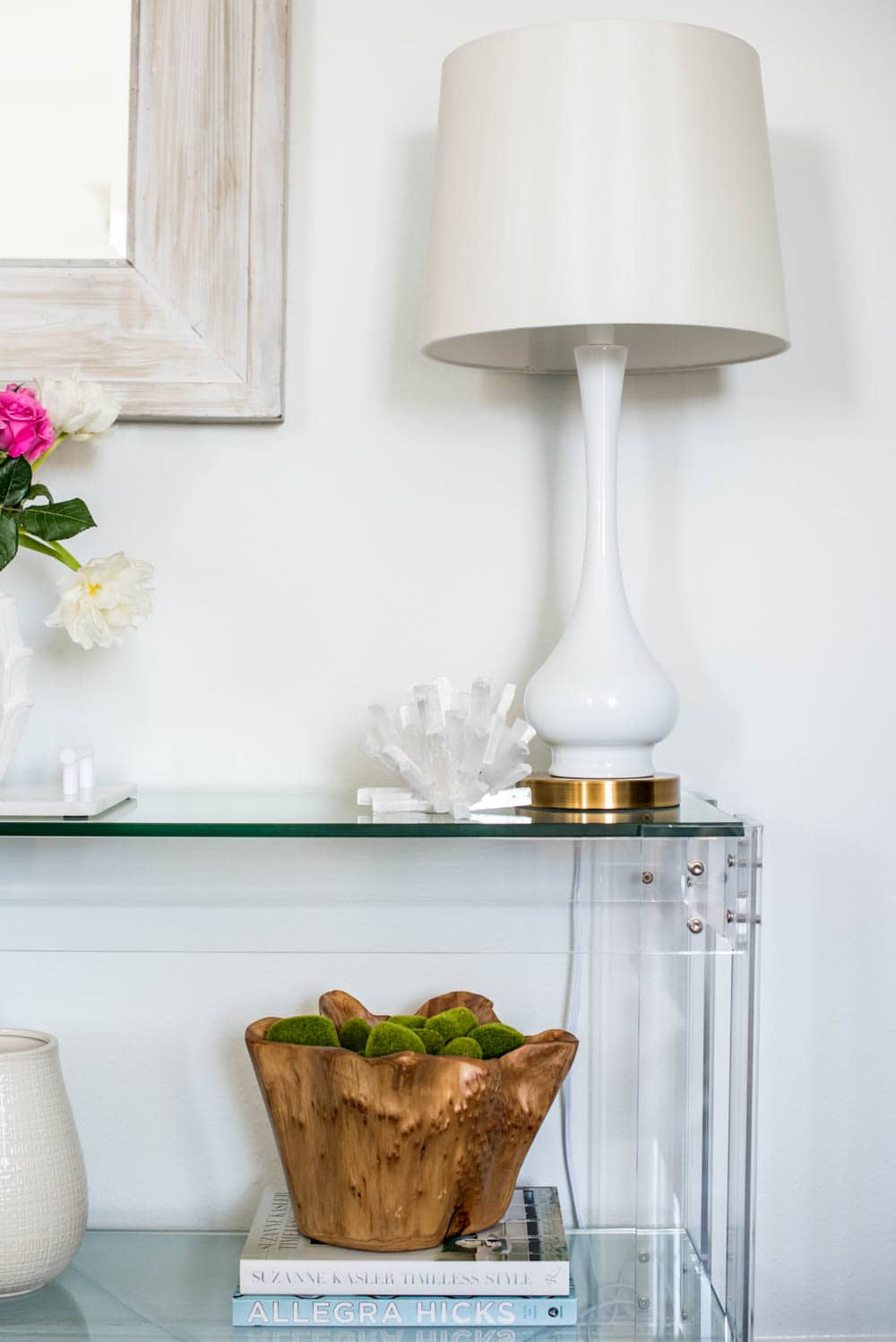 I am so in love with these simple white table lamps with this subtle gold accent. They were such a great find and the pair of them is under $150. That's such a steal in my book!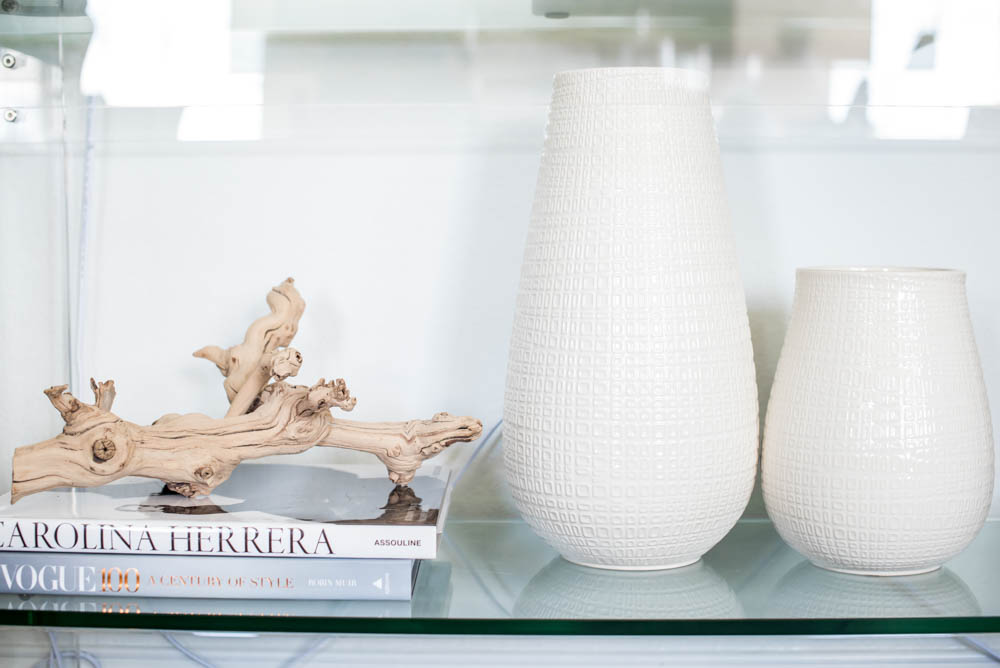 I kept the rest of the decor on the lower shelf the same from spring and think it is the perfect neutral display for each season. These white vases and grapevine branch give a lot of texture to the space.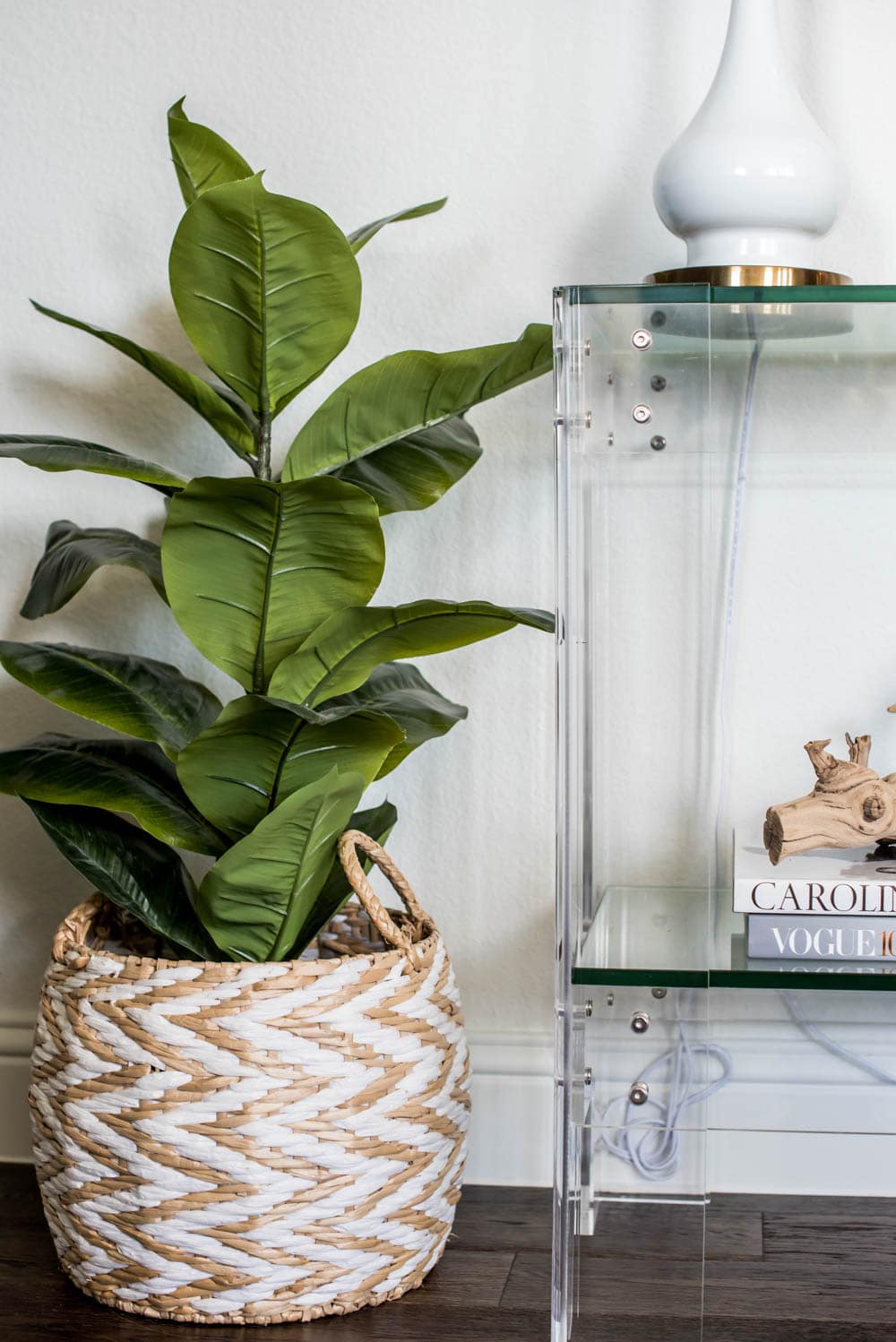 I am looking into these for my cords. I just heard about them the other week and was thinking here would be a good spot for them. Even though my table lamp cords are white, with my acrylic table you can still see them. At least this might be a solution for a cleaner look.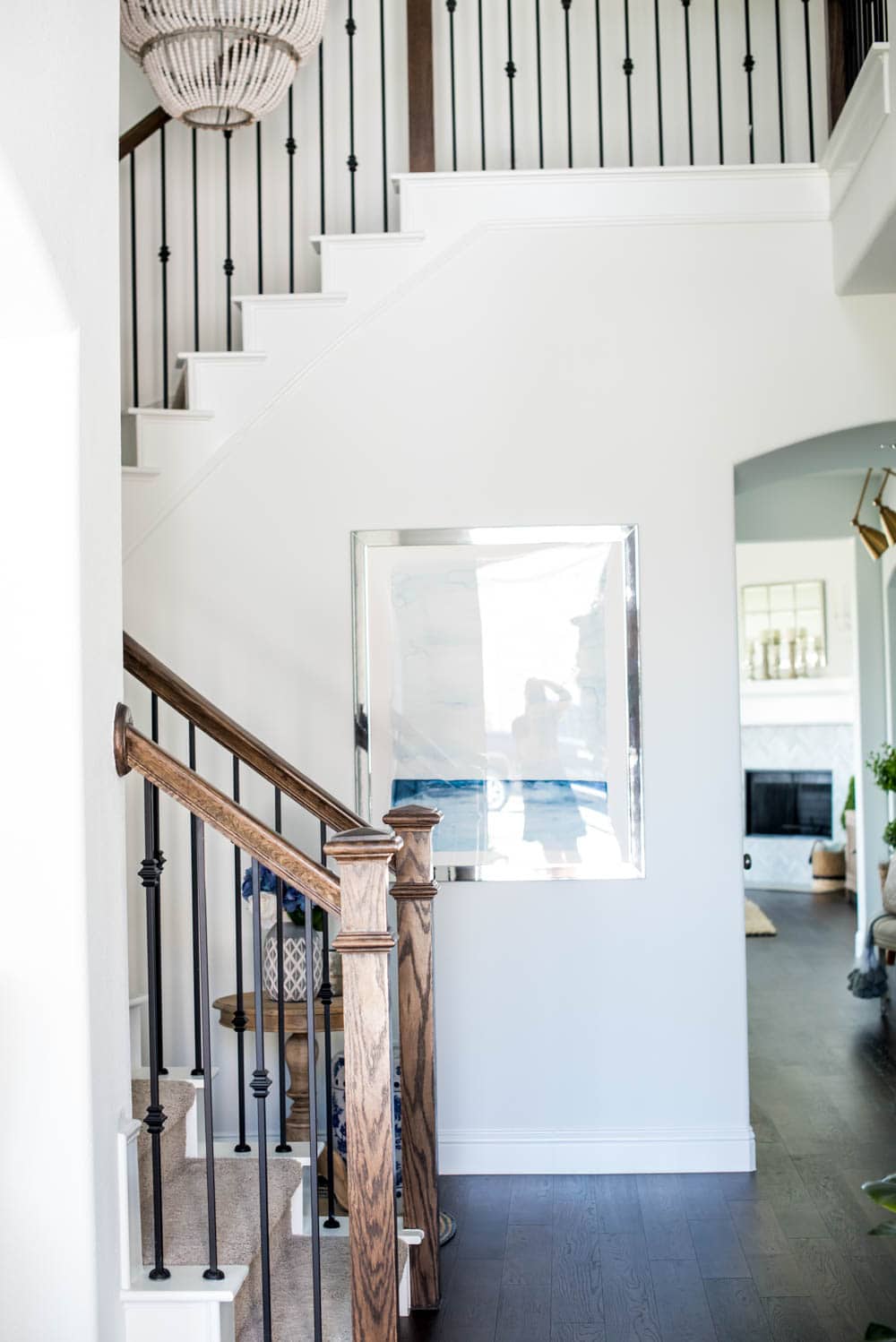 As you know our entry is narrow but long. So this area really need a little update too.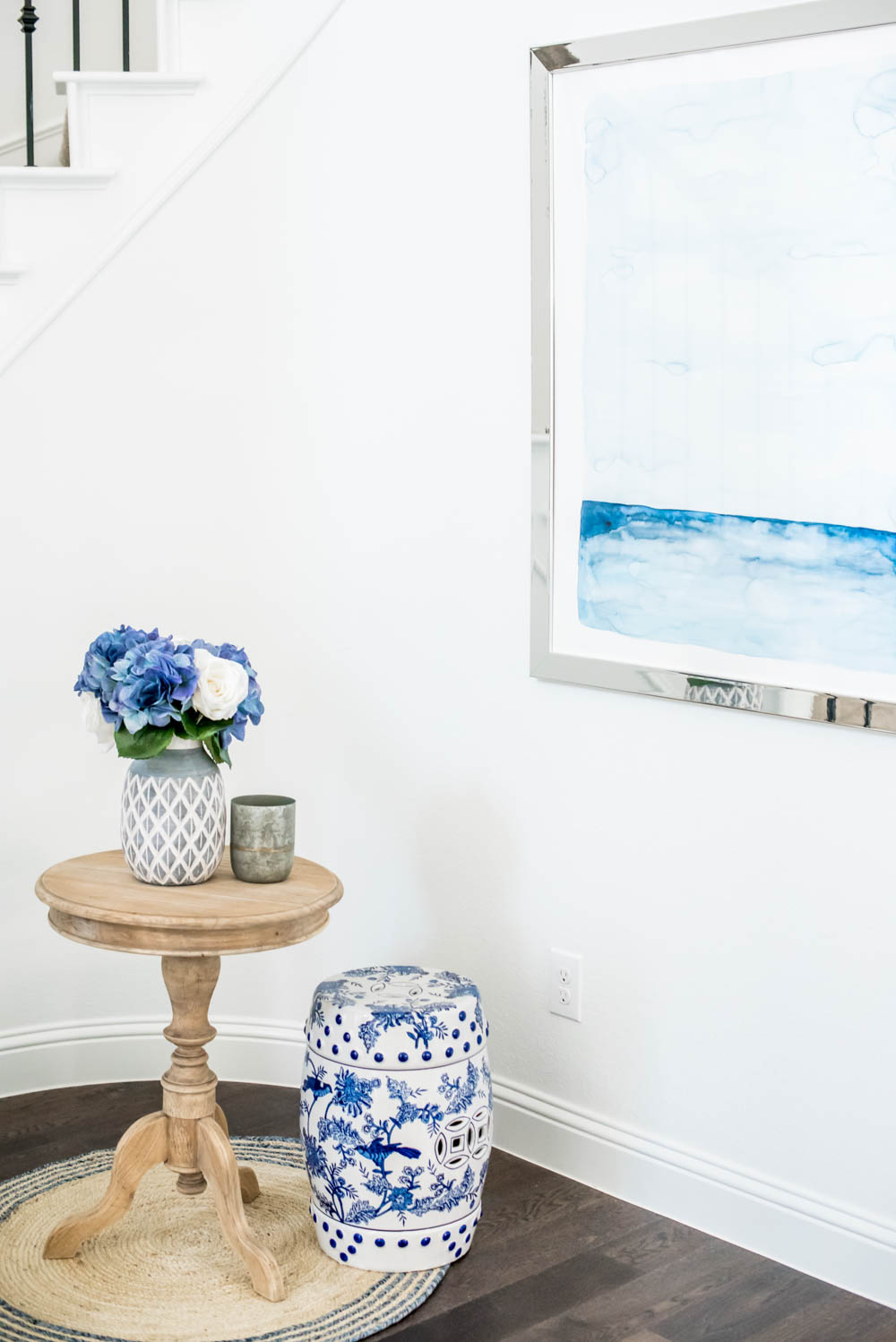 I recently got this jute round rug for here to ground the table. It is the perfect size and I think it warms up the space a bit. I love the blue stripe too and it has a beachy vibe to it.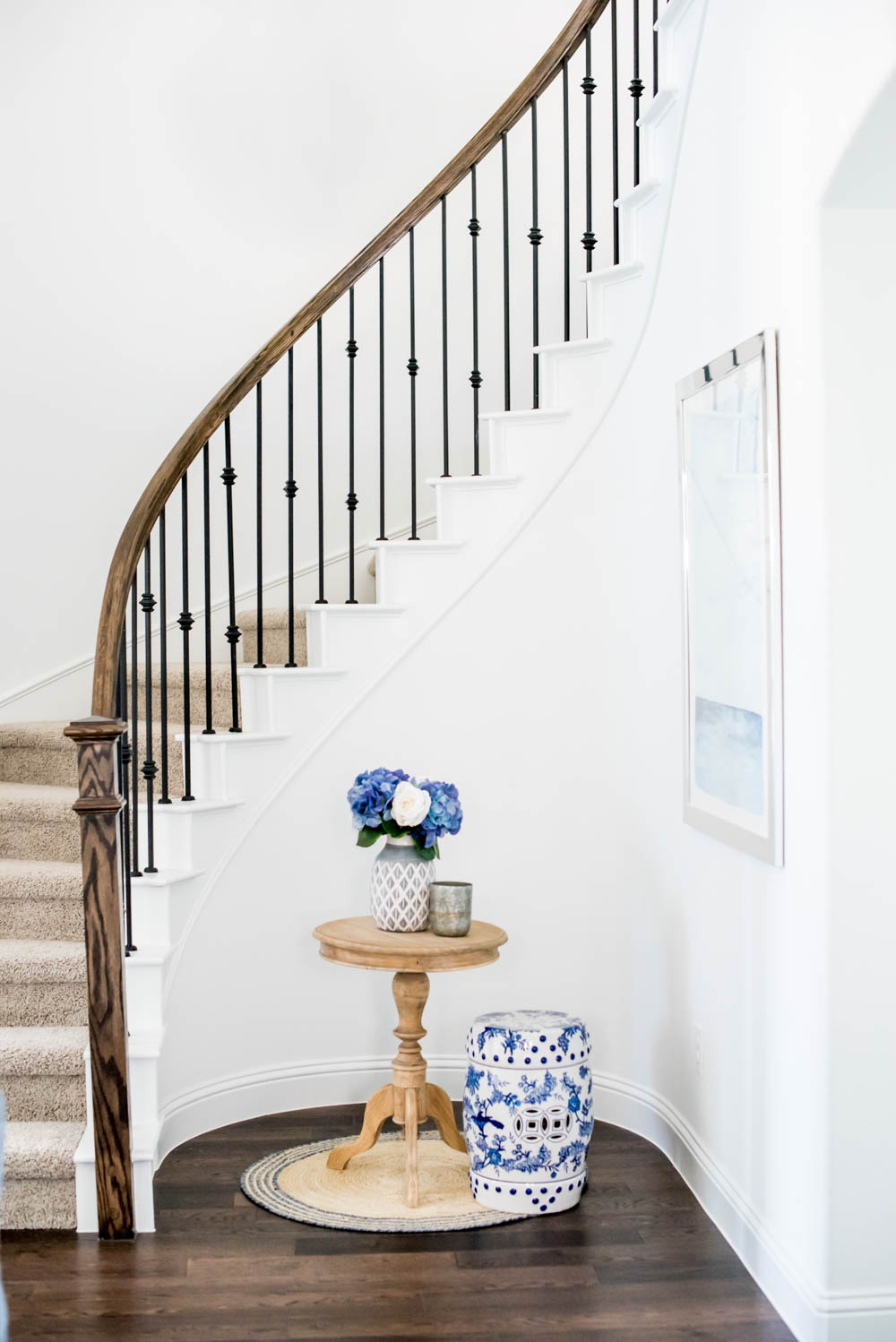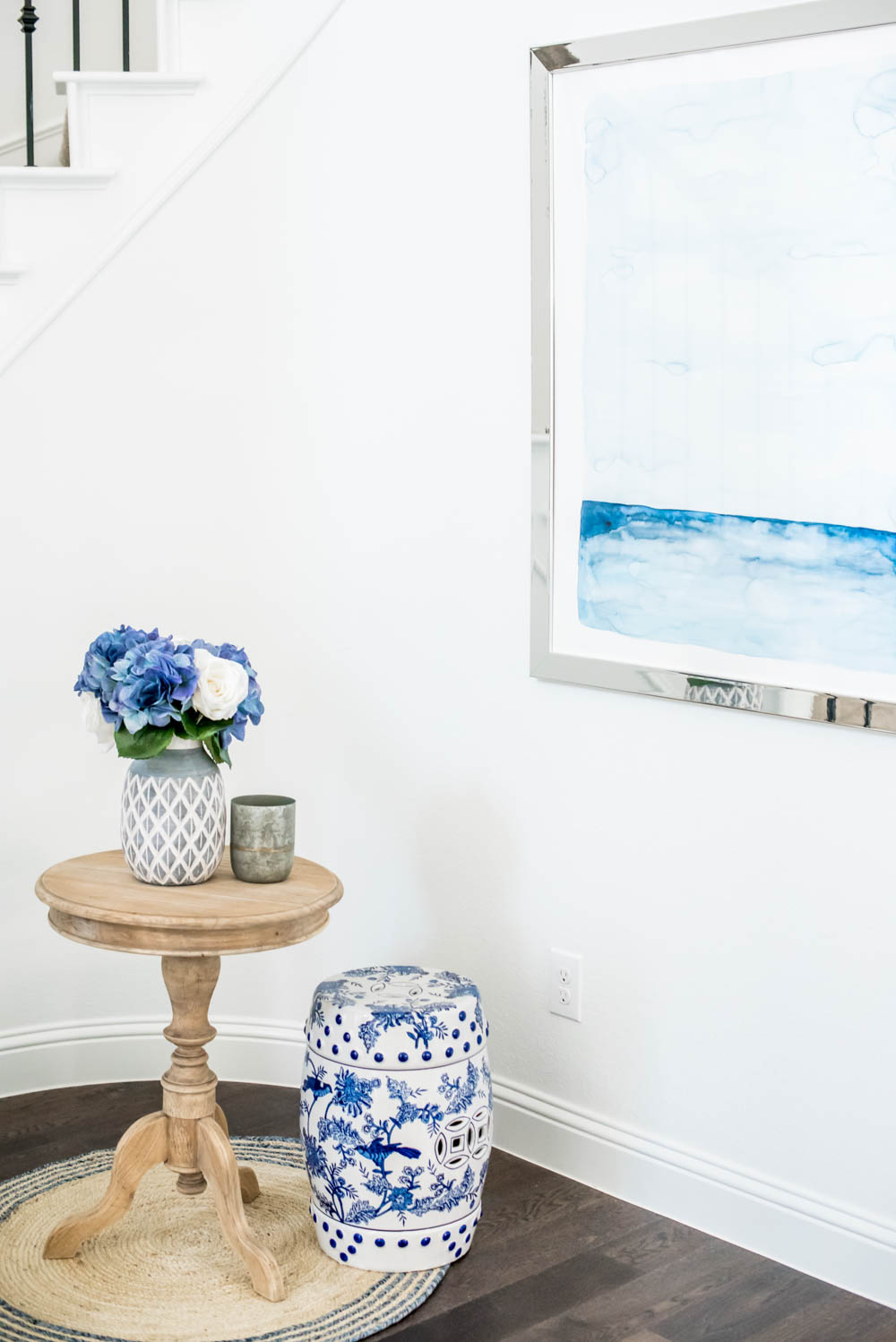 My art print from Kori Clark is one of my favorite pieces in our home. It reminds me of the beaches back home in California. I took the vase and faux florals that was in our spring living room and added them here along with one of my favorite Magnolia Home candles.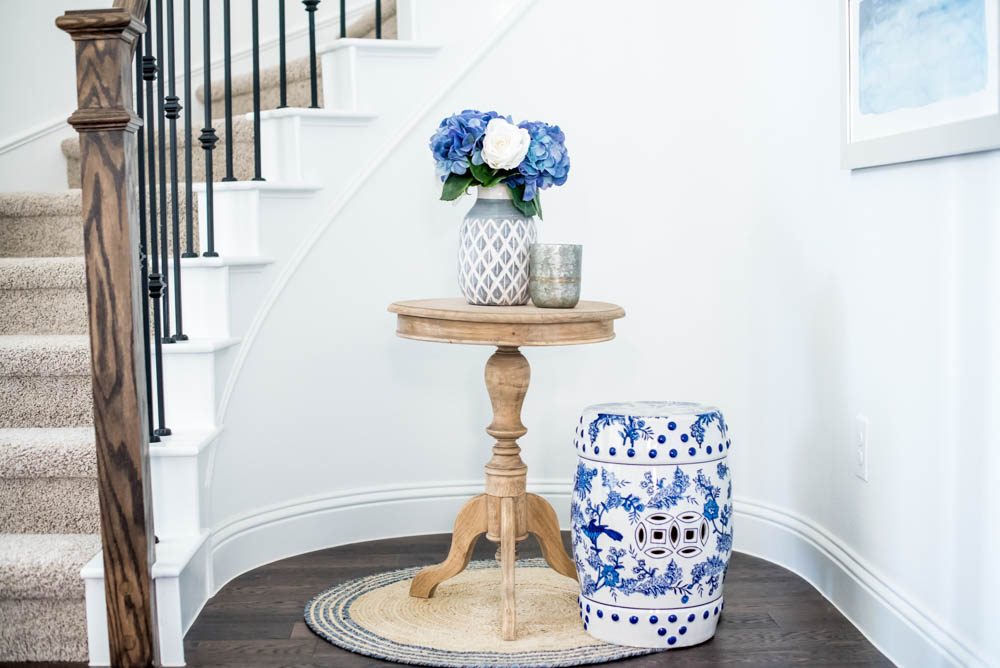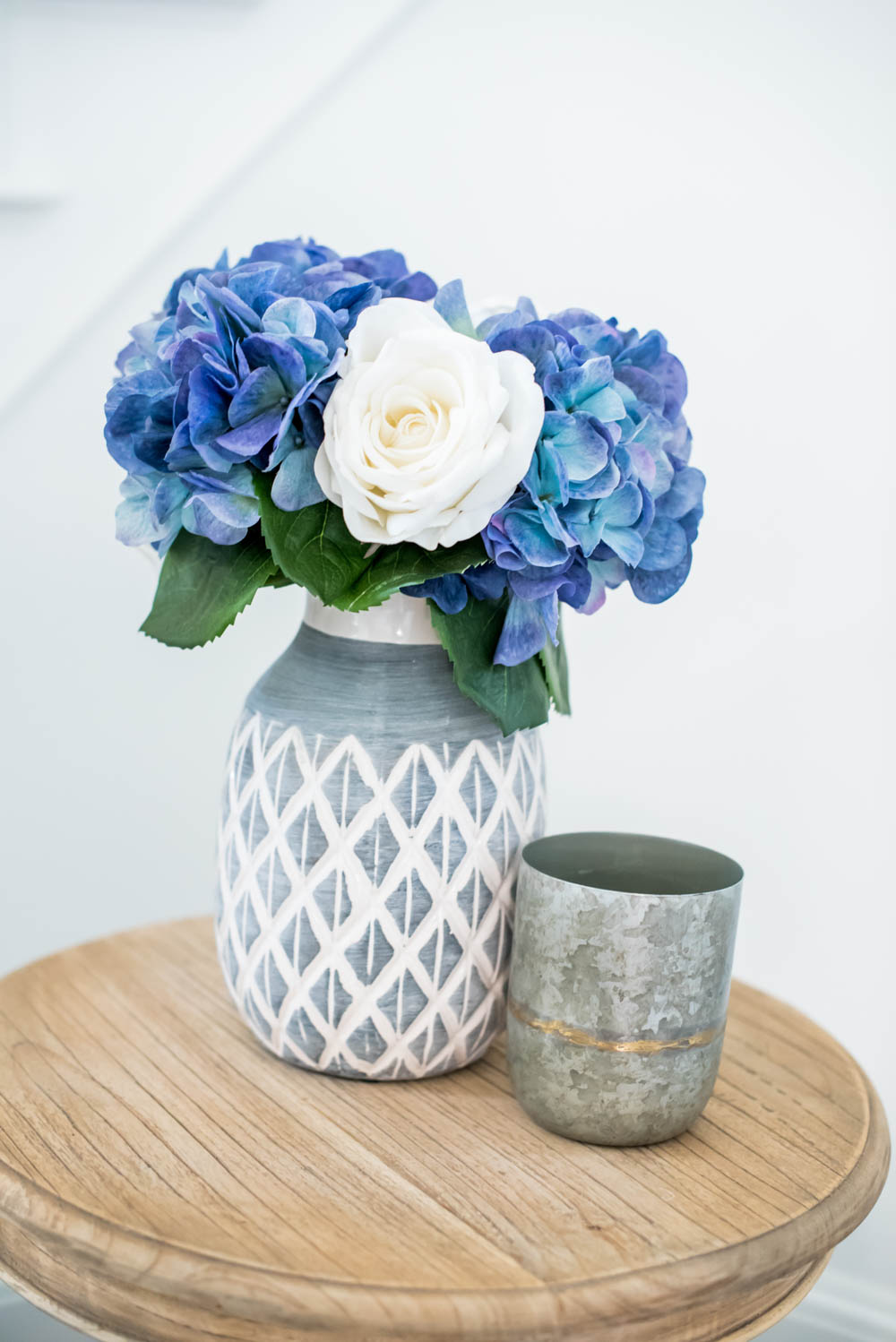 The view as you come down the stairs is one of my favorites.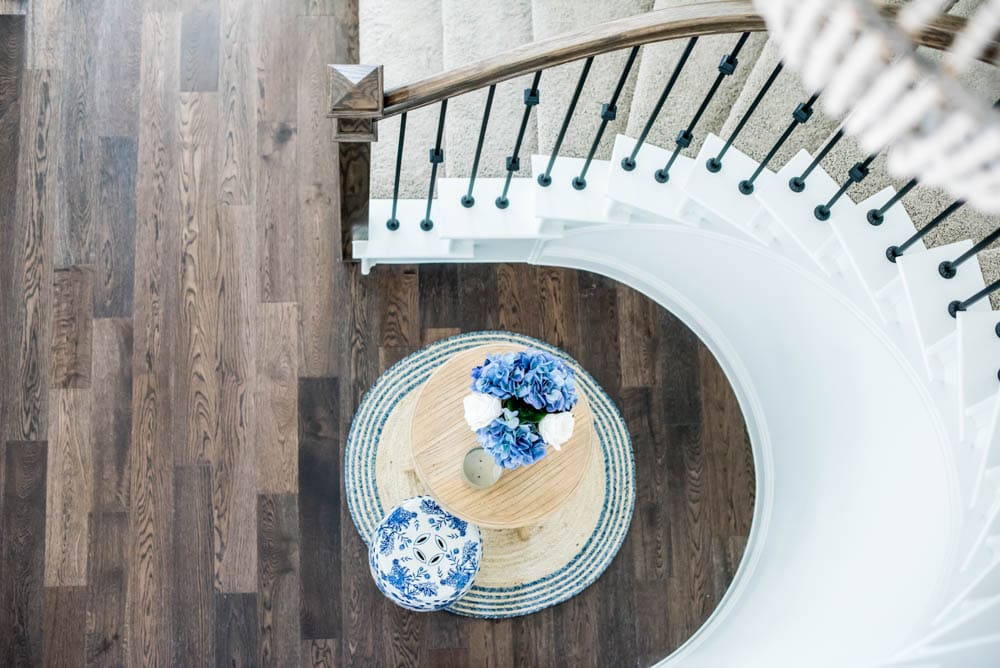 You can see how perfect the rug is for here from up above. I am glad I had waited until I had found the right one for here. I had contemplated a cow hide rug but because this is a tight space I had a hard time finding one that was 3′. This is when I tell clients to be patient and wait to find the right piece. Sometimes it takes a little time to find it.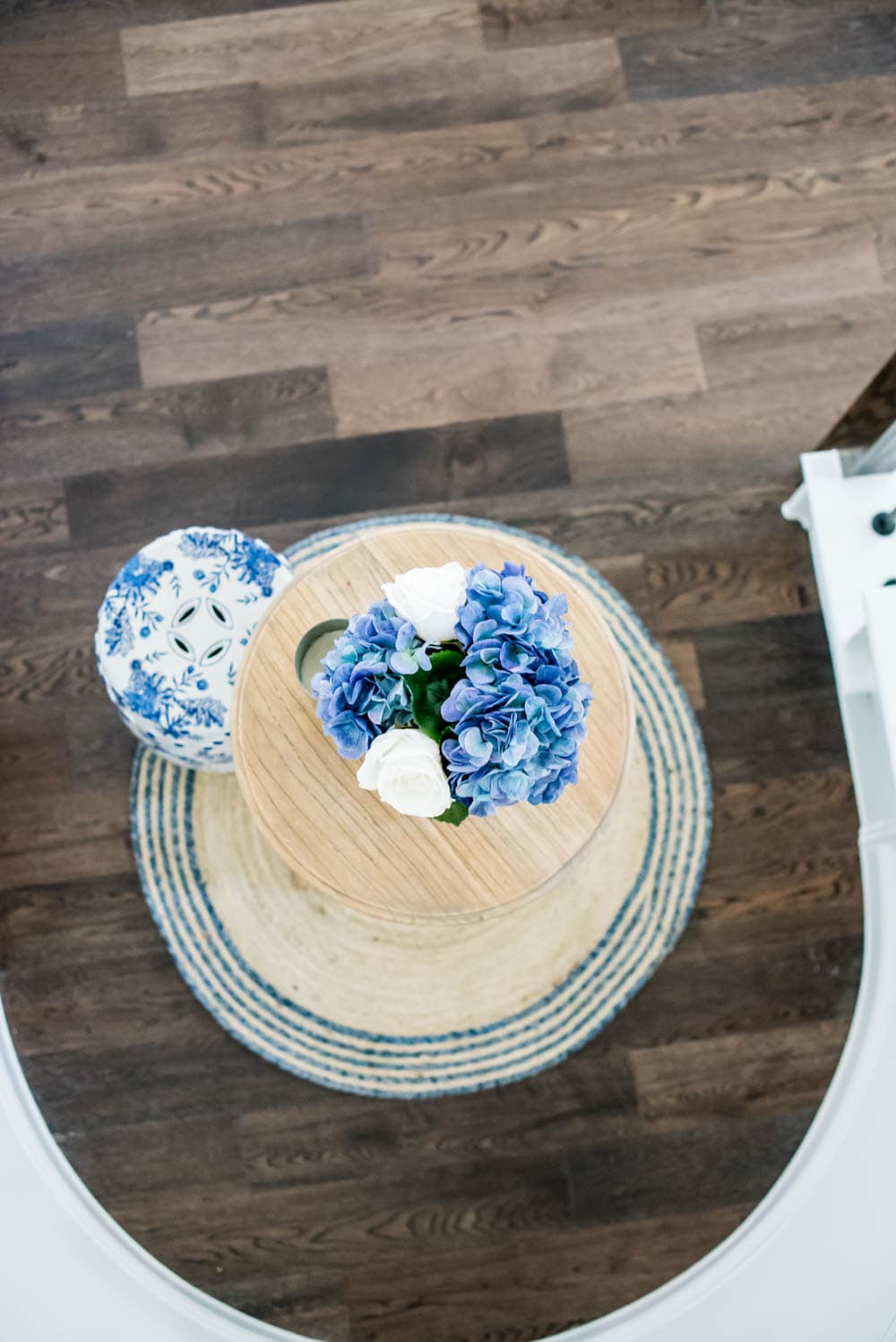 And that's it! I think our entry feels fresh and modern with touches of coastal flare. Hope you loved it to and it inspires you for your summer decor! I'll be sharing my kitchen reveal really soon with fun summer updates, so stay tuned!





* Entryway photos by Sweet Memory Photography