Little Girl's Room Refresh + Custom Wall Artwork
This post is sponsored by Society6.
When we designed this home, we wanted Lauren to have a room that felt like her and had her personality attached to it. Of course at this point all the walls in our home are all white and I did that on purpose so we would have a blank canvas to work with. She eventually wants to paint her room in a soft shade of blue like the ocean.
The room has a vaulted ceiling and windows that look out onto the lake. It is such a gorgeous and peaceful view. Lauren's 2 loves are horses and the ocean, which is not the easiest themed combination when designing this space. So we decided to marry it through colors, artwork and accessories.
Today I am going to share the first area of her room we have tackled. Like I said it is super white with wall color and furniture. We got this furniture when she was born from my parents and I always thought it would transition well with her as she grew up. There is a matching armoire on the other side of the room. But other than these 2 pieces there is not much else in here besides her bed.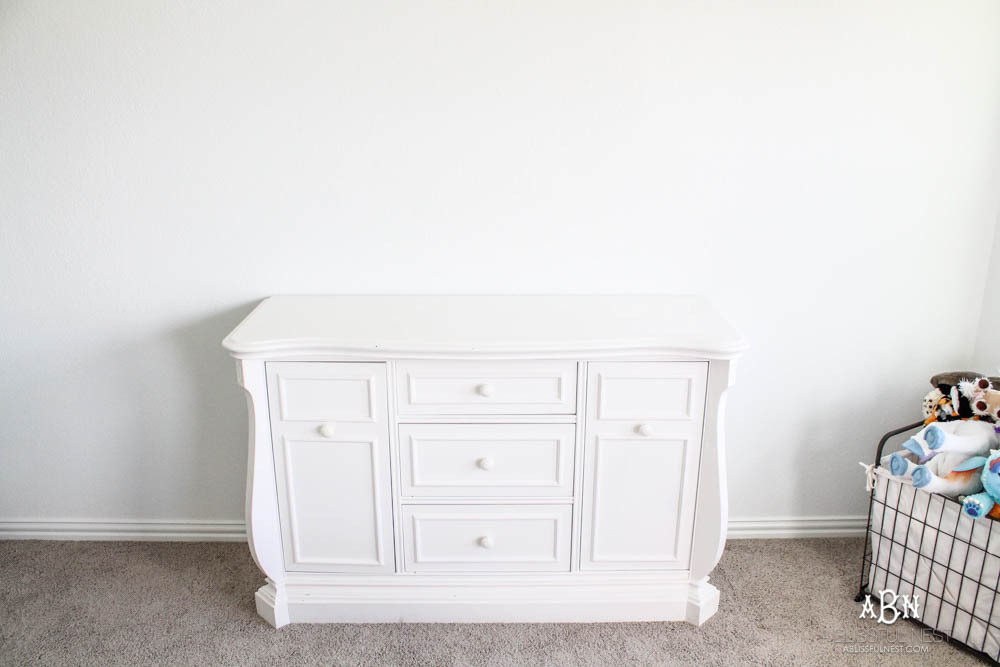 So here is what it looked like before. . . . and this is what it looks like now. As you can see this gorgeous wood wall art from Society6 designed by my friend Kori Clark set the stage.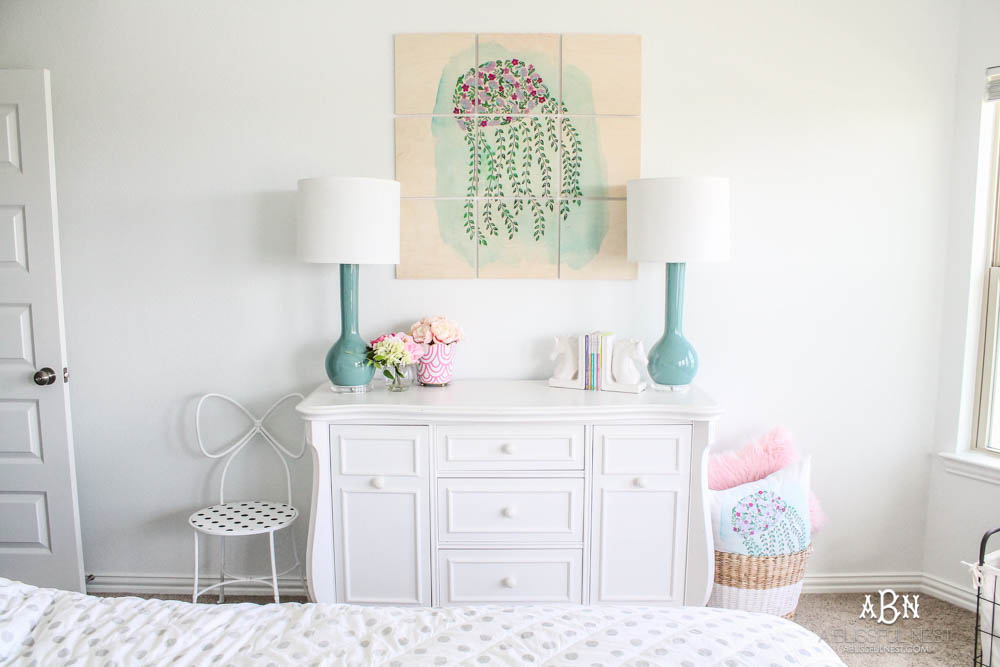 Recently I was perusing one of my favorite sites, Society6 and noticed they added wood wall art. I thought this would be a perfect way to add a touch of whimsy to Lauren's room in the theme she loved. Society6 has amazing talented artists and very unique custom items. I love the versatility of the items you can choose from in each artists shop. From home decor to table top and even apparel, each artist can offer their designs in many ways for you to use.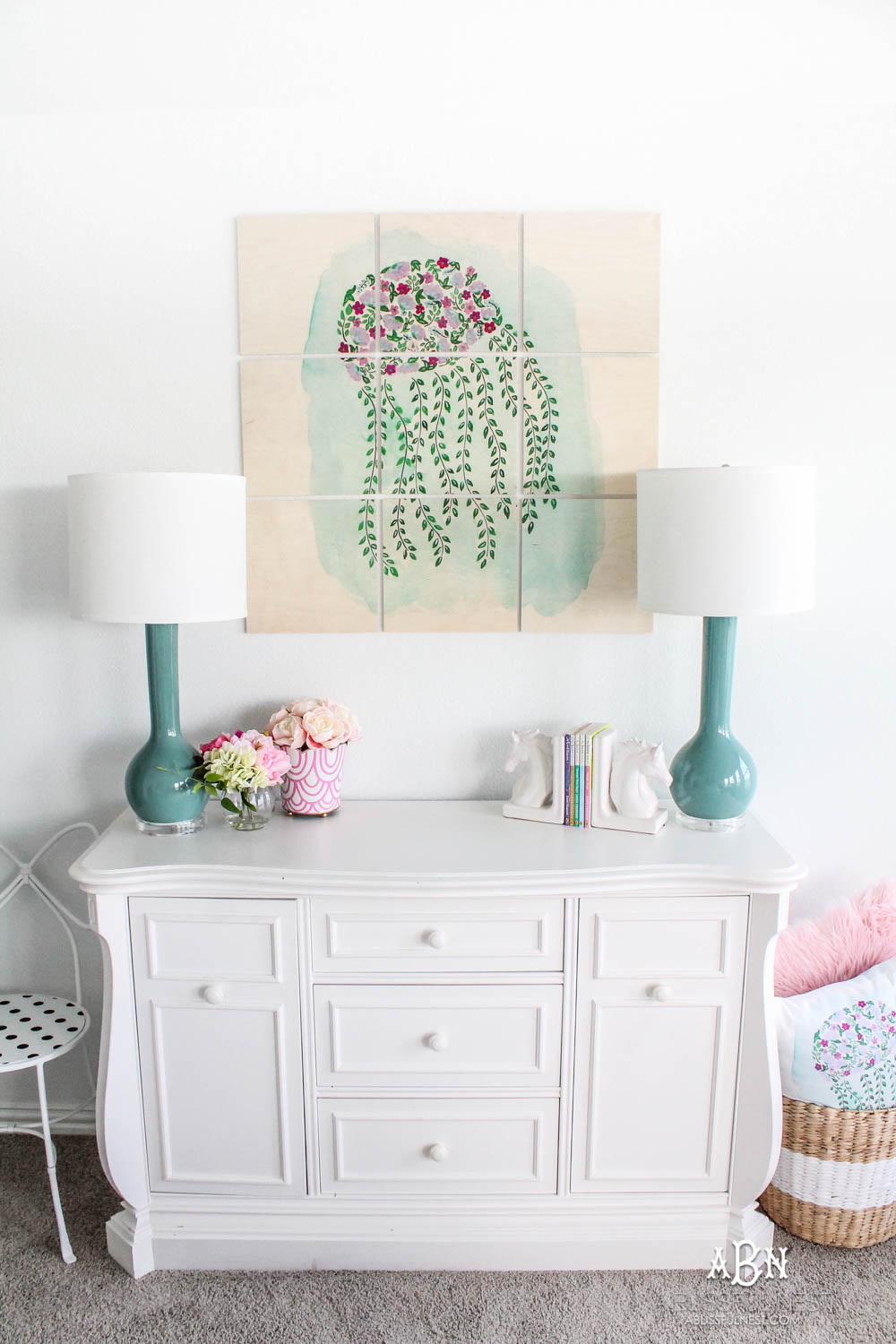 My friend Kori Clark has a gorgeous shop on Society6, so I popped on over to her shop with Lauren and looked at her collections and found this beautiful jelly fish artwork. Kori hand illustrates her art and we have a few of her precious pieces already in our home which you can see HERE.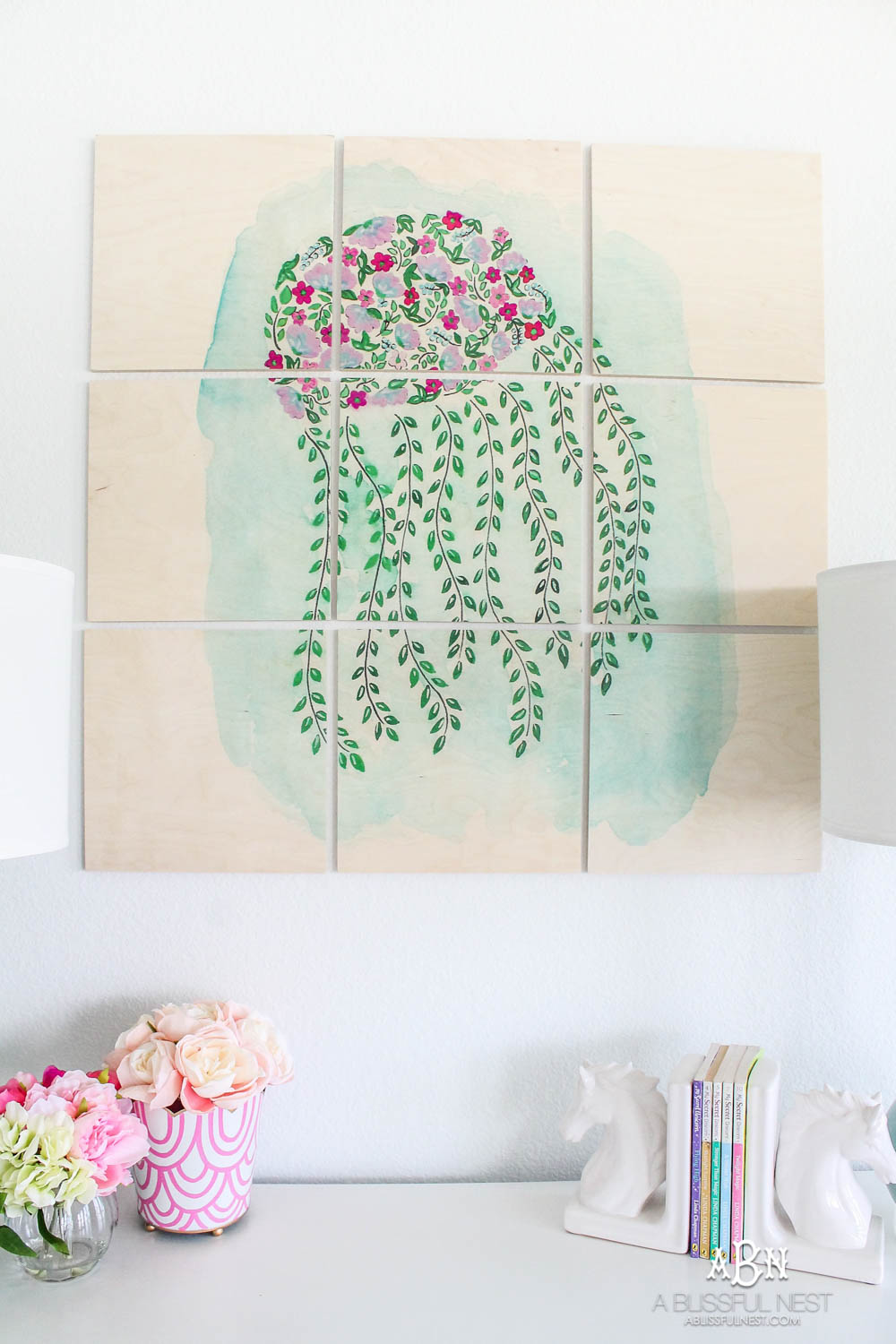 The beauty of the wood wall art is it comes like a puzzle. It is created in 9 sections that are numbered on the back so you can easily put it together. Then there is a simple guide to follow that it comes with to help you hang them. I decided to only have a small gap in between our pieces, but you can hang it with a little more spacing if you like. I ordered the 3'x3′ but it also comes in 4'x4′ or 5'x5′.
I love the natural wood finish of the boards too. With the all white room, it really makes the art stand out. The colors of the artwork are very vibrant and colorful.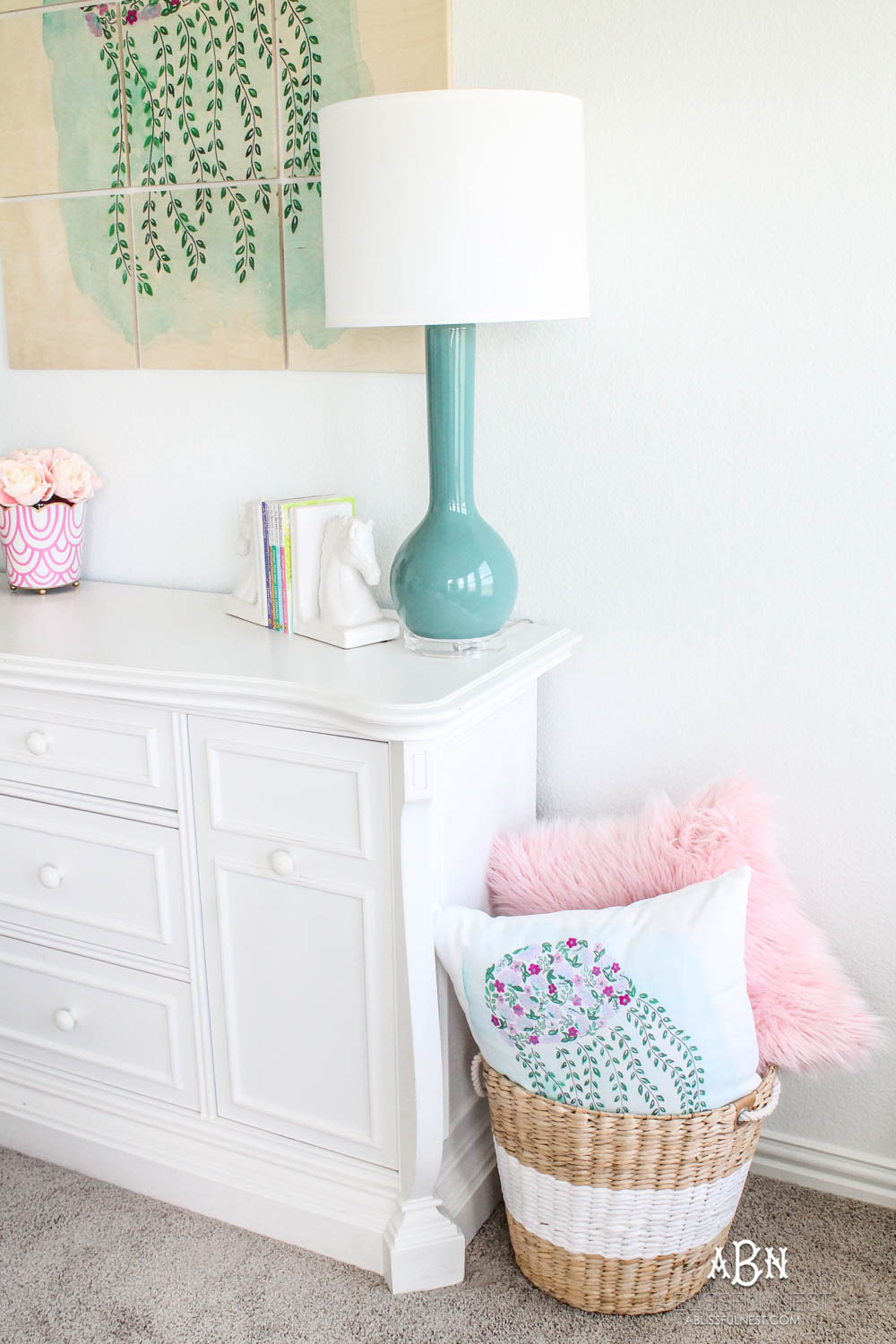 I decided to also get the matching pillow from Kori's shop. The pillows from Society6 are printed on a weather resistant polyester poplin fabric and have a faux down pillow insert. They are gorgeous and again the colors are super vibrant and beautiful. I placed it with a furry pink pillow in this darling little basket so she can throw them on her bed in the morning when she makes her bed.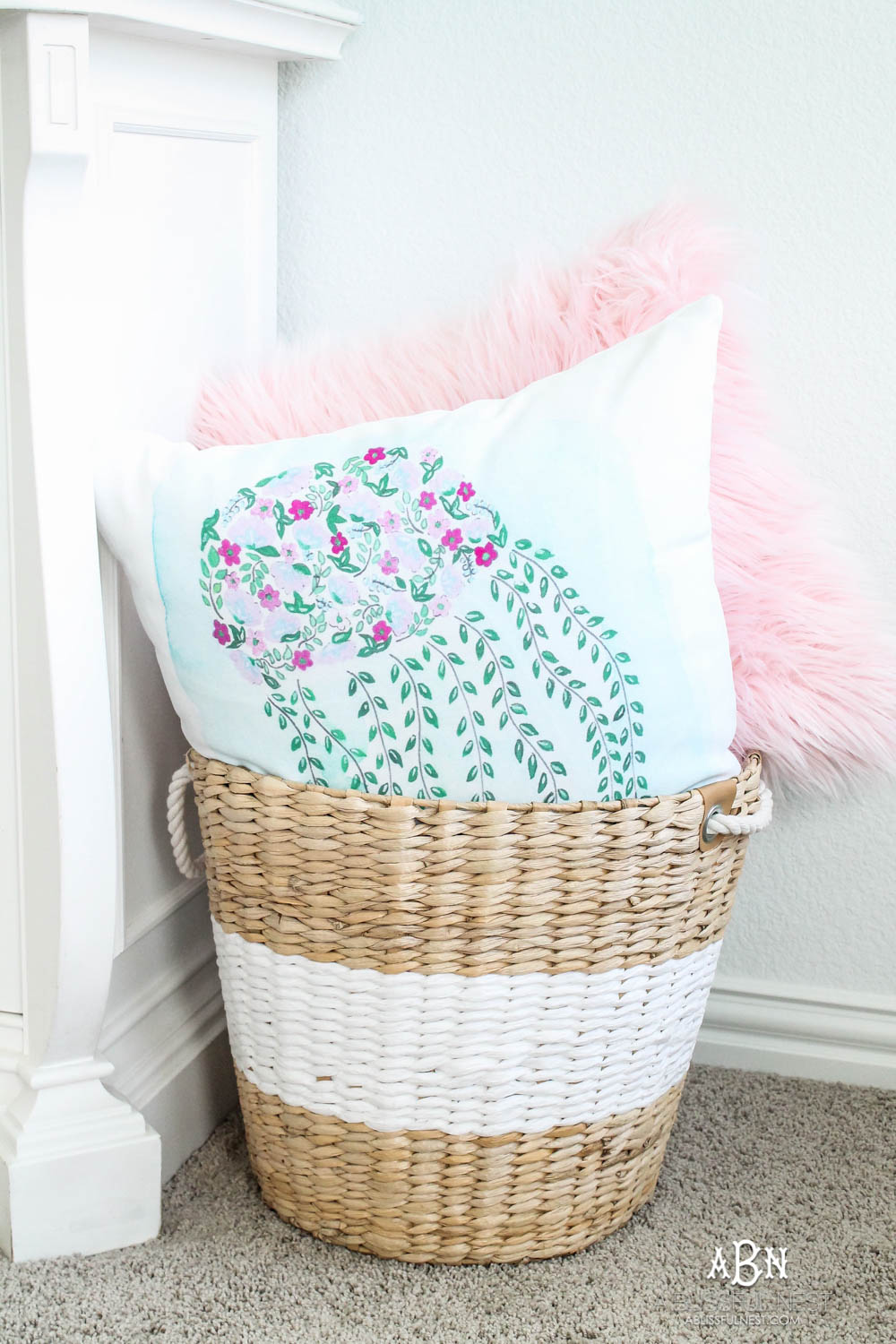 I also added turquoise table lamps to match the wood wall art. I think they make the jelly fish tentacles stand out.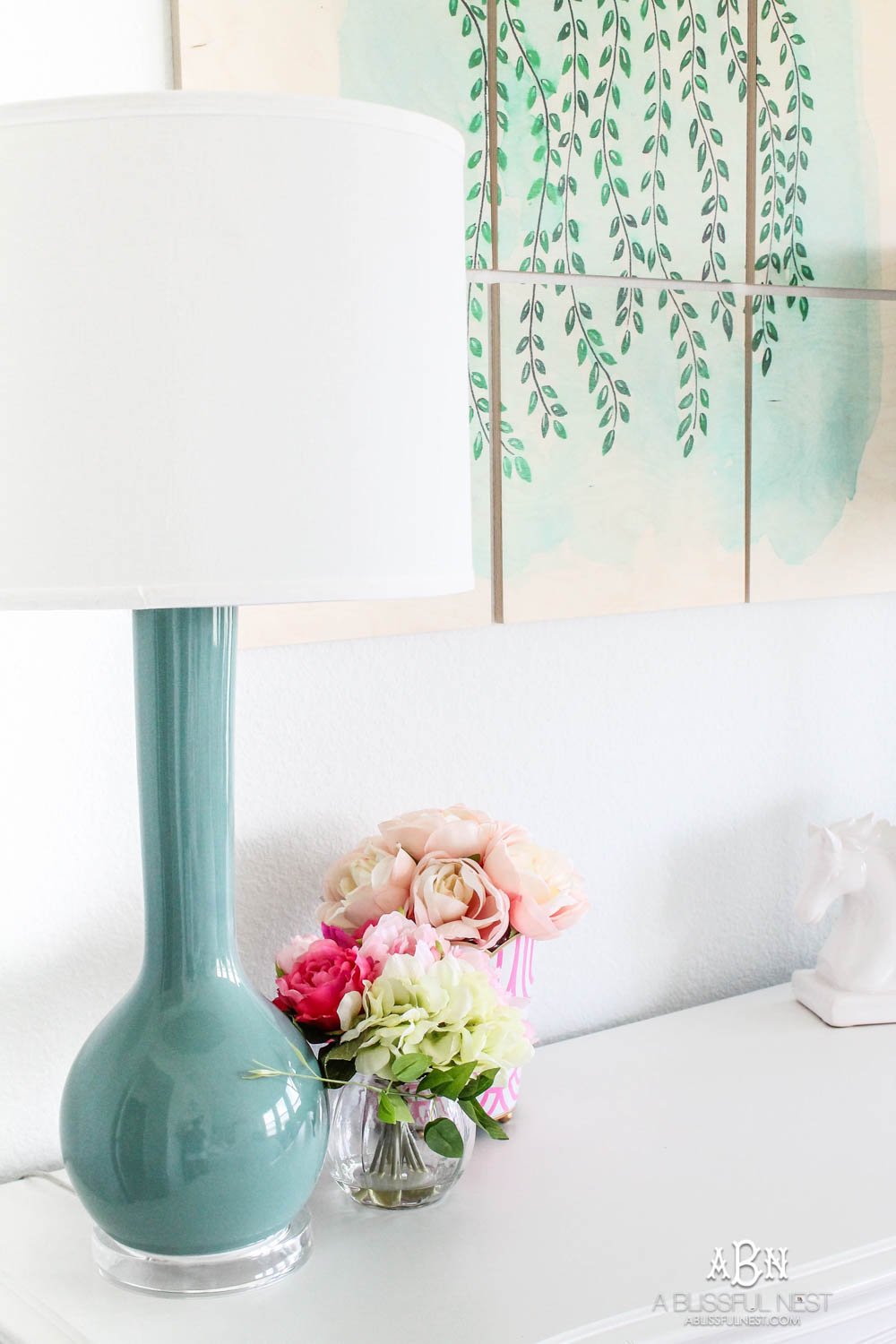 I love having fresh flowers in my home but in kids rooms it is impossible. I added these 2 faux floral bunches to mimic the flowers in the body of the jelly fish and they are such a fun girly touch.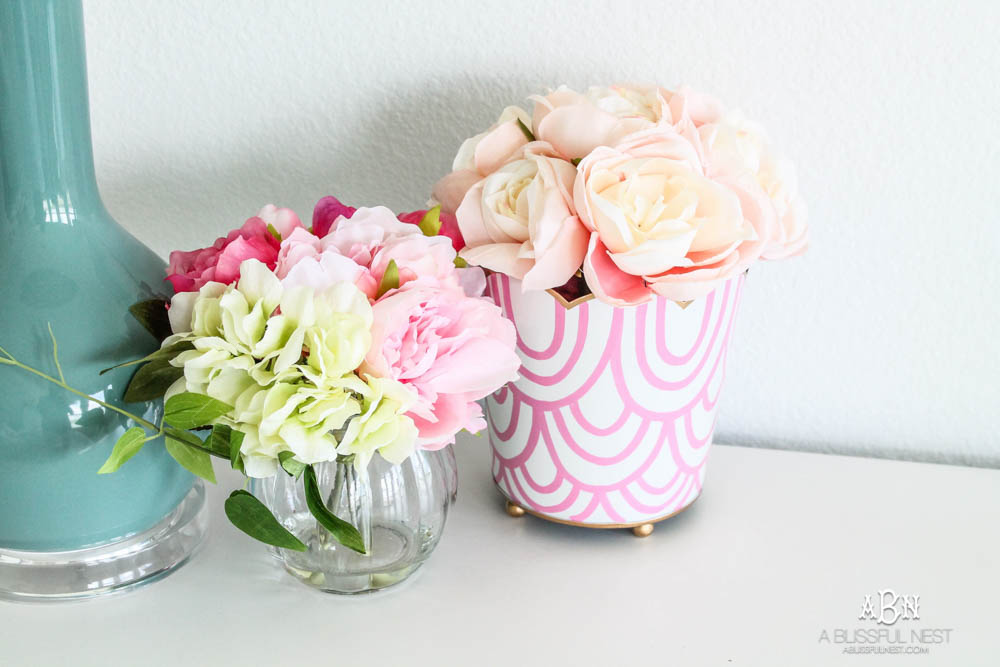 My little girl is super horse obsessed and is currently reading this series of books so they need to be readily available. I tied the horse them into all the ocean art with simple white bookends on top of the dresser.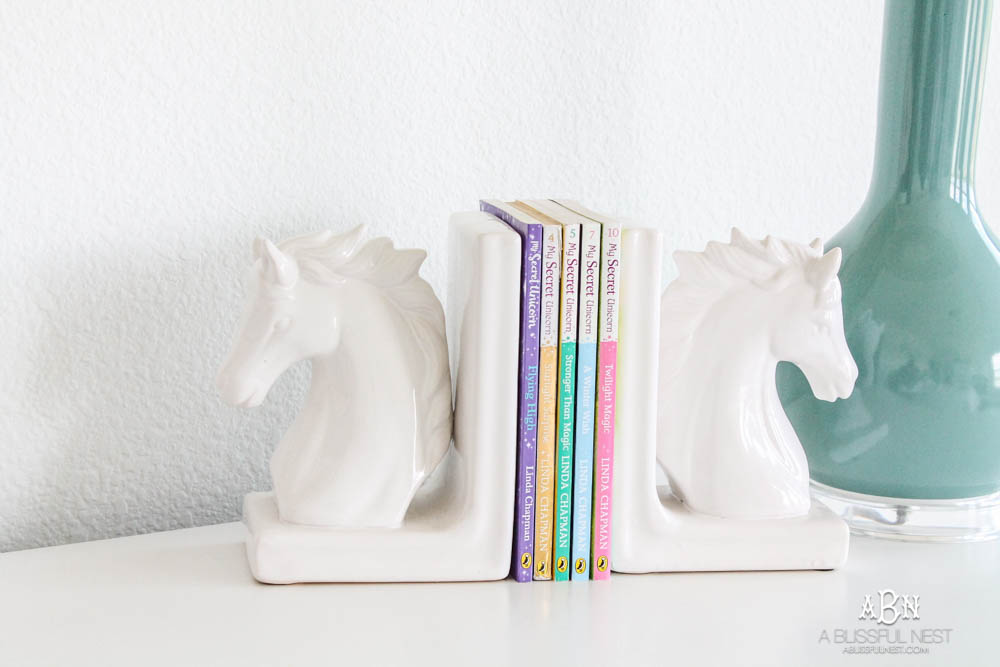 I am just in love with how this little section of Lauren's room turned out and can't wait to complete the rest of this space soon. Society6 makes it so easy to place an order and I love all their unique artist pieces you can select from. This is such a great way to add in beautiful art to your home in a unique way. Make sure you check out more of their beautiful pieces HERE.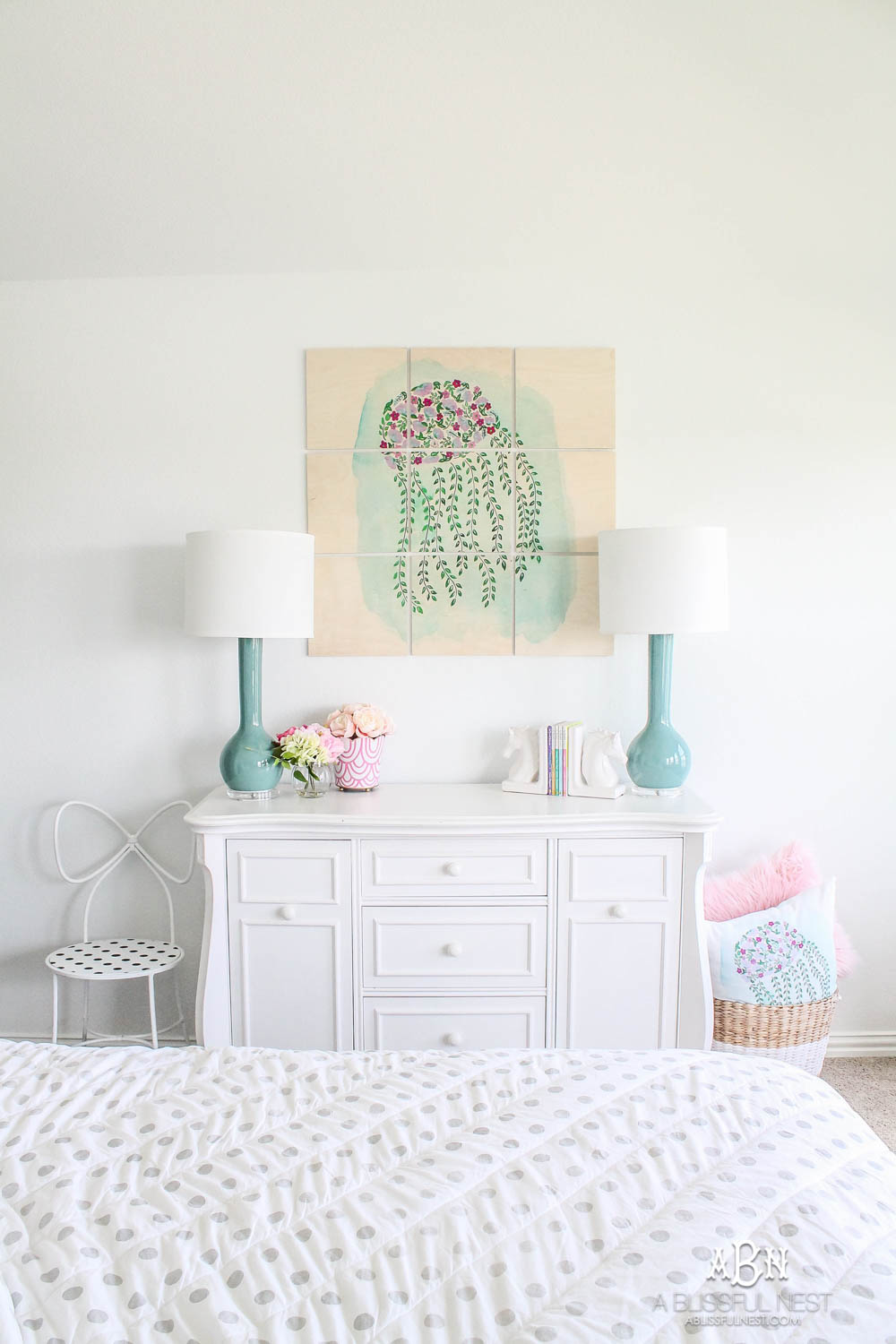 THIS IS A SPONSORED POST. A BLISSFUL NEST HAS RECEIVED PAYMENT, TRADE, AND/OR PRODUCTS FROM SOCIETY6 IN EXCHANGE FOR PROMOTING. HOWEVER, ALL OPINIONS STATED ARE OUR OWN.