Making Our Home Smarter with These Smart Home Ideas
This post is sponsored by Walmart and SheKnows Media.
When we moved in three months ago, we knew we wanted to make our home more functional for our family's lifestyle. We are a busy family of three, always on the go. Our daughter, Lauren, plays softball and rides horses while my husband and I seem to be two ships passing in the night lately. Our home is a little farther out in the suburbs now and currently we seem to have to drive to get anywhere. When my husband and I put our heads together on how to make life a little easier, one thing came to mind: we needed Smart Home Products that we could easily control from our phones to better manage how our home operated.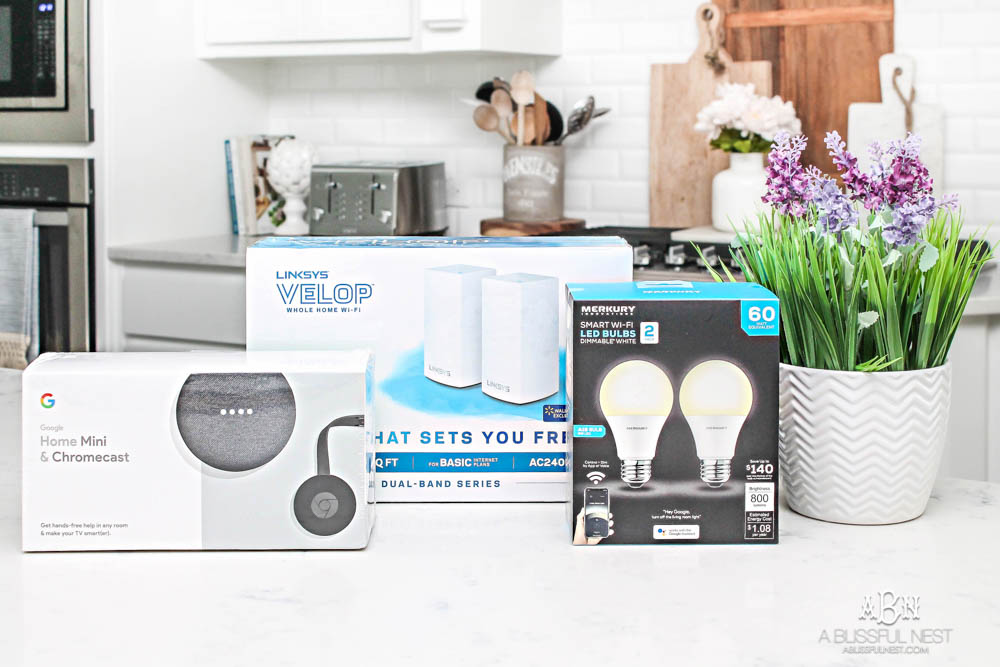 We have been Walmart shoppers for years and love how convenient and close it is. We have a Walmart down the road from us and I swear I am there every other day. All of our local Walmart's are laid out in the same way, so I know exactly where to go when I enter the store depending on what I am looking for. I knew the technology department, which is generally in the back middle section of the store, would have the solution to our problem.
My husband and I knew that we needed to be able to control key lighting in our home, manage our tv easily, and get a system to give us information on the fly like weather, recipe info, and sports stats.
I had heard amazing reviews about the new Google Home Mini + Chromecast bundle set, so that was the first thing that went into my basket. It was so affordable for both at only $74. We decided to get rid of our cable provider and go with YouTube TV, which we can control with the Google Chromecast. It essentially operates like a provider box except that now we download apps to play what we need. YouTube TV is a fraction of the cost and streams just like regular tv. All of it is controlled with Google Chromecast, which is hooked up through an HDMI cable and then we use the Google Chromecast app on our phones to operate it. Trust me you guys, this is the way to go to save on your monthly expenses.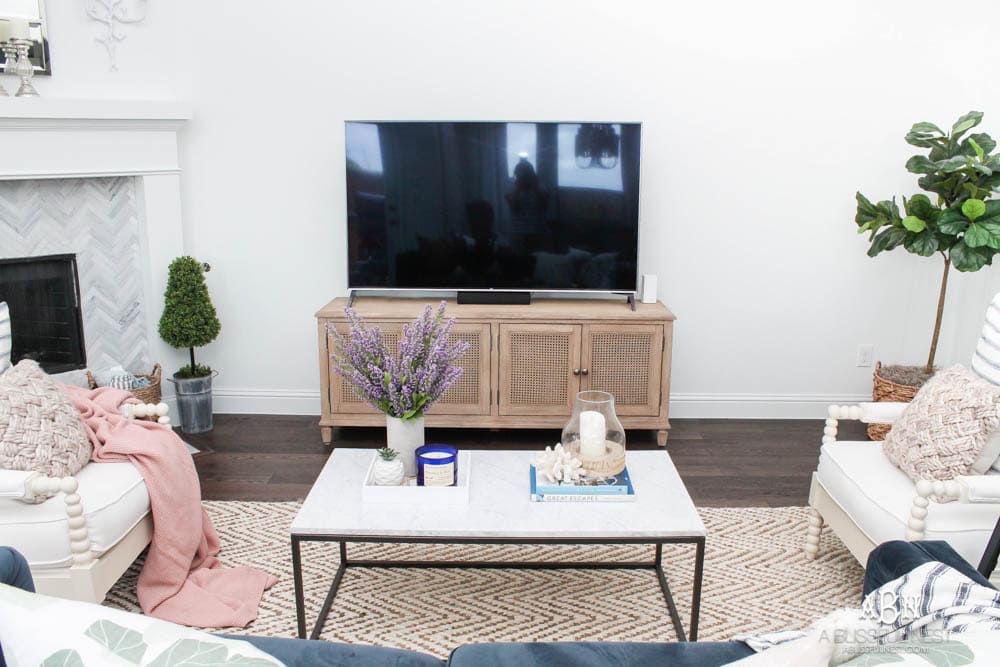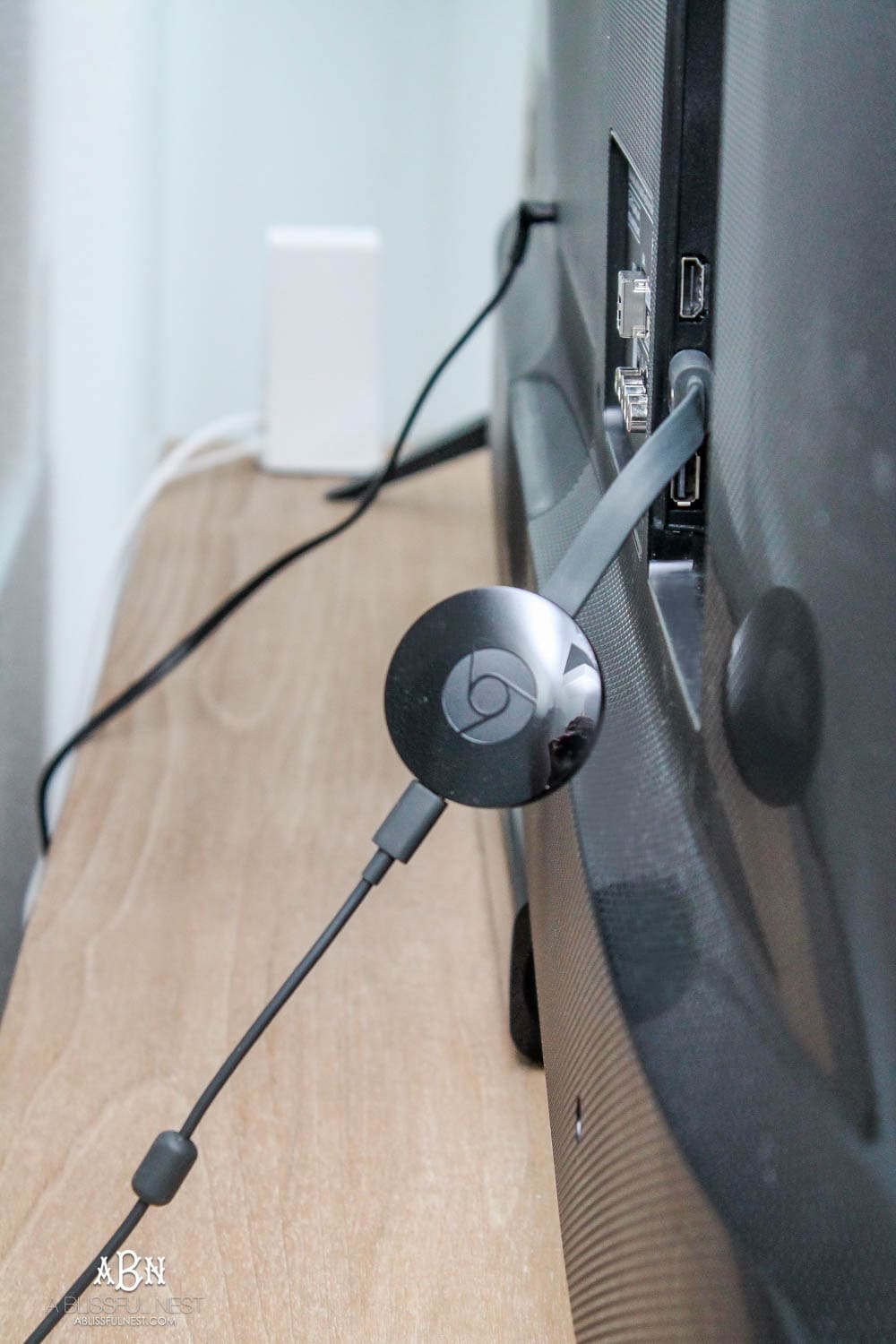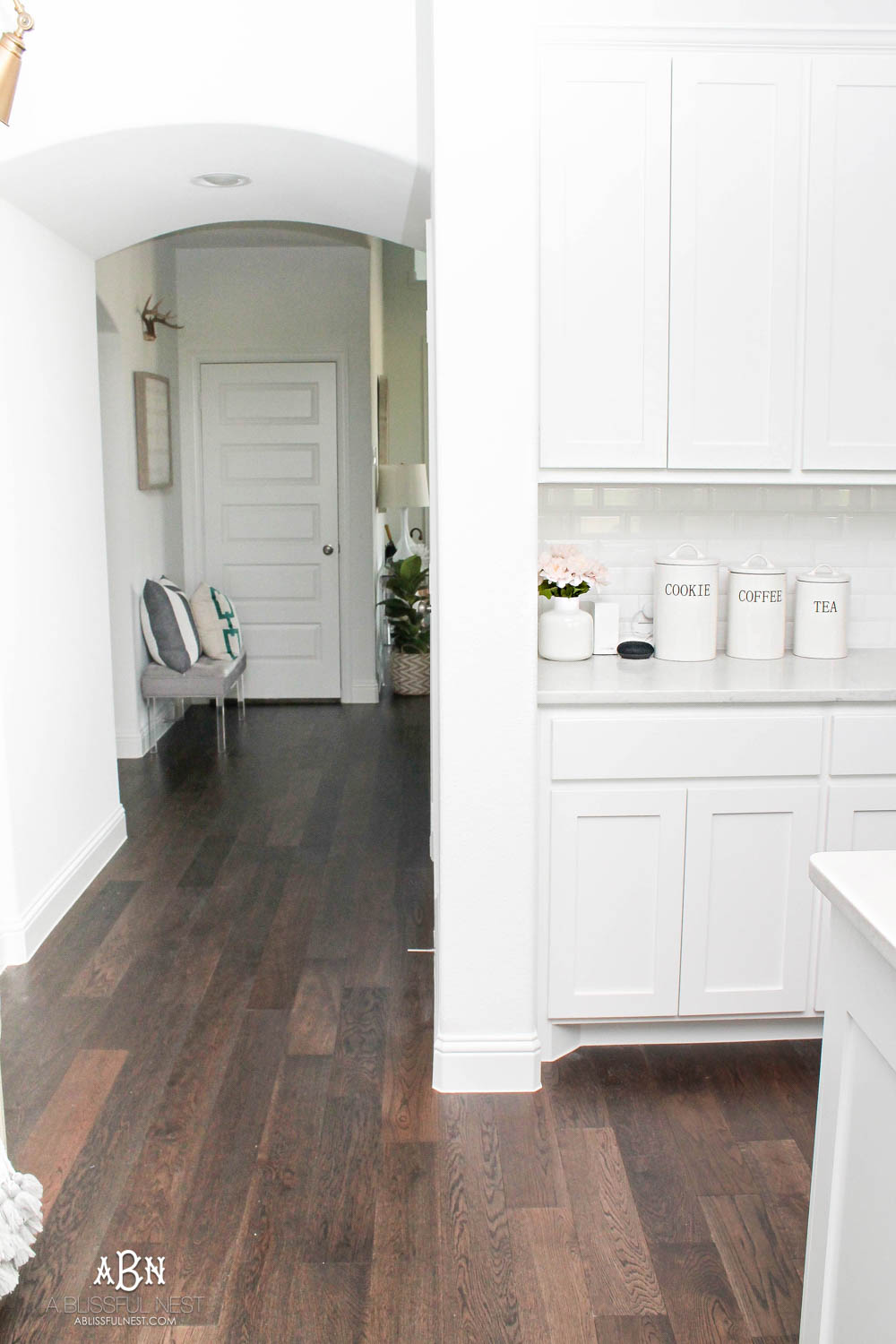 The kitchen is the hub of our home and a key location for many of our Smart Home Products. I designed the space to be very open, with the entry feeding into the kitchen, breakfast room and main living room.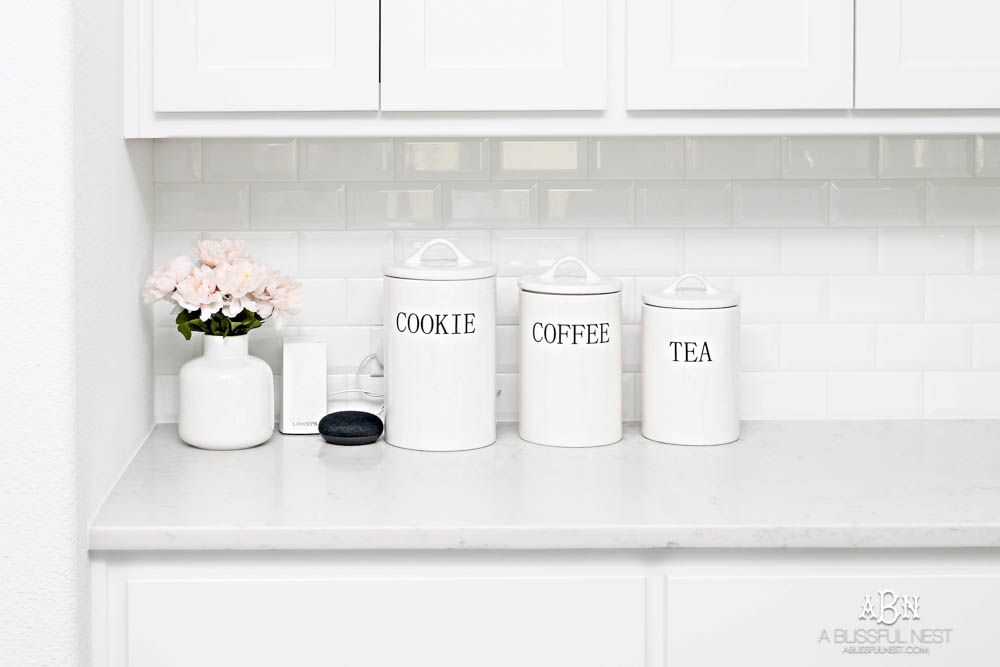 This is where we chose to use our Google Home Mini. I can be in the kitchen and get a cooking measurement conversion with voice activation or play music. When my husband comes home from work, he can get a score update from a game he has missed, and Lauren is entertained playing madlibs. I mean, she seriously can spend an hour creating madlibs with voice activation and I can join her while I am busy doing house work.
I must say, the voice activated timers might be my favorite feature so far. I set timers for cooking, when I need to pick Lauren up, when to turn off the water when I am watering the flower beds, and even to alert me when my favorite TV show is coming on. It feels like I am doing 50 things at once, so these voice activated timers help me with scheduling them on the fly.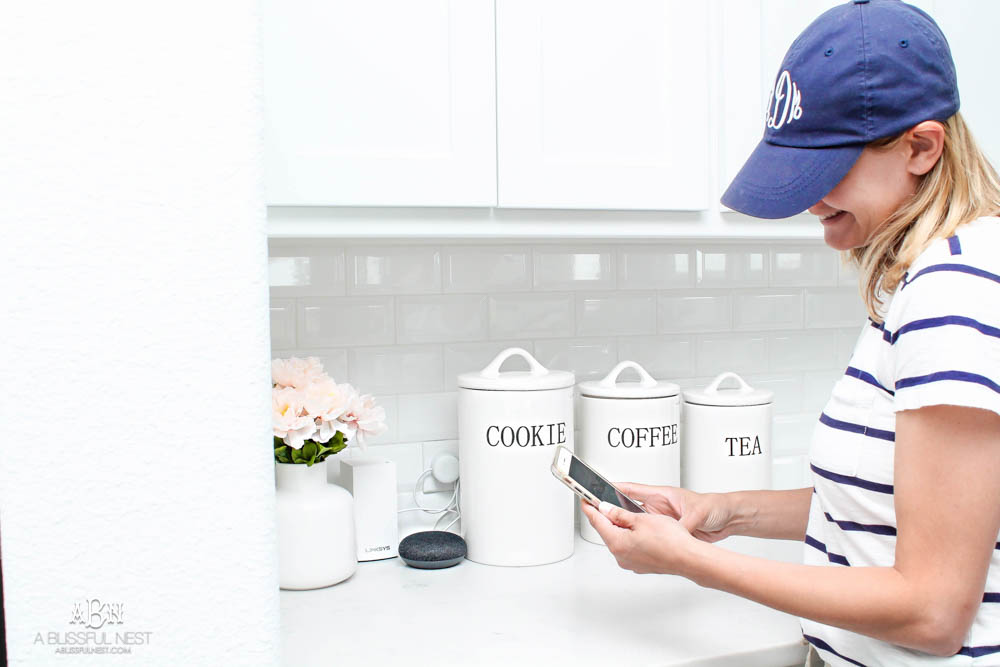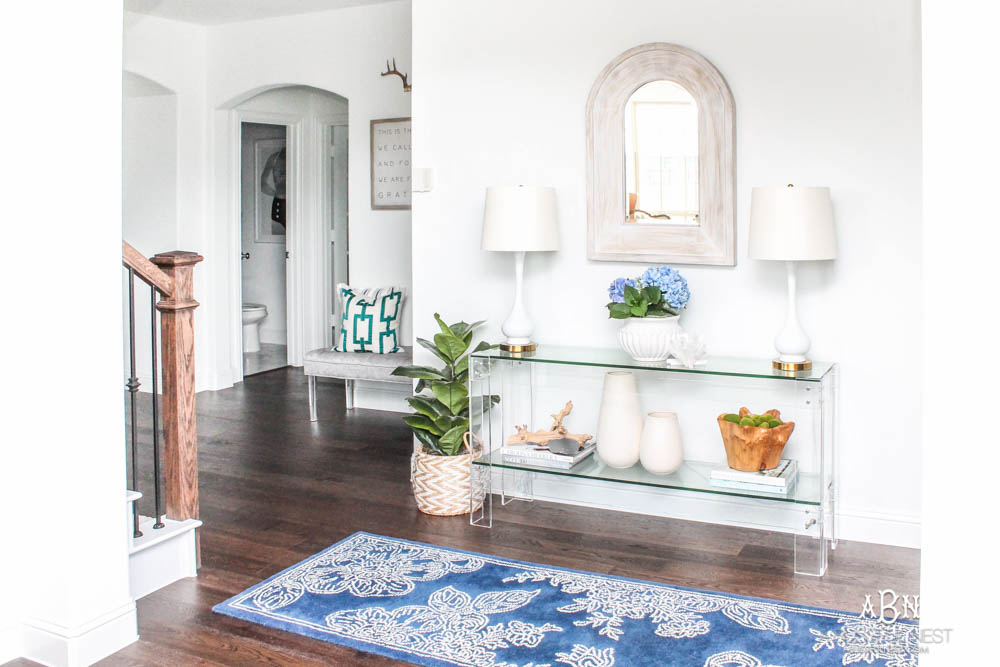 We also wanted to make sure we used Smart Home Products in the main entry.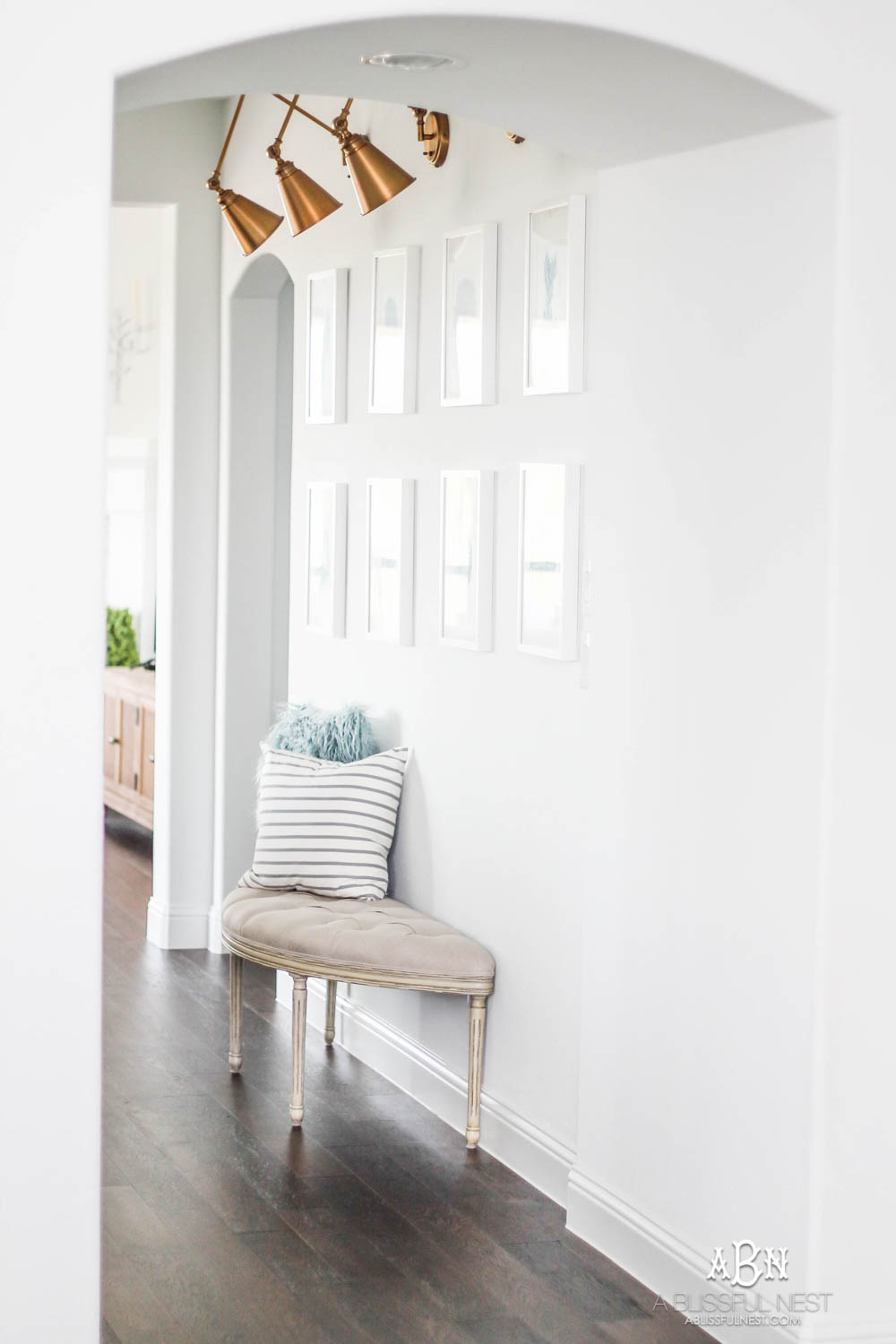 We selected the Merkury Smart Wi-Fi LED Bulbs for the art lights, as well as the table lamps on the entry table. We are able to dim them and set different "scenes," which is one of my favorite features because I can set a scene for when I wake up in the morning or come back home after a long day. They will automatically turn on or off when I set these modes. I have the two table lamps set to turn on and off at specific times in the evenings regardless if we are home or not. I love that it makes our home feel more secure with activity. I love to dim our library sconces in the evenings and I can turn them off with my phone when I am in bed. For all that they do, I think they are very reasonably priced at $9.88 for the single bulbs or a two-pack for $19.68.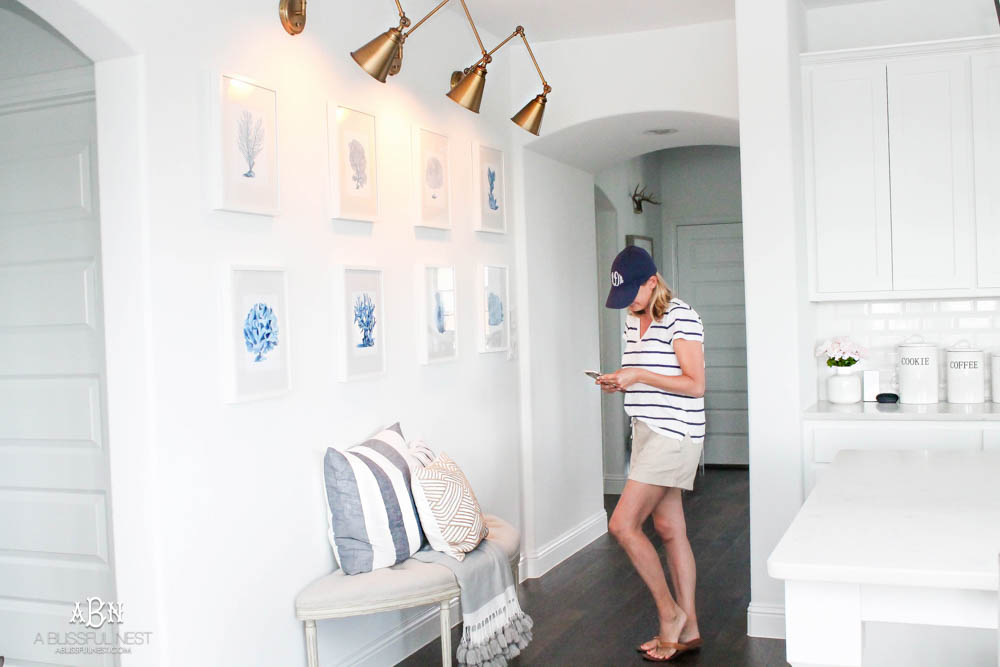 With all these additional Smart Home features working on our Wi-Fi, we needed some Wi-Fi boosters. These help run everything faster so it doesn't slow down with the additional gadgets being run on our system. We purchased the Linksys Velop Whole Home Wi-Fi set for $149. I love how easy it was to set up and use on my phone with their app. I can set the amount of internet time Lauren uses and even restrict access to certain sites I don't want her on. I can share internet access with our guests too, without sharing it with our whole neighborhood. They are very small and fit into our home decor seamlessly since they are all white.
We've been using these for a while now and are so happy with how affordable and easy they were to set up. Walmart has all the latest and greatest Smart Home tech and brands to shop, so make sure to head there to go grab these guys to make your home life run seamlessly!
THIS IS A SPONSORED POST. A BLISSFUL NEST HAS RECEIVED PAYMENT, TRADE, AND/OR PRODUCTS FROM WALMART IN EXCHANGE FOR PROMOTING. HOWEVER, ALL OPINIONS STATED ARE OUR OWN.