Conquer The Cleanup with The Dremel Versa

This post is sponsored by Dremel.
Back at our last house this poor bbq grill got a beating. It was outside on a uncovered porch and felt all the elements. We did have it covered but it still look like it took a beating. Believe it or not, this bbq is only 2 years old. For the most part the outside of it is in good shape and it works great. It just looks terrible. When we moved, we think grease and oil got moved around and the first time we used it at the new house it started a grease fire. It ballooned up a puff of fire and was smoking so bad. So we have not used it since.
When Dremel sent me their new cleaning tool called the Versa, I immediately thought of our bbq and would it be tough enough to get this baby clean. Well friends, just take a look below. I am so shocked and the best part is my back isn't killing me.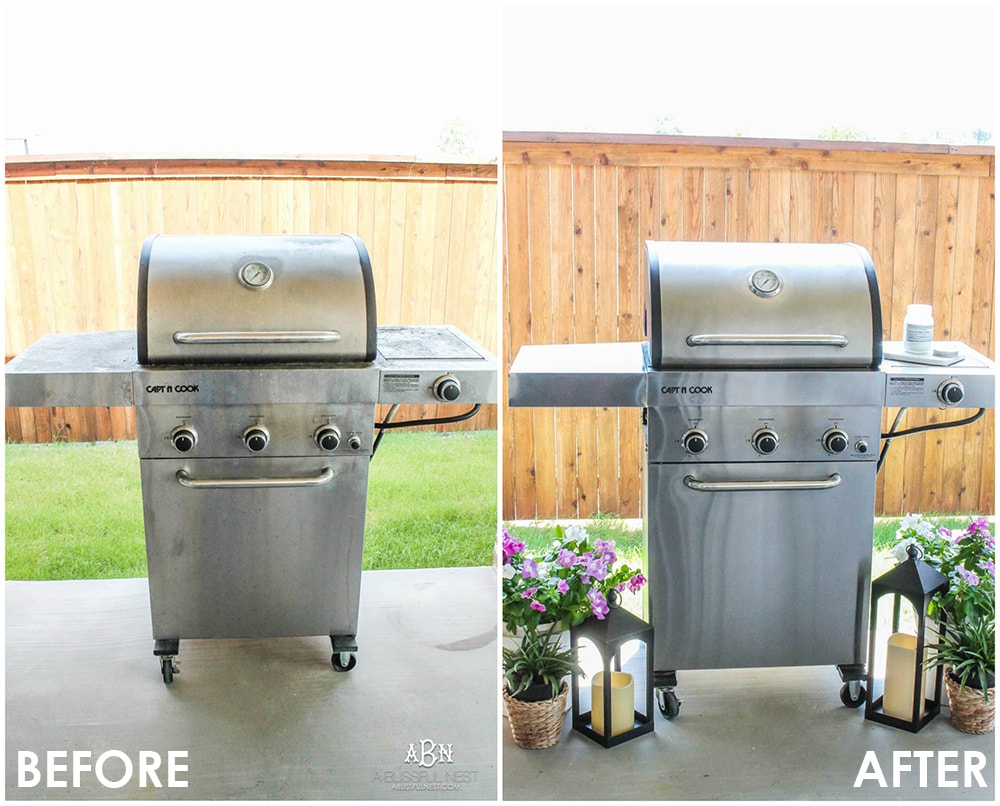 The BEFORE picture of our bbq is just terrible and I can't believe it looked like this. I really didn't think it was that bad until I started cleaning it and then realized how much was caked on.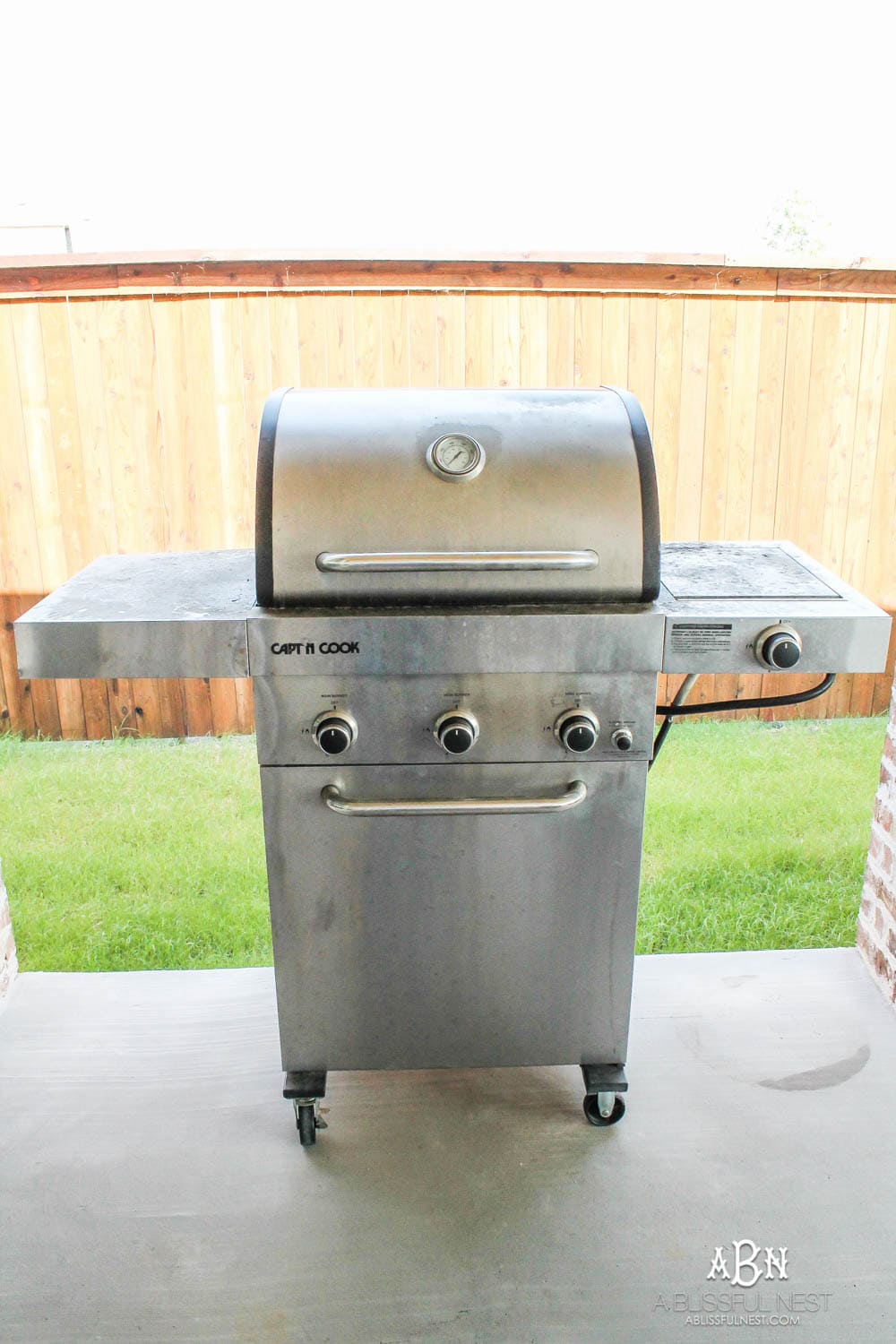 The dirt and grime was really on good and I imagined this would take days for me to clean and my arm would be exhausted and my back would hurt from really having to put some arm work into scrubbing it. Grease is so tough to get off especially once it has sat there for a while.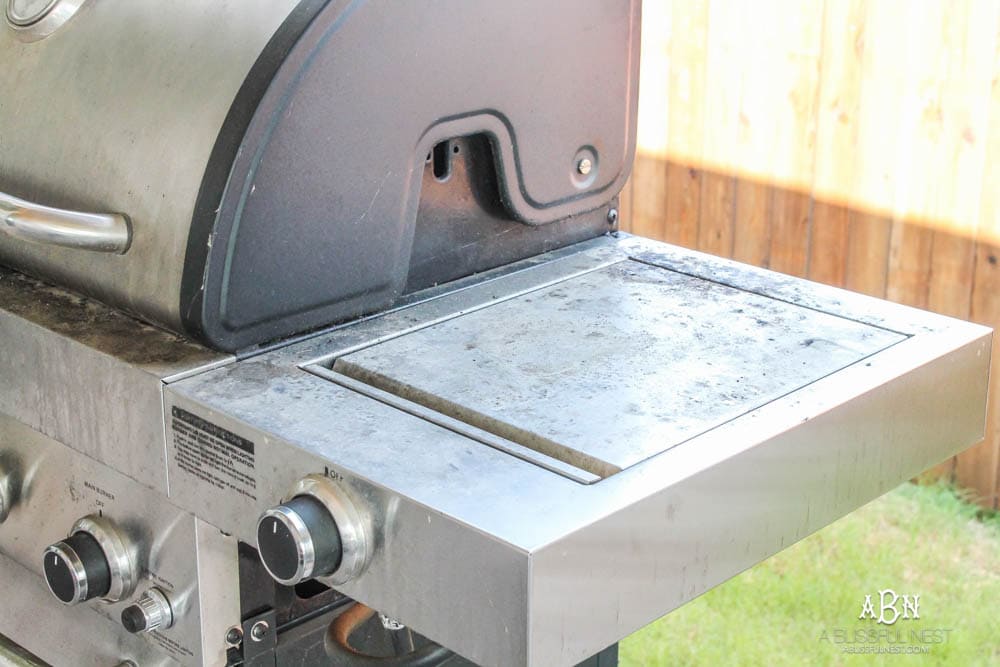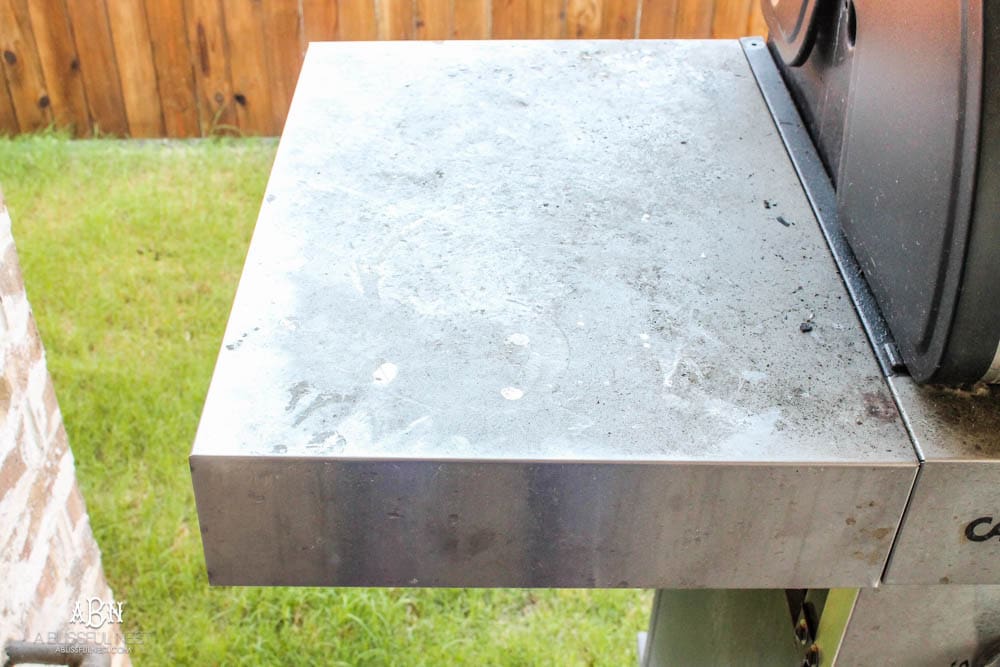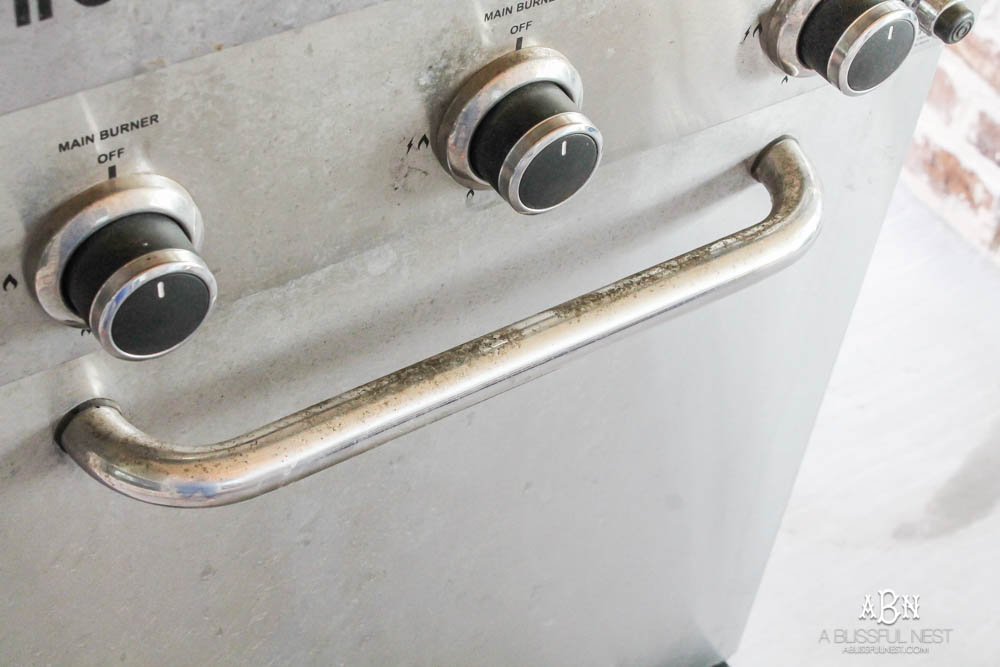 The Dremel Versa is a high speed power cleaning tool and has multiple pads you can use that attach. So here are a few of my favorite features of the Versa.
It is compact and small enough to fit in your hand for easy manipulation.
There are multiple cleaning pads depending on the surface you are trying to clean.
It is affordable and easy to purchase. You can pick one right up at Home Depot, Lowes or Amazon. (I found it for you HERE if you want to get one online).
It is multifunctional. You can use it on your appliances in your home, tackling your bathrooms or even the tires on your car.
It does the work for you in half the time.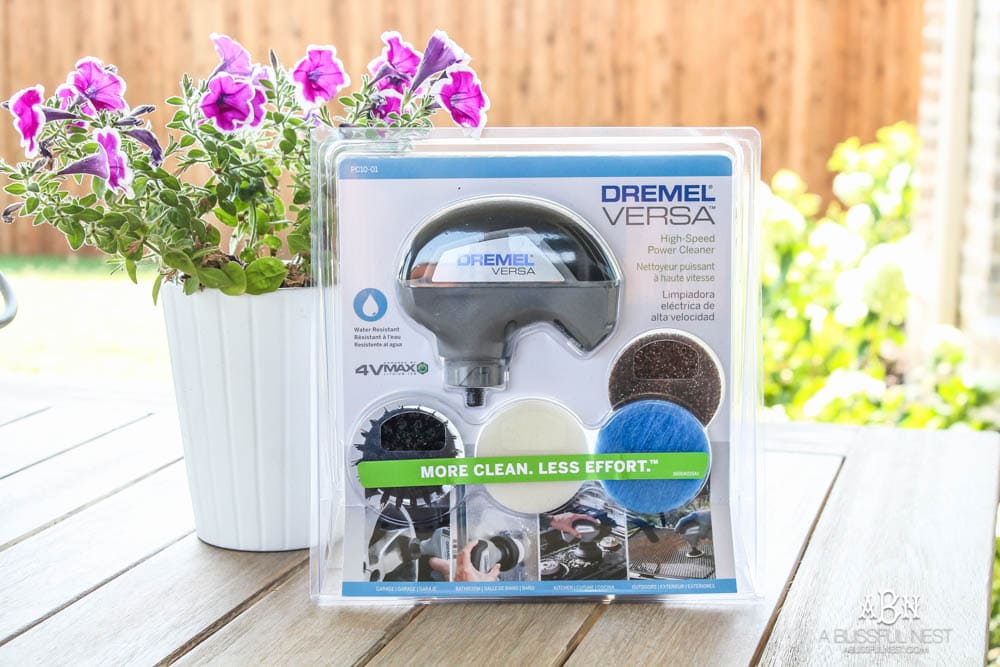 The Versa is so easy to put together and use. It has rechargeable lithium-ion battery and a USB adapter that provides the fastest charge so the tool is ready when you are. So here is a quick guide on how to use this amazing new tool.
This site contains affiliate links. Please read our disclosure policy. As an Amazon Associate, I earn from qualifying purchases.
How to use the Dremel Versa
Step 1: Fit on the splash guard.
There are 2 holes that you line up and then twist it on. The guard is made of rubber and is very flexible.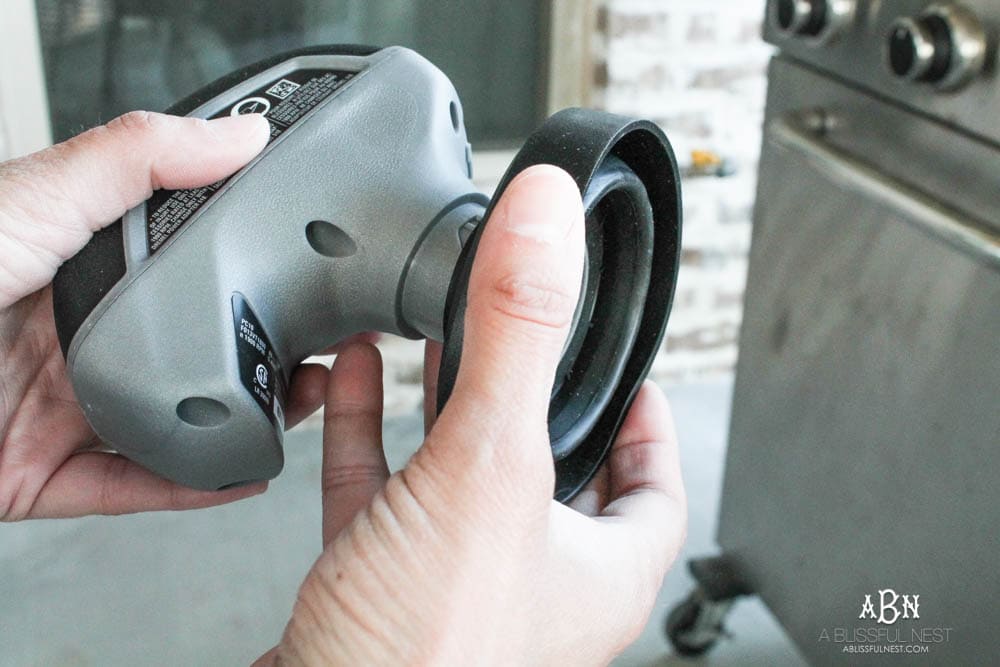 Step 2: Screw on the backing pad.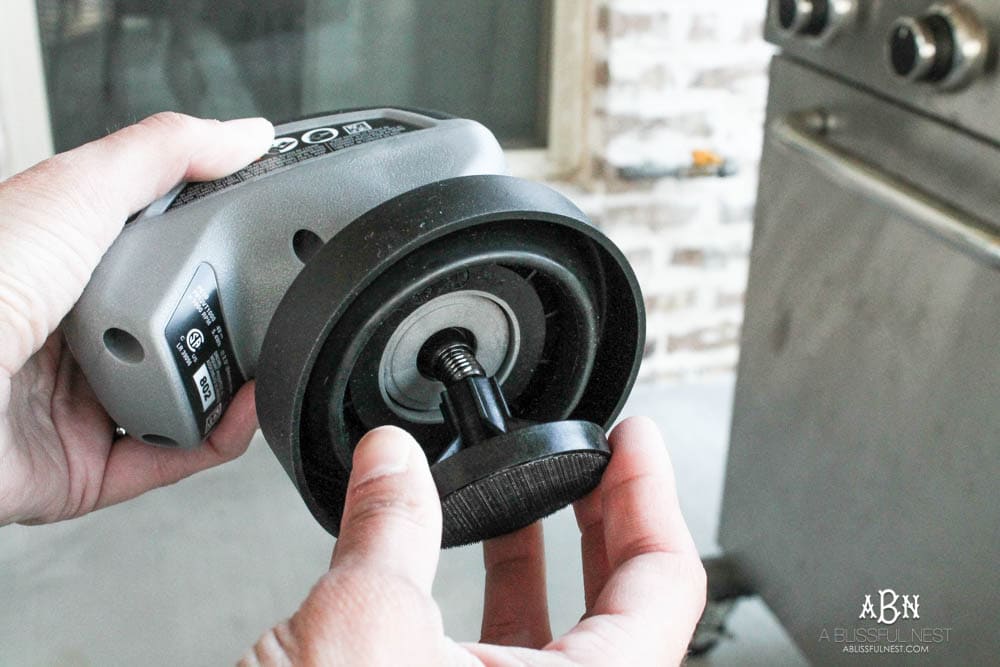 Step 3: Select what backing pad you want to use and affix with the loop side.
I wanted something that had a little grit to it but would not scratch. This blue pad was perfect. It is a general purpose scouring pad that won't scratch. It affixes on like Velcro and pull off real easy when you are done.
There is a bristle brush attachment that would work great on the inside of the grill too. It has angled bristles that get into those tight corners and crevices.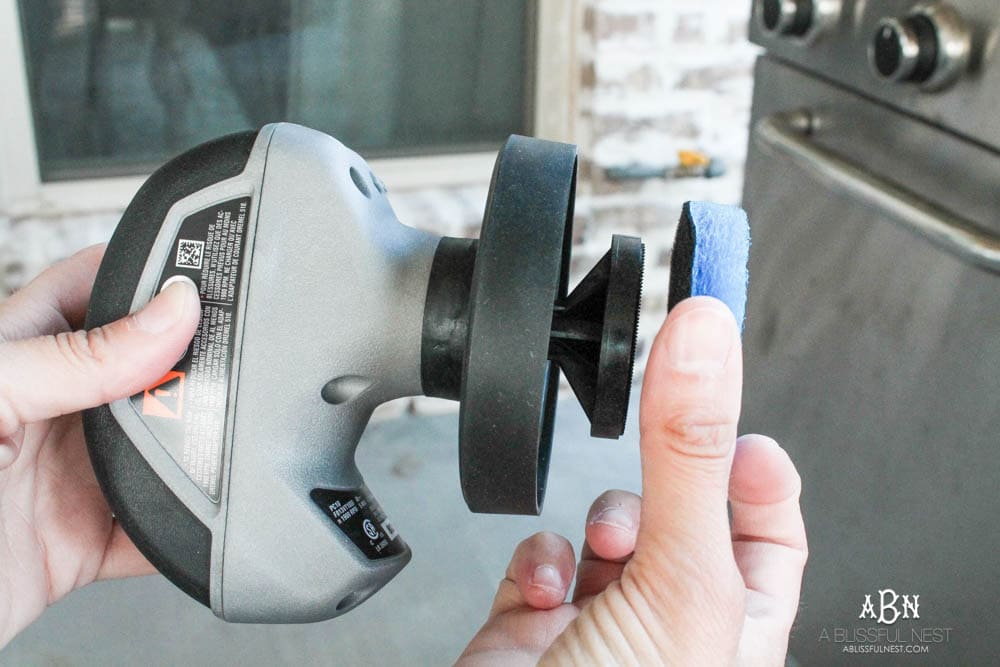 Step 4: Use your cleaning product as per the label.
I used a stainless steel cleaner but you can use any kind of cleaning solution for tough stains.
For mine I sprayed it on and let it foam up.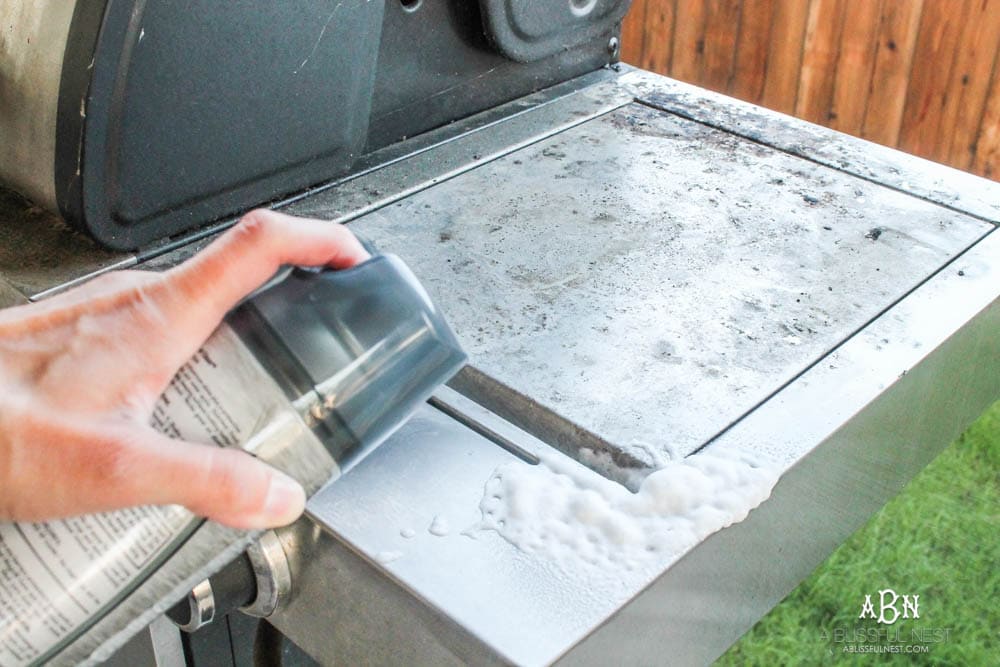 Step 5: Place your Dremel Versa down on your surface and push the button on.
Then I first put the Versa down on the surface and then turned it on. It will start to rotate and you simply guide it up and down with your hand. Gently press down on the surface with it. You don't need to press to hard. The tool will do all the work.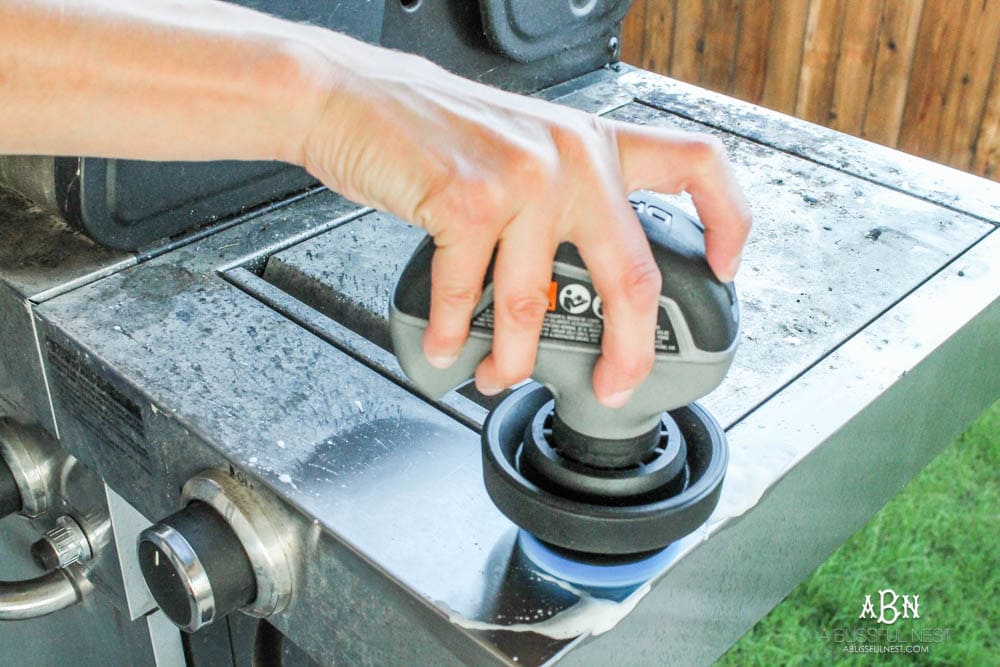 Step 6: White clean with a lint free cloth.
When done, press the off switch and lift up the tool. Then use a cloth and wipe the surface down of any moisture from the cleaning solution. As you can see it is an incredible difference.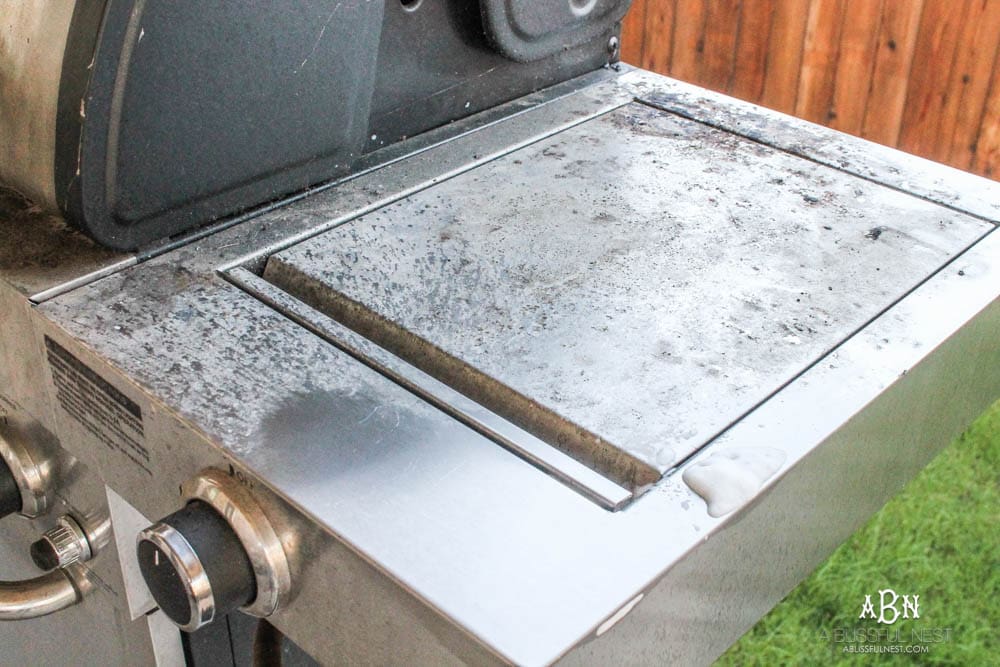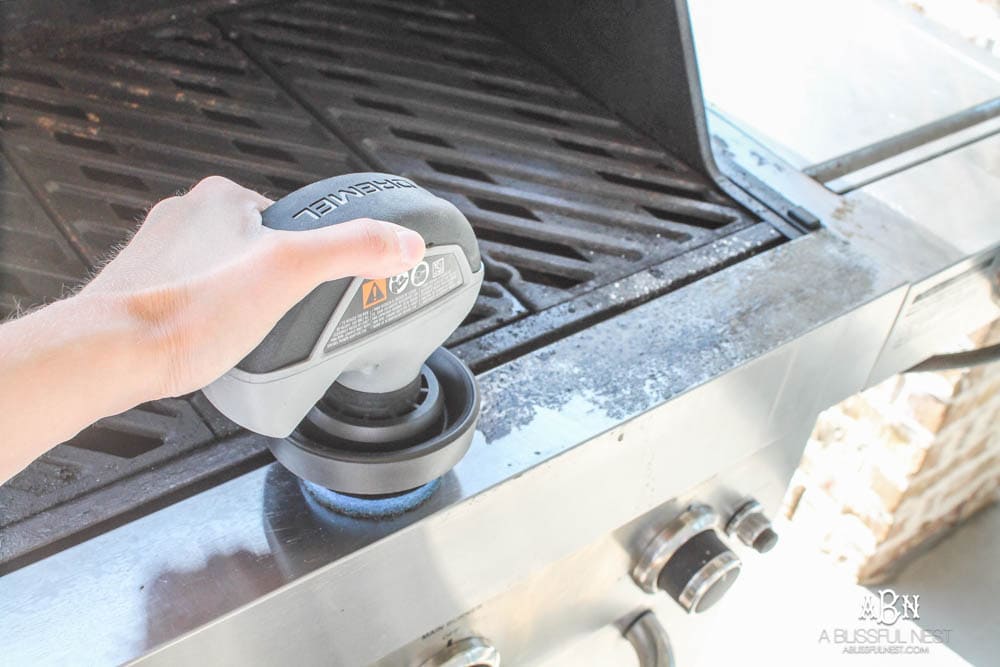 I was able to clean the entire grill in less than an hour and because the Versa does all the work, I didn't have to push down hard and have back pain at the end of it.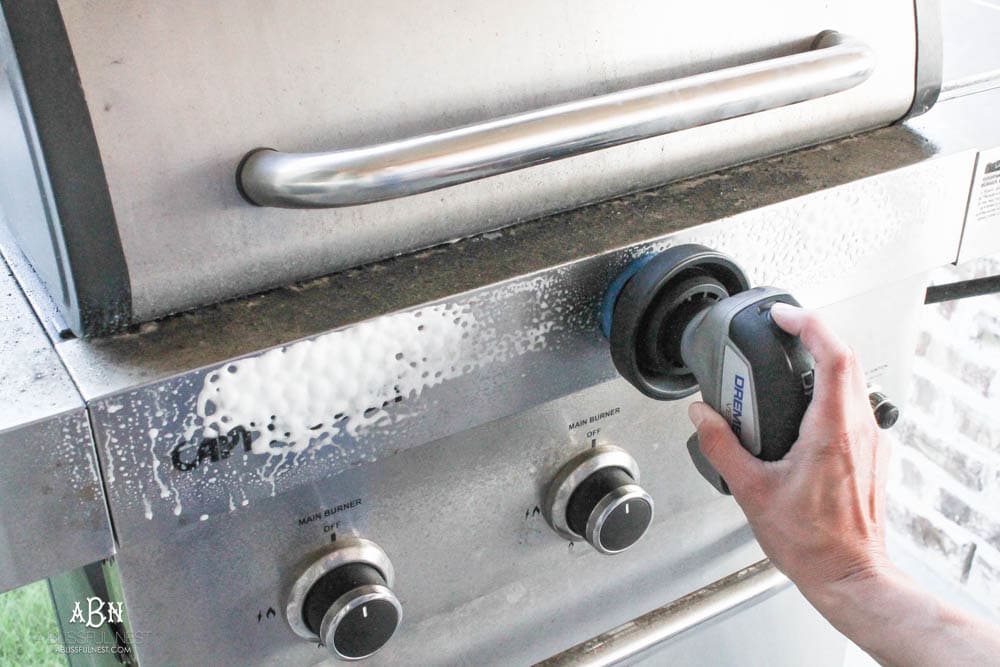 And here she is all finished. I really can't believe how clean it got. It truly got all that grimy grease off.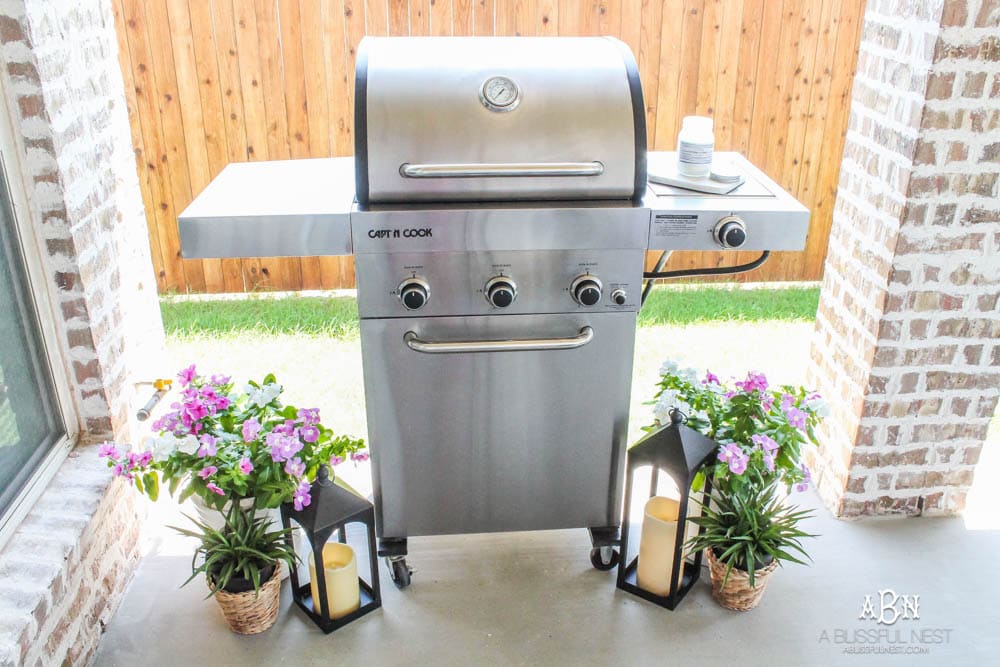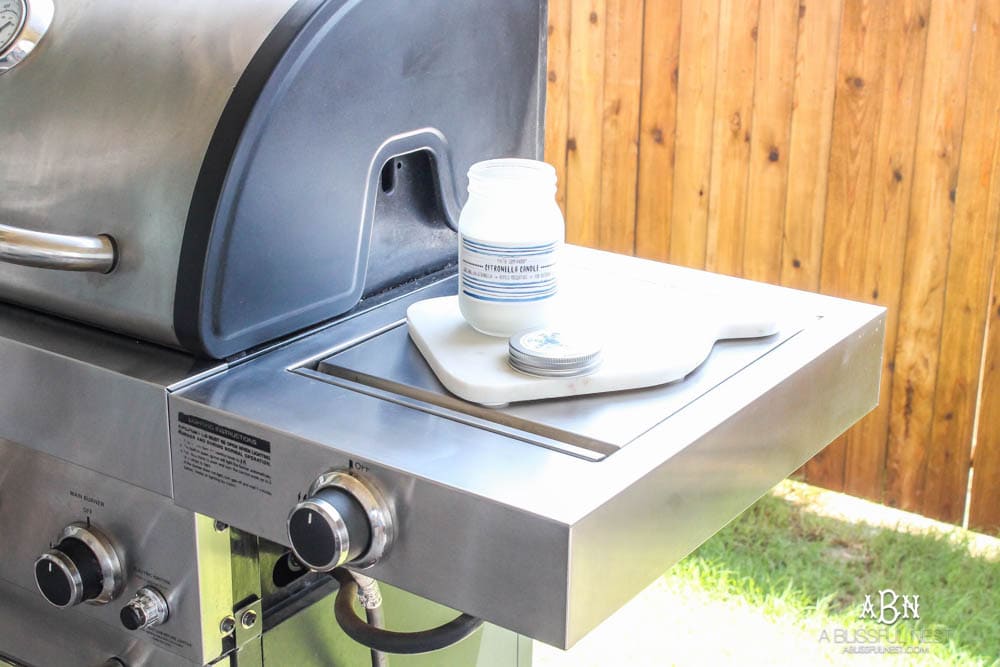 Now we are ready for bbq season and I am dreaming up other hard to clean projects I can tackle soon.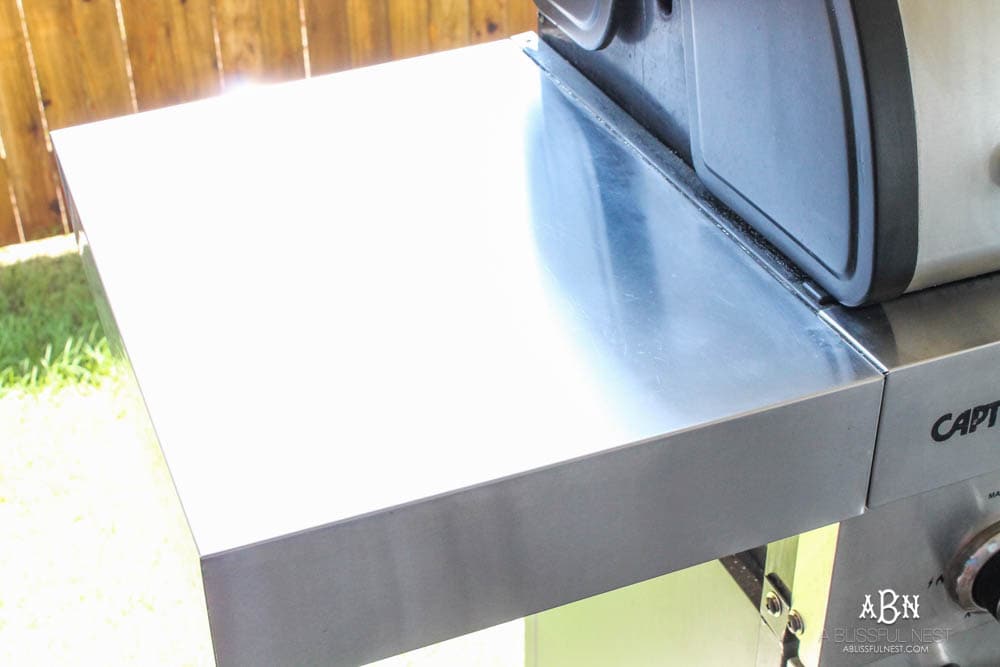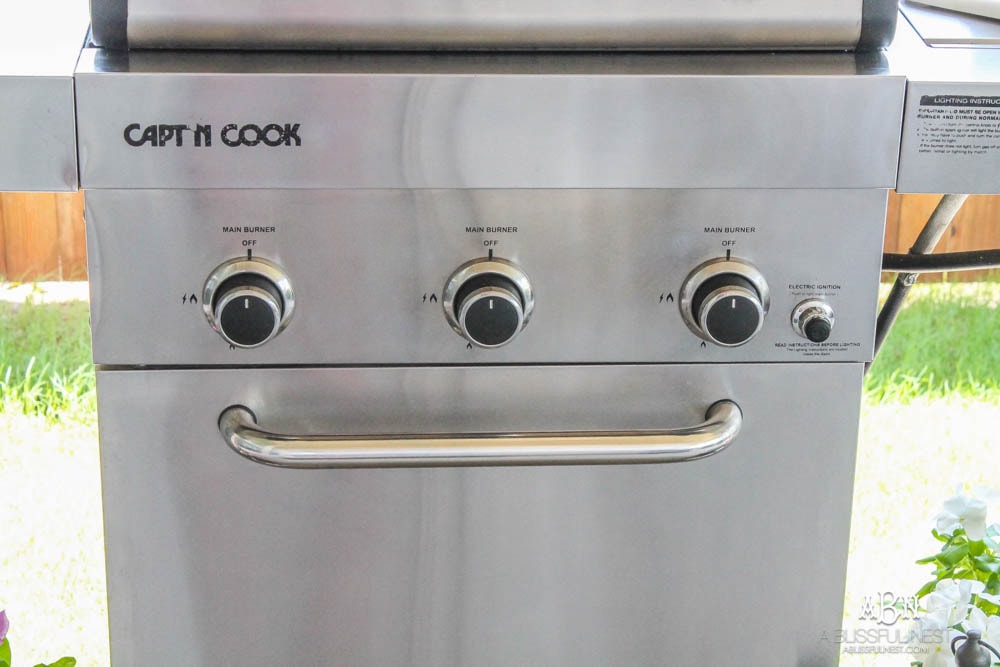 You can check out more about the Dremel Versa right HERE. This is one of those life changing tools you have to have in your arsenal!
NEED TO BOOKMARK THIS POST FOR LATER?
PIN OUR IMAGE: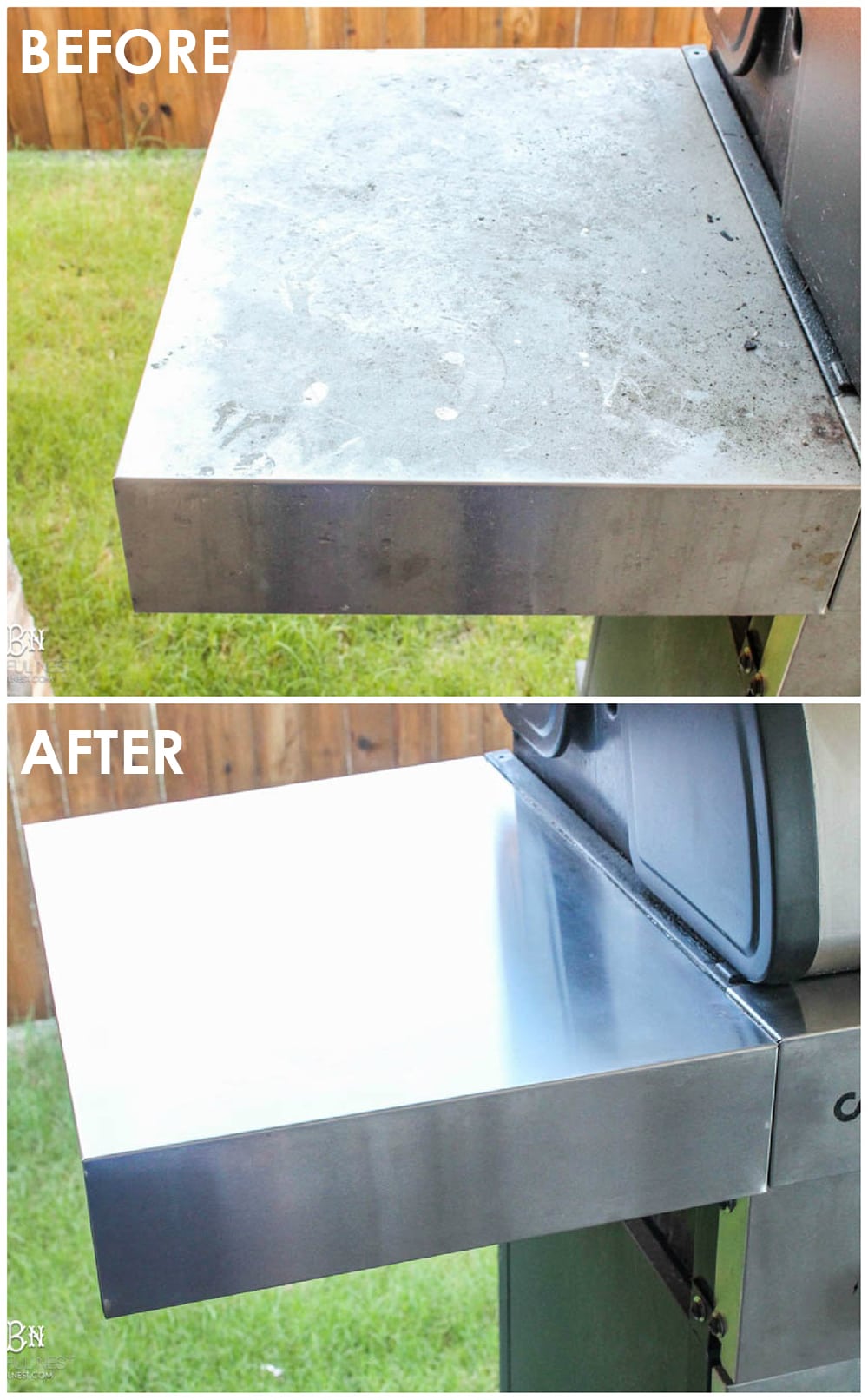 THIS IS A SPONSORED POST. A BLISSFUL NEST HAS RECEIVED PAYMENT, TRADE, AND/OR PRODUCTS FROM DREMEL IN EXCHANGE FOR PROMOTING. HOWEVER, ALL OPINIONS STATED ARE OUR OWN.