Our Summer Backyard Patio Refresh
With summer vacation starting in just a few weeks for us, my summer backyard patio needed major help. I loved what we did last year and you can check it out HERE but I wanted something bright, fresh and more in my blue and white color scheme. It is not a large space but we sure do utilize it to the max! We have a grilling spot, lounge spot and with the new addition of this gardening bench, a place to serve drinks and food.
So for kicks this is what it used to look like . . . .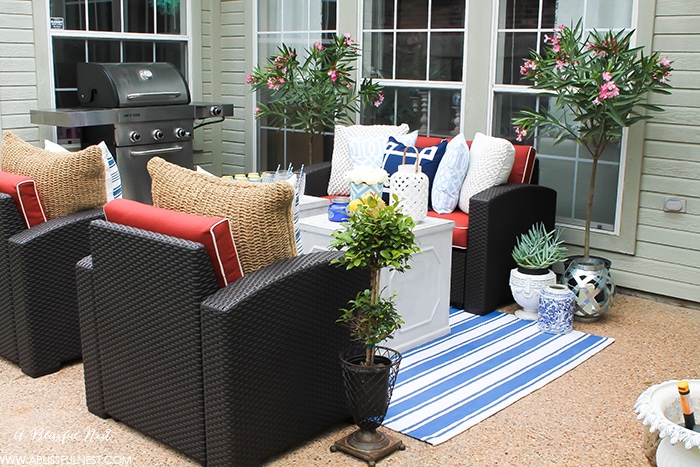 And now this is what we have! I love the cleaner look of it and it feels much brighter.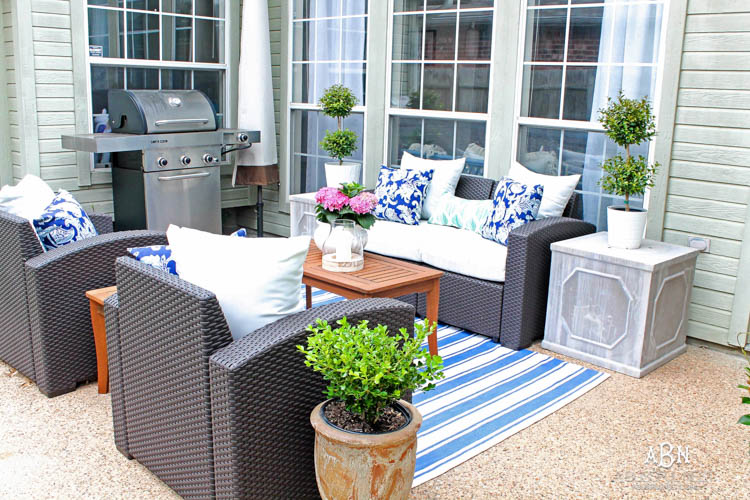 THIS POST CONTAINS SOME AFFILIATE LINKS
Tips for a Summer Backyard Patio Refresh:
1. Replace/Swap out pillows and cushions for a quick update.
I felt the orange cushions were a bit harsh feeling and found these more neutral looking ones at Target for a great price. I also added these navy and white pillows with a pop of turquoise for a more coastal feel.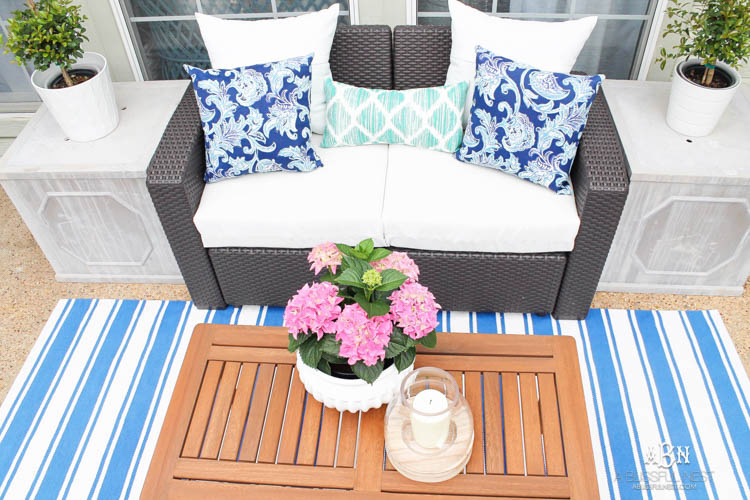 Outdoor Sofa (similar) | Blue/White Pillows | Turquoise Ikat Pillow | Outdoor Cushions & Throw Pillows  | Outdoor Coffee Table | Striped Rug | Large Zinc Planters (similar)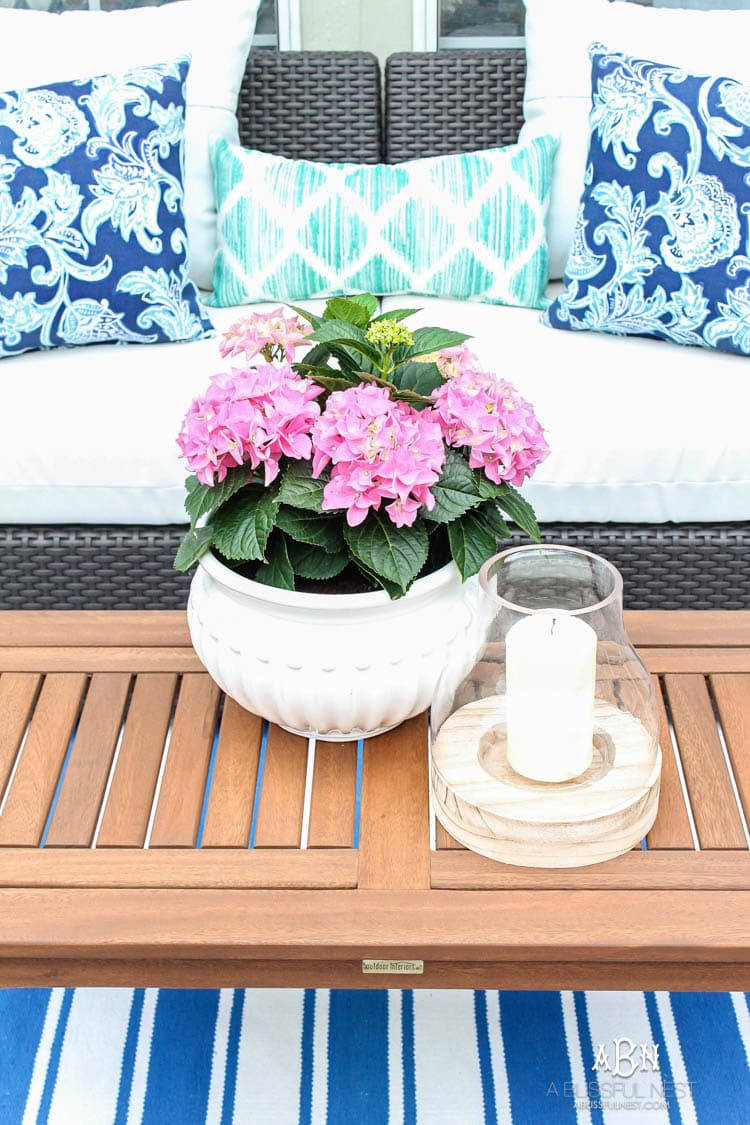 2. Use flowering plants for continual floral color throughout the summer.
I am notorious for not having a green thumb but I have been pretty successful with hydrangeas. I love their beautiful blooms and this gorgeous pink color. I used them in a larger planter on the patio and in this smaller white one on the table. It really is the perfect pop of color in this space!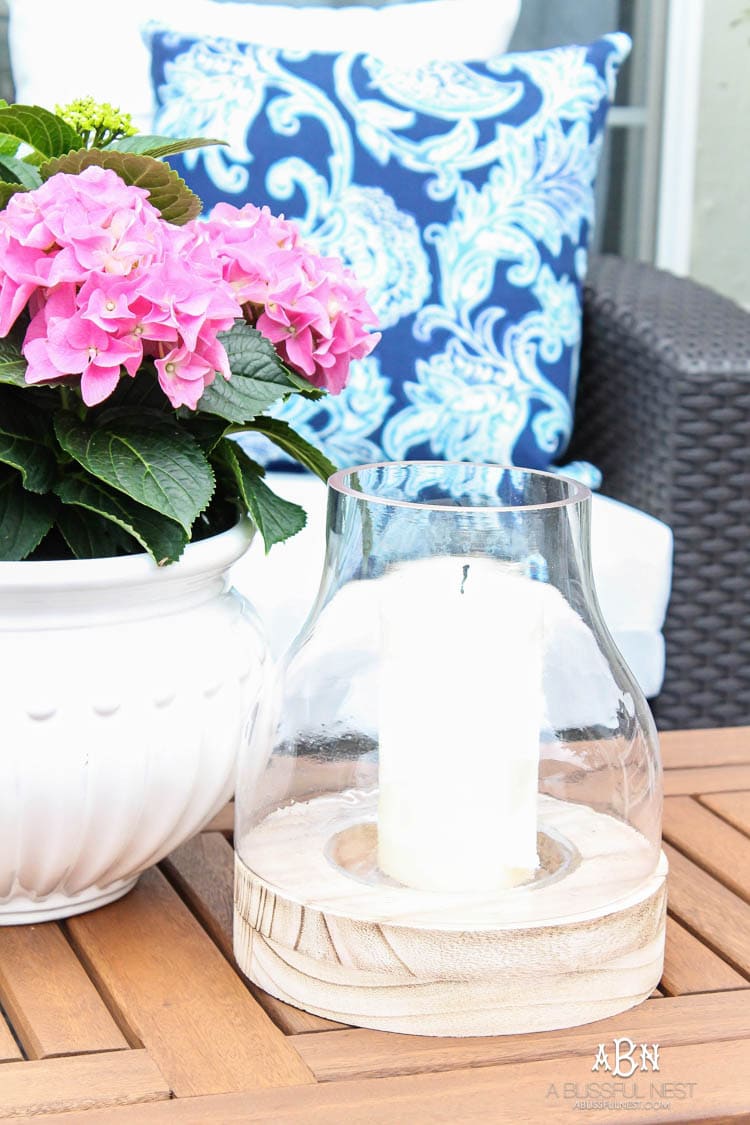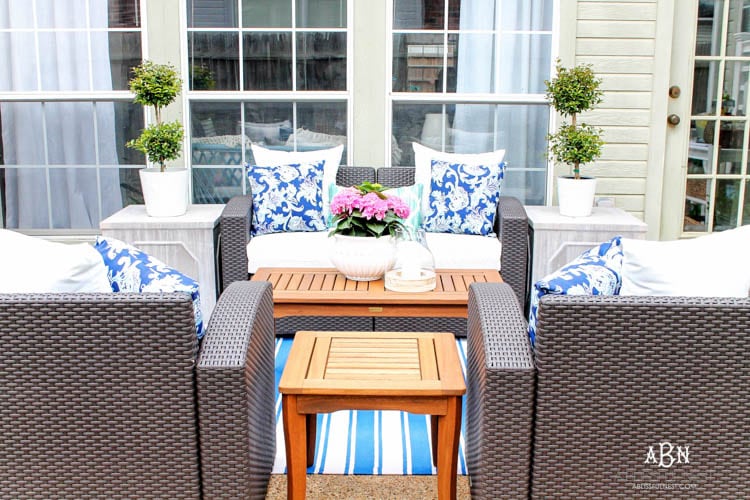 3. Repurpose oversized planters.
I reused these oversized zinc planters (here are some that are similar) as a coffee table last year but moved them to either side of our little sofa for ends tables. I put some topiaries I found at Walmart on top to define the space. Since these are planters, the outdoor weather doesn't destroy them and they still look amazing.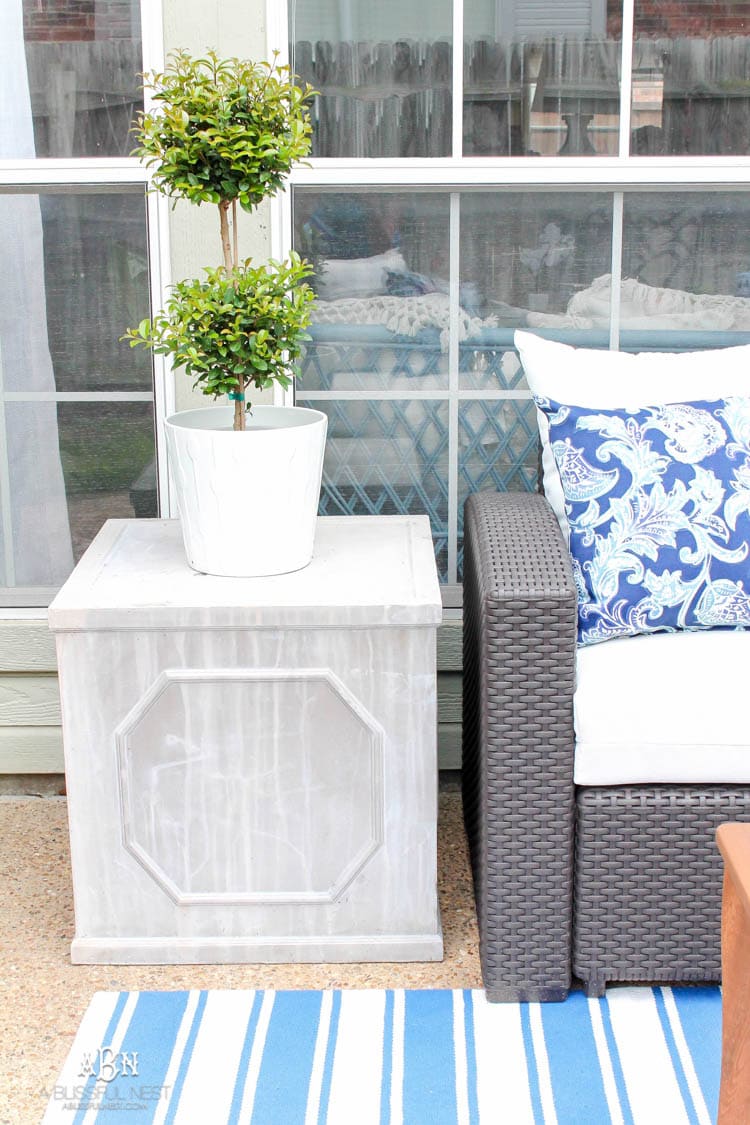 Large Zinc Planters (similar) | Blue/White Pillow | Striped Rug | White Pot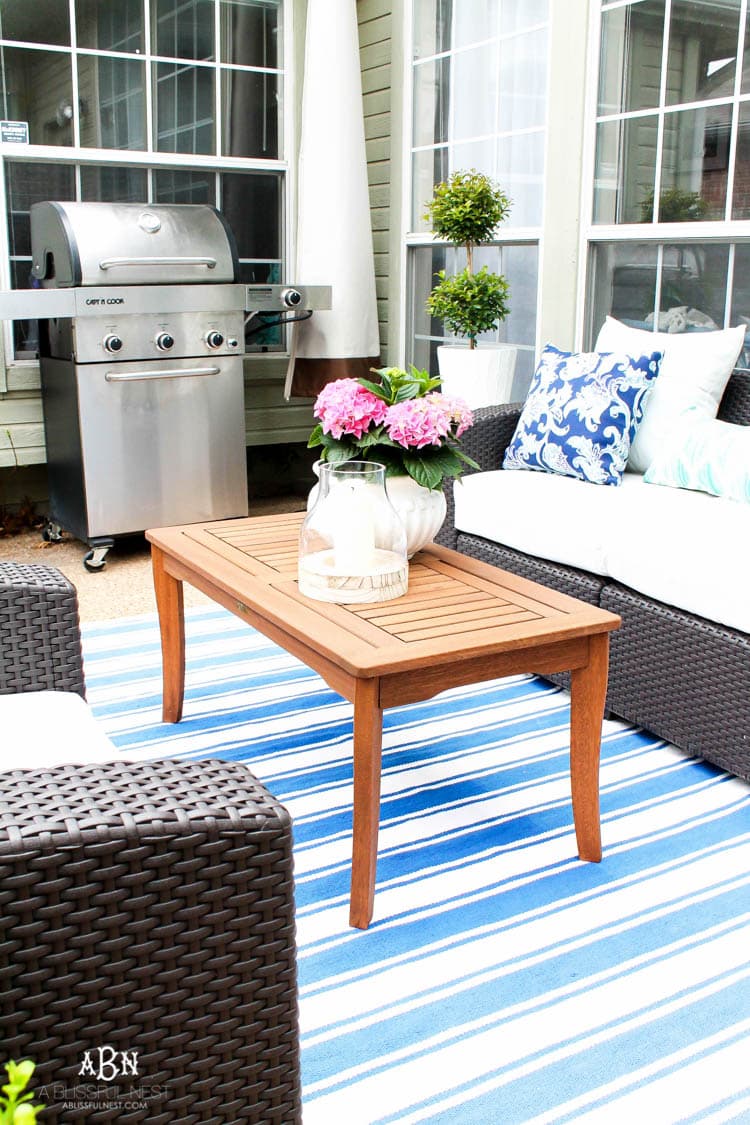 4. Use a rug to define conversation/lounge space.
Using rugs to define a space can also ground the furniture. This blue and white rug is easy to clean and has a fun preppy stripe to it to pull the colors from the pillows through the space. Think of it as a living room but outside. You do not want floating furniture!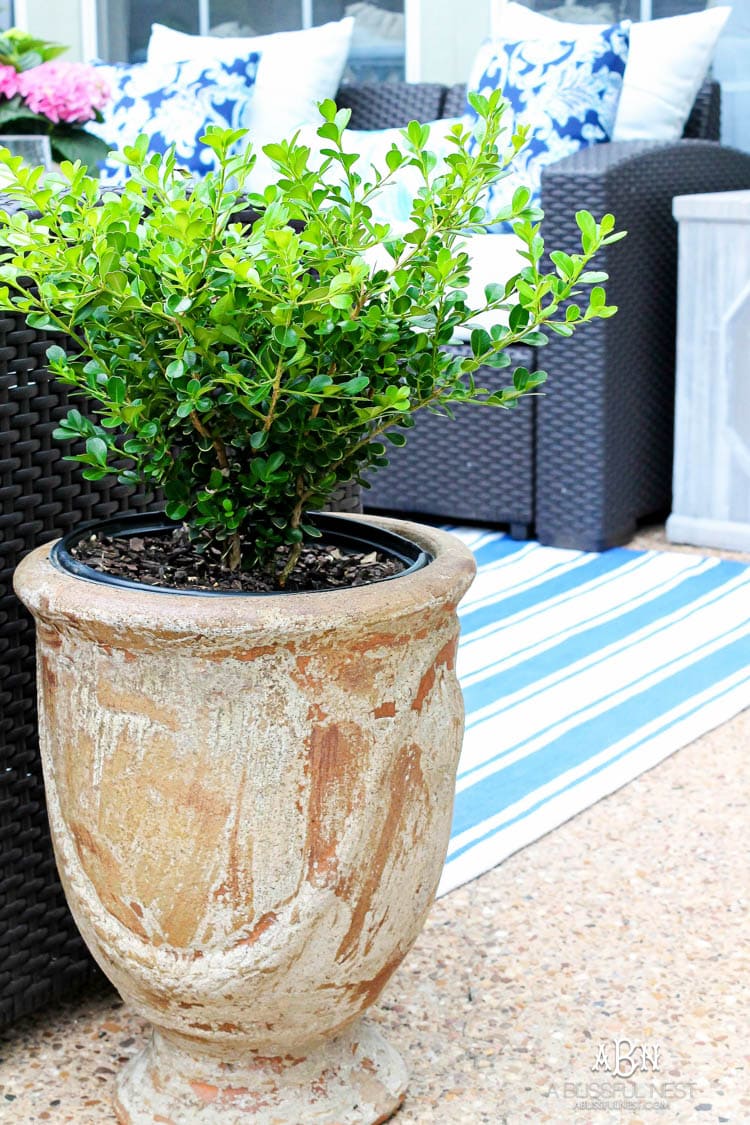 5. Plant plants that love direct sunlight to add a garden feel on a bright sun drenched patio.
I love using lots of plants on the patio. It makes it all feel so much warmer and cozier.
Here is a great list of direct sunlight plants to look for when you are out selecting plants for you patio.
yarrow
lavender
boxwood
sea holly
poppies
hibiscus
sunflower
Russian sage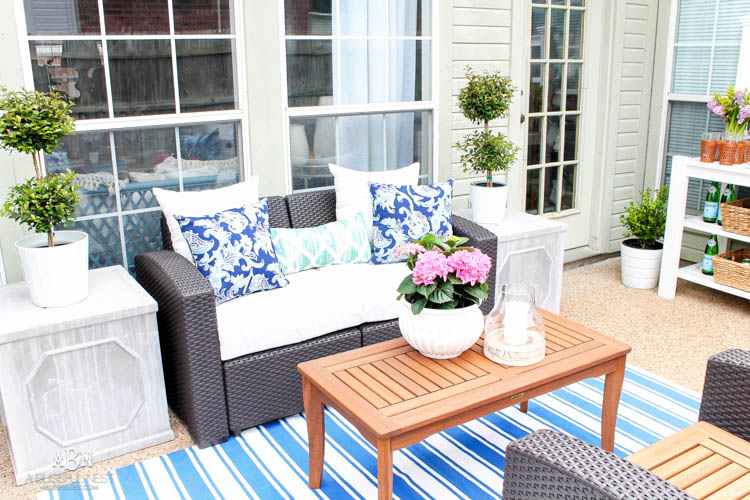 6. Repurpose a potting bench to use for serving food & drinks to guests.
This potting bench may just be my favorite thing we got this year! I love using it to house all my pots and planting stuff but really I love using it for food and drinks for weekend entertaining. You can grab my tips HERE for how to recreate this drink station for the next time you have guests over. It is SO much fun to have!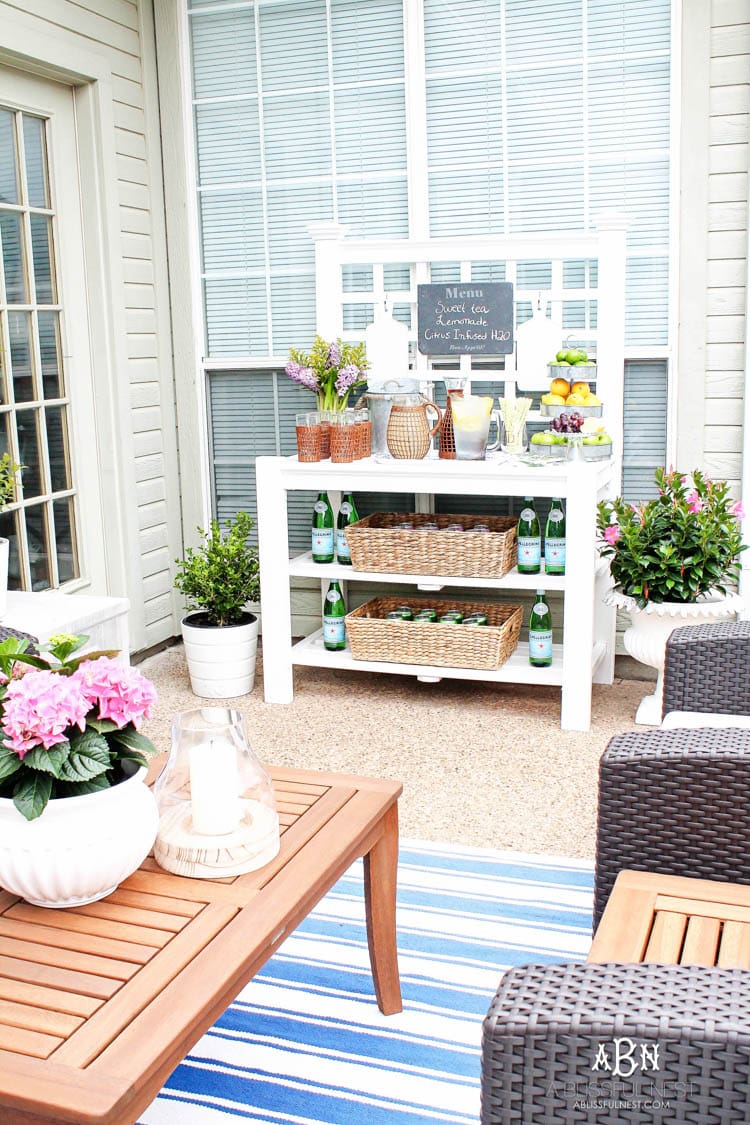 And of course with entertaining in the backyard I like to use cutting boards to serve food on our table and side tables. It's easy to carry and easy to clean. Such a win for me!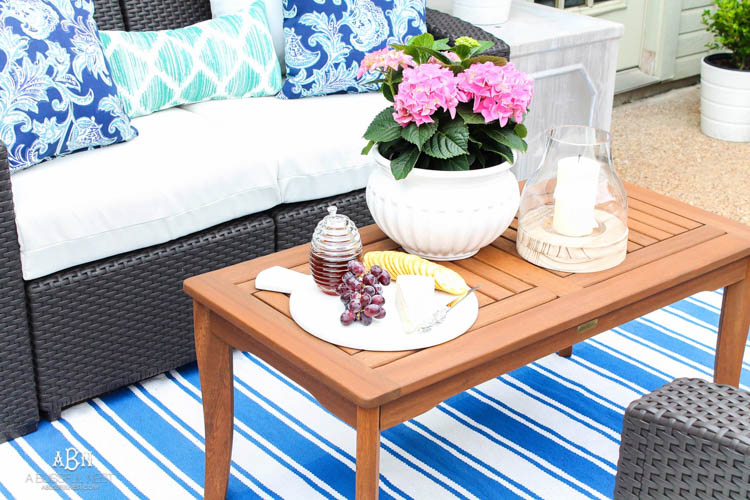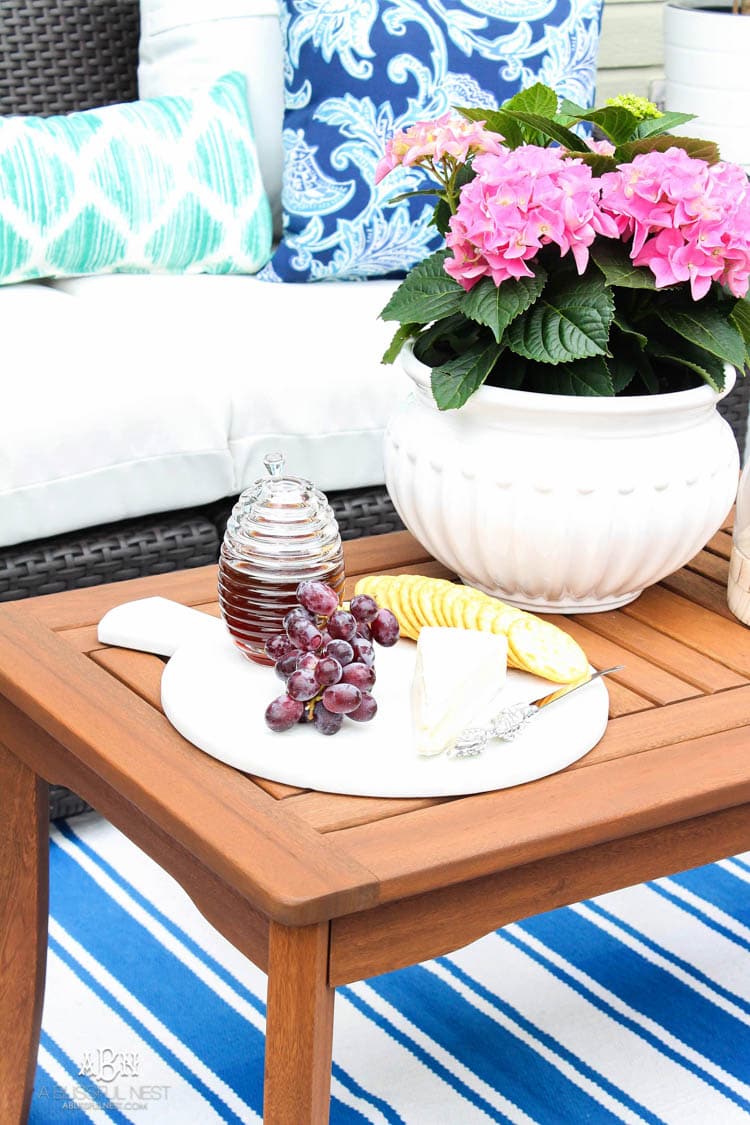 Marble Cutting Board | Honey Jar | Coffee Table | Blue and White Striped Rug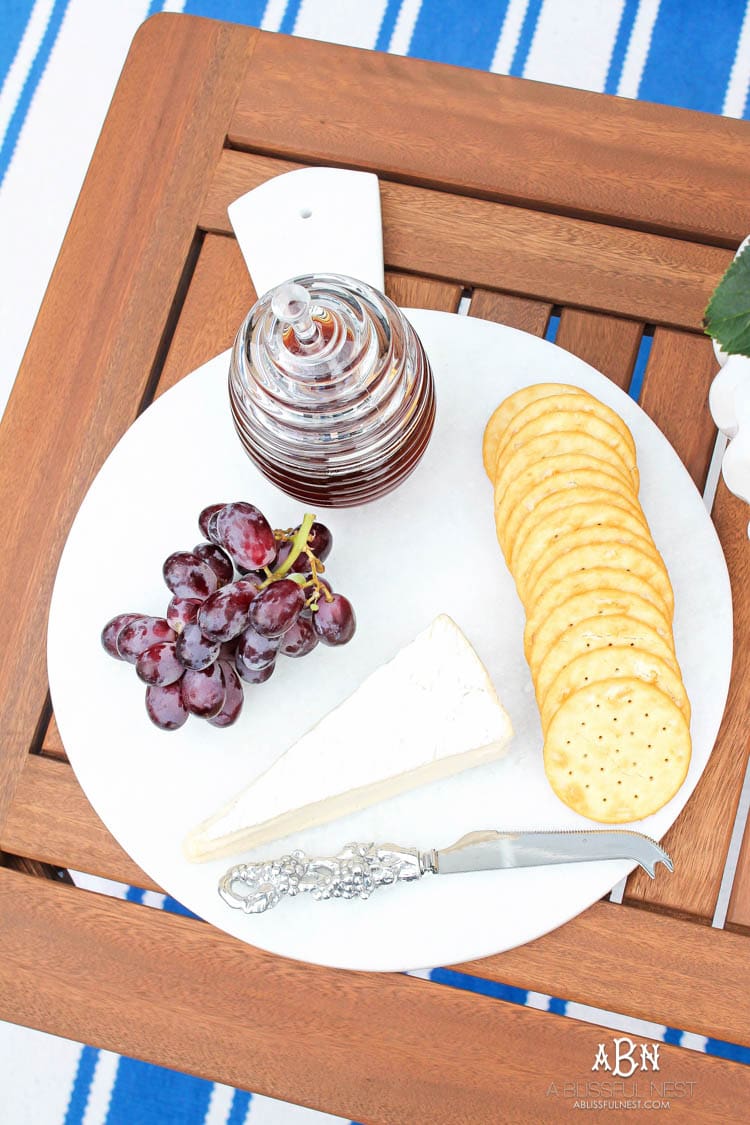 So are you ready to entertain in the backyard for the summer? I am so in love with all these backyard ideas too! With 2 weeks left to the school year, I am so ready for nights on our summer backyard patio.