Affordable Ways to Update Your Patio For Summer + A Makeover
This post may contain affiliate links. Please read our disclosure policy.
Sharing a summer patio makeover and how to update your patio for summer with some affordable home decor finds.
Since we moved here 4 years ago, our patio has relatively stayed the same. I switched some of the chairs out but the layout has never changed. It was a good flow for how we were using our space and you can read more about how we had it laid out HERE. But as I do in most of my home spaces, I was itching for a change come spring to prep it for this summer. SO out with the old and in with the new!
This post contains some affiliate links for your convenience. Click here to read my full disclosure policy.
Affordable Ways to Update Your Patio:
Flip your furniture plan.
I flip-flopped the eating area with the seating area and at first we weren't sure we would love it because of the placement of the fireplace and tv. But I have to tell you how much it opened up the space and how easily it is to move through each area. Before it definitely felt tighter.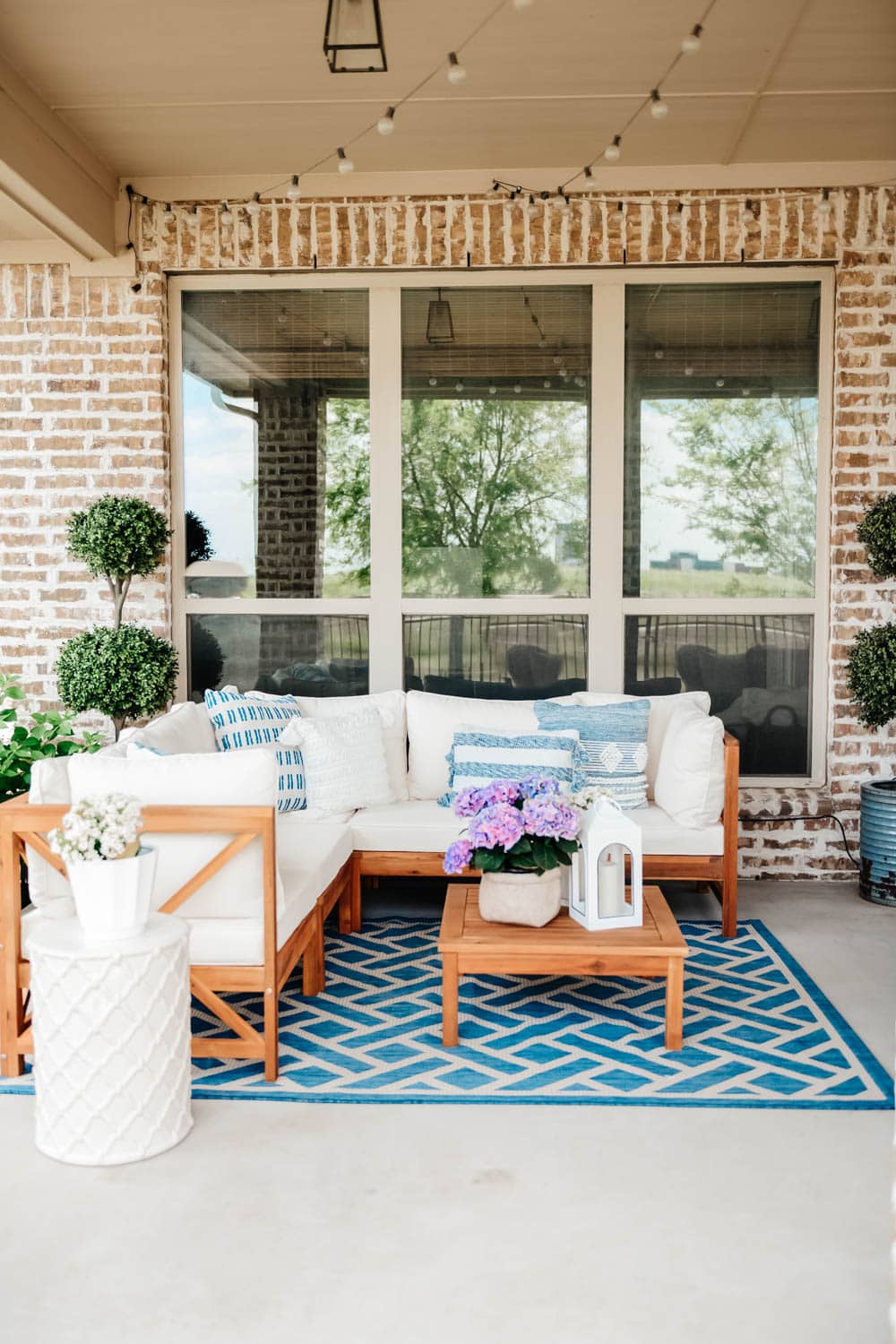 Replace outdoor furniture with affordable pieces.
Of course, I love to sell what I already own and use it towards whatever I am ordering to makeover a space.
So I sold our old set on Facebook and found this affordable sectional in its place. It is made from a beautiful solid wood frame with easy to clean outdoor fabric for the cushions.
It does sit low and I thought that might bother me but we actually love it because we can just stretch out our legs and it is super comfortable.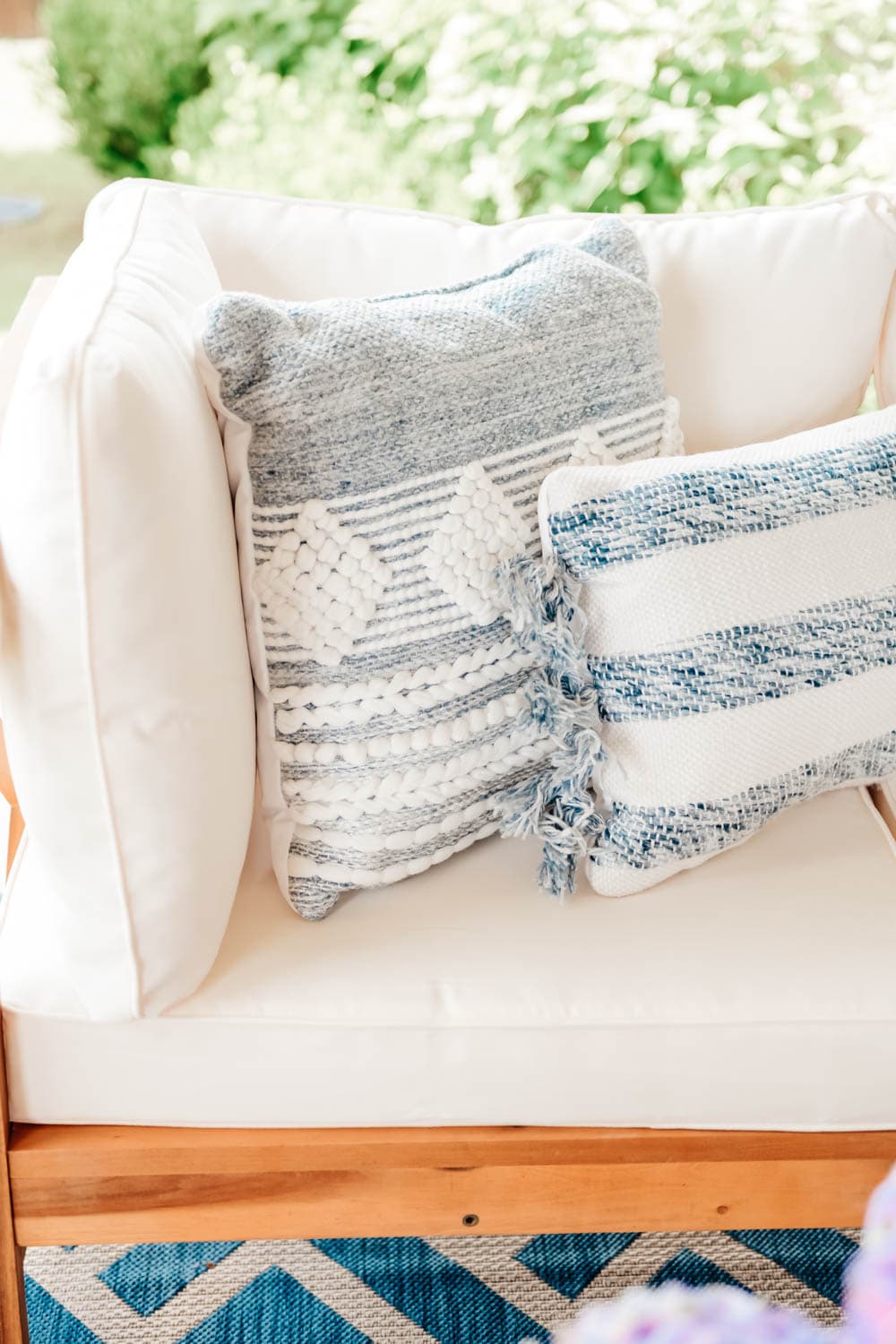 An amazing source for outdoor pillows for that designer look!
I snagged these crazy affordable pillows (under $20 each!) to add some of my favorite color to the neutral sectional. They are also outdoor grade fabric so easy to keep clean and handle weather conditions like the hot Texas sun. This is one of my favorite sources for pillows!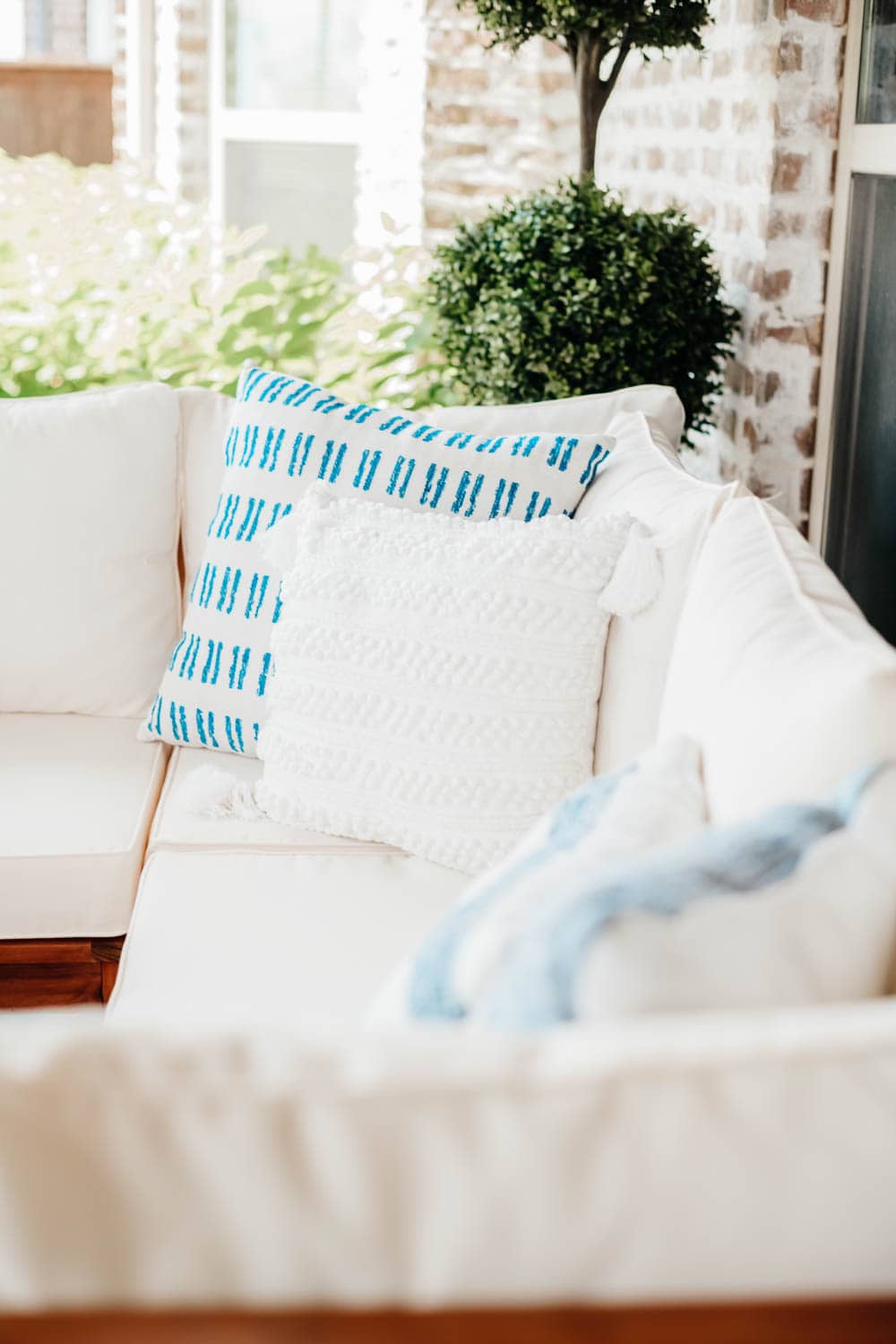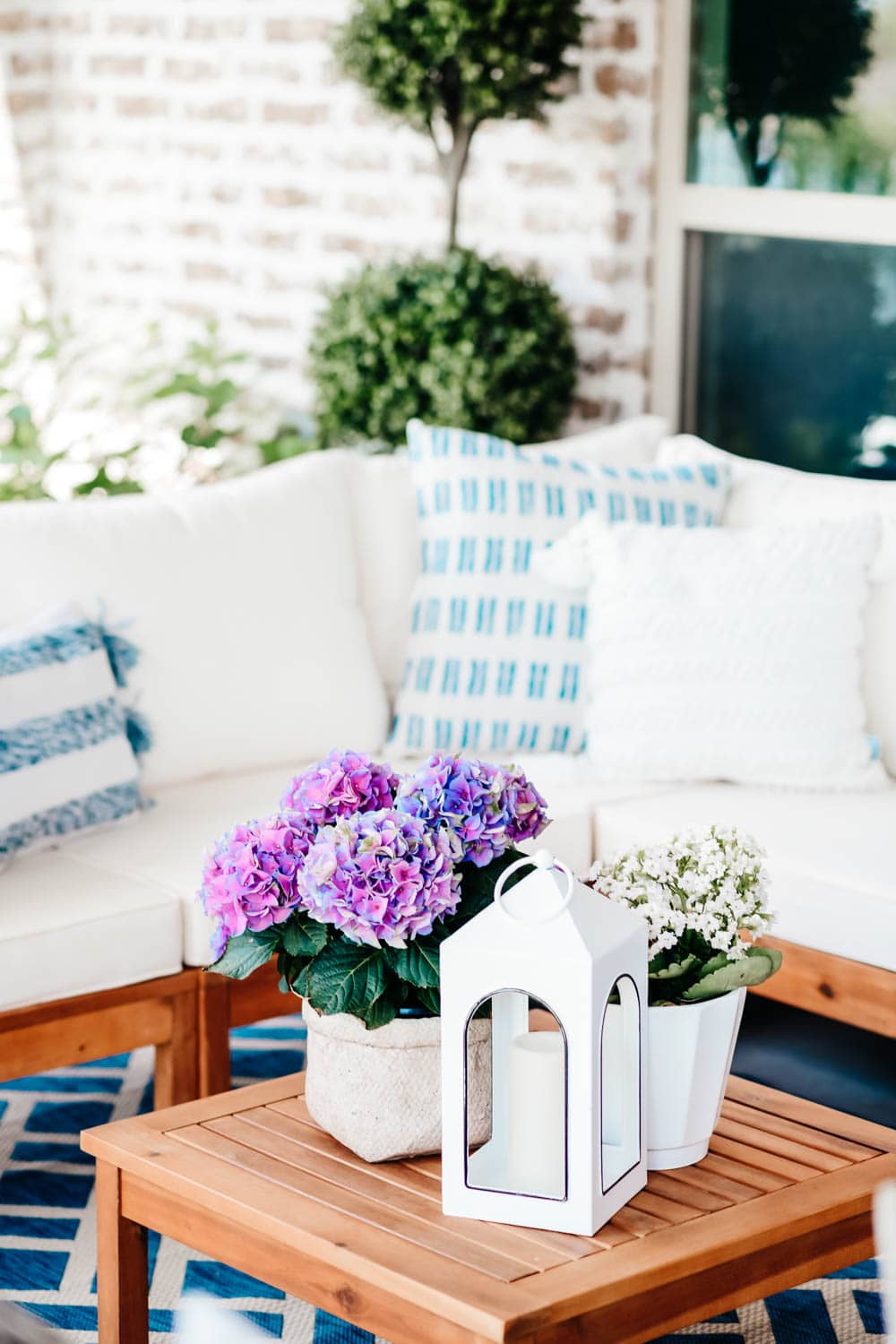 Accentuate with annual plants in planters for color.
I got these beautiful hydrangeas at the beginning of spring and they have lasted beautifully so far. Walmart is one of my favorite sources for annual plants because they are so inexpensive.
If you haven't popped over there to look at their gardening center, I think you will be surprised at their selection of plants.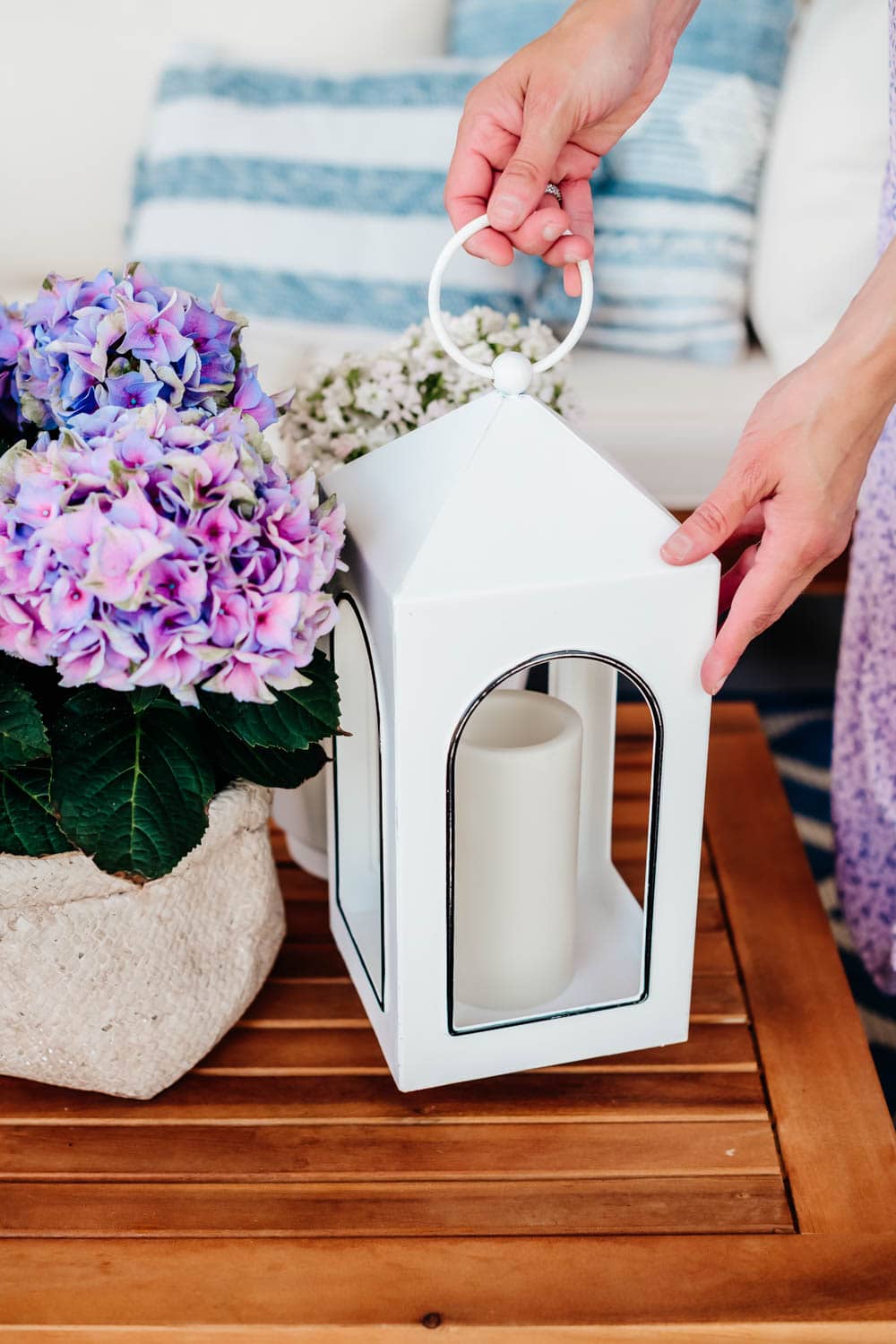 I also grabbed these outdoor lanterns (similar) this season and love that they illuminate with these faux candles. They are so pretty lit up at night and give the patio a beautiful glow.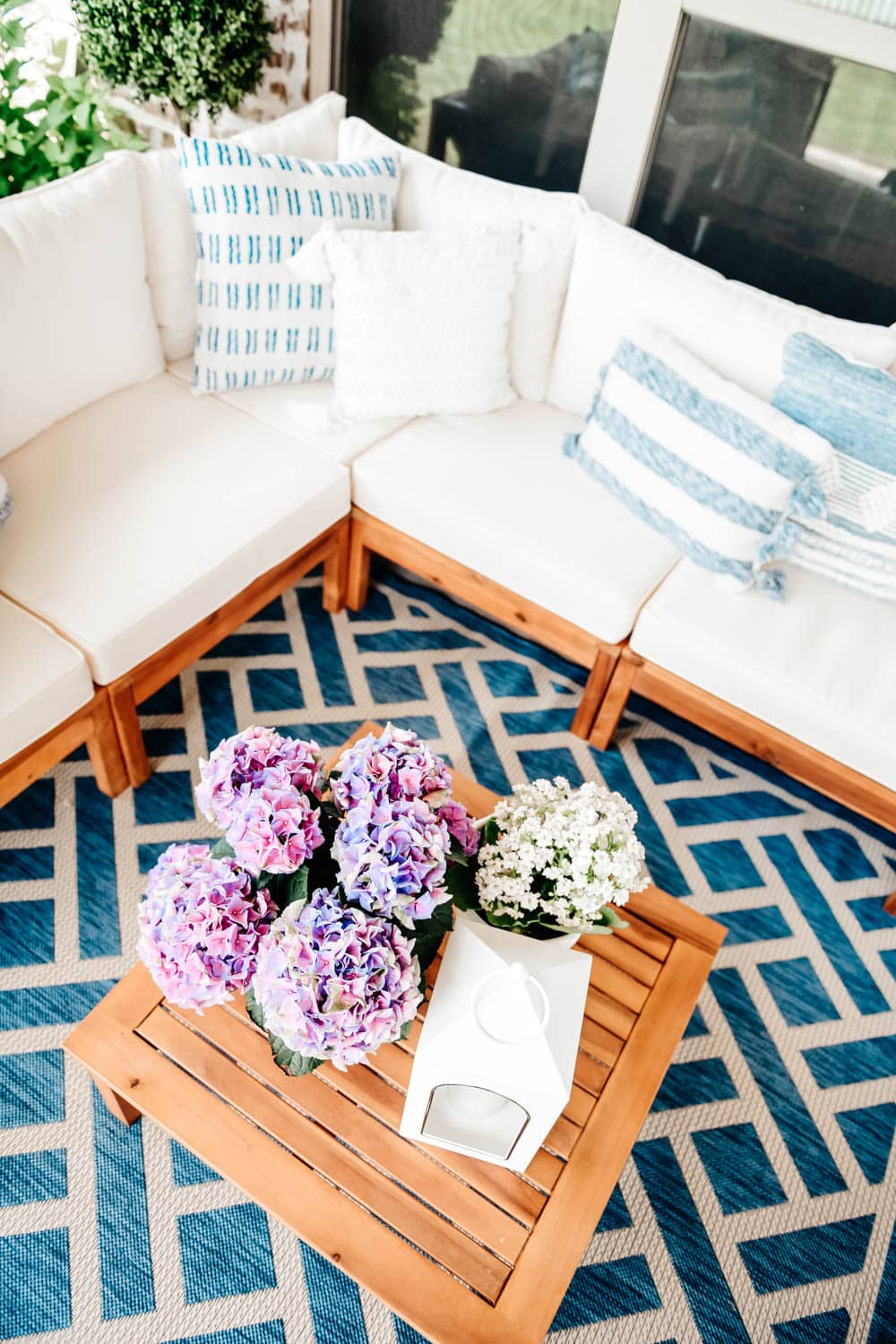 Layer with a pop of color and pattern in an outdoor rug.
I love the pattern and rich color of this outdoor rug. It grounds the seating area of the patio and adds so much vibrance. It comes in 5 colors and is under $100 for a 5×7 size. I love finding great outdoor rugs like this one and have a few more HERE you can check out that I found.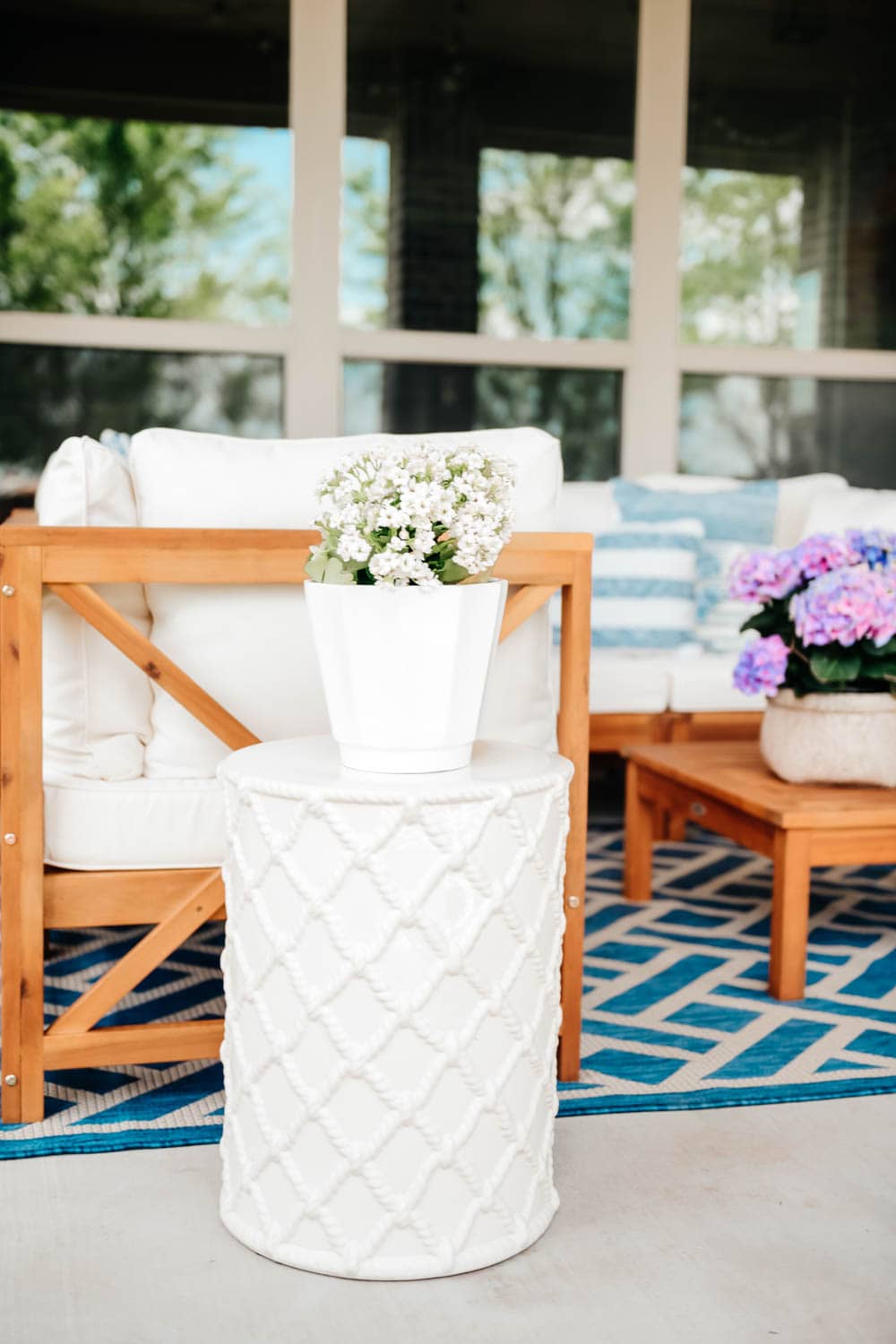 I have had this garden stool (similar) on our patio for the last couple of years and love it. It is the perfect size for a little side table and easy to wipe down and keep clean. I need to get still a little table for the other side of the sectional which I am still on the hunt for.

Create a dining space.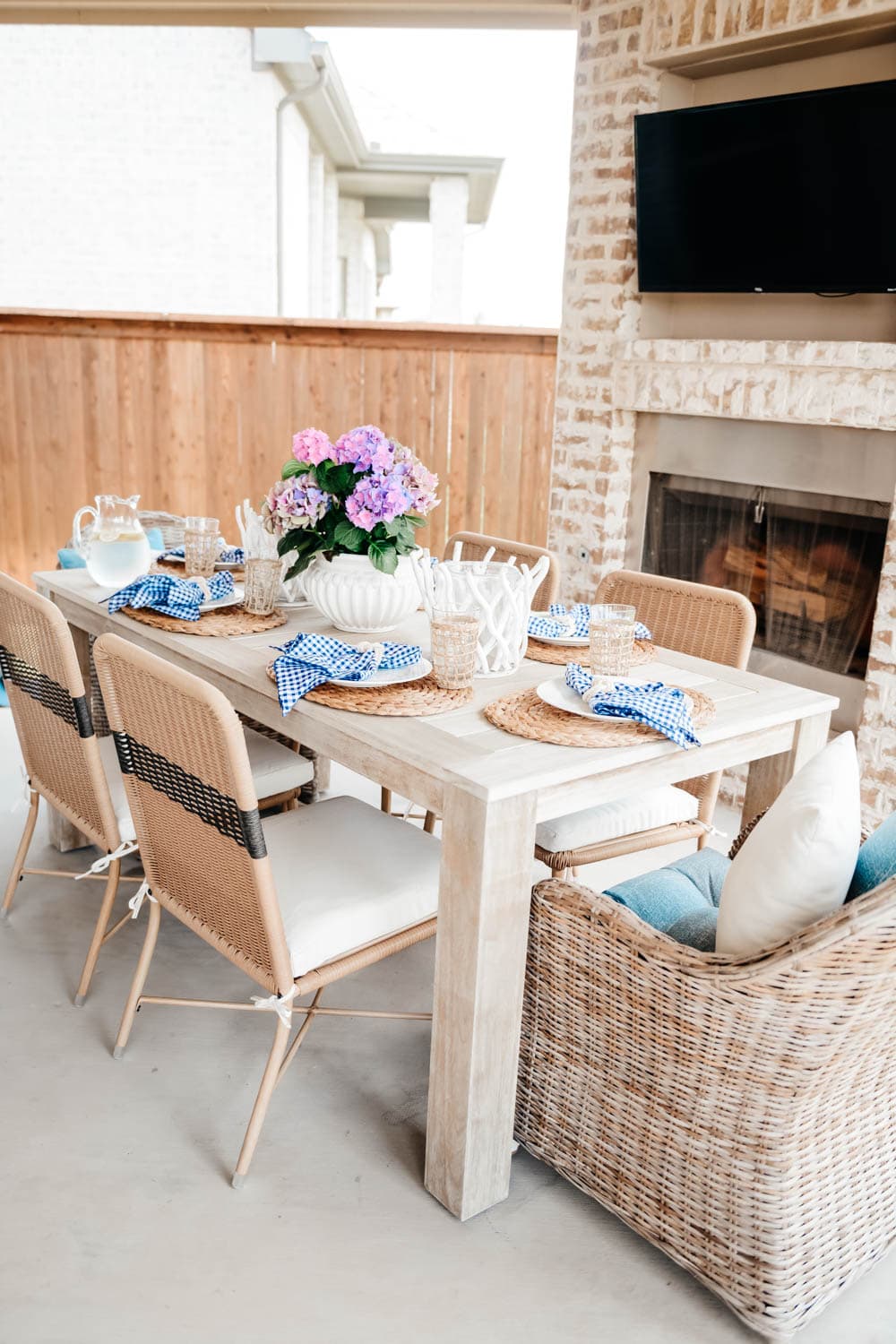 On the other side of the patio near the fireplace we placed the dining table.
This is the same table we had before and I absolutely love it. Every spring I use Thompsons Water Seal so the finish and wood don't get ruined from all the rain and it has held up amazing.
I love the light lime-washed finish on it and the simple design. The style made it so much easier to change out the chairs.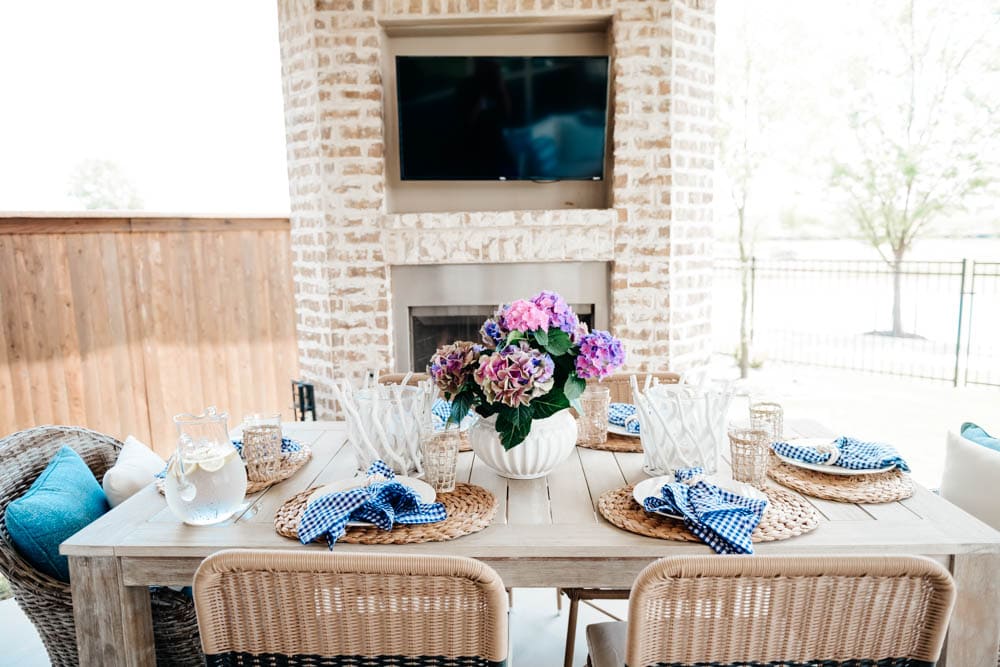 Update outdoor furniture with new cushions for an affordable refresh.
I also kept these wicker chairs (similar) and even though they are not made for outdoor use, they still have held up pretty good 4 years later. I generally just change out the cushions every spring to freshen them up.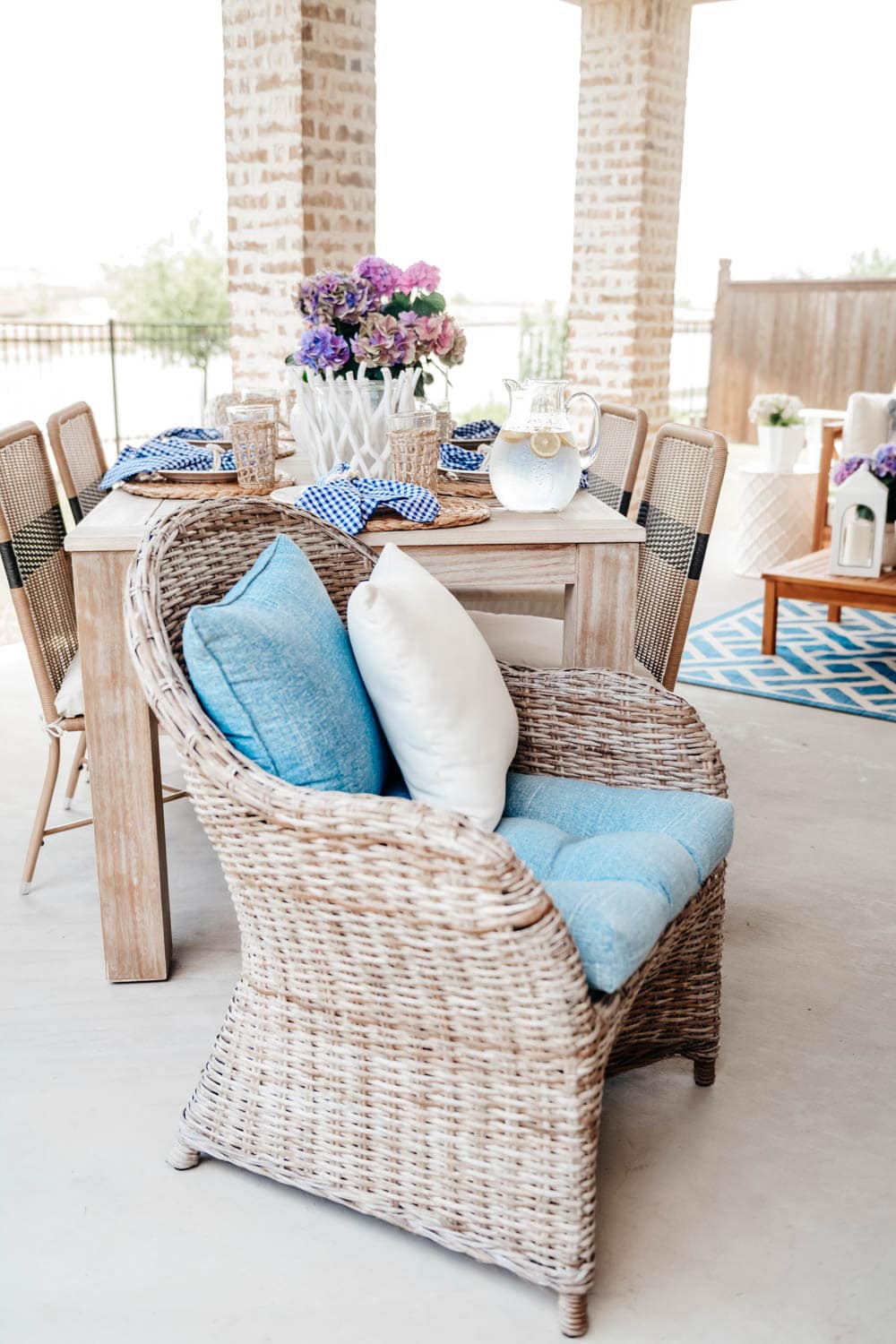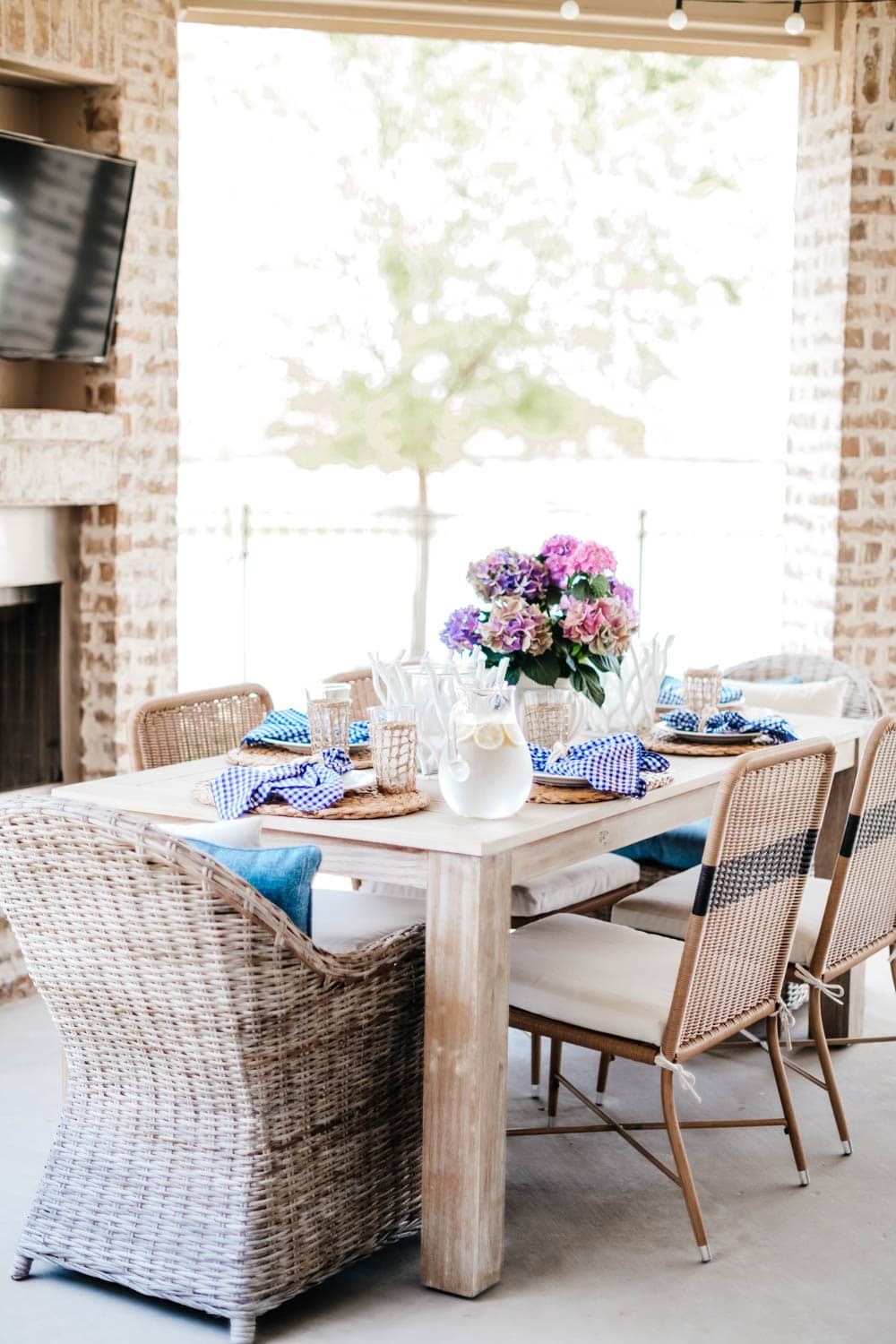 One of my favorite finds was these striped outdoor chairs. I love the modern look of them and that stripe adds such a pretty detail to the back of the chairs. They are super comfy too which my husband loves. He can sit out here and watch a game and not have to crank his head to try to see the tv anymore.
Add additional conversation area.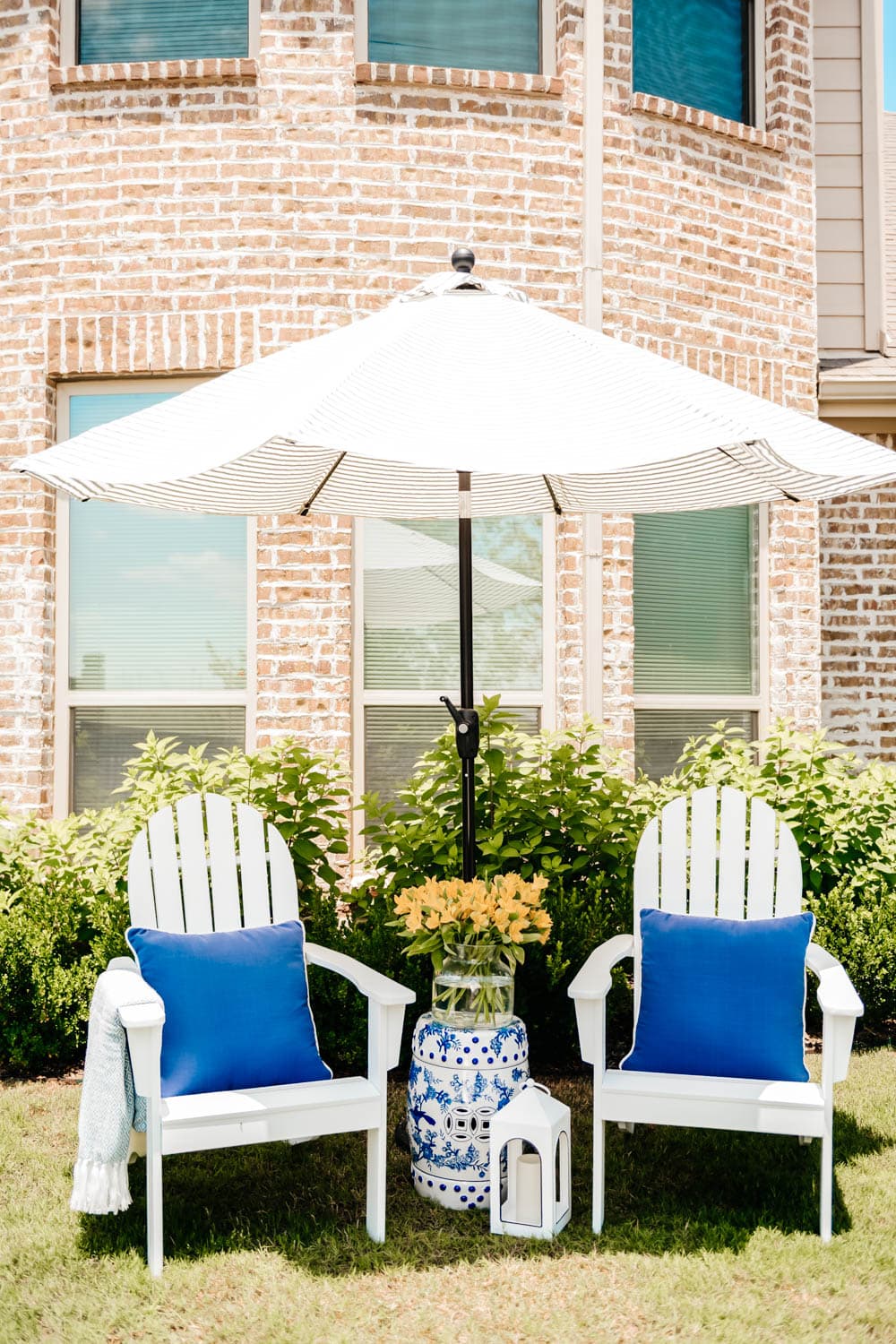 If you remember in the spring, I added this little spot to our yard next to the hydrangea bushes and we have loved spending the cooler nights here overlooking the lake. These Adirondack chairs are actually comfortable and easy to keep clean.
I love the large cafe umbrella and stand to help with the shade. This spot definitely gets pretty sunny and I can easily pop it down when we are not using it.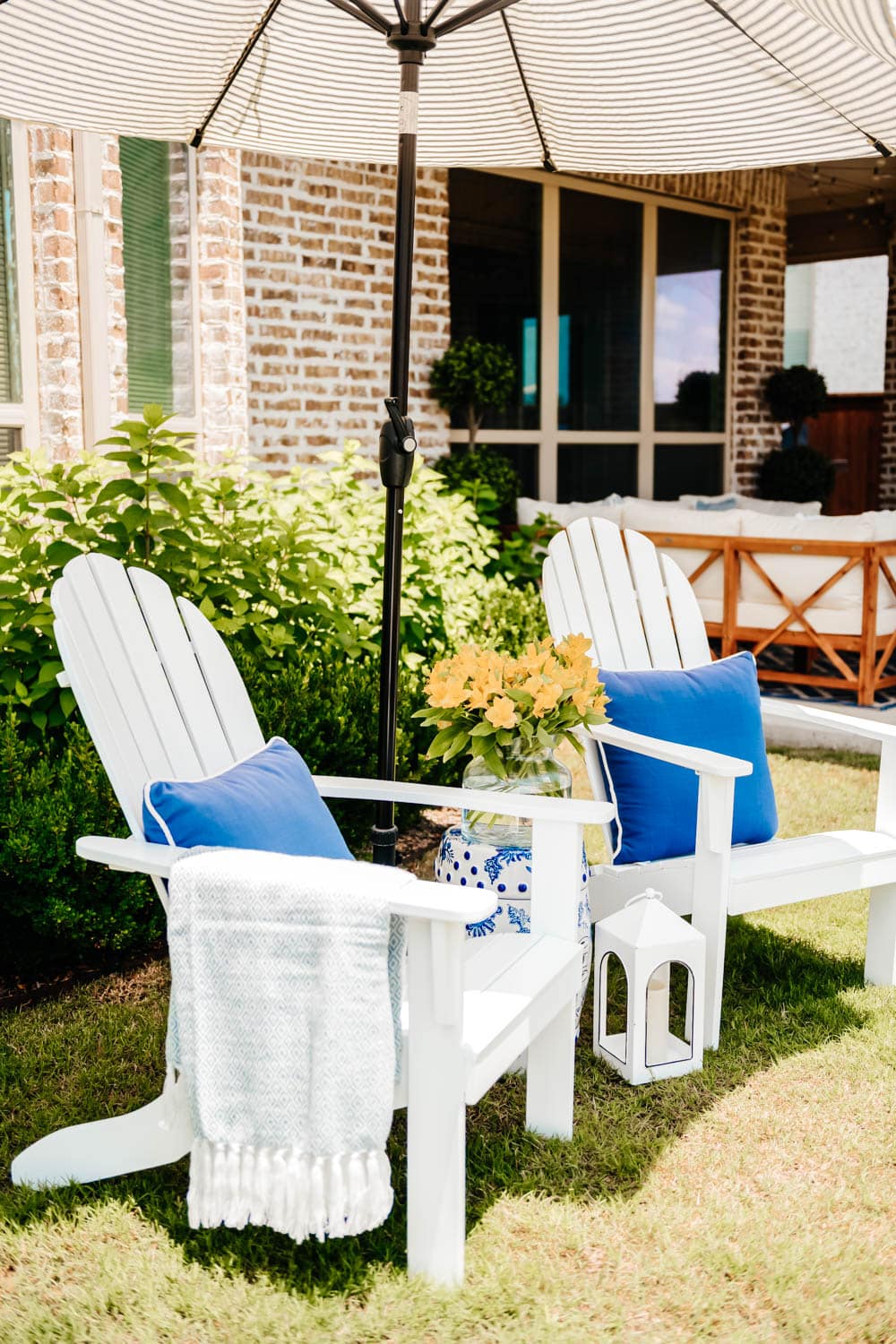 I placed a blue and white garden stool here for a place to put a drink down on and added some blue pillows and a throw blanket for when it is cooler at night.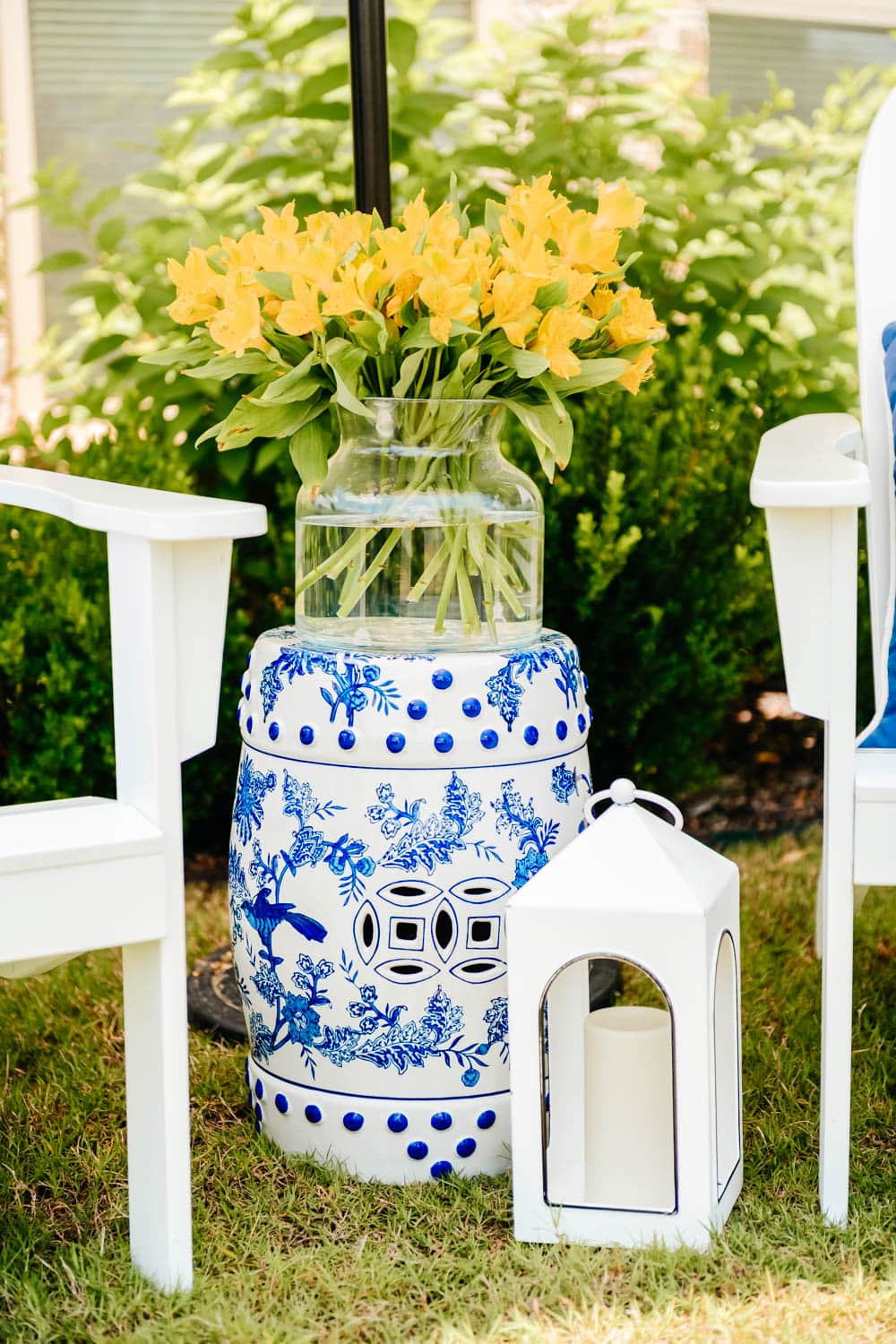 There is one more space, the cooking area, which I am not done with but will be shortly. So I promise to share it when it is. Hope you loved all of these affordable ways to update your patio for summer and hope you got inspired with some new ideas for your backyard!
Below are all the sources for everything and just tap on the pictures to shop them.
*Photogrpahy by Audrie Dollins




Follow along to get more of my tips on home decor, DIY, and lifestyle on the following: