Spring Porch Decor Ideas For An Instant Refresh
This is a sponsored post written by me on behalf of Hobby Lobby. All opinions are 100% mine.
Sharing some spring porch decor ideas with affordable stylish finds from one of my favorite stores. Also sharing the most popular color schemes for spring porch decor.
With the weather warming up soon and the sun setting just a bit later in the evenings, the spring season will be here before you know it!
I love to prep for the new season coming with transitioning my porch first. It seems one of the easiest spots to tackle in my home and is the first thing your guests see.
Of course, my favorite store to shop for new seasonal decor finds is Hobby Lobby. Not only are they at the top of the game for crafting supplies but their home decor assortment is on point!
Hobby Lobby has the most incredible seasonal sales to take advantage of and their current Spring Shop is 40% off. No coupon is necessary to take advantage of it either since the discount is taken right at the register for anything marked Spring Shop.
Most of the spring decor is found to the left right as you enter the store so it is front and center. You won't miss it!
This site contains affiliate links. Please read our disclosure policy. As an Amazon Associate, I earn from qualifying purchases.
Spring Porch Decor
So now for my spring porch ideas and decor finds for a refreshed front porch for the new season!
How To Make Your Front Porch Look Pretty
I started my planning by picking a color combination for my front door.
There are so many different color schemes to go with for spring. I chose a blue and white color combo but here are a few more of my favorites.
Spring color combinations for decorating a porch for spring.
You really can't go wrong with any of them and it is hard to choose a favorite. That's why you can make it different each year and it will feel fresh and new!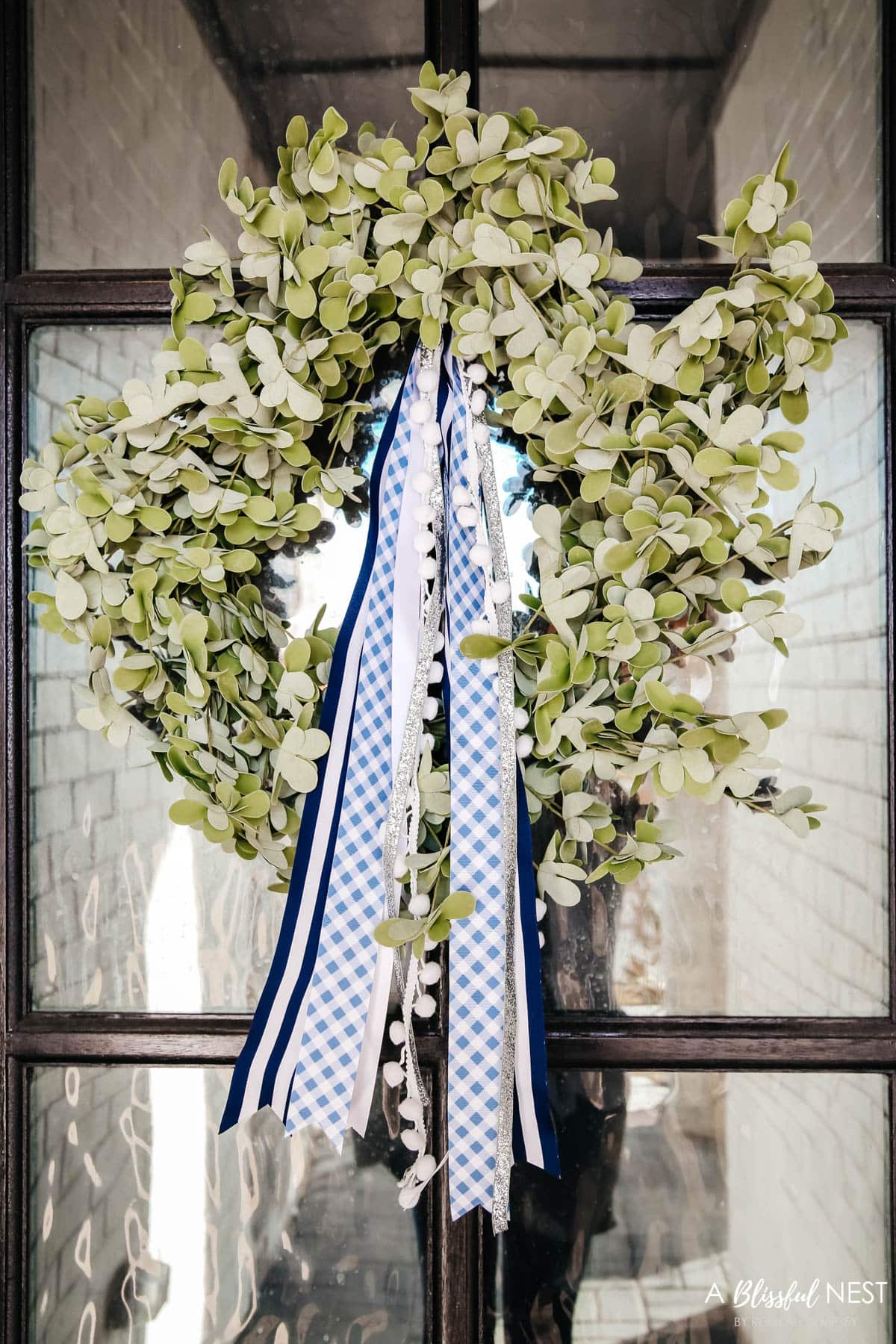 An easy way to incorporate any color scheme and add a pop of color is to go for a neutral wreath like this green foliage wreath. I love the cluster of leaves and it is very full-looking. It is also such a great wreath to transition to summer with.
Hobby Lobby also has a huge assortment of beautiful spring wreaths to choose from if you want one with some color.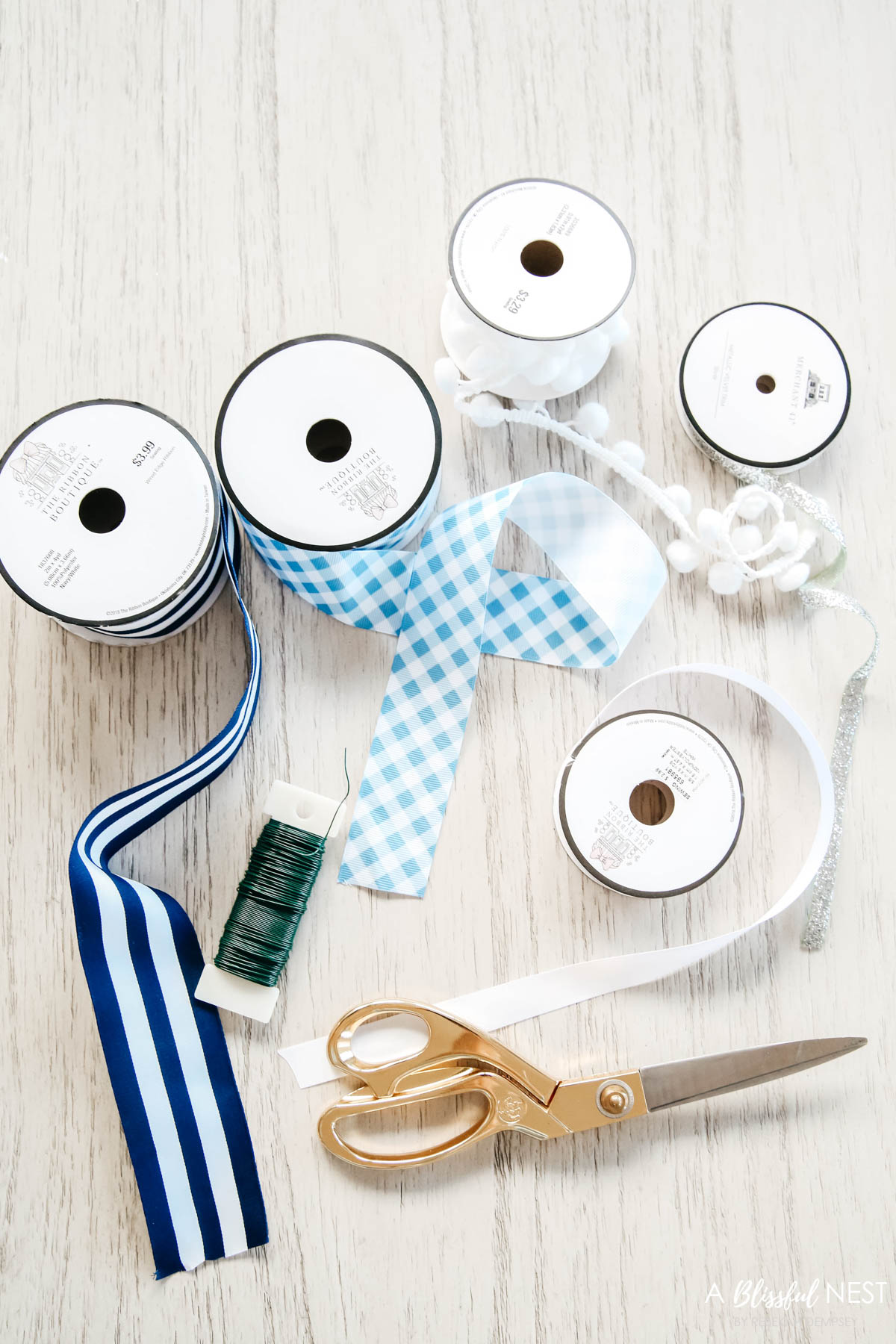 I created a cluster of ribbons with shades of blue to tie in my color palette.
This is such a fun inexpensive way to spruce up your wreath, especially when the ribbons are on sale. So watch out for when they are!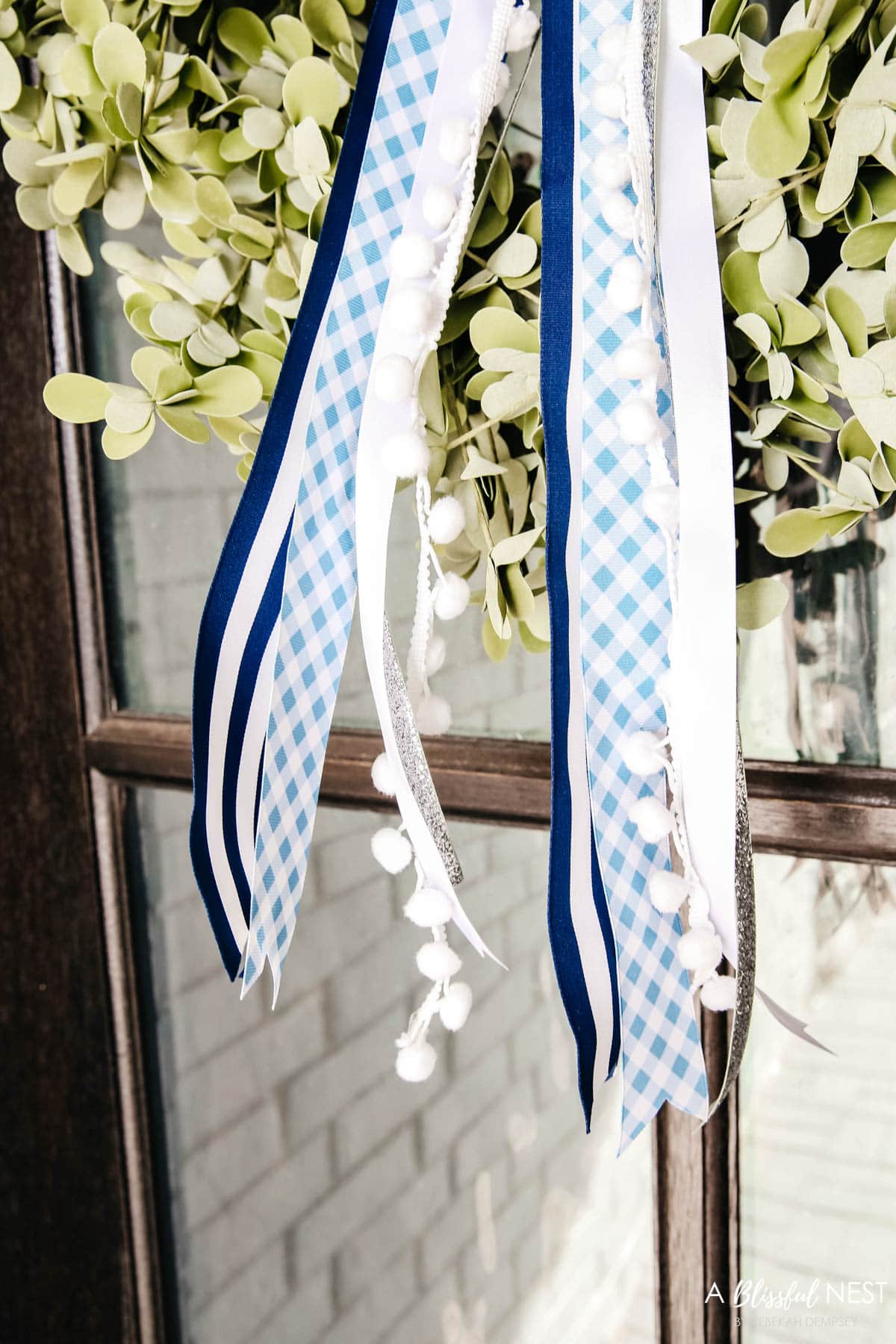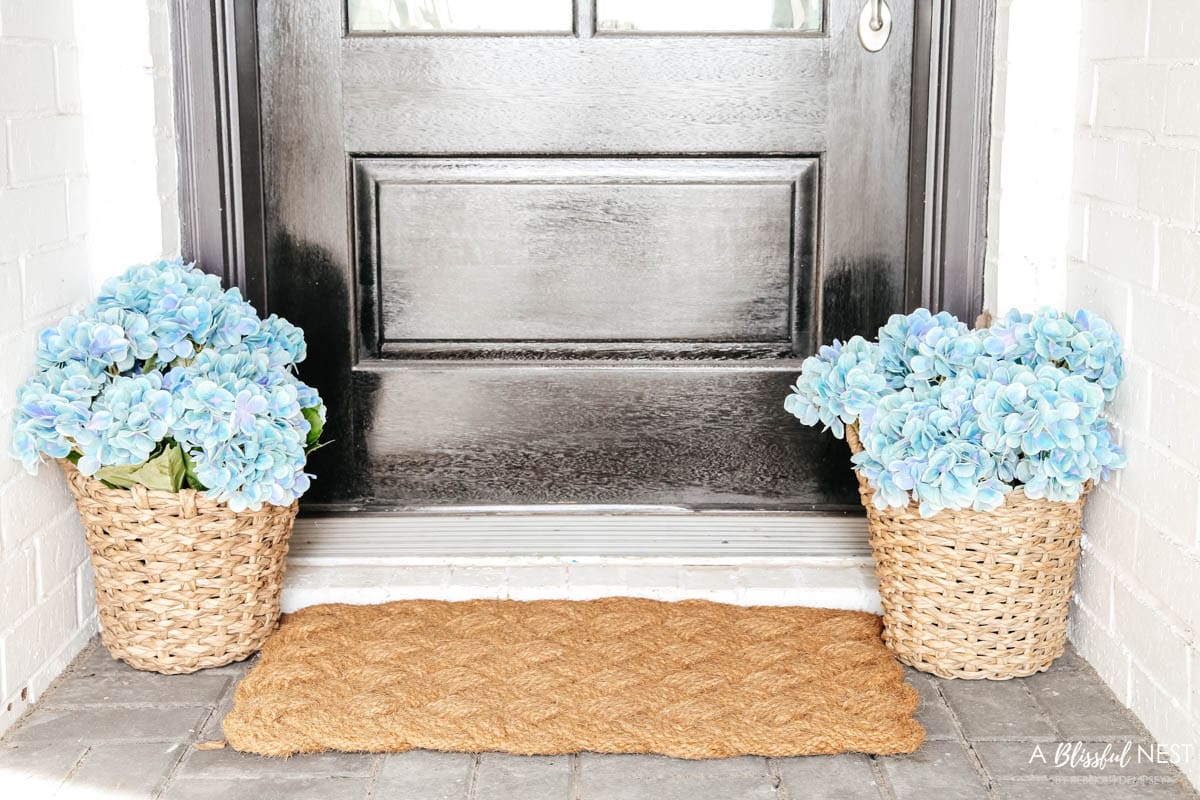 What To Put On Your Front Porch To Decorate With
I am such a sucker for hydrangeas and I love the assortment of colors Hobby Lobby has.
It is easy to add them to my front porch and outdoor patio because of this little tip to preserve them.
I buy this UV-resistant acrylic coating spray. I just use a light mist over them and it makes their color stay vibrant the whole season. Try it and let me know what you think!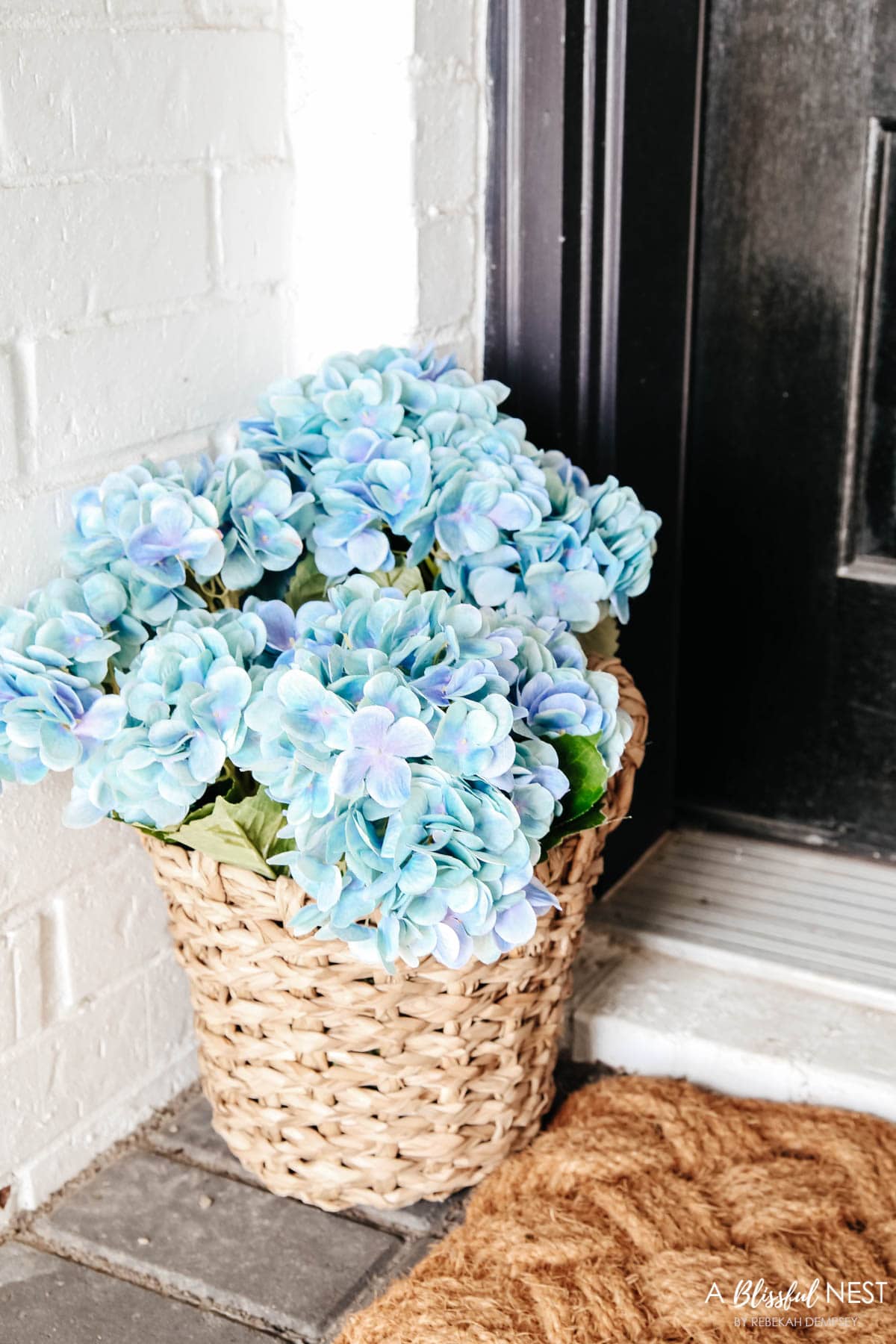 I found these gorgeous round rush baskets and filled them with three green-blue faux hydrangea bushes but you essentially could use any spring flower for them. I love them to look full and like they are overflowing, but you could easily use two instead.
Then I simply placed each one on either side of the door. They are such a burst of color and coordinate so beautifully with the ribbons that are tied to the wreath above.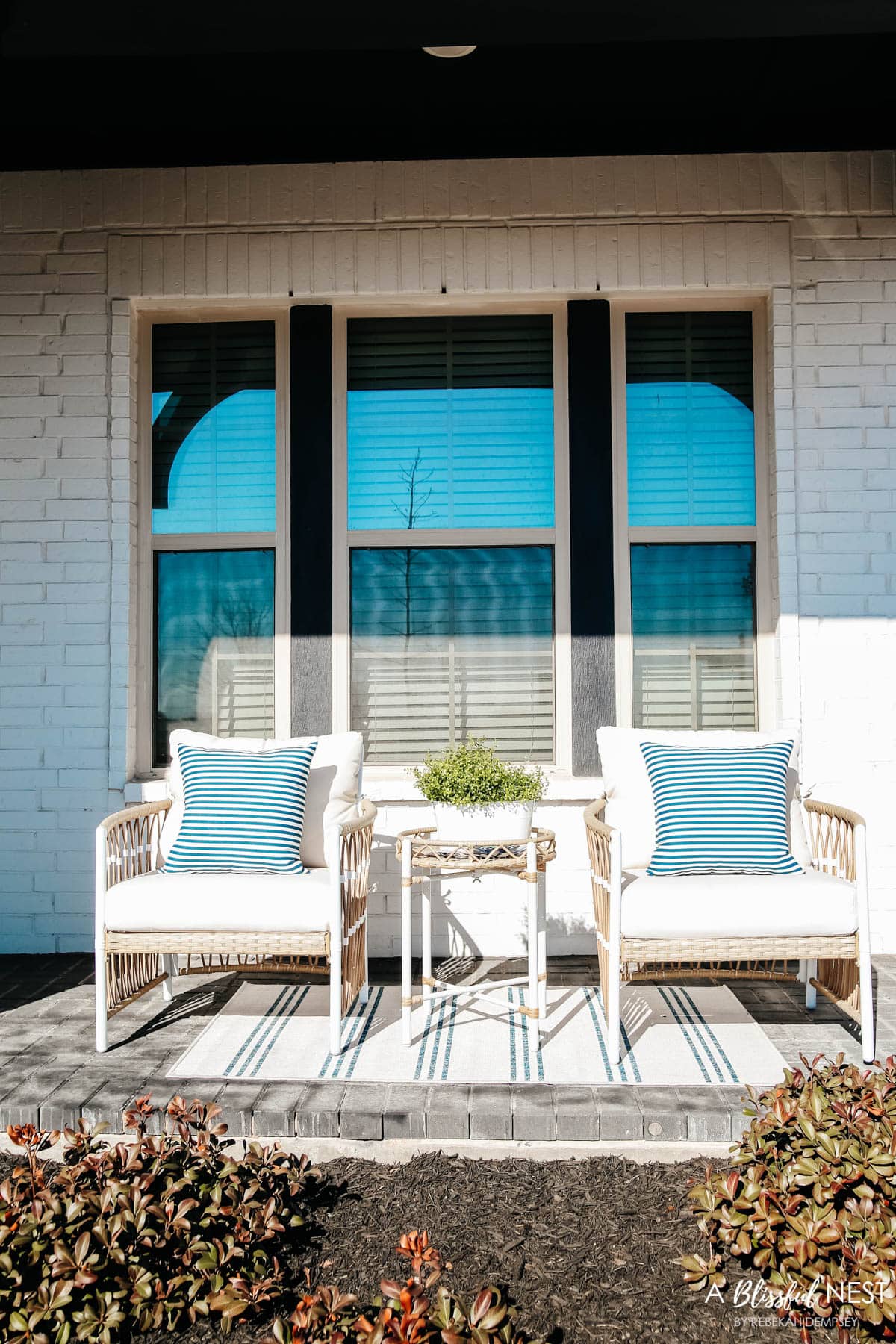 How To Make Your Front Porch Look Welcoming
For our little outdoor space off our front porch, we have two chairs and a side table. The outdoor furniture is pretty neutral and easy to incorporate different decor for all the seasons and it looks so quaint.
So I dressed up the chairs and side table with some spring finds to make it feel welcoming and cozy.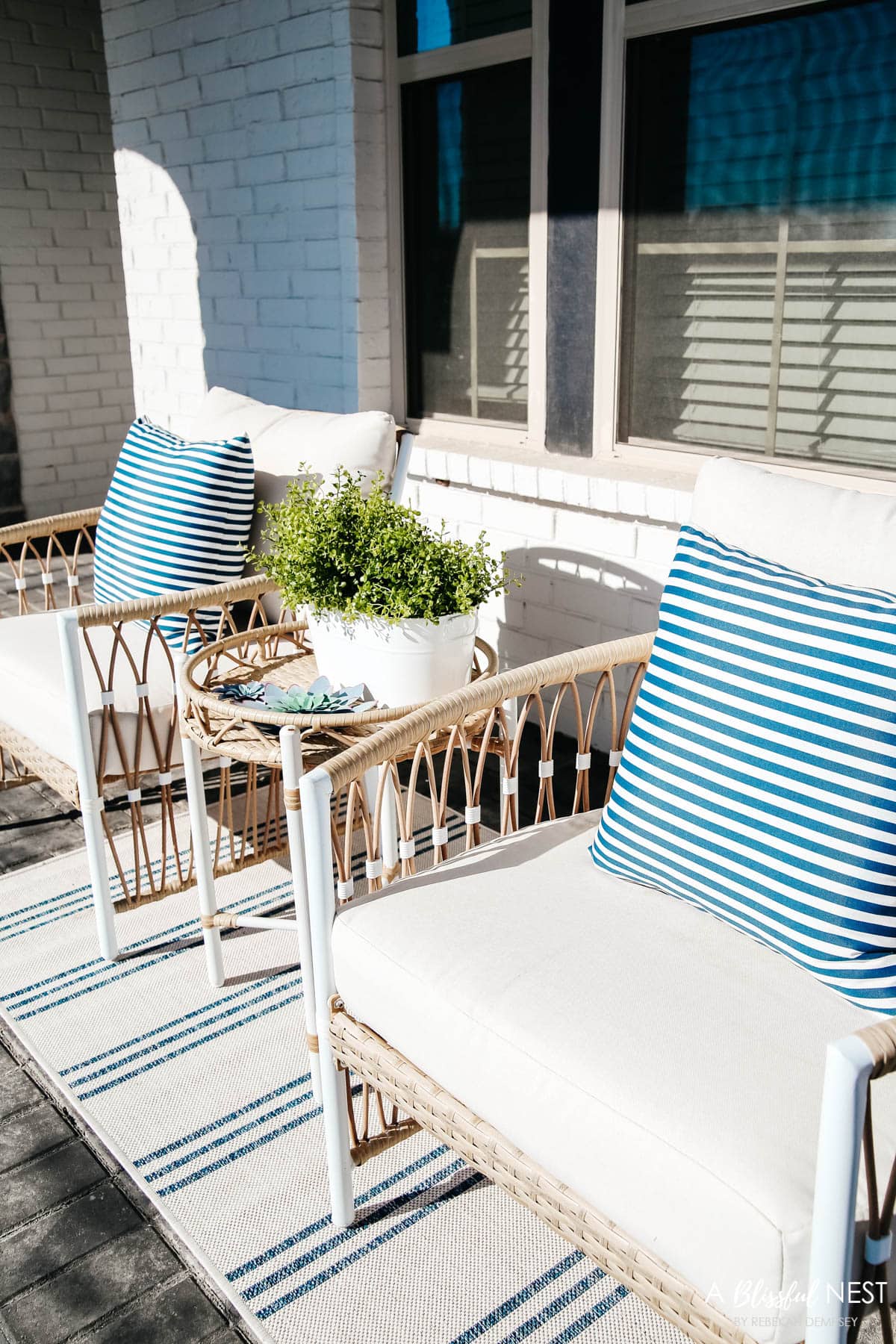 You know how I feel about navy and white, so when I saw these pillows at Hobby Lobby I had to get them. They give a preppy nautical feel and they are the perfect size for these chairs.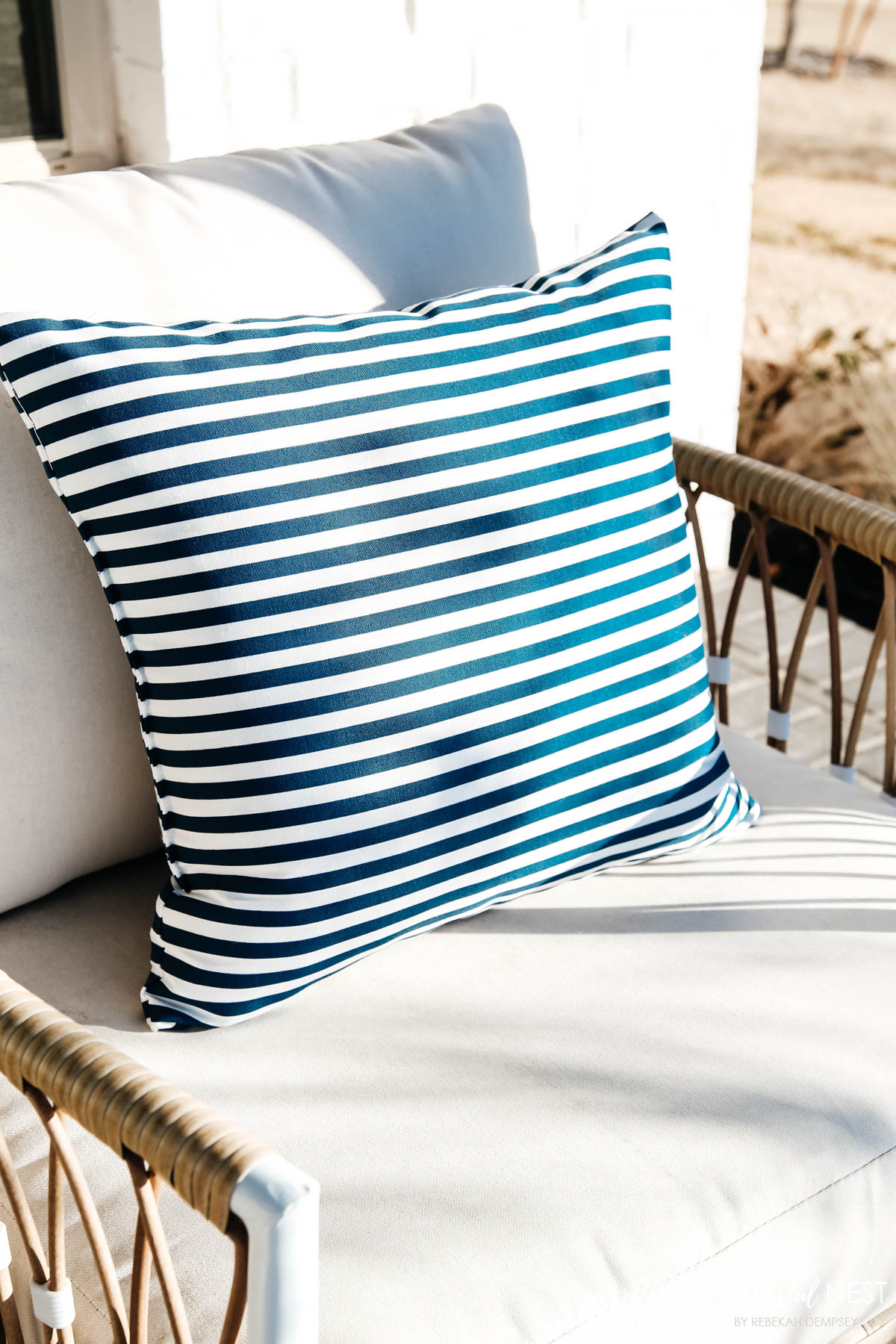 We have this little side table between the chairs and I love to spruce it up a bit with greenery. I found this amazing white galvanized bucket which by the way I can think of a thousand ways to use and popped in five of these faux maidenhair bushes.
Don't forget to spray them with the UV spray to make their color last longer!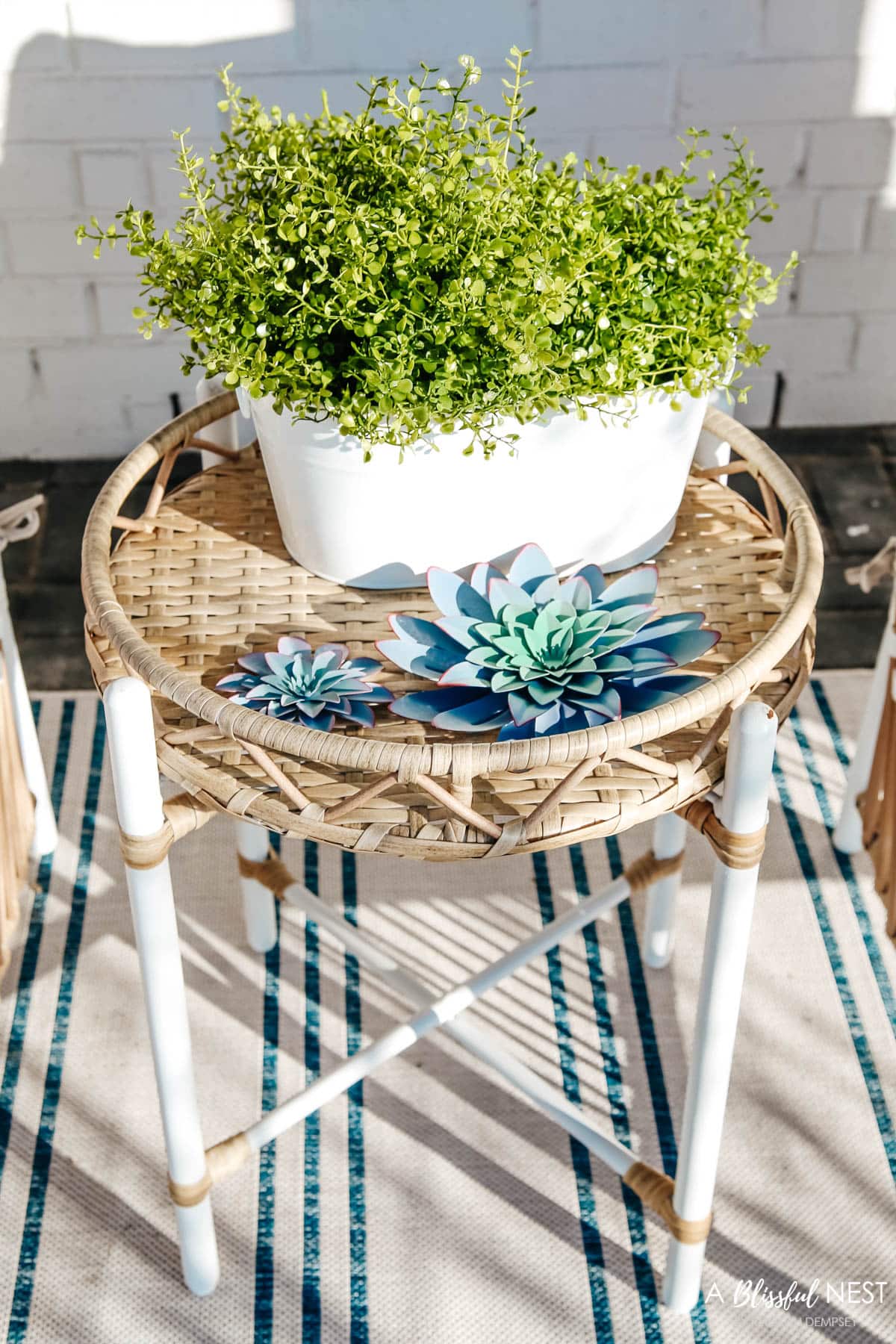 I found these different-sized metal faux succulents that are actually wall decor. But I loved them so much and thought they looked like a fun tabletop decor idea too. There were a couple to choose from but these two are my favorite. They would be pretty amazing hanging on a wall also.
I simply place two that were different sizes on the top of the table next to the faux maidenhair ferns and I love the dimension they add. This is the perfect spot to sit and have a cup of coffee in the morning!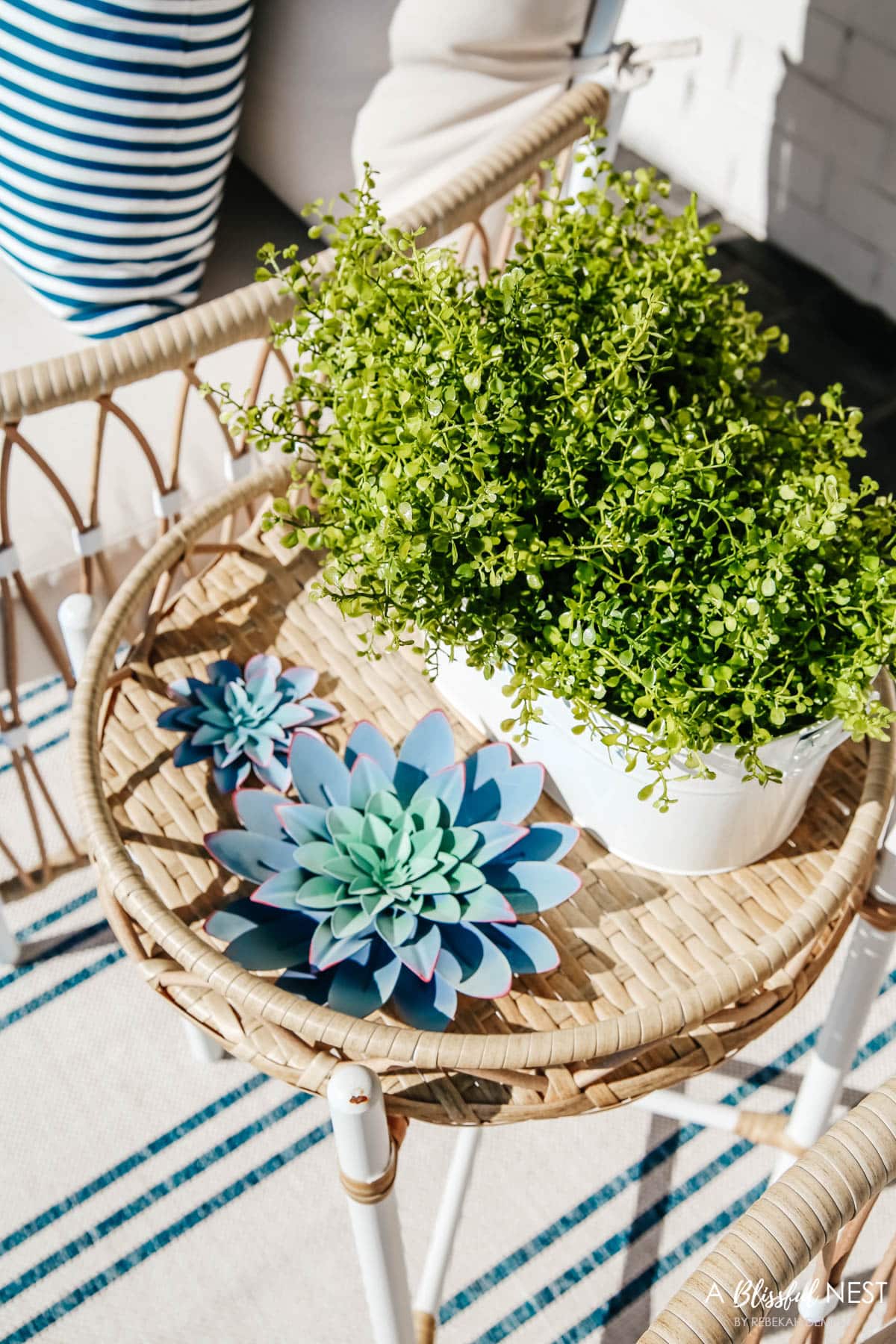 That's it, my friends! When the weather gets a little warmer and stays warmer then I will be adding fresh plants to the garden bed in front of the porch and some new potted plants.
So bring on the warmer weather and pop over to Hobby Lobby and snag all these gorgeous pieces to elevate your porch for the upcoming season.
THIS IS A SPONSORED POST. A BLISSFUL NEST HAS RECEIVED PAYMENT, TRADE, AND/OR PRODUCTS FROM HOBBY LOBBY IN EXCHANGE FOR PROMOTING. HOWEVER, ALL OPINIONS STATED ARE OUR OWN.