Unique Raised Garden Beds for Your Yard
Although you can grow herbs, vegetables, and flowers in the ground, using raised garden beds can be an even better way to do it. Find out why raised garden beds may be the best addition you can make to your yard. Plus, check out these raised garden bed ideas to help you plan out your own raised bed design!
It's that time of year: the days are longer, the flowers are blooming, and the ground is warmed up. It's the perfect time to plant a garden!
If you've never had a vegetable garden before, the increasing prices of produce products may have you considering starting one. Plus, it's an amazing experience for the entire family to go into your backyard and harvest fresh vegetables from your own backyard garden.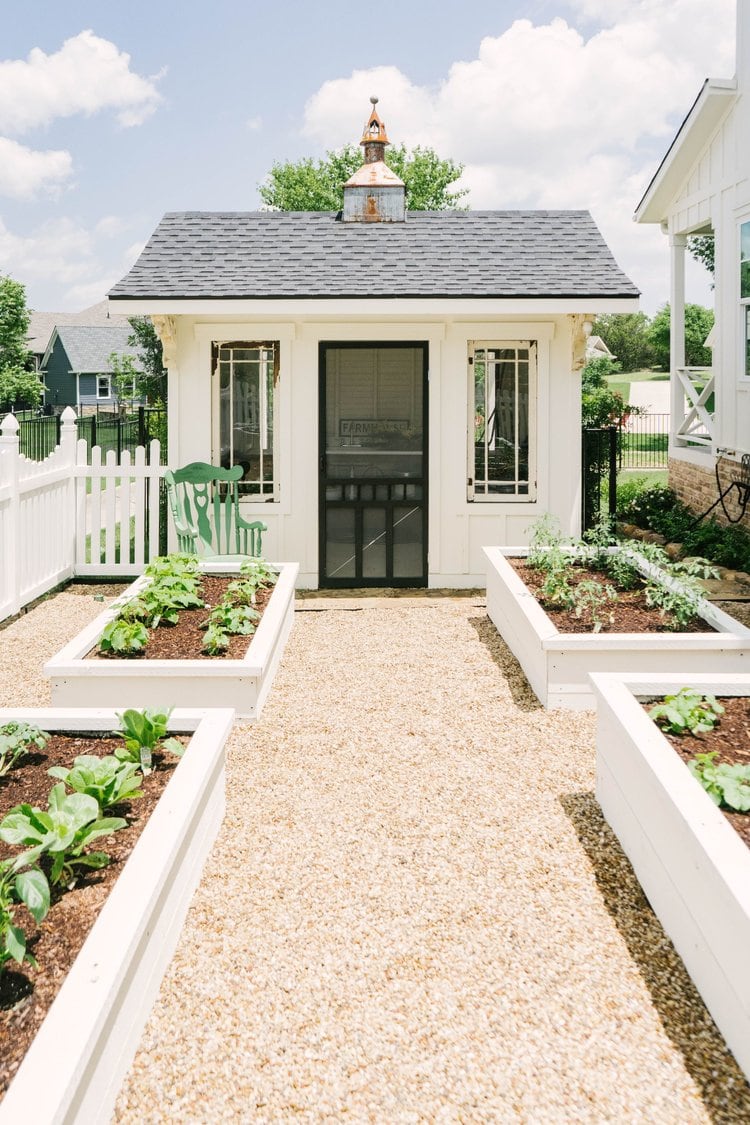 Reasons to Make Raised Garden Beds For Your Garden
If you're thinking that you can just grow any vegetables (or flowers) that you want in the ground, you're right. It's true that you can absolutely grow delicious vegetables directly in the dirt of your backyard, but there are several benefits to building raised garden beds. Here are just a few reasons why it can be the perfect addition to your yard.
Keep Unwanted Animals Out
Animals like moles, gophers, and rabbits (as well as slugs and snails) are known to be major pests for a garden. Growing your vegetables and flowers in a raised bed will help your plants thrive by helping keep those pests out.
If you live in an area that has poor soil, using raised garden beds eliminates that problem entirely because you fill your empty garden beds with the fresh planting soil of your choice.
Easier For Maintaining and Gardening
Bending over to tend an in-ground garden is back-breaking work and hard on the knees too. Growing flowers and vegetables in raised garden beds can eliminate that problem!
In some areas due to either a wet climate or poor dirt, the soil in the ground doesn't drain well and can actually overwater your produce. This can lead to root rot for your plants.
Raised bed gardens avoid this problem altogether and provide better drainage for your plants.
Once established, your garden will have fewer weeds, making both your plants happier and your weeding job easier.
Raised flower beds prevent foot traffic in the garden. By not walking on the soil around your plants, it doesn't get compacted, which keeps the plants healthier and less likely to be damaged.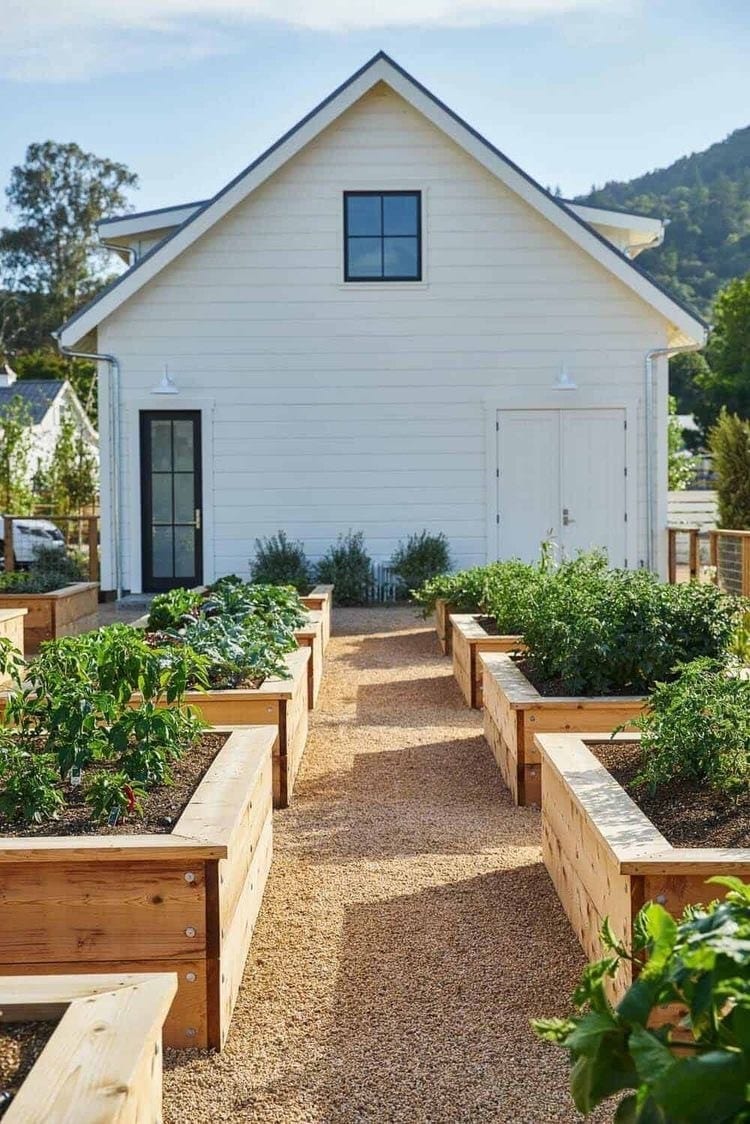 How to Build a Raised Bed Garden
No matter what material you use, the basic steps for building your own design are the same.
1. Choose Your Location
You will have a couple of things to consider when doing this such as sun exposure and accessibility.
You want your spot to ideally get at least 6 hours of sunlight during the day for optimum veggie growth. Also, consider the space in terms of having room to work on your garden from all sides of the raised bed.
2. Measure Your Location
You may have ideas of what style and shape of the raised garden bed you want to build, but it's crucial to measure the space accurately.
This step is even more critical if you want to make multiple raised beds. Especially in tighter spaces, being off on your measurements can cause major headaches (don't ask how I know!)
Consider marking off your garden bed space with string or spray paint to give you a visual.
3. Prepare Your Space
This may mean leveling out the area where you want your garden to live. It also may mean clearing out other plants and vegetation that will be in the way. If you are building over grass, I recommend getting a ground cover to prevent weeds from poking through your garden.
4. Build It
No matter what style you choose, follow the instructions to create a raised garden bed you'll love and use for many years to come. Once complete, fill with the soil of your choosing.
5. Plant Your Garden
Here's the fun part! Plant your vegetables and/or flowers and enjoy watching them grow!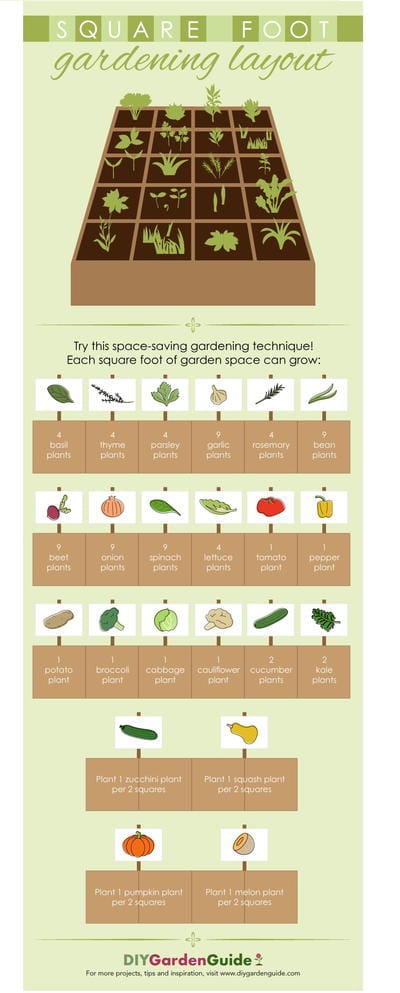 Raised Garden Bed Ideas For Your Backyard
There are so many options to choose from here. From simple planter box-styles to more elaborate tiered or vertical options, here are 7 examples of raised garden beds that might work in your garden space.
Quick DIY Raised Garden Bed
If you need something that comes together quickly, this wooden raised garden bed can be completed in a weekend (or maybe less). It's a simple, yet very effective design that will get you gardening in a snap.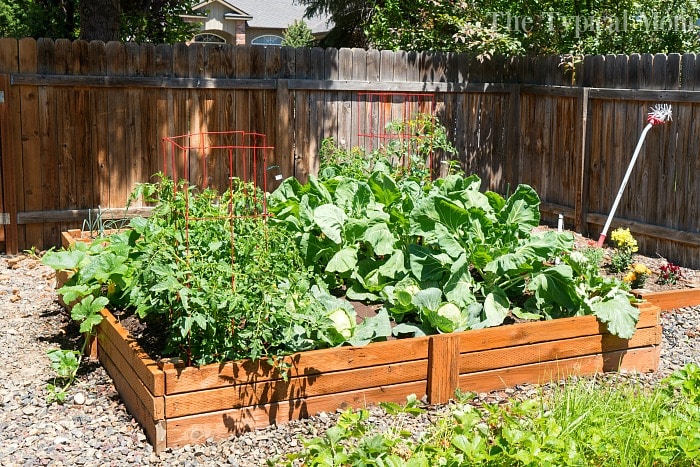 Tiered Garden
If you're short on space, build a tiered garden bed. It saves space but also holds LOTS of herbs, vegetables, and flowers.
The trellis in the back is perfect for supporting those tall and vining plants. Plus, it looks amazing!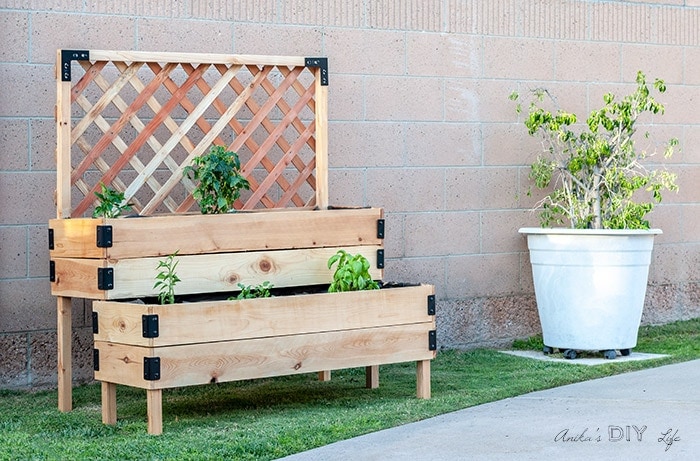 Simple Raised Bed
The only material you REALLY need to create a DIY raised garden bed is some wood boards or lumber ties. Sure, you can use different materials, but wood is the way to go if you want simple (or cheap).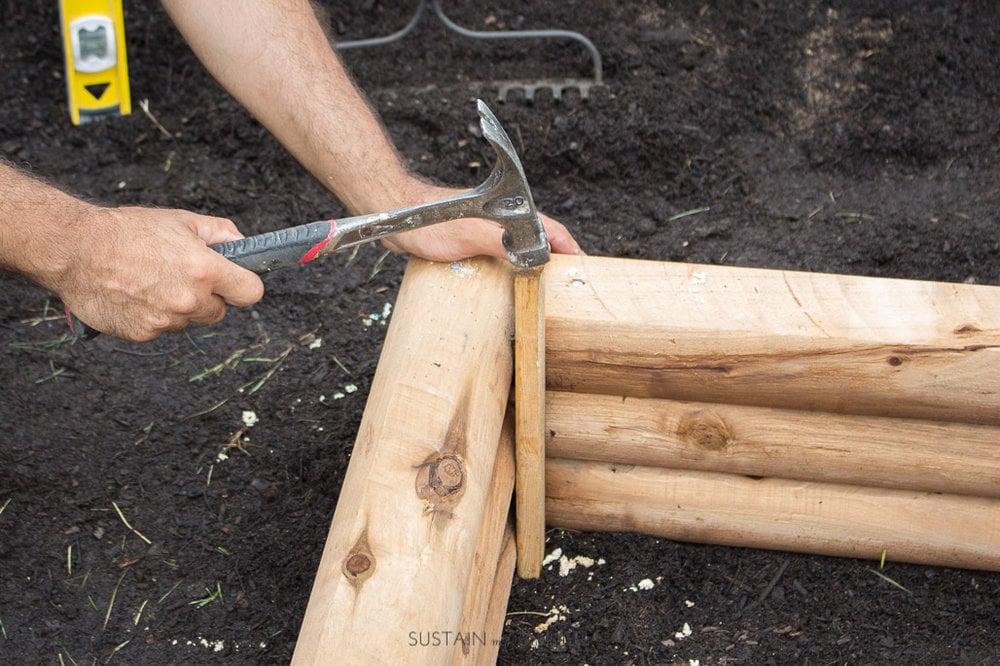 Corrugated Metal
Corrugated metal is both safe and beautiful to use as part of your raised garden bed design. Get the full tutorial for these long-lasting raised beds.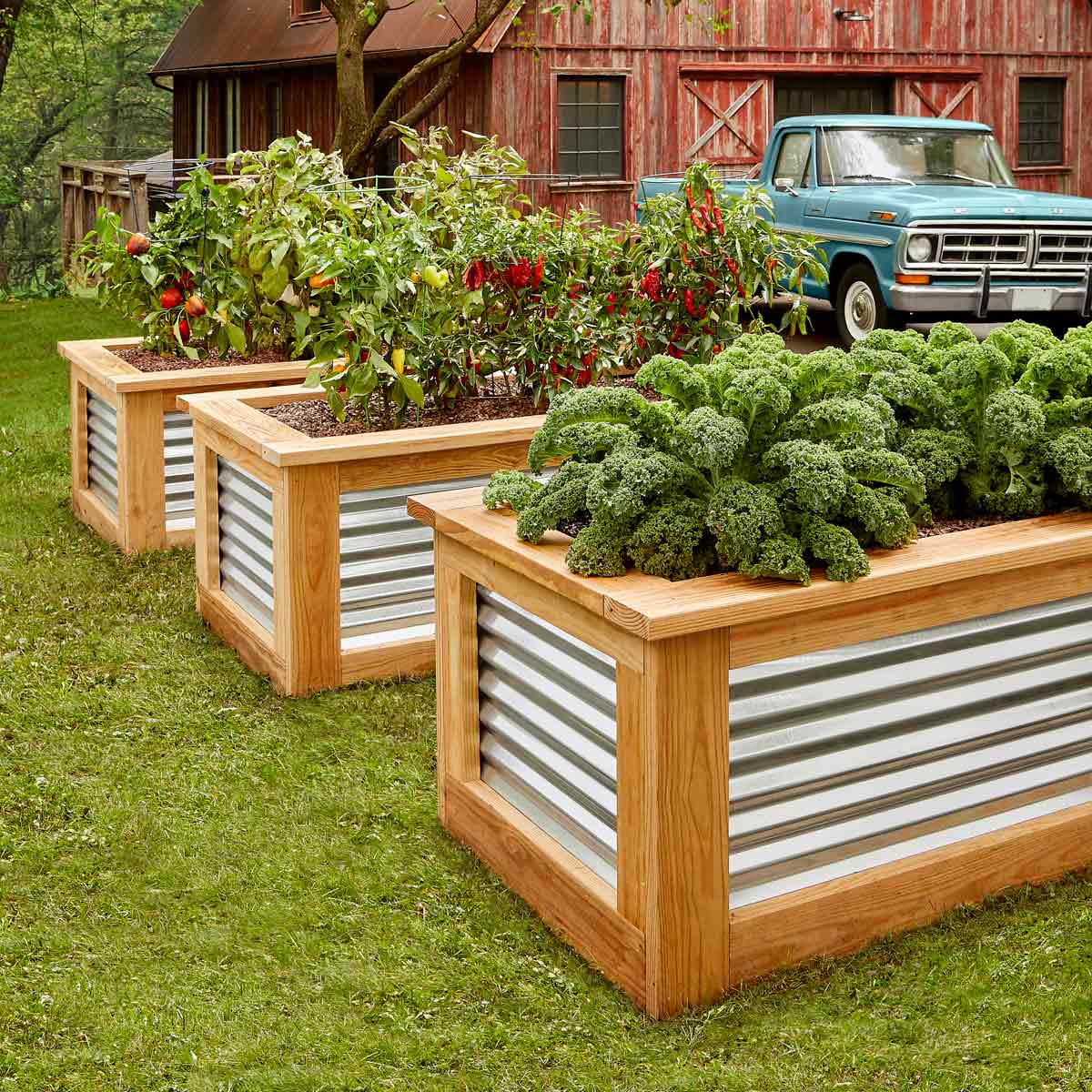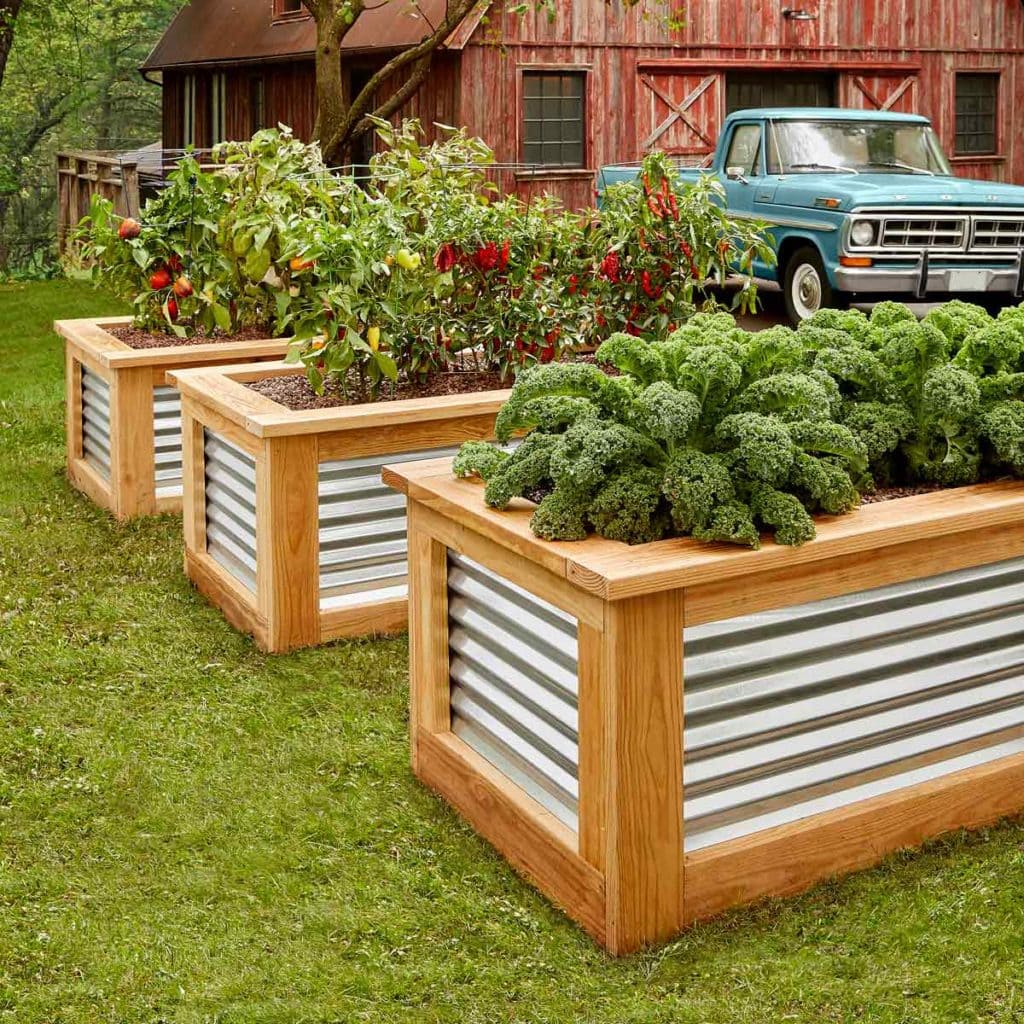 Stone DIY Raised Garden Bed
If you want to tie the look of your garden bed in with your home or an existing fireplace or outdoor kitchen, create a beautiful stone bed. It's durable and gorgeous!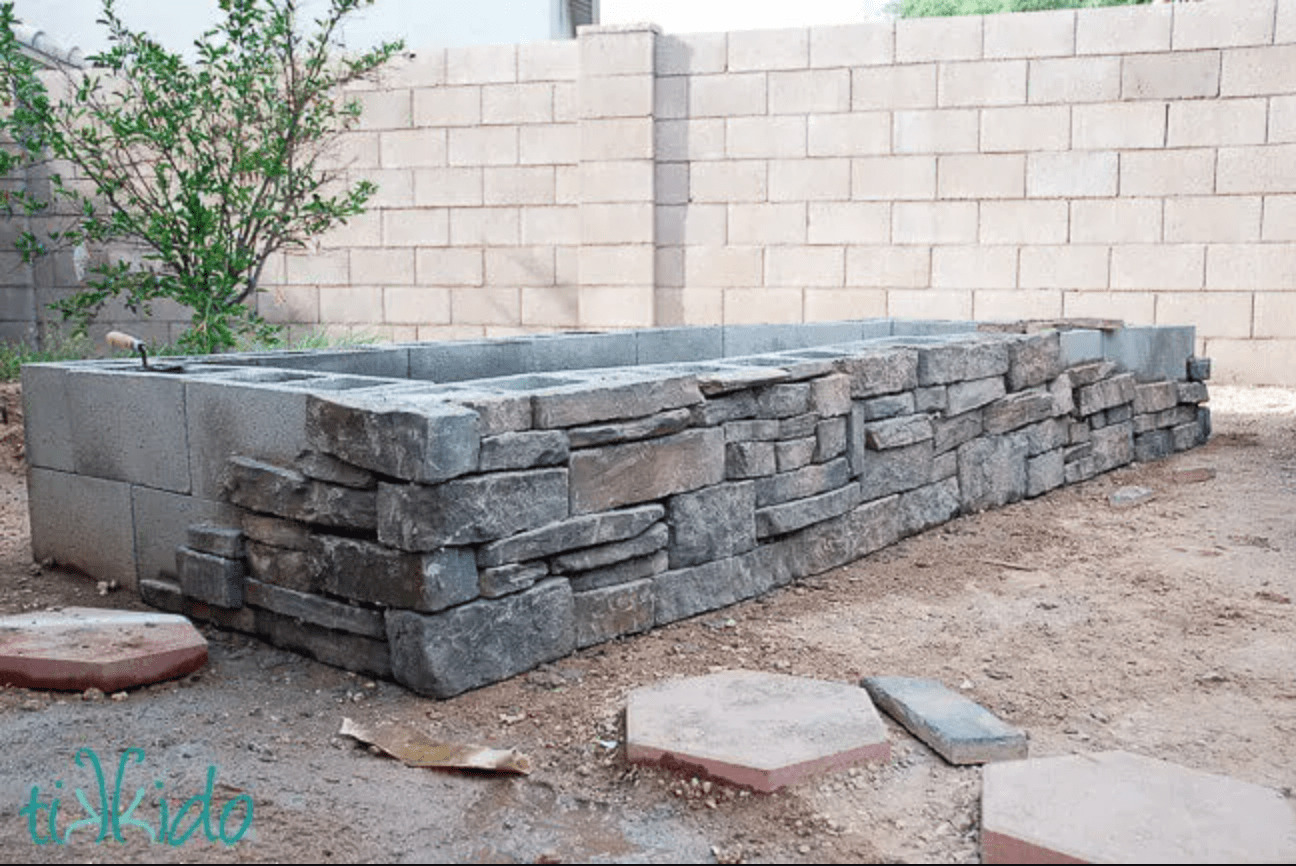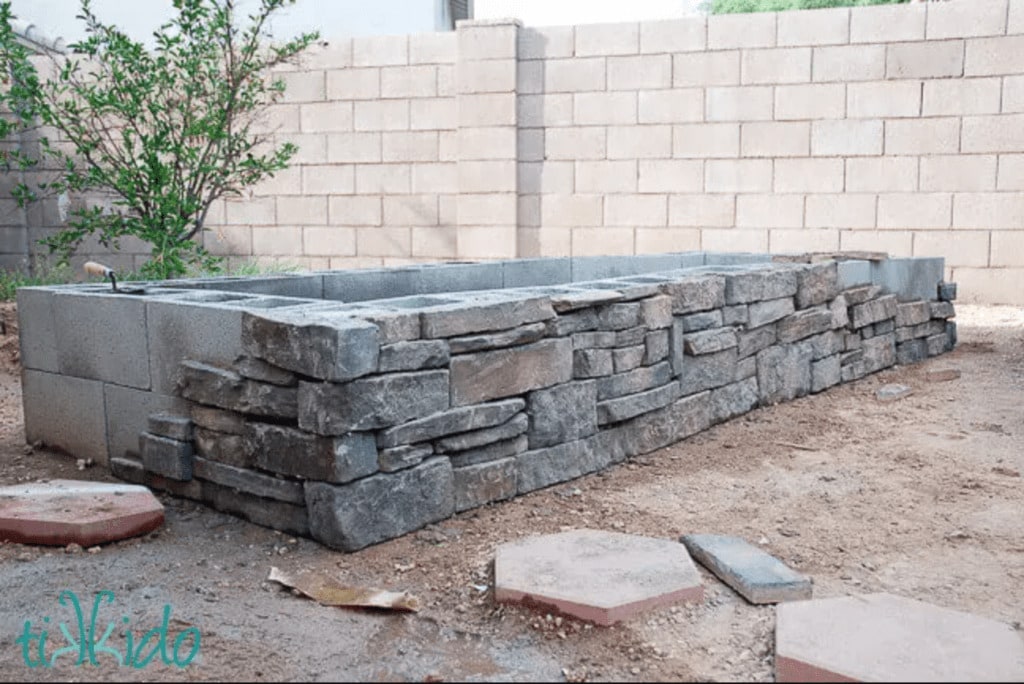 Livestock Water Trough
Here's an affordable and stylish way to create raised bed gardens with very little work. Simply use livestock water troughs – no building necessary!
Plus, if you don't happen to love the look of metal, you can use metallic paint to change the color.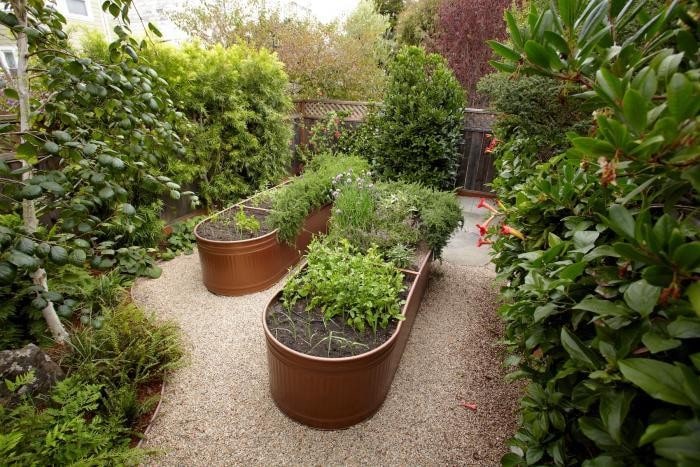 Get Creative
When you have a space that's unusually shaped or has unusual constrictions to work around, get creative. In this example, the garden is in a space that used to be a Bocce ball court, so Holly and her husband ripped out the old court and converted the space to an incredible garden space. Look at those trellises!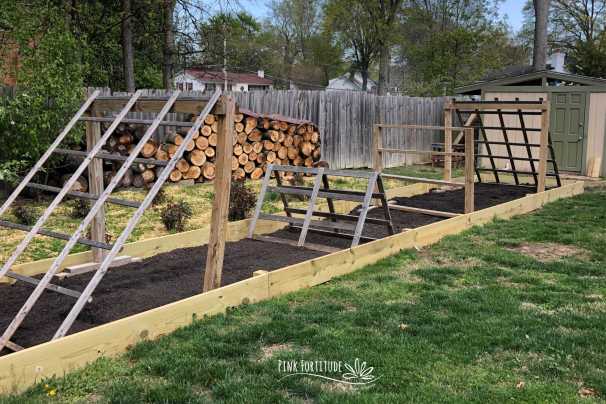 I hope these raised garden bed ideas inspire you to choose your own amazing garden design and start growing this season. There's nothing like eating food that you grew yourself—once you start, you'll be hooked.
More Outdoor Posts to Read:
Pin our image below to save it for later!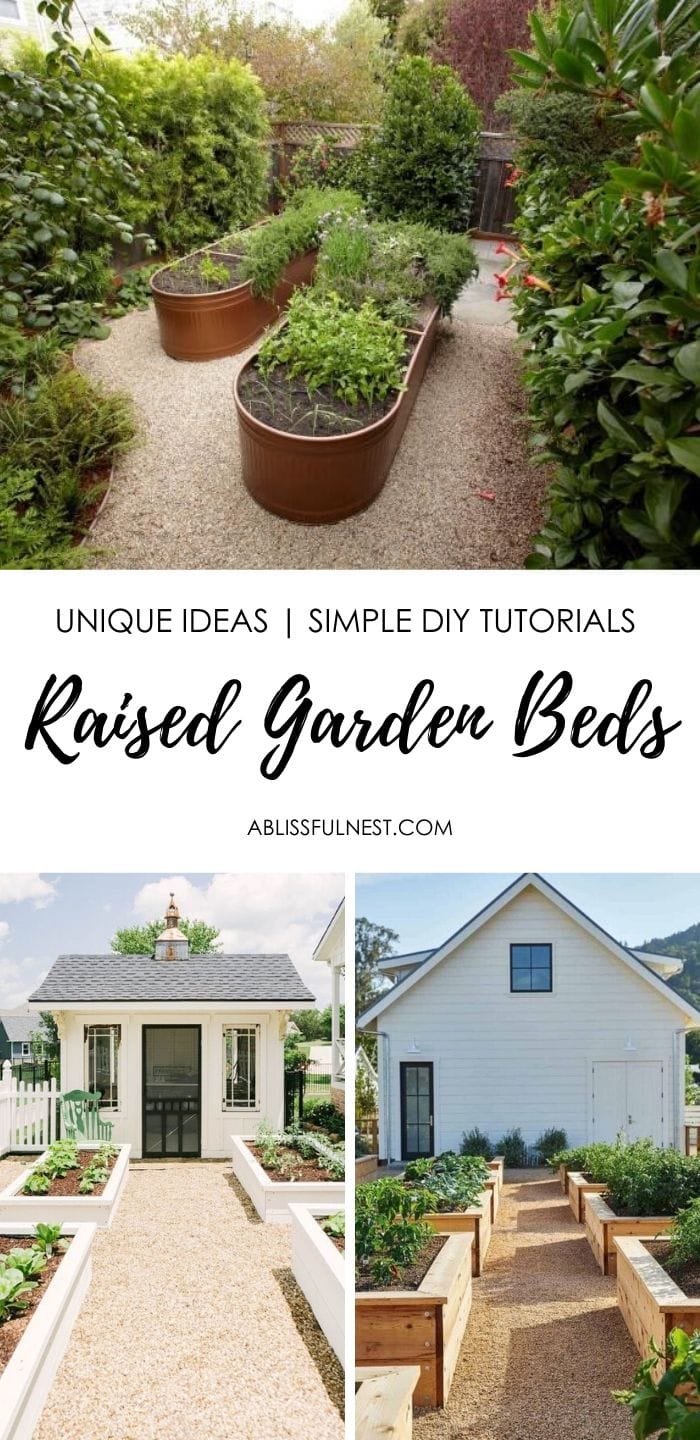 Follow along to get more of my tips on home decor, DIY and lifestyle on the following: