Unique Raised Garden Bed Ideas
This post may contain affiliate links. Please read our disclosure policy.
Are you looking for a unique way to elevate your gardening game? Then look no further and get inspired by these amazing unique raised garden bed ideas to maximize your outdoor space and grow your own vegetables, herbs, and flowers!
Raised garden beds are a great way to improve soil quality, maximize space, and create an attractive garden design.
But why settle for a basic rectangle-shaped bed when you can add a touch of creativity and personality to your garden?
If you've never had a vegetable garden before, the increasing prices of produce products may have you considering starting one.
Plus, it's an amazing experience for the entire family to go into your backyard and harvest fresh vegetables from your own backyard garden.
Whether you're a seasoned gardener or just starting out, these ideas will help you take your raised garden bed to the next level.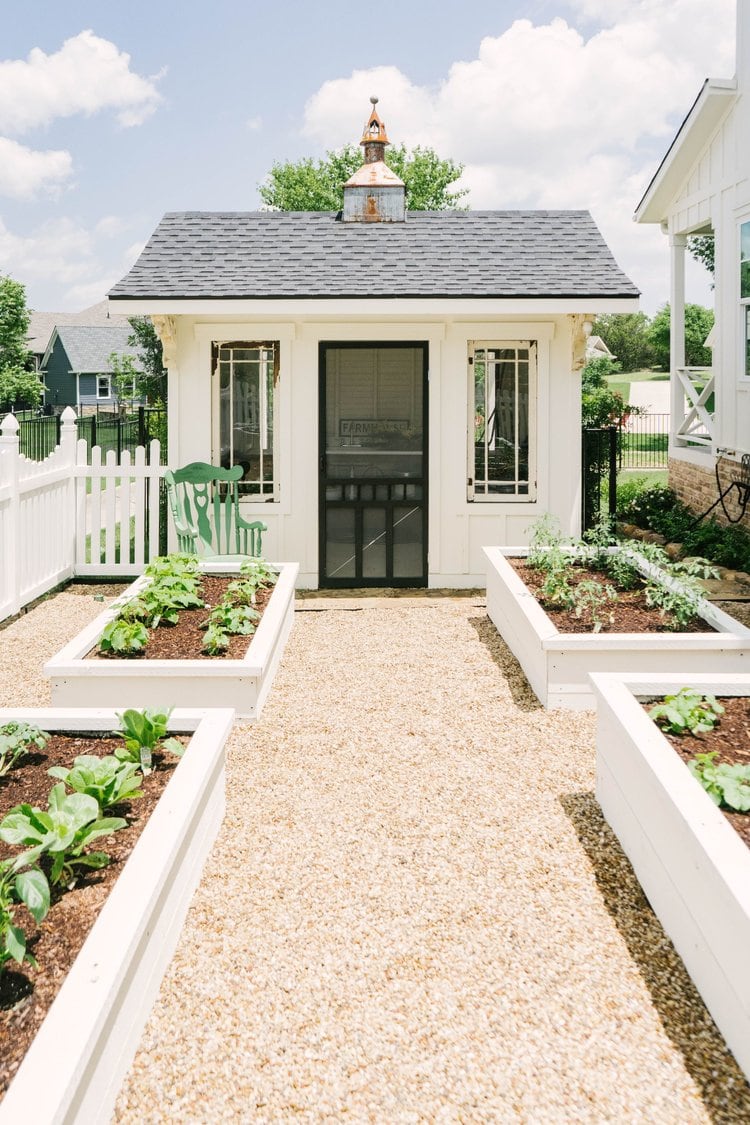 Although you can grow herbs, vegetables, and flowers in the ground, using raised garden beds can be an even better way to do it.
From upcycling old items to incorporating unique shapes and textures, we've got plenty of ideas to help you create a one-of-a-kind garden that reflects your style and personality.
Find out why raised garden beds may be the best addition you can make to your yard. Plus, check out these raised garden bed ideas to help you plan out your own raised garden design.
What Is A Raised Garden Bed
A raised garden bed is a type of garden bed that is built above the ground level, typically by constructing a frame or container and filling it with soil.
The frame can be made of various materials such as wood, concrete blocks, or bricks, and the height of the bed can vary depending on the preference of the gardener.
Raised garden beds are a popular choice for vegetable gardening because they offer several advantages over traditional in-ground gardening, such as better drainage, easier access, and the ability to control the soil quality and nutrients.
They are also a great option for people who have limited space or poor soil conditions in their yard.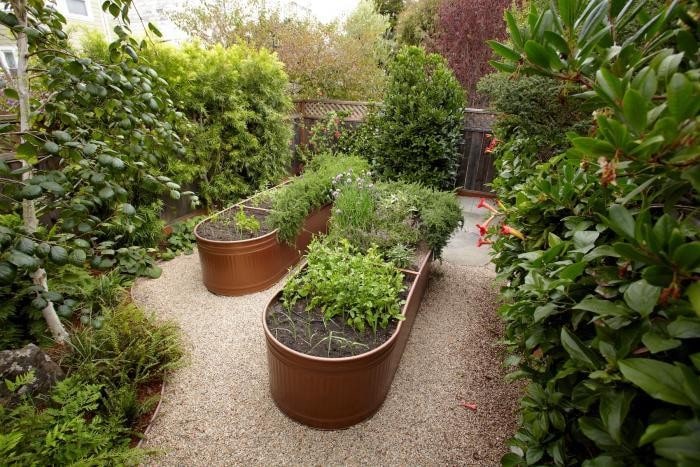 Benefits Of Raised Garden Beds
If you're thinking that you can just grow any vegetables (or flowers) that you want in the ground, you're right. It's true that you can absolutely grow delicious vegetables directly in the dirt of your backyard, but there are several benefits to building raised garden beds.
Here are just a few reasons why it can be the perfect addition to your yard.
Keep unwanted animals out

–

Animals like moles, gophers, and rabbits (as well as slugs and snails) are known to be major pests for a garden. Growing your vegetables and flowers in a raised bed will help your plants thrive by helping keep those pests out.

The best soil

–

If you live in an area that has poor soil, using raised garden beds eliminates that problem entirely because you fill your empty garden beds with the fresh planting soil of your choice.

Easier for maintaining and gardening

–

Bending over to tend an in-ground garden is back-breaking work and hard on the knees too. Growing flowers and vegetables in raised garden beds can eliminate that problem!

Better drainage

–

In some areas due to either a wet climate or poor dirt, the soil in the ground doesn't drain well and can actually overwater your produce. This can lead to root rot for your plants.

Raised bed gardens avoid this problem altogether and provide better drainage for your plants.

Fewer weeds

–

Once established, your garden will have fewer weeds, making both your plants happier and your weeding job easier.

Prevent soil compaction

–

Raised flower beds prevent foot traffic in the garden. By not walking on the soil around your plants, it doesn't get compacted, which keeps the plants healthier and less likely to be damaged.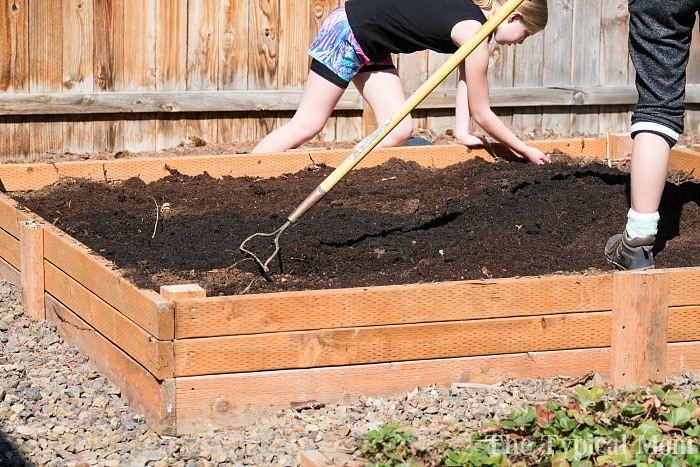 Rasied Garden Bed Supplies
How Deep Should A Raised Garden Bed Be
The ideal depth of a raised garden bed can vary depending on what you plan to grow and the type of soil you have.
However, in general, a depth of at least 6 to 12 inches is recommended for most plants to grow well. This depth will allow for good root growth and water drainage.
For vegetables with deeper roots such as carrots, parsnips, or potatoes, you may want to consider a deeper bed of 12-18 inches.
If you plan to grow plants with shallow roots, such as lettuce or herbs, a depth of 6-8 inches may be sufficient.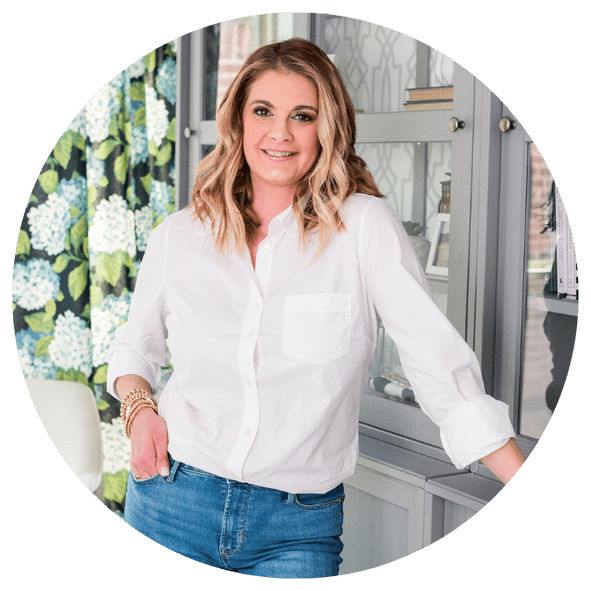 Tip
• It is important to note that the height of the bed can also affect the drainage, so if you are building a raised bed taller than 18 inches, it may be necessary to add drainage holes or gravel at the bottom to ensure proper drainage.
What To Put On The Bottom Of A Raised Garden Bed
It is generally not necessary to put anything on the bottom of a raised garden bed, especially if the bed is being constructed on top of the soil.
The purpose of a raised garden bed is to create a contained area for plants to grow that is filled with high-quality soil, and adding a layer at the bottom can actually impede drainage and root growth.
However, some gardeners may choose to add a layer of landscape fabric or cardboard to prevent weeds and grass from growing up into the bed from the ground below.
If you choose to use landscape fabric or cardboard, be sure to leave small holes or slits in it to allow for drainage.
If you are constructing your raised garden bed on a hard surface like concrete or asphalt, you may need to add a layer of gravel or crushed stone at the bottom for drainage.
In this case, the layer should be about 2-3 inches deep.
Raised Garden Bed Ideas
Unique Raised Garden Bed Ideas
I hope these raised garden bed ideas inspire you to choose your own amazing garden design and start growing this season.
There's nothing like eating food that you grew yourself—once you start, you'll be hooked.