Gorgeous Window Planter Box Ideas To Dress Up Your Windows
Window planter boxes are a great way to dress up the outside of your windows in a beautiful way. Here are 15 window planter box ideas to inspire you as you consider adding one to your home.
Are you looking for a way to add interest and beauty to the outside of your home while also improving your curb appeal?
I've tried many things over the years (including adding planters to my front porch), and I have discovered that adding window planter boxes are an easy way to add instant curb appeal and beauty. The difference they make is really remarkable!
Not only do they add beauty, but they also add the ability to change your outside decor with different plants each year – perfect for people who crave change.
What's more, they aren't just meant to be enjoyed outside. When you plant flowering plants in your window boxes, you can usually see the flowers peeking through the windows from the inside!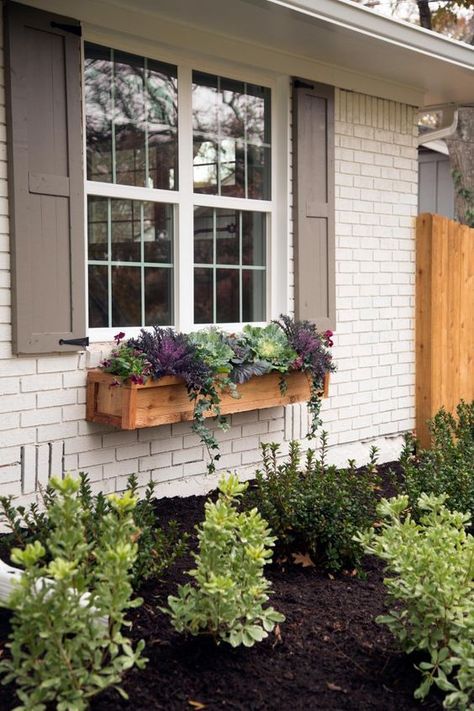 via HGTV
What Plants Can Be Used to Fill Window Planter Boxes?
Once you have decided to add a window planter box to your home and installed it, then the real fun begins! For filling them, you are truly only limited by your imagination as well as the time of year.
Here are some of our favorite ideas to fill your planters with:
low-maintenance succulents
fresh herbs
flowers
ferns that spill down the sides
plants with beautiful foliage
seasonal items like pumpkins, cabbage, or berry plants
15 Gorgeous Window Sill Planter Ideas
The thing that I love most about window planter boxes is that you can use your creativity to come up with something really incredible – and it's a fairly easy project to do that makes a big impact and offers lots of variety.
To spur your imagination and get your creativity flowing, here are some examples of gorgeous window planter boxes (and plants) to help beautify your home.
Dramatic Sweeping Vines
Don't the red tri plants, white caladiums, and swags of hanging ivy and creeping Jenny make these window planter boxes look dramatic and spectacular?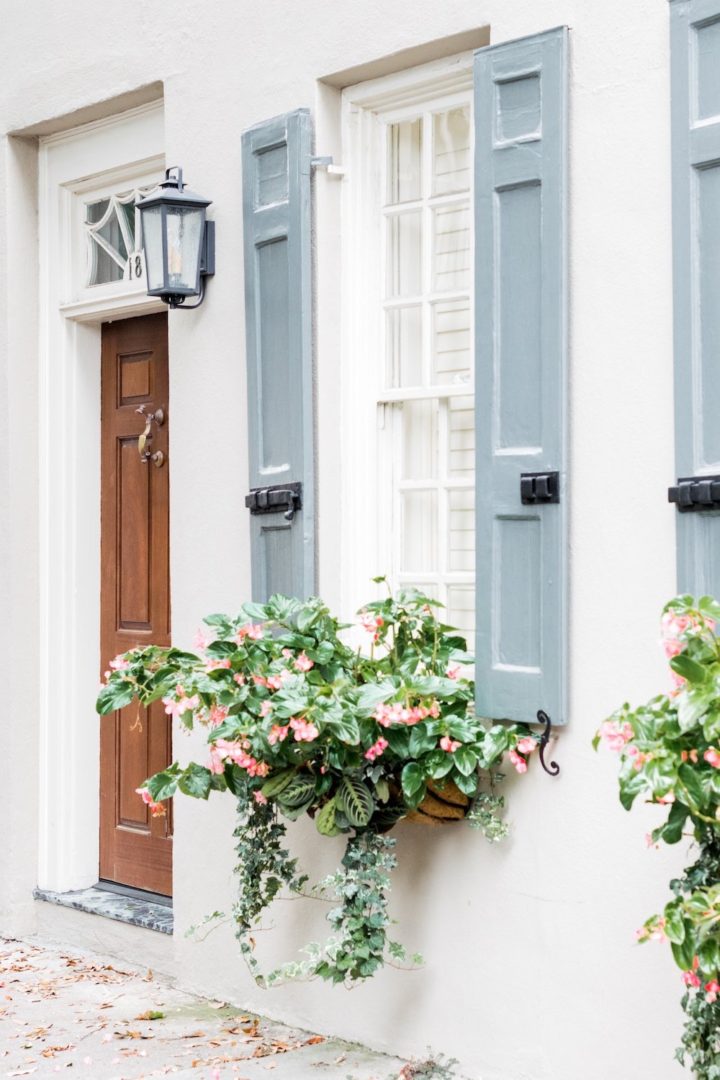 DIY Shaker Box
The popular window boxes in a Shaker-style look especially wonderful when coupled with matching Shaker-style shutters. Don't forget to allow drainage by drilling holes into the bottom of the window boxes.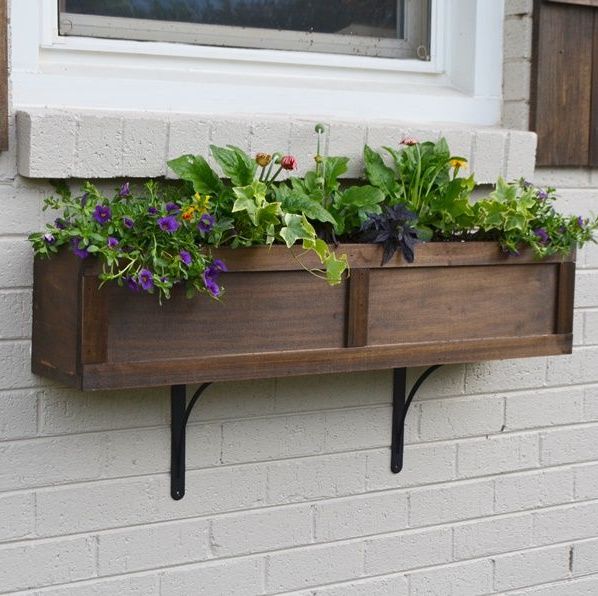 via Beneath My Heart
Picket Fence Window Planter Box
How cute are these windowsill planters? Paint them any color you want to match your trim (or contrast it!) and let the plants have their time in the spotlight.
Even if you don't have a picket fence around your yard, you can still bedazzle your home with that picket fence look.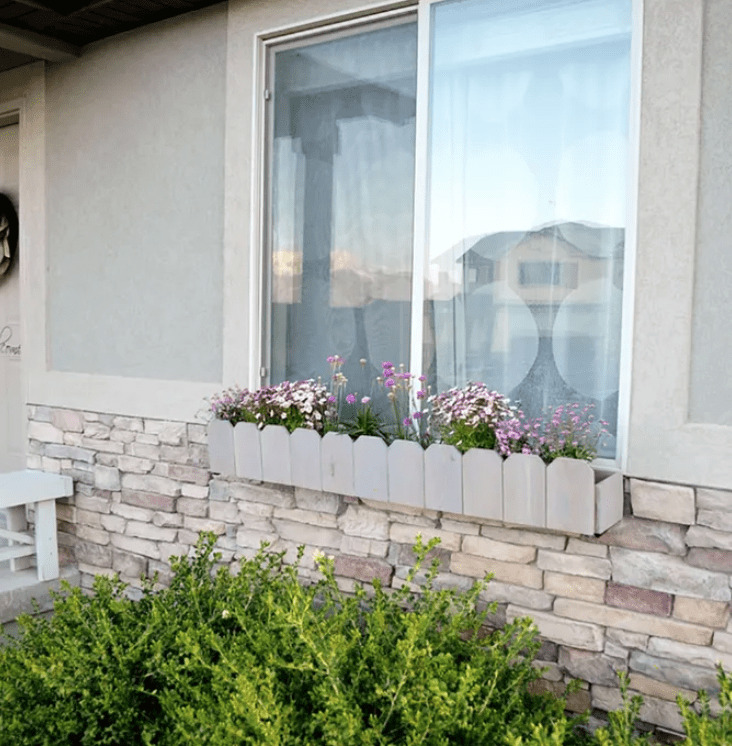 via Make It Love It
DIY With Corbels
A simple window box like this one is easy to DIY, but the corbels on the bottom really make this project look stunning. If you love flowers, window boxes are a terrific way to show off some beautiful blooms.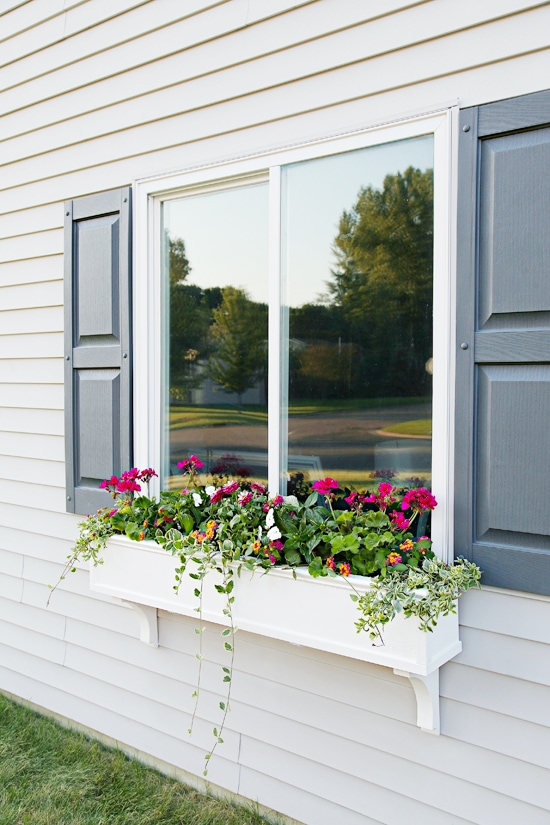 Dresser Drawer Window Planters
I am loving this unique and creative window planter idea. This is an easy DIY project that yields a very large visual impact on your house.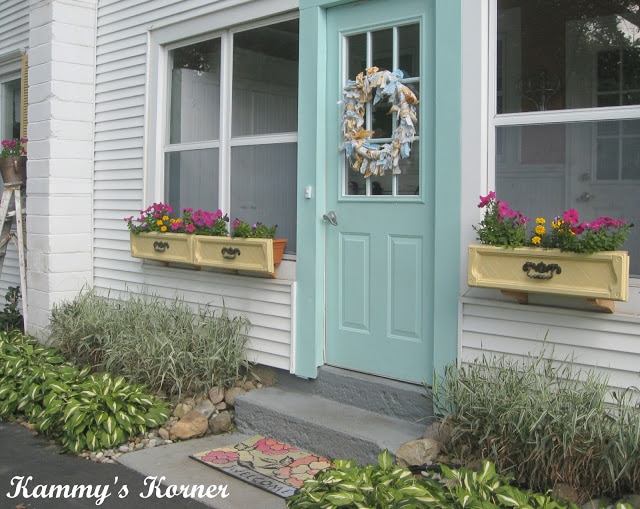 via Kammy's Korner
Let The Edging Show Off
Depending on your home architecture and your personal style, there's no reason why you need to pick a fancy design. A simple window sill planter design like this one looks lovely with a bit of edging to give it just a bit of visual interest.
DIY Standing Window Boxes
If you love the way that window boxes look but are concerned about drilling holes into the front of your home, try making standing window boxes. Making planter boxes that stand on four legs, filling them with a variety of blooms and plants, and placing them under a plain window can create the same effect.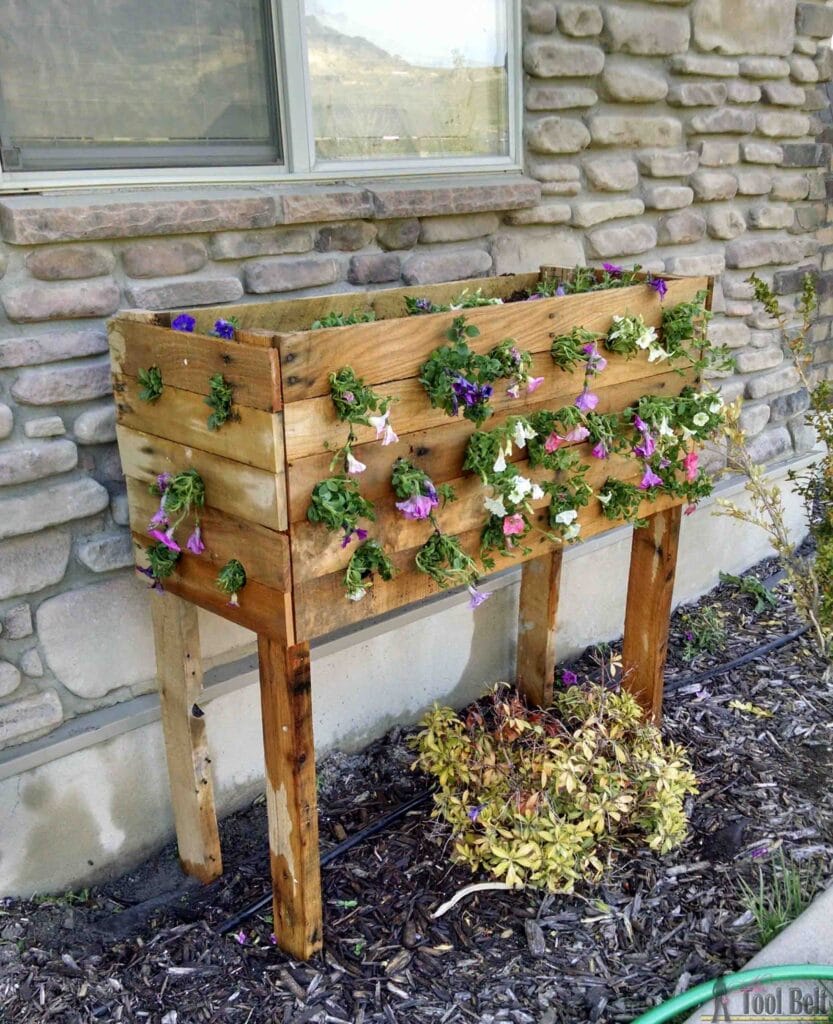 via Her Tool Belt
Elegance With Wire
A wire planter lined with moss creates a very elegant and beautiful look that would make any neighbor jealous. Plus, I love the curved, half-moon shape.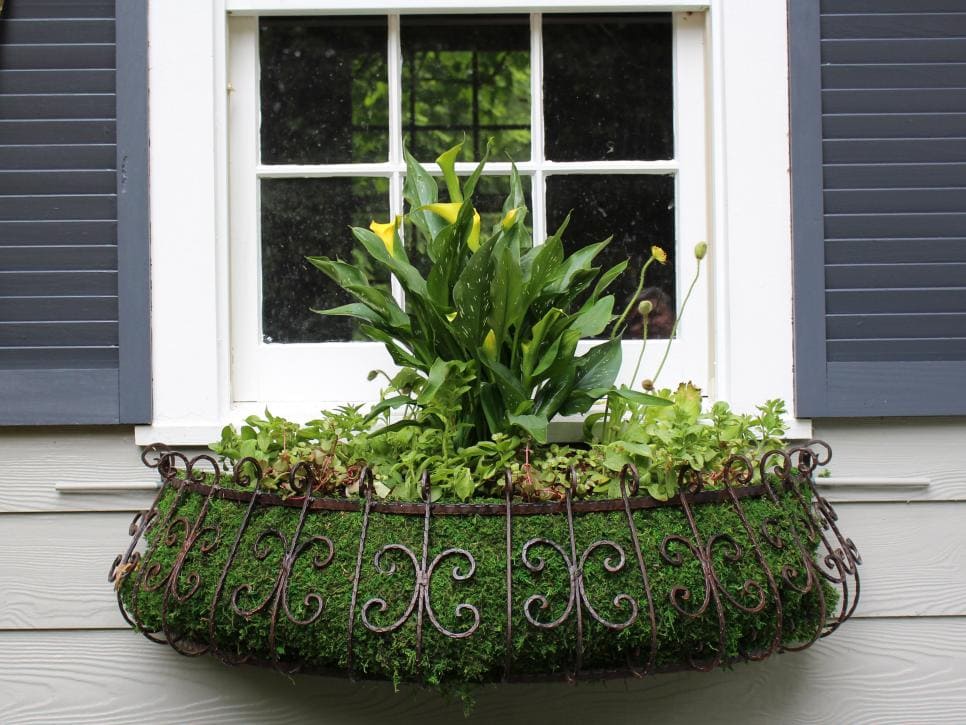 via HGTV
DIY Galvanized Tub Window Planters
It's easy to turn any galvanized tub into a window sill planter. Just drill in drainage holes in the bottom and fill with fresh herbs or your favorite plants.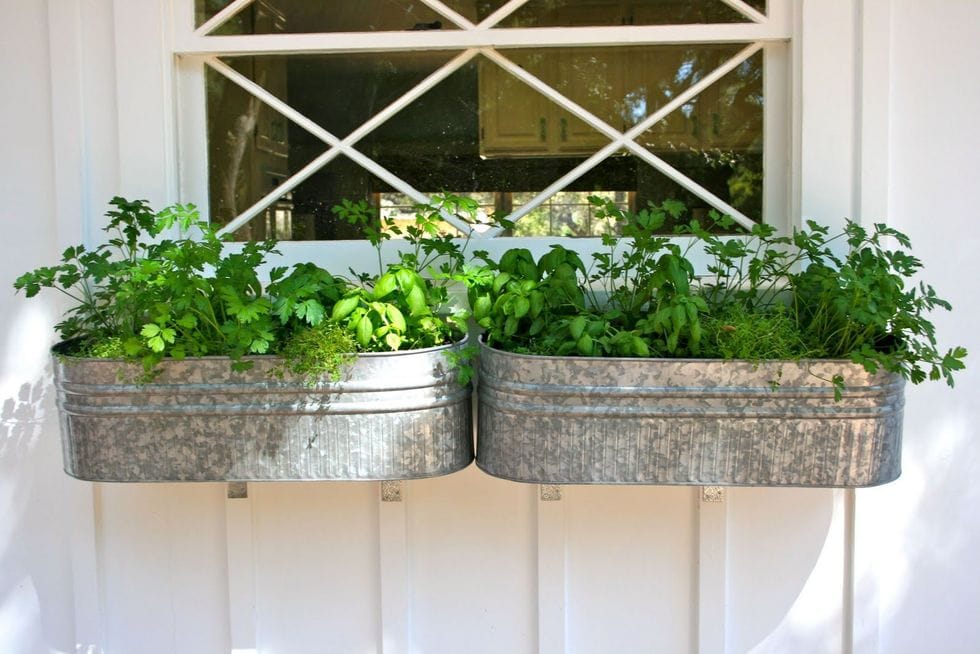 Pallet Window Planter Box
Easily add a little rustic charm to the outside of your home by adding a DIY pallet window box. It's easier than you think – just be sure to line it with window screen mesh before you fill it with dirt to keep the dirt from falling out!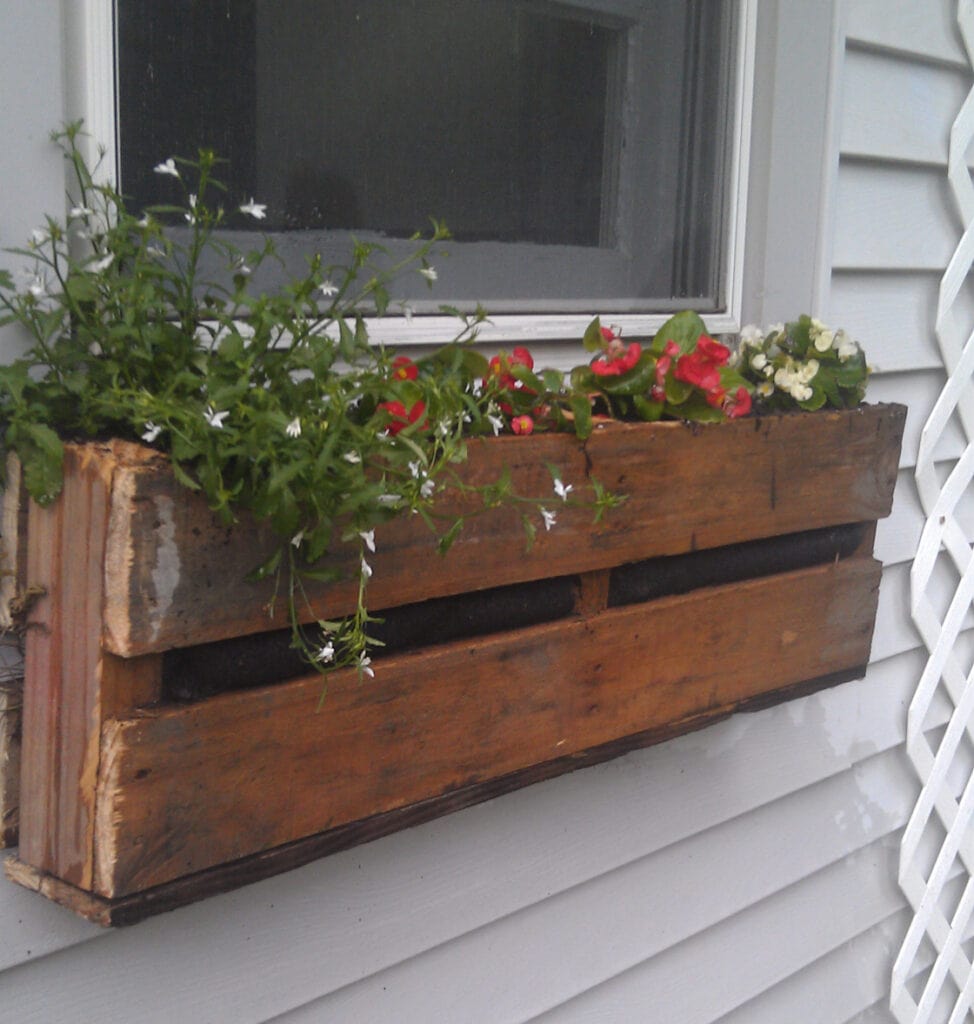 Dark Mahogany
This dark mahogany DIY window planter box idea is perfect with the brick and white trim. It adds that much-needed finishing touch that the large window trim needed to tie both elements together.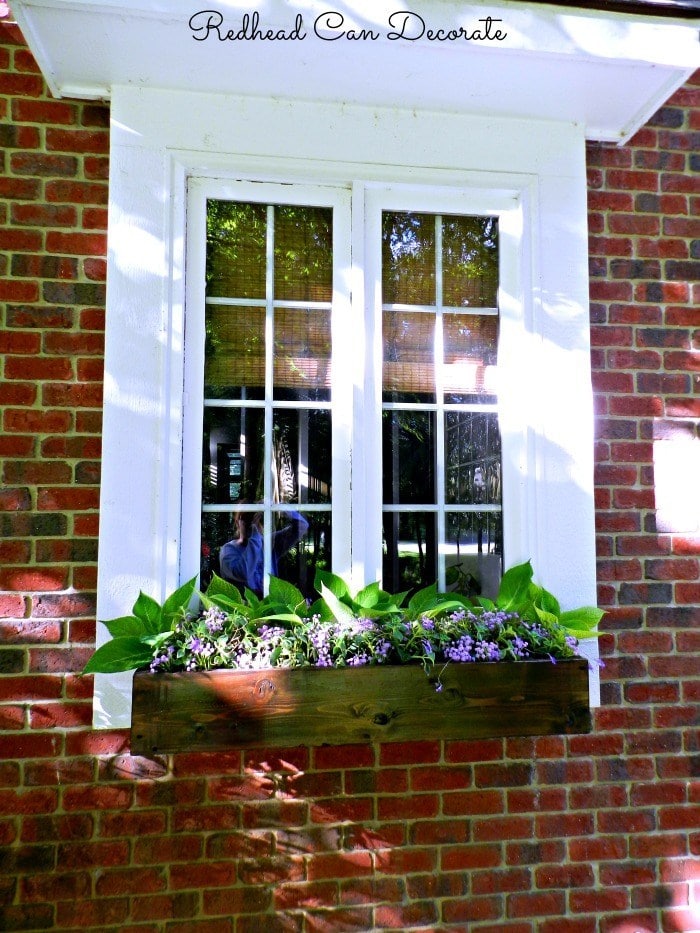 Simple Black Design
Choosing a very simple design like this one allows the plants to be the sole focus of the window planter box. Depending on the look you want to achieve, you can plant colorful annuals, cascading vines, grasses, or any combination of the three.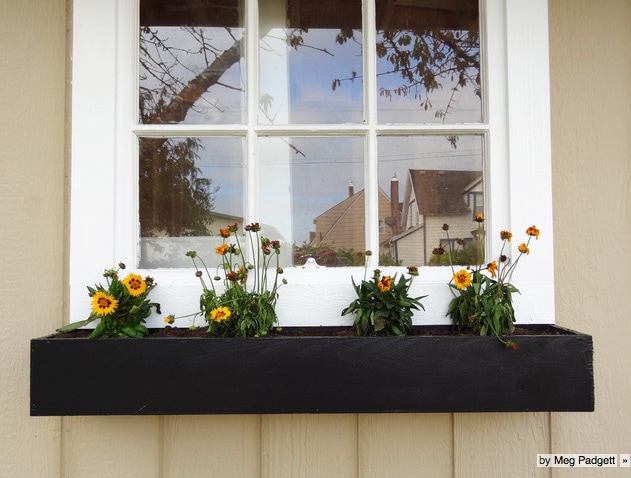 via Meg Padgett
Lattice Design
There's something to be said for going simple. But, then again, creating a window box with eye-catching details can have great appeal too. It all depends on the look you want to achieve. I love both options! The lattice detail on this DIY window box design is stunning.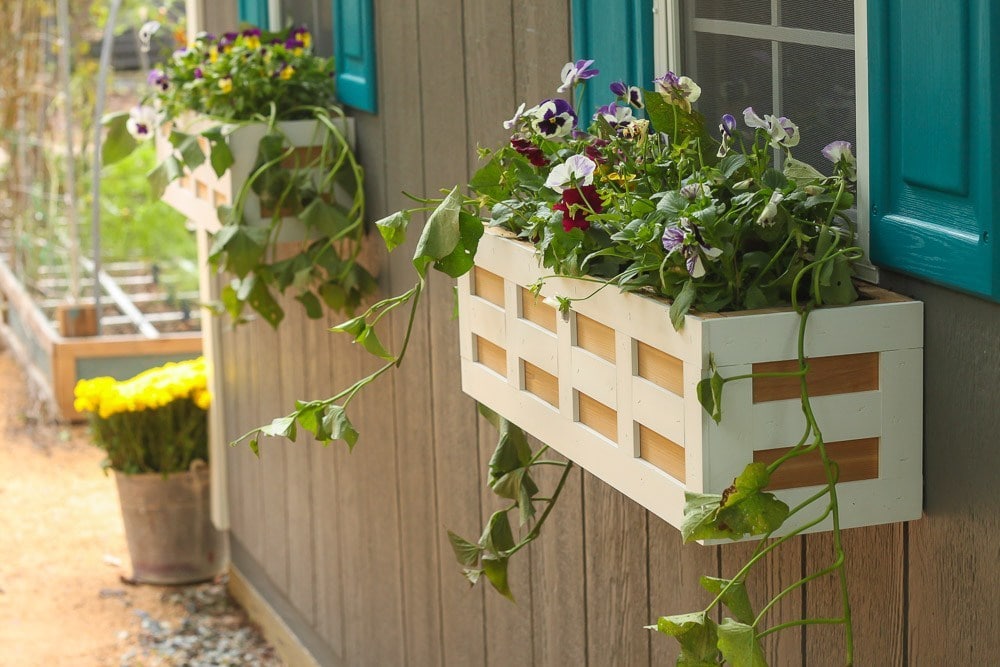 Oversized Window Box
I love that big chunky look of this oversized window box too. It's a simple but impressive design that makes a statement on the front of the house. It also looks incredible when filled with a mix of blooms and trailing vines!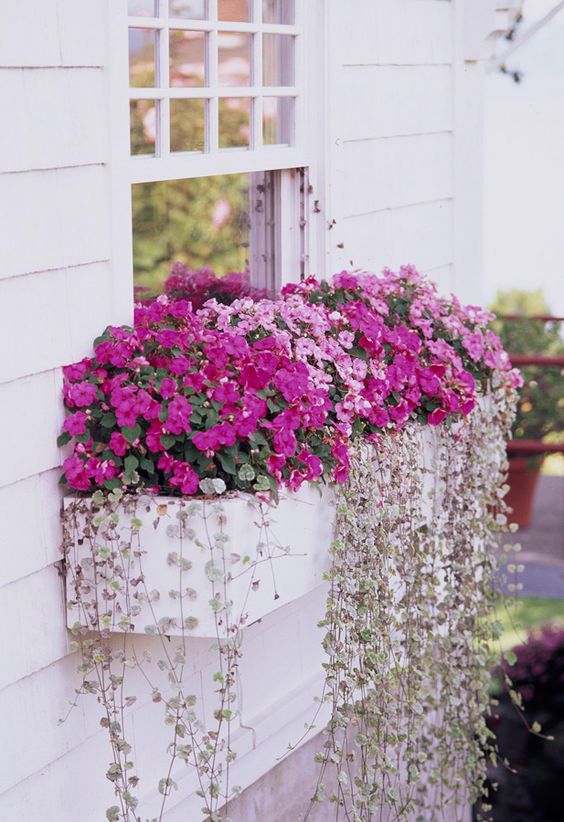 Via Midwest Living
Wood Shim Design
This might be my favorite design in today's list of window box ideas. It may be simple, but it's eye-catching and gorgeous too. I love how the dark walnut stain makes this DIY window box look rustic and chic at the same time.
Many of these examples show before and after images so that you can see the dramatic difference between not having a window planter box and adding one to your home. Window planters add beauty and instant curb appeal to any home. And, they make for an easy DIY project if you like to do things yourself.
If you are searching for window sill planter ideas for your home, I hope you were able to find a design from this list that excited and inspired you!
Check Out These Related Posts:
Need to bookmark this for later?
Pin Our Image: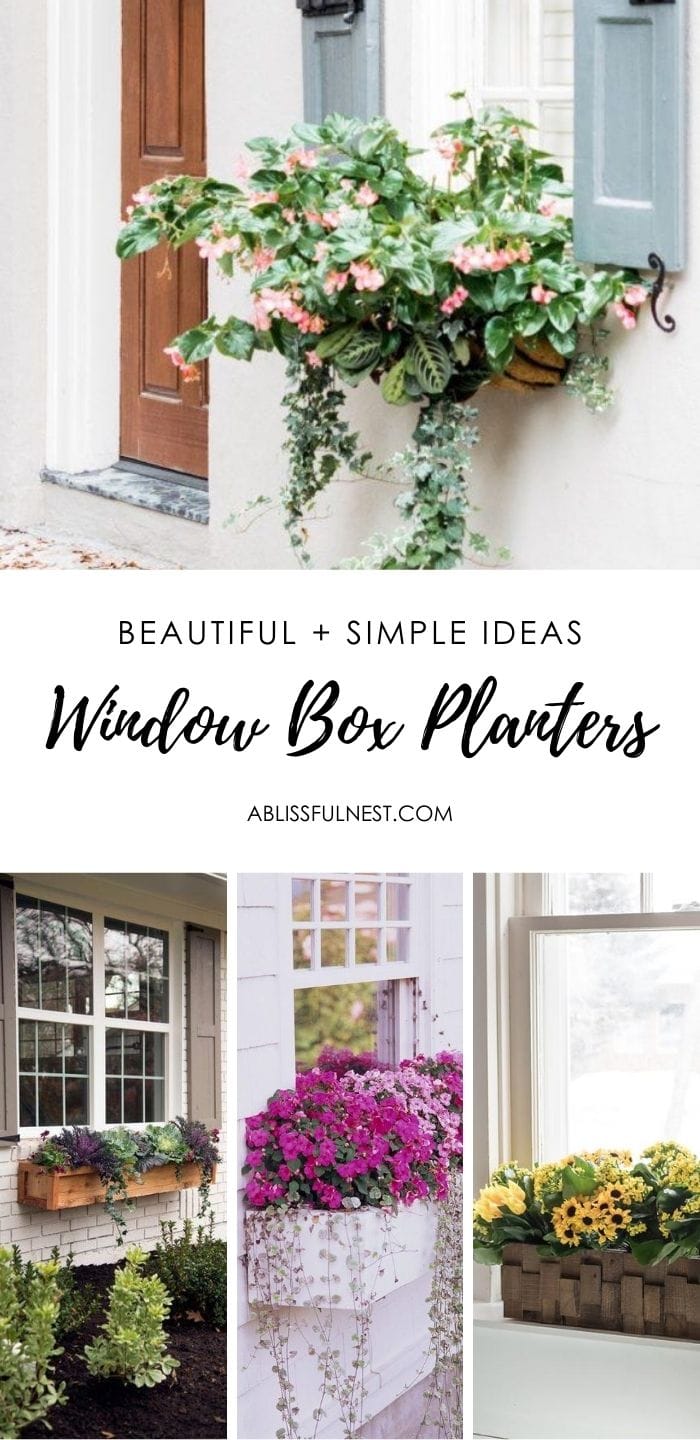 Follow along to get more of my tips on home decor, DIY, and lifestyle on the following: