10 Best Fall Front Porch Ideas
This post may contain affiliate links. Please read our disclosure policy.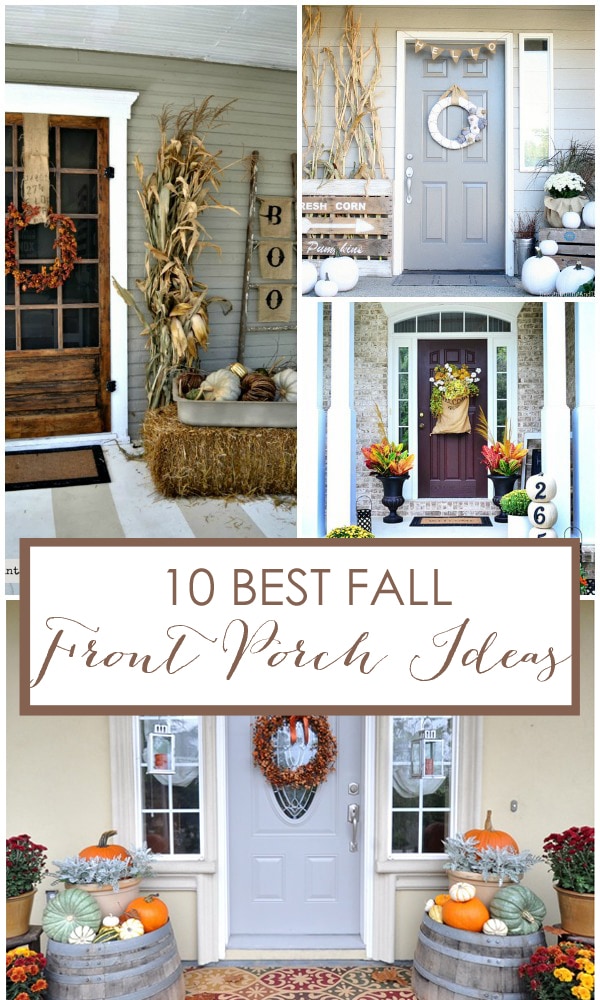 Yay! It's fall y'all!
Autumn is the best time of year for home decorating—both the indoors and outside. Get your house warmed up for late fall and winter entertaining, test out different looks, and experiment with color. There's no place better to start than by creating an inviting space right on your front porch.
After all, your front porch, stoop or patio is the place you welcome and greet everyone who comes to visit. It's the entryway to your home and life. Your porch should be attractive and friendly to all who stop by. Visitors should feel greeted and festive when they arrive. It's the threshold to your home and should give a flavor, teaser and hint of what's inside.
So, if you're ready to decorate for September, October and November, then it's time to get started! Look for some front porch fall decor inspiration to carry you through the entire fall season. With a few updates (some ghosts here, a turkey there) you can cover all the upcoming holidays in your porch display.
Who has already begun decorating (or brainstorming decorating ideas) and needs some fall front porch inspiration?! I know I do!
When looking around I found some fabulous front porch decor out there that I didn't want you to miss. I've compiled the top ten BEST fall front porch ideas here to spark your imagination and get your creativity flowing!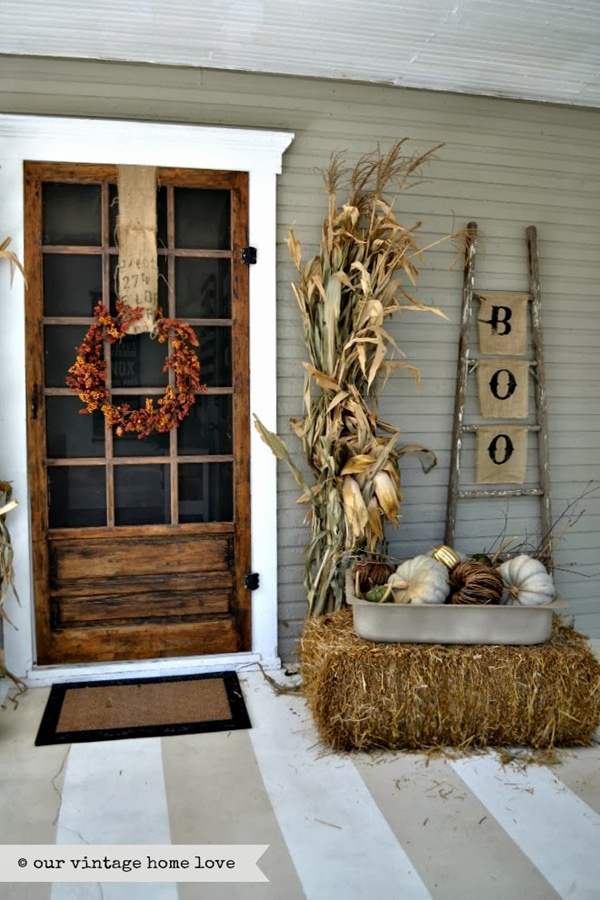 I love a neutral pallet and this front porch with the striped floor is gorgeous. The corn stalk and haybail add lots of texture with all the rustic accessories. Love those boo letters on the old ladder. It's such a great idea for displaying a sign and adds a punch of visual interest. I'm also digging that wide burlap "ribbon" (it's actually a piece of fabric) they've used to hang the wreath—such a fantastic way to hang items on your front door!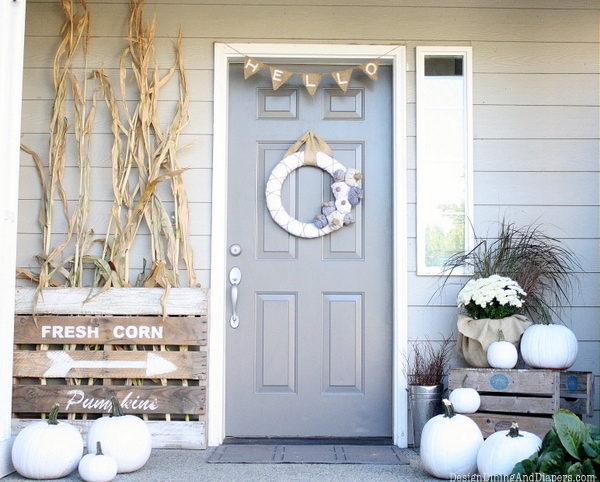 Speaking of neutral fall decor, this gorgeous front porch fall decor uses all-white pumpkins with rustic wooden accents like the pallets and boxes to make a stunning fall front porch. The cute burlap banner at the top is cheery and keeps with the light, airy and joyful feel. Those pumpkins, clustered in odd-numbers, look like little sugar drops—as sweet as can be!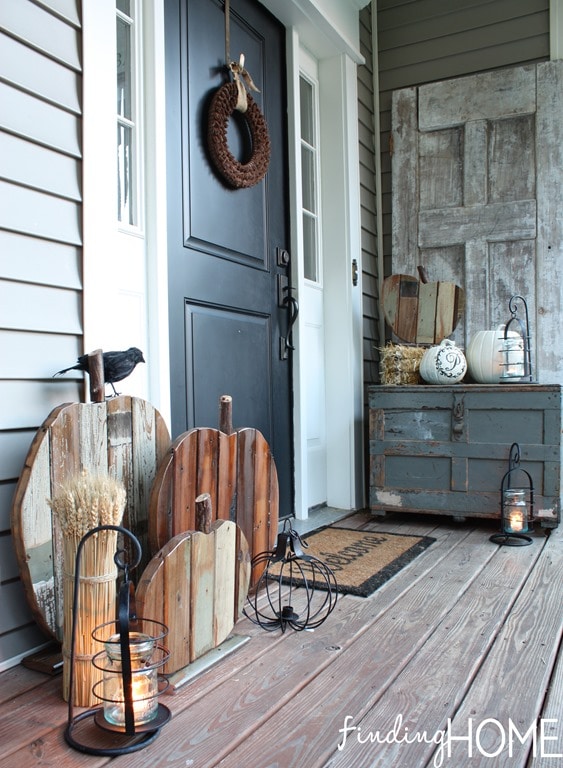 I just saw these reclaimed wood pumpkins last week when I was out shopping and fell in love! If you want to DIY them, then this is a great tutorial. They are just such a great statement piece for your fall porch. I love how they echo the lines in the wood floor and other rustic wood on the stoop. The wreath, lanterns and white pumpkins bring the look together.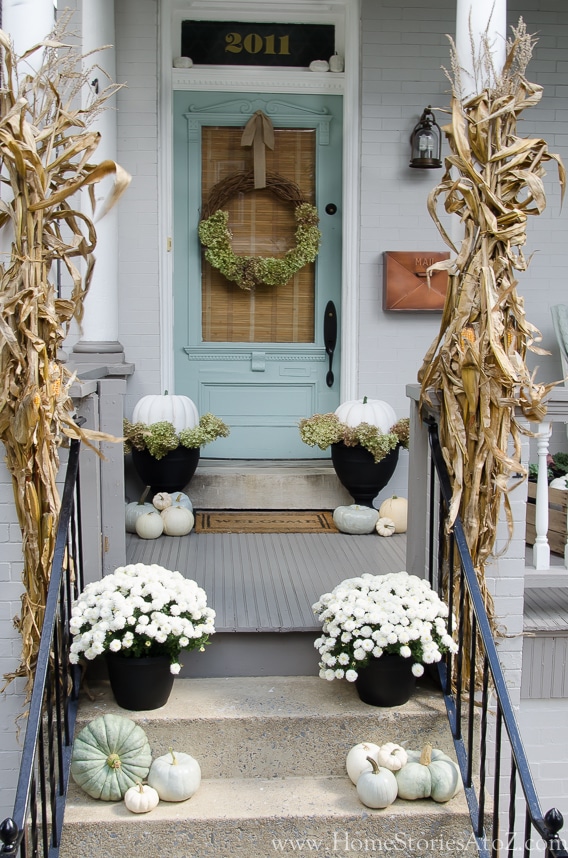 I love how Beth used that neutral fall decor pallet on her porch too. With such a pretty light blue front door, you don't want to cover up your colored door as much as an accent it with accessories. The simple hydrangea wreath is the perfect touch. The beautiful white mums and mix of Cinderella pumpkins with mini pumpkins are just gorgeous (and call back again to that fantastic door). Of course, that mailbox on the right isn't too bad either! This country porch has a lot of charm and is a perfect outdoor display for fall.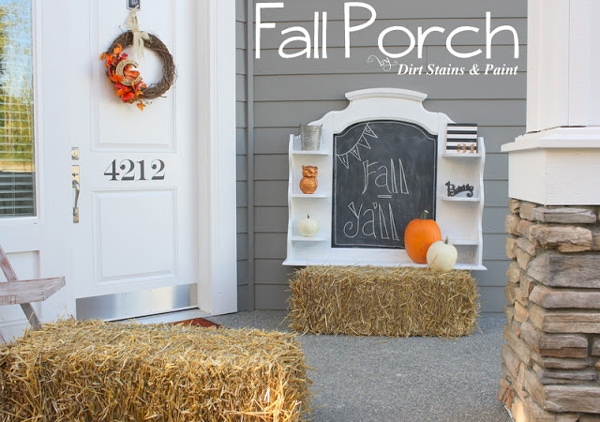 Of course, who doesn't love the chalkboard trend??! I love it and adding in a fun sign like this framed chalkboard shelf is just a show-stopping porch look for autumn, even from the curb. Change up your message and greeting with the seasons! With the haybales and bright, cheery pumpkins, this is one happy fall front porch.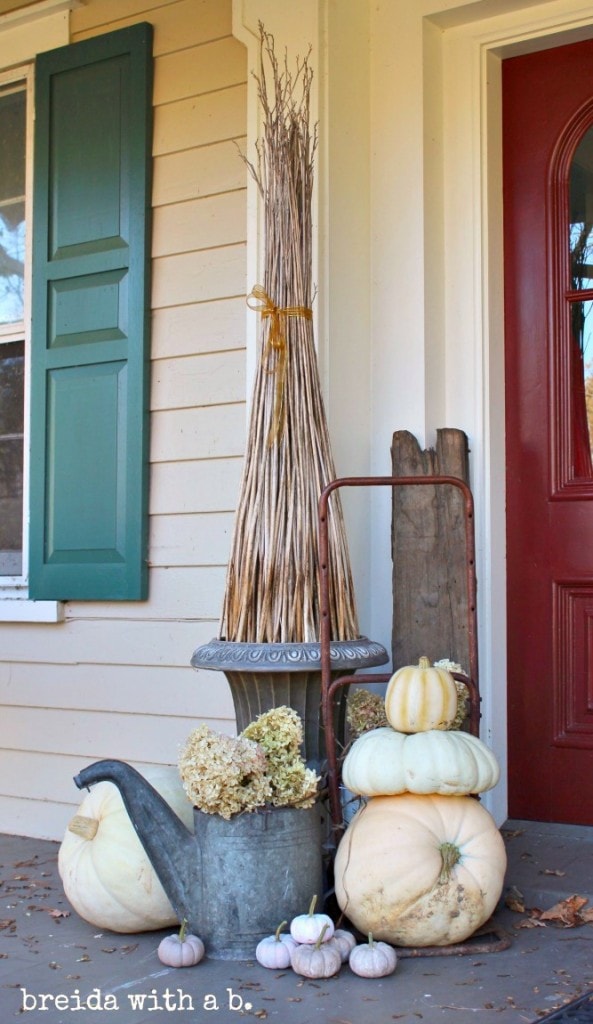 I adore using old rustic pieces that bring character to a design. This old watering can is too cute when filled with dried hydrangeas and decked out with lots of pumpkins in soft pastel tones. It's a great way to repurpose found-items and antiques into your fall decorating scheme.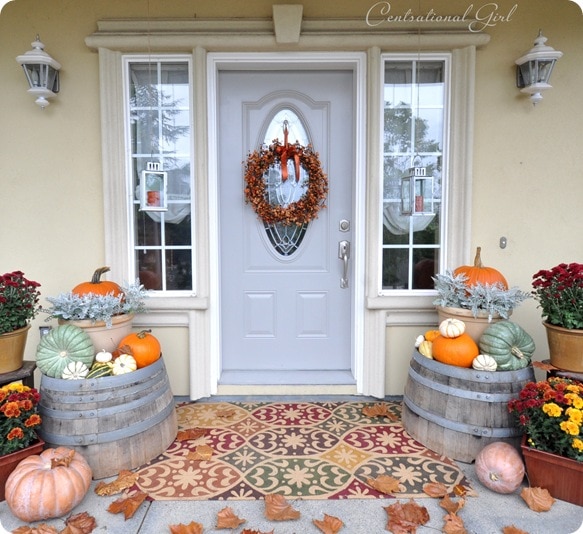 Kate is one of the best. I mean really. Take a look at her fall porch with these mini barrels filled to the brim with pumpkins, mums and ornamental kale. She tops them off with pumpkin-filled pots to create pumpkin topiaries. Along with the bright and cheery rug, and autumn leaf and grapevine wreath, this porch is the perfect fall outdoor display. Gorgeous!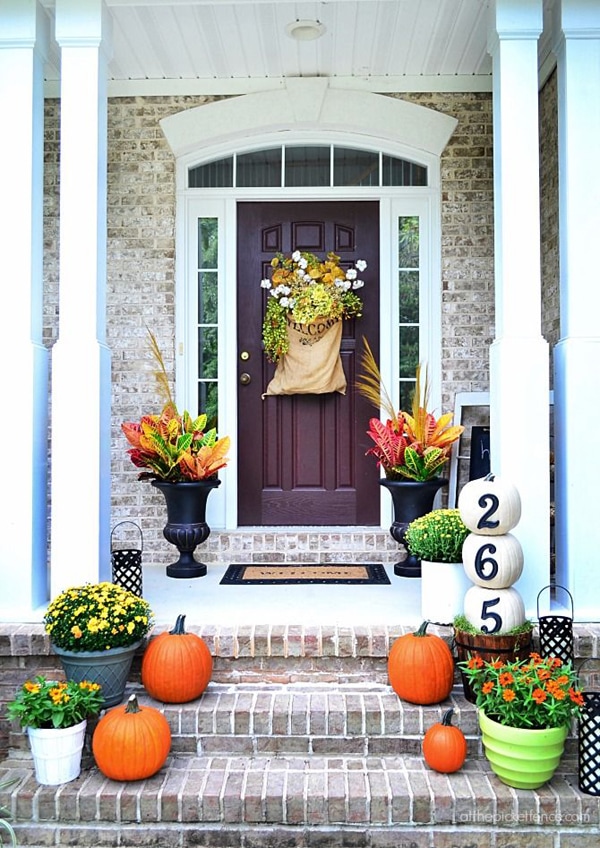 Oh my, this porch with the grain sack on the front door filled with flowers is so fabulous! I love the cascading flowers, the urns filled with bright leaves and wheat sheaths and the porch mums. The whole display is just fantastic and so is that pumpkin topiary with their house number! It's a great pumpkin address display, so guests will know they're at the right spot.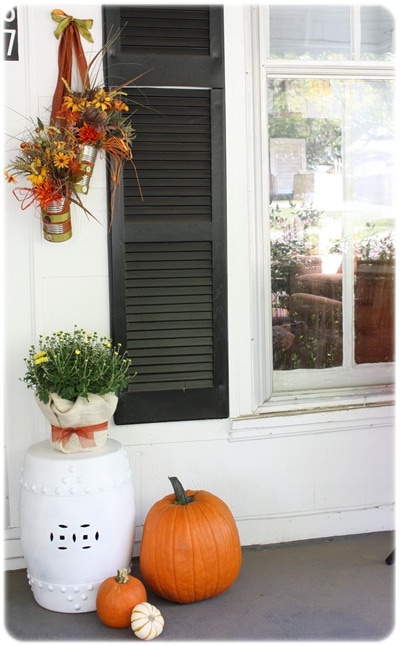 I am obsessed with drum garden stools! They're the perfect plant stands and add just enough height and interest to make any front fall porch decor stand out. I love the idea of using stools like this one for the front porch. Add in a few hanging flower bouquets and scatter some cute orange pumpkins and gourds and you have a perfect display for your front stoop.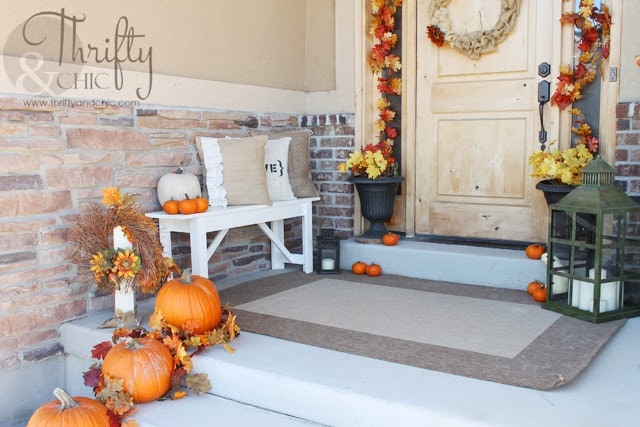 If you've got the space, consider adding a little place to sit near the front door. This DIY bench is small enough to tuck right against the wall yet provide ample room for cozy pillows and a cluster of pumpkins. The burlap pillows are fabulous, and the bench is the perfect spot for removing wet boots before you enter the house. The cute tiny gourds are bright and fun grouped in mixes of twos and threes. The leaf swag and beautiful wreaths (especially the sunflower wreath) are great accents for this fabulous fall porch.
Did you love this collection of front porch fall decor? Check out more perfectly-crafted fall front porch ideas HERE.
Create your own amazing front porch Fall decor with our hand selected items!

Need some more fall decorating ideas? Visit our Pinterest Board here:
Follow Rebekah Dempsey | A Blissful Nest's board FALL – DECORATING on Pinterest.