Small Porch Fall Decorating Ideas with Hobby Lobby
This is a sponsored post written by me on behalf of Hobby Lobby Fall. All opinions are 100% mine.
Sharing some small porch fall decorating ideas to inspire you to create fall decor layers on your porch even if it is small. This includes an affordable fall wreath, woven pumpkins, lanterns with candles, and fall front porch flowers. As August rolls around and the kids head back to school, the first thing I do is switch out my front porch decor. The heat is still going strong here in Texas but this is my little push to urge on that fall weather. There is just something about getting ready for cozy fall nights that I get so excited for. We have a tiny front porch but over the last couple of years, I have found some ways to add big impact and infuse seasonal decor to it even though it is small. You can check out my other fall front porch designs here. One of my favorite places to find affordable seasonal decor is Hobby Lobby. I love their vast assortment of florals and decor as well as their pricing. They currently have their fall product line on sale for 40% off so now is the time to snag your fall decor staples. I am obsessed with all the options for fall floral picks and pumpkins. There are so many to choose from to mix and match to create a unique display.
Small Porch Fall Decorating Ideas:
But let me take you through the fall pieces I picked up from Hobby Lobby to create a layered small fall porch.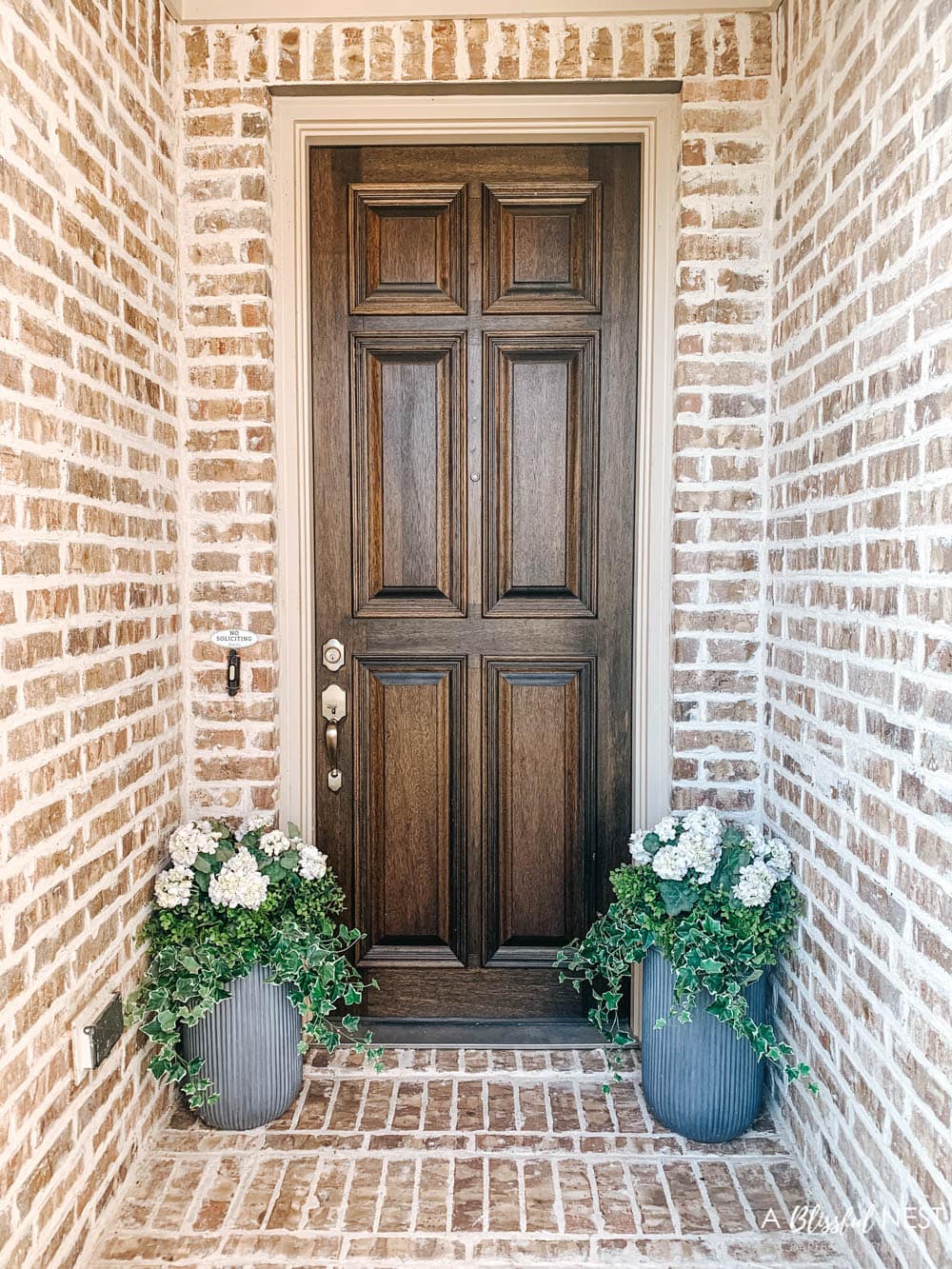 Fall Front Door Decor:
I first took all my summer porch decor down but left my planters with the plain faux flowers and greenery I have in them for each season. This is a good basic design to build on. I would recommend when you are transitioning from season to season, to scale down to the basics and then go from there. I found this beautiful white berry wreath at Hobby Lobby with this gorgeous amber color satin ribbon. The ribbon is preattached and has a loop to hang it up. I love the layered bow which makes it look more high-end.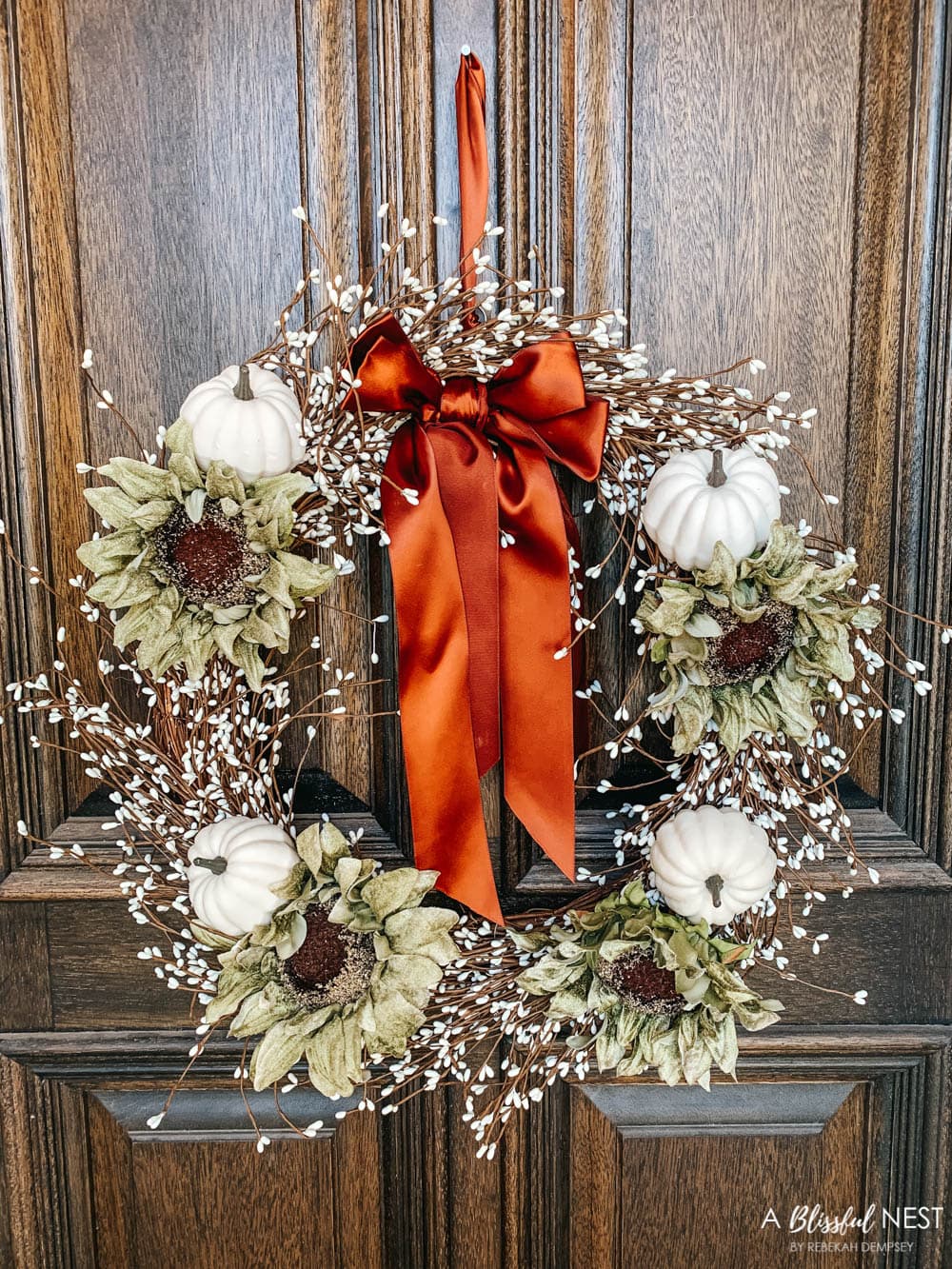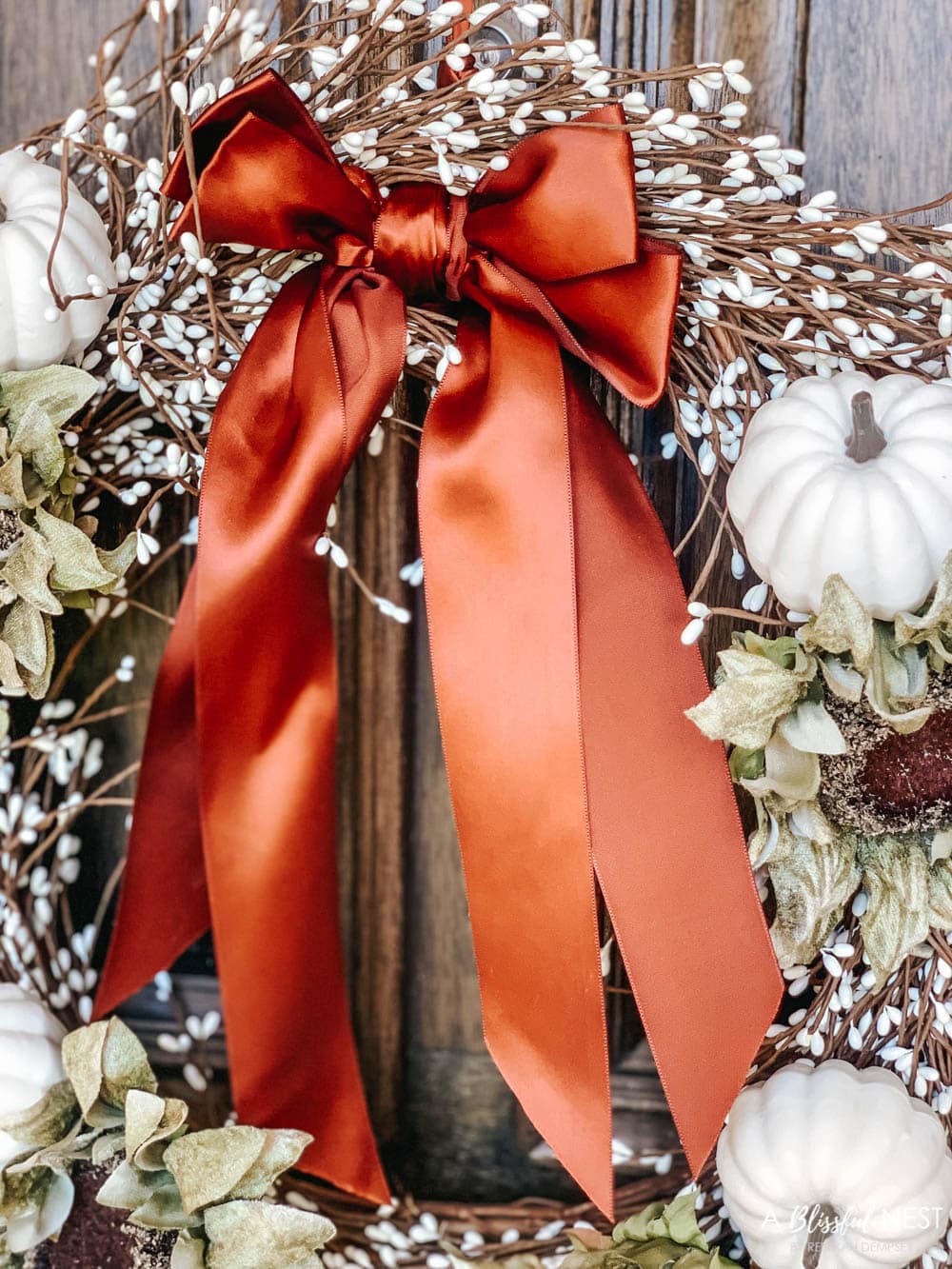 The branches are easily palpable so you can spread them out a bit for a fuller look. I still wanted to jush it up a bit and found these fuzzy light green sunflower picks that I thought would be a beautiful addition to the wreath. I chose 4 of them and just tucked them into the branches of the wreath. If you would like them more secured to the base then I would use floral wire.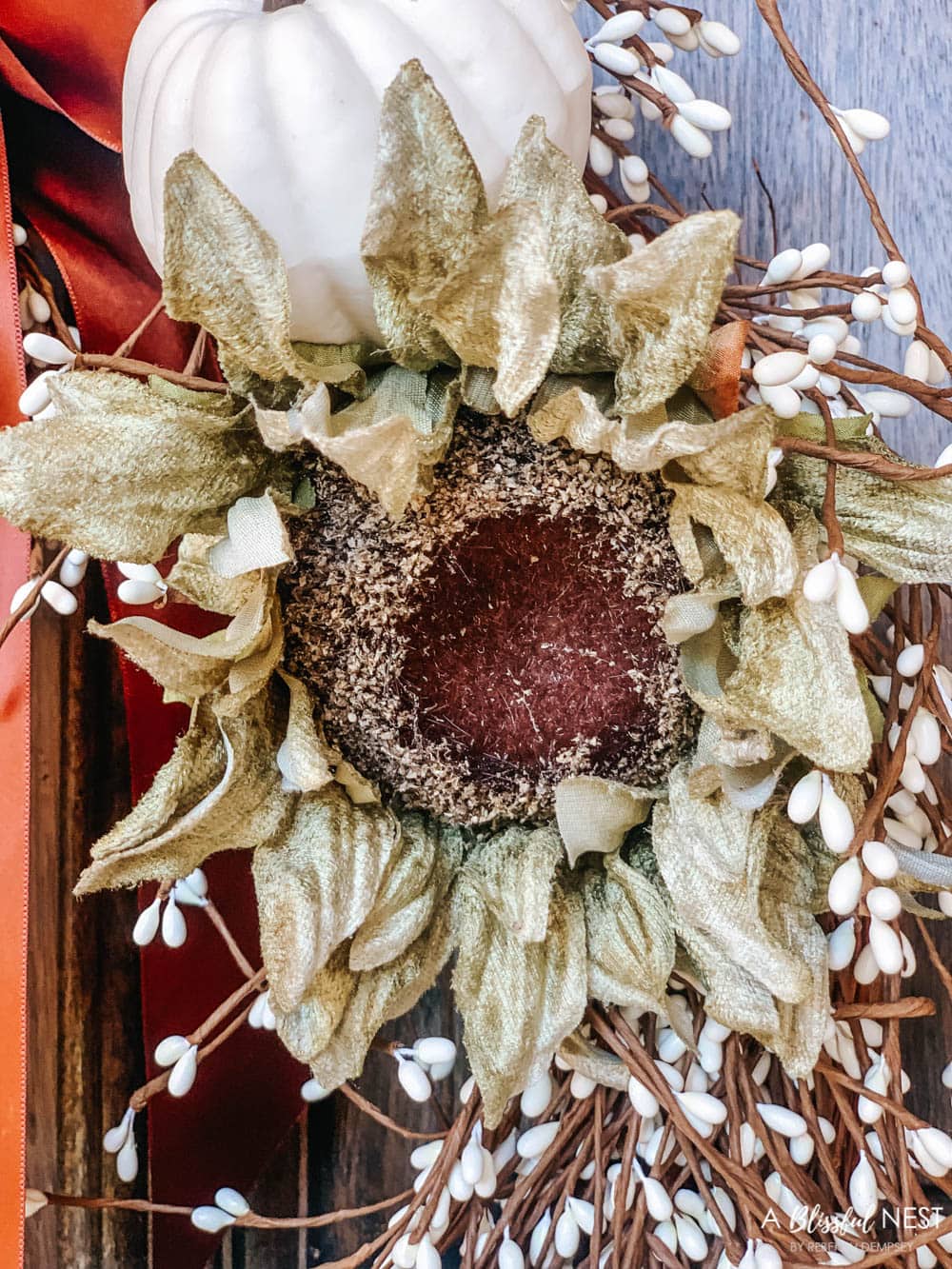 I also loved these white pumpkin picks and the pumpkins are small so they are the perfect size to tuck into the branches as well just like the sunflowers. I didn't secure these ones either because they really are pretty secure on their own but you could use the floral wire with these as well if needed.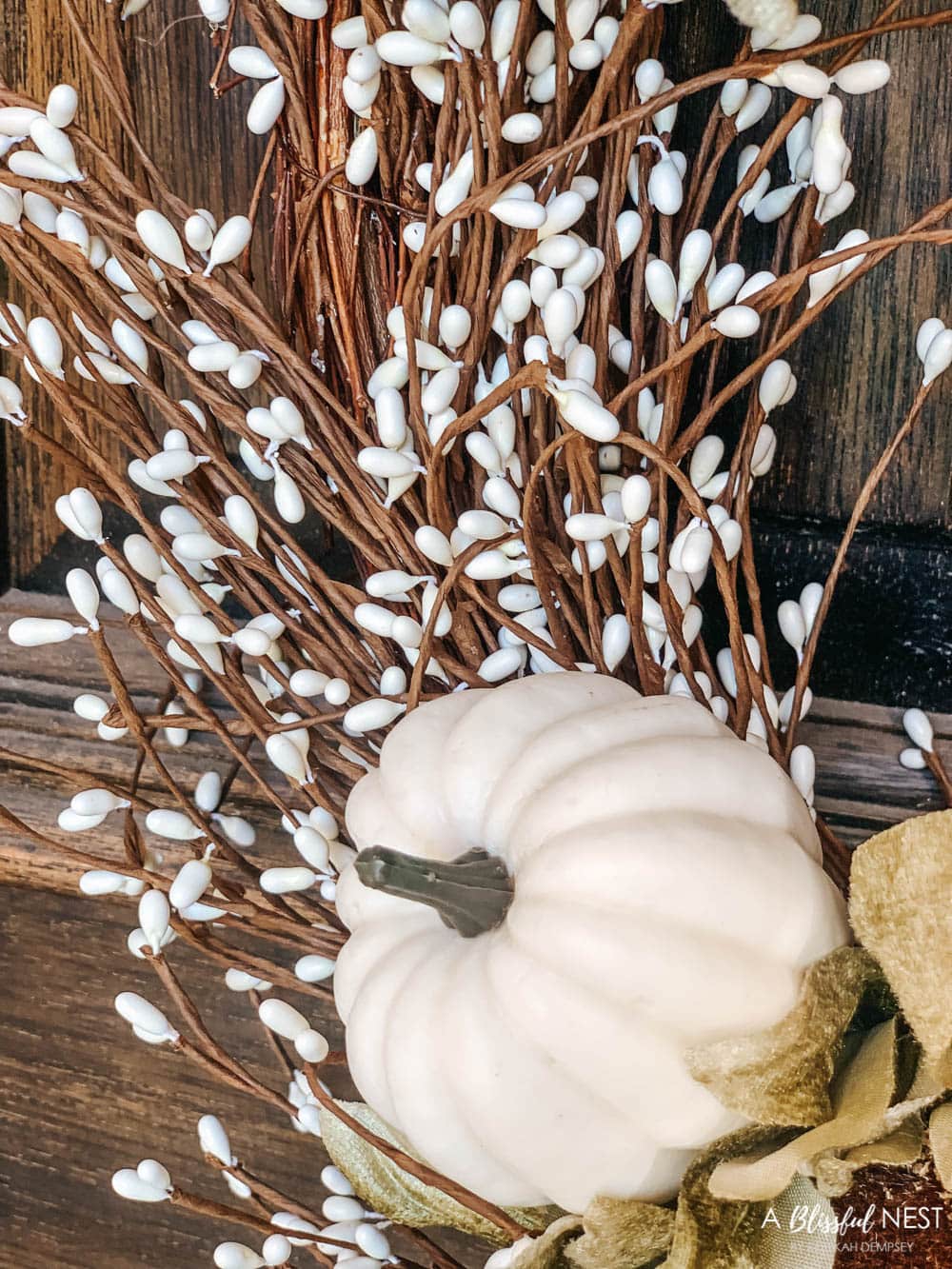 Fall Front Porch Flowers:
Moving onto my planters, like you saw above I already had a good base of plain greenery and faux white geraniums, and below is what they look like now after I added some fall pieces. You can easily do this with real plants as well. They do not need to be faux. I actually love mixing faux and real flowers to help create fullness in a more affordable way.
The first piece I added was these beautiful rust-colored hydrangeas. They are reminiscent of the color transition hydrangeas go through in the fall and they add a pop of color which ties into the ribbon on the wreath. I added 3 per planter but you could do 4 if you need it to look more full.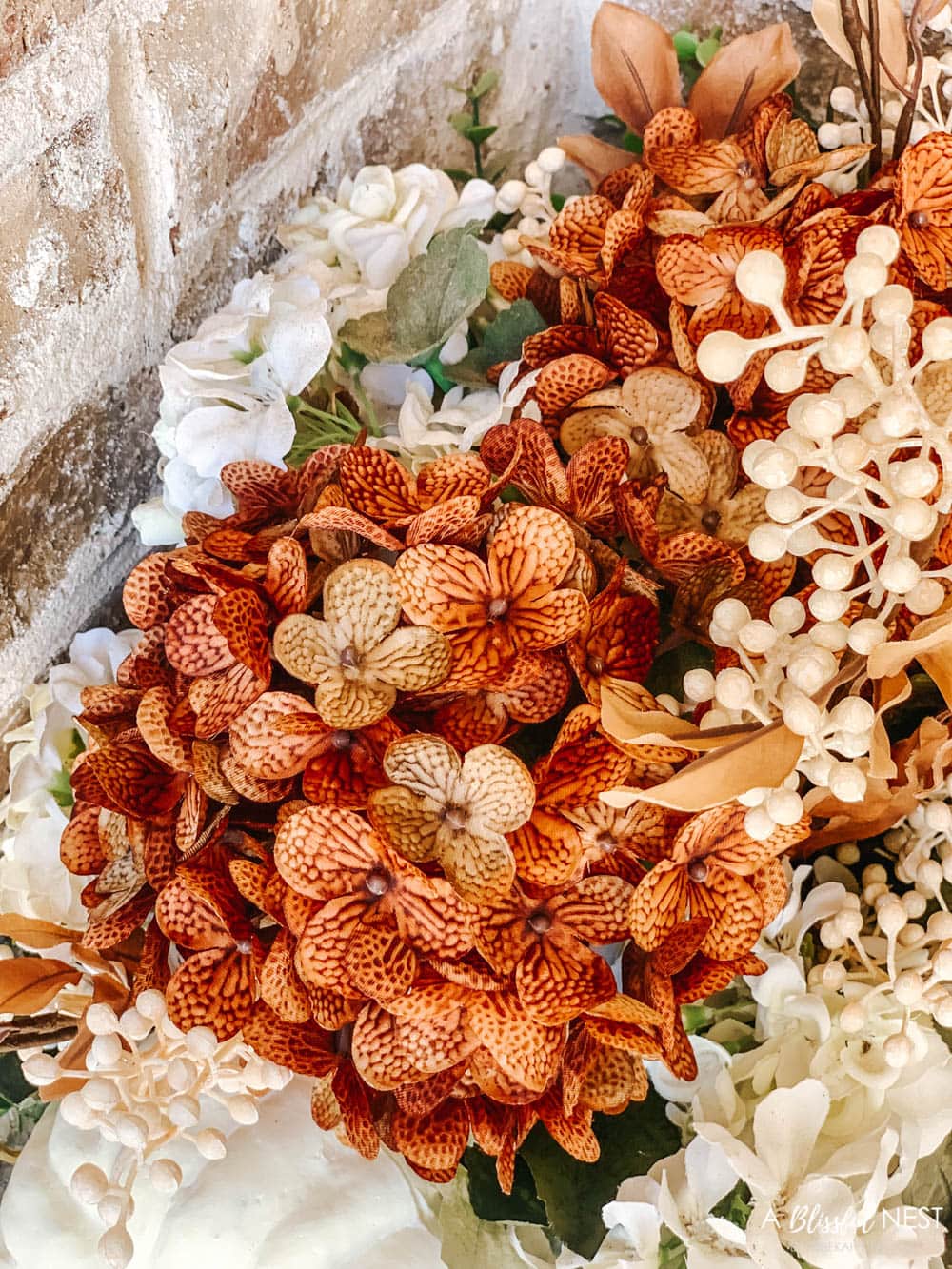 Once the hydrangeas are in, then these pumpkin and leaf cluster picks are the next to add. I love that they have the leaves nestled around the base of the pumpkin so when you tuck them in you truly can not see the pick giving it a more natural look. I used 2 per planter and placed them closer to the base to look like they were popping out amongst the plants.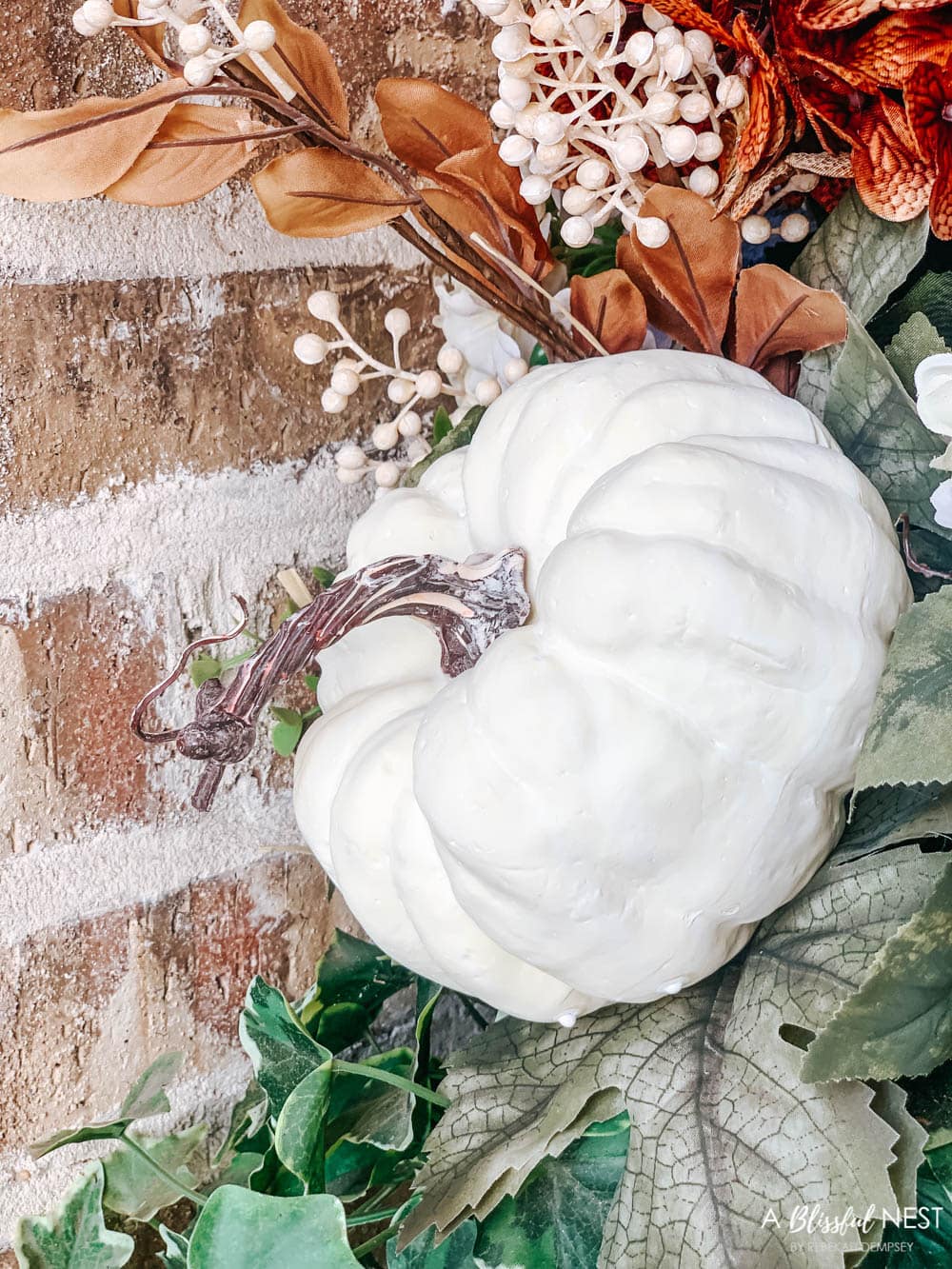 The last piece I added to the planters was these white berry picks. I love the soft brown leaves mixed on them and they are a beautiful contrast to the hydrangea picks. There is no rhyme or reason for adding these. I literally just tucked them in here and there for a whimsical touch. Place one behind a pumpkin, in between the flowers, and/or coming down over the edge.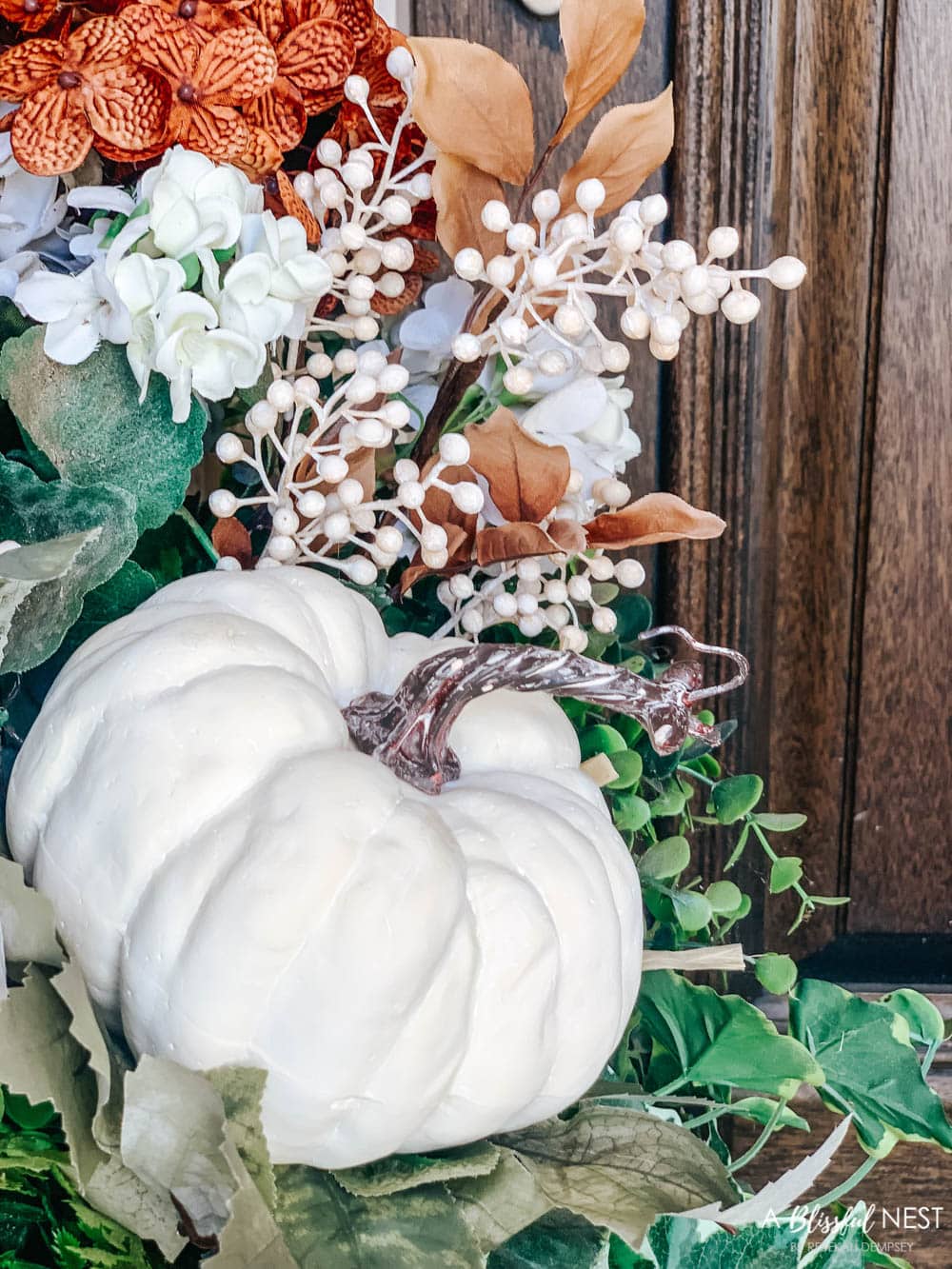 Here is an overhead look so you can see each of the fall floral layers. The fuller the better when you create these displays. I always tend to get 2-3 more picks then I think I am going to need just in case.
Fall Outdoor Decor Details:
I always love a pop of pattern and this doormat does not disappoint! I love the check pattern and it is so simple yet gives so a big impact. I also love that I can use it for the next season mixed with some red accents for the holidays.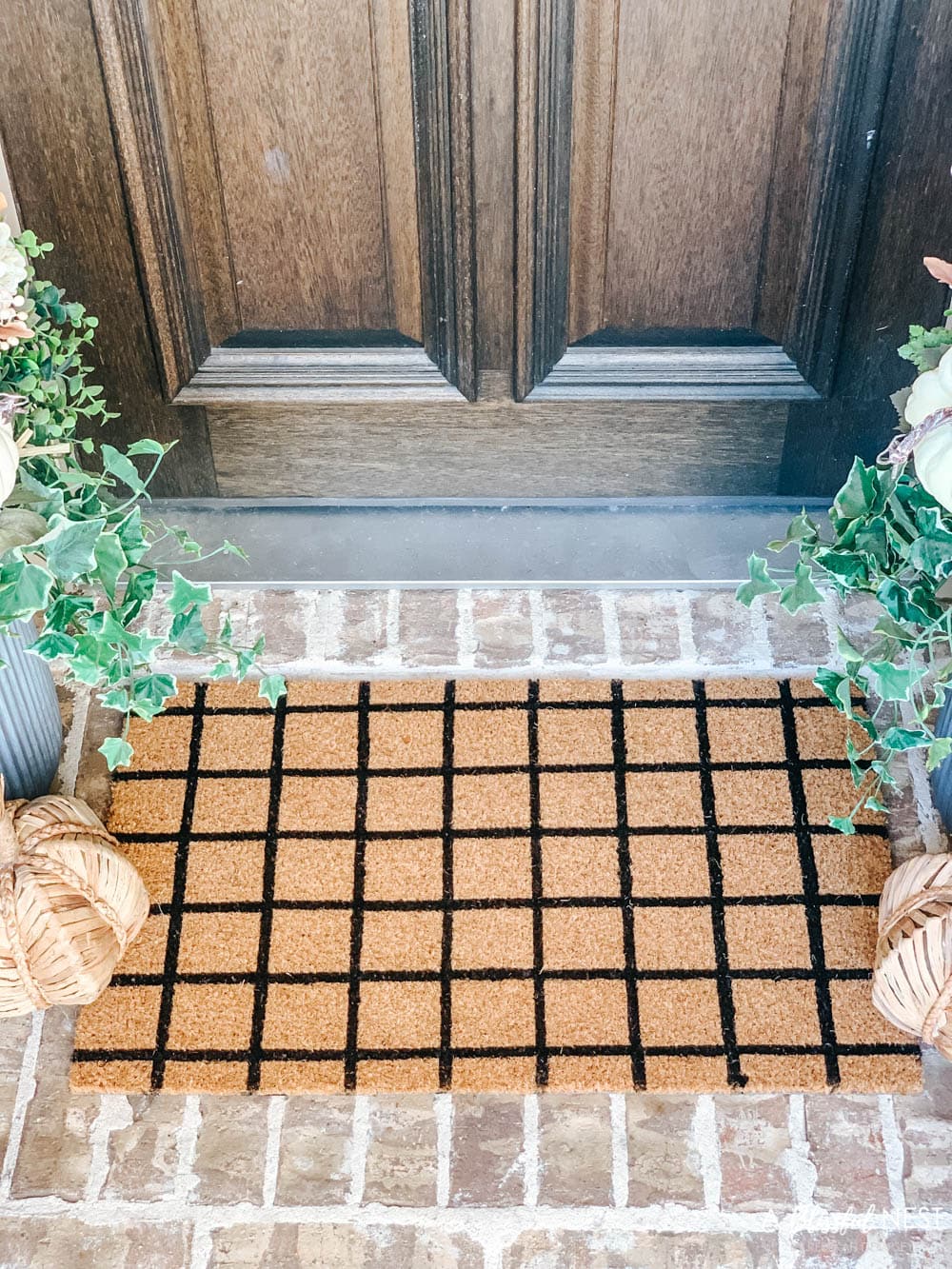 Because the planters are such a statement on their own, I didn't feel I needed to add too much else to the porch. I did find these beautiful and simple black lanterns that are tall to offset the height of the planters. With battery-operated flameless candles, they create a beautiful glow at night.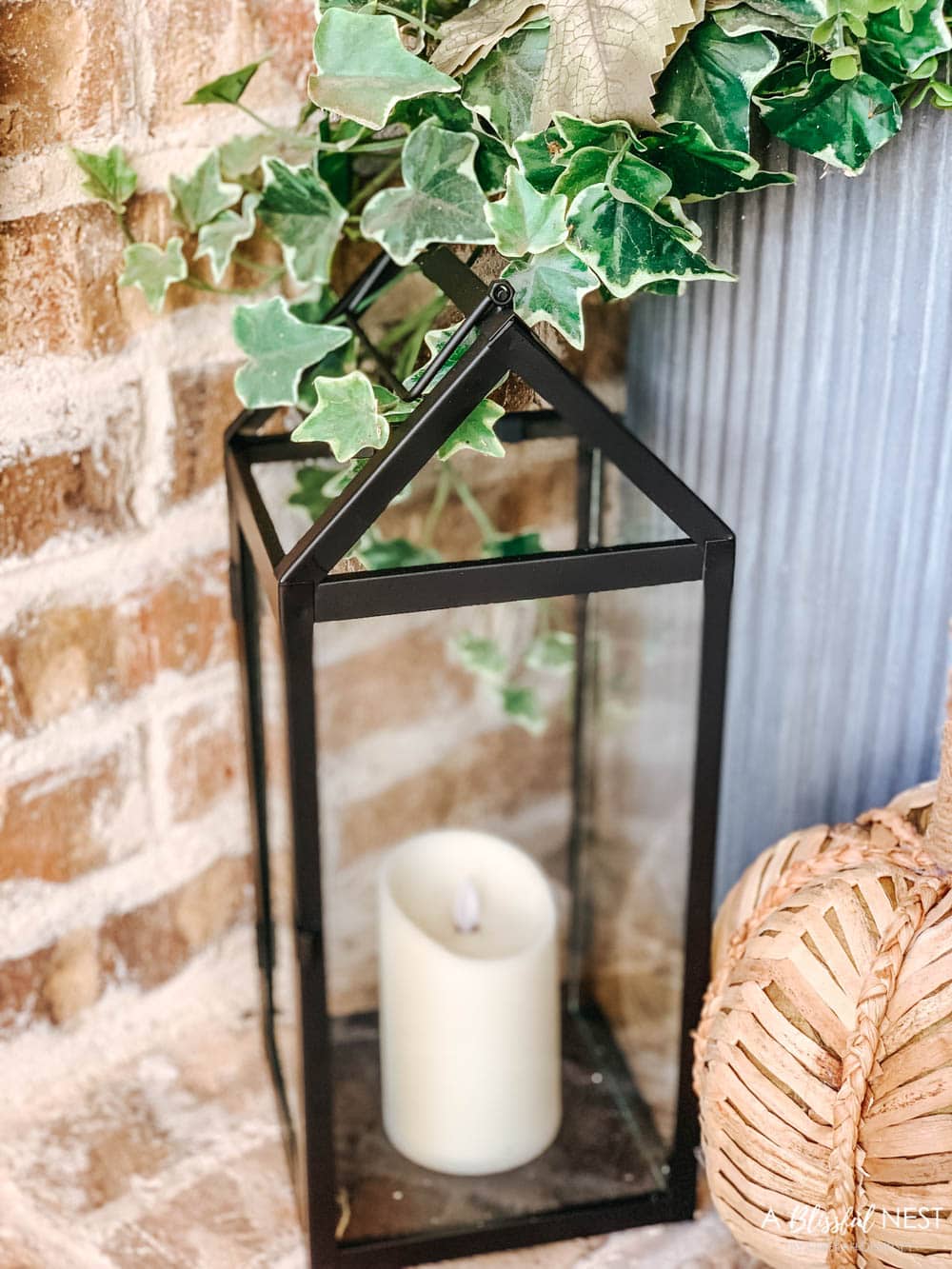 I am absolutely obsessed with these woven grass pumpkins. They actually come in 2 different sizes. I picked this taller pumpkin again because of the height of the lanterns and planters. It just complements them better but these woven pumpkins mixed with some heirloom pumpkins on a bigger porch would be amazing!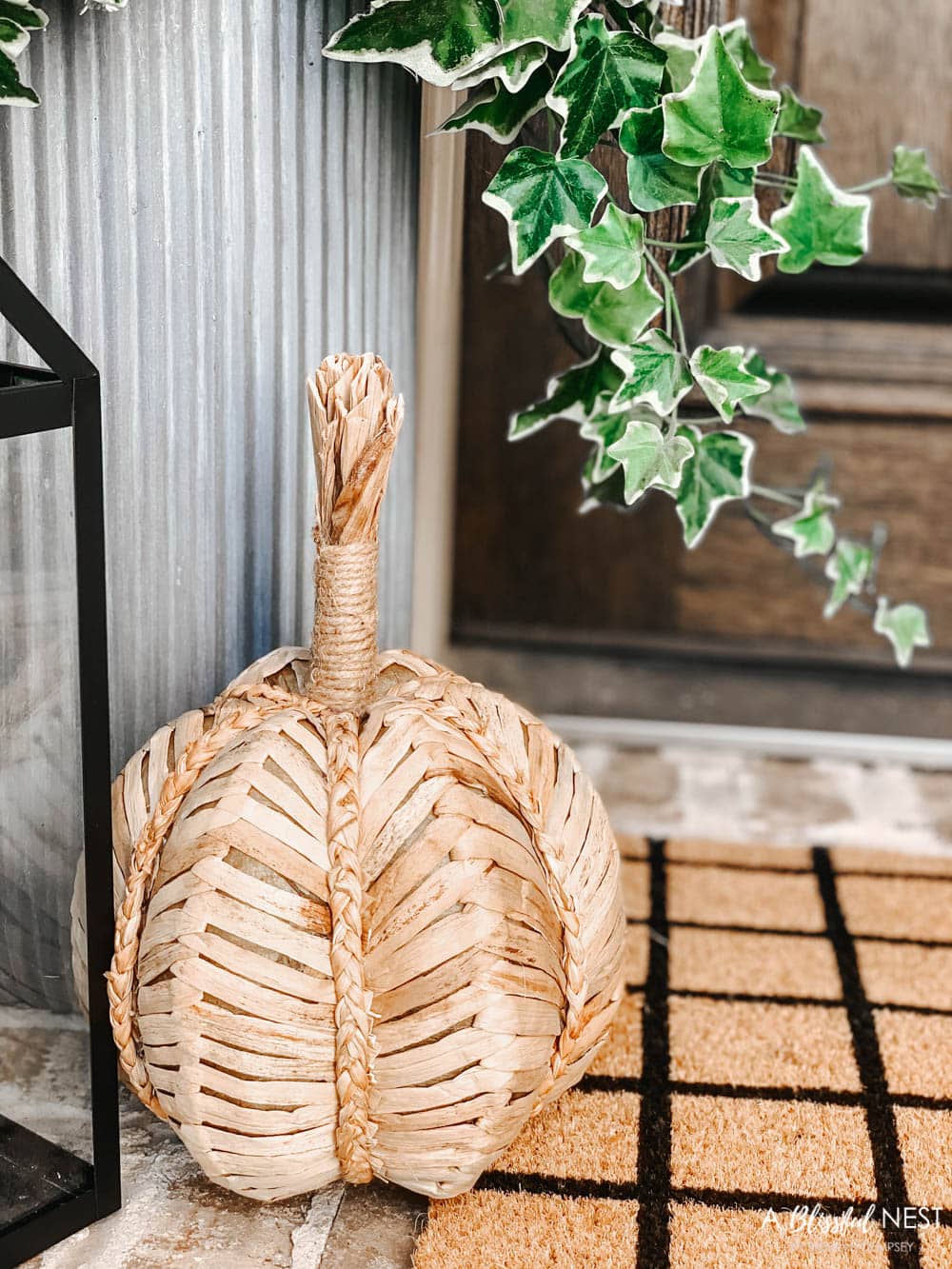 Here is what it all looks like put together on each side of the door with the planters, lanterns, and woven pumpkins.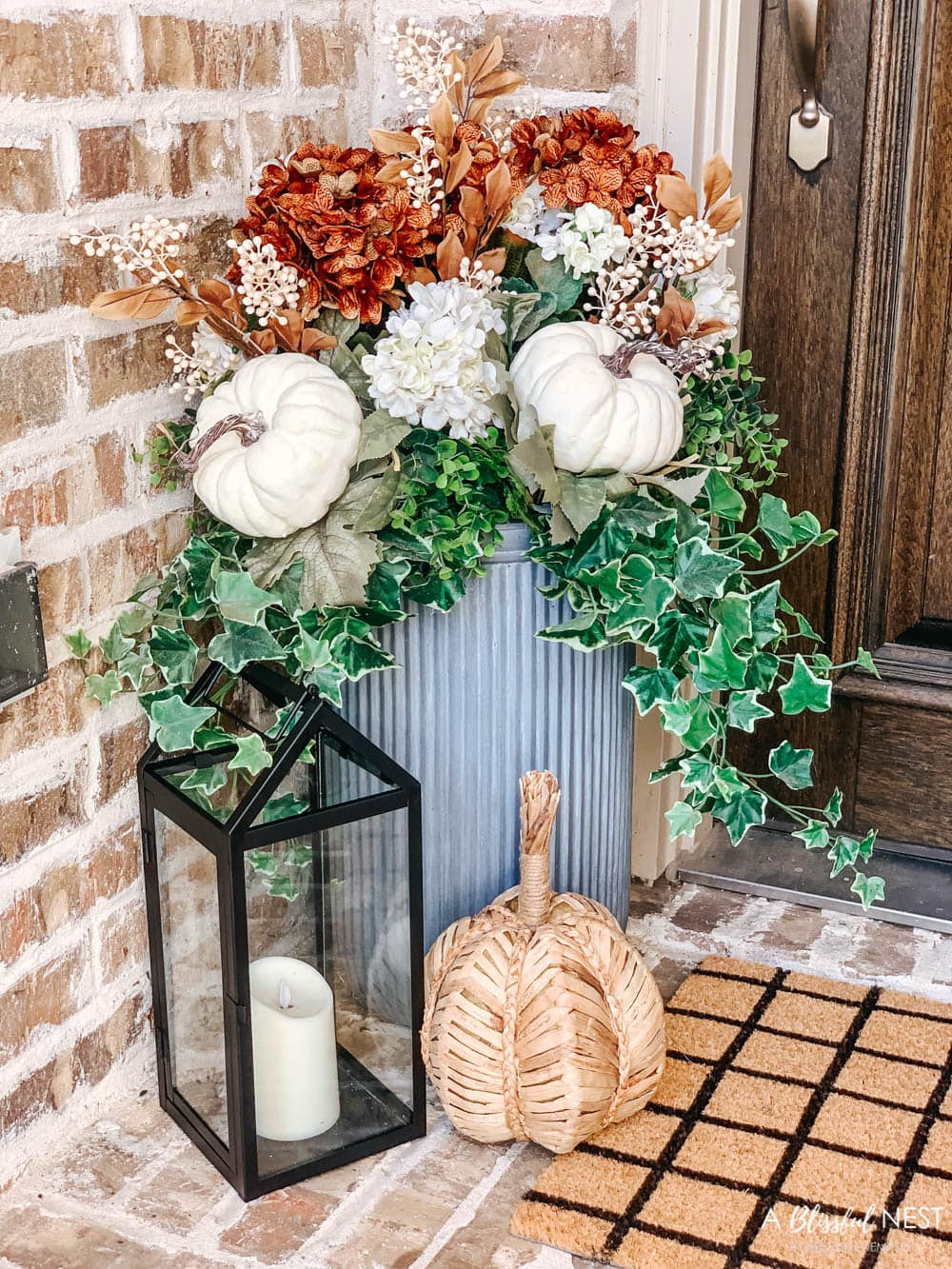 And this is what our final fall porch looks like this season. All super simple and affordable elements that together are so pretty for the fall.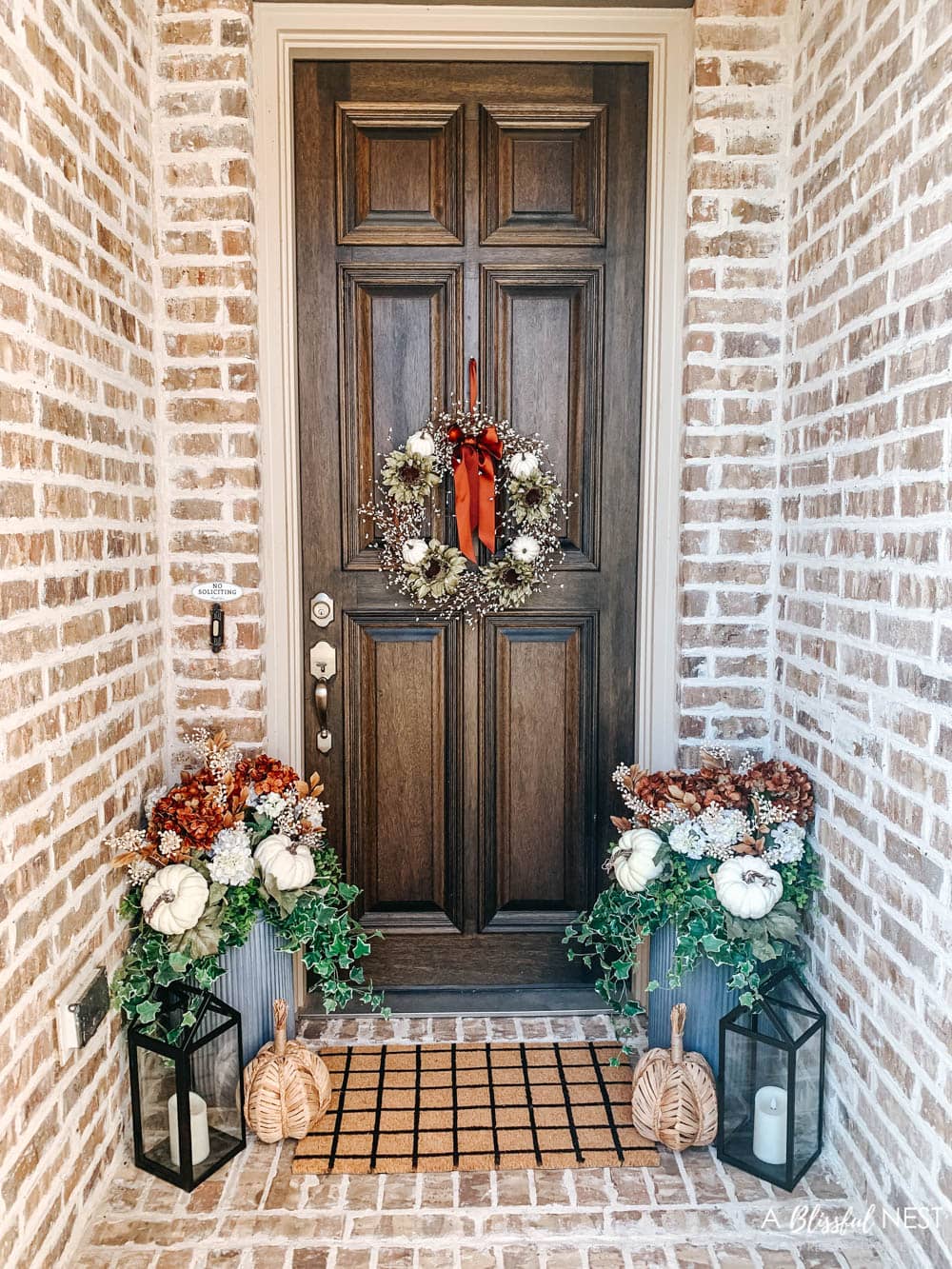 So now I just need this Texas heat to go away and the cool fall temps to get here! Don't miss out and go shop the Hobby Lobby Fall product line sale! There are so many unique and beautiful pieces to get your home fall-ready. THIS IS A SPONSORED POST. A BLISSFUL NEST HAS RECEIVED PAYMENT, TRADE, AND/OR PRODUCTS FROM HOBBY LOBBY IN EXCHANGE FOR PROMOTING. HOWEVER, ALL OPINIONS STATED ARE OUR OWN.
Follow along to get more of my tips on home decor, DIY, and lifestyle on the following:
Pinterest | Instagram | Facebook | Twitter