Cozy Autumn Fall Front Porch
This post may contain affiliate links. Please read our disclosure policy.
Sharing an autumn fall front porch with a beautiful seasonal colorful wreath, pumpkins, and fall flowers in the planters. Easy to recreate with all the sources just in time for the fall season.
Anyone else who can't believe September has come and well on our way to October? I don't know about you but usually, I am not ready to welcome the holiday season, and this year I can't wait for it to be here. I am so ready for fall baking and to enjoy some quality family time with some cooler weather.
This year I decided to use some pieces to decorate my porch for fall that I already owned and thought I would take you through – beginning to end on how I decorated my porch this year. I am always fascinated to see other people's decorating process and I plan to share more posts like that coming up.
This post contains some affiliate links for your convenience.
Click here to read my full disclosure policy.
Cozy Autumn Fall Front Porch
Step 1: Remove all your summer decor so you have a blank palette
The first thing I did was strip my porch from all the decor I had on it for summer. But only took out the purple flowers from these planters I created early on in summer with these artificial flowers and plants. These planters look so full and beautiful. I think the plants can carry well into the fall season so you will see how I spruced them up for fall below.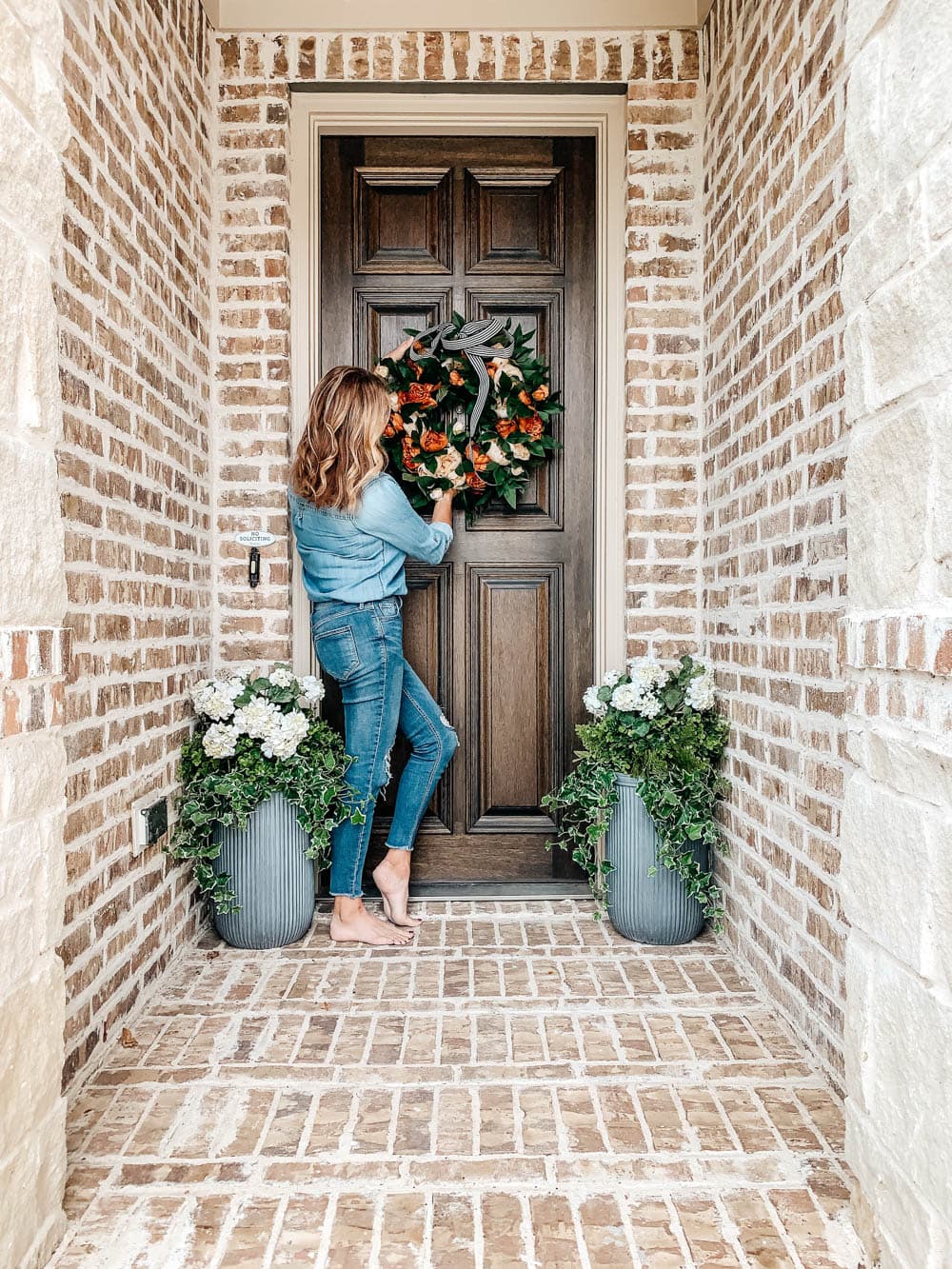 Step 2: Select your inspiration piece like your wreath
I found this gorgeous wreath last year and have been obsessed with it. It is super full and I love the simple orange and white color scheme. It comes with a simple black and white striped ribbon and you can use that to hang it but I loved it tied to the top so it laid on the flowers.
I used the colors of the flowers to inspire the rest of the decor and kept it pretty simple in terms of color shades. I thought it would give more contrast to keep this saturated orange and pop of white with the rest of the porch decor.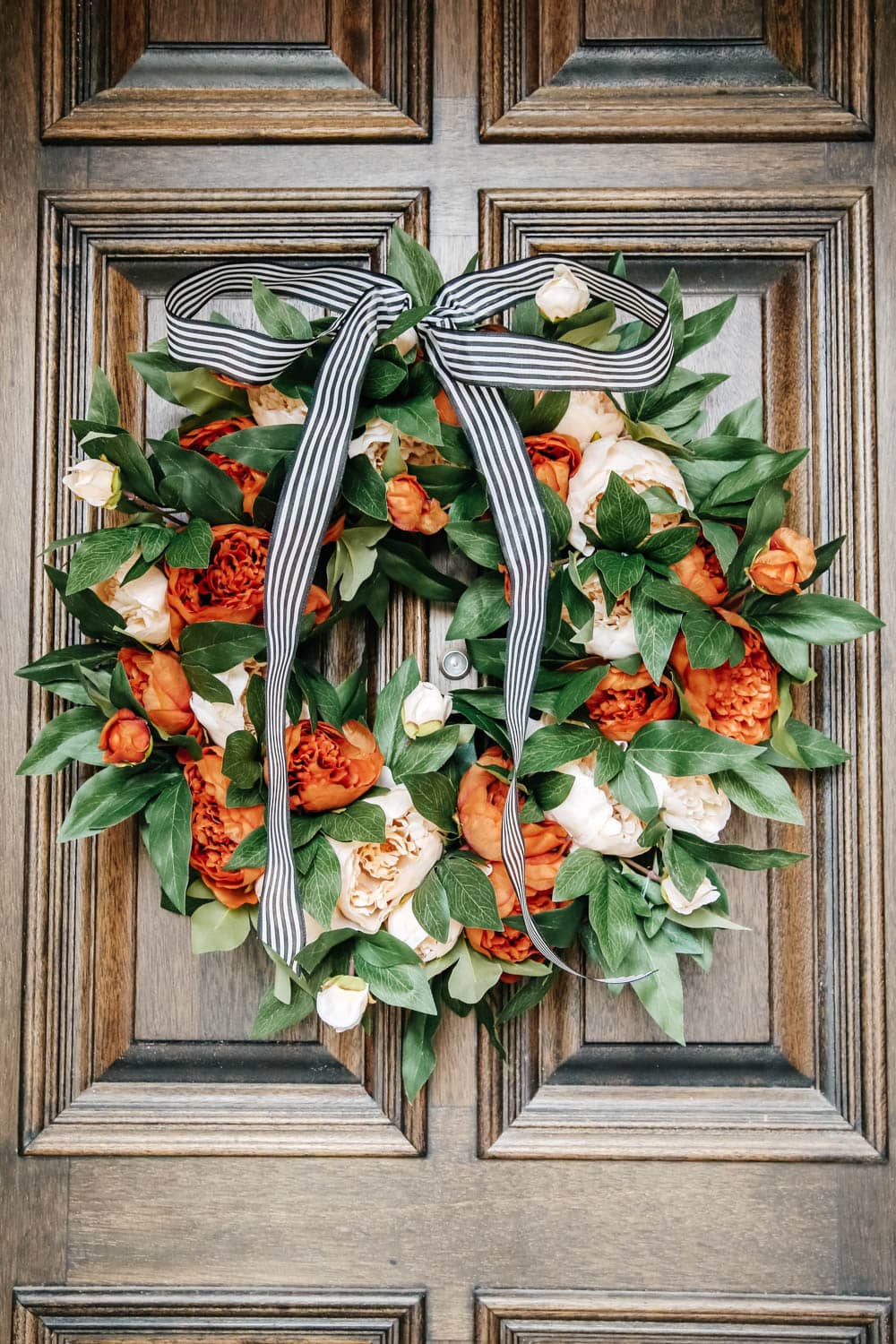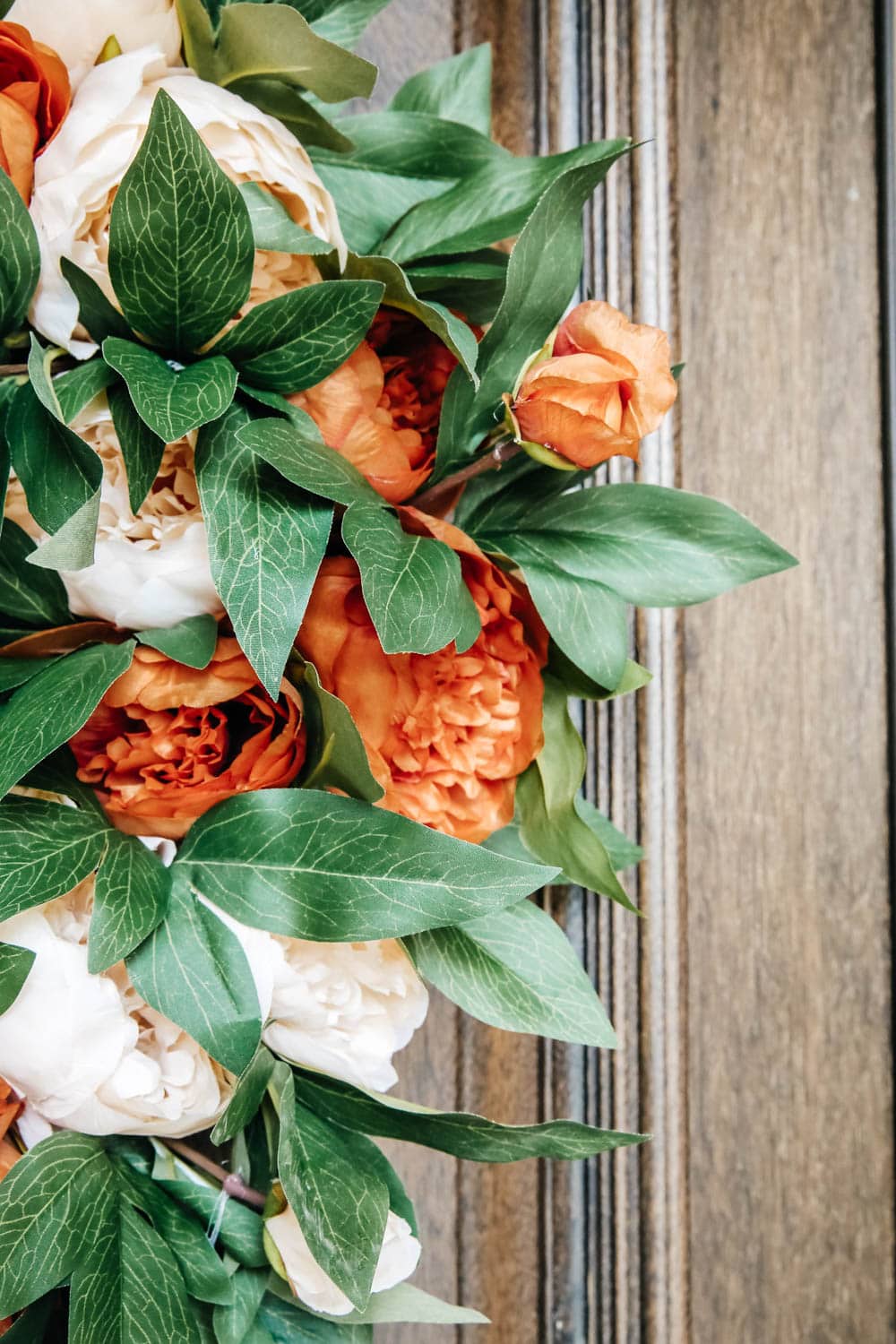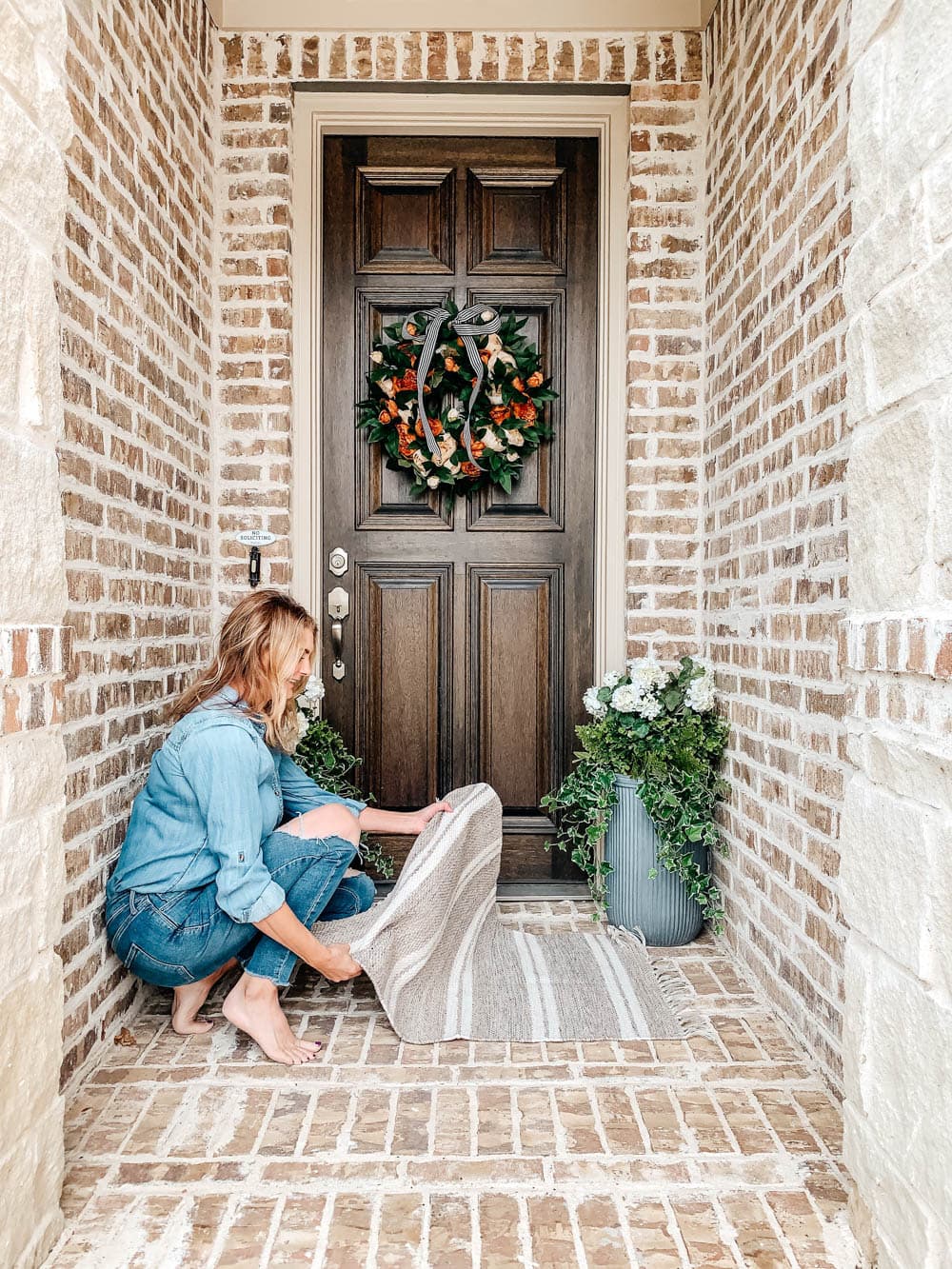 Step 3: Lay down your rug to go below your doormat
Next, I laid down this beautiful striped rug from the new Studio Mcgee collection at Target. My Target was stocked early with their product so I was able to snag it before the collection released yesterday. I actually bought the black and white one to transition my porch for Halloween later.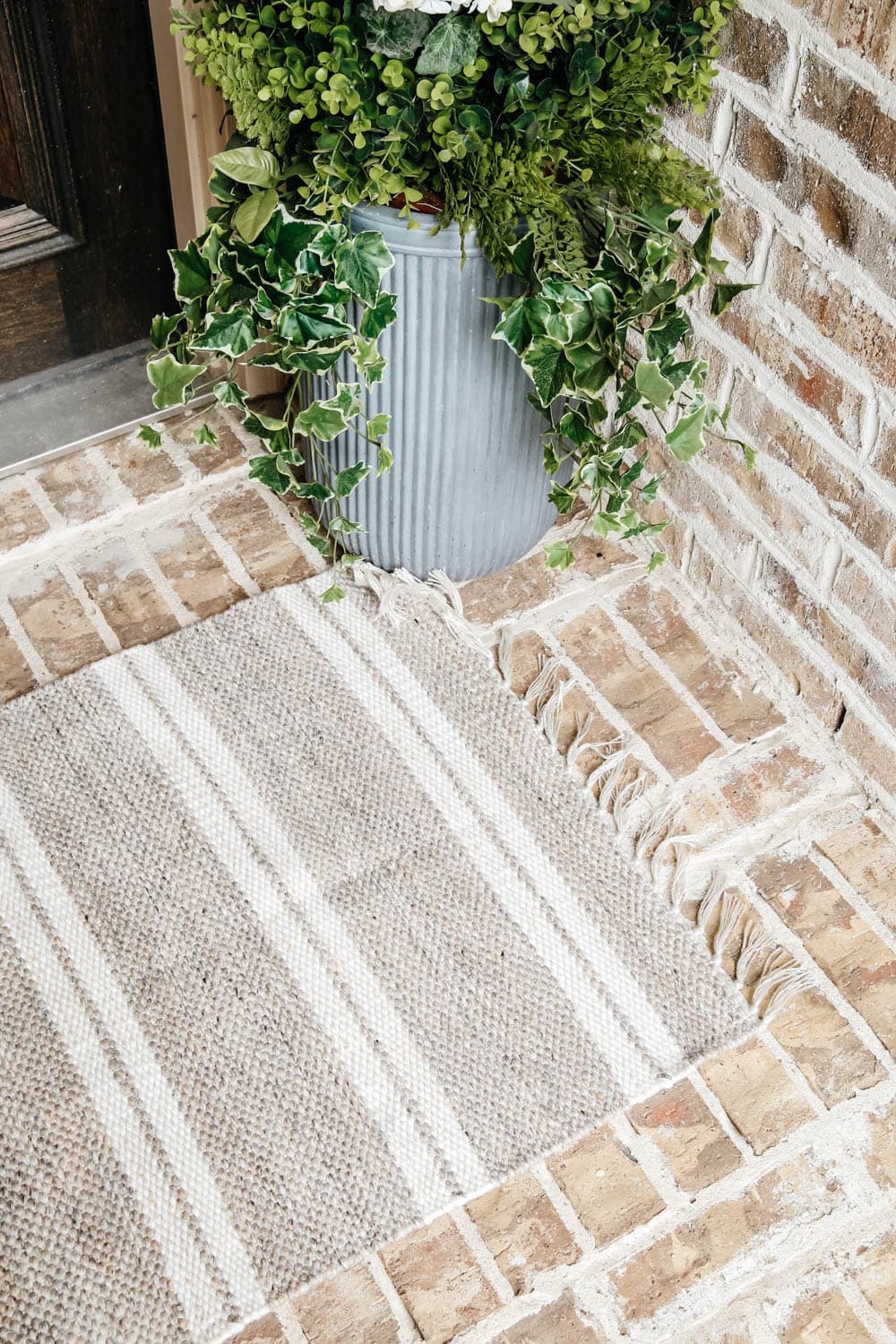 I am a big fan of layering rugs. I love the contrast of texture and pattern that it lends. Usually, the rugs I use to layer with my doormat are 3×5. If I am only using a little rug and not a doormat then I use one that is 2×3.
Also, I typically don't mind putting rugs out here that are not outdoor quality. I usually throw them away after the season is done and look for inexpensive ones so this is not a huge expense for me.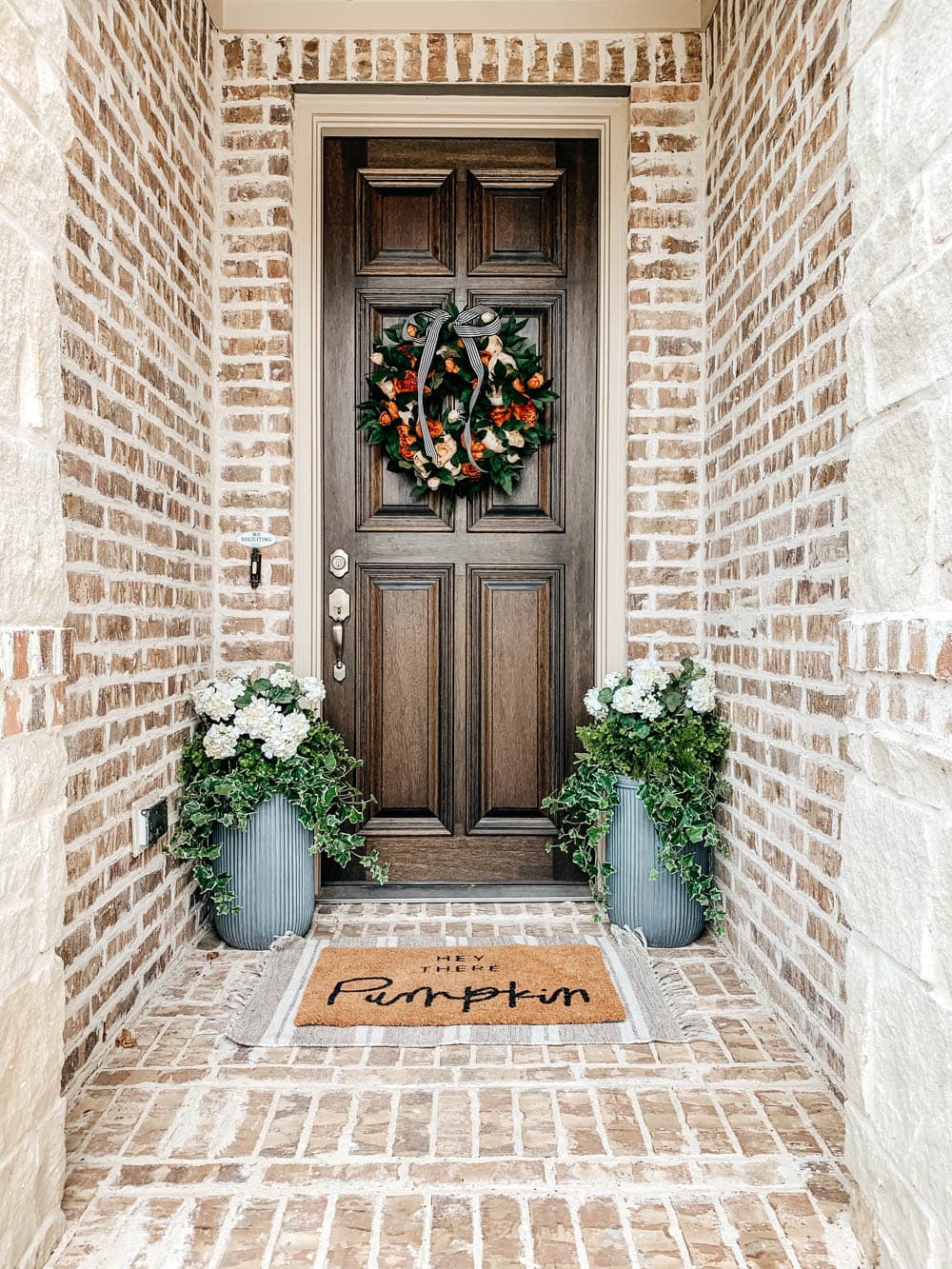 Step 4: Add a cute seasonal fall doormat
I used this cute Hey There Pumpkin doormat last year and love it so much it is popping up on my fall front porch again this year. It never goes out of style and is well worth the price.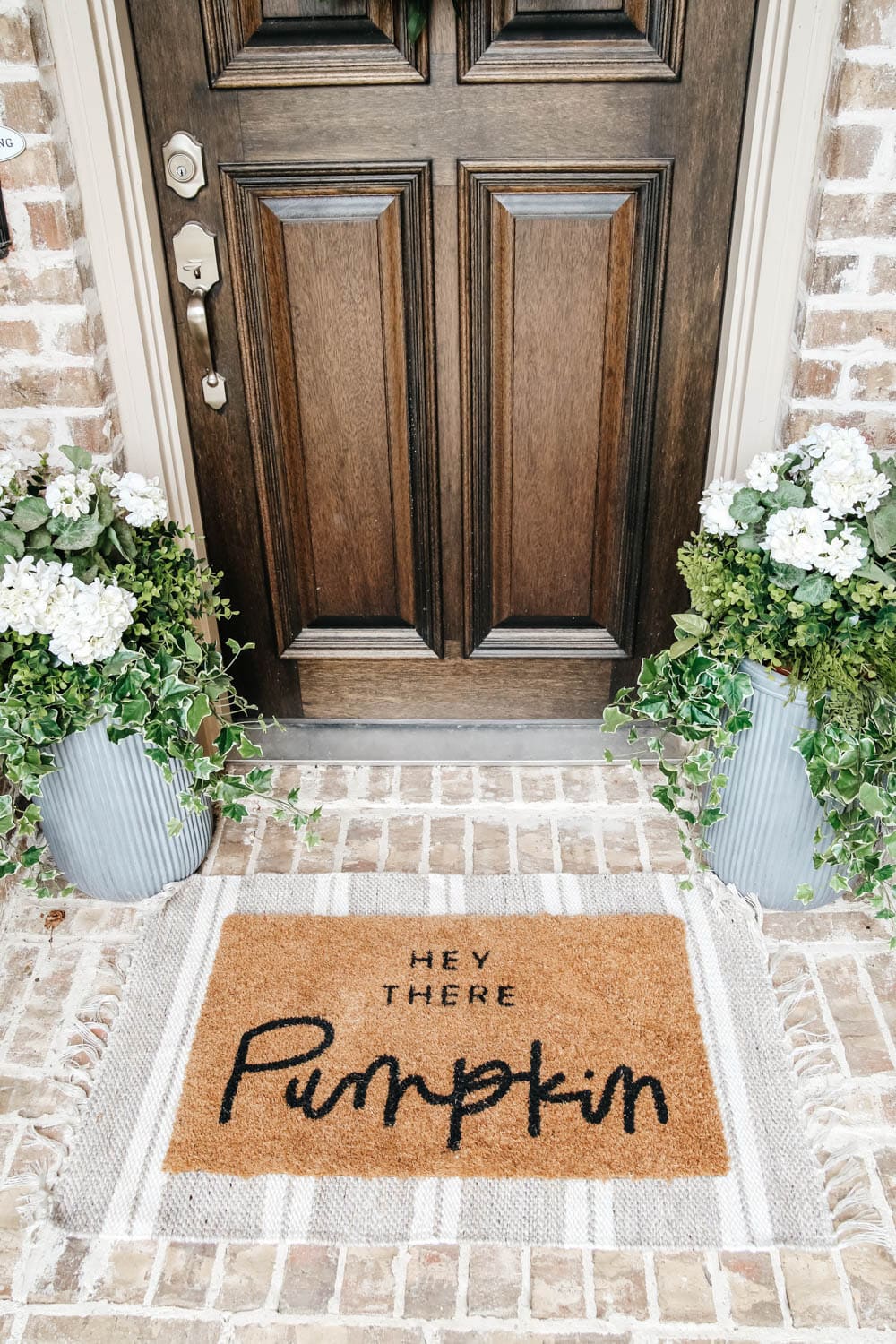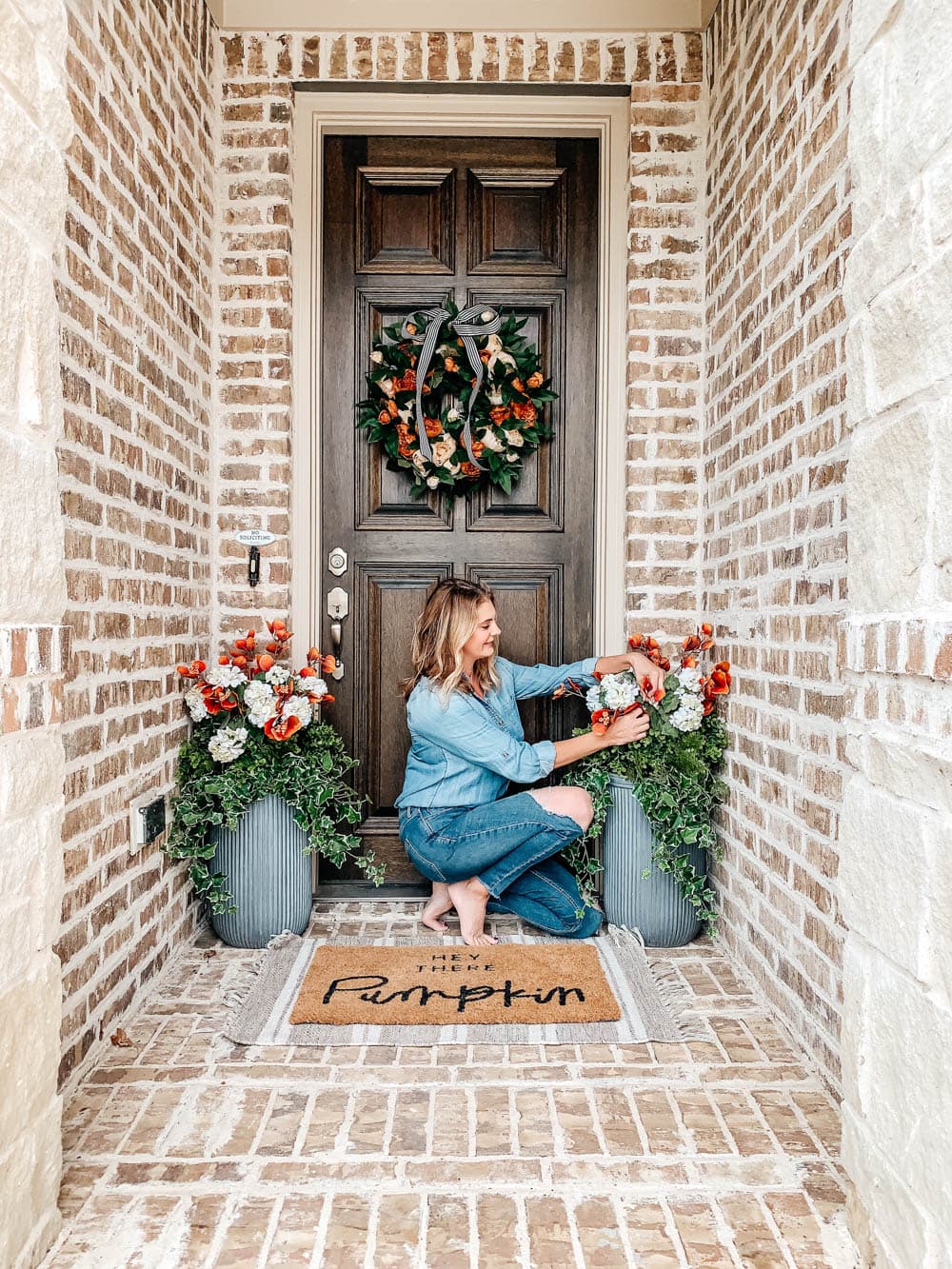 Step 5: Add some fall colored flowers and plants
Next, I popped that deep shade of orange from the wreath into my planters with these faux branches from Michaels. I actually really wanted some mums but could not find them yet so real mums or some faux flowers in these colors will be perfect.
I stuck them right into the top and then separated the branches to intertwine them throughout the faux geraniums to make it look fuller and again add that contrast.
All the other plants in these planters are from when I created it back in the summer and you can see what I used and how I layered them in HERE.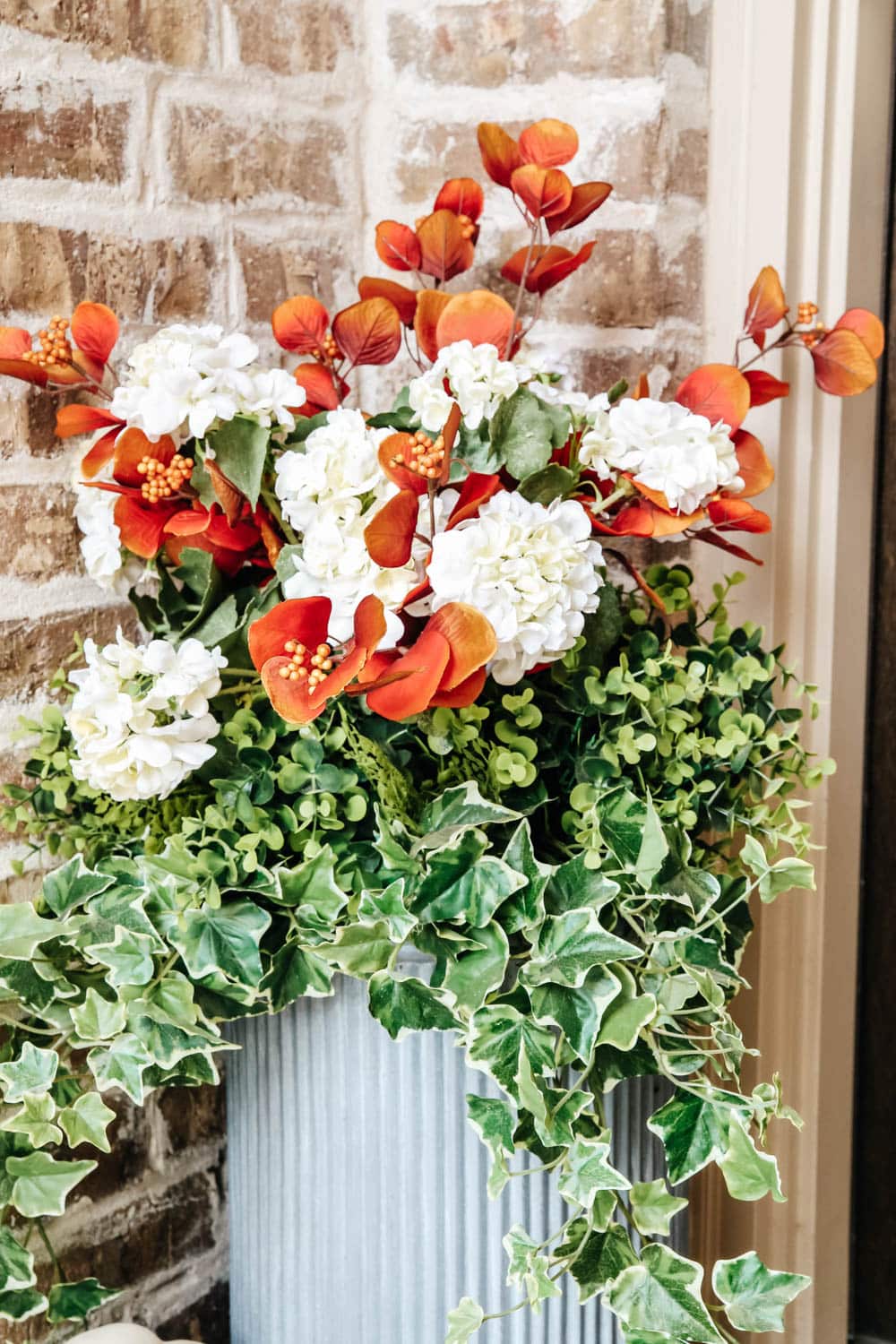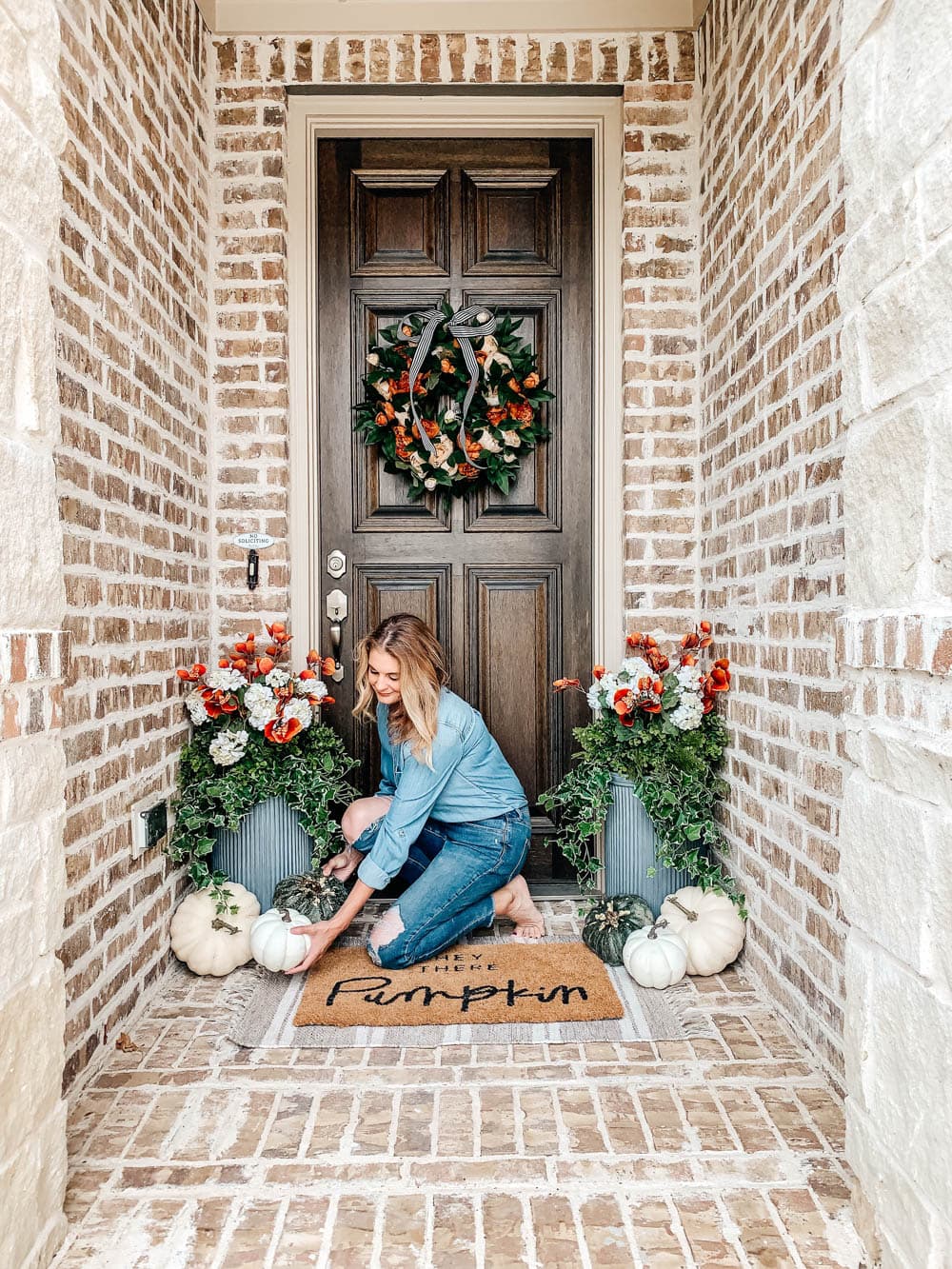 Step 6: Layer in pumpkins
The last thing I added to my autumn fall front porch was some of my faux pumpkins in shades of green and white. My local stores don't have my favorite heirloom and cinderella pumpkins in yet so when they do I will be buying some of those and adding it to these for an even more full look.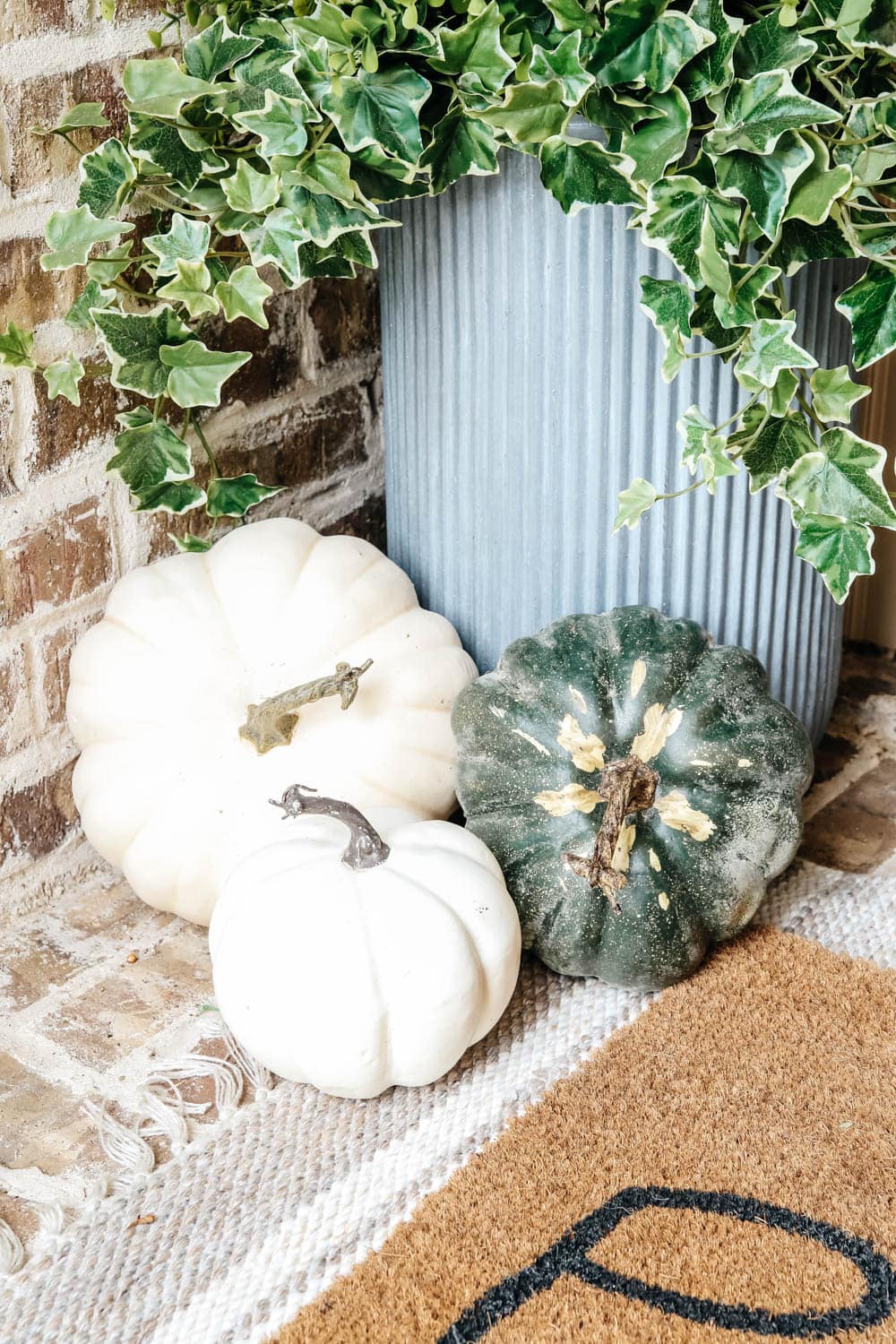 I got these faux pumpkins years ago but Michaels has some great ones which were 40% off last week. I linked a few of them below for you.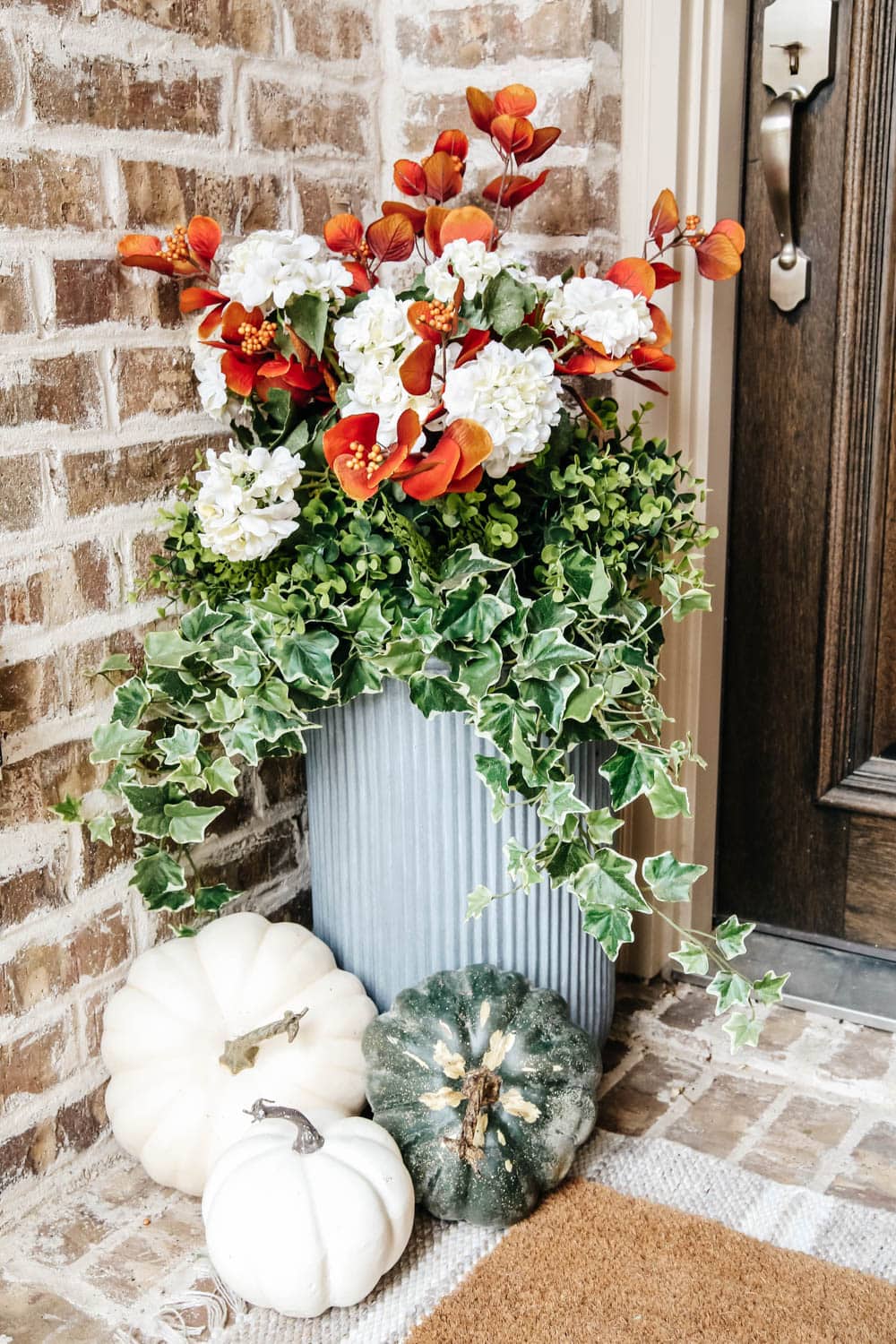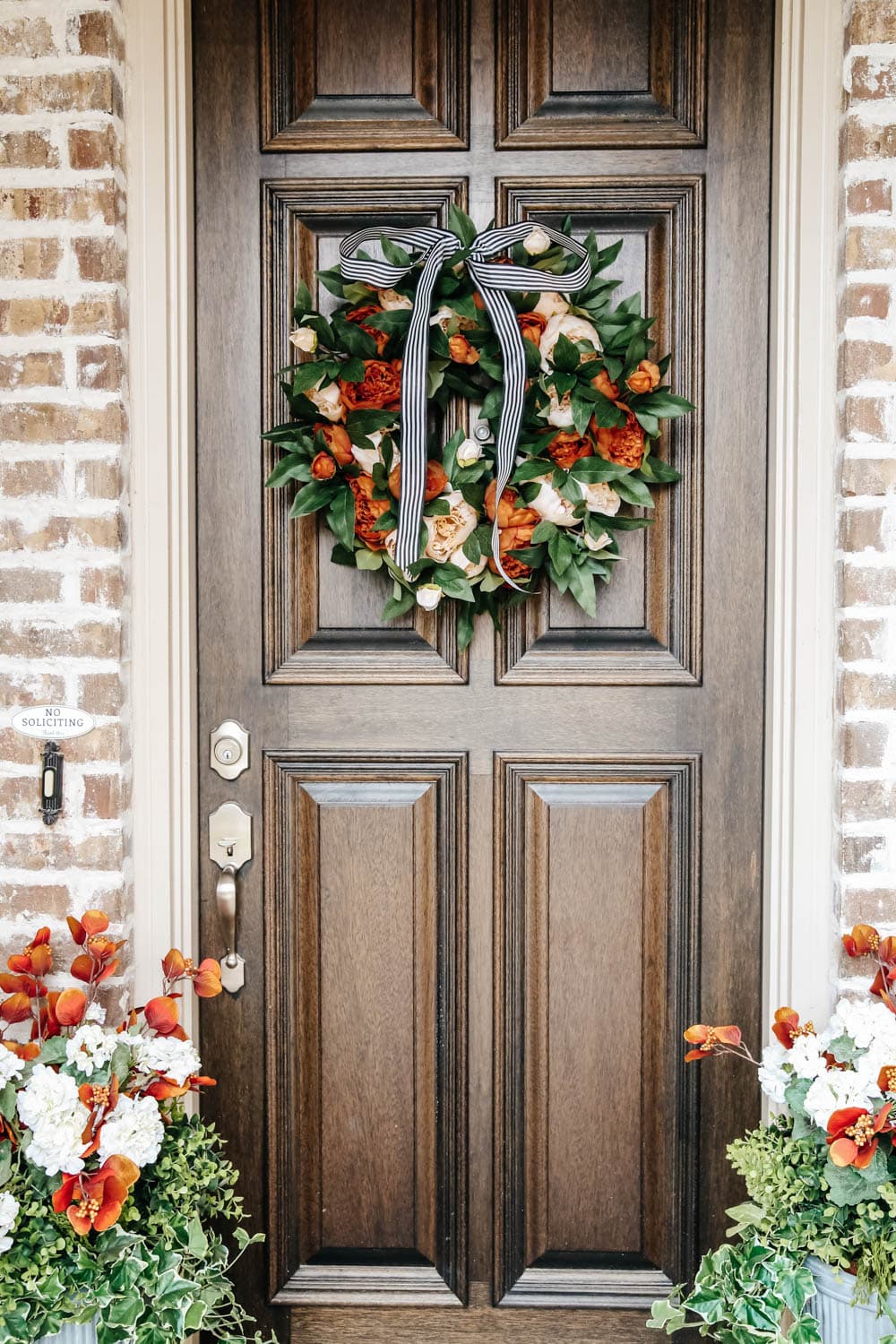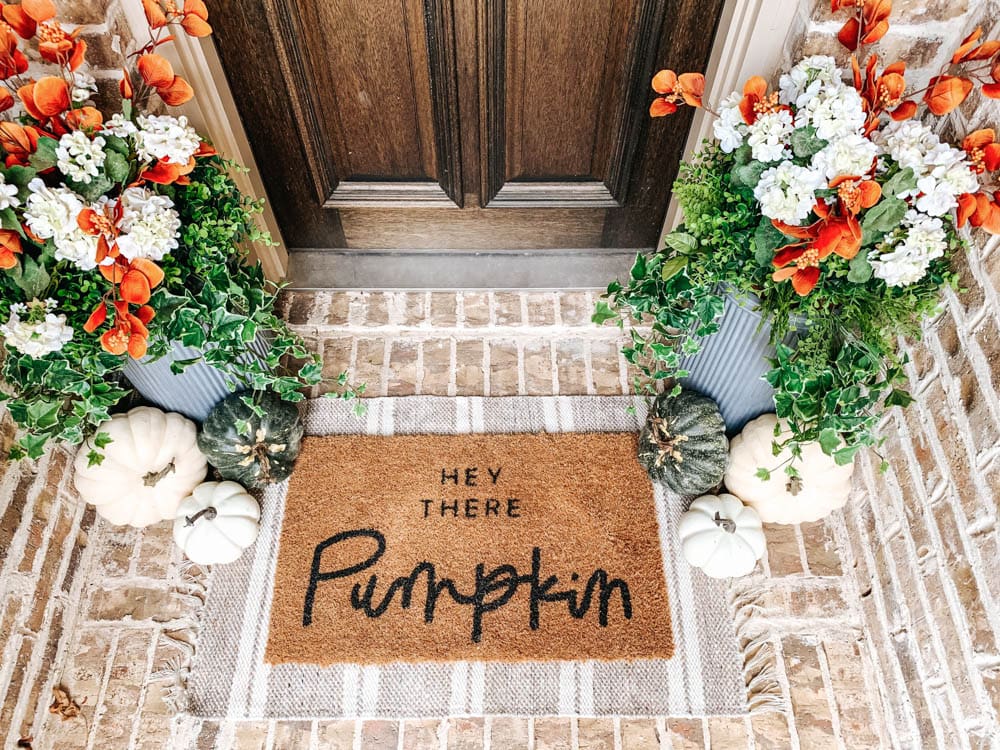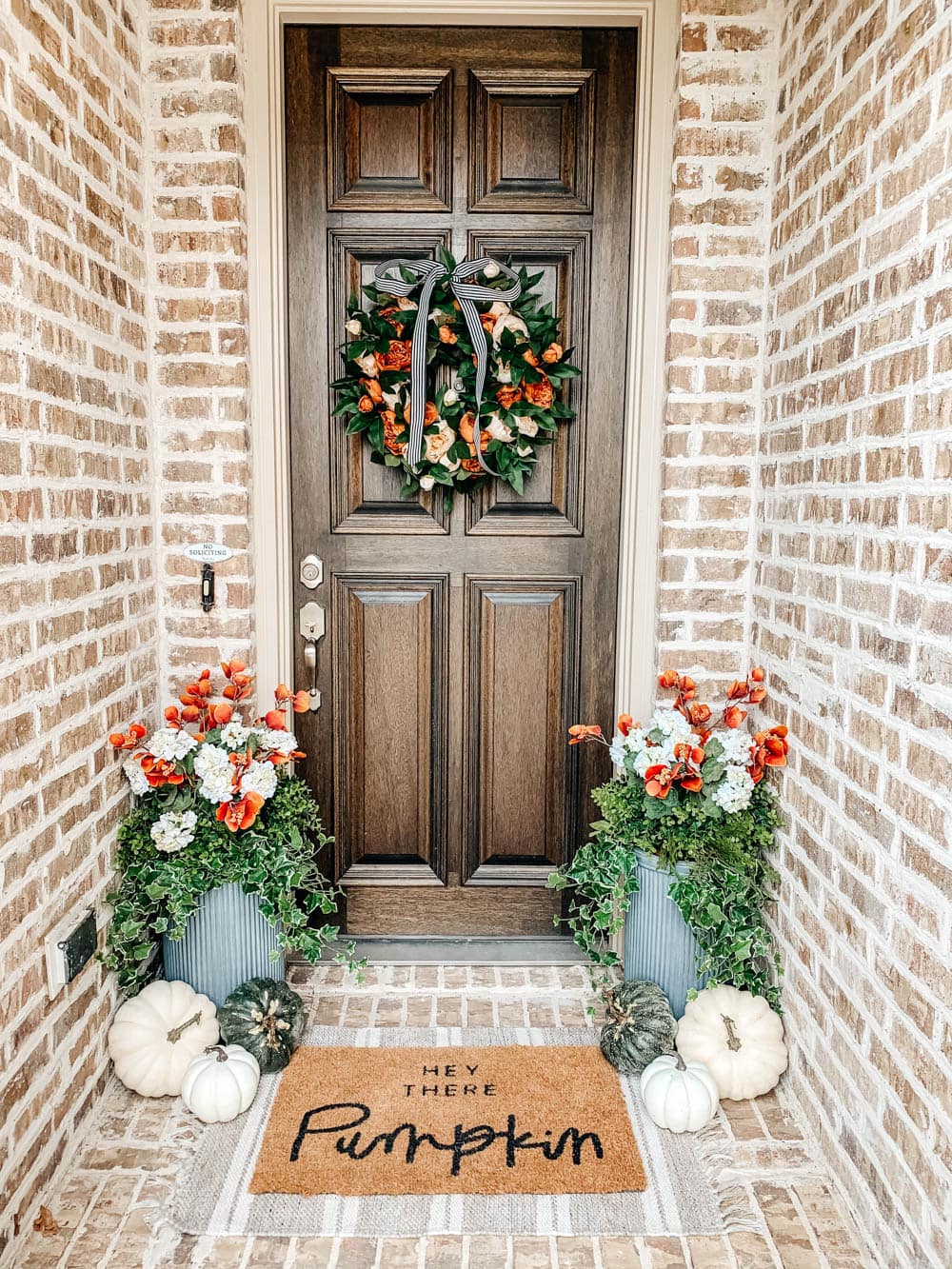 And that's it my friends. Super simple and looks curated and inviting for fall. I sourced everything for you below so you can create this exact autumn fall front porch for yourself!
More Great Posts with Fall Ideas:
Get even more ideas on creating and enjoying the fall season with these other posts. Just click on their titles to go right to the posts.


Pin our image below to save it for later!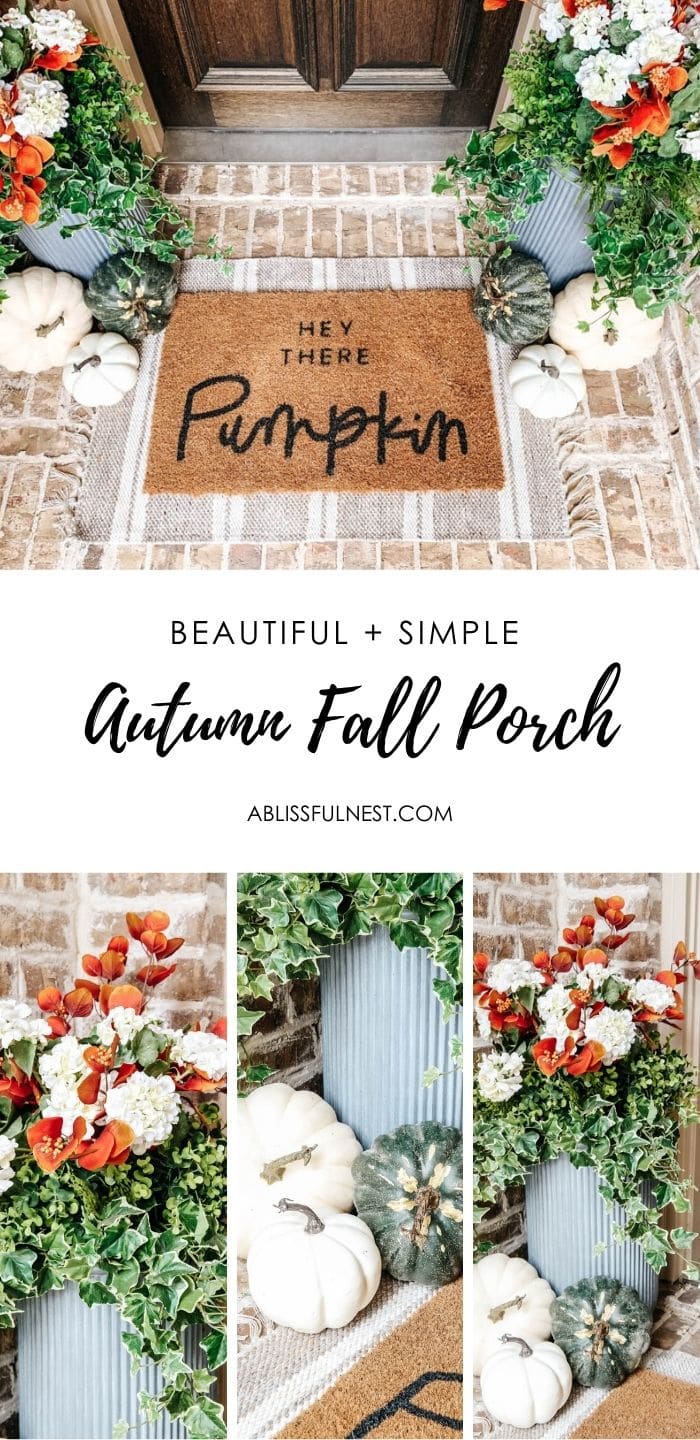 Follow along to get more of my tips on home decor, DIY, and lifestyle on the following:
Pinterest | Instagram | Facebook | Twitter