Beautiful Autumn Fall Wreaths + Where to Buy Them
Sharing a collection of fall wreaths for the season with pumpkins, gourds, dried flowers, wheat, and more with gorgeous options in beautiful colors. Affordable options and online ordering make it easy to shop for these staples for the fall season.
Well, Fall is here, and with the cooler weather hopefully gracing us all soon, we are all starting to get in the fall decorating mode. One of the first places I tackle for transitioning my home from summer to fall decor is my front porch and entryway. It is the easiest and generally the one spot I buy fresh decor for. I generally buy a new wreath and doormat and then freshen up the plants in the planters, add some pumpkins and call it done.
This year I used a gorgeous cream wreath with some sunflowers and pumpkin picks. When the gourds and pumpkins hit the stores is usually when I start on my porch. Typically that is the one thing that holds me back from having my porch fall-ready by September 1ST! BUT you can get started like me and get your wreath ordered.
I have searched high and low for all the best fall wreaths out there and I think any one of these would make a stunning display on your front porch. I found ones that are more simple like the wheat and magnolia leaf wreaths and I found ones that have more going on and have more details. It all depends on what look you are going for this year.
Here is a peek at what my porch looked like last year.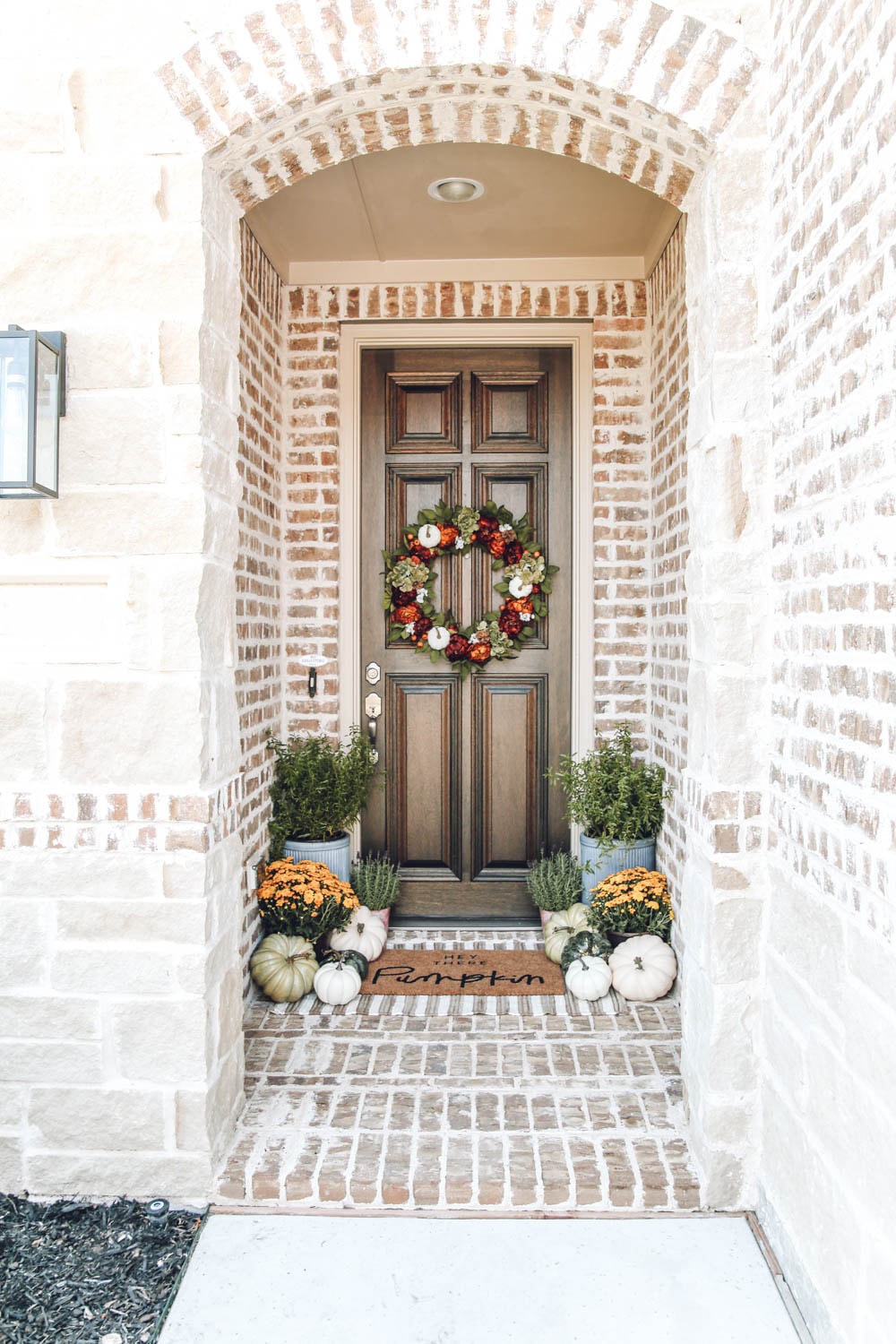 You can view the full post where I talk about the details from my porch from last year HERE. I used a classic color scheme of orange, yellow, and white then tucked in pumpkins and gourds throughout the potted plants.
Here is a porch from last year that I decorated for one of my sweet neighbors. I played off the neutral tones of the house and kept the fall decor simple with white pumpkins and a wheat wreath. I used these raised planters to house gorgeous ferns and tucked candles all along the base. You can get more details on this fall porch HERE.
So now that I've shown you some examples of what I've done with my own porch, I have curated my favorite beautiful fall wreaths for you to choose one for your own porch.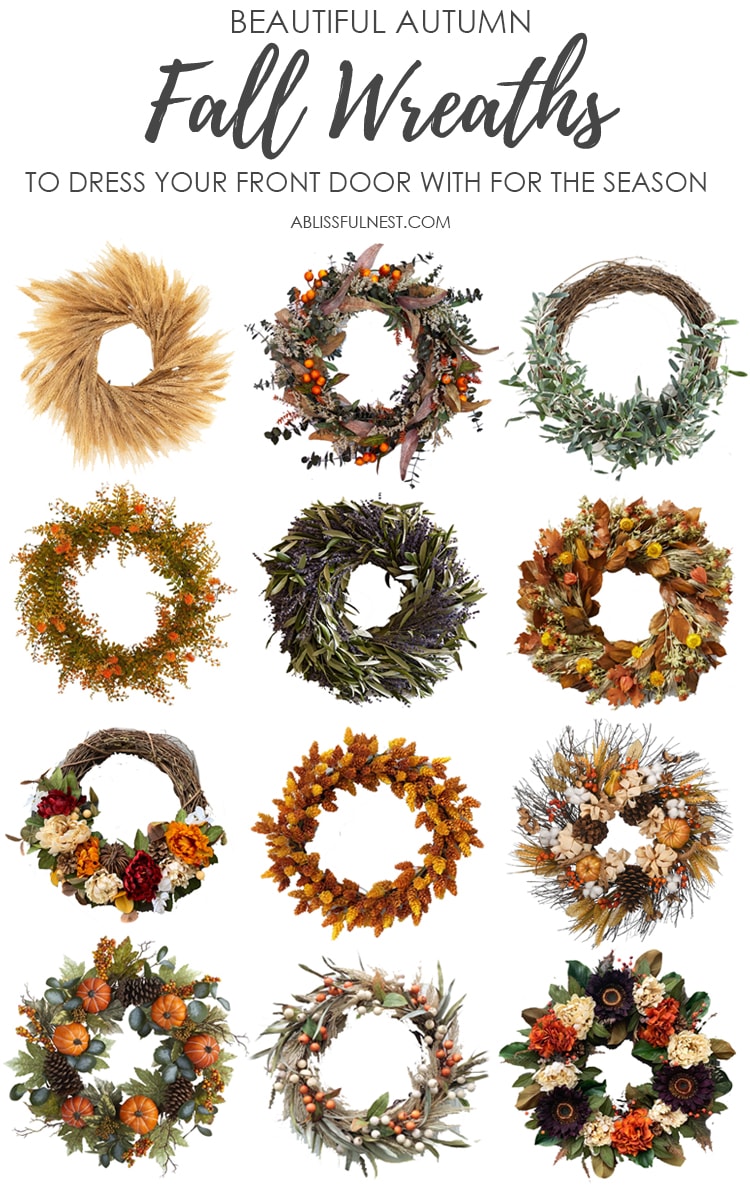 ALL SOURCES FOR THESE SUMMER WREATHS CAN BE FOUND BELOW
This post contains some affiliate links for your convenience. Click here to read my full disclosure policy.
My Favorite Fall Wreath Trends for This Season:
To help you select which one above is the right fall wreath for you, I thought I would give you my input on what I am seeing for trends right now in fall decor. I am seeing a lot of the farmhouse influence still holding strong for the autumn season, which means a lot of neutral tones with texture. Buffalo check is very popular and I am seeing it in navy and white which is a fun twist to the normal black and white. A great way to use this is with ribbon or as a doormat layered under a coir mat. Creating ambiance is going to be key even well before you decorate for Halloween. Add in candles and lanterns to add warmth. Layered pots of all sizes are a trend for any season but add mums, ferns, and other autumn plants for a fall vibe.
My Favorite Places to Shop for Fall Wreaths:
Of course, I have some favorite stores I always look at when shopping for seasonal wreaths and honestly I shop at these places for many other decor pieces as well. I bet you do too but just in case here is my list. Maybe there are some stores you did not think to look at.
Beautiful Autumn Fall Wreath Options:
Here are the ones that I personally love. Many of these are fast shipping so you can get it fairly quickly.
JUST CLICK ANY OF THE PHOTOS TO GO RIGHT TO THE PRODUCTS

More front porch + fall decorating ideas you will love:
Just in case you want a little more fall decor inspiration for your front porch, here are some amazing and inspiring ideas to get you started!
I hope I helped you find the best fall wreath for your home and you got some other ideas on how to decorate your front porch for the autumn season!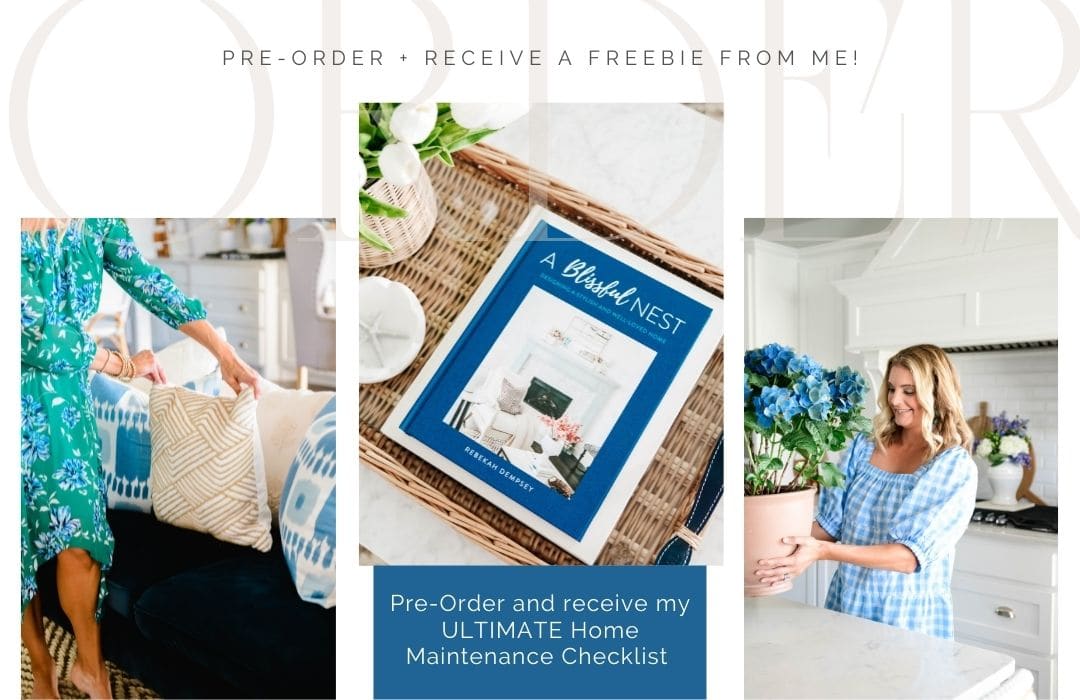 Follow along to get more of my tips on home decor, DIY, and lifestyle on the following: