Neutral Fall Living Room Home Tour
Did you think maybe I was not going to show you my fall living room this year? Lol. ME too!
I have been a little behind on the "blogger" timeline of decorating but enjoy nesting for fall in my new home at what I think might be the same pace as the rest of the world.
It sure feels amazing to pull out the seasonal decorations we have used in our last couple of homes and find new places for them in this home. It has been kind of like Christmas for me 6 months after all the unpacking to now unbox all of this.
This post contains some affiliate links for your convenience. Click here to read my full disclosure policy.
The look I was going for this year was a cozy neutral palette, making it easy to transition my decor from my summer look. You can see my summer home tour HERE.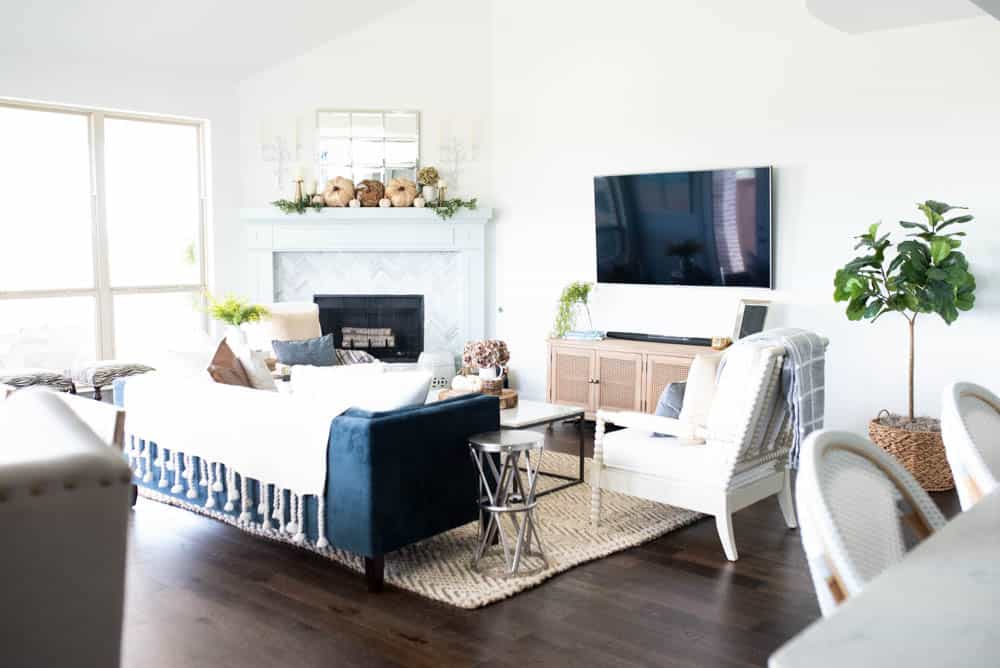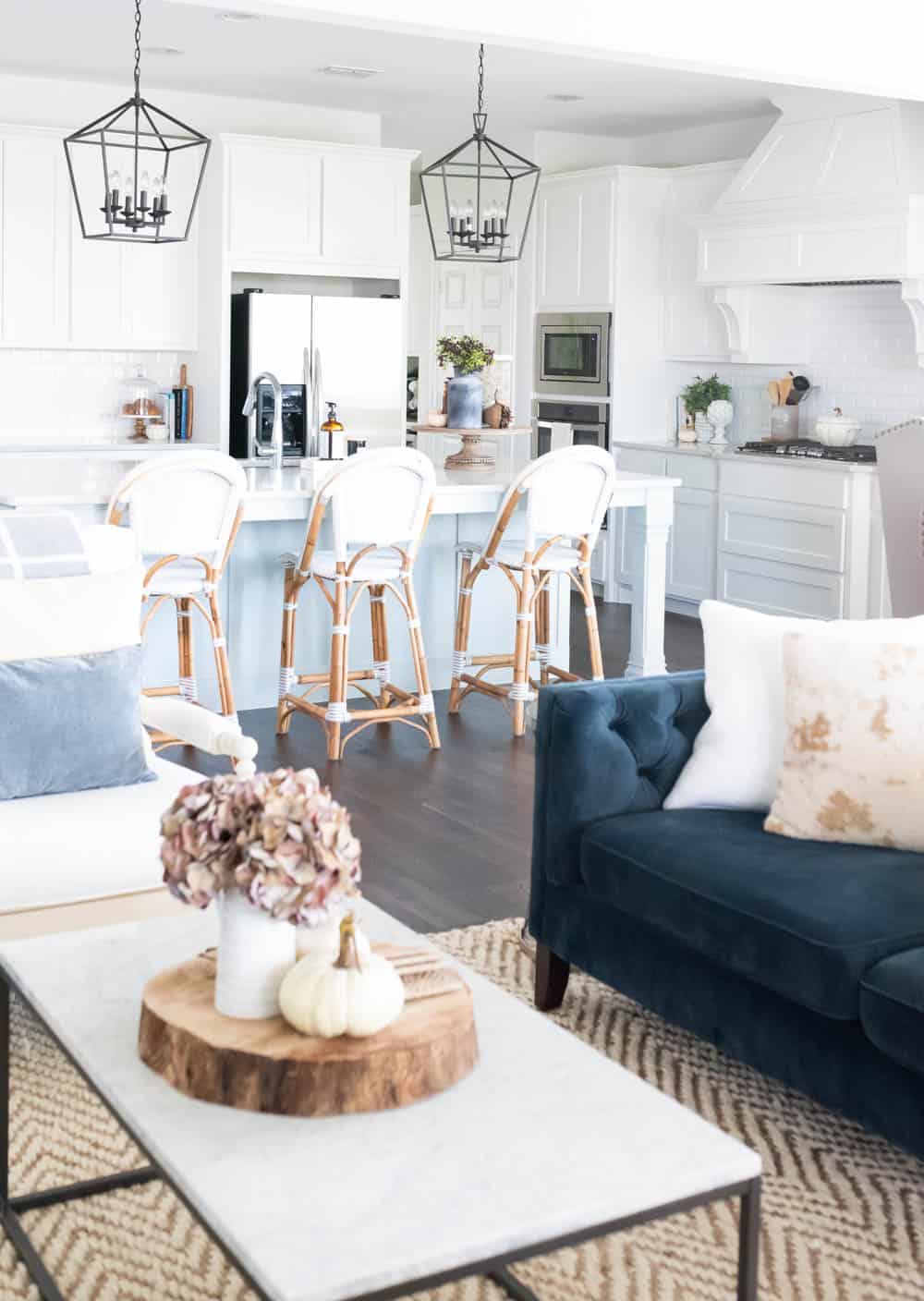 I used warm creams and grey in pillows and throws to warm up the space. I thought these would be good basics to have for other seasons as well.
You know how my obsession with pillows is an issue but I really think I will use these well into the winter months after Christmas.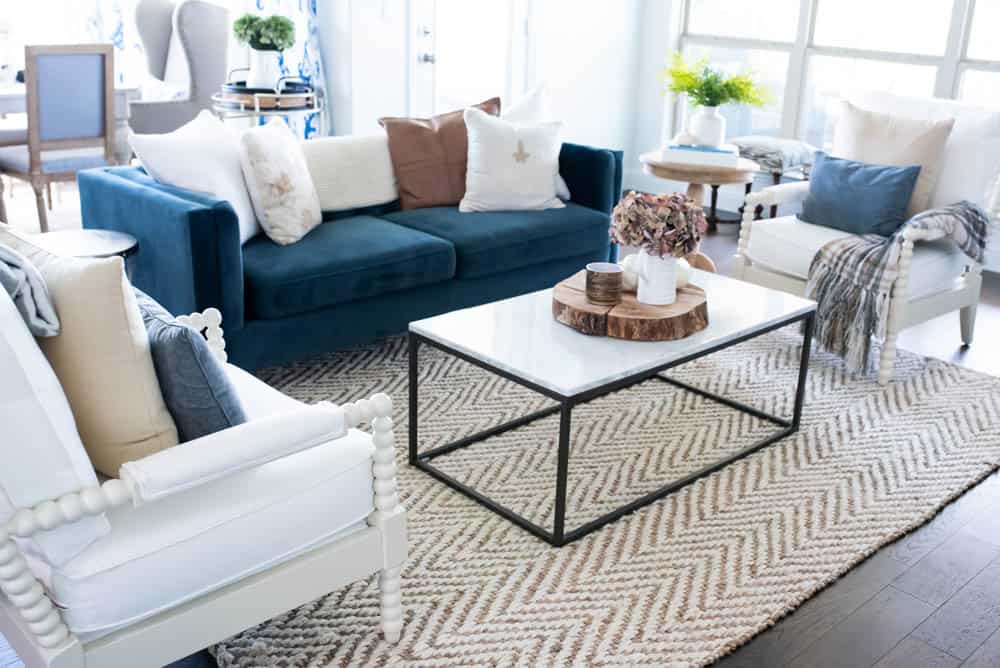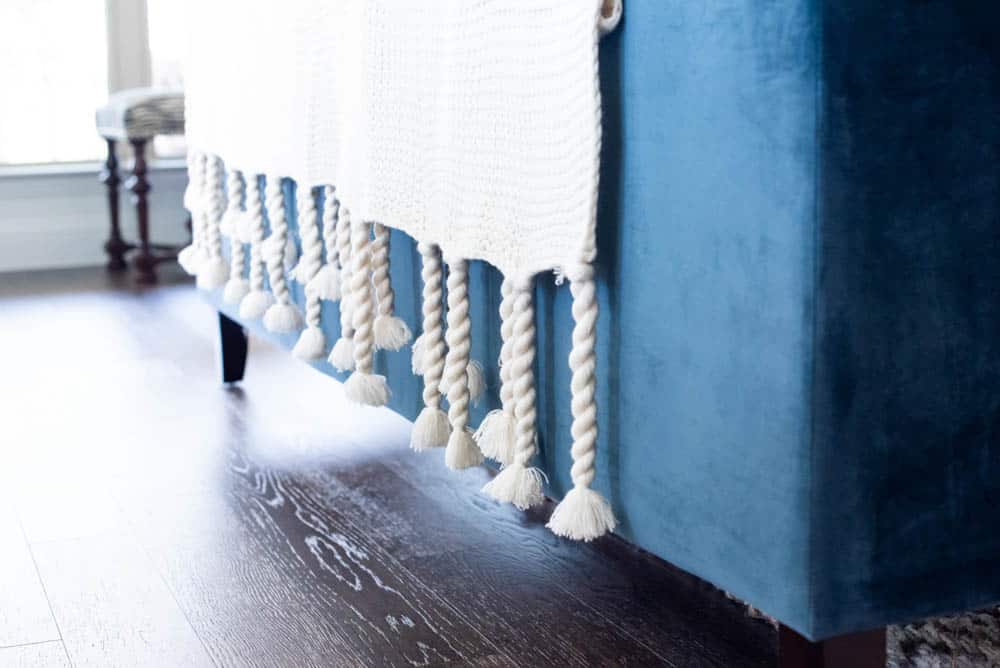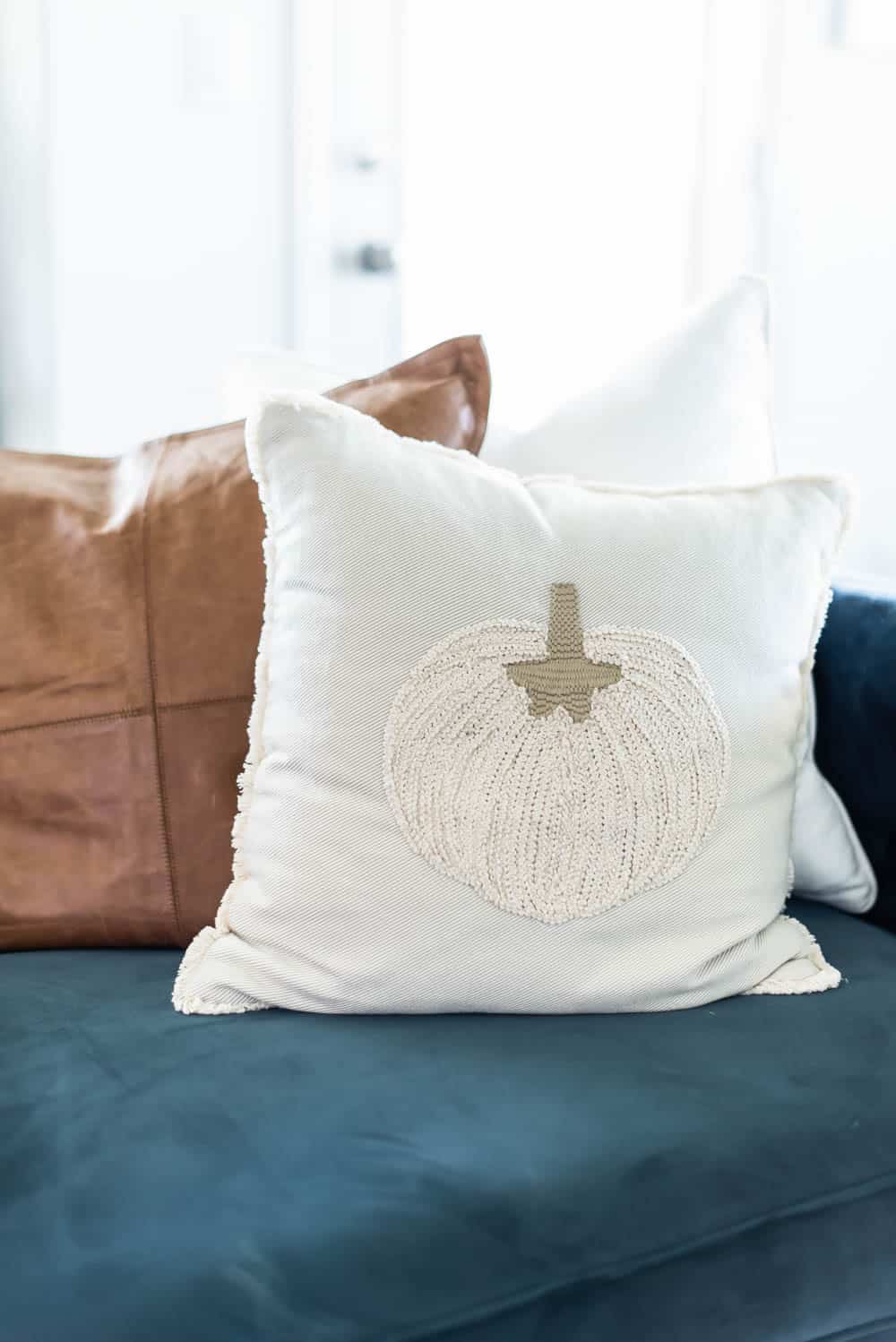 Leather Pillow | Pumpkin Pillow (similar & similar)
I love chenille anything at this time of year and last year I bought a lot of sweaters in it. It is super soft and cozy. I fell in love with this plaid chenille throw blanket (similar) and I loved the pretty colors in it.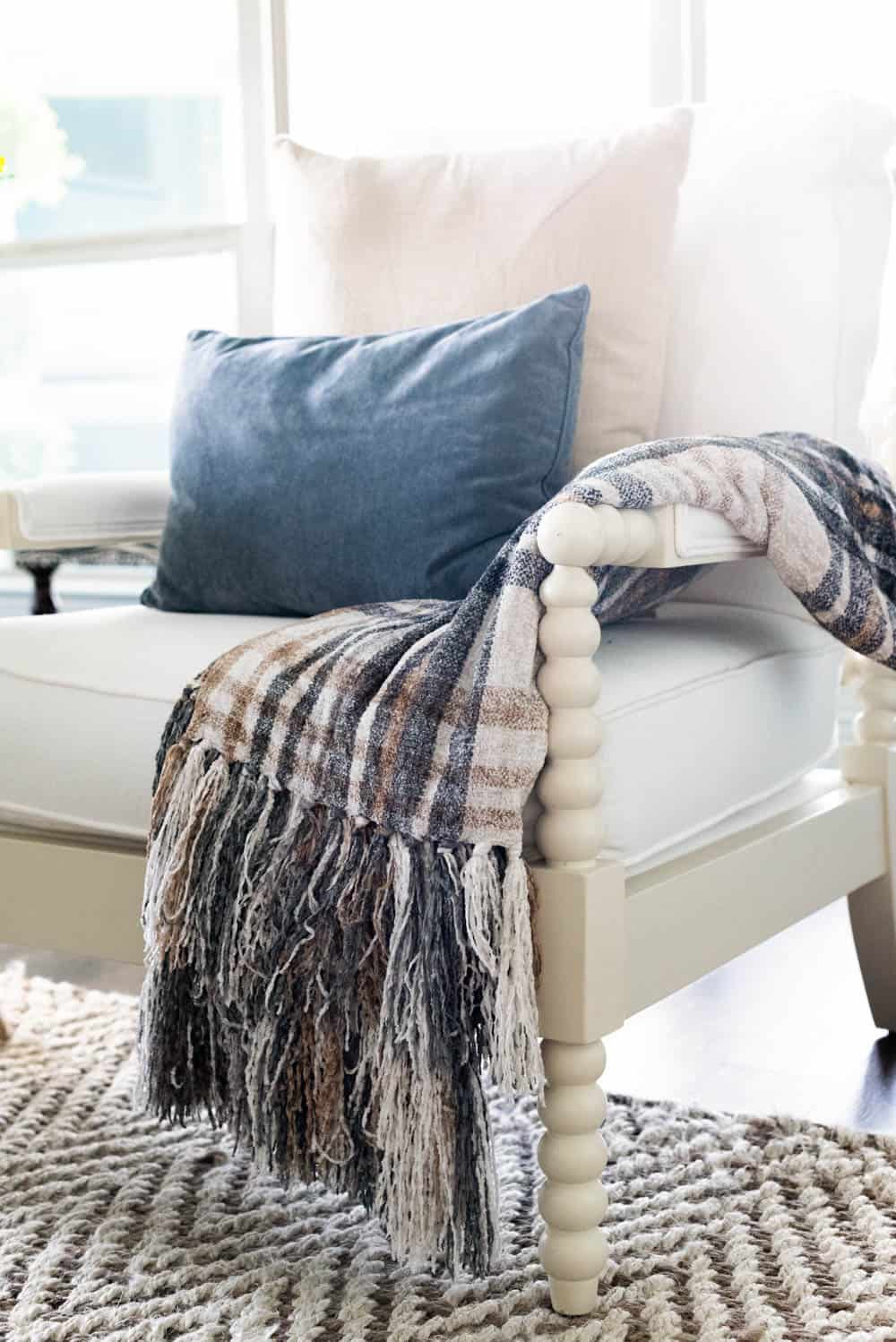 Cream Pillow | Grey Lumbar Pillow | Plaid Throw Blanket (similar) | Spindle Chair | Jute Rug
I stocked up on some other cozy blankets too for our living room. I am in the mind frame that you can never have enough.
I draped this cream colored tassel blanket on the back of the sofa and then folded this grey one over the back of one of my chairs.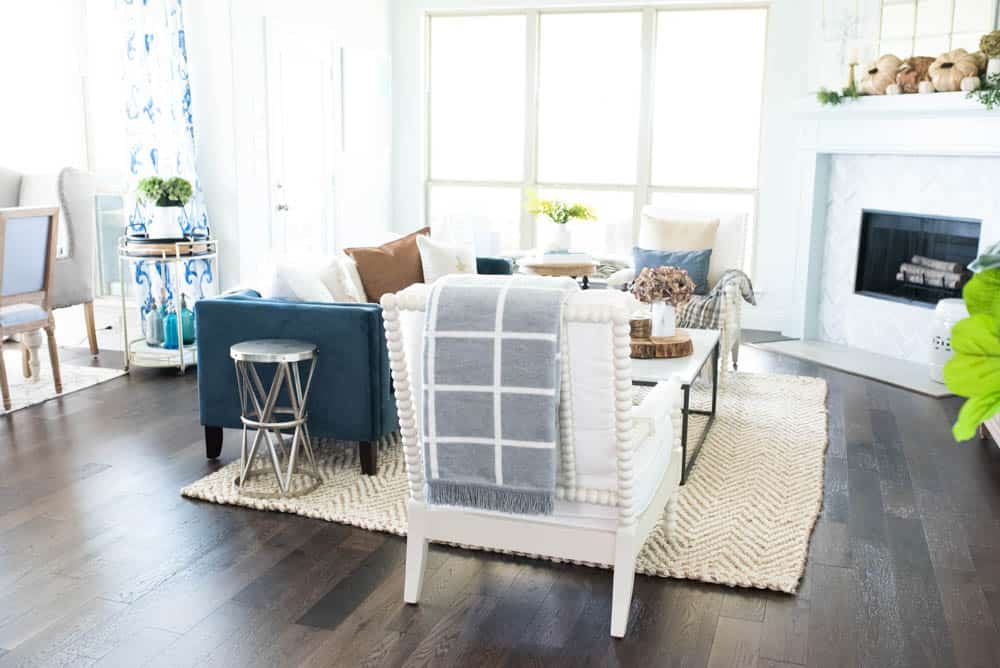 My grey one is from Homegoods but I shopped a similar one HERE.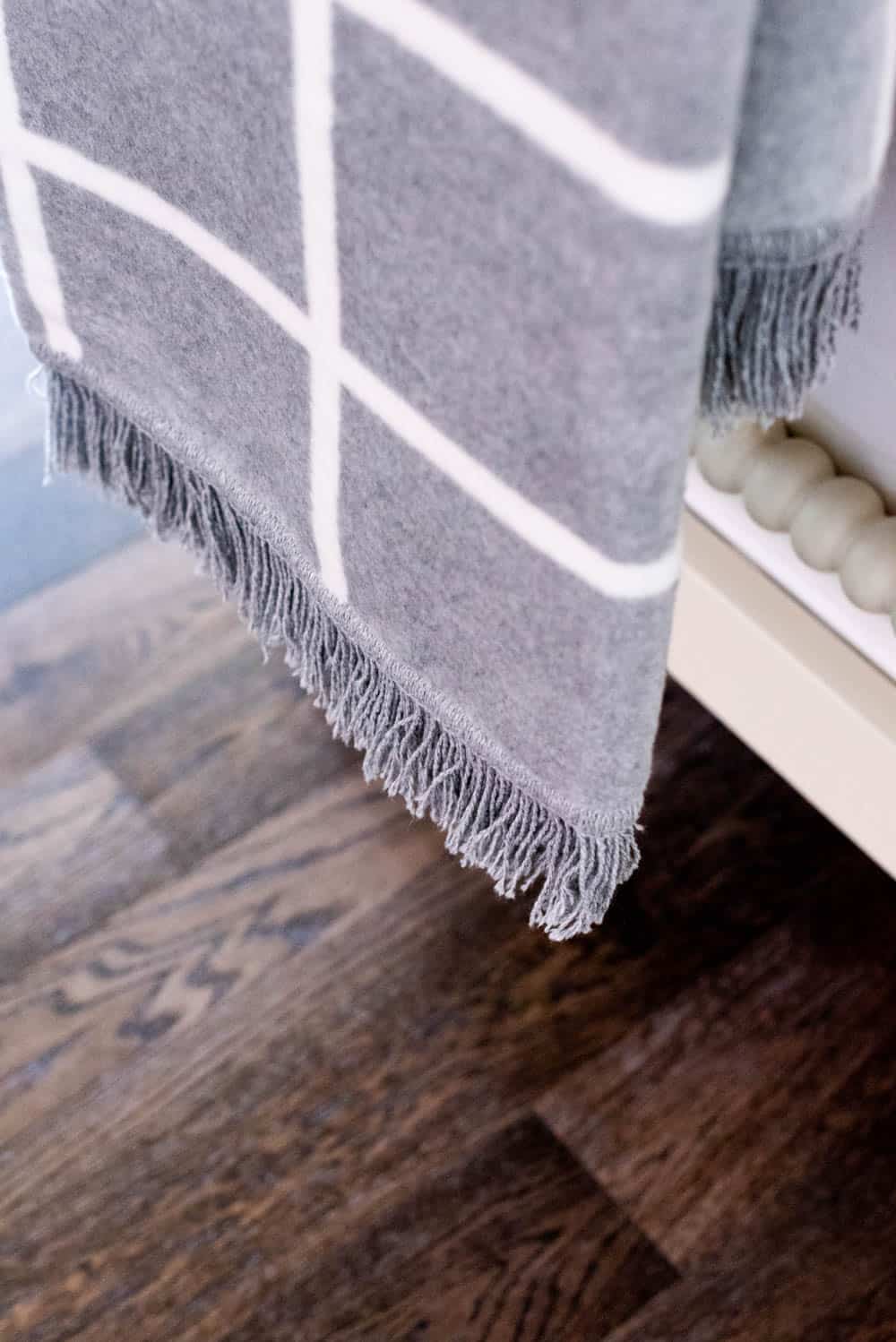 I also have a basket that I roll them up into thats next to the fireplace. I love baskets like this one that I can have around the room or even in the bedroom for spare blankets.
I tend to grab from this basket before we head to the patio in the evenings so it is really convenient to have a few right here.
This year I kept my mantle relatively simple with just some woven pumpkins, candles and some greenery. I used the 3 oversized pumpkins first, turning them on their side.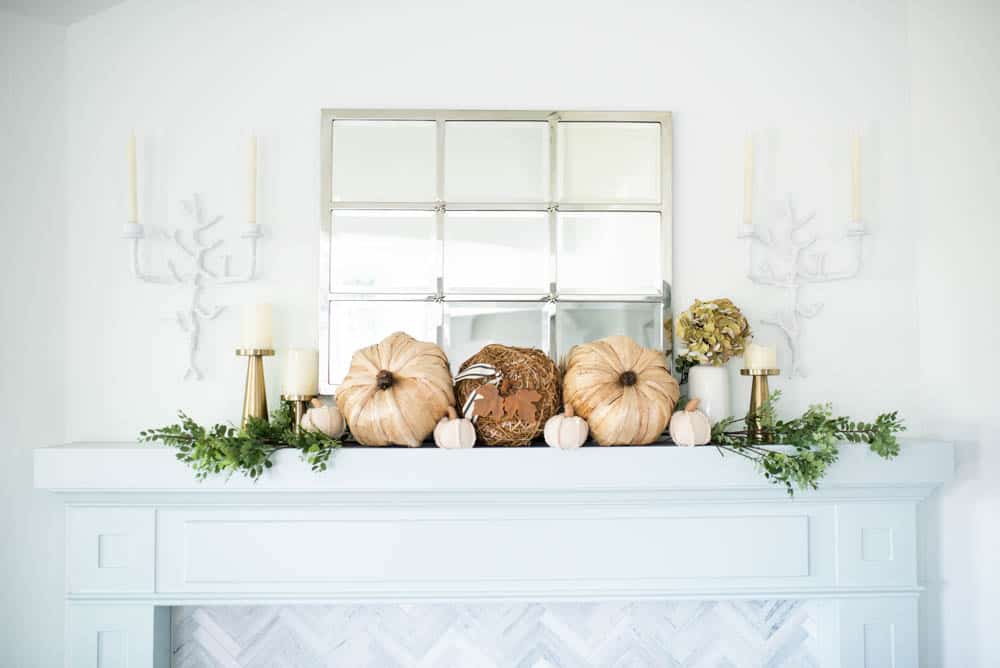 Then added in this greenery by tucking the stems behind the pumpkins.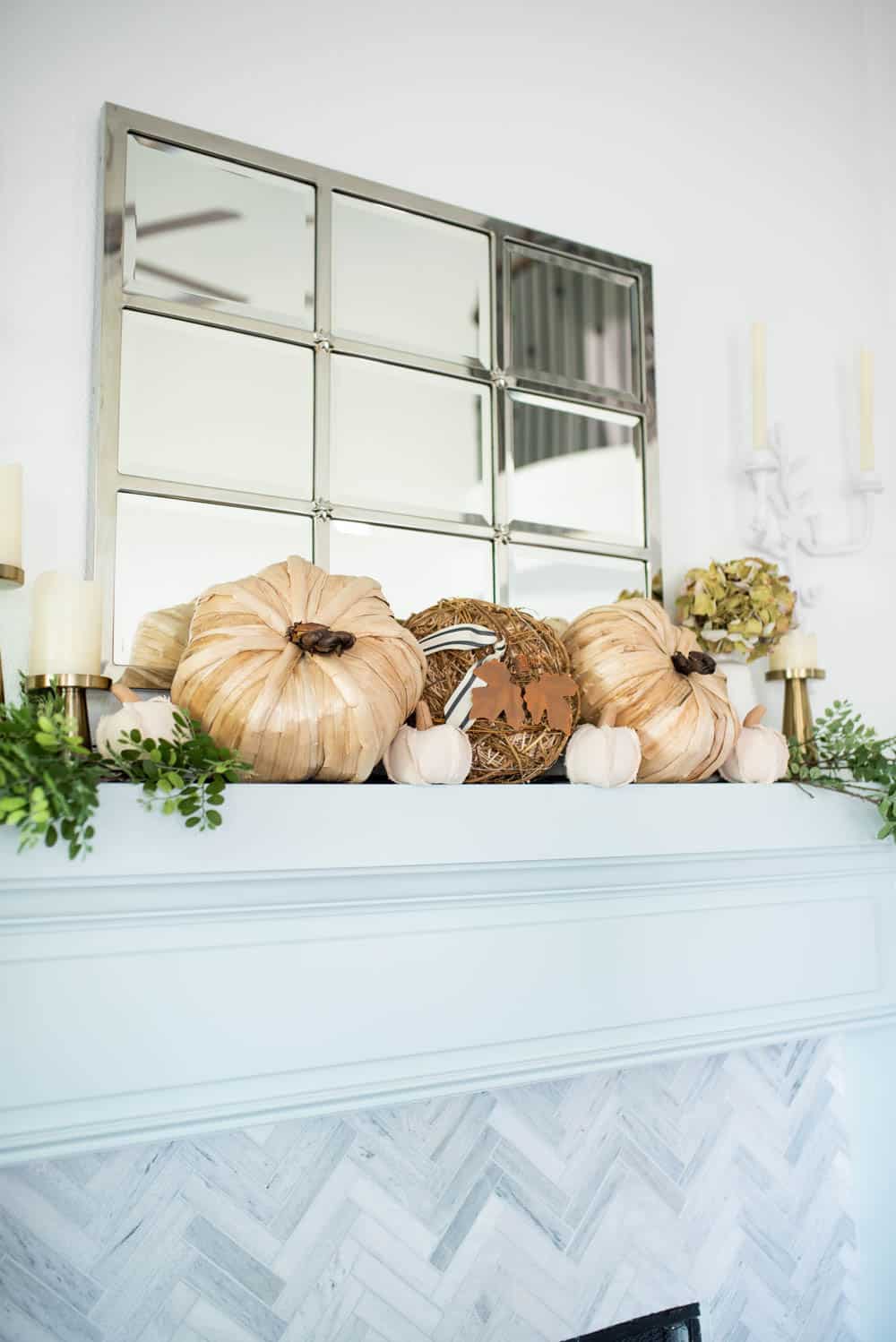 Lastly, I added in these candle holders and smaller pumpkins.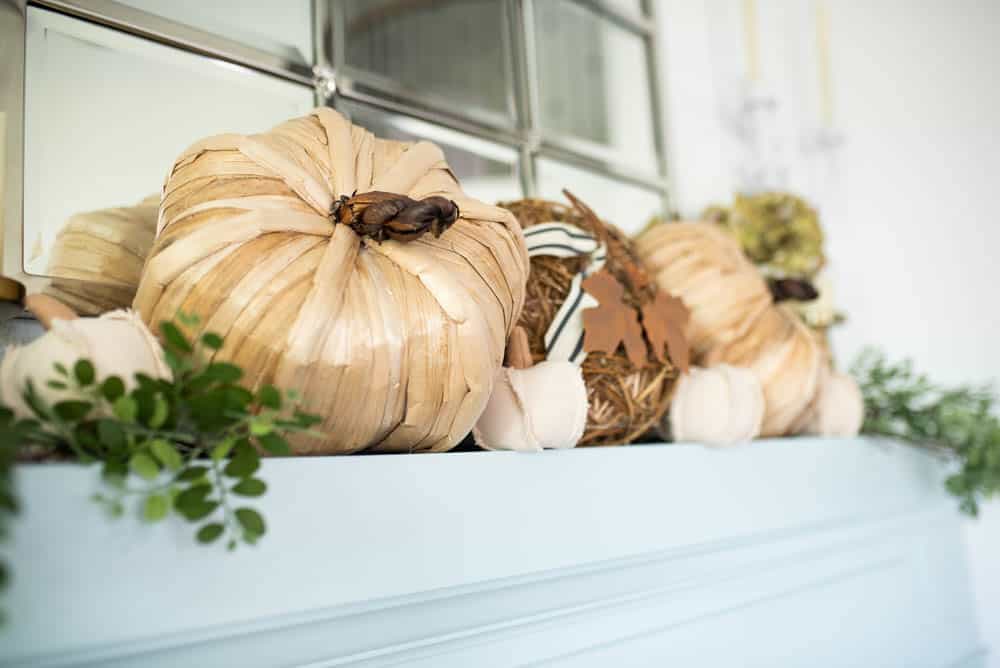 Here is also a peek at the disaster paint job from last month I told you about over on Instagram Stories. In a nutshell here is what happened.
The painters I found did an amazing job of taping everything off. It was crazy how much they taped off. BUT, they did not sand first and they used a latex paint instead of an oil based paint. So it feels gritty and the kitchen island is starting to chip.
The color is also completely off from our samples which was so disheartening. So the lesson here is to always make sure painters said when it comes to furniture and cabinets and that they use the correct paint.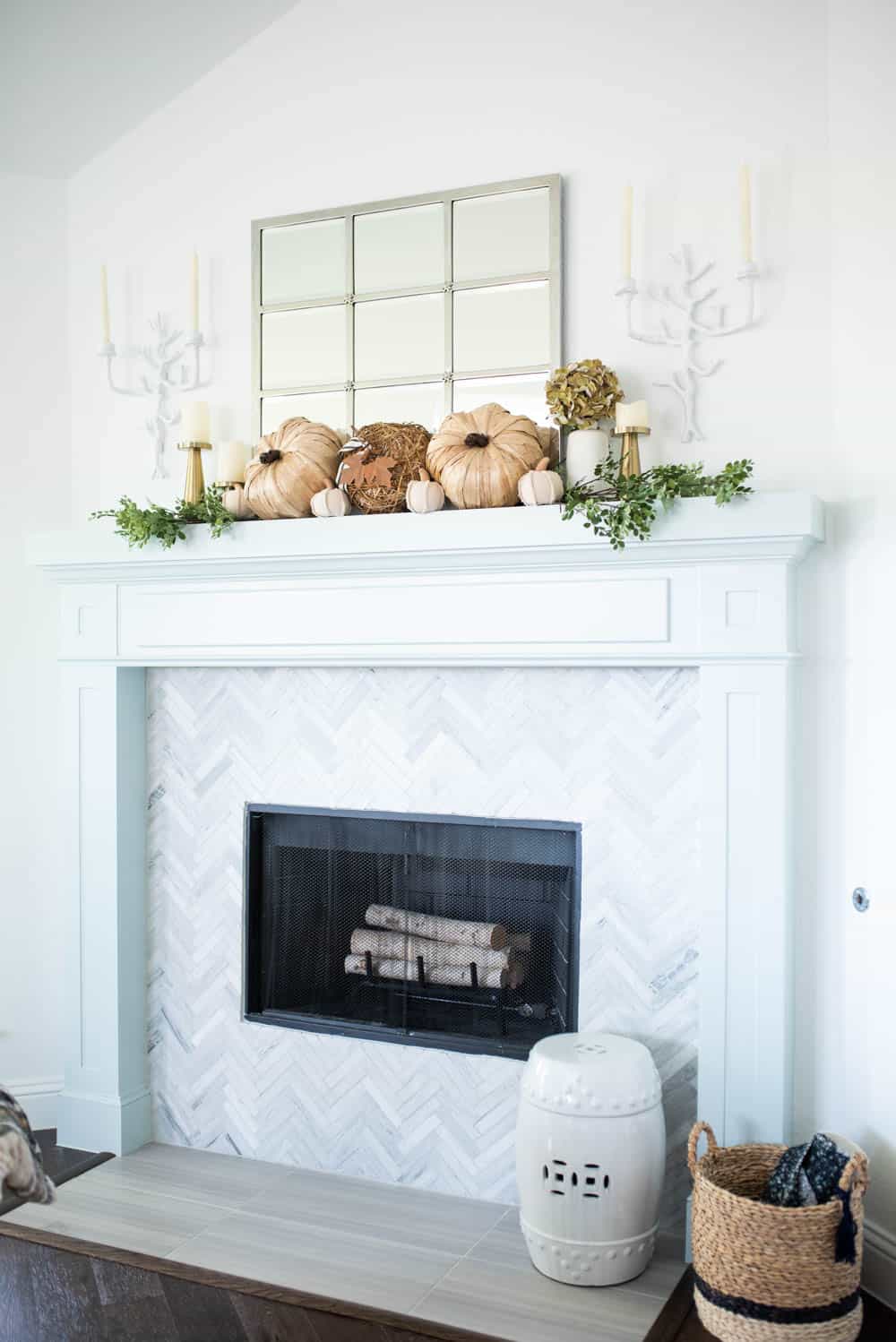 One of my favorite pieces of decor for fall is wood slices. I have a few real wood ones I got years ago but have added to my stash with these ones.
They are inexpensive and I love to use them like trays.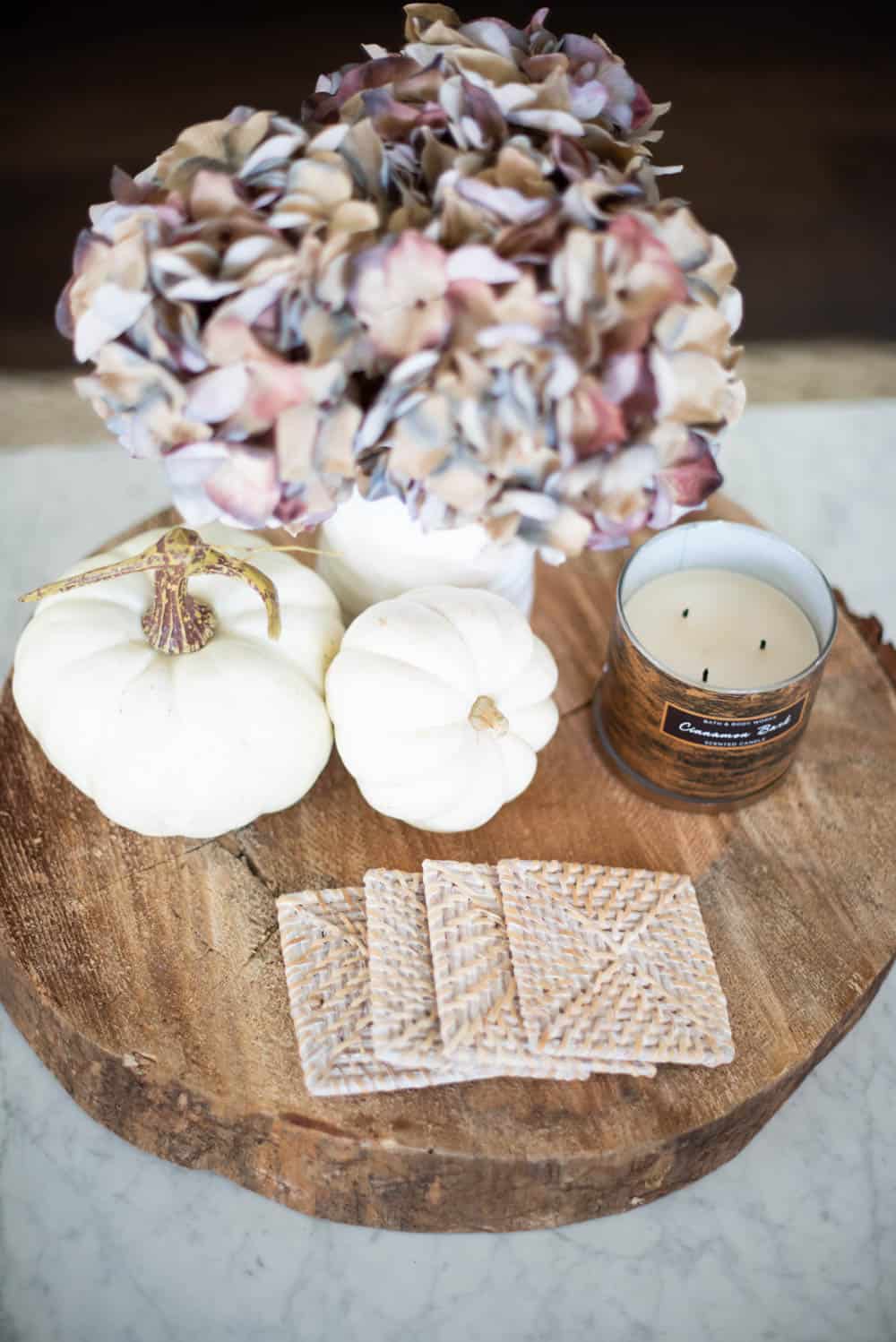 This is the view into our kitchen area and into the front entry. I will be sharing that space later this week.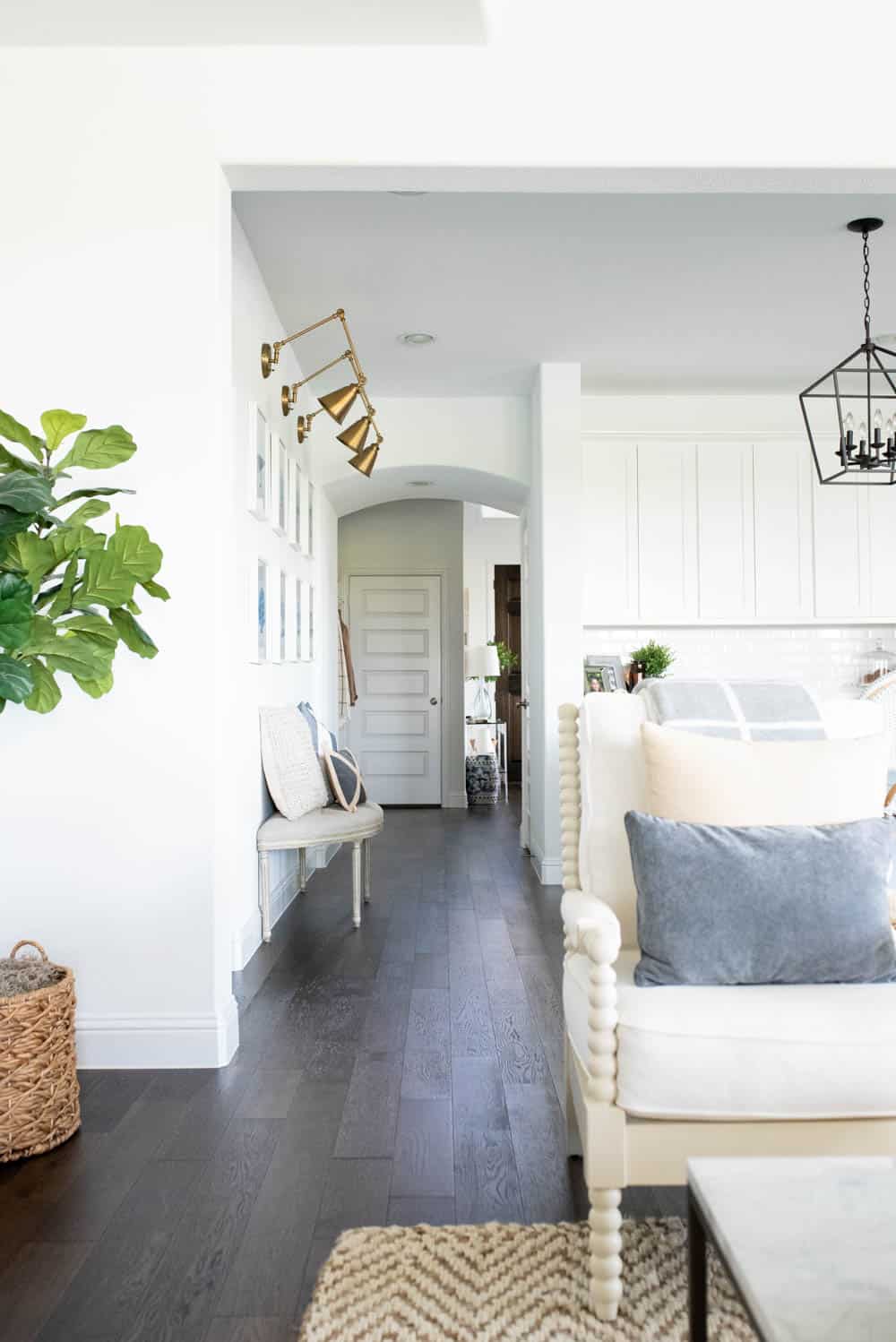 Hope you loved this little tour of our living room and you can still catch my fall front porch and fall entryways HERE!
You can shop my fall living room sources below!




*Photos by Audrie Dollins