Loveliest Looks of Fall Home Tour
This post may contain affiliate links. Please read our disclosure policy.
Welcome to my first fall home tour this season! I love being a part of the "Loveliest Looks" home tours because me along with some of my favorite bloggers share not only our homes but also a favorite seasonal outfit. I will never claim myself a fashion blogger but sometimes I think it is fun to see how someone dresses because it is a little insight into their personality. This season I chose warm golds and burn orange for my entry and an outfit in the same color palette all mixed with my signature color blue. So welcome to my fall entry and porch and make sure to pop over to my other friend's home tours at the bottom of this post!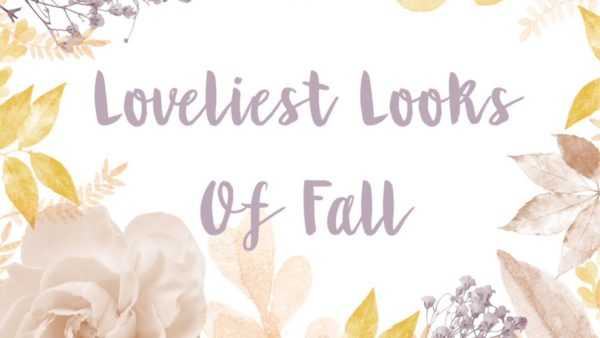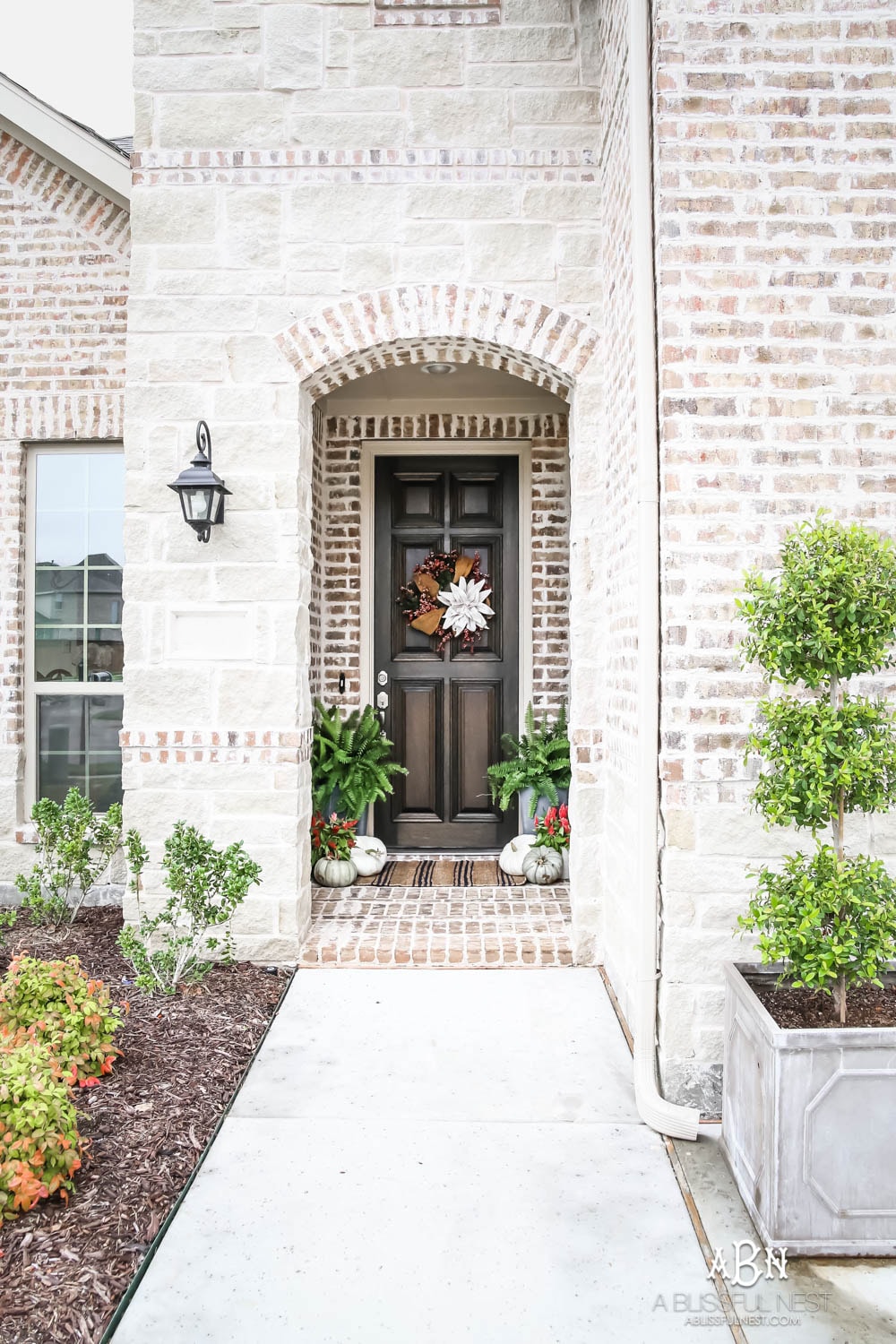 This post contains some affiliate links for your convenience. Click here to read my full disclosure policy.
This is my first fall season in our new home and if you are new around here then you can read more about our home building process HERE. It has been about 5 months now since we moved in and we are absolutely in love. The neighborhood is amazing and I love being a little more out into the country. For the first time since moving to Dallas from California, I finally feel at home here.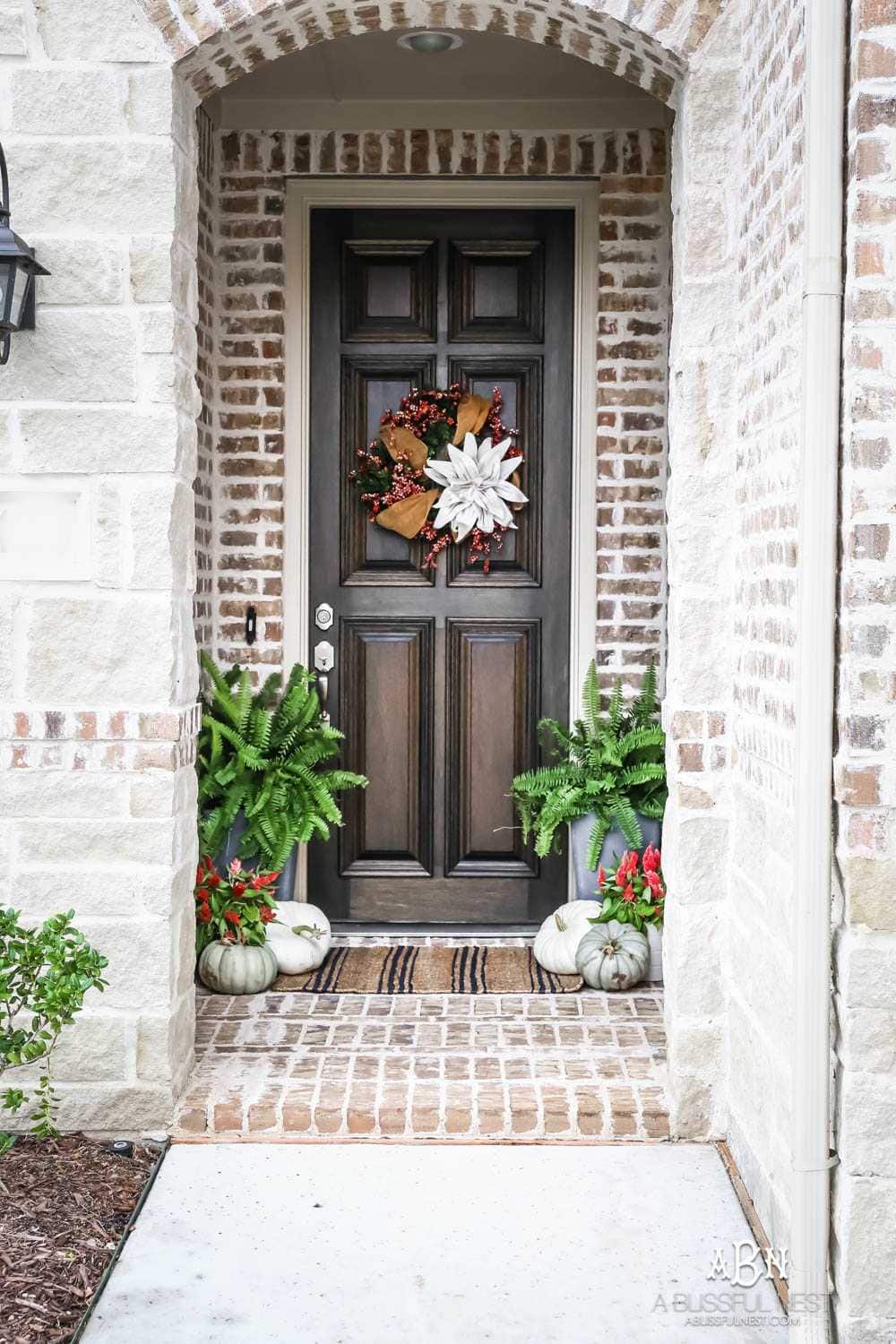 I took my ferns from our summer porch and just elevated them in these new pots I got. We really do not have a large entry but it is covered so this is almost like a little nestled spot. The entries are so different here in Dallas and tend to be a little smaller but always covered probably because of the weather. I have some plans in the next few months to change this spot up now that we've been here for awhile so stay tuned!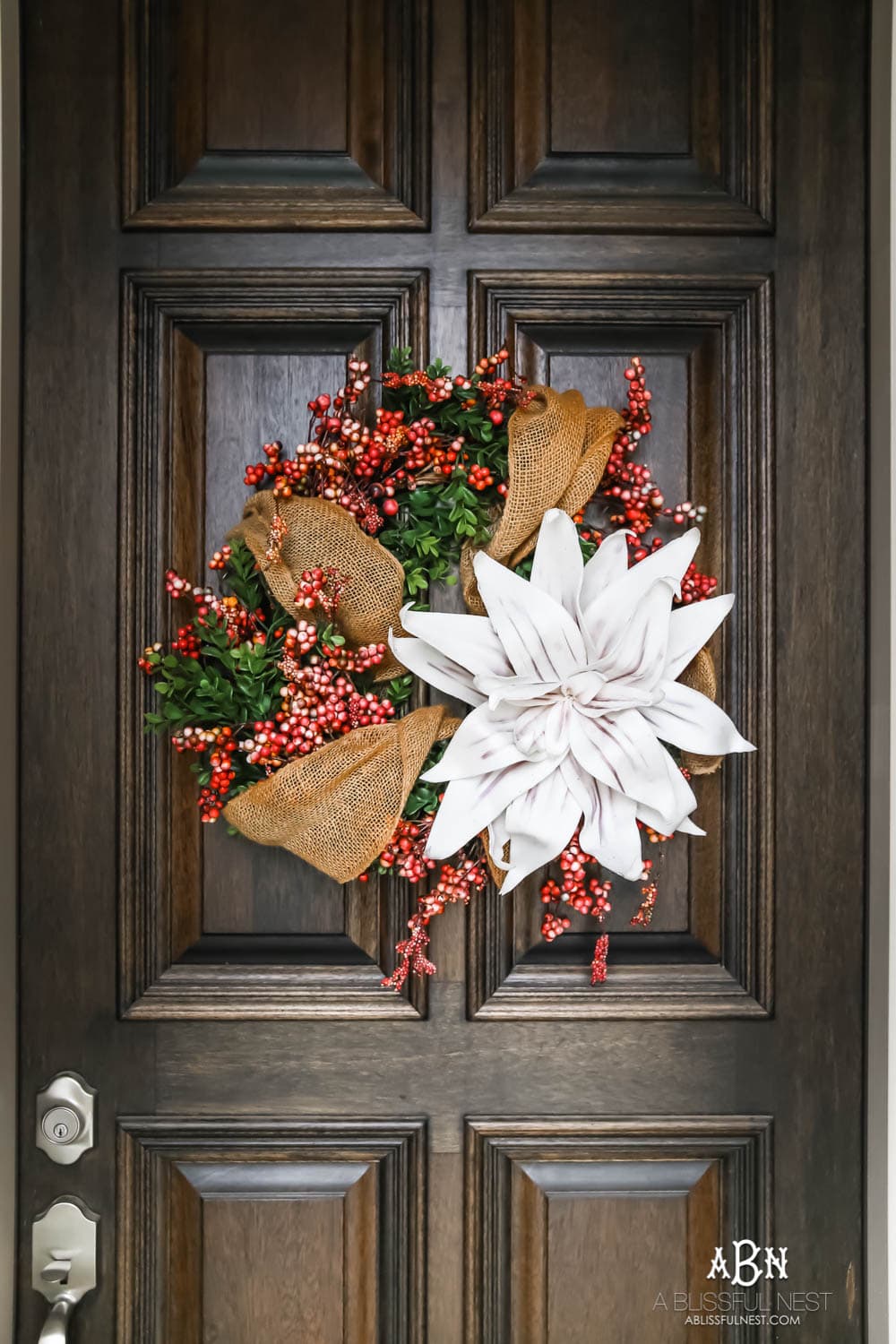 We had this wreath on our porch at our rental house a couple years ago and I am a firm believer in reusing your decor if you can. I had bought a simple faux boxwood wreath and then wrapped a fall berry garland around it and then did the same with a thick burlap ribbon. Then I tucked in a large white flower for a little something extra. A lot of times wreaths in the stores are around $100 at least and I made this one for less than $50 (I used the coupon codes for Hobby Lobby and Michaels to get things discounted).
If you have a Calloways by you then run! They have all these gorgeous pumpkins in already and even the baby boos. A lot of people have already been asking me how I preserve them and I think I might do a post on it in the next few weeks. It is so easy and they last me about 2 months if not longer.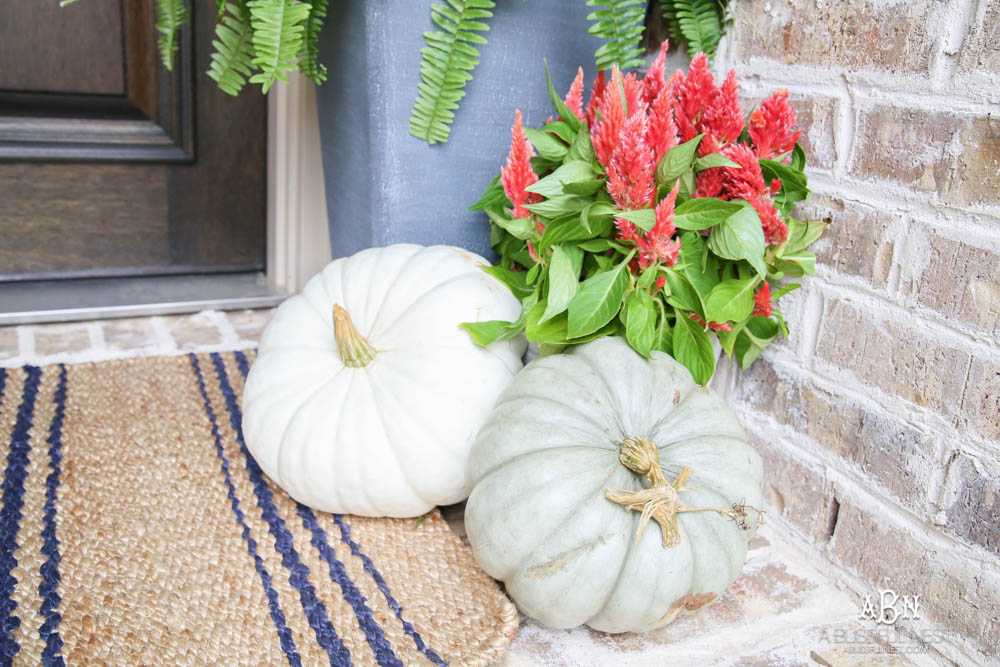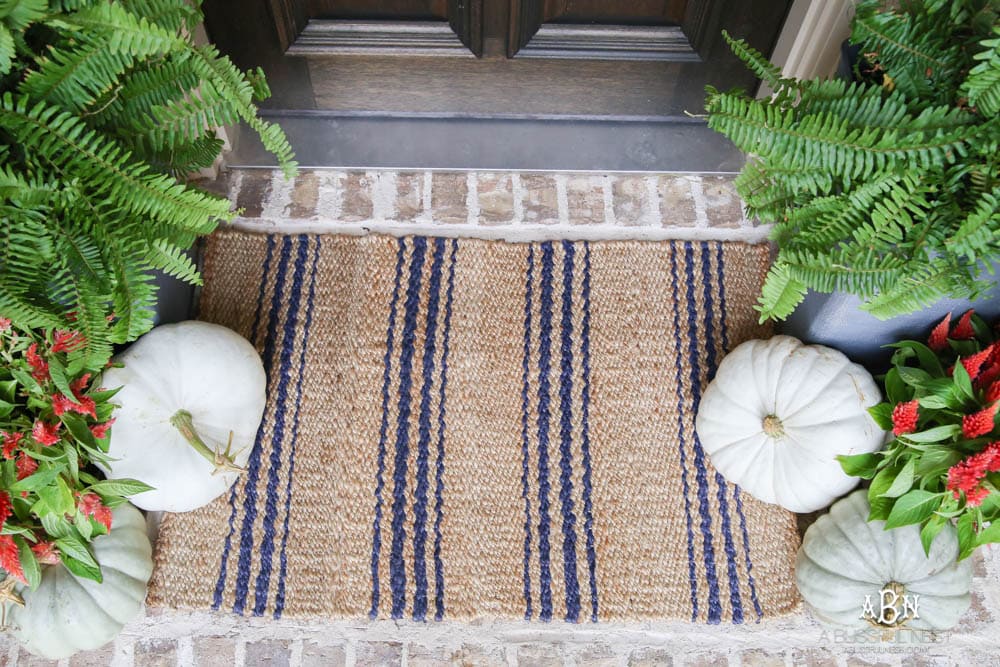 I am in LOVE with this inexpensive matt and may even get one for inside for the kitchen. You know I will go for a preppy stripe any day and this one is under $20. Such a steal!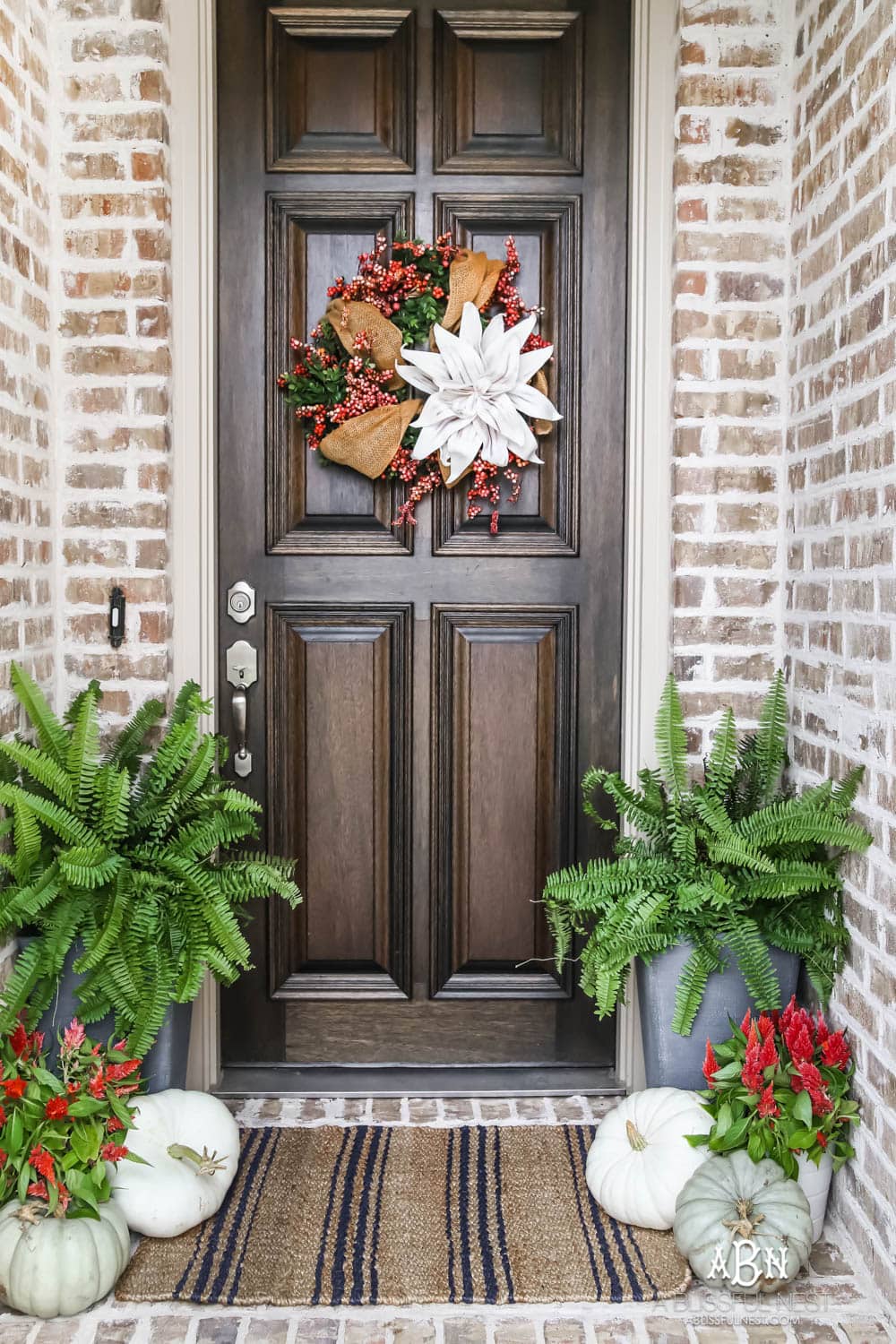 When you walk into our home this is the view you see. We have a narrow entry with a wall on the right and the dining room on the left. Then straight ahead is our stairway to the second floor and around the corner is our kitchen and living room. I wanted these other spaces that we use more often to have more room so the narrow entry really doesn't bother me. Plus I found a great solution to make it not feel so tight and cramped.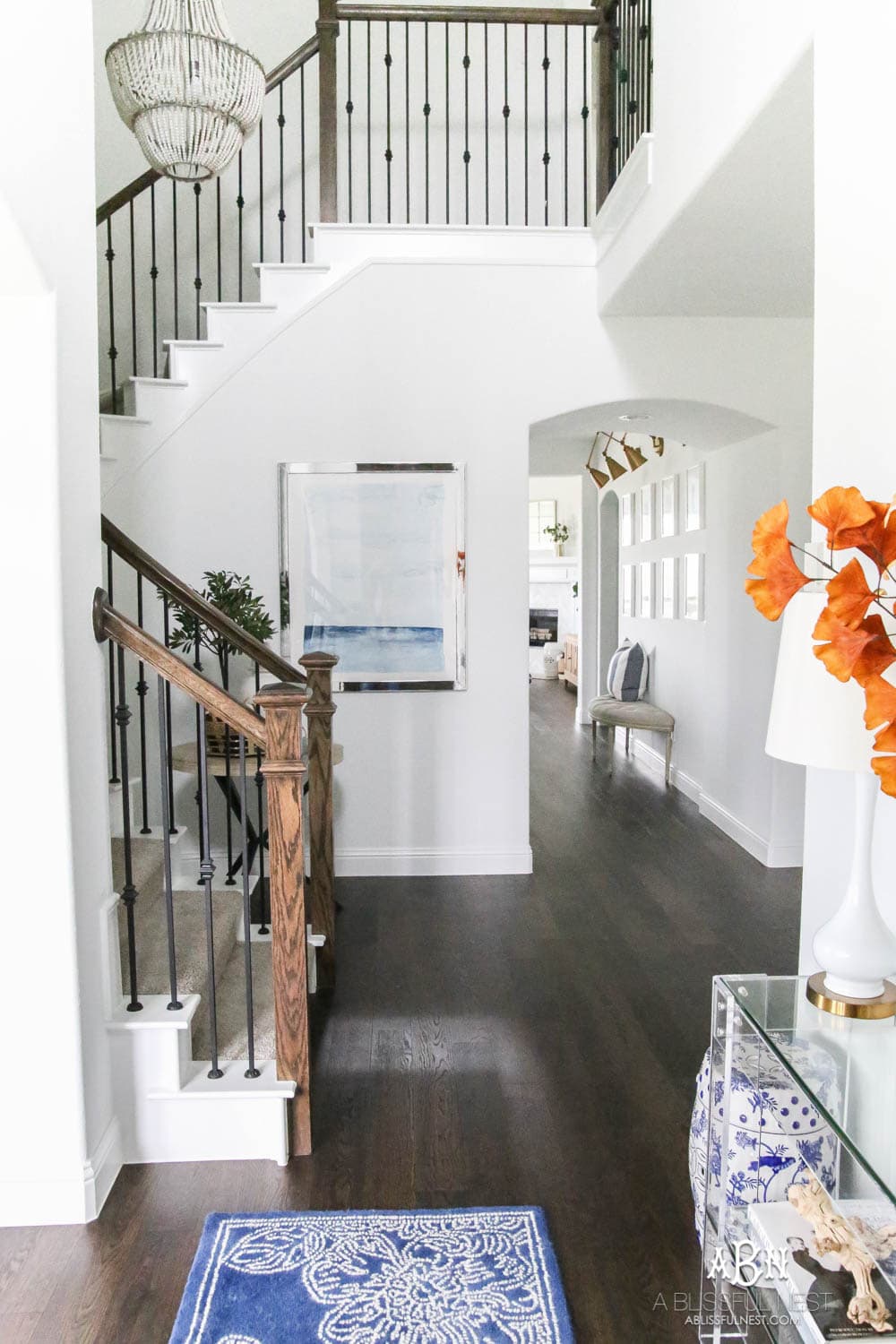 I found this gorgeous lucite console that feels light and airy but still gives us a place for lamps. I have these 2 lamps on a timer so at a specific time at night they pop on. Such a great safety feature for your home. THESE are the timers we have.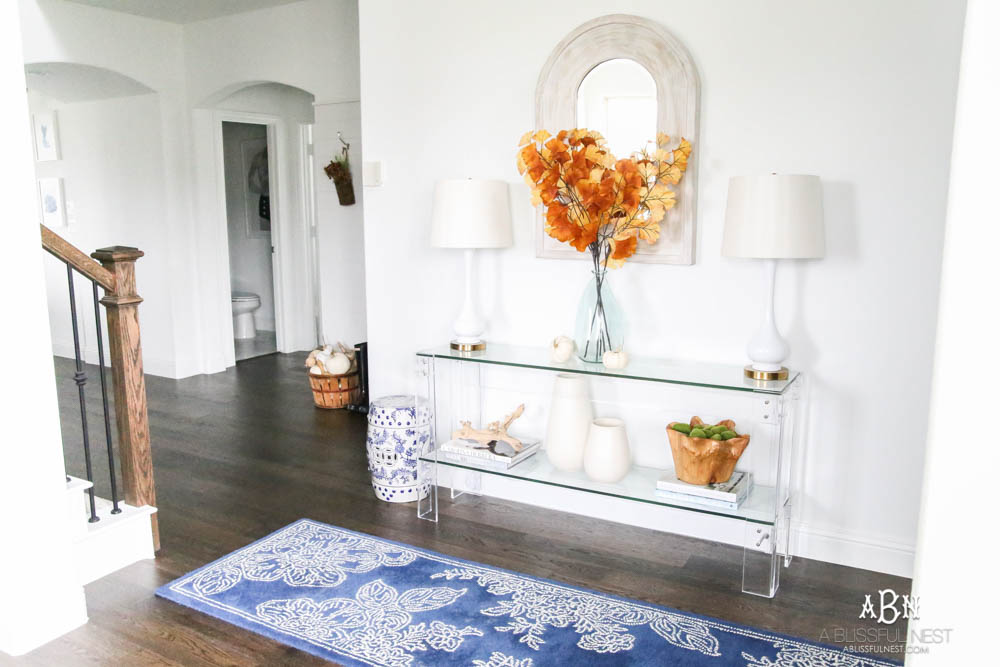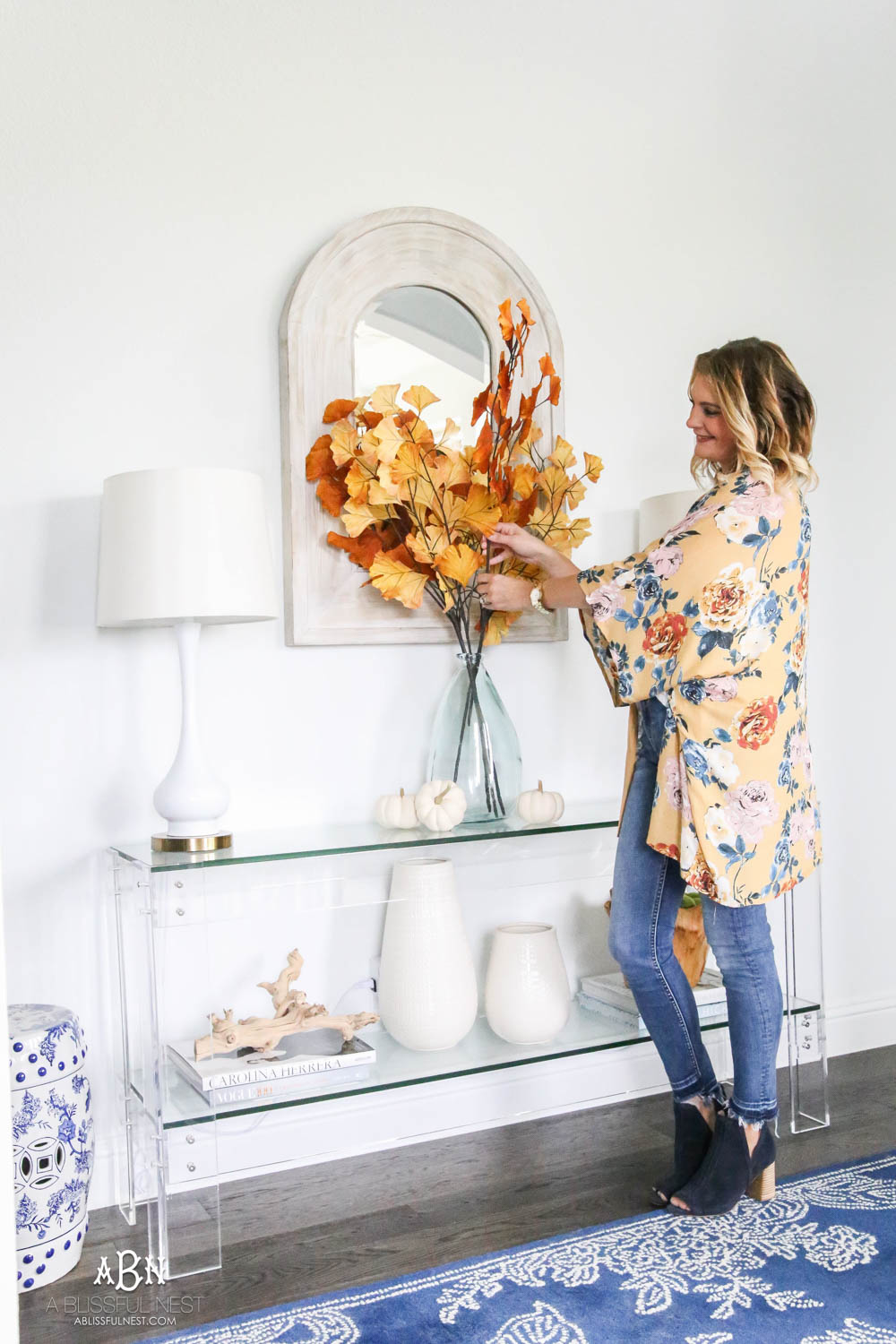 I ended up keeping the fall decor simple in here and opted for a gorgeous sea glass vase and some fall branches.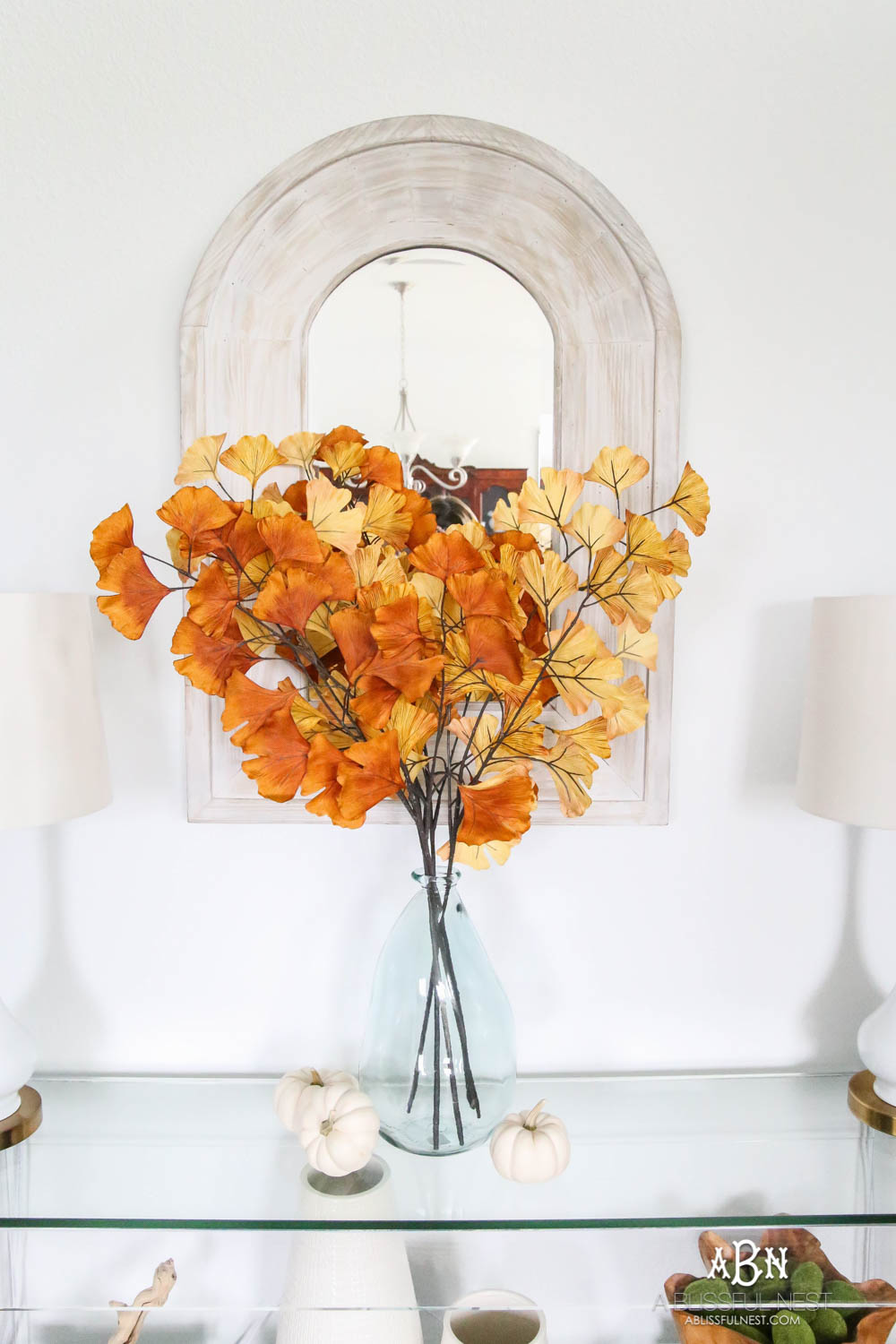 And of course some baby boo pumpkins!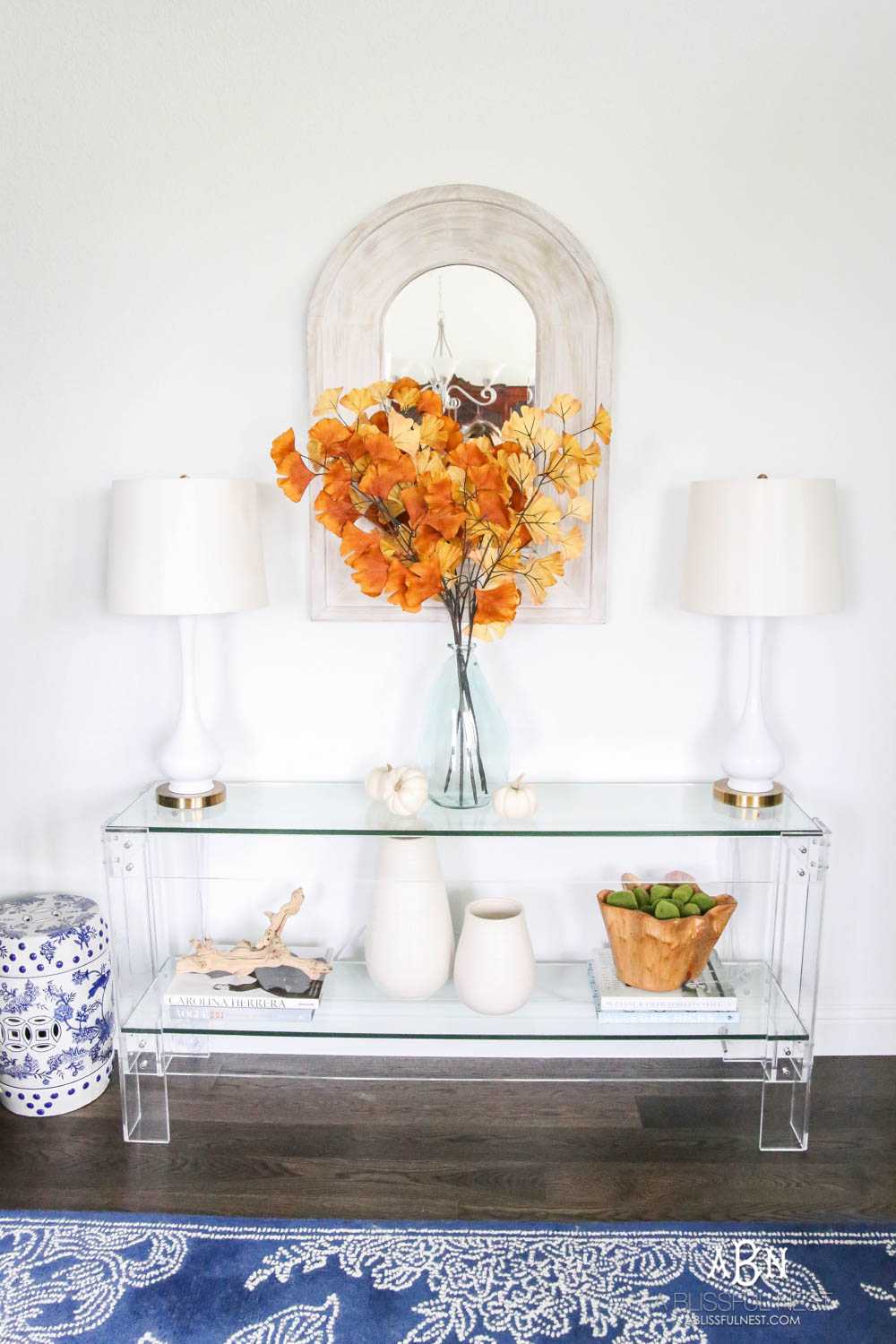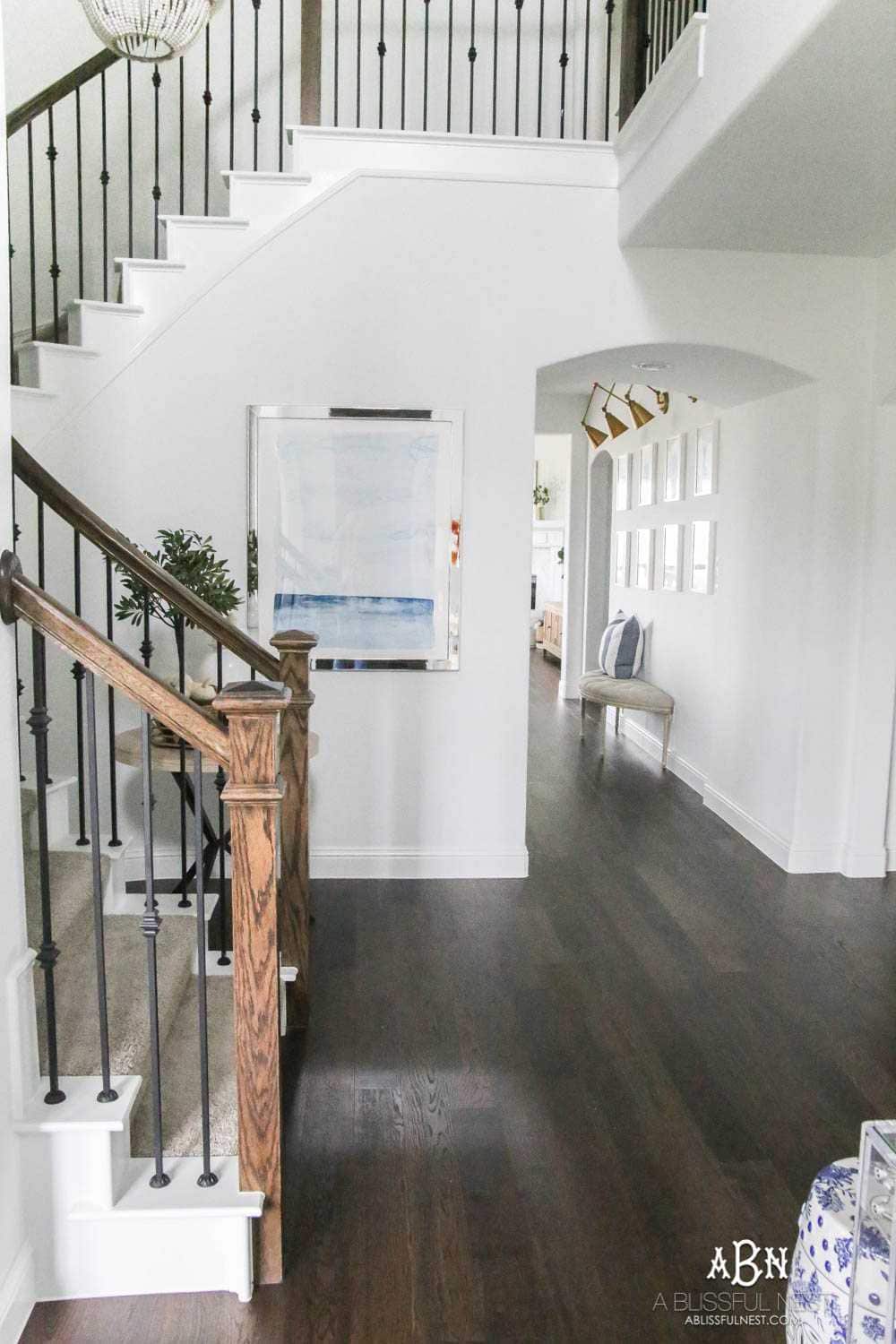 The other spot I tackled in our entry last week is right here at the bottom of the stairs. This has to be one of my favorite spots because I love looking at it as I head up the stairs and then looking down at it as I come down. I originally had a lamp here but our little daredevil ragdoll cat Sasha, scaled the outside of the stairs up at the top and ended up falling on it. She was fine but my lamp did not survive.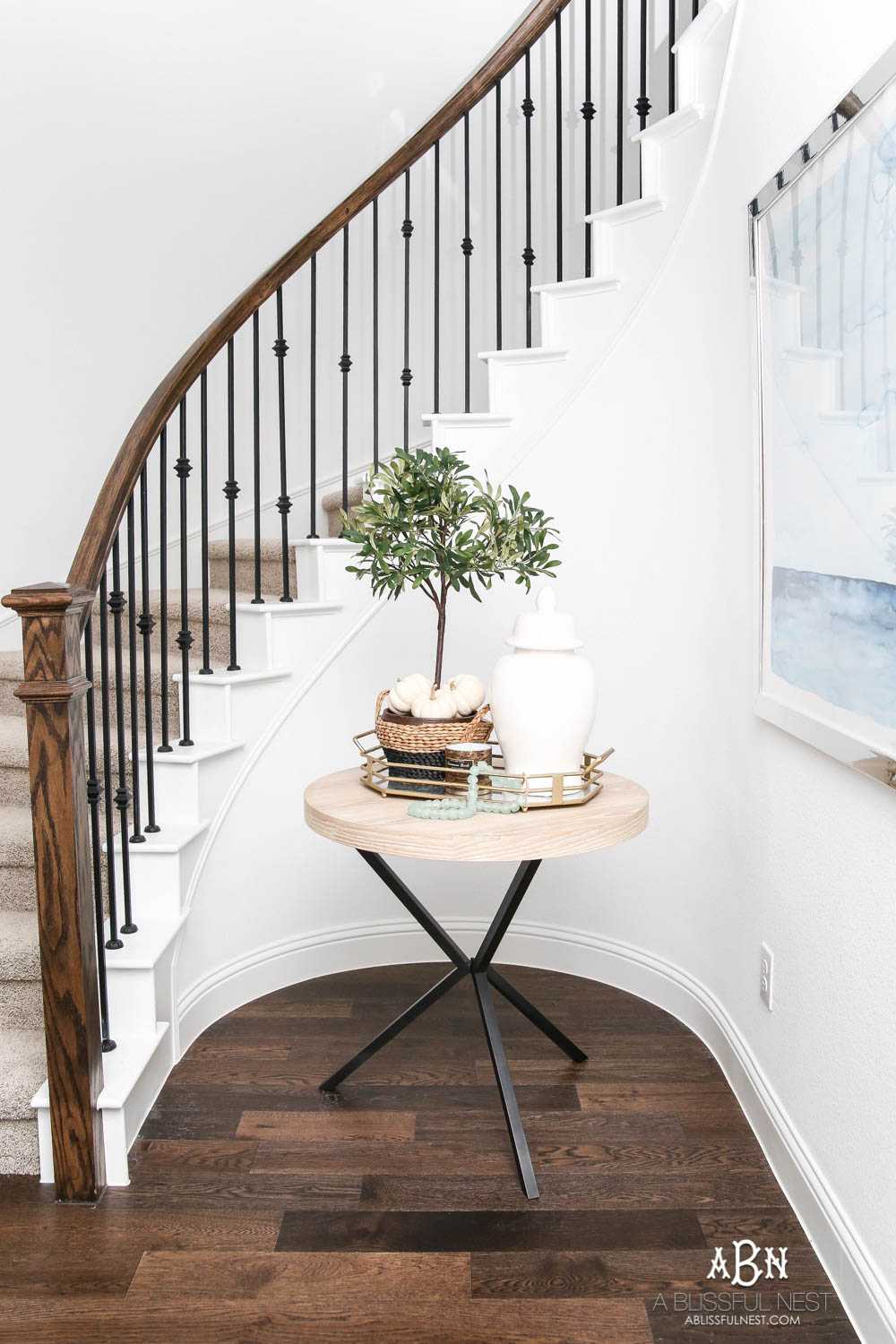 My cute little iron based table was fine too from the fall but I thought it was safer to not put a lamp back here for awhile until she is done trying to be a trapeze artist. I did add a little olive branch tree and popped it into a basket I had on hand. Then added a few baby white pumpkins to the base for a little touch of fall.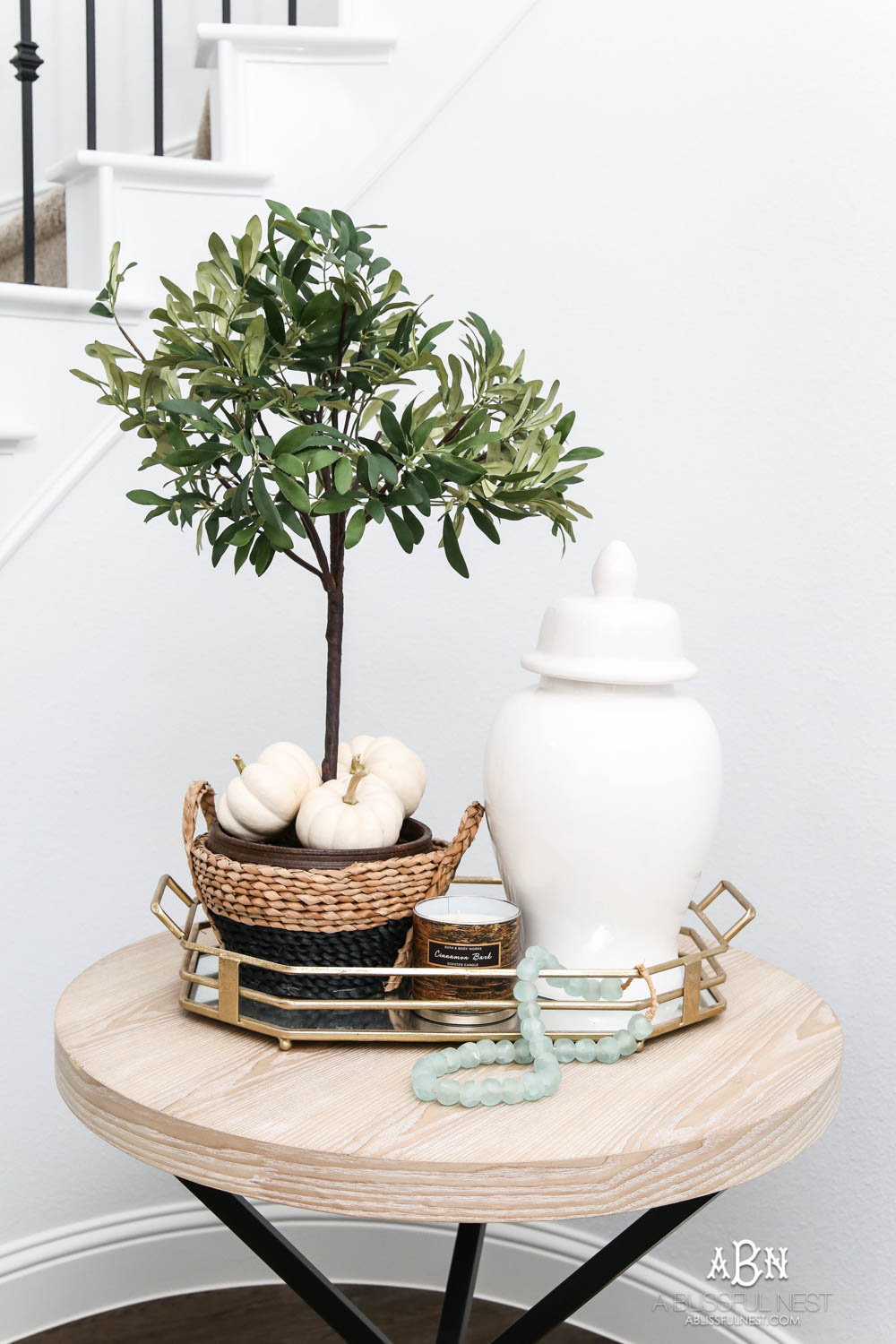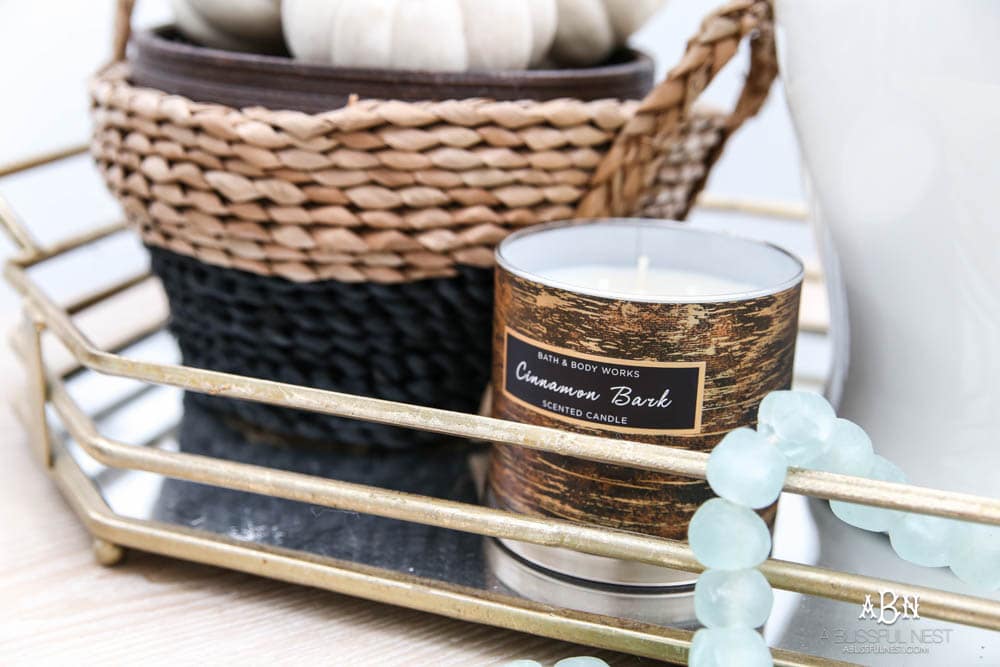 If you've been around here for awhile then you know I am a crazy candle lady. AND the new fall scents just hit Bath & Body Works. This Cinnamon Bark one is my absolute favorite this season. I had to go back and get a second one the other day.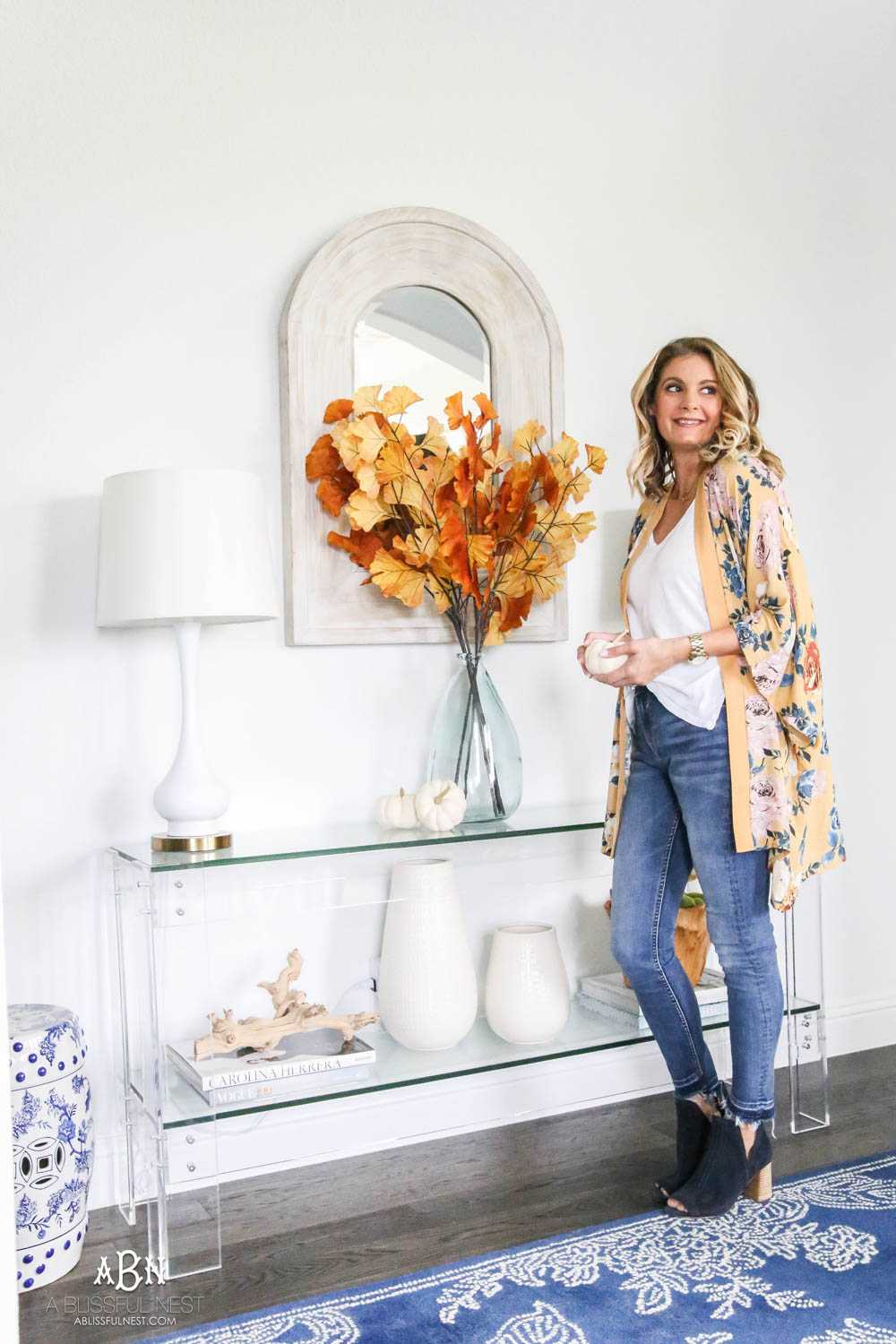 So for fall I love wearing kimonos. They are so easy to throw over a tee and jeans and perfect for carpool and date nights. This one is such a gorgeous mustard yellow color and I love the blue and soft pink colored roses on it. The best part is it is under $30!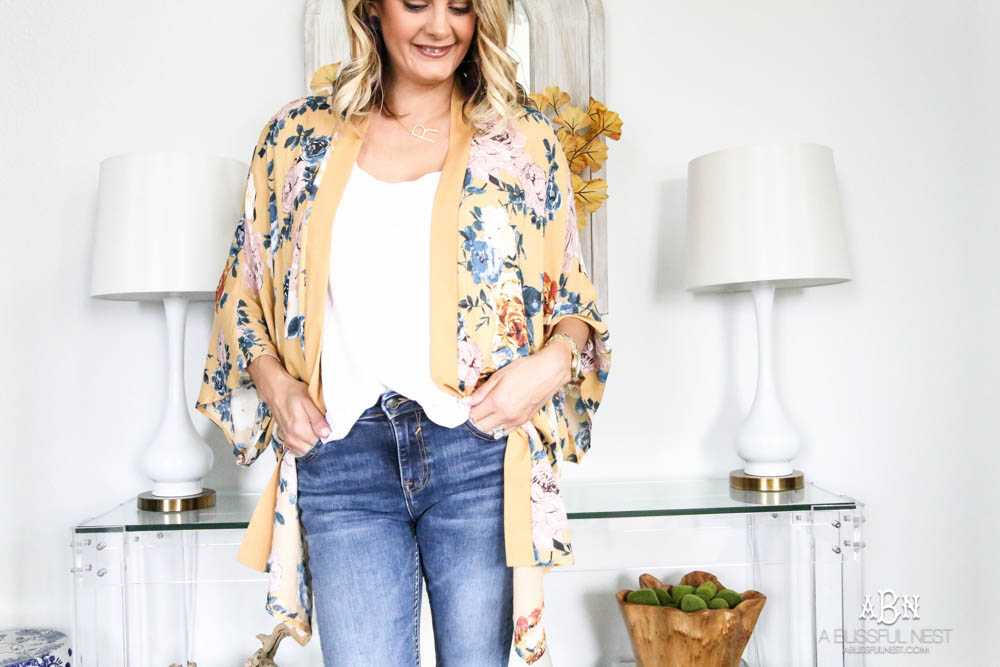 If you have never worn a kimono before then I am going to apologize to you now because when you buy one you will want 5 more. Sorry for creating the obsession! I rounded up some of my favorites for fall below for you.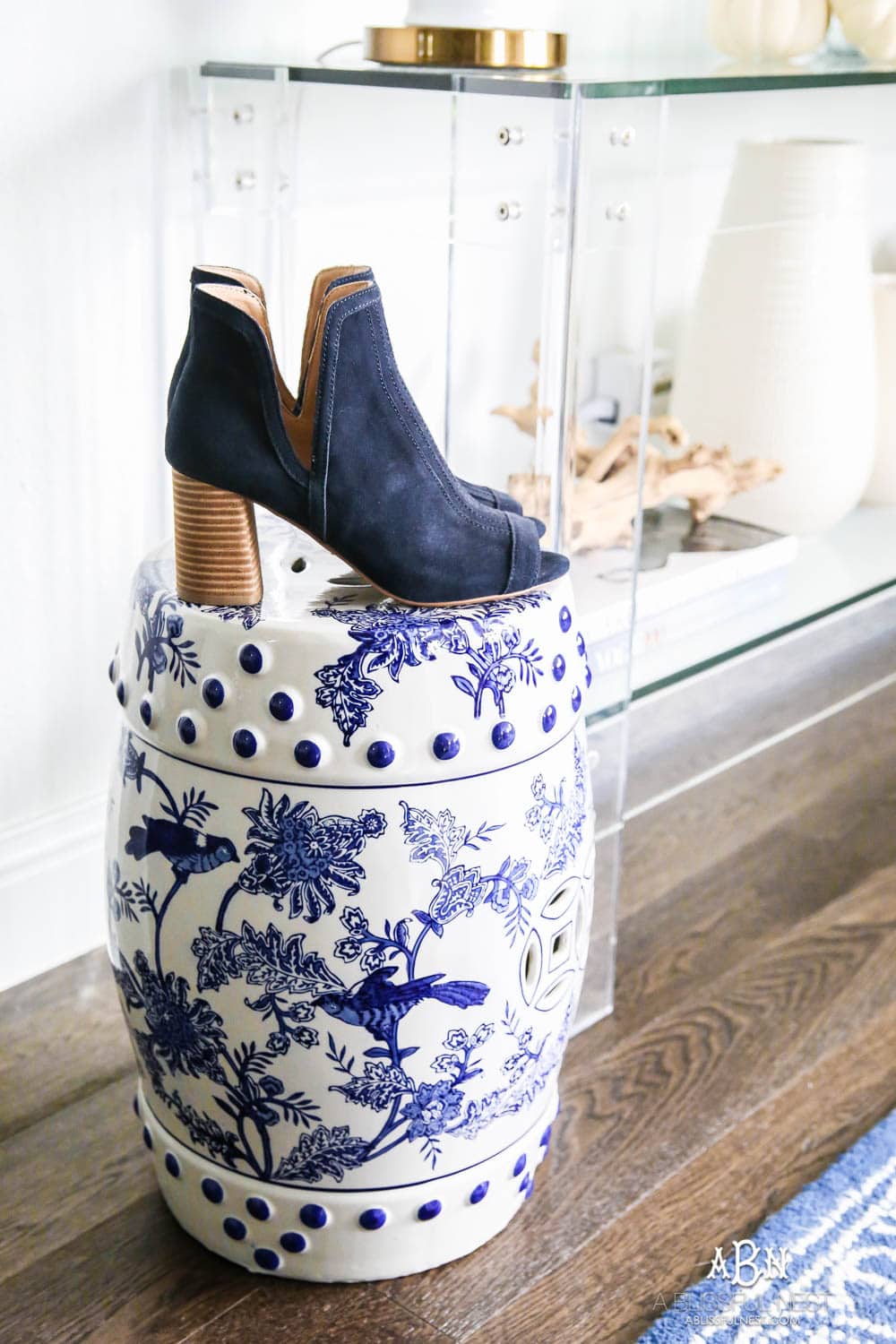 Okay I am obsessed with these navy open toed booties too. I get a pair of booties every year but this year I wanted some open toed ones for fall. I always seem to get the same color to which is a camel or light brown. So I was a rebel and got the navy. OMG why have I never gotten suede navy shoes before?! They are amazing and these ones are comfortable. They are super flattering and look great with a skinny pant leg.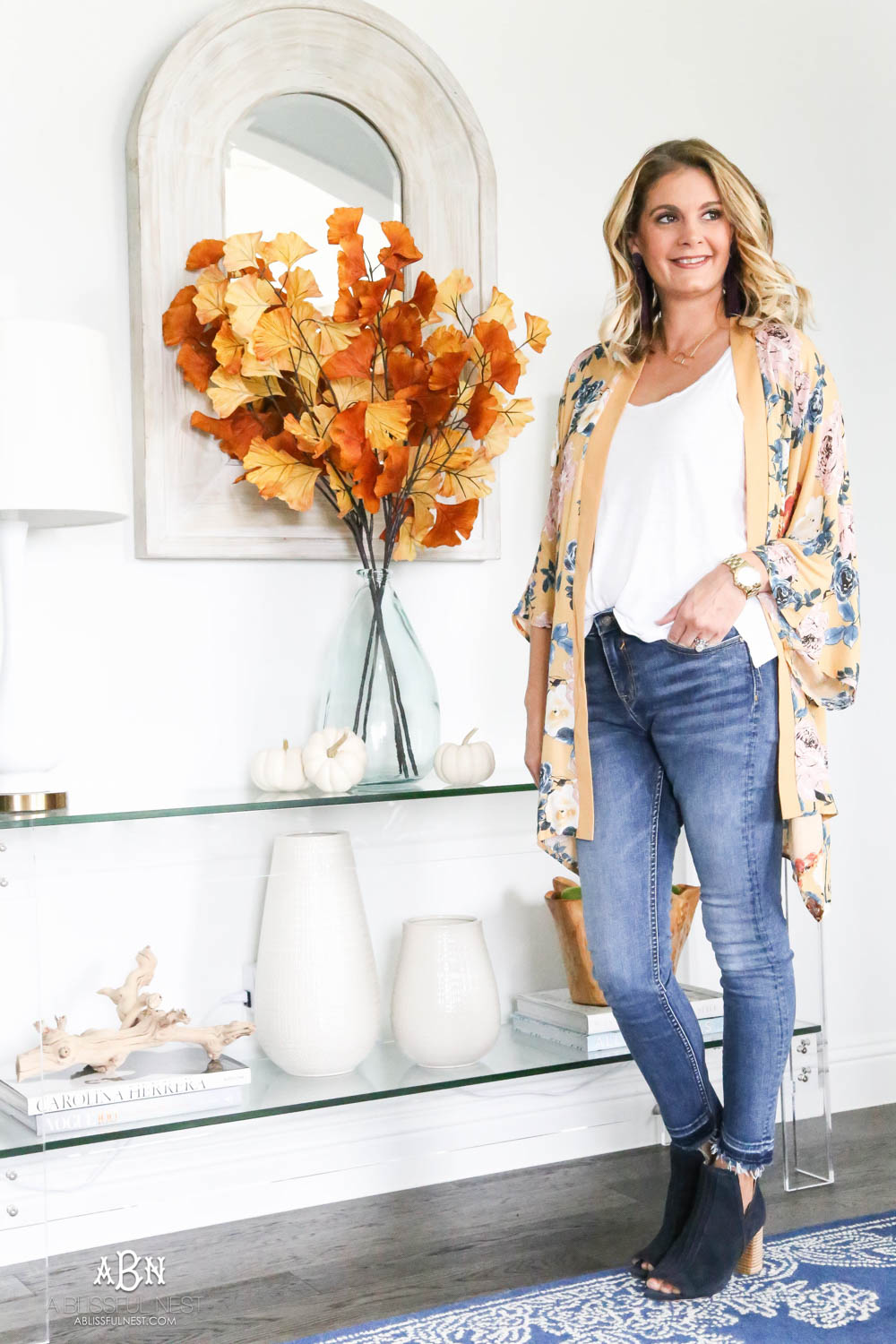 And there you have it friends! I will be sharing our fall kitchen and living room at the end of the month. I am still wrapping some stuff up in those spaces . . . . like trying to work with my terrible paint job on my kitchen island and fireplace. I learned some big lessons and I shared those over on Instagram but we are not able to get it fixed until November due to the new painters schedule. In the meantime we are embracing it and just going with the flow. Here is a recap of all the sources in this post below.





Don't miss my blogger friends fall home tours and fall fashion ideas!
Please hop on over to visit my other friends and enjoy all of the fall inspiration they're sharing with you today!
Summer Adams | The Lush List | CC + Mike
BlueGrayGal | House Full of Summer | J.Cathell | A Blissful Nest