Bedroom Decor Ideas with Bassett Furniture
This post may contain affiliate links. Please read our disclosure policy.
This post is sponsored by Bassett Furniture, but all opinions are my own.
I have been posting a lot on bedrooms lately and I just think getting your bedrooms ready for the fall season is so important. From bedding to table lamps in your bedroom, there are so many things to think about but it all needs to start from the furniture you select. When we moved into our new home, we had left over furniture from our rental. It wasn't bad but it didn't go together and the scale was all wrong. The bedroom was painted a white which of course really opened up my options for selecting furniture. So I partnered with one of my favorite home furnishings brand, Bassett Furniture to help me select the right pieces for our new master bedroom.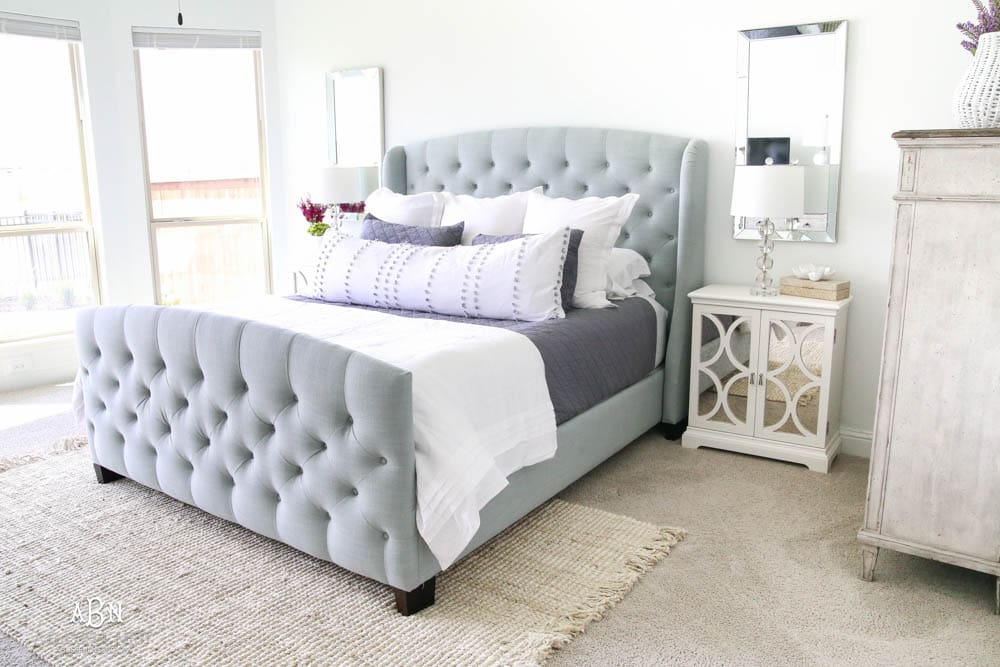 I first, planned out the space with what pieces of furniture I thought I would need. This helped narrow down what there wasn't room for and gave me general sizing of the pieces I needed to look for on the Basset Furniture website. In our old bedroom, I had a long dresser and a highboy so I knew that those pieces functioned for me and I wanted to work them back into my room design. I also knew I wanted an upholstered headboard but on a larger scale.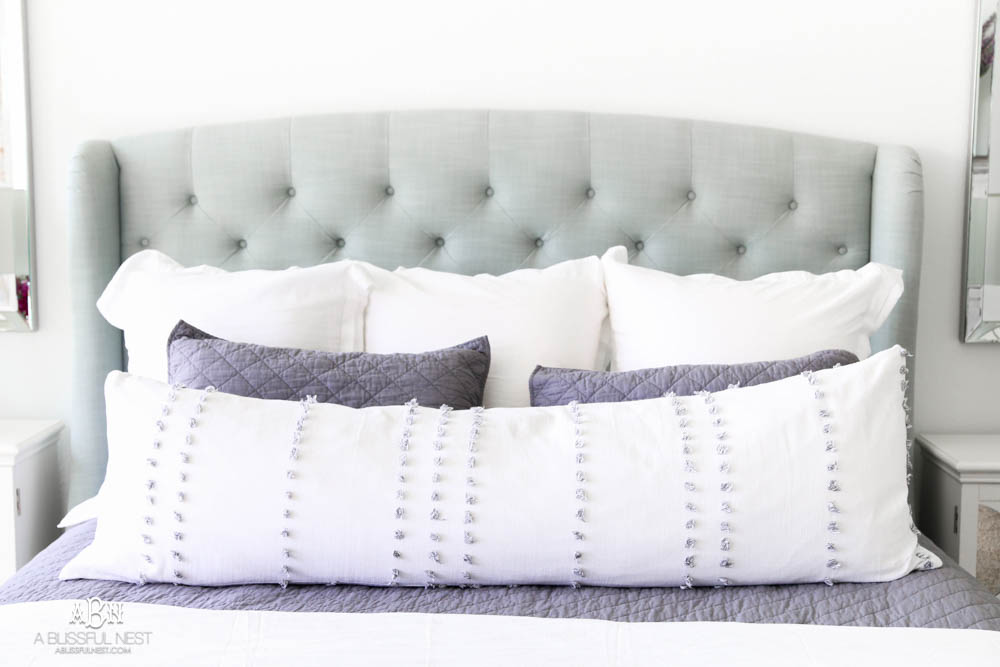 Our new room is very wide and could handle a big bed as the focal point. Even though we are in Texas, I still love the Cal-King size bed. It is wider and feels roomier than an Eastern King. This is just one of those things I just couldn't change when we moved here.
I finally decided on this gorgeous tufted Paris Arched Upholstered Bed in a soft sea green. The back is so tall which makes me feel like I am sleeping in a princess bed. The upholstery is a beautiful linen and I am beyond in love with all the tufting on the headboard and footboard. I swear this is my dream bed!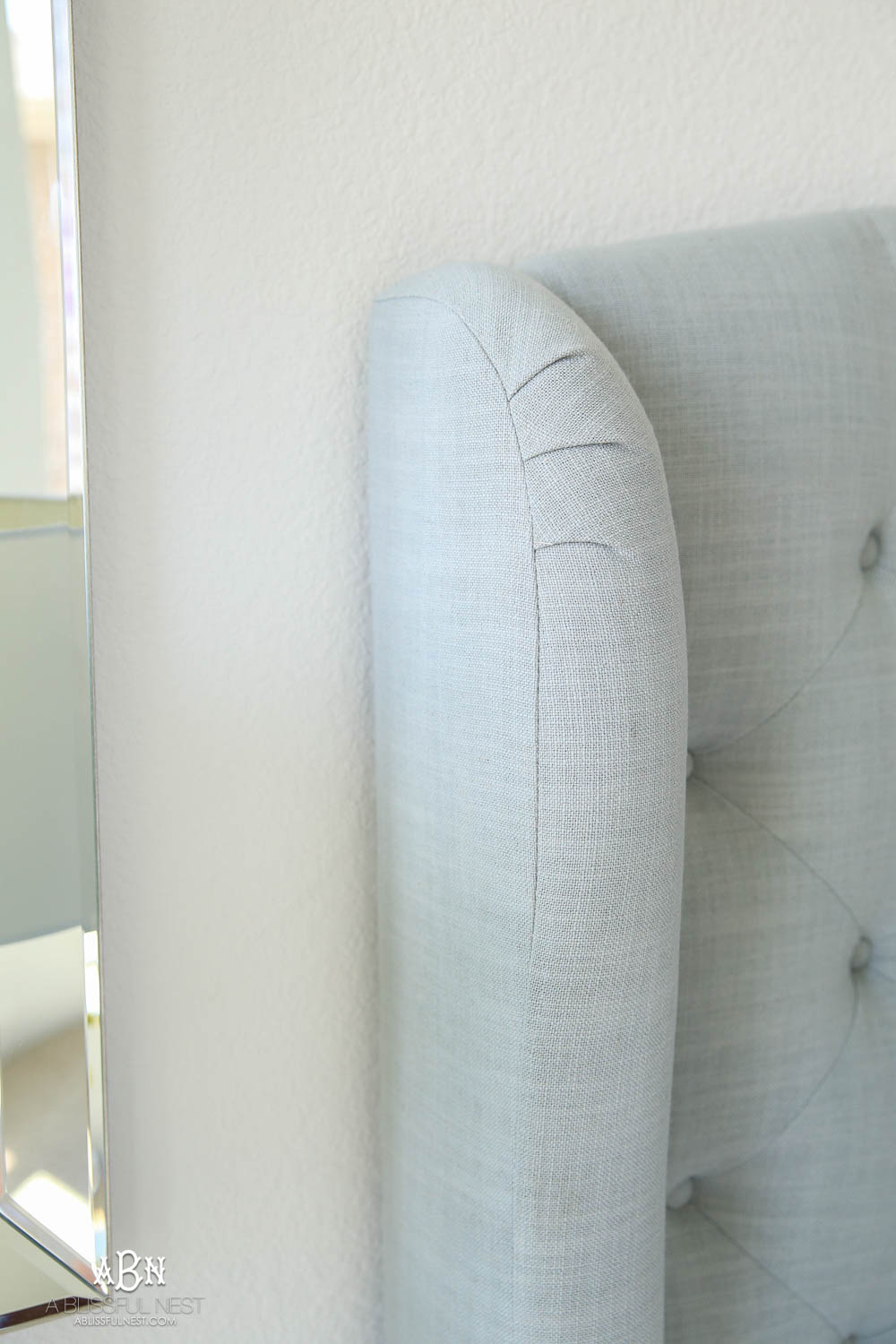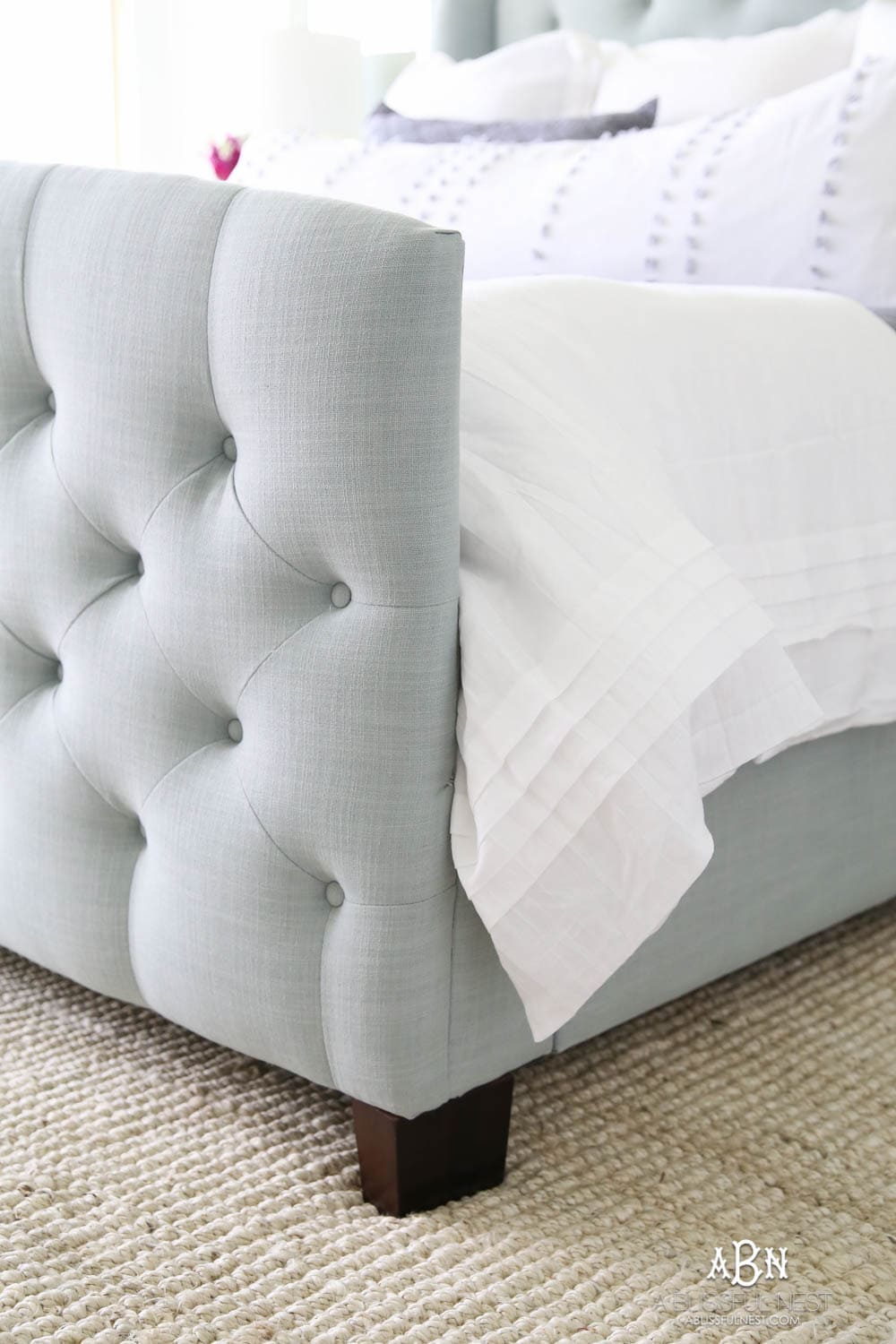 Even the side rails are upholstered for that seamless design look I was going for. I know we will have this piece for many years.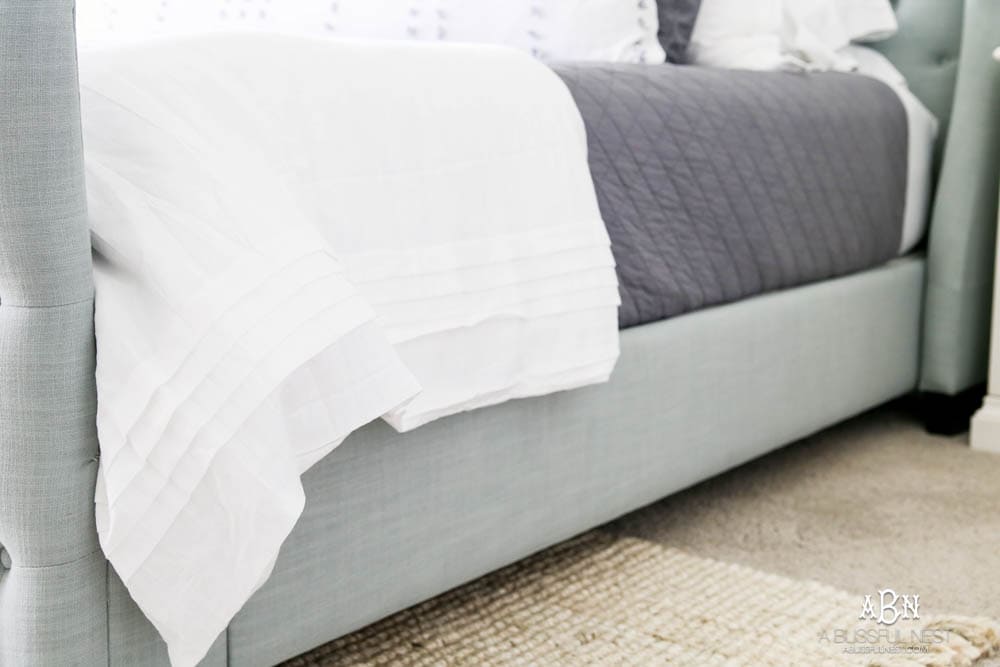 I have seen Bassett's furniture before many times and had fallen in love with the quality of their pieces. They are substantial and heavy pieces with the most gorgeous finishes. Bassett is dedicated to focusing on comfort and quality which you can clearly see in their craftsmanship.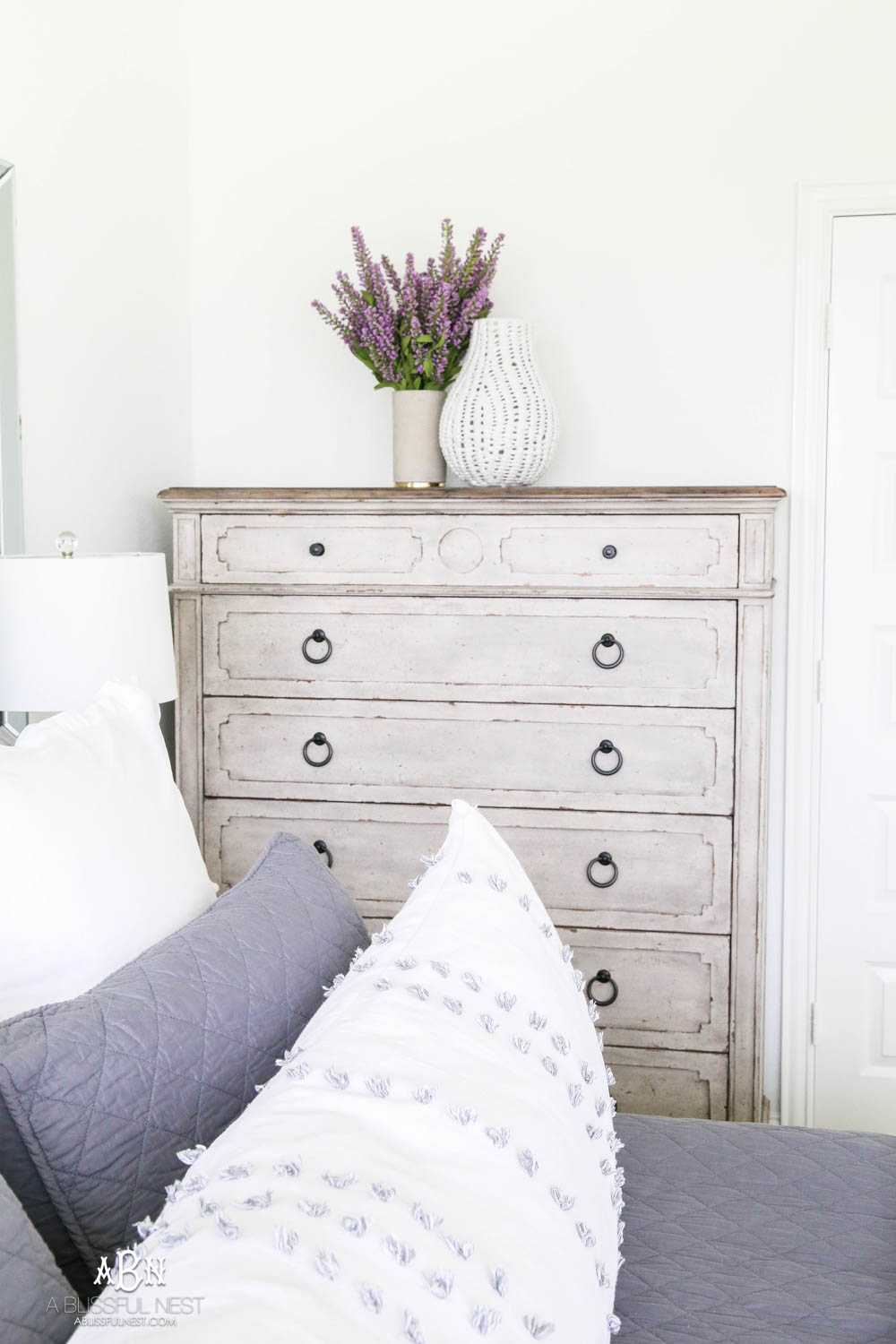 One of Bassett's product lines I fell in love with is the Verona collection. I selected the Verona Chest of Drawers and the Verona Dresser.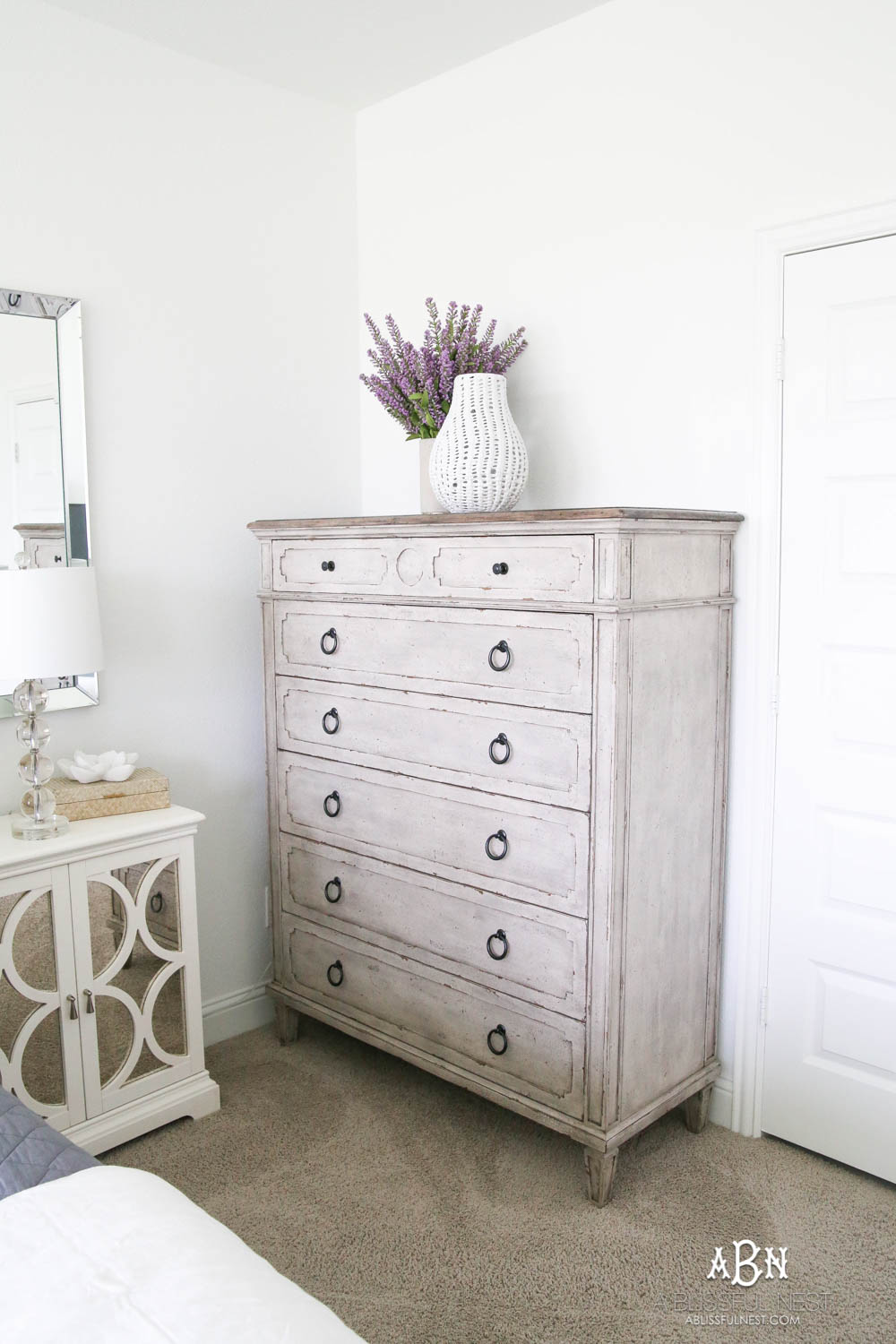 It has a two toned finish which gives it a transitional look I can easily decorate with over the years. It is a little more rustic too, giving it an old-world feel. The top is a planked wood and then the bottom half has a Dover White finish that is antiqued.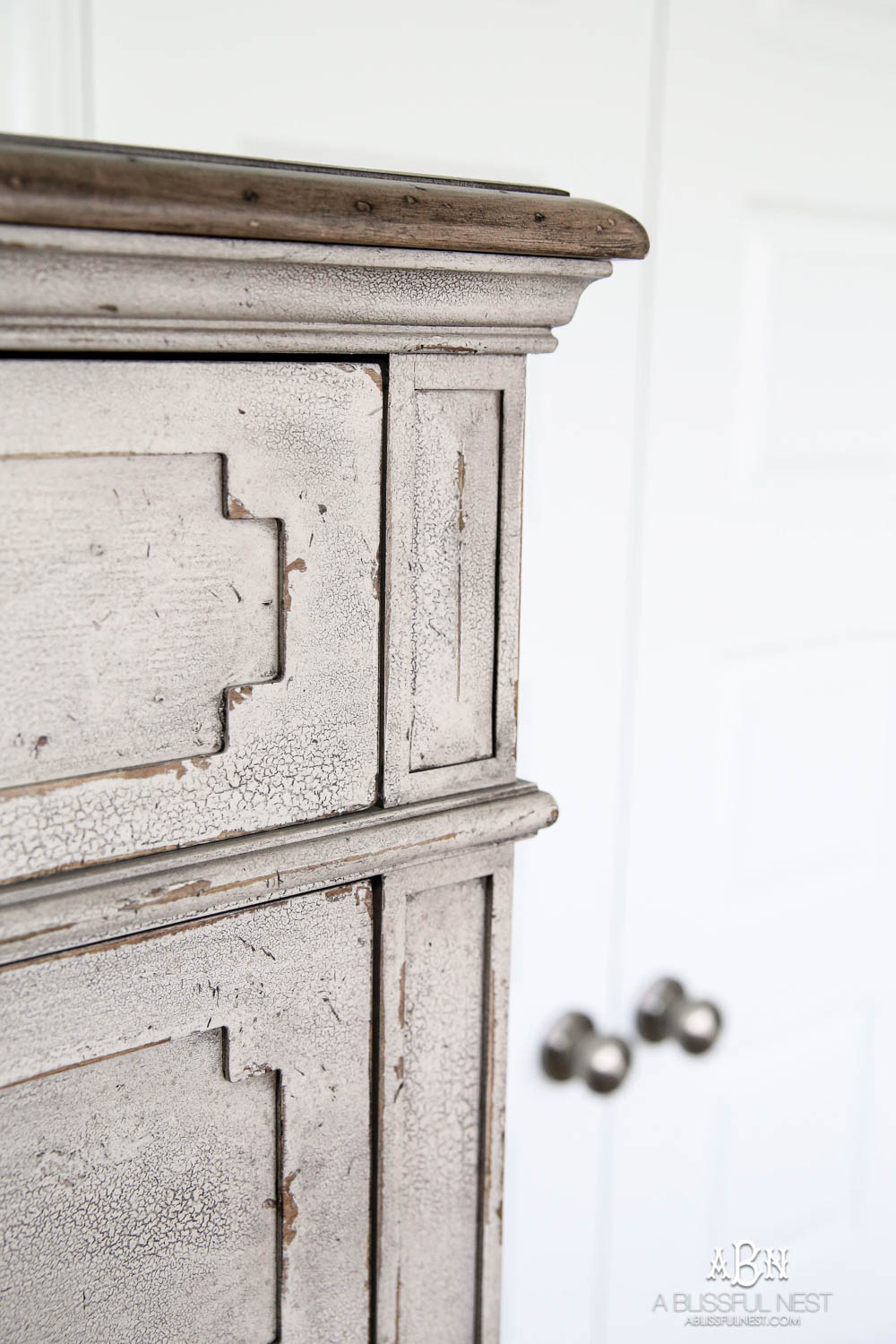 The matching dresser is taller than our old one and I love the grand scale.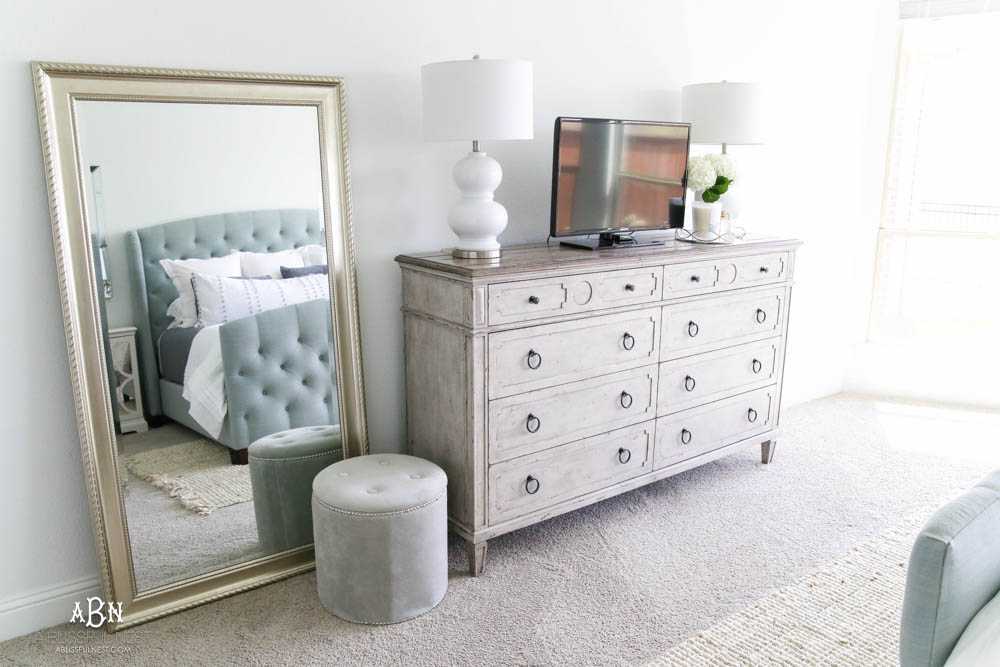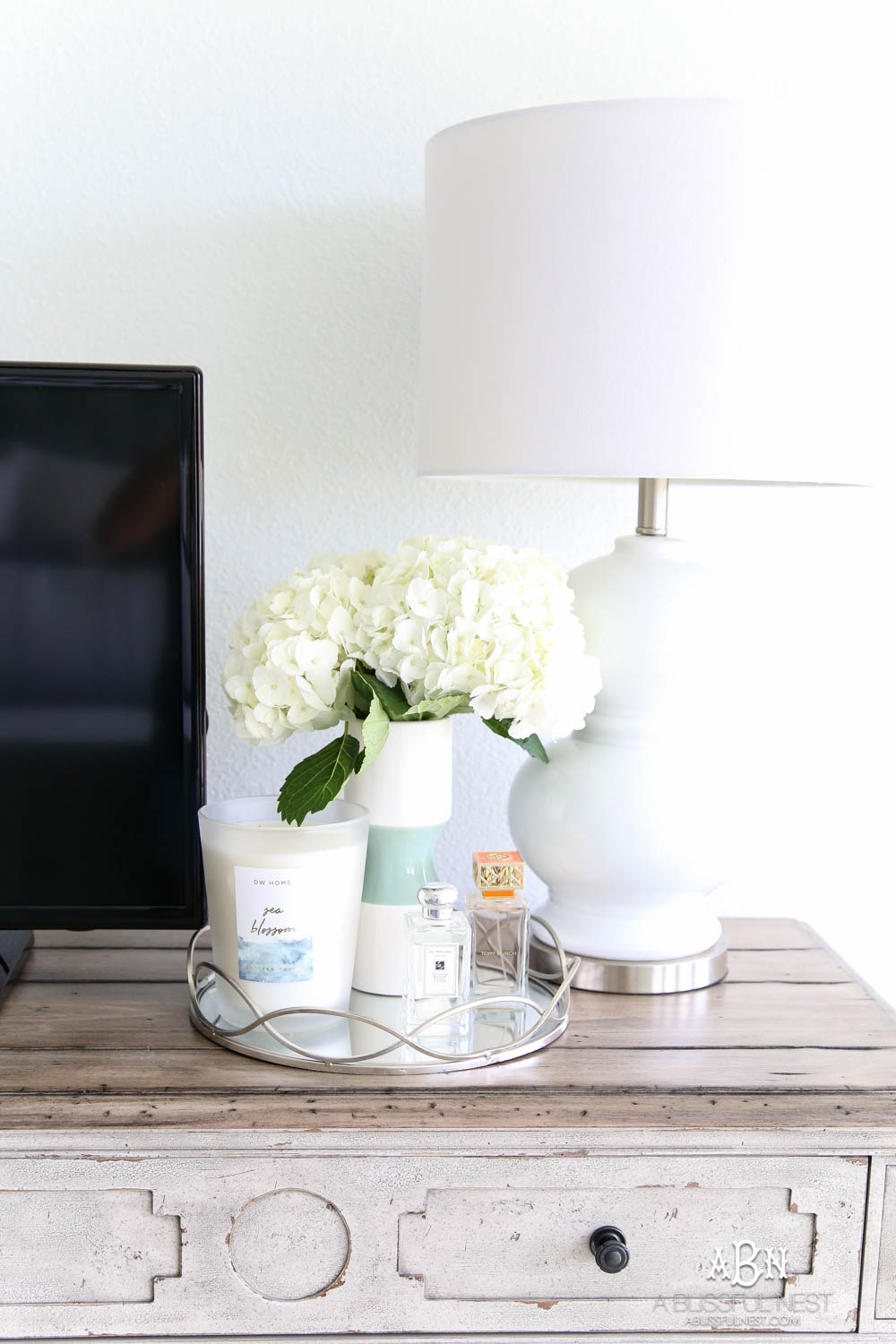 The hardware on the two pieces is in a gorgeous worn pewter finish.
The top two drawers of the Verona Dresser have these beautiful velvet lined drawers for putting items that are more delicate in like jewelry.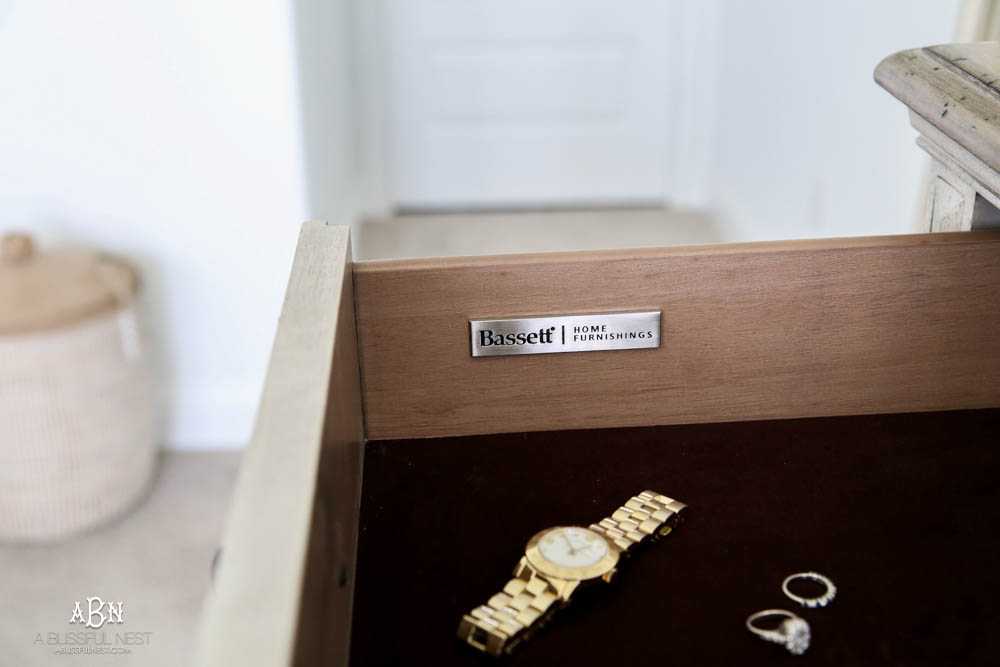 You know a piece of furniture is well made when it has dovetail joints. This is a classic and timeless way to make furniture which American brands are known for like Bassett.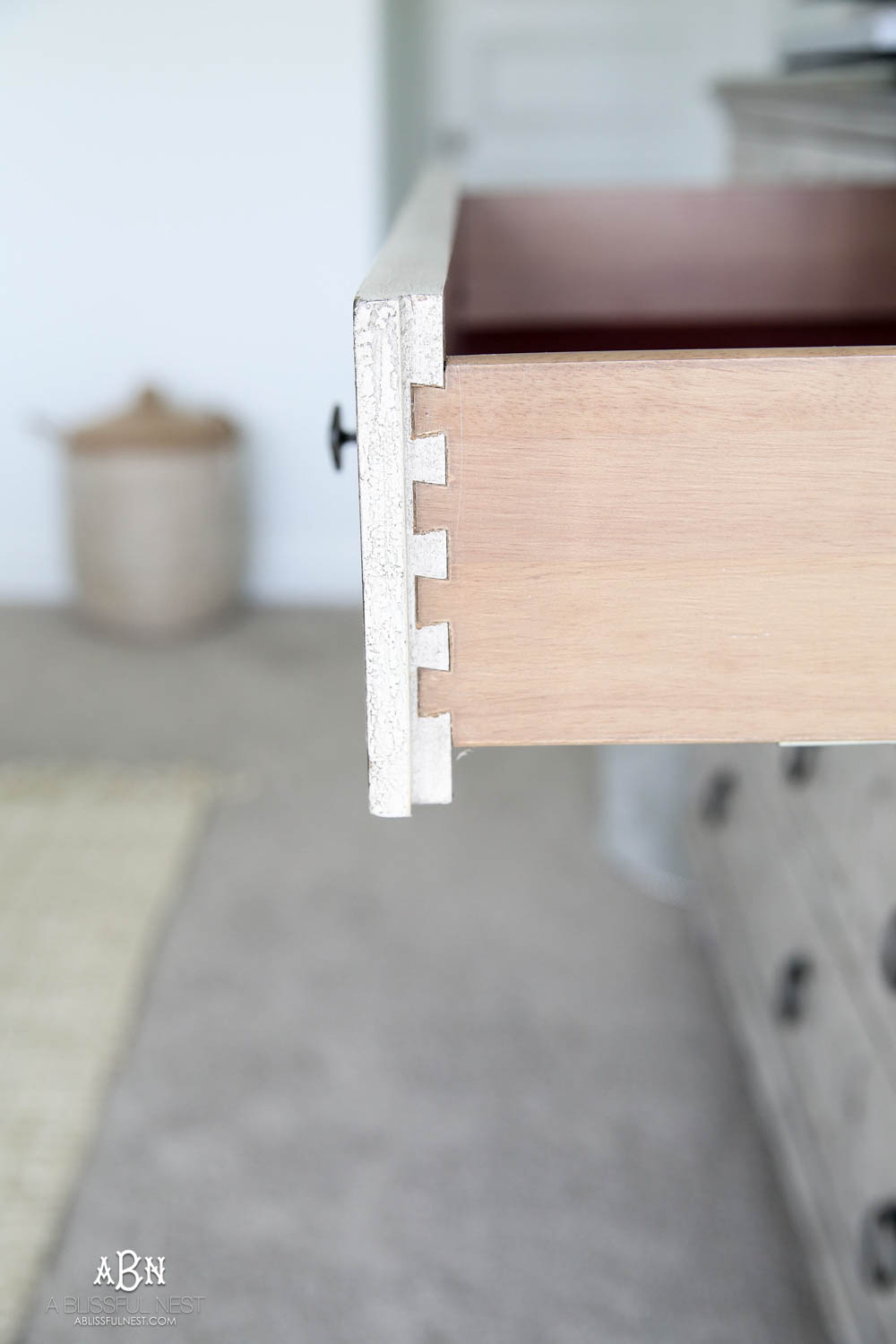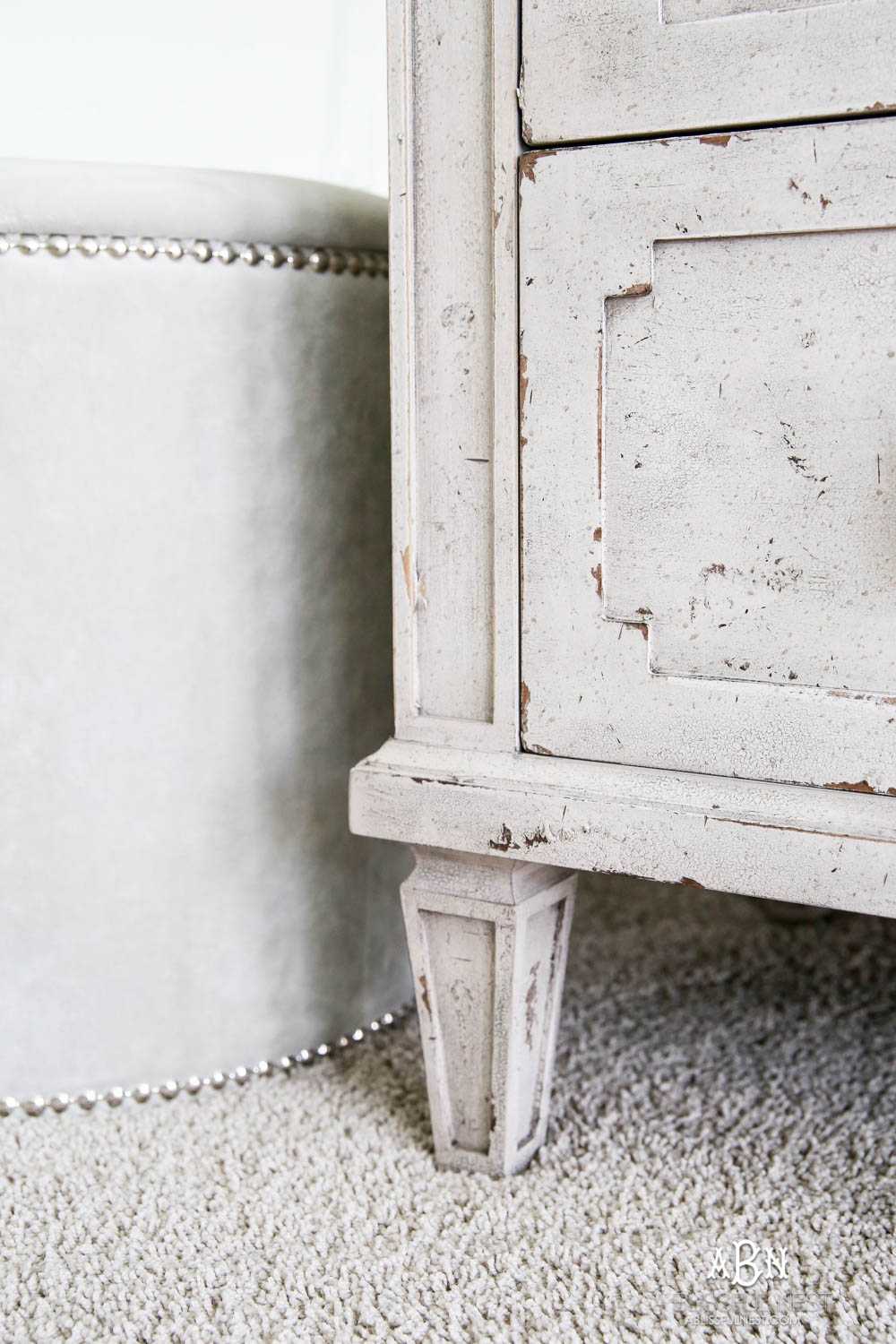 5 Tips to Select the Right Bedroom Furniture:
1.Space plan the room first
Draw out your room and the main pieces you would like to fit into your space. Keep in mind the normal pass through or space needed to walk around the room. Plan out where you would like the bed to be placed, if you would like any seating, where to place a dresser and if you will have a tv in the space.
2. Pay attention to scale
Use basic measurements for all the pieces you want to include to make sure the pieces will fit.
Here are a few general rules of thumb:
Eastern King sized bed: 76″wide x 80″long
California King sized bed – 72″wide x 84″long
Average Dresser – 60″
Average Chest of Drawers – 54″
Average Nightstand – 24″- 28″
3.Think about storage needs
Do you need a dresser and a highboy? Or how about a bench with storage at the end of your bed for holding extra pillows and blankets.
4. Plan for comfort
Think of how you use the furniture in your bedroom. Do you like to read in bed or watch tv? Then you might prefer an upholstered headboard rather than a metal framed bed.
5. Pick a color scheme
Plan this in the beginning. It is beautiful to tie in your color scheme to your bigger pieces of furniture like I did in my upholstered bed.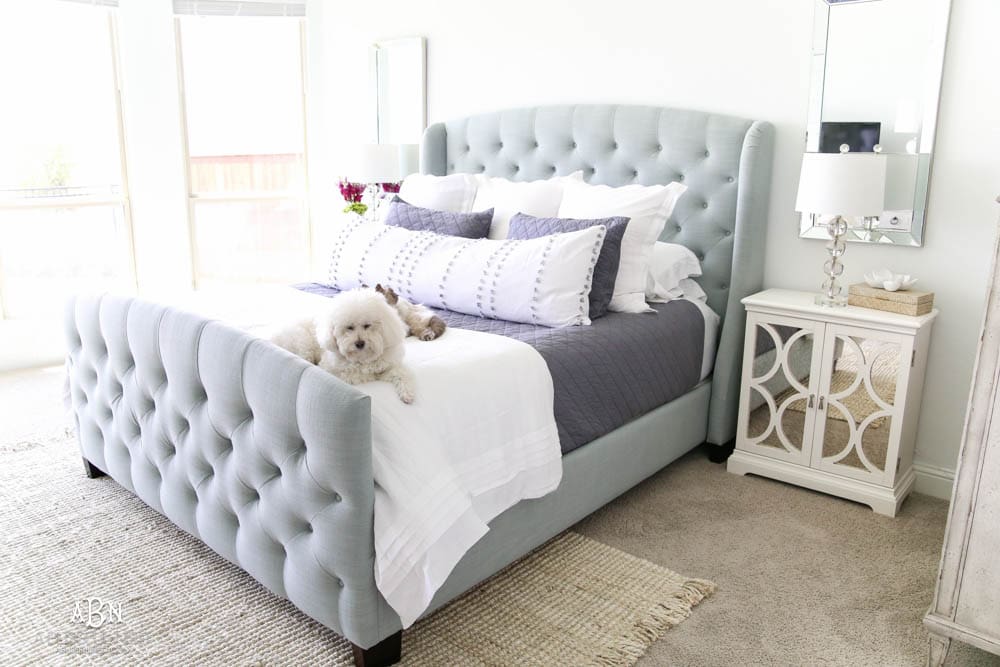 You know it's comfortable when you find all the animals on the bed. This is where I find my sweet fur babies these days.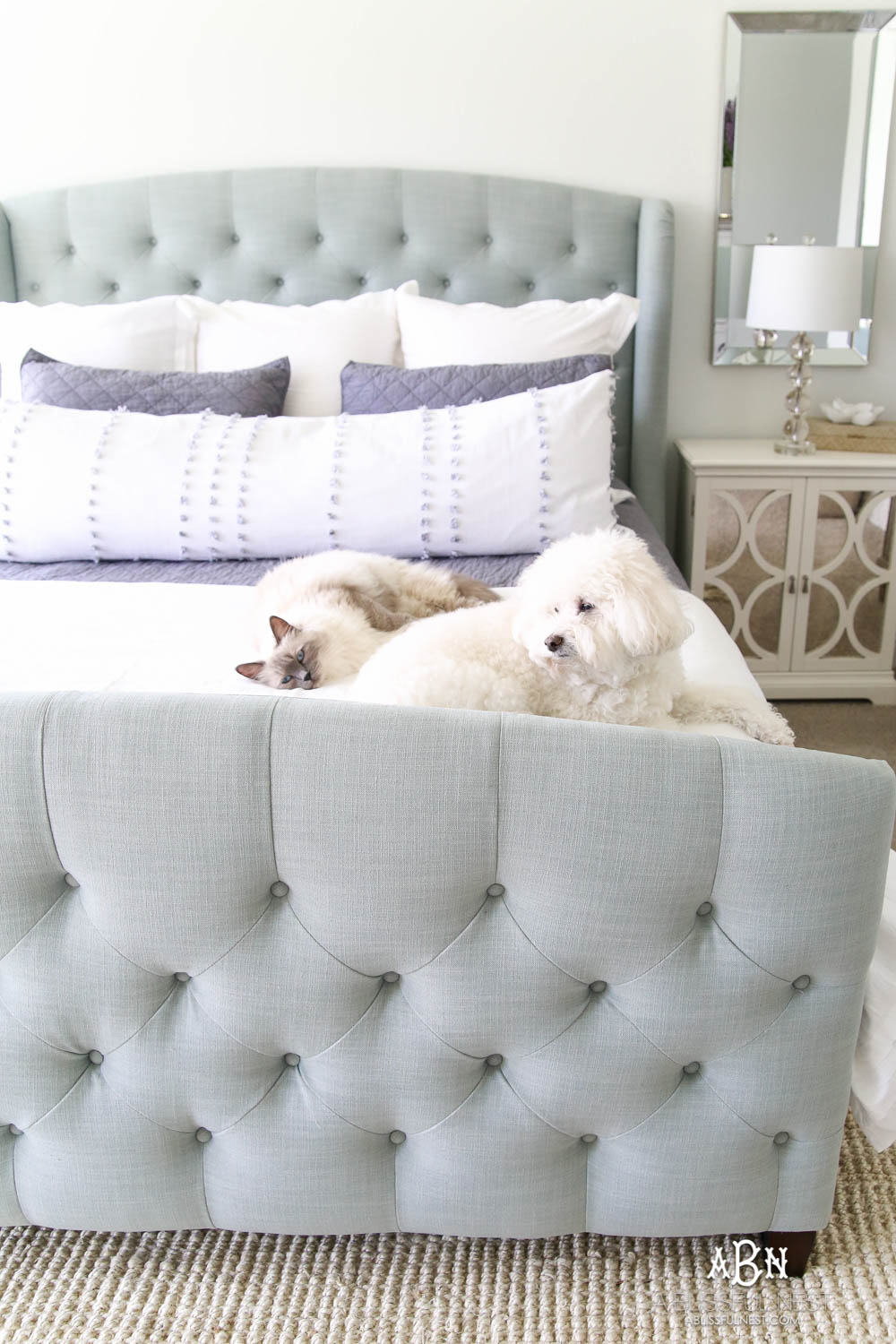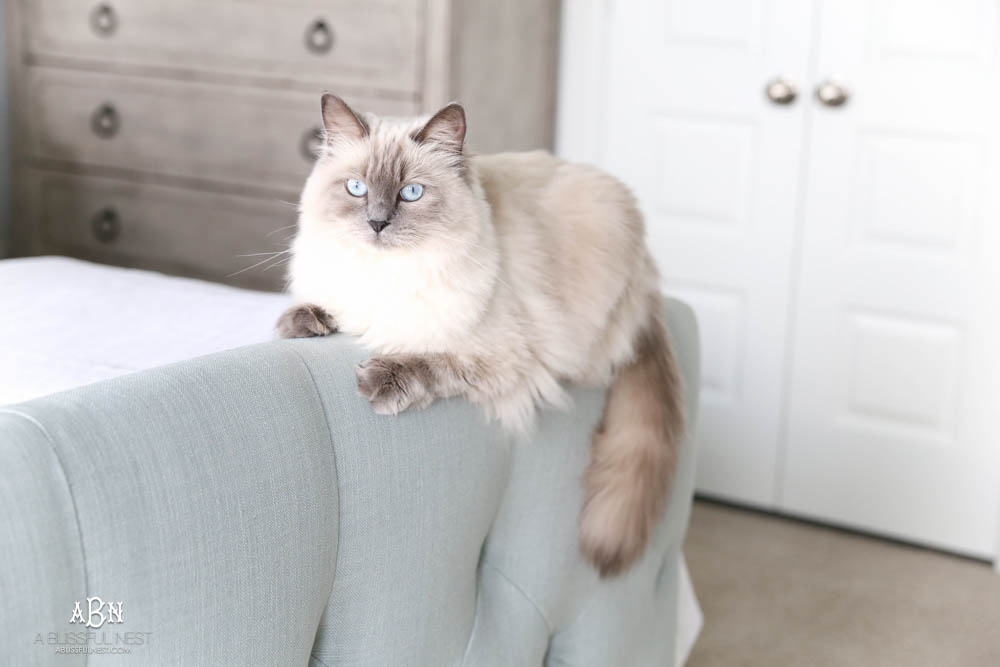 Hope you loved all these tips and now you are armed to take them to Bassett Furniture to make your bedroom the perfect retreat.
You can follow Bassett Furniture on Facebook, Instagram, Pinterest and Twitter and search for a store local to you HERE.
THIS IS A SPONSORED POST. A BLISSFUL NEST HAS RECEIVED PAYMENT, TRADE, AND/OR PRODUCTS FROM BASSETT FURNITURE IN EXCHANGE FOR PROMOTING. HOWEVER, ALL OPINIONS STATED ARE OUR OWN.