My Spring Front Porch with Blush & Black Accents
This post may contain affiliate links. Please read our disclosure policy.
This is the BIG reveal week and I hope you loved our spring living room reveal on Monday. I have loved nesting in our new home and I finally have gotten most of the boxes downstairs put away to where I can move around. But truth be told the first space I actually decorated was out front porch which I wanted to share with you today. There are so many spots in our home I call my favorite but really the entry is my favorite. It is not grand and overscaled. It is small and intimate. It has a small overhang and a big solid wood door that I love.
I really can't believe this photo is from last September. I was so excited to be standing in our new doorway.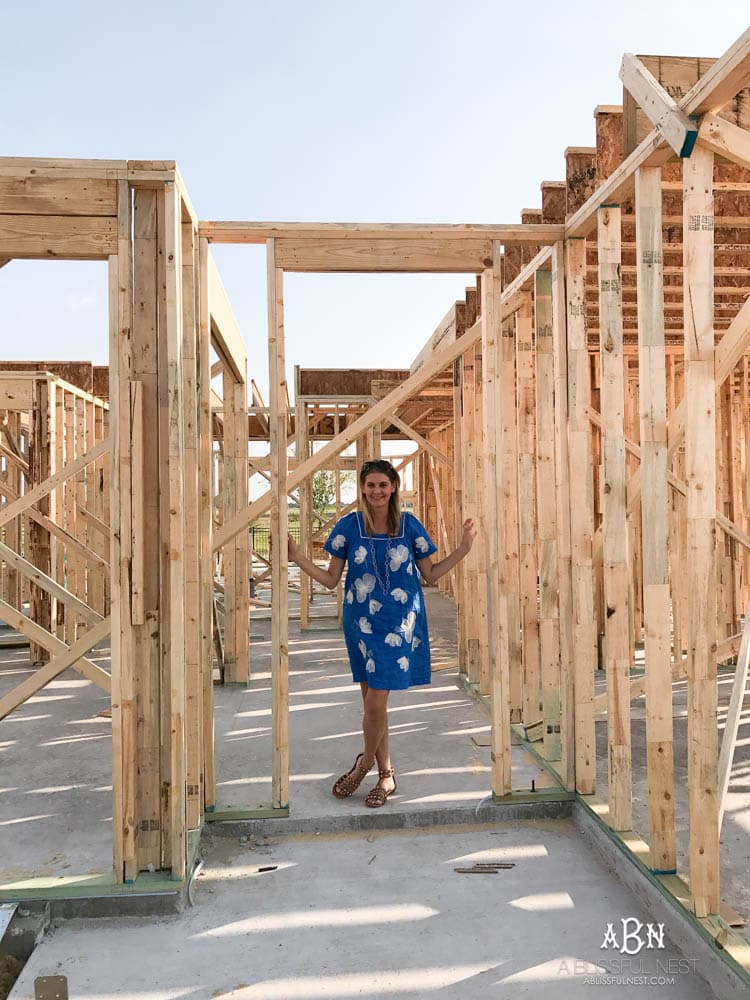 And now 7 months later here we are. Isn't it crazy how time flies?!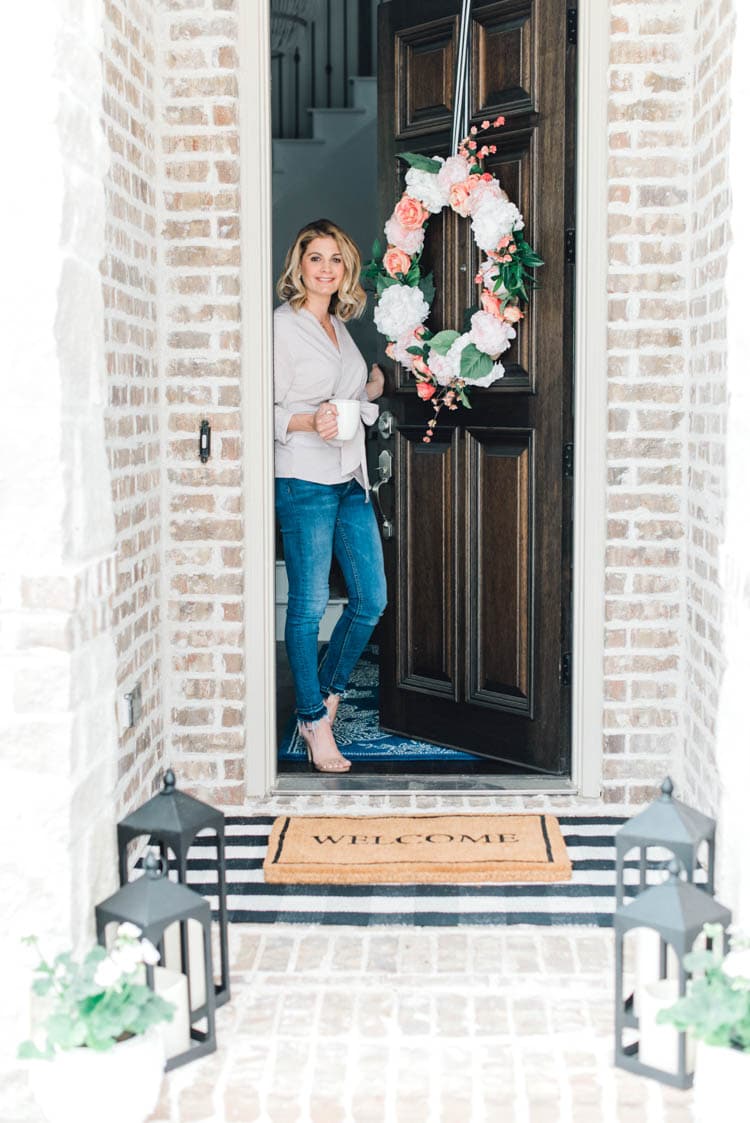 Top | Jeans (similar) | Shoes | Earrings | Necklace
I am still in love with our brick selection and you can read more about that HERE. I chose a messy mortar and I think it gives that old world feel I was looking for. At first I thought I would want a door with beautiful glass. I loved the thought of something open and airy but honestly with our small dog that acts like a doberman, I am glad we went with this.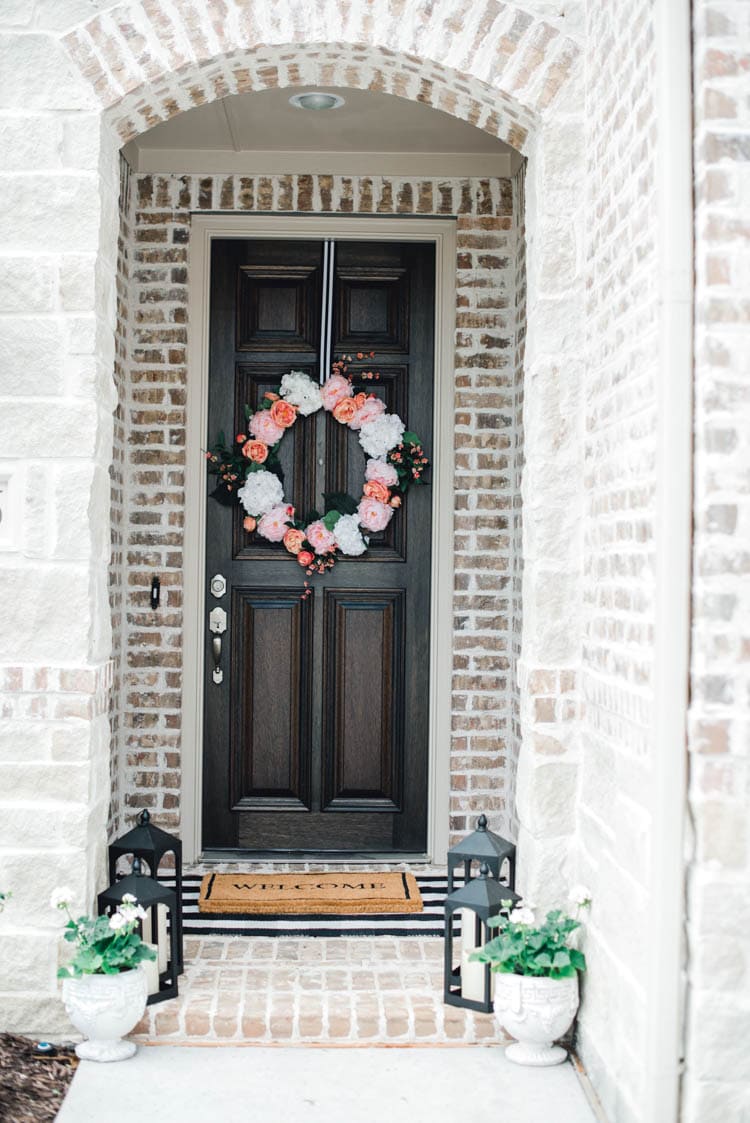 I will be sharing the tutorial tomorrow but I can't tell you how in love I am with my peony + hydrangea wreath I made right after we moved in. It is so simple and I love the oversized look which is perfect since the door is so tall. I promise to dish more on this tomorrow so stay tuned!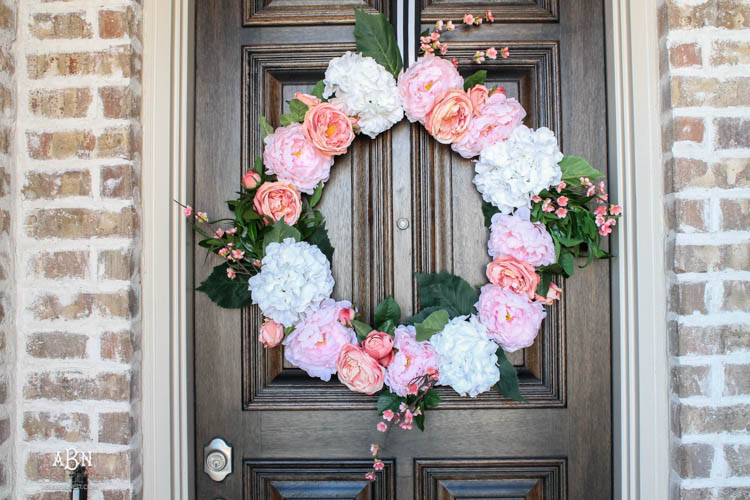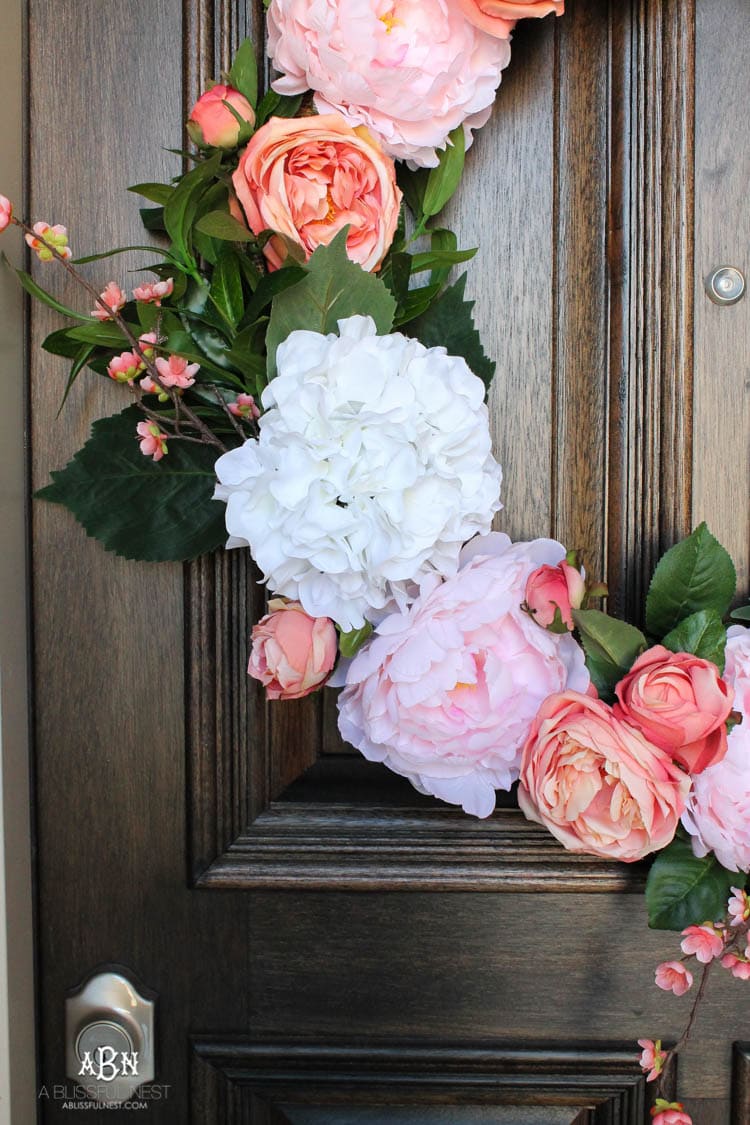 Since I chose blush shades this spring for the front porch, I accented it with black to really make it pop. The black and white ribbon on the wreath and my lanterns from Christmas are all I used. The lanterns are in 2 sizes so I just mirrored them on each side. They are battery operated so they look really pretty lit up at night.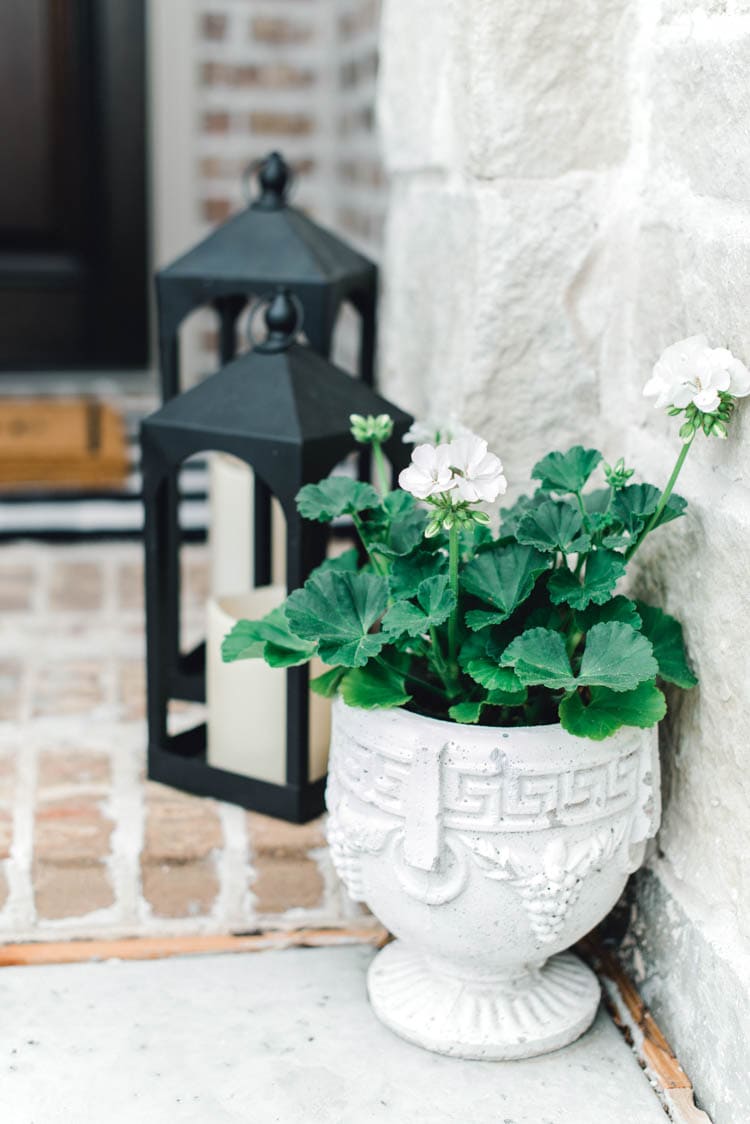 A few years back I found these white planters at a antique market and planted some simple white geraniums in them. These are such hardy flowers and with my fabulous watering skills (I hope you heard the sarcasm in that!) they will last the season. I love the greek pattern and grape cluster detail on them urns too. They really are treasured pieces. I found some similar ones for you below if you want to get a similar look.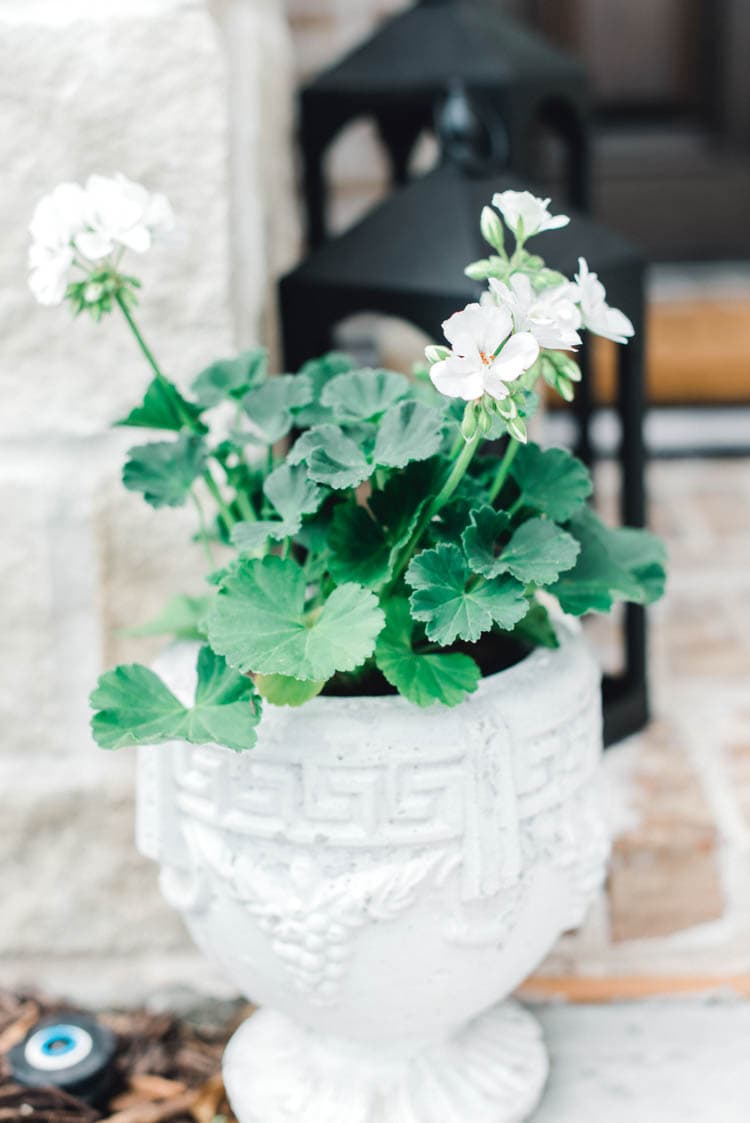 I also popped my black and white accents into this area rug. I always layer my porch mat with a contrasting area matt to add a bit of pattern and contrast. I am such a buffalo check fan and found this one for a good price. The coir door mat is actually a bit thick which I didn't realize when I ordered it but I love the way it looks layered on the rug.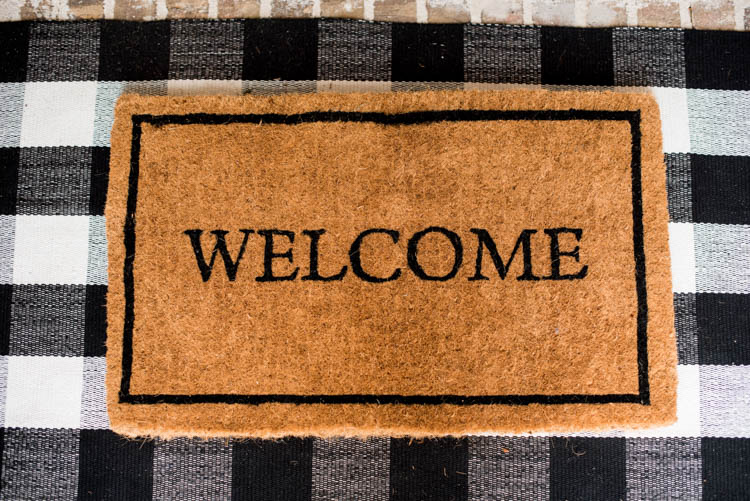 So that's it my friends. I kept it super simple this year. I think this look should get me into summer as well but you know me. Always switching things up so you may just see a summer front porch here soon! Thank you for stopping by and see you tomorrow for the tutorial on how to make this wreath.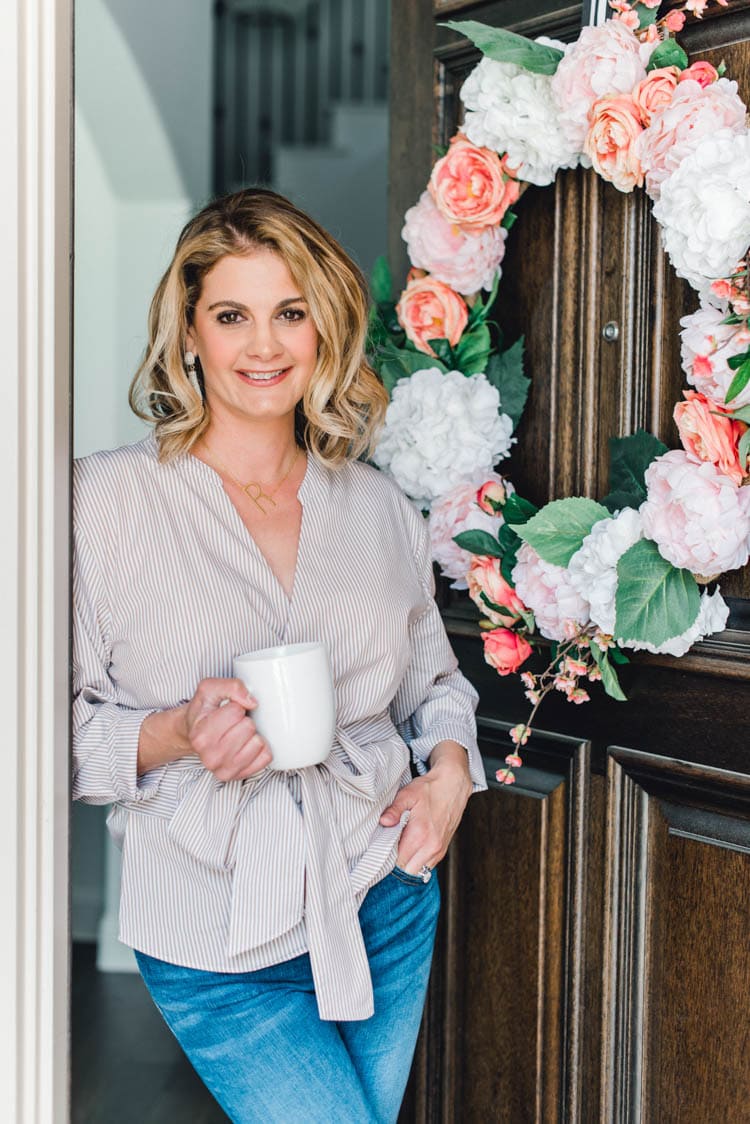 Top | Jeans (similar) | Shoes | Earrings | Necklace

Our Front Porch Details:

My Outfit Details:

***Photography by Sweet Memory Photography