12 Beautiful Christmas Wreaths for the Season
There are few things I love more during the holiday season than putting up my favorite Christmas wreaths around my house! I can't get enough.
They are so fun and festive and look so beautiful as part of your front porch decor or indoors as a centerpiece, on a mantle, or any other spot you could possibly think of. Holiday wreaths come with endless possibilities!
I wanted to share some of my favorite wreaths I've found so far this season so you can get inspired and shop them if you are looking for a new one to complete your holiday decor this season. And if I could (AKA if they all matched one another… haha), I would probably buy and display every single one of these beauties!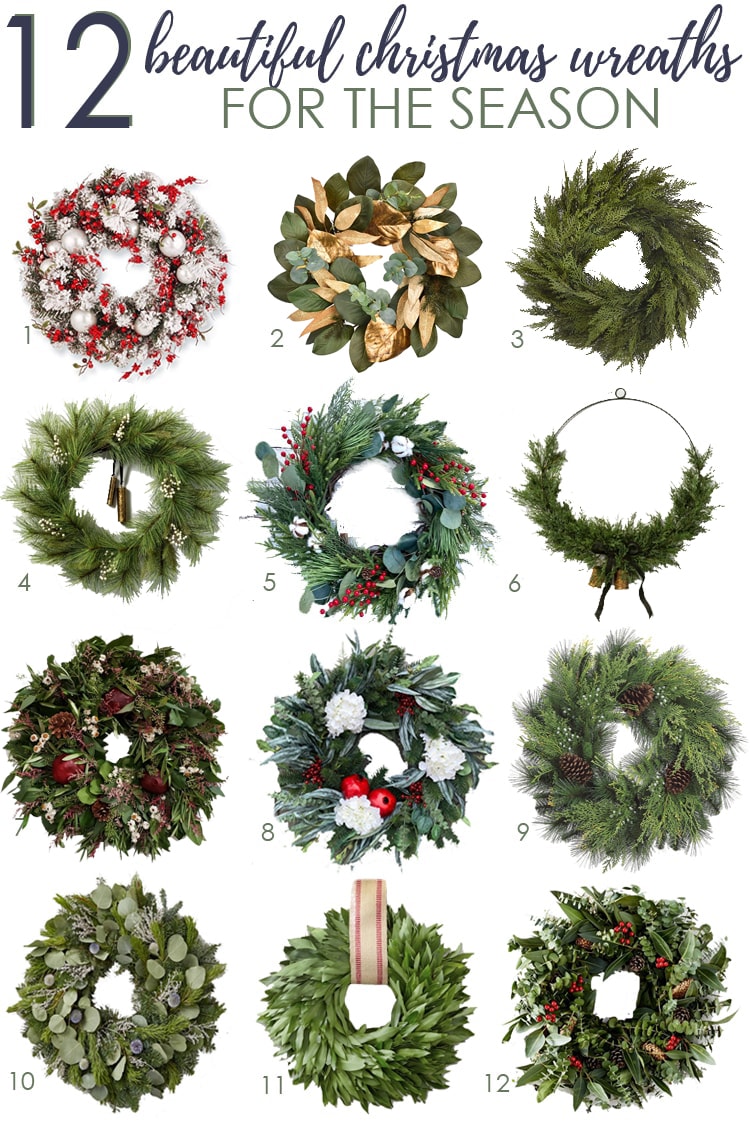 1 | 2 | 3 | 4 | 5 | 6 | 7 | 8 | 9 | 10 | 11 | 12
This post contains some affiliate links for your convenience. Click here to read my full disclosure policy.
1. Red & White Ornament Wreath: normally I gravitate toward the sprig/berry/pinecone filled wreath (as you clearly can tell based on the selection of wreaths I chose!) for Christmas, but something about this wreath filled with ornaments and berries just drew me into it! I love how much of a statement it makes – if you have a traditionally decorated front door/porch, I would highly recommend adding this one to your decor!
2. Eucalyptus & Magnolia Wreath: this is a wreath that would look gorgeous on your front door, but imagine how beautiful it would be hanging from your range hood?! I love the mix of gold in there for a touch of glam.
3. Pre-Lit Hemlock Pine Wreath: my favorite part about this faux pine cedar wreath is how simple it is. If you want to leave it plain and have that look on your door, it'd be stunning. If you want to add a simple statement-making bow, it'd become a conversation piece. If you want to add berries, pinecones, or anything else… you get the point I'm making! This is a wreath you will have and use for YEARS.
4. Faux White Berry Pine Wreath: you will not believe it, but this wreath is under $35! It is 24″ so it'd be perfect for your mantle, your range hood, or hanging in your entryway. So simple and elegant yet still festive and fun.
5. Farmhouse Christmas Wreath: this beautifully made, under $100 Christmas wreath is filled with the prettiest berries, eucalyptus and cotton stems and will look so beautiful where ever you hang it in your home!
6. Faux Cedar Hoop Wreath: here is another under $40 wreath that looks like it cost a fortune based on how beautiful it is! I love that this one has bells hanging from it – it's traditional and simple with a modern touch.
7. Fresh Pomegranate and Pine Cone Wreath: this freshly cut wreath includes live salal, seeded eucalyptus, pomegranates, burgundy misty, and ammonbium. It is the perfect way to greet your guests! I'd put this beauty in my entryway – whether it be hanging on the inside of the door, propped up against a mirror on your entryway table, or hanging on the wall. There are so many beautiful ways to display this festive wreath!
8. Christmas Hydrangea Wreath: you don't always see hydrangea flowers and pomegranates on a Christmas wreath, which is exactly why I love this one soo much. It's SO different and absolutely gorgeous!
9. Cedar Christmas Wreath: this beautiful, classic wreath comes with pinecones and berries in it and it is one of my absolute favorites ever. It is 24″ and while it's simple, the muted variety of sprigs included adds everything it needs to be a beautiful wreath for Christmas! You could even personalize it by adding a ribbon in the color of your choosing.
10. Winter Greens Wreath: here is something a bit different in terms of a traditional colored wreath for Christmas, but I love hues of blue all year round and especially love incorporating it into my Christmas decor for a different, fun touch. This one comes in two sizes to choose from and is made with fresh fir, pine and eucalyptus. The white artemisia adds that winter touch and the blue globe thistles are so different than your norm – this is a decorative wreath that your guests will love and be asking you about like crazy!
11. Bay Leaf Wreath with Burlap Ribbon: the tan/red striped burlap ribbon on this wreath acts as a hanger, so you really could display this beauty anywhere. I absolutely love the simplicity of it and it is under $50. I bought this one last year for my kitchen hood and it smelled so yummy when I was cooking.
12. Red Berries Wreath: this beautiful red berry wreath would be so beautiful anywhere, including on your door, but imagine how beautiful some of these would look on your window(s)?! I love how festive this wreath is while still matching all of your holiday decor!
We hope these beautiful Christmas wreaths help you to find the best wreath for your home this holiday season!
Follow along to get more of my tips on home decor, DIY and lifestyle on the following: