12 Beautiful Christmas Wreath Ideas for the Season
Sharing a collection of beautiful Christmas wreath ideas to help decorate your porch for the season. Many affordable holiday wreaths to elevate your front porch.
There are few things I love more during the holiday season than putting up my favorite Christmas wreaths around my house! I can't get enough.
They are so fun and festive and look so beautiful as part of your front porch decor or indoors as a centerpiece, on a mantle, or any other spot you could possibly think of. Holiday wreaths come with endless possibilities!
I wanted to share some of my favorite wreaths I've found so far this season so you can get inspired and shop them if you are looking for a new one to complete your holiday decor this season. And if I could (AKA if they all matched one another… haha), I would probably buy and display every single one of these beauties!
This post contains some affiliate links for your convenience. Click here to read my full disclosure policy.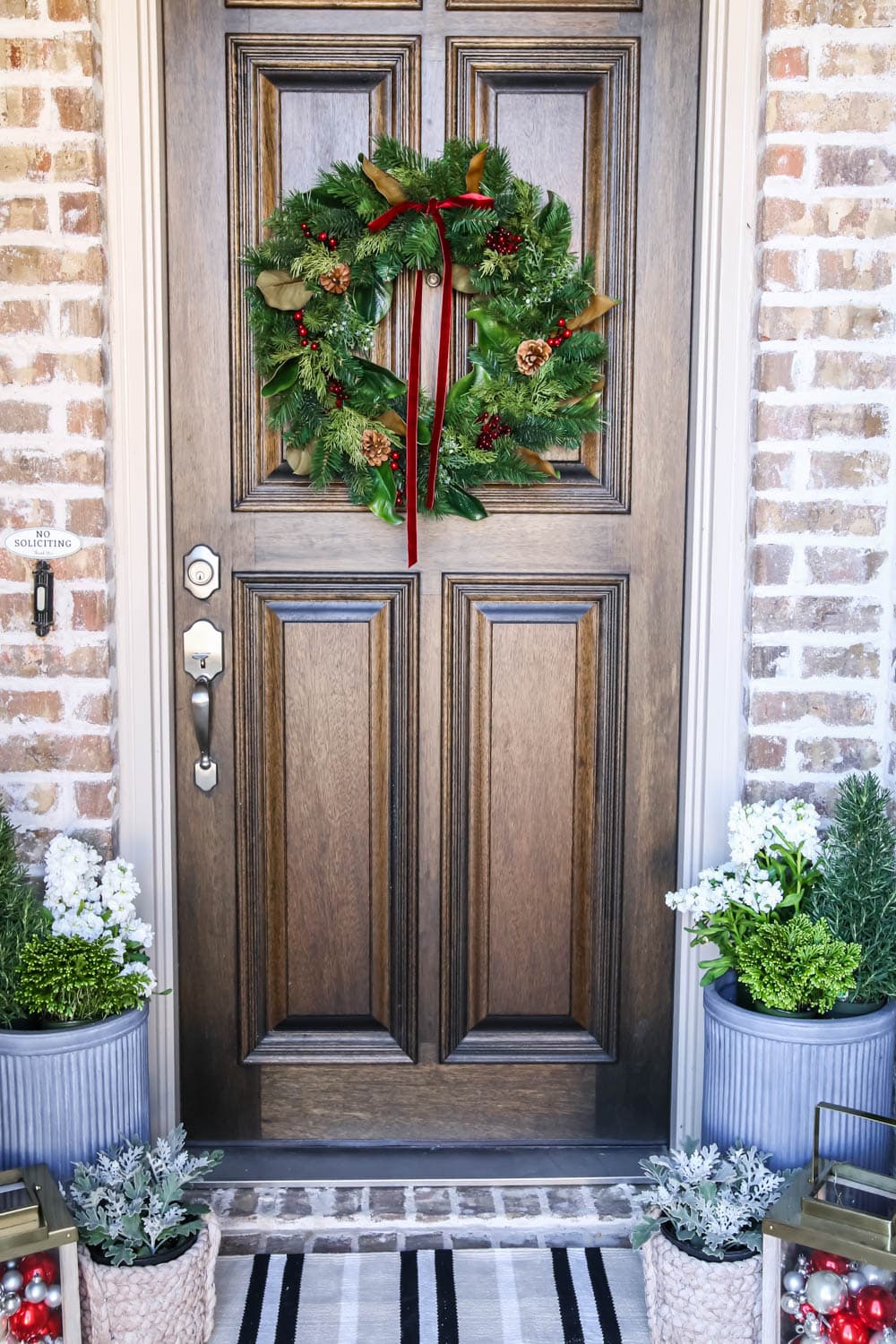 How to select the right wreath.
To select the right wreath for your Christmas porch, first I would decide on a color scheme. Some popular color combinations for the holidays are the classic red and white, green and white, green and black, black and white, all neutrals (whites and creams), and even a fun pink and white color scheme.
Then you can look for wreaths that have those colors in them and will coordinate beautifully.
How to hang a Christmas wreath.
Hanging a Christmas wreath can be easier than you think. Typically you will want it to hang on the door at eye level so anywhere from 5-1/2′ to 6-1/2′. Take the door height into consideration. If it is a pretty tall door then error on hanging it a little higher than usual.
You can simply hammer a nail into the door and hang the wreath on it but there are other solutions that don't damage the door. I personally love using command hooks and you can see here how I used them to hang my garland on my mantle. Literally never takes the paint off and they hold a decent amount of weight.
When should you hang your holiday wreath?
The holiday season officially begins December first but many like to start well before Thanksgiving so they can enjoy all the decorations longer. You can not go wrong either way and hang your wreath and decorate your porch as soon as you are ready to embrace the holiday season!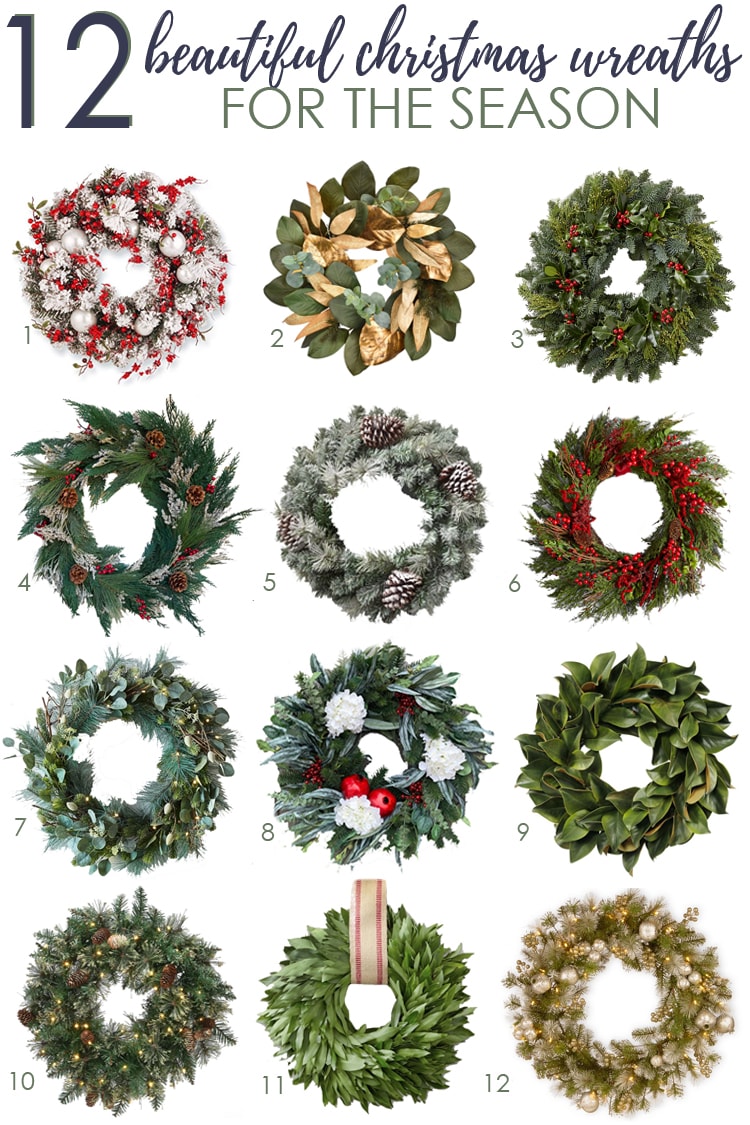 1 | 2 | 3 | 4 | 5 | 6 | 7 | 8 | 9 | 10 | 11 | 12
12 Beautiful Christmas Wreath Ideas for The Season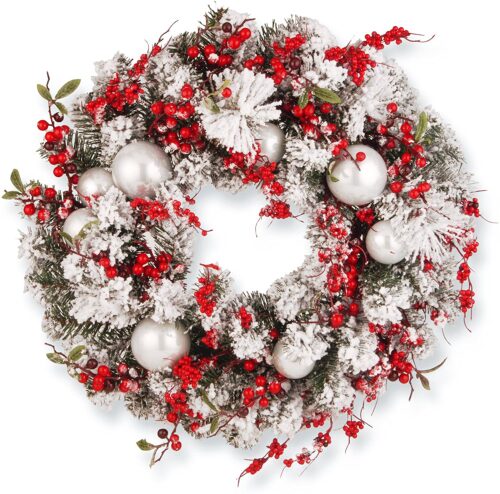 1. Red & White Ornament Wreath: normally I gravitate toward the sprig/berry/pinecone-filled wreath (as you clearly can tell based on the selection of wreaths I chose!) for Christmas, but something about this wreath filled with ornaments and berries just drew me into it! I love how much of a statement it makes – if you have a traditionally decorated front door/porch, I would highly recommend adding this one to your decor!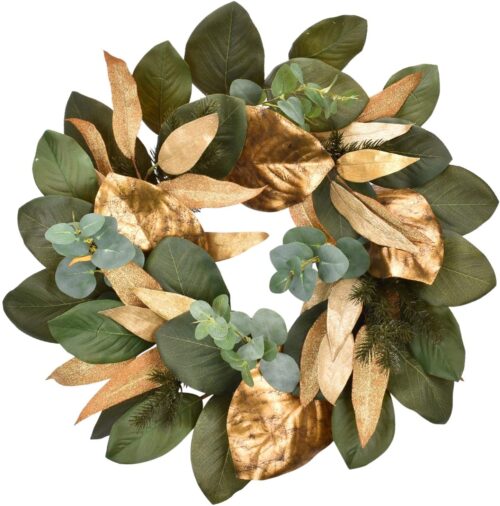 2. Eucalyptus & Magnolia Wreath: this is a wreath that would look gorgeous on your front door, but imagine how beautiful it would be hanging from your range hood?! I love the mix of gold in there for a touch of glam.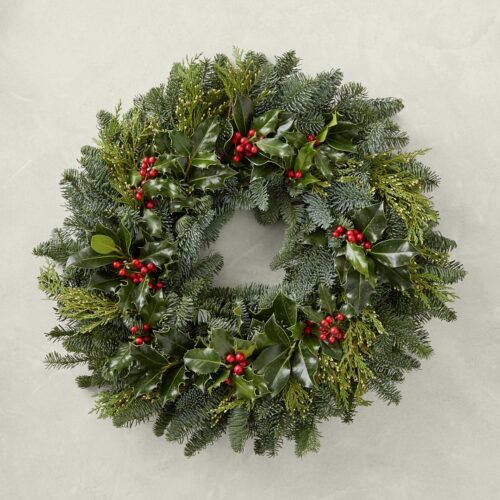 3. Green Holly Wreath: this gorgeous, festive wreath comes in both 12″ and 22″ and is the most vibrant holiday wreath you could possibly find. It's beautiful for your home and the pop of red is subtle but just enough to still be festive and fun!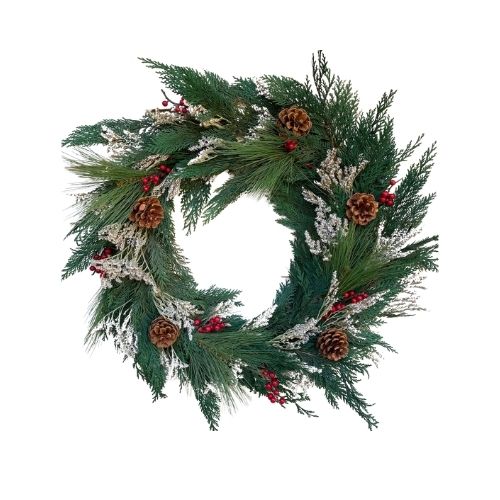 4. Preserved Cedar Wreath: this preserved cedar wreath is 22″ and is made with preserved cedar, German statice, pine cones, and red berries. It's a simple holiday wreath that's so elegant yet still festive and beautiful for your front door!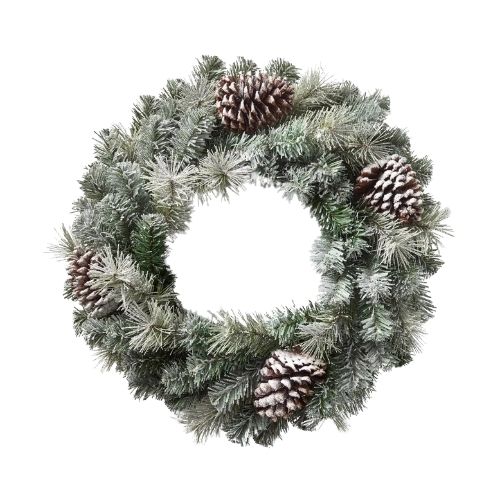 5. Flocked Pinecone Wreath: this simple, $30 wreath is beautiful as-is, but you could easily add some pops of color to it if you wanted to! It's beautiful and I bet will sell quickly!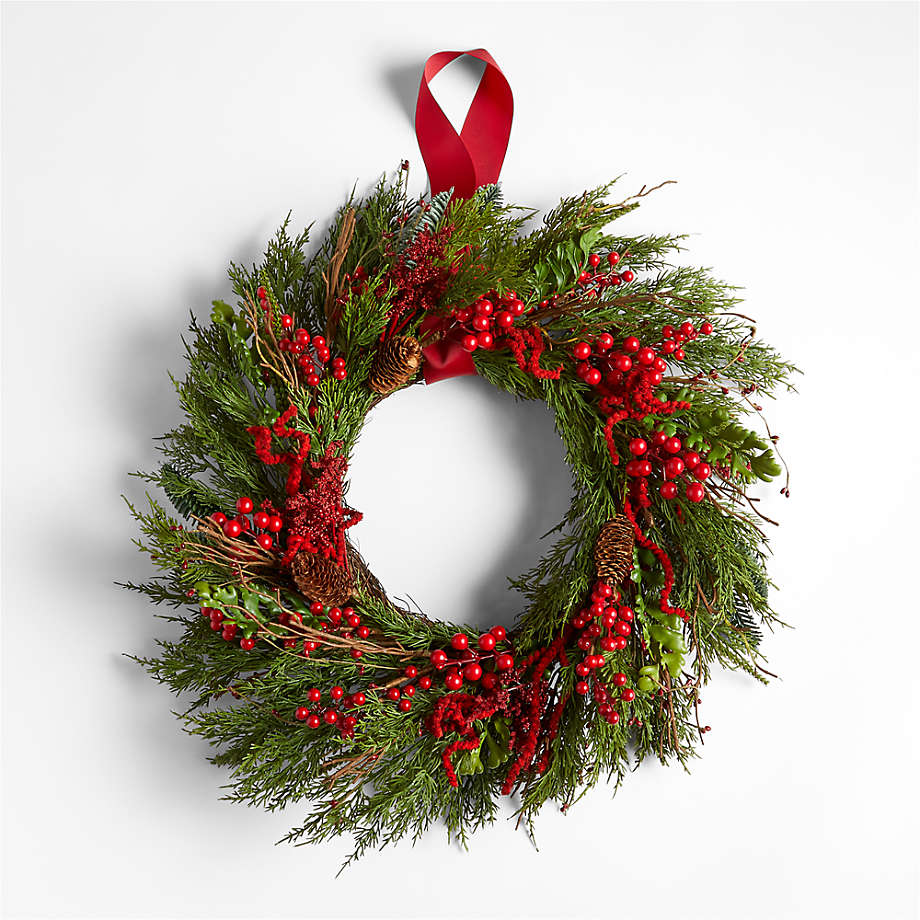 6. Faux Red Berry and Pine Wreath: this beautiful wreath is under $80 and the red berries pop so much on the evergreens included in it! It's the perfect Christmas wreath and would look so beautiful inside your home or on your front door this holiday season.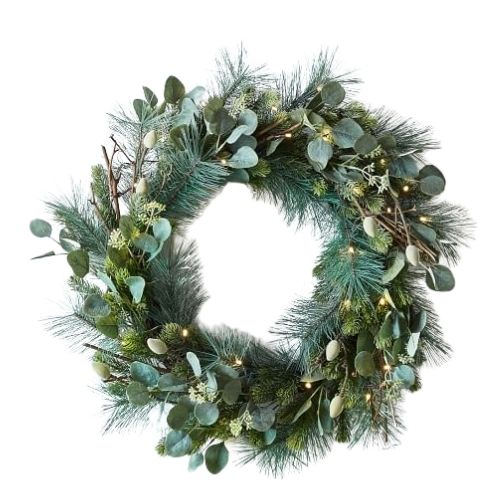 7. Faux Eucalyptus and Pine Wreath: I absolutely love this pre-lit, faux eucalyptus wreath! It's SO pretty and festive but still neutral enough that it matches every styled decor you have in your home this season. It'd look especially beautiful on a blue door!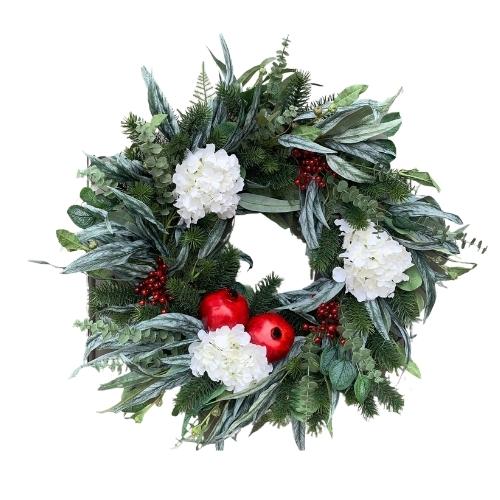 8. Christmas Hydrangea Wreath: you don't always see hydrangea flowers and pomegranates on a Christmas wreath, which is exactly why I love this one soo much. It's SO different and absolutely gorgeous!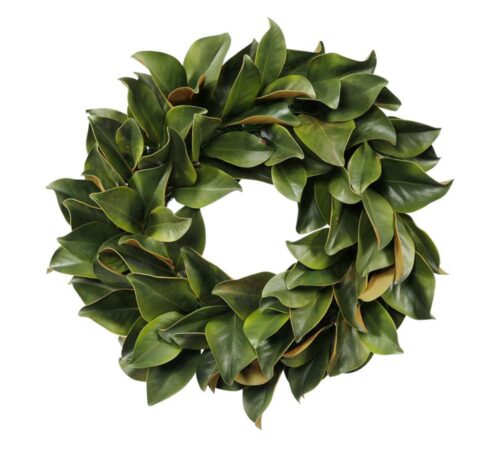 9. Faux Magnolia Leaf Wreath: this beautiful, classic magnolia leaf wreath is the most beautiful for the holidays! It'll look beautiful hanging in your home all season long.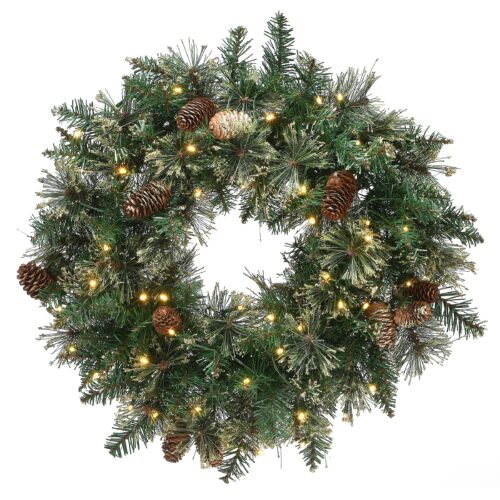 10. Golden Bristle Mixed Branch Wreath: here is something a bit different in terms of a traditional colored wreath for Christmas, but I love the touches of gold! It has warm white LED lights strung on it so it'll glisten and glimmer in your home this holiday season.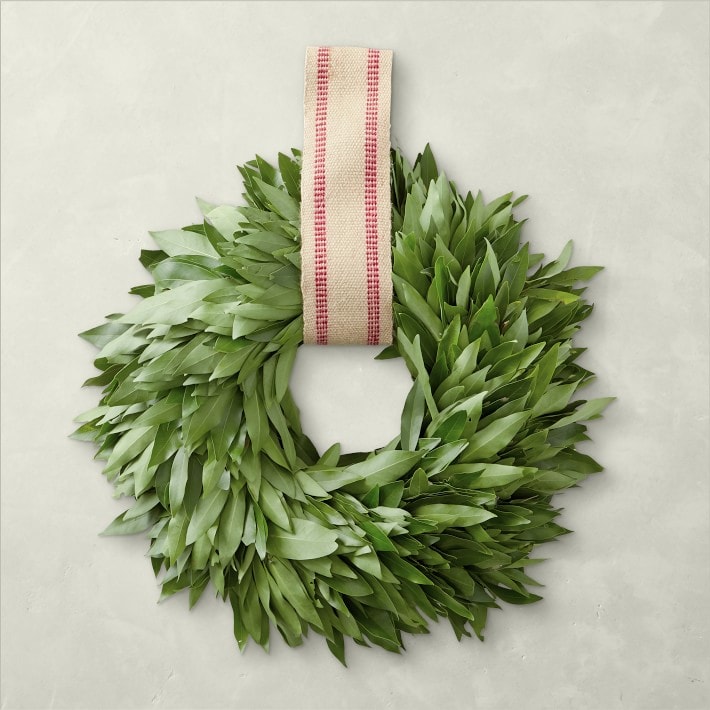 11. Bay Leaf Wreath with Burlap Ribbon: the tan/red striped burlap ribbon on this wreath acts as a hanger, so you really could display this beauty anywhere. I absolutely love the simplicity of it and it is under $50. I bought this one last year for my kitchen hood and it smelled so yummy when I was cooking.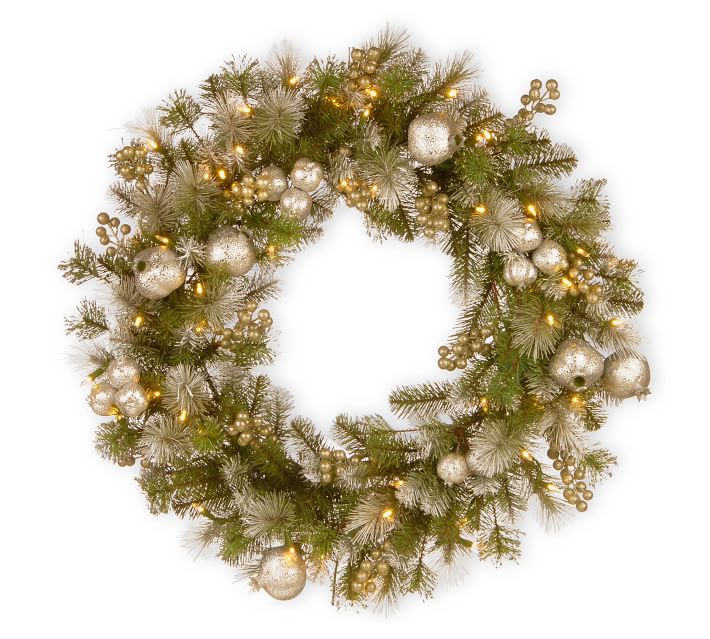 12. Mixed Pine Glitter Wreath: this wreath comes in 24″ and 30″ and you just cannot beat a glistening, gold wreath like this for the holiday season. It is SO pretty and not your typical holiday wreath which makes it different and a statement piece for your home!

We hope these beautiful Christmas wreaths help you to find the best wreath for your home this holiday season!
Follow along to get more of my tips on home decor, DIY and lifestyle on the following: