Best Storage Containers for Christmas Decor
This post may contain affiliate links. Please read our disclosure policy.
Sharing a collection of storage containers for Christmas decor to help you get organized after the holidays. 
It's that time to start putting all your holiday decor away but you have them all stored in cardboard moving boxes. You have no idea what you have and there is no rhyme or reason to what goes in which box.
Does this sound all too familiar? Friends this has been me. It makes me crazy.
So last year I did a HUGE purge of my Christmas decor right after the season and I started switching out all the boxes and storage containers to help it make more sense and be easier to find.
This year when I pulled them all out it was so easy to find everything and I thought I really should share with you what pieces I have been using and how to use them.
I broke it out into sections too to make it easier to see what pieces are for what.
I hope you love this and find it very useful!
This post contains some affiliate links for your convenience. Click here to read my full disclosure policy.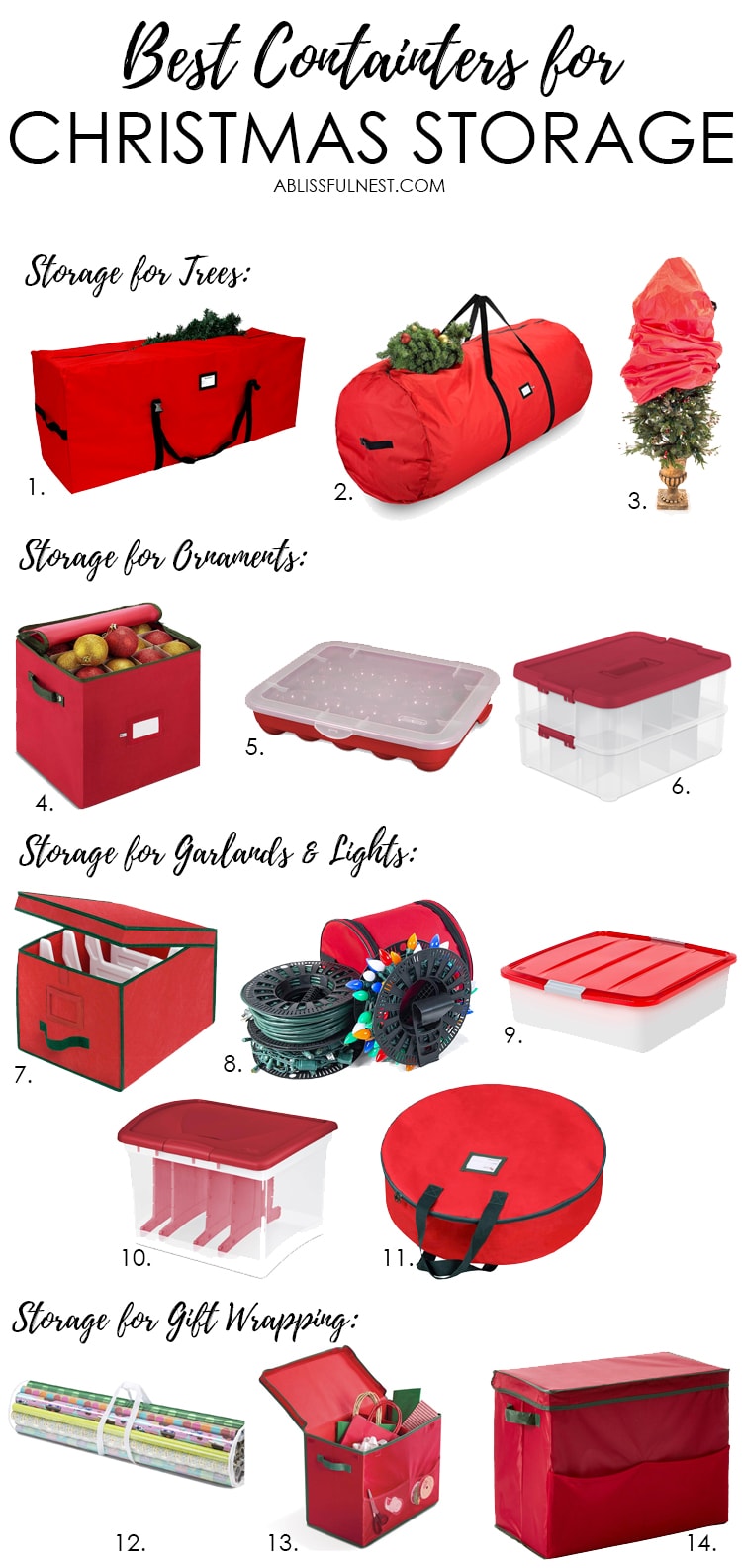 1 | 2 | 3 | 4 | 5 | 6 | 7 | 8 | 9 | 10 | 11 | 12 | 13 | 14
Storage Containers for Christmas Decor:
Storage for Christmas Trees:
1. Christmas Tree Storage Bag – This one is in a box size which makes it easy to stack with other storage boxes. It fits up to an 8′ tree and has durable straps to make it easy to carry.
The red color makes it stand out when stored and you will know that it is part of your holiday decor and not mixed up with the other boxes in your attic.
2. Duffle Christmas Tree Storage Bag – Made from a durable tear and waterproof canvas and 3 stitch-reinforced handles. This storage bag fits up to a 9′ tree.
It is in a festive, bright red holiday color so this bag stands out in storage helping you to easily locate your artificial Christmas tree storage box.
3. Topiary Tree Storage Bag – Made of a durable red canvas bag and fits up to a 4′ tree.
You can leave the tree completely assembled and store it upright with this easy to store bag. It has reinforced handles to help move it easily no matter how heavy it is.
Storage for Ornaments:
4. Christmas Ornament Storage Box – Stores up to 64 ornaments and has cardboard dividers that help keep decoration ornaments safe from scratches and shattering.
Made of durable non-woven fabric and heavy-duty cardboard. The square size makes it easy to stack and allows space-saving with other storage boxes.
5. Compartment Christmas Holiday Ornament Storage Box – This lightweight container has a molded design to fit your ornaments perfectly.
It comes in a set of 6 containers making this value-packed6.
6. Holiday Storage Container Set – This set has 24 compartments – big enough for all your holiday ornaments and also comes in a six or twelve pack as well.
We love this one since it is durable and has a red top so you know it is part of your holiday decor when stored away.
Storage for Garlands & Lights:
7. Christmas Light Box Organizer – This one matches our #4 favorite and is the smartest way to store your holiday strands of lights. It has 4 light holders that hold up to 200 lights each for a total of 800 lights per box.
We love how compact this is and easily could fit into another larger sized box if you wanted to compartmentalize your decor.
8. Light Storage Reels – These light storage reels come in a durable canvas storage bag that is easy to keep clean and store. They store up to 125 mini lights or 75 traditional Christmas lights.
Why we love this one so much is it keeps your lights tangle-free and has a gutter ladder hook that attaches to your gutter to help you easily install and remove them.
9. Holiday Wreath Box – These are the perfect size boxes for your wreaths and garlands. Slim and features a red lid so you know it is part of your holiday decor.
This comes in a set of 3 boxes and is a very durable and sturdy container with latches on the sides.
10. Clear Christmas Light & Garland Storage Container – Each reel accommodates up to 400 lights and it is easy to see what you have with the clear see-through base.
This comes with 4 containers and has an easy to clean hard storage container with heavy-duty latches.
11. Wreath Storage Bag – Made of durable polyester and heavy-duty handles to make it easy to carry and store.
Designed to fit wreaths up to 30″ and in a bright red color so you know it's part of your holiday decor in your attic. Recommended storing it on an upper shelf so it doesn't get crushed.
Storage for Gift Wrapping:
12. Clear Gift Wrap Organizer –  Stores multiple rolls and is in a clear vinyl so you can see what you have. This organizer protects against dust, moisture, and other damage.
It stores up to 25 standard 30″ rolls of wrapping paper and has handles to easily carry it.
13. Christmas Bow Box –  This is the perfect solution for keeping your holiday bows, tags, and small gift bags protected.
It has two side latches that are sure to keep your content secure as well as a handle for easy portability. This box is a small, slim solution that can easily fit on any shelf and comes in a set of 3.
14. Gift Bag Storage Tote Organizer – This organizer has an adjustable compartment divider for creating 2 separate storage areas for all your gift bags.
It holds multi-sized gift bags, tissue paper, flat wrapping paper, and more.
I hope you love all these Christmas storage bins and ornament storage ideas. Getting organized now when you are putting it all away will make it so much easier on you next year.

Follow along to get more of my tips on home decor, DIY, and lifestyle on the following: