5 Ways to Refresh Your Home for the New Year
Happy New Year all! It's Michele here from Sweet Threads Design Co. with some tips on quick and easy ways to refresh your home on a budget, after the holidays (or any time you need a cheap update to your décor).
It's a brand-new year and a great time to declutter, upgrade and breathe some life back into your space. Your house has probably been swimming in Christmas decorations, trees, presents and more for the past month. Once all those decorations are down, your house might feel a little sad and empty. January and February can seem long and a little blah. But you know what? This is the best time to freshen up your space to combat those dreary winter months ahead. Here are 5 quick, easy and inexpensive ways to freshen up your home and give your house a quick update.
This site contains affiliate links. Please read our disclosure policy. As an Amazon Associate, I earn from qualifying purchases.
5 Ways to Refresh Your Home for the New Year
Refresh your living room with some new pillows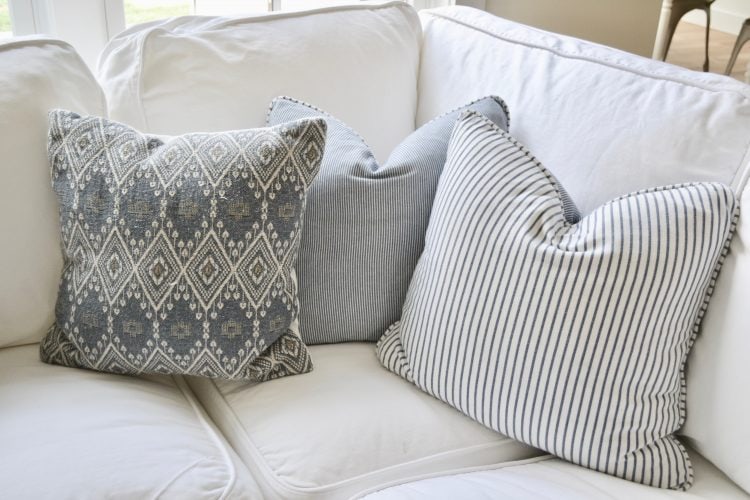 You've been living in shades of red and green. Now it's time to brighten it up! Throw pillows are the easiest, cheapest change to any space. You can find affordable pillows at Target or Home Goods in different colors and patterns. Add a great textured pillow, introduce a new bright pop of color, or simply spiff up your couch by adding some visual interest.
I love to brighten up my space. When it comes to adding light, I prefer to stick with pillows and accessories in pretty, neutral tones and soft shades of blue. I tend to keep patterns simple with some stripes and then add one fun accent pillow. To keep the look of your living room wintery, add a cable knit sweater to your couch. This decorating tip is also a functional one—you can easily cozy up in your sweater on cold, winter nights.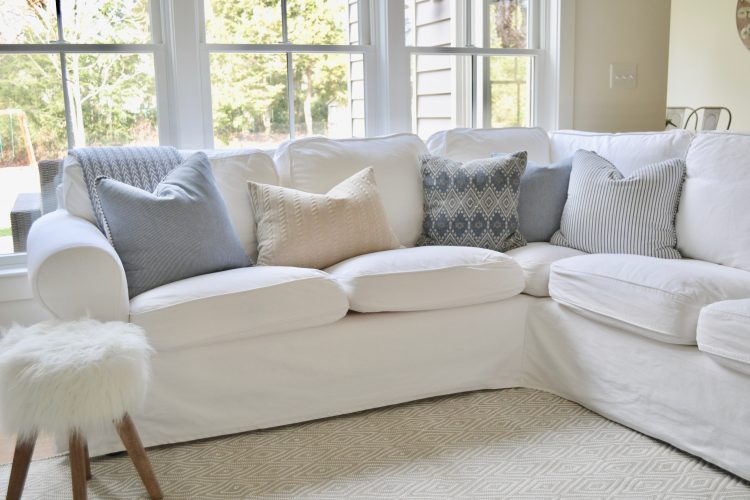 Greet your guests with winter simplicity
You've decked the halls and the front of your home with lights, garland and more. It's time to tone it down and add a simple, peaceful vibe to your New Year's décor. Many of us resolve to simplify and down-size starting January 1st. Why not start with your entry way?
Spruce up your front porch while still keeping it seasonally simple with some fresh evergreens and lanterns. I picked up these little trees at my local Home Depot and placed them in my well-loved olive buckets. It adds some seasonal décor to my front porch without going overboard. A set of simple lanterns completes my winter porch décor and warmly greets my guests all season long. I wrapped some burlap around them for protection from the cold winter winds as I plan on planting them in the spring. It adds a little life to the porch and gives me something to look forward to once planting season rolls around!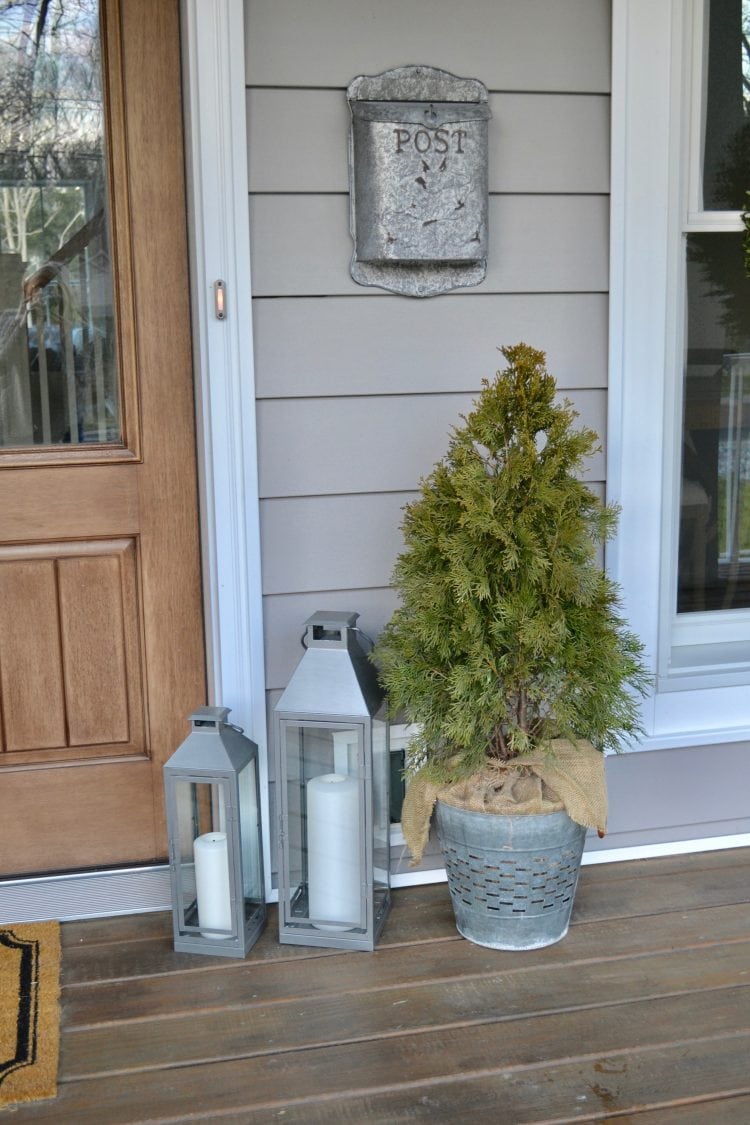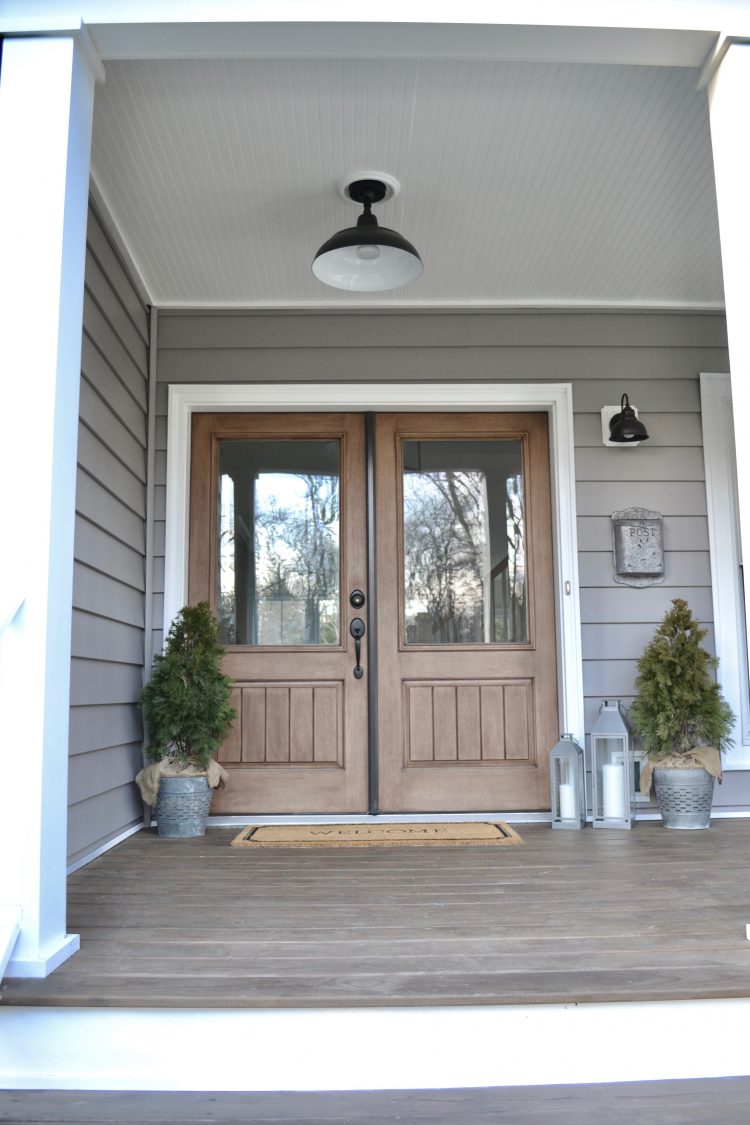 Bring some greenery back in
I know you're probably tired of looking at your dying Christmas tree. Take the tree out, but don't hesitate to subtlety bring some pops of greenery back into your home. Before I kick my tree to the curb, I save a few clippings and make an arrangement for the house. Evergreens don't feel "too Christmasy" when combined with some berries or used to accent other pieces.
This dough bowl that I picked up at a flea market last year has been the most versatile thing I own. It goes with everything. It looks especially great on my dining room table. I use it seasonally, and in the winter, fill it with fresh evergreens and pinecones. It adds a bit of color to the space and keeps our home seasonal. You could also use succulents, a Christmas cactus, or other greenery to add some vibrant color here and there throughout your space.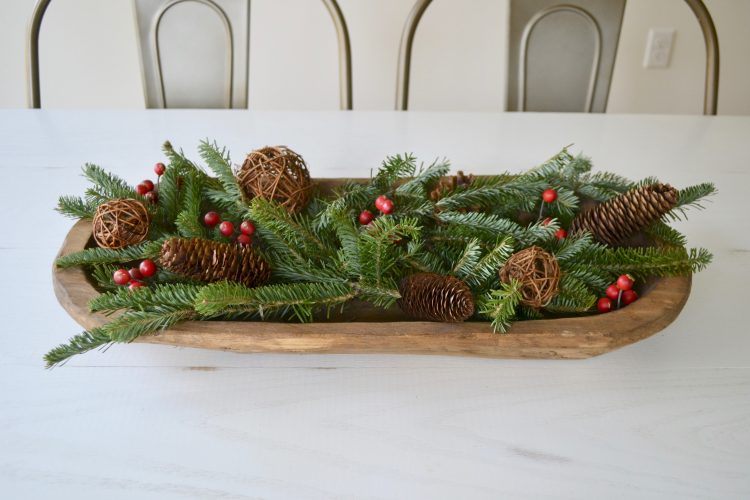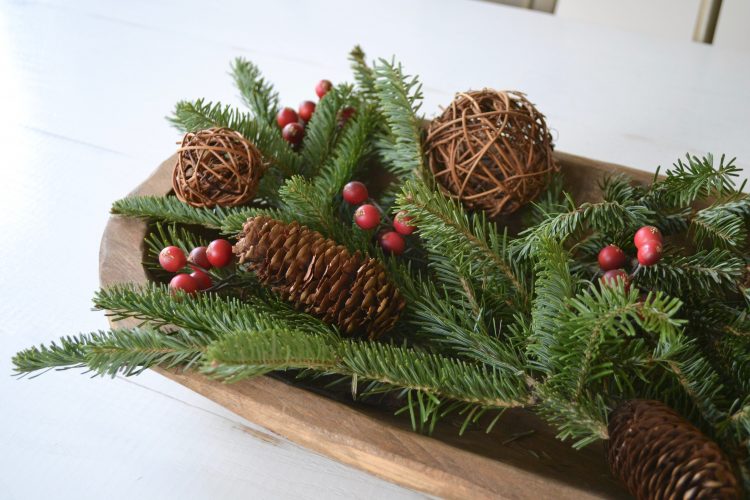 Buy one new key piece
It's always fun to buy a new piece and you don't have to break the bank to do it! Splurging on something visually interesting for your space is a great way to make a big impact. Look for items that are quirky, unique or simply make you smile. It's not about the price tag, but the way the accessory makes you feel. Watch flea markets, second-hand stores and clearance sections to find your "focal piece."
Whether it's a fun vintage find or a new modern element, a big or small piece, it will make your home feel refreshed. I scooped up this flokati stool on clearance in Target and it was just what a small corner of my room needed for some life. It brightens up the space and it puts a grin on my face every time I walk by.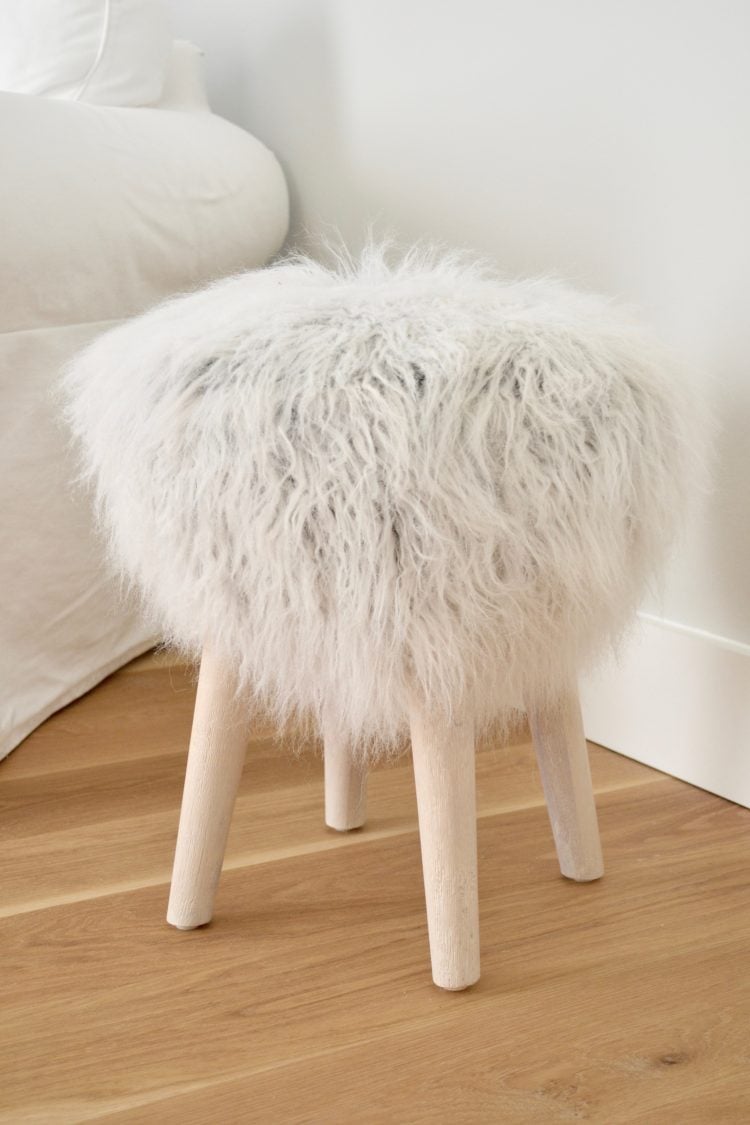 Splurge on some new linens
Maybe you had a few holiday towels in your bathroom or perhaps you're just sick of your kitchen towels and could use an update. New linens are an inexpensive way to update your space and treat yourself.
Add some modern and fresh vibes to any space with a set of Turkish towels. They come in beautiful colors and patterns and are so versatile. I use them all over the house. They work in the bathrooms, kitchen, as are even great as throw blankets. Hang onto them, because when summer finally rolls around, you can use them as a beach or spa towel as well. They wash beautifully and dry super quickly. If you're looking for a fast, inexpensive upgrade, these towels are a must have in any home. New linens are the perfect treat for the new year!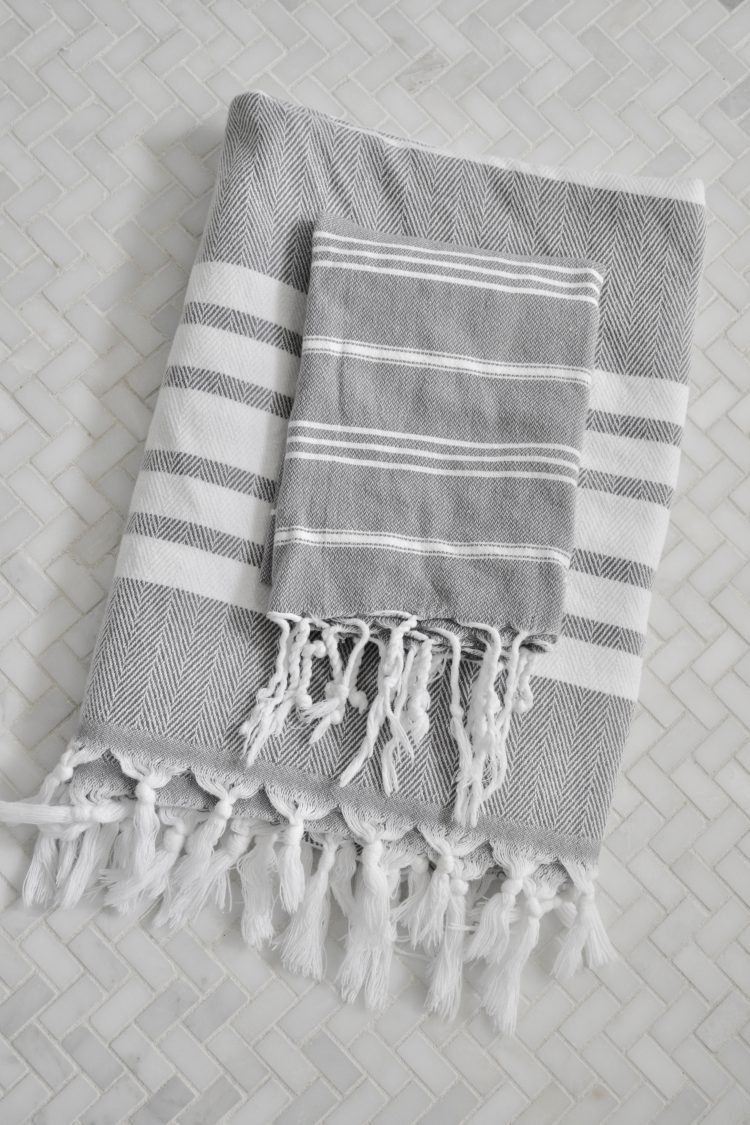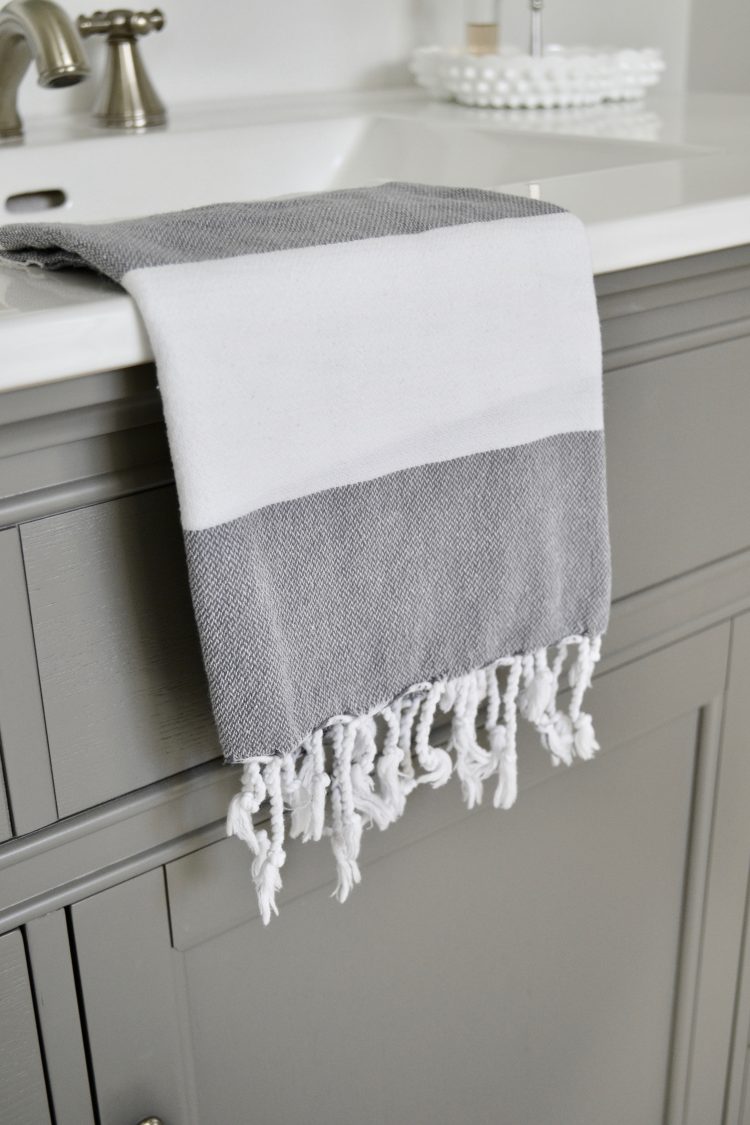 Updating your space for the new year doesn't need to be expensive. You don't need to redecorate or overhaul your entire house. Simply add a few touches here and there to welcome January and carry you through to spring. When your Christmas decorations are put away and your house is clean and organized, these extra refreshing pieces will add the final touch. Your home will feel clean, inviting and ready for the months ahead.
I hope this post inspires you on ways to refresh your home after the holidays and welcome a in whole new year of style in your space.