Happy New Year all! It's Michele here from Sweet Threads Design Co. with some tips on refreshing your home after the holidays. It's a brand new year and a great time to declutter and breathe some life back into your space. Your house has been swimming in Christmas décor, trees, presents and more for the past month or so and once it's all down it looks all sad and empty. But you know what? This is the best time to freshen up your space for the dreary winter months ahead. Here are 5 ways to freshen up your home after the holidays.
5 Ways to Refresh Your Home for the New Year
Toss out the old and refresh your living room with some new pillows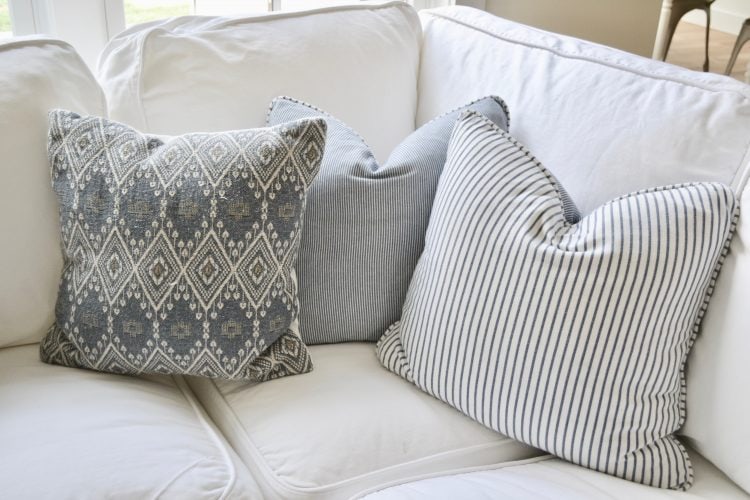 You've been living in shades of reds and greens, now it's time to brighten it up! Throw pillows are the easiest change to any space. You can find affordable pillows at Target or Home Goods in different colors and patterns. I love to brighten up my space and stick with pretty neutral tones and soft shades of blue. I tend to keep patterns simple with some stripes and then one fun accent pillow. To keep it wintery, add a cable knit sweater to your couch that you can cozy up to on cold, winter nights.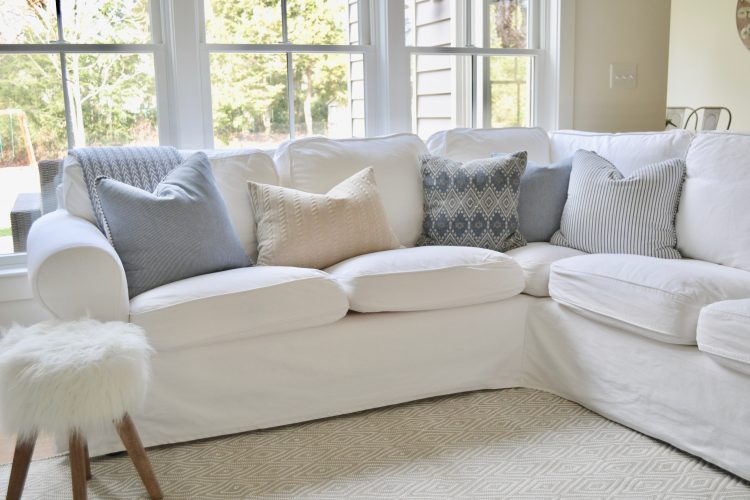 Greet your guests with winter simplicity
You've decked the halls and the front of your home with lights and more, now it's time to tone it down. Spruce up your front porch and keep it seasonally simple with some fresh evergreens and lanterns. I picked up these little trees at my local Home Depot and placed them in my well loved olive buckets. I wrapped some burlap around them for protection from the cold, winter winds as I plan on planting them in the spring. It adds some seasonal décor to my front porch without going overboard. A set of simple lanterns completes my winter porch décor and warmly greets my guests all season long.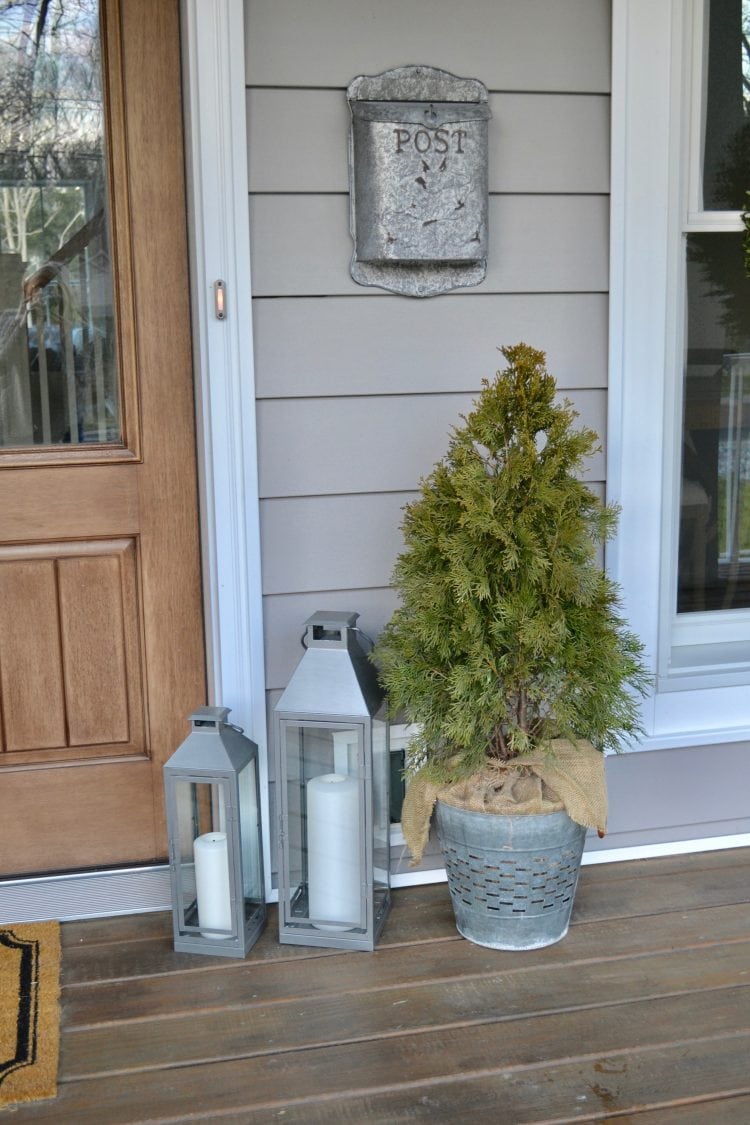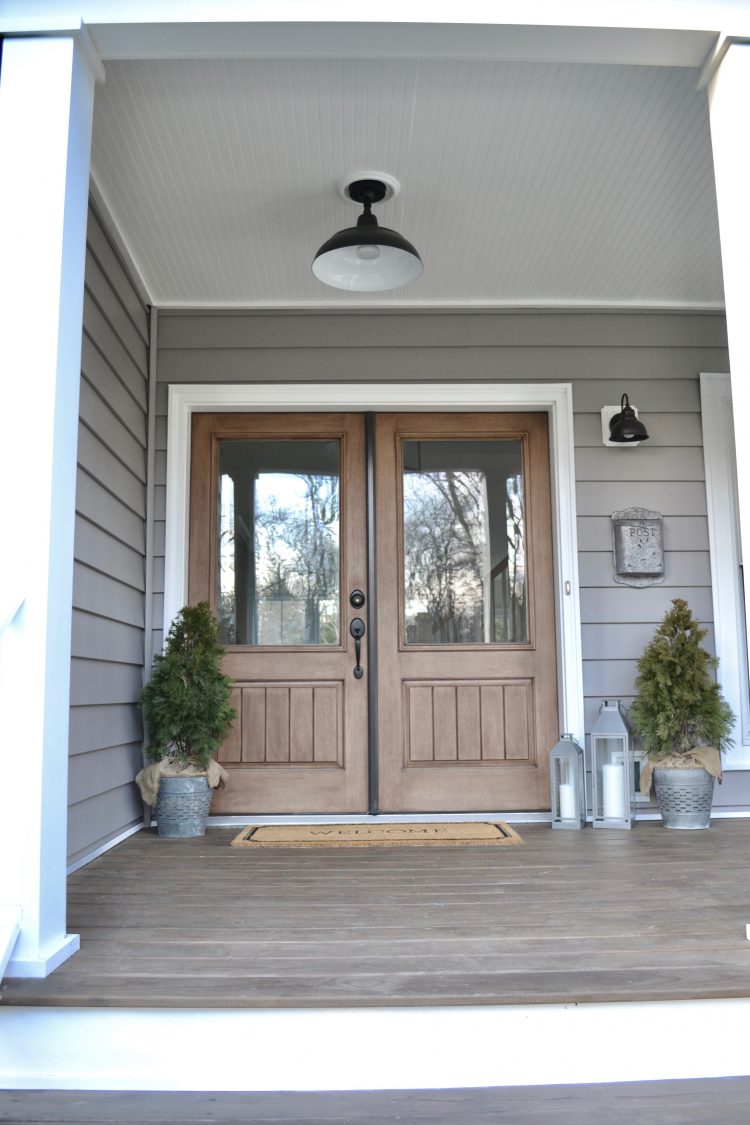 Bring some greenery back in
I know you are tired of looking at your dying Christmas tree but don't hesitate to subtlety bring some greenery back into your home. Before I kick my tree to the curb, I save a few clippings and make an arrangement for the house. This dough bowl that I picked up at a flea market last year has been the most versatile think I own. I use it seasonally, and in the winter, fill it with fresh evergreens and pinecones. It adds a bit of color to the space while still keeping our home seasonal.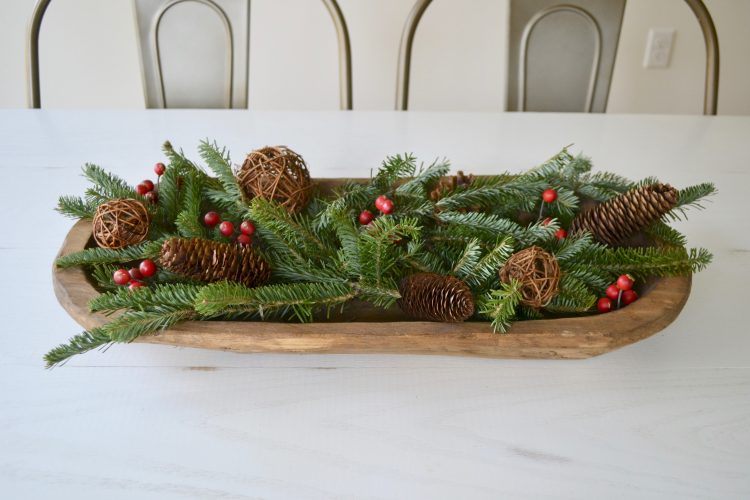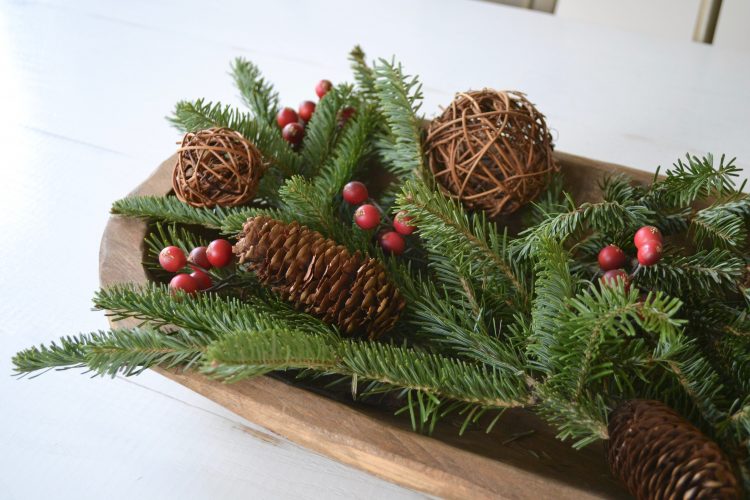 Buy one new key piece
It's always fun to buy something new and you don't have to break the bank to do it. Splurging on something fun for your space is a great way to breathe some life back into it. Whether it's a fun vintage find or a new modern element, big or small it will make your space and home feel new again. I scooped up this flokati stool on clearance in Target and it was just what a small corner of my room needed for some life. It brightens up the space and it puts a smile on my face every time I walk by.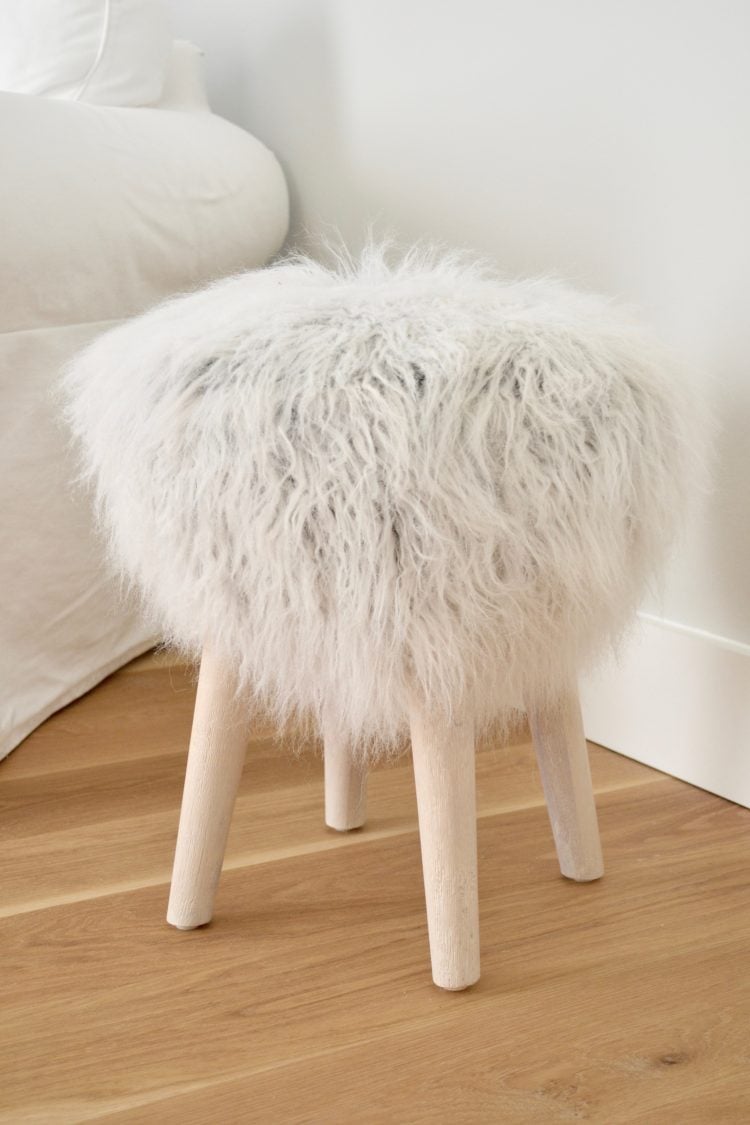 Splurge on some new linens
A set of new linens for the bath always easily freshens up the space. Add some modern and fresh vibes to any space with a set of Turkish towels. They come in beautiful colors and patterns and are so versatile. I use them all over the house….in the bathrooms, kitchen, as throw blankets. They can even be used as beach or spa towels. They wash beautifully and dry super quickly and are a must have in any home. Why not treat yourself to some new linens for a new year.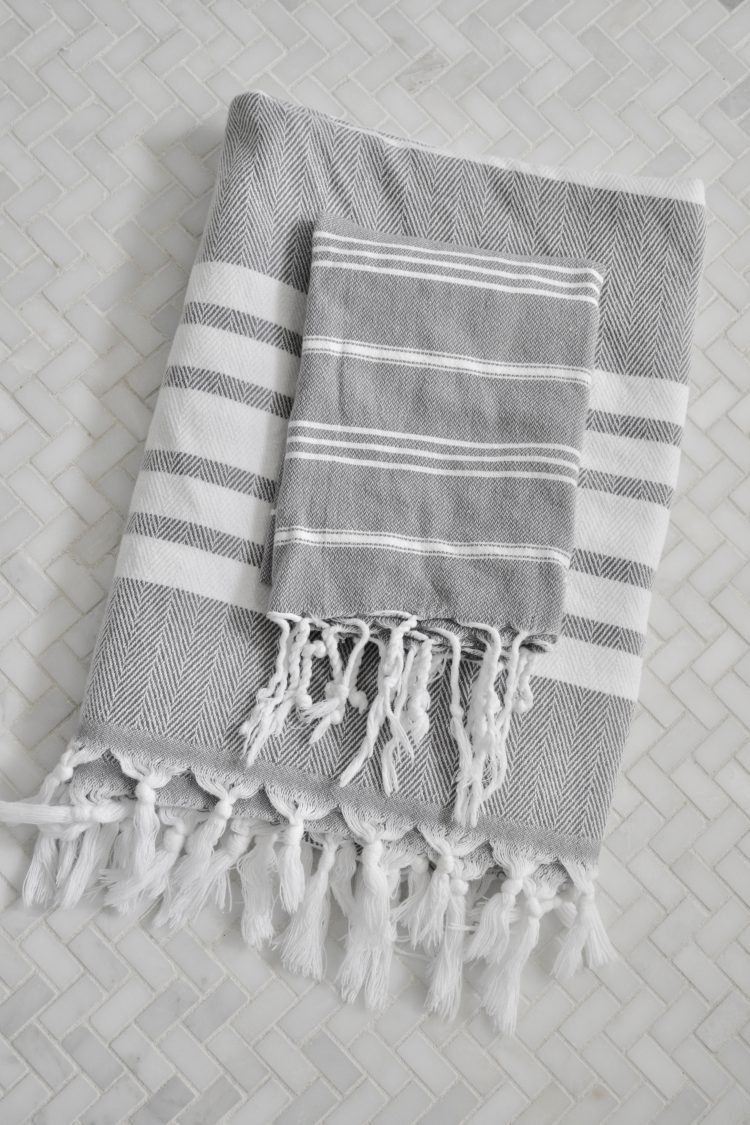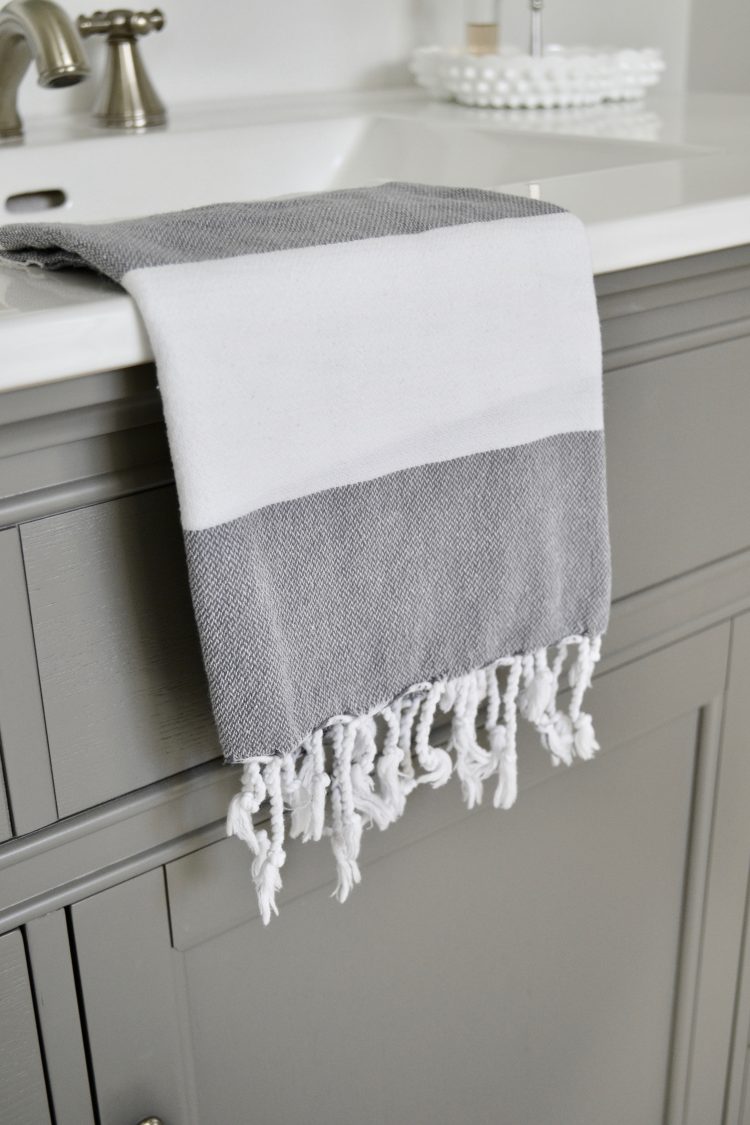 I hope this post inspires you on ways to freshen up your home after the holidays and welcome a whole new year of style in your space.