Simple Tips to Refresh Your Guest Bedroom For The Holidays
Sharing all of my favorite finds from Tuesday Morning to refresh your guest bedroom for the holidays with affordable pieces like bedding, blankets, candles, plush robes and slippers, and so much more! Plus a comprehensive shopping guide to shop Tuesday Morning like a pro.
This post is sponsored by Tuesday Morning, but all opinions are my own. This post contains some affiliate links for your convenience. Click here to read my full disclosure policy.
The season is here to start getting your home ready for guests and honestly, after the last 2 years, I could not be more thrilled to do so. I have missed my home filled with my loved ones during the holidays and finally this year it is starting to feel a bit more normal.
My guest bedroom has been ignored for so long and I have not done anything in there for almost 2 years. So now with family coming in town in a few weeks, I thought I should pop over to one of my favorite stores Tuesday Morning and get this room refreshed.
I have been shopping at Tuesday Morning since I was in college. They have always been a go-to source for me for affordable on-trend home decor pieces. I have found some incredible pieces that have been in my home for many years and I absolutely treasure them. Many pieces are 20%-60% off pricing from specialty and department stores.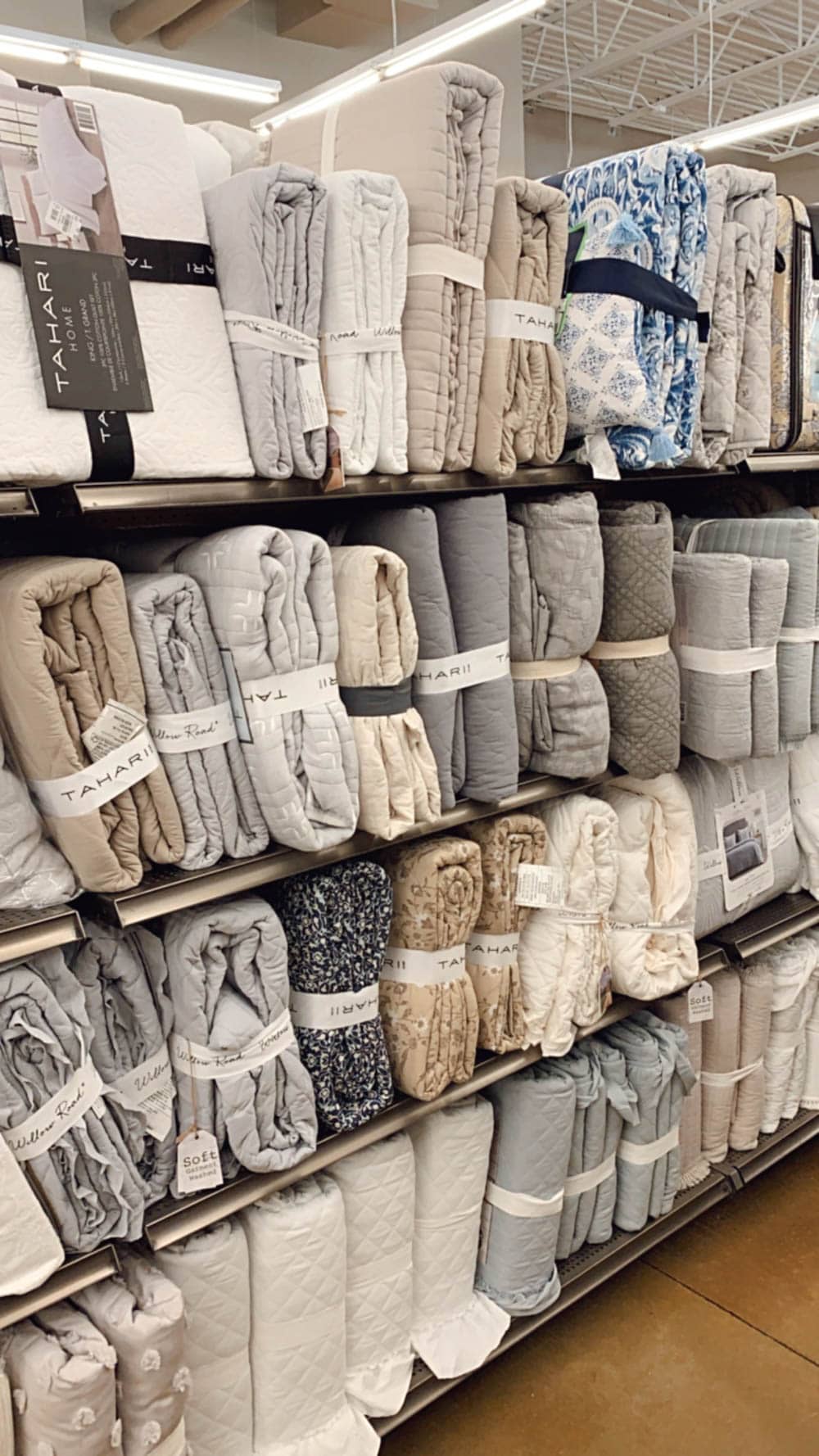 When shopping at Tuesday Morning, here are a few tips and tricks that I use to shop in-store.
Shop early in the season – especially with the way shipping has been worldwide, the seasonal product is out even earlier than you think! Go early before it all sells out.
Shop multiple stores – Every store has a different inventory, so if there is something you are still looking for or you need just one more dinner plate, I bet the other store near you has it.
Take your time – The shelves are stocked to the brim with amazing finds but sometimes if you are going too fast you might miss just what you are looking for. Go slow, and look behind what's in the front of the shelf. That's where you will find a great deal!
Know your favorite brands – Have a list of your favorite brands stored in your phone or on a list and look for them – you will find them! Sometimes I have missed out and when I went back it was gone.
Shop the clearance section – I cannot begin to tell you the number of amazing things I have found in the clearance section and usually, it's because they are not in a full set or there is a minor imperfection. I actually love the small imperfections and generally, it means I am getting an even better price.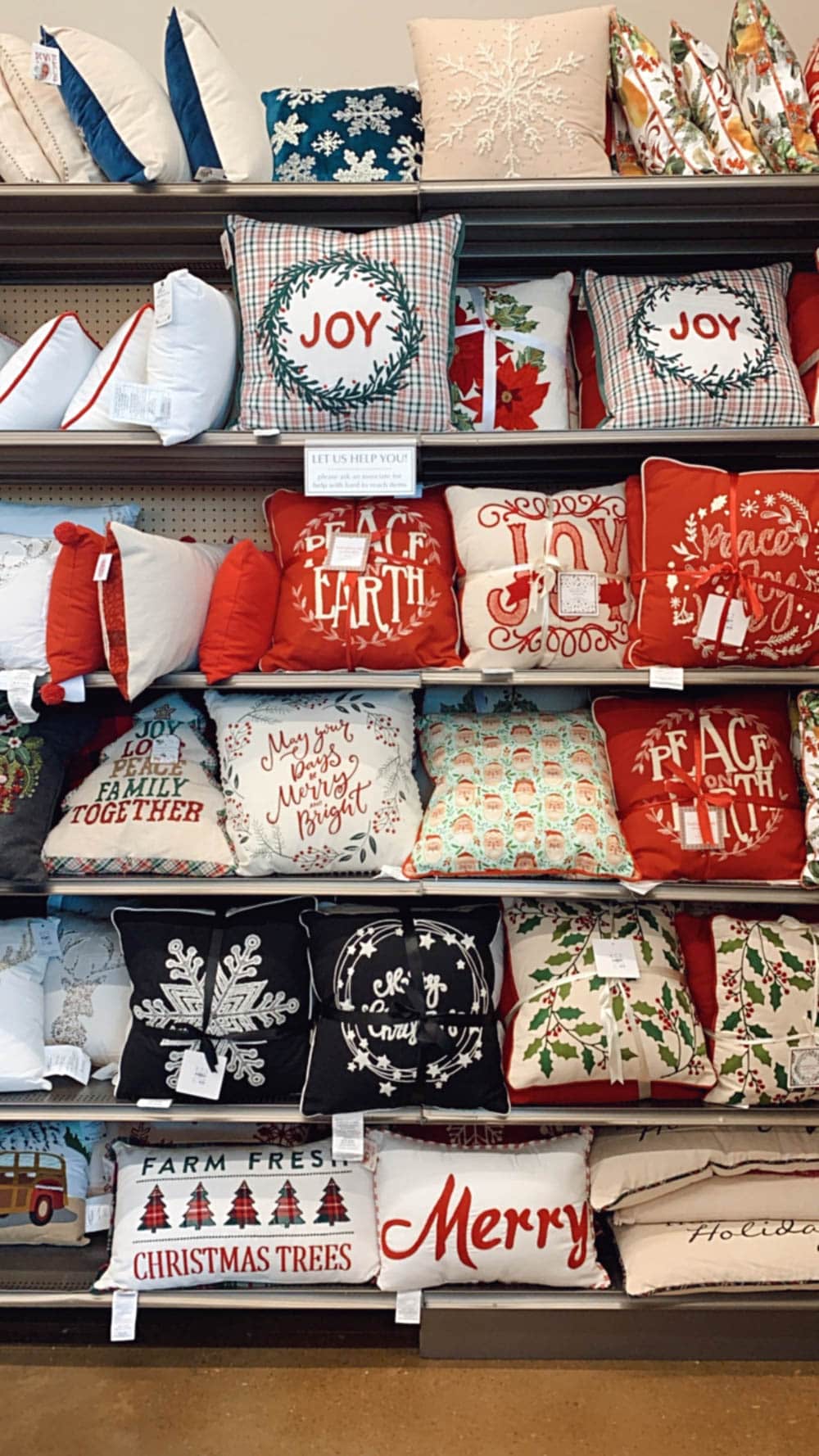 So now that you know all my secrets to shopping at Tuesday Morning, let me share with you my guest bedroom refresh for the holidays and some essential tips to updating your guest suite this season.
Simple Tips to Refresh Your Guest Bedroom For The Holidays:
There are a few key areas in a guest bedroom and bathroom I like to focus on when I am seasonally updating it. These tips help to create a more comfortable space for your guests and make the focus more on the time spent together.
Switch out your bedding
Changing out the bedding is one of the very first things I do. In the cooler months, I pull off my summer bedding and like to add in quilts, heavier blankets, and more pillows for an even cozier feel.
Some people get too hot or too cold when they are sleeping so this gives them the option to layer on more if they need it and not feel like they need to ask for additional bedding.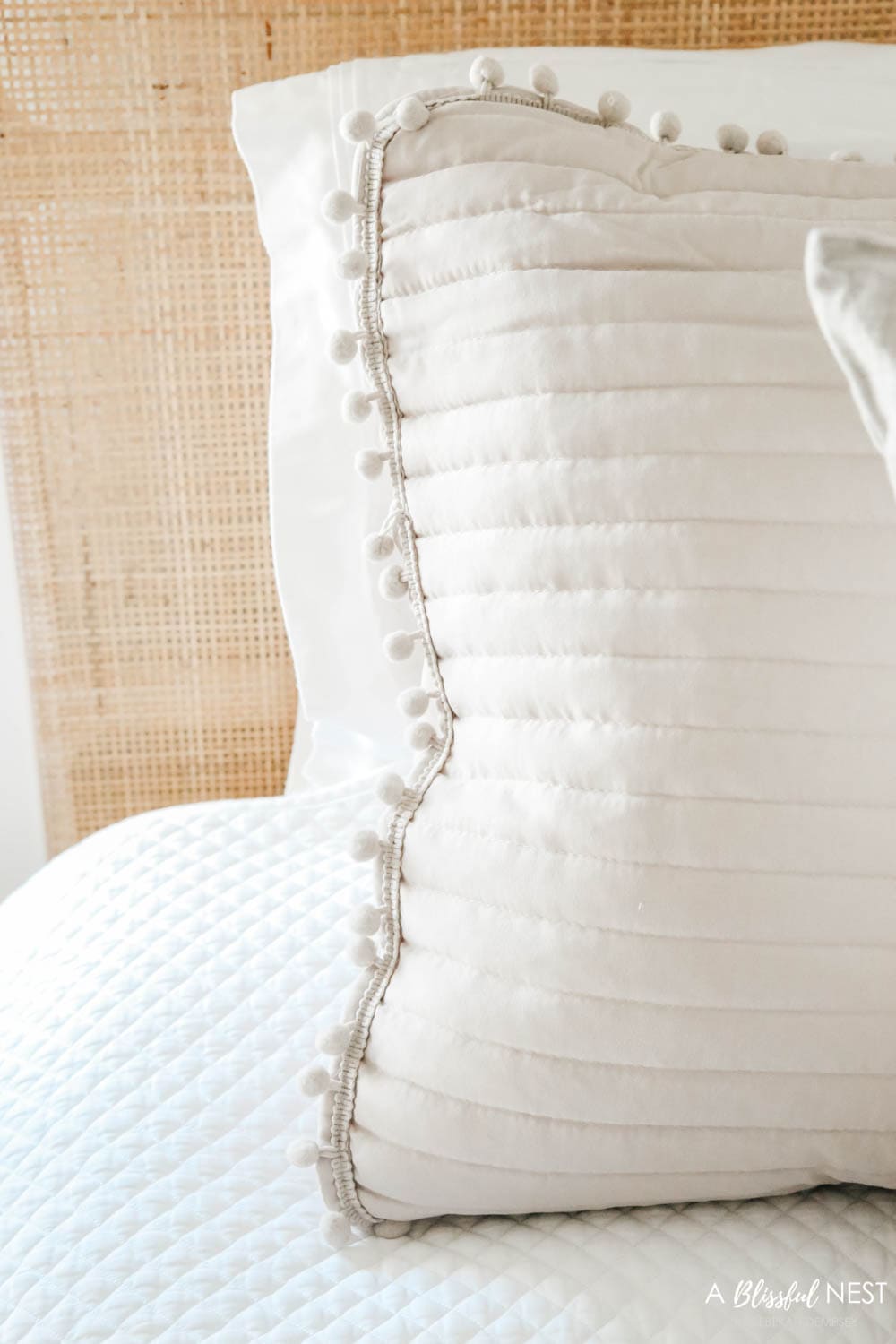 I found this beautiful quilt set at Tuesday Morning in this oatmeal color. I absolutely love the pom pom detail and it actually is a set I can transition and use for the next season. It came with the quilt and 2 shams.
I folded it in half and draped it over the bed to make it easier to pull off or on depending on if my guests need more warmth at night.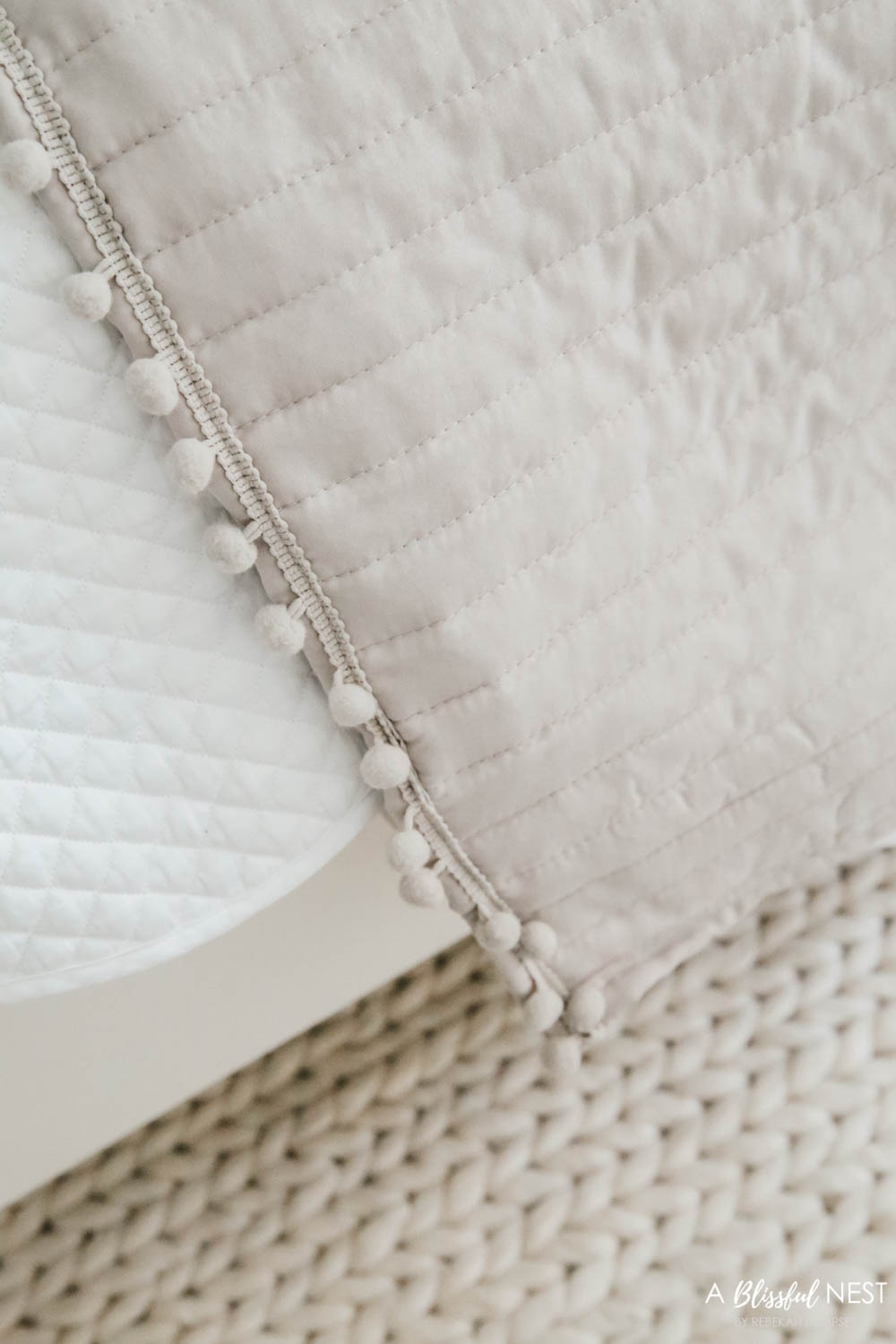 Create cozy layers to enjoy
I love to add lots of cozy layers. Once I have added bedding then I focus on plush blankets. These I simply drape across the bed, over the end of an armchair in the room, or even roll up in a basket at the foot of the bed.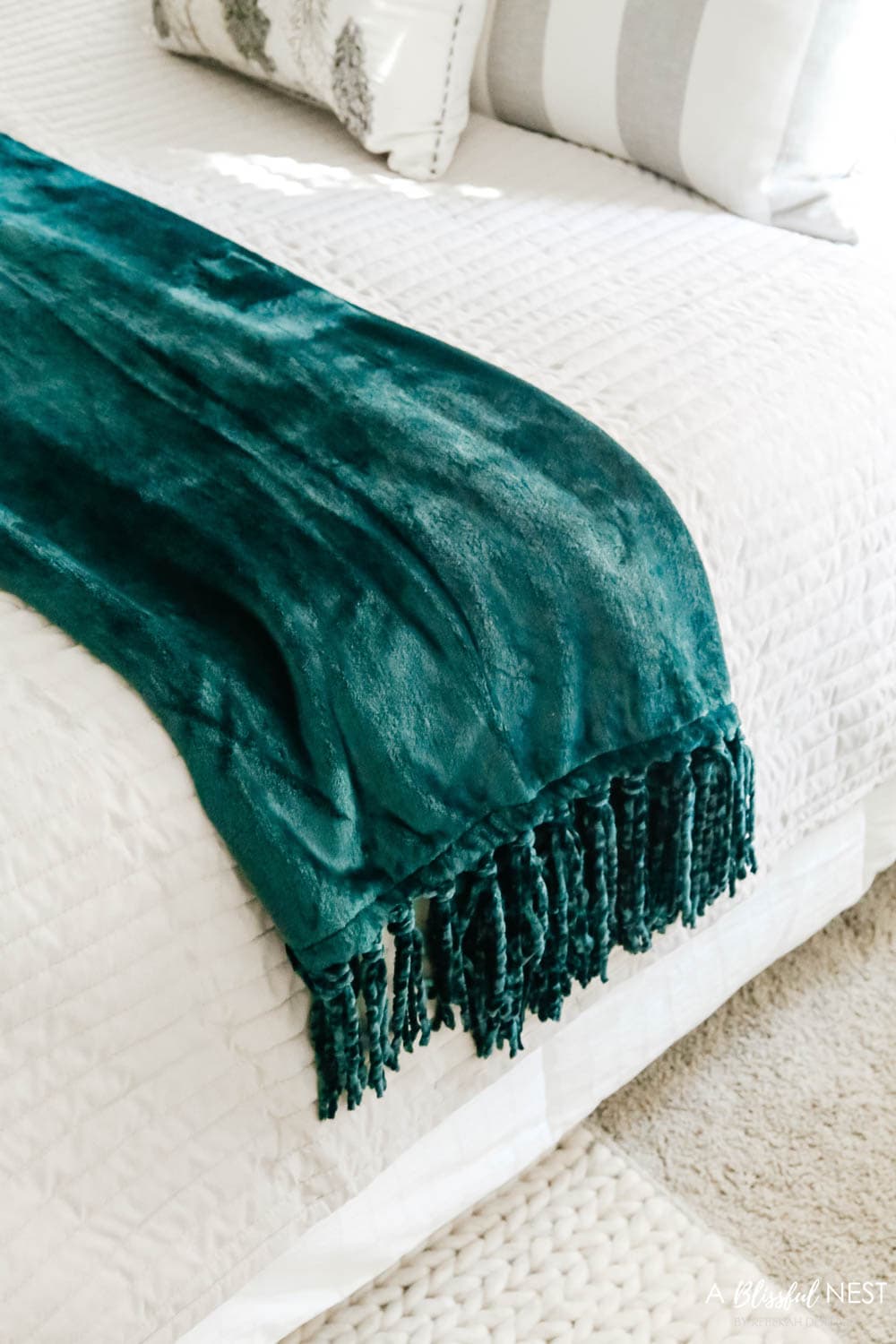 I am obsessed with this rich emerald green plush throw blanket from Tuesday Morning and it truly is such a bold pop of color in this space.
Add festive holiday decor and accents
Of course, since we are refreshing our guest room for the holidays you want to sprinkle in some holiday decor without going overboard.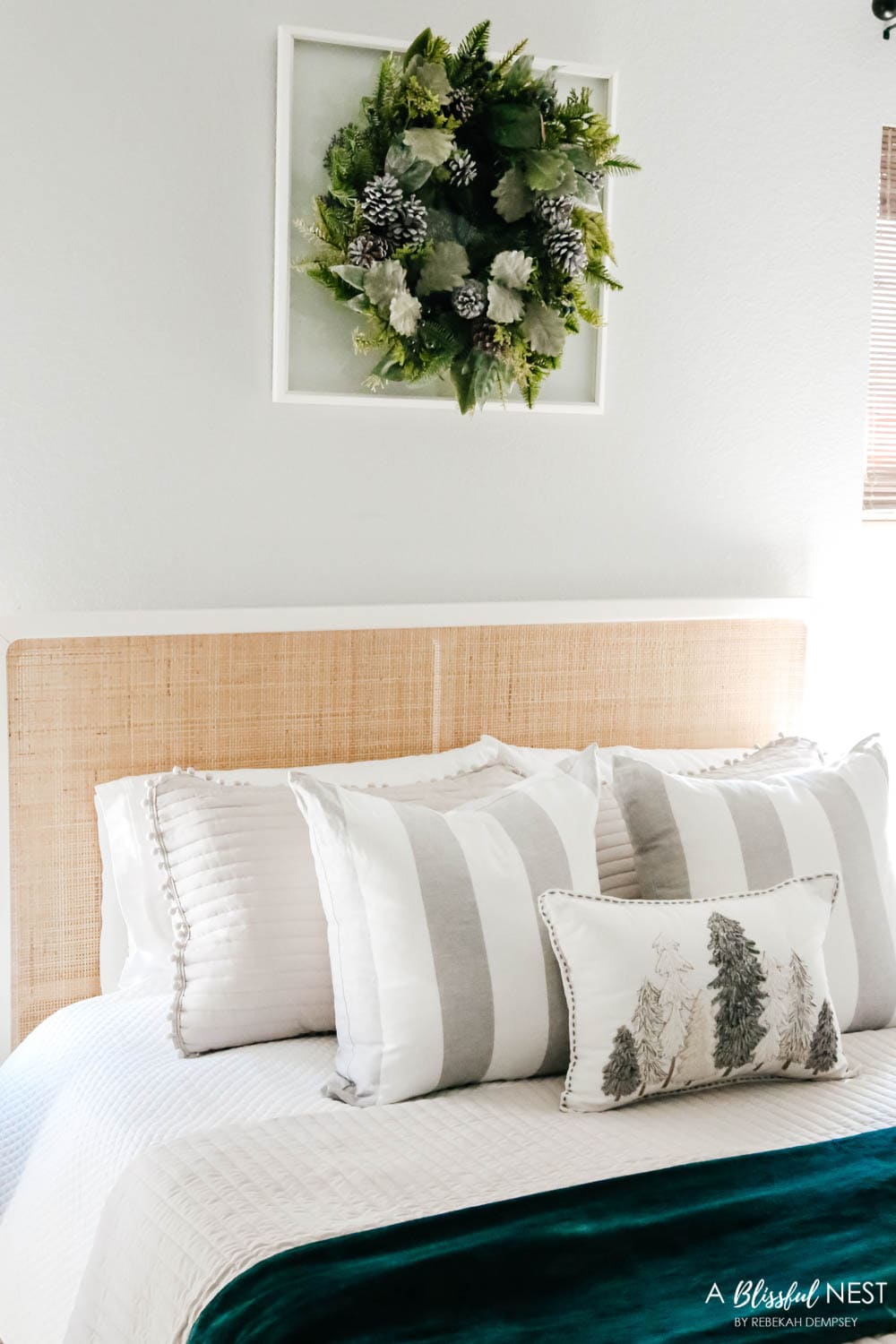 I found this beautiful tree pillow with silver flecks and thought it was the perfect neutral holiday accent. I tend to go for seasonal decor that I can use year after year and not get stuck with a specific color. Then when I change my colors for the next year I can use it again.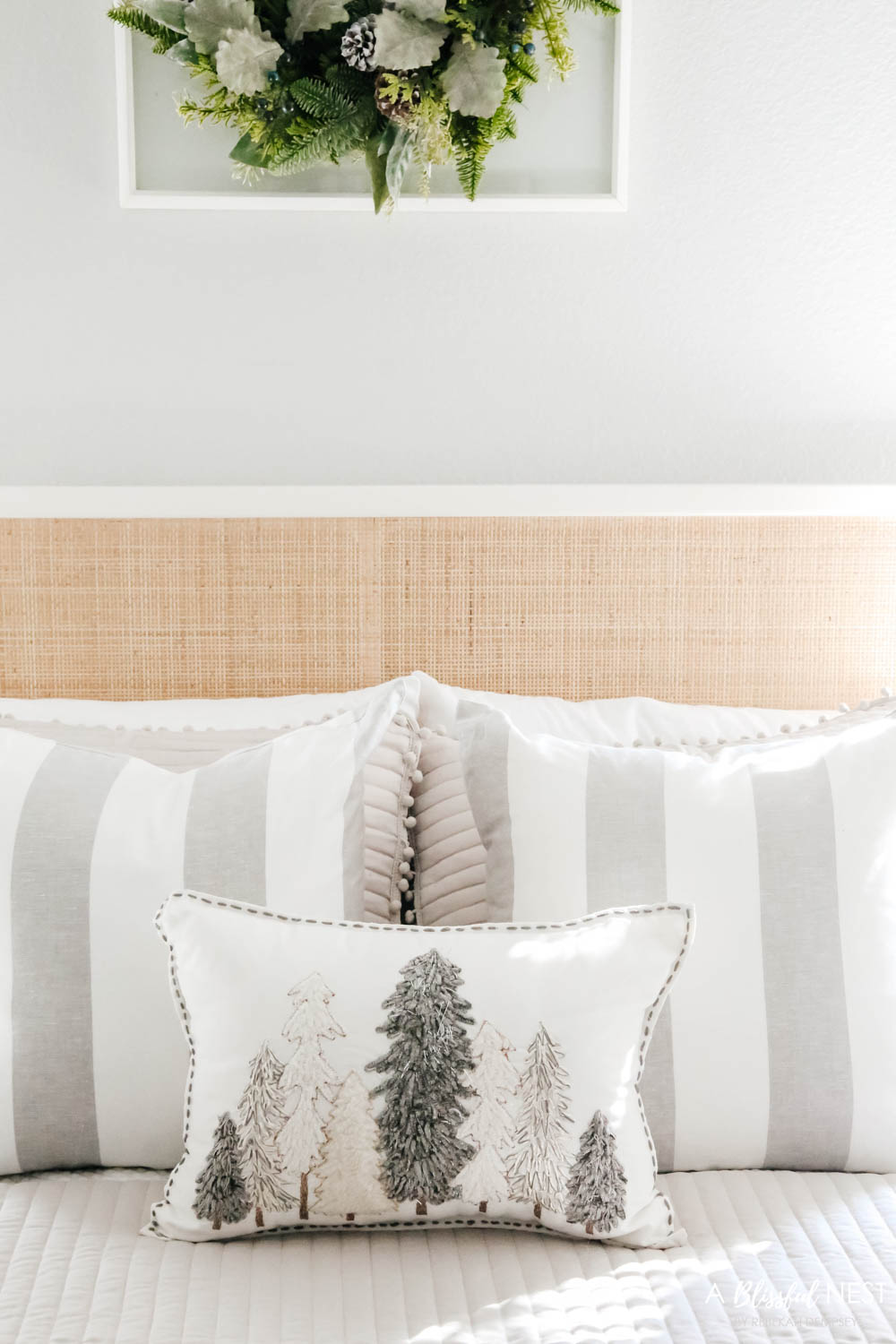 I love the holiday wreath selection at Tuesday Morning. There were so many beautiful options to choose from but I fell in love with this one with the pinecones and blueberries. My guest room is already in the shades of blue so I thought this would be beautifully hung above the bed.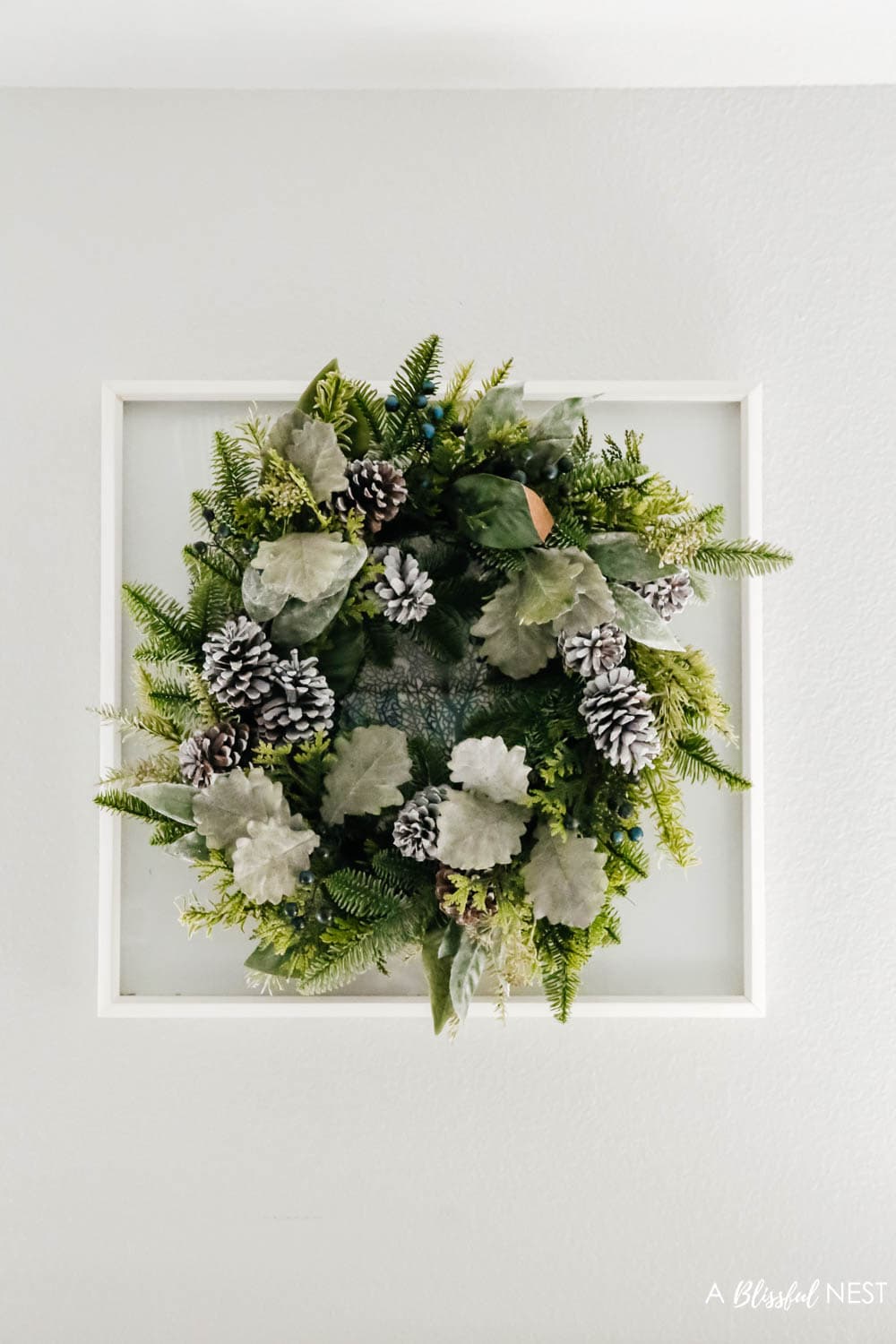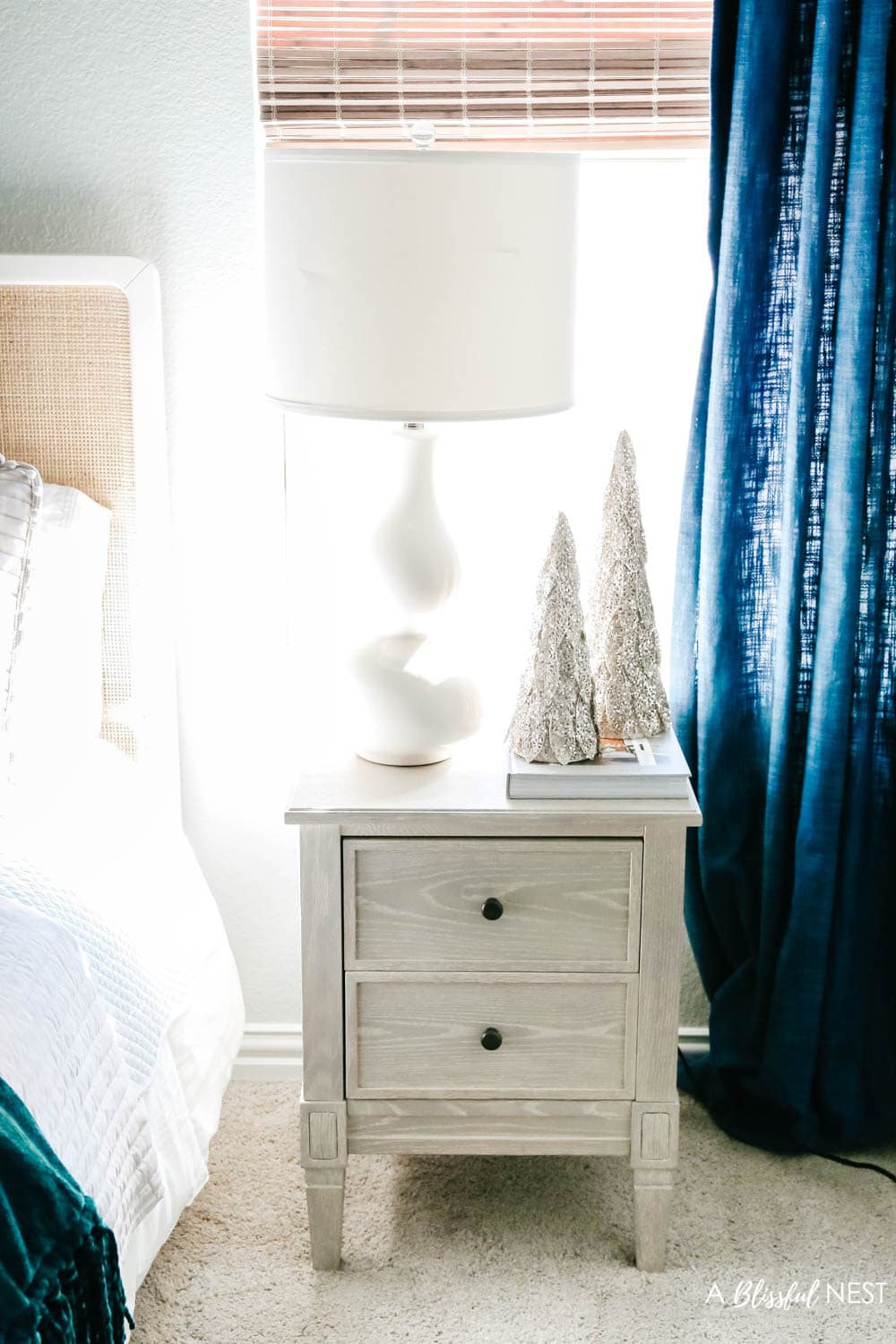 I am such a sucker for all the sparkle at holiday time and when I spotted these silver glitter trees at Tuesday Morning, my heart skipped a beat. I mean they are drop-dead fabulous.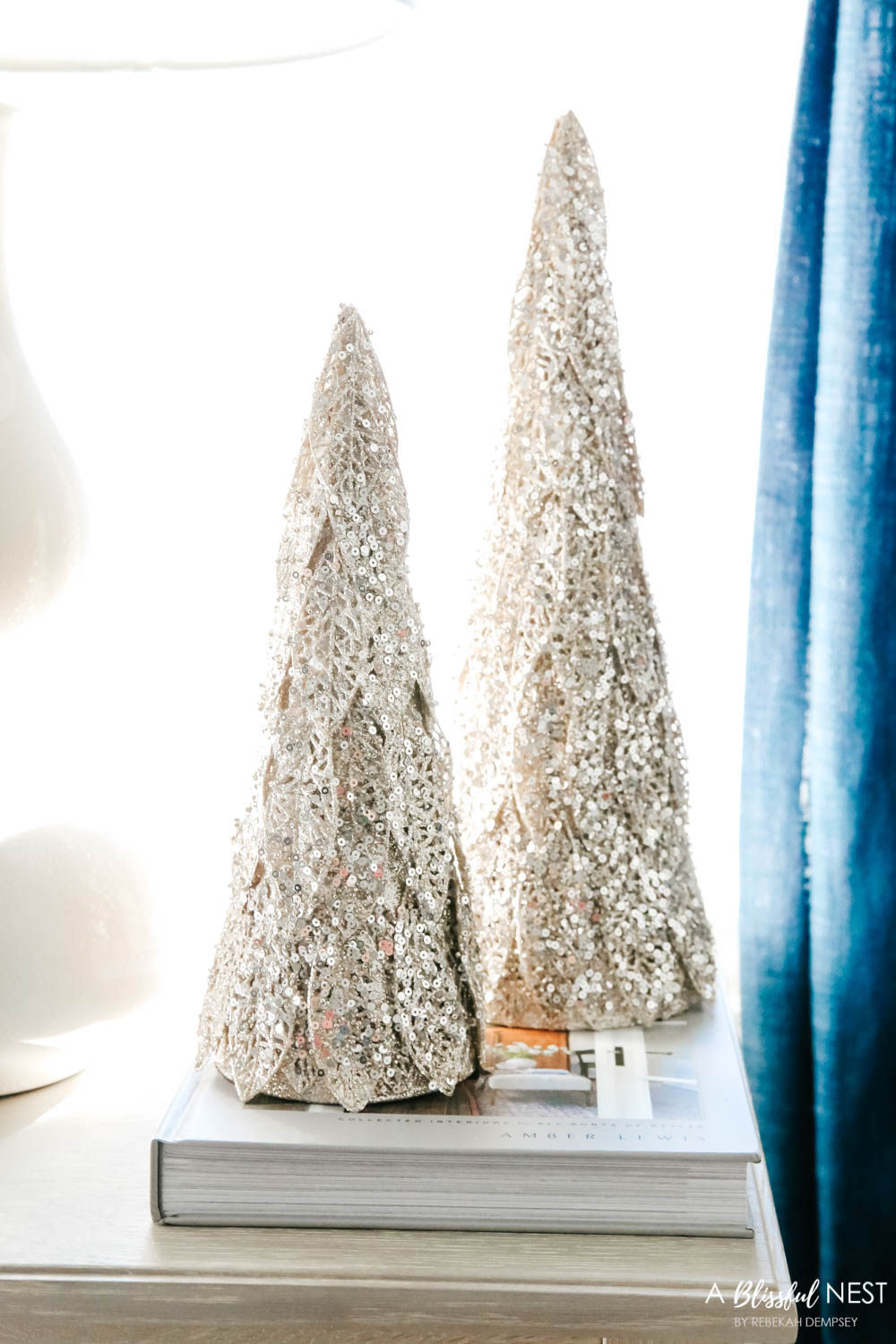 Fill the room with blooms and a yummy candle
I place seasonal flowers and a candle next to the side of the bed. Flowers make a room instantly feel lighter and brighter and I love the ambiance and smell a delicious-smelling candle adds.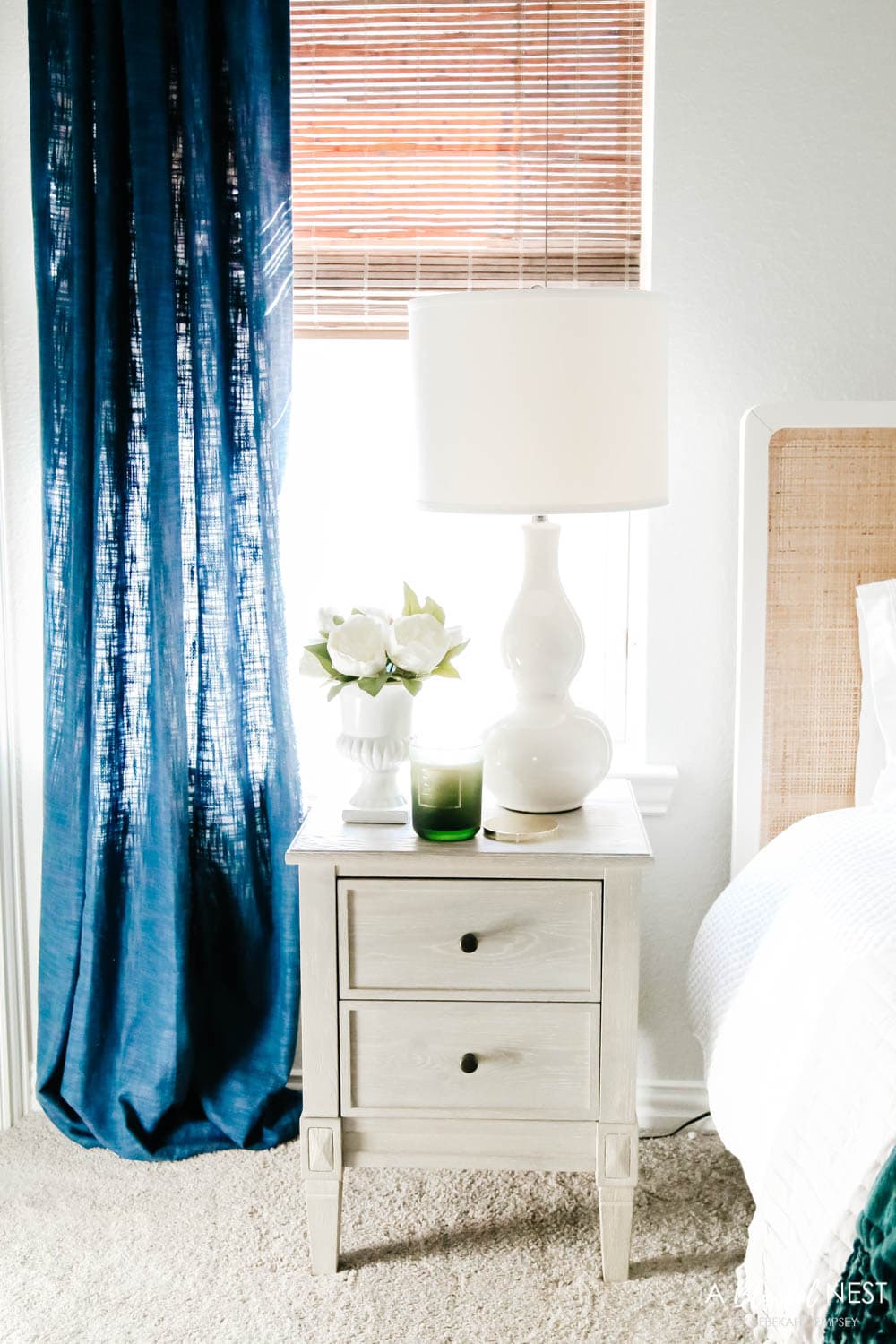 I can't wait to burn this warm green cypress candle! The forest green ombre glass is just stunning and ties in beautifully with the throw blanket.
Have accessible toiletries and bath essentials
I can't tell you how many times I have traveled somewhere and I have forgotten something. 99% of the time it is a toiletry item too. It makes me crazy that I forgot it and I hate to ask my hosts for cotton balls or face wash.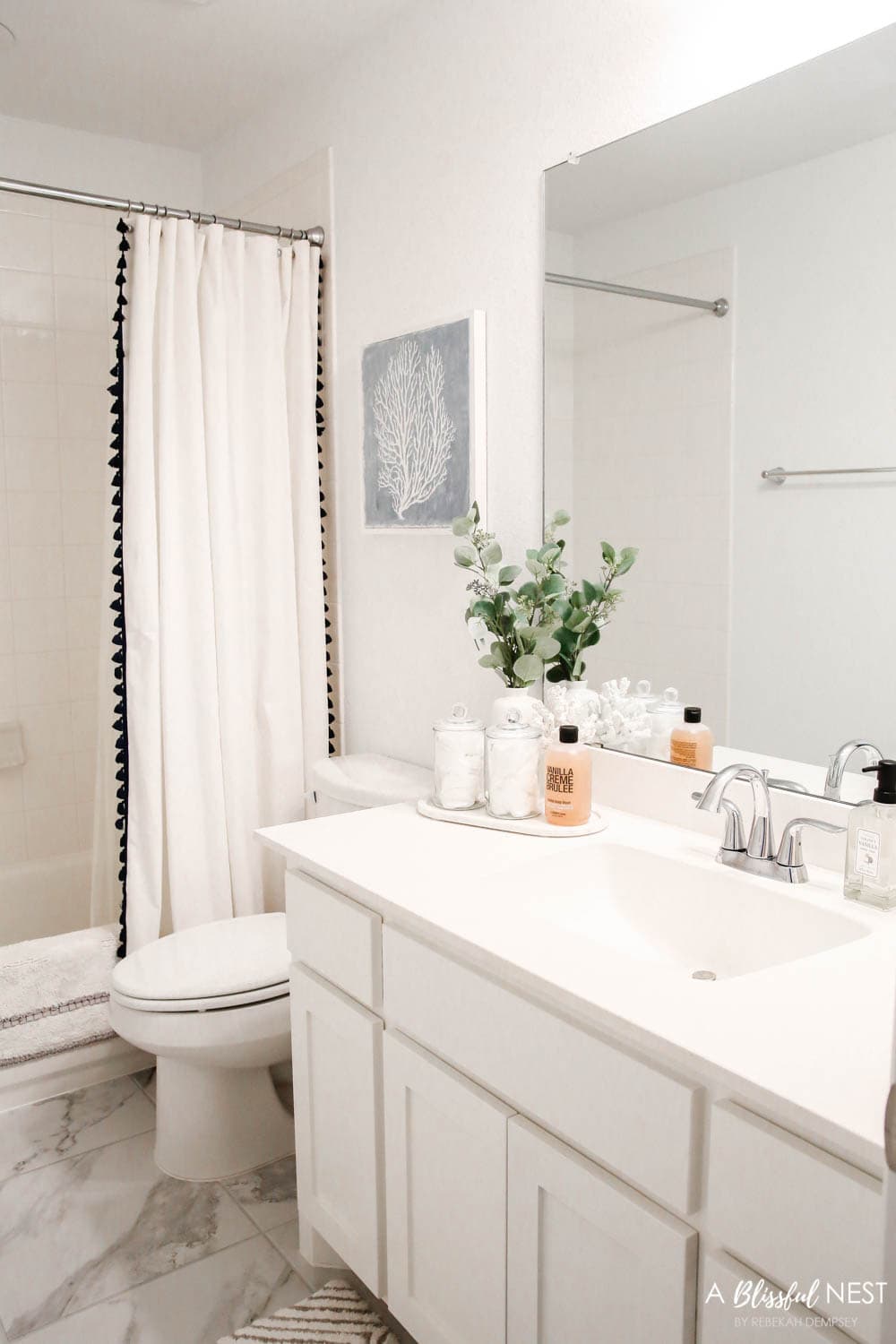 So I found this incredible oval marble tray and thought it was the perfect piece to corral these essential items in our guest bathroom.
These glass canisters come prefilled and once they are emptied I plan to fill them with q-tips, floss, toothpaste, etc.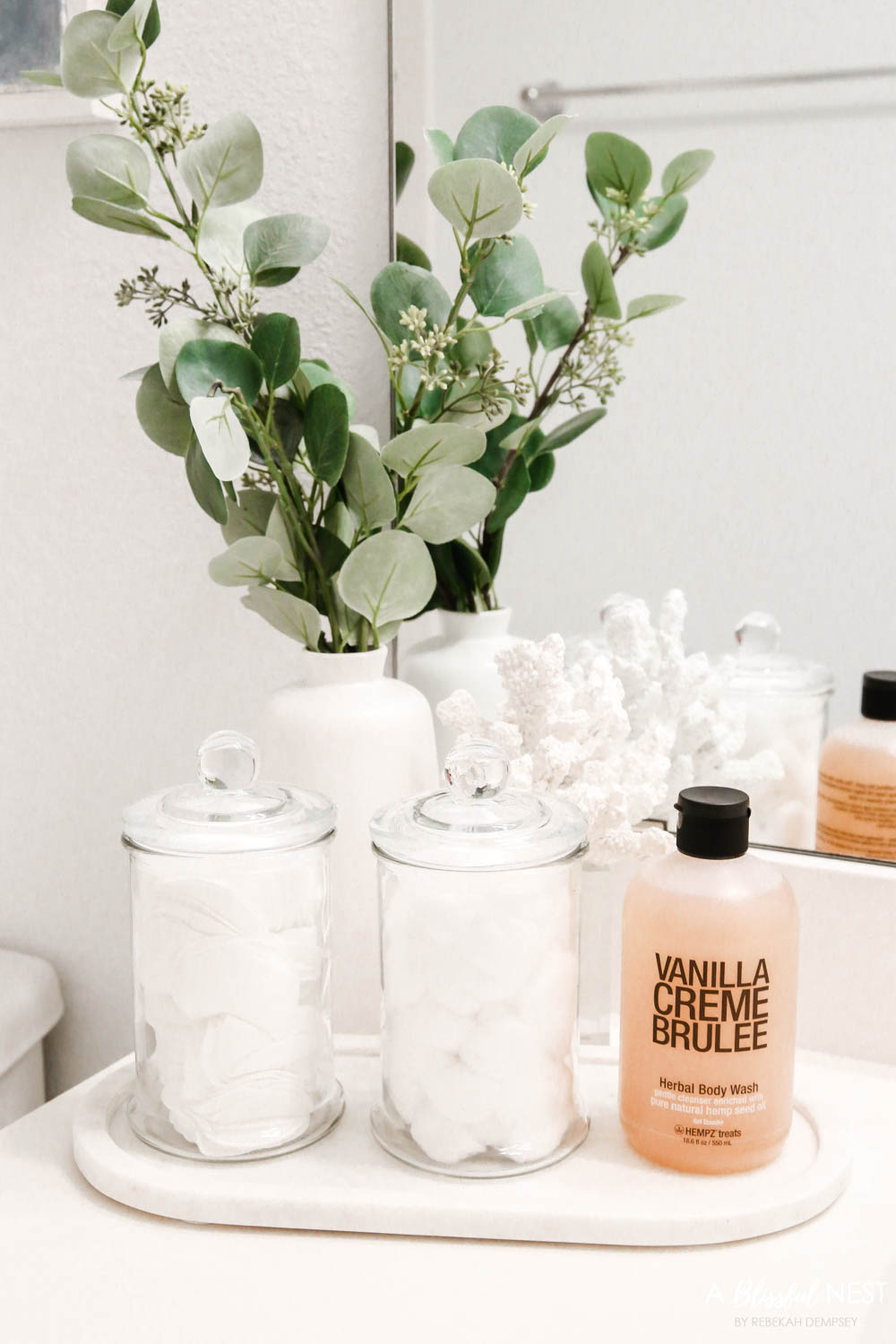 I have a slight obsession with yummy smelling body washes and this vanilla creme brulee smells absolutely amazing. I may have to get another one for me!
Offer a variety of snacks

Trust me when I say this will be the first thing your guests will thank you for! They may get hungry late at night or need a little something to tie them over before the next meal. I know I hate to ask for a snack when I am at someone else's house so I love to offer a small variety of items in a little bowl for them to choose from.
I bet you didn't know this but Tuesday Morning has a HUGE selection of culinary delectables to choose from. I personally am obsessed with their variety of chocolates and cooking spices, but there are so many other yummy things to choose from.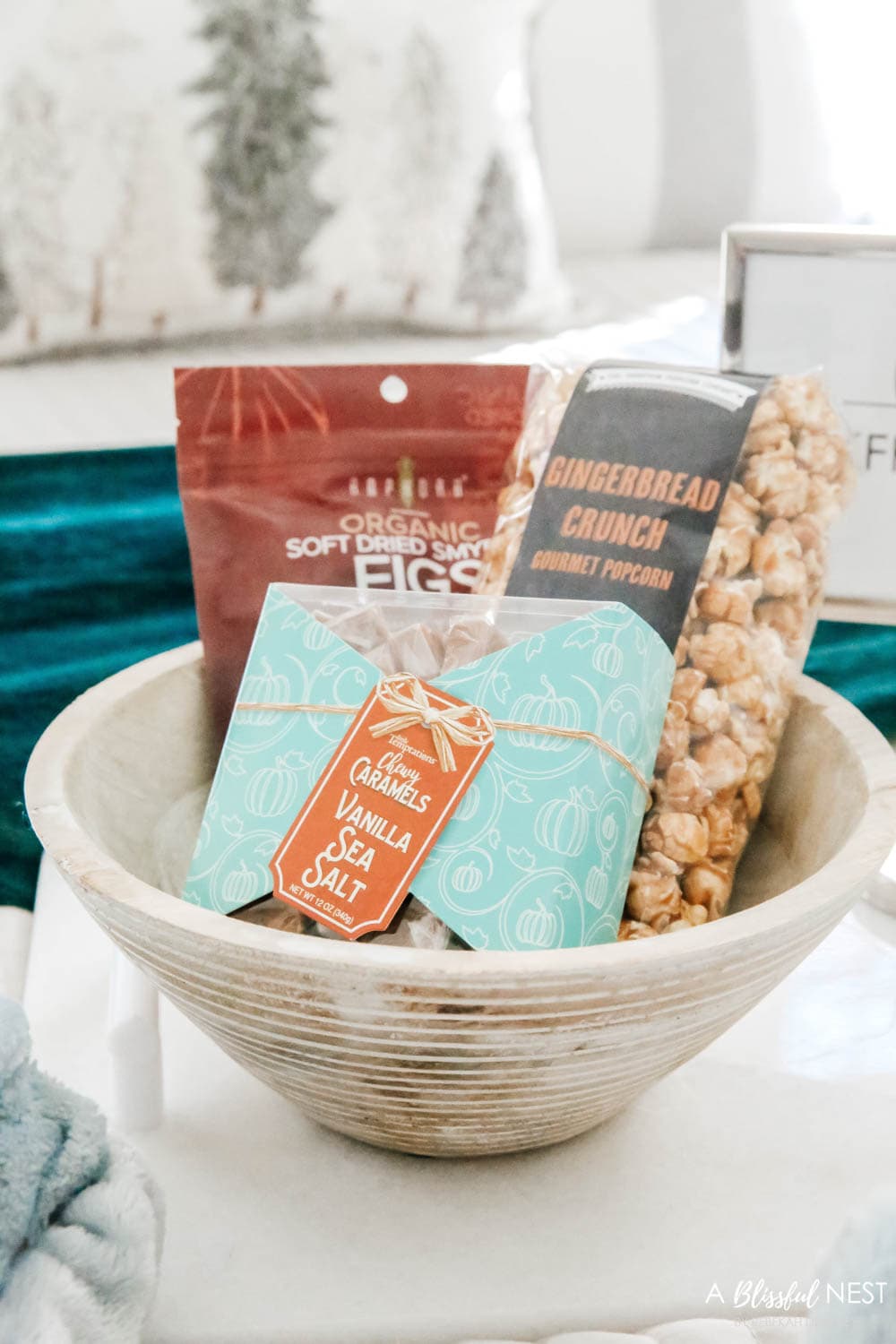 By the way, how incredible is this beautiful bowl I found?! This is going in my kitchen later when I am done using it here for the season. Definitely one of my favorite finds!
Add a cozy robe and slippers
This is another one of those things you don't usually travel with but in the colder months, you wish you had.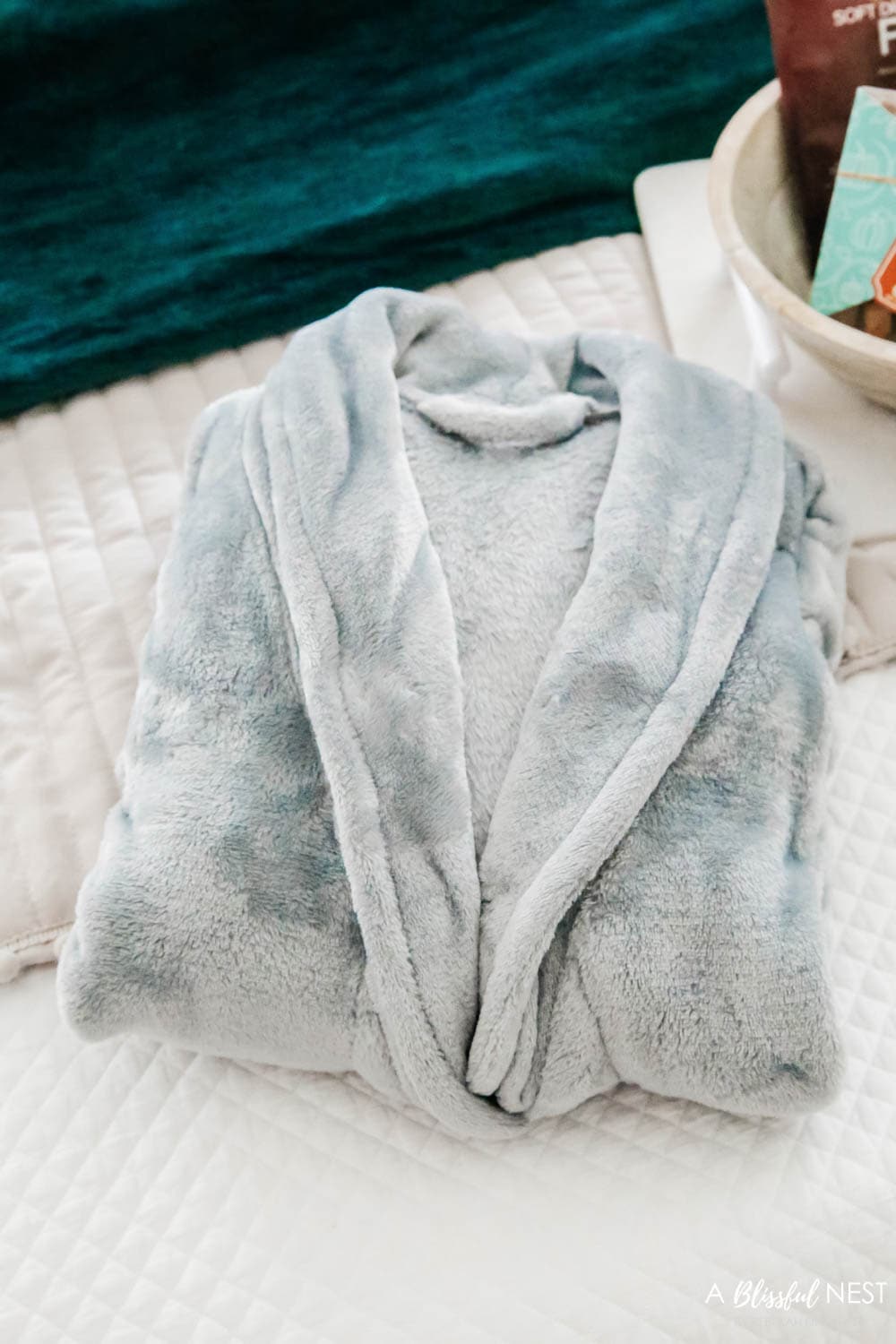 I found a huge selection of plush bathrobes at Tuesday Morning and I swear I had not seen them before. That is what I love every time I go into one of their stores. I am always surprised by what I find!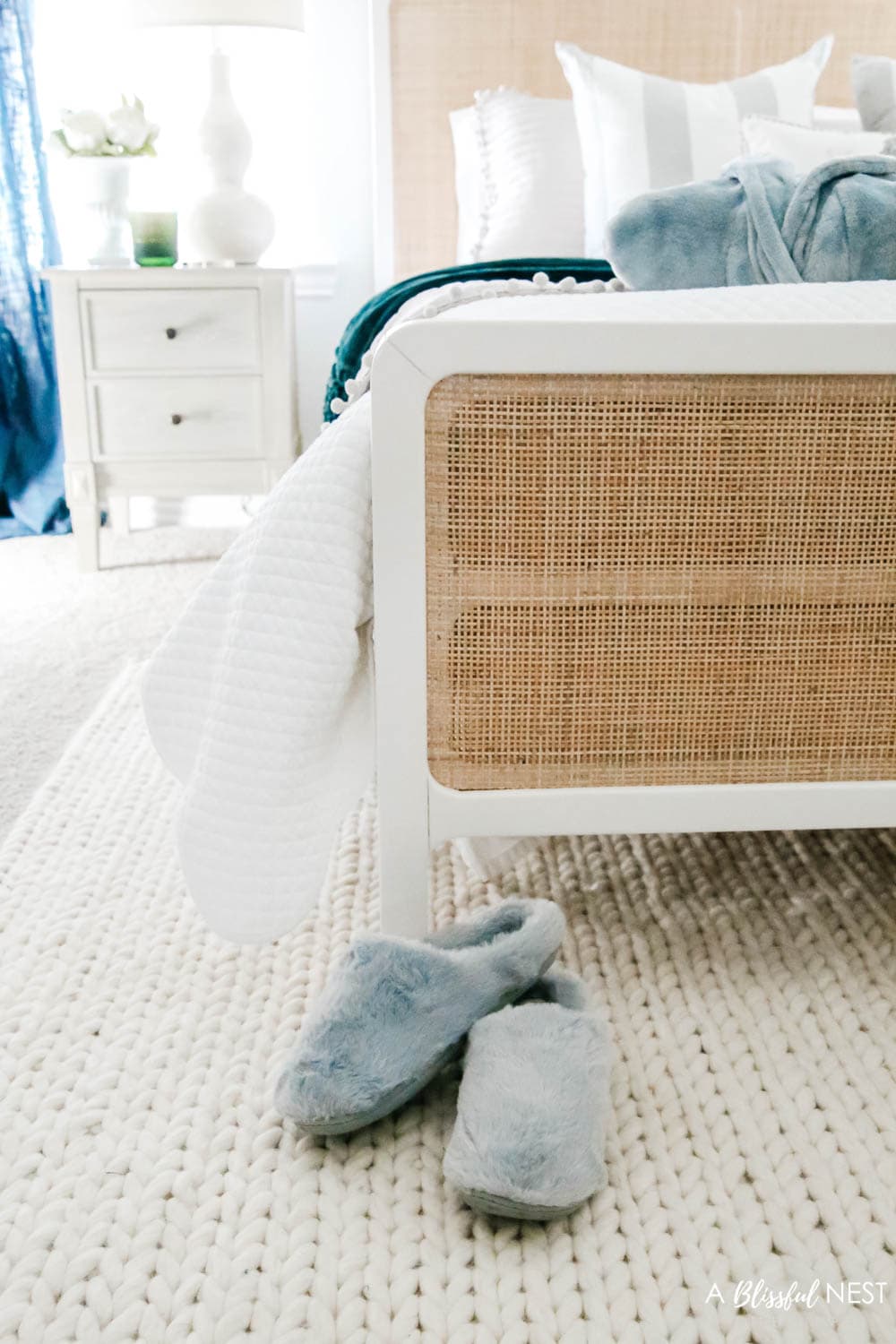 I also found these cozy matching slippers and thought this was a great set to have on hand for guests. They are in the same colors I generally decorate this room with so I can actually use them well past this holiday season.
So I hope you found this guide super helpful in shopping at Tuesday Morning and have your shopping list ready to go to refresh your guest bedroom for the holidays! I can't wait to hear what you find!
THIS IS A SPONSORED POST. A BLISSFUL NEST HAS RECEIVED PAYMENT, TRADE, AND/OR PRODUCTS FROM TUESDAY MORNING IN EXCHANGE FOR PROMOTING. HOWEVER, ALL OPINIONS STATED ARE OUR OWN.
Follow along to get more of my tips on home decor, DIY, and lifestyle on the following: