Tips to Refresh Your Kitchen with JCPenney
This post is sponsored by JCPenney.
I have such a special post today which is why I am sharing it this weekend with you! Since we've moved into our home our kitchen has needed a little help. I needed to majorly upgrade our appliances, pots and pans, and just overall freshen it up. I love that this kitchen is so much bigger than our last one and that means I have room for some items that I have always wanted but couldn't store. So of course I looked to one of my favorite places to shop, JCPenney and they are having a huge sale this weekend! I always find such a large assortment of products from big name brands that are stylish and affordable here. I literally can get everything I need in 1 place which you know I love since I am a busy on the go working mom.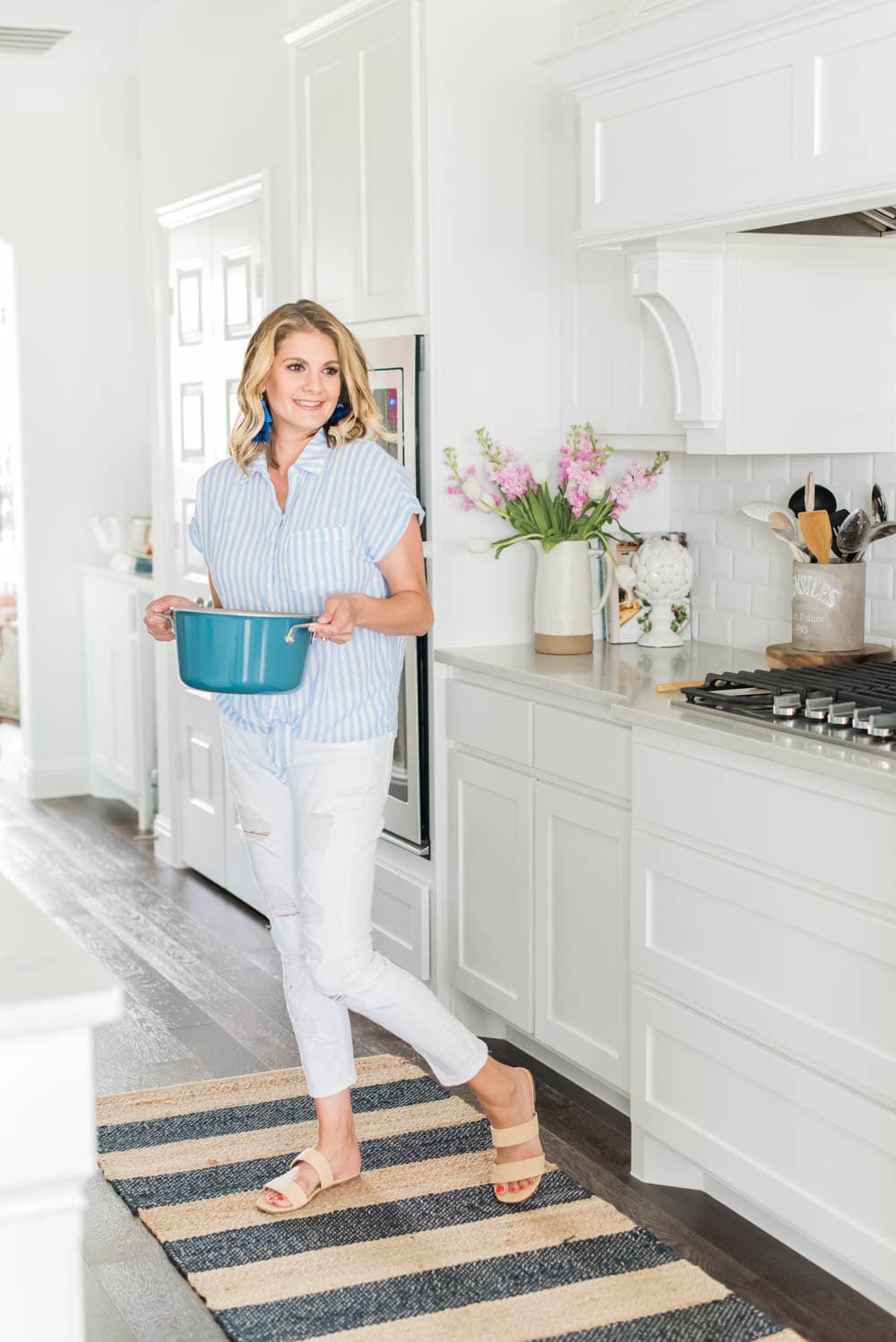 This site contains affiliate links. Please read our disclosure policy. As an Amazon Associate, I earn from qualifying purchases.
Tips to Refresh Your Kitchen:
There are a few things I plan out first before I like to refresh a space and I created a little guide for you.
When you are updating a space think of the following to give your space a fresh and functional feel.
determine how you use your space

figure out what your color scheme will be for the space

select appliances that are portable and functional
determine where your items will go
Once you have all this planned out then you are ready to shop!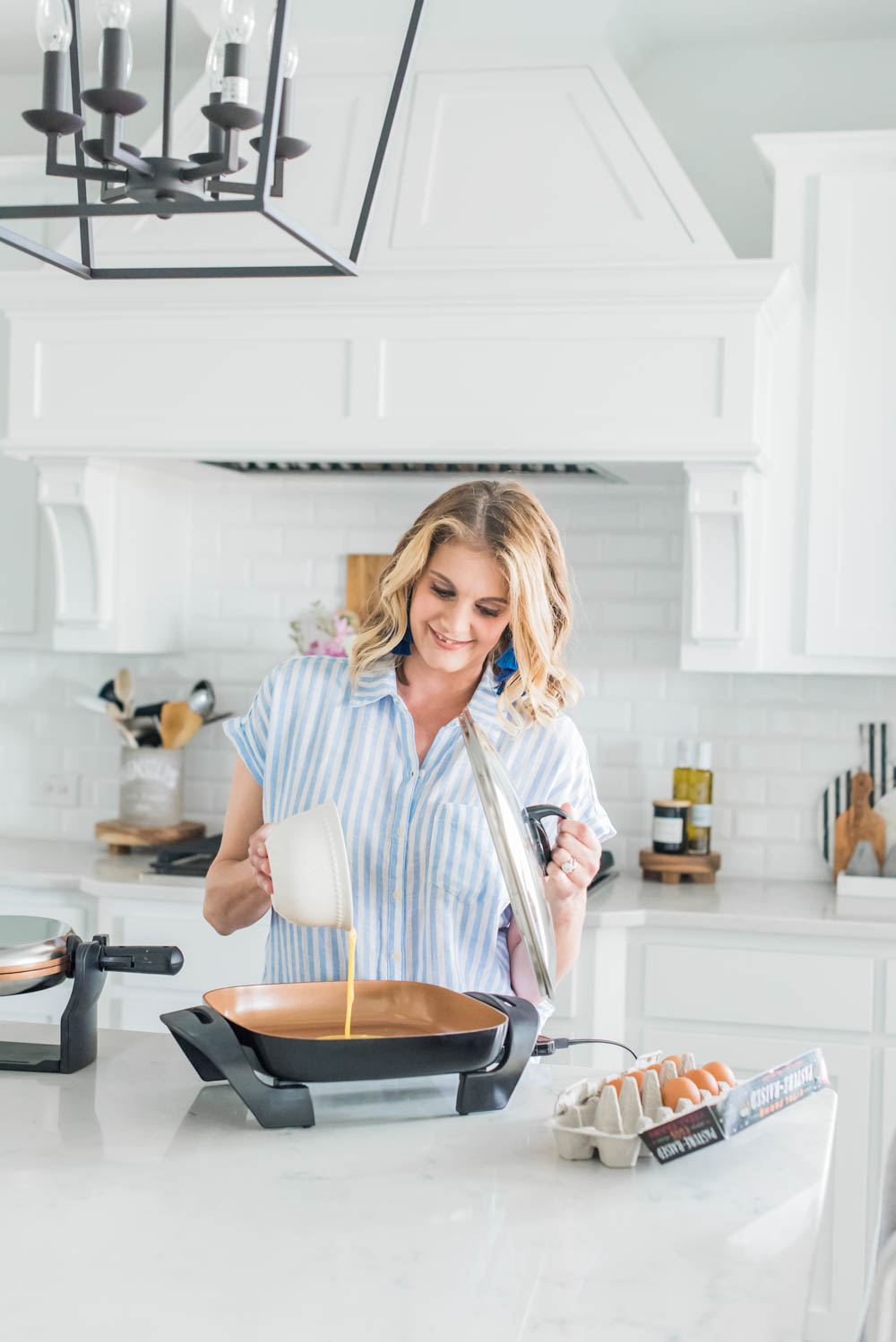 Plan how you will use your space.
Since I decided to refresh my kitchen, I know there are 2 main meals I make in my kitchen every day, breakfast and dinner. Both of these meal times in my home can be rushed since I am getting Lauren off to school in the morning or out the door to softball practice in the evenings. For me I need functional items that I can cook multiple things at 1 time on plus are easy to clean up.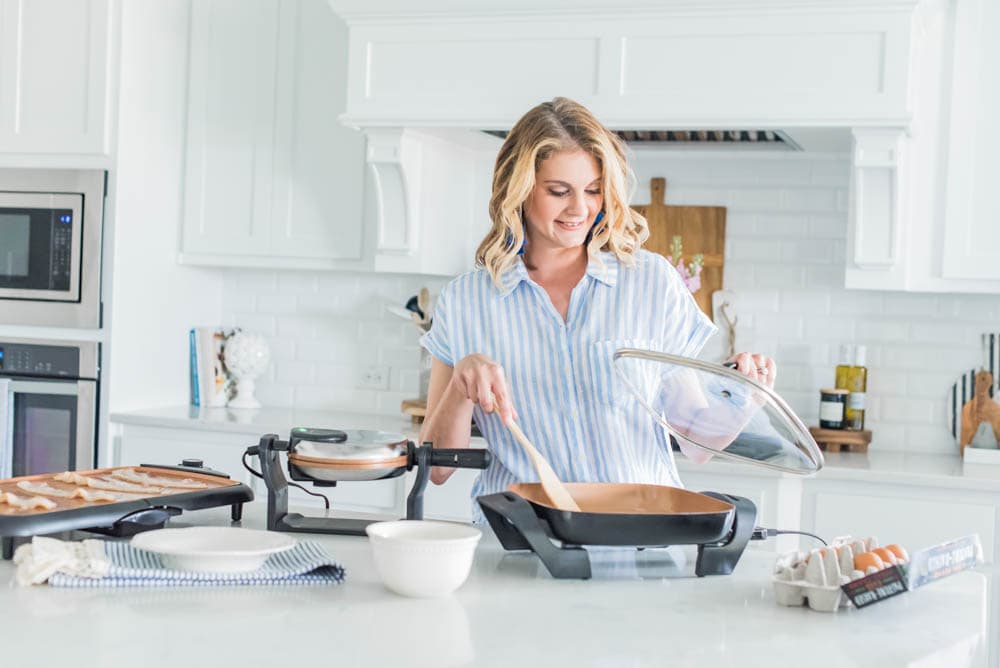 In the morning our basic menu consists of eggs, waffles and bacon. My husband is typically making his own breakfast too so having these movable cookware pieces is key.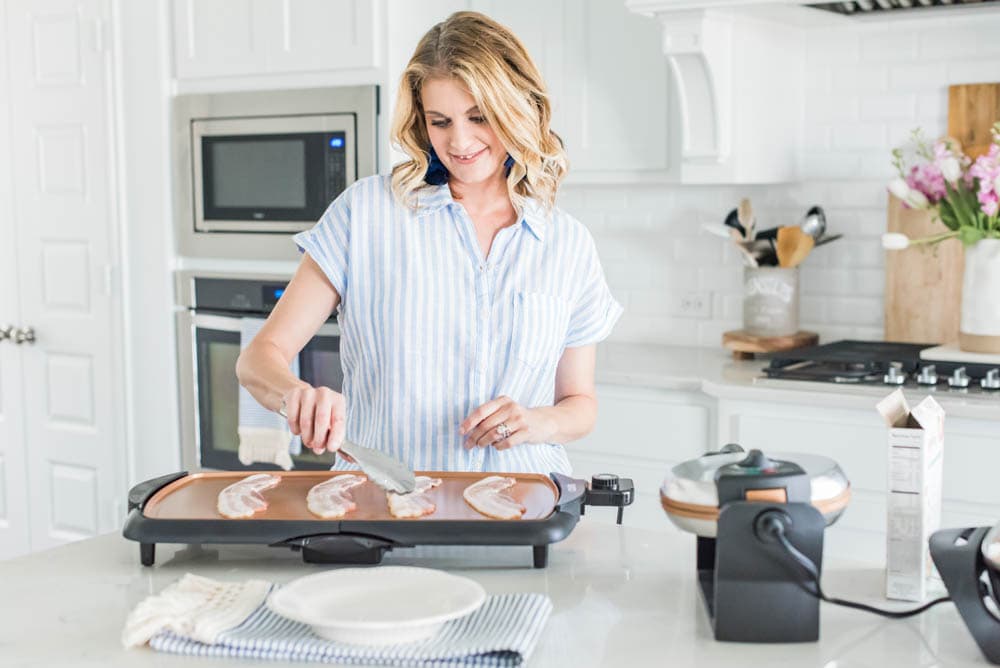 I love this copper set of cookware by Cooks from JCPenney because they are lightweight, easy to clean and easy to store.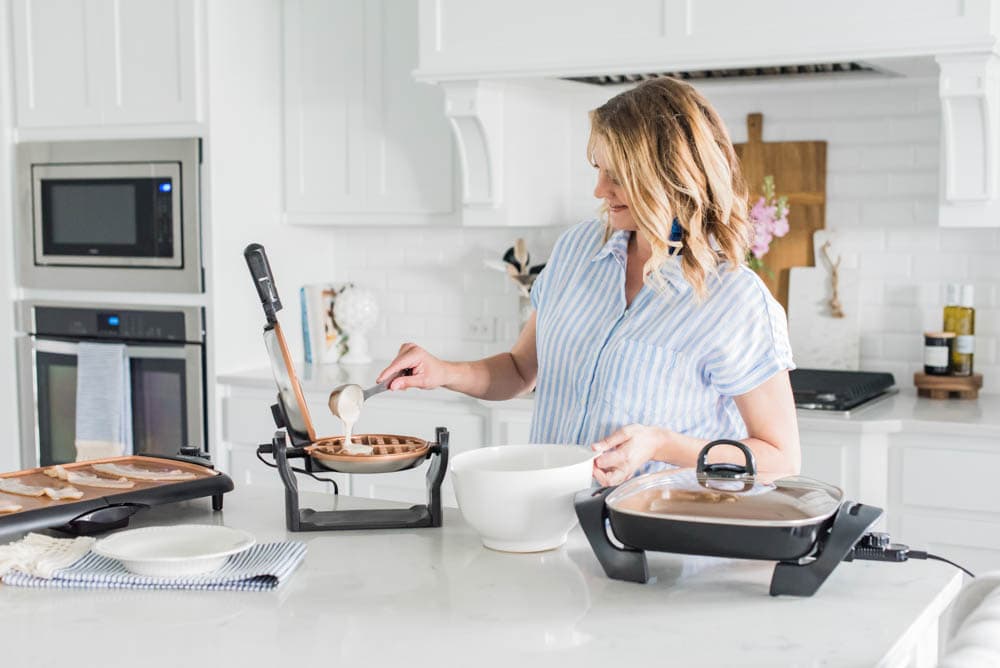 I can have multiple things being cooked at the same time too which helps cut down on time. We always seem so rushed to get out the door in the morning. I always think maybe we need to get up a little earlier but honestly I think having these new pieces has really cut down the time it was taking me to make everything.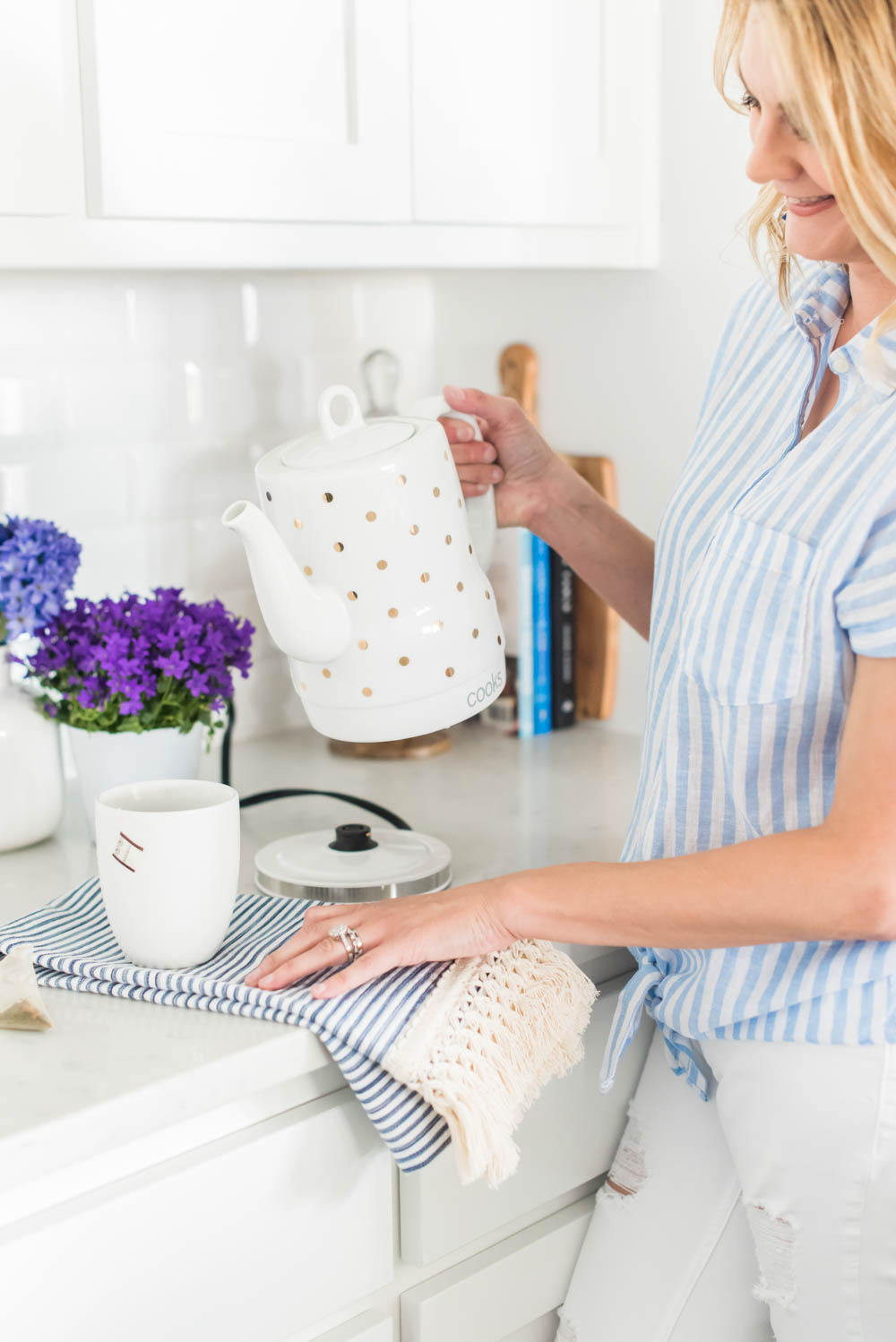 In the afternoons when I pick Lauren up from school, I like to have a quiet 30 minutes to myself and enjoy a cup of tee or coffee. This little electric kettle is perfect for me and it is so cute that I love just keeping it out on the counter. It is the perfect size for my afternoon drink and is easy to plugin where there is a free spot. I love the easy to hold side handle and lid.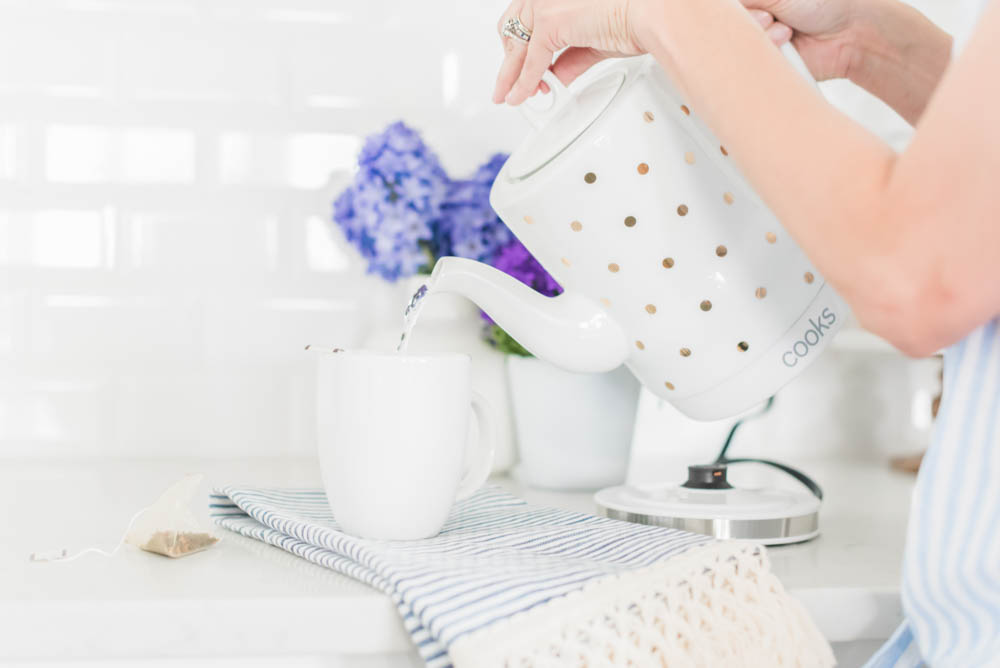 Determine your color scheme.
Well you all know blue is my color and I like to carry it out in all rooms of my home to create a cohesive feel. This even means into my pots and pans in the kitchen. I am in love with the Ayesha Curry line at JCPenney. As you may remember, I was introduced to her line last fall and fell in love with it and her recipes. They are fun, flavorful and sophisticated just like her line of products. I am in love with the blue collection and am happy to have more pieces to complete my look. They are the perfect pop of color in my kitchen!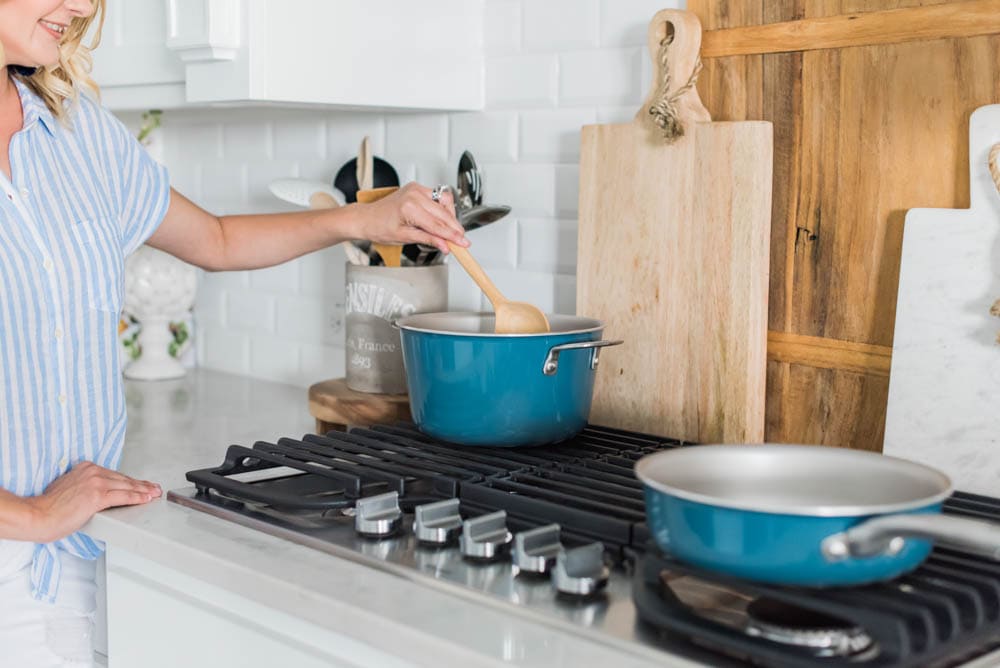 Shop my favorite Ayesha Curry pieces below.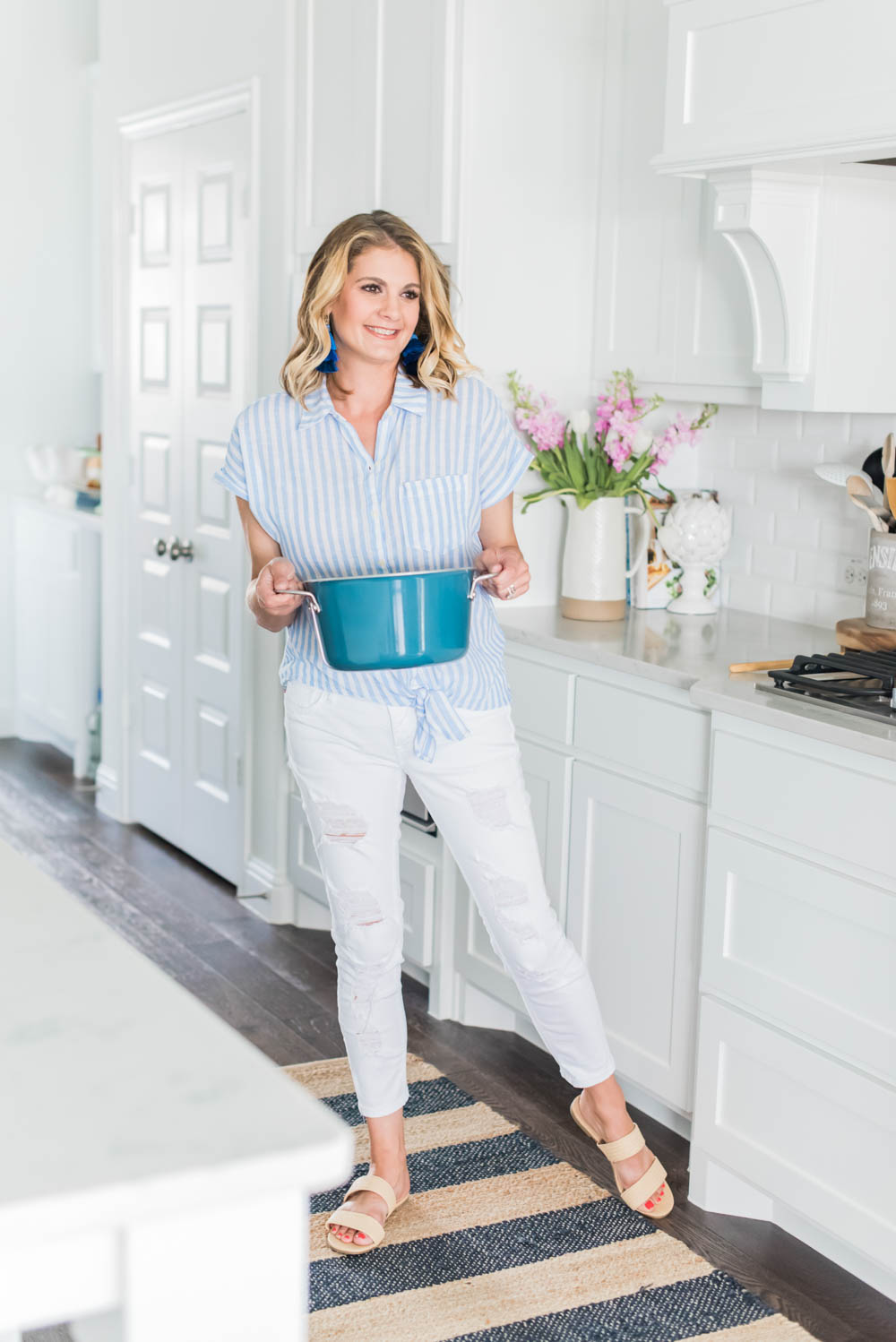 Select cookware and appliances that are portable and functional.
Friends this may just be the most important decision when updating your kitchen space. You can not be hauling out heavy pieces from your cabinets every day. I love this line of cookware because it is lightweight and easy for me to bring to the counter to cook and then clean up in the sink afterwards. The pots and pans are gorgeous nonstick enamel porcelain with stainless steel accents so they are fun and flirty looking yet functional.
Here is a collection of my favorites.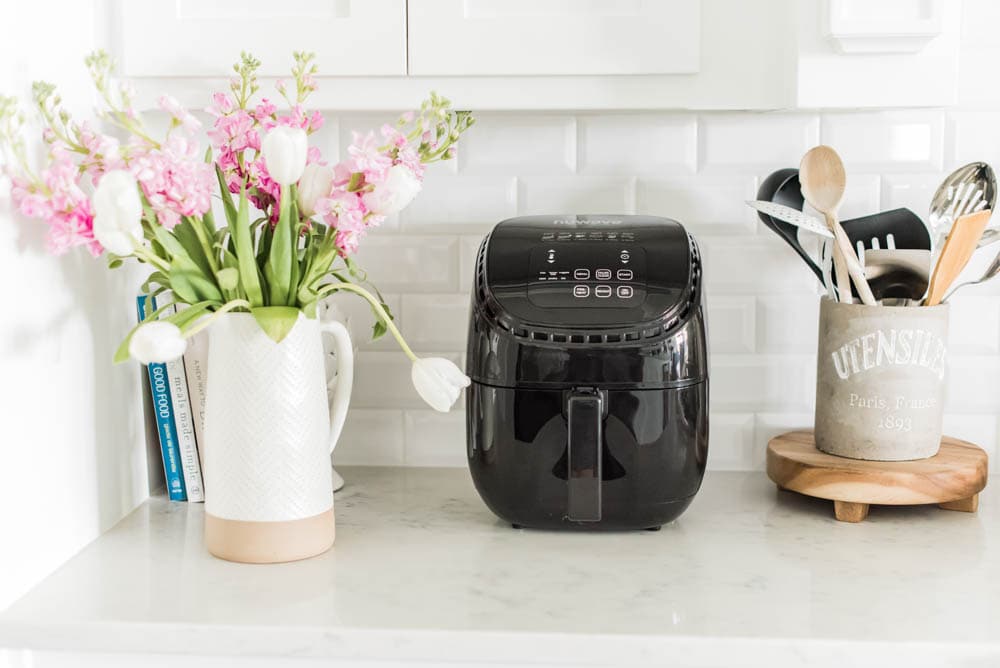 I also am loving this portable air fryer by Nuwave! We make a lot of sweet potato french fries and shrimp in this house (Lauren's favorite!). I love how quick and easy to clean this air fryer is. I need little to no oil to cook the food and it uses hot air with high speed air to cook it perfectly. I also love that the drawer and basket are dishwasher safe. I have a long list of items I want to try in this now that it is such a convenient and easy way to make fried foods.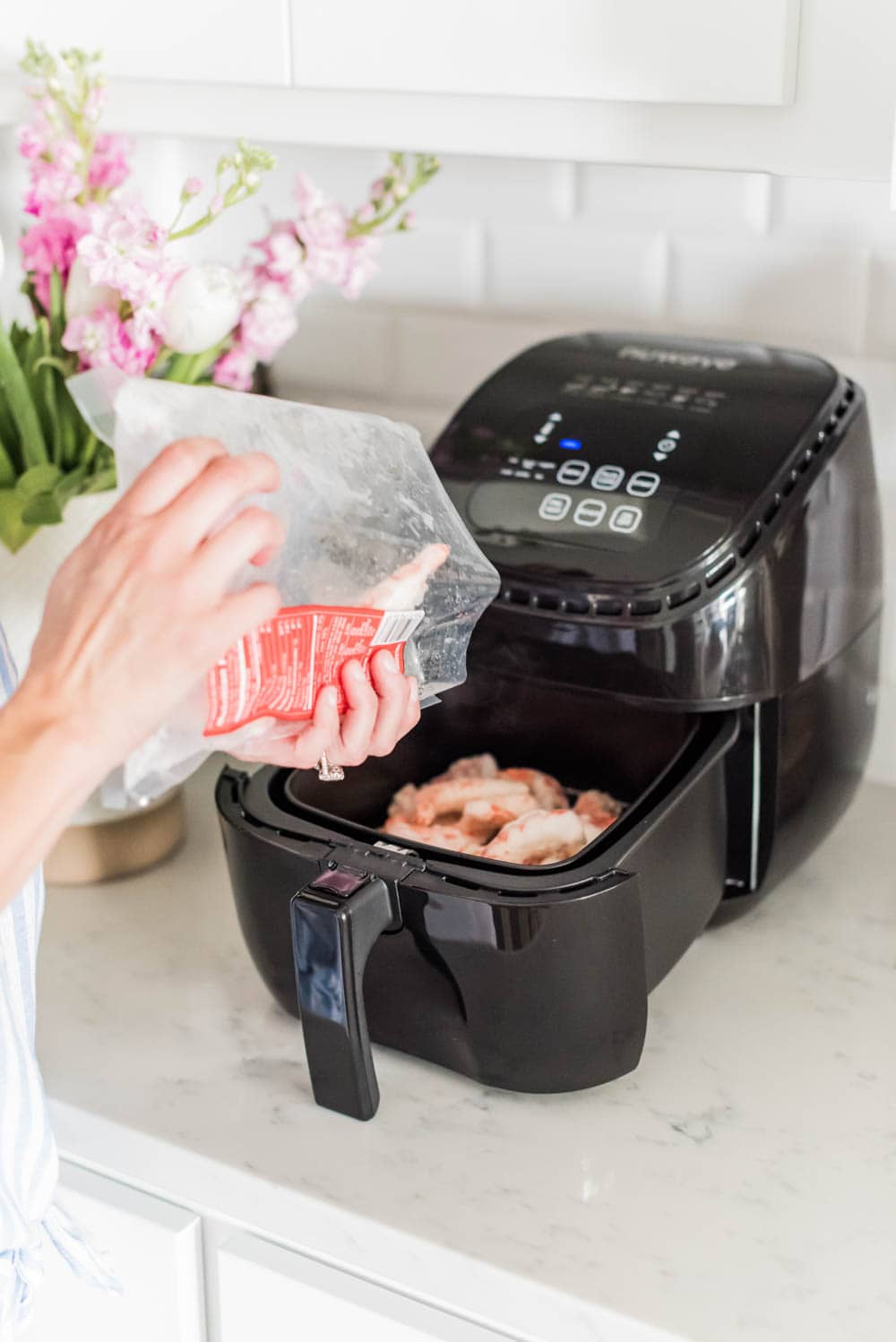 Okay so now you have all these amazing appliances and pots and pans, we need to figure out where to put them.
Plan how you will organize and store your items.
I have dedicated space on either side of my range for each of these meal prep times as well as center storage for pots and pans under the range. I have to tell you, we are SO happy we built those extra-long drawers because they are amazing to store our pots and pans. They really are one of my favorite features in this kitchen. If you don't have long drawers like these then creating space in cabinetry next to the stove is ideal. I like to use organizing systems like these to maximize the space being used.
Here are a few other of my favorite pieces to get your kitchen organized.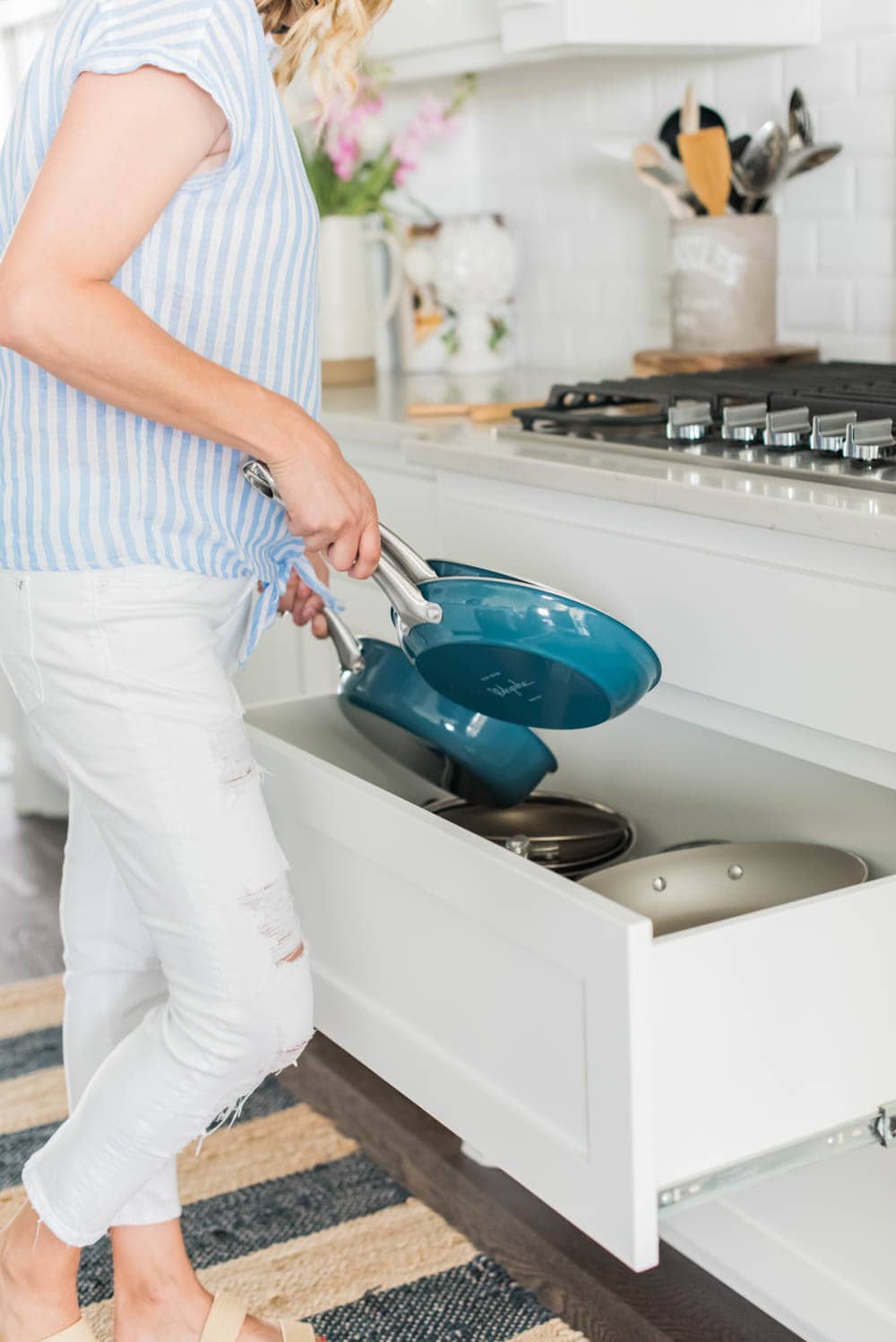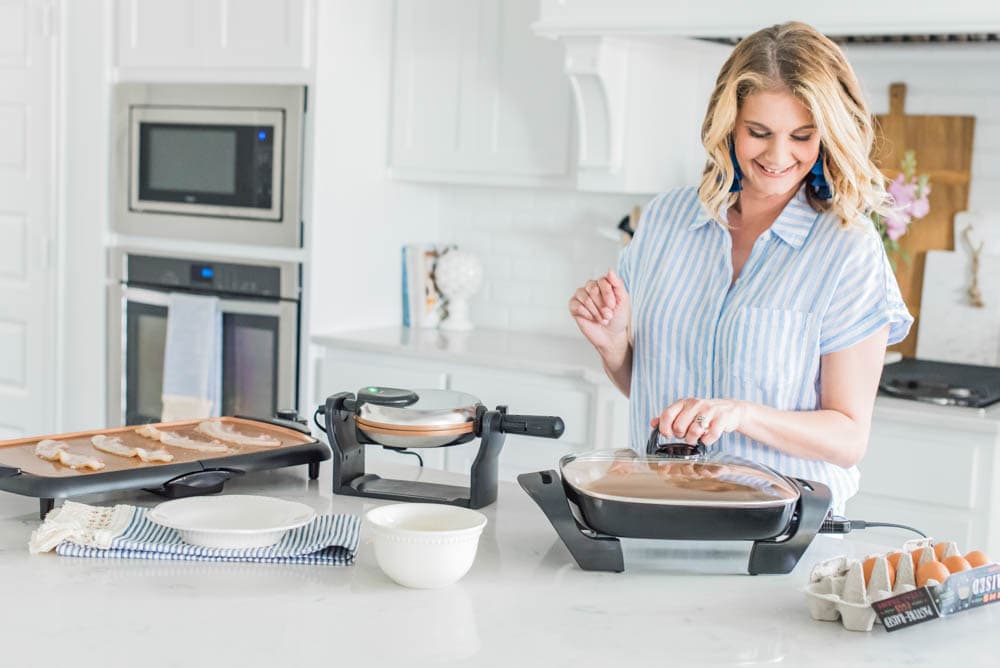 I could not be more happy with the pieces we selected to refresh our kitchen space. They are fun and functional all in one. I love the variety of brands and assortment of product you can find at JCPenney. Also, don't miss the HUGE kitchen sale they are having today on all these pieces from my home. I know you will love them and you can get them at a great price! Happy Memorial Day weekend everyone!



*Photography by Sweet Memory Photography
THIS IS A SPONSORED POST. A BLISSFUL NEST HAS RECEIVED PAYMENT, TRADE, AND/OR PRODUCTS FROM JCPENNEY IN EXCHANGE FOR PROMOTING. HOWEVER, ALL OPINIONS STATED ARE OUR OWN.