This post is sponsored by JCPenney.
At this time of year when the weather changes and the nights seem to be shorter, I look for easy recipes to be able to serve. We seem to entertain more during this time too and I like to have recipes that are simple and a little different than what I typically serve. Recently I was introduced to the Ayesha Curry Home Collection that is now available at JCPenney and her amazing and delicious recipes. Of course I fell in love with their look (in my signature blue color) but also in how versatile these pieces are to make my dishes easier to make and serve. Don't you just love when things have function AND beauty?!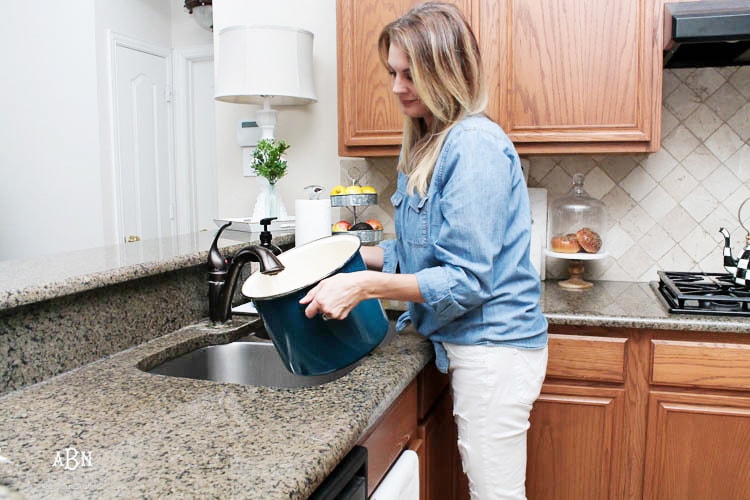 This post contains some affiliate links for your convenience (which means if you make a purchase after clicking a link I will earn a small commission which helps keep my blog up and running but it won't cost you a penny more)! Click here to read my full disclosure policy.
Shop the items in this collection:

So today I would like to give you some tips on how to make your fall entertaining effortless and look good for easy breezy entertaining during these cool months with some yummy recipes from Ayesha Curry!

OUR LATEST VIDEOS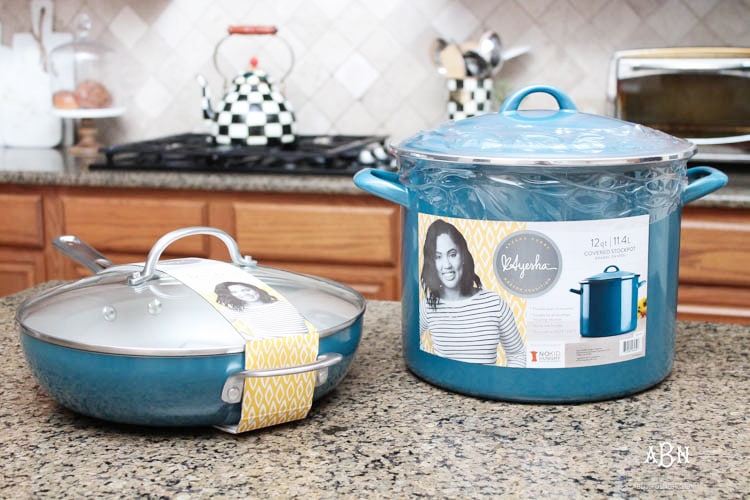 Tips for Easy Fall Entertaining with Ayesha Curry Home Collection + Recipes:
Tip 1: Keep your menu simple and easy.
Keeping your menu simple will take a lot of pressure and stress off of you. I love the recipes by Ayesha Curry because they are so easy to follow. I recently made her Indian Spiced Steak with Crispy Parmesan Smashed Potatoes that she developed for JCPenney and my family gobbled it right up. I honestly am not the most ingenuitive cook, but Ayesha's recipes sure do make me look good to my family and guests! You can grab these delicious recipes below.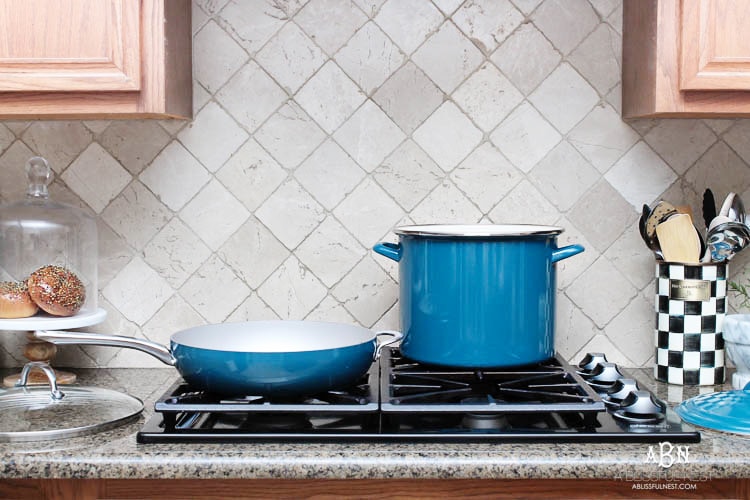 Tip 2: Select pans you can serve in.
This is a no brainer for me. I love to have cooking pans and pots I can serve from and even put on the table with a hot plate. I love the look and color of my Ayesha Curry Home Collection pieces and they coordinate beautifully with my dishes. This also is a great way to keep your food warm by serving them right in what they were cooked in. This even makes cleaning up easy with less dishes to wash. You have to love that!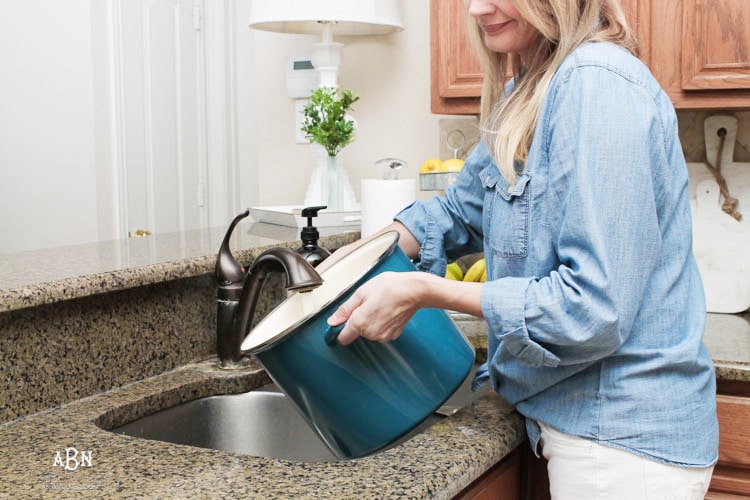 Tip 3: Make as much as you can ahead of time.
Making as much of your meal you are serving ahead of time before guest arrive will alleviate some of that stress of entertaining. It will also free up your time to spend with your guests. Making your dishes in pieces you can serve in will keep your food warm and ready to go when you are ready to sit down for dinner.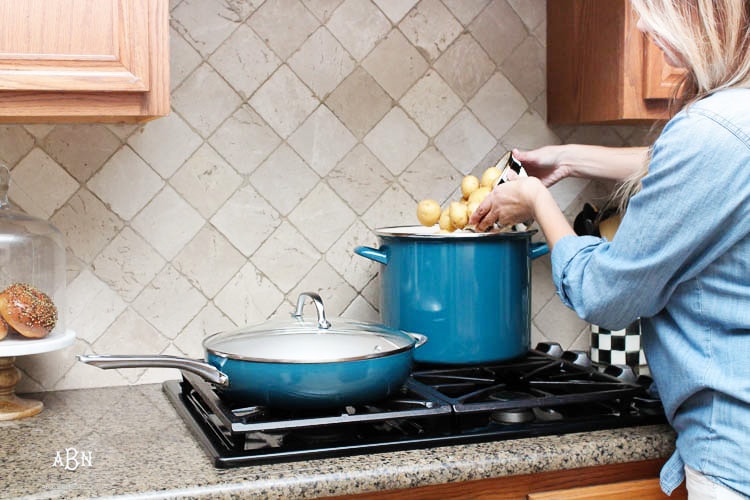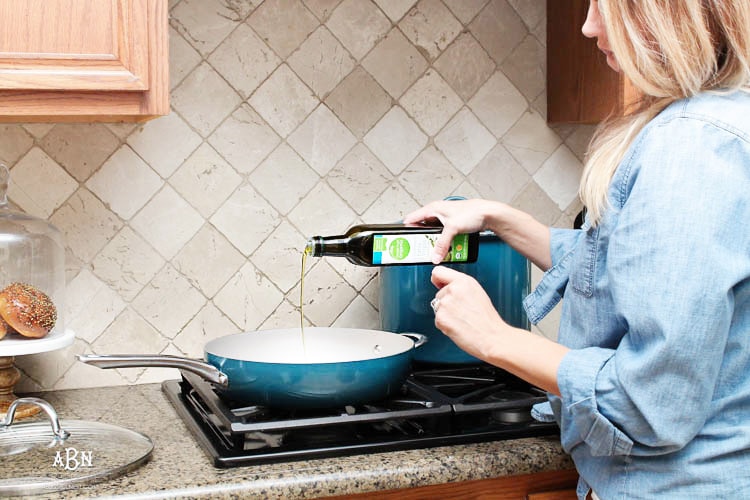 I love that this pan is big enough to hold my main dish with an extra handle on the right, for me to carry it straight to the table.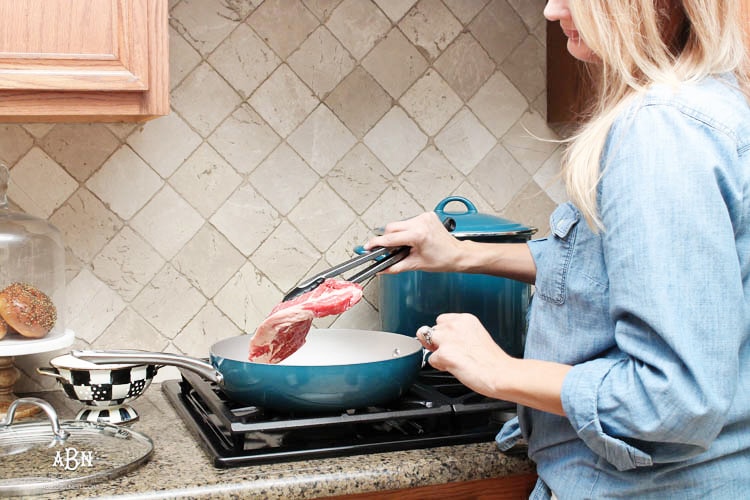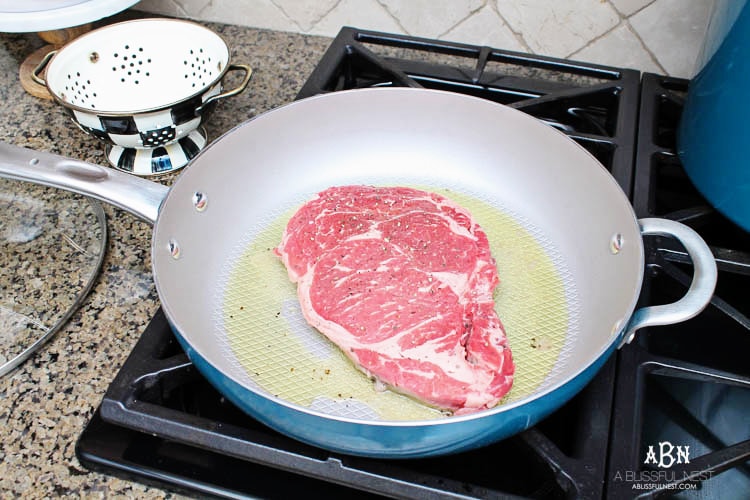 Tip 4: Decorate your table inspired by the food.
I love to follow the theme of my food dishes to the decor of my table. For this particular dish, I chose marigold and a burnt orange as accents to my blue inspired by the Indian flare of my menu. Even selecting colors of the season to accent on your table will set the stage for a perfect autumn dinner table.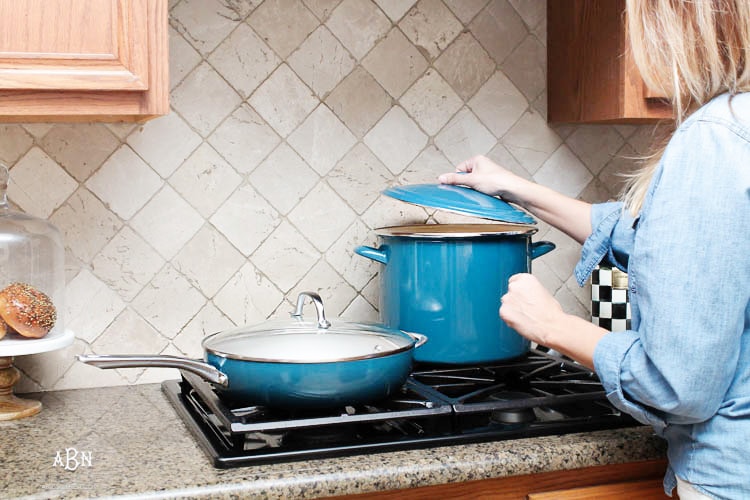 Tip 5: Clean up later.
Clean up later. Enough said right?! Serving your dishes in the pots and pans you cooked them in will help you with this big time. I have even gone more towards buffet style serving these days which really helps on this.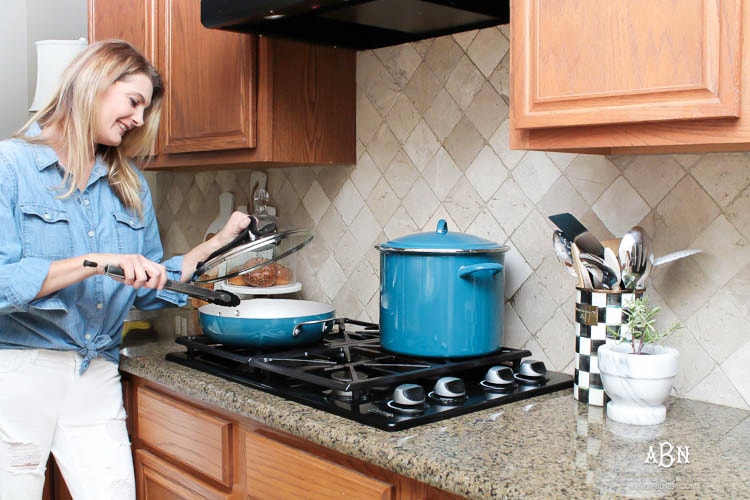 Here are a few of my favorite pieces from the Ayesha Curry Home Collection:
(PS- these make really great Christmas gifts too!)

And make sure you print out this great recipe from Ayesha Curry for her Indian Spiced Steak and Crispy Smashed Potatoes!
Ayesha Curry's Indian Spiced Steak
Print recipe
Ingredients
(4) 6-8oz rib eyes
1 tablespoon olive oil
2 tablespoons salted butter
2 teaspoons ground mustard
1 tablespoon ground curry
2 tablespoons cumin
2 teaspoons coriander
2 teaspoons turmeric
1 tablespoon onion powder
2 tablespoons garlic powder
2 tablespoons chili powder
Kosher salt and pepper to taste
Directions
Step 1
Preheat oven to 450 ° F. Season the steaks on both sides with salt and pepper. Add the rest of your spices into a small bowl and mix well. Season your steaks with spice mixture and set aside. About 1 Tbsp per steak.
Step 2
Heat a large oven safe grill pan or skillet over medium-high heat. After heated add in your olive oil and butter. Once melted, add the steaks. Allow searing for three minutes on one side without moving them around.
Step 3
After three minutes flip over. Place your grill pan or skillet into a preheated oven for 5-10 minutes depending in your desired level of doneness. Transfer your steaks to a cutting board and allow to rest for five minutes before serving.
Ayesha Curry's Crispy Parmesan Smashed Potatoes
Print recipe
Ingredients
1lb baby potatoes
3 tablespoons olive oil
1 garlic clove, minced
salt and pepper to taste
1/2 cup parmesan cheese
1 tablespoon flat leaf parsley, chopped
1/2 lemon
measuring cup for smashing
Directions
Step 1
Preheat oven to 450 ° F.
Step 2
In a covered pot, add in potatoes and fill with cold water and a sprinkle of salt. Bring to a boil, reduce your heat, and simmer for 18-20 minutes. Until tender and can be pierced with a fork or skewer. Drain your potatoes and place on a cutting board. Season with olive oil, salt, and pepper. Before gently smashing each potato with the bottom of a measuring cup or spatula. Place on a baking sheet or oven safe skillet.
Step 3
Roast for 20 minutes or until browned turning halfway through. Sprinkle Parmesan over the top and melt before removing. Serve garnished with parsley and drizzled with lemon juice.
So start planning those autumn dinners with friends and family and grab these essential items from JCPenney for entertaining effortlessly! #SoWorthIt
THIS IS A SPONSORED POST. A BLISSFUL NEST HAS RECEIVED PAYMENT, TRADE, AND/OR PRODUCTS FROM JCPENNEY IN EXCHANGE FOR PROMOTING. HOWEVER, ALL OPINIONS STATED ARE OUR OWN.
Rebekah Dempsey is the Creative Director, Stylist and Editor of A Blissful Nest. A site about everything for the home from stylish entertaining to fresh interiors. She has been in the interior design field for 10 years and currently venturing into designing custom made items for the home to help other mommies live a stylish and blissful life.