Stylish + Affordable Fall Decor Finds Under $100
This post may contain affiliate links. Please read our disclosure policy.
Sharing a collection of stylish and affordable fall decor finds that are budget-friendly to transition your home for the season. Also includes ideas to refresh a space, where to shop for fall decor, and examples of how to use these pieces in your home.
Now that we're thinking all things fall and fall decorating, there are so many beautiful pieces to choose from, and one of the biggest things I always hear from clients is they just don't know how to put it together.
So this year I thought it would be fun to curate a collection of beautiful fall decor that is also affordable. You can easily work any of these into your existing fall decor or if you what a more comprehensive look then you can take the whole look below and add to your space.
I've found a collection of really great fall decor pieces under $100 that I know you will love. I rounded up my favorites for you guys to check out – I love how affordable AND versatile all of these pieces are!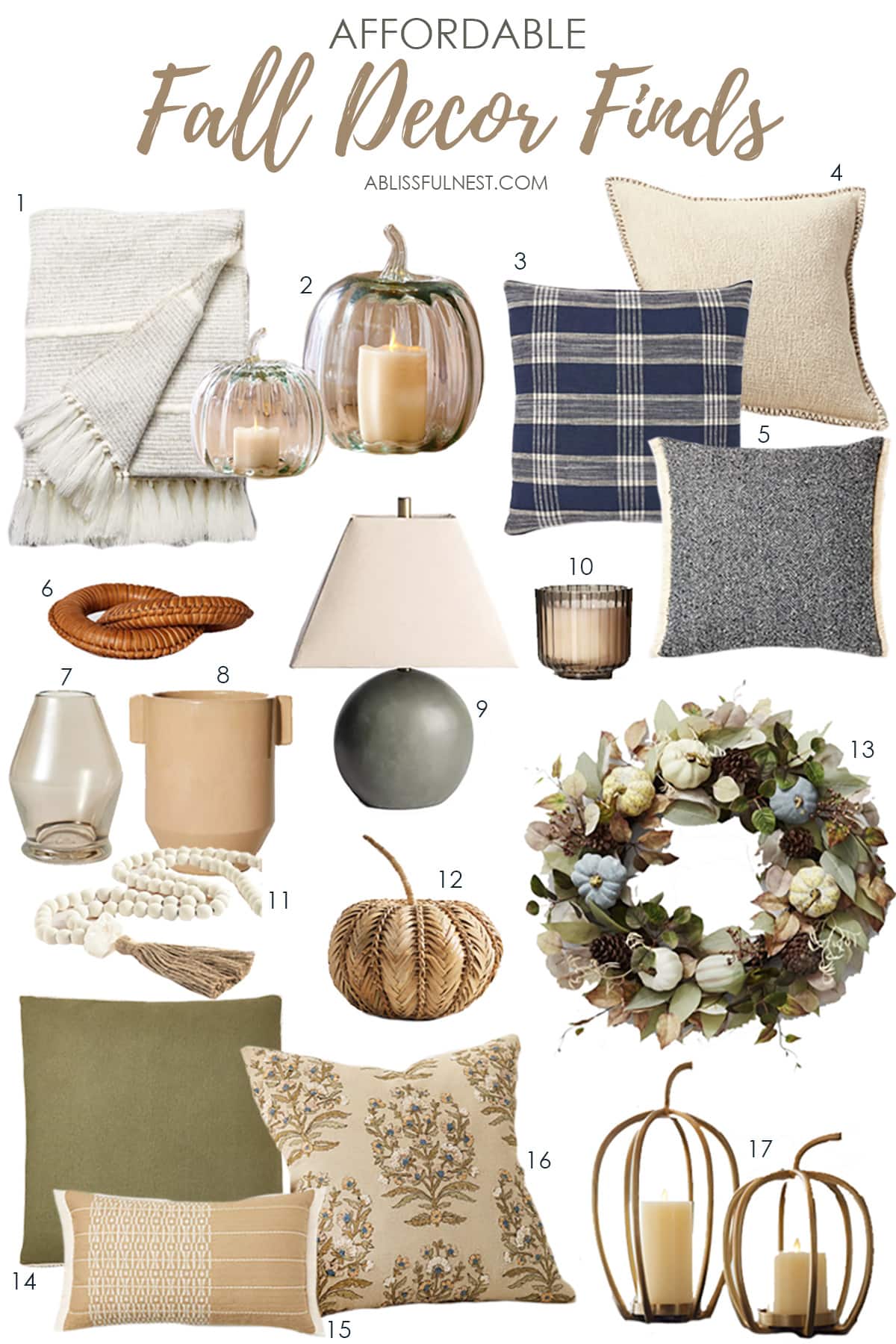 1 | 2 | 3 | 4 | 5 | 6 | 7 | 8 | 9 | 10 | 11 | 12 | 13 | 14 | 15 | 16 | 17
Affordable Fall Decor Finds Under $100
Decorating for fall can be so much fun and with so many different styles to go with, there are endless possibilities.
It can be hard to find quality items to cozy up your space that are affordable, but they're out there! This is a cohesive collection of items to use to decorate your home for fall and keep things looking fresh!
Tap Photos To Shop

Favorite Places To Shop For Fall Decor
I get asked this question a lot and will be sharing not only items I love and have found but my favorite stores to specifically get what I am shopping for.
I typically look for stores where I can get my bang for my buck and still get on-trend pieces for the season.
Typically I shop these stores for year-round finds and not just seasonal items.
Inexpensive Ways To Decorate Your Home For Fall
Okay ready for my list on how to get some affordable fall decor for your home and relatively cheap?? There are so many ways to do this but here is a list of my favorite things to do.
1. Add greenery and flowers
I literally pulled over to the side of the road and cut these beautiful wildflowers that we saw on a drive. It can be as simple as that.
Pull elements from nature like tree branches, wildflowers, pampas grass, and anything else that sparks some fall joy to use in a vase indoors.
There is nothing like having some nature in your home!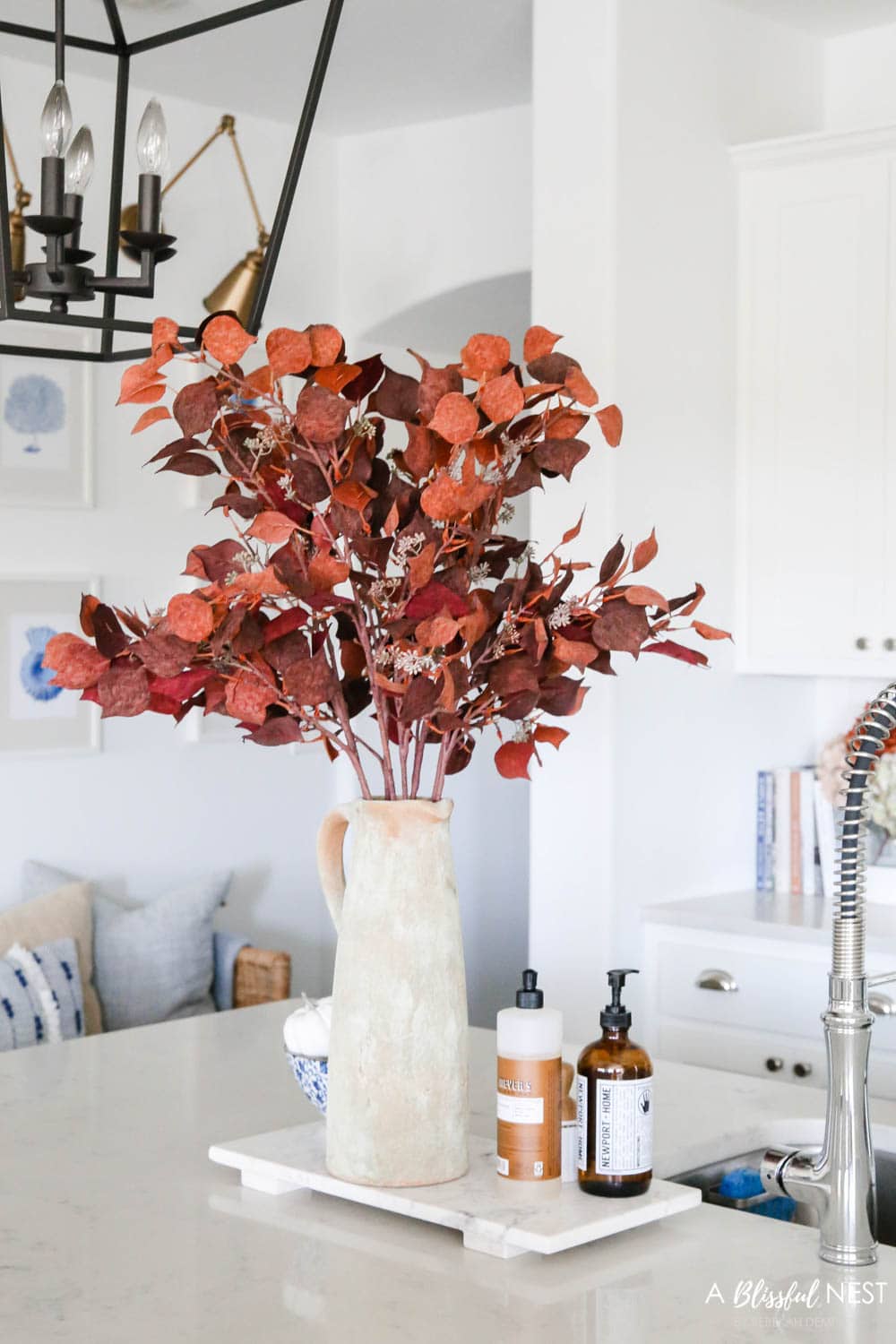 2. Make your own wreath for your fall porch
I love making my own wreaths and you can check out this one that I made for some ideas on how to construct one.
With some simple elements from the craft store, you can make a beautiful unique wreath for your fall front door.
I also collected some of my favorite DIY wreath tutorials for you too!
3. Replace your pillowcases with seasonal ones
This is the easiest way to bring season color and pattern into your pace. I love mixing and matching to create a fun eclectic mix.
You can grab my tips on how to mix and match pillows to easily accomplish this.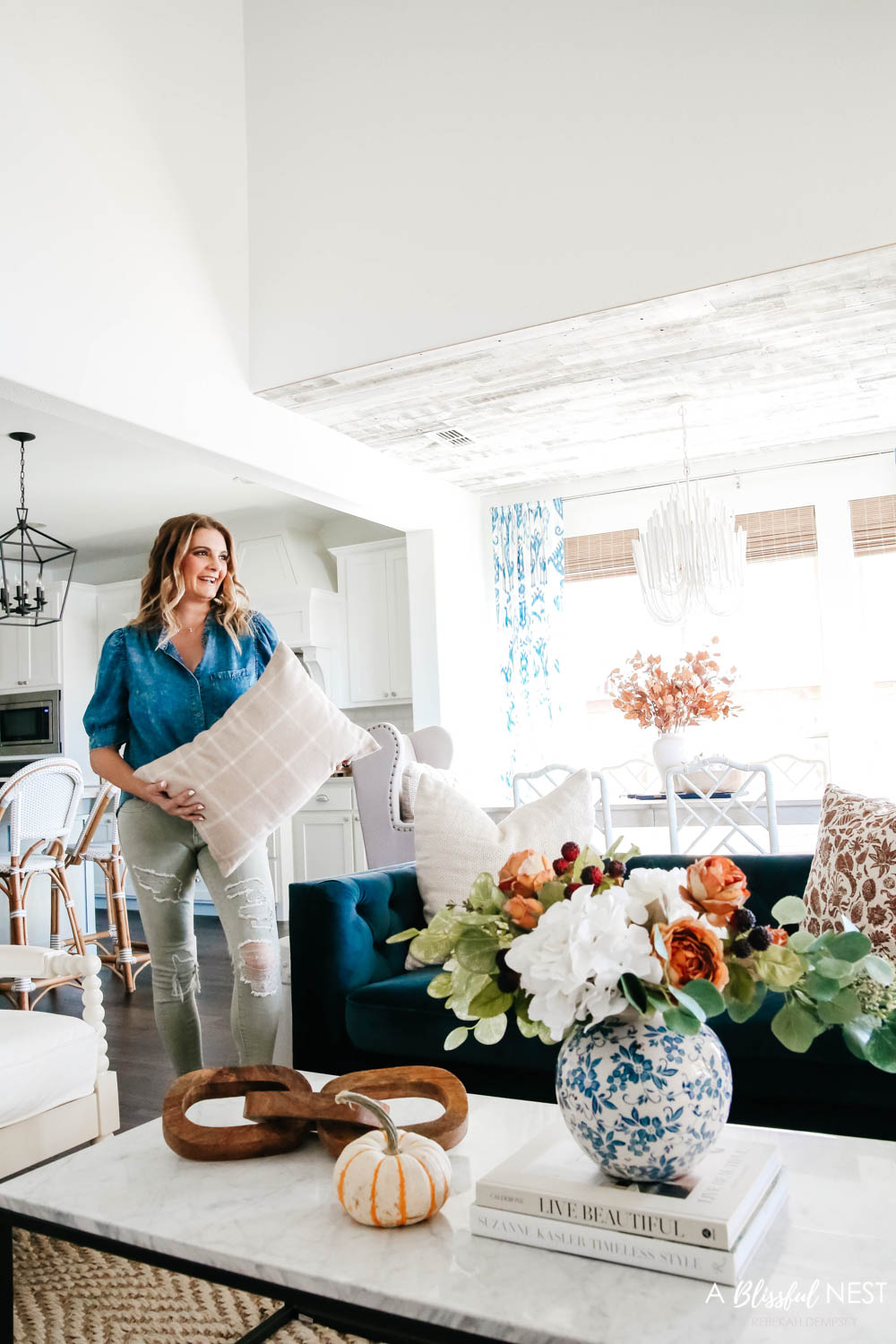 4. Add cozy throw blankets to your space
Another great way to add warmth to a space and make it feel cozy is to add layers of blankets.
I love ones that are plush and soft like this one. I have it in 4 colors and it is under $40.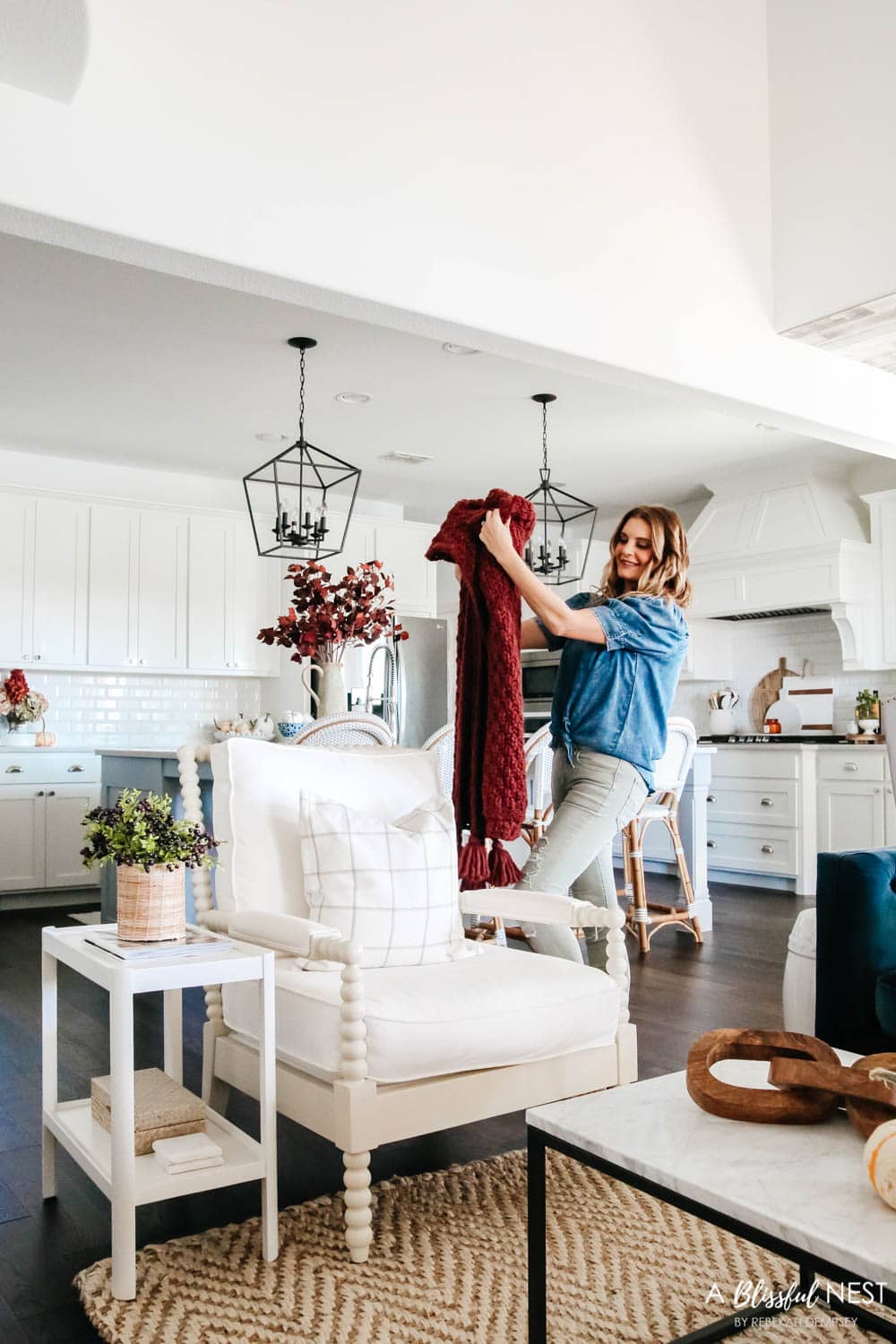 5. Make a homemade stovetop potpourri
I make this recipe every year and everyone always asks me if it is a candle.
But it's even better than a candle because you can just reheat the ingredients when you want more of the smell to waft through the house.
6. Cluster candles for a warm cozy look
I don't know about you but I have a TON of faux candles in my arsenal saved for seasons like this.
I love the warm glow they all make at night especially when they are clustered together.
This is a look at how I achieved this from my past fall mantel and you can see the whole space here.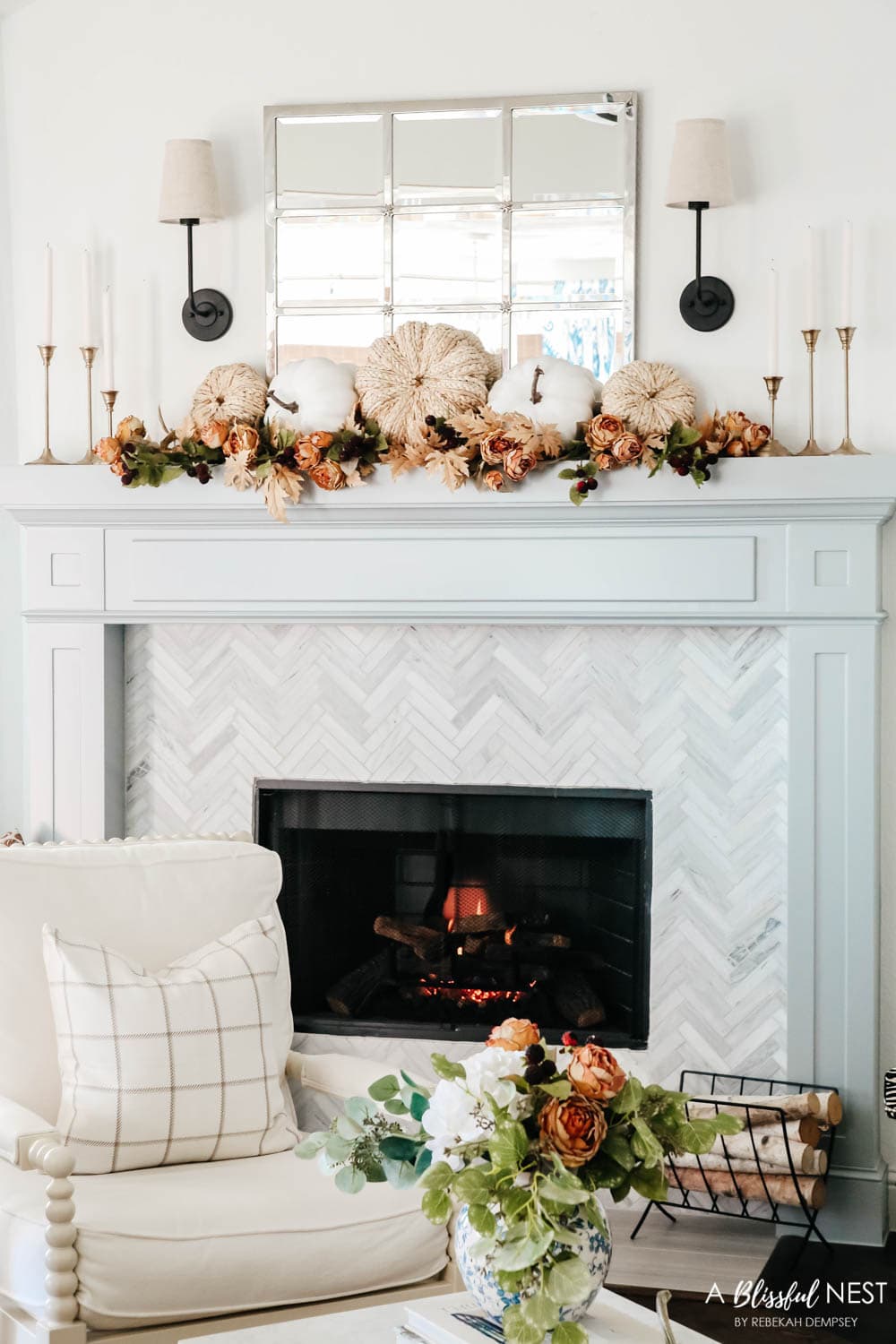 7. Gather pinecones from outside and place in a bowl
You can never go wrong when you pull elements from nature.
Gather the kids together and go on a nature hunt for some beautiful collections to add to bowls around the house.
8. Use faux pumpkins and paint with chalk paint for a whole new look
This is such an easy and inexpensive way to makeover your faux pumpkins.
Get some tips on making over pumpkins here.
9. Use baskets for blankets, wood logs next to the fireplace and to collect shoes by the front door
I have baskets all over the house for this very reason.
I use them to corral everything and at this time of year, the pillows and blankets seem to multiply. Having baskets handy will be an organizational lifesaver for you!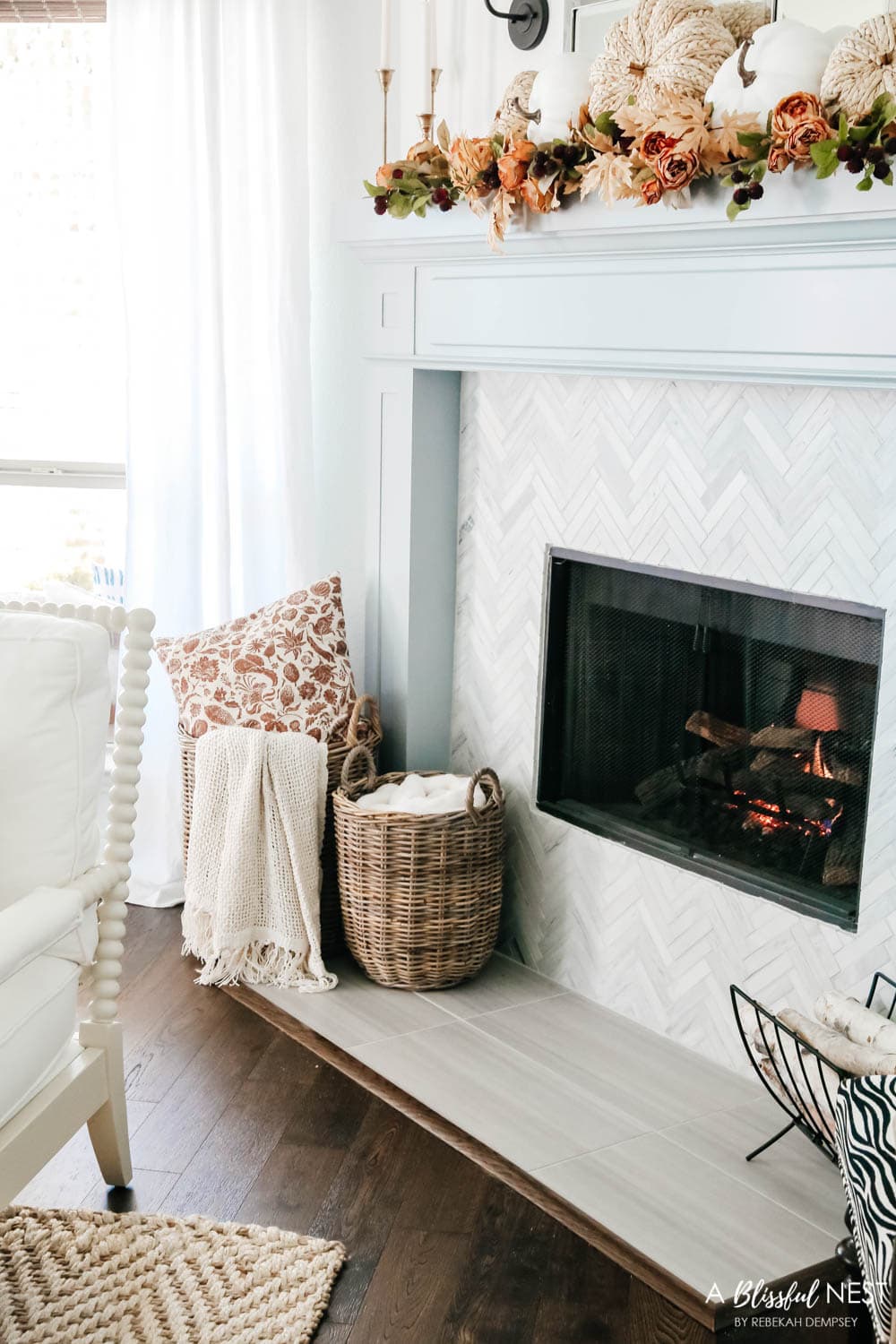 10. Use your blanket scarves as table runners for a fun pop of pattern and cozy texture
This is such a fun way to repurpose all those thick blanket scarves I know you have on hand in your closet. Pull them out and use them to decorate with!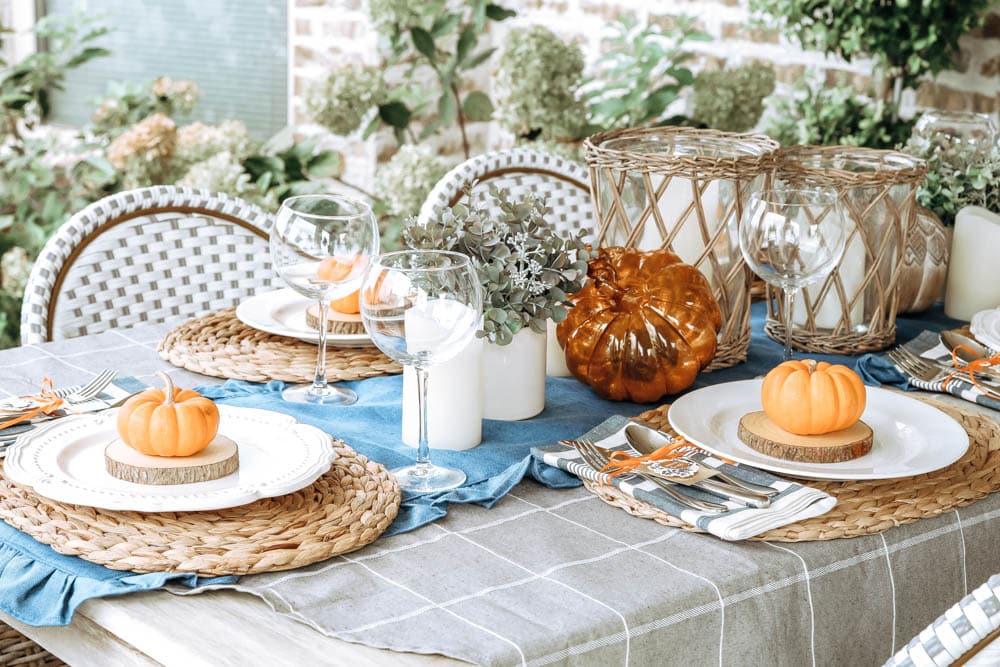 Hope you love all these affordable fall decor ideas and the great finds we found for you to decorate with!
More Seasonal Fall Ideas
Just in case you want a little more inspiration in the fall season, here are some amazing and inspiring ideas to get you started!
Follow along to get more of my tips on home decor, DIY and lifestyle on the following: