Cozy Fall Throw Blankets for Autumn
Sharing all my favorite cozy fall throw blankets and where to get them. These make great gifts for the season and are a great way to make your home feel warm and cozy for the fall season.
Fall throw blankets are a must! Not only are they cozy, but they also make such a statement in your living room, bedroom, etc!
With how many different patterned and styled throw blankets there are, I thought it'd be fun to round up some of my favorite cozy fall throw blankets to incorporate into your home this season and some ideas on how I use them in my home.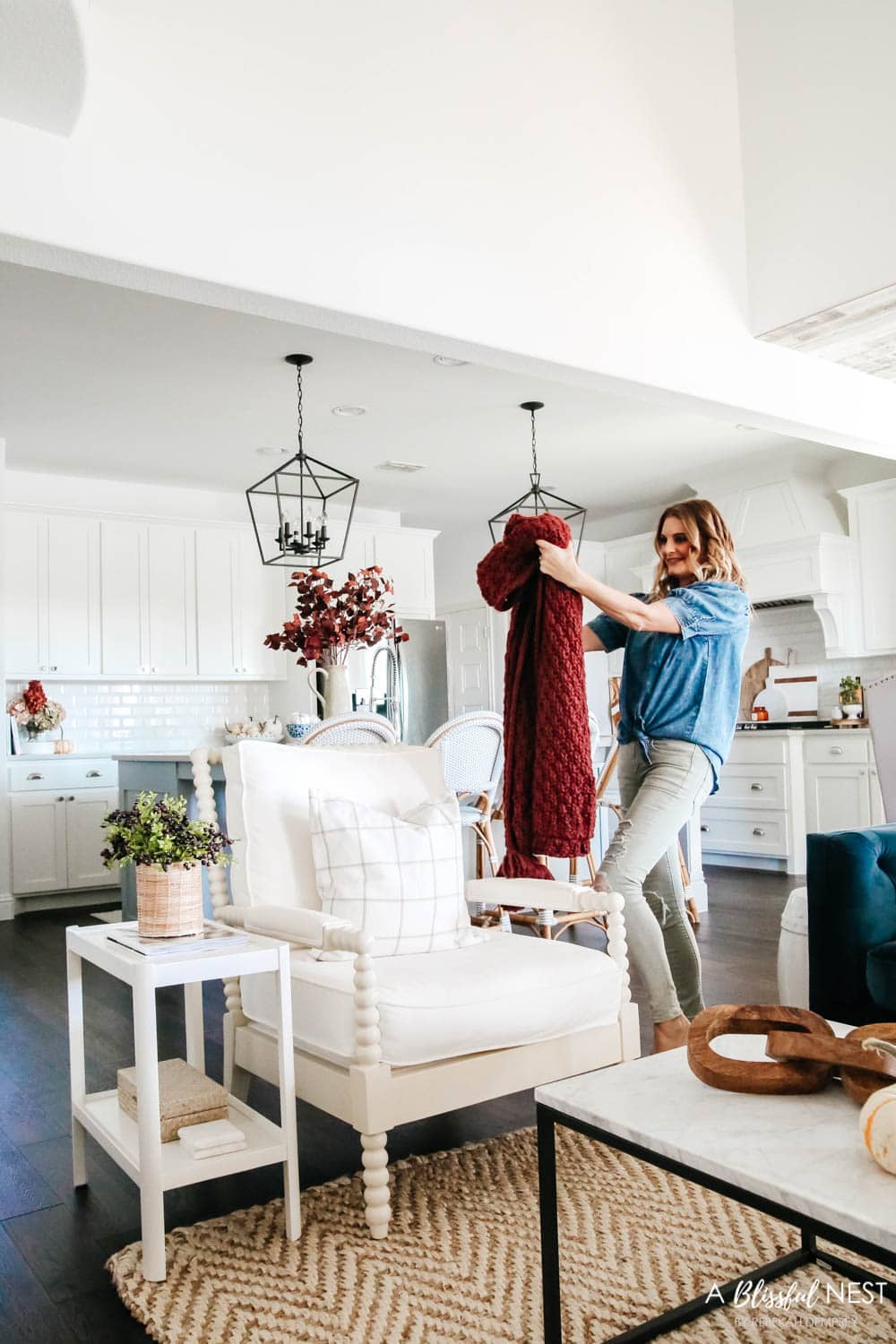 This site contains affiliate links. Please read our disclosure policy. As an Amazon Associate, I earn from qualifying purchases.
How to Display Seasonal Throw Blankets In Your Home:
I love to have plenty of throw blankets on hand and in the mindset that you can never have enough warm snuggle blankets at this time of year. In the cooler months, I have 3-4 blankets readily available to use in our living room. I don't however just have them piled up on the corner of the sofa.
I love to drape one on the arm of a chair, folded neatly on the back of my most comfortable chair I sit in, and I even like to have one hanging over the back of the sofa.
Recently I purchased this dipped leg ladder for my living room to help corral my fall throw blankets. It was a steal from the Serena & Lily one I had been eyeing for months. I love how you can easily nestle it into the corner of a room.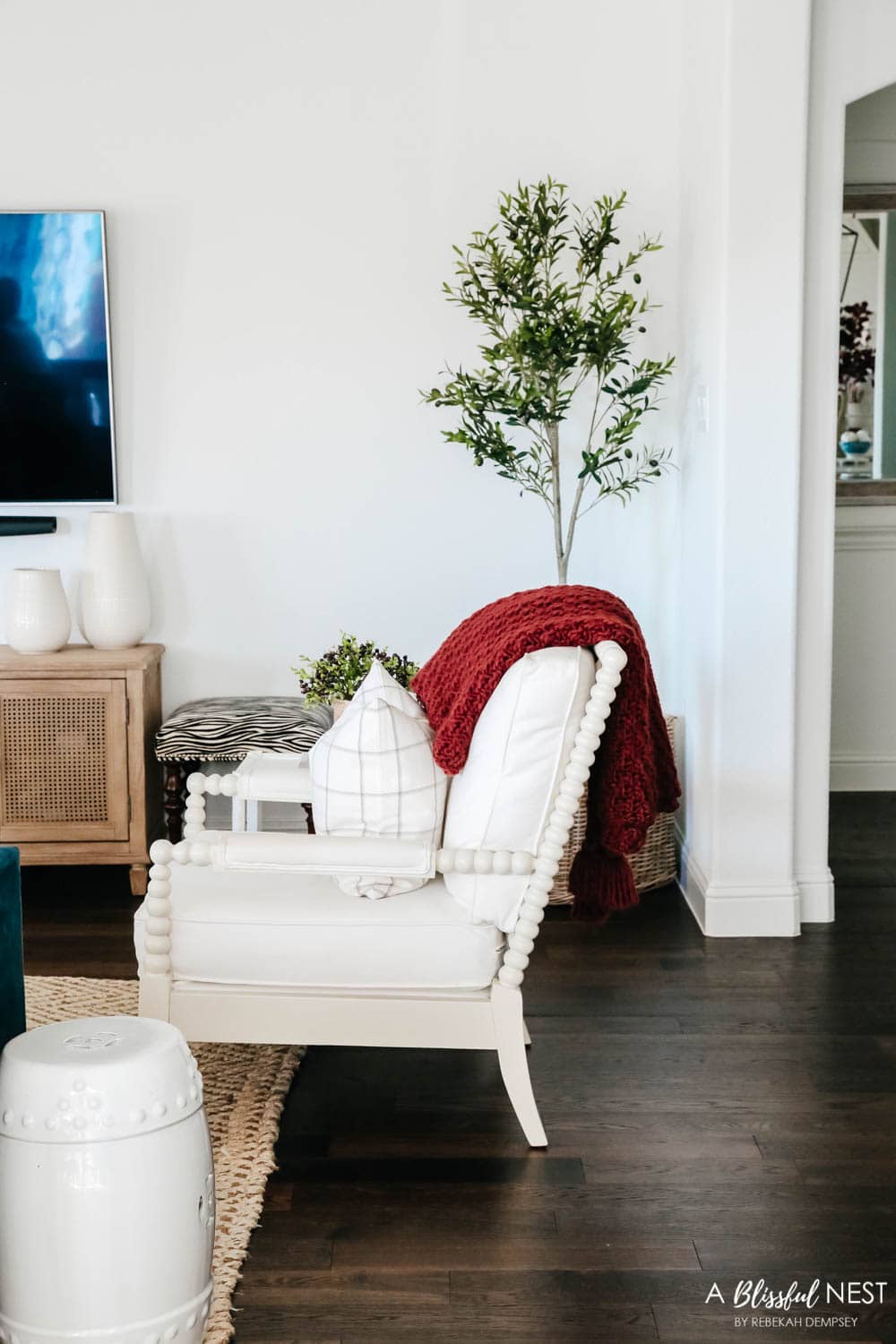 I also love to use baskets to house my blankets. I just roll the blanket and tuck them right on in. I generally love to have a basket of blankets by our back patio door for when we make fires outside and it is cold. It makes it easy to grab one as you are headed out the door.
So now that you have some ideas on how to decorate with some fall throw blankets, let's go shopping!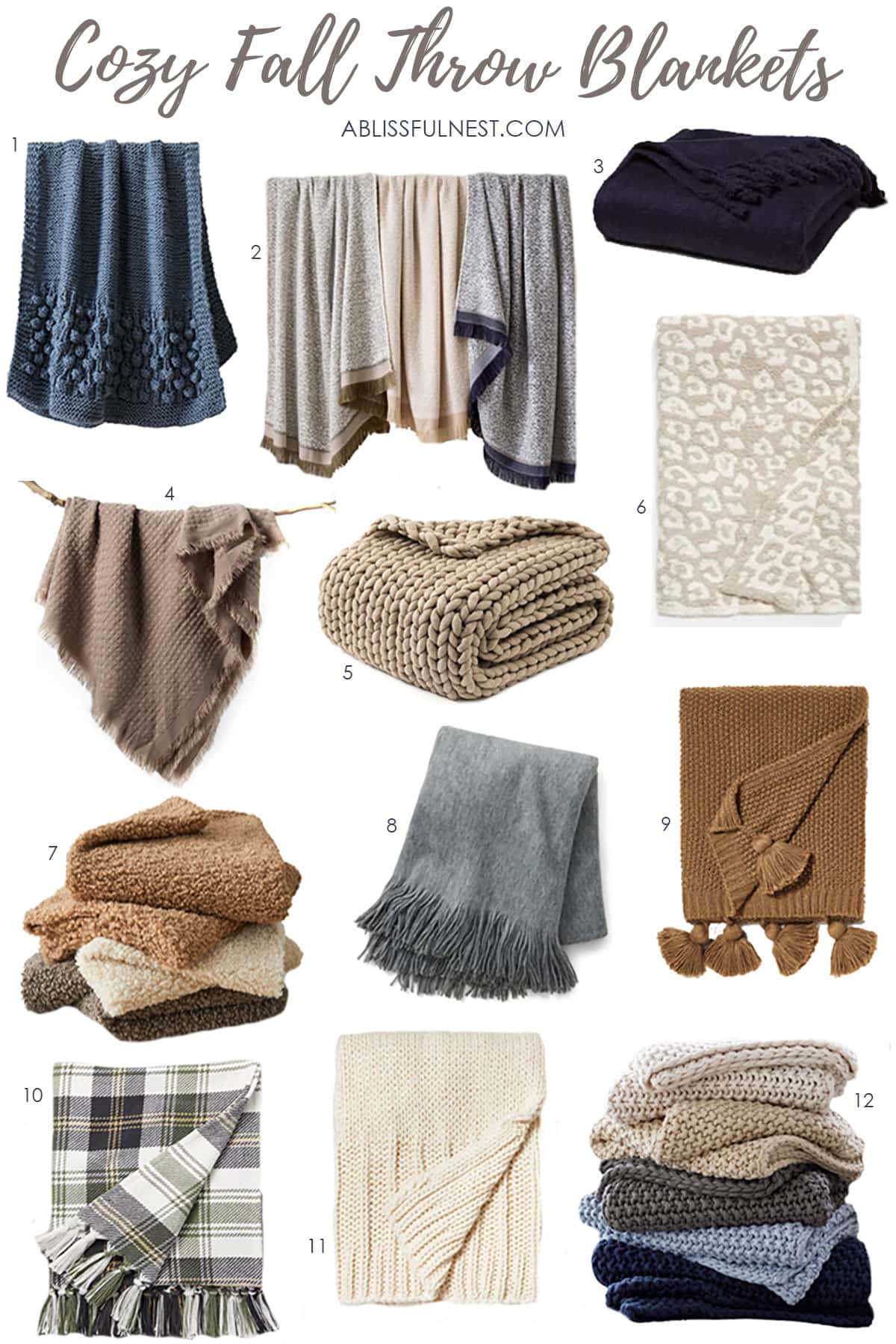 1 | 2 | 3 | 4 | 5 | 6 | 7 | 8 | 9 | 10 | 11 | 12
All sources for these cozy fall throw blankets can be found below
Cozy Fall Throw Blankets:
Throw blankets are a part of everyone's love language LOL. Especially during the cooler months, cozying up on the couch with a warm throw blanket is the best feeling. You can display them on your couch, in a decorative basket, draped over a chair, or even on a bed in your home. There are endless possibilities and they go way past being functionally warm! This is a collection of the coziest and cutest throw blankets for this fall season no matter what style you like best.
Just click any of the photos to go right to the products

Favorite places to shop for seasonal fall throw blankets:
I get asked this question a lot and will be sharing not only items I love and have found but my favorite stores to specifically get what I am shopping for. I typically look for stores where I can get my bang for my buck and still get on-trend pieces for the season. Typically I shop these stores for year-round finds and not just seasonal items.
Hope you find some great cozy throw blankets for the season and stay nice and warm!
Follow along to get more of my tips on home decor, DIY and lifestyle on the following: