Fall Kitchen Home Tour 2021
Sharing a classic fall kitchen home tour with modern fall decor touches. Affordable fall decor finds and sources to recreate this look easily, including faux white pumpkins, faux fall florals, and more.
When the cooler weather hits, our kitchen turns into full-on baking mode. I love the smell of warm pumpkin bread in the oven and homemade applesauce in the crockpot.
I tend to decorate for fall in our kitchen with just a few simple changes. I love to make sure the things I will cook with for the season are easily accessible but not cluttering my counters.
I found lots of affordable items from our new shop and mixed them with pieces I already had. I love to re-use as much decor from the previous season as I can and only add in some fresh linens and florals/greenery.
So let's get to my fall kitchen home tour!
This post contains some affiliate links for your convenience. Click here to read my full disclosure policy.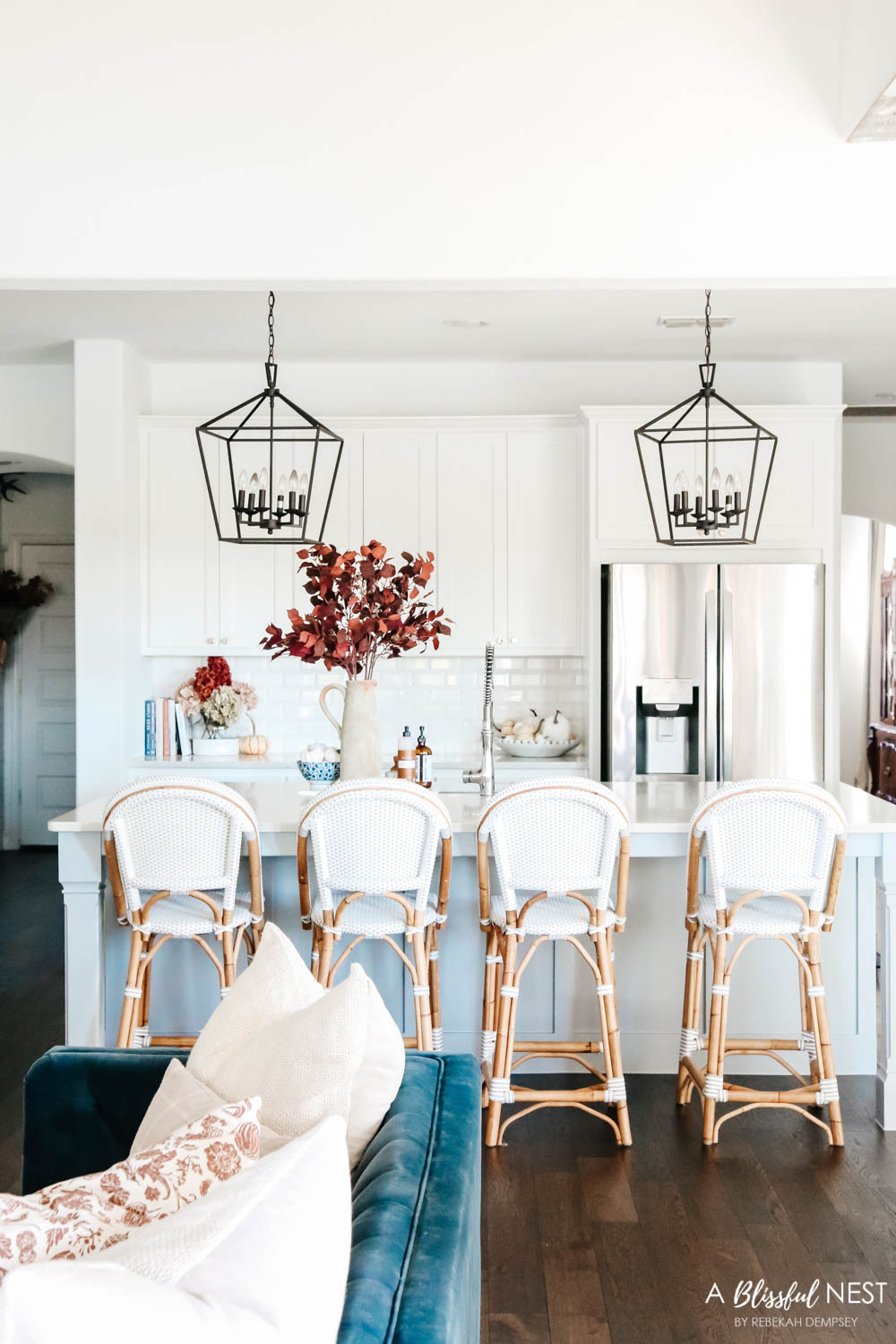 The focal of our kitchen area is this oversized island. It truly is the hub of dinner making, homework, and general congregation. These barstools are still going strong and you can read my full review here.
As you can see the autumn cranberry red and golds are my color scheme this year for my fall kitchen decor. I actually used it throughout my other spaces too since they all open into each other and to keep it cohesive.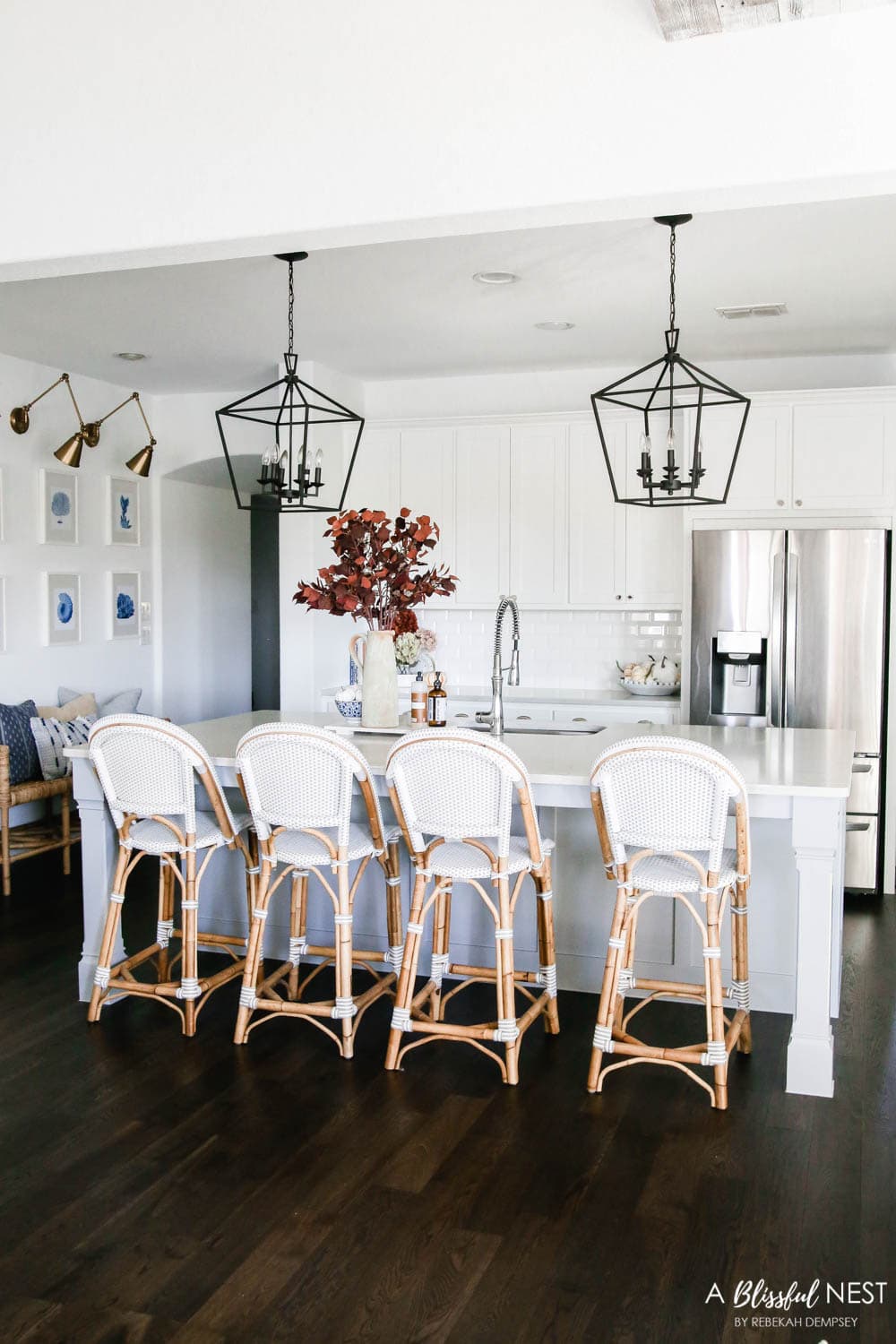 One of my most favorite pieces is this weathered pitcher. It is so tall and substantial. It has an aged look like it has been sitting in your garden over time and it is very heavy. I added these amber-hued eucalyptus leaves to it and placed it on this rectangular marble tray.
These eucalyptus stems are very long and full. I was surprised that you don't need many to fill your container. I used 8 here but you could easily have used 6 and it would still look full. I bought them in the golden color too because I loved them so much.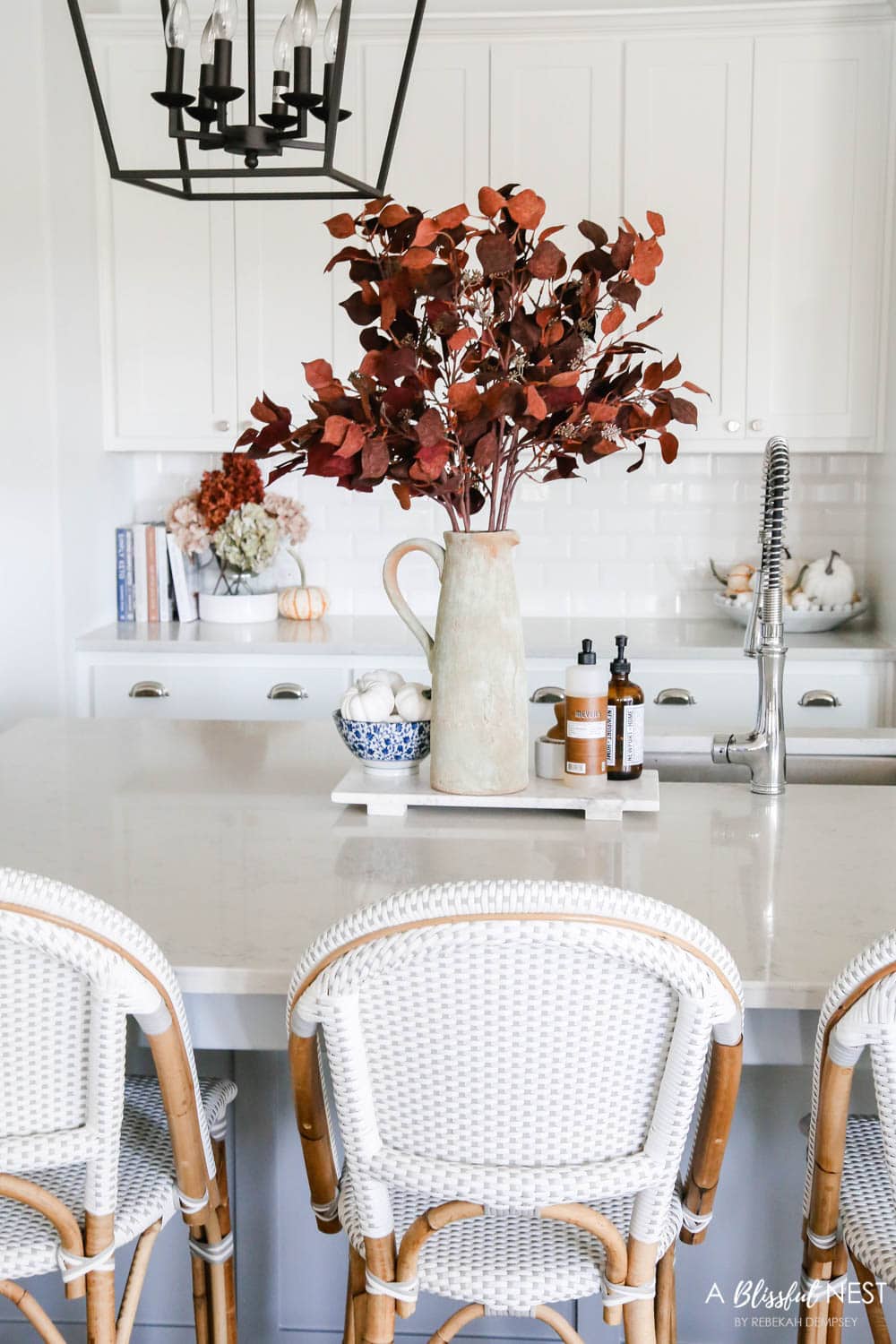 This site contains affiliate links. Please read our disclosure policy. As an Amazon Associate, I earn from qualifying purchases.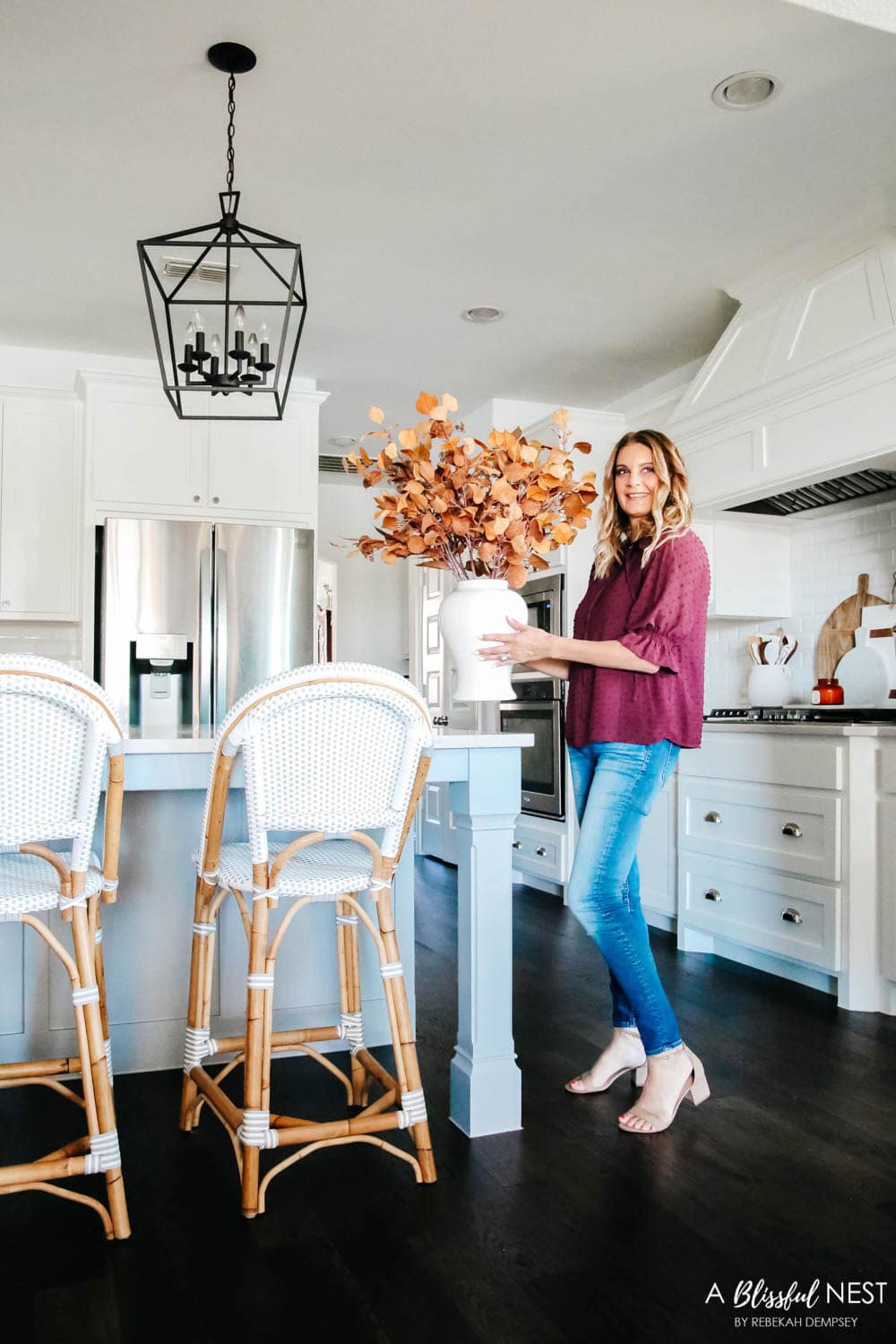 Probably one of the most asked questions is about the color of my kitchen island. Believe it or not, it is gray but depending on the light can go to the blue spectrum of the color wheel. I love the color especially at each of the seasons with the varying color palettes. You can read more about my paint sources here.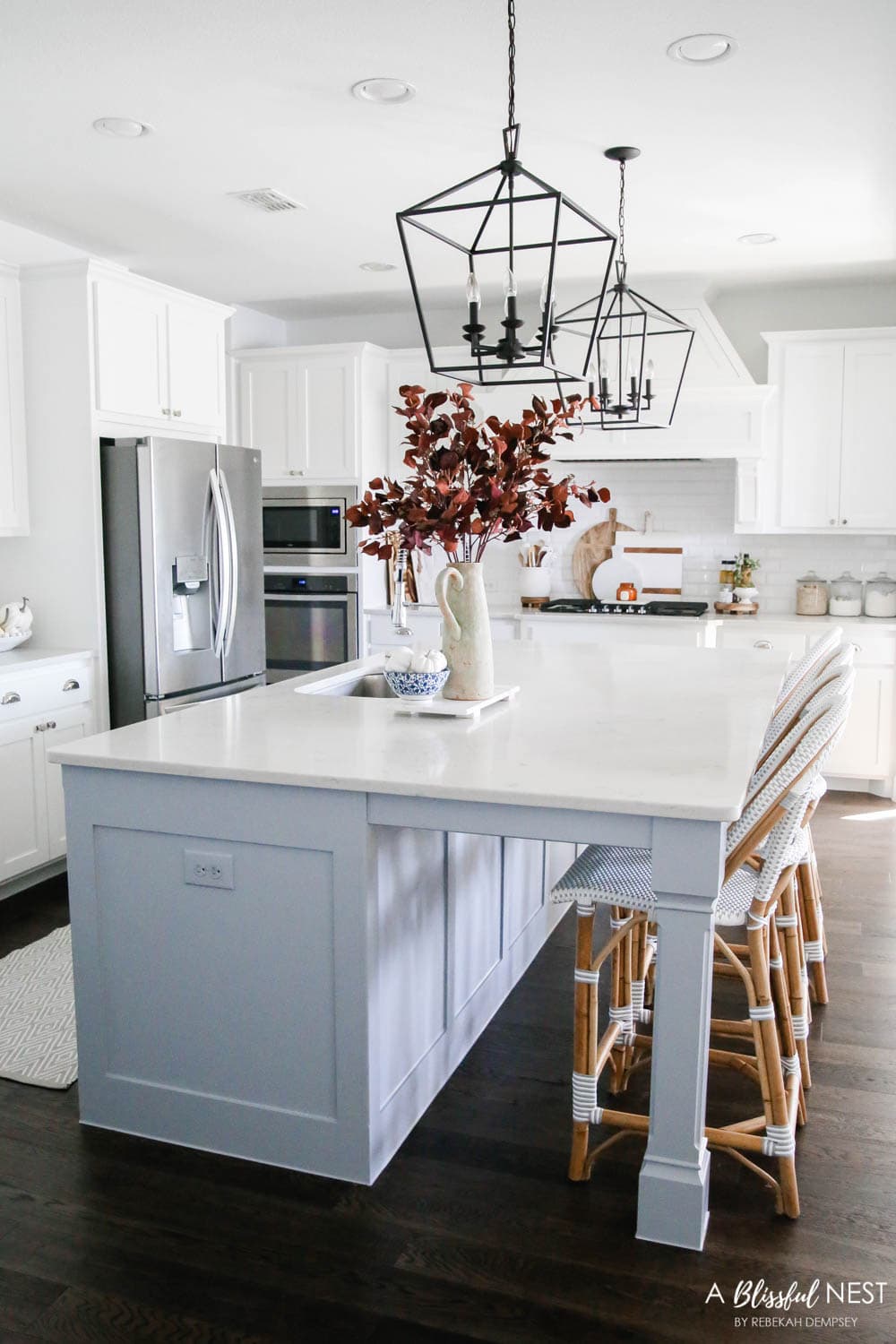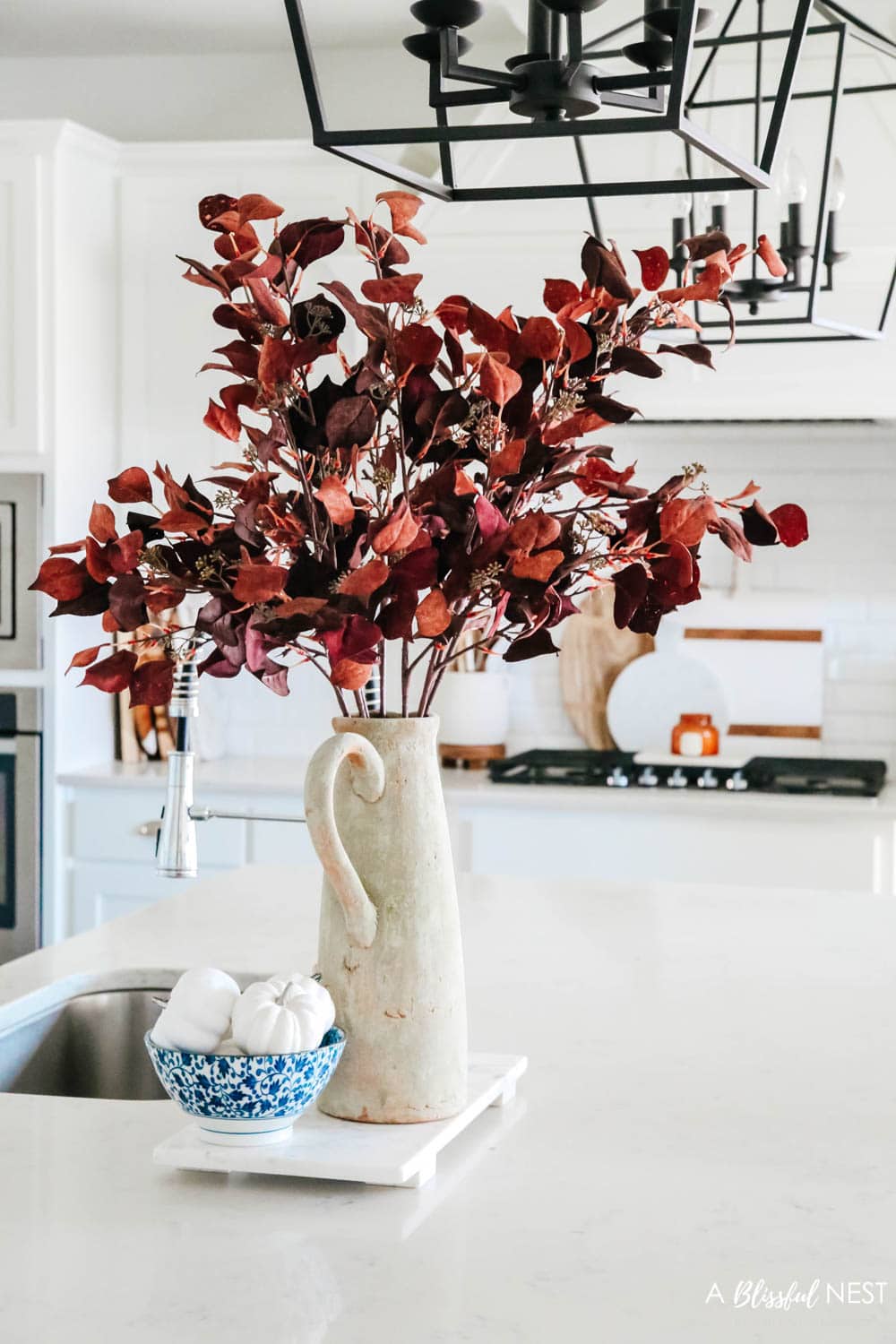 Like I said above, I kept the fall pumpkins at a minimum in the kitchen and really just sprinkled them here next to the sink and in the corner of one of my cabinets. I have had this blue and white bowl forever but here is a similar option.
These baby boo pumpkins are actually faux and I have had them for three years now. They are a great price especially if you want to use white pumpkins in clusters for bowls. I think the real ones can get expensive and will not last the whole season.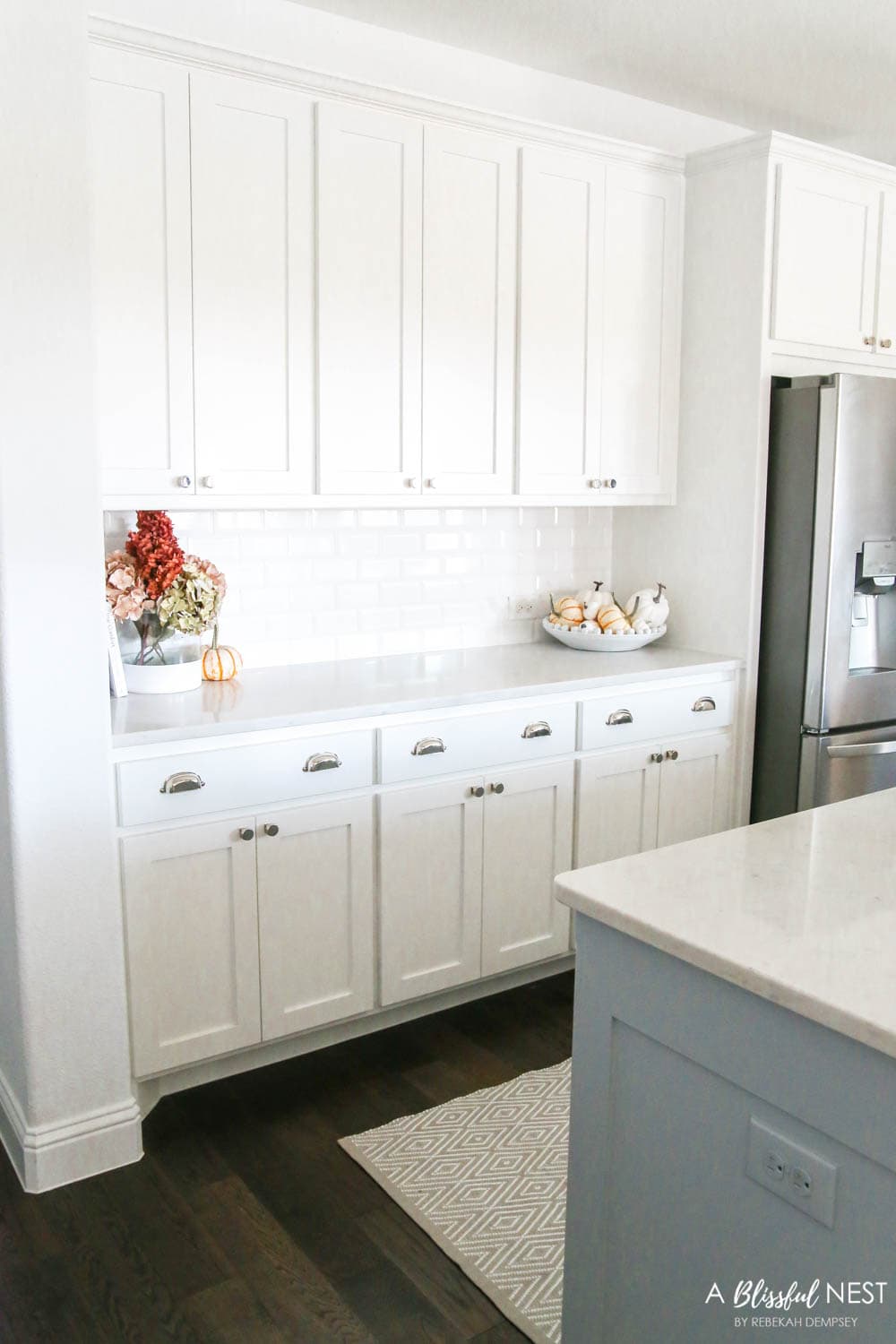 I mixed the faux white pumpkins here with a couple of real ones that have an orange stripe pattern to them. When they start to go bad I will just fill them in with some more faux pumpkins. But I love the contrast of them altogether.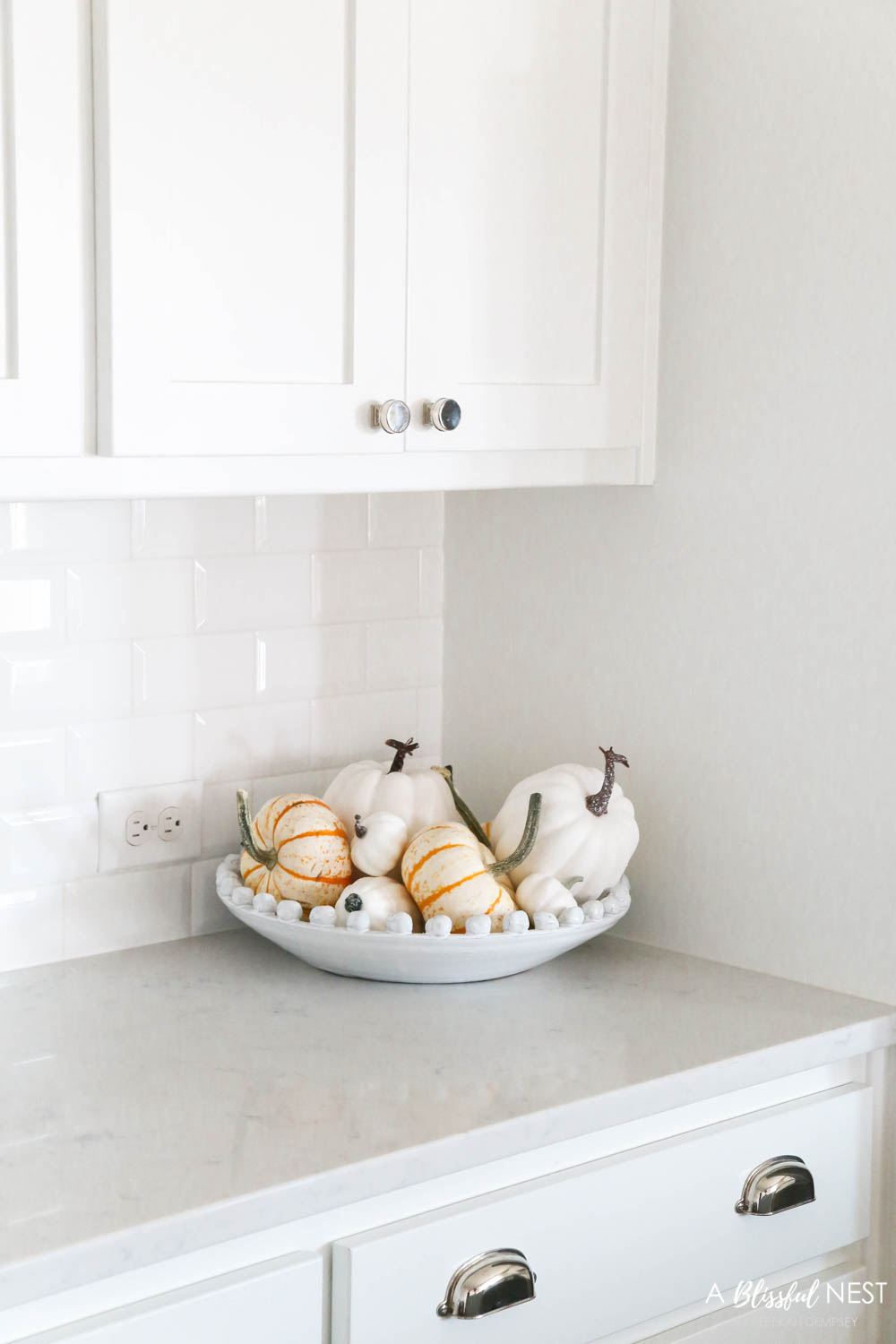 As I mentioned before, I love to have the things I use the most at arms reach which includes my favorite cookbooks for the season. Many of them I use year-round and you can check out which ones are my favorites here.
I tucked them in a corner on my counter and used this dip-dyed vase with some faux hydrangeas as a bookend.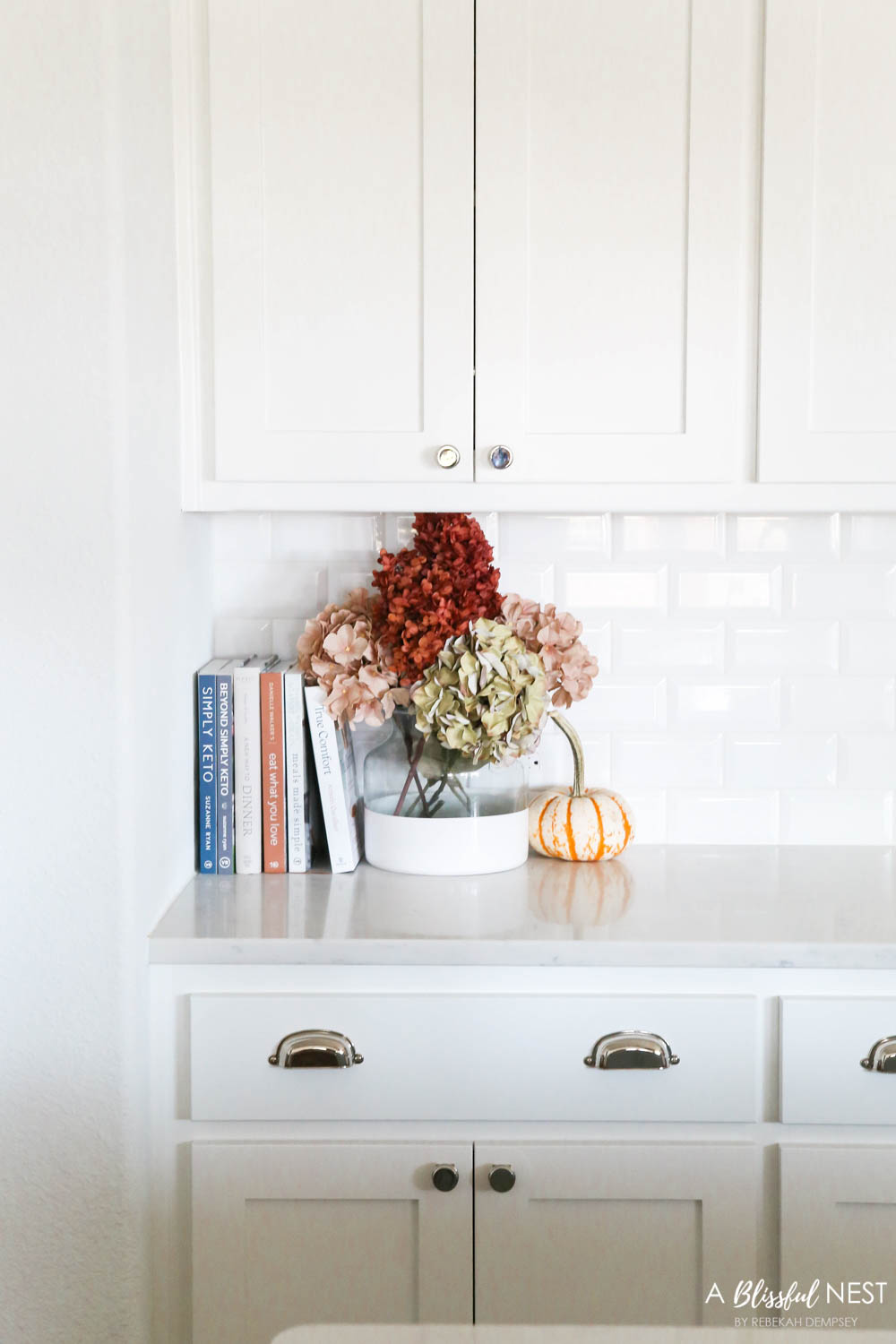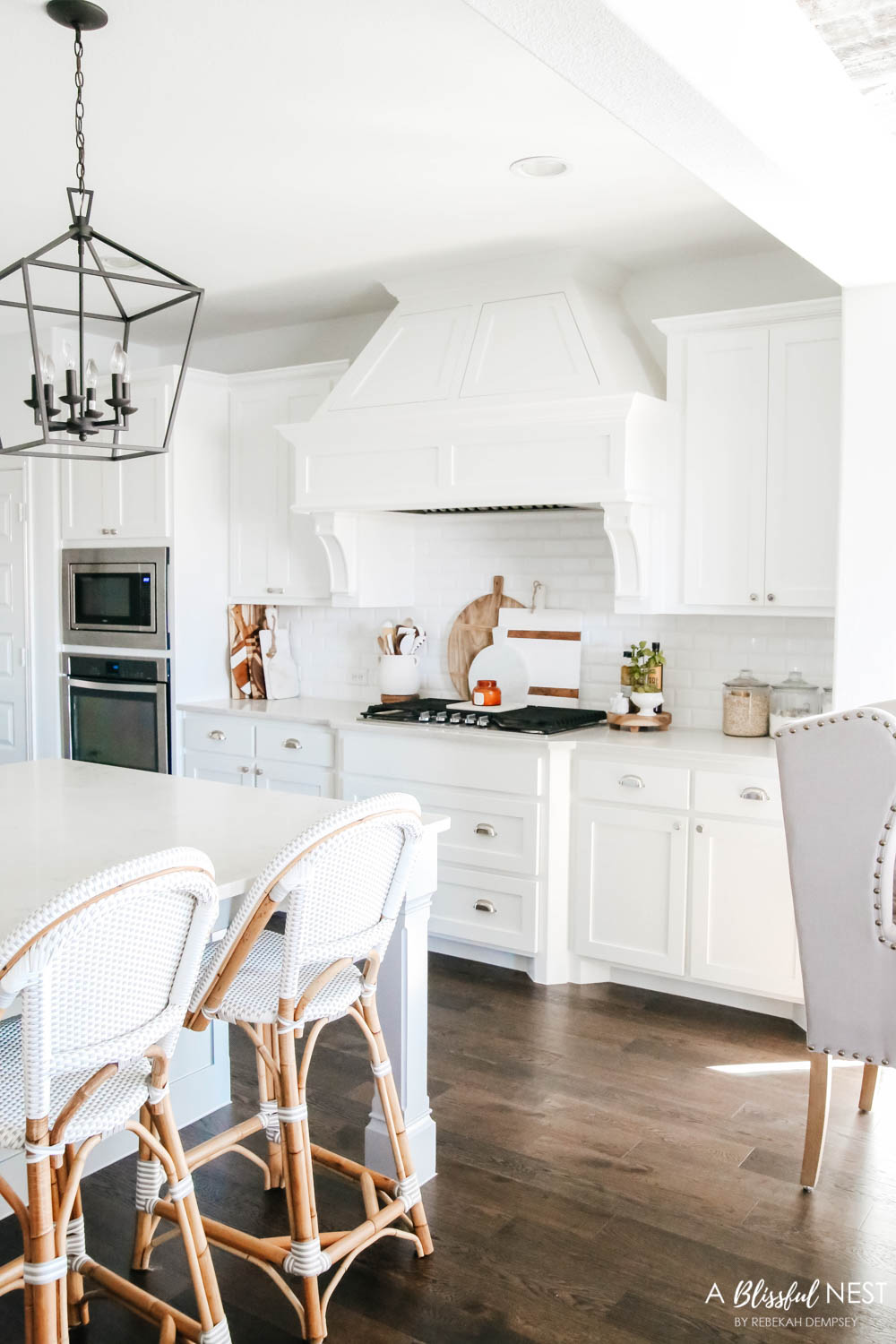 This year my stove just got a simple pumpkin candle on a marble tray. I love to light candles when I cook and you can shop my favorite fall candle scents here.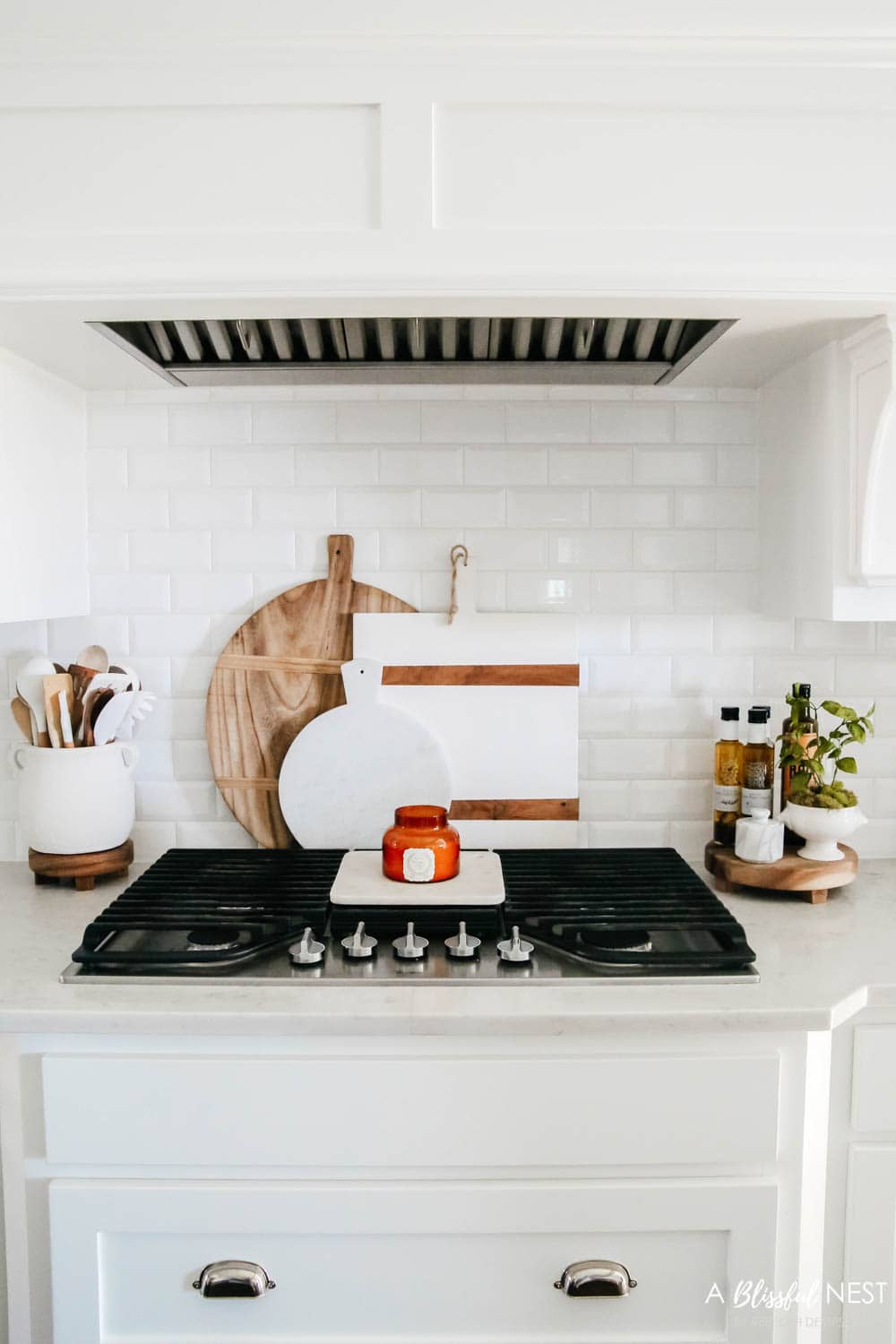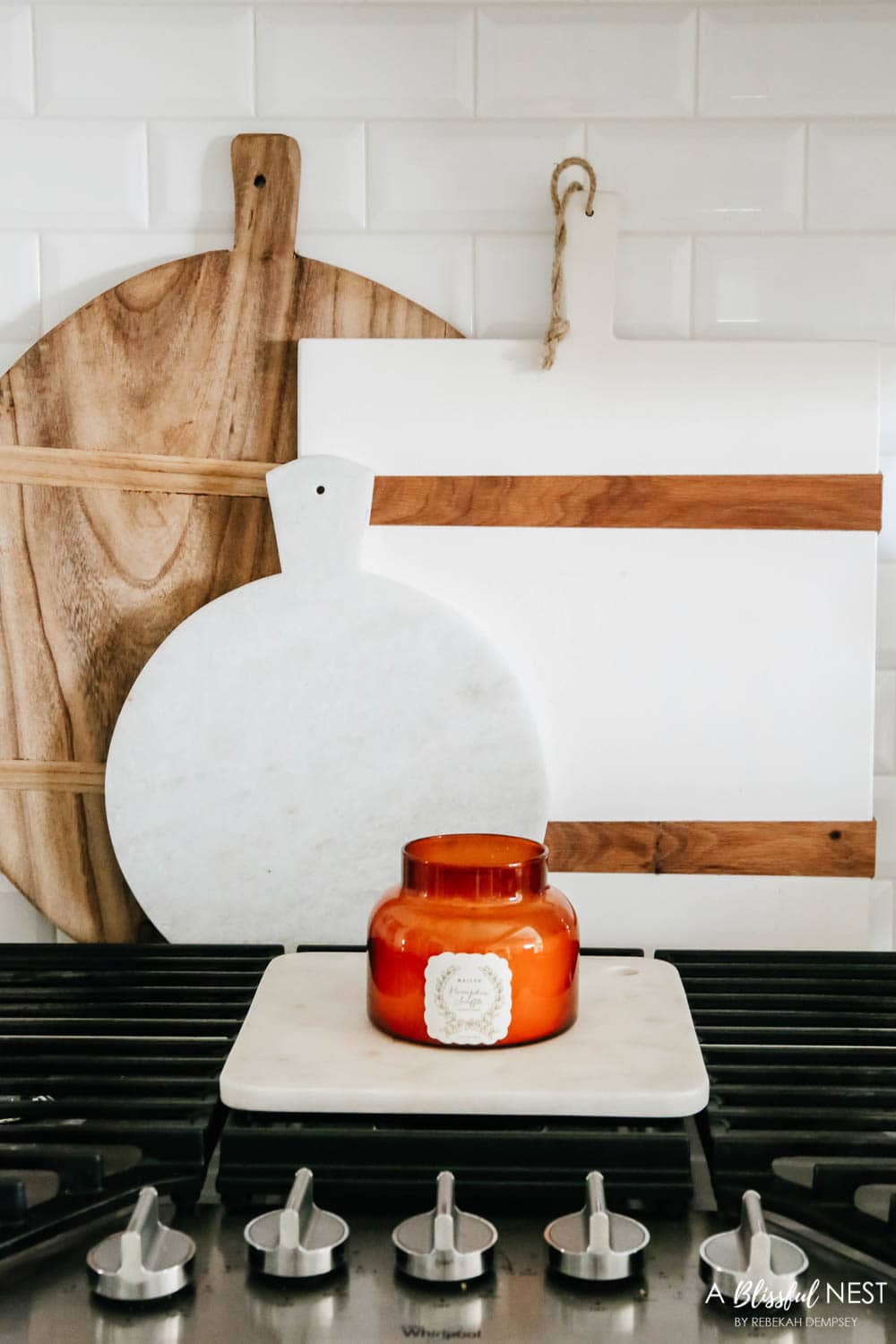 This gallery wall is one of my favorite spots in the house. I love the color it adds and these sconces are so functional for us in the evenings. I love their glow.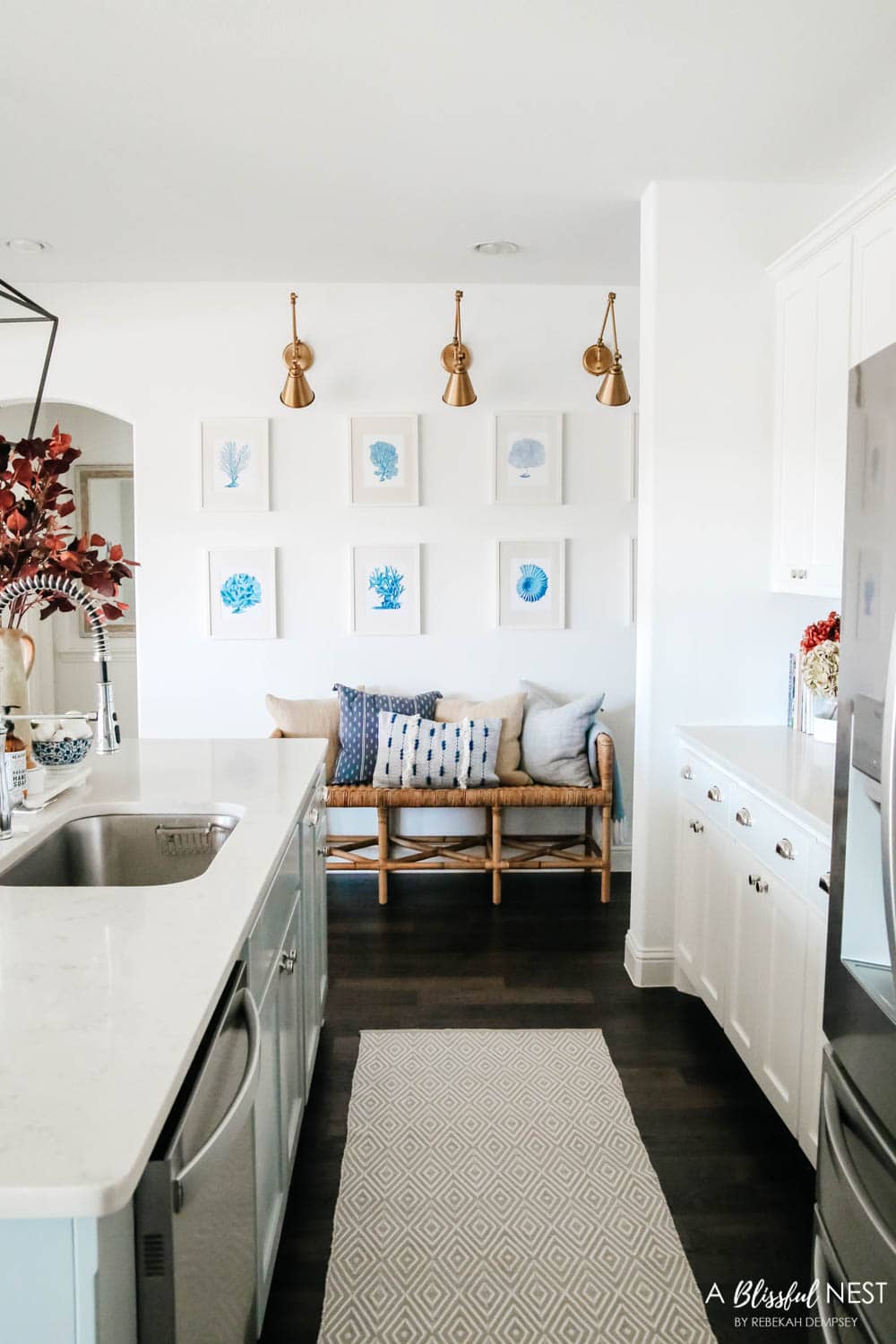 Believe it or not this bench gets a lot of use here. Not only does Sasha (she is our ragdoll cat) like to lay here and watch me cook, but Lauren will sit here and chit-chat with me in the evenings about her day.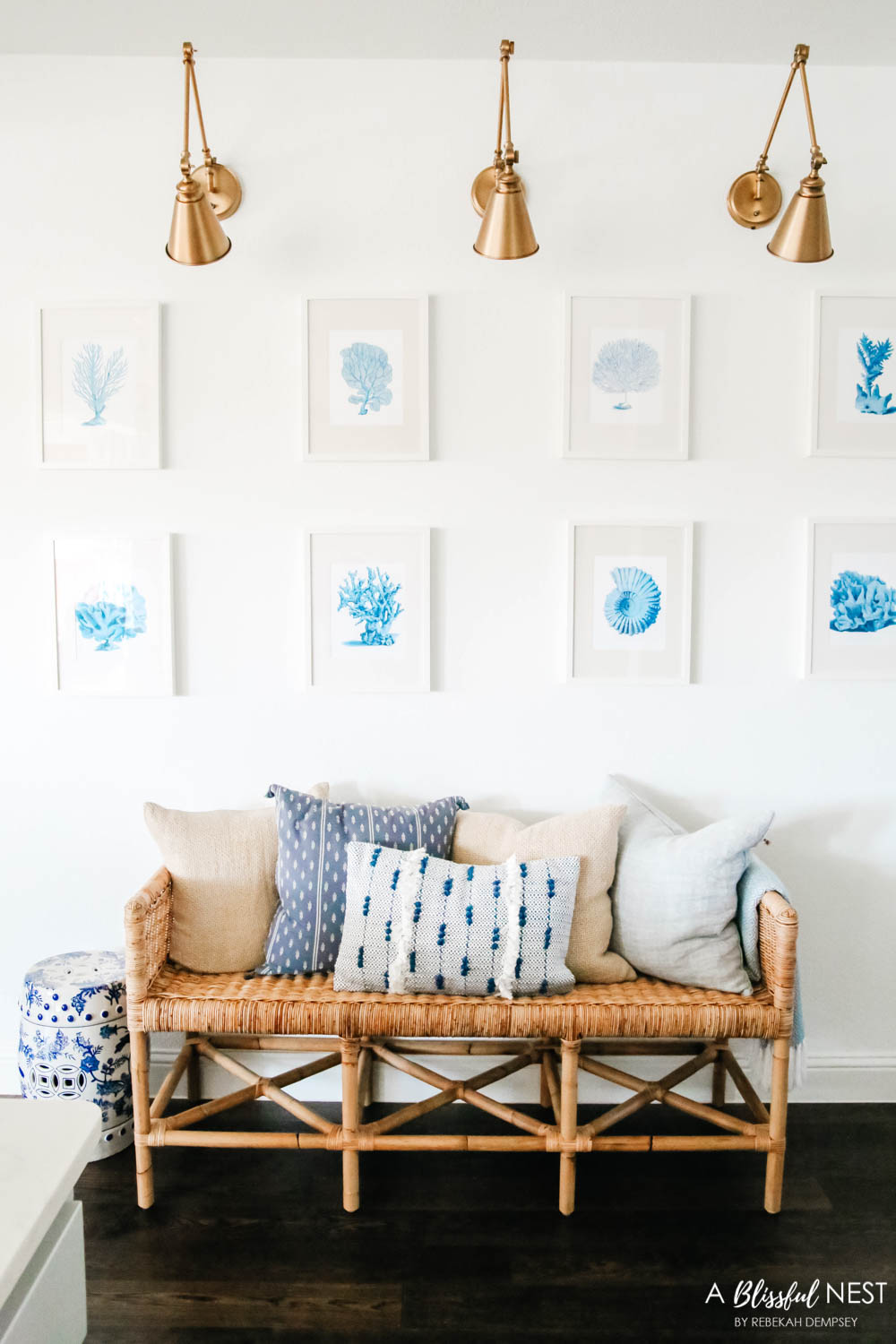 I added a cluster of cozy pillows and a blanket to make this spot more comfortable to sit and I don't mind one bit if these pillows find their way to the floor! They are all affordable pieces and is a sign of a well-loved space.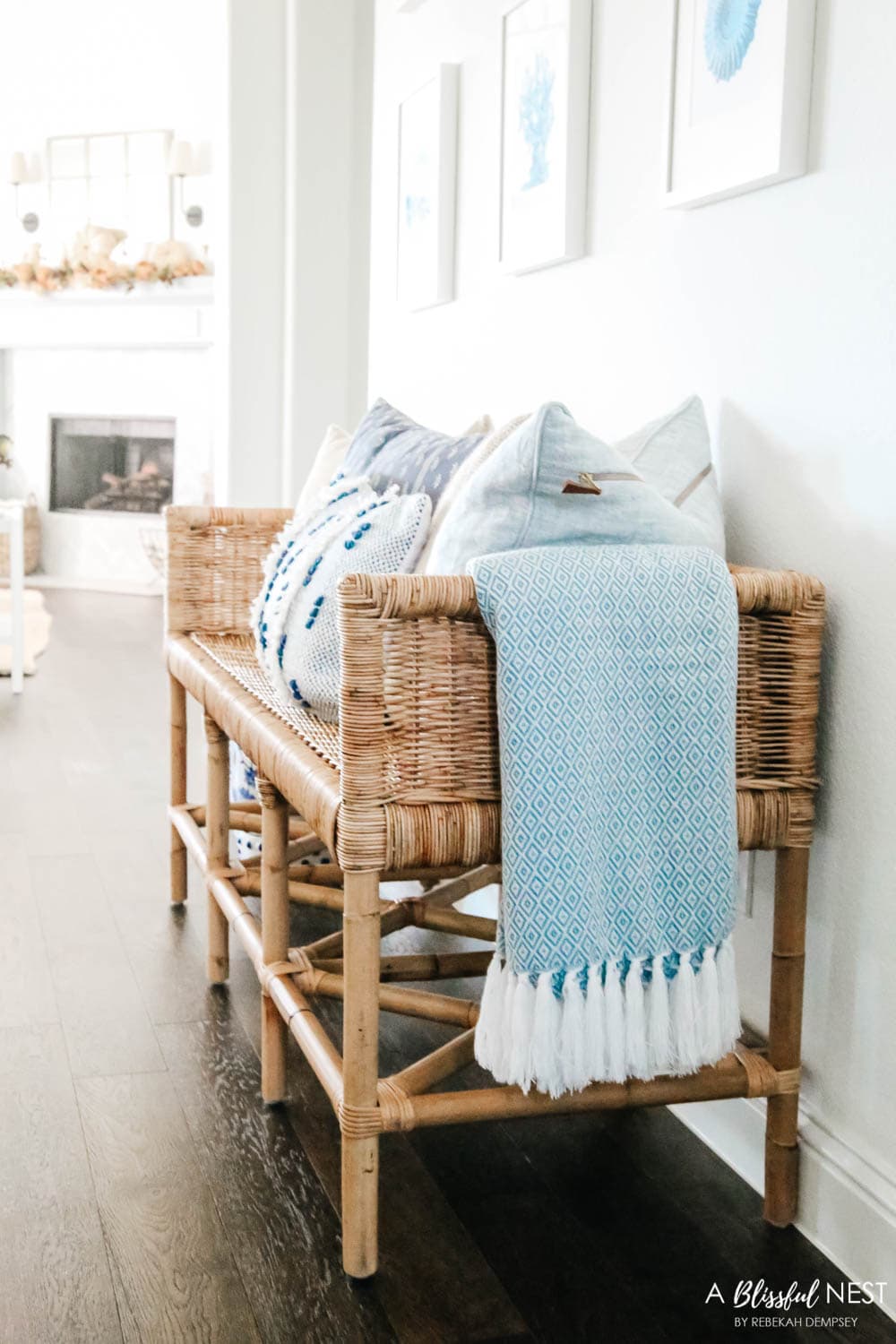 I hope you loved all these modern fall decor finds and got inspired to decorate your kitchen for the autumn season!


More Fall Ideas + Inspiration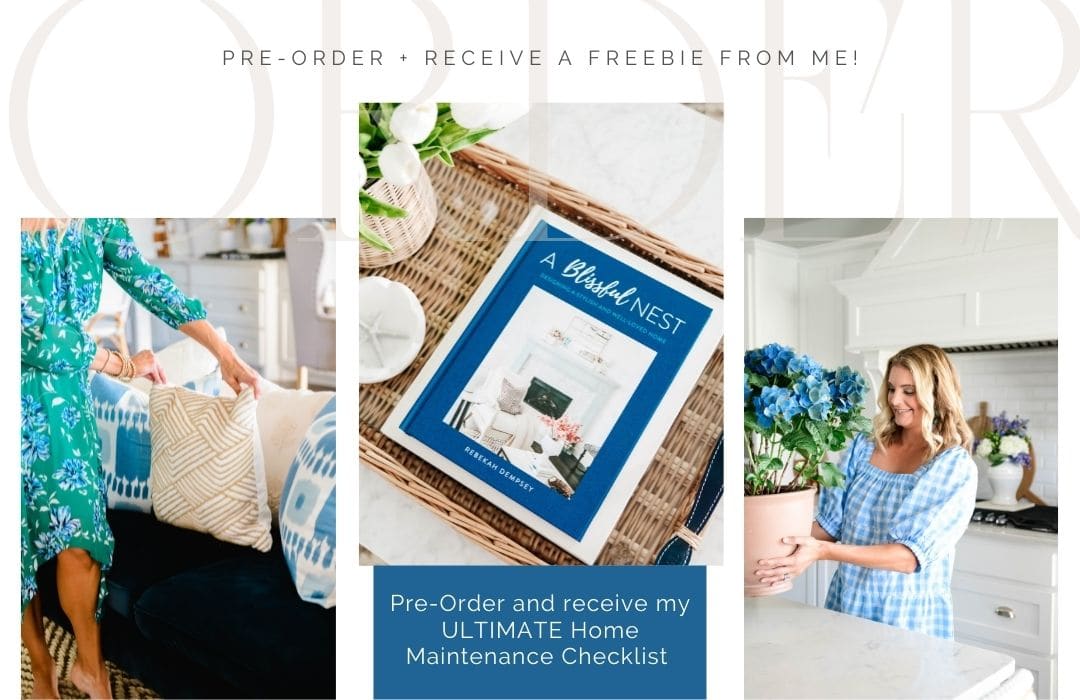 Follow along to get more of my tips on home decor, DIY, and lifestyle on the following: