Fall Harvest Charcuterie Board
This post may contain affiliate links. Please read our disclosure policy.
This post is sponsored by Roth Cheese, but all opinions are my own.
Enjoy your next family gathering with a Fall Harvest Charcuterie Board! There are so many fun ingredients and decor you can use to make a special edible display for your family to enjoy and nibble on.
Fall is the time for hot apple cider, pumpkins, and a fire going in the fireplace. This is also one of my favorite times to have cozy time at home with my family watching movies, playing board games, or watching football games on TV. Especially over the last few months, we have gotten even more creative entertaining ourselves at home and one of them is making charcuterie boards.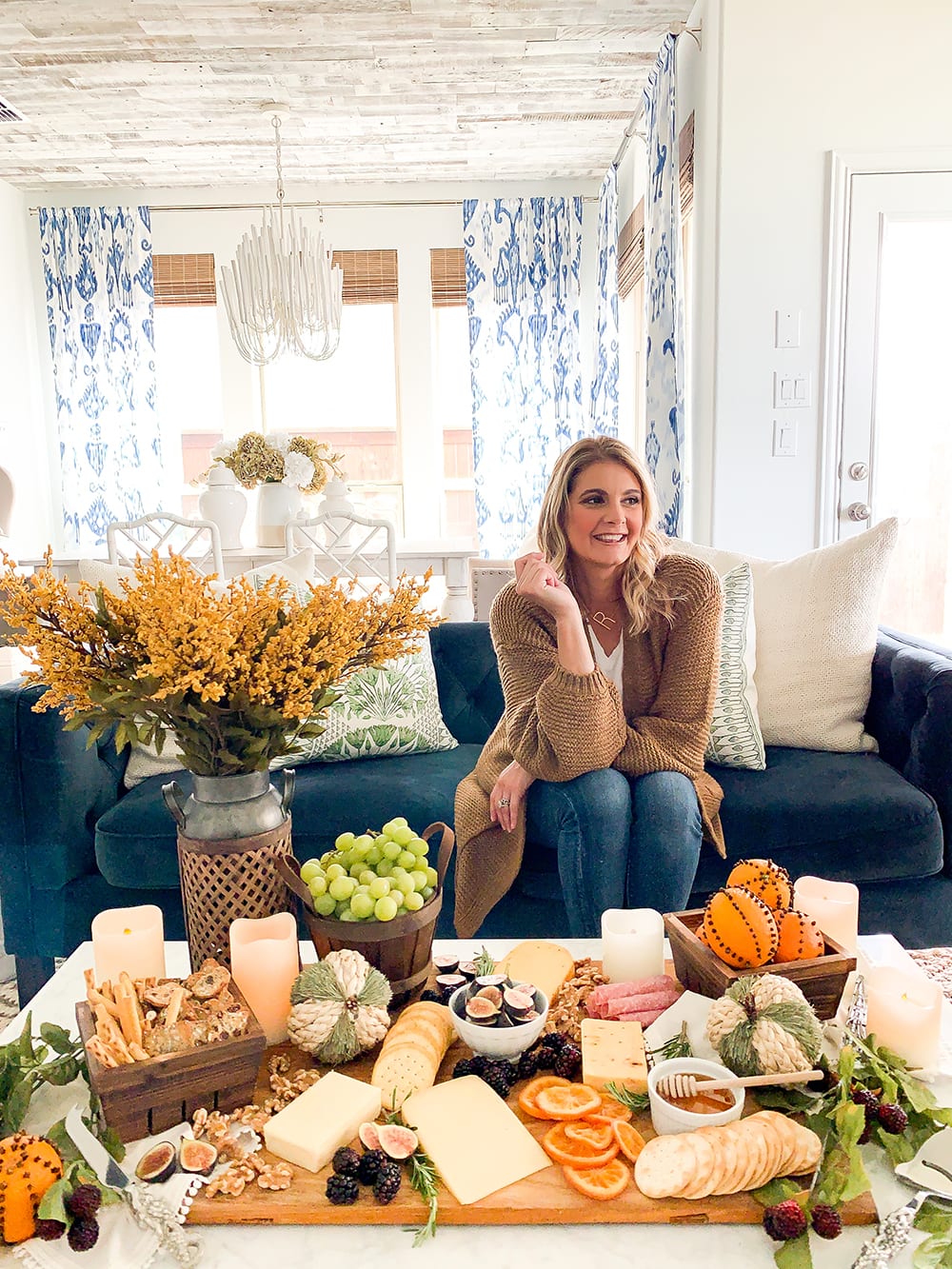 What is a charcuterie board?
You may be wondering what a charcuterie board even is and just think meat and cheeses. They make up the bulk of it. Typically it involves prepared meats like ham, salami, prosciutto, etc as well as a variety of cheeses to be paired with and eaten with a variety of crackers or toasted artisan breads.
All the items are artfully displayed on a large platter or cutting board. Then placed in an easy spot for guests to grab from to eat like the kitchen counter, coffee table, or side table.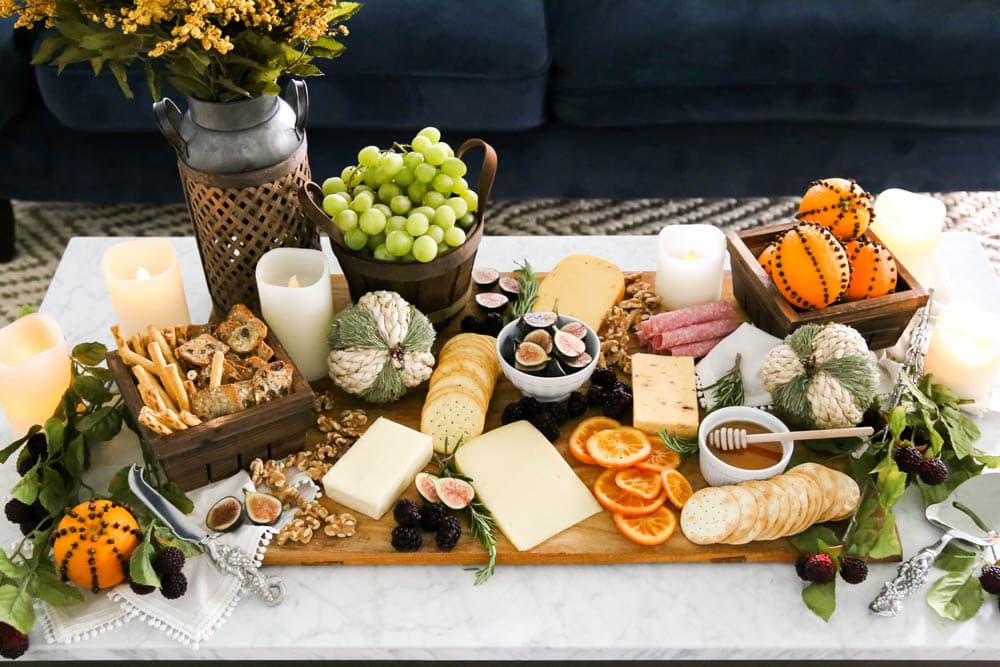 What should be on a charcuterie platter?
There are so many ingredients to include in a charcuterie board but one of my go-to items is an assortment of cheeses from Roth Cheese. They make their cheeses in Wisconsin with milk from local family farms but are available nationwide.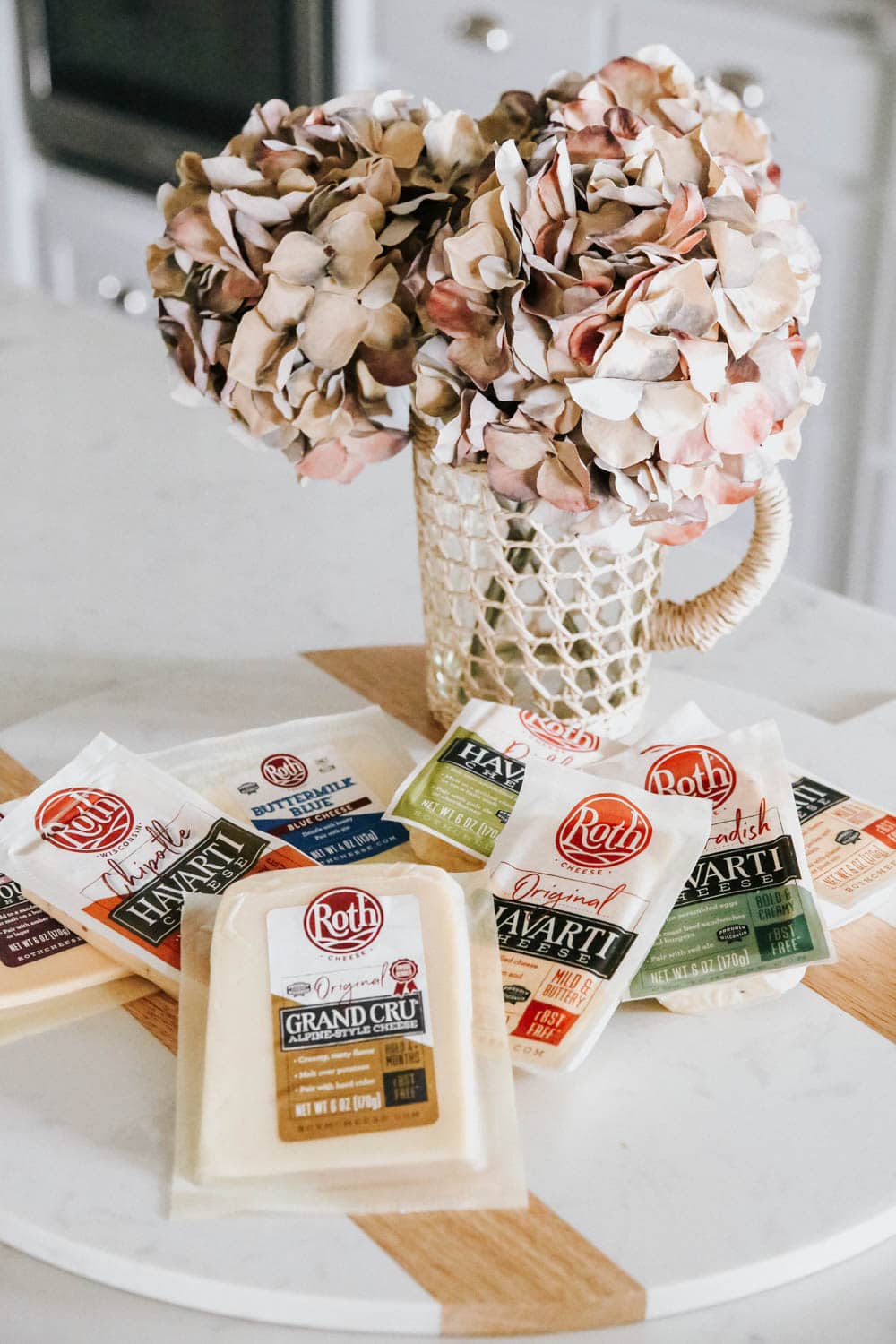 How to pick the best charcuterie and cheese pairings.
When you select your Roth Cheeses, there are serving and pairing ideas on each label to help you choose the right ingredients for your charcuterie platter. This is why I like to start with selecting the variety of cheese first to make buying the other ingredients so easy.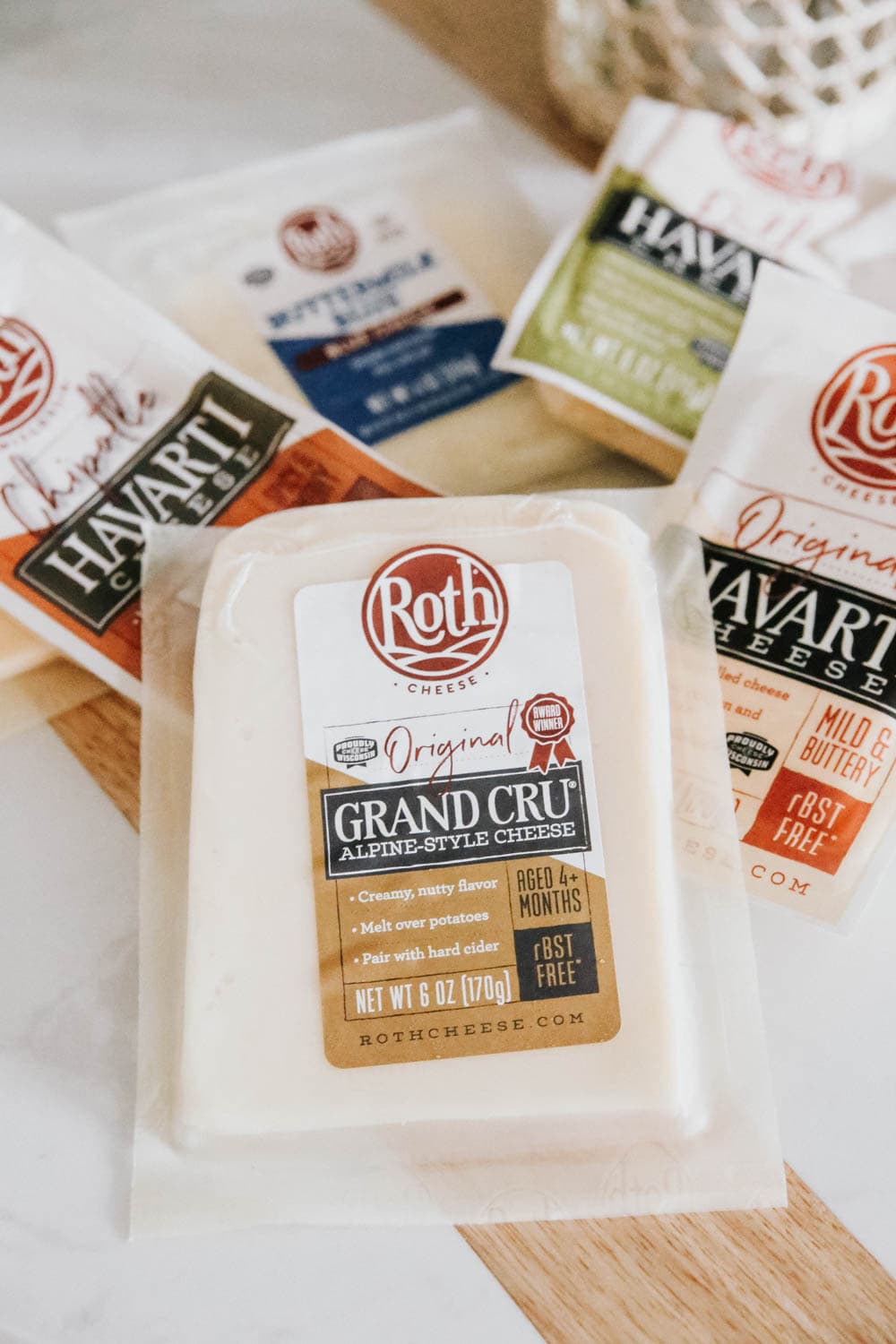 Grand Cru by Roth Cheese is my all-time favorite cheese. It is so creamy and has a nutty flavor to it. I love shredding some and melting it on top of homemade sweet potato fries. SO good!
It is also recommended to use for paninis or melting over the top of onion soup. Doesn't that just sound so delicious?!!
I used the Grand Cru as the focus of my harvest charcuterie board and then added items that would enhance the flavor of the cheese around it.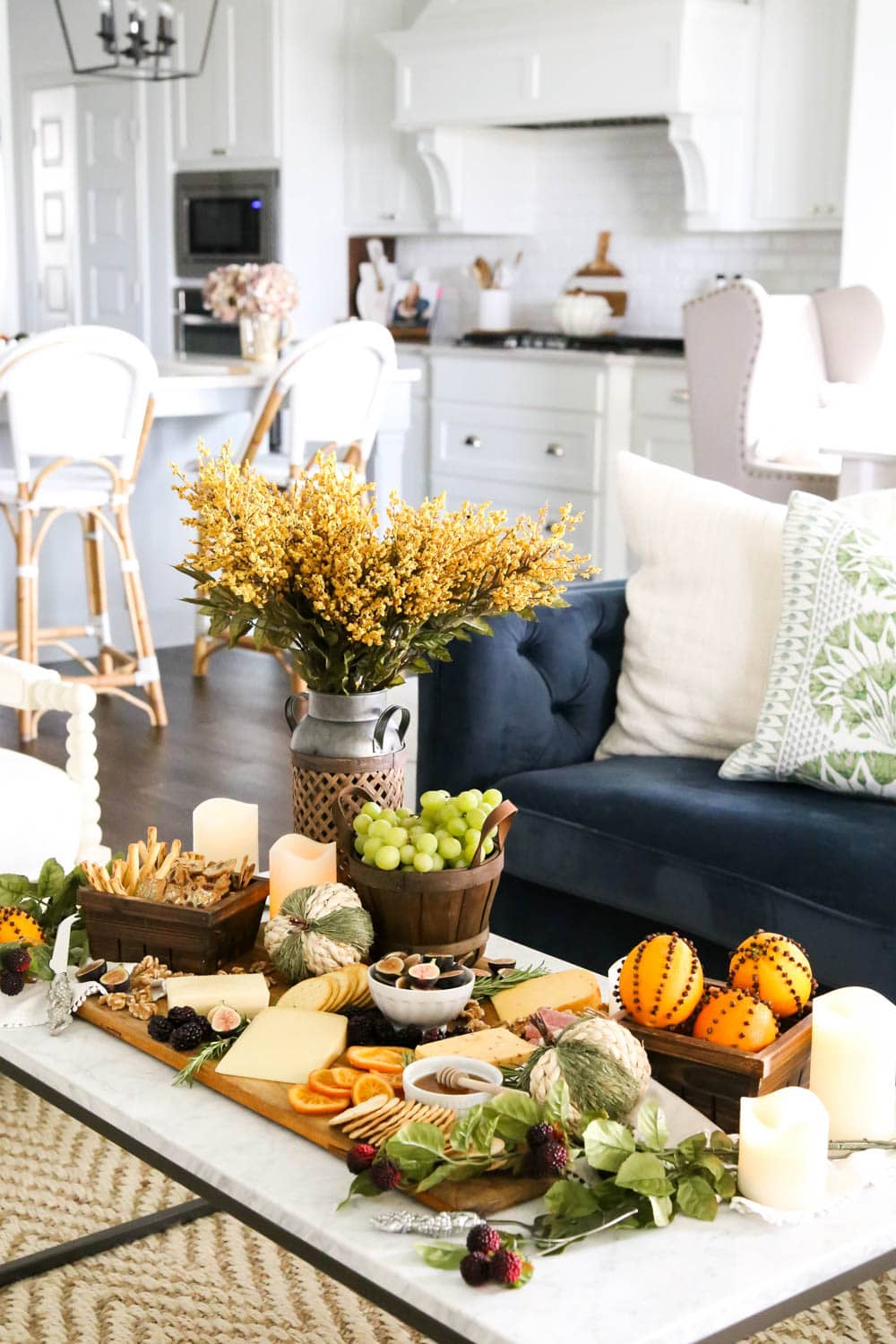 Another tip when selecting perfect pairings for your charcuterie board is to pick cheeses with different textures and flavors. Use Havarti, Brie, Gouda, and any other flavors that are unique and different for a variety. Have a mix of hard cheeses and soft cheese as well as strong and mellow flavors. Just think the more variety you offer, the more fun combinations your family and friends can make.
How do you make a fall harvest charcuterie platter?
There is no exact way to make a cheese platter but when making a fall charcuterie board I like to stick to a couple of rules of thumb.
Select your serving piece.
I love to use oversized cutting boards or a large platter. If it is not a food-safe, make sure to use some parchment paper underneath everything before you get started.
Select a variety of cheeses and meats.
As I mentioned above, selecting a variety of flavors and textures in cheeses is the first step. Roth Cheese has so many options and there is something for everyone to enjoy.
I also love to offer a range of meats, like prosciutto, salami, and ham. I typically roll the longer meats into little tubes and stack them in a pile to get even more of them on the platter and make it easy to pick up.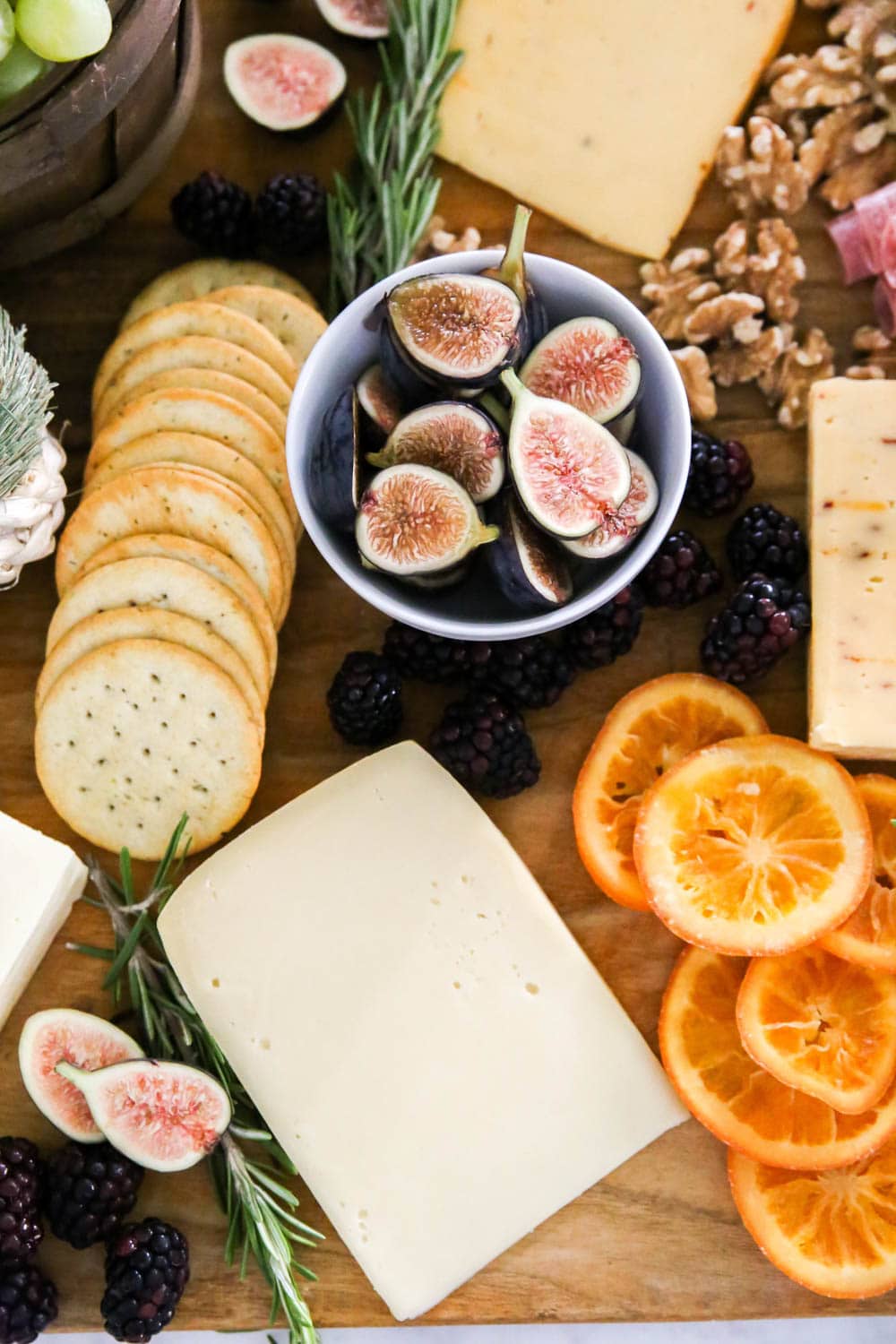 Add color with fruits and nuts.
Especially with a Harvest charcuterie board, you want to bring in some fall inspiration and color. Add green, yellow and orange colors for a warm vibrant pop. I used dried orange slices, blackberries, figs, thyme, and grapes.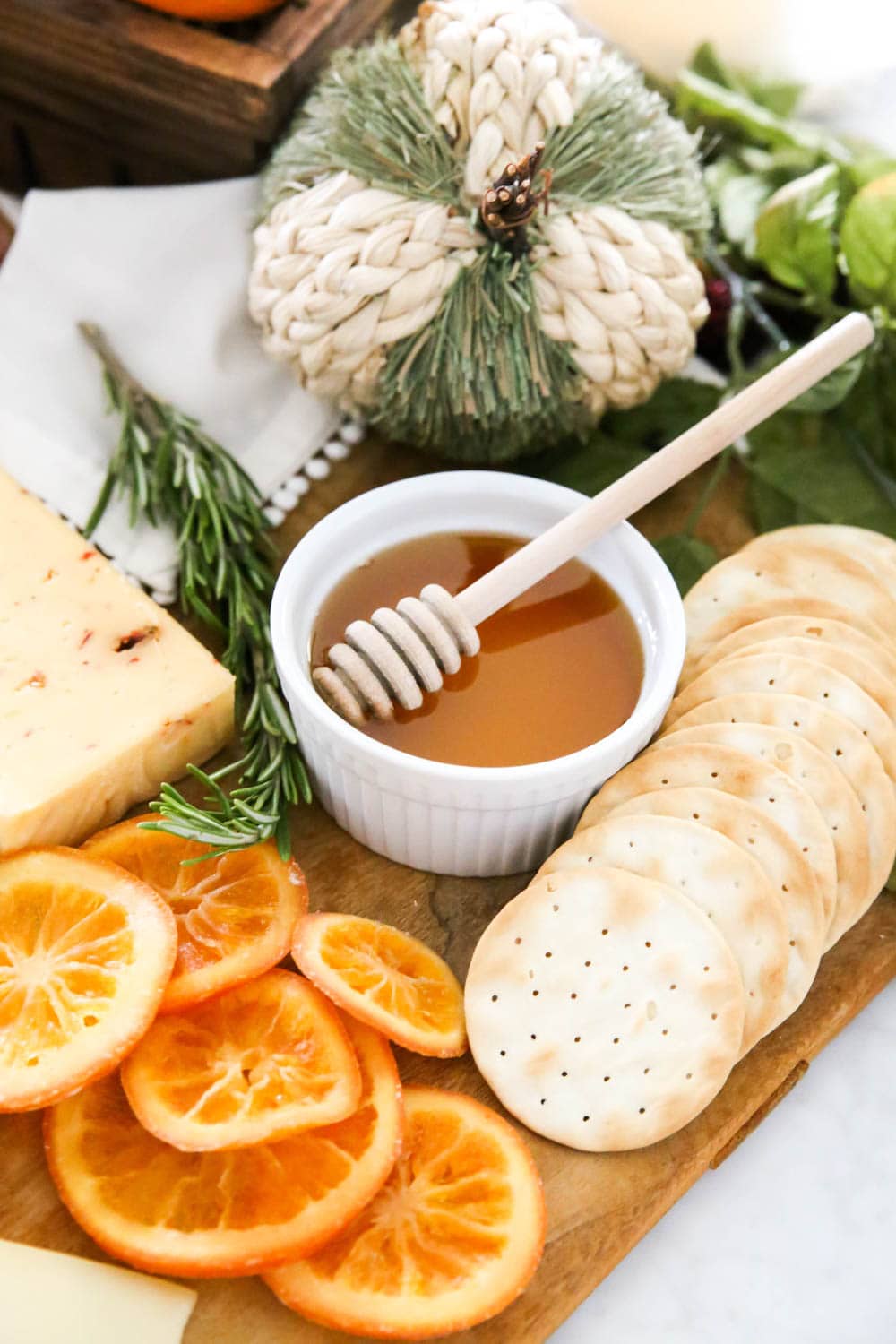 I also created orange/cloves for a delicious warm citrus smell. I stuck the cloves in vertical lines down the whole orange and then placed them in a basket and around my cutting board. They smell so incredible!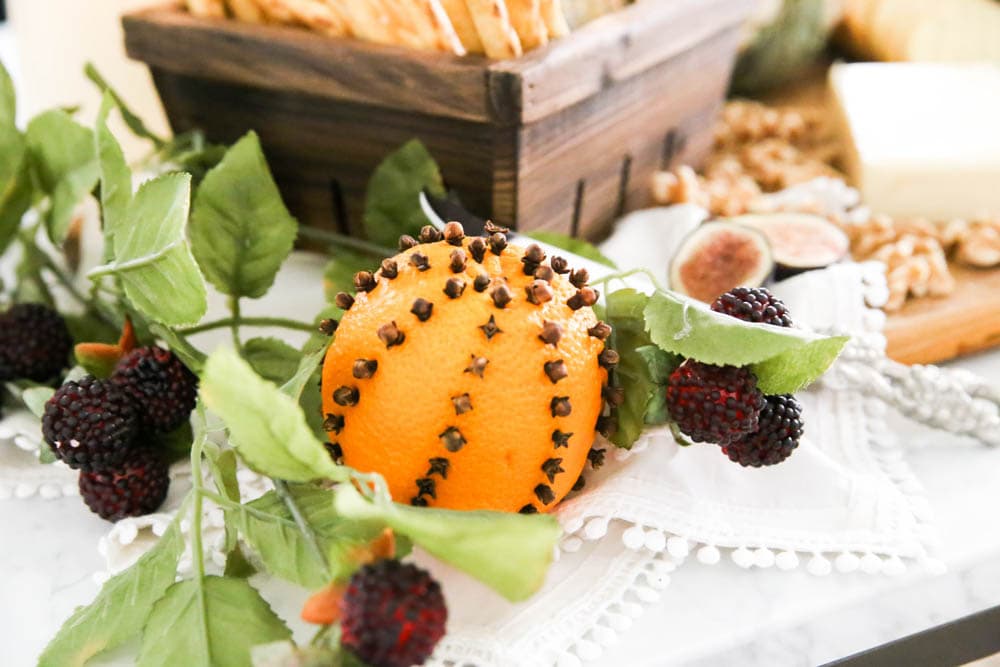 Add some dips and spreads!
Every charcuterie board needs so delicious dips and spreads to use on the cheeses and crackers. Select sweet jelly, honey, and cheese dips. Again, the more variety you have the larger the assortment of mixtures and pairings you can make.
Some of my favorite spreads and cheese mixes are a fig spread with a gouda, honey with roasted pepper cheese, honey mixed with brie, and spinach artichoke dip with Havarti cheese.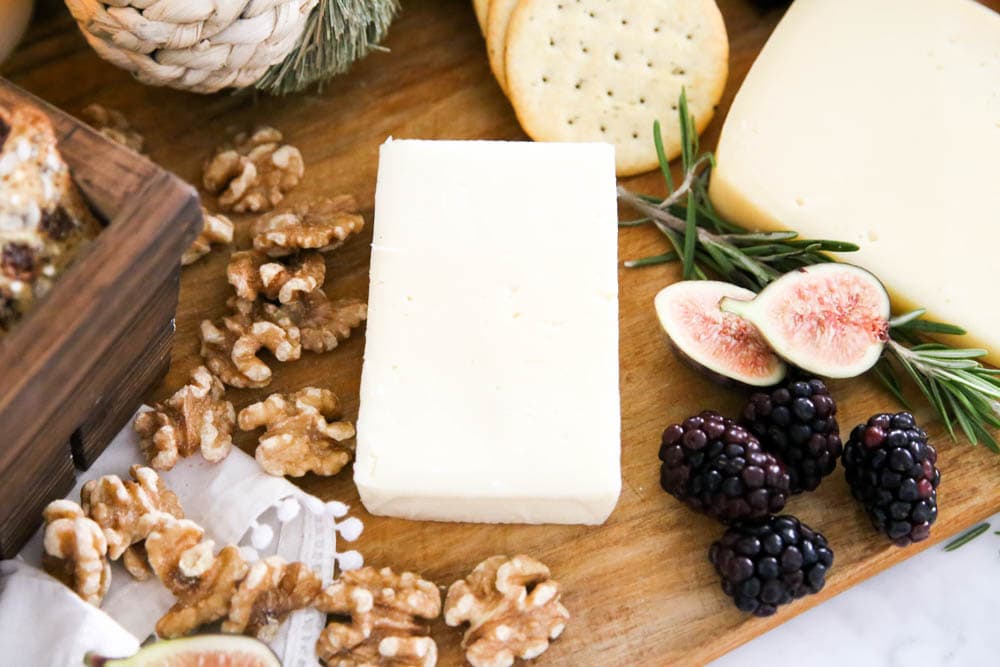 Are charcuterie boards healthy?
Charcuterie boards can be healthy if you make them more protein-heavy and have fewer carbs like crackers. So the more meats and cheese you have to offer the better.
That's why I also like to select my cheese from Roth Cheese because you are guaranteed high-quality good ingredients that will look amazing on your cheeseboard.
Also having a variety of nuts will add to the protein base and look so pretty sprinkled around.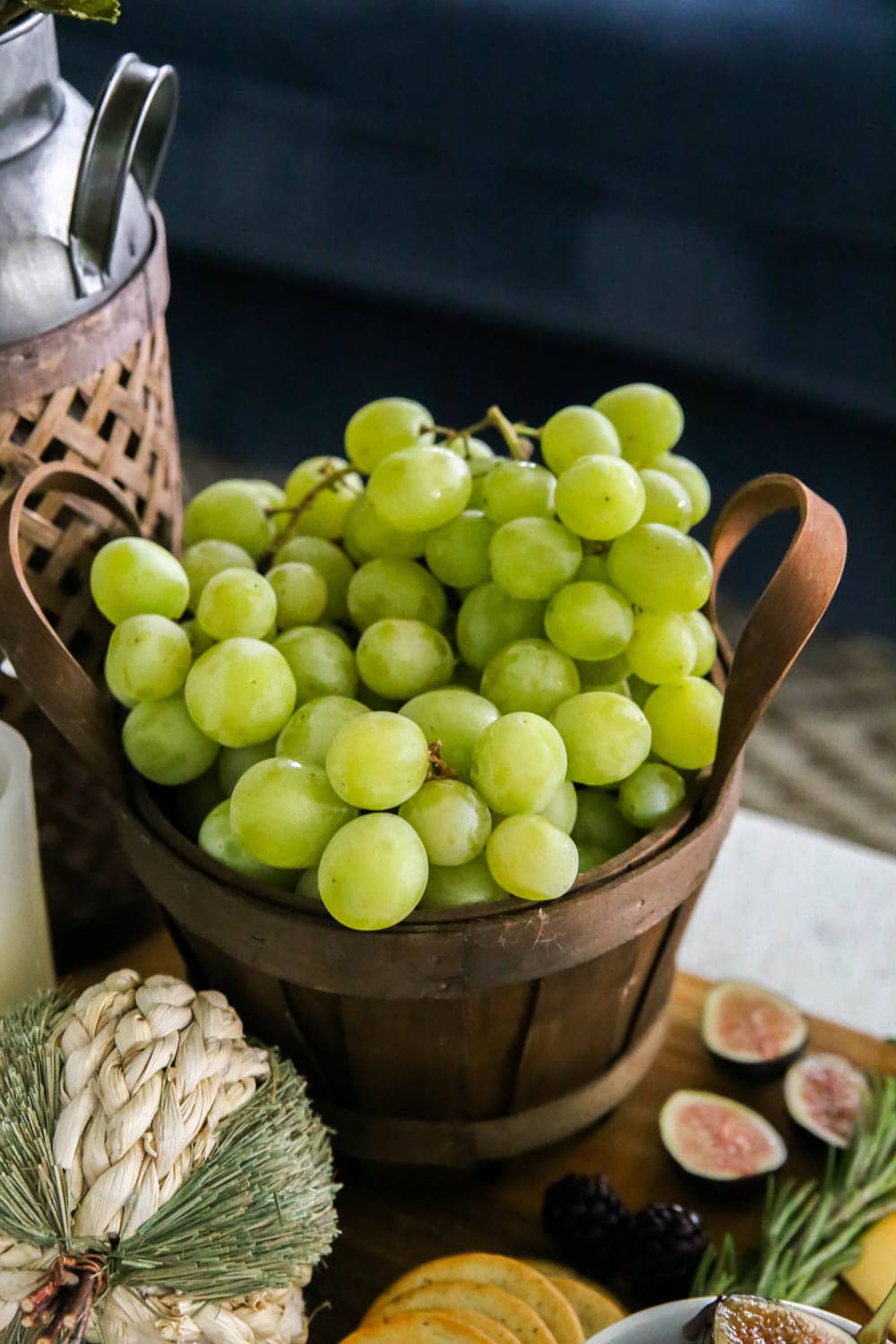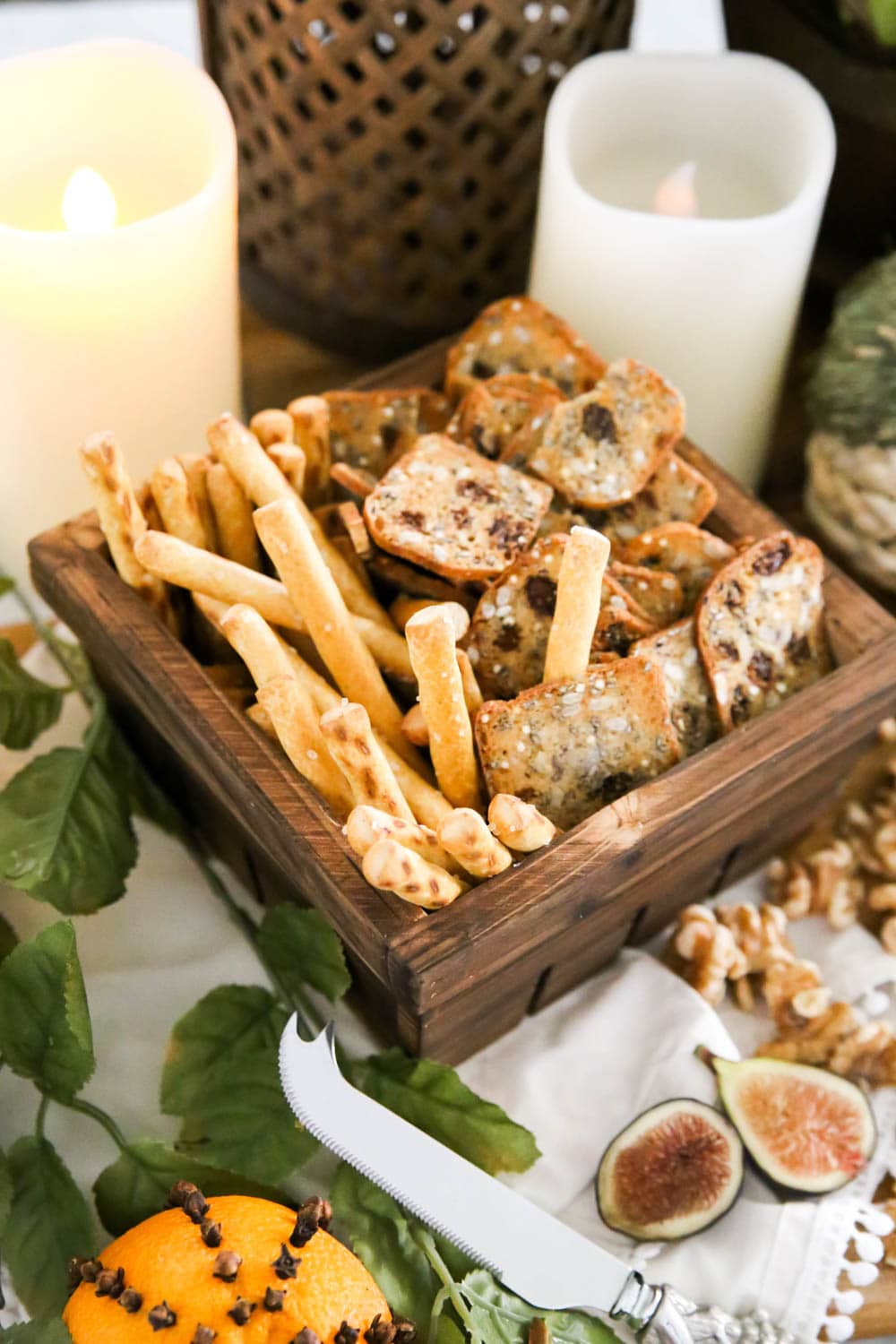 My family absolutely loves it when I make a fall harvest charcuterie board. They know I have something fun planned to do at home and there will be a wide variety of snacking available. I never make 2 boards the same but the basic concept is tried and true. Using quality ingredients and having lots of variety is always a win.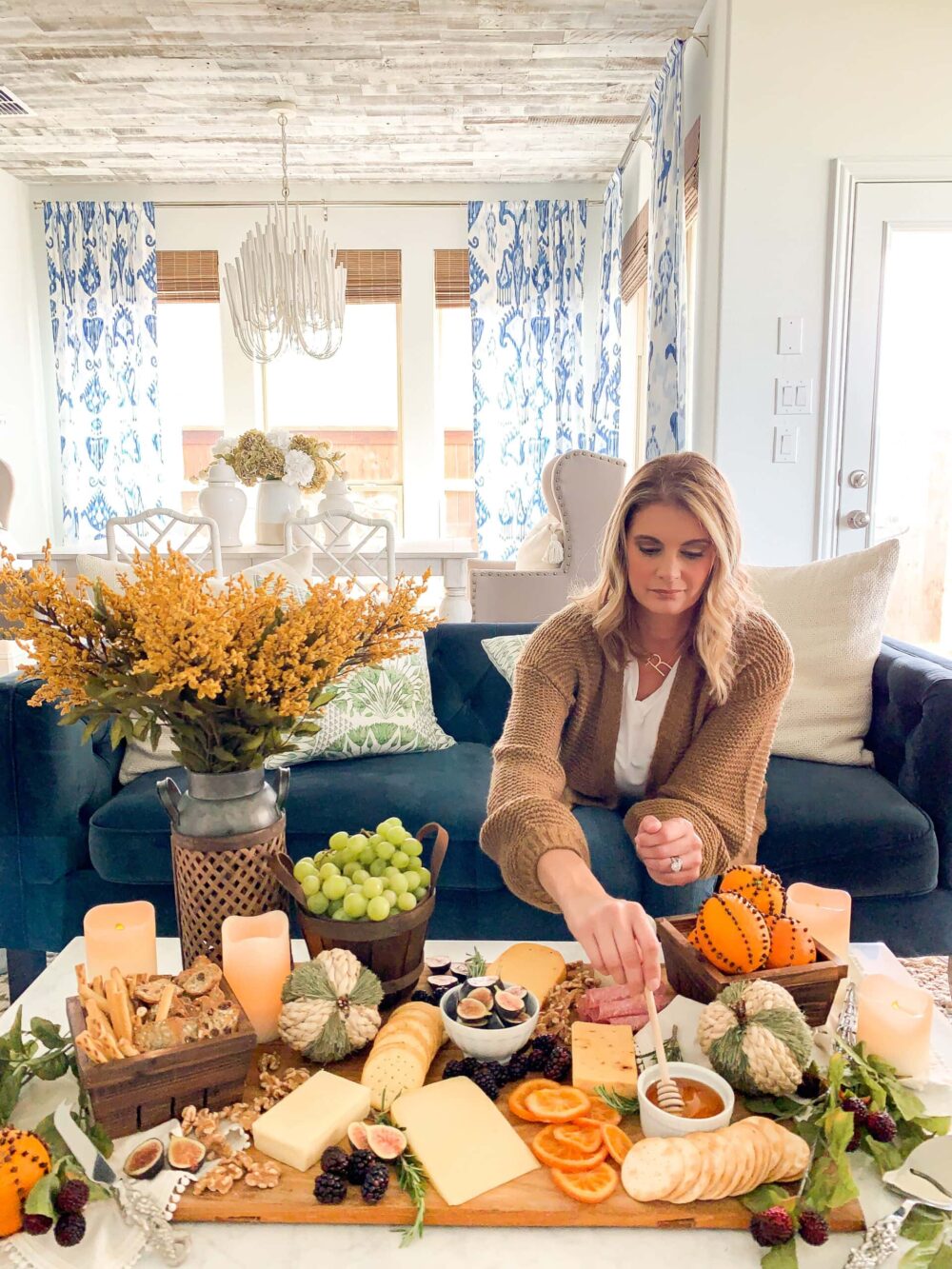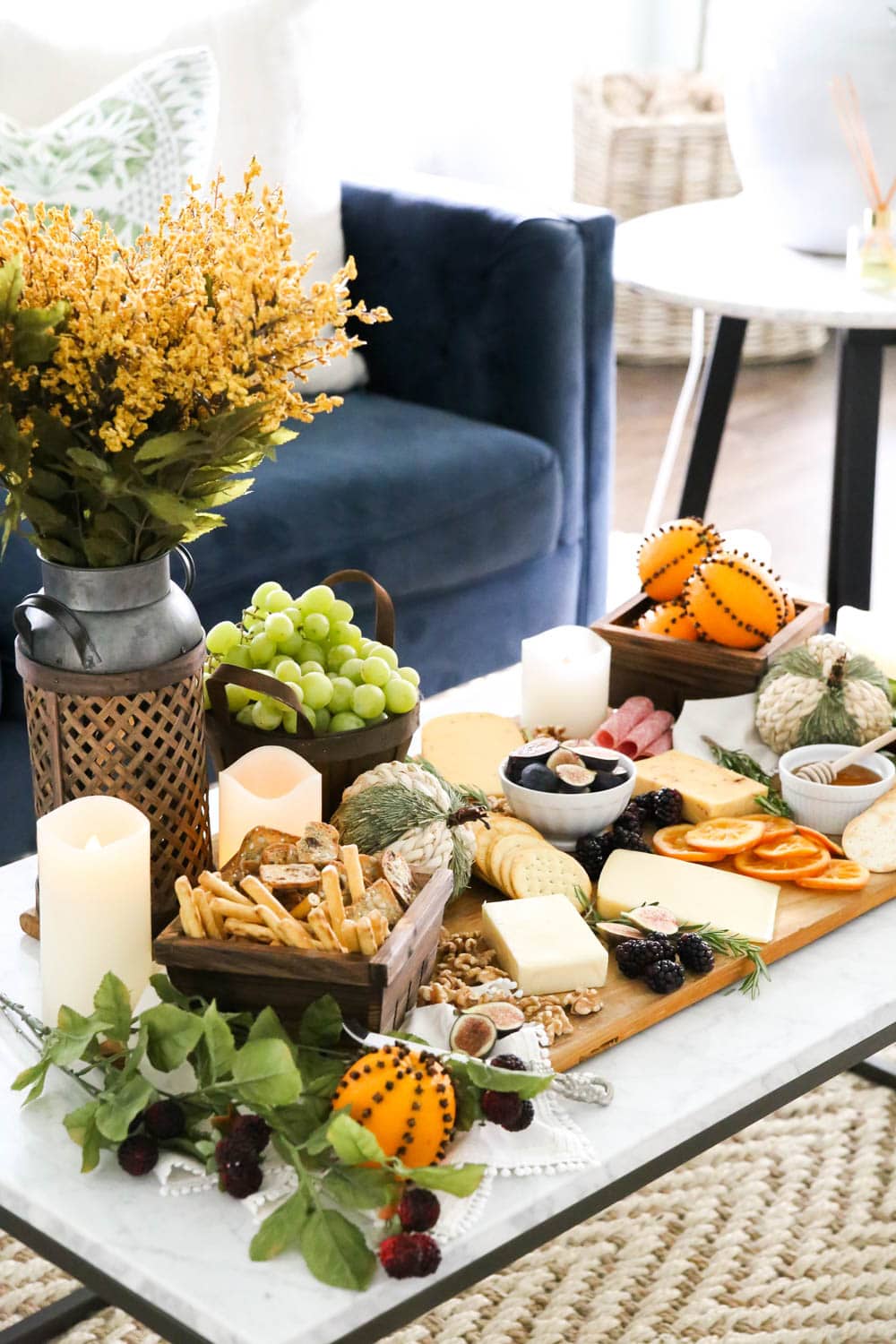 Make sure to check out the product locator to see where you can grab your favorite Roth Cheese selections near you!
And make sure to tell me which ones are your favorites in the comments!
Happy fall harvest charcuterie board making friends!
Pin our image below to save it for later!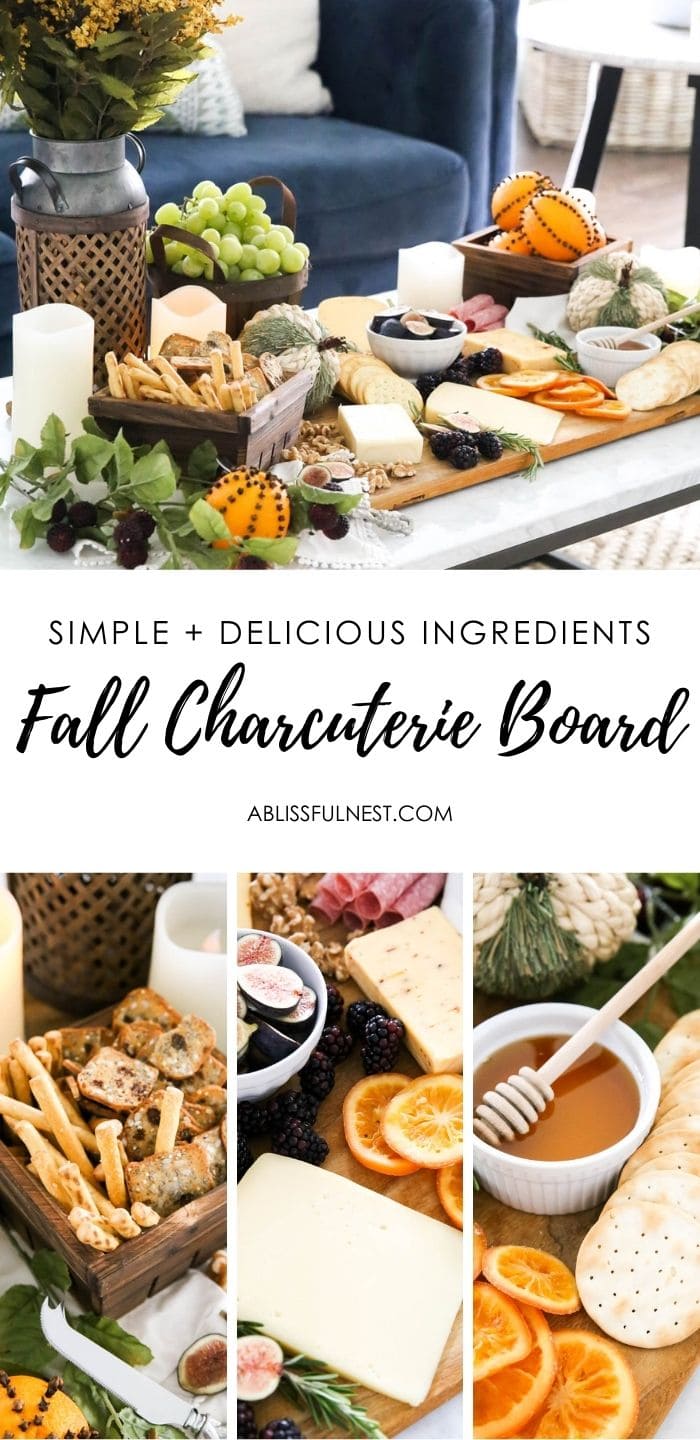 THIS IS A SPONSORED POST. A BLISSFUL NEST HAS RECEIVED PAYMENT, TRADE, AND/OR PRODUCTS FROM ROTH CHEESE IN EXCHANGE FOR PROMOTING. HOWEVER, ALL OPINIONS STATED ARE OUR OWN.
Follow along to get more of my tips on home decor, DIY, and lifestyle on the following: