Serena & Lily Riviera Barstool + Counterstool Detailed Review
This post may contain affiliate links. Please read our disclosure policy.
Sharing an honest detailed review of the Serena & Lily Riviera barstools including quality, price, and design tips on how to pair them in your home with your existing decor.
This is a sponsored post written by me on behalf of Serena & Lily. All opinions are 100% mine.
One of my favorite brands is Serena & Lily. They are known for that coastal chic look full of shades of blue and white palettes mixed with lots of textures. They have become a leading source online for quality furnishings and decor with a distinguished look.
I have many pieces from them in my home and one of the most asked about is my barstools in the kitchen. I have had them now for 3 years and thought it would be a good idea to give you an honest review of all the things we love and dislike about them since I get so many questions about them all the time.
How do you describe Serena and Lily's style?
Serena and Lily has a very distinct style that is easy to spot. It has a very coastal chic look mixed with a casual flair that has a refined look. Think tailored stripes and patterns, and a cool color palette in shades of blue, green, white, and even blush. It takes after the California relaxed style but has that classic American look, especially in their furniture styles. Some of the materials used the most are linens, rattan, seagrass, white lacquer, and white-washed wood tones.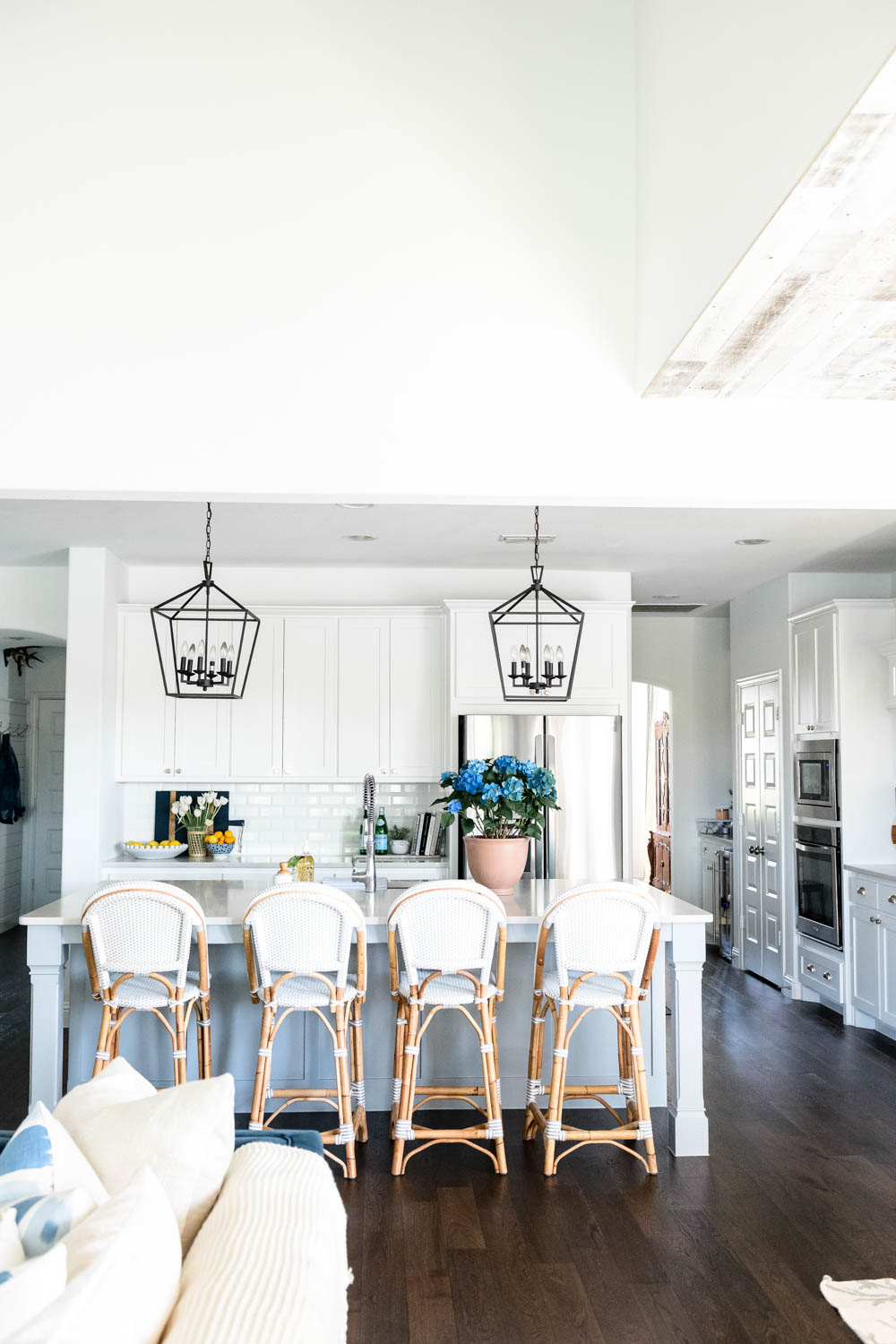 Serena and Lily Riviera Barstool Review:
Are Serena and Lily stools worth it?
One of the most asked questions is if the Riviera barstools are worth their price tag. They are priced at a little under $400 so they are on the higher end for a barstool. Typically my theory is you get what you pay for and that is definitely the case with these barstools. The ones I have seen priced lower in the $200 range, tend to be not as substantial of a frame and are made of inexpensive material that wears quickly. I had similar pieces in chairs and the seats bottomed out pretty quickly.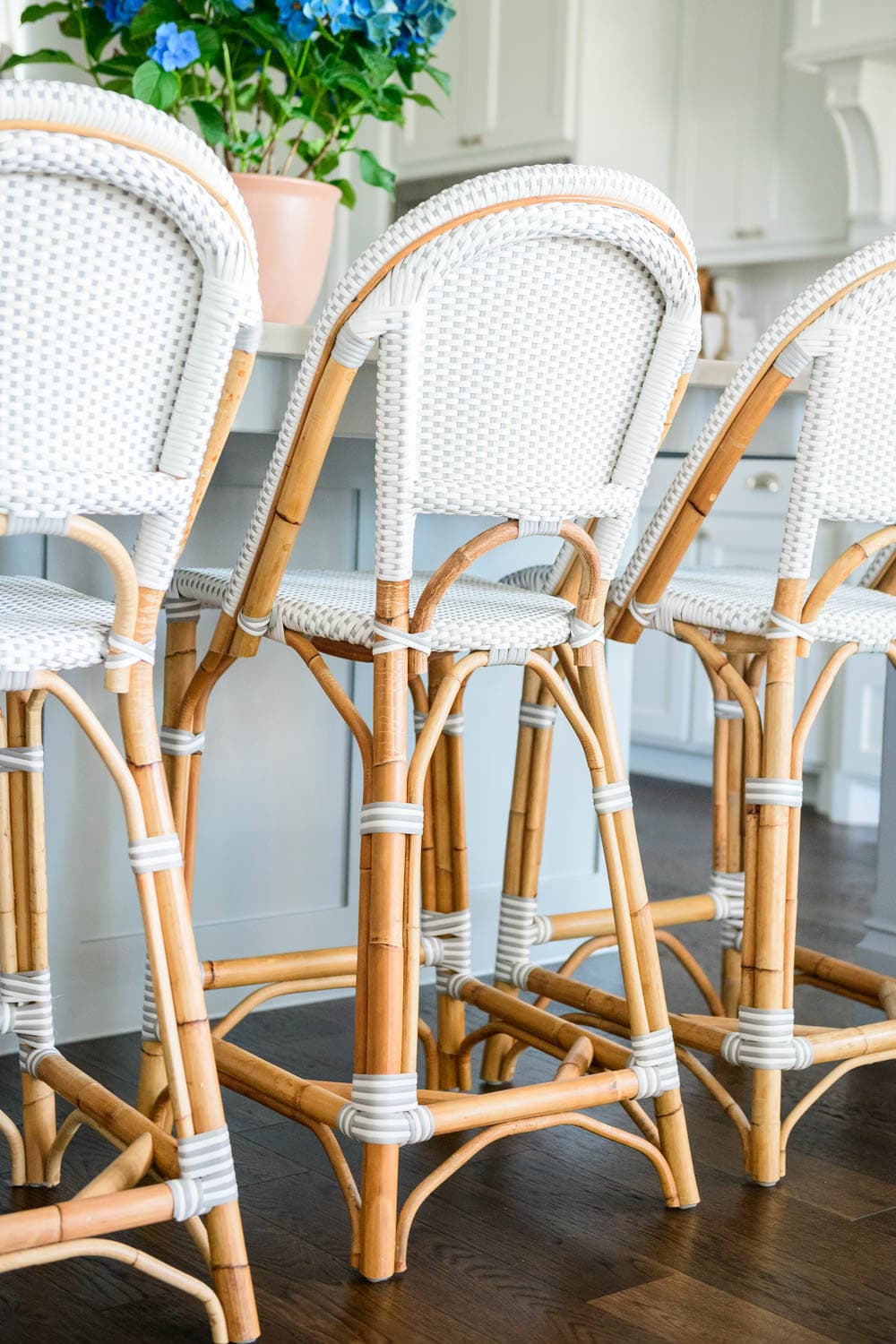 Is Serena and Lily furniture good quality?
So that leads me to talking about the quality of these barstools and even the other Serena and Lily furniture pieces I own. I have a bench, side table, table lamps, pillows, bedding, and a few other pieces from S&L and I can attest to the quality of each piece. All the furniture but especially the Riviera barstools are made from solid heavy materials. You can tell when you sit in the pieces how substantial they are. The weave on the rattan pieces is tight and close together making the pieces wear better.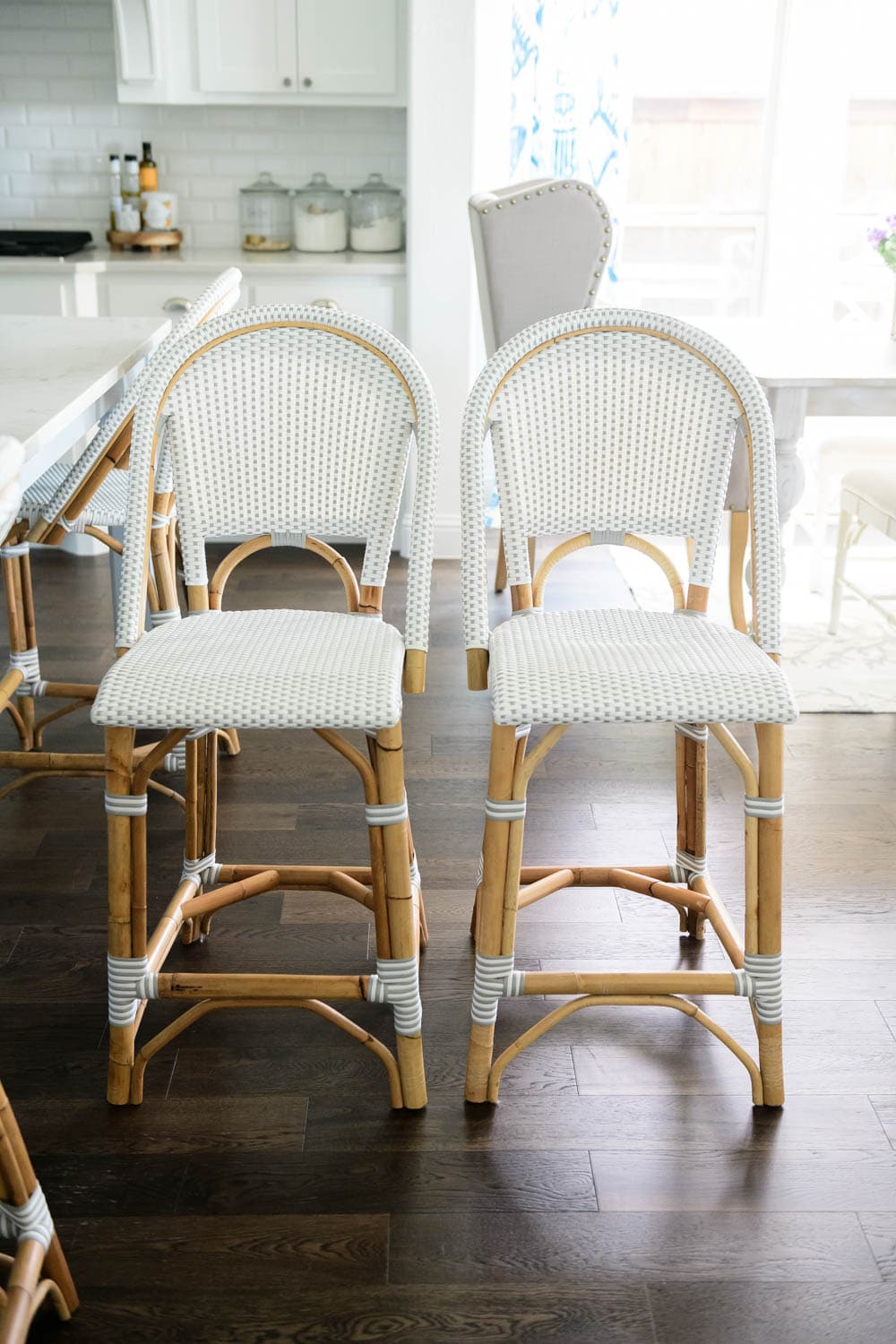 Are Serena and Lily Riviera barstools comfortable?
When you look at the Riviera barstools, they seem to have a very flat seat and back and have no cushions, which would lead you to think they are not comfortable at all. But with a larger set frame and the tight weave of the seat and back, they are forgiving and very comfortable. From my daughter's size to my husband, they are a great sit. My husband is 6'2″ and he does not feel like there is not enough room and that it is unstable. And my daughter tends to lounge in them with her feet up on one while sitting in another.
They are made of a lightweight resin and easy to wipe clean. My daughter spilled guacamole on the seat of one of them and it wiped up clean with nothing hiding in any of the crevices. These really are great barstools if you have kids and/or need pieces for high traffic.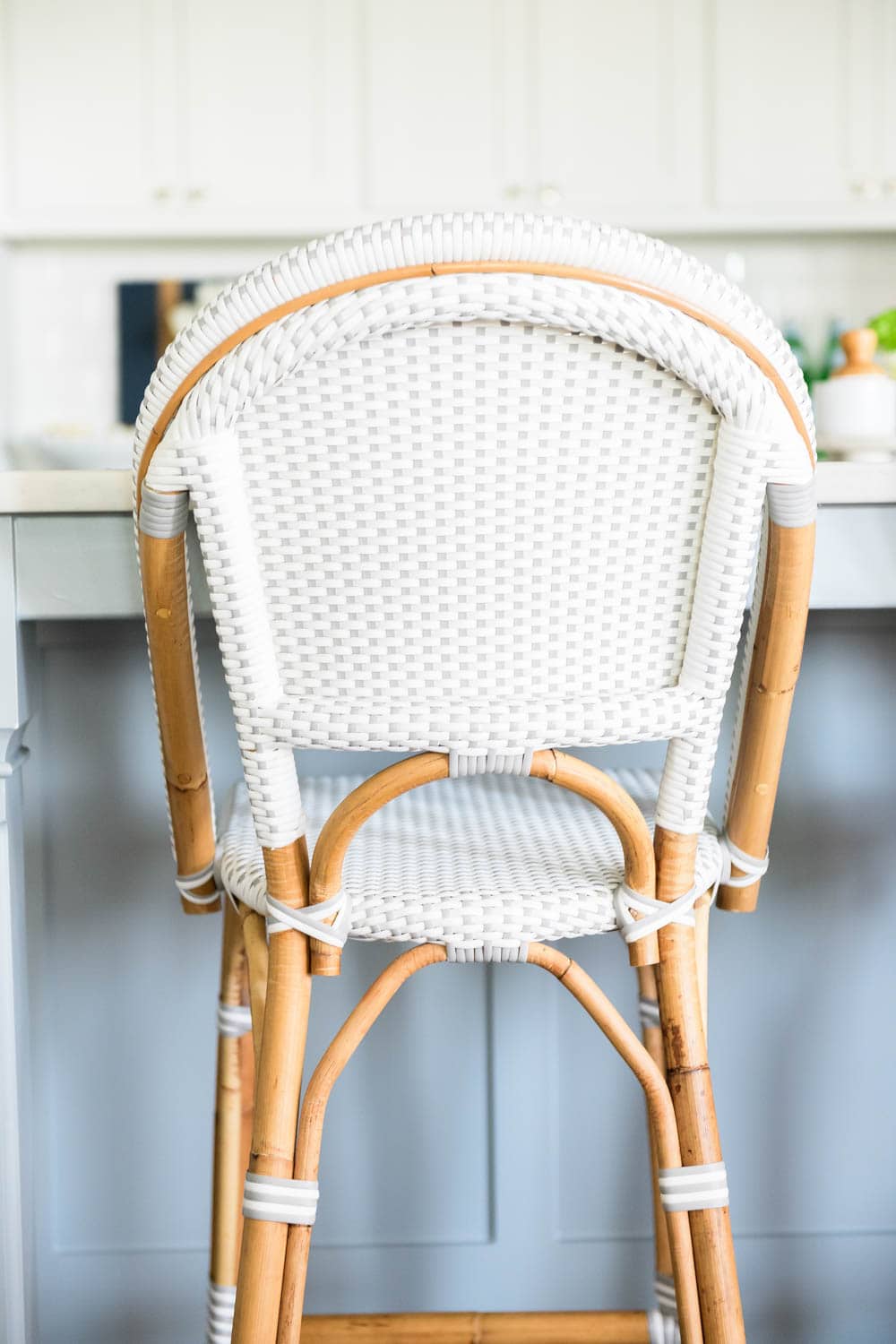 Design tips to decorating with the Riviera barstool.
The Riviera barstool is such a classic bistro-style look that it goes well in a home that has a Coastal, Farmhouse, or casual French style in it. It comes in 5 colors so it is easy to pair with different color schemes. I like the lighter colors for a more soothing soft look and if you want something more dramatic definitely choose the black or the white with the navy.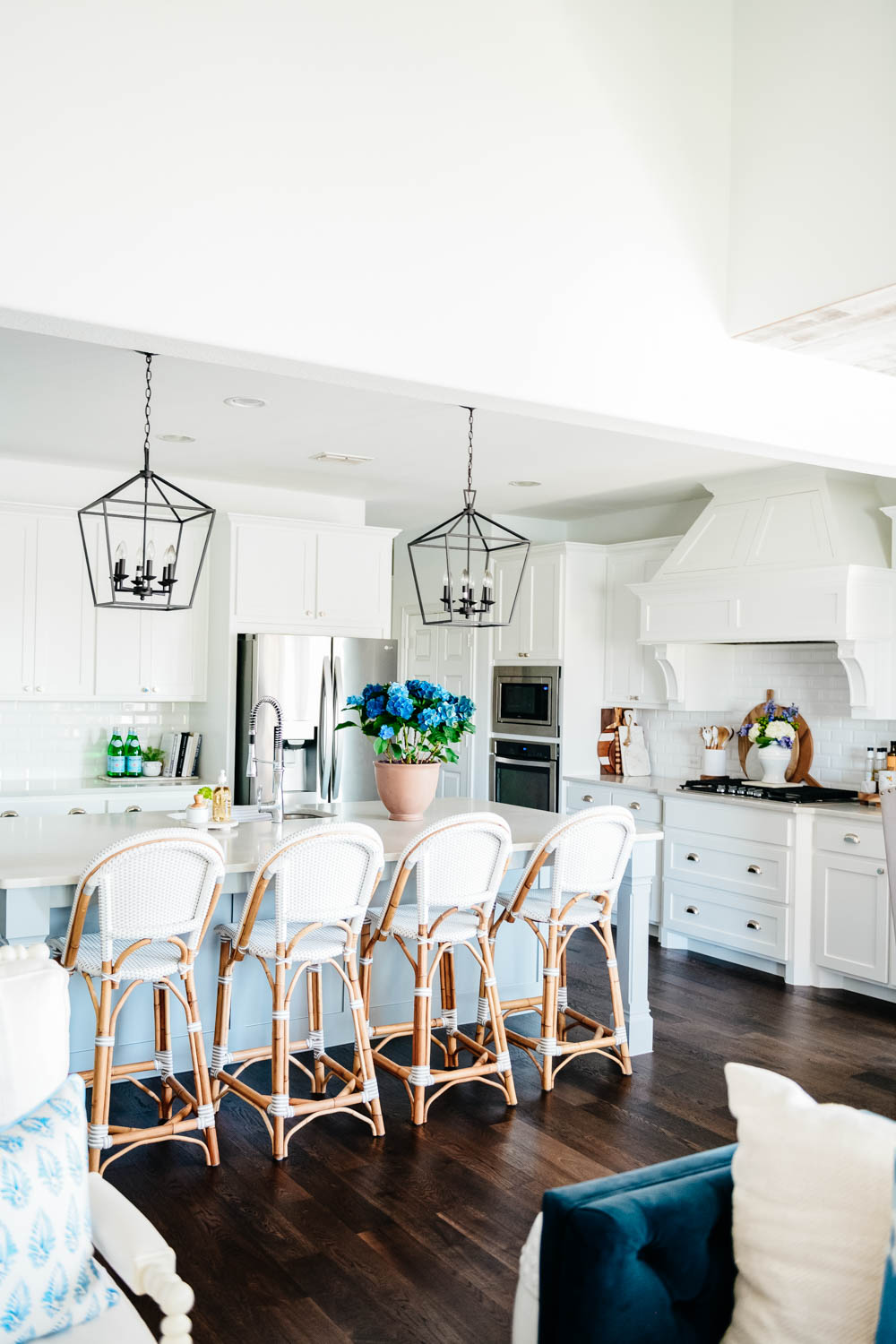 OTHER OF MY FAVS FROM S&L
I also wanted to share some of my favorite pieces from Serena & Lily that I have gotten and ones I am currently crushing on. All of these are classic in style and easy to transition into any decor look if you want a little modern coastal flair.

I hope you found this review of the Riviera barstools helpful and just leave me a comment below if you have any other questions.
Follow along to get more of my tips on home decor, DIY, and lifestyle on the following:
Pinterest | Instagram | Facebook | Twitter
THIS IS A SPONSORED POST. A BLISSFUL NEST HAS RECEIVED PAYMENT, TRADE, AND/OR PRODUCTS FROM SERENA & LILY IN EXCHANGE FOR PROMOTING. HOWEVER, ALL OPINIONS STATED ARE OUR OWN.